Looks like teddy bear coats gonna stay in fashion for a quite long time. Yes, this is not a new trend, but we see lots of fashionistas rocking this outerwear piece on the streets and special events.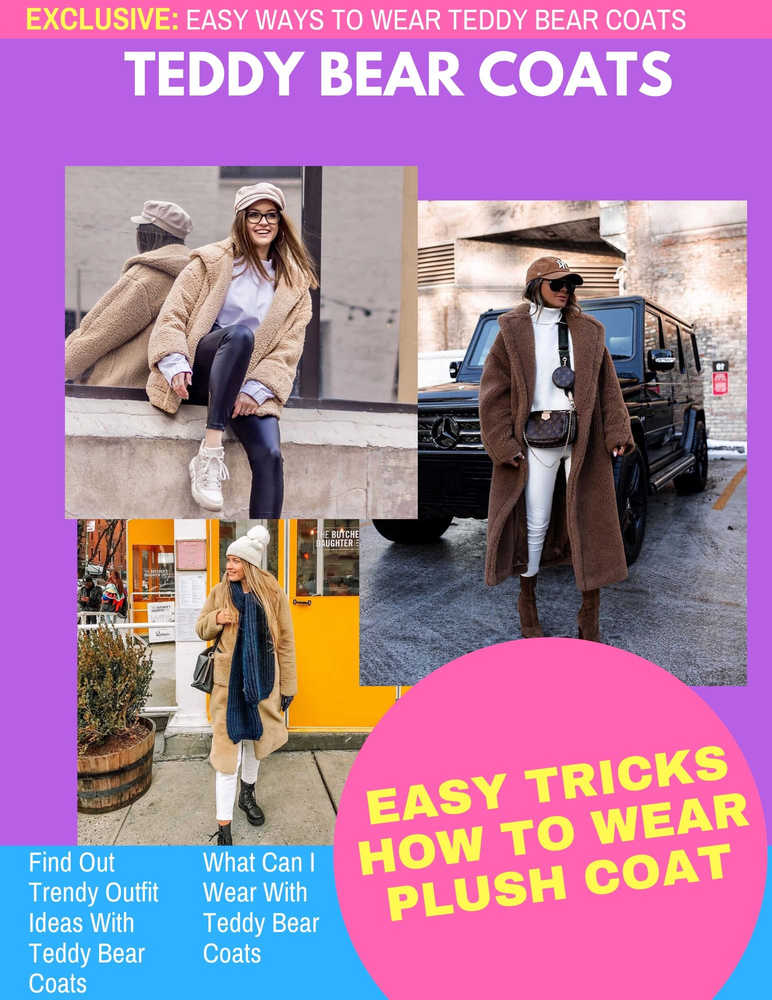 Buy Similar Here
Plush coats are unique in their style and that's why many ladies are afraid to wear them. Why? This style can make you look clumsy, but we are here to discuss ways how to wear teddy bear coats in the right ways.
Best Street Style Looks With Teddy Bear Coats
Everyone is crazy about this type of coat. The cool thing about this coat is the fit. Yes, it's voluminous, cozy, that's why many celebrities are so in love with it. We see Rihanna, Rosie Huntington-Whiteley and Elsa Hosk wearing it on the streets. If you want to make this coat look fresh and glamour, then you better see ways how to update it with sassy knee boots, leather belts, tall boots, turtlenecks, and cropped sweaters.
Red Plush Coat And Front Slit Pants
We see a trendy combo consisting of a red plush coat styled with a black long top teamed with black front slit pants completed with white sneakers. If you are into a front-slit pants trend, then check out my blog post about ways how to wear it now. You will see my favorite ideas that are so must-try this year: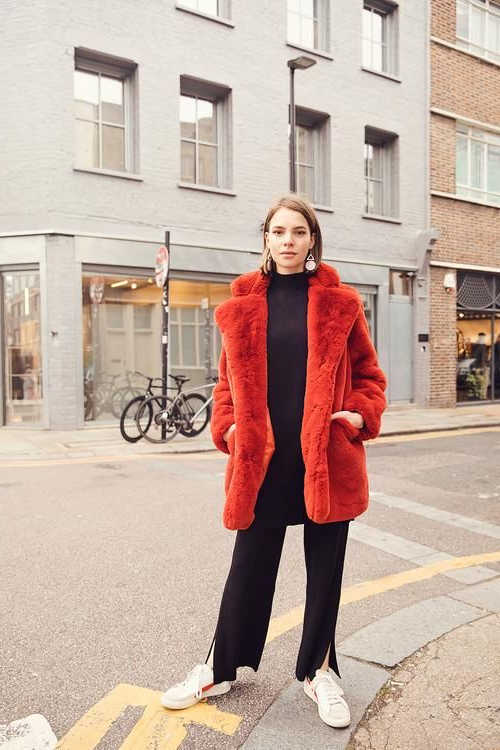 Buy Similar Here
This season you are free to try borg coats in various colors, starting from black, and brown to blue and green. Yes, from now on teddy bear coat can be seen not only on street style stars but also on regular people. This is a cool choice for women who love glamour, bright pieces, as well as for ladies who are into basic wardrobe staples. Plus, this coat becomes my favorite transitional outerwear piece, all because of its practicality.
Teddy Bear Bomber And Jeans
A short teddy bear bomber looks simple and casual. Style it with a white strapless top teamed with white light blue slim jeans and white sneakers. In love with these rounded sunglasses: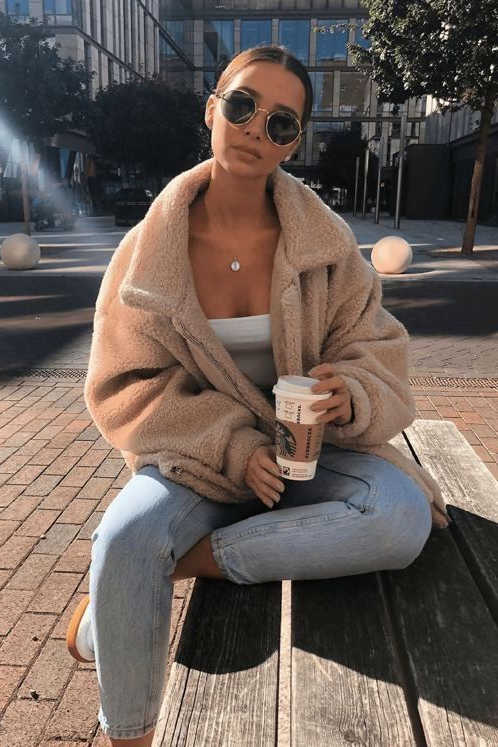 Buy Similar Here
If you are a beginner to this outerwear trend, then I recommend starting from a lighter color coat, as darker colors might add you additional bulkiness. That's why stay away from black ones. But if you still want to try on darker tones, then go for a grey or navy colored version.
Yellow Teddy Bear Coat And Flared Jeans
A pastel yellow teddy bear coat looks fresh and trendy. Style it with a white shirt tucked in regular fit high-waisted jeans in blue. Complete this combo with white sneakers: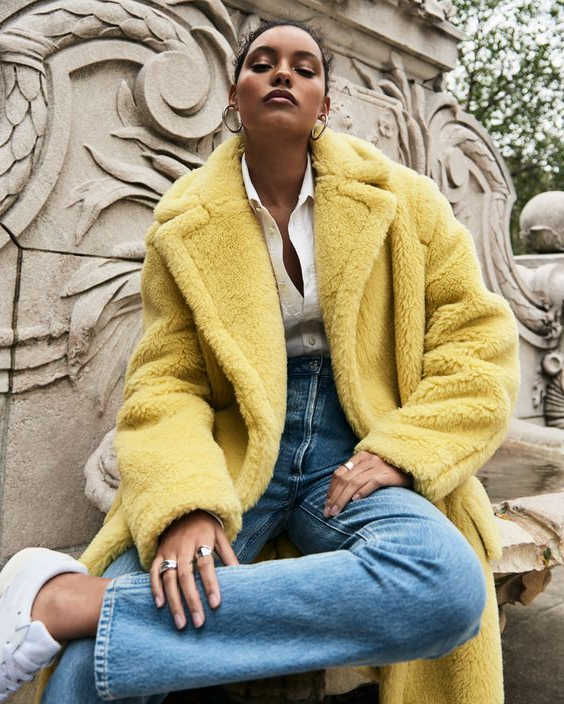 Buy Similar Here
The favorite length is a mid-thigh with a single button, an ideal design to keep things balanced. If you are an experienced teddy bear wearer, then opt for a bright colored design. Go for mustard, green, hot pink or red color style.
Teddy Bear Coat In Green And Ripped Jeans
If you are into colors, then start from a green teddy bear coat. It is a classic color that suits most events. Style it with a mesh black top, black bra and black ripped skinny jeans for the upcoming smart-casual event. Complete the look by adding oversized sunglasses: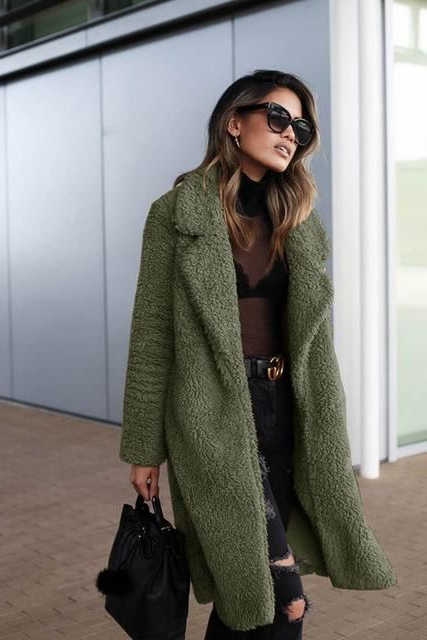 Buy Similar Here
Teddy Bear Coat With Leather Wide Pants
A fresh update for making a wow statement on the streets. We see a camel teddy bear coat layered over a white turtleneck tucked in wide black leather pants updated with pointed-toe snakeskin print boots: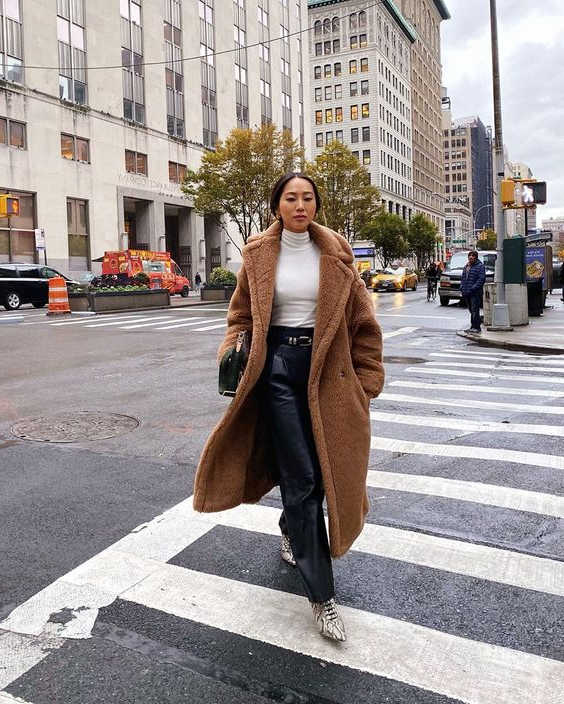 Buy Similar Here
It also can be used for working hours, all you need is to style it with a fitted midi skirt, pencil skirt, tights, and a wool turtleneck sweater. If you are into glamour rooftop parties, then try it on with a floral dress and stacked heels. No matter, if you are into a classic teddy bear coat or glamour bright version, you are free to style it whatever you like. Scroll down to find your one and only look.
Camel Teddy Bear Coat And Military Boots
A light camel teddy bear coat looks pretty cool with a white fur pom pom beanie, navy oversized scarf and white skinny jeans completed with black leather military boots: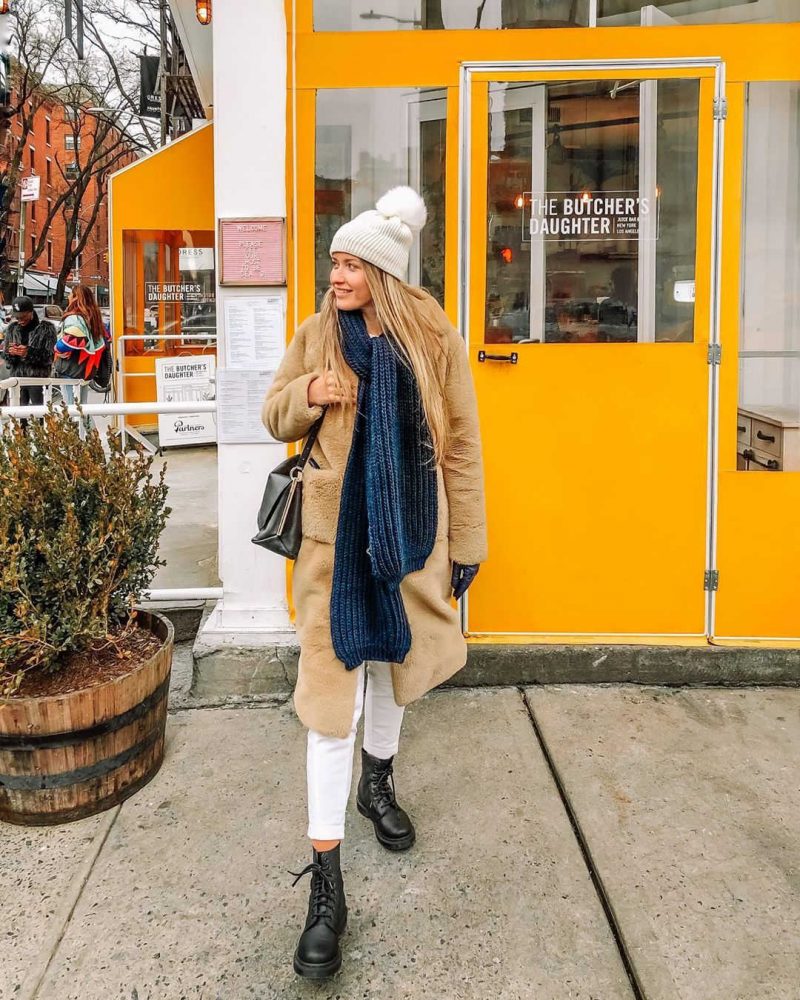 Buy Similar Here
@tanyachronicles
Blue Teddy Bear Coat And Latex Pants
Make a wow impression on the streets! Go for a light blue teddy bear coat and team it with a black top, buttoned black leather skinny pants and sassy chic white pointed-toe white ankle-boots. Love these flat brow sunglasses on Rosie: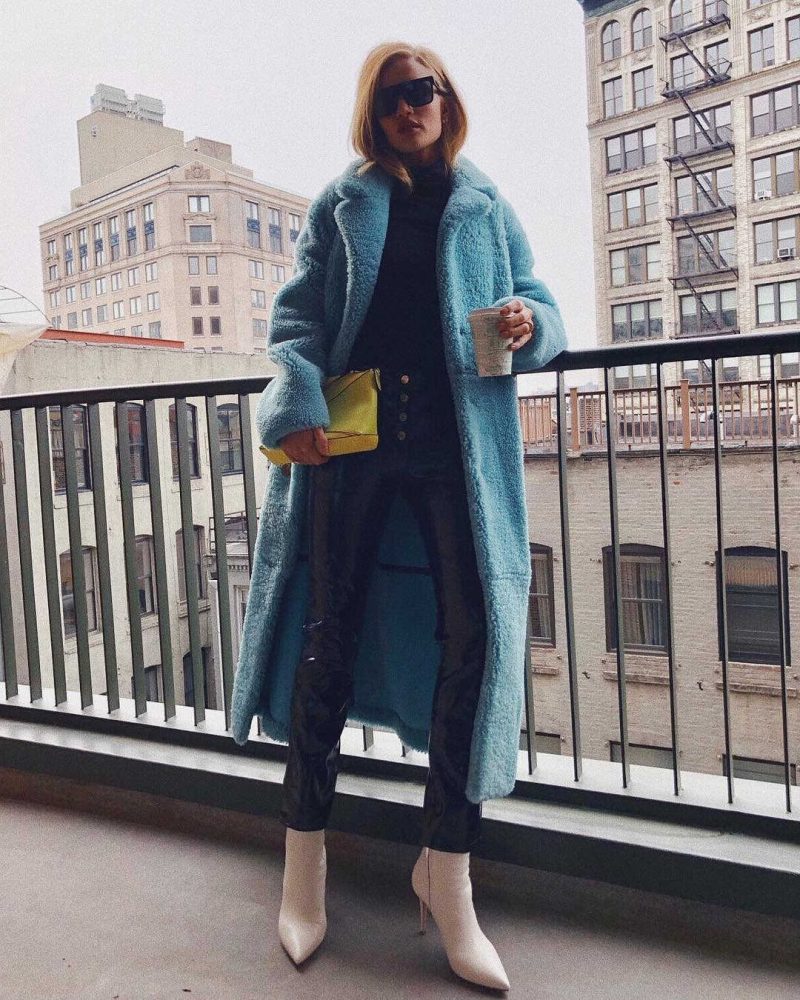 Buy Similar Here
@rosiehw
Plush Leopard Print Coat With OTK Boots
A leopard print teddy bear coat looks eye-catchy with a black top, blue slim jeans and black suede over-the-knee boots: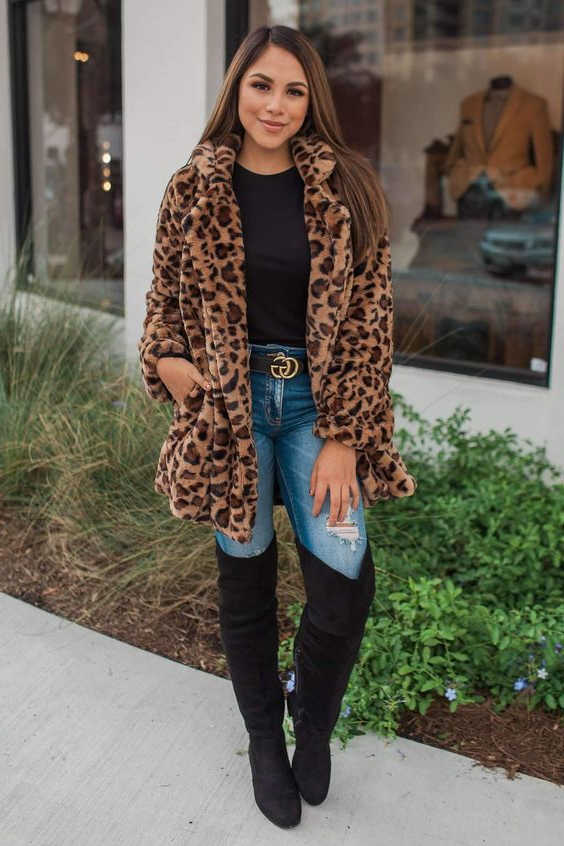 Buy Similar Here
Plush Cocoon Coat In Cream And All White Look
A cream-beige cocoon teddy bear coat in oversized fit ideally matches this cream-grey sweater tucked in tailored wide-leg pants in white updated with Prince of Wales printed boots: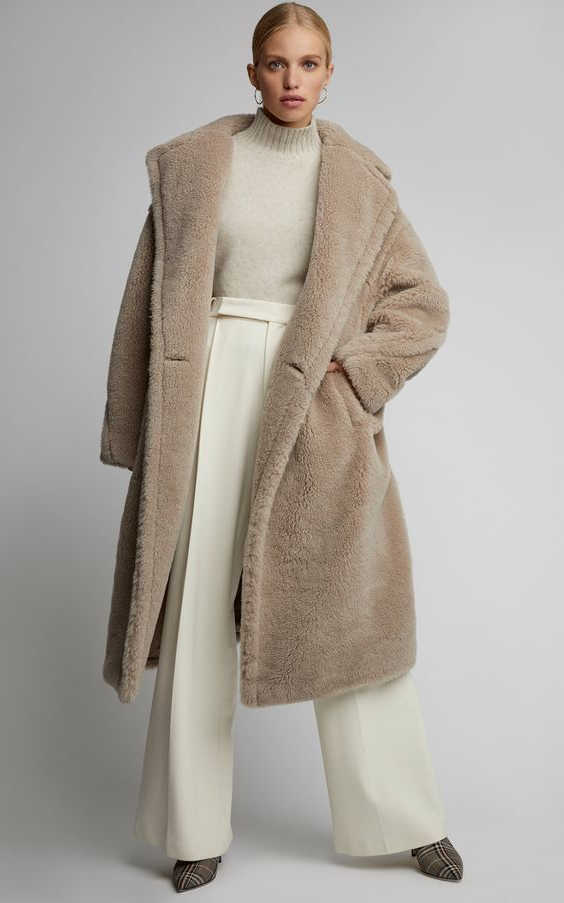 Buy Similar Here
Pink Teddy Bear Coat With Jeans And White Boots
If you still want to update your classic outfit, then go for a light pink teddy bear coat and team it with a simple white V-neck top tucked in skinny wash-blue jeans tucked in white ankle-boots: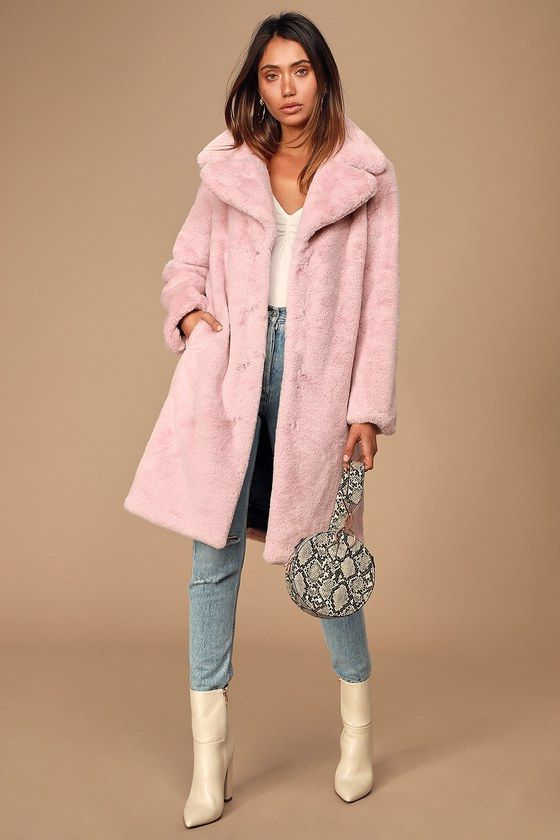 Buy Similar Here
Red Teddy Bear Coat And White Sweater Dress
A bulky oversized red teddy bear coat is updated with a cream-white sweater dress, tights and pointed-toe heeled sock boots in black: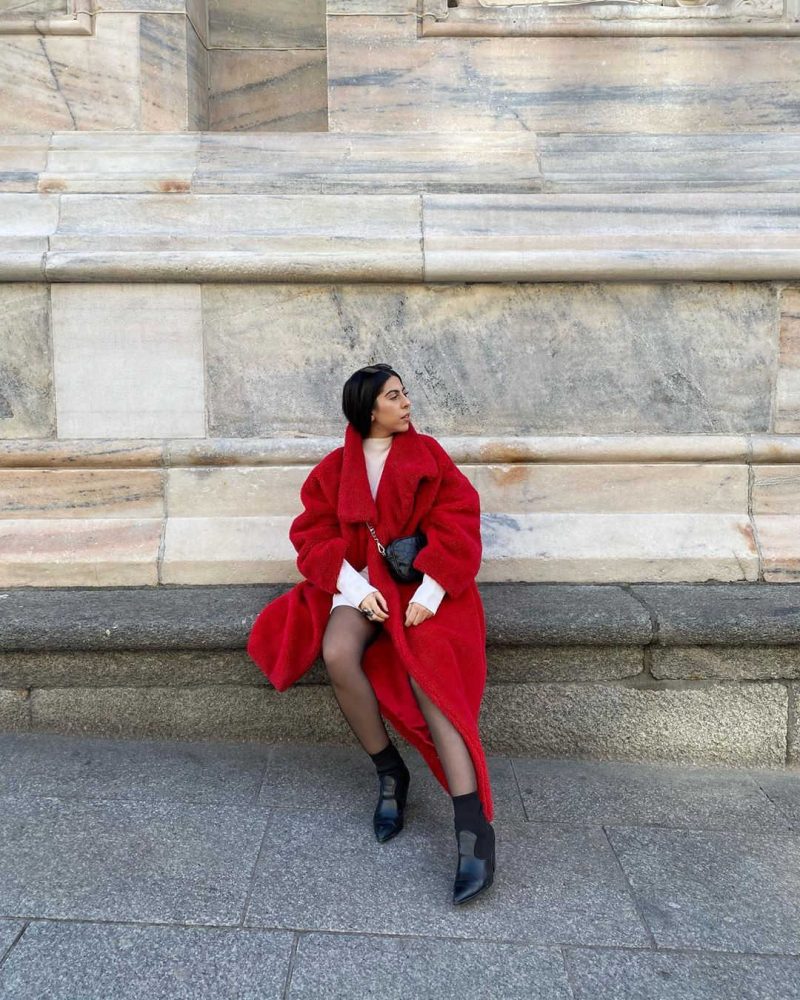 Buy Similar Here
@phurgus
Blue Teddy Bear Coat And Floral Dress
A bright blue plush coat ideally matches that white dress in blue floral print. Update this look by adding oversized mirrored sunglasses and cream-blush heeled pumps: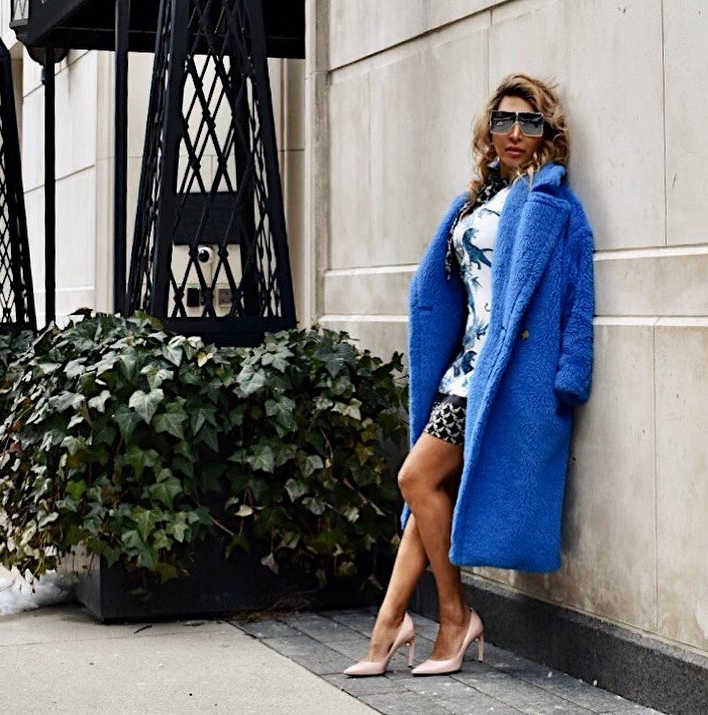 Buy Similar Here
@parpar6ix
Oversized Teddy Bear Coat And Wide Leg Pants In Black
An oversized long teddy bear coat in light brown looks sophisticated with a turquoise long sweater and black flared pants completed with multi-colored sneakers: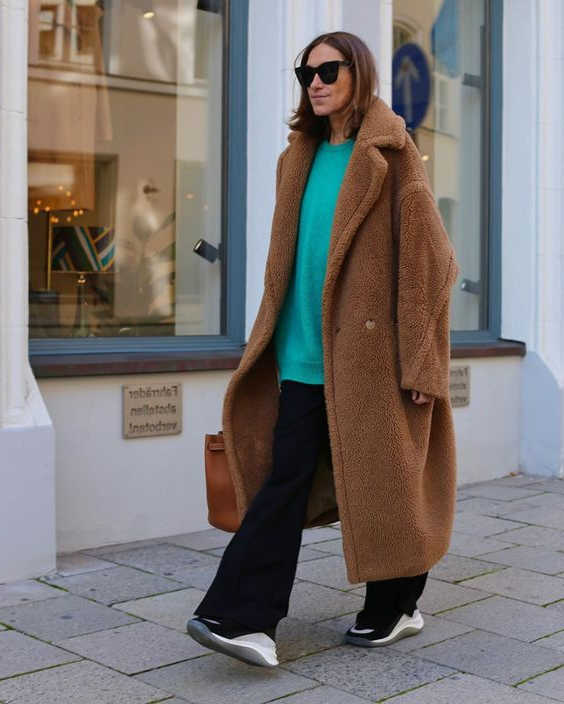 Buy Similar Here
Oversized Plush Teddy Coat And Combat Boots
A grey oversized plush teddy coat is styled with a blue-grey dress and black leather combat boots: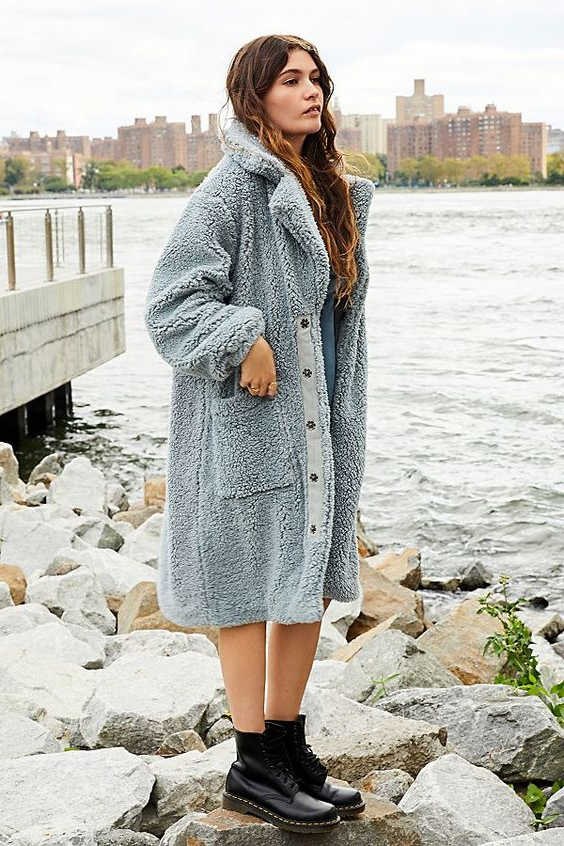 Buy Similar Here
Teddy Bear Coat In Brown And All White Look
Keep it edgy and sporty! Go for a cream-brown baseball cap, brown teddy bear coat, white turtleneck and white skinny pants completed with suede heeled ankle boots. Love that LV bag: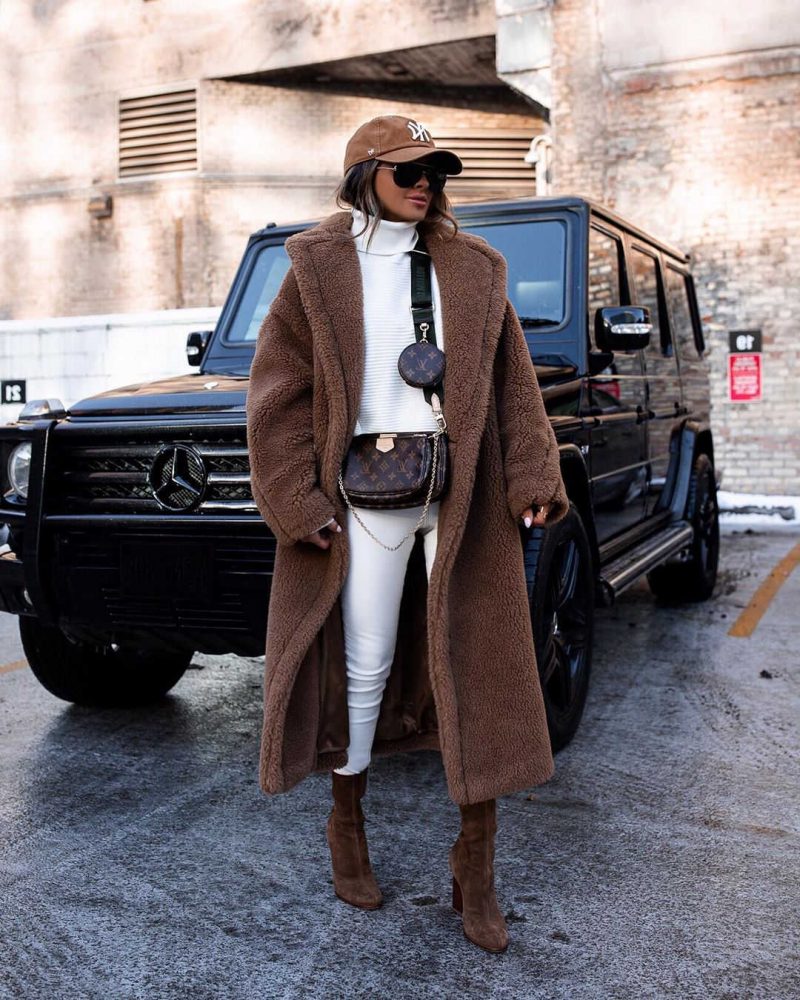 Buy Similar Here
@miamiamine
Long Teddy Bear Coat And Knee Ripped Jeans
An oversized brown teddy bear coat is styled with a turtleneck sweater and knee-ripped slim cuffed jeans updated with heeled suede ankle boots. Love these aviator shades: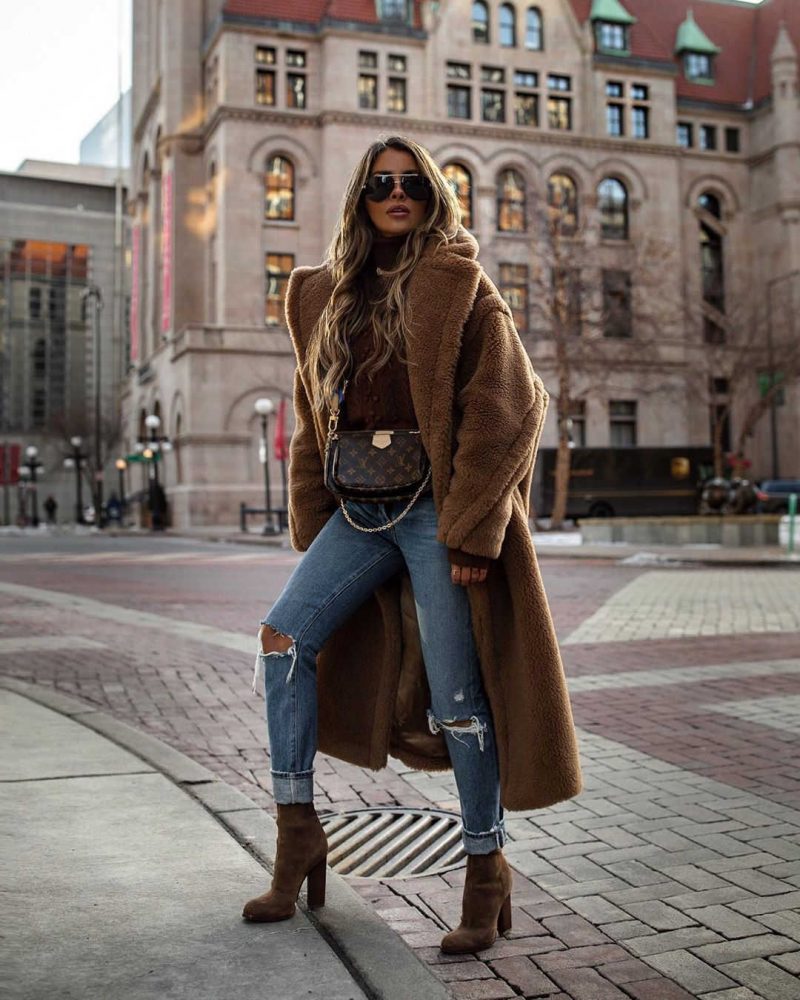 Buy Similar Here
@miamiamine
Black Teddy Bear Coat And Grey Jeans
Cool, all in black outfit idea. We see a black teddy bear coat paired with a black top, charcoal regular jeans and black leather hiking boots: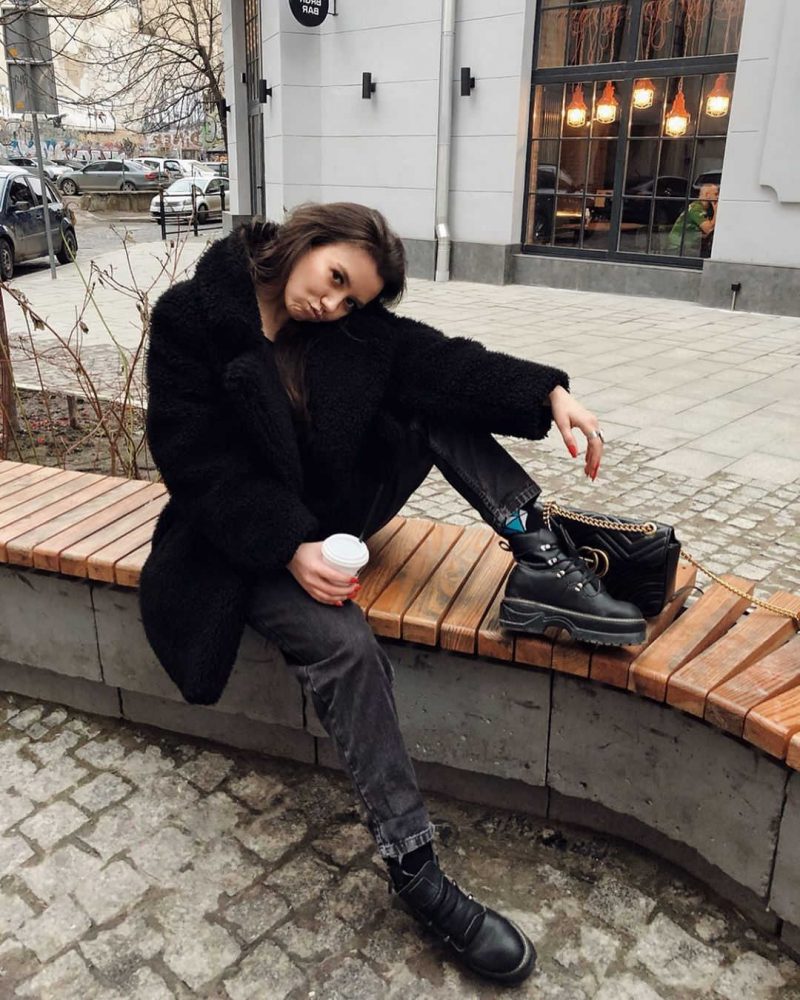 Buy Similar Here
@drakus_marta
Teddy Bear Hooded Coat And Leather Leggings
We see a cute cream-beige cap styled with a teddy bear beige jacket updated with a white blouse tucked in black faux-leather leggings completed with cream-white chunky sneakers: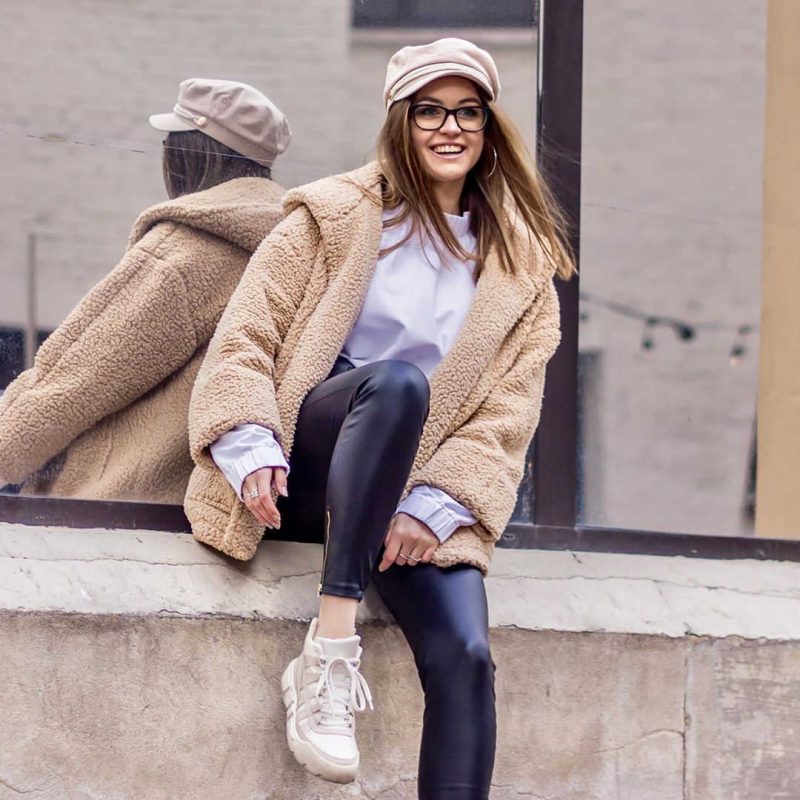 Buy Similar Here
@carlyenjoys
White Teddy Bear Coat And Patent Boots
A white teddy bear coat is layered over a turtleneck pastel printed long dress. Complete this combo by adding a saddle bag and platform heeled ankle boots in patent brown: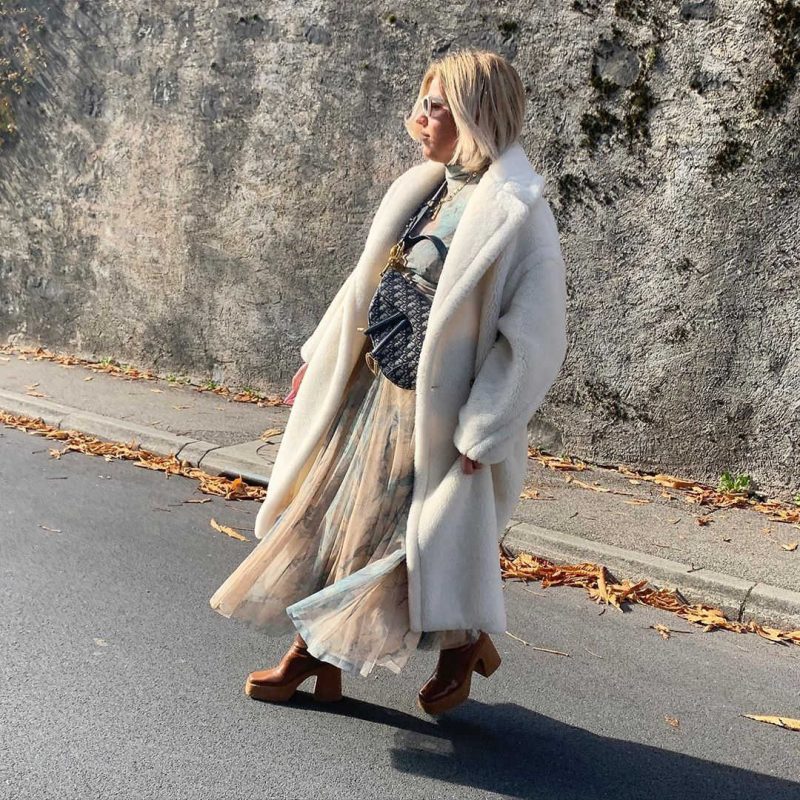 Buy Similar Here
@audewmy
Source: whowhatwear, thezoereport