If you want to look cool, sporty and casual, then you need a hoodie. Today's article is dedicated to my favorite ways how to wear hoodies this Fall. Why hoodie needs a place in your closet?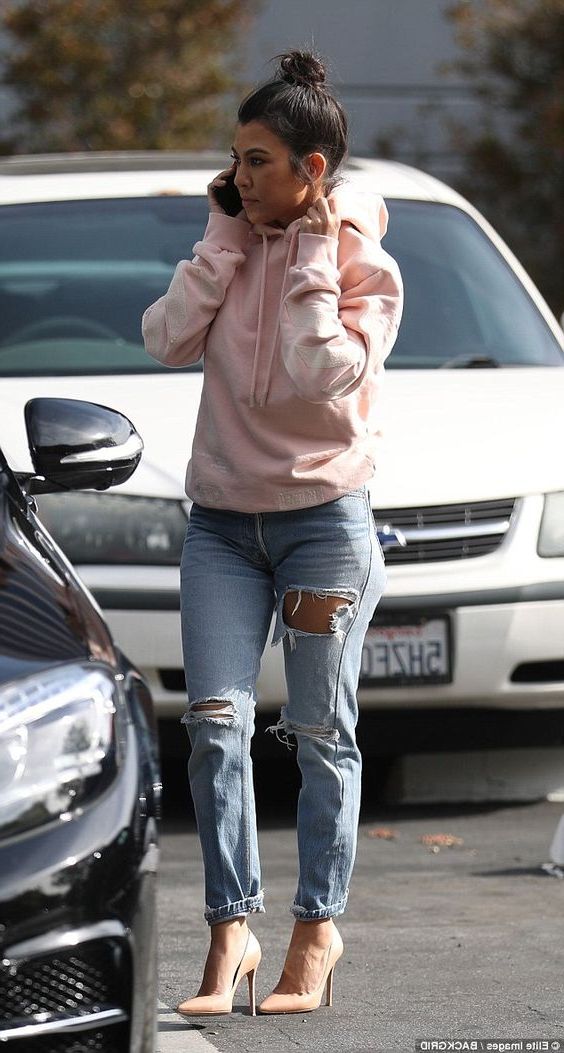 Buy Similar Here
Blush colored hoodie ideally matches cuffed regular jeans and blush heeled pumps.
As I have already mentioned, it is a sporty piece of clothing that ideally matches those days when you don't know if it's going to be a chilly or rainy day. Here we see an awesome collection of street style ideas, where ladies appear in hoodies worn with blazers, leather jackets, skirts, dresses, etc.
I love this top for that special boyish touch that makes ladies look different and daring. The hoodie is a clothing staple that can be worn in any single day. It works great with both preppy and sporty looks.
How To Wear Hoodie With Blazer
Check out these outfit ideas you can recreate by teaming your favorite hoodie with one of these blazers, leather jackets or denim jackets. Each outfit is super fabulous and ideal for picnics and open-air parties:
A black leather jacket is layered over cream white hoodie completed with ripped black skinny jeans and black leather slip-on shoes: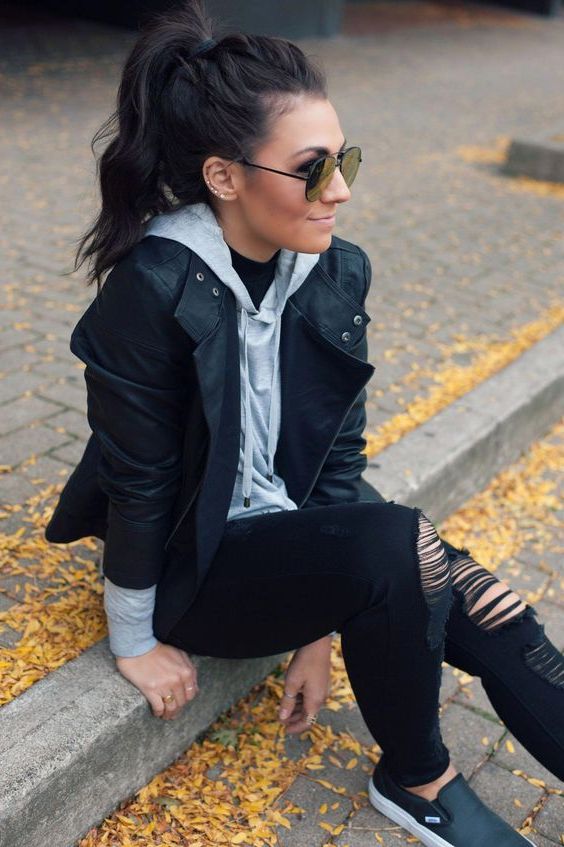 Buy Similar Here
A washed blue denim jacket is layered over white hoodie styled with black leather skinny pants tucked inside OTK boots in black leather: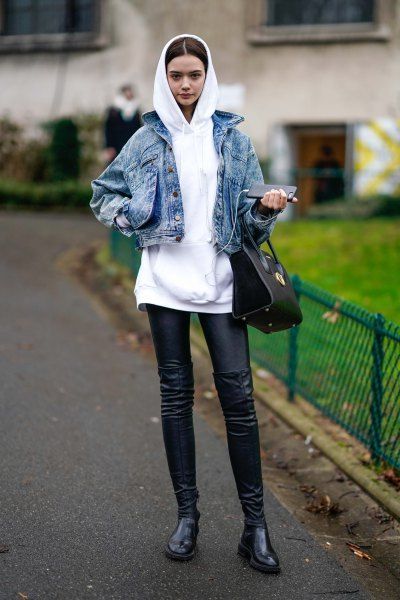 Buy Similar Here
A black denim jacket can be a good alternative to a leather jacket. It does look edgy, but ideally, suit this grey hoodie completed with black leather pants: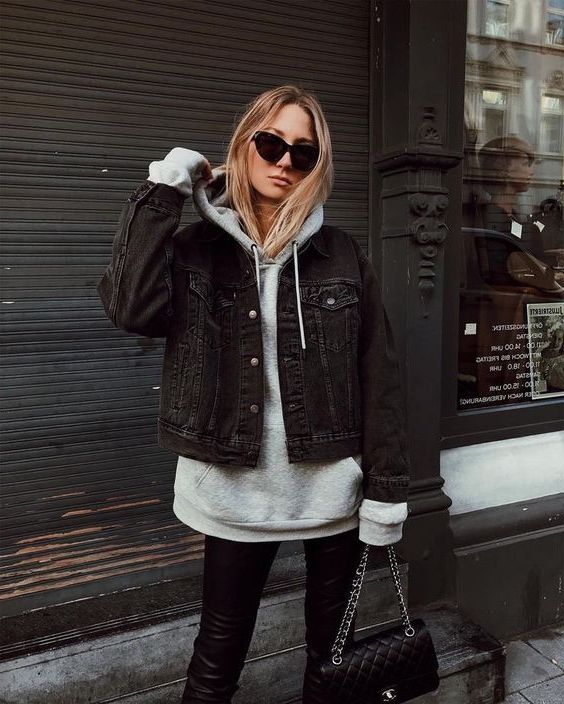 Buy Similar Here
A grey blazer in wool looks pretty cool with beige hoodie and velour pants in black color updated with pointed-toe sock boots: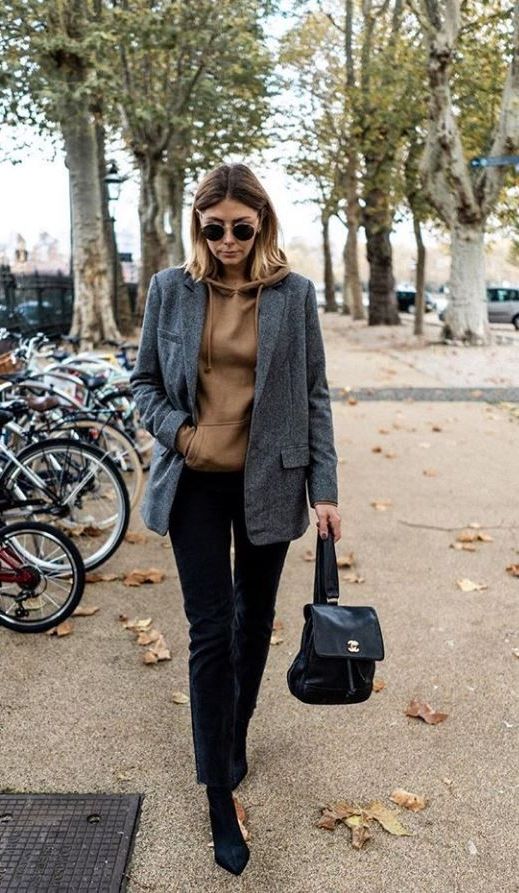 Buy Similar Here
Prince of Wales printed blazer is layered over grey hoodie tucked in maroon tailored pants: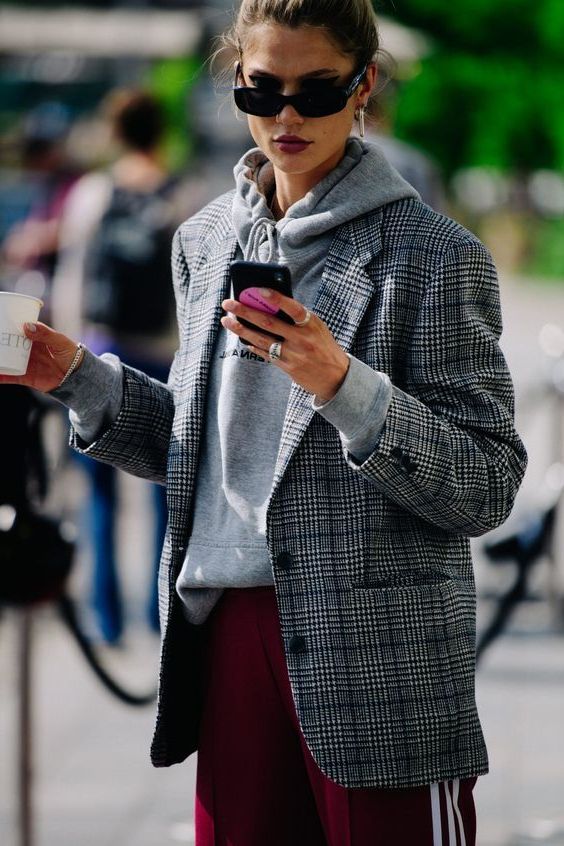 Buy Similar Here
A grey tracksuit is updated with a black leather jacket and rounded sunglasses: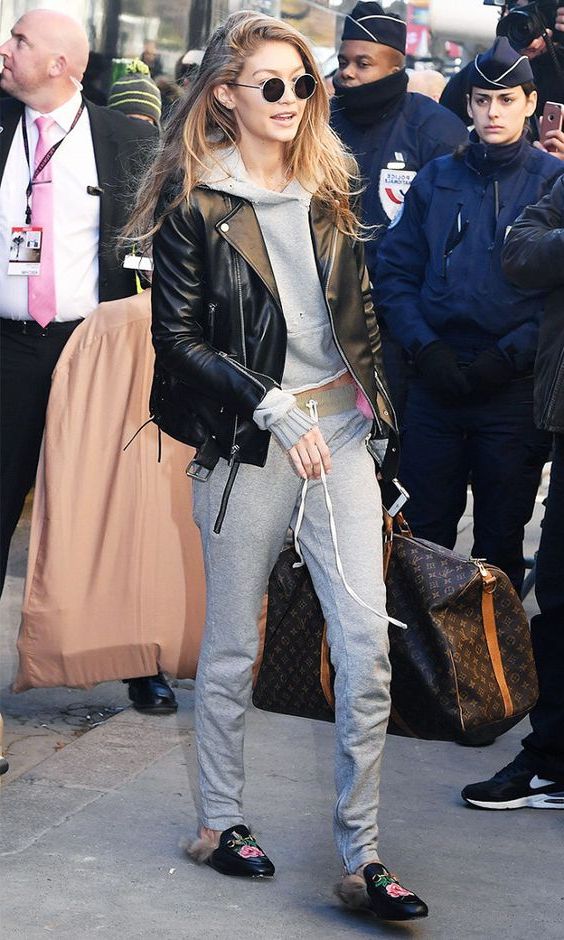 Buy Similar Here
Black hoodie and black blazer is a good start, don't forget to add grey pants and oversized sunglasses: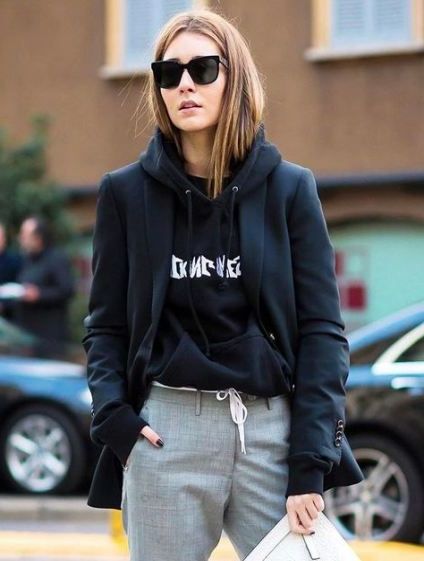 Buy Similar Here
Another casual style is here. We see a grey hoodie teamed with a black leather jacket and black slim jeans: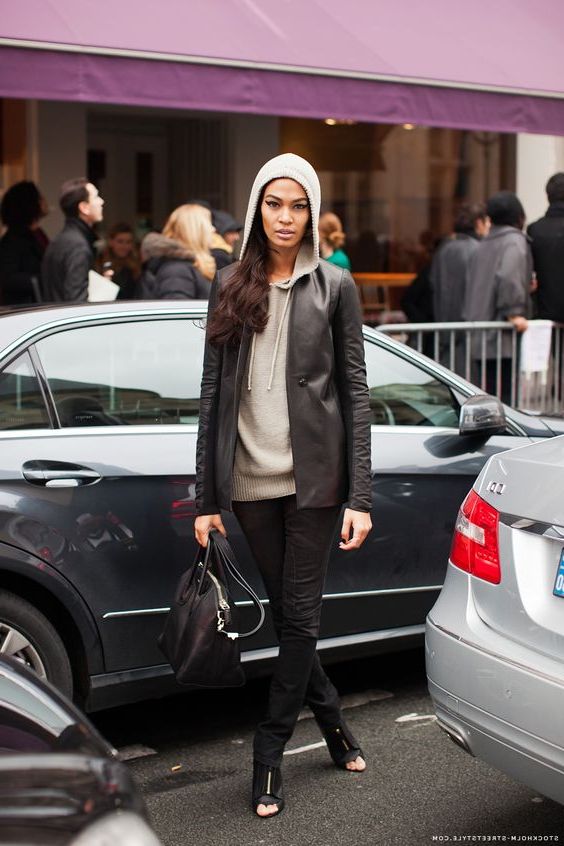 Buy Similar Here
A pair of glossy black leather pants look awesome with a grey hoodie and black blazer: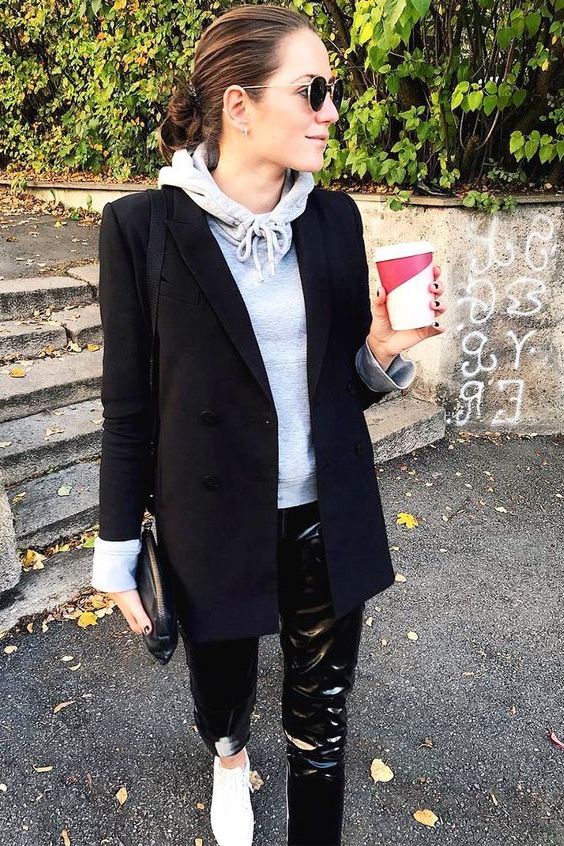 Buy Similar Here
You are free to choose from skinnies and high-waisted mom jeans to raw hem denim bottoms and cropped skinnies. Such combo can be completed with a blazer draped over hoodie. Make this combo super cool by adding a pair of ugly sneakers or sock runners.
How To Wear Hoodie With Skirts
You are free to try another sweet-looking combination called hoodie and skirt. This outfit idea looks a bit more feminine, so you can experiment with different accessories and details to create a perfect style you can wear from the streets to special occasions.
How about creating a glamour look? Go for a black hoodie and style it with a gold sequined skirt and white chunky sneakers: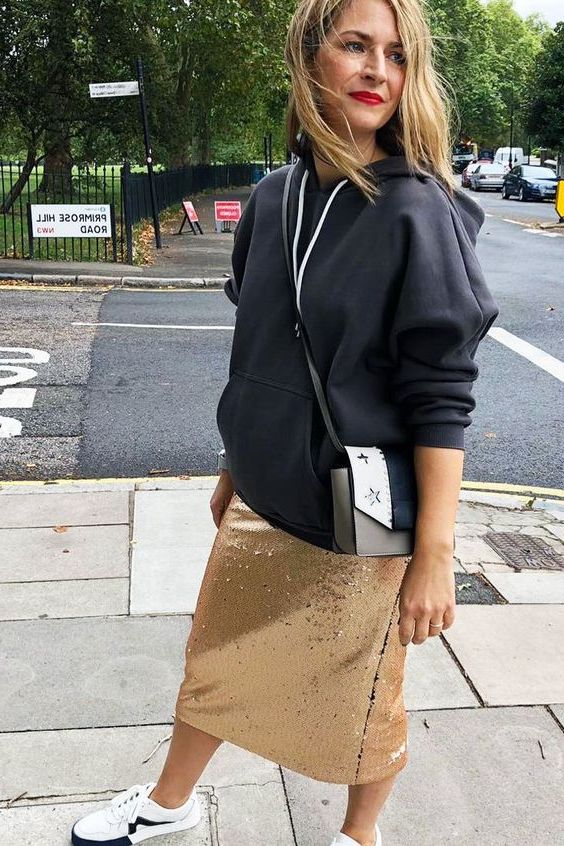 Buy Similar Here
An oversized black hoodie can be paired with a midi white dress and black leather ankle boots: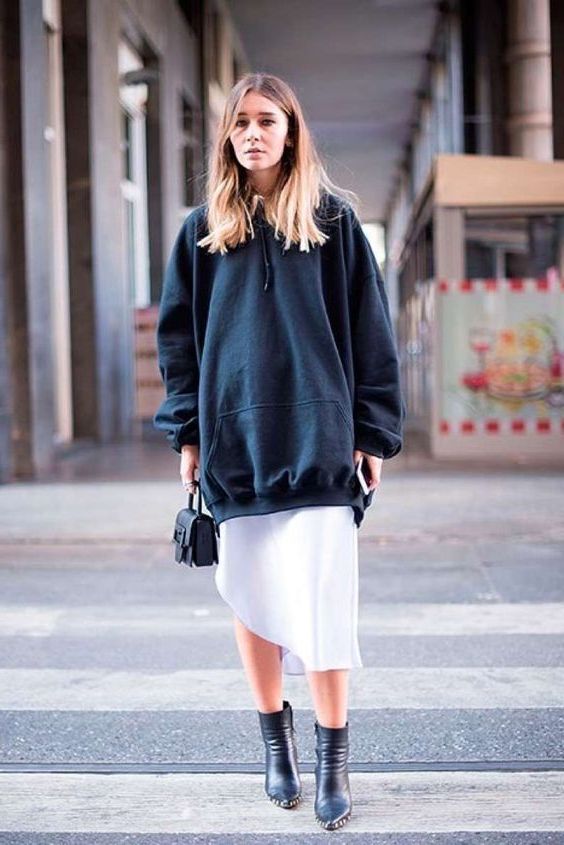 Buy Similar Here
A short white hoodie looks pretty hot with a black denim mini skirt: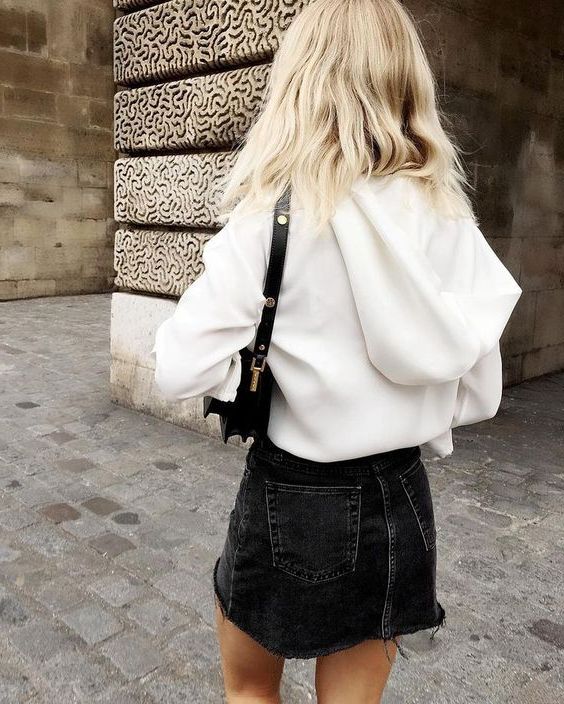 Buy Similar Here
This street style collection features tons of cool ideas and trendy ways how to style a hoodie during Autumn days. If you want to start from simple outfits, then the best way is, to begin with a hoodie and jeans combo is what you need.
How To Wear Hoodie With Dress
You can either wear the hoodie as a dress or wear it over a dress. A chance you look awesome is very high! Just make sure you add a fancy pair of shoes.
A blush oversized hoodie is worn as a dress. Complete it with cool grey-white sneakers: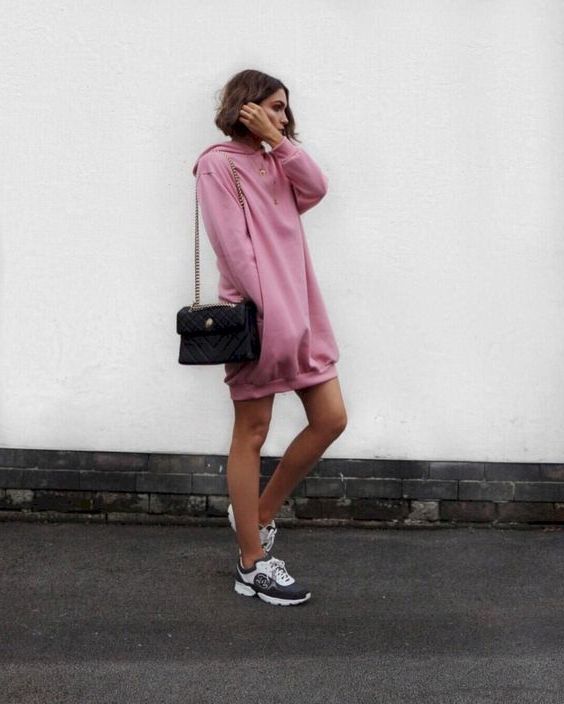 Buy Similar Here
Yellow hoodie-dress is balanced with a pair of black glossy combat boots, love it: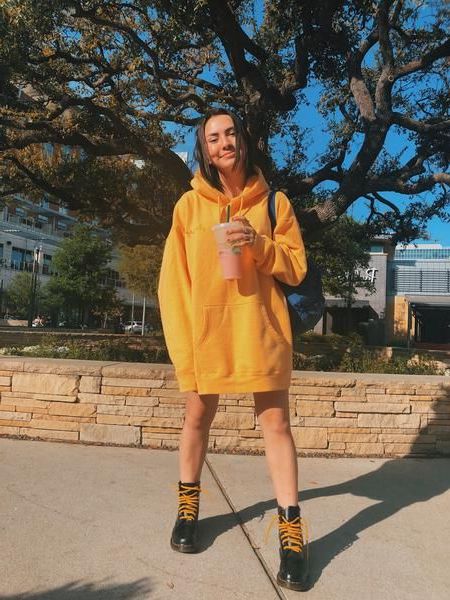 Buy Similar Here
An all-black look with a cropped hoodie and silken midi dress is completed with white kicks: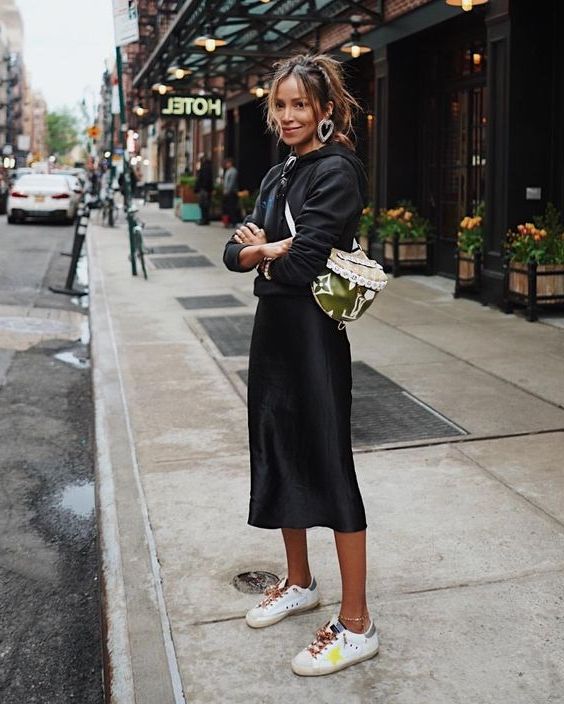 Buy Similar Here
Love this navy flared dress combined with a grey hoodie, black skinny pants, and cool ankle boots: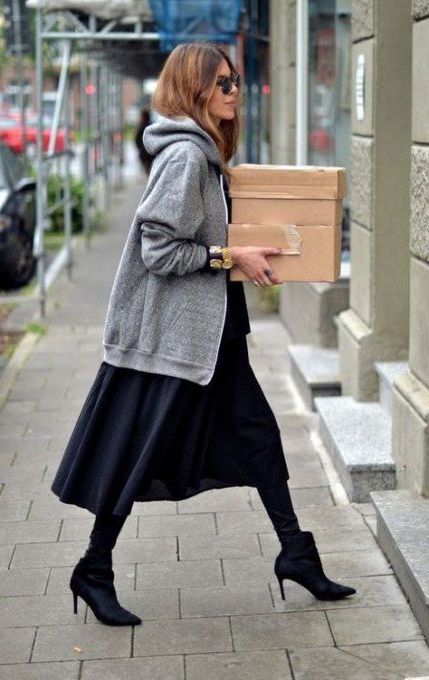 Buy Similar Here
Here we see a cool hipster inspired outfit idea. A blush hoodie dress is styled with a driver's cap, belt bag in black leather and chunky sneakers in white: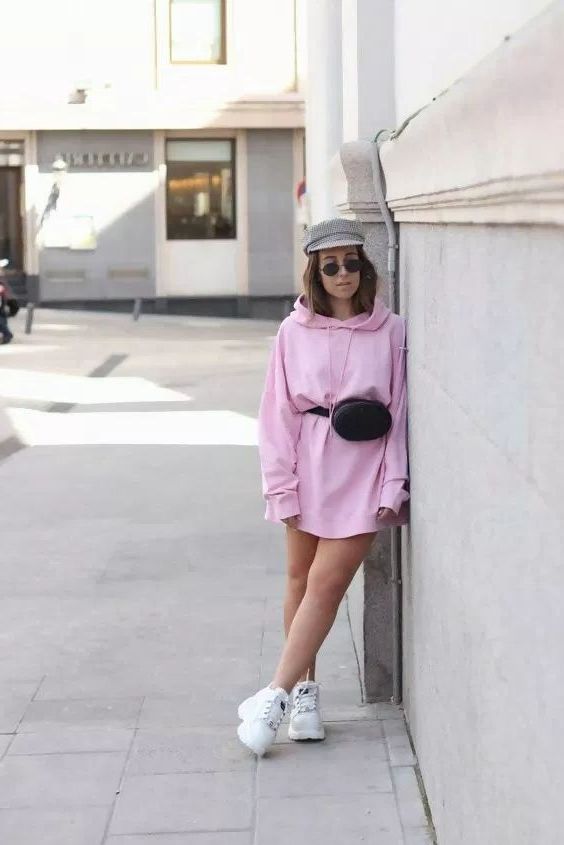 Buy Similar Here
You can also go for a more feminine style, just make sure you combine hoodie with a dress or a skirt. This will add a bold and contrasting appearance. Start from edgy skirts, like ripped denim skirt or a mini leather skirt, then you can continue with midi skirts and floral dresses.
How To Wear Hoodie With Heels
Heels will definitely underline your femininity, but make sure you create a well-balanced look, otherwise your heels will make a distorted appearance.
Here we see an all-black OOTD. A black hoodie is tucked in black joggers completed with heeled sock boots: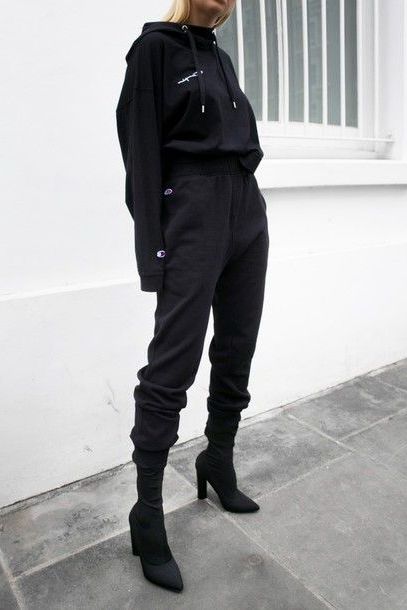 Buy Similar Here
An oversized cream white hoodie can be easily paired with a silk black midi dress and black sock booties: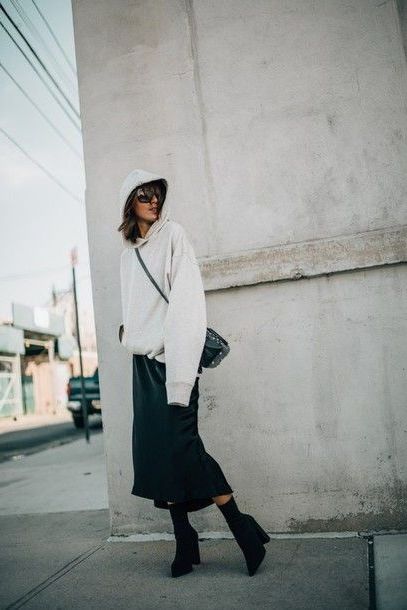 Buy Similar Here
An oversized black hoodie is worn as a dress. Try it on with white heeled ankle boots: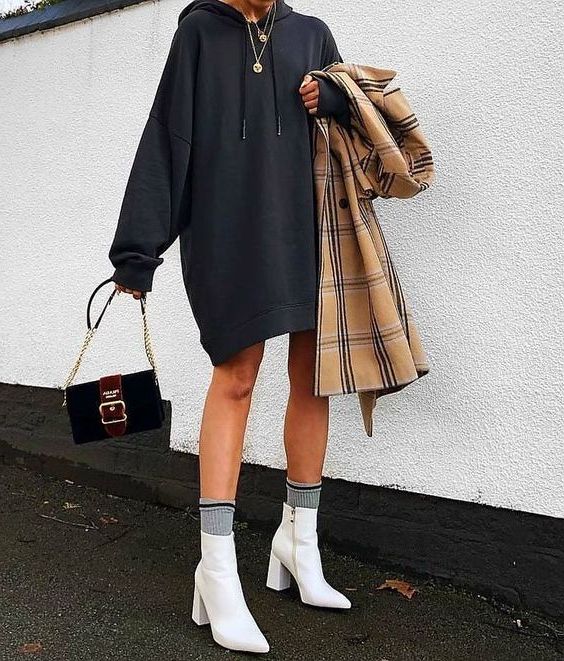 Buy Similar Here
An oversized red hoodie makes the whole outfit look fresh and bright. Complete this outfit with rounded shades, ripped jeans and heeled pumps: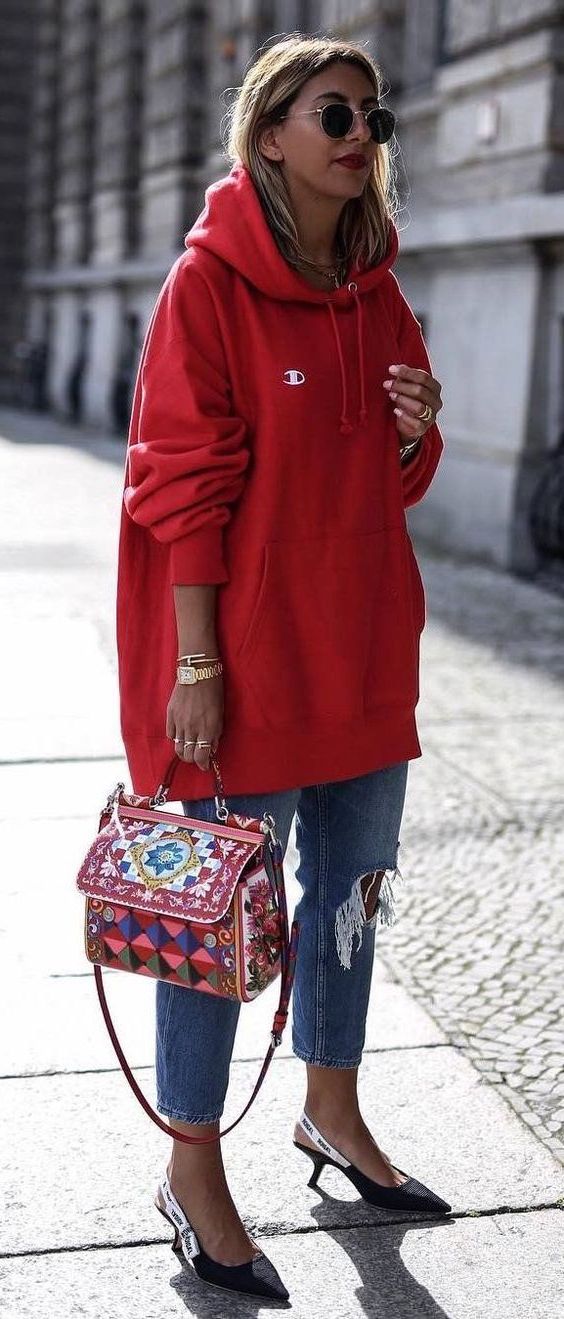 Buy Similar Here
An oversized camel coat is layered over black hoodie teamed with ripped jeans and studded caged heels: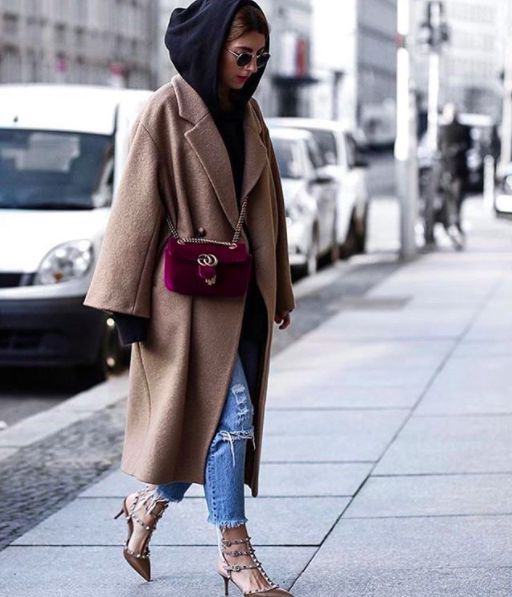 Buy Similar Here