Today's blog post is dedicated to ways how to wear black leggings for women. You will see simple ideas that can easily update your style. They will keep you warm, as well as show-off your toned legs. Scroll down to find your favorite outfit ideas.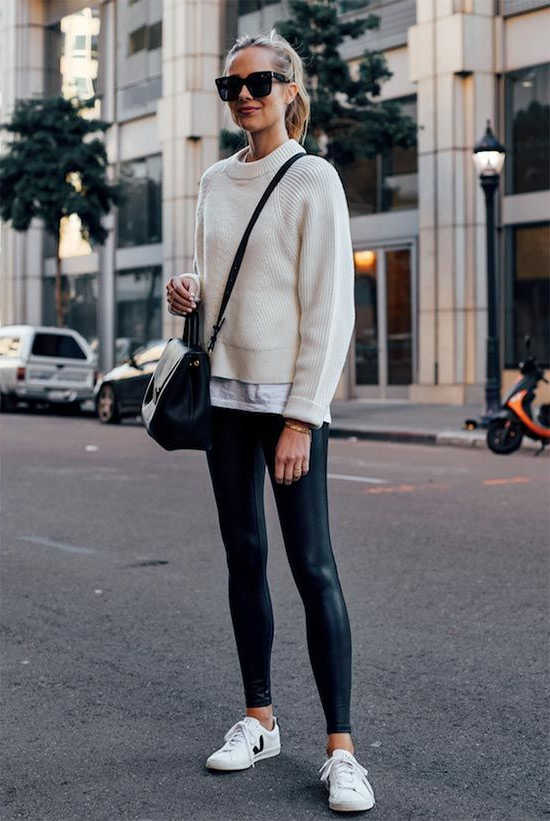 🛍️ Where To Find: Buy Related Here
We see a cute layering style for the fall season. A ribbed knit white sweater is layered over a basic white tee paired with black patent leggings and white sneakers. Update this combo by adding oversized sunglasses and a black leather shoulder bag.
How To Style Black Leggings
I love the versatility of black leggings, you can easily create a more conservative look, as well as dress them down and try on a daring outfit. Why did I decide to talk about black leggings? Well, they can be worn with many different clothes, while you can't say the same about printed or colorful leggings. Plus, black leggings are not all the same: there are opaque, transparent, mesh styles, latex, patent, matter, and PU leather leggings in black color.
Oversized Sweater And Black Leggings
A cream-brown ribbed knit sweater in oversized fit is half-tucked in black leggings completed with pointed-toe brown leather loafers: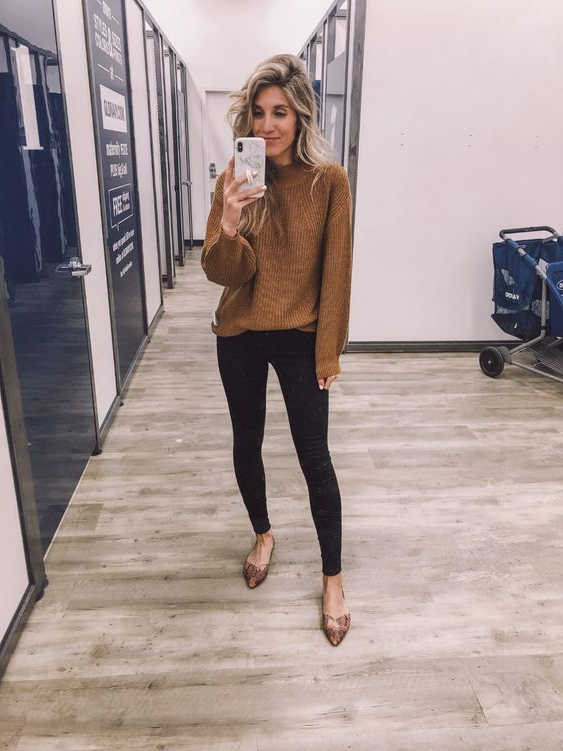 🛍️ Where To Find: Buy Related Here
Another great debate going on around leggings is if you are allowed to wear them as pants, or should you cover them as tights. I would say, layering is essential, they are more like tights than pants. But thanks to modern retailers that offer non-transparent fabrics you can easily use them as pants. For instance, you will see some sassy shiny black leggings in this collection, but those are meant for slide girls, as they may create bulges whereas the idea is to produce a smooth look.
Leopard Print Vest And Black Leggings
A cozy leopard print down vest looks incredible! It is styled with a base layer top in black color completed with matte black leggings and cream-brown suede slip-on ankle boots: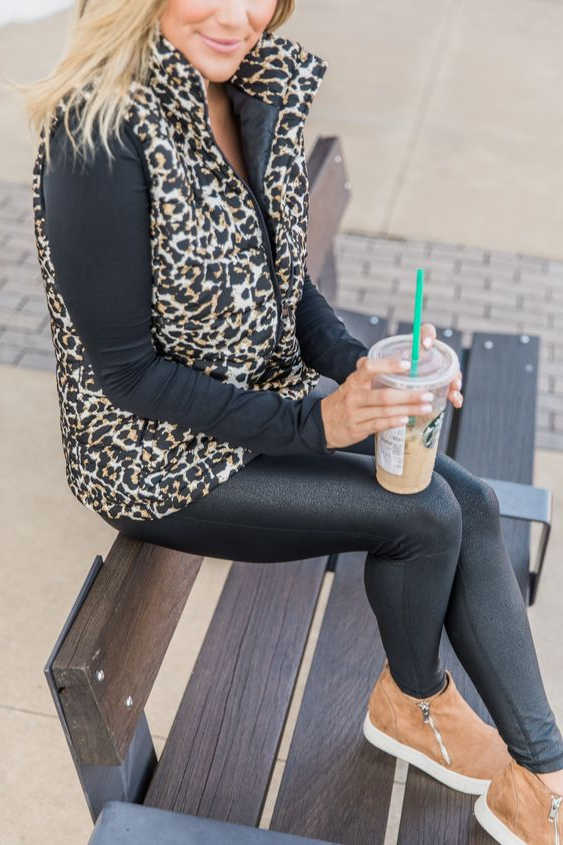 🛍️ Where To Find: Buy Related Here
Speaking of tops, it's a pretty easy question. Black leggings are easy to style, as they go with pretty much anything. You can go for an elongated muscle tee, basic T-shirt, tunic top or a sweater.
Blush Sweatshirt And Black Leggings
A classic sporty quilted down vest in black is worn over a blush sweatshirt completed with black leggings and black sneakers. By the way, check out my post on ways how to wear vests for women, there are gathered chic street style ideas on how to make it look awesome on you: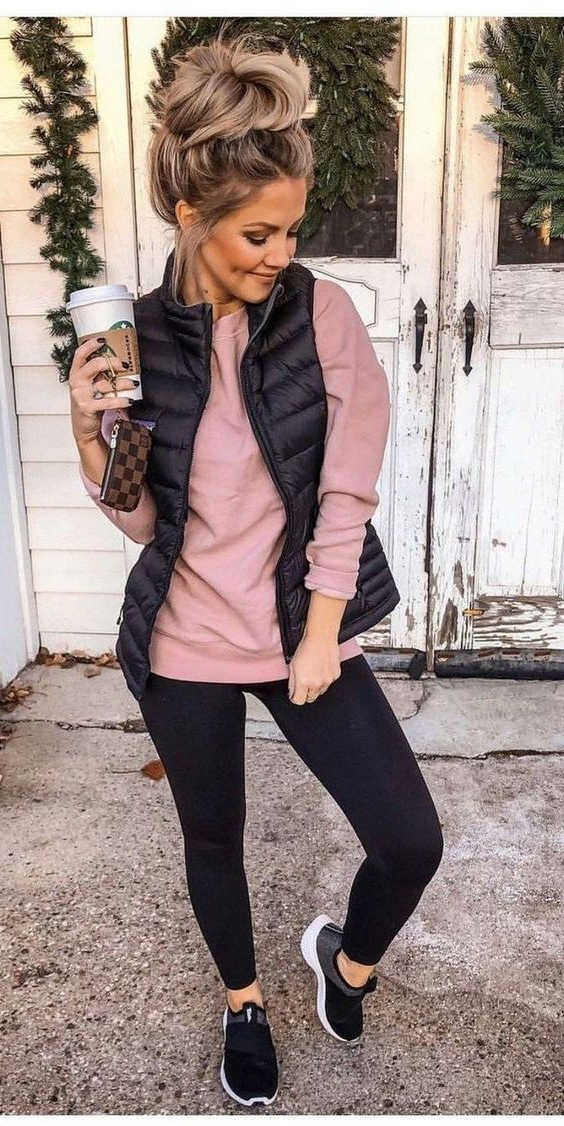 🛍️ Where To Find: Buy Related Here
You can also go for the following tops:
Rock band tees
One Shoulder Tops
Lace Blouses
Camisoles
Long Camisoles
Casual Jumpers
Pullovers
Elongated Tees
Off Shoulder Tops
Graphic Tees
Dress Shirts
Sporty Jerseys
Hoodies
Casual Blouses
Knitted Tops
etc.
Gingham Shirt And Black Leggings
Another cool outfit for casual street walks. We see a black-white gingham shirt layered over V-neck grey tunic teamed with black leggings and white sneakers. Update this simple look with oversized sunglasses and black leather shoulder bag: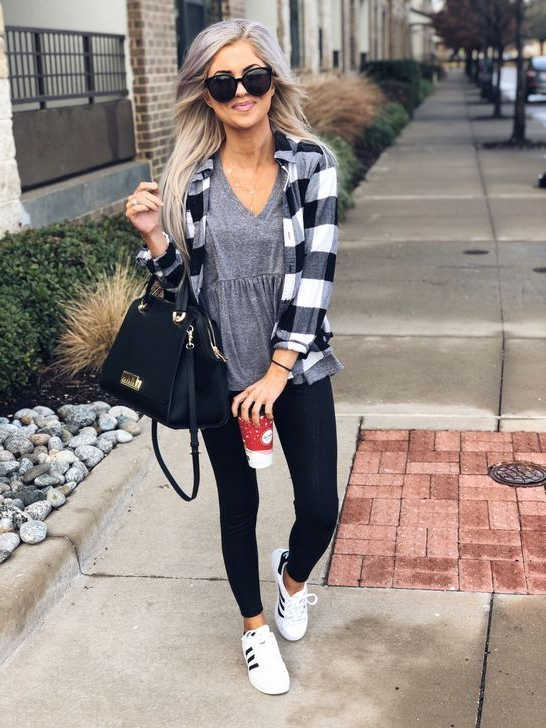 🛍️ Where To Find: Buy Related Here
Speaking of knits, they work well during the winter and fall season time. Think of adding a long-sleeved sweater, slouchy cardigan or the one with the cascading design. I personally love to wear roll-neck and turtleneck sweaters paired with black leggings.
Grey Pullover And Black Leggings
A simple pullover in grey color ideally suits those black leggings completed with white sneakers. In love with rounded sunglasses: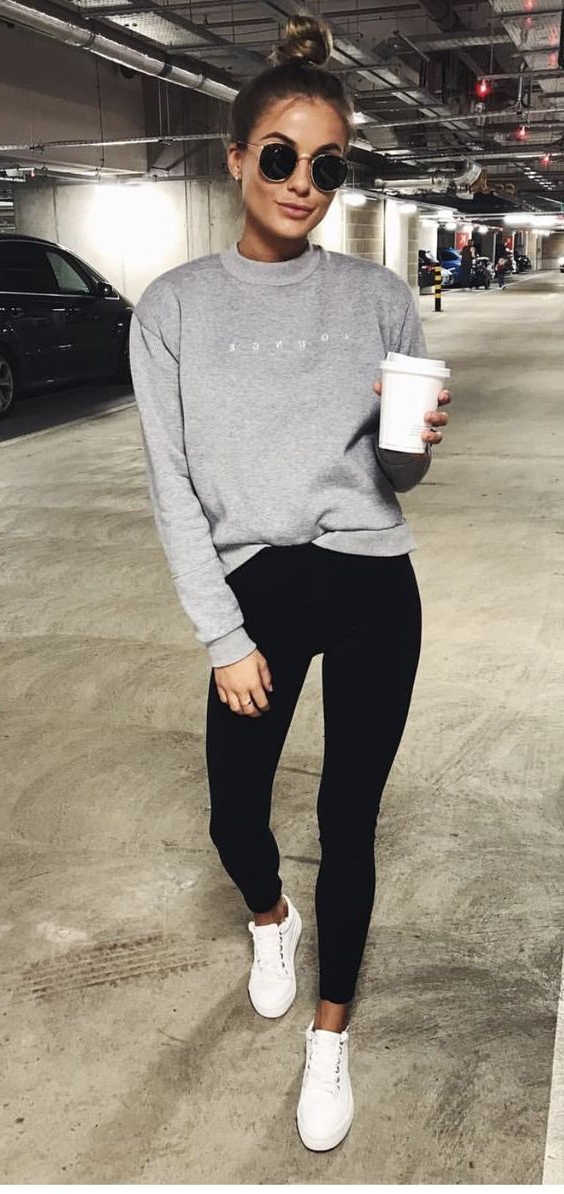 🛍️ Where To Find: Buy Related Here
Speaking of shoes, then everything depends on the overall style. You are free to try on flats in neutral colors, but you can experiment with bright colored versions. I recommend choosing different colors and styles, so you definitely know which footwear suits you the best. If you are thinking of heels, platforms, and wedges, then everything depends on the way how you pair them together. Think of stilettos, heeled ankle length boots, wedges or heeled pumps.
Black Leggings And Black Ankle Boots
A grey slouchy top with side slits looks hippie-inspired. Style it with black leggings and block heel ankle boots in black leather. Update this style with Clubmaster shades: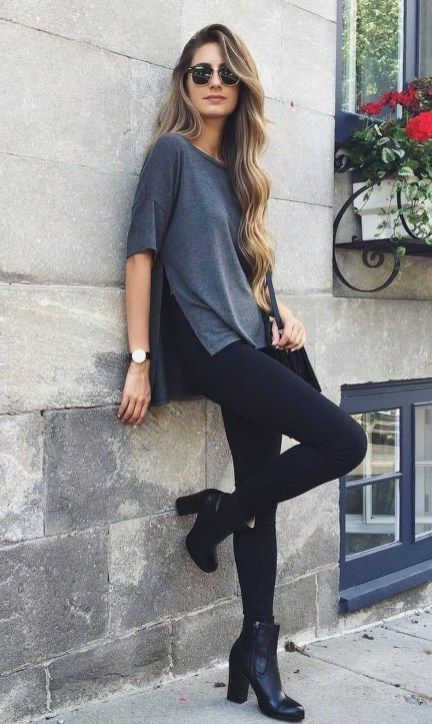 🛍️ Where To Find: Buy Related Here
I mentioned boots and they do look cool with black leggings. I love pairing tall boots with black leggings, this makes me look edgy, sophisticated and somewhat passionate. But you can try booties, heeled slouchy boots or even UGGs.
Striped Top And Black Leggings With Tall Boots
Another smart-casual combo for day-offs. We see a cream-beige oversized scarf teamed with black-white striped long-sleeve top completed with black leggings tucked in suede brown tall boots: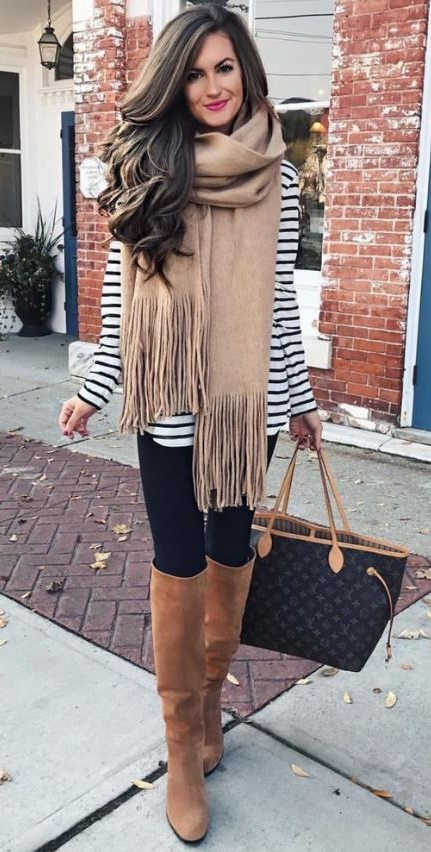 🛍️ Where To Find: Buy Related Here
If you have thin legs, then my personal suggestion is to add calf-length boots. For women with thick or wide legs, I recommend choosing ankle boots. It doesn't mean that ankle boots always look great with black leggings. It can be pretty problematic pairing them together: there can be a problem of skin around the hem of the leggings, ankle-boots can make your legs look shorter and even thicker. That's why I highly recommend checking if boots cover the hem of leggings.
Grey Suede Biker Jacket And Black Leggings
If you are into edgy style, then I highly recommend trying on the following outfit consisting of a grey suede biker jacket, cowl-neck ribbed knit sweater in grey and black leggings with classic kicks: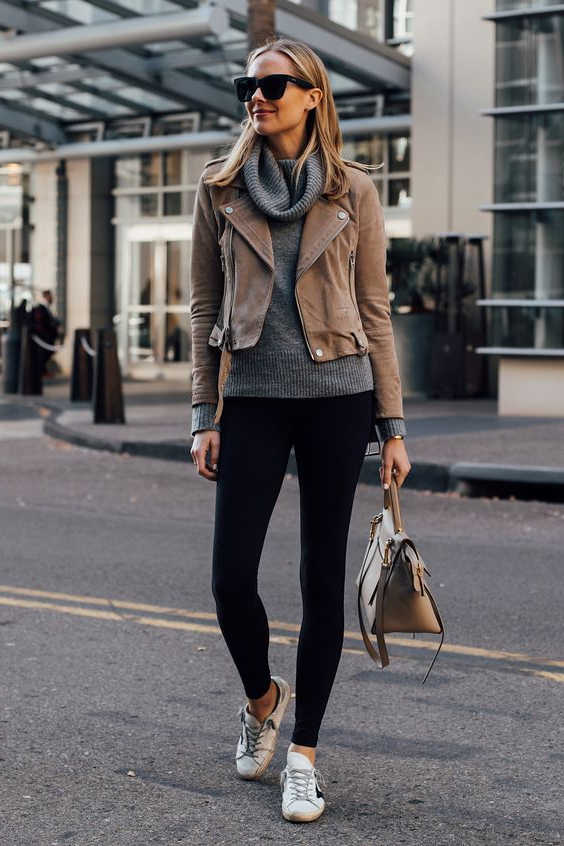 🛍️ Where To Find: Buy Related Here
Another cool option is wearing black leggings with sandals or sneakers. Sandals work well during the summer, but please avoid gladiators. Spice up your casual summer look with bright sandals, and choose neutral tone sandals for classy and dressy events. Speaking of sneakers, go for chunky and ugly styles, this way you will underline your individuality. Think of black, white, purple or even pink styles to keep things original.
Black Leggings And Grey Wedge Slip-On Shoes
A white long sweatshirt looks awesome styled with black leggings and gey suede wedge slip-on shoes. Update this weekend style with a cargo khaki-green jacket tied around the waist: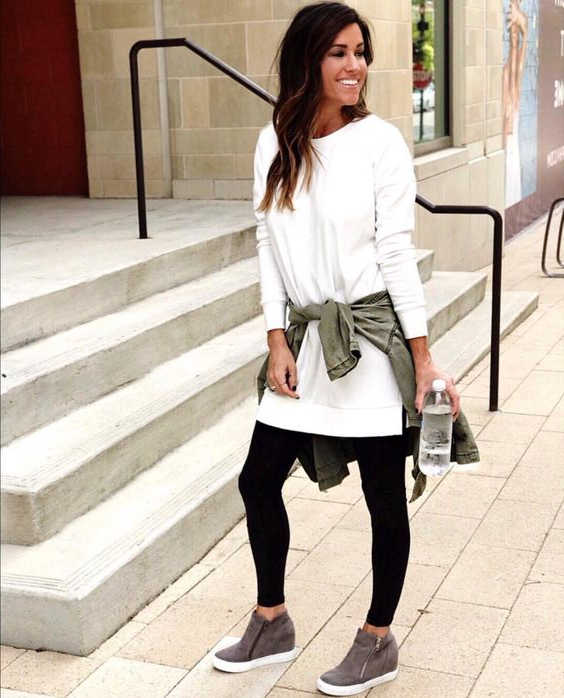 🛍️ Where To Find: Buy Related Here
I am a big fan of wearing black leggings under the dress. They look cool with midi dresses, as well as with flowy, airy long dresses with side slits.
My favorite dresses that go with black leggings are:
Tunic dresses
Shirtdresses
Lace Dresses
Wrap Dresses
Knitted Dresses
Mini Dresses
Sweater Dresses
Black Leggings And Shearling Heeled Boots
Keep it casual and light. We see a relaxed white long-sleeve top with black leggings and shearling lace-up heeled boots. Update this combo with a plaid wool scarf: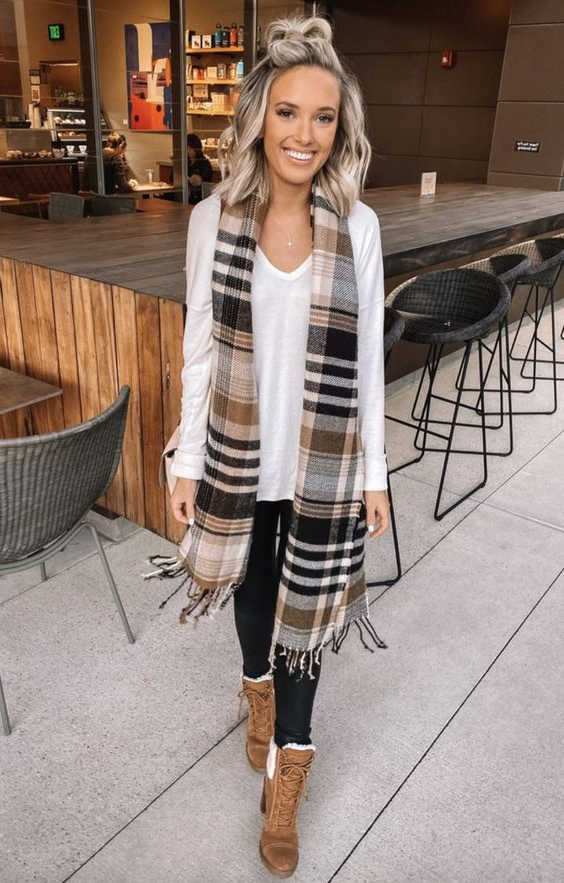 🛍️ Where To Find: Buy Related Here
If you thinking of wearing skirts with black leggings, then you are free to complete the look by adding a short top. My favorite skirt styles to wear with black leggings are: mini skirts, skater skirts, and flowy side slit midi skirts. But you can choose a skirt that falls above the knee or shorter.
I don't recommend going all black with a skirt, better skip monotony and show some creativity with bright colors. A printed skirt will add the right dose of spice to the overall look. You can also add a floral top to make yourself stand out from the crowd. All in all, try to experiment with different clothes, like skirts, dresses, sweaters, and cardigans. Make sure to try stylish bags and jewelry.
White Shirtdress And Black Leggings
A lovely white shirtdress is updated with black leggings and ankle-cuff flat sandals in beige color. Complete this summer look by adding mirrored aviator sunglasses: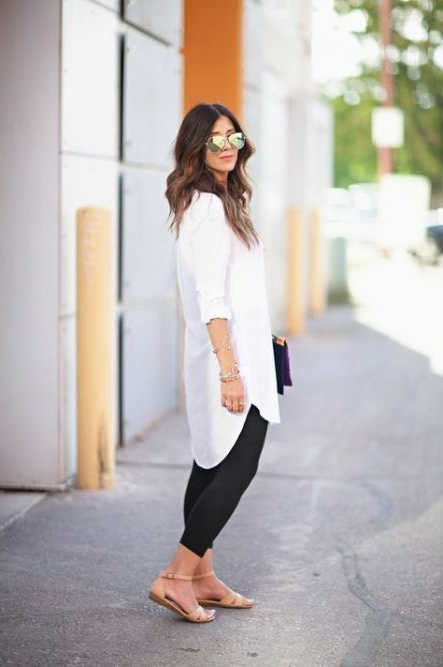 🛍️ Where To Find: Buy Related Here
The last, but not least, create your own style by mixing and matching various outfit ideas from the following collection. This will make you look unique and elegant.
Black Leggings And Cream Beige Pumps
A classic white sweater with boat-neck collar is tucked in black stretch PU leggings completed with pointed-toe heeled beige pumps: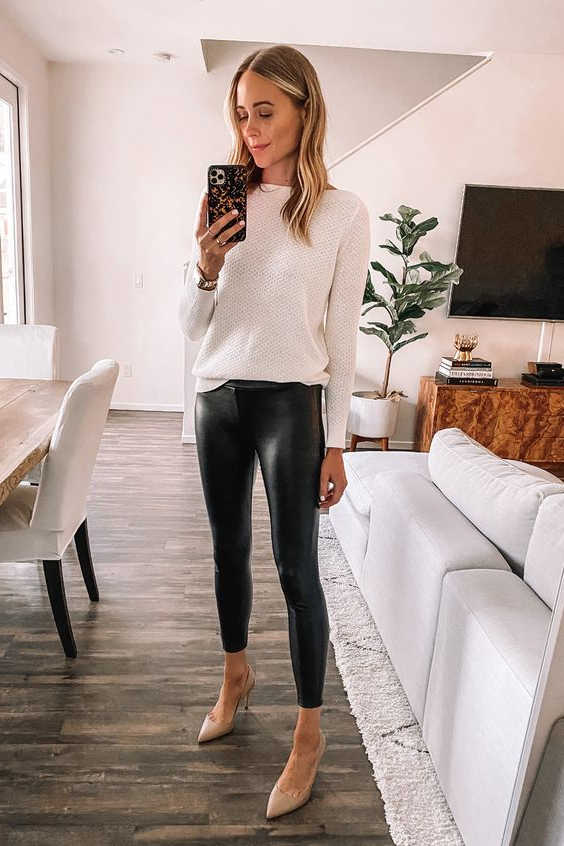 🛍️ Where To Find: Buy Related Here
My personal experience with black leggings. As a stylist, I like everything to be comfortable, versatile, easy to wear and individual. That's why leggings colored in black color are my favorites. Their color suits most of my clothes, I simply mix and style them with all my contemporary outfits. The following street style collection features many It girls and fashionistas around the world stepping out in unique outfits.
Plus Size Black Sweater And Black Leggings
Even plus size ladies can rock black leggings! Here we see a perfect example of a young lady wearing a roll-neck long sweater in black teamed with matching color leggings and white sneakers: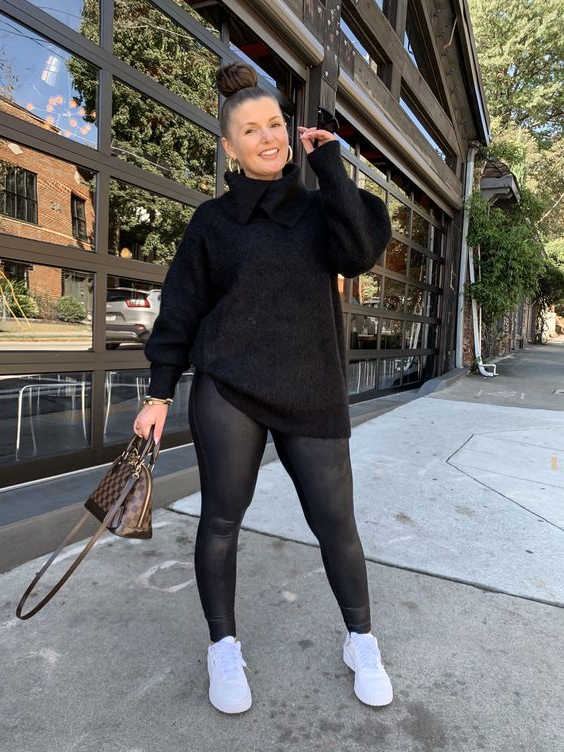 🛍️ Where To Find: Buy Related Here
Black Leggings And Camo Slip-On Shoes
A heavy cream-yellow wool scarf ideally suits denim jacket teamed with a black-white striped top, black leggings and camo print slip-on shoes: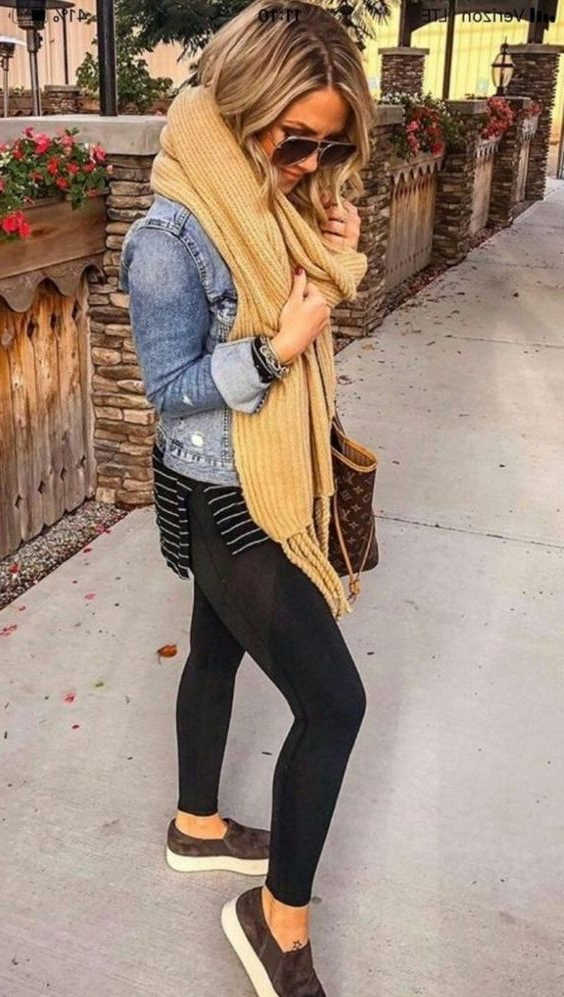 🛍️ Where To Find: Buy Related Here
Denim Shirt And Black Leggings
A cream-beige cardigan ideally matches that blue denim shirt teamed with black leggings tucked in cowboy tall boots in brown leather. If you are into denim, then you better find out three must-have denim for the upcoming spring season. You definitely gonna try them all: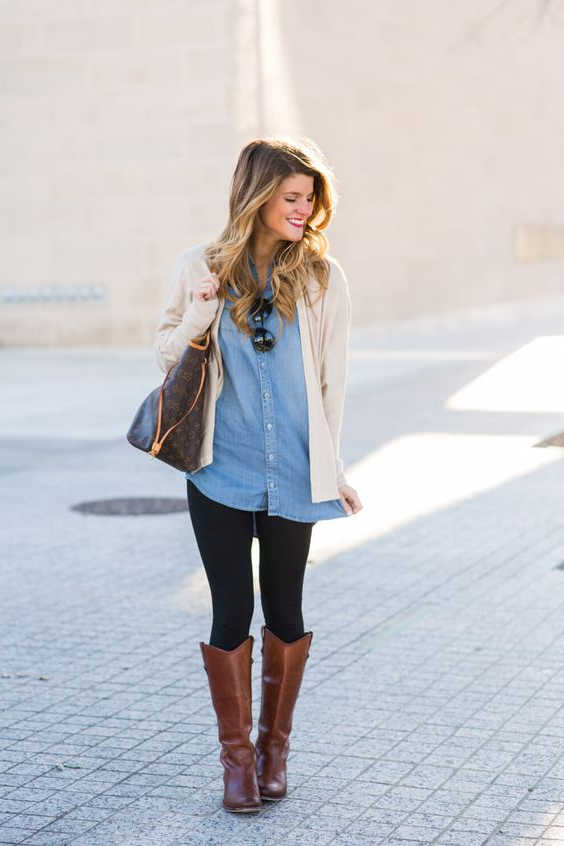 🛍️ Where To Find: Buy Related Here
Cargo Khaki Jacket With Black Leggings
We see a khaki-green cargo jacket teamed with a white top paired with black leggings and black sneakers. Love these army style aviator sunglasses: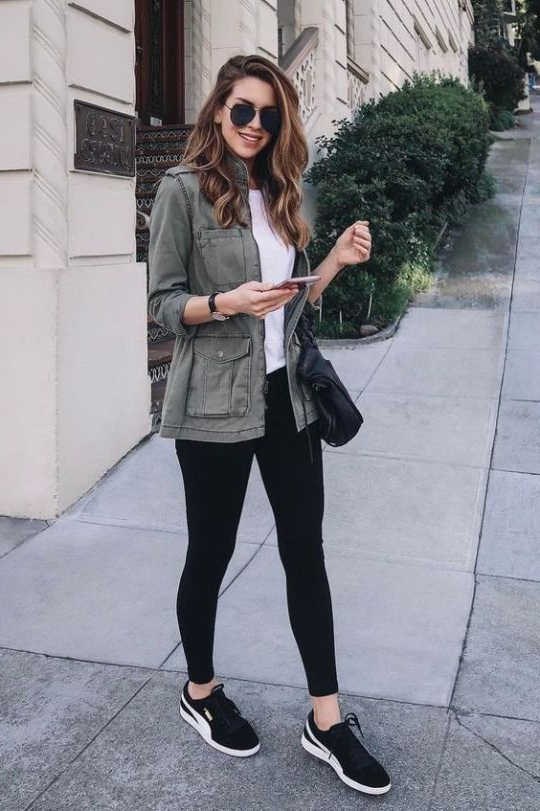 🛍️ Where To Find: Buy Related Here
Camo Print Sweatshirt And Black Leggings
Another cool military touch. Go for a camouflage print sweatshirt and pair it with black leggings and black kicks: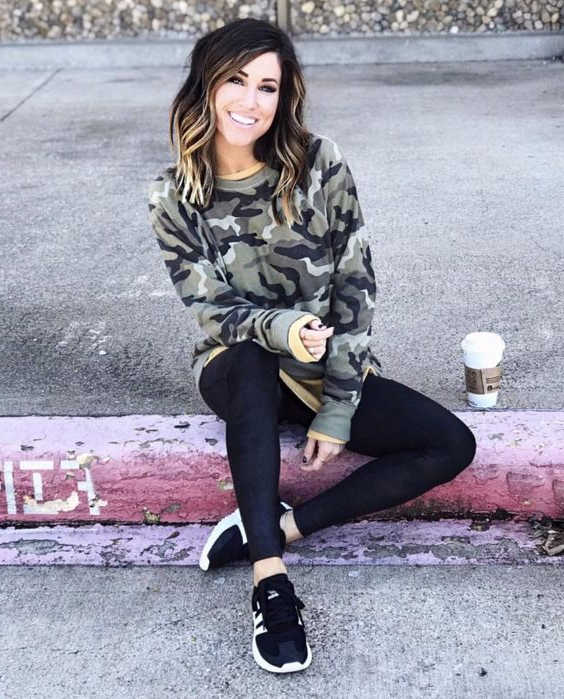 🛍️ Where To Find: Buy Related Here
Camel Coat And Black Leggings
An oversized camel coat is draped over a black sweater half-tucked in black leggings completed with chunky black leather boots embellished with studs: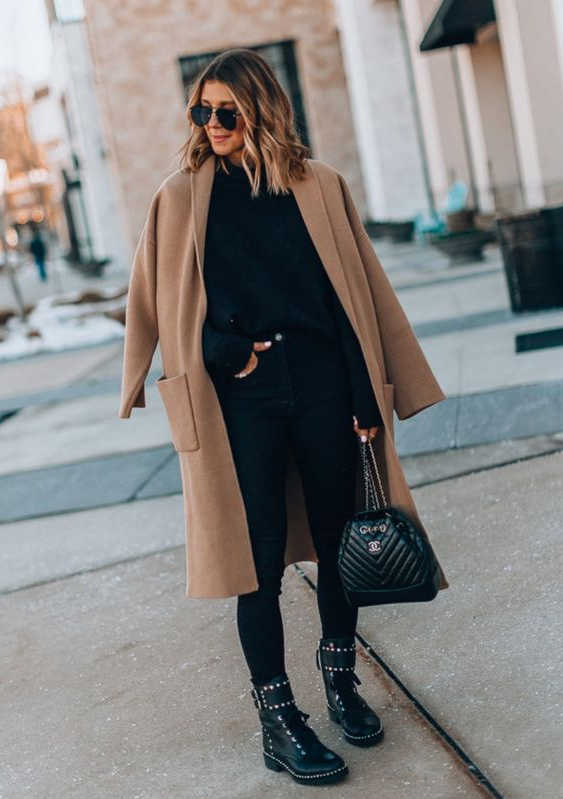 🛍️ Where To Find: Buy Related Here
White Dress Shirt And Black Leggings
A classic combination for summer days. We see a lightweight white dress shirt teamed with black leggings with a side vertical white stripe. Update this day look with blue oversized sunglasses, ankle-cuff black sandals, and a black leather tote bag: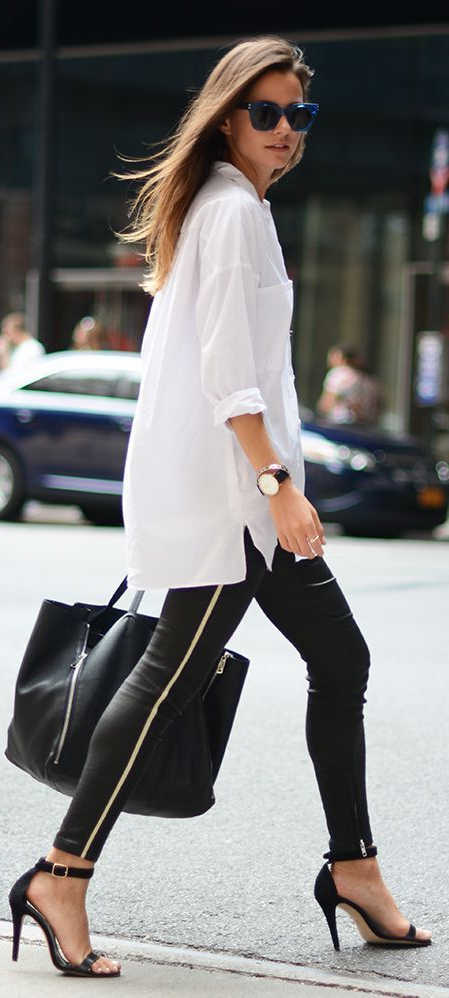 🛍️ Where To Find: Buy Related Here
Black Leggings With Mesh And Black Tee
Keep things sporty and cool! Go for these black leggings with mesh details and team them with a black t-shirt and black slip-on shoes with white soles: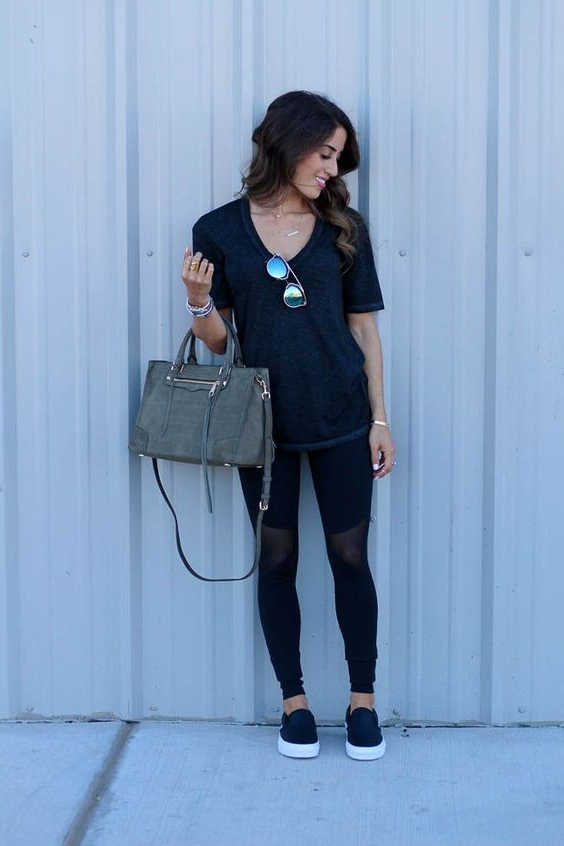 🛍️ Where To Find: Buy Related Here
Denim Jacket And Black Leggings
Another casual day outfit idea for young ladies. We see a blue denim jacket styled with a white hoodie, black leggings and white sneakers: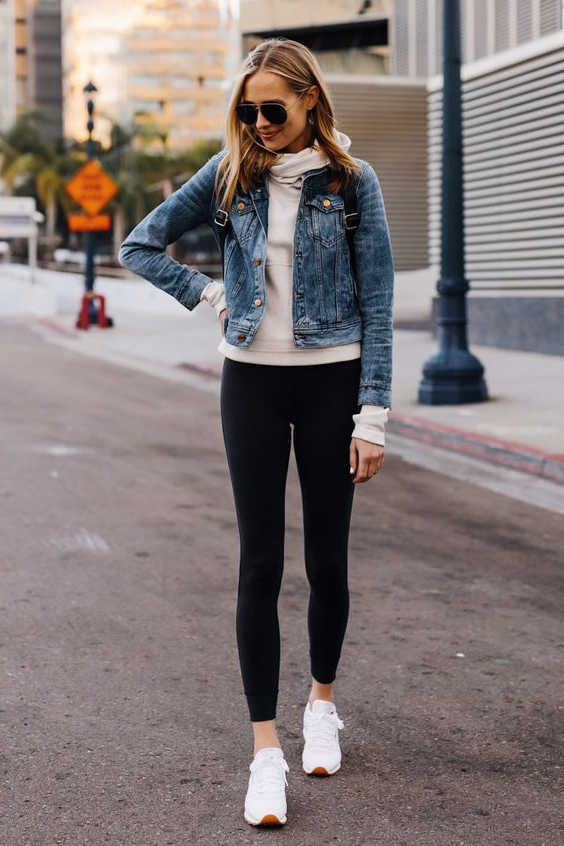 🛍️ Where To Find: Buy Related Here
Black Leggings With Side Slit And Black Leather Blazer
Make a real, glamour statement! Go for that black leather blazer and team it with a basic white top tucked in black leggings with side slits. Complete the look by adding fishnet heeled sandals: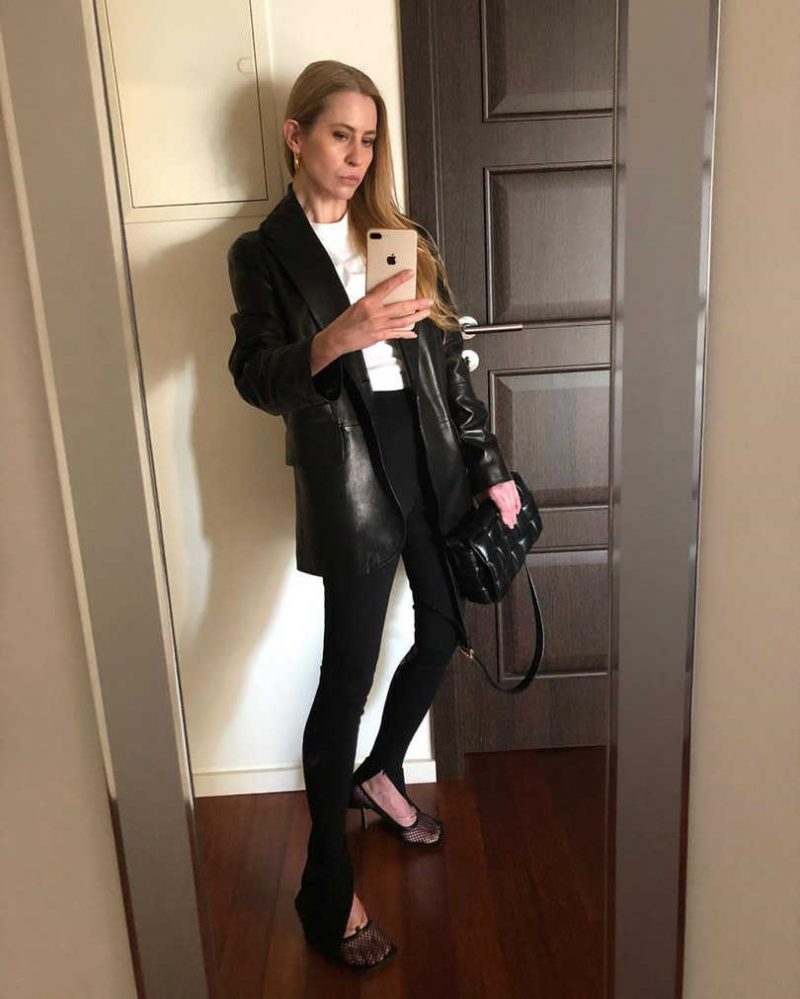 Black Crop Sweatshirt And Black Leggings
Keep it sporty and athletic! Go for a black crop sweatshirt and team it with high-waisted shiny black leggings completed with white sneakers: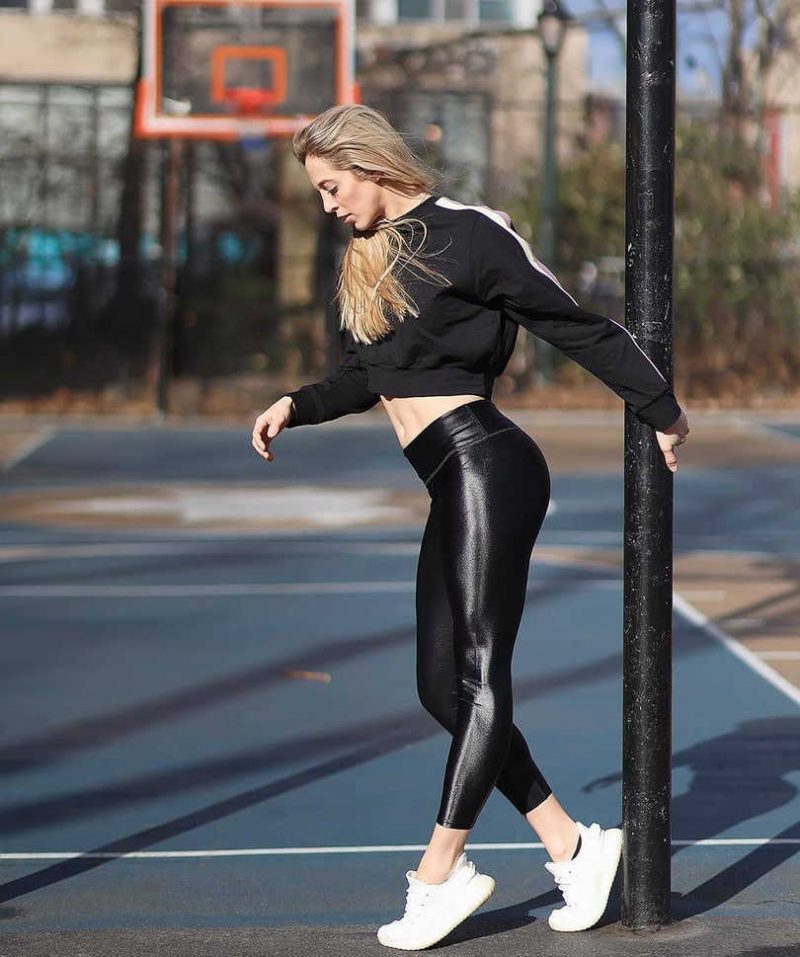 Strapless Crop Top With Crystals And Latex Black Leggings
Improve your night-out look! Go for a strapless crop top embellished with crystals and team it with latex black leggings completed with black hiking sneakers: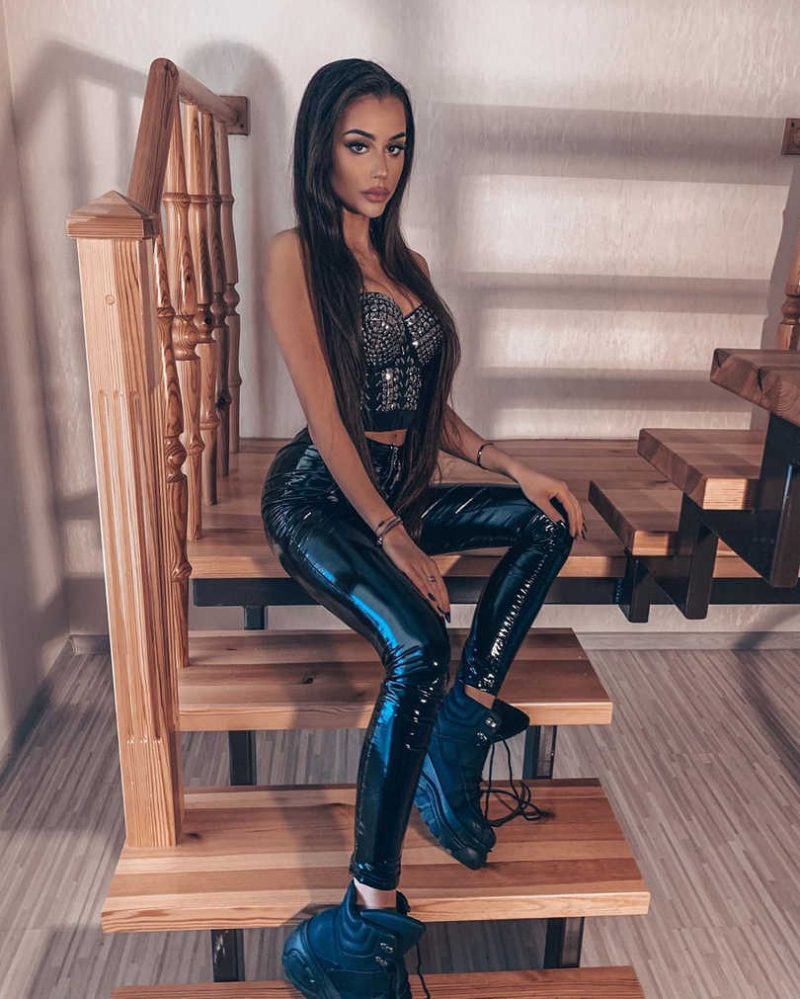 Black Leggings With Fur Vest
All in black outfit idea. We see a black fur vest teamed with black leggings completed with chunky platform black leather combat boots. A kind of grunge touch is felt in this combo: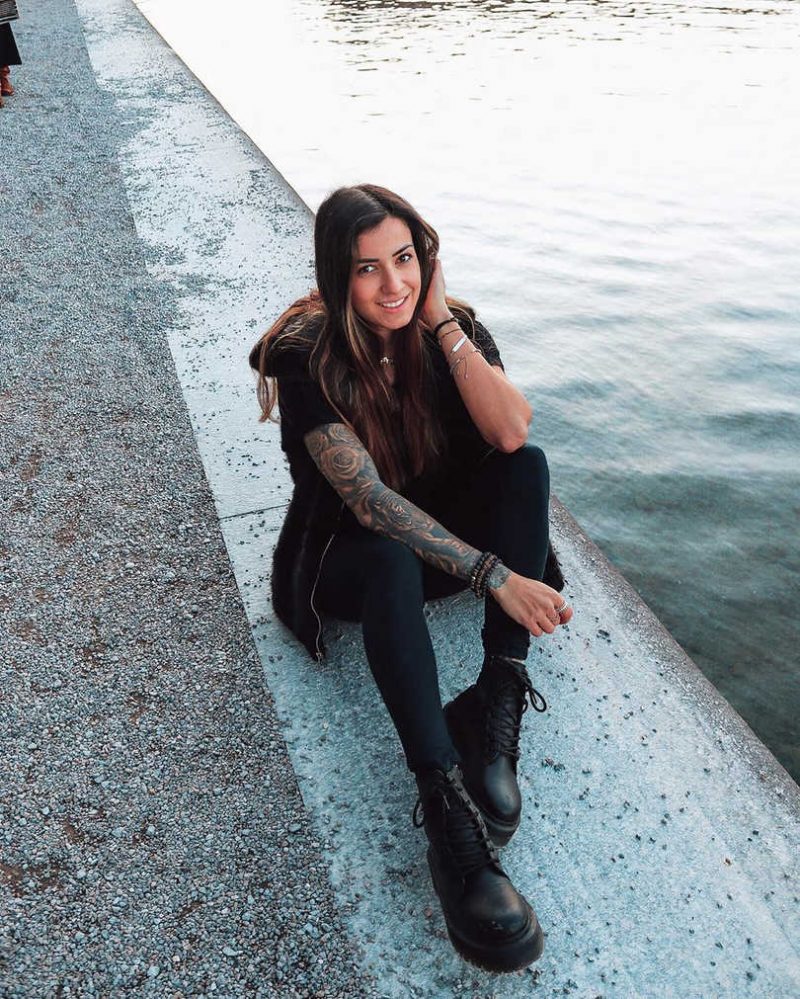 Black Leggings And White Sneakers For Women Over 50
A lovely style for women over 50. We see a black blazer teamed with a black long top completed with black matte leggings and white sneakers. Would you dar to try this outfit: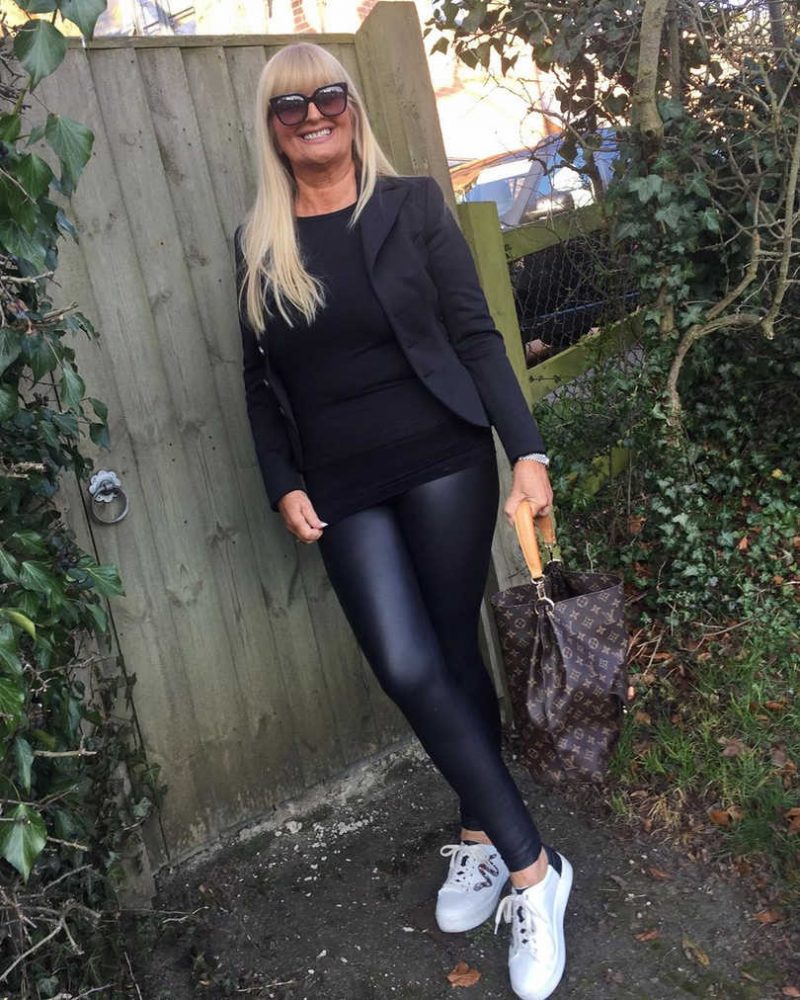 White Lace Top And Black Latex Leggings
A sassy white lace top with a deep neckline is tucked in black latex leggings updated with black heeled sandals: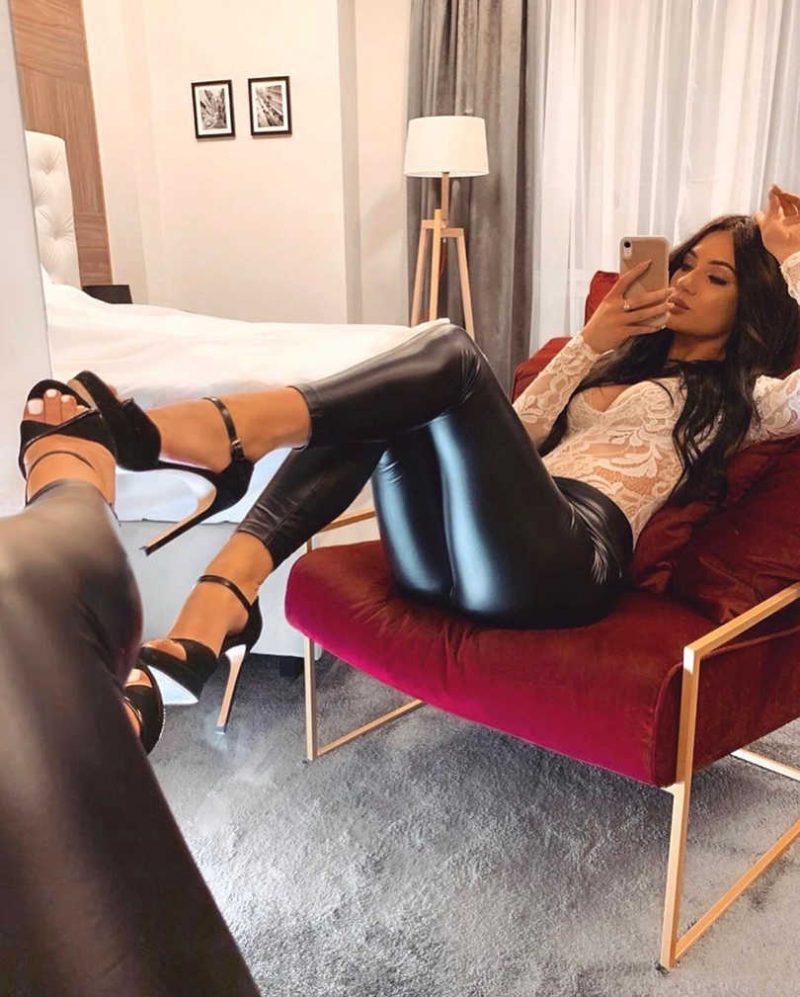 Camel Blazer And Black Latex Leggings
A light camel blazer ideally suits that white top tucked in belted black latex leggings completed with beige heeled sandals: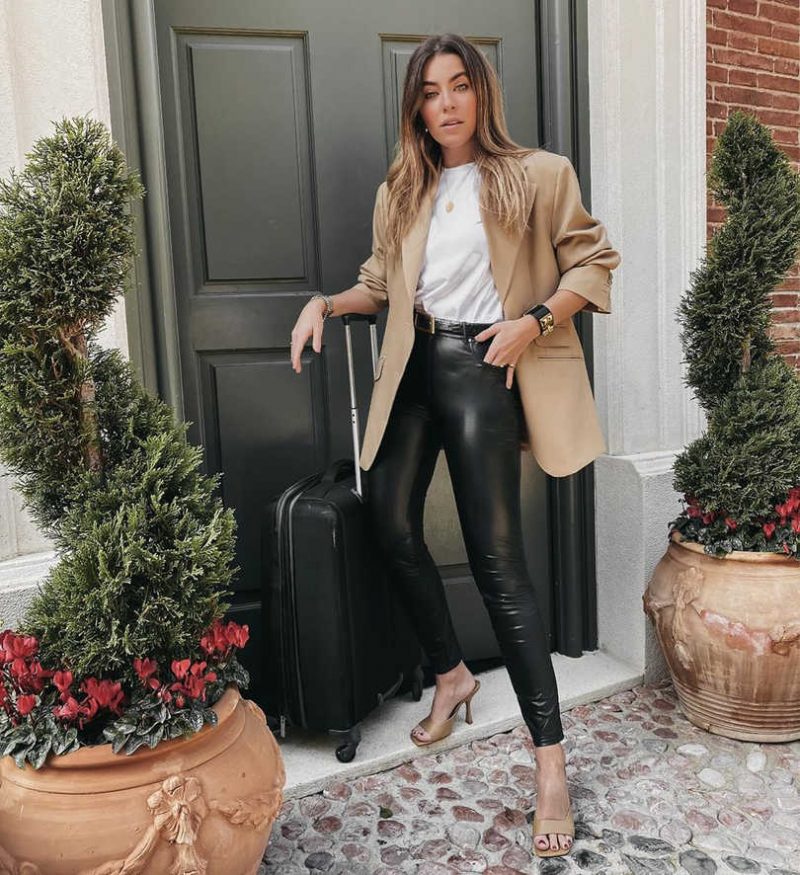 White Rib Knit Sweater And Black PU Leather Leggings
A white rib-knit sweater looks classy and ladylike teamed with black PU leather leggings updated with black OTK suede boots: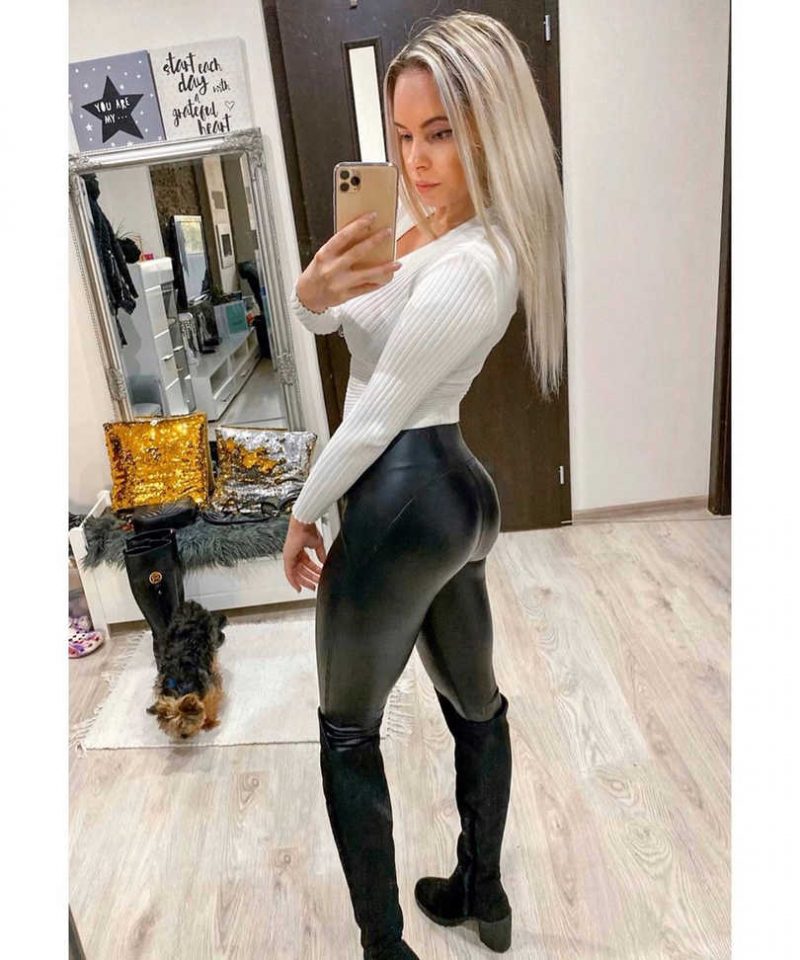 Grey Top And Black PU Leggings
A classic slim-fit grey top is tucked in belted PU black leggings, simple, classic and versatile outfit idea: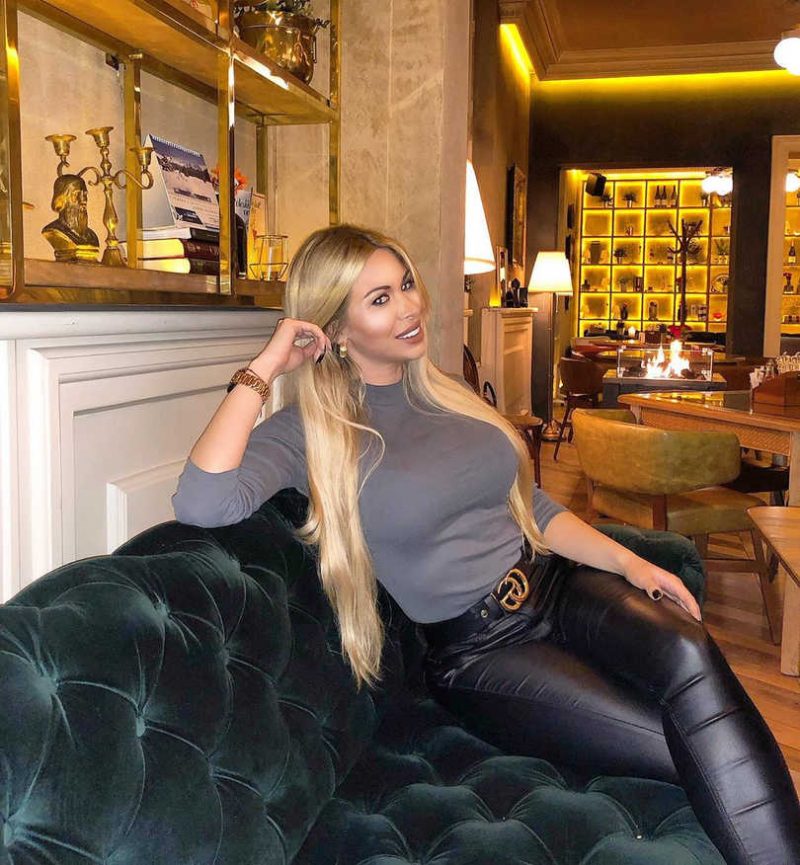 Black Blazer And Black Leggings For Women Over 50
A perfect style for women over 50. We see a black cropped blazer styled with gingham print shirt completed with black leggings, love these oversized sunglasses: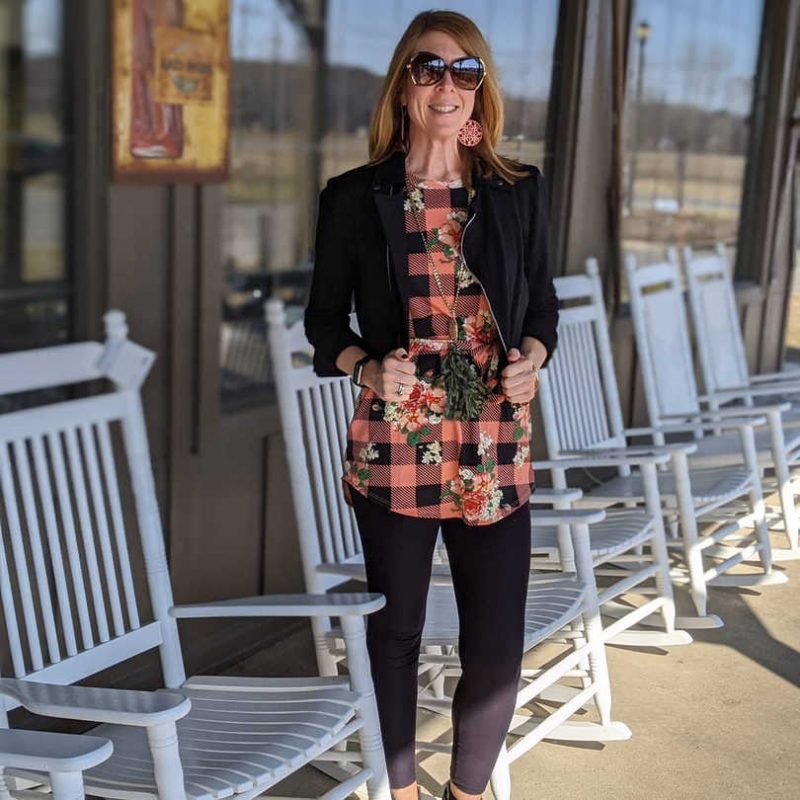 Black Ski Jacket And Black Latex Leggings
A lovely look for winter lovers. We see a young blonde girl wearing a black ski jacket with black latex leggings and ski boots: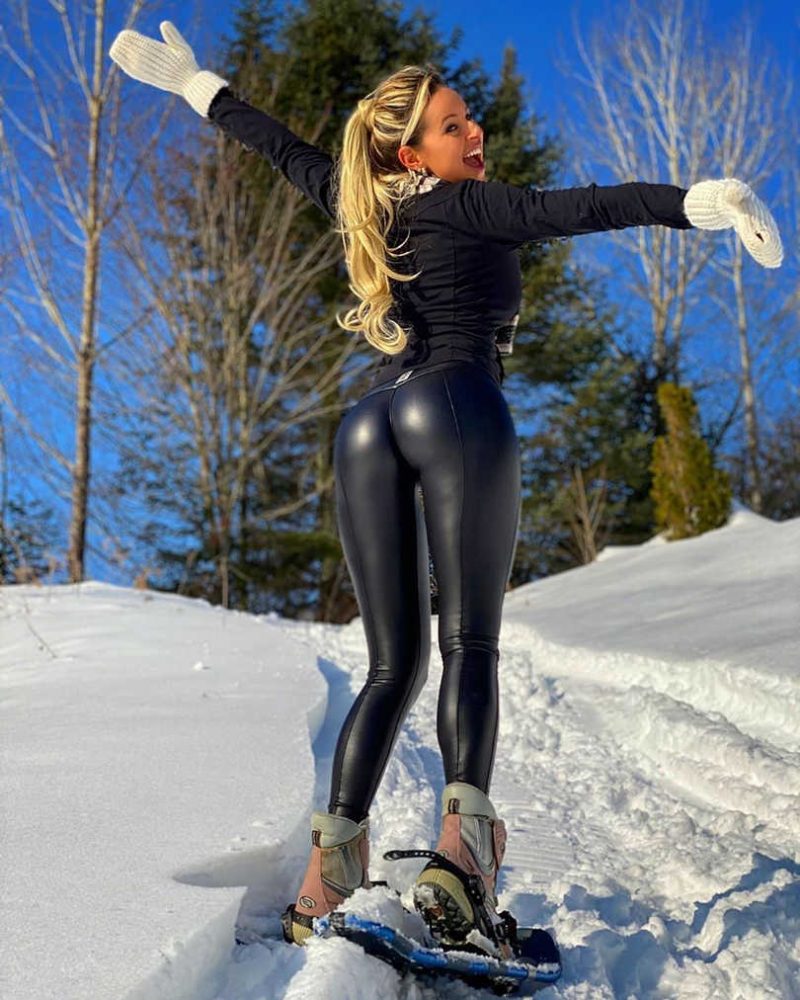 Black Leggings And Black UGGs
All in black. We see a pom pom beanie, black fur jacket, black PU leather leggings, and black Ugg boots. By the way, I can share with you some of my favorite ways how to wear UGG boots for ladies, check out my post, there are some of the best tips to wear this footwear in real life: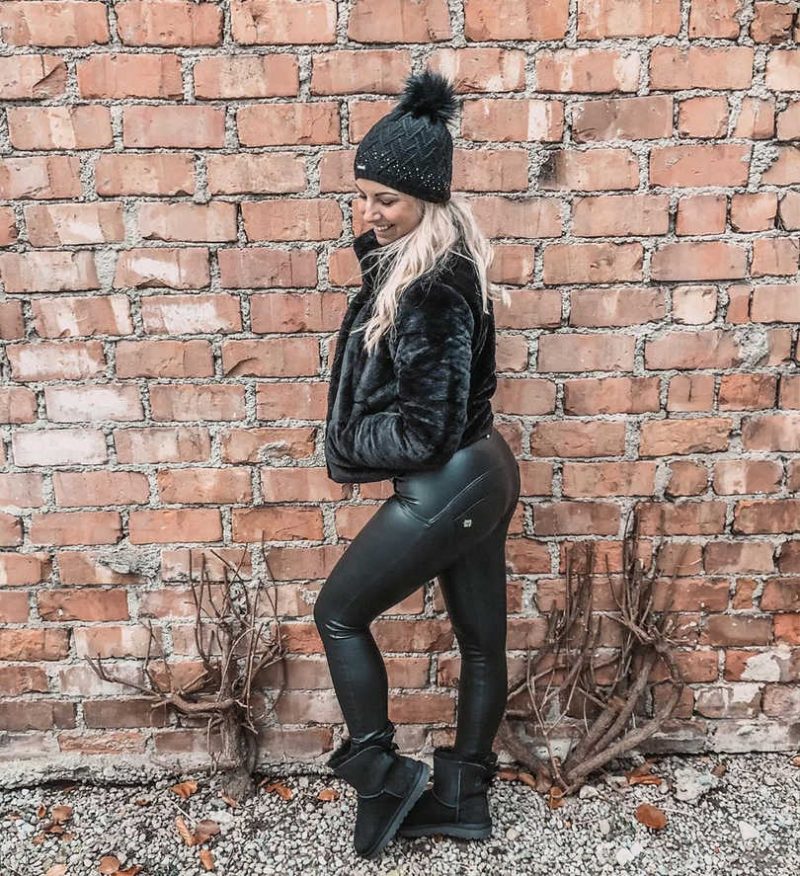 Tie-Dye Top And Black Leggings
Make a real statement with a tie-dye top by wearing it with black matte leggings and lace-up platform combat boots: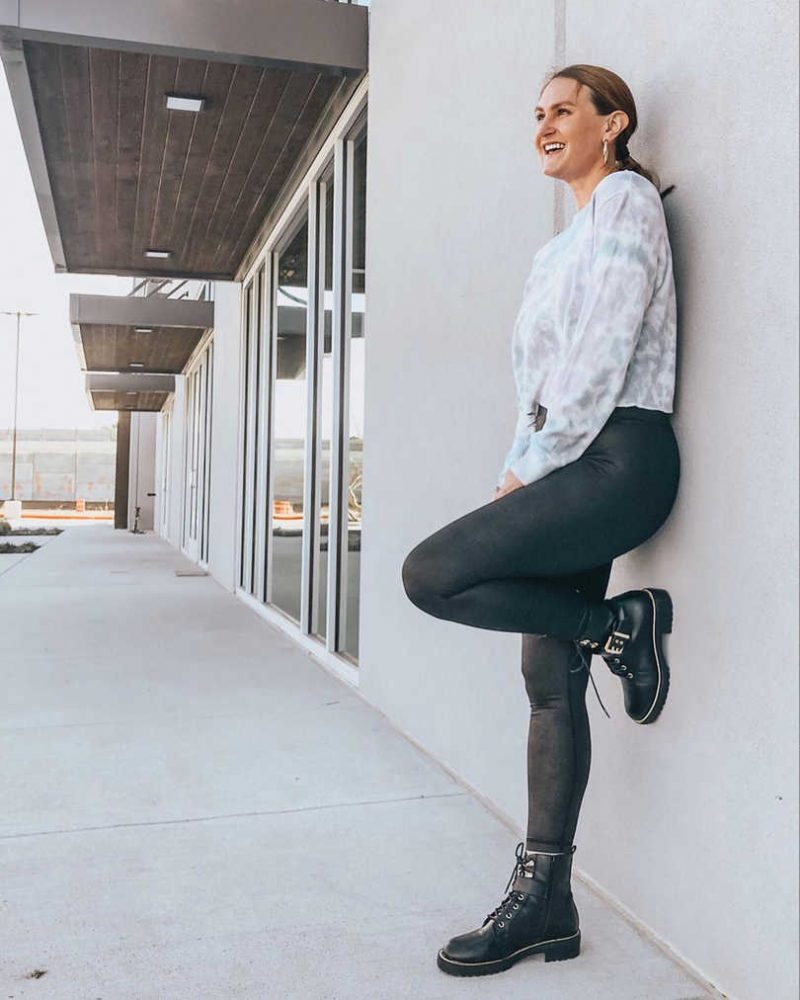 Printed Corset And Black Leather Leggings
Go for a leopard print corset and style it with black leather leggings and classic heeled pumps in black color, a stylish combo to underline your glamour style: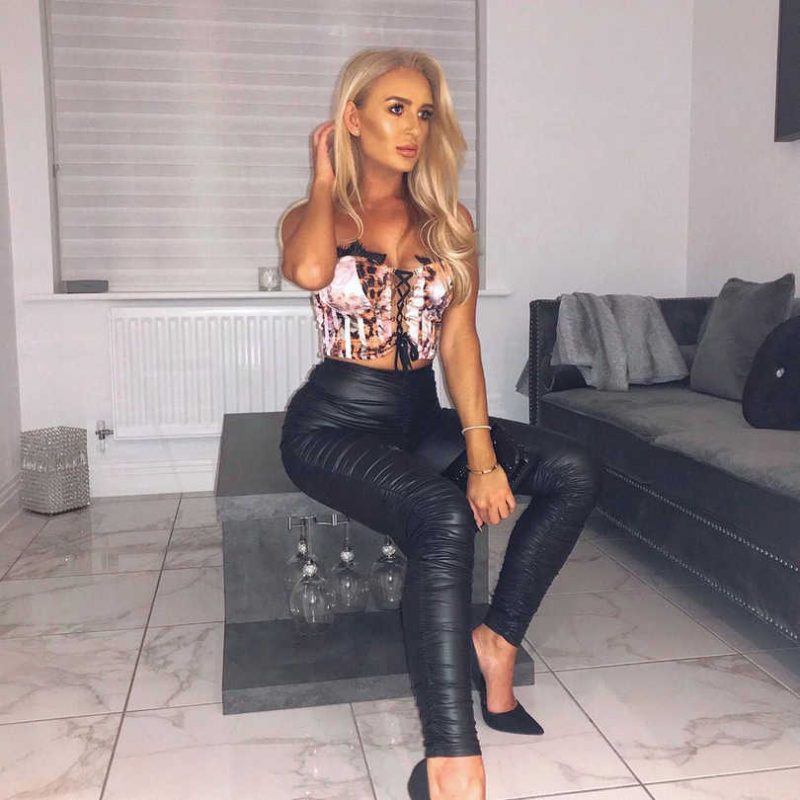 Patent Black Leggings And Platform Heeled Boots
Another incredible way how to make a wow statement. We see a short brown leather jacket with patent black leggings tucked in matching latex platform heeled ankle boots: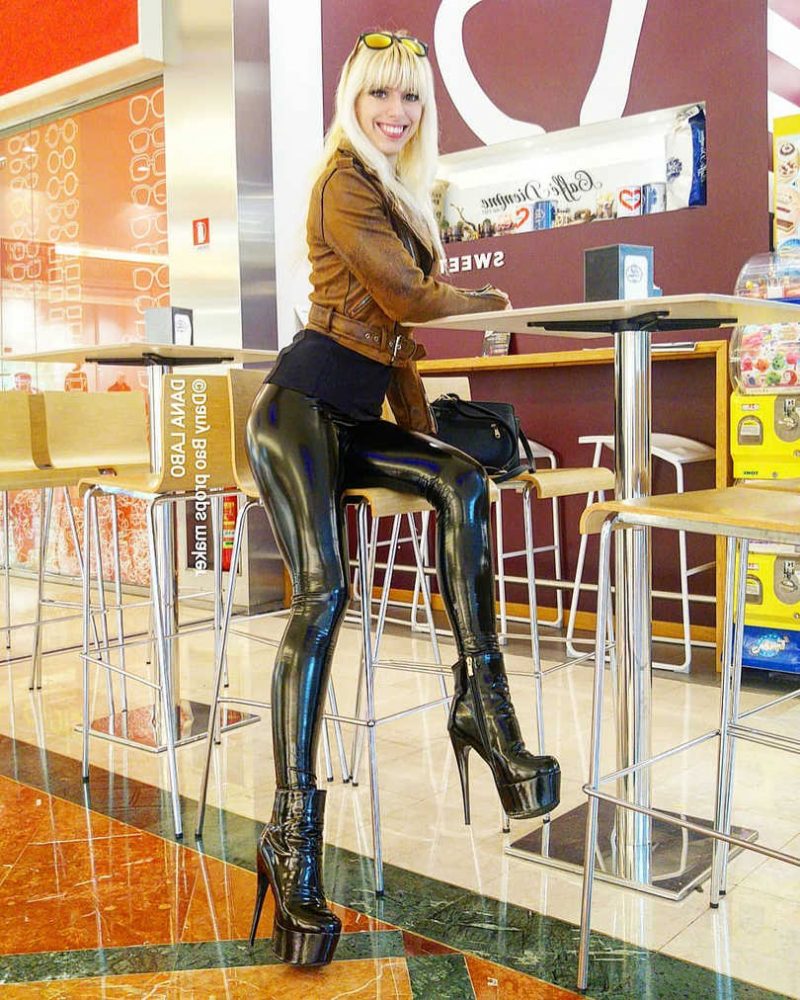 Black Leather Leggings And Snakeskin Print Cowboy Boots
Another cool day outfit for walking with your dog. We see a light brown leather coat styled with a black turtleneck teamed with black matte leggings tucked in snakeskin print cowboy boots. Check out my favorite outfit ideas for dog walking, I have some great tips and tricks to show you: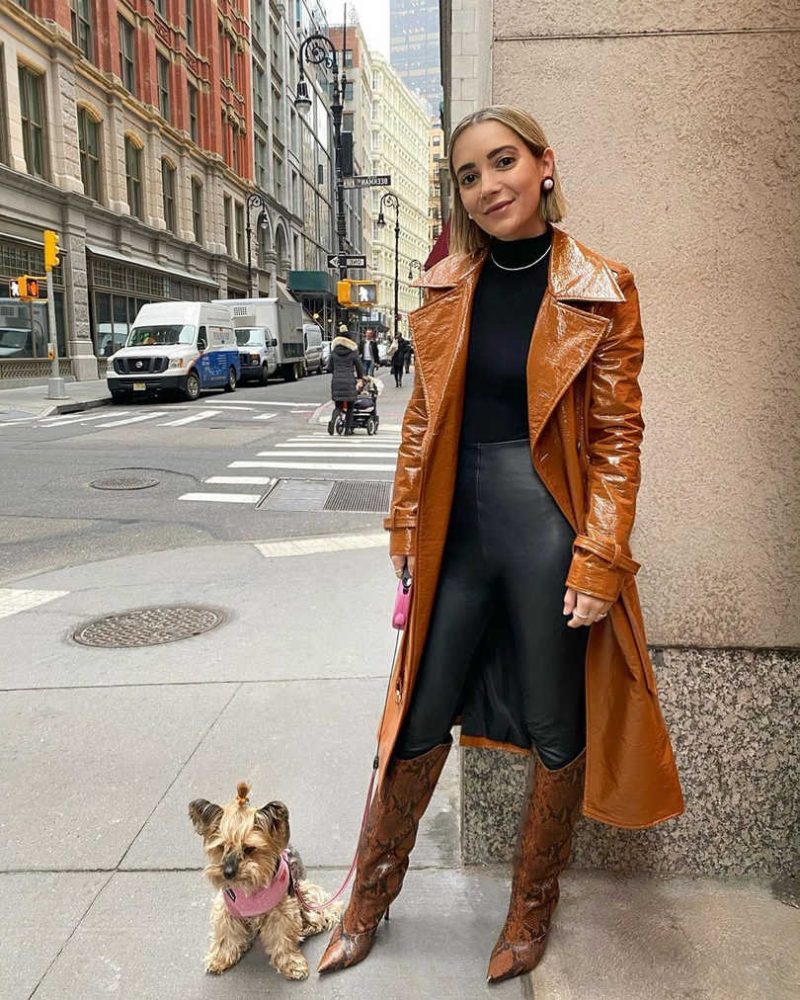 Black Matte Leggings And Slouchy Suede Boots
A white cozy sweater in zebra print is teamed with black leggings tucked in slouchy black suede boots. Love those rounded shades: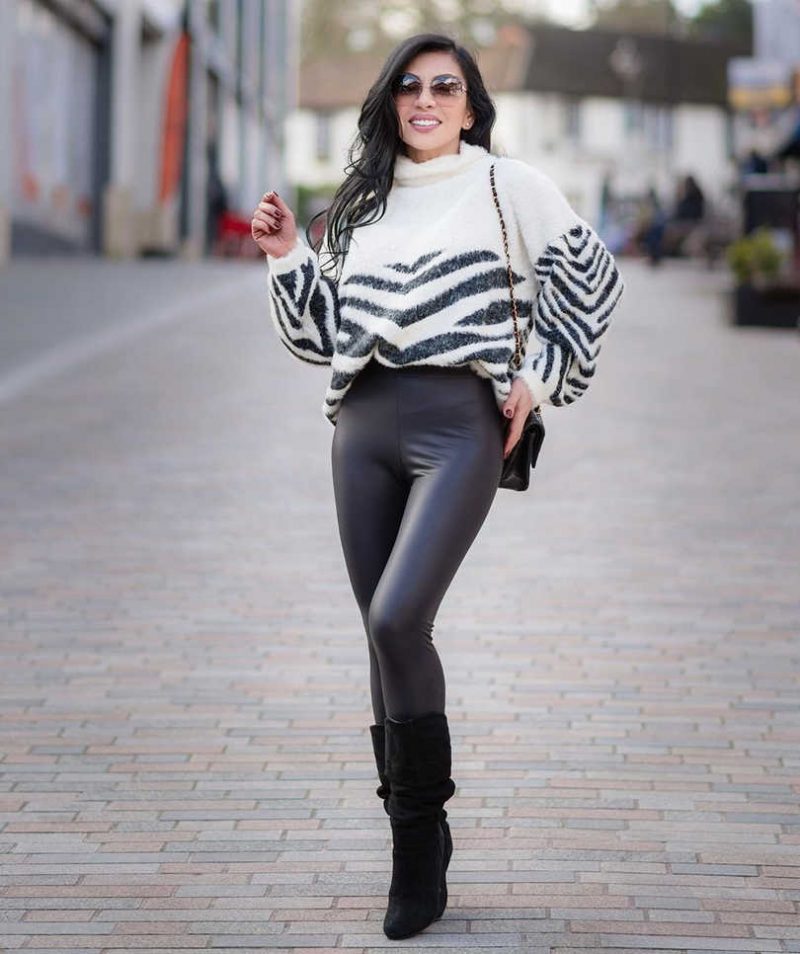 Hoodie With Black Leggings
A grey-blush hoodie is styled with a grey slouchy top and black leggings completed with white kicks. An ideal look for casual walks with your dogs: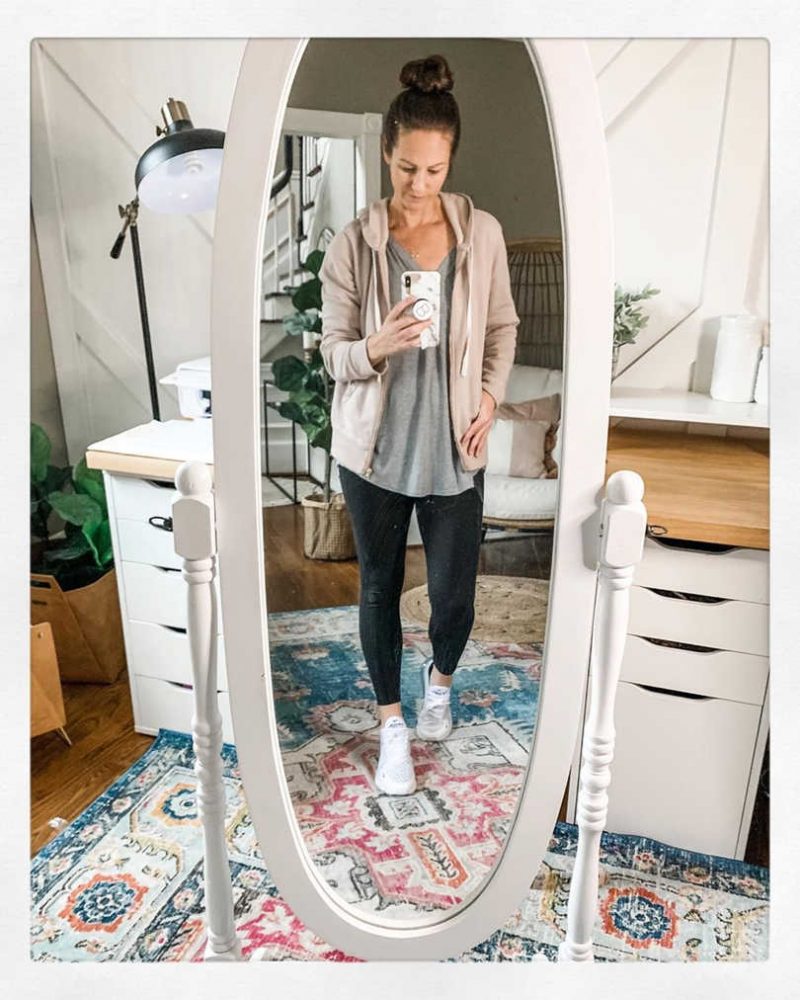 Black Leggings And Combat Boots
A touch of elegant Tomboy grunge. We see a young lady wearing a black fedora styled with a black-white Houndstooth print blazer, white shirt, black leather leggings and chunky platform combat boots. Love the rounded sunglasses and that quilted black leather Chanel bag: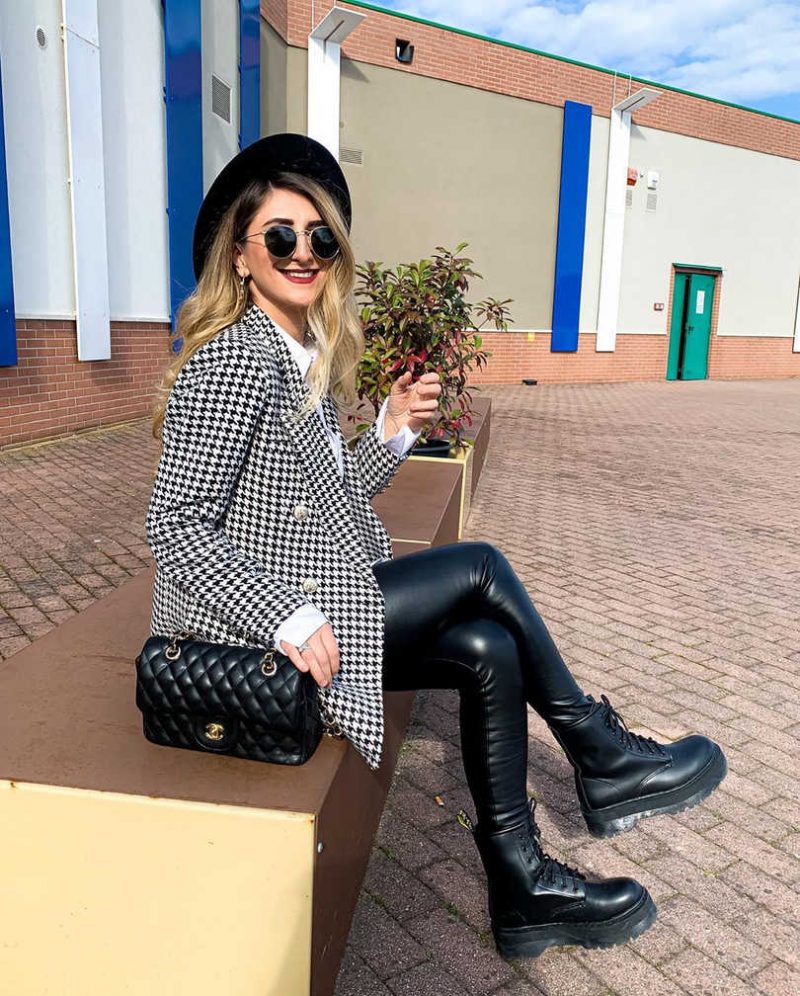 Black Latex Leggings And Sock Boots
An off-shoulder white top is tucked in black latex leggings completed with pointed-toe black heeled sock boots: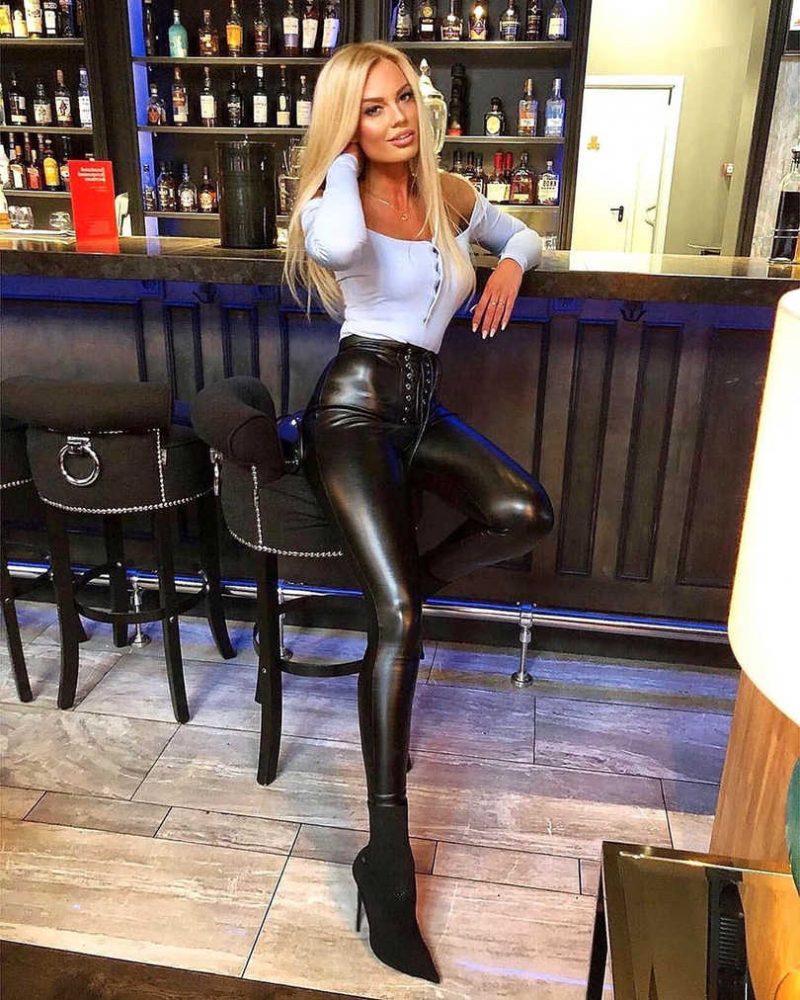 White Crop Top And Black Patent Leggings
We see a white crop top criss-cross detail with long sleeves teamed with black glossy leggings completed with matching patent black leather ankle boots: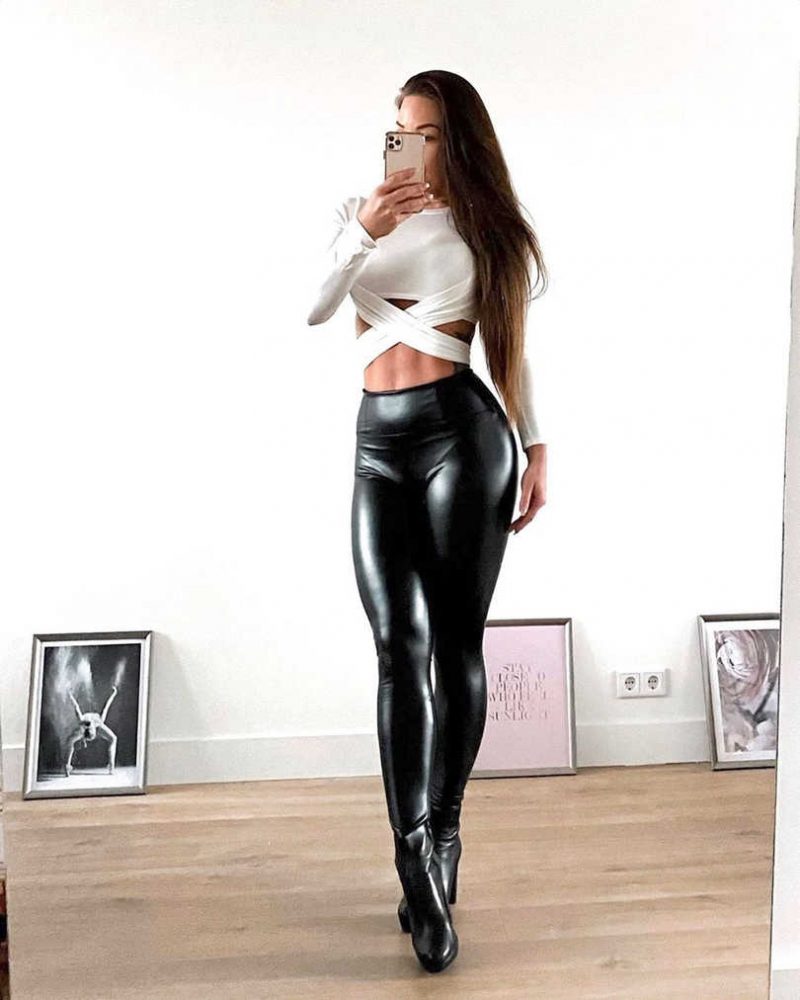 Yellow Leather Crop Jacket With Black Leggings And White Sneakers
Amaze everyone with this sassy spring look! Go for a cropped yellow leather jacket and team it with black PU leggings and white kicks: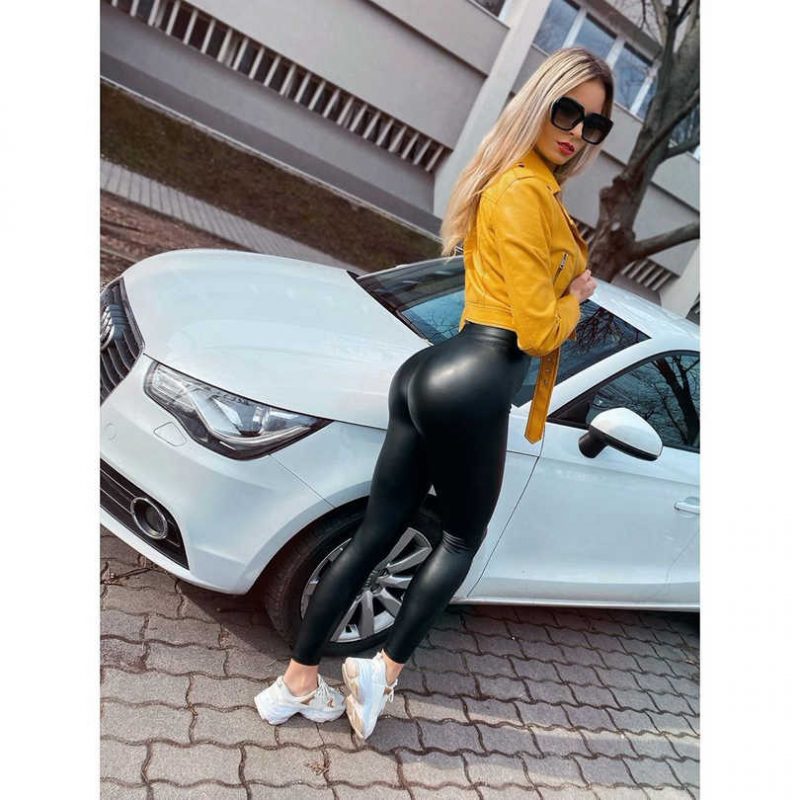 Source: Refinery29, Bellatory