Hey ya, ladies! I am here with a new article on beige trench coats. This outerwear piece is pretty massive right now and you better know ways how to wear it in your everyday lives. So, this is a perfect way how to underline your femininity, professionalism, and individuality. I am not saying, this is the only jacket you should own, but it can be called a timeless investment.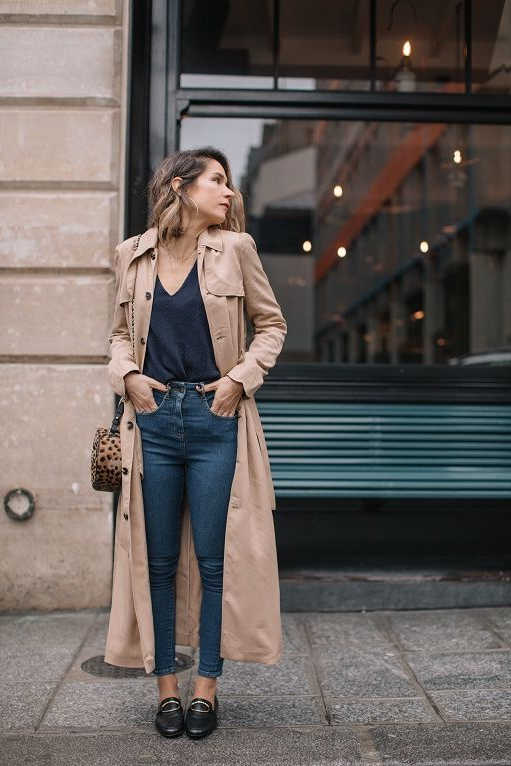 Buy Similar Here
Improve you style by wearing a beige trench coat with a navy V-neck top tucked in skinny jeans completed with black leather loafers.
How To Style Beige Trench Coats?
Now, why do I love it so much? First of all, it can work with casual and formal essentials. Meaning, you can wear it with office basics, as well as casual items. The color is beige, but it's pretty neutral and works pretty well with neutrals and bright colors.
It will easily underline your ladylike silhouette and make you stand out from the rest. You are free to experiment with different clothes, but my personal advice is to check out this easy to copy street style collection and choose your favorites for next week.
Beige Trench Coat and All Black Look
I am so into this look! We see a classic beige trench coat styled with an all in black outfit consisting of a black top, black tailored pants and black leather ankle boots. The style is completed with a black beret. Yes, this look reminds me of Parisian chic style, and yes, you can find more ideas in my post, as I have some cool ideas to share with you: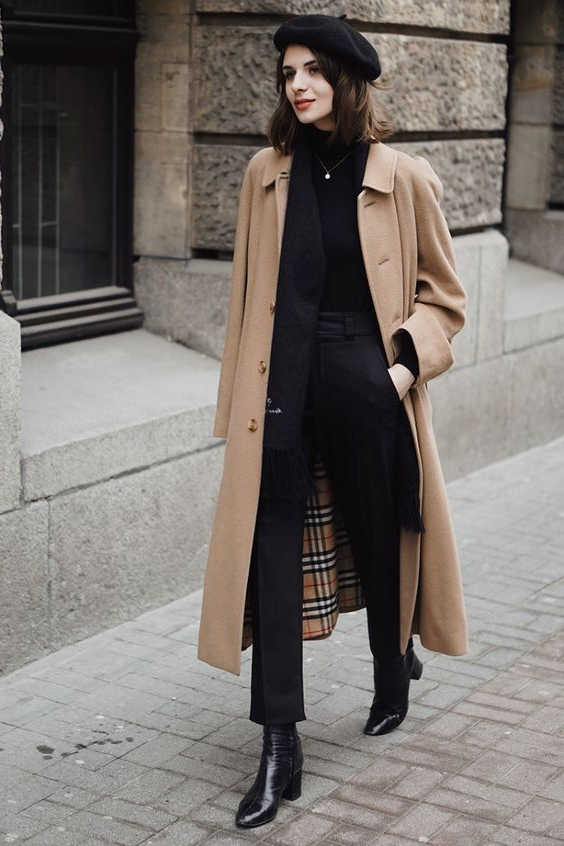 Buy Similar Here
Beige Trench Coat With Belt
We see a stunning OOTD, consisting of an oversized beige trench coat completed with a belt and styled with tall beige boots, a perfect monochrome outfit idea: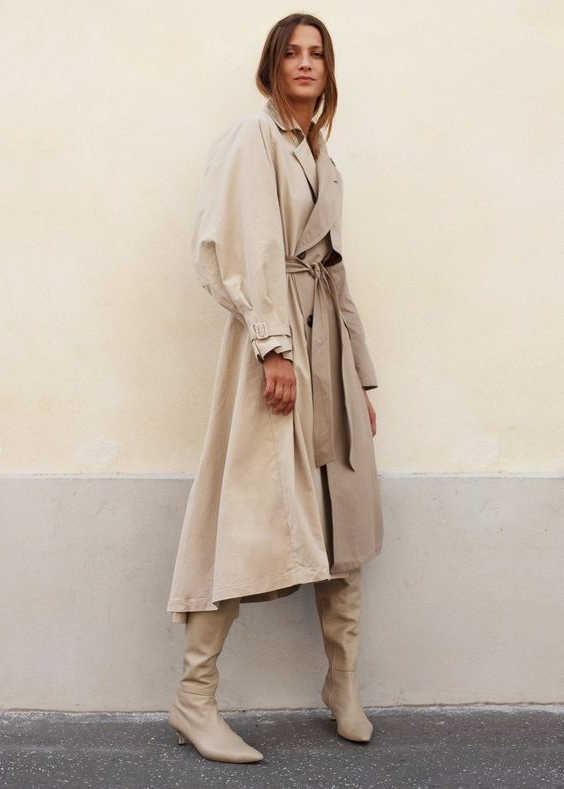 Buy Similar Here
Beige Trench Coat and Dress
A belted beige trench coat looks amazing with this midi sequined silver dress and black heeled sandals. A nice combo for cocktail parties and rooftop parties: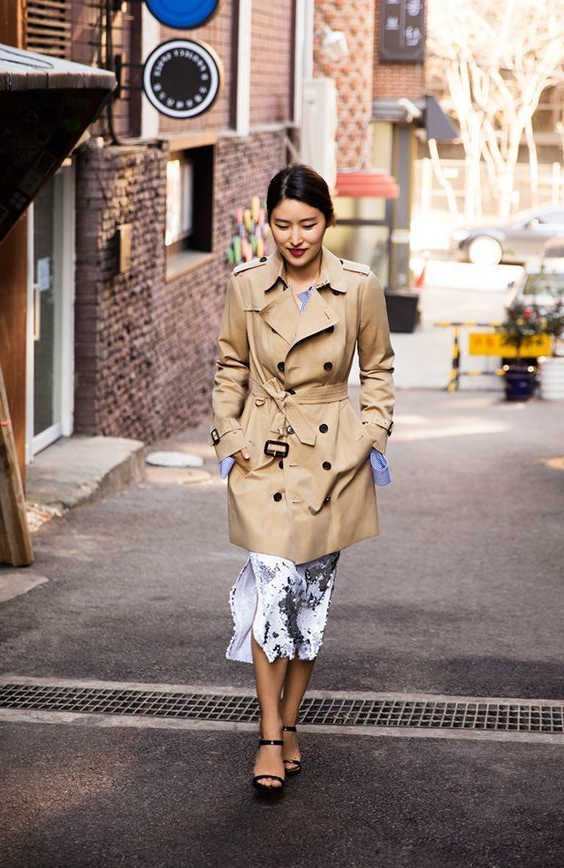 Buy Similar Here
Another belted beige trench coat is styled with a maxi dress in blush lace. Complete this look by adding white sneakers: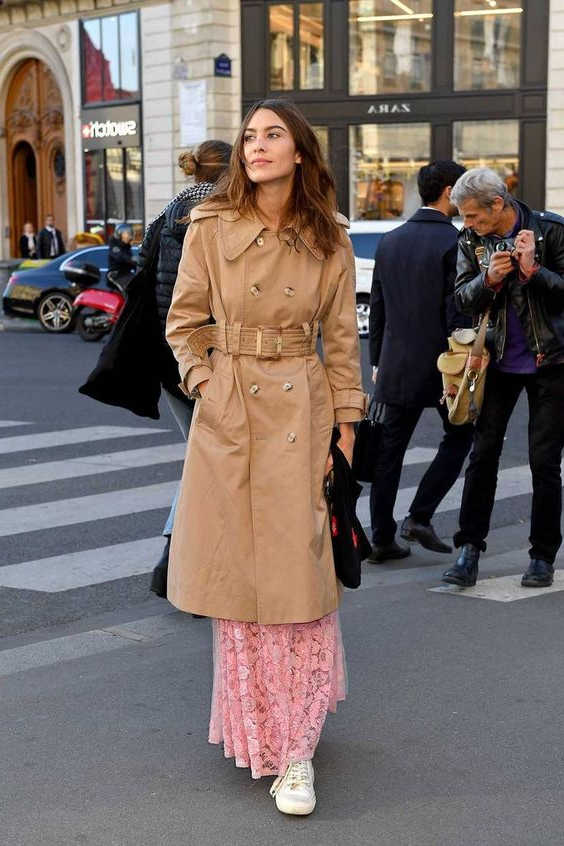 Buy Similar Here
Beige Trench Coat and Pants
I have some cool ideas on what pants you can wear with beige trench coats. Here we see a nice example. A young lady is wearing a long classic trench completed with micro gingham print pants completed with patent brown leather heeled sandals: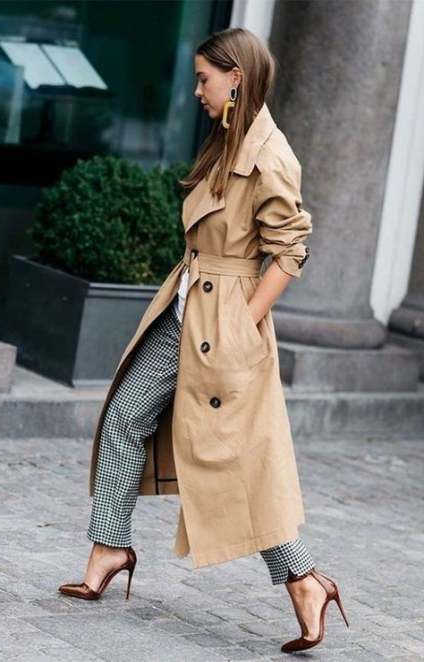 Buy Similar Here
An oversized beige trench is updated with matching color culottes. Complete this look by adding square-toe heeled sandals: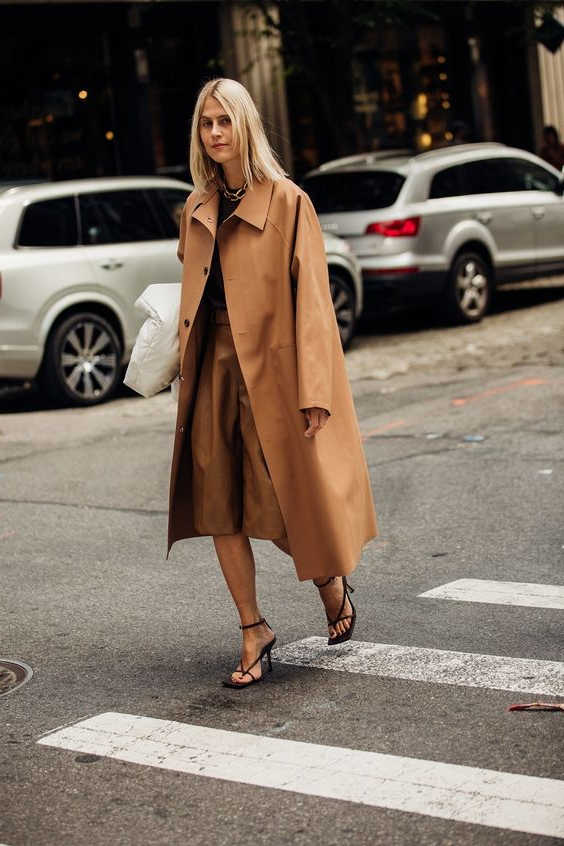 Buy Similar Here
Another cool monochrome OOTD. Go for a light beige-white trench coat and style it with a white shirt tucked in beige tailored pants completed with snakeskin print boots: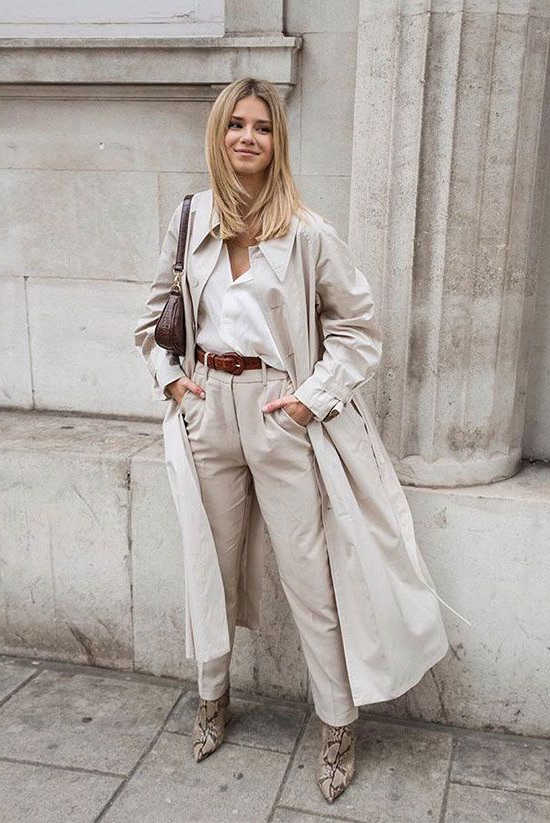 Buy Similar Here
Another marvelous beige trench coat is worn with a white shirt, cuffed black pants, and white loafers. Complete this combo by adding cat-eye sunglasses and a black saddle bag: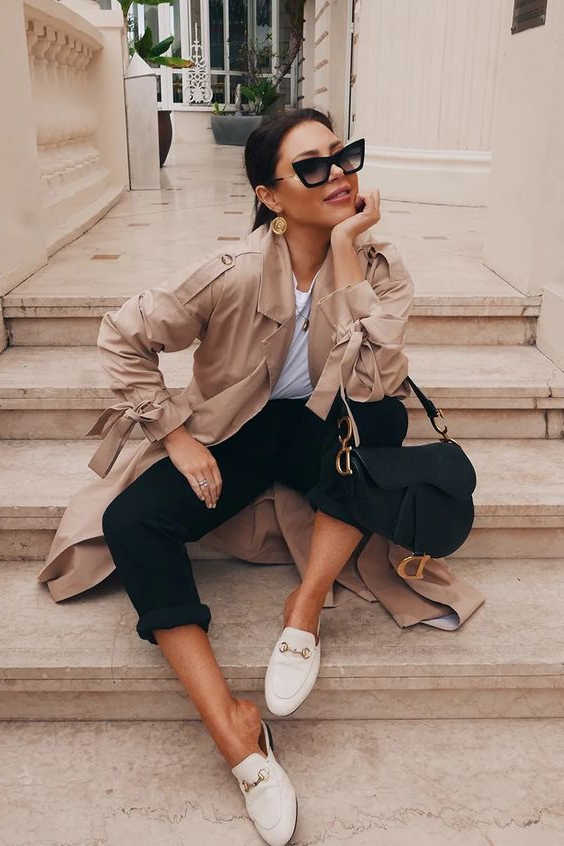 Buy Similar Here
Beige Trench Coat and Hoodie
If you are more into casual style, then go for this belted beige trench coat and layer it over a white hoodie. Complete this combo by adding oversized Wayfarer sunglasses and slim jeans: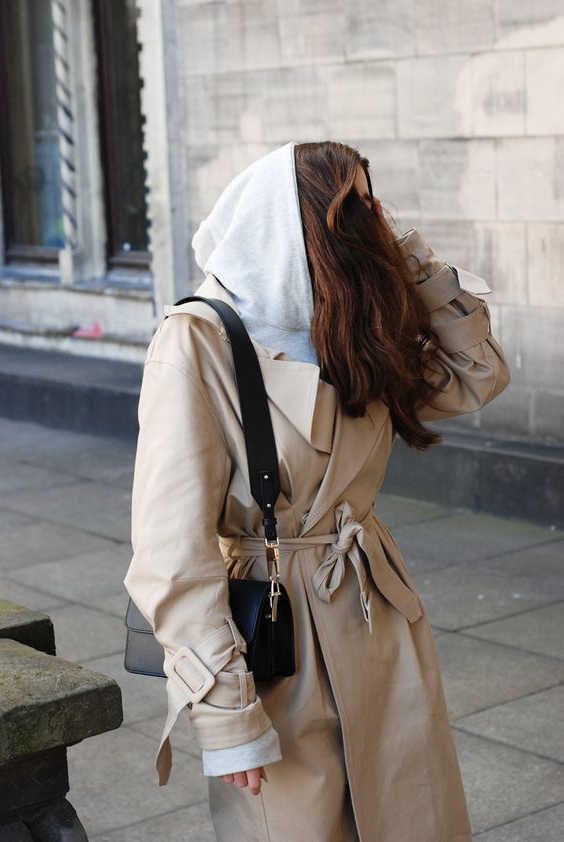 Buy Similar Here
A belted oversized beige trench coat is paired with a grey hoodie and black leggings completed with stylish heels and blue shades. If you are into hoodies, I highly recommend checking out my favorite ways how to wear hoodies this fall, I am pretty sure you will find amazing outfits to copy this year: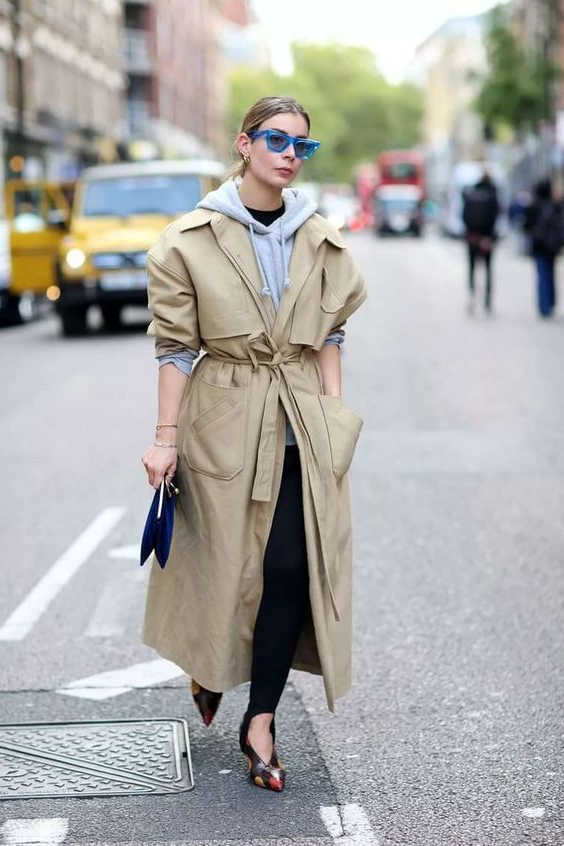 Buy Similar Here
We see an oversized beige trench coat styled with a grey hoodie, cuffed jeans, and white kicks, simple and easy to wear combo: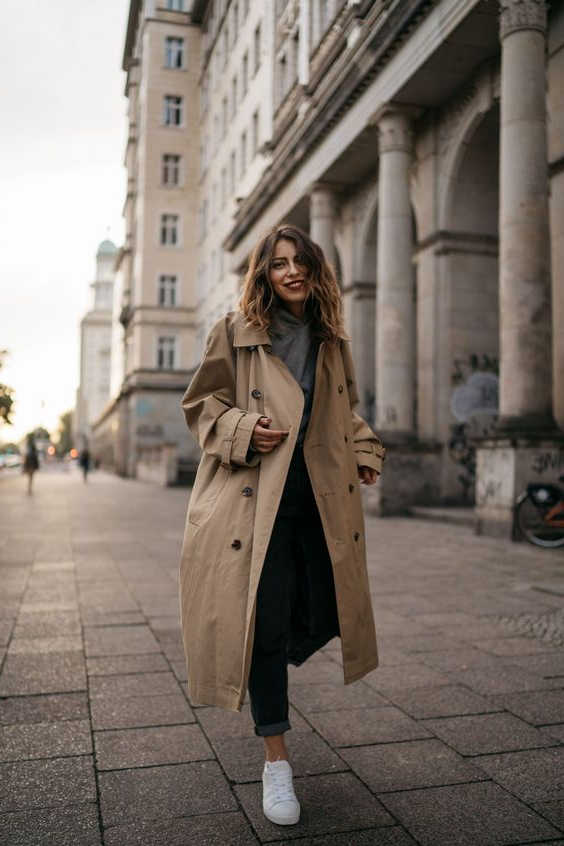 Buy Similar Here
Beige Trench Coat and Loafer Slides
Now let's talk about shoes and beige trench coats. I do love to see women who combine their classic beige trench coats with simple white tees, cropped blue jeans, and black loafer slides: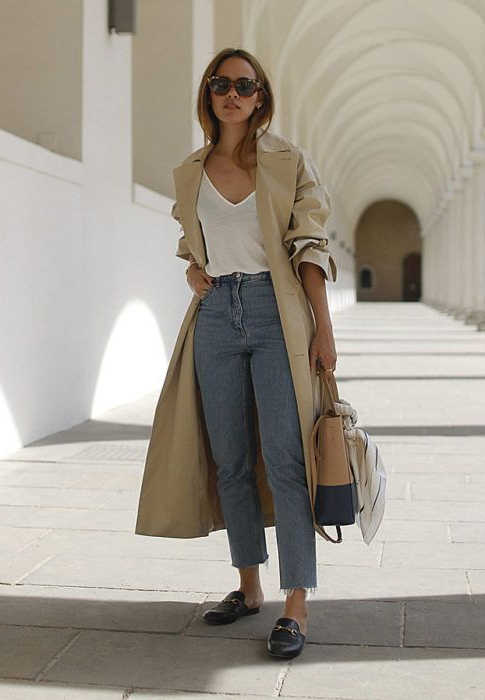 Buy Similar Here
Beige Trench Coat and Tall Boots
We see a beautiful classic belted trench coat in beige completed with slouchy black leather tall boots: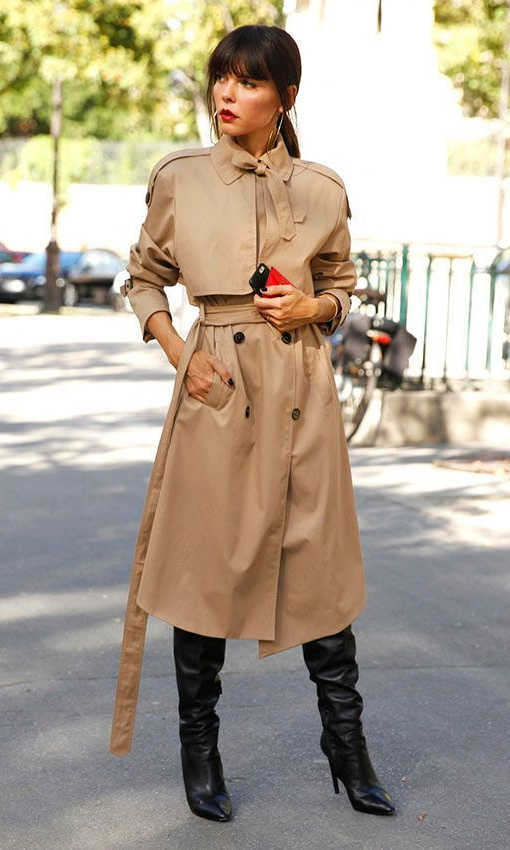 Buy Similar Here
Beige Trench Coat and White Trainers
In love with this simple day look! Go for a classic trench coat in beige and team it with a white sweater, blue jeans, and white Converse: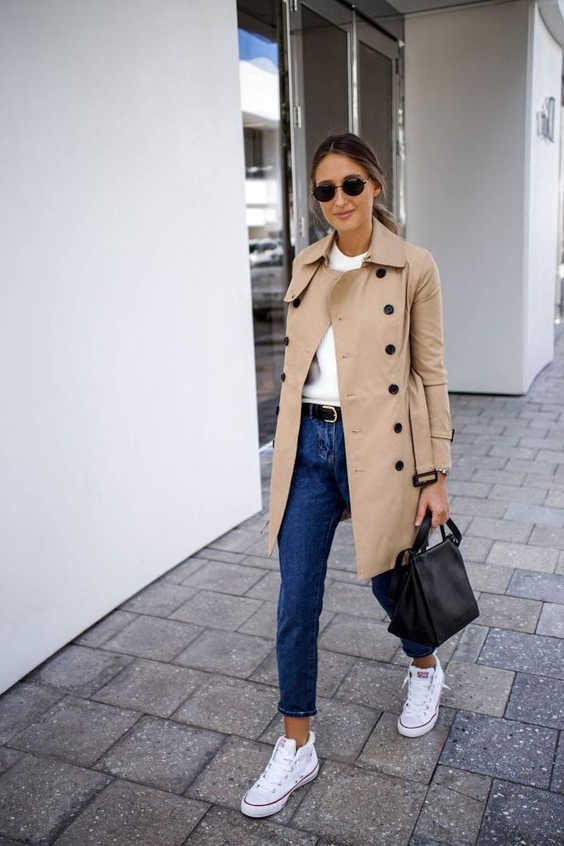 Buy Similar Here
Oversized Beige Trench Coat
An oversized beige trench coat is completed with a belt and matching color pants: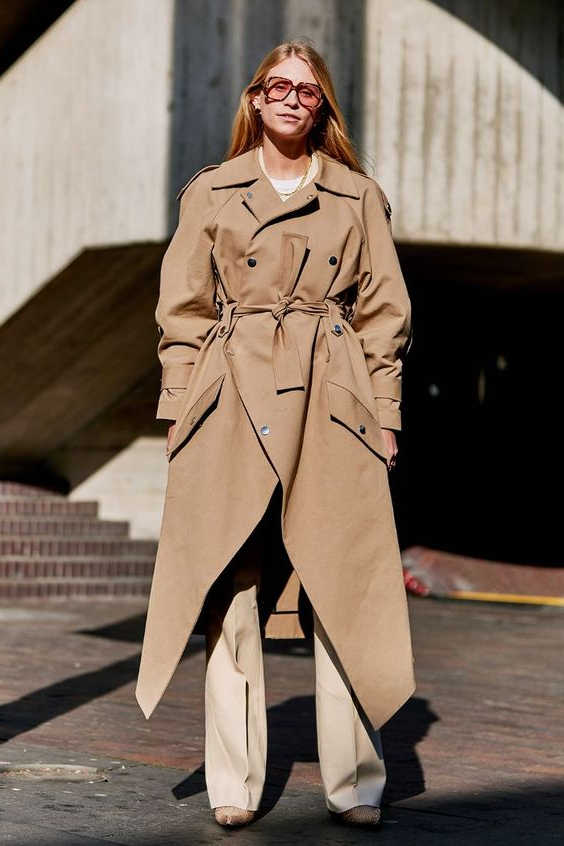 Buy Similar Here
We see a stylish oversized trench coat worn with an all-white look, consisting of a white top, white jeans and white kicks: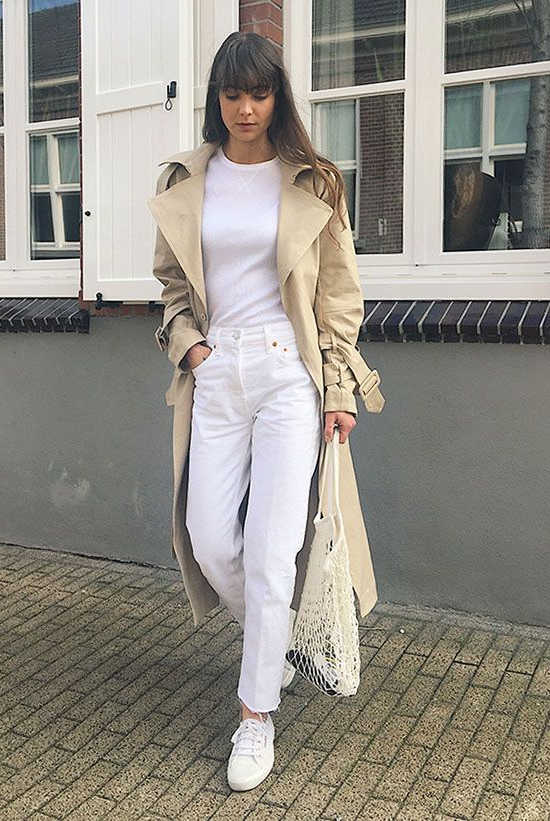 Buy Similar Here
An oversized beige trench coat looks pretty cool with a black top and high-waisted mini skirt in black. Update this style by adding skin color slides: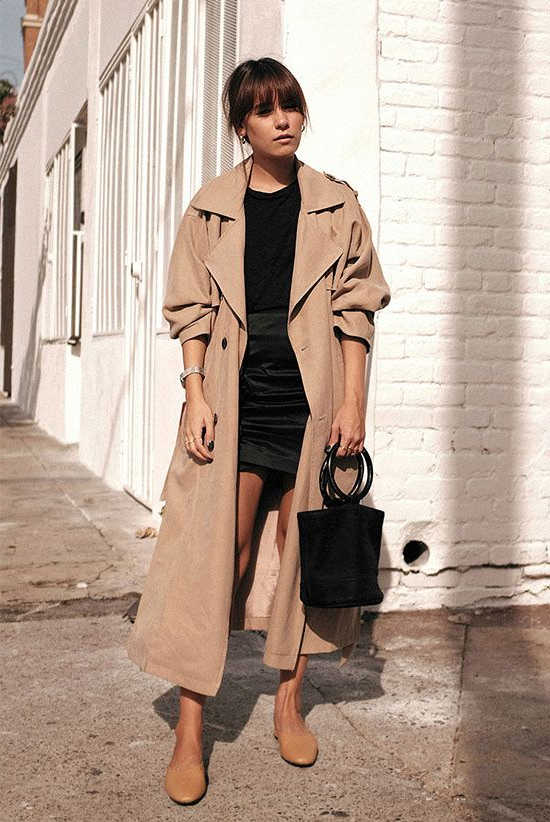 Buy Similar Here
What Scarf To Wear With Beige Trench Coat
A classic beige trench coat looks awesome with a blush scarf, blue jeans and blush pumps: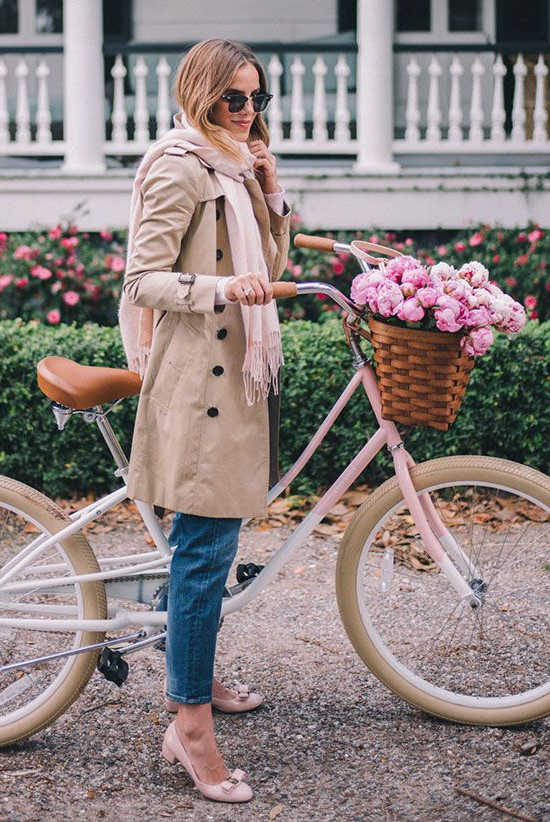 Buy Similar Here
We see a classic beige trench updated with a plaid scarf, black leather skinnies, and white heeled pumps. By the way, find out what sunglasses trends are about to happened this year, I will show you my favorite designs to now: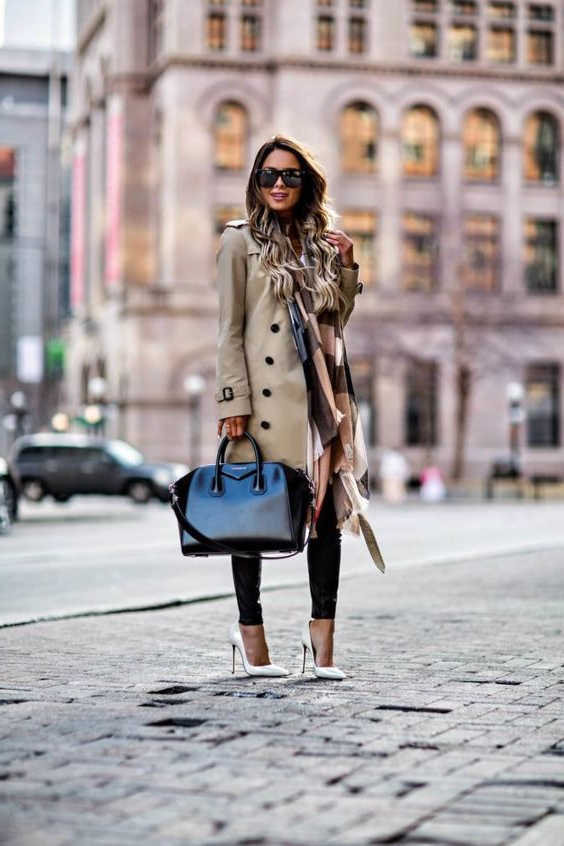 Buy Similar Here
Short Beige Trench Coat
A short beige trench coat is updated with a belt. Style it with a pinstripe white shirt, oversized sunglasses in white and a wide brim hat: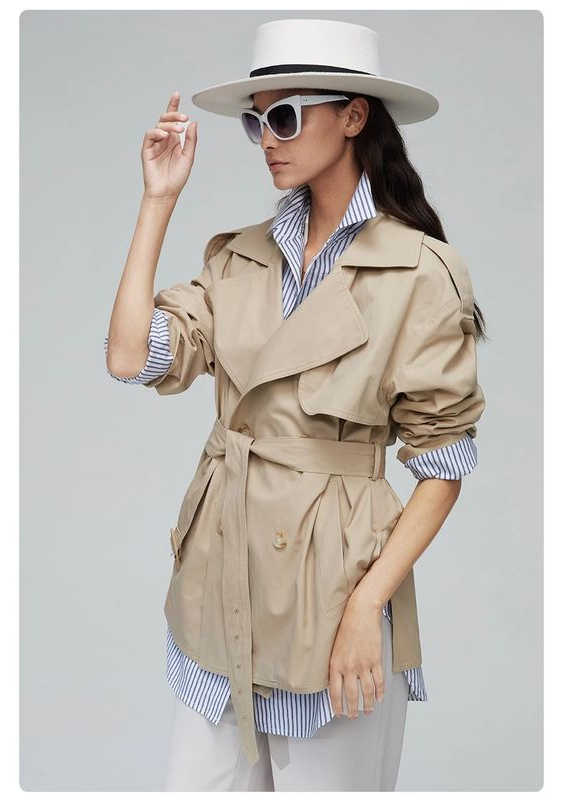 Buy Similar Here
We see a short beige trench with rolled-up sleeves. Update it with a black-white striped top and knee-ripped black jeans completed with burgundy loafers: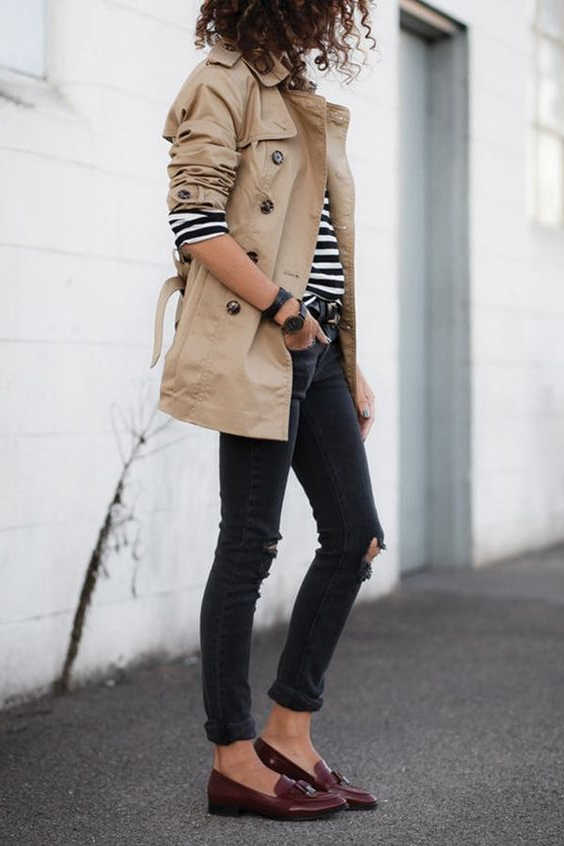 Buy Similar Here