If you are looking for a way to underline your individuality, then you better try on a denim dress. Today's article is dedicated to my favorite denim dresses and ways how to wear them right now. It will definitely make you look different, individual and fresh.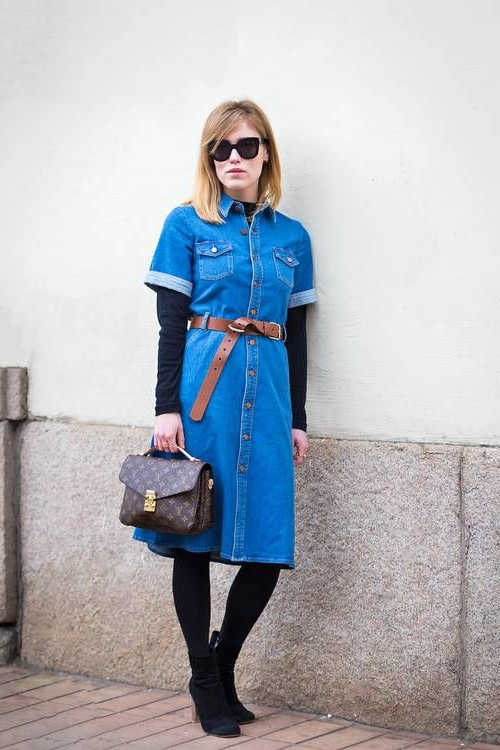 Buy Similar Here
A classic refresh for your office day. We see a midi denim shirtdress with cuffed short sleeves in blue color styled with opaque tights and heeled suede black ankle boots. Update this look by adding a black long sleeve top under the dress and a brown leather belt. Love that Louis Vuitton leather suitcase.
How To Style Denim Dresses
Of course, it's not always an easy task to find a perfect and flattering denim dress. But I have some great examples of stylish denim dresses you can try on this year. No worries, you will most likely find a perfect style in this collection.
Buttoned Overall Denim Dress With Long Sleeve Top
A basic white long-sleeve top is layered under midi buttoned denim pinafore dress completed with blush block heel sandals: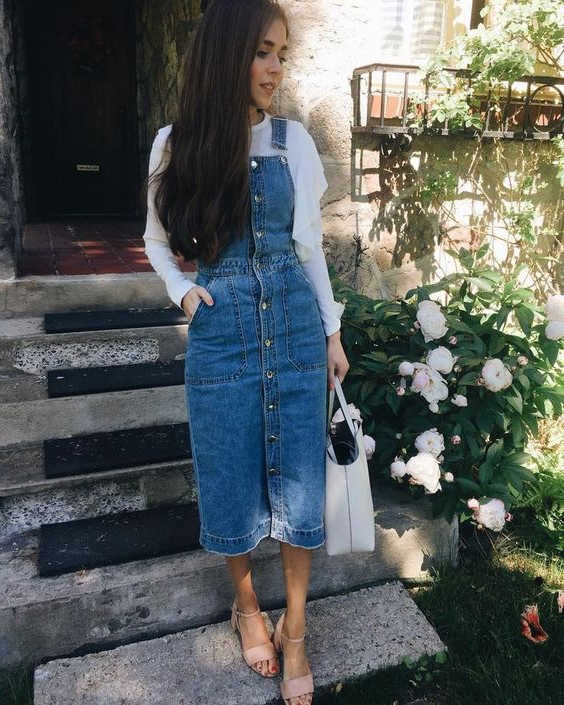 Buy Similar Here
Each of these designs looks individual. I personally, love the showcased silhouettes, perfect lengths, and details. Take a moment and see what's trending this year.
Denim Shirtdress And Ankle Sandals
A casual denim shirtdress with rolled-up sleeves looks pretty chic with ankle-cuff beige sandals: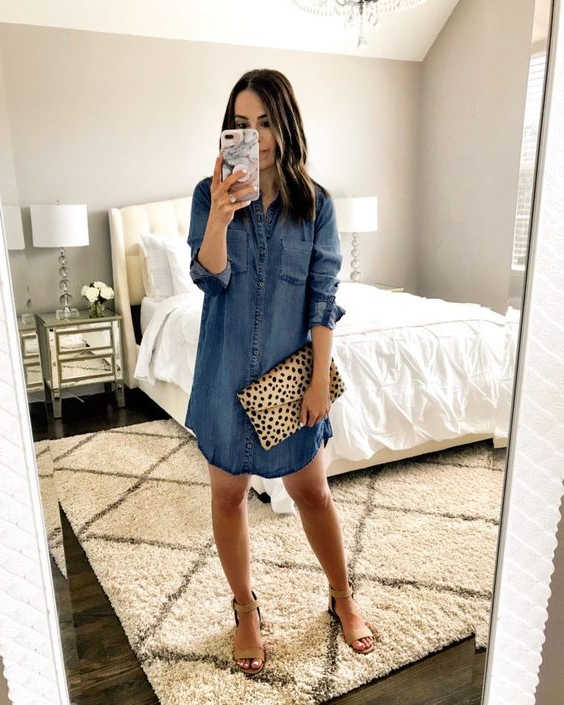 Buy Similar Here
A denim dress is one of those garments that will never go out of style. Why? It's extremely versatile and can be easily mixed with modern trends. Plus, you can freely wear it with dressy accessories, as well as with casual essentials.
Denim Midi Sleeveless Dress With Oxfords
A sleeveless flared midi denim dress looks retro-inspired. Complete it with a printed neck scarf and grey patent leather Oxfords: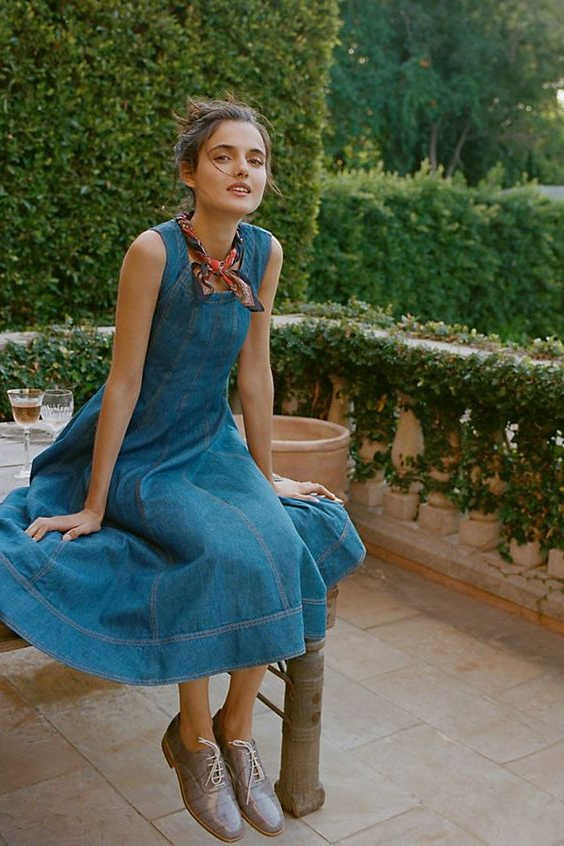 Buy Similar Here
Be aware to find the right style and color. You can buy yourself either a bright, classic blue or a dark-colored denim dress. The dark wash looks dressy and works well as an evening choice, whilst lighter wash denim dresses look more casual and ideal for everyday street walks.
Denim Dress And White Shoes
Another cute pinafore buttoned denim dress is completed with rounded sunglasses and white sneakers: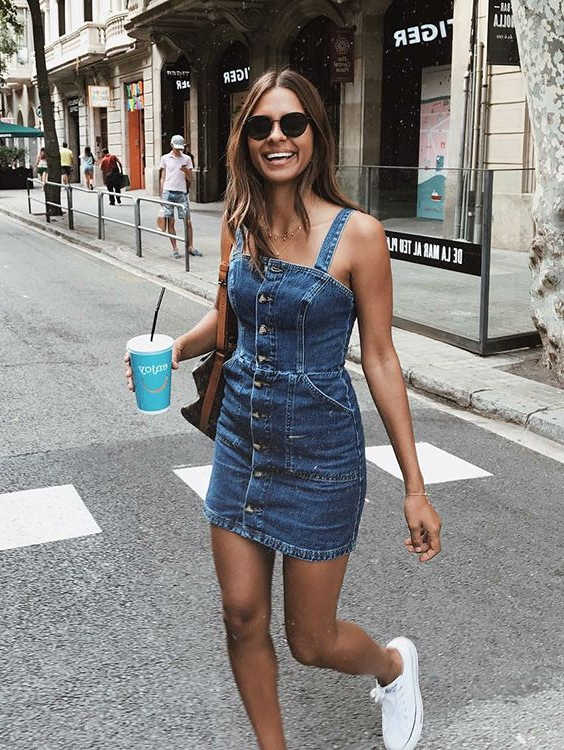 Buy Similar Here
You can try on a shirtdress made of denim. It comes with a polished look and can be updated with a belt, heels or flat classic shoes. I love teaming them with Oxfords or brogues. You can either go for a long version of a denim shirtdress, but you can experiment with short ones.
Pinafore Midi Denim Dress And Sneakers
A cute pinafore denim midi dress with a slit looks classy worn with aviator sunglasses, blue neck scarf, and black leather sneakers: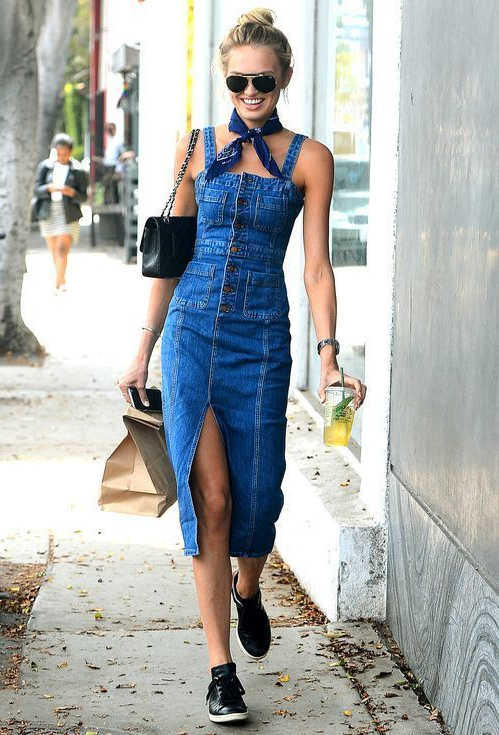 Buy Similar Here
You can also try on a pinafore denim dress or overalls/dungaree dress. It's a super cute style that looks casual, but sweet enough to be worn with dressy items. Yes, it has a retro flair, but it looks youthful and innocent. It does look chic with wedges or flat shoes.
Overall Denim Dress With Beige Top And Pointed Booties
A dark blue below-the-knee overall denim dress is layered over a beige-khaki long-sleeve tee. Complete this look by adding ankle-cuff heeled booties in black leather: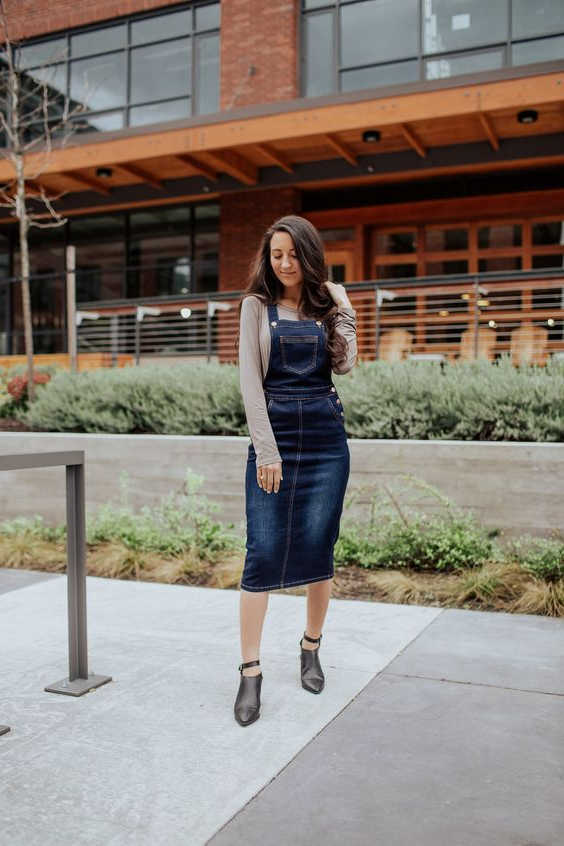 Buy Similar Here
I personally love boho-chic denim shift dresses, they have a special seventies flair, you can find bell sleeve designs, tunic, and shift versions, and those with ethnic vibes. They do look awesome with bare legs, skinny jeans, and leggings. I definitely recommend to try these frocks with jackets layered over, you can either go for a leather jacket or keep things double-denim by adding a jean jacket.
White Turtleneck With Denim Sleeveless Dress And Suede Knee Boots
We see white turtleneck layered under sleeveless denim collarless dress with zip closure. Complete the look by adding vintage sunglasses, brown leather belt, and brown suede knee boots: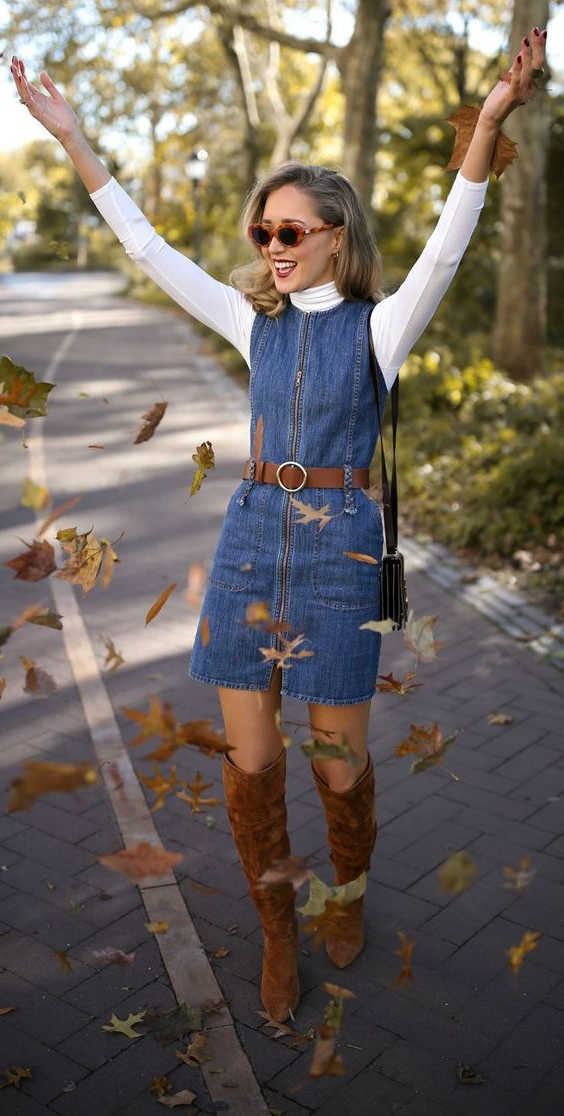 Buy Similar Here
Anyway, I decided to show you these denim dresses as each one of them looks unique and different. So, what are you waiting for, get inspired and find your favorites?
Denim Dress With Belt And Cowboy Boots
Another cute everyday denim shirtdress with a skinny brown leather belt is updated with slouchy cowboy boots: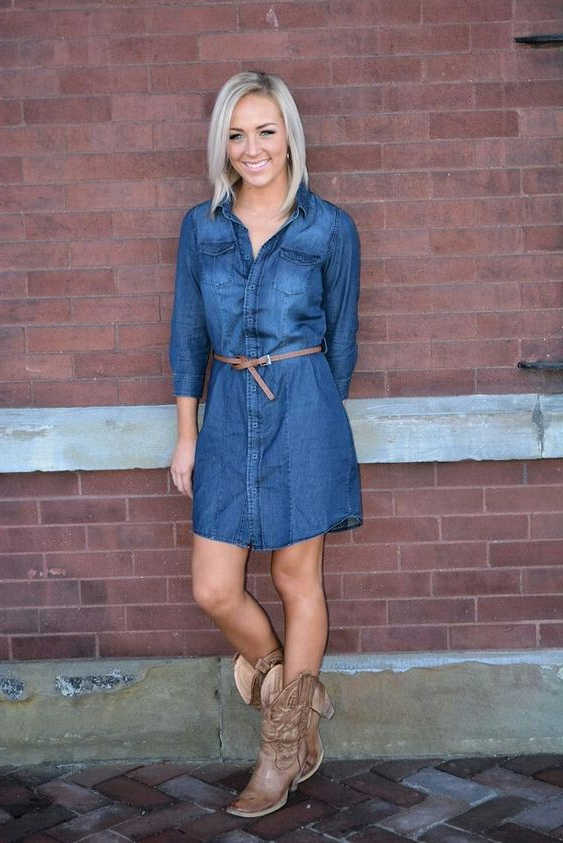 Buy Similar Here
Denim Buttoned Dress With Platform Criss Cross Sandals
We see a lovely slim-fit pinafore denim dress with buttons styled with a white T-shirt, criss-cross platform sandals. Complete this country-style look by adding brown leather fedora hat: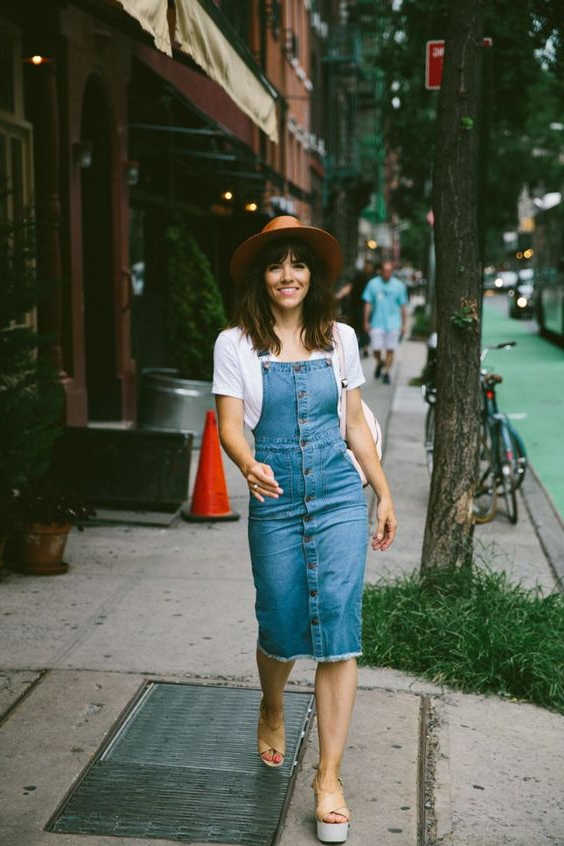 Buy Similar Here
Buttoned Denim Dress With Tights And Ankle Boots
Go for this long-sleeve denim shirtdress with pockets. It has a slim fit which ideally looks on skinny ladies. Update this style with tights and black leather ankle boots: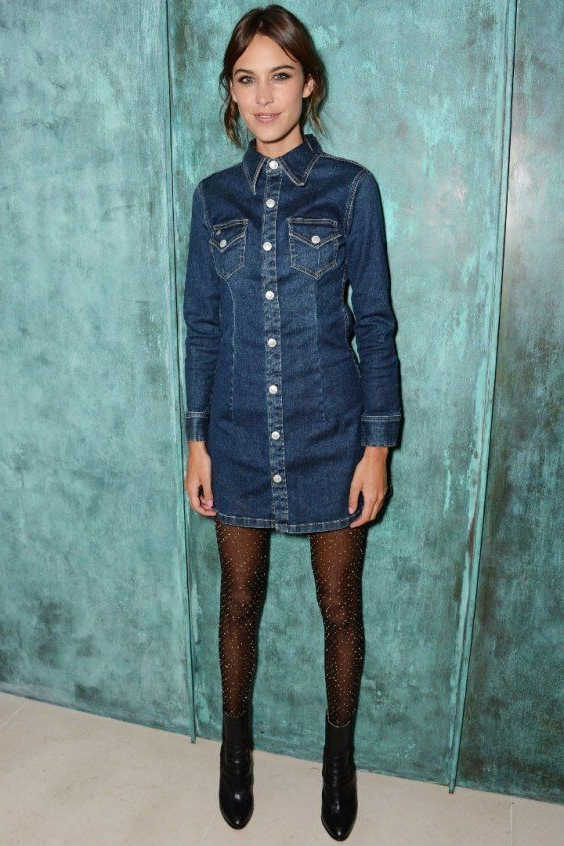 Buy Similar Here
Black Leather Jacket With Denim Shirtdress And Leopard Ankle Boots
A kind of grunge rock outfit idea. We see a black leather jacket layered over long-sleeve midi denim shirtdress completed with animal print ankle boots: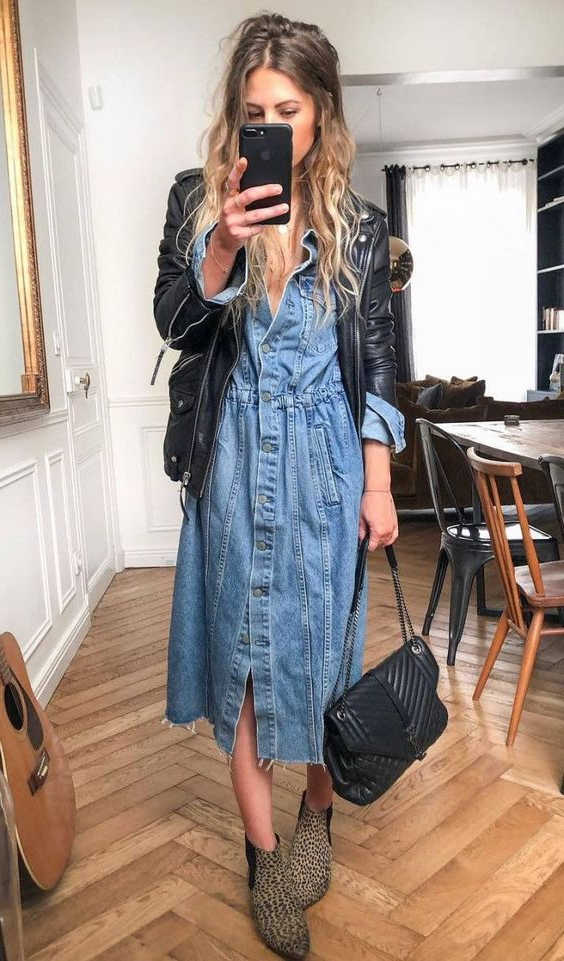 Buy Similar Here
Buttoned Black Denim Dress And Red Boots
A buttoned black pinafore denim dress is layered over a ribbed knit sweater in grey. Update this style with red suede ankle boots: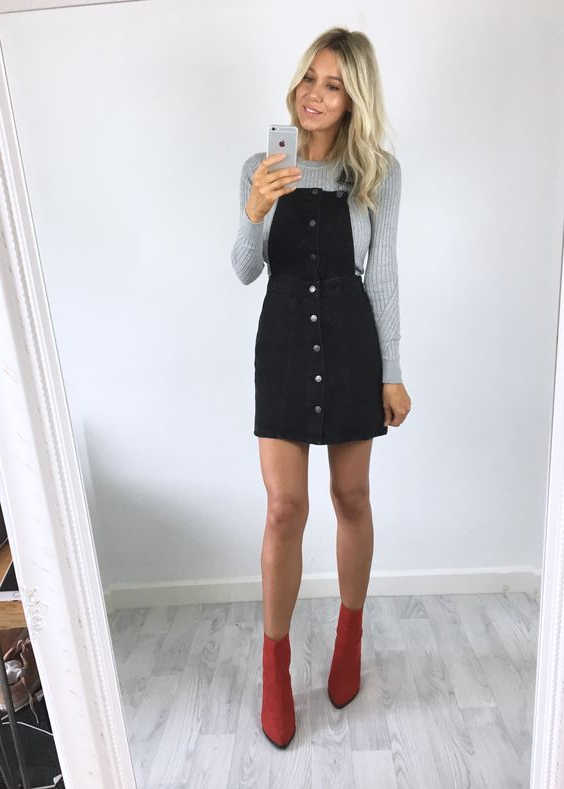 Buy Similar Here
Belted Denim Shirtdress With Wedge Espadrilles
We see a midi belted denim shirtdress completed with wedge espadrilles. Update this style by adding oversized cat-eye sunglasses and a spacious straw tote bag: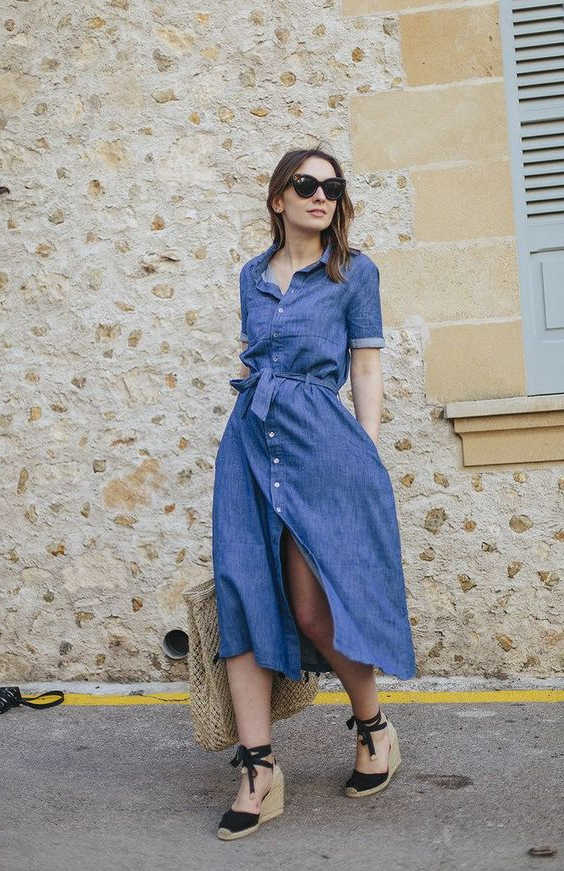 Buy Similar Here
Belted Denim Dress With Cardigan And White Trainers
A beige cardigan is worn over a belted denim dress completed with white trainers. A nice choice for casual weekends, and high school classes: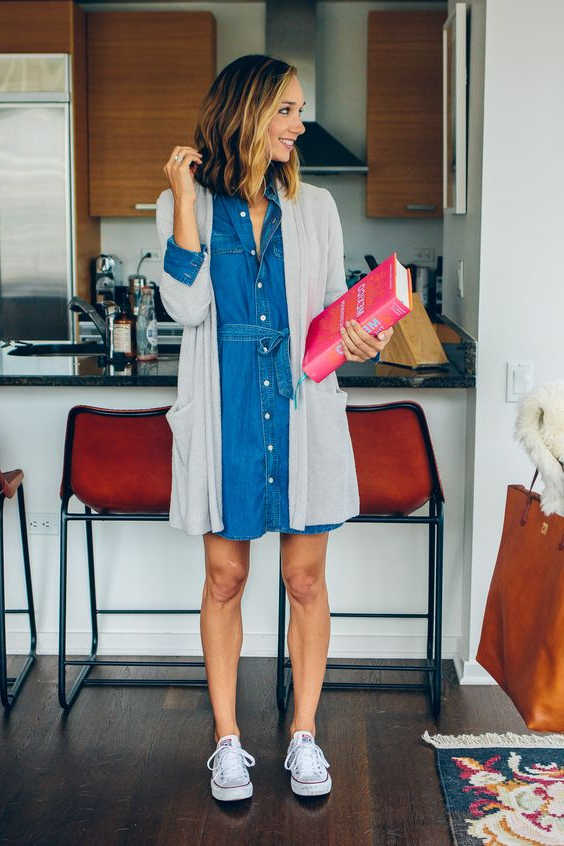 Buy Similar Here
Denim Belted Dress And Combat Boots
A belted denim shirtdress with rolled-up sleeves looks casual, complete it with black leather combat boots: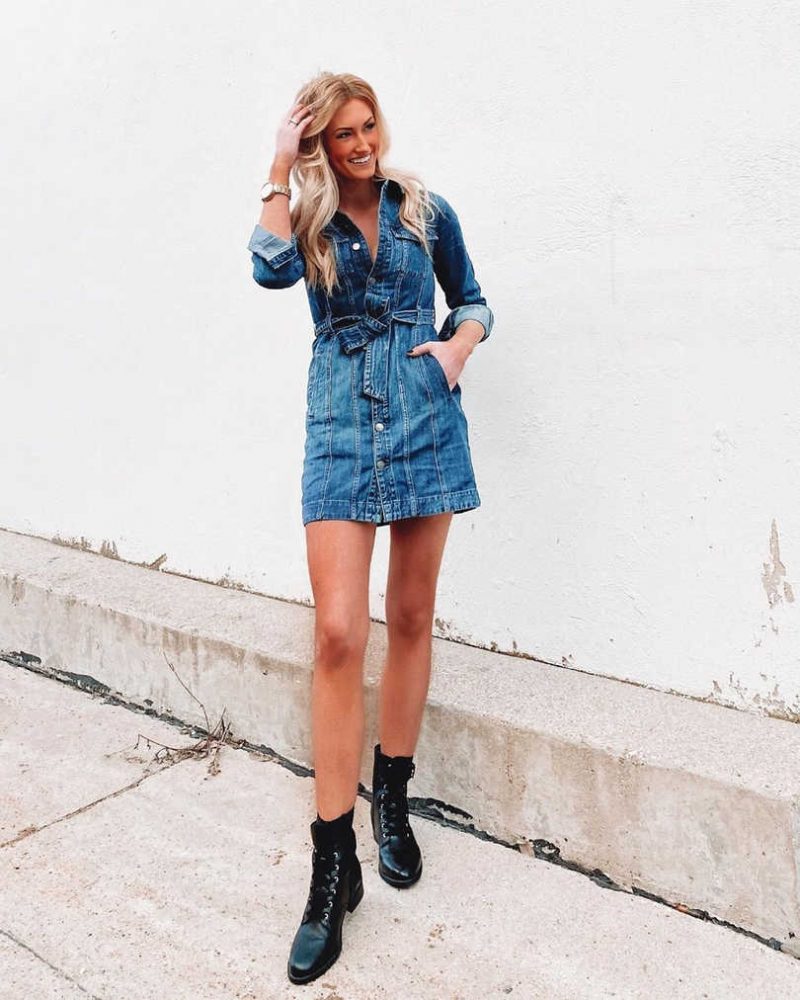 Dark Blue Denim Dress With Patterned Tights And Light Purple Heels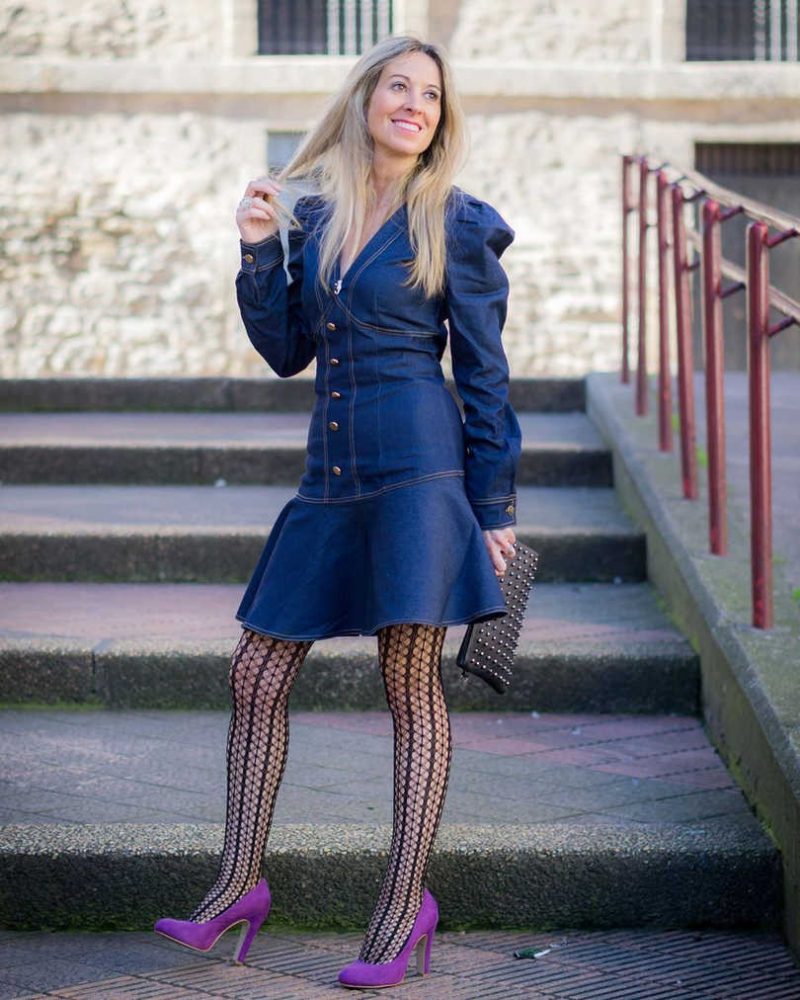 Belted Grey Denim Dress And White Cowboy Boots
A long-sleeve belted grey denim shirt dress looks the seventies inspired. Update it with oversized sunglasses, chain strap black leather quilted bag, and white leather cowboy boots: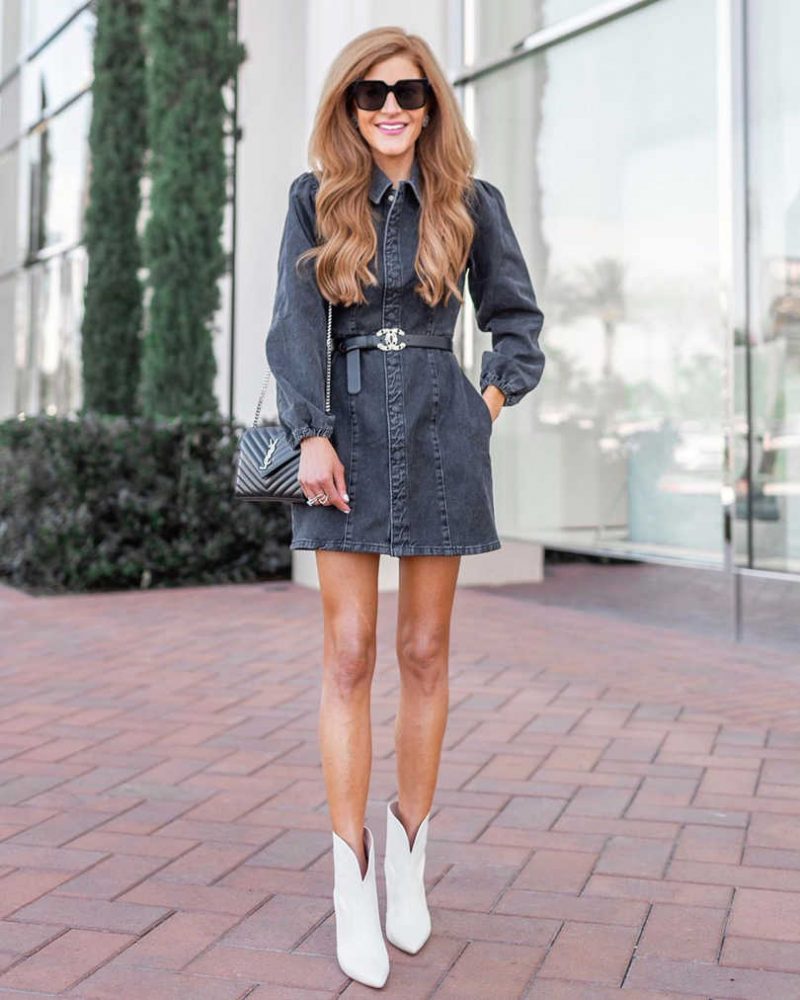 Plaid Coat With Denim Dress And Tights
A perfect look for Autumn days. We see a plaid coat layered over a dark blue belted denim dress with puffy shoulders. Update this look with opaque tights and black suede ankle sock boots: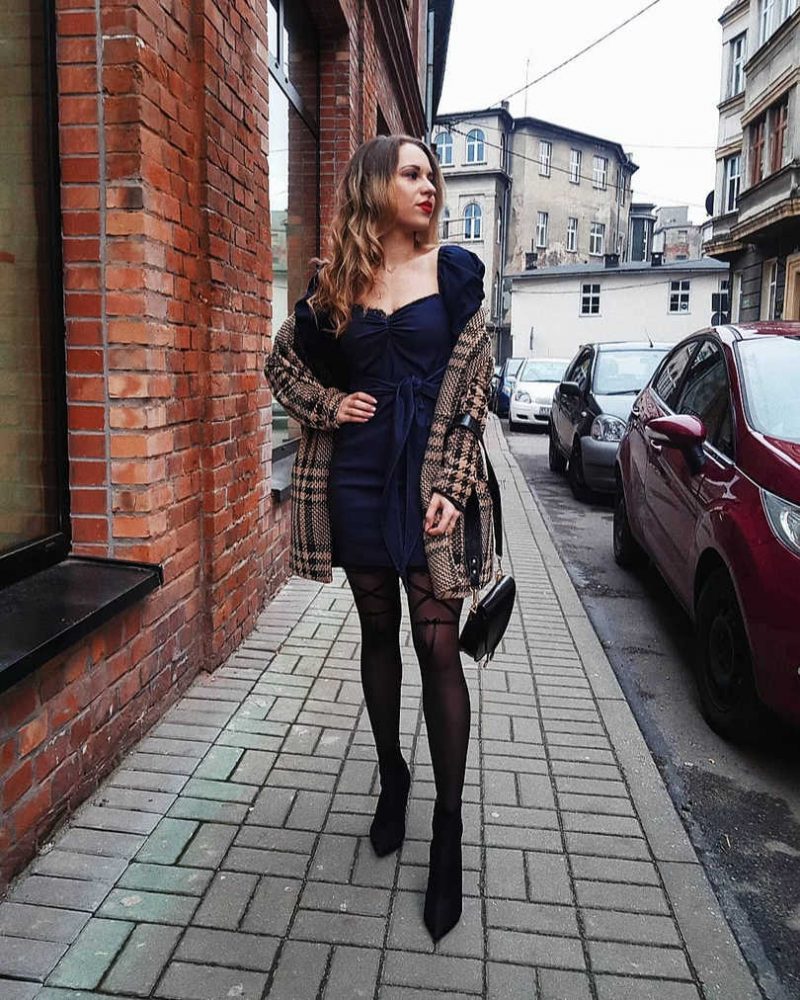 Denim Dress With Yellow Belt
A dark blue denim shirt-dress in a mini length with long sleeves is completed with a yellow belt and rounded sunglasses: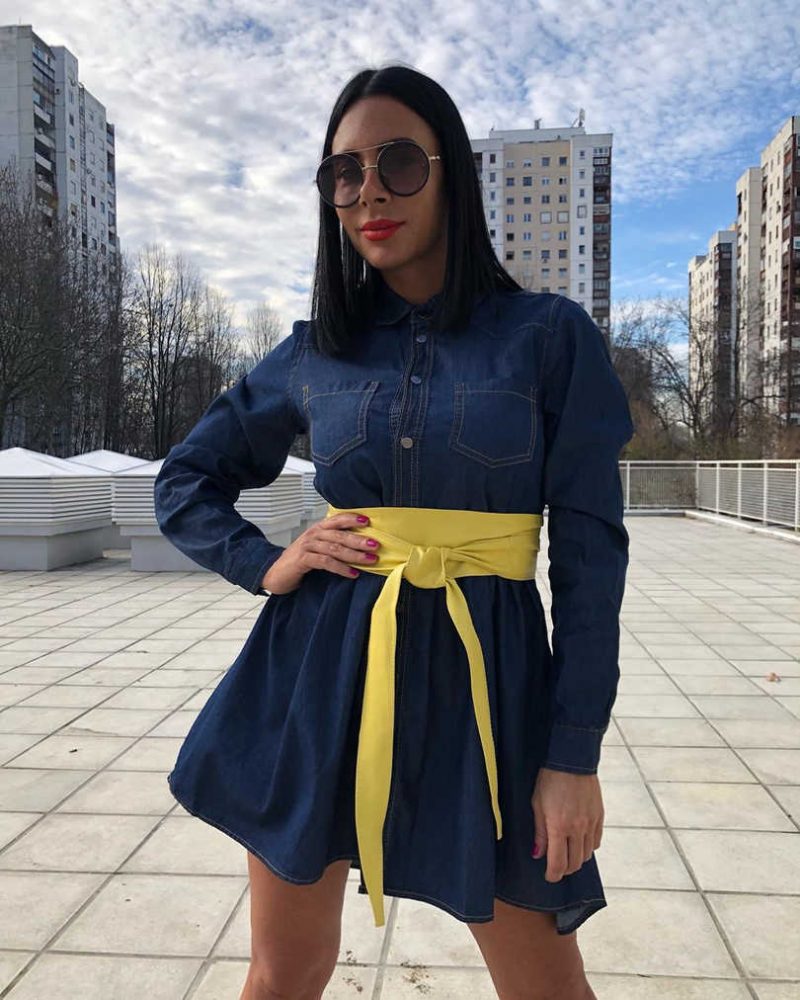 Belted Denim Dress With Buttons And Snakeskin Print Boots
Thumbs up for this look! We see a belted buttoned mini denim dress in a slim fit with long sleeves. Update this look with knee-length snakeskin print boots: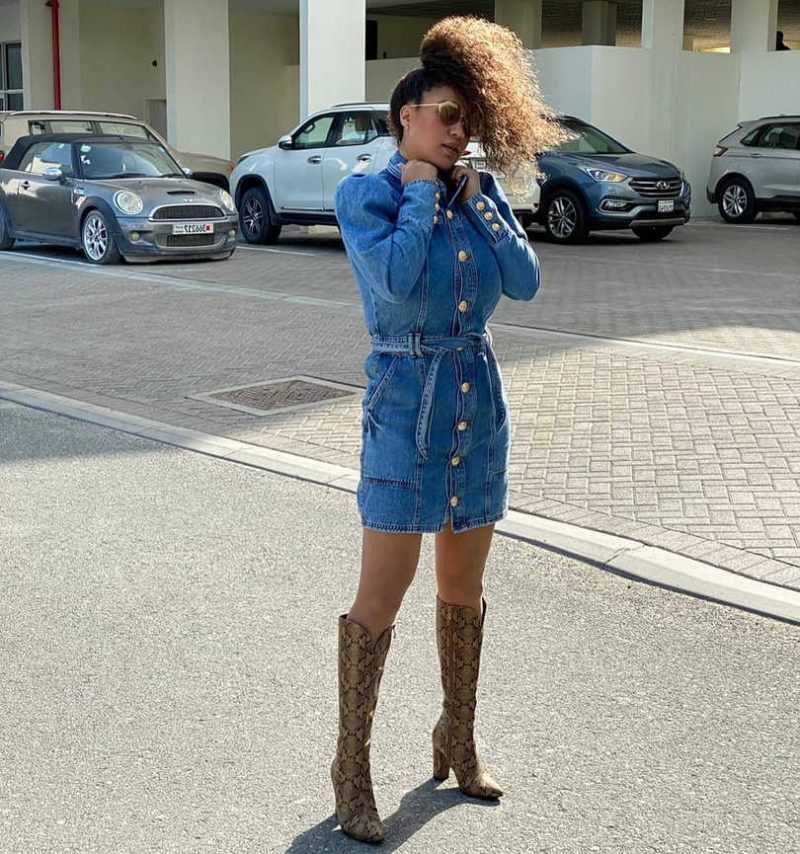 Denim Dress And Chunky Ankle Boots
A short-sleeve sheath denim dress with buttons looks simple, yet chic. Complete it with chunky lace-up black leather flat ankle boots: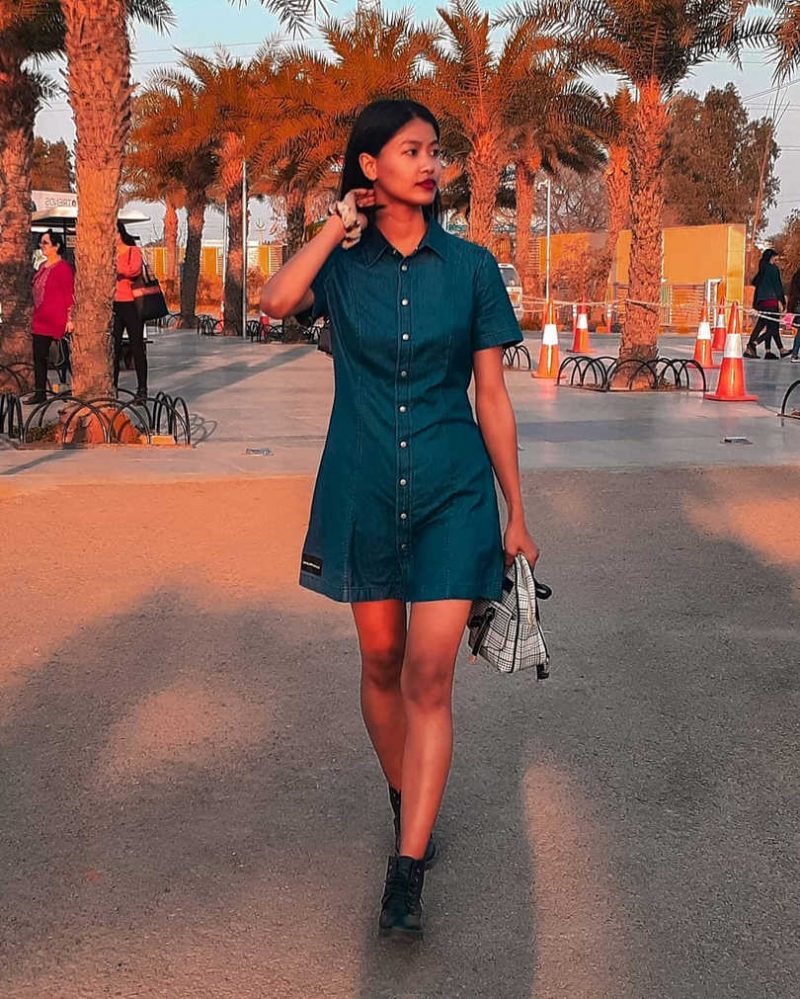 Denim Dress And Booties For Women Over 40
Another great example of denim dress versatility. We see a woman over 40 who sports a short-sleeve mini denim dress with zip-closure completed with suede cowboy ankle boots: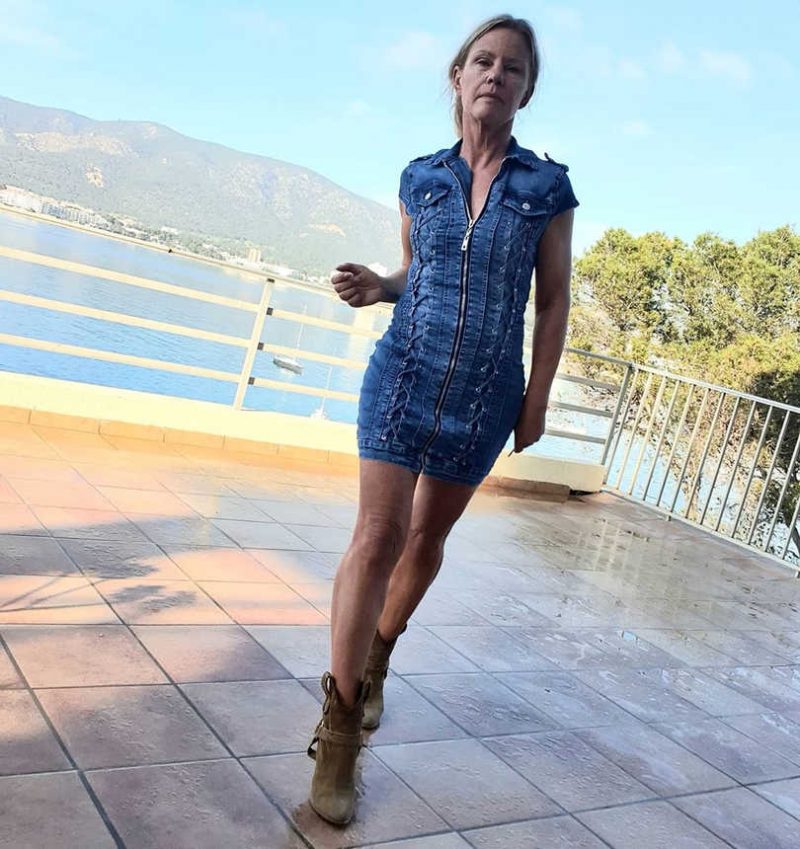 Long Dark Denim Dress For Women Over 50
If you are over 50, you can still rock a denim dress. We see a lovely woman wearing a dark blue long denim shift dress with long sleeves. She updated this outfit with a navy shawl scarf and black leather flat Chelsea boots: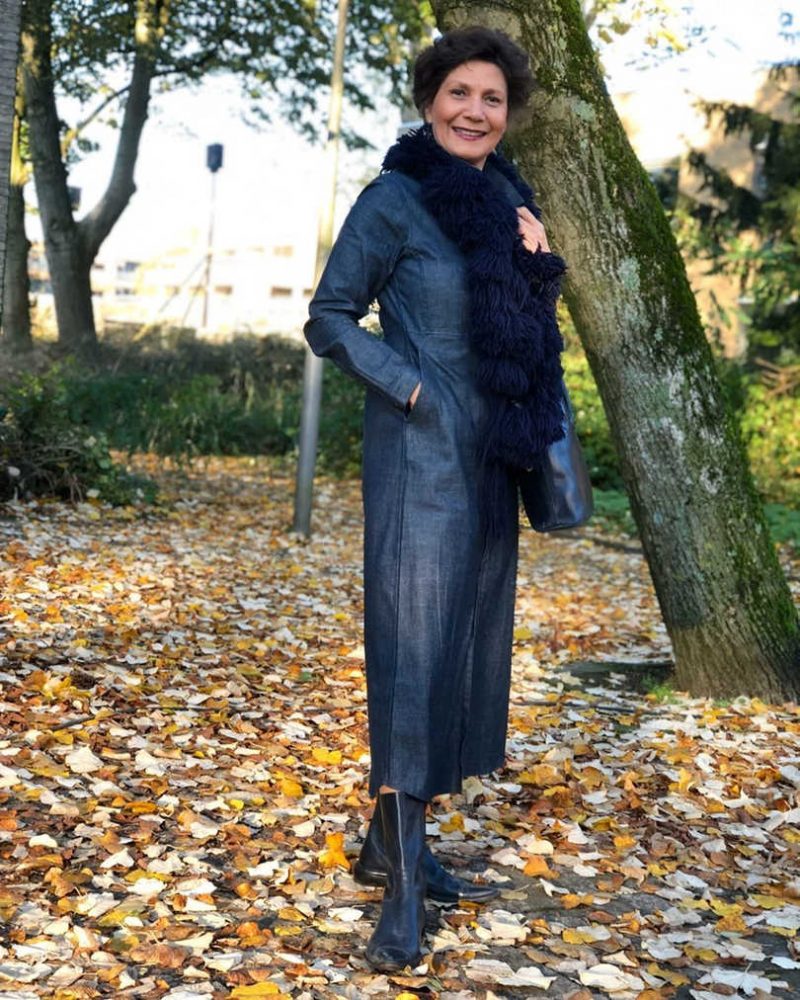 Denim Dress And Suede Booties
A lovely boat-neck denim dress with puffy shoulders and long sleeves looks classy. Complete it with suede booties and brown leather quilted handbag: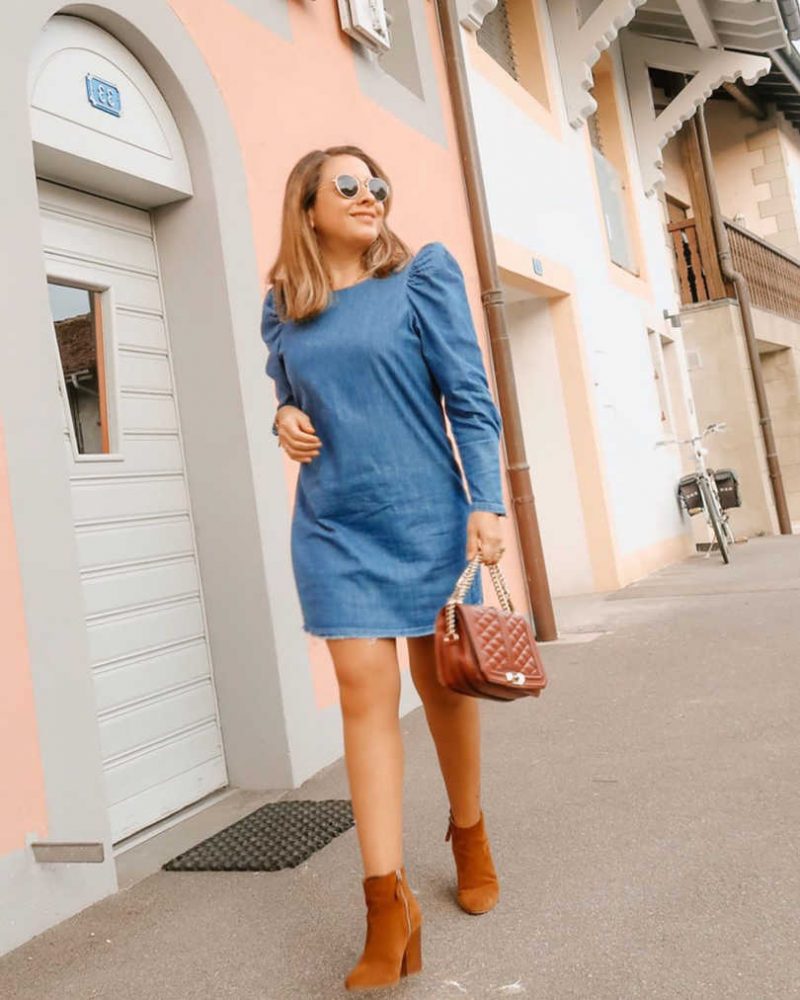 Denim Dress And White Sneakers
Simplicity is the key! Try on a short-sleeve buttoned denim dress with pockets and complete it with white sneakers: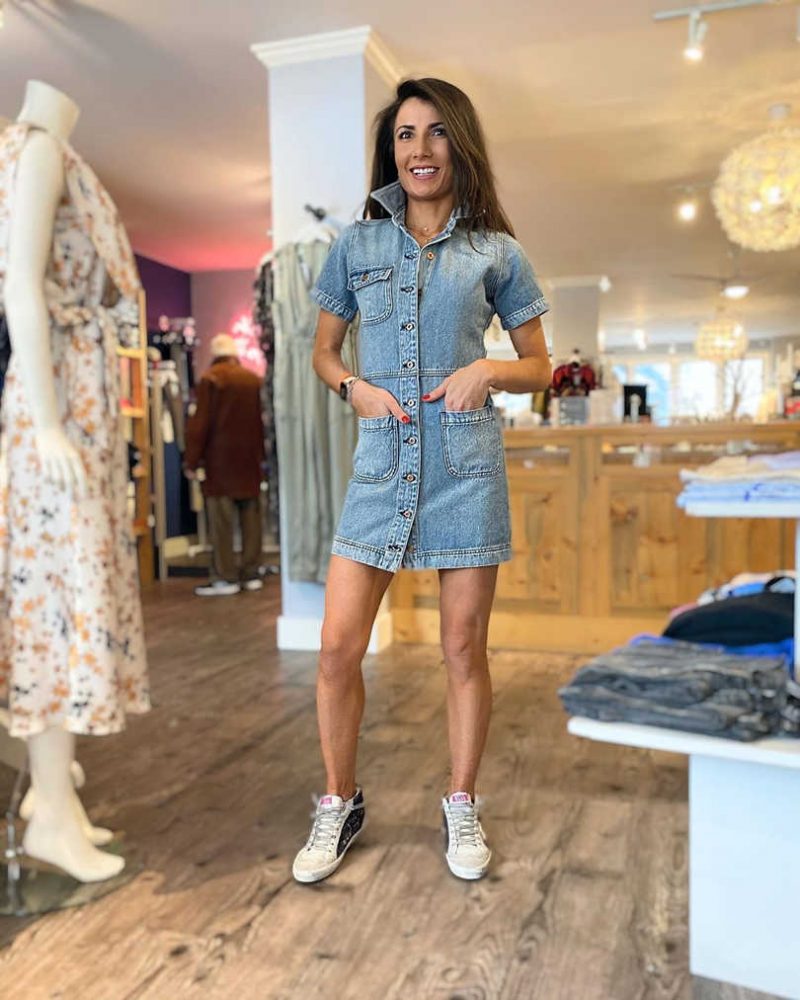 Belted Denim Shirtdress
A stylish denim shirtdress with puffy shoulders looks original completed with a glossy black leather belt: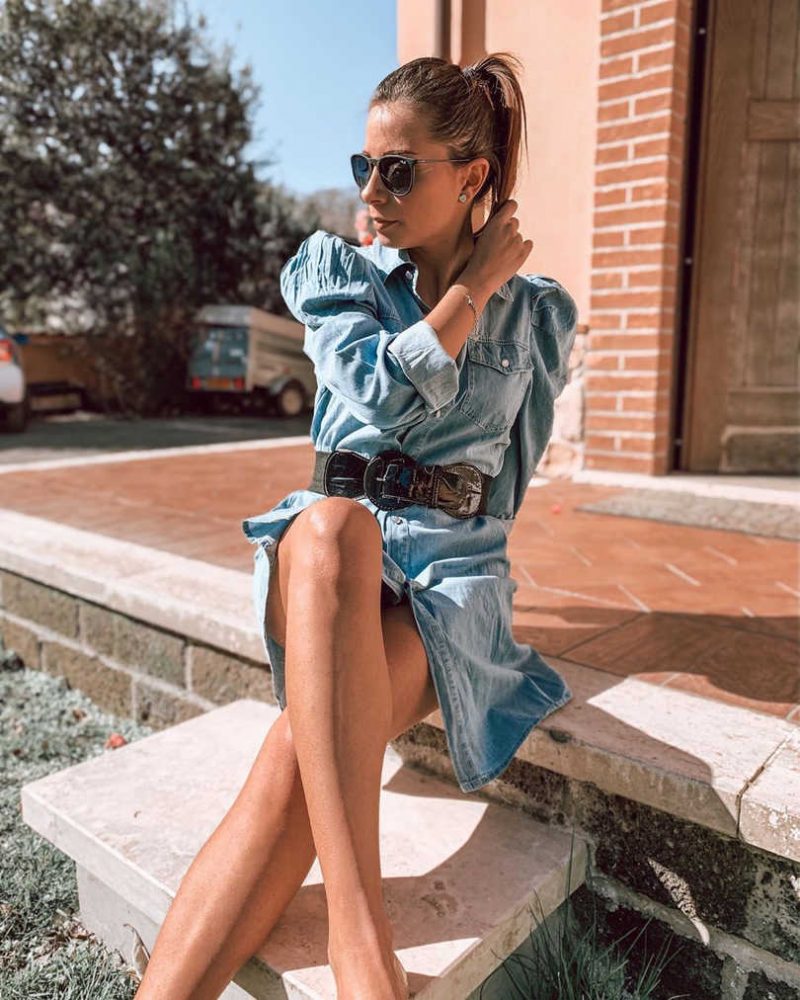 Plus Size Buttoned Denim Dress And Pink Sneakers
Make a wow statement with this cute outfit idea for the spring season. We see a plus-size buttoned denim shirtdress with a V-neck and billowing sleeves. Update it with black opaque tights and pink high-top sneakers: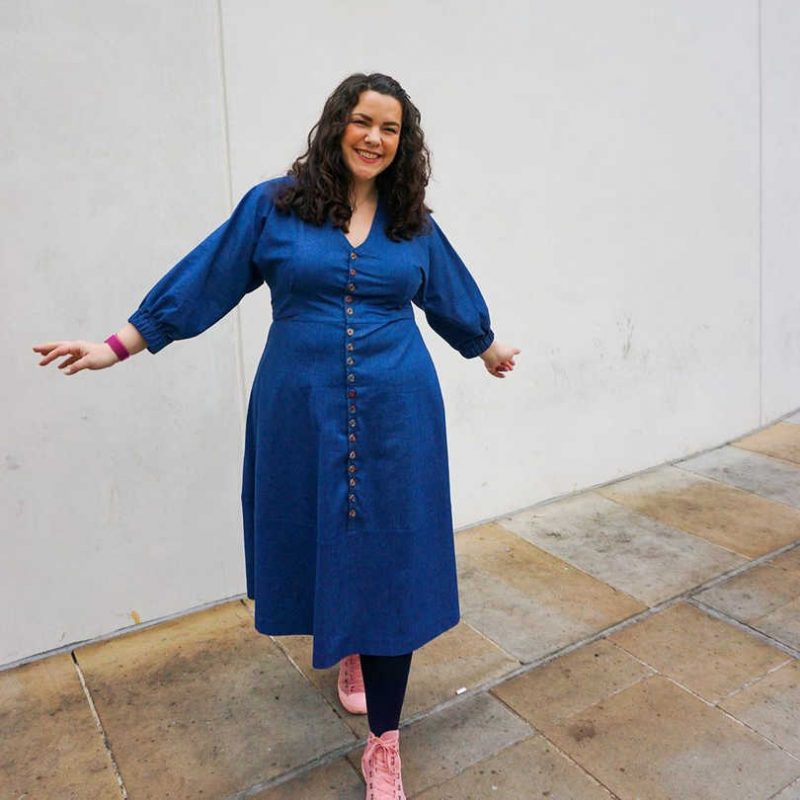 Belted Denim Dress
Another way to make a real statement during the night-out is by wearing a long-sleeve bodycon short denim dress with a wide neck and a black leather belt. Complete this outfit by adding high heeled sandals and a glamour patent black leather clutch: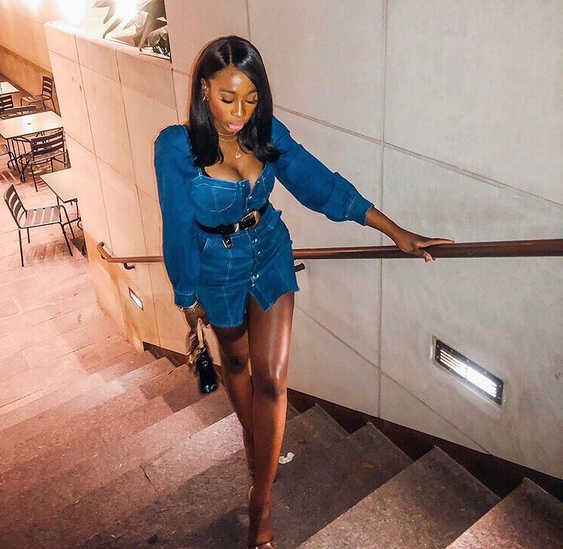 Teddy Bear Jacket With Denim Dress And Doc Martens
Go for a cream-beige teddy bear jacket and layer it over a short buttoned denim dress completed with tights and maroon Doc Martens. I highly recommend to check out my post on ways how to wear teddy bear coats, you will find easy ways how to make this outerwear piece look special on you: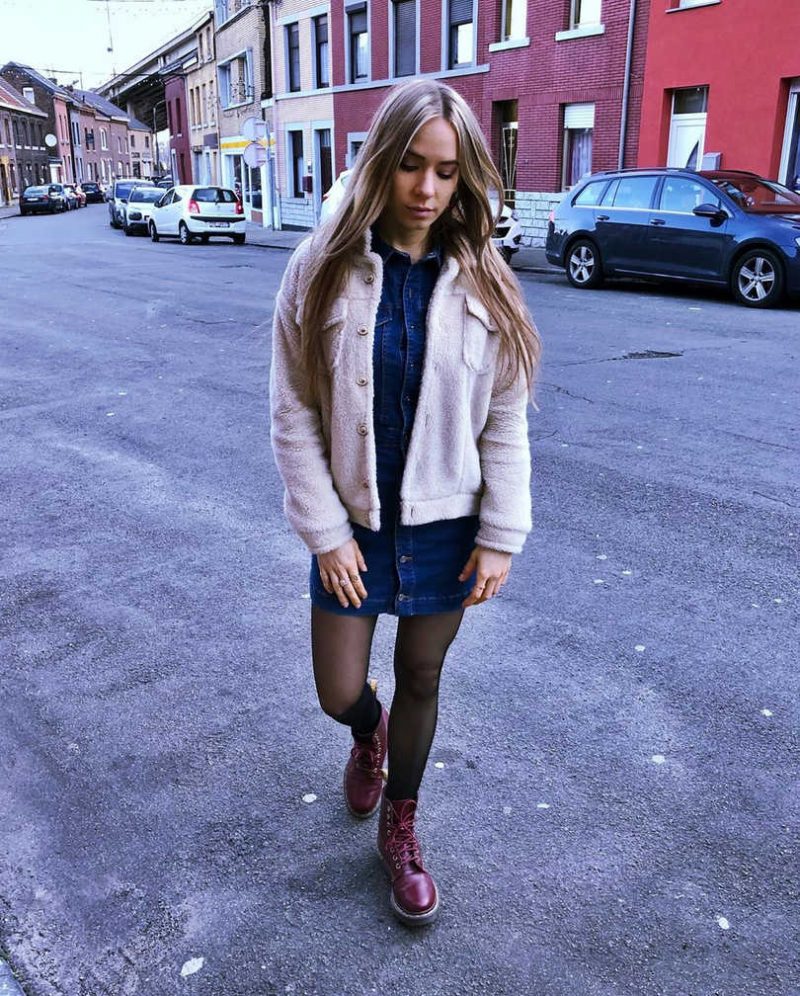 Denim Shift Dress With Combat Boots
A lovely denim shift dress with 1/2 sleeves looks awesome styled with heart printed tights and lace-up combat boots in black leather. The outfit is completed with a black bum bag: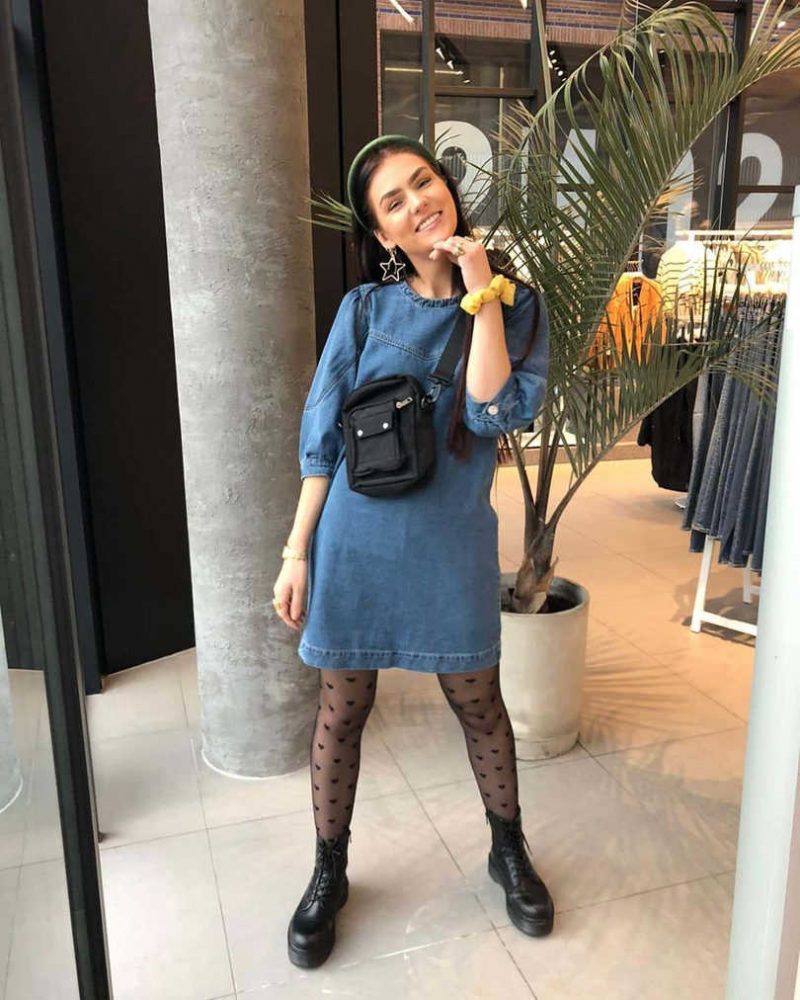 Hope you enjoyed my post on how to wear a denim dress, please leave me a comment below if you have any questions!
Source: TheJeansBlog, WikiHow