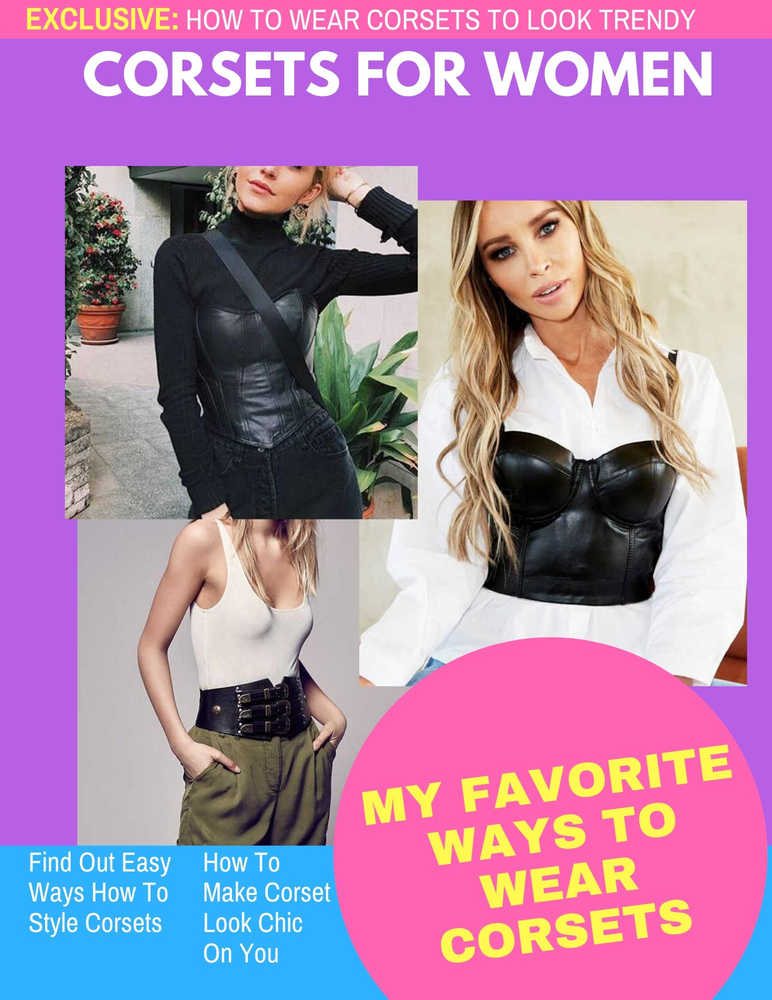 Buy Similar Here
Let's talk about accessories that are here to drastically change your outfit. I am talking about leather corsets. The modern corset is not just a tool for slimming your waist, but it also an item that boosts your confidence, as well as makes you look sophisticated and sassy!
Best Leather Corset Designs
This addition provides its wearer the right posture and underlines your elegance. Most of you think if wearing this item as an undergarment, but this lingerie-inspired piece can easily go with jeans or a skirt and layered over your shirts or dresses. Yes, nowadays it's completely okay to wear corsets over tops and dresses.
Red Leather Corset Skirt
If you are not into classic corsets, then how about trying on a red leather midi corset skirt with front zip closure. Style it with a silken bell sleeve white blouse and classic red pumps: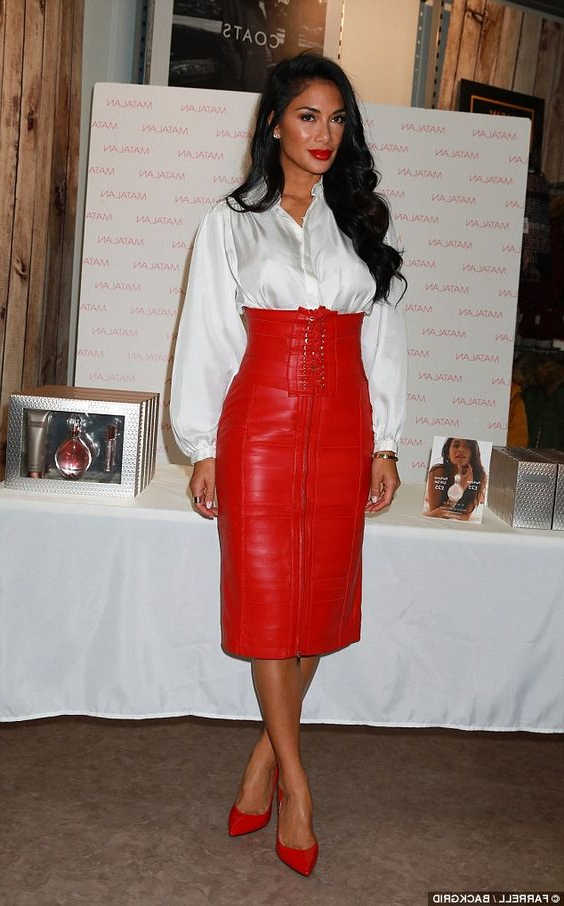 Buy Similar Here
You can either go for a classic full corset or try on a half corset and use it as a stylish belt with your basic wardrobe. If you have a lack of inspiration, then I am here to help you out.
Leather Underwire Corset
A black leather underwire corset is styled with a long sleeve pullover dress in white: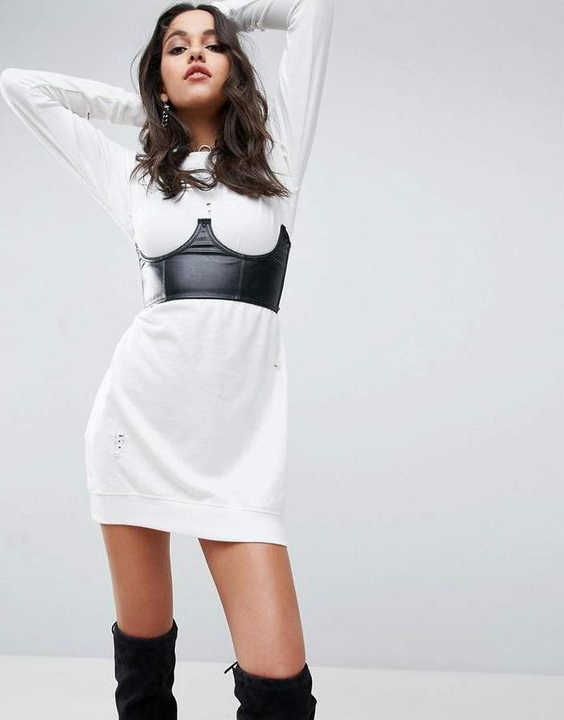 Buy Similar Here
It can be a perfect addition for your evening out, but you can us it during the day. Pair it with a blazer by layering it over, or keeping things casual with a basic white shirt worn under the corset.
Leather Underbust Corset Skirt
A patent leather underbust corset skirt with shoulder straps is styled with a classic white shirt: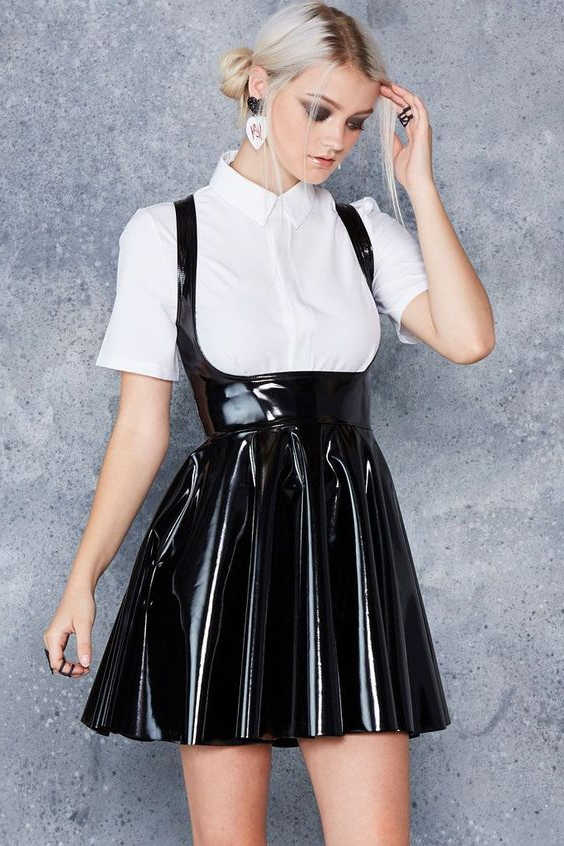 Buy Similar Here
I love to see ladies who pair corsets with high waist bottoms. You can go for a leather corset and pair it with high-waisted black trousers completed with a printed cardigan and heeled pumps.
Leather Corset Wrap Belt
A sleeveless buttoned black dress is completed with a black leather wrap corset belt and black leather pants styled with white trainers: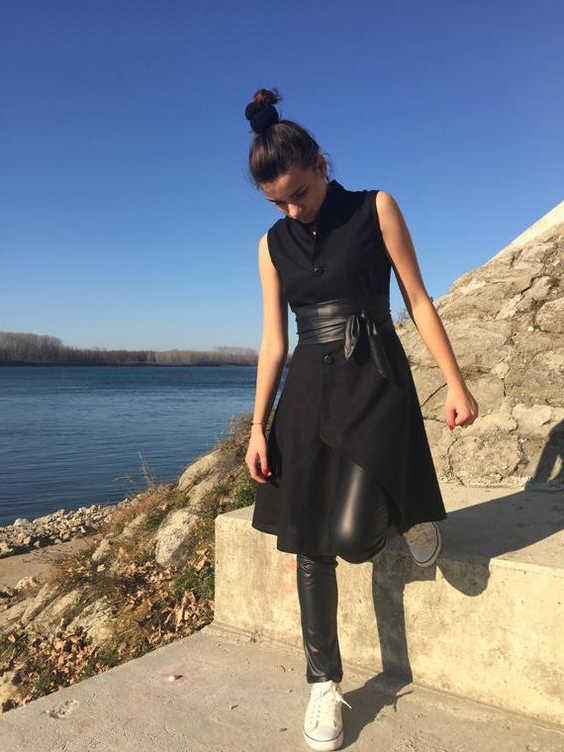 Buy Similar Here
Anther daytime appropriate look is the one with a black corset over your favorite basic white tee. All you need is to add a denim mini-skirt, red hoodie, and black canvas tennis shoes. Anyway, I have many other options below.
Leather Corset With Spikes
A black T-dress looks edgy and grunge inspired completed with a black leather corset with spikes and chunky wedge sandals: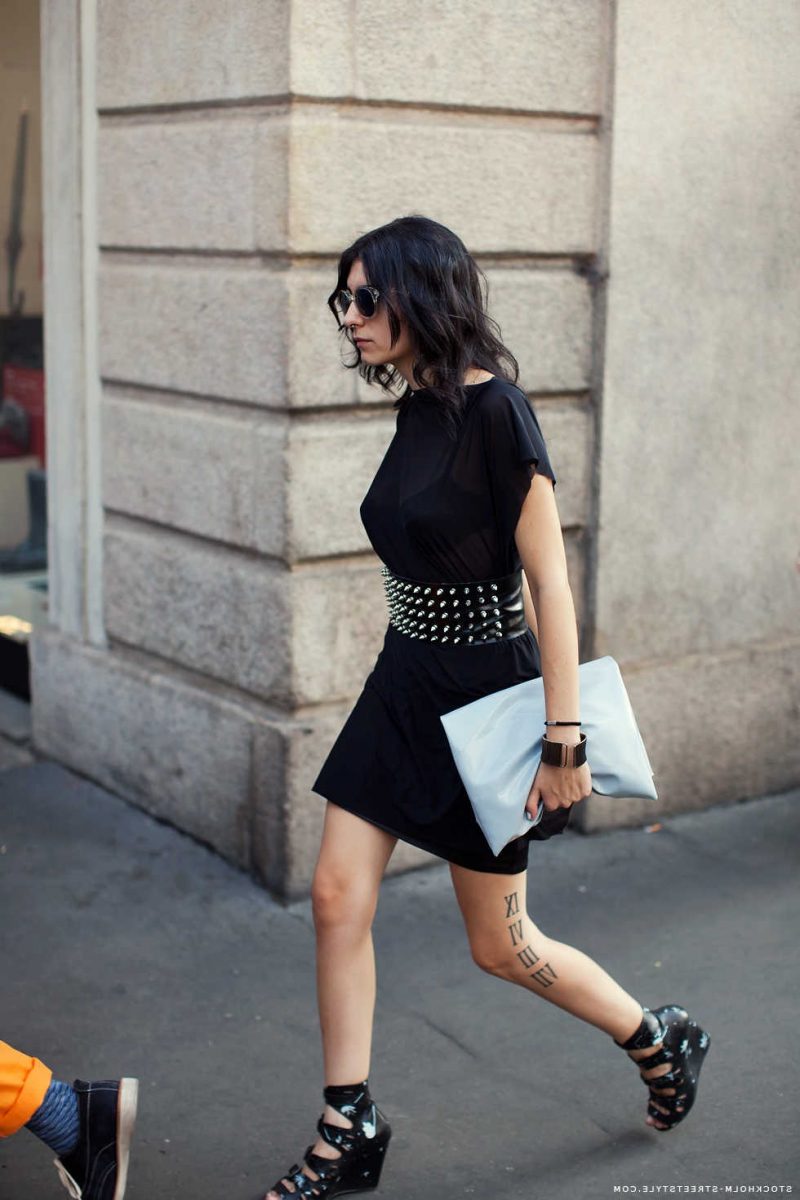 Buy Similar Here
How To Style Leather Corsets
Leather Corset With Buckles With White Tank Top
A black leather corset belt with buckles is worn with a white tank top and green cargo pants: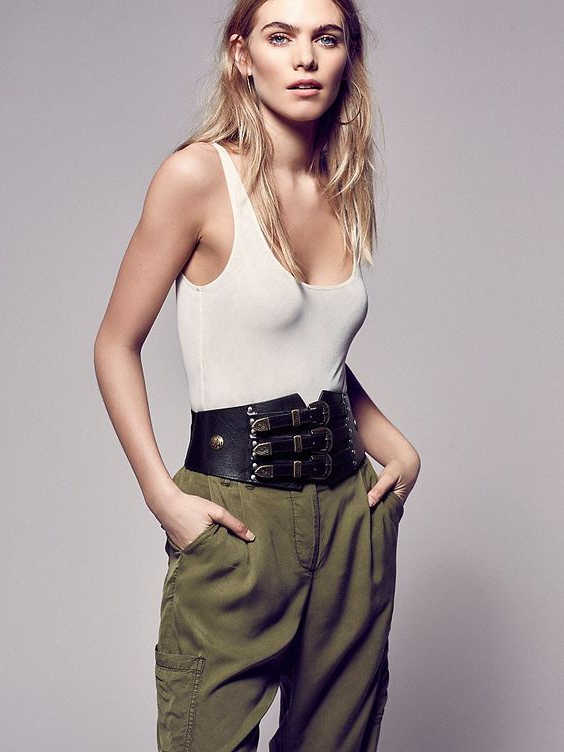 Buy Similar Here
Leather Corset Over Black Sweater
Black on black! We see a high neck sweater worn under black leather bra corset teamed with black jeans: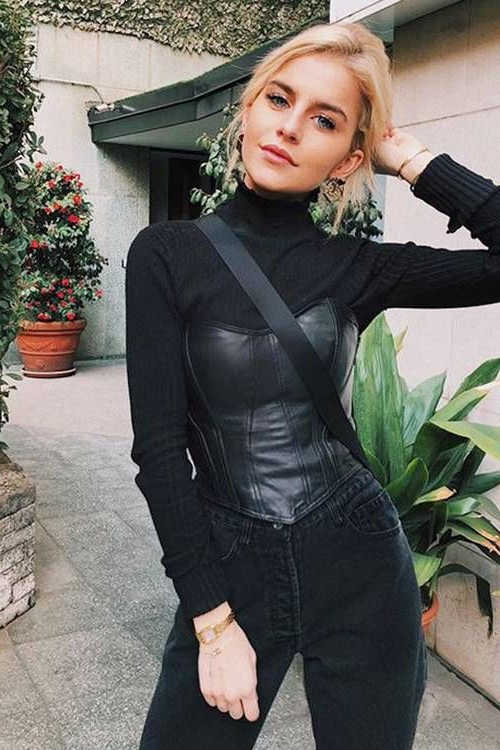 Buy Similar Here
Leather Corset Over Black Dress
Another black on the black combo! We see a black long-sleeve knitted mini dress worn with an underwire leather corset. Complete the look by adding black tights and lace black leather ankle boots: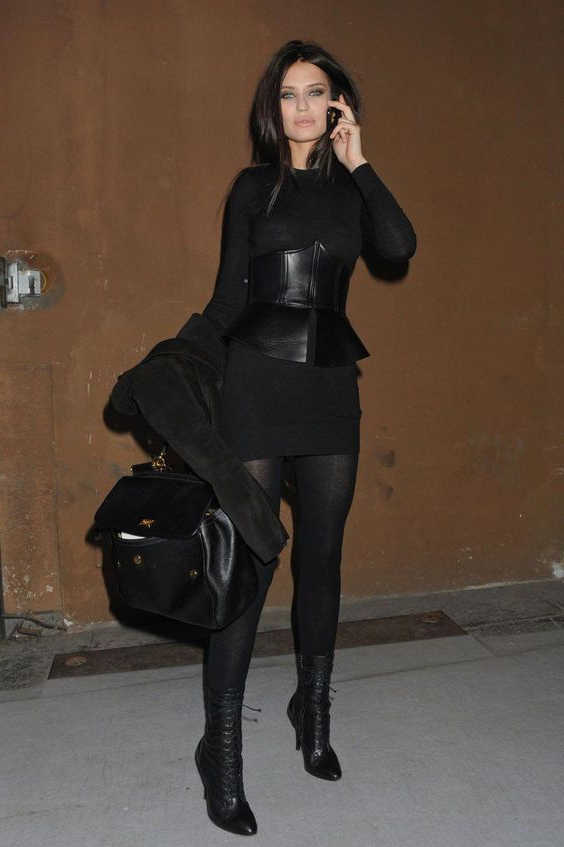 Buy Similar Here
Leather Corset And Shirtdress
A white shirtdress looks stunning with that black leather corset. Love those flat brow sunglasses: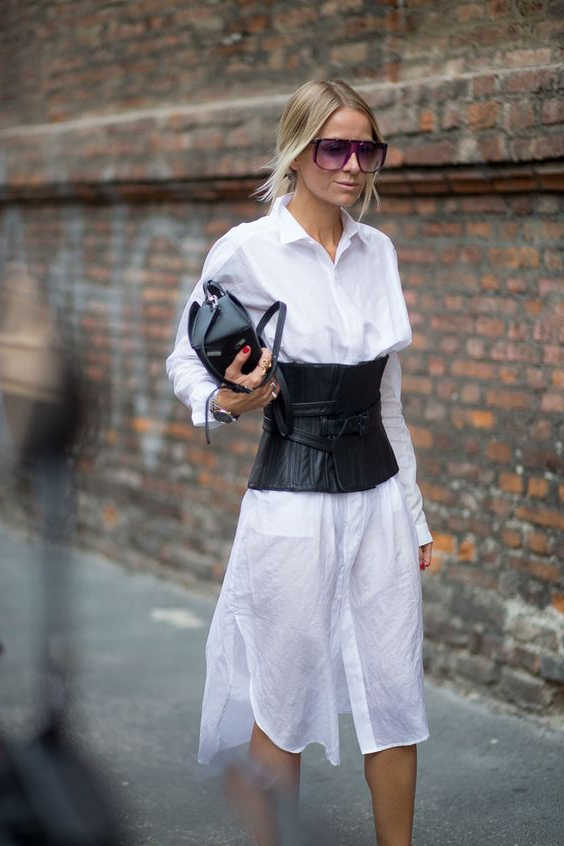 Buy Similar Here
Leather Corset Jumpsuit
If you want to make a wow statement, go for a black leather corset jumpsuit and team it with a high neck sweater. Love that leather cap: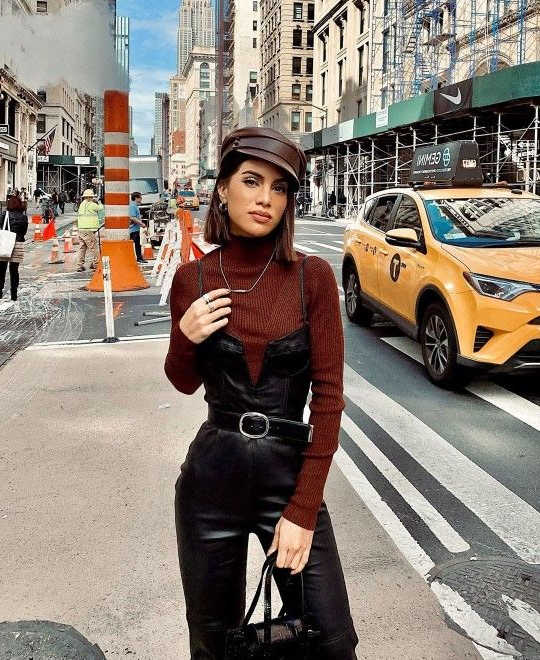 Buy Similar Here
Leather Corset Belt With Straps Over Dress
Lace-up leather corset belt with straps look cool over a grey jersey dress: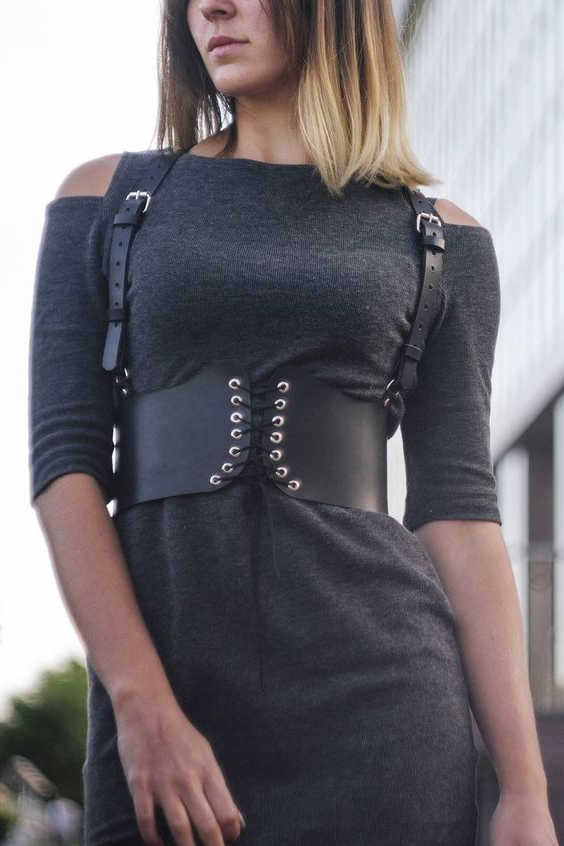 Buy Similar Here
Leather Corset Belt With Buckles Over Turtleneck
Leather corset belt with buckles looks awesome styled with a black turtleneck sweater: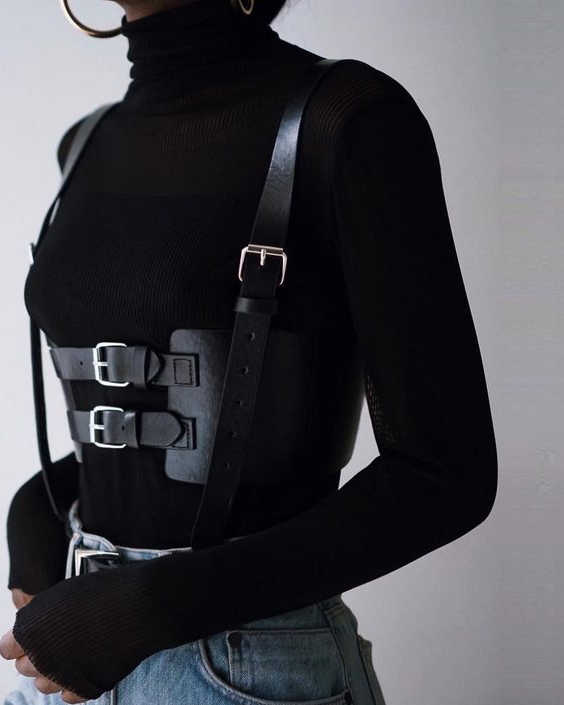 Buy Similar Here
Corset Belt Over White Shirt
In love with this simple combo for day walk. We see a white shirt completed with a wide black leather corset belt: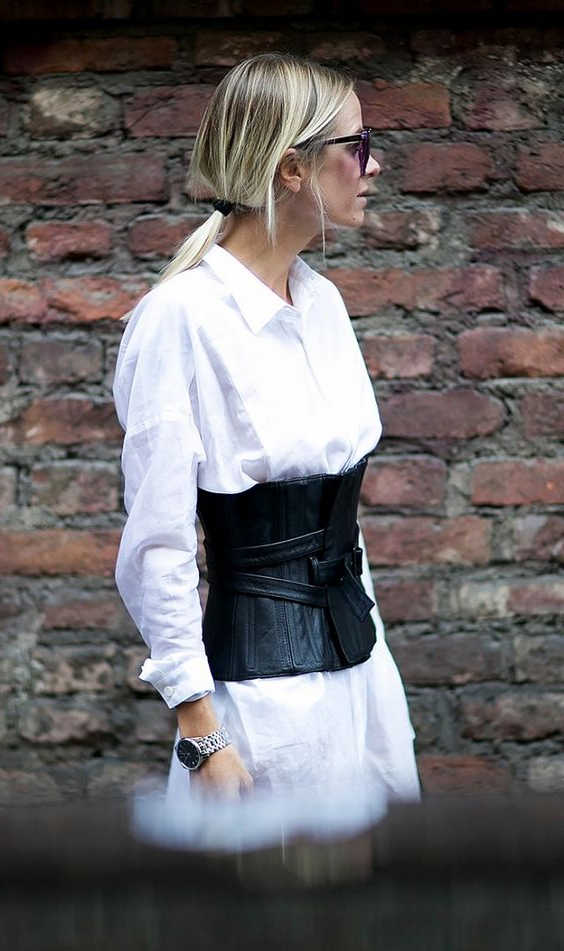 Buy Similar Here
Brown Leather Corset Over Plaid Blazer
How about wearing a brown leather corset belt over a plaid blazer styled with a black turtleneck, white pants and ankle strap black pumps: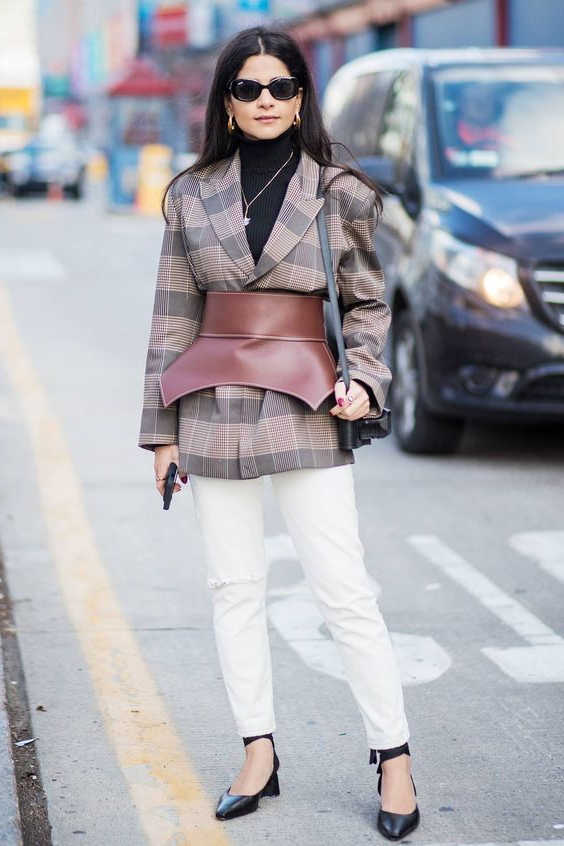 Buy Similar Here
Brown Leather Corset And Black Top
In love with this brown leather corset belt styled with a black sleeveless top teamed with a fringed midi skirt and snakeskin print slouchy boots: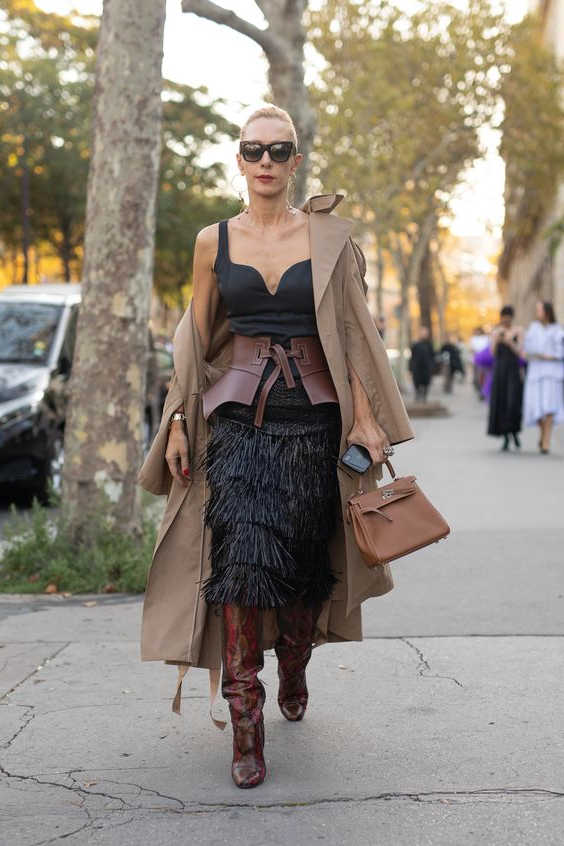 Buy Similar Here
Black Leather Corset And Black Mini Dress
A black little dress with wide short sleeves is styled with a black leather corset belt with high shoulders. Complete the look by adding orange socks and strappy heeled sandals: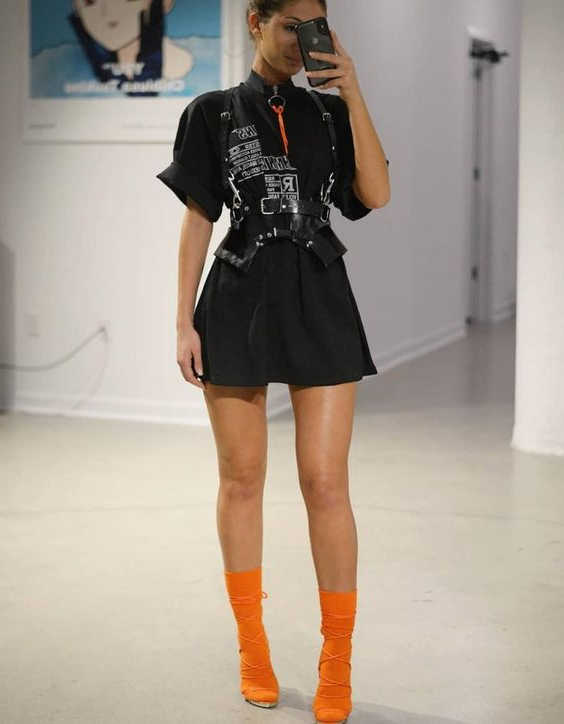 Buy Similar Here
Black Leather Corset Over White Shirt
A classic white shirt is layered under black leather bra corset and completed with blue jeans: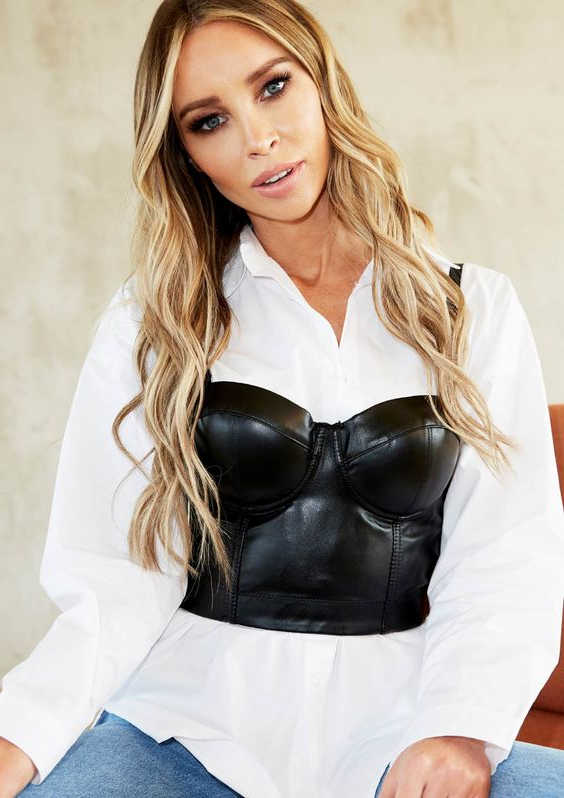 Buy Similar Here
Source: stylecaster, harpersbazaar