Let's talk about ways how to make lingerie look amazing while making it peeking out. We know some easy lingerie-inspired looks to wear out, you are about to see ways on how to show-off these lace designs looking stylish.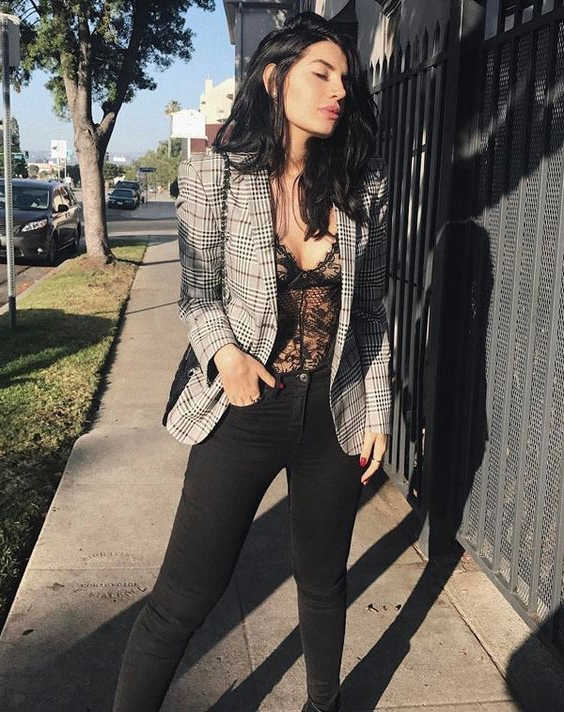 Buy Similar Here
We see a black lace bodysuit styled with a plaid blazer and black skinny jeans. A lovely combination for day-offs.
Have you ever thought about your lingerie peeking out? How did it felt? What would you do if you noticed that the lace bra peeks out the shirt? In today's article, we are
I am about to show you easy ways on how to wear lingerie without looking like you're trying too hard. Some say it is extremely difficult to achieve, mainly because lingerie at its core is one of the most extra inventions in history.
In most cases, lingerie can be only seen in the bedroom. However, today's fashion trends allow us to show off lace bodysuits and sleek slip dresses in the streets. We are here to show you easy ways how to wear lingerie outfits outside of the bedroom and showing them off to the world. This look is ideal for a night out, as well as for wearing during the day (if you are feeling daring).
It's important to find unique ways how to make this trend look appropriate and not perverse. The good news is that I've got multiple ways of how you can wear lingerie in public.
Lingerie was known as a secret weapon for men's seduction, but nowadays fashion dictates us to show off the lingerie and incorporate it with fashion clothes. Don't worry, there is nothing so hard in implementing lingerie with your everyday apparel.
Black Bra And Black Sheer Top
We see a sheer black top in black polka dots layered over a black bra top. The outfit is completed with mid-rise blue jeans: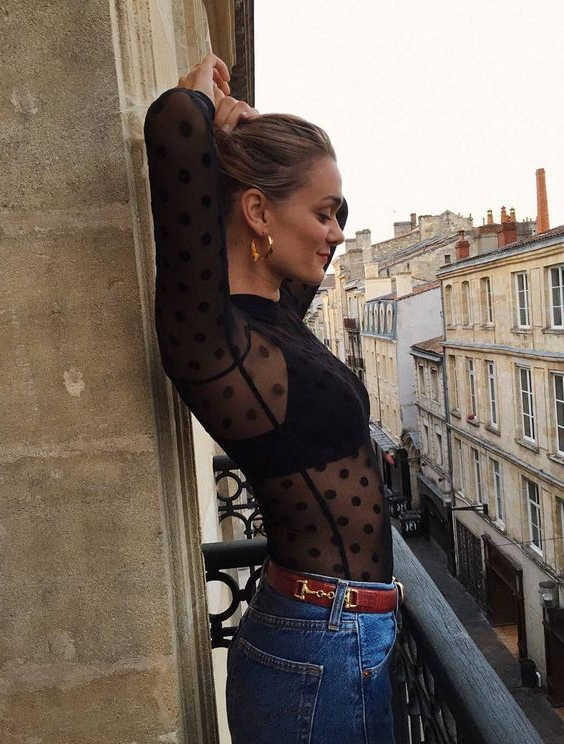 Buy Similar Here
Black Bra Peeking From Off Shoulder Sweater
A slouchy off-shoulder V-neck sweater in cream-white is worn over a black lace bra top with spaghetti straps. Complete the look by adding blue skinny jeans, a grey-blue shoulder bag, and tortoise oversized sunglasses: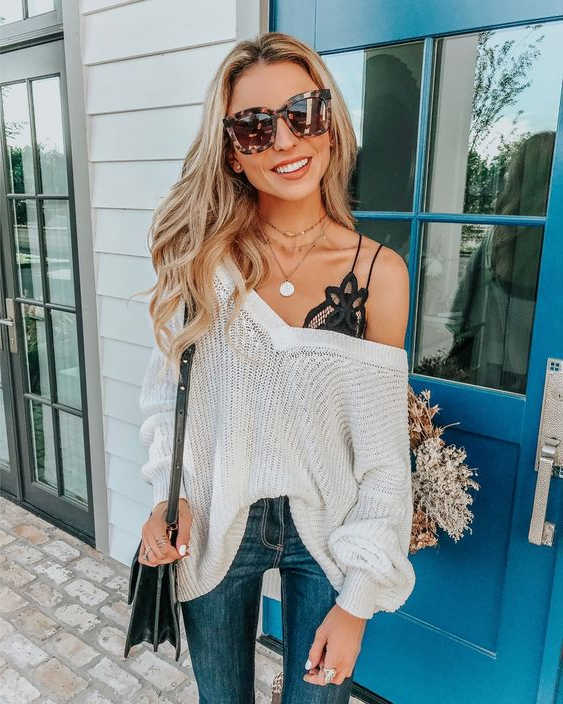 Buy Similar Here
Black Bra Top And Plaid Suit
A plaid pantsuit in grey looks amazing styled with a black bra top. Complete the look by adding 1990 style sunglasses: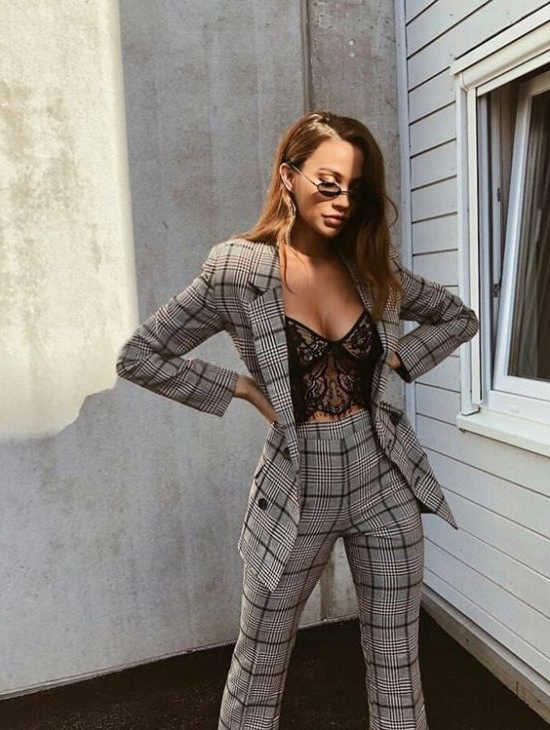 Buy Similar Here
Black Bra Top And Sweatpants
We see a black blazer paired with a black bra top and cream-white sweatpants. Complete the look by adding chunky sneakers and oversized rounded sunglasses: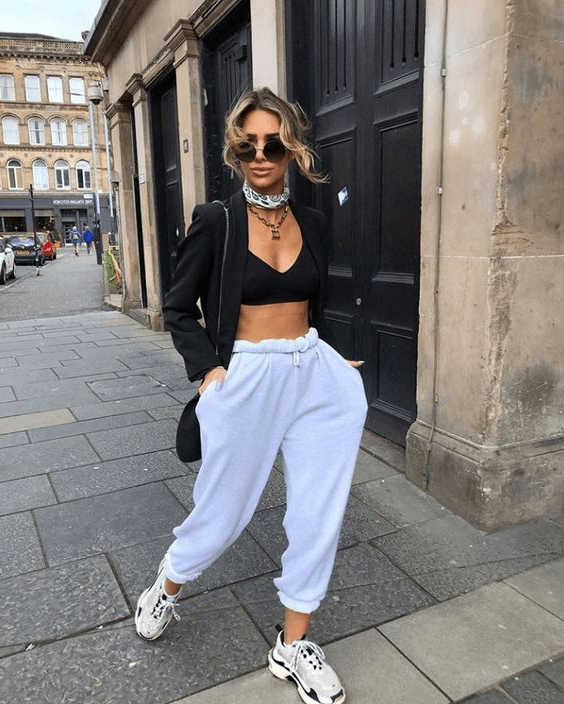 Buy Similar Here
Lingerie Bodysuits Outfit Ideas
I am a big fan of bodysuits. This simple design can easily brighten up your outfits, as well as make you stand out from the crowd. There are numerous ways how to wear it on the streets as well as to special events. Below are shown my favorite ideas how to make lace bodysuits look gorgeous.
Black Bodysuit And Jeans
We see a white teddy bear coat layered over a black lace bodysuit styled with high-waisted cropped mom jeans. Complete the look by adding cat-eye sunglasses and white sneakers. If you want to see more ideas on how to wear teddy bear coats, then check out my post, where are gathered incredibly chic and trendy looks you can esily copy right now: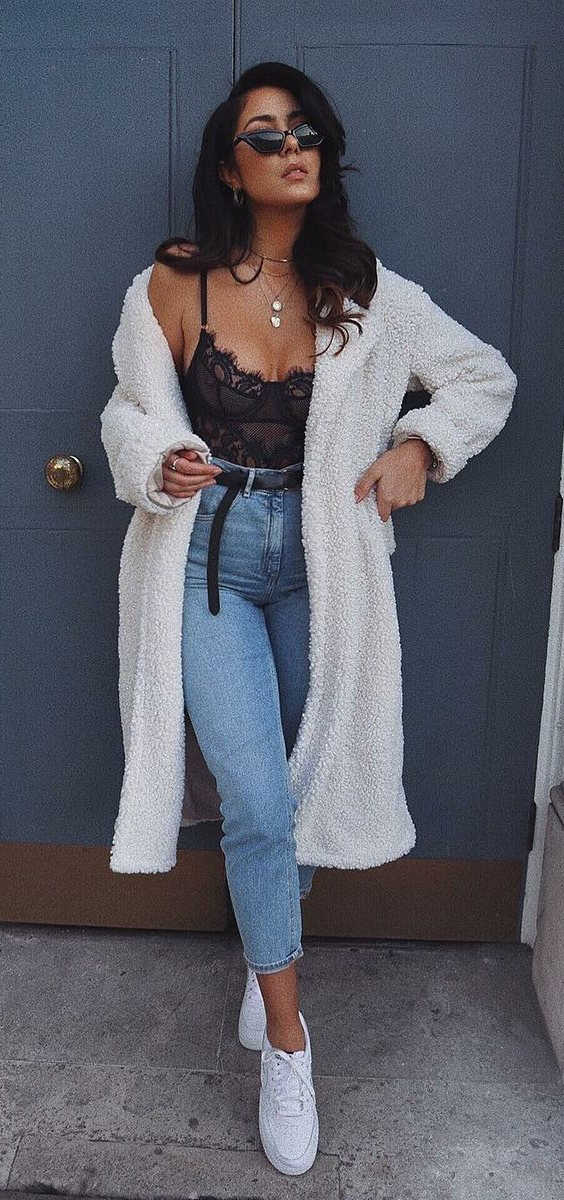 Buy Similar Here
Black Lace Bodysuit And Dark Green Pants
Another great style for young ladies. We see a white long cardigan paired with a black lace bodysuit completed with high-waisted belted pants in dark-green color completed with black Vans and black leather backpack: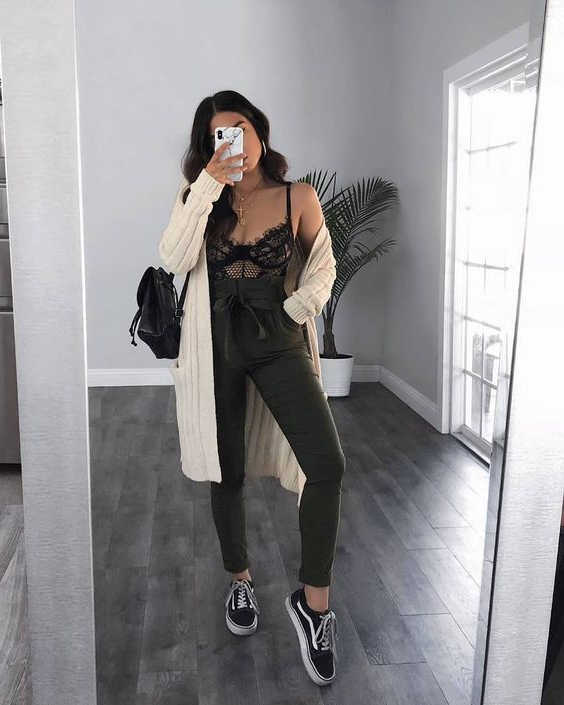 Buy Similar Here
Black Lace Bodysuit And White Long Sleeve Top
A slim white long-sleeve top is layered under a black lace bodysuit. Complete the look by adding black belted pants and 1990 style sunglasses: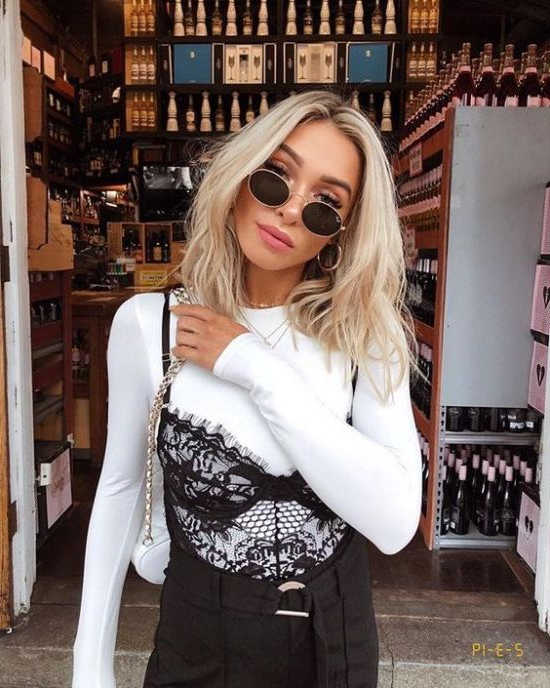 Buy Similar Here
Black Lingerie Bodysuit And Black Leather Shorts
An all in black OOTD. Go for a black lace bodysuit and pair it with black leather shorts: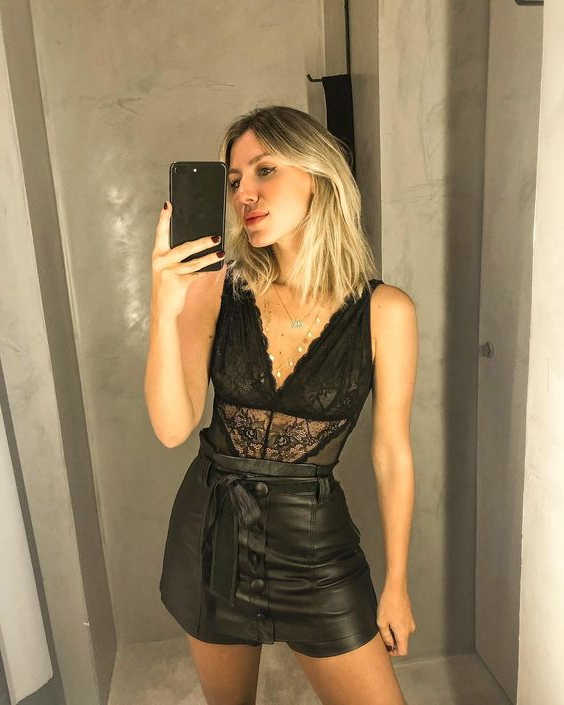 Buy Similar Here
Red Lingerie Bodysuit And Ripped Boyfriend Jeans
A red lingerie bodysuit is worn with extremely ripped boyfriend jeans in blue color. Complete the style by adding clear heeled pumps. Find out cool ways how to wear extremely ripped jeans this summer, I will show you my favorite ideas to copy right away: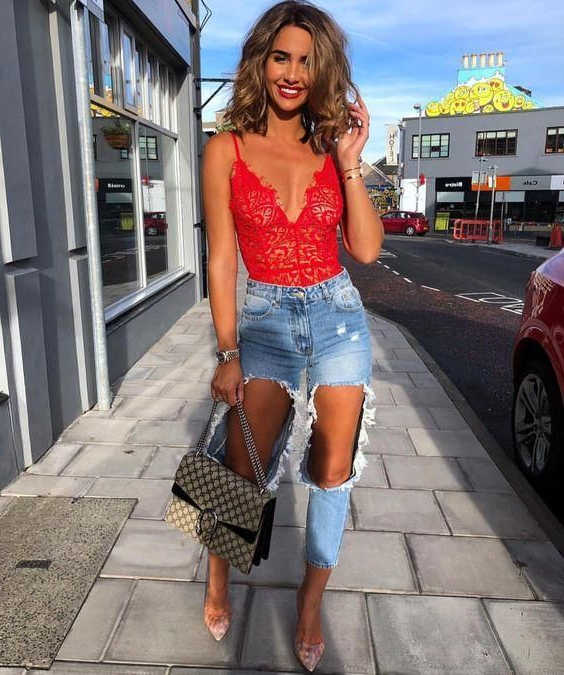 Buy Similar Here
White Bodysuit And Denim Shorts
A white lace bodysuit looks hot completed with a double denim trend consisting of a denim jacket and jean shorts. Complete this look by adding a quilted black leather shoulder bag. If you are into denim, then check out my personal favorite denim for spring, I am sure you gonna find some cool ideas to copy this year: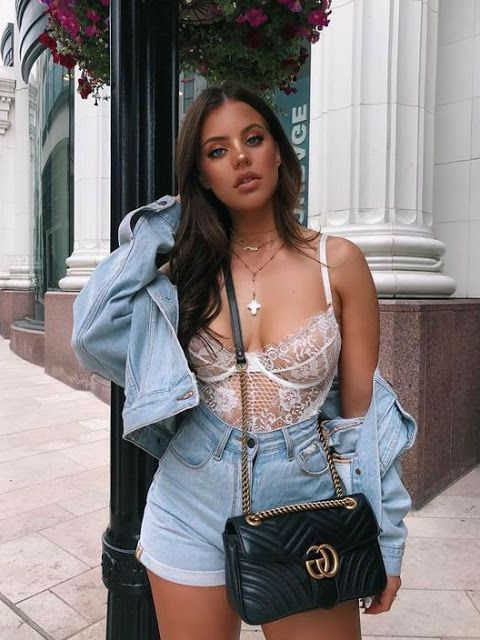 Buy Similar Here
Body And Sheer Dress
A bodysuit is already a classic piece, you won't surprise anyone by wearing it, but lots of ladies wear it as a top alternative. I love seeing women who layer these bodysuits under sheer and lightweight dresses. We see a cute long-sleeve maxi white mesh maxi dress styled with a black bodysuit and studded pastel yellow pumps: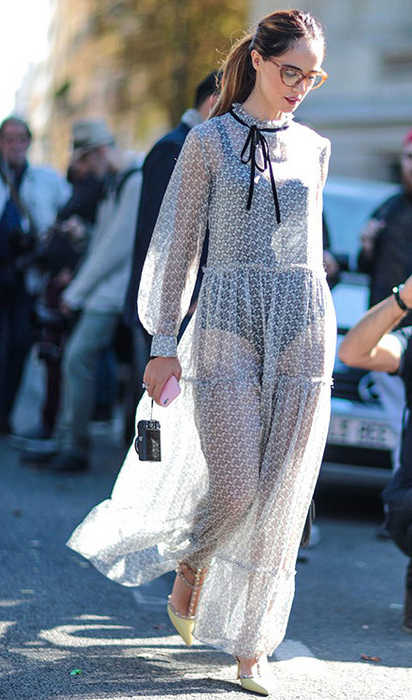 Buy Similar Here
Black Lace Bra And Sheer Crop Top
A black lace bra ideally matches this sheer crop top in black with floral embroidery. Add jeans and tortoise shades: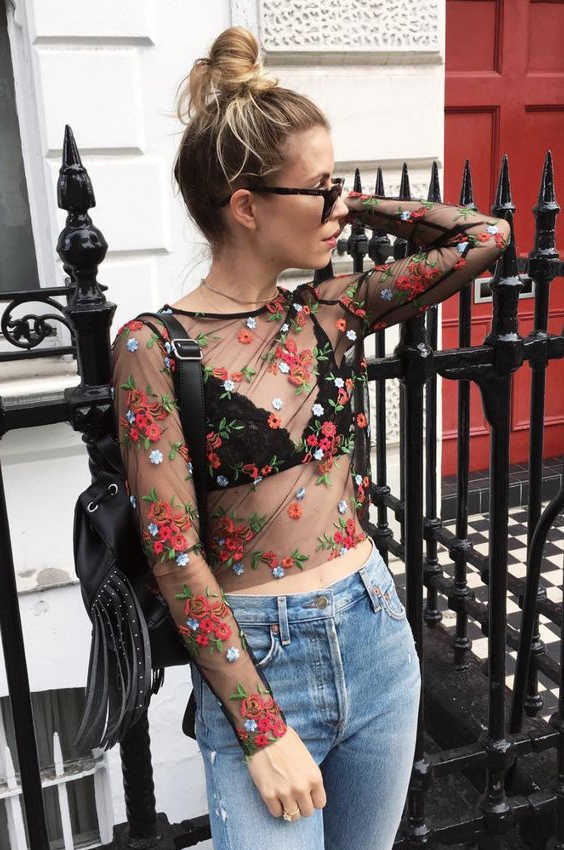 Buy Similar Here
Bra Under Sheer Dress
If you know how to style a sheer bra, then no one will notice you wearing it. My favorite way is the following: a thin turtleneck and the bra colored in the same shade. Just make sure that the bra is smooth and monophonic, without unnecessary details and decorative elements. We see a semi-sheer red roll-neck top styled with a black bra underneath. Add a red teddy bear coat and red skinny jeans: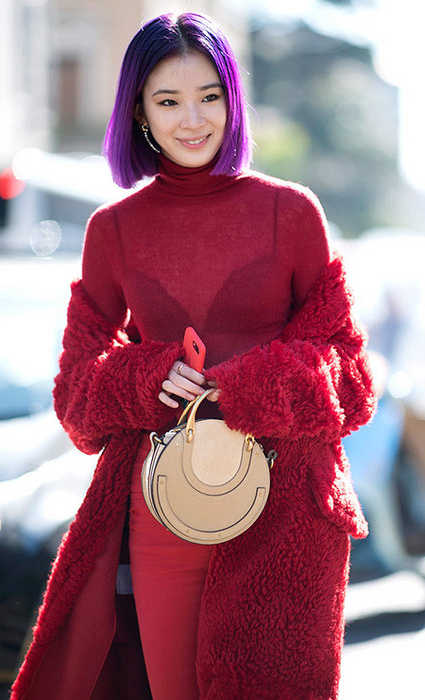 Buy Similar Here
Corset Over A Top
Most ladies are afraid of wearing corsets, all because of the stereotype that corsets are not good for health. Modern corsets are comfortable and easy to wear, that's why my personal advice is to buy the one and style it over a boyfriend shirt, blouse or a sweater. Check out my favorite ideas on how to wear leather corsets. Love this look consisting of a collarless blue shirt worn under a black leather corset. Add plaid pants and black leather slides to complete this outfit: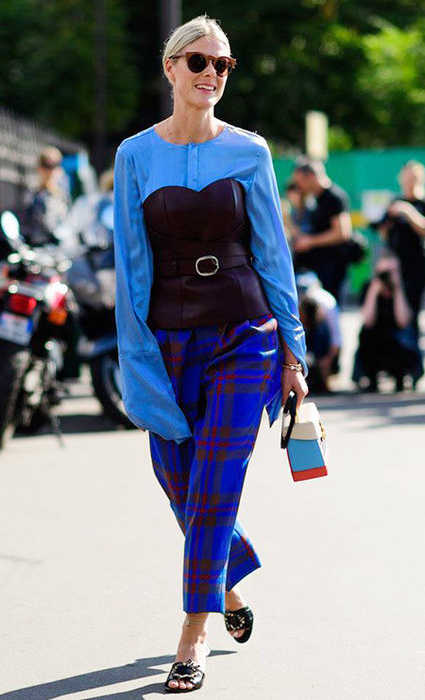 Buy Similar Here
Khaki Green Bra And Matching Joggers
Another great way to show off your lingerie on the streets is by wearing casual items, here we see a white cardigan styled with a khaki olive bra and matching color joggers. If you want to see more ideas on how to wear joggers, then check out my post, as I have lots of inspiring styles to share with you: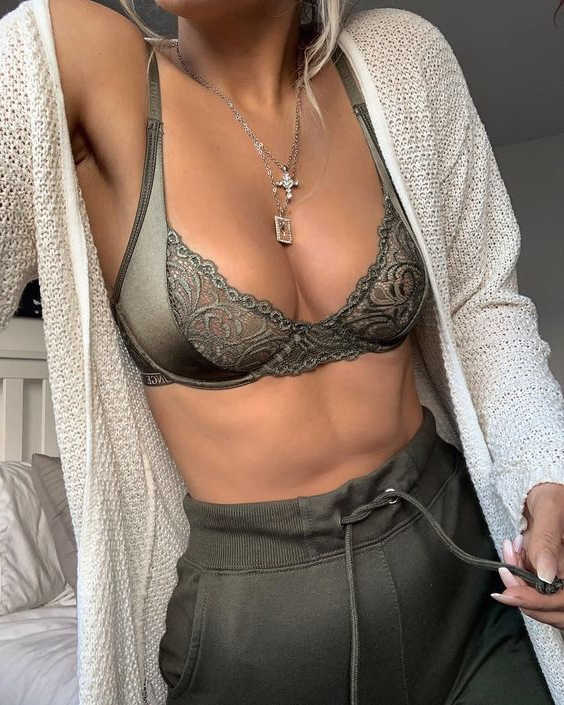 Buy Similar Here
Kimono Outfit Idea
The weather gets warmer and you better think of wearing something lighter, like a kimono made of thick fabric. We see a pastel blush kimono styled with a V-neck black top, acid wash grey jeans and black ankle boots. If you wish to see more ideas on how to wear kimonos for women, check out my post, where I share an easy guide for young ladies: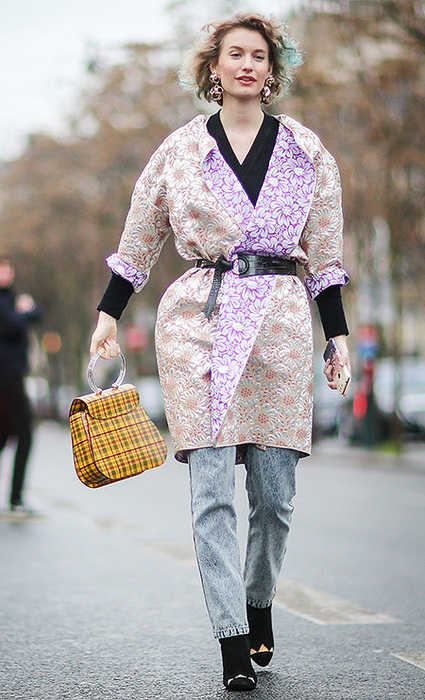 Buy Similar Here
Layered Outfit Idea With Bra
Layered outfit idea is a classic update and I love to see women who create their outfits thanks to this trend. You can also try on a layered outfit completed with a bra. We see a camo print jacket layered over a white shirt which is worn under a black bra top: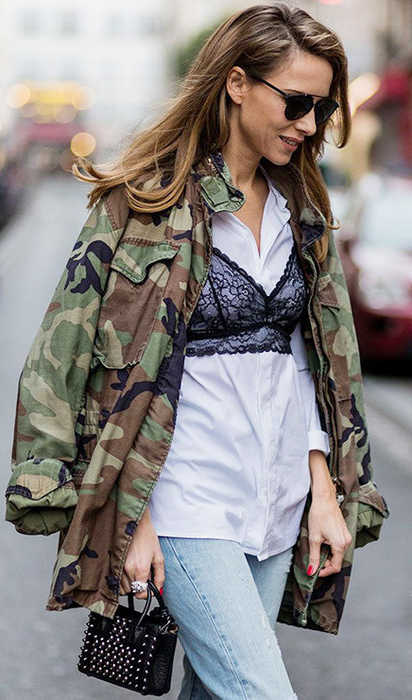 Buy Similar Here
Wrap Cardigan And Camisole Top
A cream-beige wrap cardigan is styled with a black camisole top with spaghetti straps tucked in high-waisted blue jeans: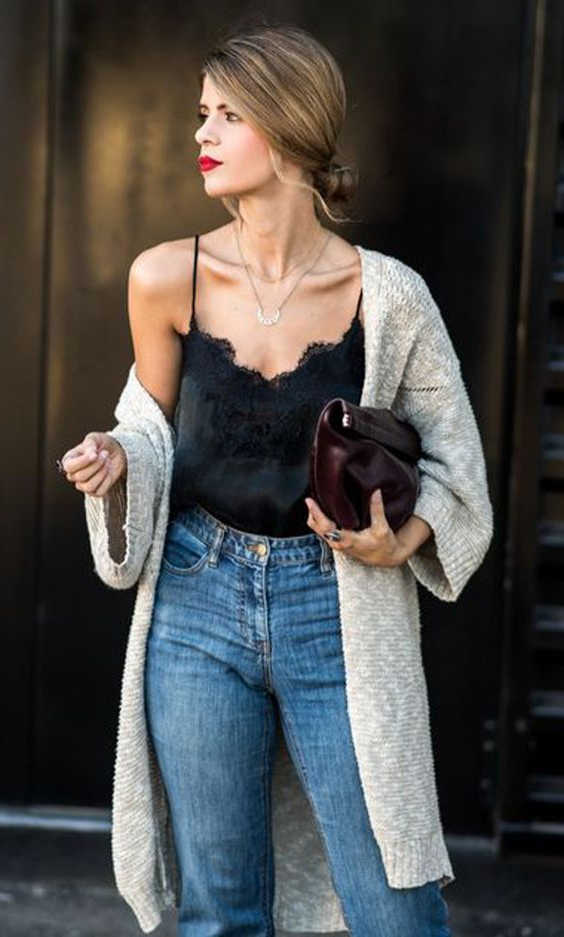 Buy Similar Here
Source: Betches, WhoWhatWear