Yes, I am here to talk about backpacks! This functional bag is back in fashion and you better know ways how to style it with your everyday clothes in order to look trendy and ladylike. There is no other bag that your shoulders will thank you.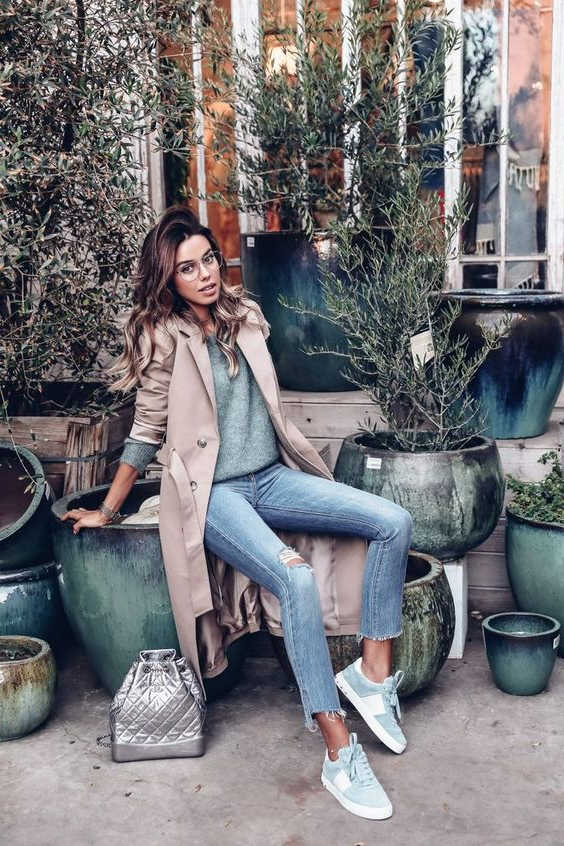 Buy Similar Here
We see a perfect urban style look for easy runs in the city. A beige trench coat is styled with a grey sweater, slim jeans and pastel blue sneakers. Update this combo with a quilted silver metallic backpack.
This is not just another school girl uniform detail, now it's officially grown-up woman must-have accessory. Why? The backpack is an ideal choice for those who always carry much stuff across town. Ahead are shown my best picks for every fashionista, no matter if you are a glamour chic, grunge lady or a businesswoman. Forget about totes and handbags and go for a functional and easy to carry bag.
Cute Backpack Outfit Ideas For Ladies
You might ask yourself, how cool can I look with a backpack? And my answer is: you can look awesome! Frankly speaking, there is nothing so hard in creating a fabulous outfit completed with a backpack.
Animal Print Backpack With Black Leggings
Go sporty for your next trip! We see a young lady wearing a grey sporty cropped tank top teamed with black leggings, black sneakers and cool aviator shades. In love with this animal printed backpack: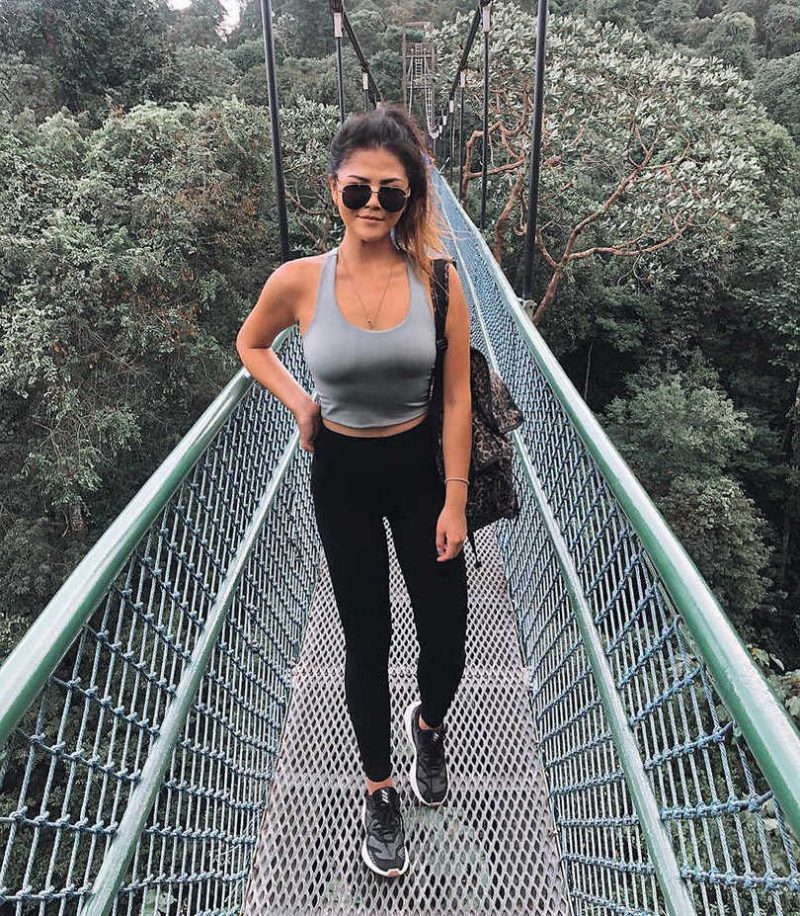 Buy Similar Here
@yourgirlchia
There are thousands of impressive designs that can ideally match your clothes. I personally love the ones with multiple pockets, as I can easily organize all my necessary pieces inside it. Another great plus of this bag is the versatility, the same design can match casual clothes as well as dressy essentials.
Yellow Backpack And Denim Outfit
A bright yellow leather backpack looks stunning with an indigo denim jacket teamed with a pleated matching denim skirt and beige sneakers: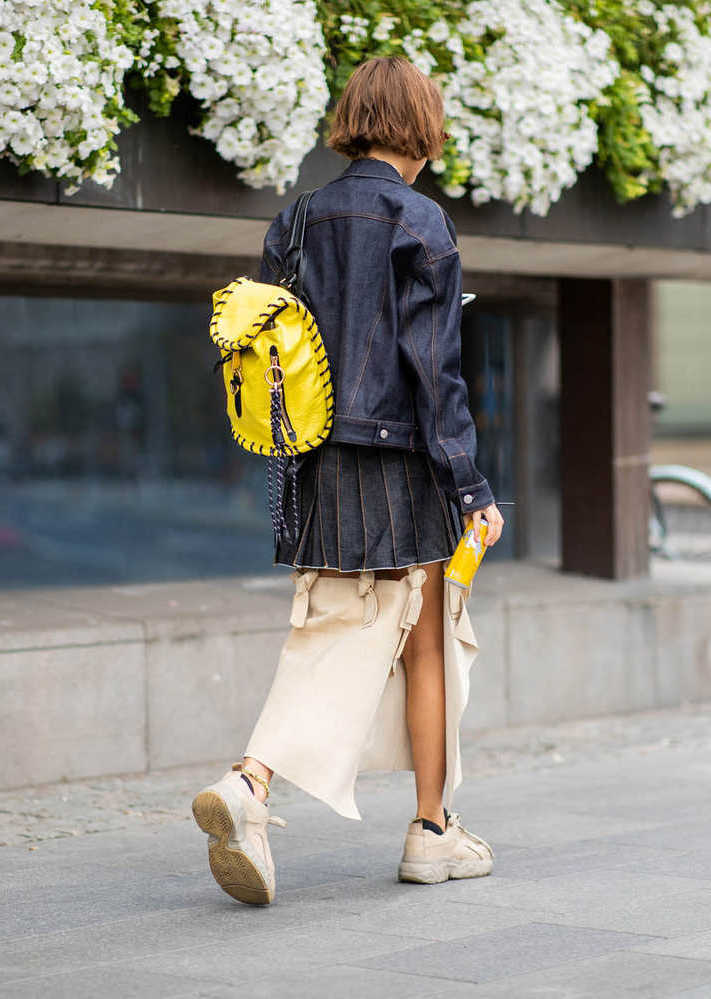 Buy Similar Here
You are free to wear your backpack with straps tight on both shoulders, so the bag stays close to the back. You should keep attention to the way how your bag hangs on the back, it should not hang more than two inches below the waistline. Oh, be sure to monitor the weight of the backpack, don't get it too heavy.
White Backpack And Grey Cardicoat
A spacious white backpack looks pretty cool styled with a grey cardi coat, blue jeans and brown leather sneakers with white soles: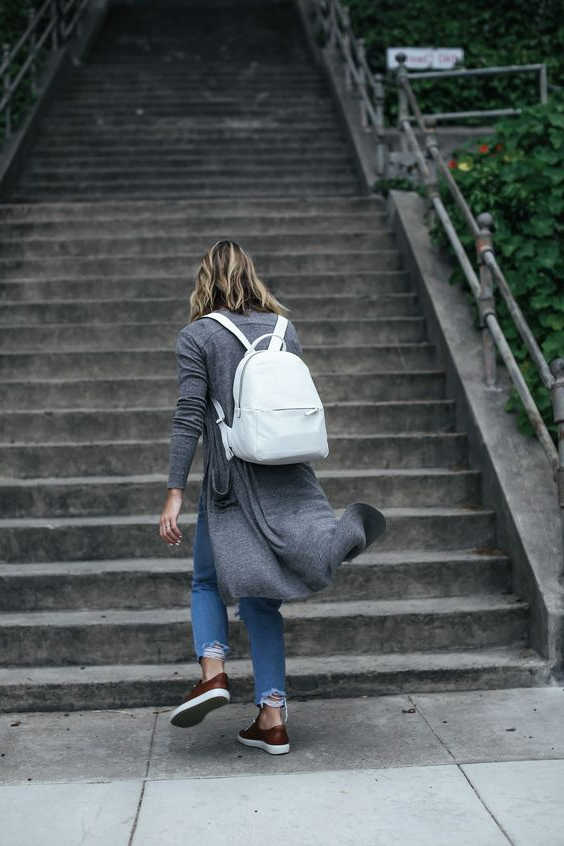 Buy Similar Here
The following outfit ideas are ideal for ladies who need backpacks for school, street walks, work, and traveling.
White Backpack And Camel Coat
A white leather backpack with drawstring closure is styled with a camel coat cuffed grey slim pants and black loafers: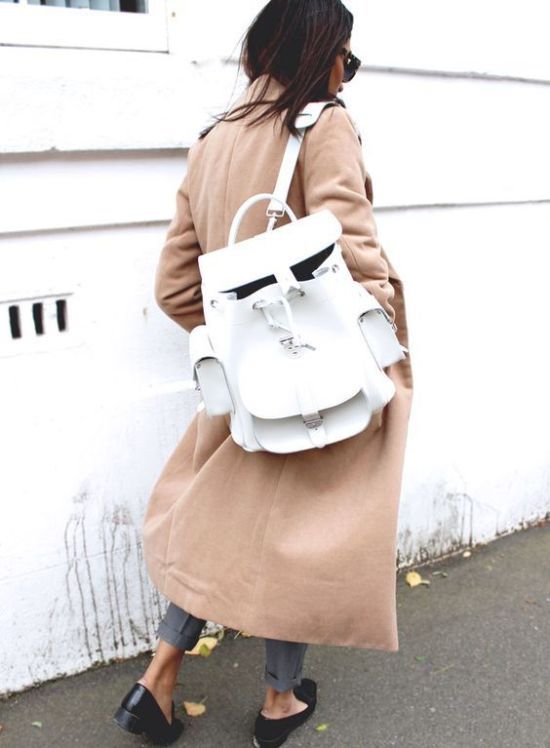 Buy Similar Here
I personally like to wear my backpacks with sporty suits, and elegant dresses. This bag is the most universal and functional piece in every lady's closet. It is spacious, looks chic with jeans, midi skirts, and shorts. If you are going for a long walk, then I recommend wearing spacious backpacks, if you are in the short run, then go for a miniature backpack.
White Backpack And Black Leather Skirt
An elegant white backpack looks stunning with a beige bodysuit and black leather mini skirt completed with black suede boots. Update this outfit by adding a wool scarf: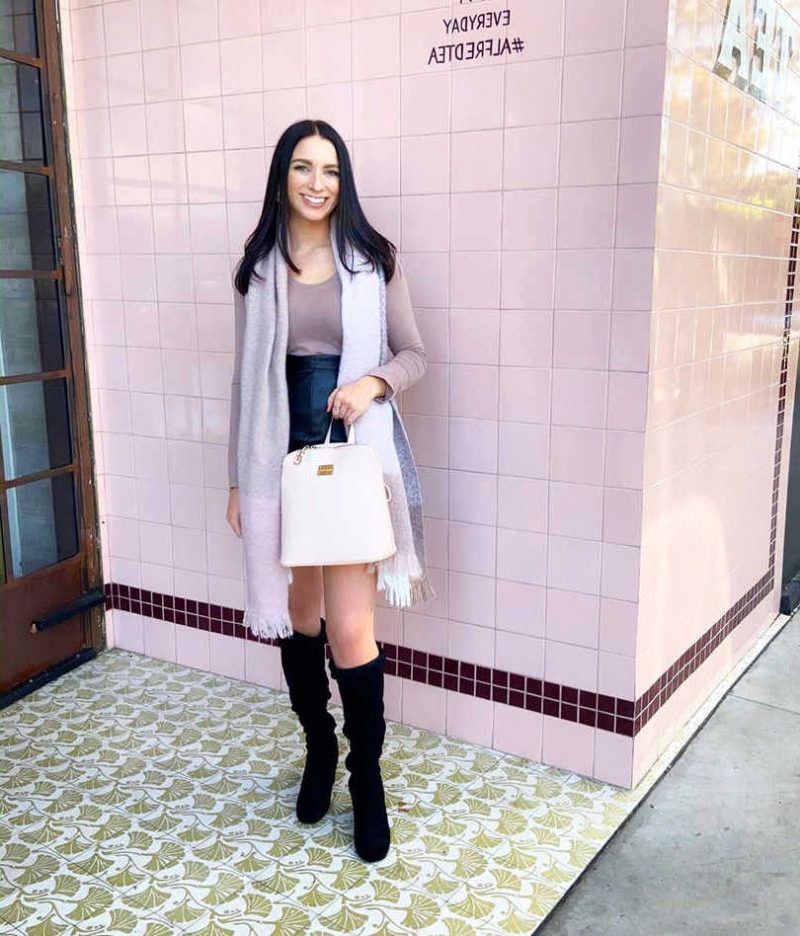 Buy Similar Here
@travelinchic
Black Leather Backpack And Buttoned Midi Skirt
We see a vintage-inspired outfit idea. A young lady is wearing a black shirt teamed with a front-buttoned beige midi skirt. She completed her look with a black leather backpack and rounded sunglasses: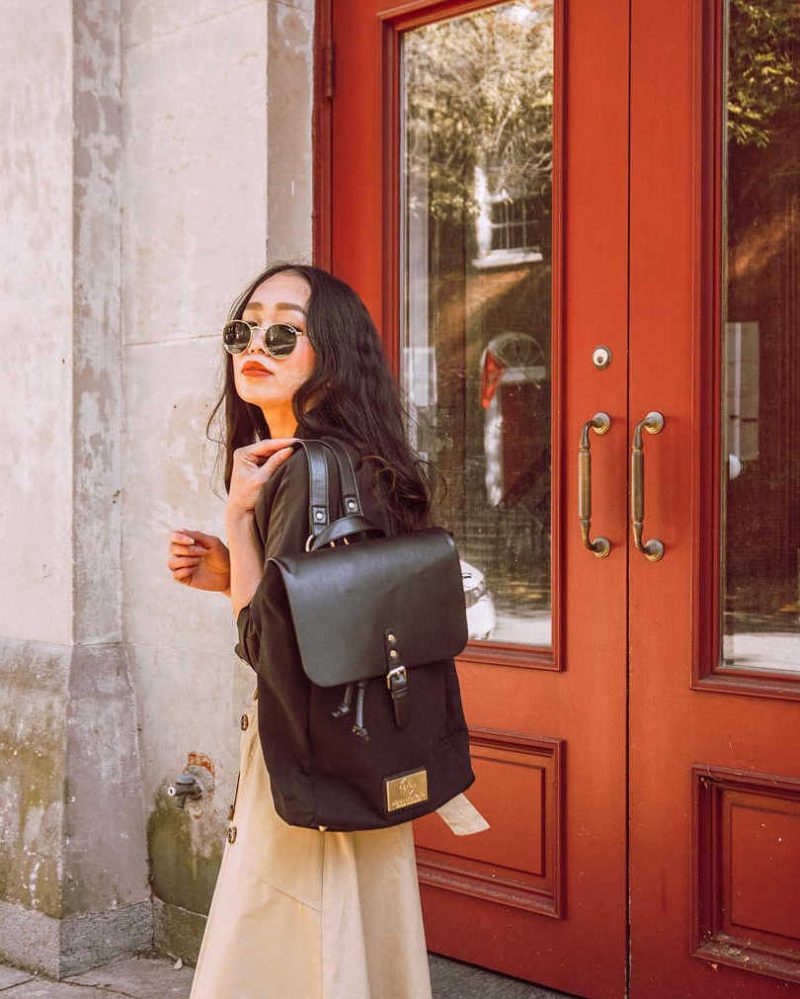 Buy Similar Here
@rievictoriaaoki
Quilted Backpack With Wide Pants
A spacious charcoal quilted backpack looks awesome with a white T-shirt tucked in grey tailored wide pants updated with white slip-on shoes: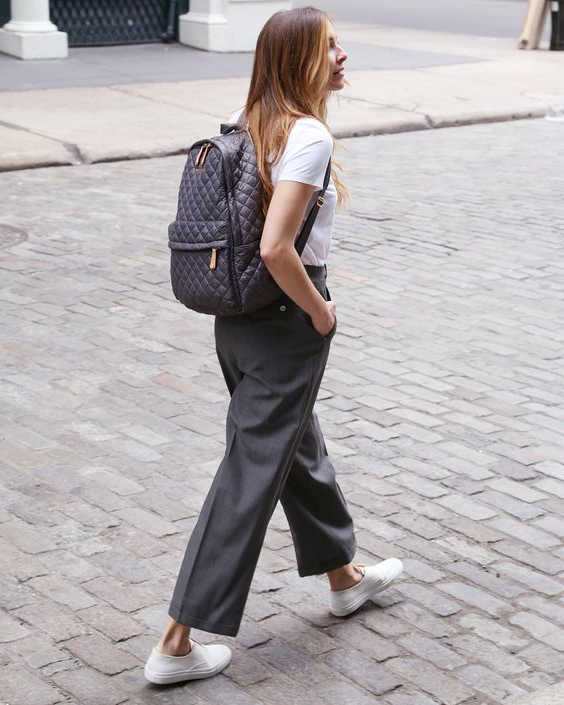 Buy Similar Here
Oversized Black Backpack With Grey Hoodie
If you are into oversized style, then go for that big backpack with a foldable top styled with a big black coat, grey hoodie and black tailored pants completed with white sneakers: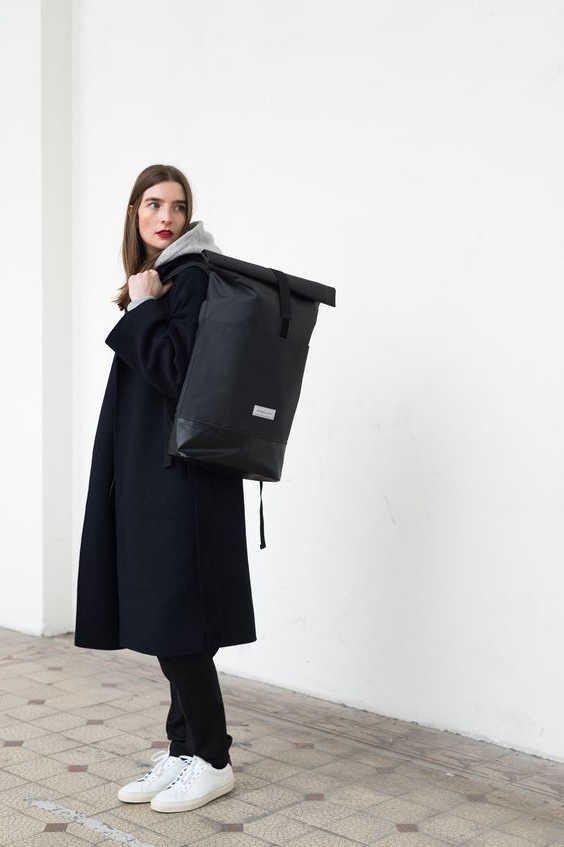 Buy Similar Here
Mini Backpack With Sweater
A brown mini backpack by Louis Vuitton is styled with a cable knit high-neck sweater paired with charcoal skinny jeans tucked in peep-toe brown suede ankle boots: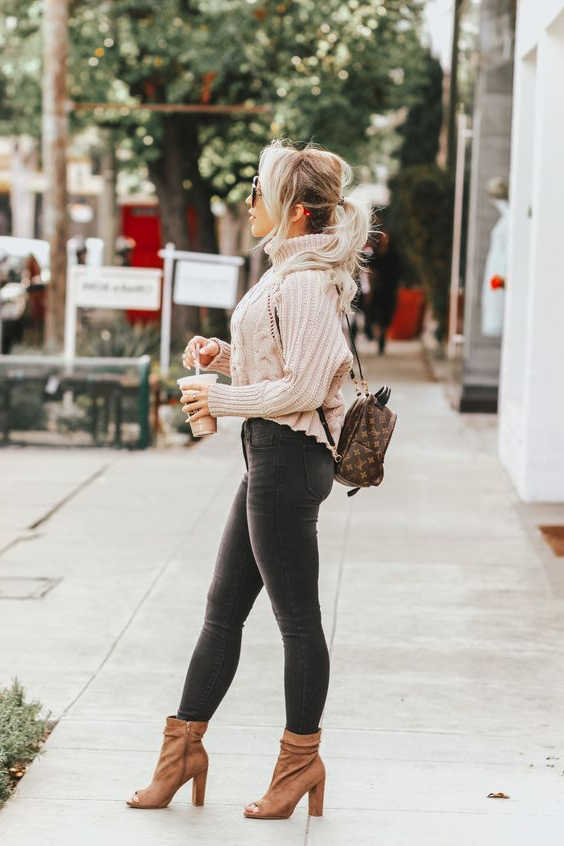 Buy Similar Here
Grey Backpack With Black Leather Jacket
A grey wool backpack ideally matches that black leather jacket teamed with a white tee and black coated skinny jeans: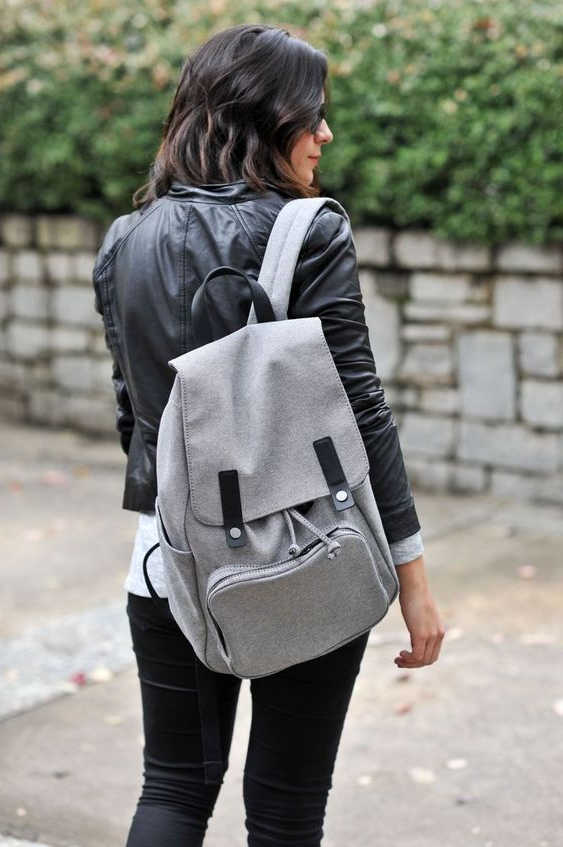 Buy Similar Here
White Backpack And Black Blazer
A drawstring white mini backpack with chain straps is styled with a black long blazer and wide jeans: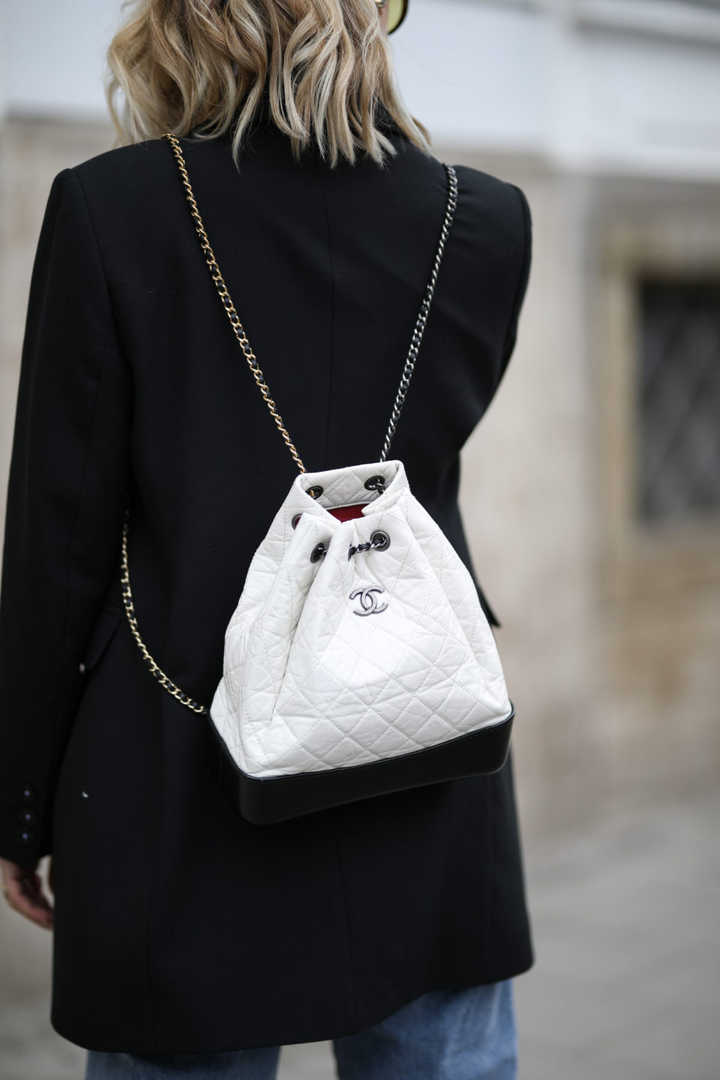 Buy Similar Here
Brown Backpack With Teddy Bear Coat
Aviator shades ideally complete this outfit consisting of a teddy bear coat, rock band tee, dark grey skinny jeans and white chunky sneakers. In love with that brown Louis Vuitton backpack. If you are into teddy bear trend, check out my post on ways how to wear teddy bear coats, you will see lots of cool ideas to try now: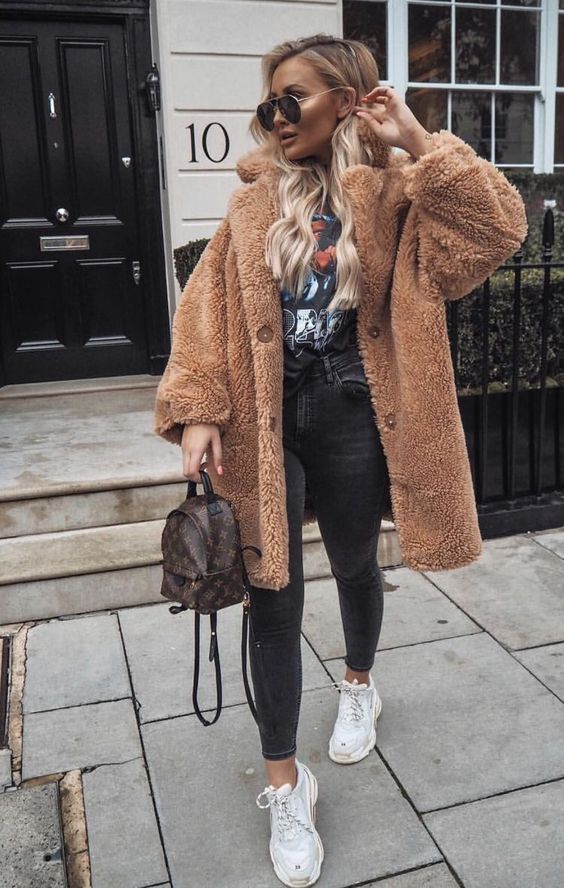 Buy Similar Here
Brown Backpack With Black Bodysuit And Ripped jeans
Another cool way how to wear Louis Vuitton brown leather mini backpack. Style it with a basic black spaghetti strap top tucked in ripped skinny jeans completed with fur loafers: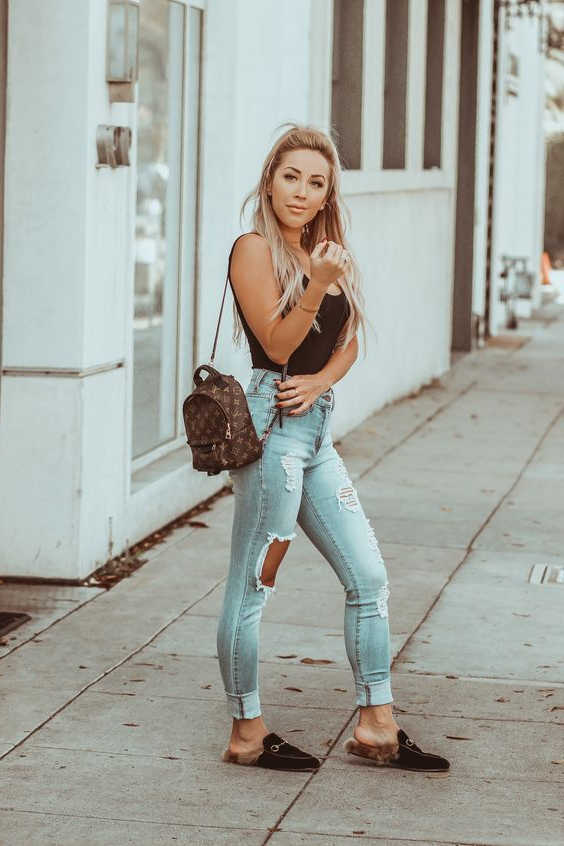 Buy Similar Here
Mustard Backpack And Beige Coat
Another great combo for your casual weekend. We see a mustard-yellow leather backpack styled with a beige coat and mustard-yellow hoodie. Complete this look with a leopard-print headscarf and Clubmaster sunglasses: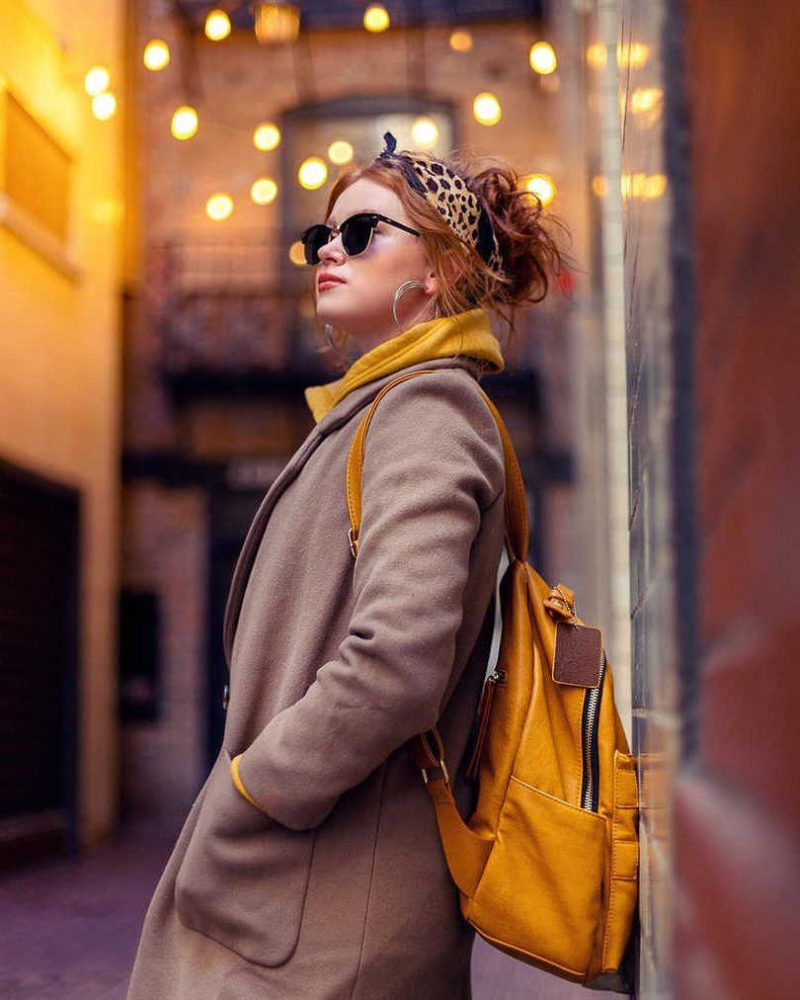 Buy Similar Here
@brianahch
Blush Backpack And Coat
A lovely blush backpack is worn with a cocoon coat, black top and black leggings completed with pastel sneakers. Update this sporty look with a black slouchy beanie: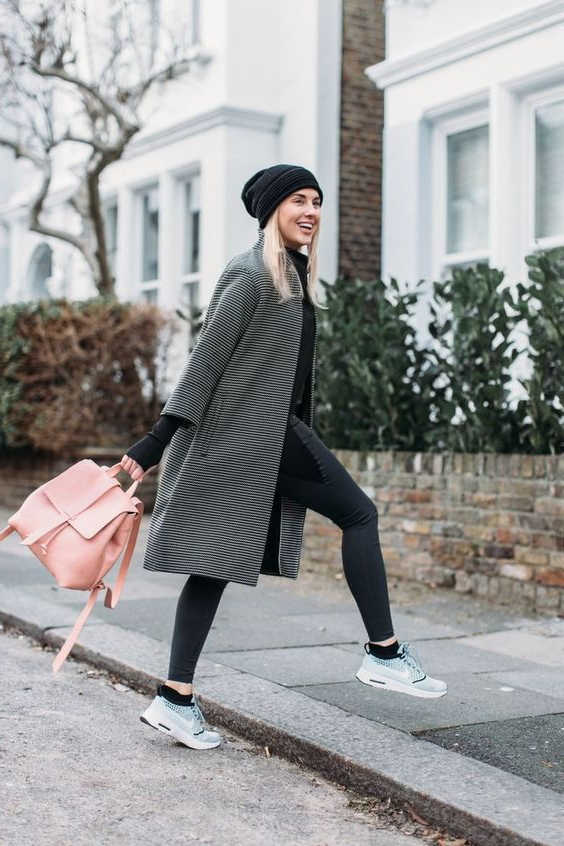 Buy Similar Here
Black Mini Backpack And Leather Red Windbreaker
A printed black leather miniature backpack looks pretty chic and urban styled with a red leather windbreaker and wide black pants completed with white sneakers: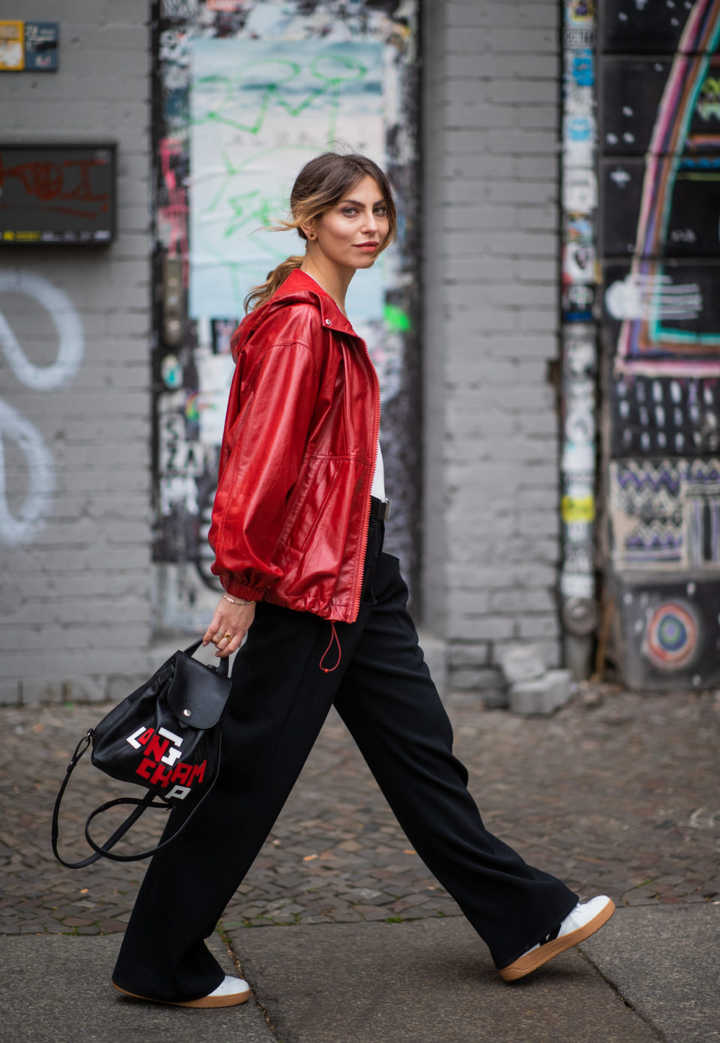 Buy Similar Here
Black Leather backpack And Striped T-dress
A black leather backpack tones down this multi-striped long T-dress: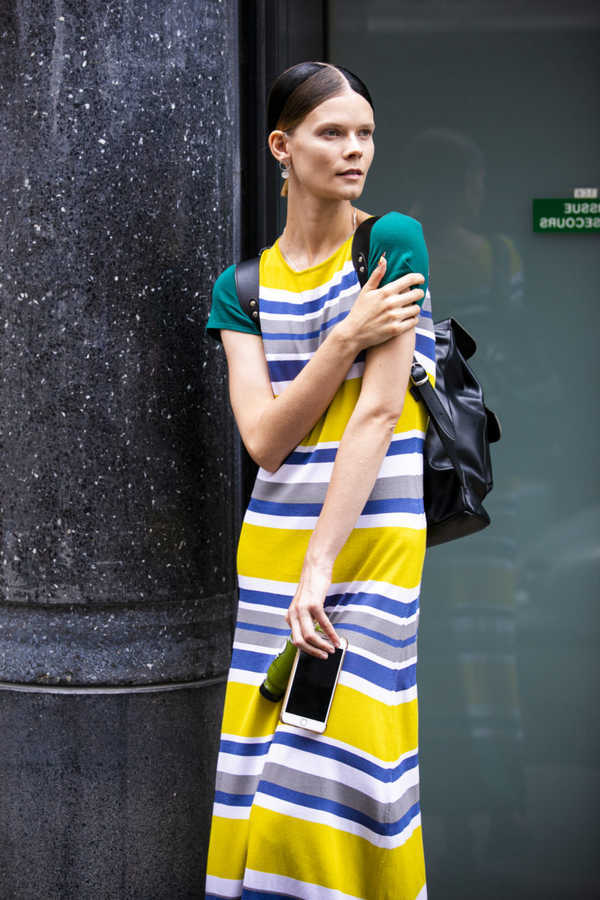 Buy Similar Here
Black Hiking Backpack And Dress
A big black backpack can be a perfect addition to your casual weekend outfit. We see a lightweight black printed chiffon dress updated with a black backpack with multiple pockets: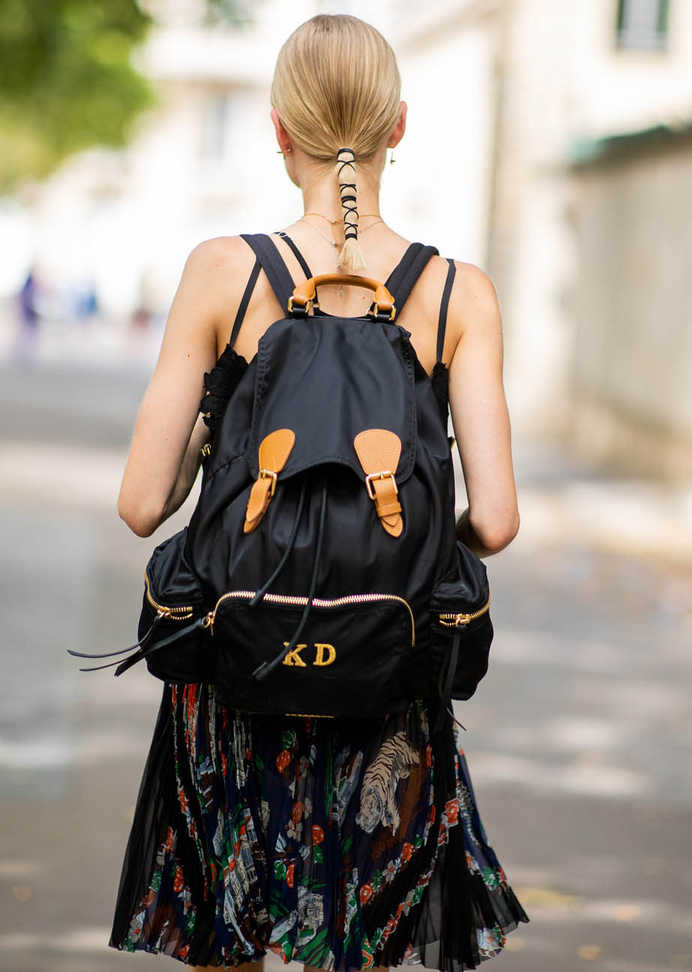 Buy Similar Here
Black Backpack And White Sweater
A classic black leather backpack looks stylish with a beige fedora hat, white sweater, blue regular jeans, and cream- beige suede ankle boots with block heels: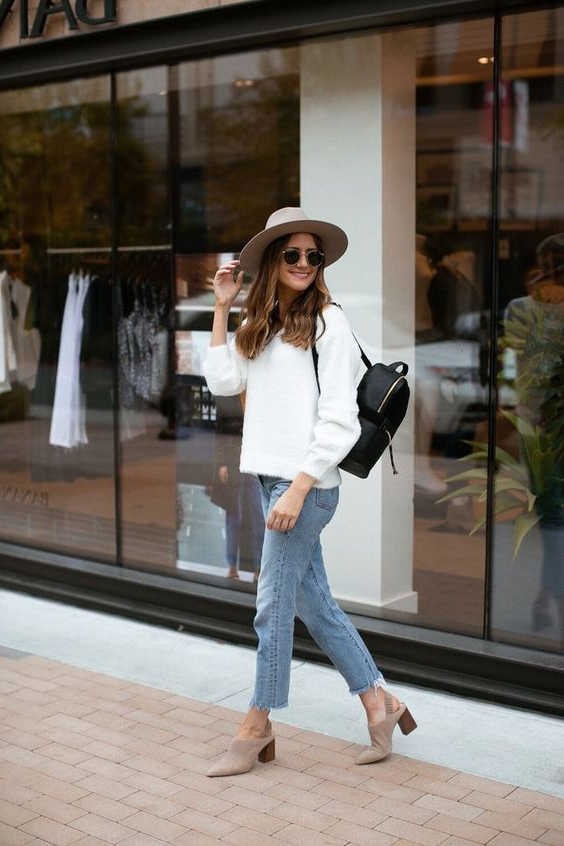 Buy Similar Here
Black Backpack With Pantsuit
How about wearing a backpack to the office? We see a cream-grey pantsuit and a black silk blouse completed with a black backpack and black pumps: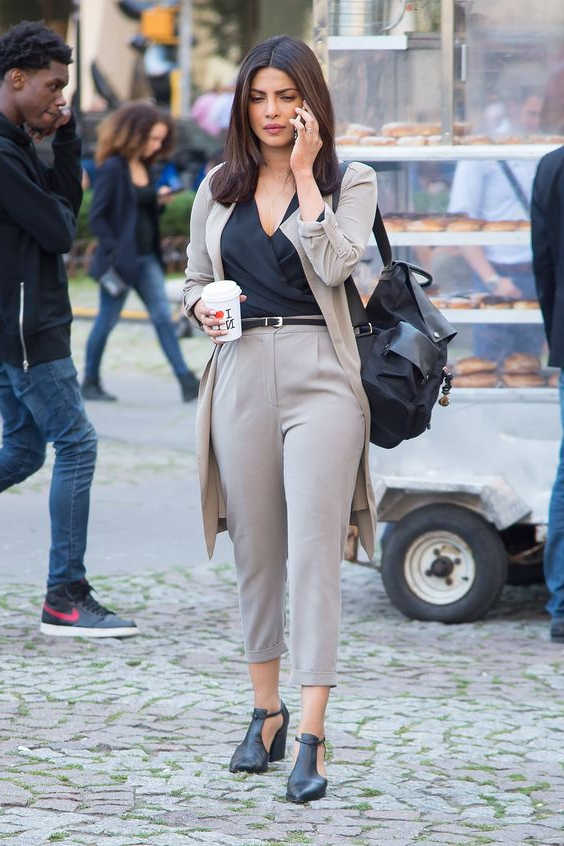 Buy Similar Here
Backpack With Patches
I am a big fan of patches! Go for this black backpack with cool patches and style it with a white long sleeve tee and black shorts: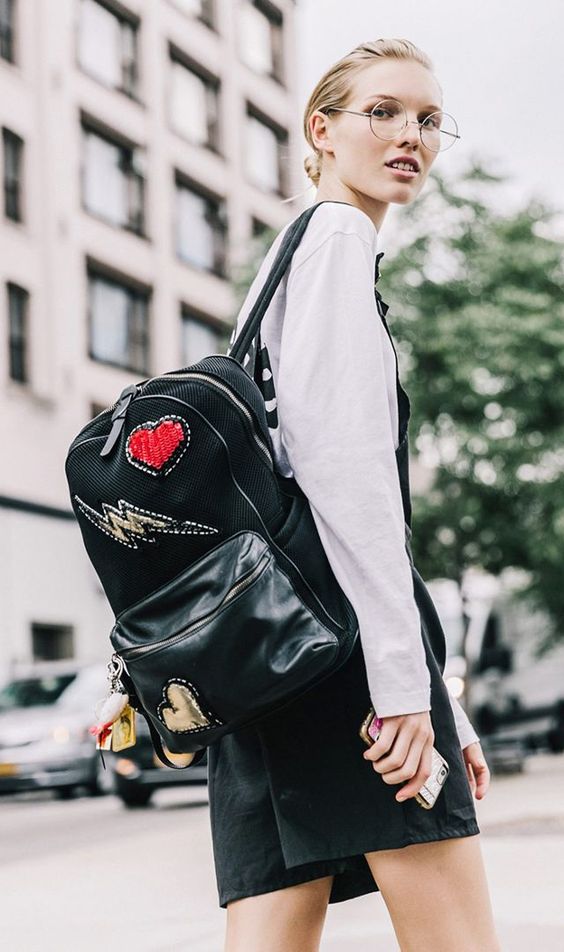 Buy Similar Here
Backpack And School Uniform
If you are into school uniform trend, then go for this classic black leather backpack and team it with a white shirt, tartan mini skirt, and black suede ankle boots: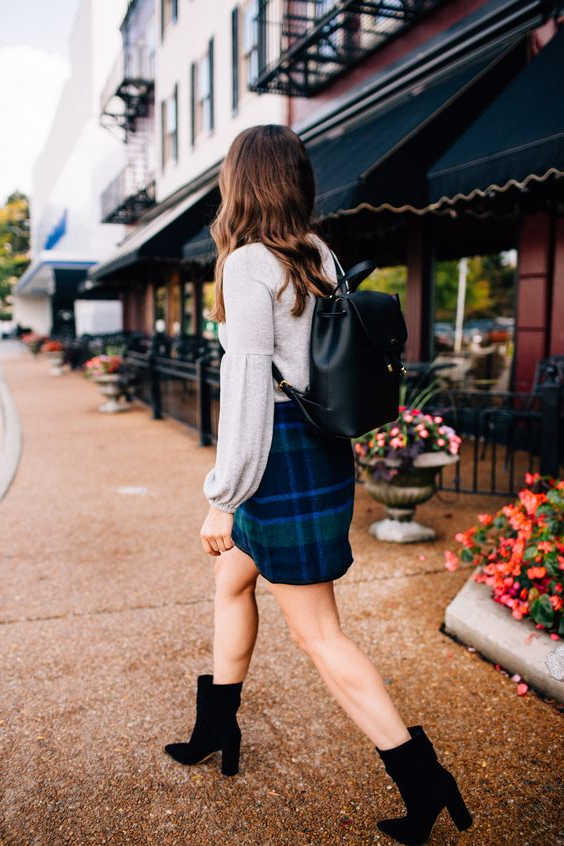 Buy Similar Here
Backpack And Camel Coat
A black leather backpack looks trendy and elegant with a camel coat, black leggings, and white sneakers. Complete the look with rounded shades: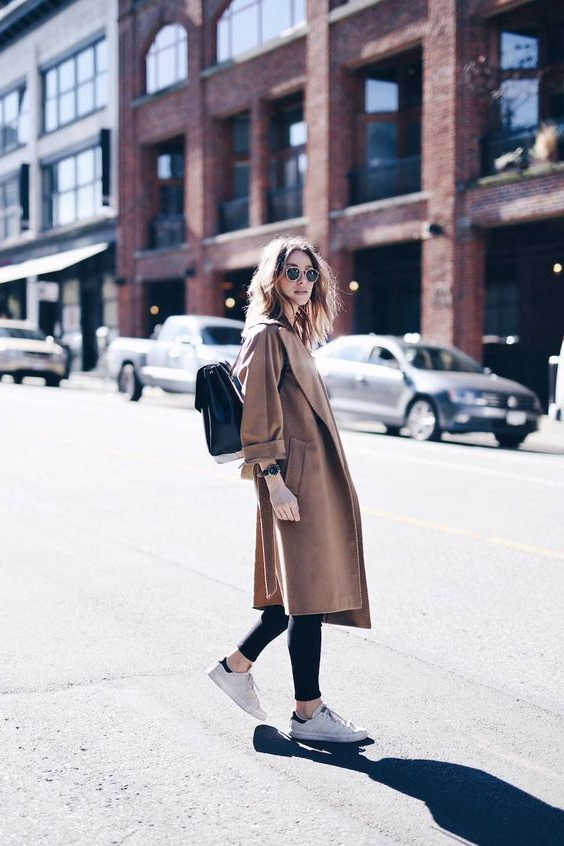 Buy Similar Here
Green Backpack Outfit
We see a white sweater-dress styled with khaki green brogues, a grey beanie, and a stylish green backpack: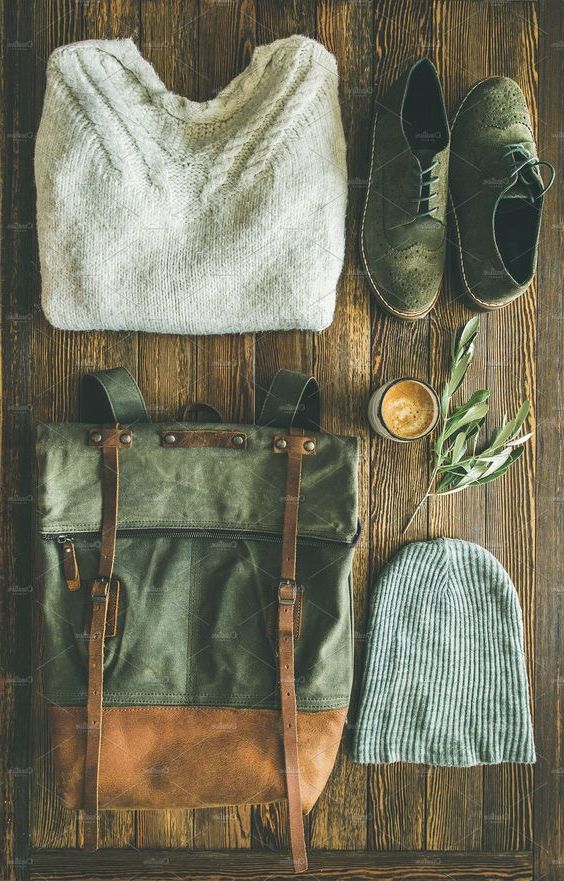 Buy Similar Here
Grey Backpack Outfit
A lovely grey backpack looks casual, yet functional and sporty styled with a camel coat, grey hoodie, track pants and white kicks: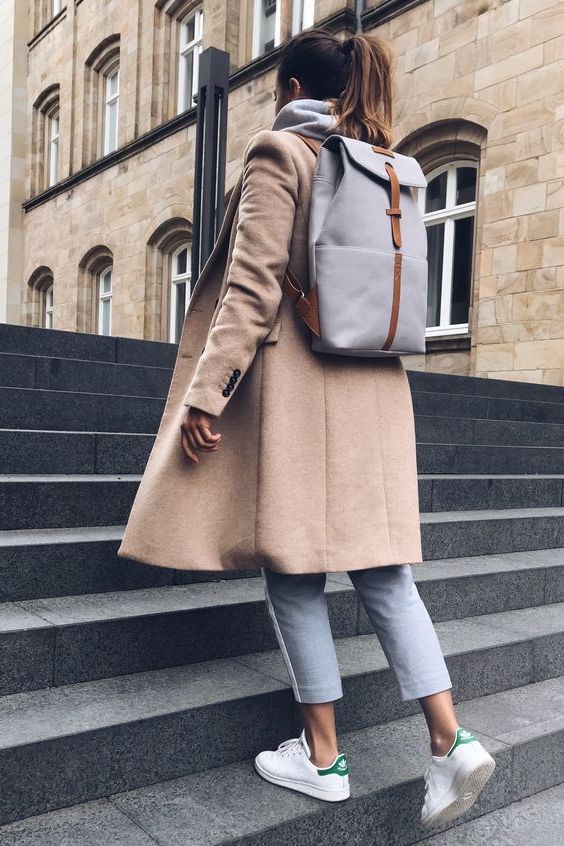 Buy Similar Here
Mini Backpack Outfit
A luxe mini backpack looks terrific styled with a black cropped hoodie and matching joggers: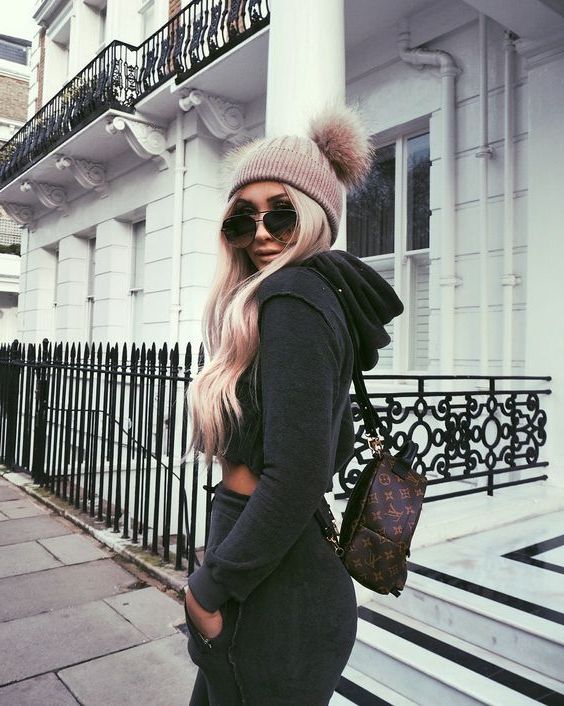 Buy Similar Here
Navy Backpack Outfit
A leather navy backpack can be styled with a ribbed sweater in white, cropped pants and navy pumps: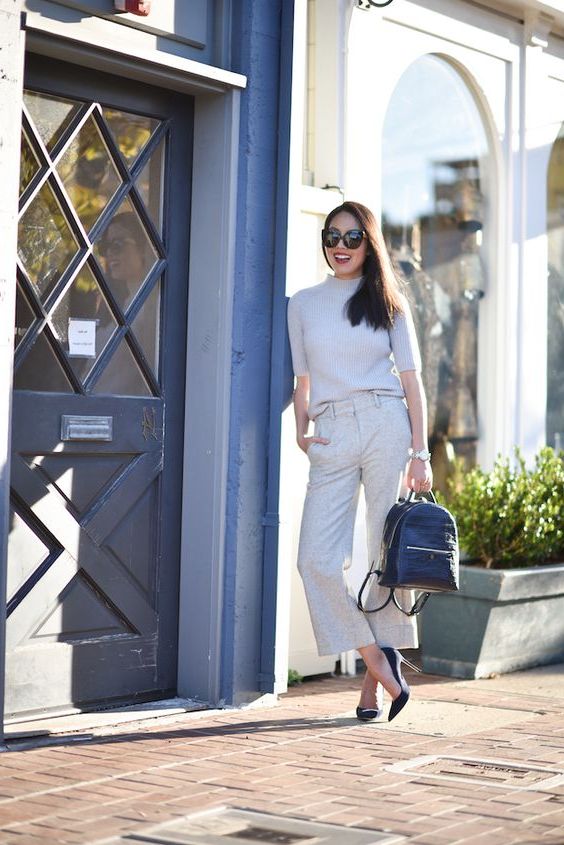 Buy Similar Here
Red Backpack Outfit
A lovely look for Summer boat trips, we see a striped sweater, red leather backpack and denim shorts: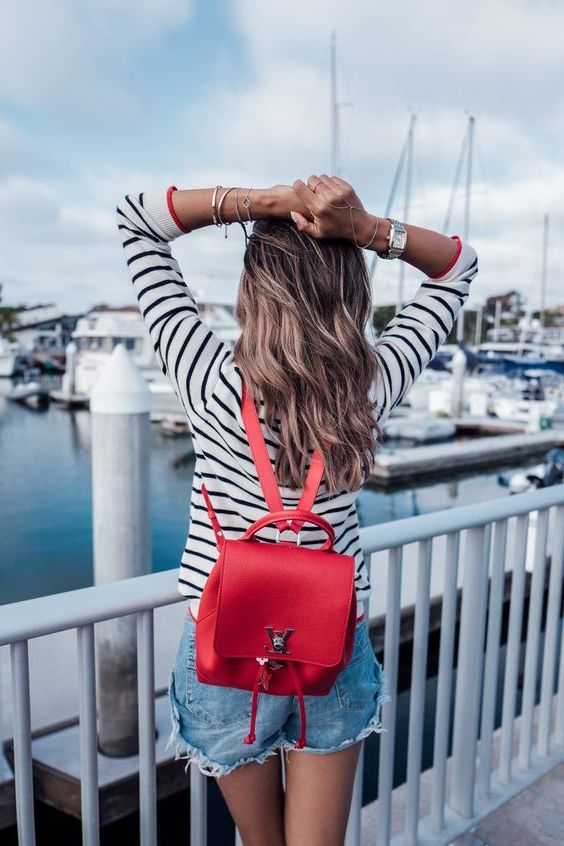 Buy Similar Here
Studded Backpack Outfit Idea
If you do like grunge fashion, then go for this black leather backpack embellished with studs and style it with a beanie, camo print jacket and black leather pants: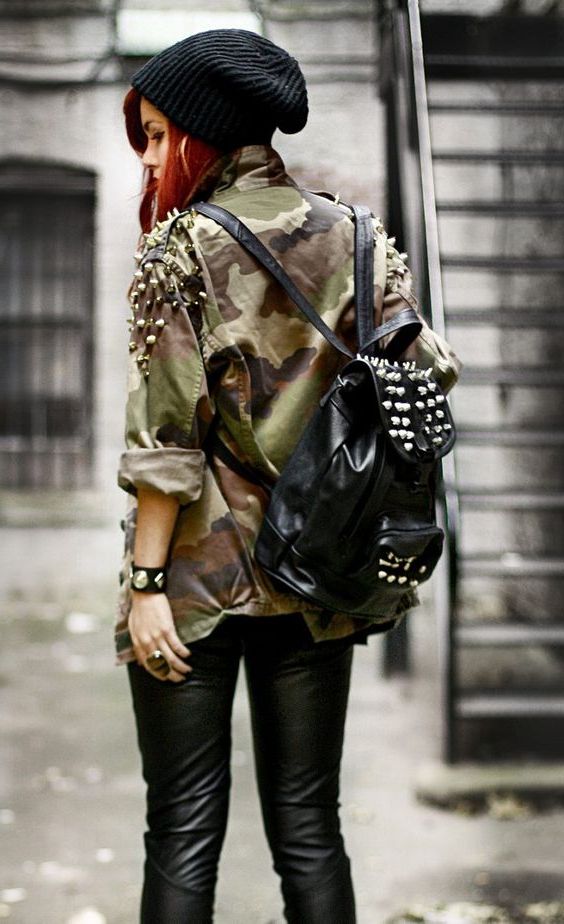 Buy Similar Here
Source: WikiHow