Jogger pants are one of the most comfortable pants in the world of fashion. Of course, you should choose the right size and the ones that come with a comfortable fit.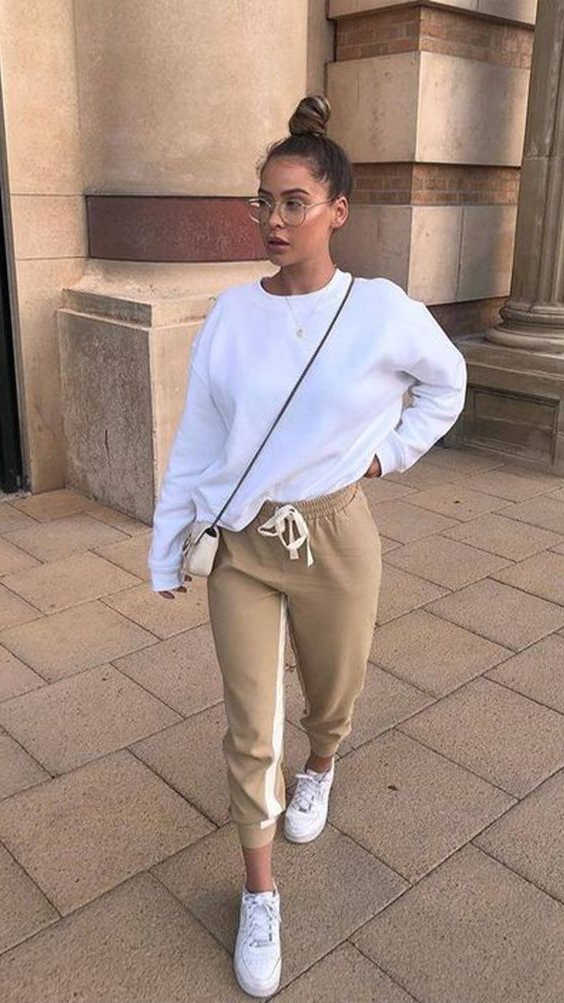 🛍️ Where To Find: Buy Related Here
We see a white sweatshirt teamed with camel joggers and white sneakers. Complete this look with rounded eyeglasses and a shoulder mini clutch bag.
How To Dress Up Jogger Pants For Ladies
Why I am so in love with them? They are ideal for working out as well as for casual walks down the street. Today I want to show you my favorite ways how to make joggers look awesome on you. If you are into sports, always on the run and love an active lifestyle, then these pants are meant for you.
Red Jogger Pants And Black Leather Jacket
Improve your style with these red jogger pants paired with a black leather jacket, turtleneck in black. Complete this outfit with a pair of pointed-toe heeled black pumps, fang necklace, and a quilted black leather shoulder clutch bag: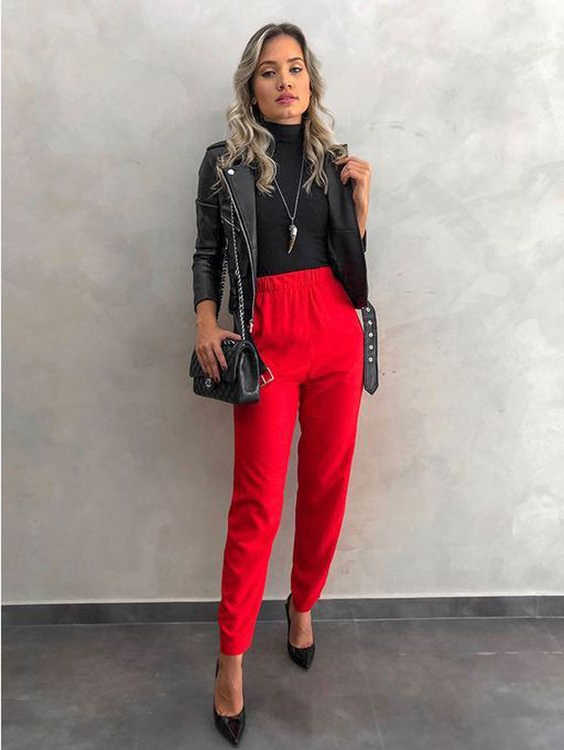 🛍️ Where To Find: Buy Related Here
Why we all are into athleisure style? Well, you all have noticed that lately most of the brands and retailers are promoting comfort with style. Yes, this combination often features sporty touches that's why we see joggers, leggings, sneakers, windbreakers and other athletic products combined with everyday essentials, like jeans, skirts, leather jackets, and sweaters.
Jogger pants With Hoodie
Keep it urban chic with an oversized cream-grey hoodie teamed with slim joggers and white sneakers: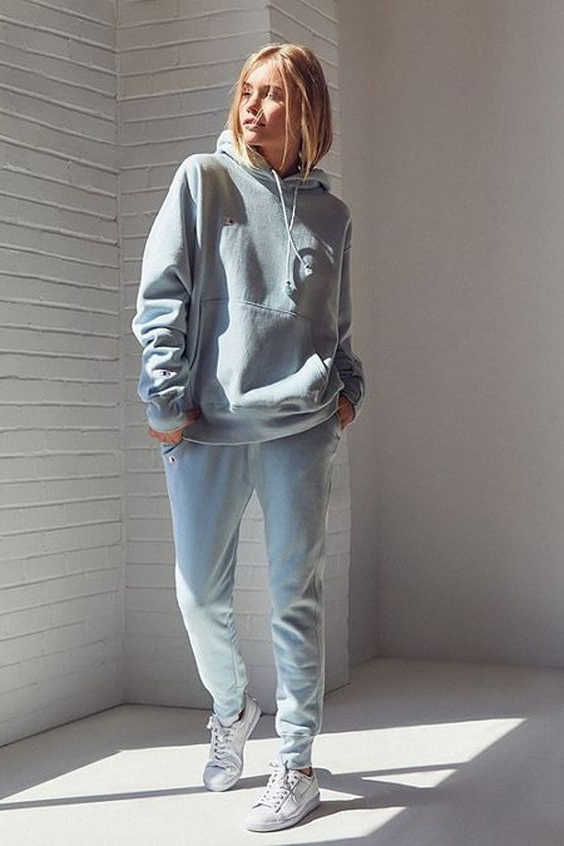 🛍️ Where To Find: Buy Related Here
I personally love showing off my style, that's why I try to pair joggers with bright color shirts and printed tees. If you are a beginner to these pants, then how about creating a rock chic outfit? All you need is a pair of leather boots in chunky fit, joggers, a rock band tee and a stylish leather jacket. Today's fashion offers joggers in various styles, starting from slim and skinny fit versions to wide-legged and harem style joggers.
Jogger Pants With Pockets And Teddy Bear Jacket
Cargo jogger pants ideally match the black leather racerback top and cream-brown teddy bear coat. Update this look with a black baseball cap and white chunky sneakers. By the way, check out my article one ways how to wear cargo pants, there are multiple ways how to wear these pants in real life: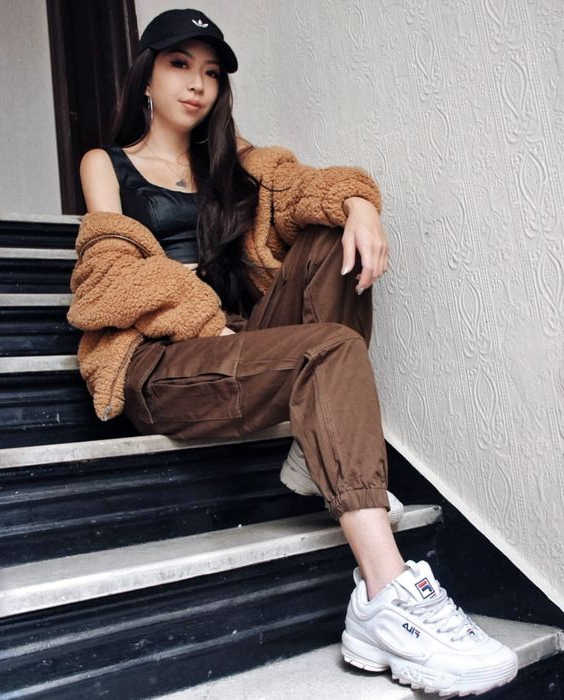 🛍️ Where To Find: Buy Related Here
Joggers are very trendy right now. I'm sure you've been seeing them in stores for a few seasons, today I want to share with you some awesome ways to look cute in jogger outfits. I'm also sharing easy tips on how to find joggers that look great on you.
Camel Coat With Black Leather Jogger Pants
We see a camel coat layered over a white hoodie teamed with black leather joggers and white black trainers. Check out my blog post on ways how to wear hoodies this fall, I've got some fancy ideas to share with you: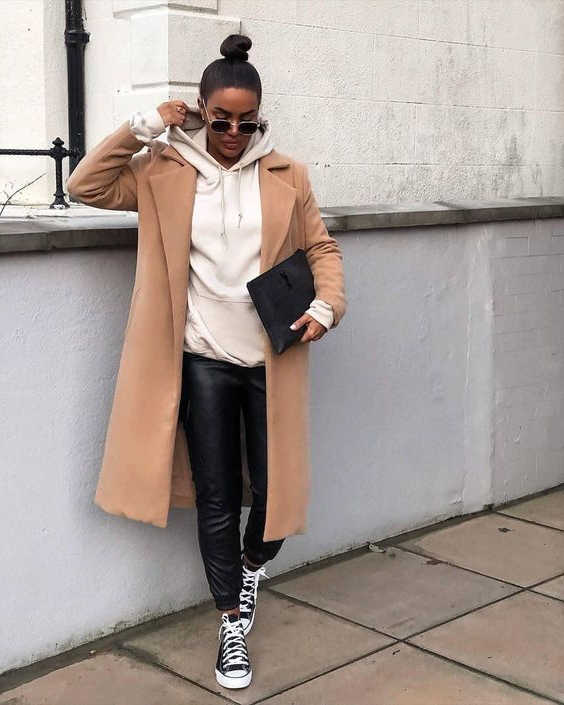 🛍️ Where To Find: Buy Related Here
These bottoms are considered to be non-complicated, yet stylish. There are so many ways you can style these grey joggers, but for starters, a plain white T-shirt works – even black for that matter. Wear hoops and a pair of casual shoes to keep it simple, subtle, and stylish. You could also go for a monochrome look by wearing a grey top. Or pair them with a graphic T-shirt, running shoes, and a messy bun and spend a casual Friday at the movies.
Oversized Sweatshirt And Joggers
Get things relaxed and simple. Go for a dark grey oversized sweatshirt and tuck it inside white jogger pants. Complete the look by adding white socks and chunky cream-white sneakers. A nice combo for airplane traveling: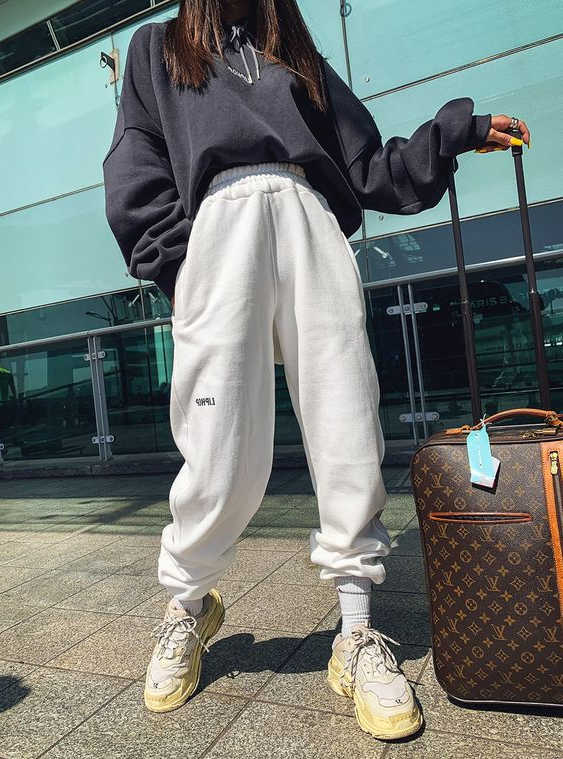 🛍️ Where To Find: Buy Related Here
We often see It girls wearing these bottoms to the airport, these pants are used as loungewear. If you are not into the airport looks, then go for a cool street style look by teaming these pants with fancy shoes and a high-quality jacket.
Joggers And Leopard Print Slip-on Shoes
Keep it simple and smart-casual. Go for a V-neck cream-white sweater and style it with ankle-length black joggers completed with leopard print slip-on shoes: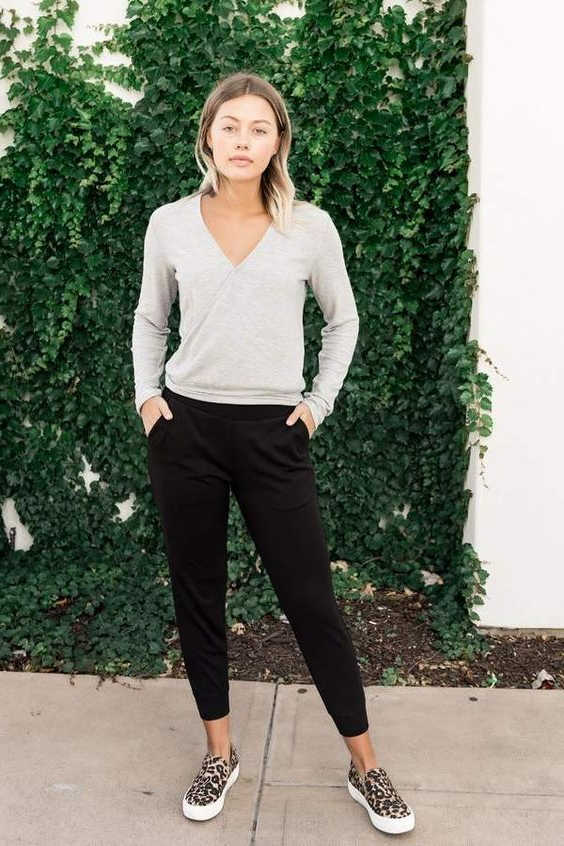 🛍️ Where To Find: Buy Related Here
If you want to create a casual style look, then pair your favorite joggers with a basic tee, or a button-up top and add slip-on shoes or classic canvas sneakers. Update this combo with a cozy infinity scarf or a down vest. If you are more into a semi-casual look, then I recommend wearing a fitted jacket, like a denim or leather version styled with a slim top, joggers and a pair of flat shoes, like kicks or heels. If you are into a dressy style, then keep things bold by teaming joggers with a blouse, pointed-toe pumps, and a slim blazer.
Jogger Pants With Heels
If you want to improve your everyday style by making it look dressy, then go for a white basic tee, khaki green cuffed jogger pants and cream-white heeled pumps. Update this look with tortoise oversized sunglasses and dark brown leather shoulder bag: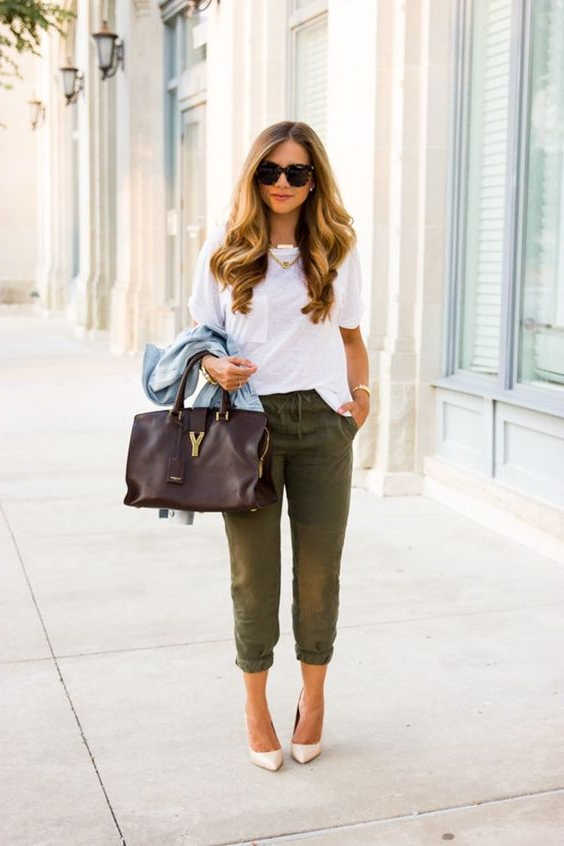 🛍️ Where To Find: Buy Related Here
Jogger Pants In Yellow And White Tee
Some like it bright and fresh! Go for a relaxed tee in white and style them with yellow joggers and white sneakers: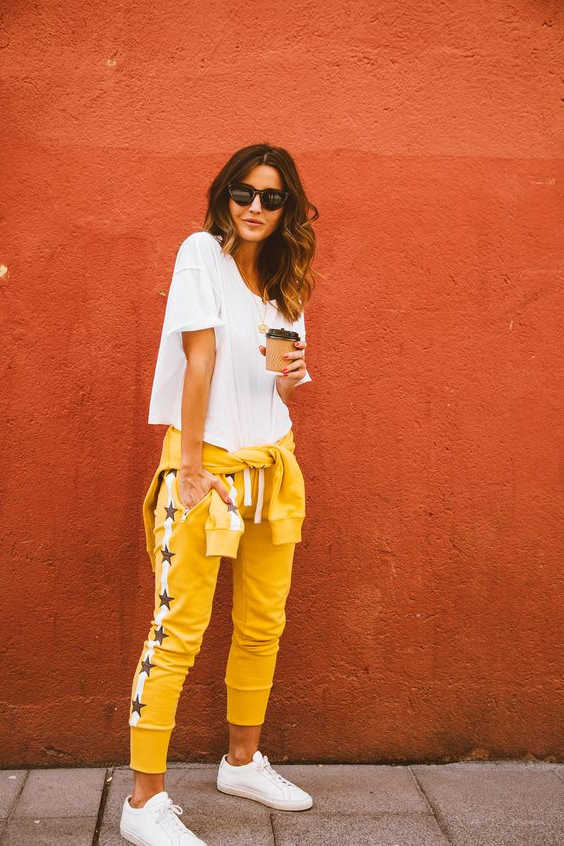 🛍️ Where To Find: Buy Related Here
Black Joggers And Red Pumps
A slouchy neck cream-grey sweater is paired with black joggers and red flat pumps: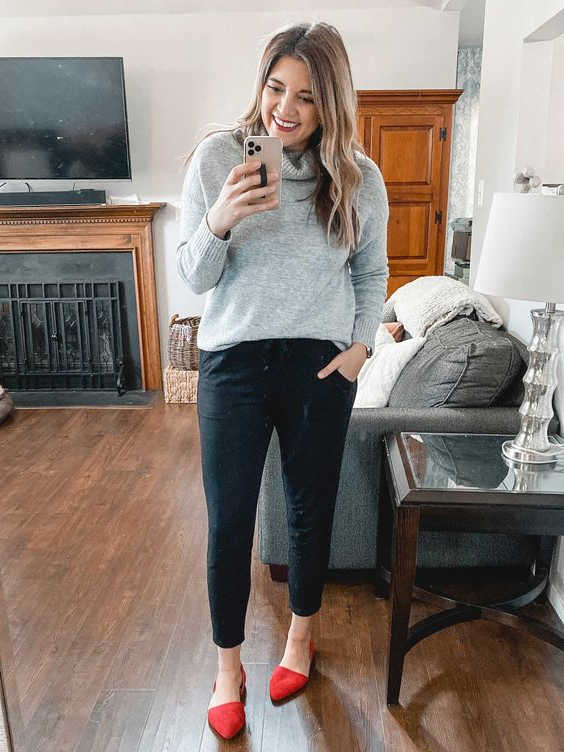 🛍️ Where To Find: Buy Related Here
Joggers And Denim Jacket
A pair of grey joggers are worn with a blue denim jacket, black top, and white sneakers. Complete this style by adding cool rounded sunglasses and classic grey leather shoulder bag: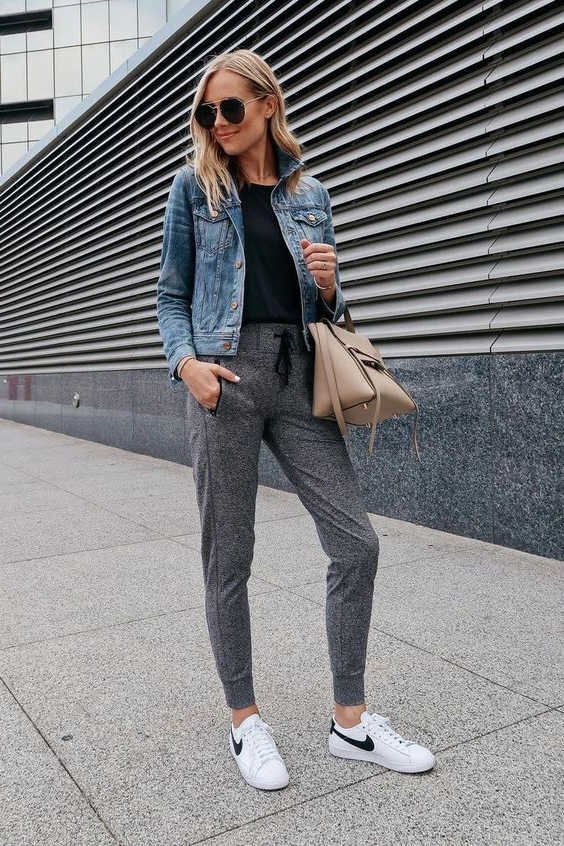 🛍️ Where To Find: Buy Related Here
Black Joggers And Black Heels
Update your style by adding some elegance. We see a green blazer teamed with a leopard print blouse tucked in black slim joggers updated with black suede heeled pumps: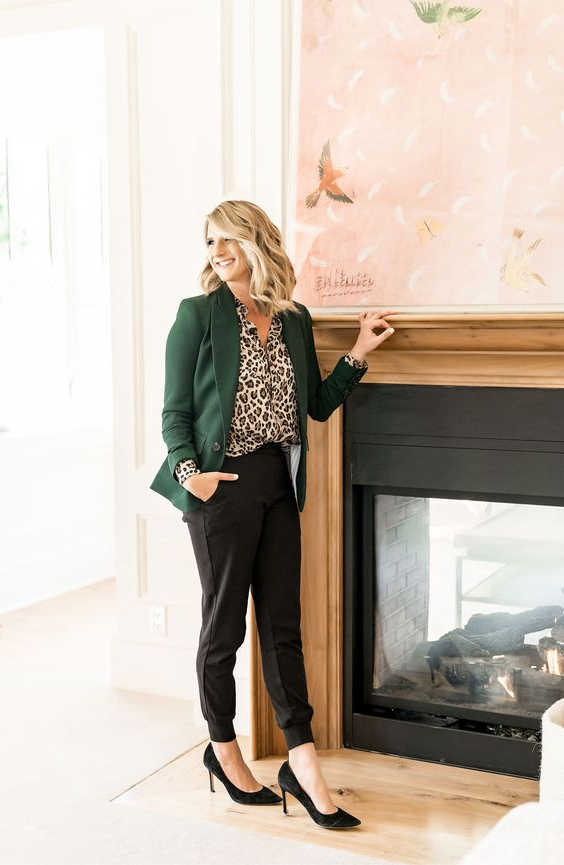 🛍️ Where To Find: Buy Related Here
Green Sweater With Green Jogger Pants
A dark green sweater is tucked in green jogger pants updated with cream-beige heeled pumps and rounded shades: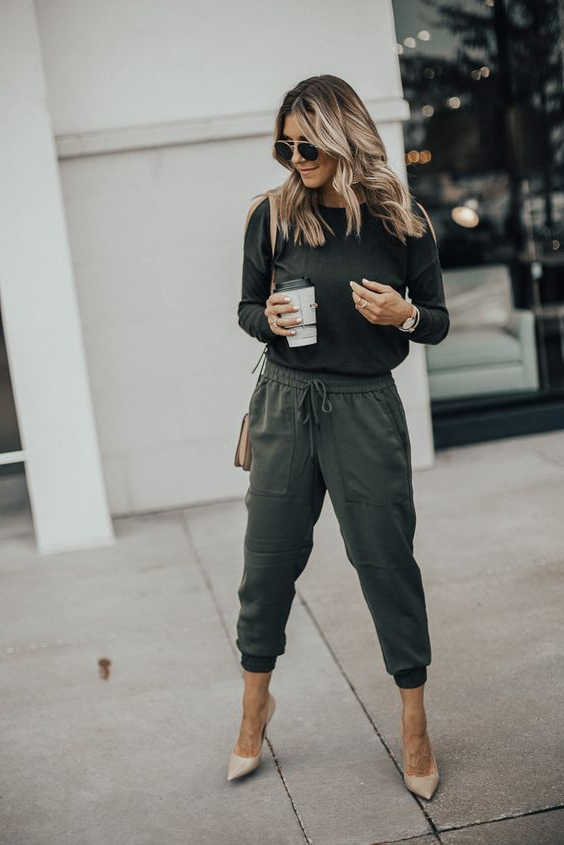 🛍️ Where To Find: Buy Related Here
Dark Green Joggers And White Sneakers
A pair of dark green jogger pants are teamed with cream-grey pullover and white sneakers. Complete this casual style with aviator sunglasses: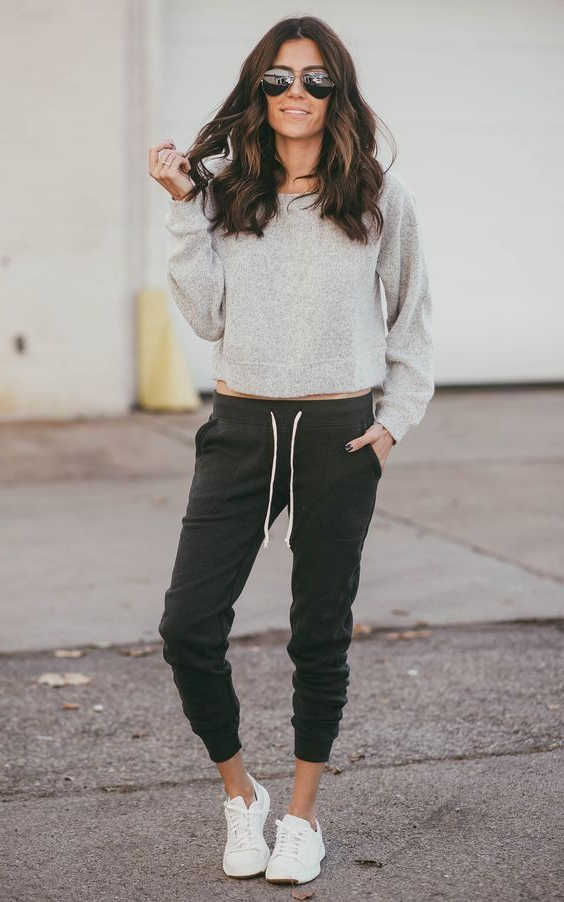 🛍️ Where To Find: Buy Related Here
Black Leather Jogger Pants And Snakeskin Print Boots
A ribbed knit white sweater is teamed with black faux leather joggers updated with sassy snakeskin print ankle boots: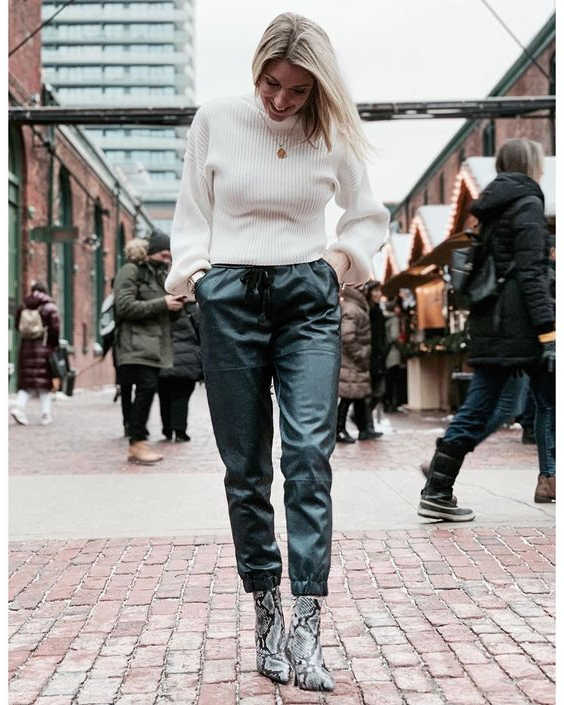 🛍️ Where To Find: Buy Related Here
Leather Jacket And Jogger Pants
A rock chic black leather jacket is layered over a grey sweatshirt teamed with cream white joggers and white sneakers. Love these classic aviator sunglasses: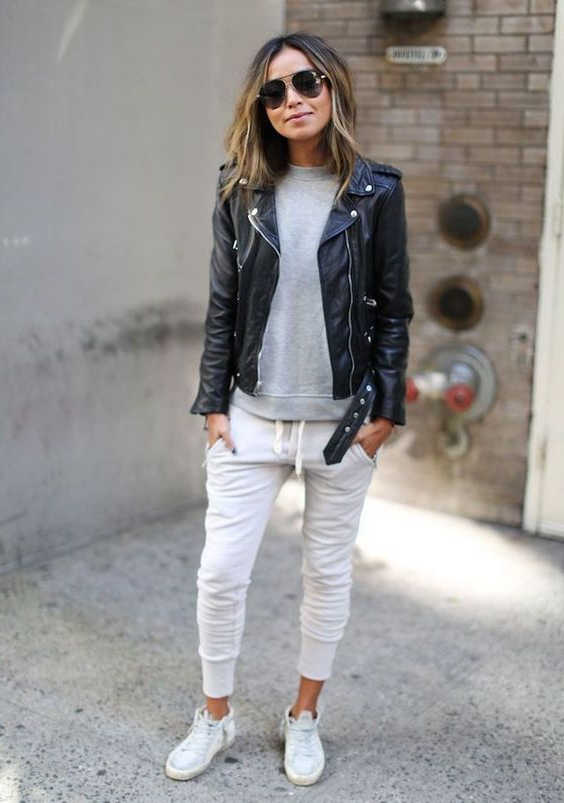 🛍️ Where To Find: Buy Related Here
Black Hoodie With Grey Joggers
Update your casual downtown style with an oversized black hoodie paired with slouchy grey joggers. Complete the look by adding black nerd eyeglasses, leather tote bag and white sneakers: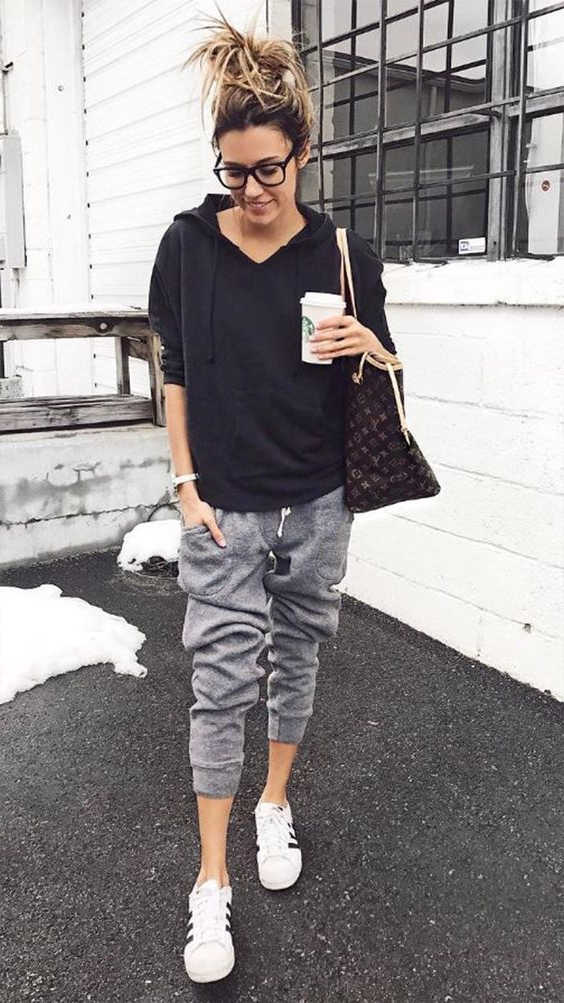 🛍️ Where To Find: Buy Related Here
Denim Jacket With Black Joggers And White Kicks
A classic denim jacket in blue is styled with a grey tee, black joggers and white kicks, a lovely combo for casual street walks: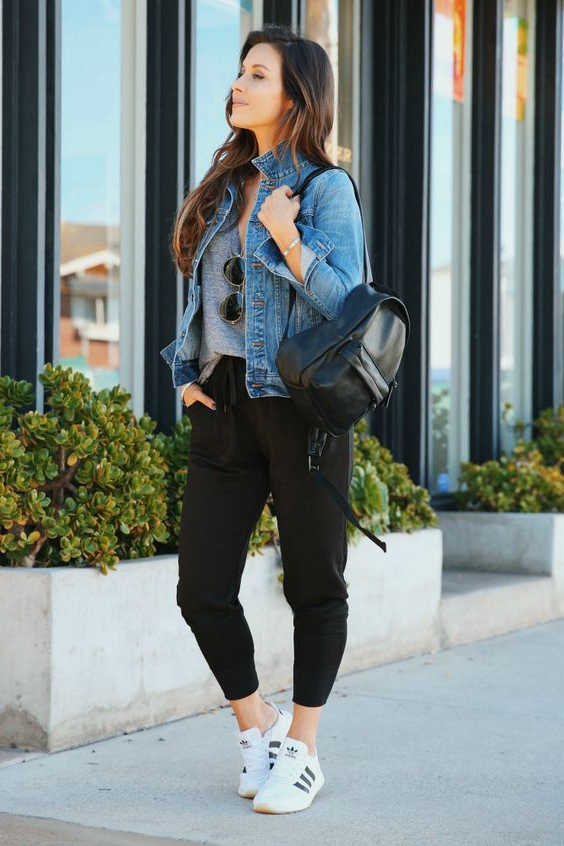 🛍️ Where To Find: Buy Related Here
All Grey Outfit With Joggers
An ideal look for fall season days. We see an oversized grey wool coat paired with a grey hoodie teamed with grey joggers updated with grey-white sneakers: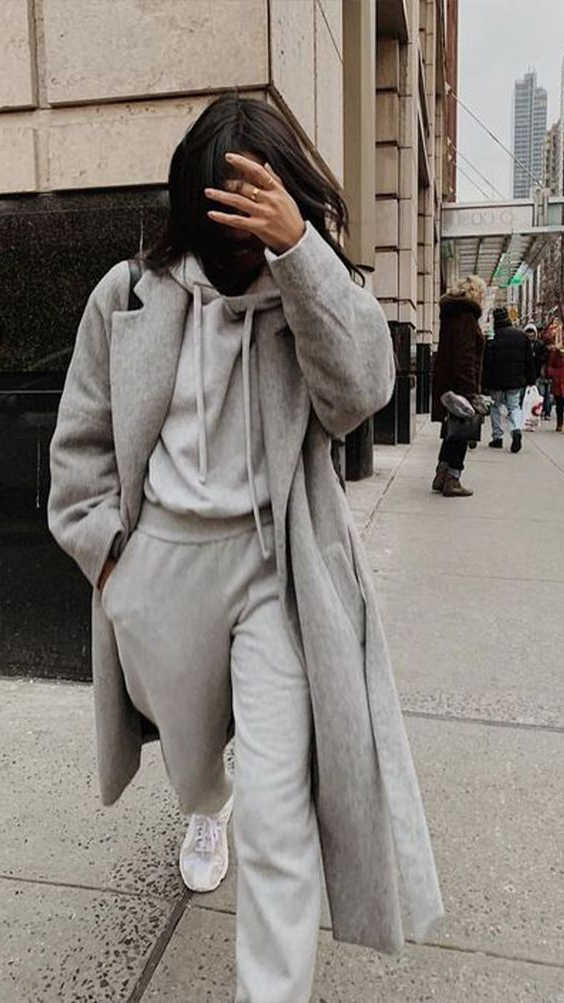 🛍️ Where To Find: Buy Related Here
All White Look With Joggers
How about wearing an all-white look? Here we see a ribbed knit crop sweater teamed with white joggers and white chunky sneakers, a simple day outfit for real sporty girls. Love that black leather shoulder bag: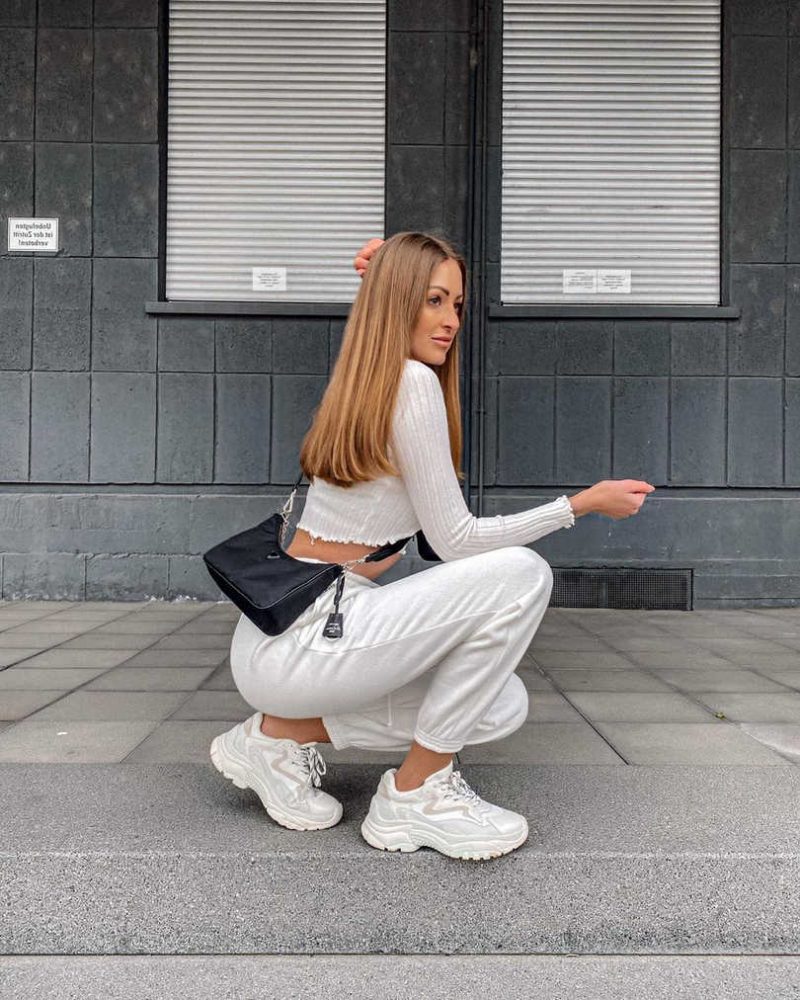 Denim Joggers And Cropped Sweater
We see a rollneck sweater in white teamed with knee-ripped denim joggers completed with snakeskin print ankle boots: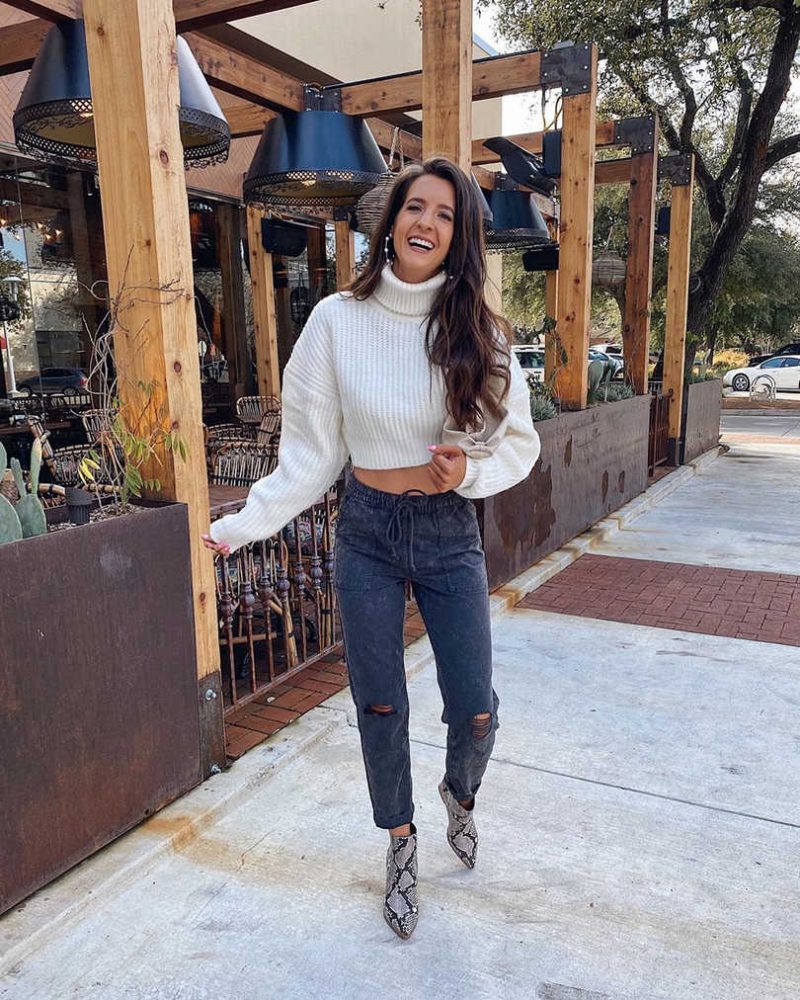 Plaid Shacket And White Joggers
A plaid shacket looks awesome teamed with a buttoned cropped white top and white joggers. Update this combo by adding a cherry red handbag with chain handle and white sneakers: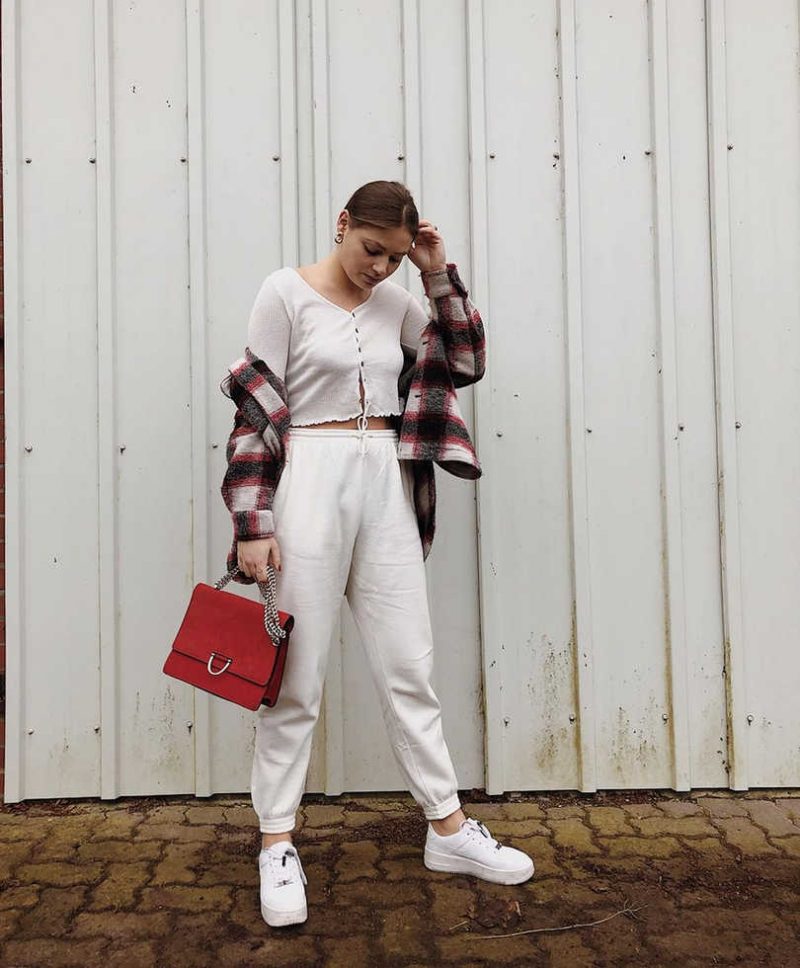 Crop Sweatshirt And Joggers
We see a cropped sweatshirt in cream-white paired with matching color slouchy joggers. Update this casual combo by adding white sneakers and a black leather backpack. By the way, if you are into these bags trend, I highly recommend having a look at my latest pon on ways how to wear backpacks, there are lots of stunning ideas how to style this accessory with your favorite clothes: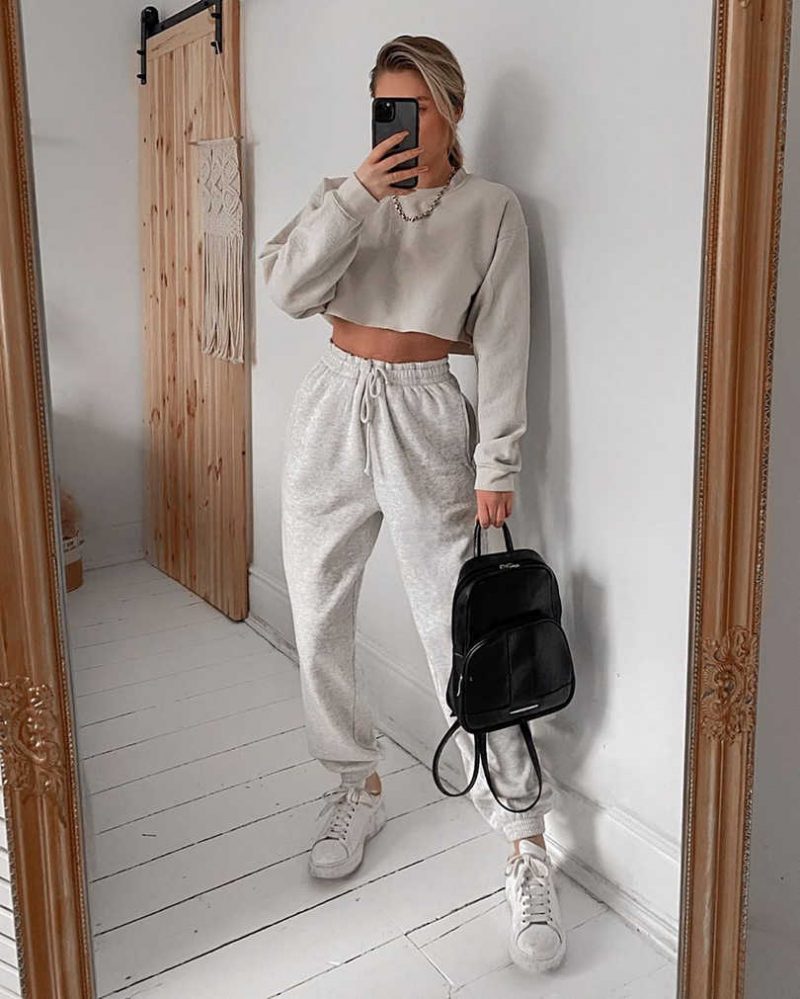 Teddy Bear Coat And Cream White Joggers
We see a cream white teddy bear coat styled with a white racerback top and cream-white joggers. Update this combo with classic white sneakers. If you are into teddy bear coats, then check my other post, there are lots of stunning ideas to try this year: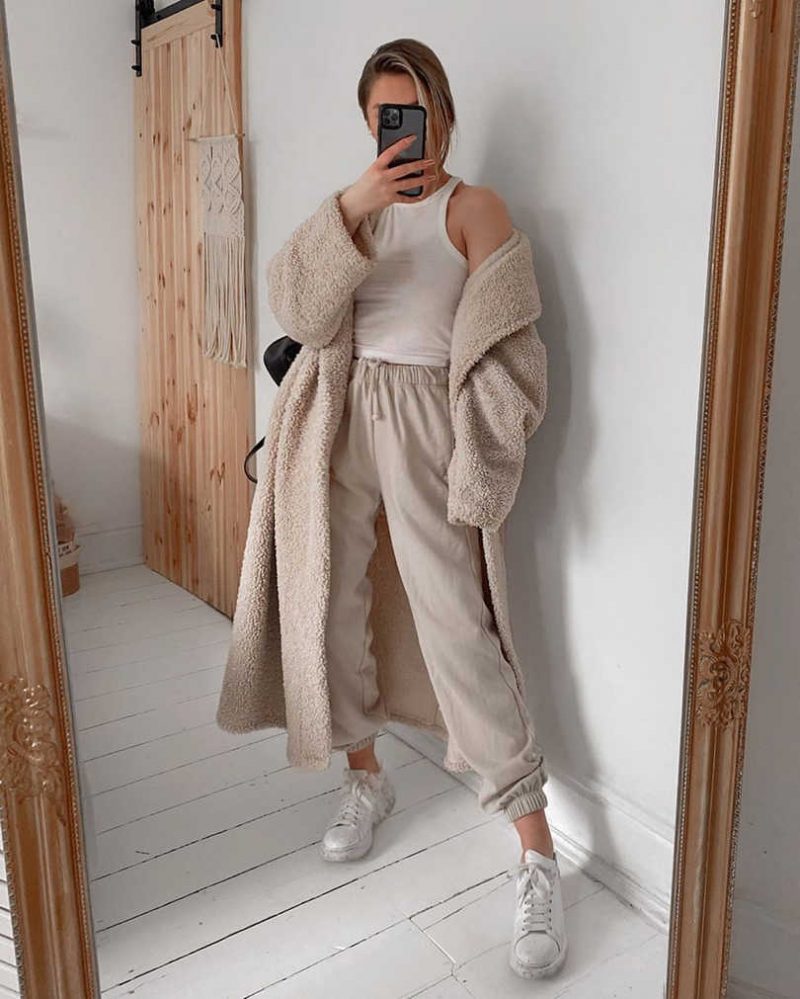 Peach Joggers And White Sneakers
A ripped denim jacket is layered over a peach top tucked in the same color jogger pants completed with pastel runners. Update this combo with a leather tote bag: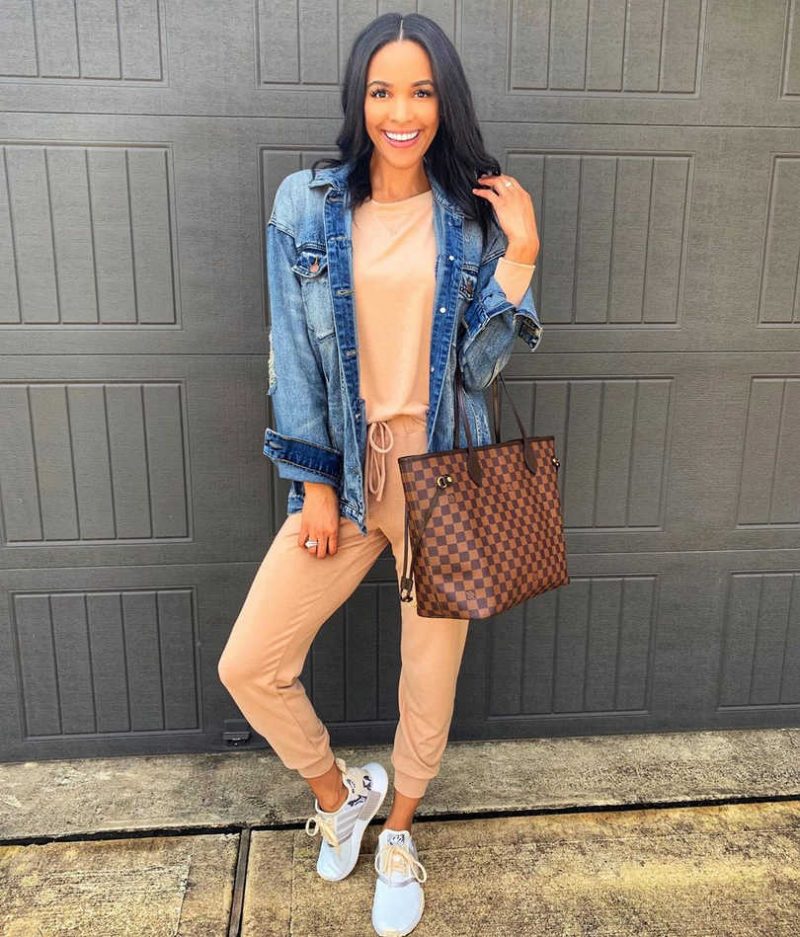 Source: PopSugar