Look for amazing style hacks, as I am here to show you ways how to belt your sweater and look at your best.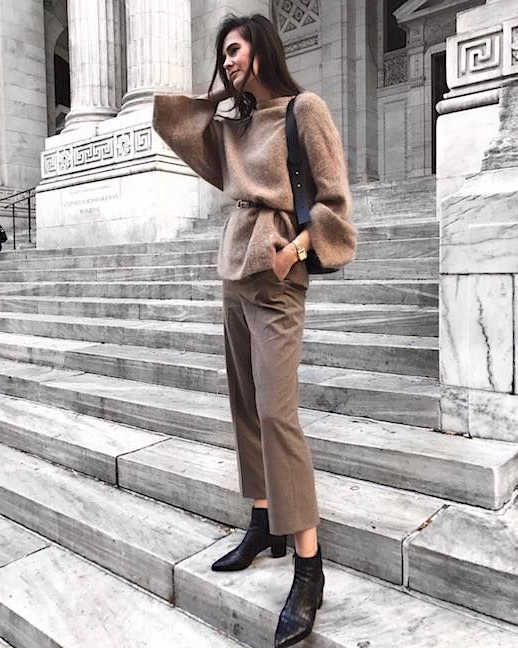 Buy Similar Here
We see a relaxed-fit beige sweater updated with a skinny brown leather belt. Add cropped beige tailored pants and block heel black leather ankle boots. An ideal combo for office hours.
I must admit, I am not a big fan of belts, but once I saw how this simple accessory changes the look of my oversized sweaters, I realized in how many ways I can update my everyday style look and go from basic to trendy fashionista.
Just make sure you cinch the waist in the right way. I mean, keep the silhouette baggy, but make it appear classy. Be sure, a simple belt can do so much to your outfit. It adds a perfect layering look and keeps your outfit polished and glamour.
You are free to create whatever look you like, starting from belting loose, creating a boxy style, as well as figure-flattering looks. I love creating hourglass-shaped looks.
The following combination is ideal both for a weekend apartment party, as well as for a polished office look. I love to see ladies who complete such pairing with fitted pants, a mini skirt, or with a midi skirt.
We see a marvelous black cardigan sweater cinched at the waist with a black belt and teamed with a pastel blue pleated midi skirt. Update this look by adding black ankle boots: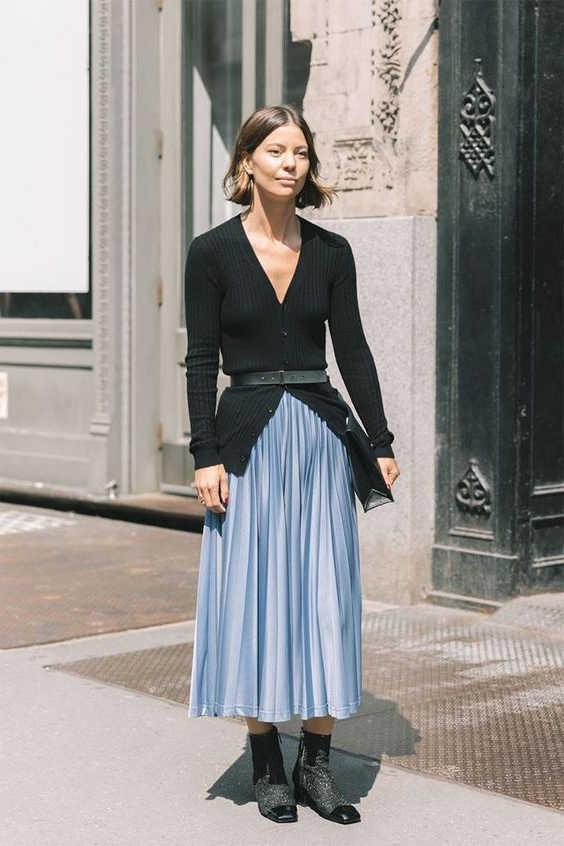 Buy Similar Here
We see a ribbed knit black oversized sweater with a black belt tied around the waist and black cropped pants completed with low block heel loafers:
Buy Similar Here
A classic black sweater is cinched at the waist with a brown leather belt. Complete this combo by adding a printed knife-pleated midi skirt and beige suede boots. In love with these oversized sunglasses: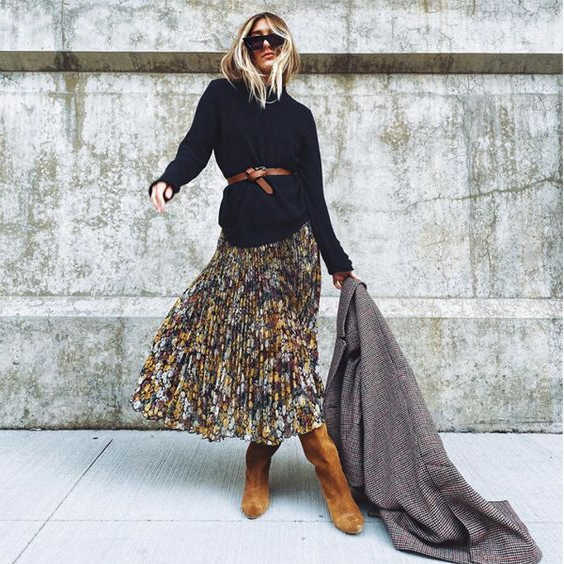 Buy Similar Here
Long sleeve black sweater dress is updated with a brown leather belt and leopard print ankle boots. Complete this combo by adding aviator sunglasses and a light brown leather handbag: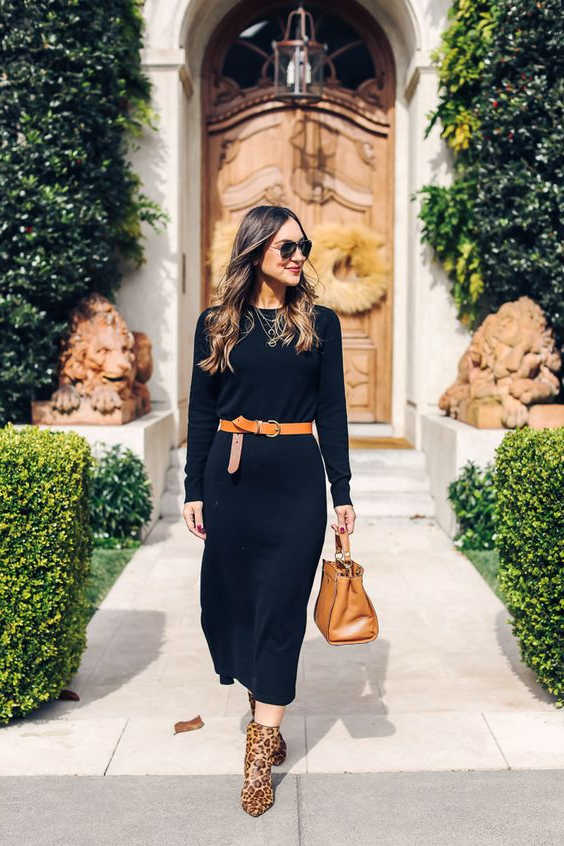 Buy Similar Here
A long cardigan in charcoal color is styled with a skinny brown leather belt, love the simplicity of this combo: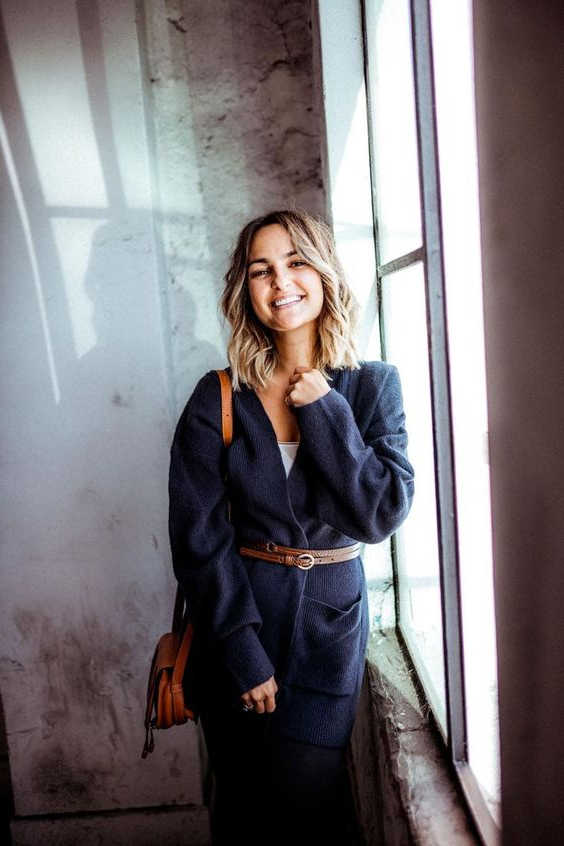 Buy Similar Here
A grey wool buttoned long cardigan is styled with a black leather belt and black leather leggings. If you do want to see more ideas on how to wear long cardigans, check out my post, where I share inspiring and easy to copy looks: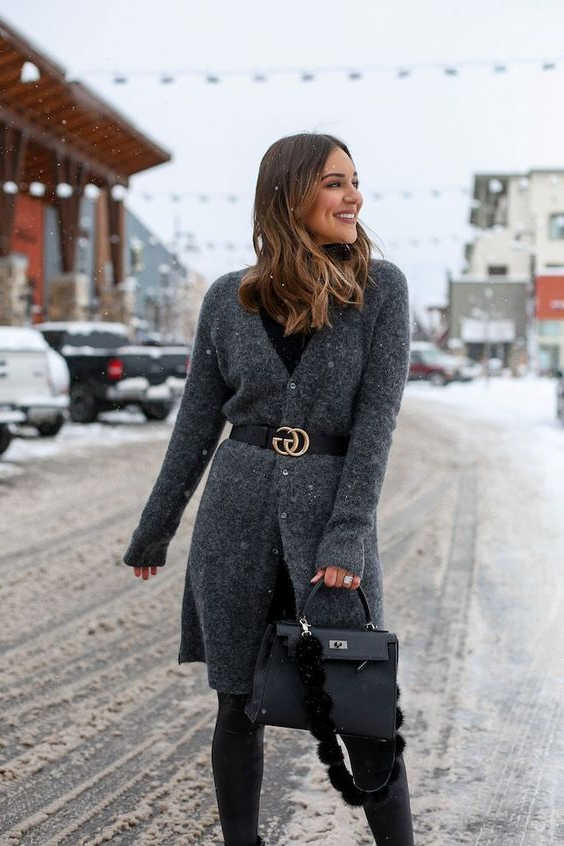 Buy Similar Here
In love with this light grey sweater-dress embellished with white pearls. Add a black leather belt and over-the-knee black suede boots:

Buy Similar Here
A khaki green sweater dress in cable-knit looks pretty cool with that black skinny belt. Add rounded sunglasses and black suede OTK boots: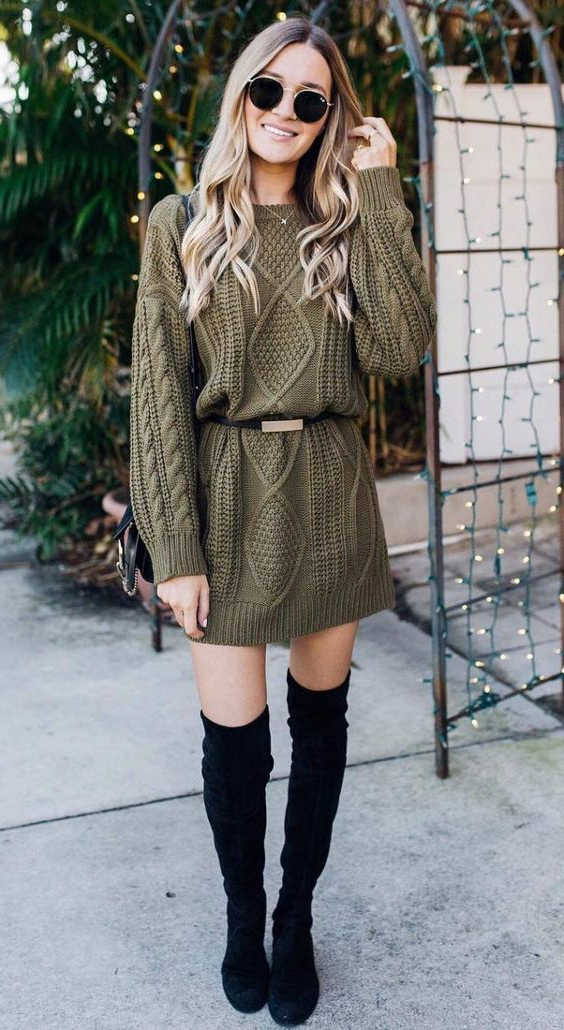 Buy Similar Here
We see a white cable-knit white sweater dress with a skinny black leather belt. Update this look by adding oversized sunglasses and a plaid scarf. If you want to see more ideas on how to wear sweater dresses, then check out my blog post, where I share my favorite street style looks that are still trendy: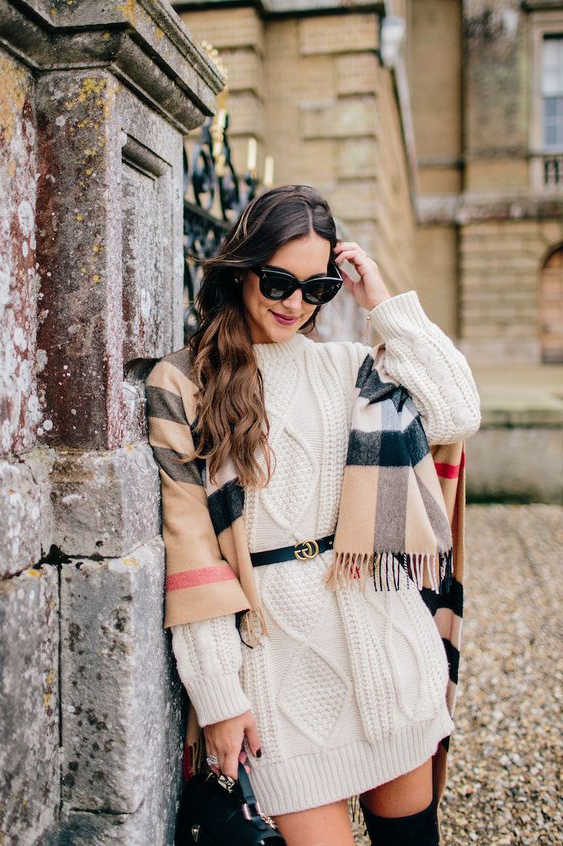 Buy Similar Here
A cozy white sweater is styled with a printed belt, love these corduroy blush trousers: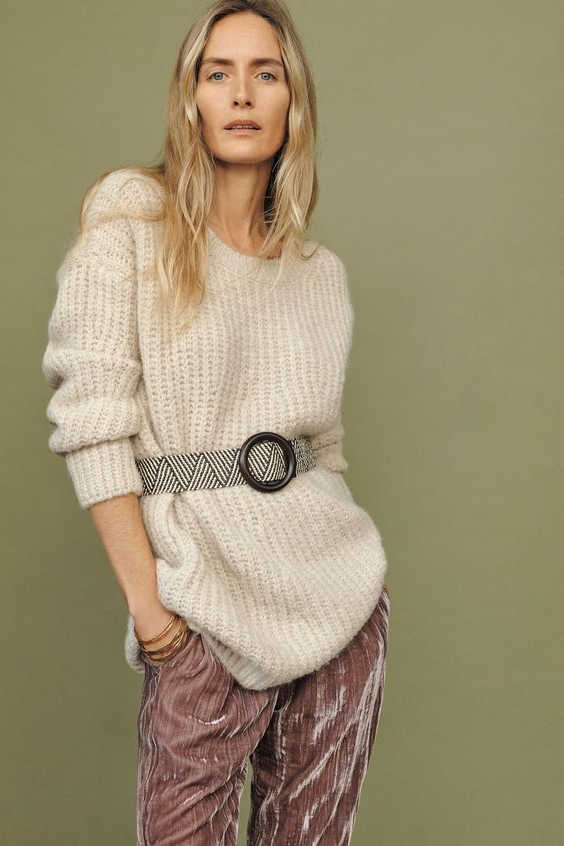 Buy Similar Here
A roll-neck beige sweater dress is updated with a skinny belt in black leather. Complete this combo by adding a brown leather shoulder bag and tall brown boots: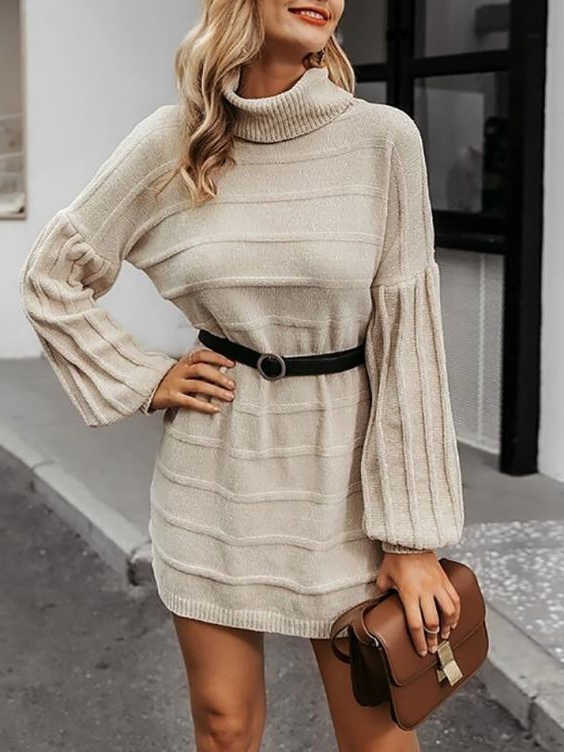 Buy Similar Here
A long white sweater is worn as a dress. Complete it with a thin black leather belt, mini black skirt, and suede OTK black boots: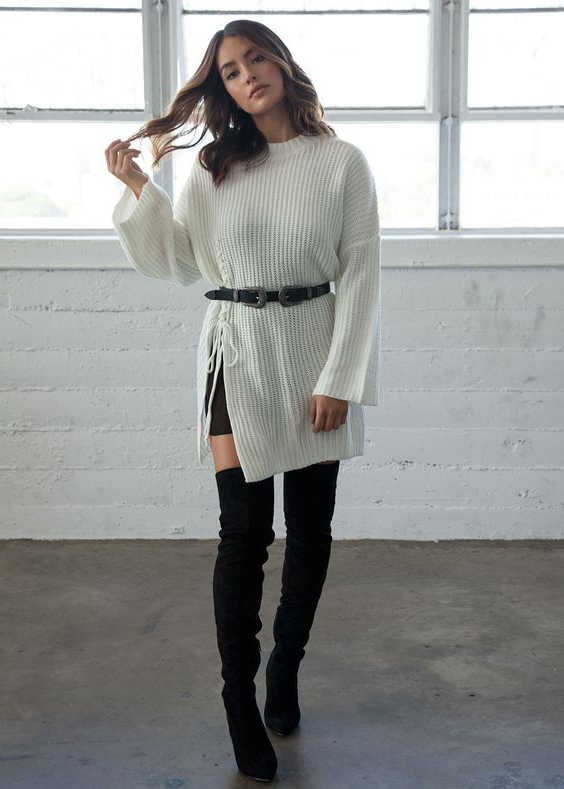 Buy Similar Here