Hello, my dear fashion addicted ladies! My next post is all about sweater dresses that are so must-have this cold season. All you need is to choose an appropriate design, style it the right way that will underline your individuality and make you stand out from the crowd.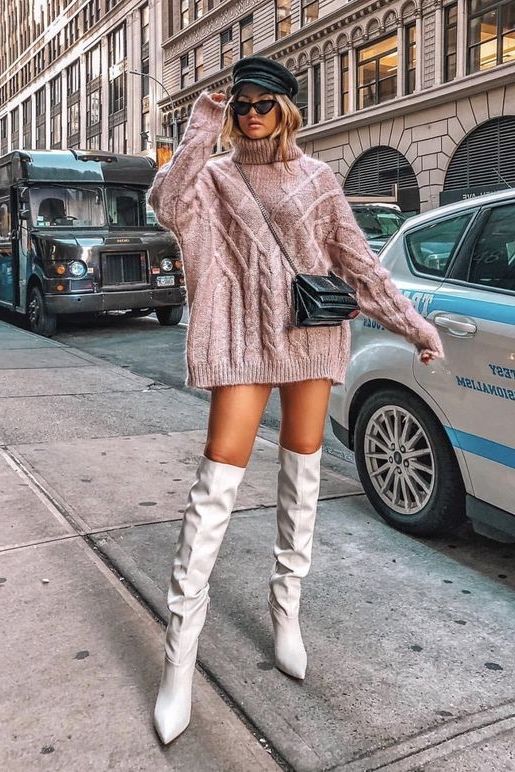 This garment can be found in so many different styles, colors, and shapes, all you need is to find the one that will keep you look ladylike and oh-so-chic. Anyway, read on to find out more and let me know your thoughts in the comments below.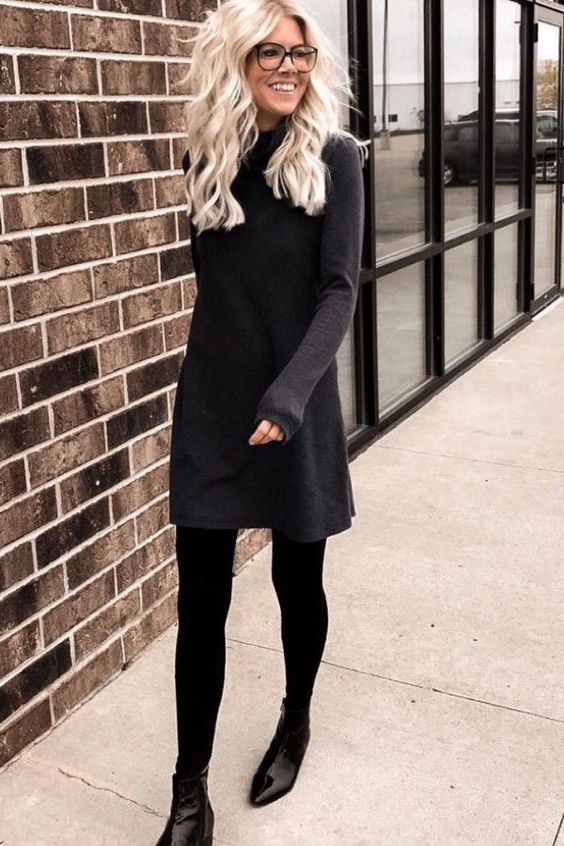 Go black, all in black this Fall. How about wearing a black sweater dress with black tights and glossy black leather ankle boots.
This pretty frock can be really comfy and flatter your figure. Most of the knitted dresses come in a shapeless and oversized fit, but you can easily update them with belts, so you can define your sexy silhouette.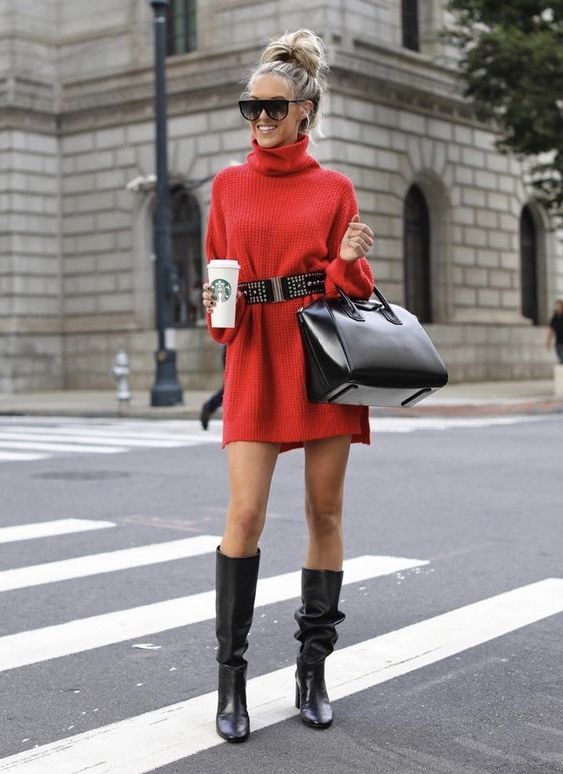 We see a high neck red ribbed knit dress completed with a belt in black leather and slouchy black leather boots.
The tights is a must-have for Winter cold days. Choose either opaque black, skin colored or patterned version tights.

Sweater Coatdress looks amazing teamed with these black leather slim pants and high-heeled black pumps.
If you are not into tights, then go for leather skinny pants, leggings or over-the-knee socks. By the way, you can even wear skirts underneath your favorite sweater dress. I suggest you choose a skirt that will feature a lace embroidery that will peek out from underneath.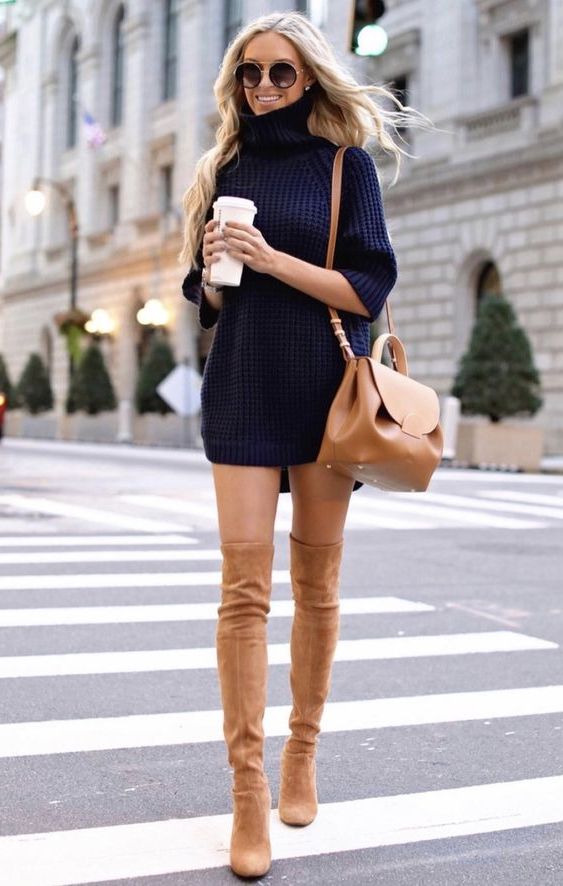 Navy sweater dress ideally suits these slouchy camel OTK boots. In love with these rounded shades.
Another great thing about sweater dresses is that you can easily use them for layering your clothes. You are free to wear shirts underneath, fur vests atop, or choose bombers or leather jackets. Speaking of colors, then you can go for all kinds of hues, starting from neutral black and grey to bright, vibrant and neon shades.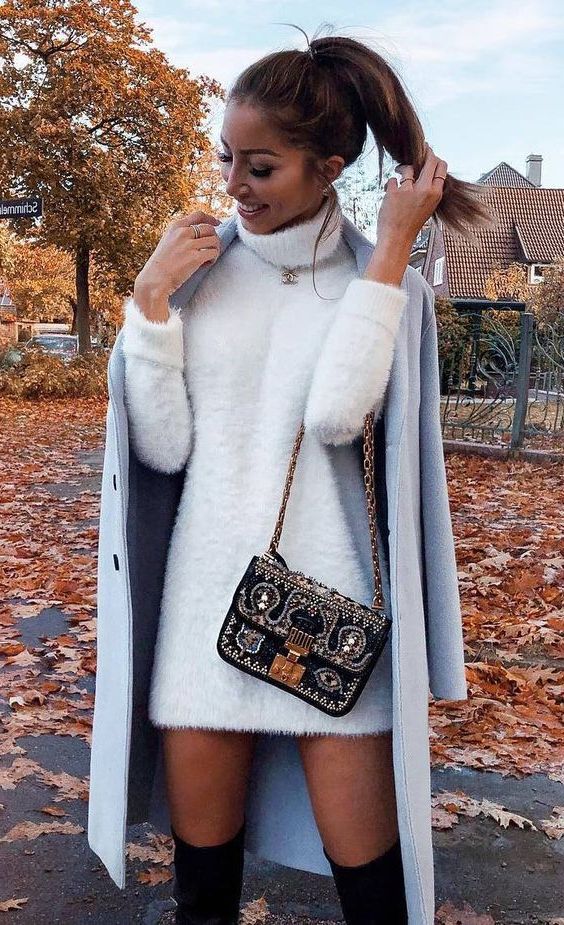 A mohair dress is layered under a pastel blue coat and completed with a pair of black suede boots.
When it comes to shoes, then you are welcome to try on over-the-knee boots, ankle boots, and even Oxfords. The sweater dress is a perfect choice for those who want to make a real statement on the streets. Scroll down to see my favorite combos to try this year.
Check out more ideas how to wear sweater dresses this year:
Pastel Sweater Dress And Slouchy Beige Boots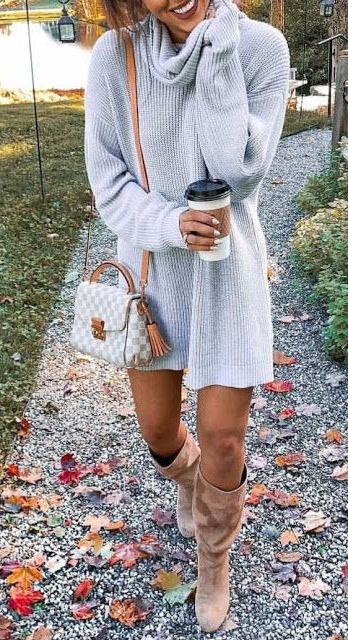 This might be a sweetest outfit for fall. We see a pastel blue sweater dress completed with a pair of slouchy beige boots.
Matching color Sweater Dress And Coat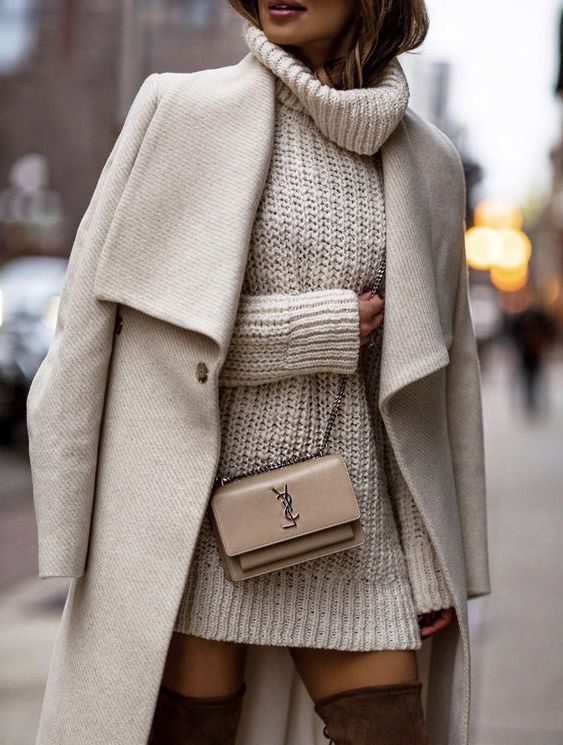 I do love to see women who wear matching clothing. Here we see a cream white coat draped over the same color sweater dress completed with brown suede OTK boots.
White Sweater dress with a black leather belt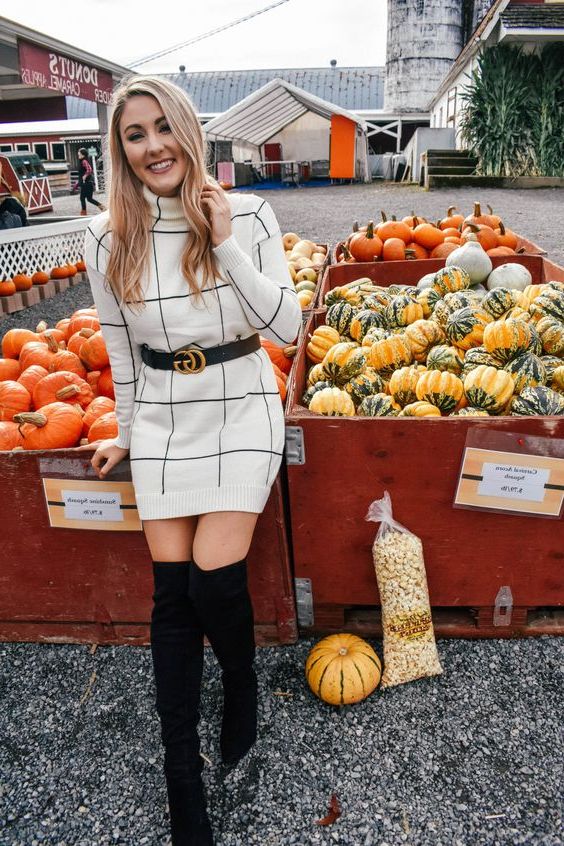 Update your simple outfitby wearing this white sweater dress in black windowpane print. The look is completed with a black leather belt and suede OTK boots in black.
Belted Sweater Dress In Grey And Black OTK boots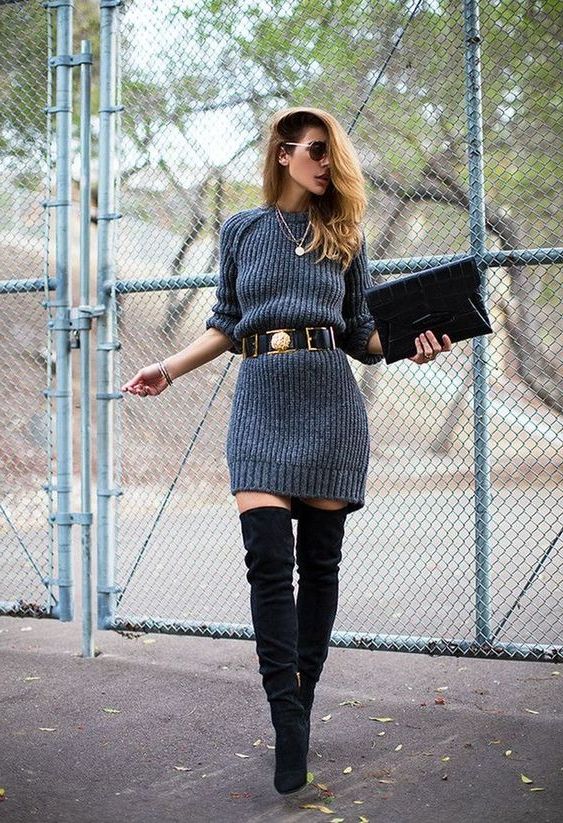 Improve your look with this stunning grey sweater dress completed with suede black otk boots.
Light grey high-neck sweater dress and white OTK boots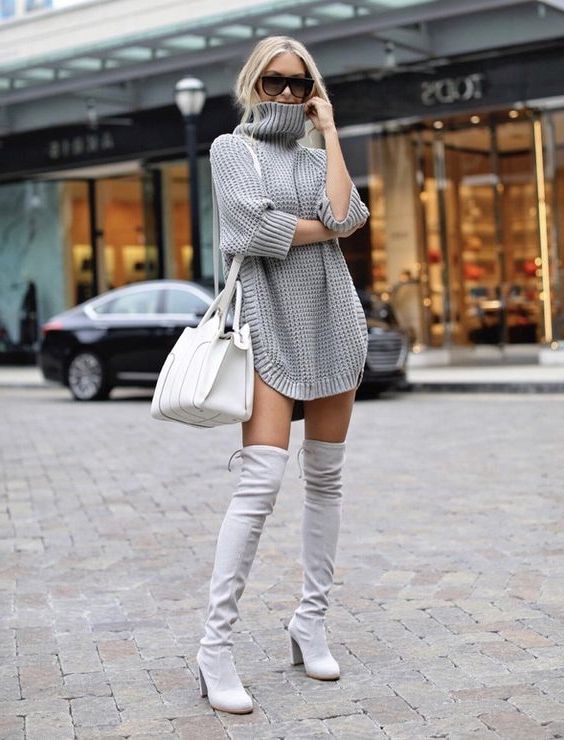 You definitely should try this cool combo. It consists of a grey sweater dress styled with white OTK boots. Keep an eye on these flat brow sunglasses, they are amazing.
Green Turtleneck Dress And Green Trench Coat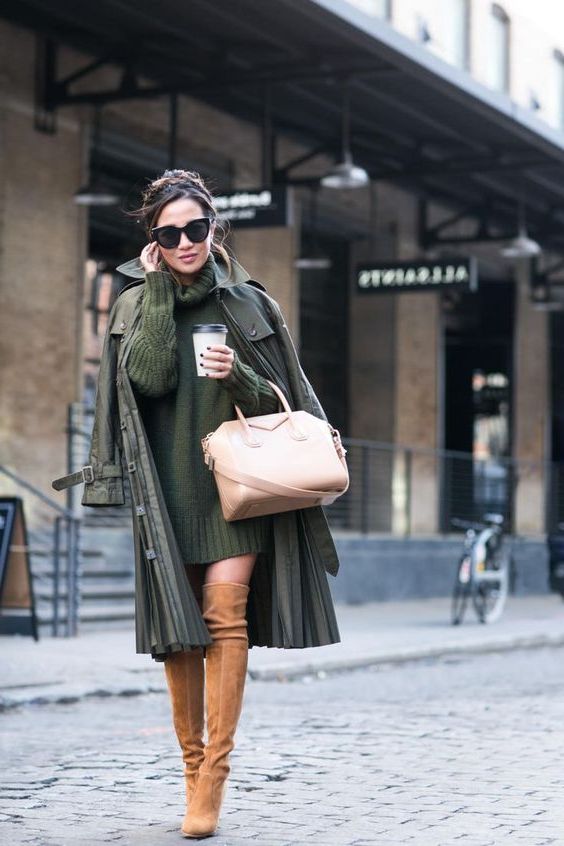 You can have so much fun by wearing this green trench coat over the same color sweater dress. Complete this combo with a pair of camel OTK boots.
Multi-striped neutral color sweater dress and Sneakers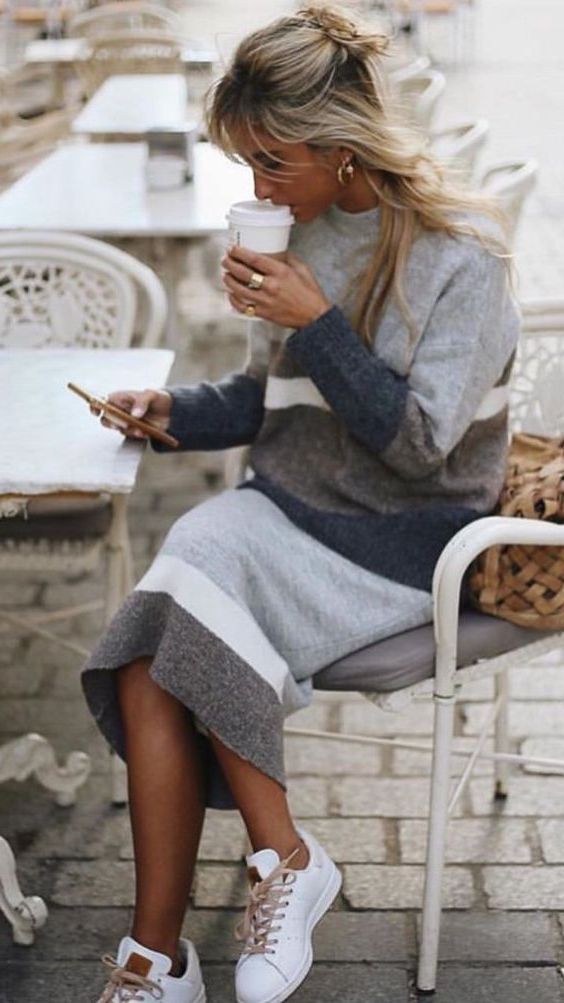 If you want to play the game in casual way, go for a neutral multi striped sweater dress and complete it with white sneakers.
Mustard Sweater Dress And Windowpane Scarf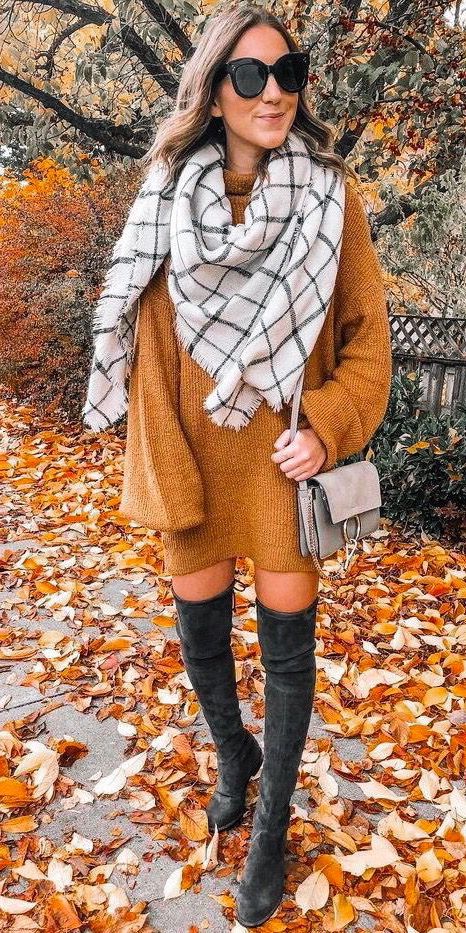 A gorgeous Autumn look is here. We see a mustard sweater dress completed with black suede OTK boots and statement shades.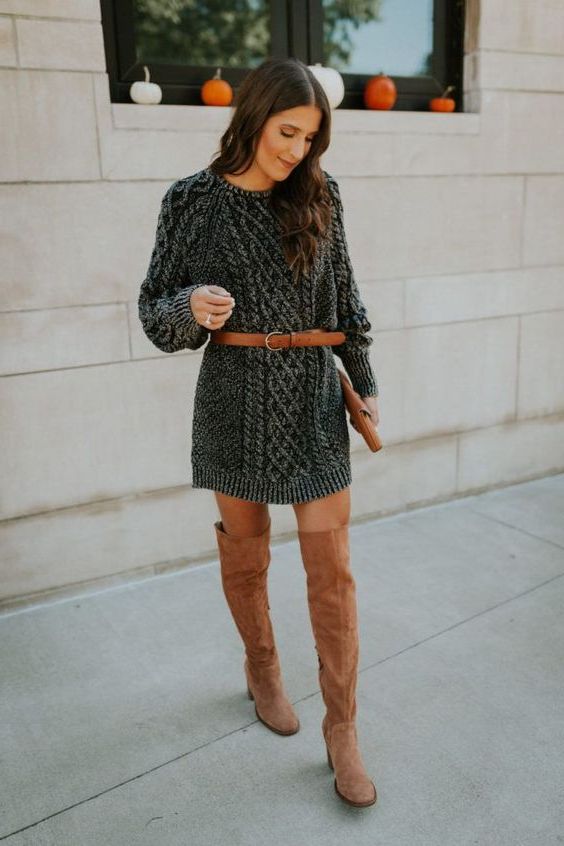 White Sweater Dress And Chunky Boots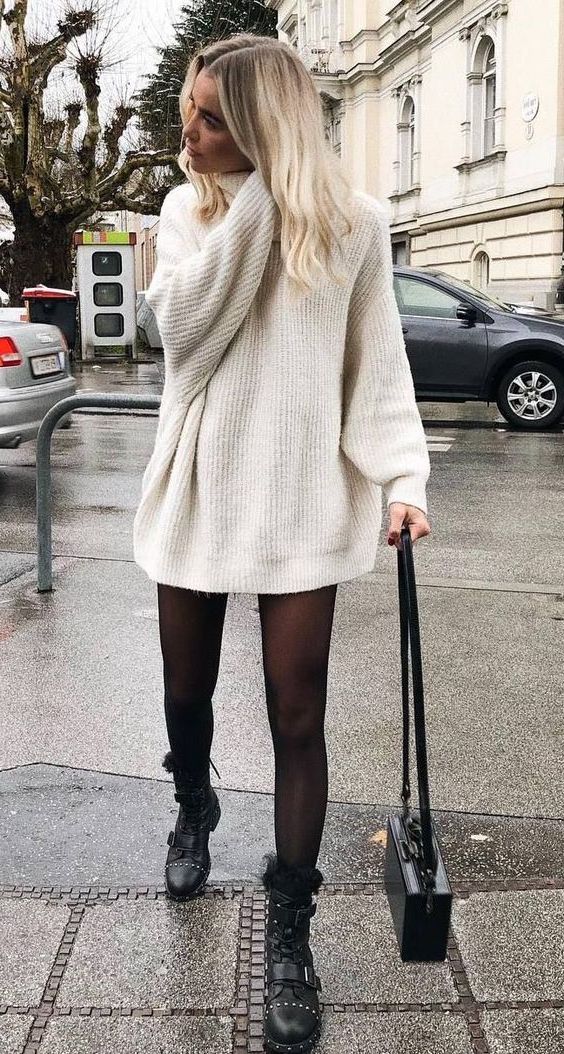 Add some edgy touch to your outfit. We see a white sweater dress completed with black tights and chunky boots in black leather.
All Black Look With Sweater dress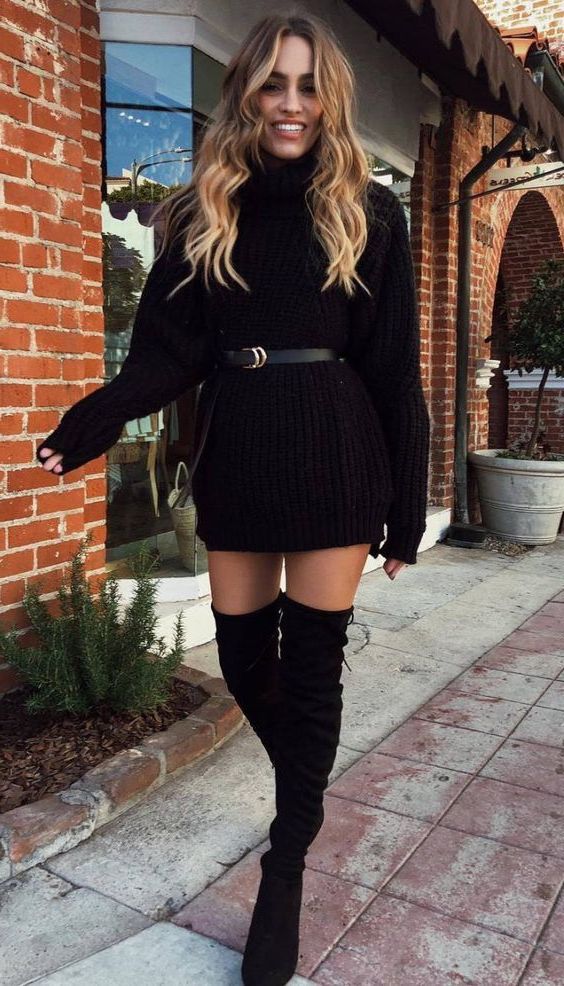 Here we see a stunning combo that consists of a chunky black sweater dress completed with skinny belt and OTK boots.
Sweater Dress Over Shirt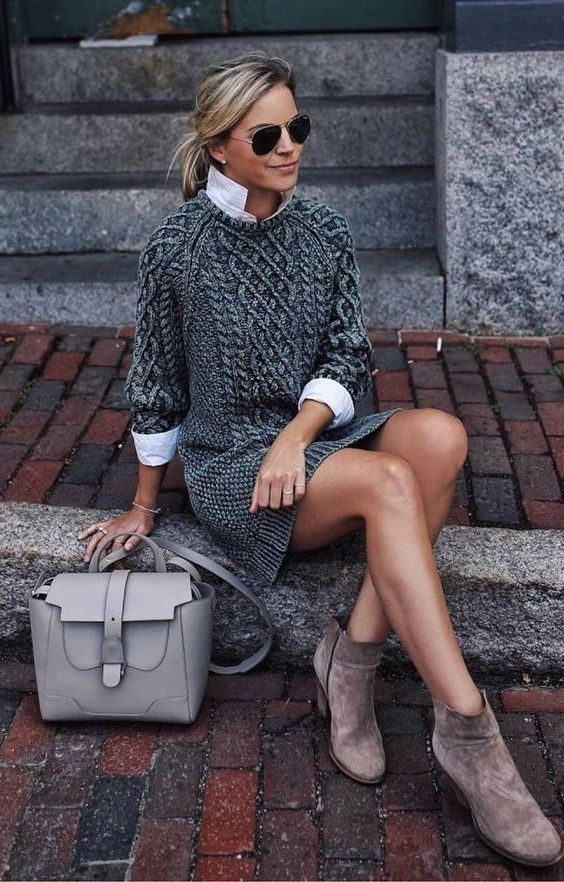 A perfect smart-casual combo that consists of a grey sweater dress layered over shirt completed with suede ankle boots. In love with these aviator sunglasses.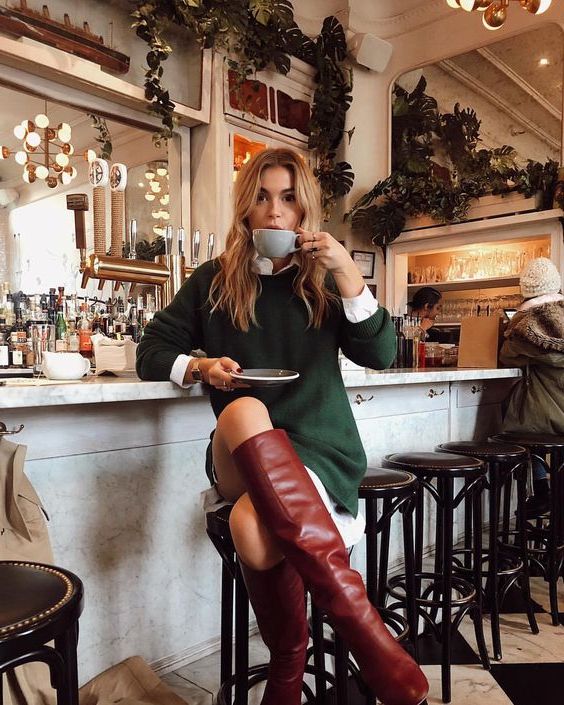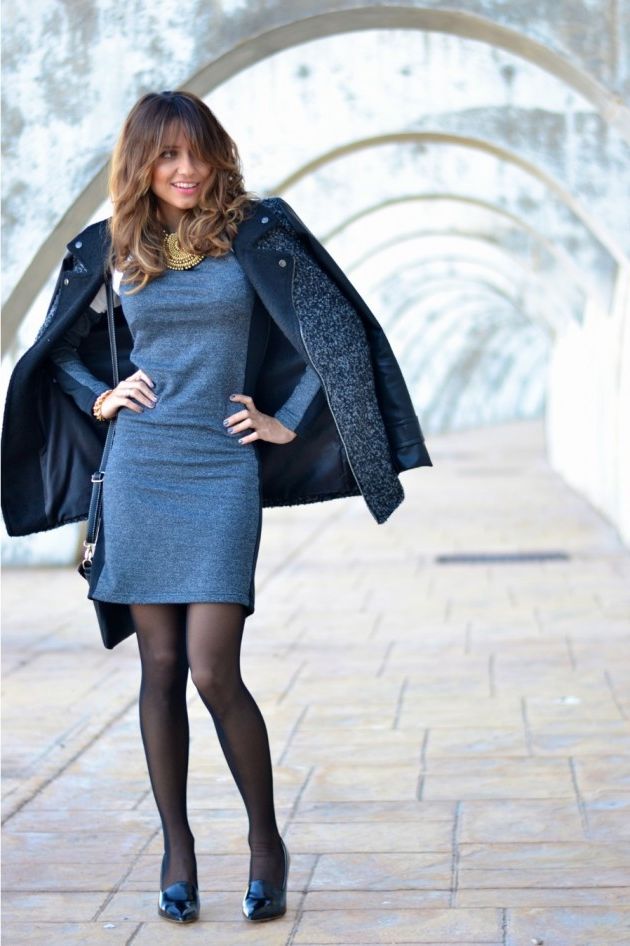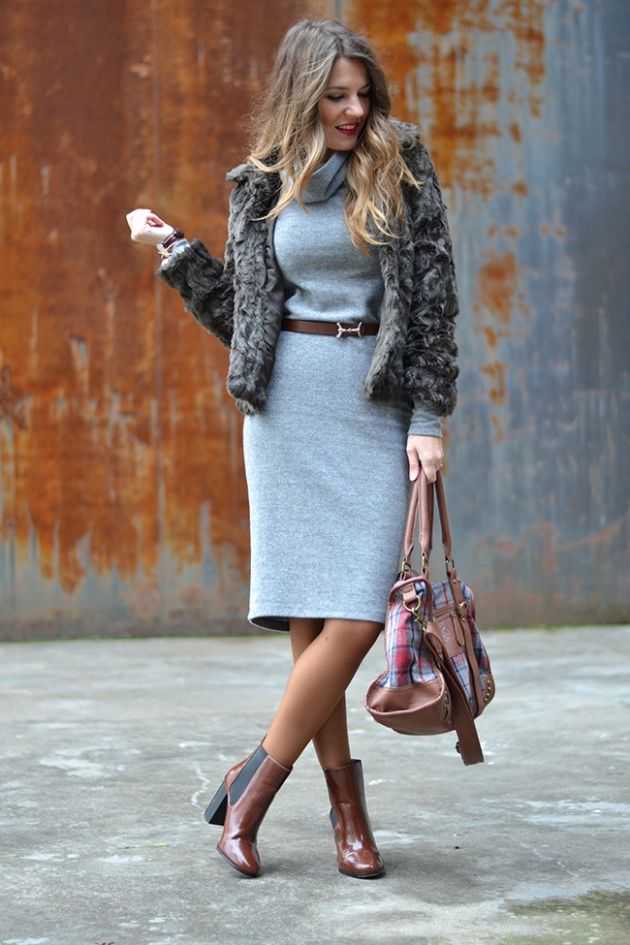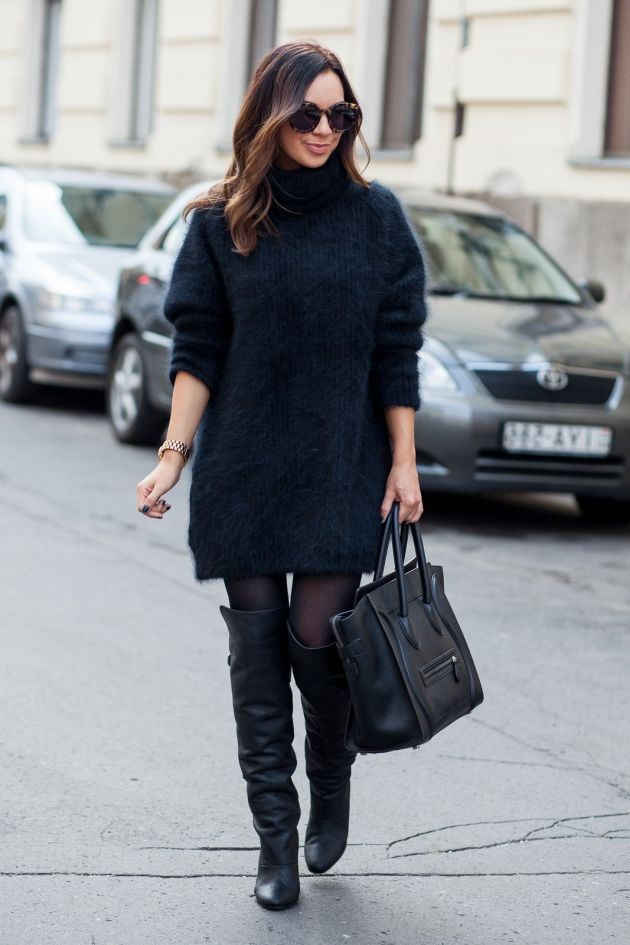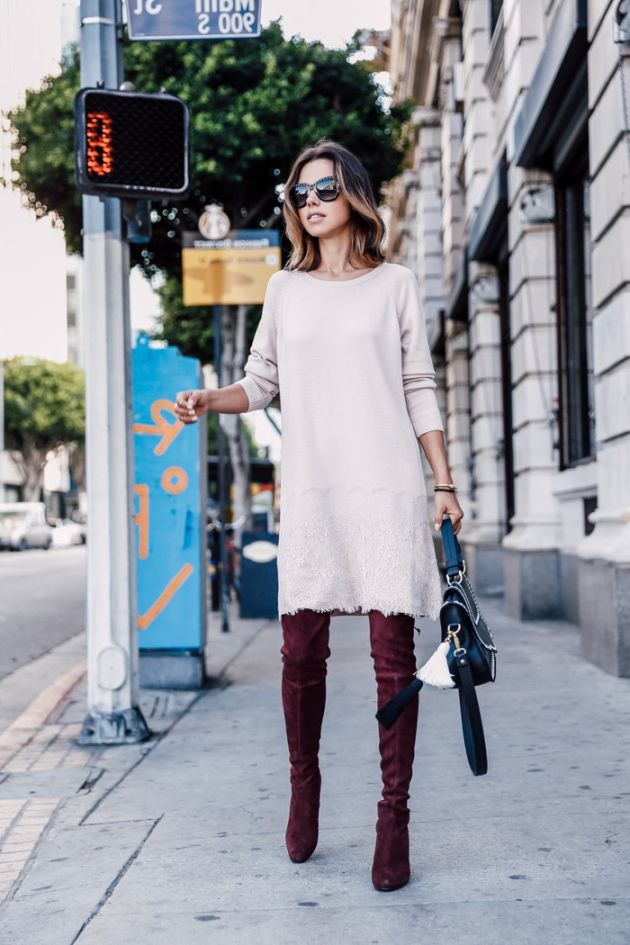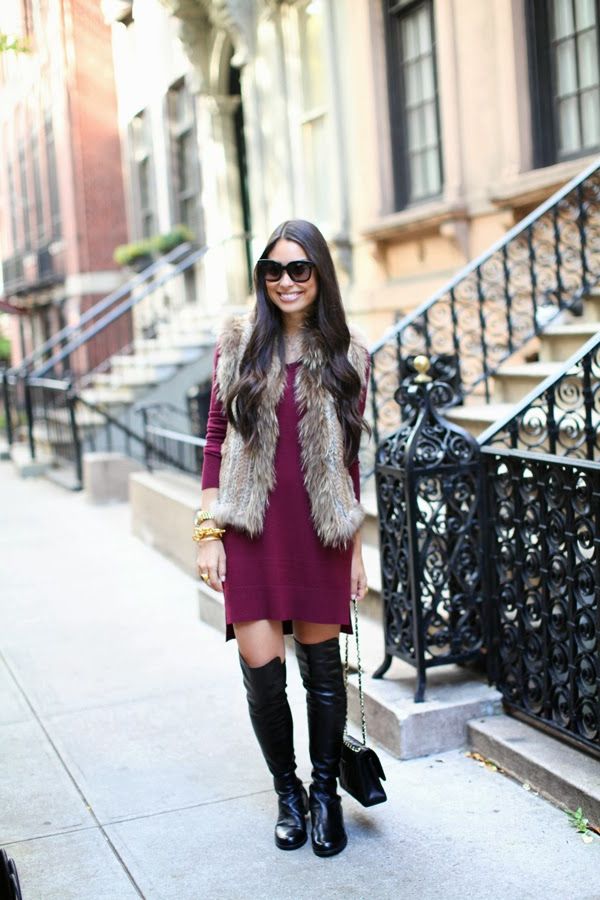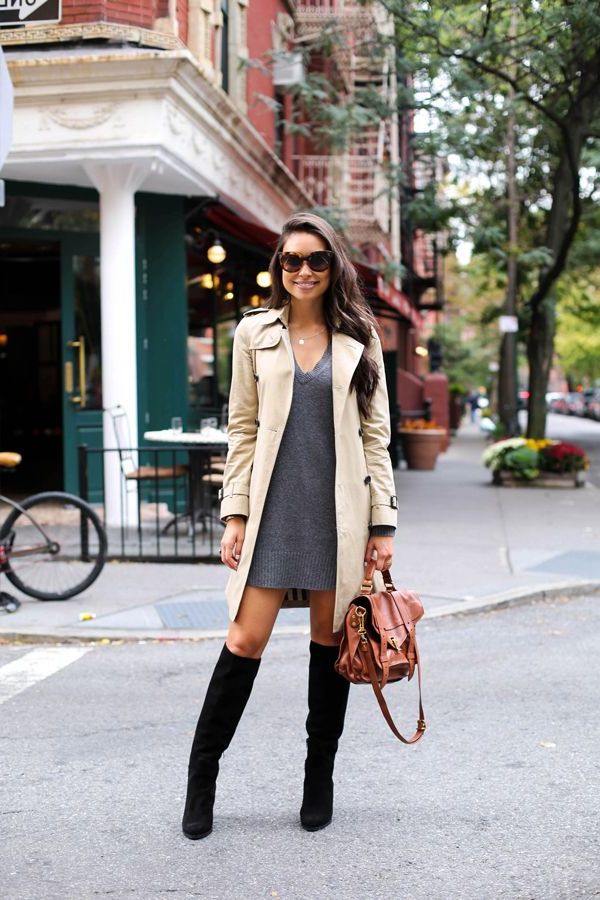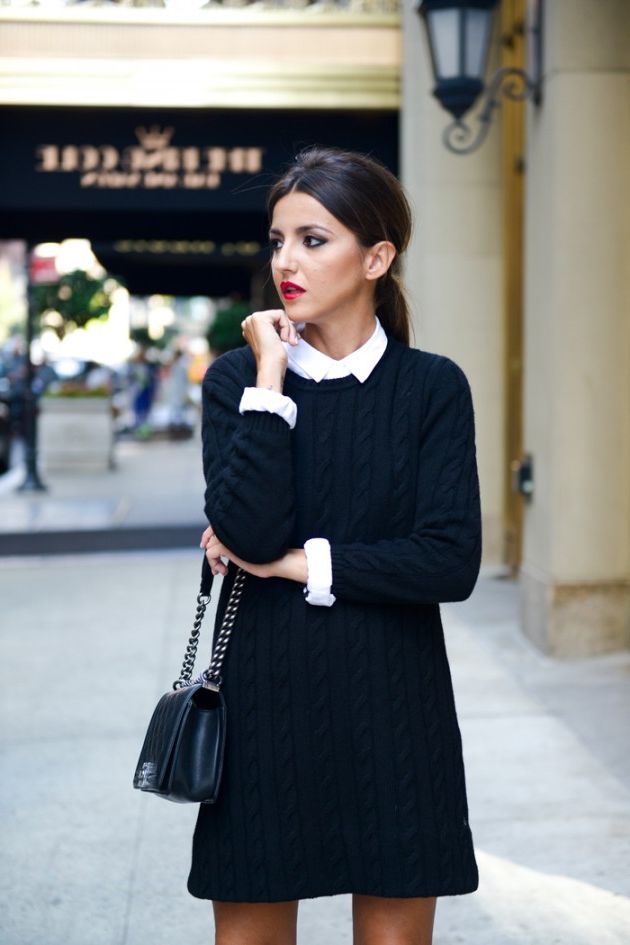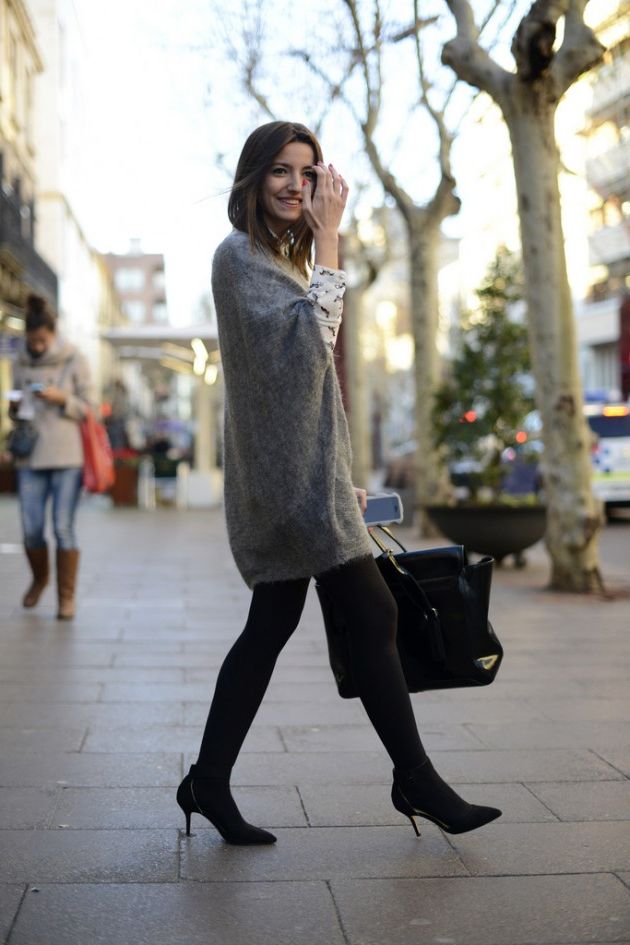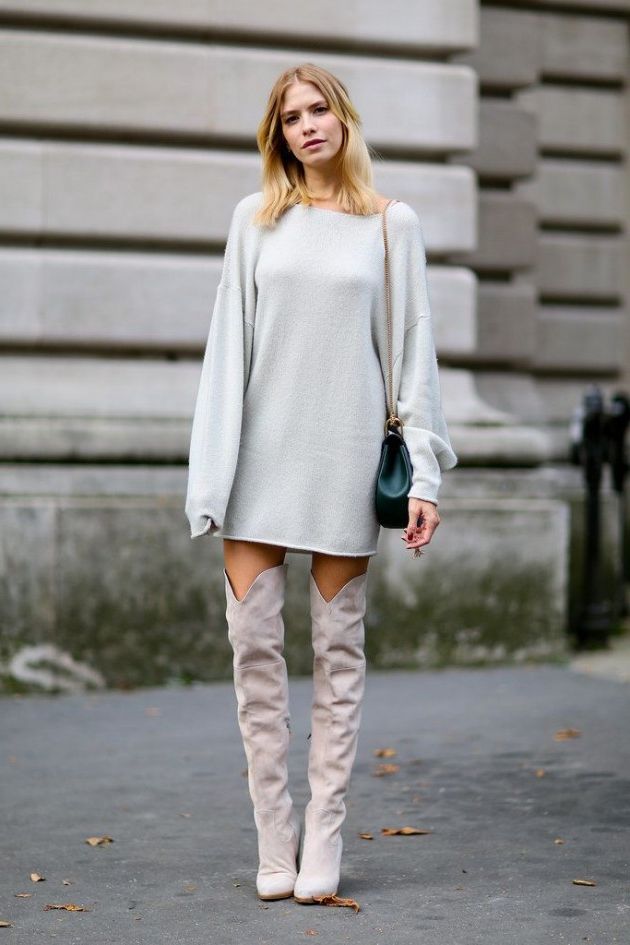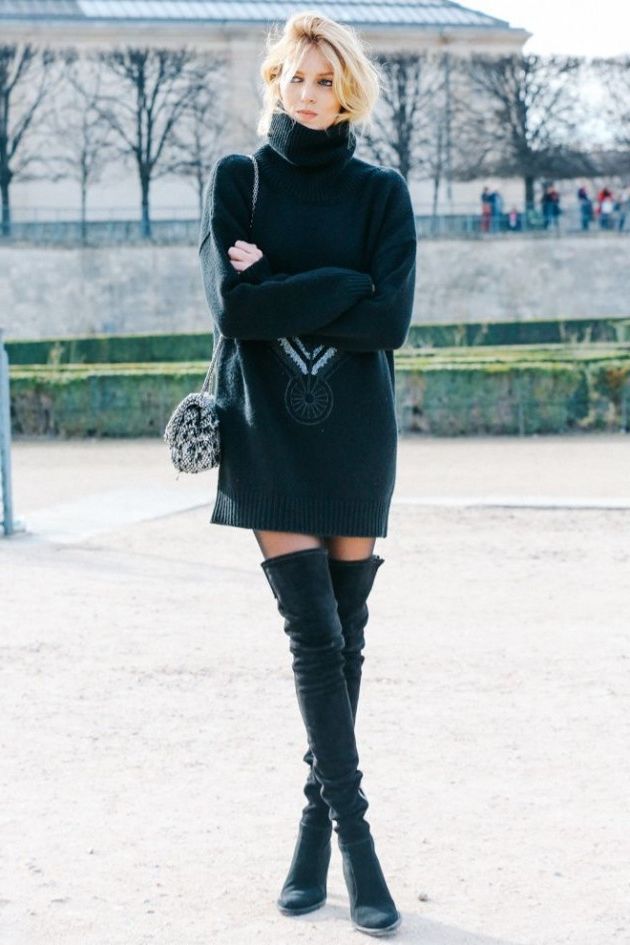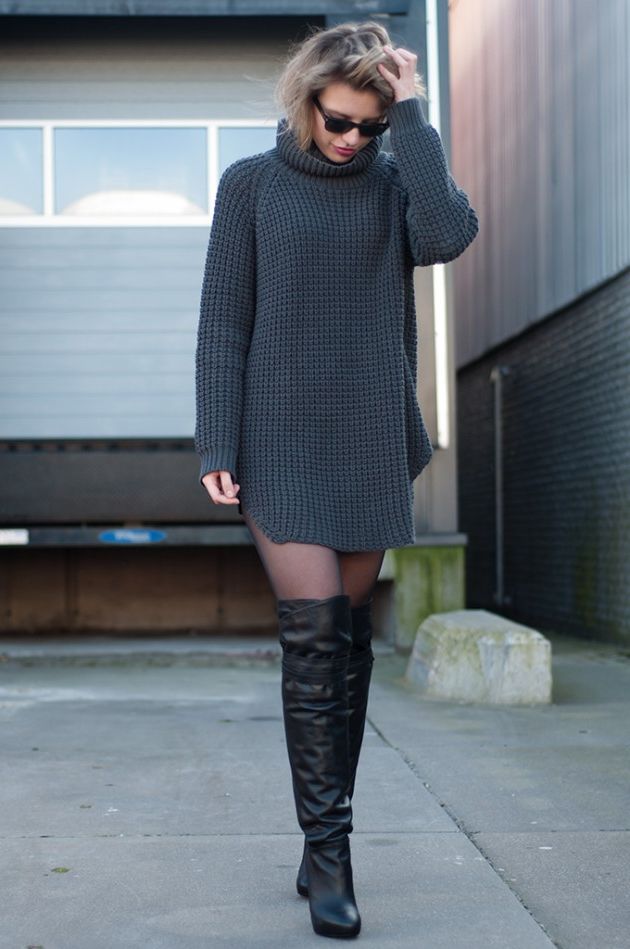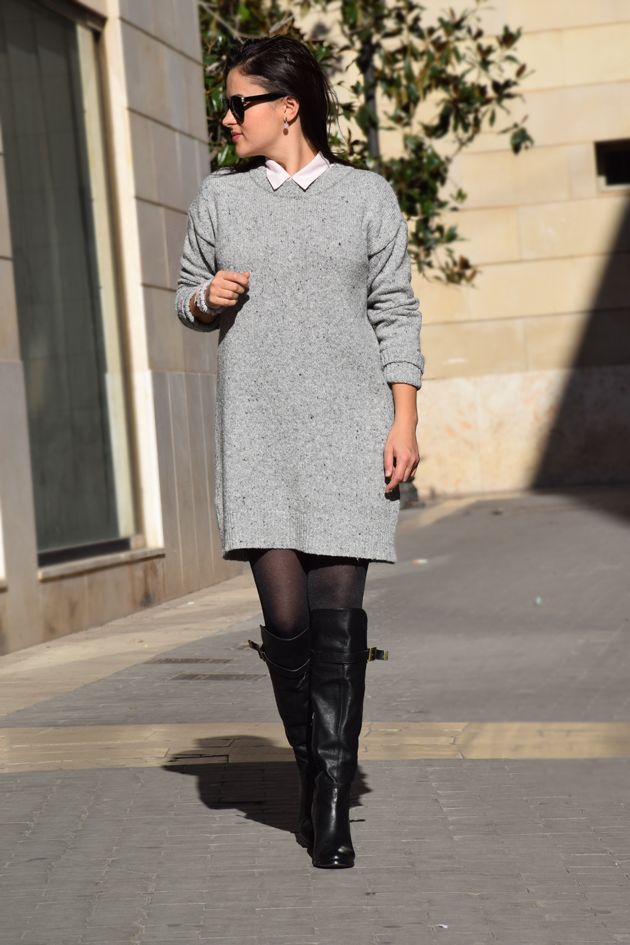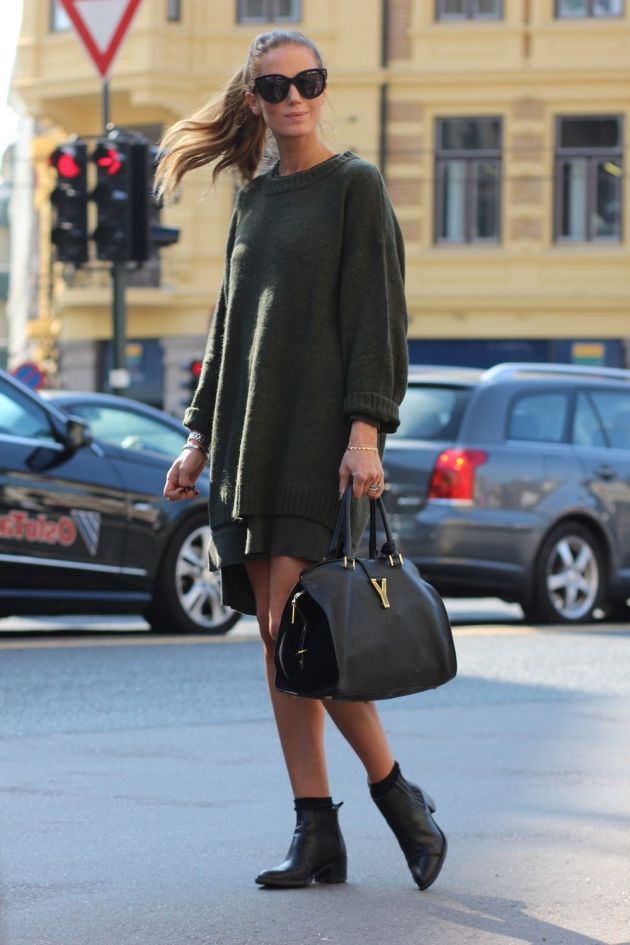 Open Back Dress And OTK Boots In Black Leather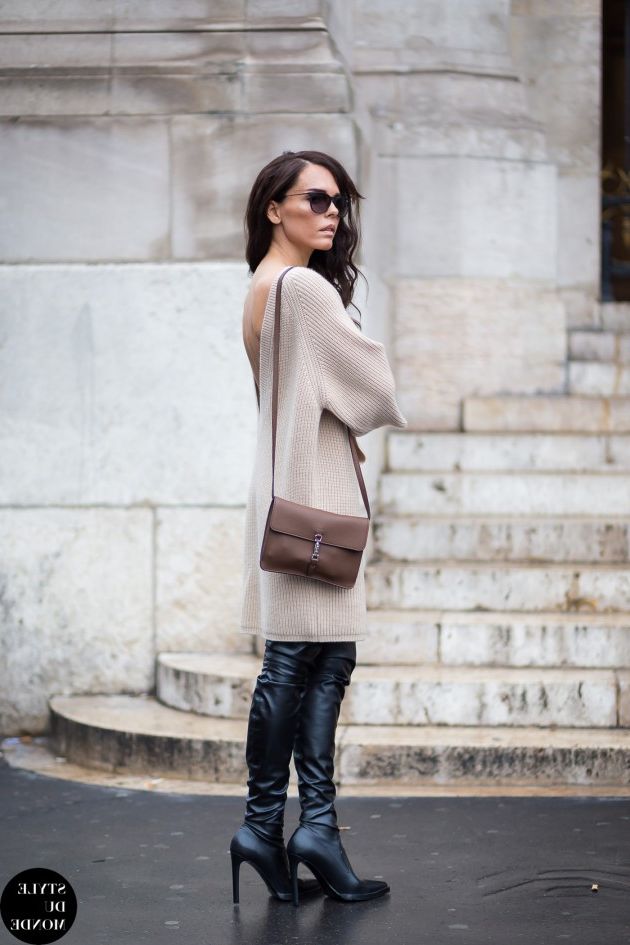 You can update your sophistication by wearing this open back beige dress with sassy black leather OTK boots.
Black Sweater Dress And Black Bomber Jacket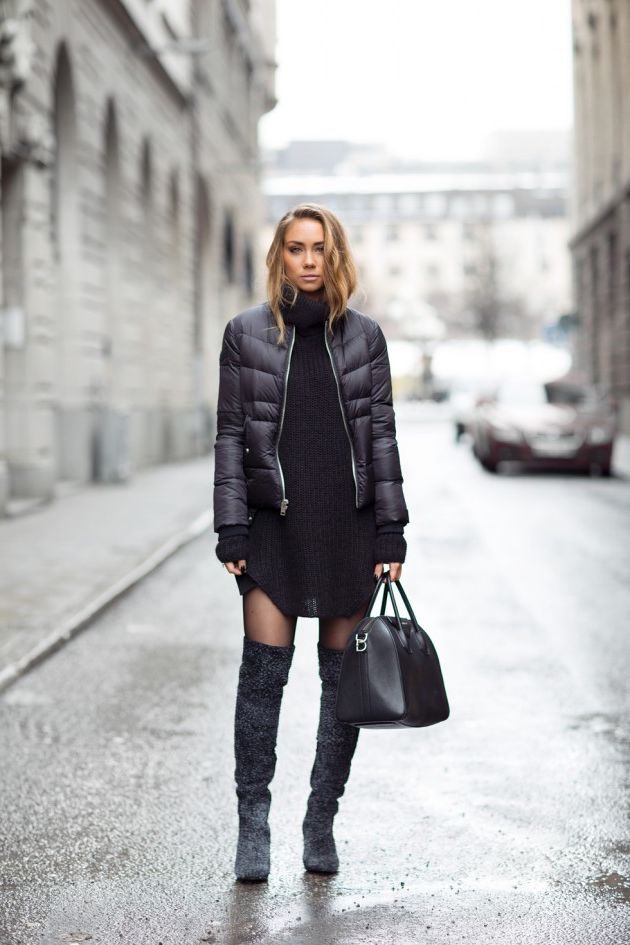 Another cool outfit idea all in black. Love this black puffer bomber jacket.