Obviously, camel coats are here to stay and you better see ways how to wear them this year. I am here to show you what scarves you can wear with camel coats. Now, these combinations might not be something new, but I've got some trendy outfits that might make you stand out from the crowd. The camel shade continues to occupy streets and you better give it a try.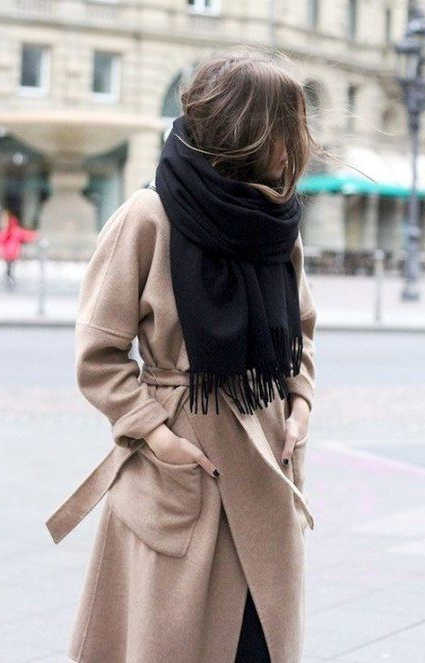 Buy Similar Here
We see a lovely belted camel coat completed with a black scarf. A perfect day combo for casual street walks.
Best Scarf Colors To Wear With Camel Coats
You are free to upgrade your wardrobe with different camel coat shapes and shades. This year I will give you some easy tricks and ideas on ways how to make your camel coat look gorgeous. Here are gathered cozy and creative scarves that can underline your uniqueness and make you look special.
If you wonder why you need an update for the camel coat? Take a look on the streets, everyone's wearing this outerwear piece. Of course, you can go for another jacket or coat design, but camel coats are super badass this year.
Trust me, you won't need another coat, as you can style a camel coat in a number of ways, just add a beautiful scarf. Here are some of the most amazing ideas you can give a try.
Beige Scarf And Camel Coat
A classic long beige scarf is combined with a camel coat draped over a white sweater paired with white wide cropped pants completed with camel heeled pumps: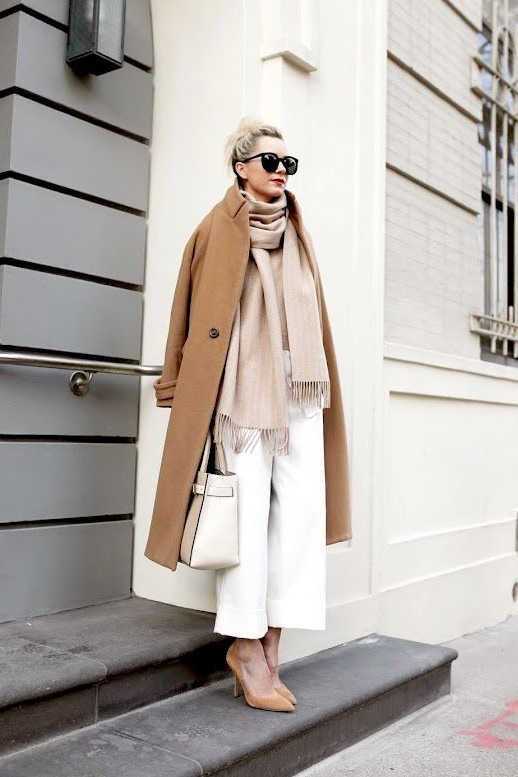 Buy Similar Here
Black Scarf And Camel Coat
A classic oversized camel coat is styled with a black ribbed knit scarf paired with a matching color ribbed sweater tucked in blue slim jeans: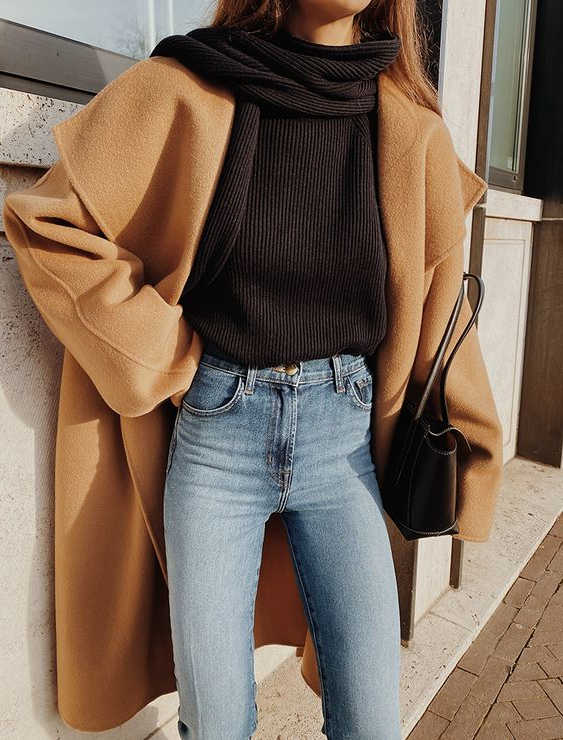 Buy Similar Here
Camel Scarf And Camel Coat
Another matchy-matchy combo! In love with this camel scarf paired with a belted camel coat, black jeans, and black loafer slides: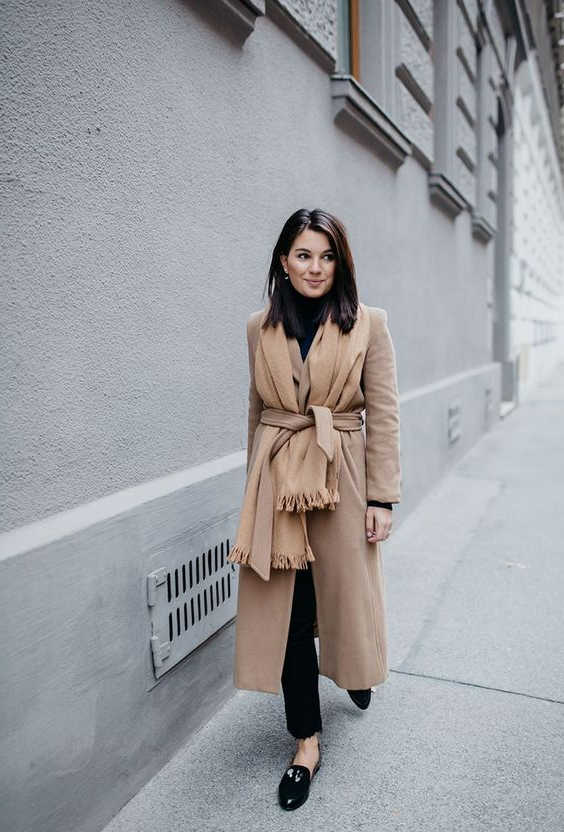 Buy Similar Here
Grey Cable Knit Scarf And Camel Coat
An oversized cable-knit scarf in grey color is worn with a camel coat, grey sweater, and black leather skinny pants. Update this combo by adding cat-eye sunglasses and chunky white sneakers: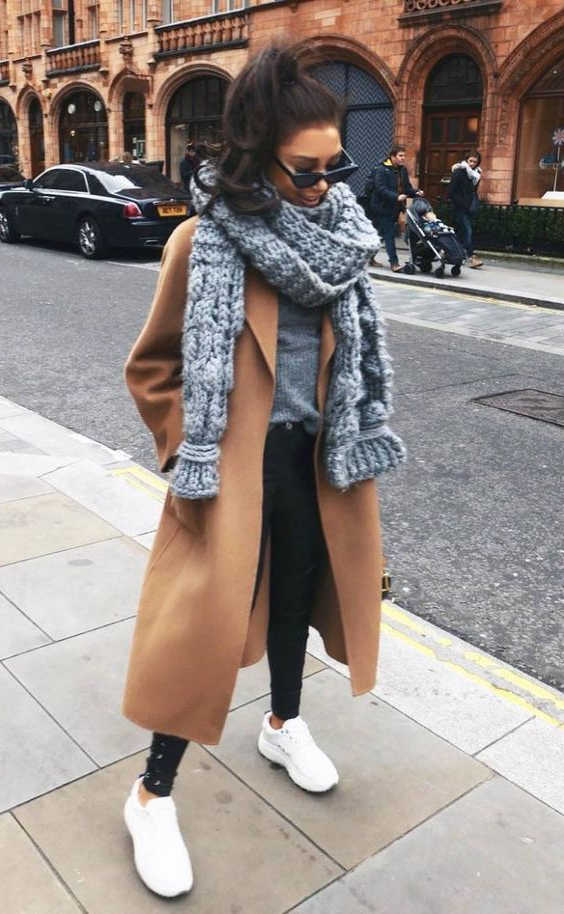 Buy Similar Here
Grey Scarf And Camel Coat
A light grey scarf ideally matches this cream camel coat. Update the look by adding a black baseball cap, black skinny joggers with white side stripes and white sneakers: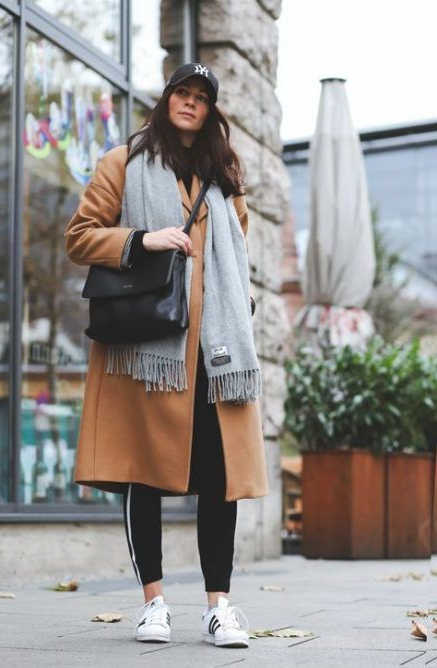 Buy Similar Here
Pastel Scarf And Camel Coat
A pastel maroon scarf looks pretty chic with a camel coat, white sweater, and black jeans. Update this style by adding rounded shades and brown leather shoulder bag: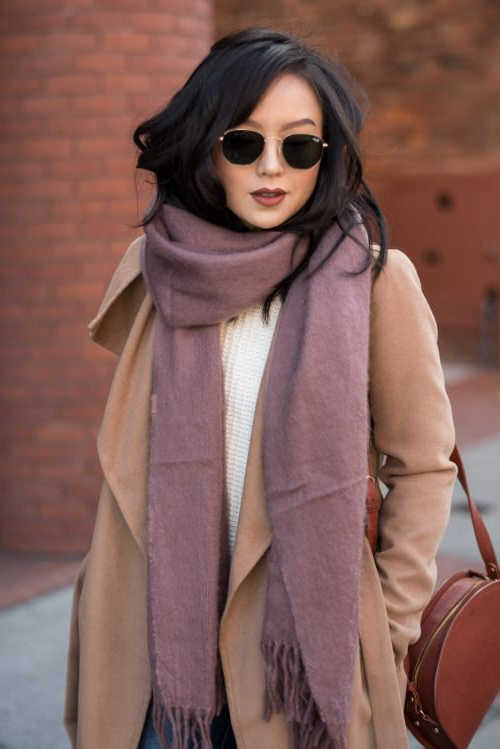 Buy Similar Here
Can I Wear Printed Scarves With Camel Coats?
Yes, printed scarf can make a wow-statement, just make sure it looks harmonious with the rest of your look.
Printed Scarf And Camel Coat
In love with this LV printed scarf combined with a draped camel coat, dark maroon sweater tucked in blue jeans and dark maroon suede ankle boots: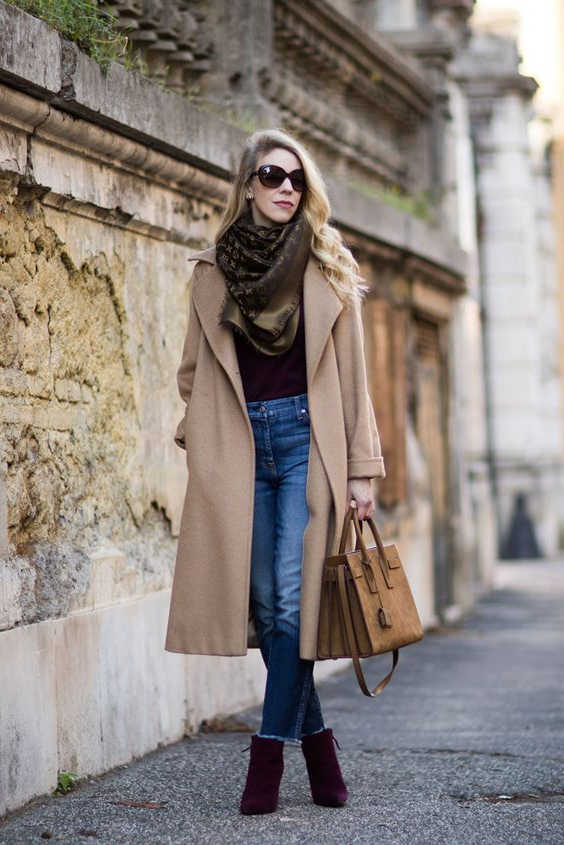 Buy Similar Here
A printed scarf looks amazing on this plus size belted camel coat. Add bootcut jeans and brown leather boots: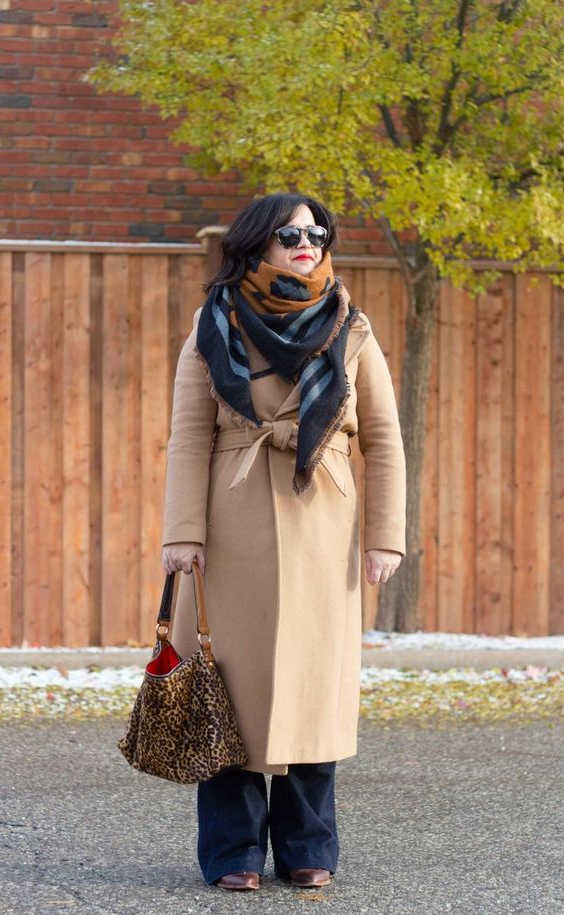 Buy Similar Here
Plaid Scarf And Camel Coat
We see a plaid maroon scarf styled with a beige-camel coat worn with a light maroon sweater and dark blue skinnies completed with beige suede booties: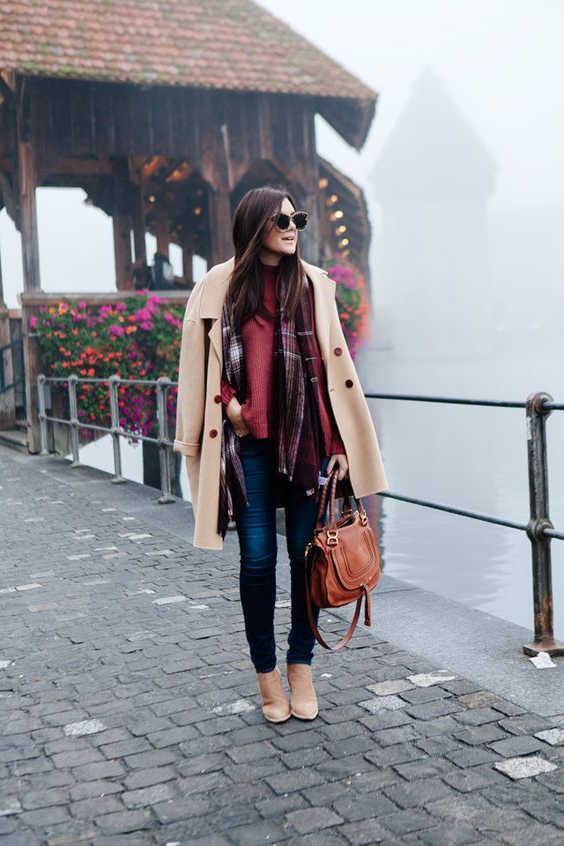 Buy Similar Here
Animal Print Scarf And Camel Coat
Animal printed scarf drastically updates this classic combo consisting of a camel coat and OTK black suede boots: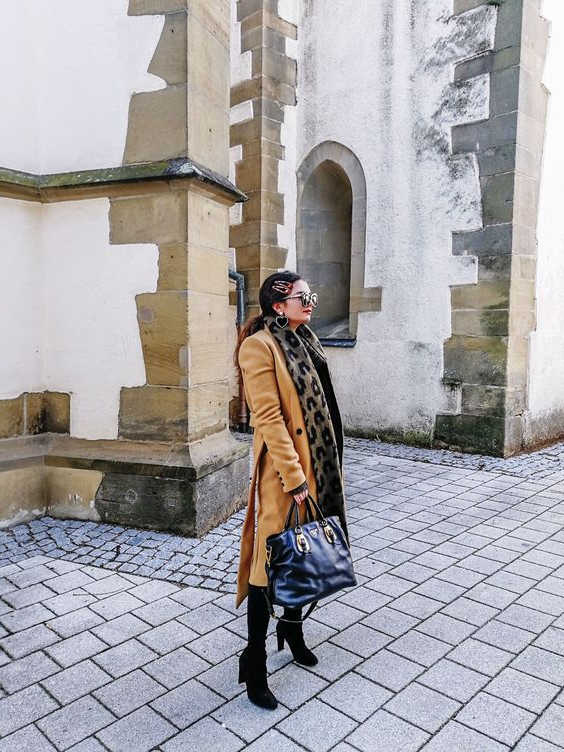 Buy Similar Here
Red Printed Scarf And Camel Coat
A red printed scarf ideally matches camel coats. You can wear it as an accessory around the coat's collar. Add a black turtleneck, white skinny jeans and black suede moccasins. By the way, check out other ways how to wear camel coats,  I will show you some of my favorite combos: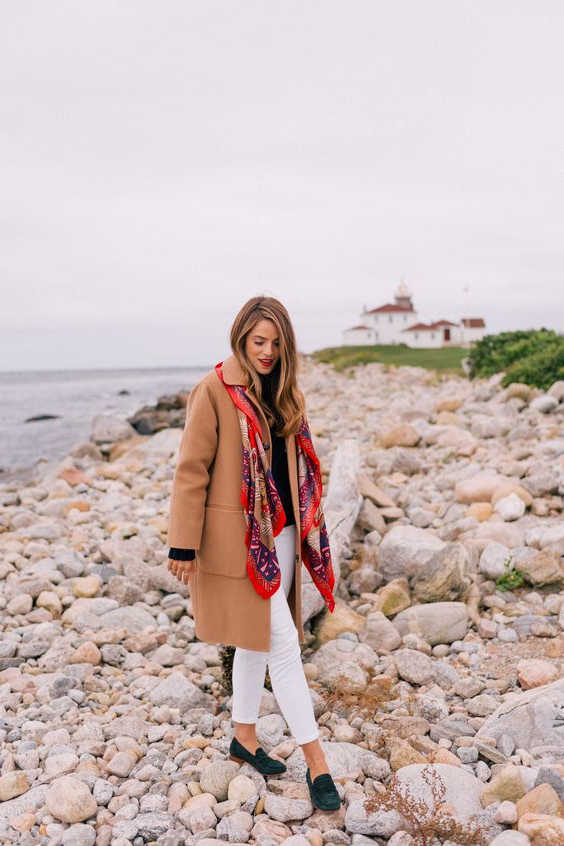 Buy Similar Here
Striped Scarf And Camel Coat
A green-black striped fur scarf can be styled with a camel coat draped over a camel ribbed knit sweater completed with black skinny jeans and nude heels: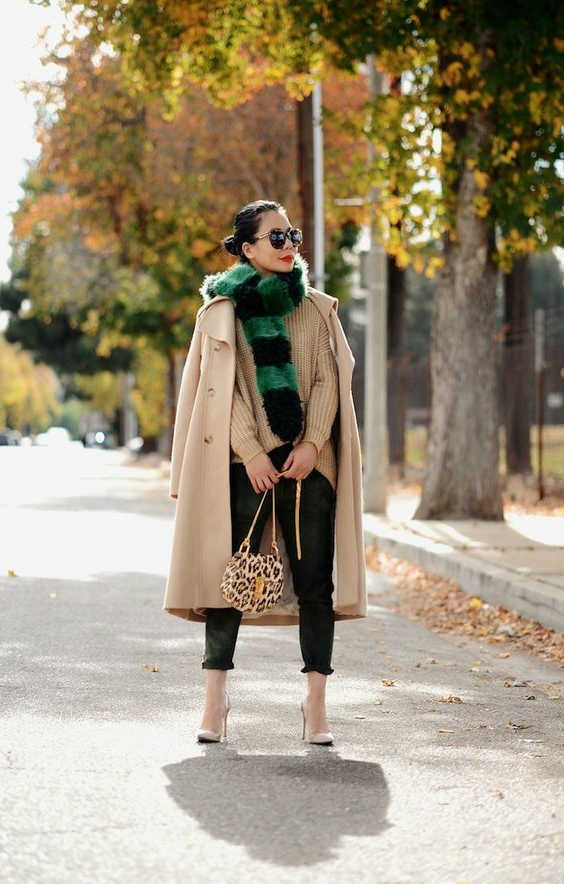 Buy Similar Here
Windowpane Scarf And Camel Coat
A black-white windowpane scarf looks stunning worn with a camel coat, indigo skinny jeans and white sneakers: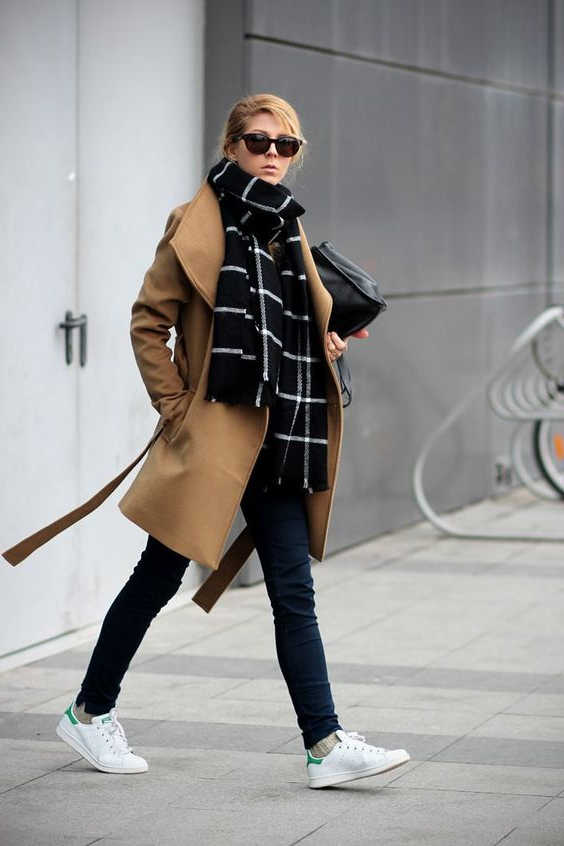 Buy Similar Here