If you are looking for ways how to update your latest outfit, then I highly recommend trying a kimono. This is a stunning layering that ideally suits spring and cold summer days.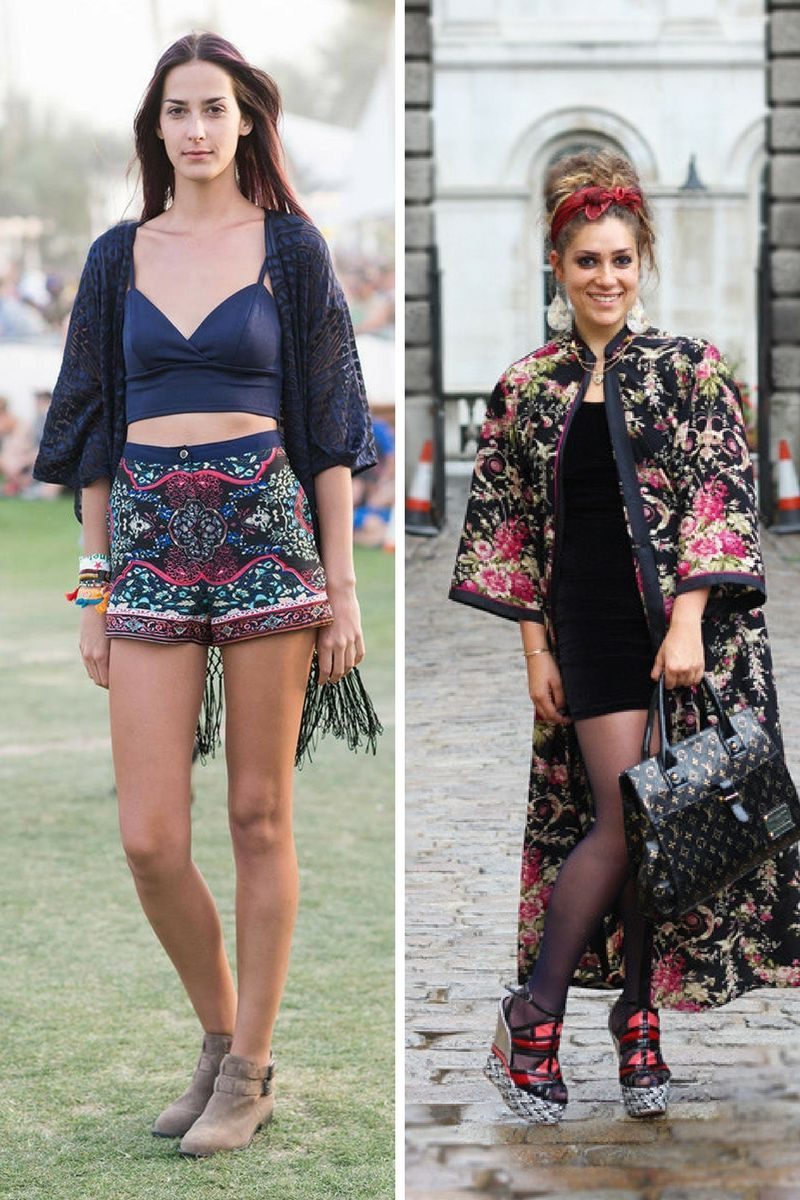 Buy Similar Here
I just find kimonos to be very special and easy to style. Plus, you don't have to be a professional to know how to combine kimonos with your everyday essentials. Trust me, anyone can pull off this look.
I personally just throw on my kimono over a dress or a top and you are ready to go. Yes, this look can take you from day to night without killing your budget. Modern kimonos go with just about everything, I highly recommend purchasing one.
Plus, even older women can wear this layering piece. If you do want to find more about clothes for 35 old women, you are welcome to read my post. Anyway, scroll down to find out more about this layering piece.
How To Wear Kimonos
We see a mesh black kimono with fringes styled with a top and shorts set in khaki-brown color. Complete this look by adding a wide-brim hat and classic trainers in black: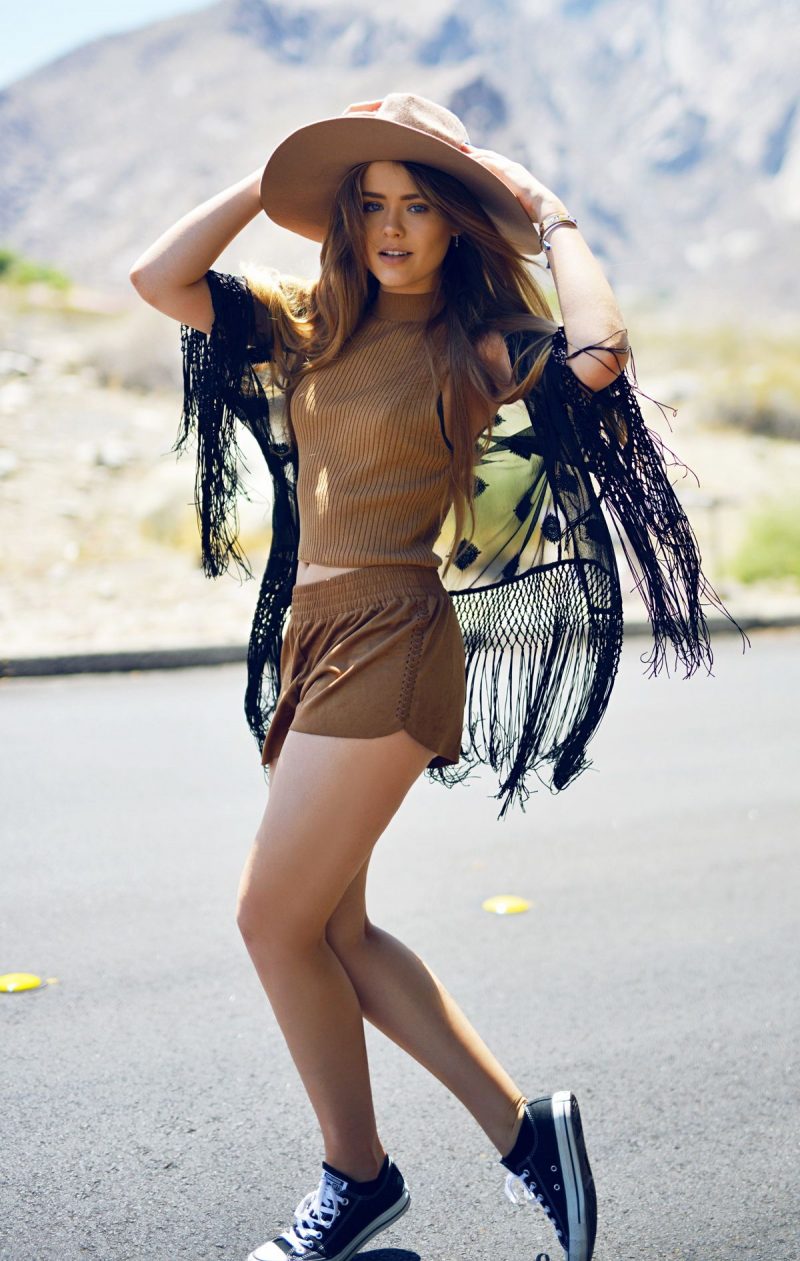 Buy Similar Here
There are so many ways how to experiment with kimonos. A light layering in a solid color or the one with an eye-catching print can be easily styled with fitted clothes. So, the first way how to style kimono is pretty simple, layer it over your favorite swimwear during your stay at the beach. The second way is to style it with casual essentials, it can be a pair of slim jeans completed with chunky sandals or booties.
What I love the most about this layering piece, it can easily change any outfit. I mean, kimono can be worn with anything, starting from crop tops, plaid shirts, bustier tops, and dresses. If you are wearing a neutral colored combo, then you can update it by adding a bright kimono. It's so fun to add kimono to your day look. Why? It instantly dresses up your whole look.
Can You Wear Kimonos In The Winter
We see a printed black kimono styled with a white turtleneck and black leggings tucked in buckled ankle boots: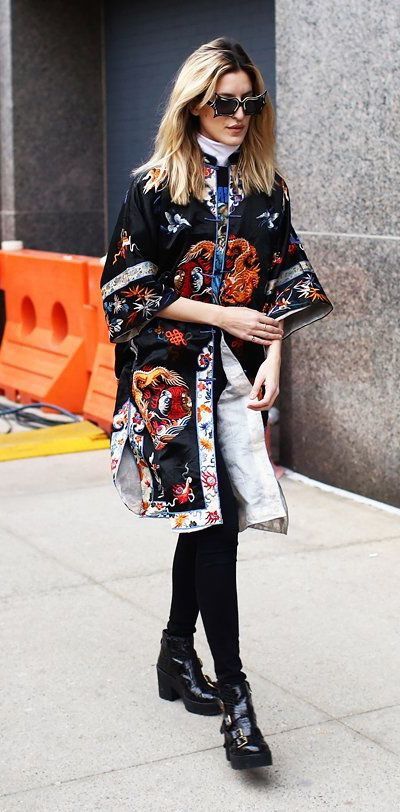 Buy Similar Here
I love kimonos with all my heart, that's why I try to wear them year-round. That's why I try to wear kimonos even when it's Fall outside. So, the base layer should consist of warm essentials, it can be a denim jacket, cozy knitwear, or a layered combo consisting of various tops and shirts. The main idea of wearing kimonos during winter is to make sure you are warm under this layering.
I hope you dig it and there will be no problem wearing a kimono during Winter season months. I recommend choosing a darker color kimono once you understand you wish to wear it during autumn or wintertime. Never stop experimenting! Winter style with kimono is such a simple, comfortable look that's perfect for the weekend or any other casual day.
Kimonos And Shorts
We see a funky Coachella inspired look that features a mesh black kimono styled with a bra top and printed shorts. Update this look by adding beige suede booties: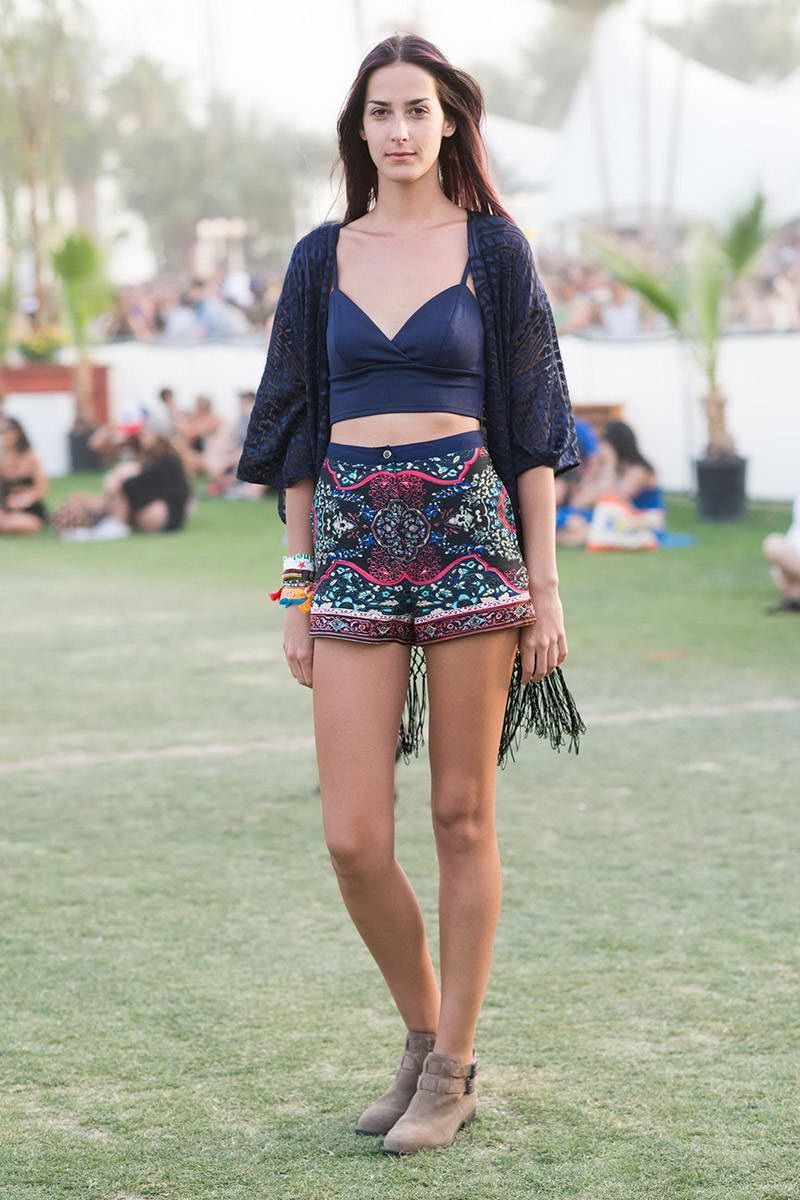 Buy Similar Here
I absolutely adore this simple style trick. A kimono can be paired with different bottoms, but when I see it styled with shorts, my heart starts to beat! This look is pretty simple, yet Summery cool! The result looks fun and creative, no matter if you complete it with neutral color shorts or top. In the summer, kimonos work ideally with shorts, a plain tee, and sandals.
Kimonos And Skirts
A printed kimono is paired with a black top and a blue denim skirt. Love the peep-toe black leather mules: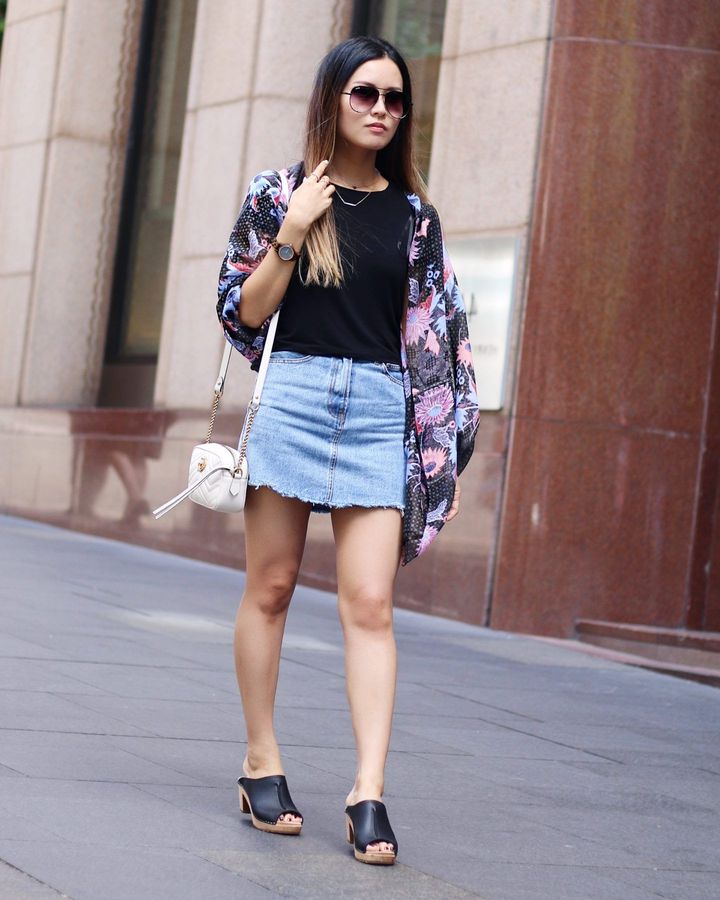 Buy Similar Here
Another cool combination you might like to try this year is called a kimono and skirt. You can experiment with different styles, it can be either a long kimono with a mini skirt, either a midi skirt or a maxi. You need to understand what skirt's length will be ideal for you, once you find a perfect fit, then it's time to choose a top. It can be either a solid color style or the one that matches your skirt.
Kimonos And Pants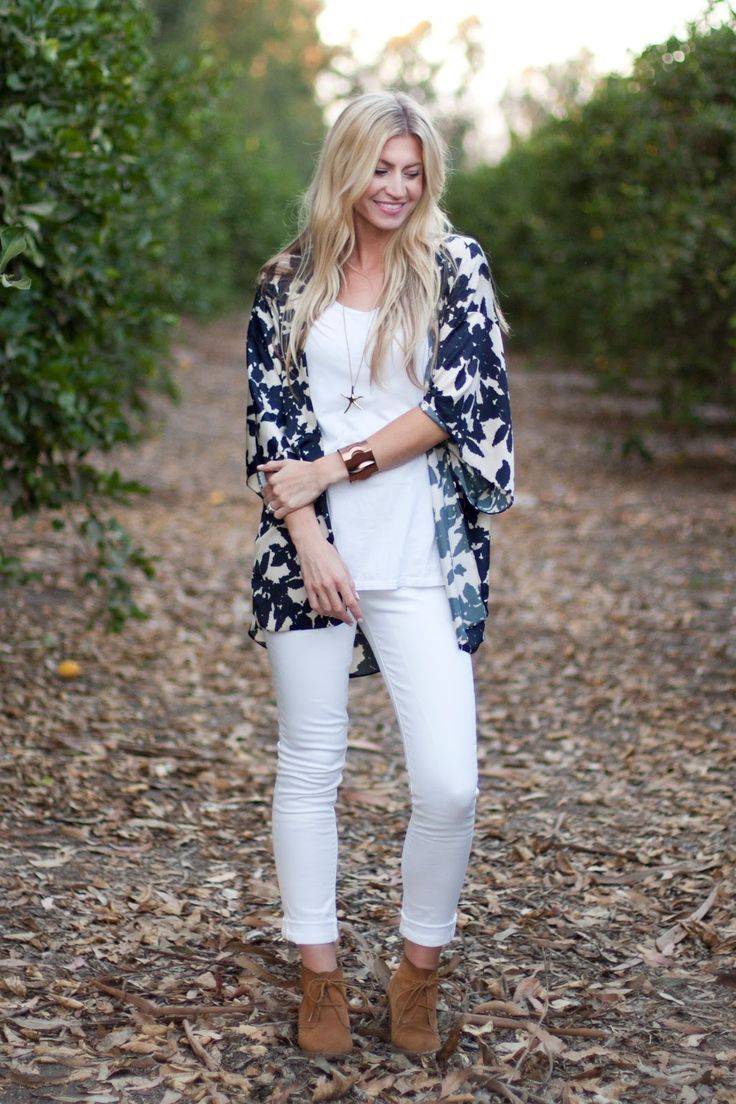 Buy Similar Here
If you are more into hiding your legs, then I've got an awesome alternative to try this year, and it's called kimono and pants. Everything depends on your personality and unique style. You can add a little edge with some leather pants, either go for boho-chic style by adding palazzo pants. That's why it's important to imagine the upcoming outfit, so you understand what kind of combination you are about to create.
Once again, a kimono does look great with skinnies, boyfriend jeans, leather pants, wide-leg trousers, and even with gauchos. Plus, kimonos do look awesome with wide-leg pants, by the way, if you do like these bottoms, you can find more information on how to wear wide-leg pants this year. I am sure you can find a bunch of interesting information.
Kimonos And Dresses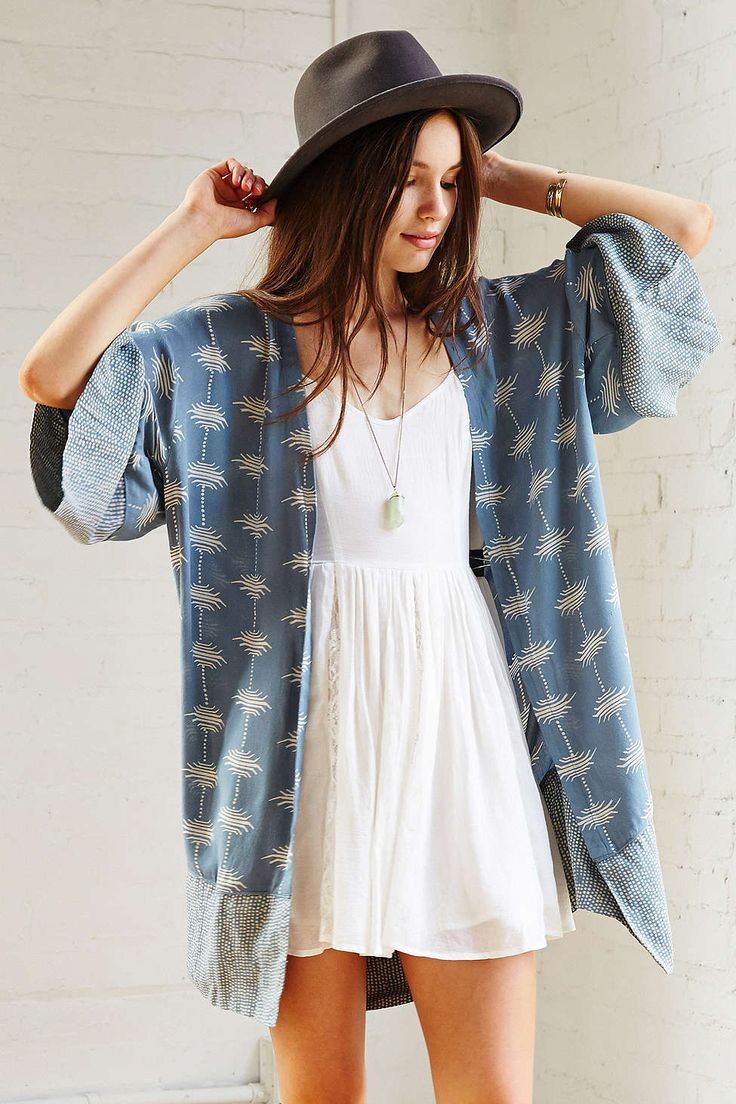 Buy Similar Here
A dress under kimono is another my favorite outfit idea. It can be either an edgy look that features a sexy LBD and a relaxed kimono, either a midi or maxi gown combined with a classy kimono.
Both styles do look amazing. If you do like classics, then you are free to wear kimono over a similar length dress. An ideal choice for those who want to add extra warmth to their outfits. Plus, the result looks dressy and sassy! All in all, a kimono is a perfect way to add an airy update to your look.
Kimono And Jeans

A black mesh kimono looks fantastic with a black tank top and cuffed jeans completed with strappy heeled sandals: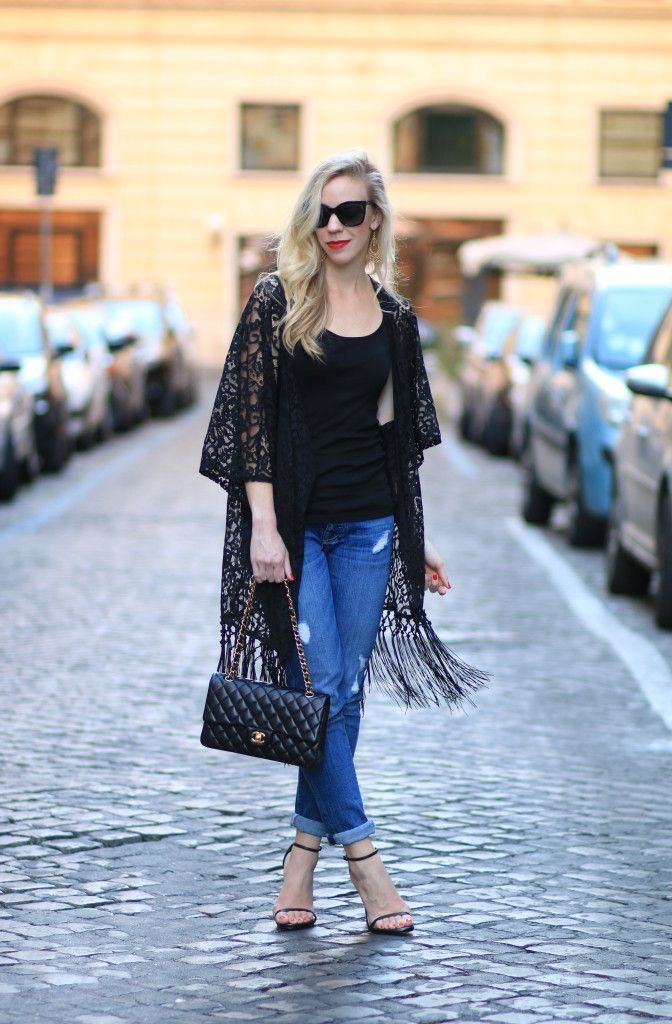 Buy Similar Here
A blue kimono will be an ideal match to this boho printed romper completed with blue flat gladiator sandals: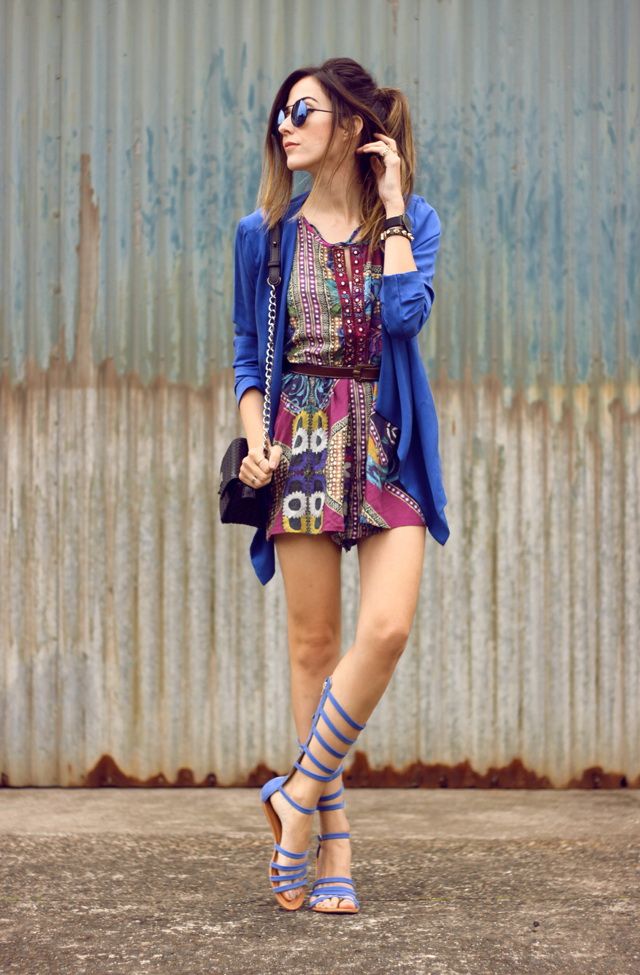 Buy Similar Here
We see a total black look with a kimono. The black kimono is layered over a black romper completed with black flat pumps. Update this look by adding rounded sunglasses: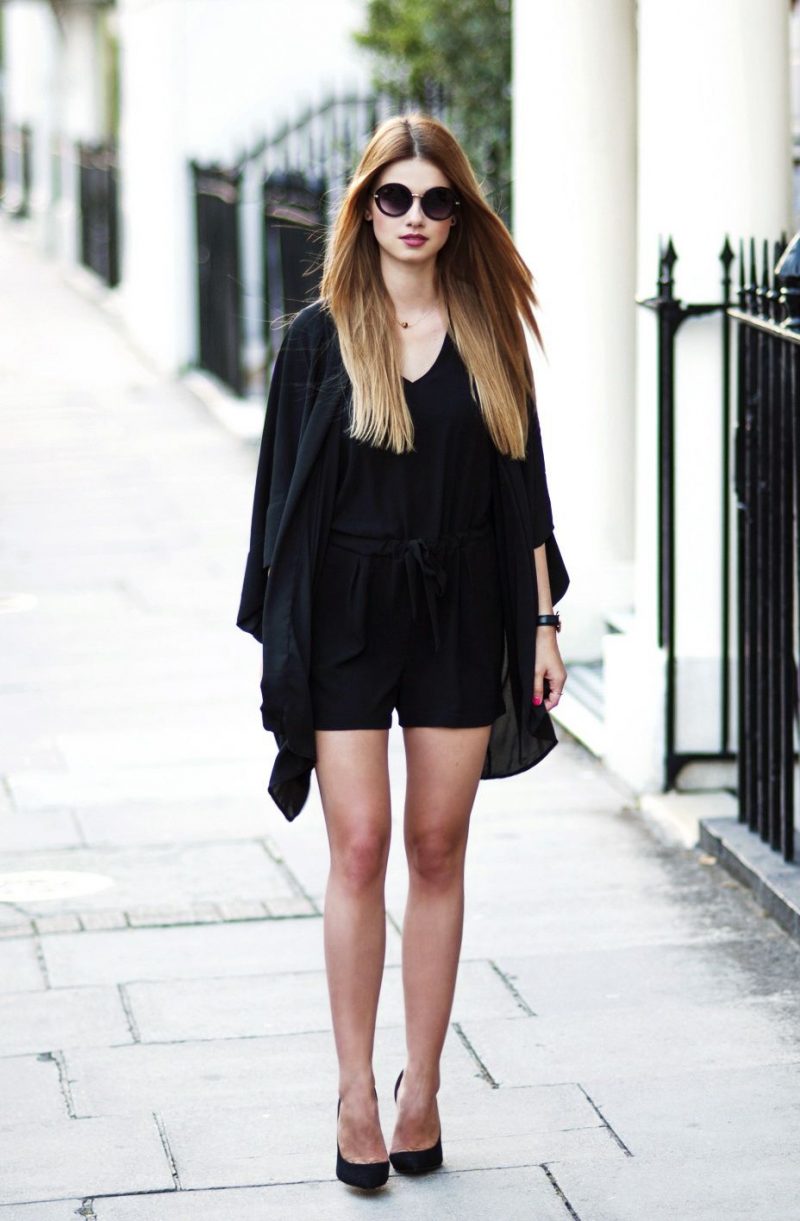 Buy Similar Here
A white floral kimono will be a perfect choice to team with a white top and ripped dark blue skinny jeans. Update this style by adding grey leather booties: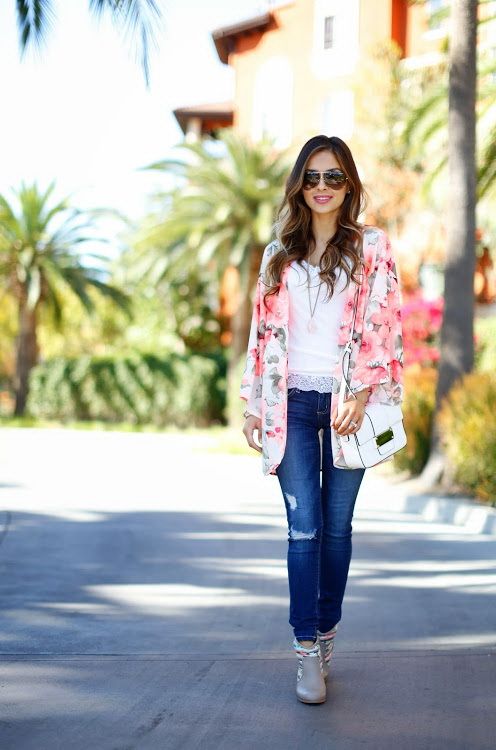 Buy Similar Here
A tribal print kimono can be a nice choice to style with a white romper: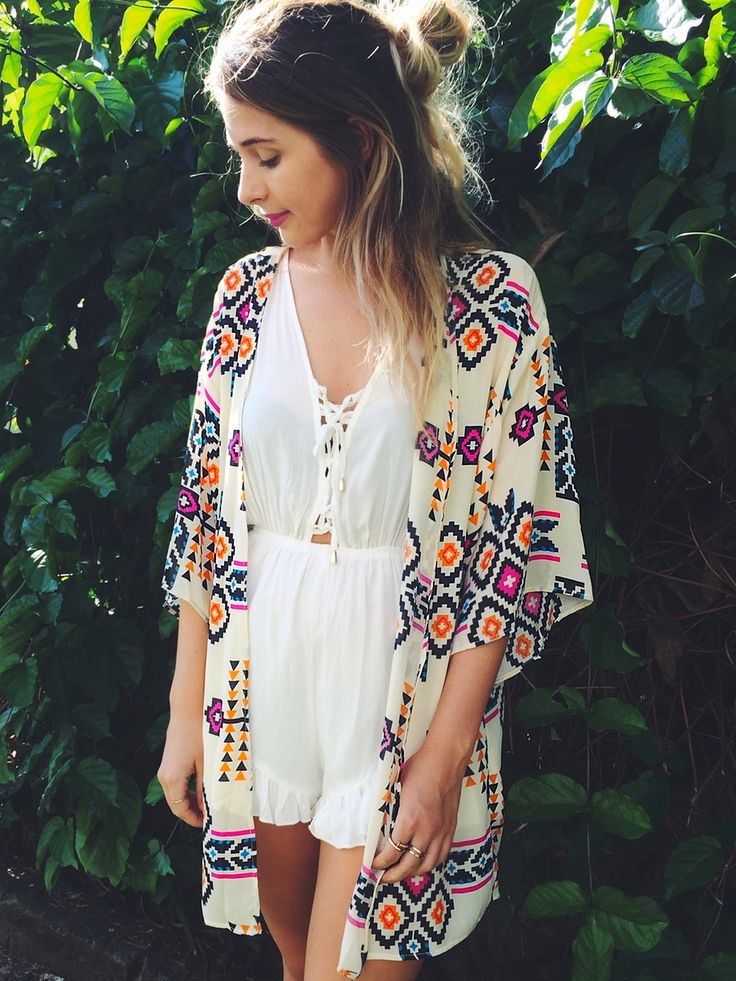 Buy Similar Here
A simple floral kimono is worn with a striped top and denim shorts: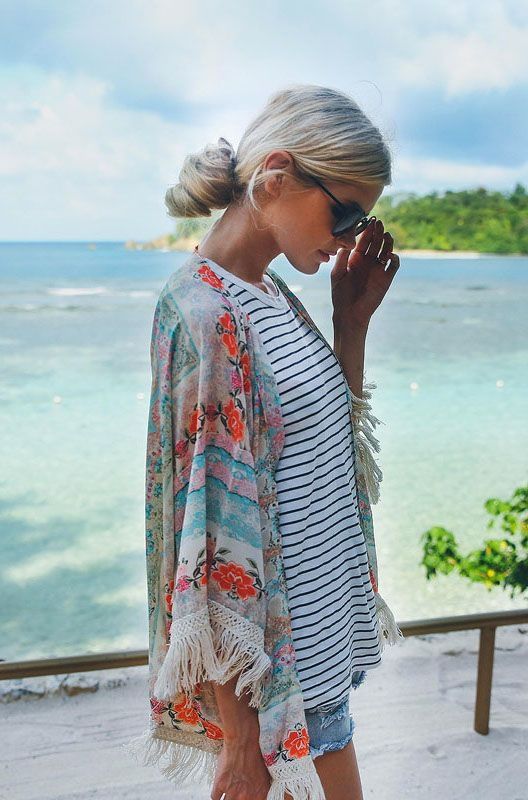 Buy Similar Here
A floral kimono looks stunning layered over a khaki tee paired with white shorts: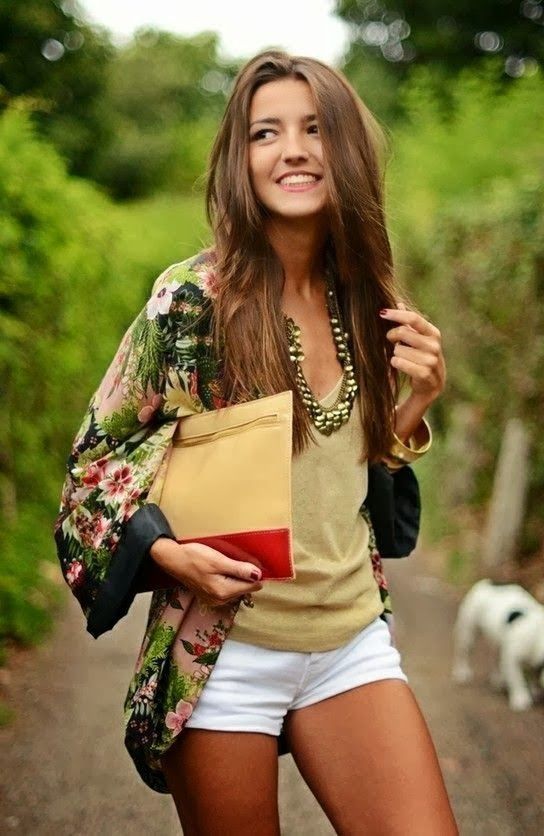 Buy Similar Here
White lace kimono can be layered over a white top teamed with dark blue skinnies and beige booties, love that wide-brim hat: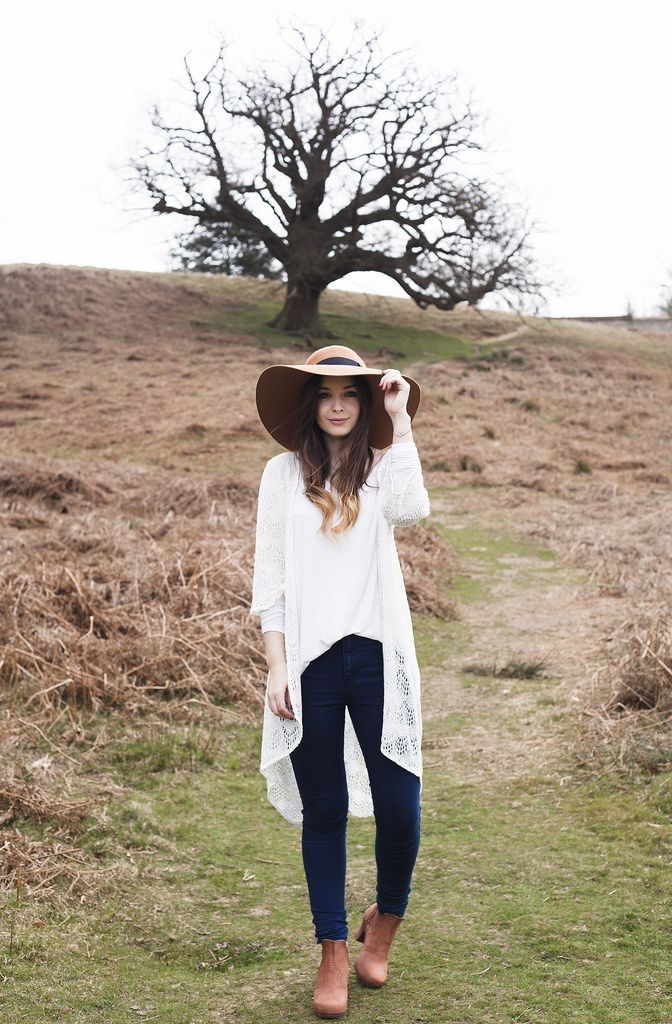 Buy Similar Here
A semi-sheer floral kimono looks great with a white silken top and grey skinnies: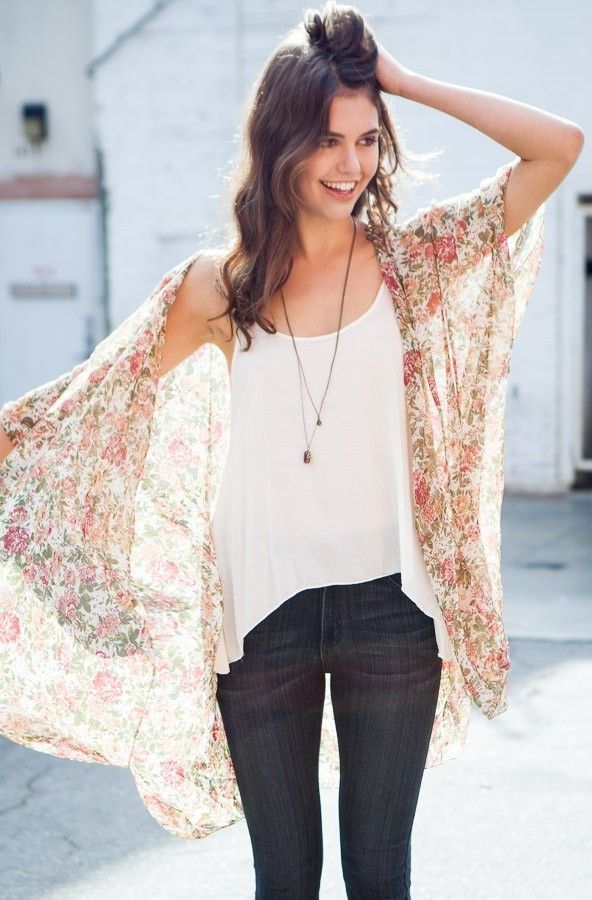 Buy Similar Here
A lovely hipster inspired combo for the summer season. We see a grey fedora, floral kimono, blush blouse, and denim shorts: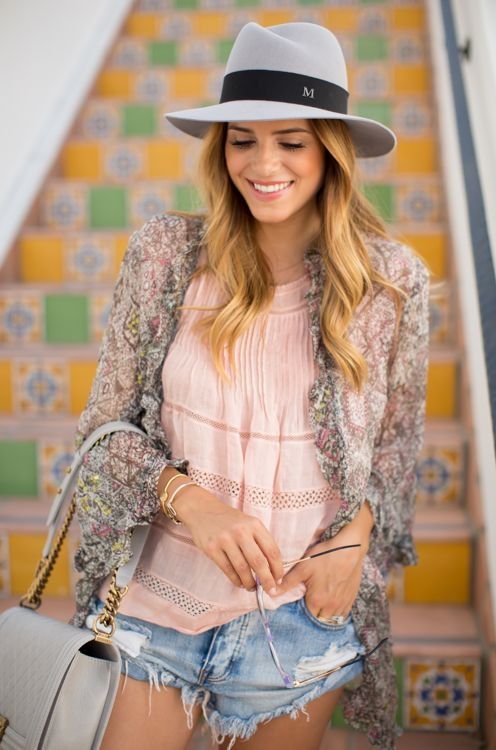 Buy Similar Here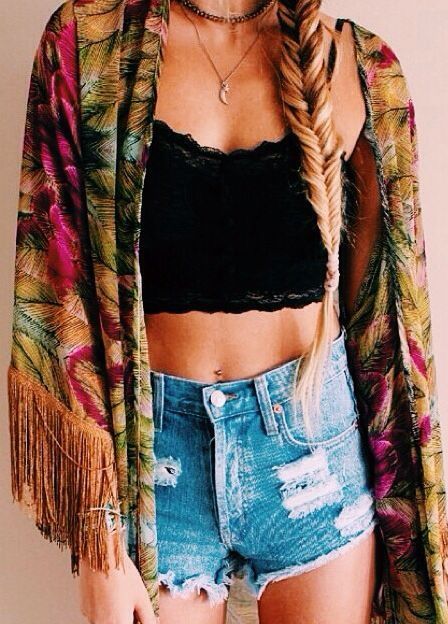 Buy Similar Here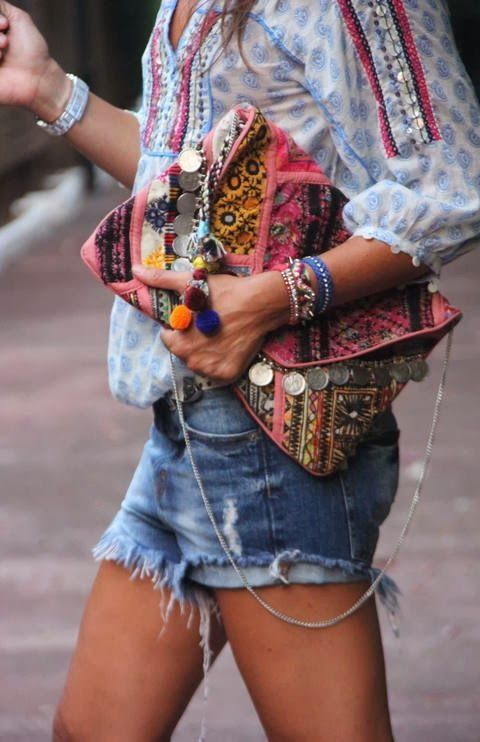 Buy Similar Here
If you are thinking of creating a kind of grunge-inspired look, then go for this floral black kimono and team it with a white top and black denim shorts: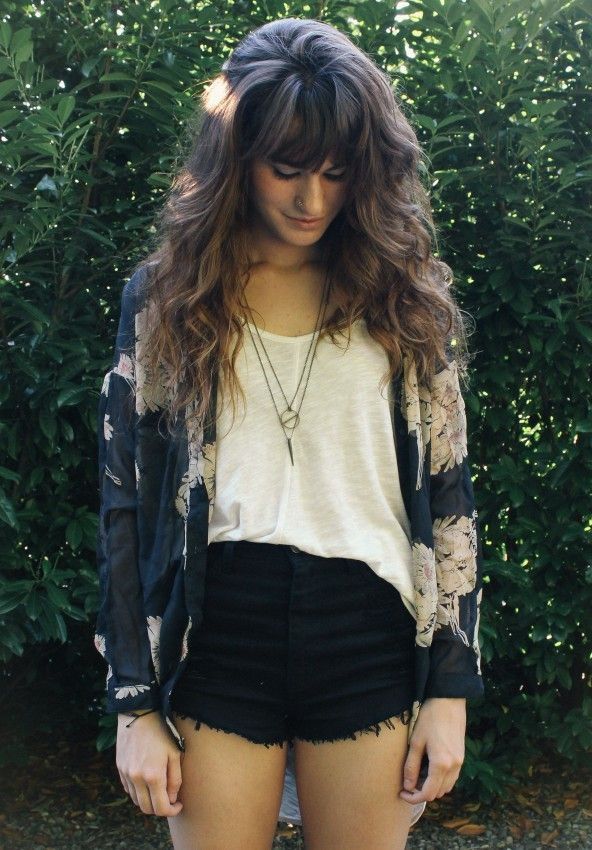 Buy Similar Here
Bright printed kimono ideally matches that white crochet top and denim shorts: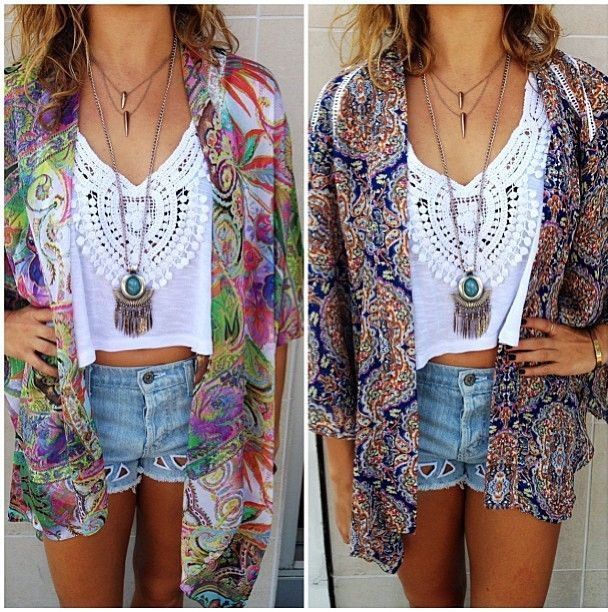 Buy Similar Here
A lightweight kimono in blush is paired with a white top and black skinny jeans updated with black pumps: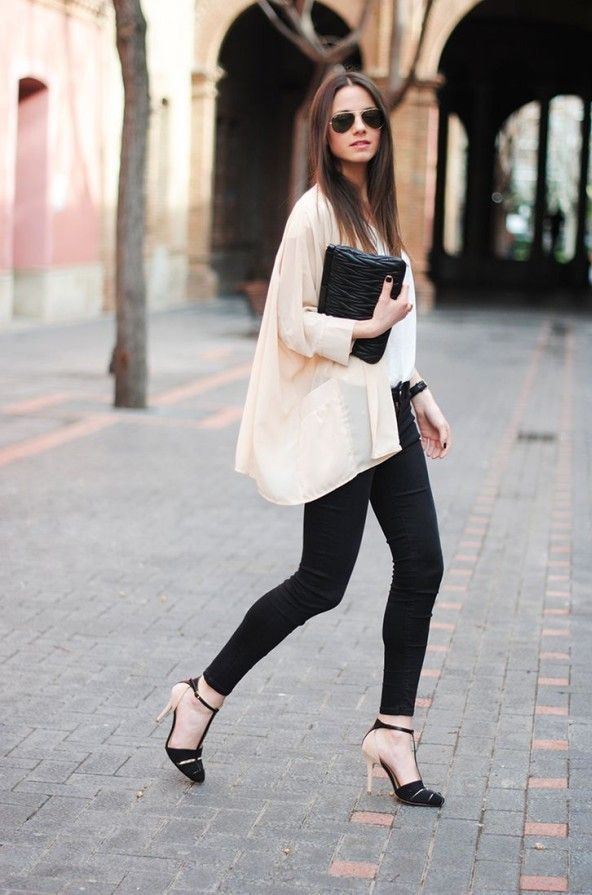 Buy Similar Here
I've got some other great outfit ideas with kimonos, check them out and let me know your thoughts in the comments below: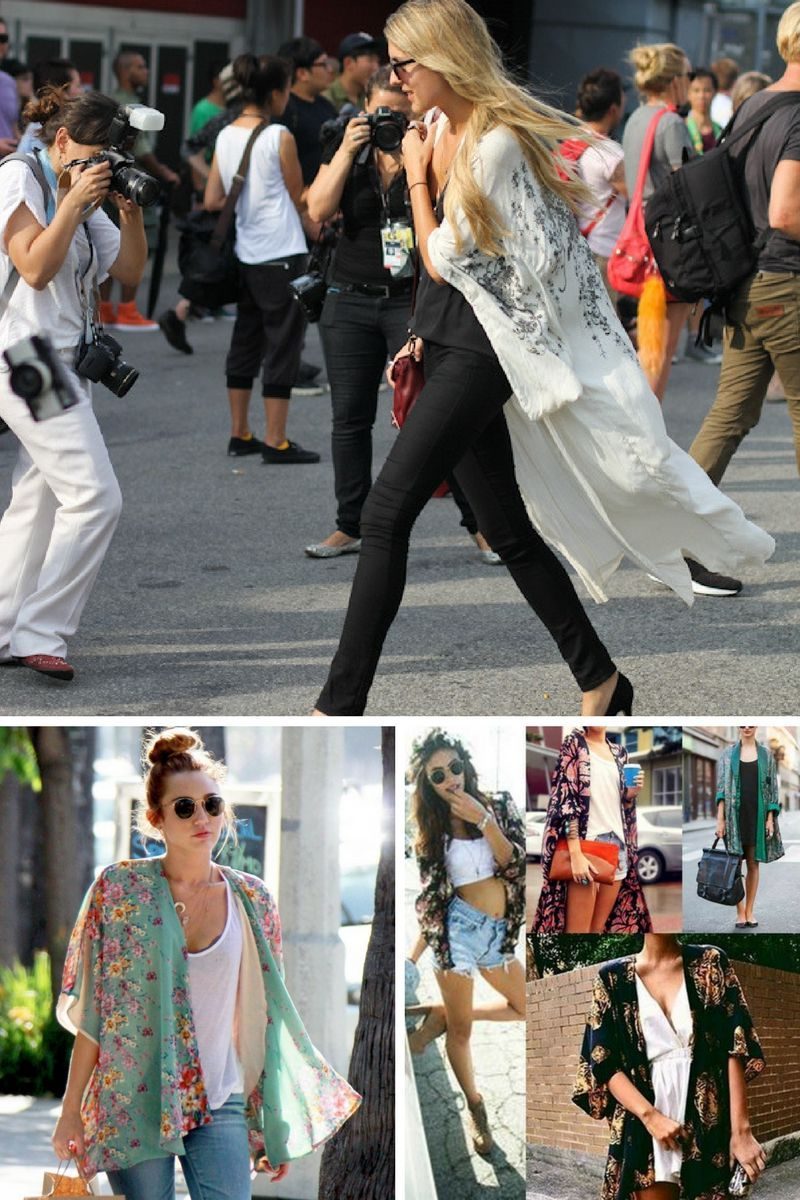 Buy Similar Here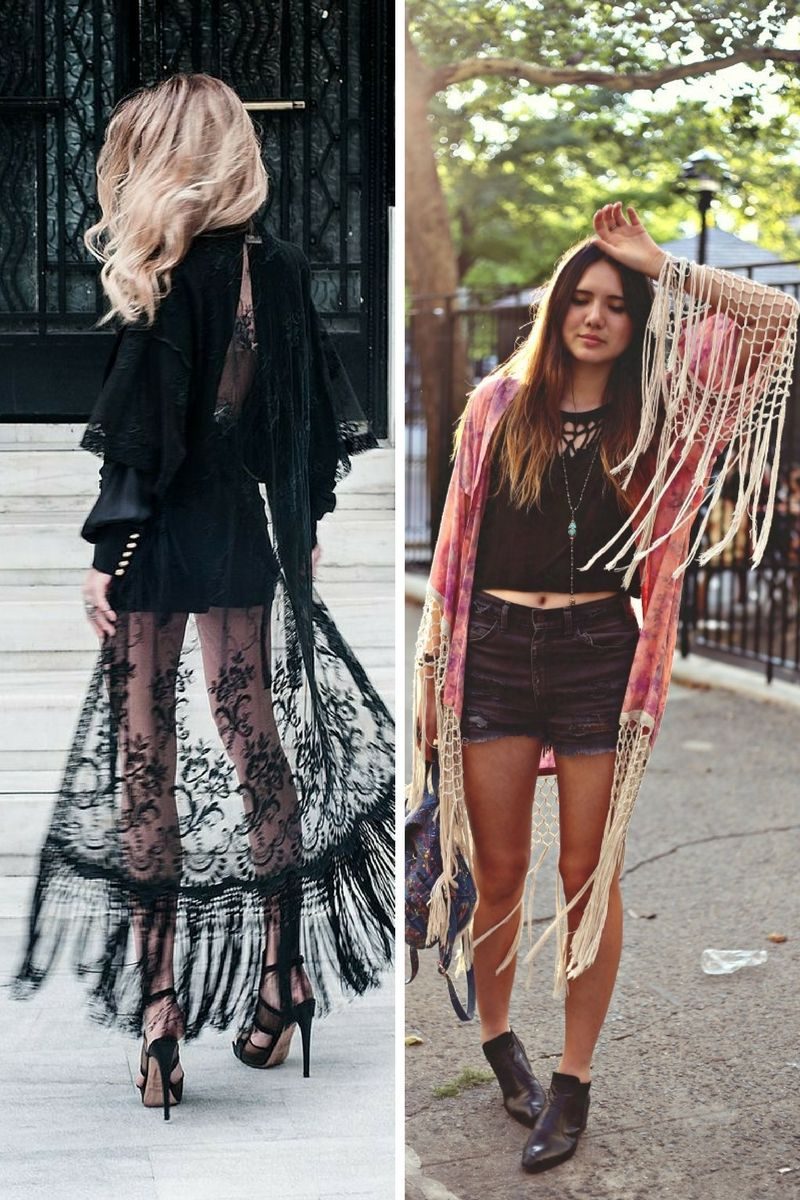 Buy Similar Here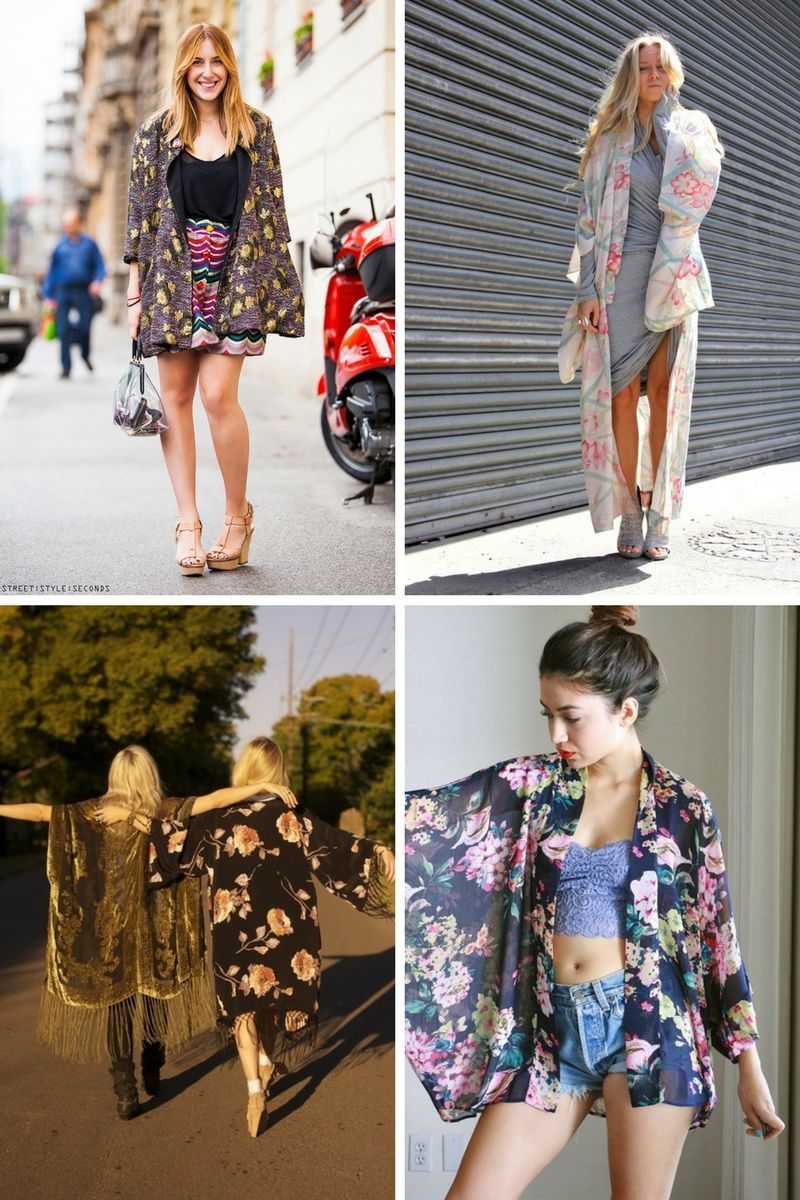 Buy Similar Here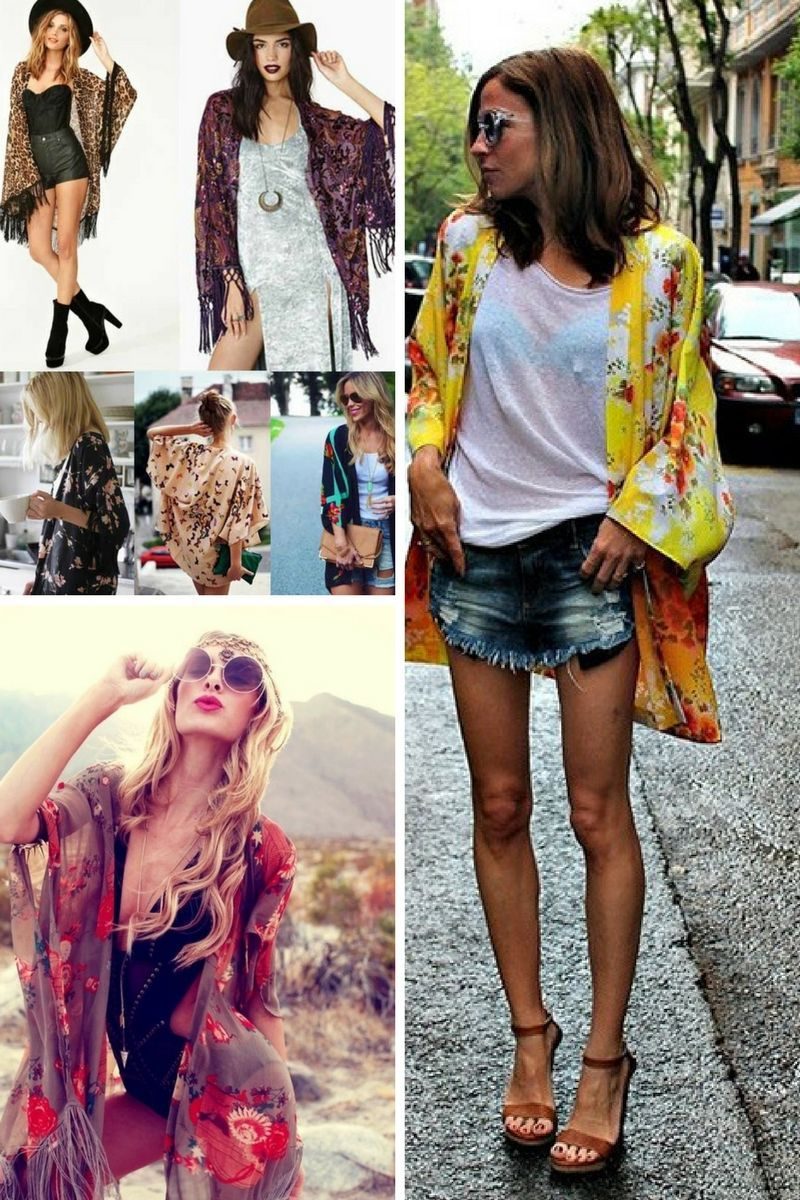 Buy Similar Here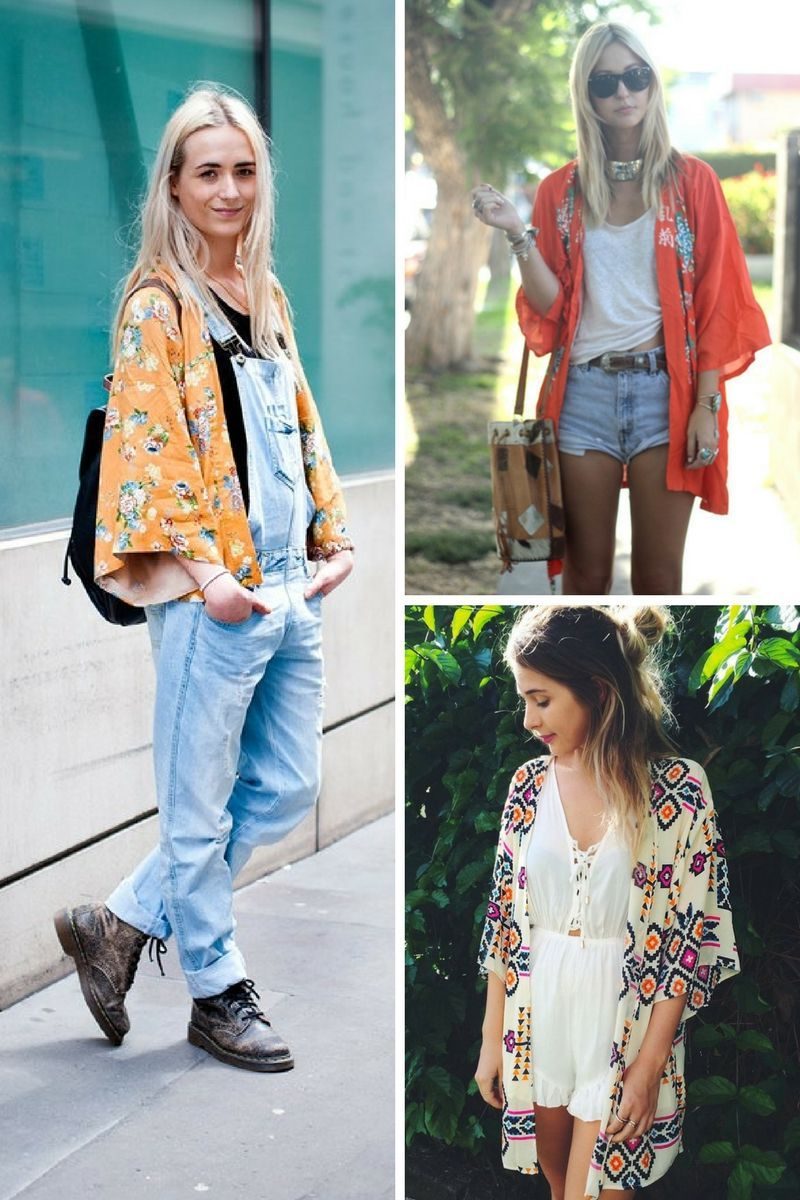 Buy Similar Here
I've got some updates for you tonight. I decided to show you my favorite kimono looks for the upcoming season.
Denim Kimono Outfit
We see a wrap kimono made of denim with a belt. Style it with flared jeans and criss-cross sandals, a kind of 1970 inspired combo: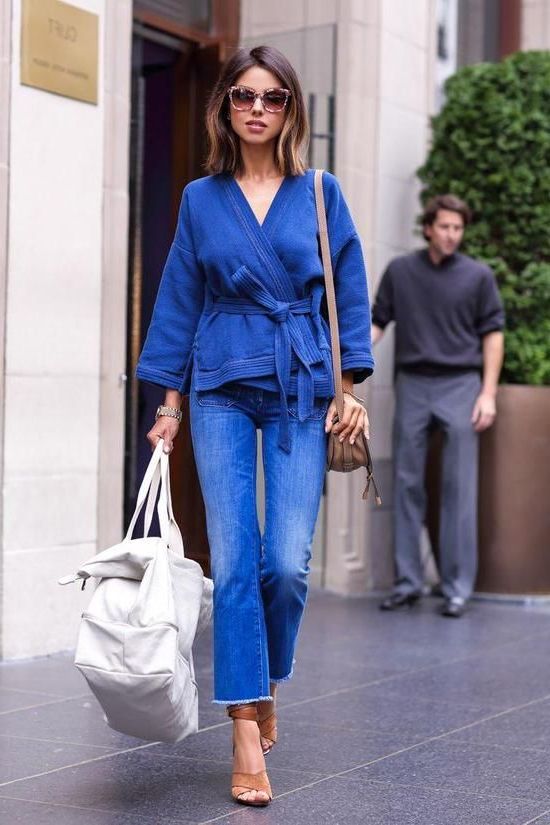 Buy Similar Here
Kimono And Black Dress
Here we see a monochrome look that features a long black kimono in floral print layered over a black turtleneck dress completed with OTK black suede boots: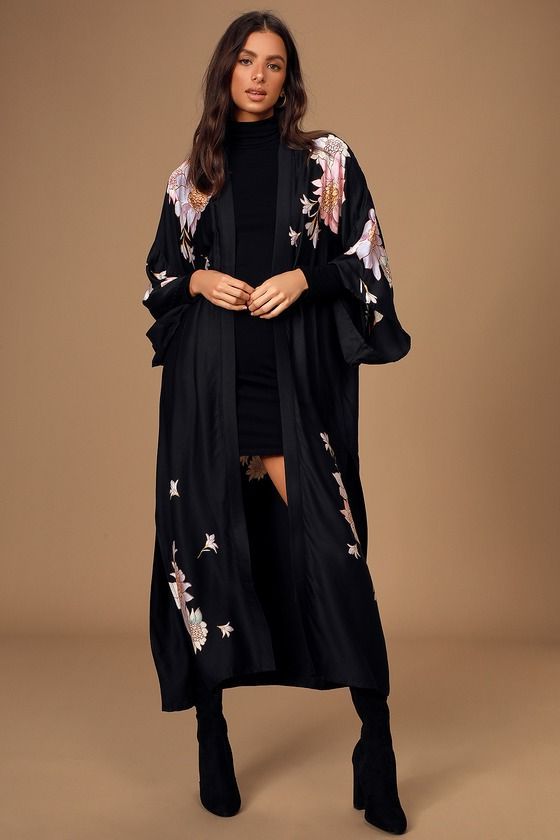 Buy Similar Here
Kimono Office Outfit Idea
A lovely look for office days. We see a light green floral kimono worn with a black top and white slim jeans updated with strappy black heeled sandals: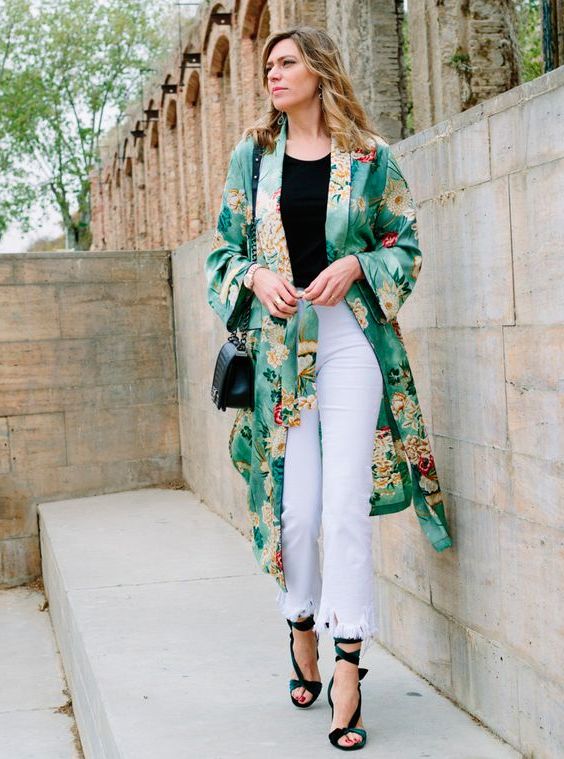 Buy Similar Here
Kimono Outfit With Sneakers
Keep it fresh and fun! Go for this white floral kimono and update it with mustard-yellow sneakers: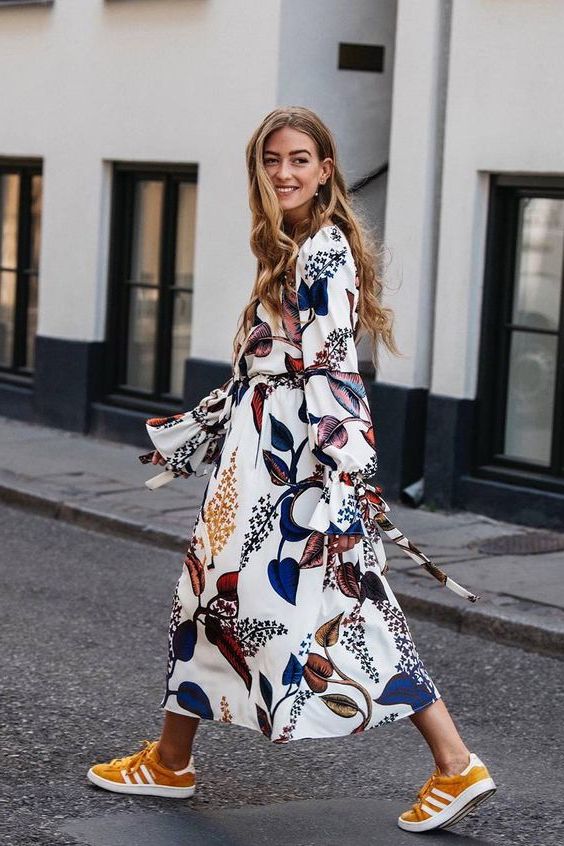 Buy Similar Here
Kimono With Belt Outfit
An oversized kimono with a belt in mustard color is worn with white linen pants and brown flat loafers: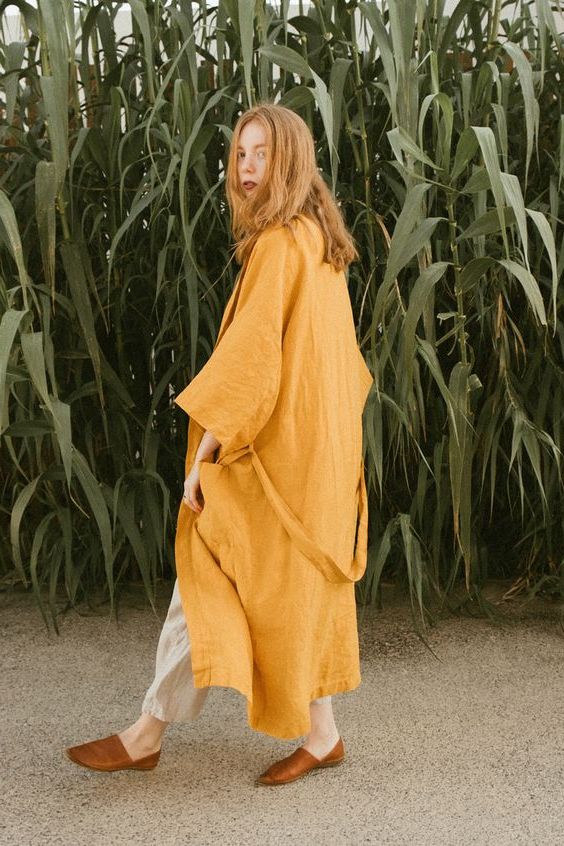 Buy Similar Here
Plus Size Kimono Outfit
I am so in love with this blue-white printed kimono worn with a white tee and ripped boyfriend jeans. Complete this look by adding wedge sandals and a pink bag: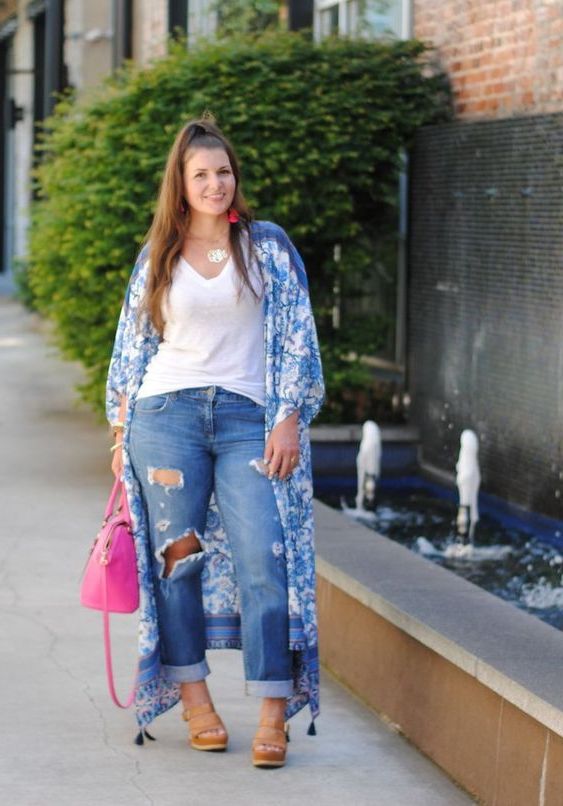 Buy Similar Here
Now let's see my favorite colors and prints you can try for kimonos:
Leopard Kimono Outfit
This long leopard print kimono is styled with a black slip tank top with spaghetti straps. Update this combo by adding black skinny jeans and black heeled sandals: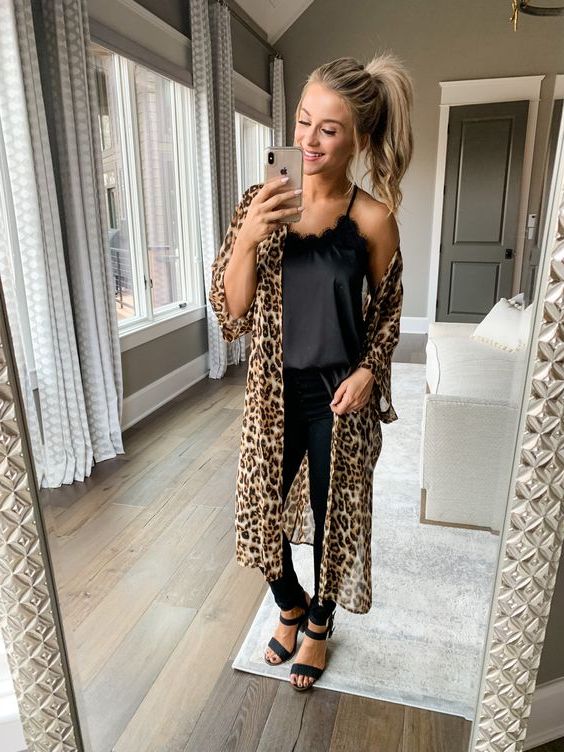 Buy Similar Here
Green Kimono Outfit
A light green kimono in florals is layered over a green slip tank top tucked in regular jeans. Update this style by adding white pumps and mirrored aviator sunglasses: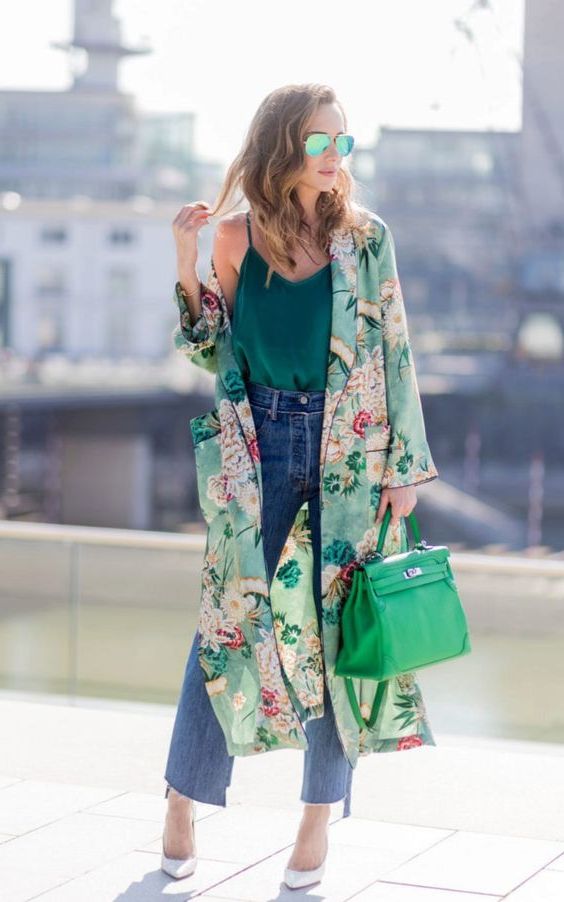 Buy Similar Here
Navy Kimono Outfit
A mesh navy kimono in florals is layered over a silk sliptank top tucked in skinny jeans: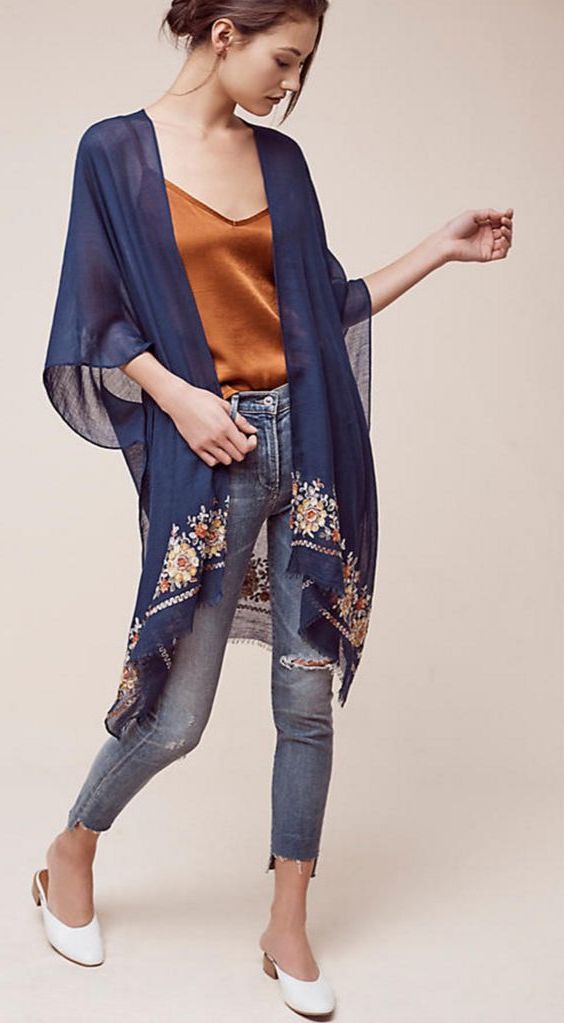 Buy Similar Here
White Kimono Outfit
A white lace kimono will be a nice addition to this Summer look consisting of a striped top, blue denim shorts and brown leather slide sandals: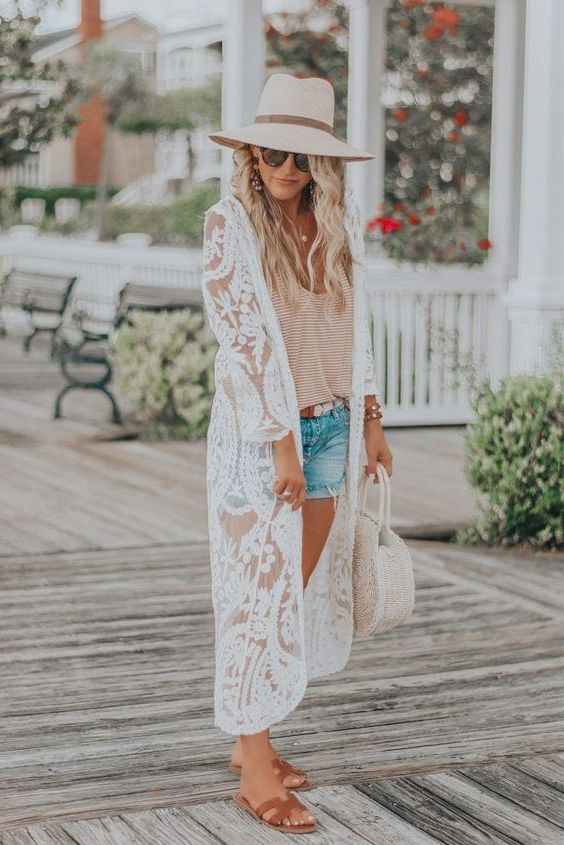 Buy Similar Here
Yellow Kimono Outfit
A floral yellow kimono can be layered over a white top paired with ankle-length jeans completed with cream-white pumps: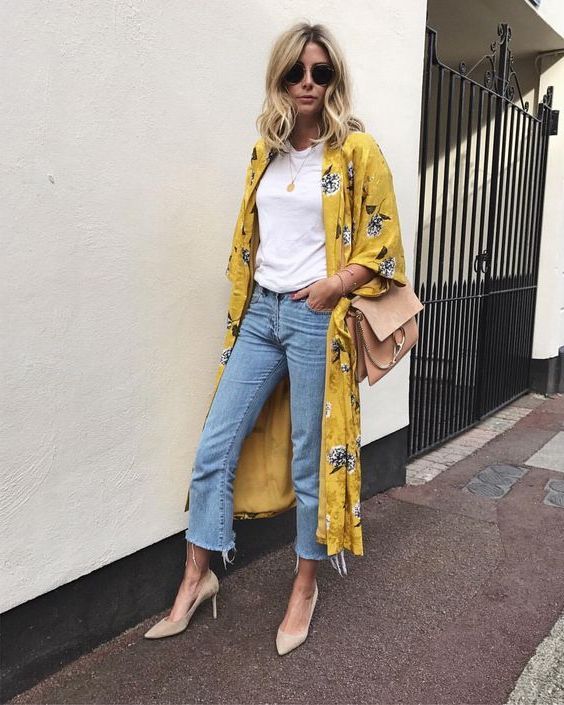 Buy Similar Here