In this article, you are going to know everything about awesome ways how to wear shorts and boots in real life. Yes, this combination is an ideal choice for those who want to make a wow effect.
We see a pair of denim shorts styled with black suede ankle boots worn with a black-white striped T-shirt and black leather shoulder bag: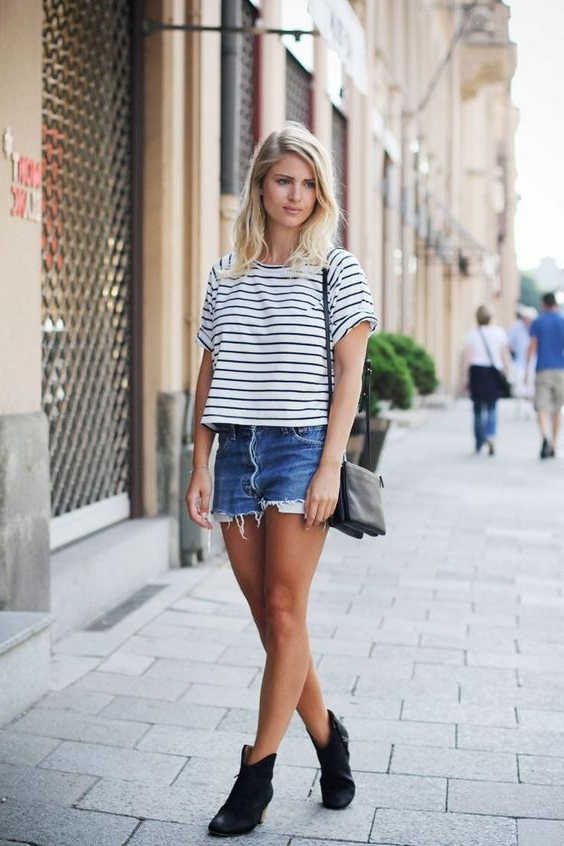 Buy Similar Here
Boots And Shorts Easy Outfit Ideas
In today's article, we are going to talk about ways how to combine boots with shorts. I decided to share with you my favorite outfit ideas that feature leather shorts, denim shorts, trendy bicycle shorts and other cool designs combined with different boots and booties. Lots of trendsetters combine these pieces together creating fresh outfits. This combo has no season limit, you are free to wear it during the hot summer or in the cold wintertime.
Bicycle Shorts And Apocalyptic Combat Boots
We see a perfect outfit idea for modern ladies. A safari cargo belted long jacket teamed with cream bicycle shorts and chunky black leather combat boots in apocalyptic style. If you want to know more about the bicycle shorts trend for women, then be sure to see my post. There are many inspiring looks to copy: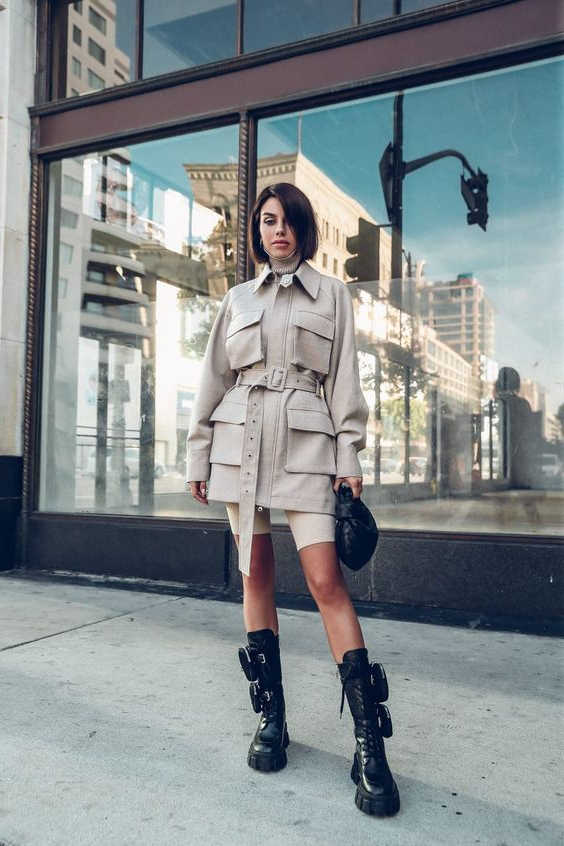 Buy Similar Here
I personally love pairing shorts with ankle boots, this pairing looks great both on short-legged women, as well as on tall-legged ladies. I love to see women wearing denim cut-offs styled with suede ankle boots completed with basic tees and cardigans, or with lightweight sweaters.
Biker Shorts And Black White Boots
Improve your look by wearing a pink cold-shoulder oversized high-neck sweater teamed with black biking shorts and cool black-white cowboy boots. Love these 90s style sunglasses. By the way, find out how to style biker boots in real life for women. I am sure, there are lots of cool ideas to try in real life: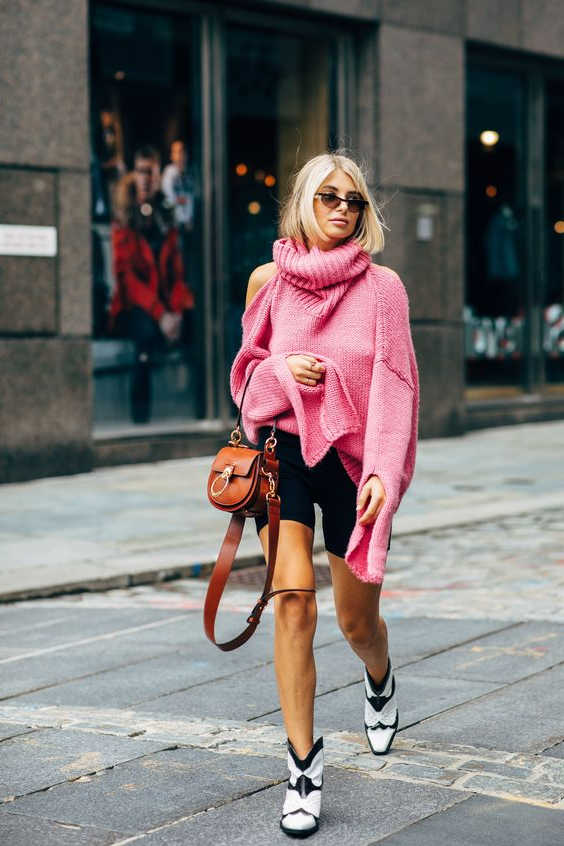 Buy Similar Here
The same thing concerns heeled and flat boots, they both look awesome styled with shorts, no matter if they are made of denim, suede or leather.
Black Leather Chelsea Boots And Black Leather Shorts
Heeled black leather Chelsea boots look awesome with black leather shorts and a lace-up white shirt. Love the rounded sunglasses: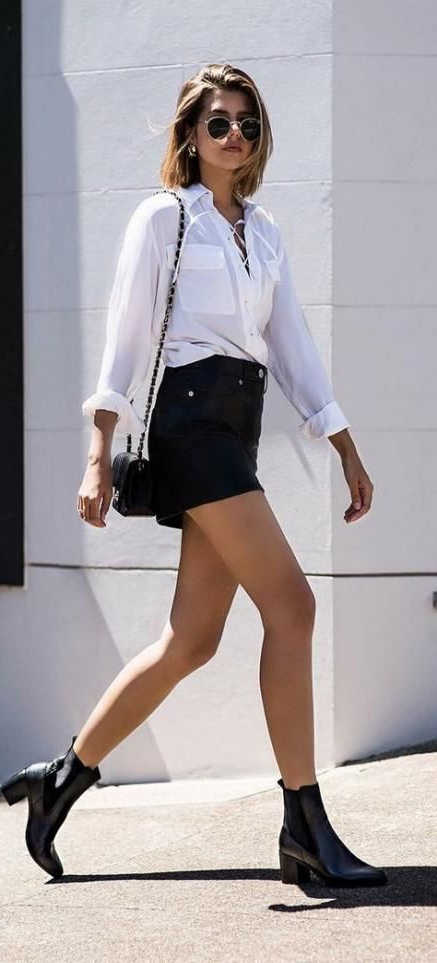 Buy Similar Here
Oh, there is one tip regarding pairing boots and shorts, the shorter your shorts, the lower the heel of your boot should be. If you want to achieve a dressy appearance, then keep an eye on soft material shorts, like the ones made of tweed, lace, velvet, sequins. If you want to create a daring, casual and edgy style, then go for Hunter boots, combat boots or sassy thigh-high boots.
Black Bicycle Shorts And Silver Metallic Ankle Boots
A pair of shiny metallic silver ankle-boots look pretty cool with black bicycle shorts and double-breasted black blazer: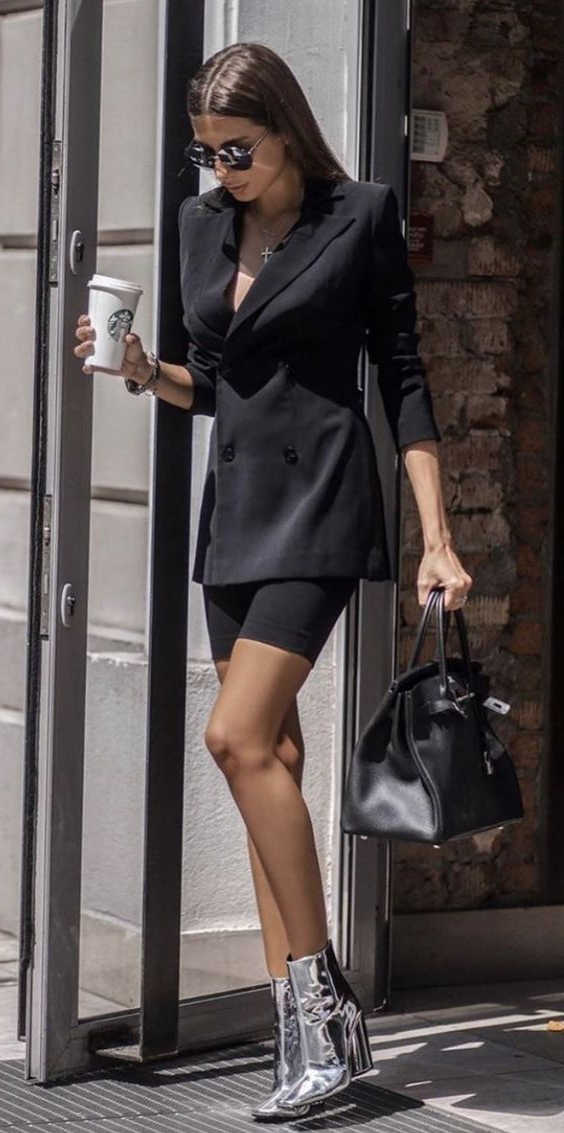 Buy Similar Here
For some of you, it might be a difficult task to create a perfect outfit with shorts and boots, but I promise, once you look through these street style ideas, you will already have a first experience which will help you in future purchases.
Bicycle Shorts And Leopard Print Boots
If you are into an oversized outfit, then go for this white long shirt and team it with black camouflage bike shorts and lace-up leopard print combat boots: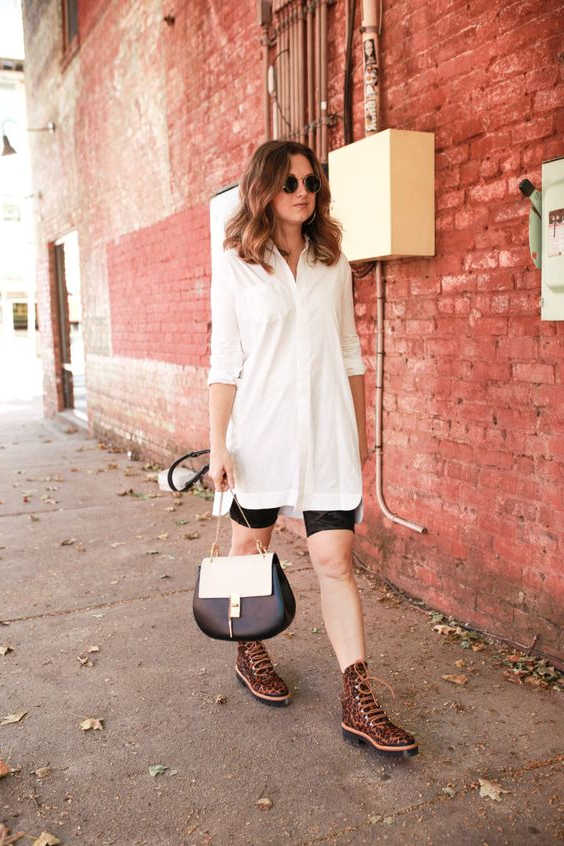 Buy Similar Here
I love wearing boots as much as you do, why? They are practical and comfortable, as well as versatile and stylish. They can easily take you from work to the countryside weekend. Plus, they can be styled with smart casual, semi-formal ensembles, as well as with urban casual basics. In other words saying, they are valuable wardrobe addition.
Embroidered Ankle Boots And Black Leather Shorts
Embroidered booties in black leather are worn with black leather high-waisted shorts. Add a cream-white tank top and a sleeveless trench coat: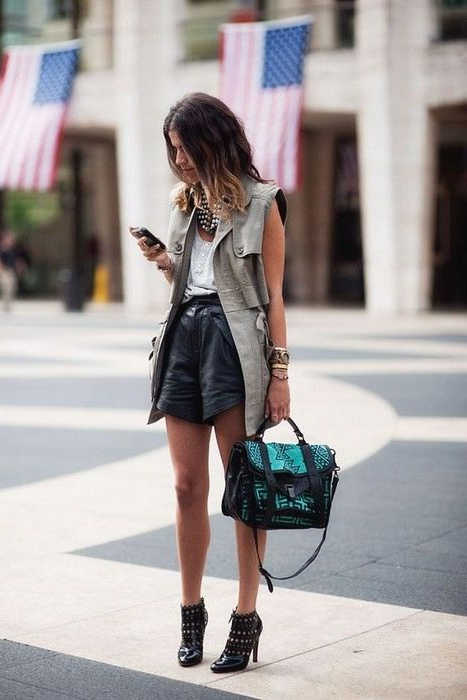 Buy Similar Here
Knee-High Leather Boots And Black Leather Shorts
A pair of Fendi knee-high boots look awesome with long black leather shorts and a black button-down shirt: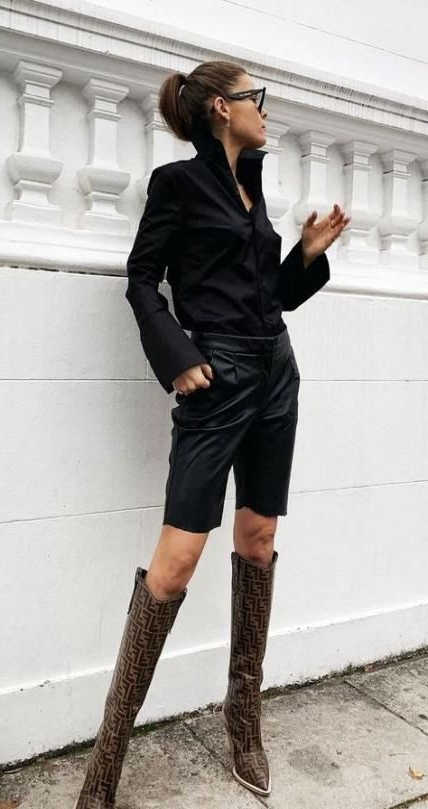 Buy Similar Here
Bicycle Shorts And White Cowboy Boots
A pair of white leather cowboy boots can be styled with black bicycle shorts and high-neck oversized sweater in black. Complete this combo with cool rounded sunglasses: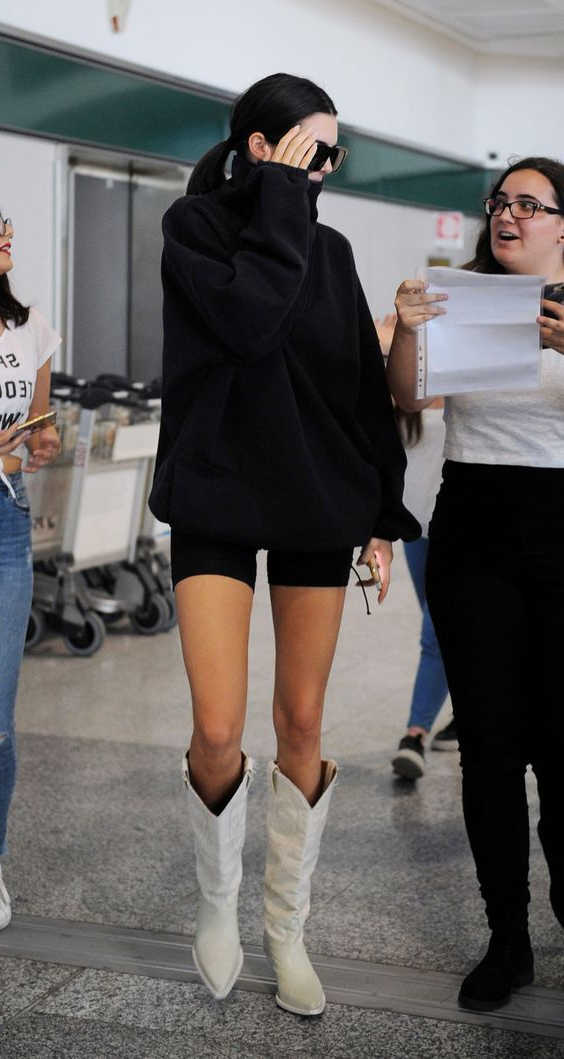 Buy Similar Here
Black Bicycle Shorts And White Combat Boots
A pair of white combat boots ideally suit black bicycle shorts and an oversized T-shirt in black. Complete this look with rounded sunglasses: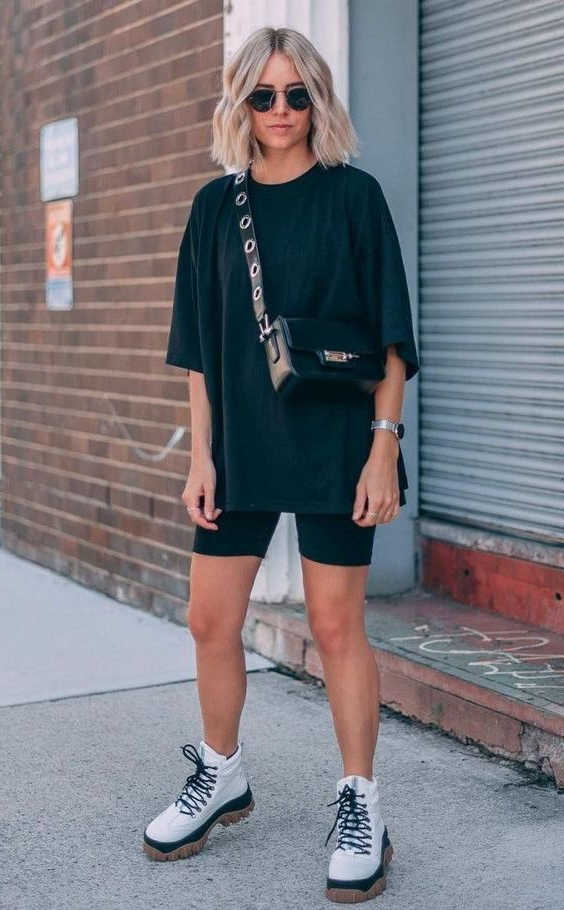 Buy Similar Here
Camel Cargo Shorts And Black Leather OTK Boots
Camel cargo shorts can be teamed with black patent otk boots, black top and a black blazer: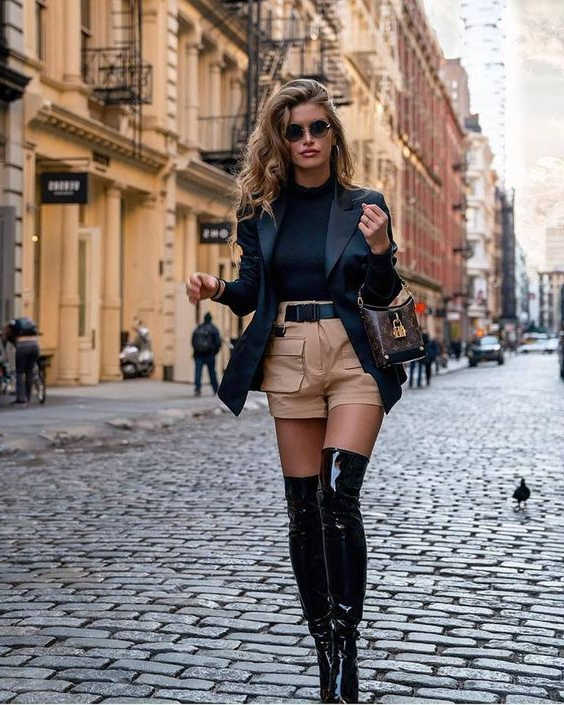 Buy Similar Here
Bicycle Shorts And Snakeskin Print Boots
How about wearing a dark turquoise long blazer with black bike shorts and snakeskin print white knee high boots: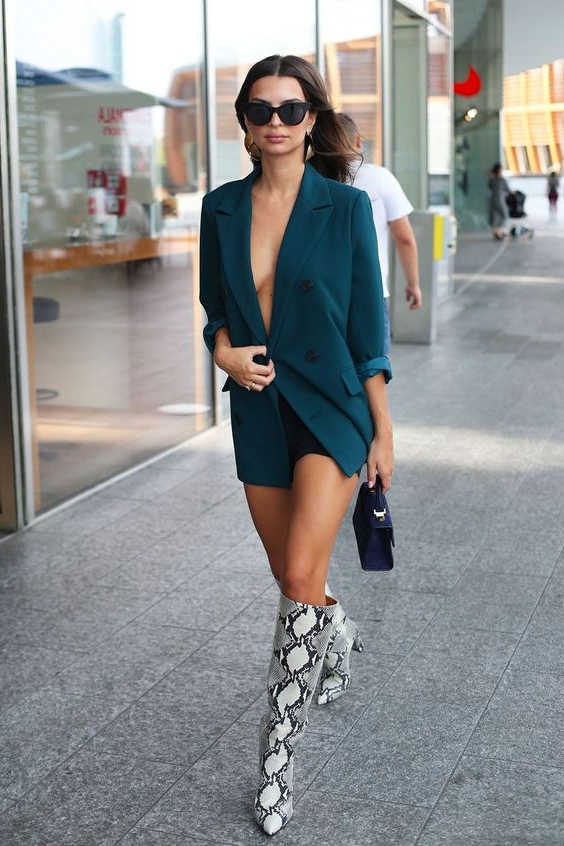 Buy Similar Here
Denim Cut-Offs And Lace-Up Combat Boots
In love with these lace-up vintage knee high combat boots styled with denim cut-offs and asymmetric grey tee: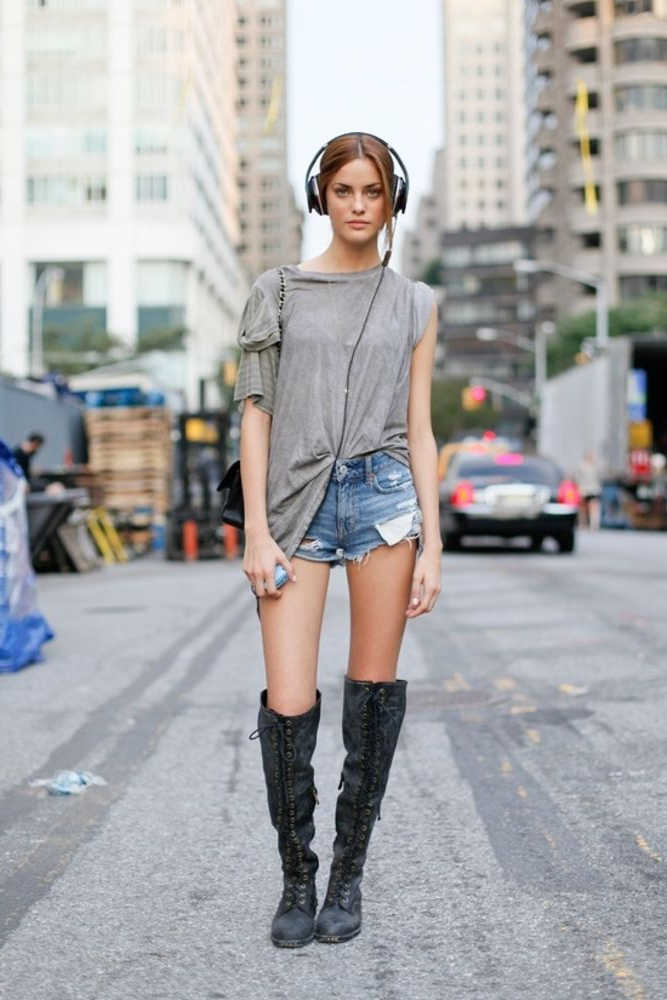 Buy Similar Here
Denim Cut-Offs And OTK Boots
Black OTK boots are teamed with ripped denim cut-offs, black crop top, and cream-beige coat. Complete this outfit with wide-brim black hat: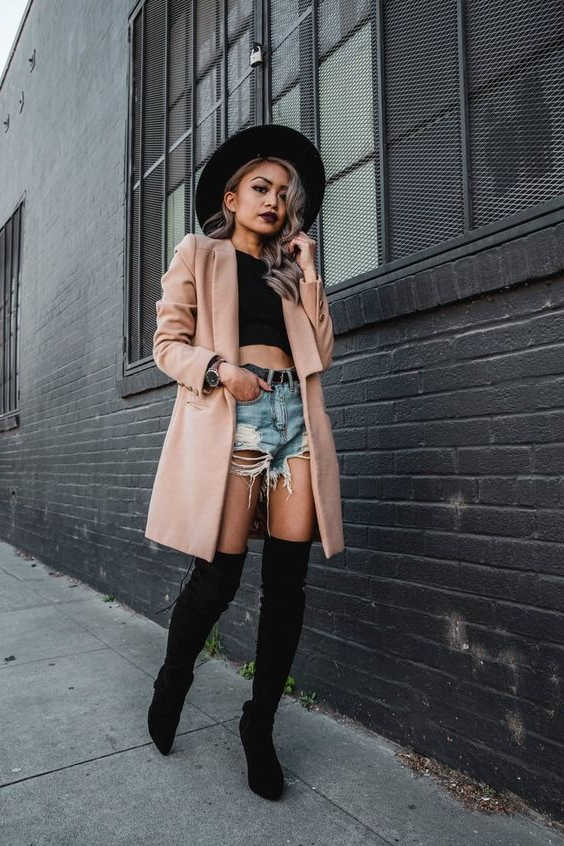 Buy Similar Here
Denim Shorts And Biker Boots
We see white sleeveless crop top, white denim shorts, red plaid shirt tied around the waist and buckled biker boots in black leather: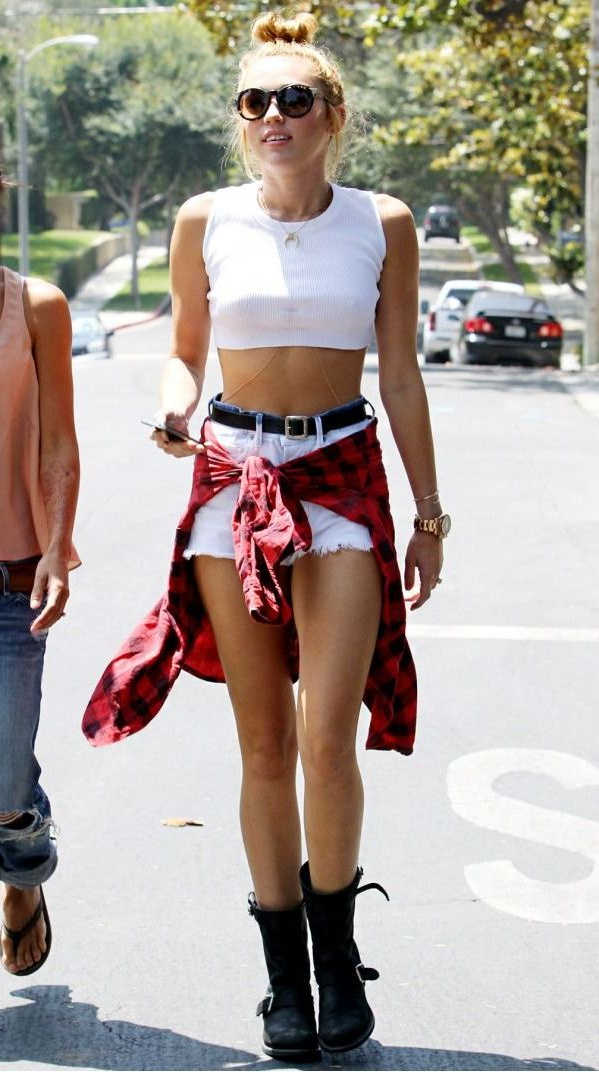 Buy Similar Here
Denim Shorts And Black Leather Combat Boots
Keep it cool and modern! Go for a golden-yellow silk blouse and style it with denim shorts and plaform black leather combat boots: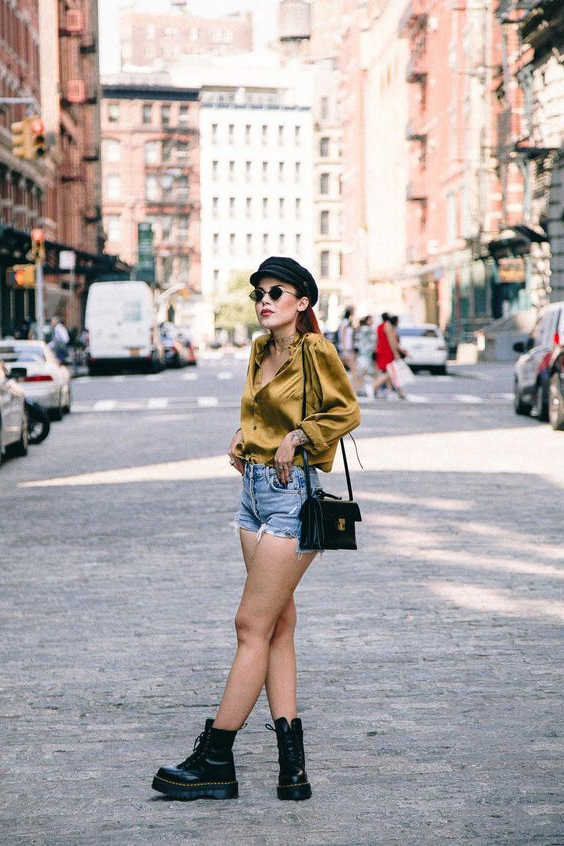 Buy Similar Here
Denim Shorts And Buckled Booties
A sleeveless black peplum top looks awesome with wash blue denim cut-offs and buckled ankle boots: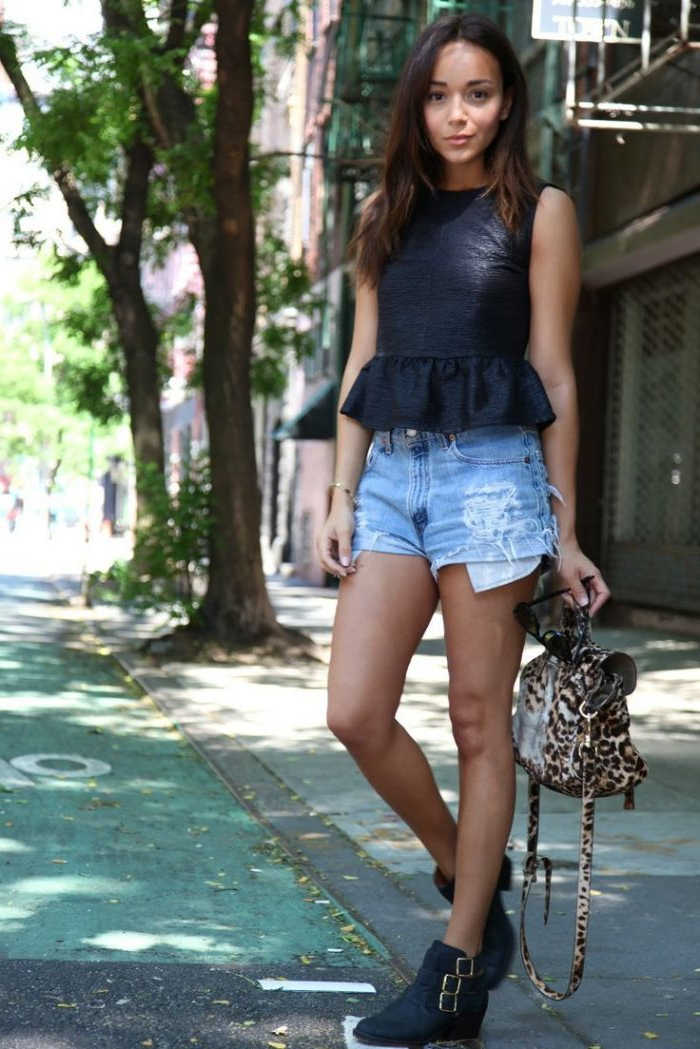 Buy Similar Here
Denim Shorts And Chelsea Gum Boots
A pair of red Chelsea gum boots ideally suit denim shorts, a white shirt, and a cropped black leather jacket: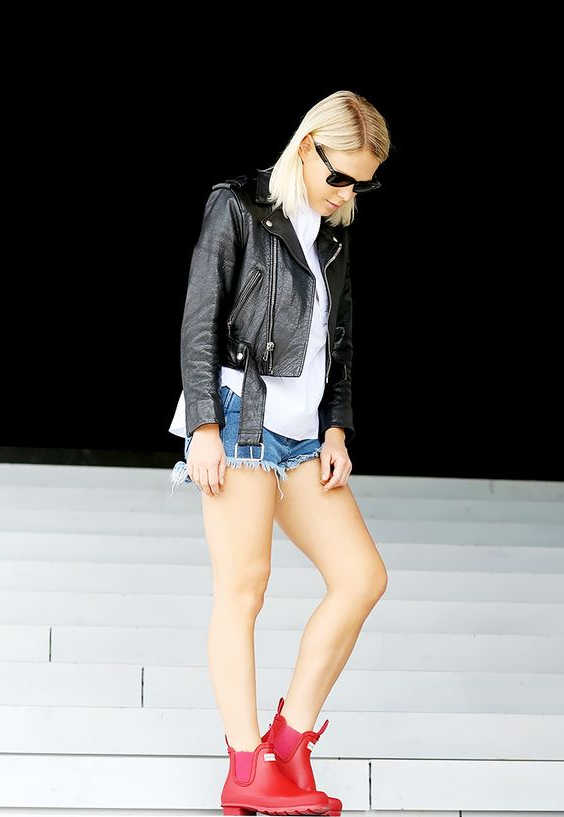 Buy Similar Here
Denim Shorts And Chunky Cut-Out Black Boots
A pair of patent cut-out chunky boots in black leather are worn with denim shorts, white tee, and a green bomber jacket: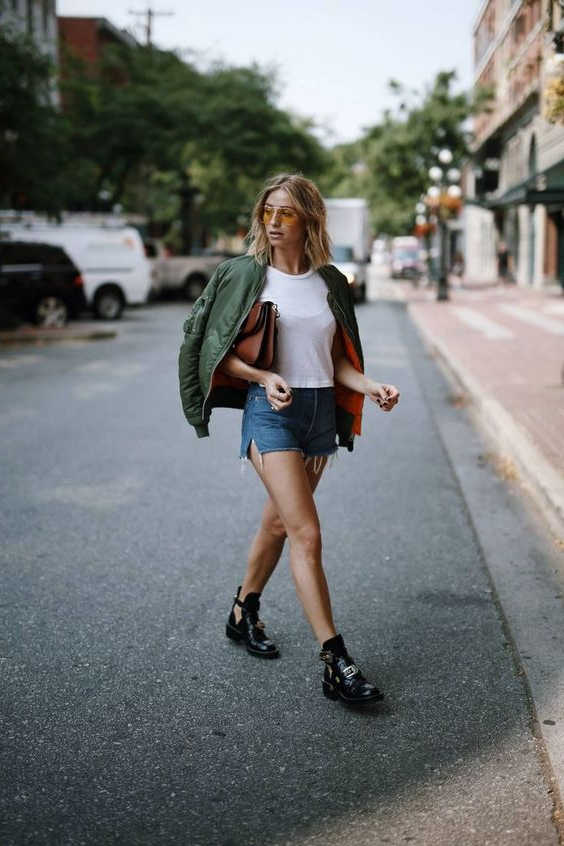 Buy Similar Here
Denim Shorts And Combat Boots
A pair of black leather combat boots are teamed with ripped denim shorts, black cami top with lace embroidery and a windowpane print white blazer. Complete this outfit by adding cool 90s style sunglasses and a shoulder clutch bag: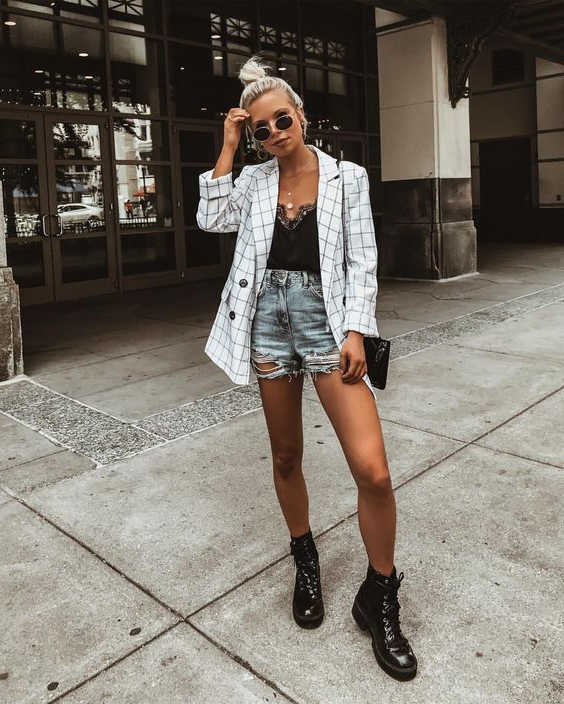 Buy Similar Here
Denim Shorts And Slouchy Boots
A grey turtleneck sweater is combined with ripped cuffed denim shorts and slouchy black leather flat biker boots: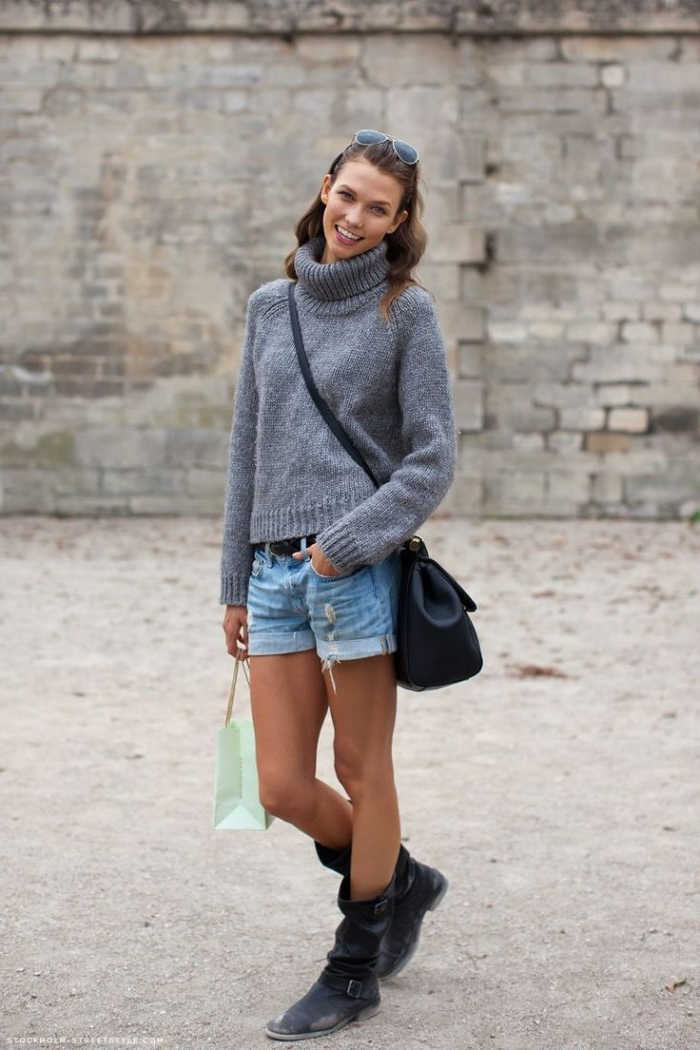 Buy Similar Here
Denim Shorts And Snakeskin Print Ankle Boots
A black slip tank top is tucked in belted ripped denim shorts completed with snakeskin print ankle-boots: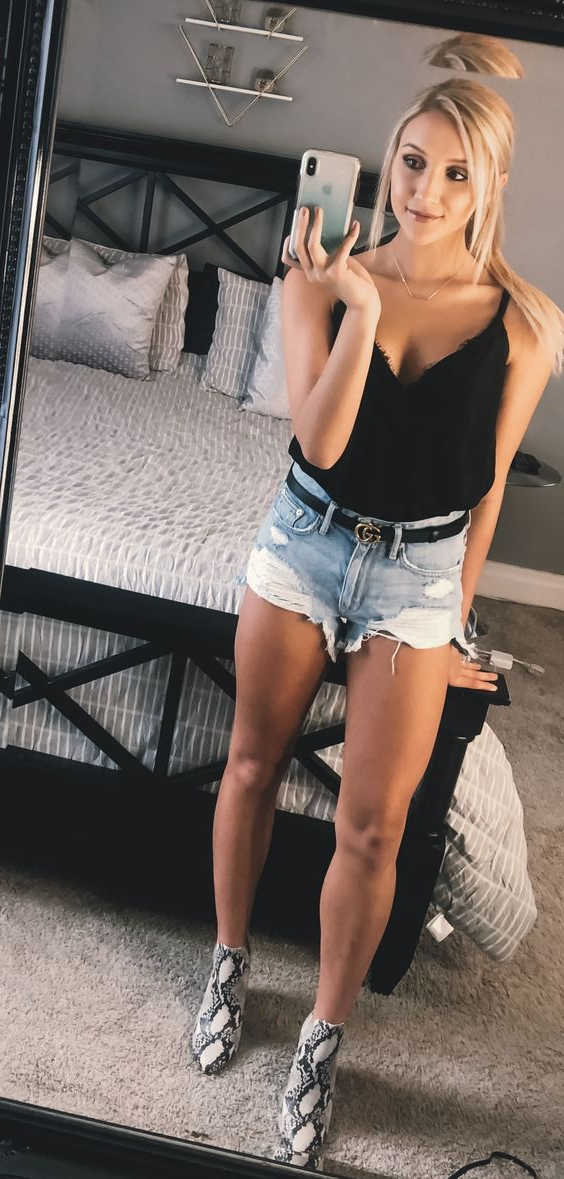 Buy Similar Here
Denim Shorts And White Ankle Boots
A marvelous outfit for travelers. We see a cream-beige long-sleeve top tucked in blue denim shorts completed with white leather ankle boots. Complete this combo with a cream-white wide-brim hat, layered necklaces and brown leather shoulder bag: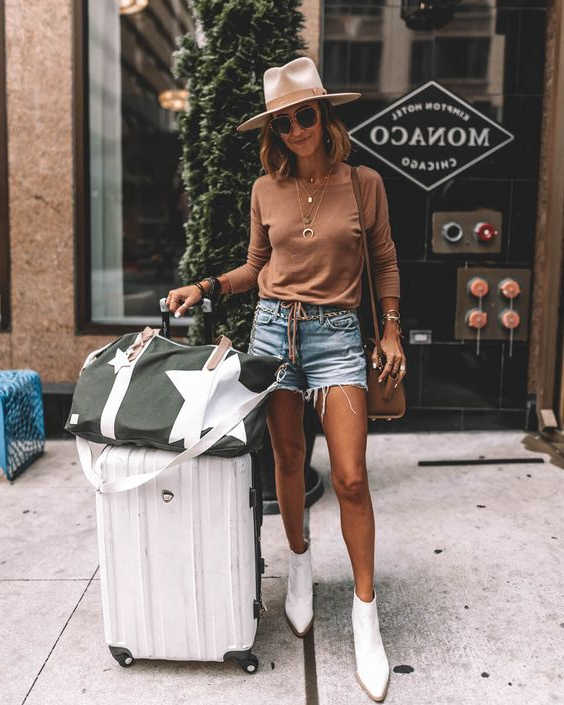 Buy Similar Here
Black Leather Shorts And Knee Length Leather Boots
A kind of boho style outfit. We see a fringed tribal print top tucked in black leather belted shorts and brown leather knee-length slouchy boots: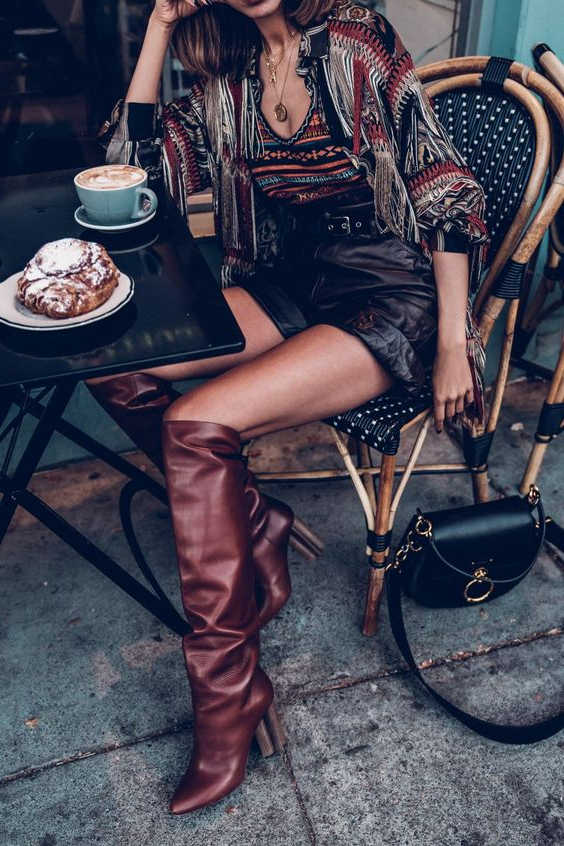 Buy Similar Here
Black Leather Shorts And Suede Black OTK Boots
A grey plaid double-breasted blazer updated with a black leather belt is updated with a black top, black leather shorts, dotted black tights, and suede black over-the-knee boots: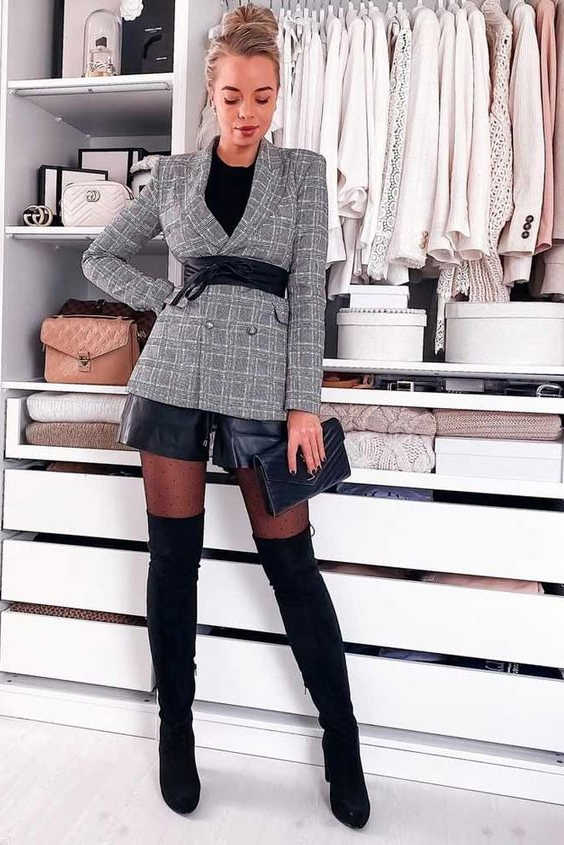 Buy Similar Here
Denim Shorts And Cowboy Boots
Yes, another keep it simple outfit idea. We see a khaki henley shirt tucked in denim shorts completed with printed leather cowboy boots: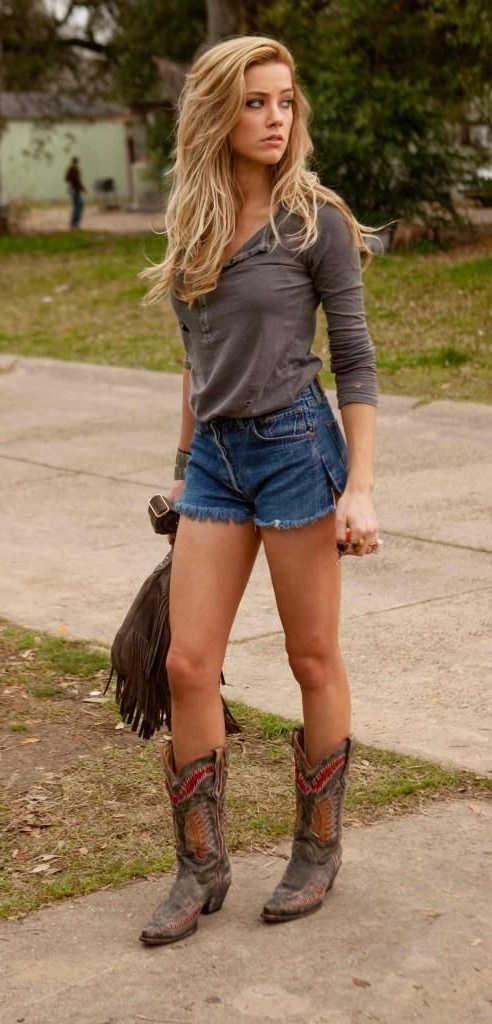 Buy Similar Here
Lace Shorts And Brown Leather Boots
Make a statement with belted pastel-blush lace shorts styled with a white cargo blouse and brown leather ankle boots: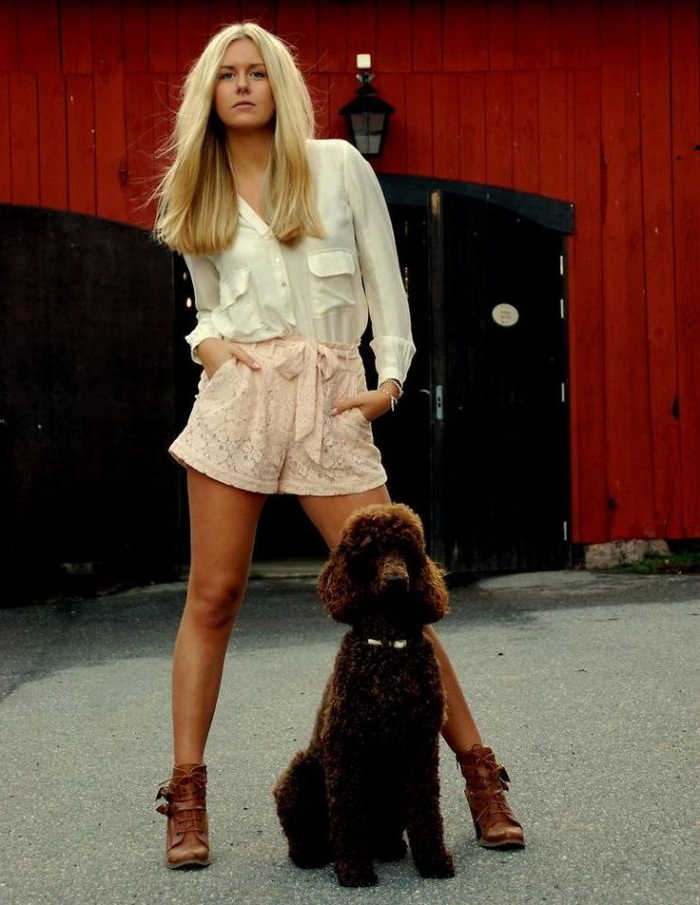 Buy Similar Here
Leopard Bicycle Shorts And Black Leather Ankle Boots
A pair of leopard print bicycle shorts are updated with pointed-toe black leather ankle boots, add a basic black tee and a beige long slouchy blazer to complete this outfit. In love with these 90s style sunglasses: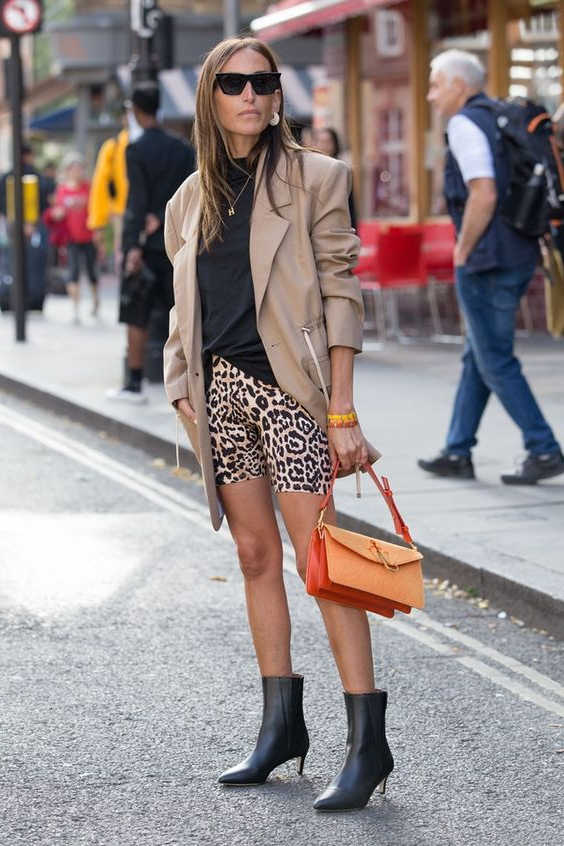 Buy Similar Here
Long Denim Shorts And OTK Boots
Here we see a pair of long denim shorts teamed with heeled black suede over-the-knee boots. Add a navy plaid blazer and classic long-sleeve white top to complete this combo: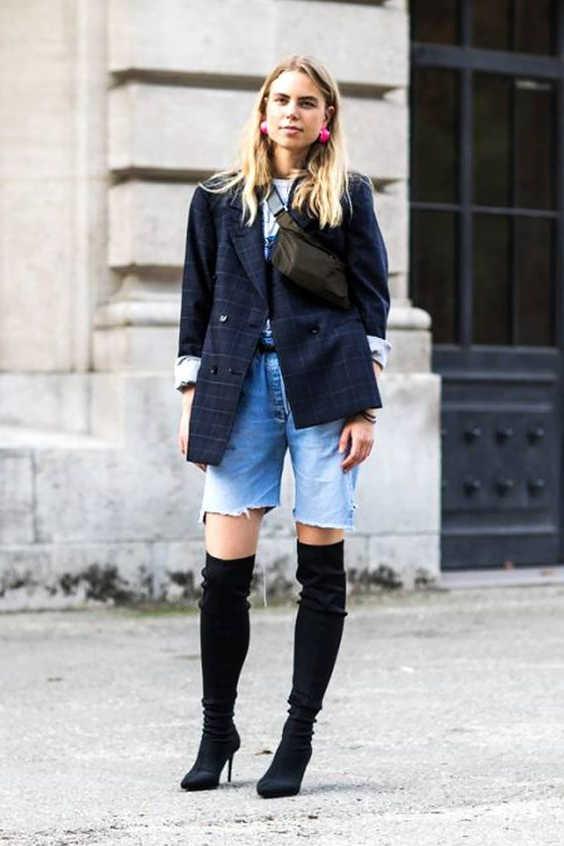 Buy Similar Here
Denim Shorts And Over The Knee Boots
Here we see another magnificent combination consisting of mirrored gold rounded sunglasses, loose-fit cream-brown turtleneck cropped sweater, and high-rise blue denim shorts completed with slouchy beige suede over-the-knee boots: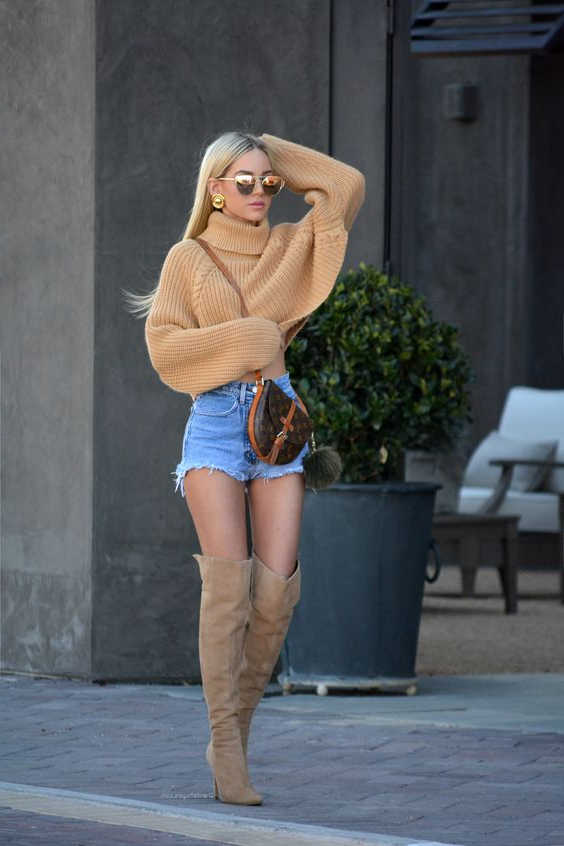 Buy Similar Here
Plaid Shorts And Flat Black Suede OTK Boots
If you want to underline your creativity, then go for these black-white plaid print shorts and style them with a black-white gingham pussy-bow blouse and a pastel blue long coat. Love the way these plaid shorts are styled with black suede otk flat boots: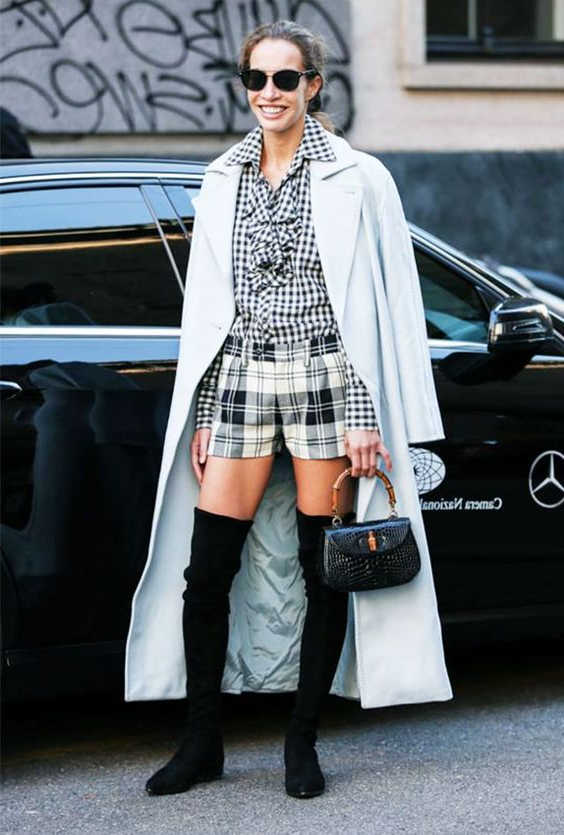 Buy Similar Here
Snakeskin Print Shorts And Black Suede OTK Boots
I am so much in love with this combo! We see a black ribbed knit slim sweater tucked in snakeskin print gathered belted shorts completed with black over-the-knee suede boots: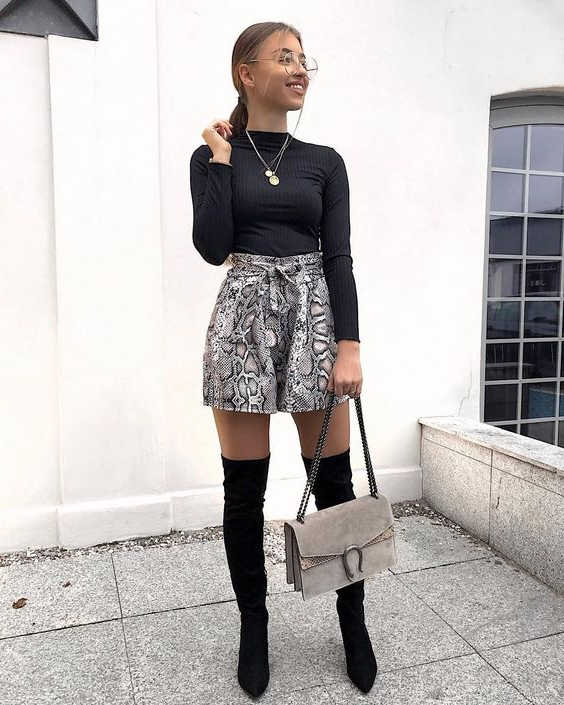 Buy Similar Here
Source: CollegeFashion