Let's talk about accessories. In today's article, I am going to share with you a stunning collection of street style images where ladies appear in oversized scarves. All these beautiful designs will keep you warm and make you look stylish. If you do like layered looks, then you should give a try to oversized scarves. I am pretty sure all these looks gonna inspire you to try on oversized scarf this cold season.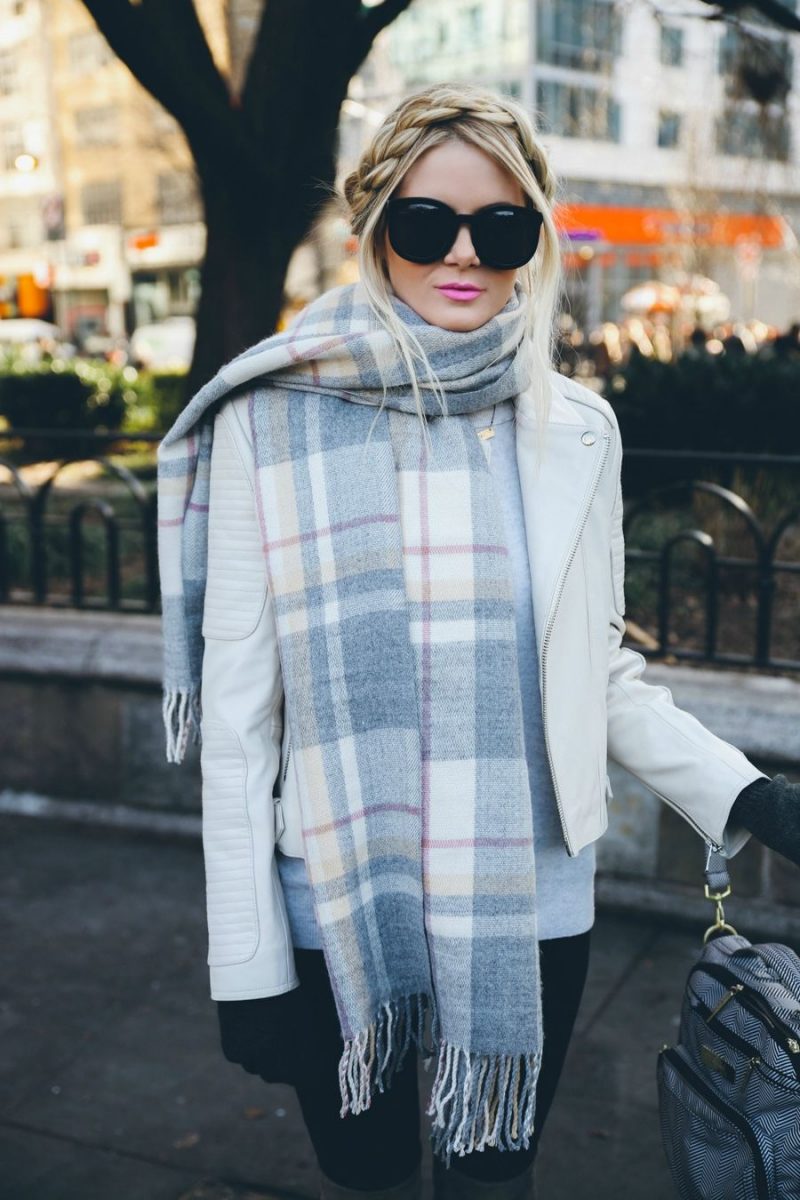 Buy Similar Here
A plaid big scarf ideally suits this white biker jacket teamed with a grey sweater, black skinny pants, and high boots. The look is completed with a pair of oversized sunglasses. Speaking of shades, I highly recommend to check out my blog post on trendy sunglasses for women. You can find lots of cool and stylish sunglasses that are so must have for this year.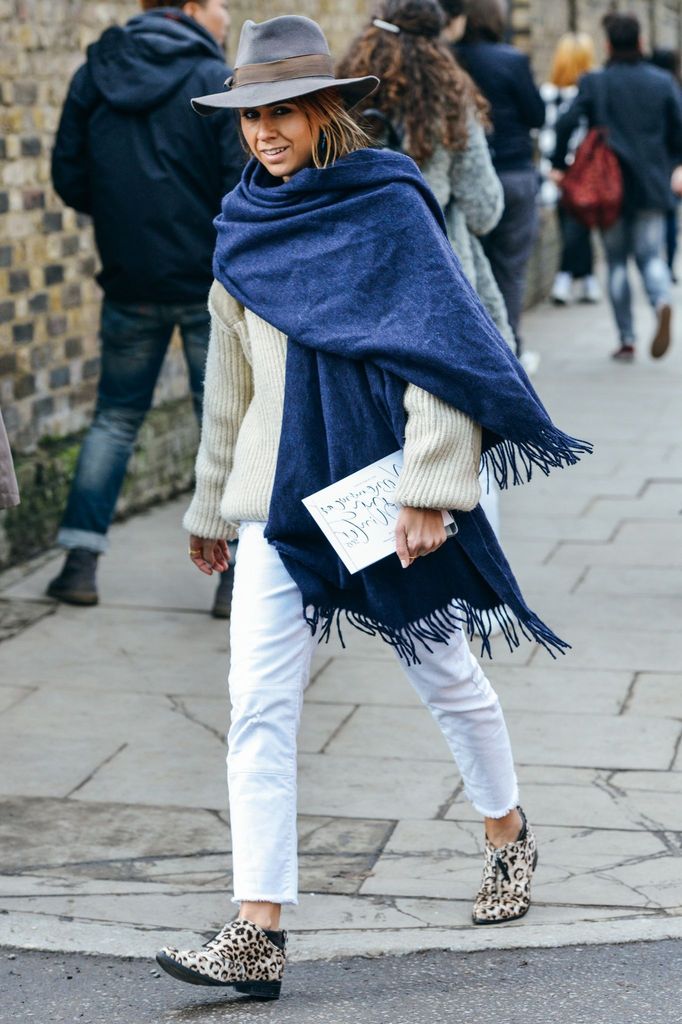 Buy Similar Here
We see an ideal combo for fall season days. A dark blue scarf is thrown over grey-white sweater teamed with slim jeans in white. How many likes for these amazing leopard print flat shoes and grey fedora hat?
Oversized scarves will definitely keep you warm and trendy, all you need is to find an appropriate design and color. If you do want to make a real statement on the streets, then you should give a try to this beautiful accessory.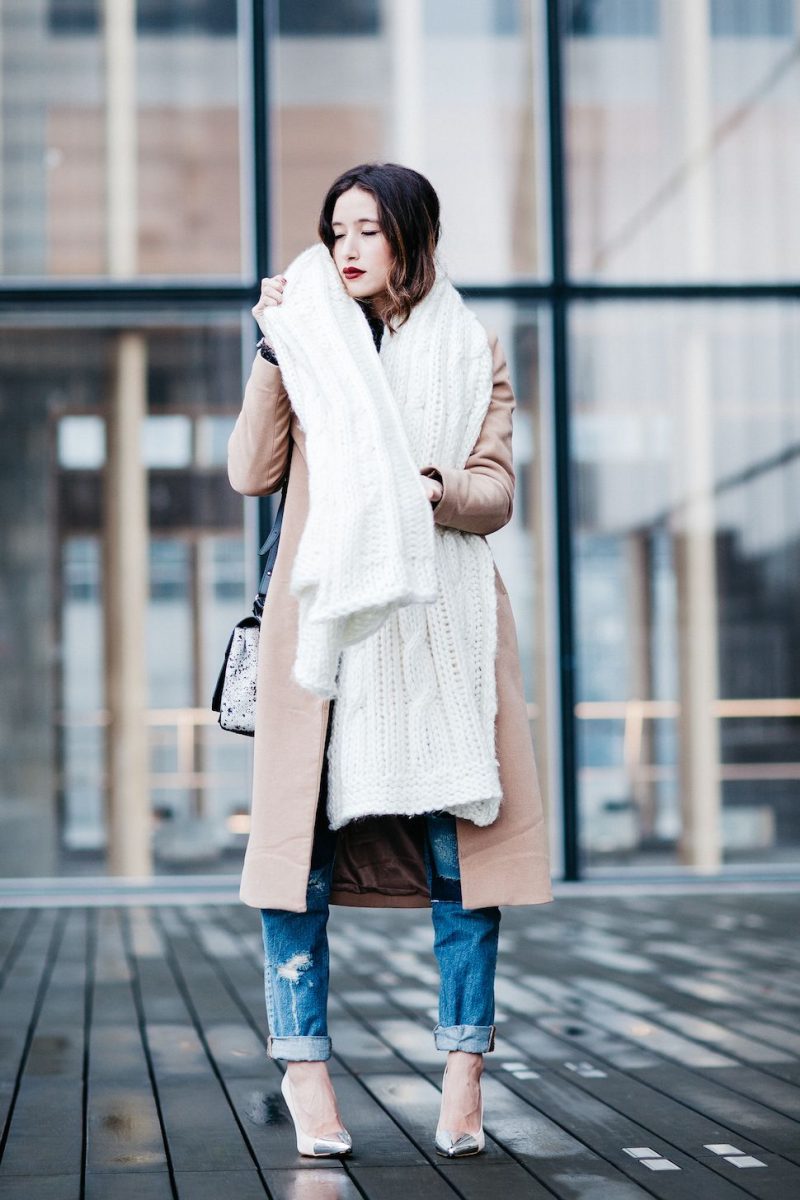 Buy Similar Here
A big scarf in white can be thrown over cream camel coat. Complete this look by adding cuffed ripped slim jeans and metallic heeled pumps.
It's no secret, a big scarf will keep you warm during cold season days, but I love this accessory for a way how you can easily style it. Today's fashion offers so many cool ways how to wear them, from the easiest one by placing it on your shoulders, to creating beautifully layered ties around your neck.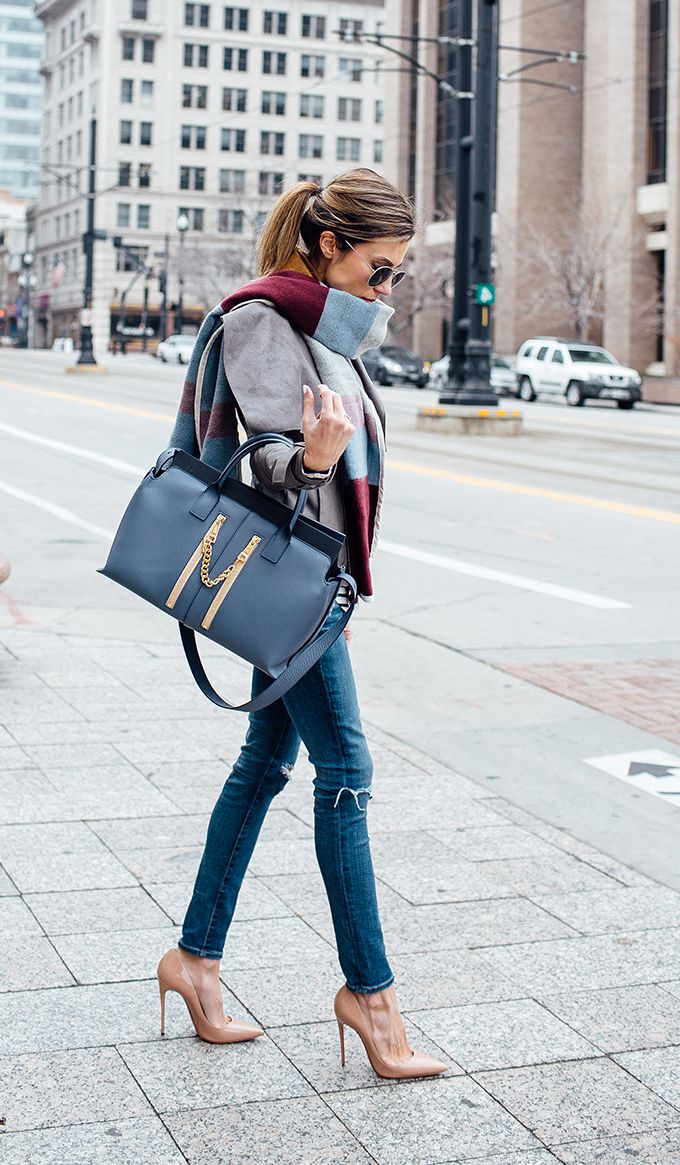 Buy Similar Here
Plaid print oversized scarf ideally suits casual street style looks. Throw it over grey leather jacket teamed with skinny jeans and nude pointed-toe heeled pumps.
You can either go for a blanket style in neutral earth shades, color-blocking version, pastel-hued, plaid printed design, cable or ribbed knit style. These beautiful accessories can be solid colored, neon-hued or printed. Choose the one that will either match your outerwear garment or go in hand with some contrasting hues that will pop out from the rest of your outfit.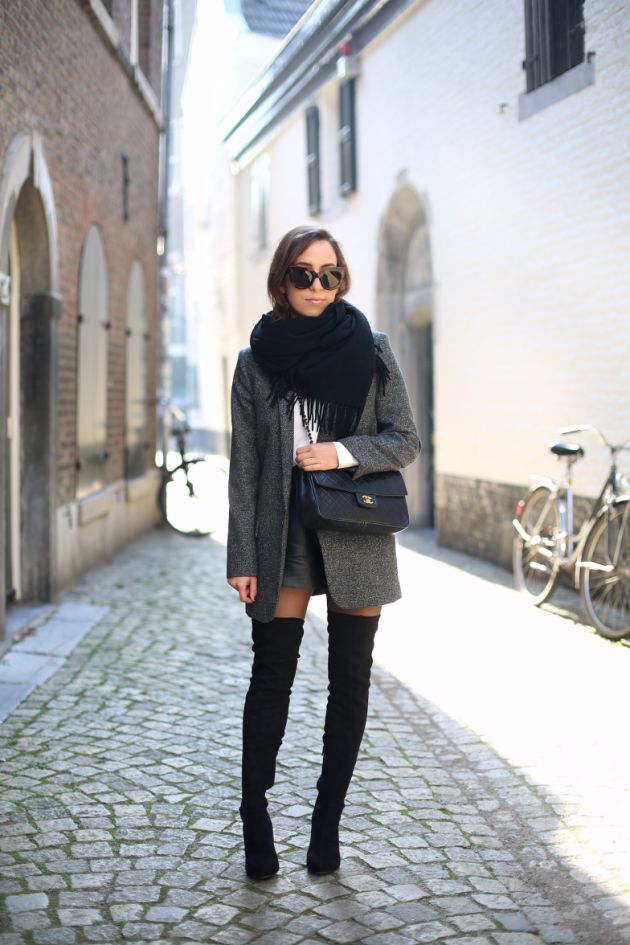 Buy Similar Here
How about coordinating your items? Go for a big black scarf and style it with a dark grey blazer completed with a black leather mini skirt and OTK black boots.
There are numerous oversized scarves to choose from, all you need is to know how to style and wear them in real life. Speaking of possible ways how to wear them, then I recommend to put it over your shoulders, tie it up around your neck, etc. Would you like to wear oversized scarves this season? Let me know your thoughts in the comments below.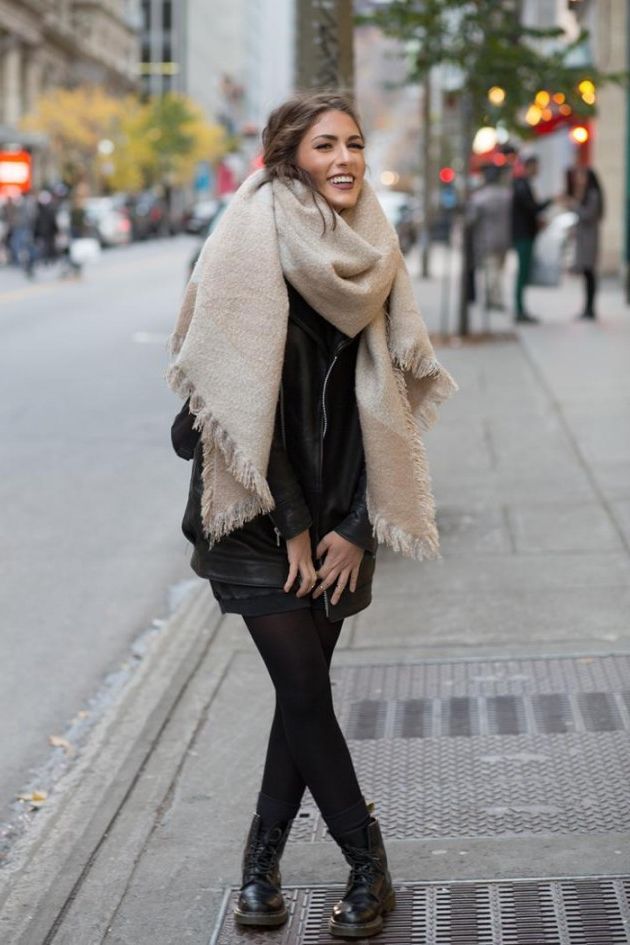 Buy Similar Here
Here we see a classic update that consists of a beige scarf teamed with a black leather jacket, LBD, black tights and combat boots.
I am a big fan of classy cashmere and chunky wool designs made in classic and neutral colors. But I also like styles that are printed in tartan and plaid patterns. They do look amazing teamed with BF jeans, blazers and ankle boots. If you are more into an edgy look, then I recommend throwing on a huge tartan scarf over a black leather jacket. It can be either casually thrown around shoulders, or styled as a classic wrap, double looped or worn as a braided knot.
Get More Inspiration On How To Wear Big Scarves This Fall:
Cream beige oversized coat and wool big scarf ideally match one another. Complete this combo by adding a pair of blue skinny jeans and black leather ankle boots: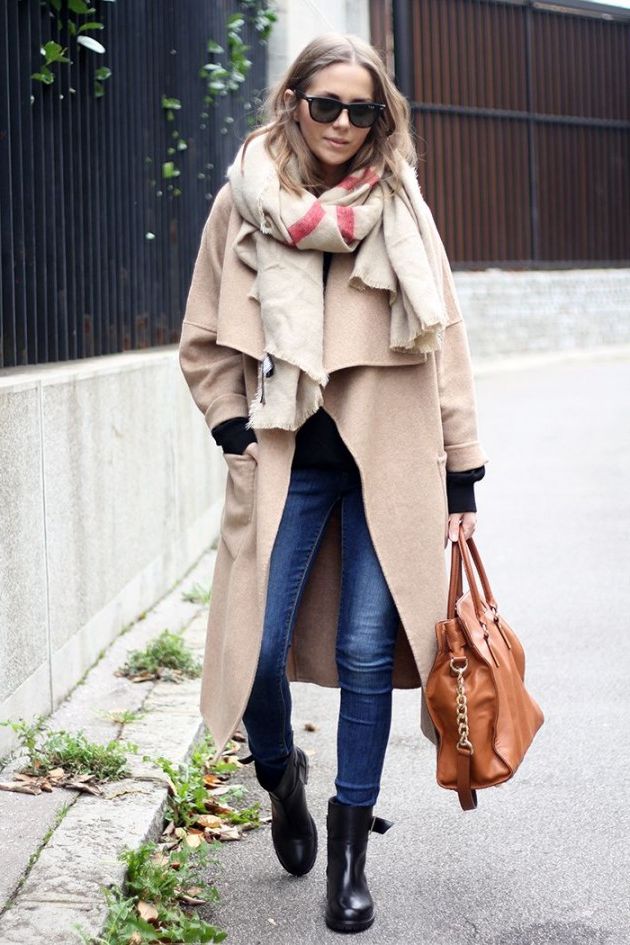 Buy Similar Here
An extra long tartan scarf is used as a shawl. Complete it with a white button-down shirt, black jeans, and beige ankle boots: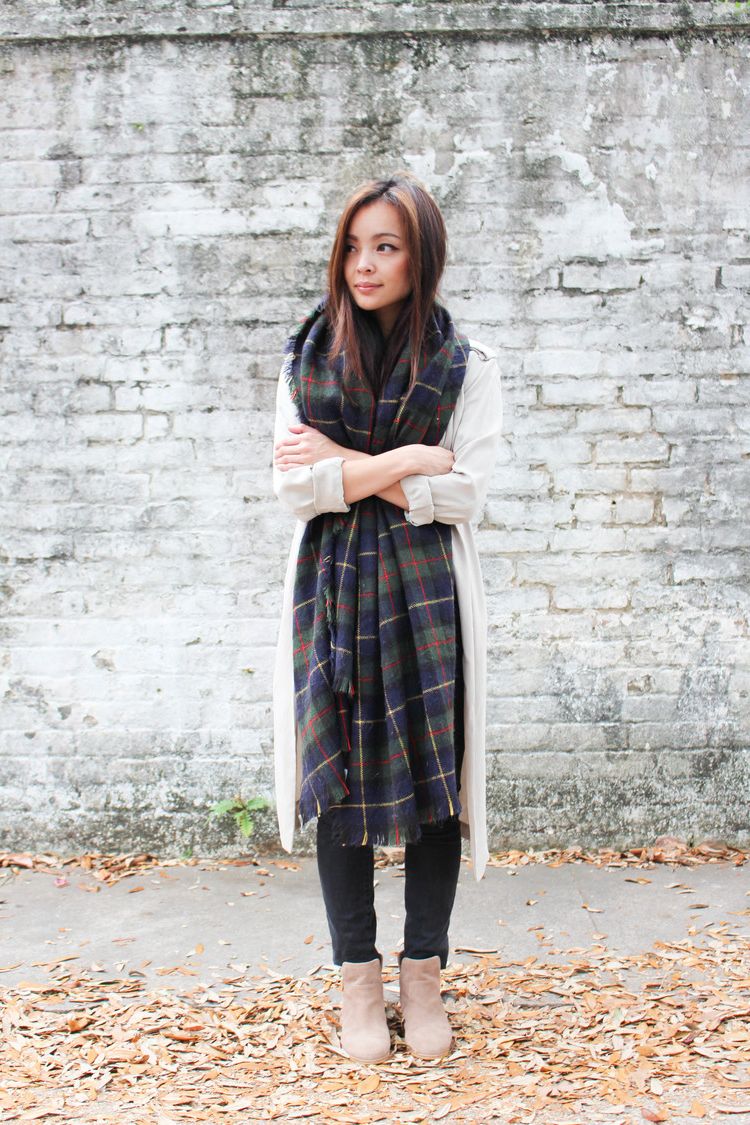 Buy Similar Here
Windowpane black scarf in oversized fit is tied around the neck. Simple and ladylike appearance. Complete it with a wide brim black hat, camel blazer, black leather pants and leather pumps in black: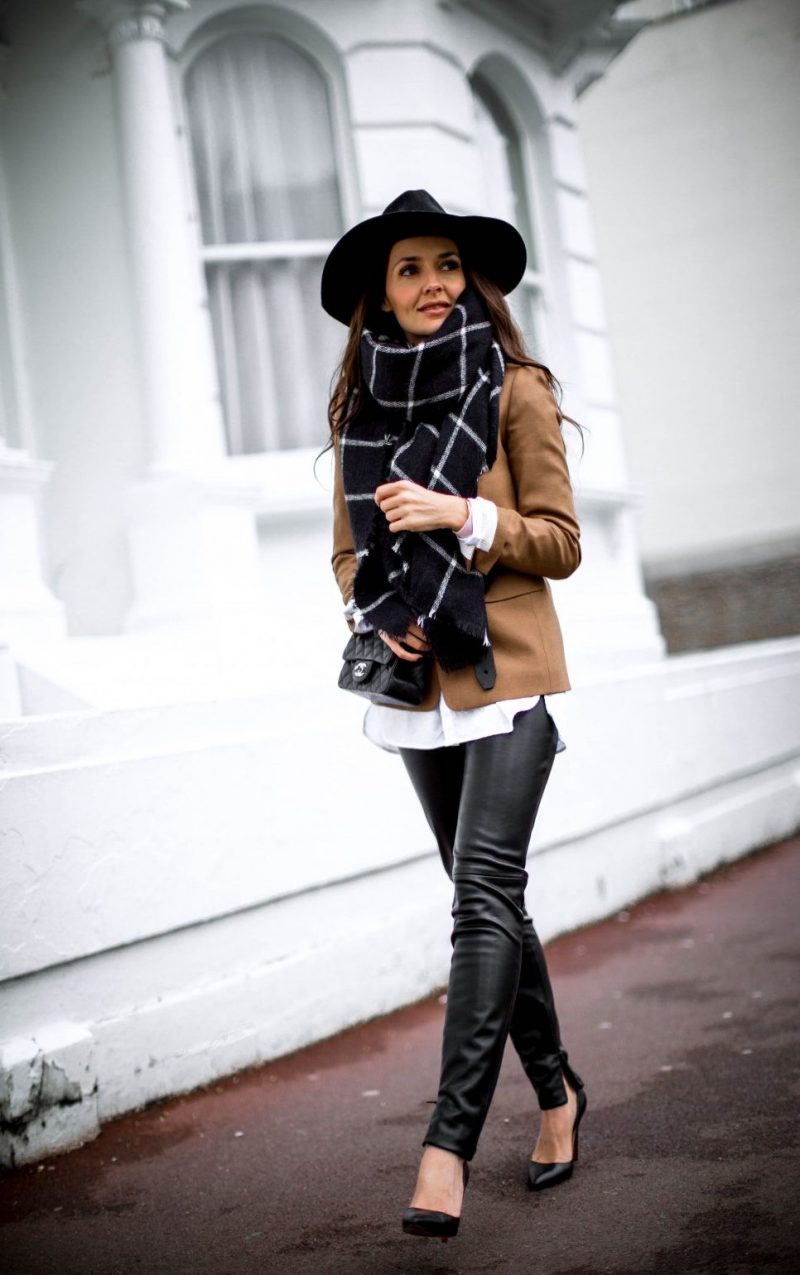 Buy Similar Here
A perfect French chic update. We see a brown oversized scarf teamed with a white bulky sweater, cuffed boyfriend jeans, and flat shoes. In love with that black beret hat. If you do want to see more Parisian inspired outfit ideas, then check out my post, you can find plenty of street style looks that are so must-have to try.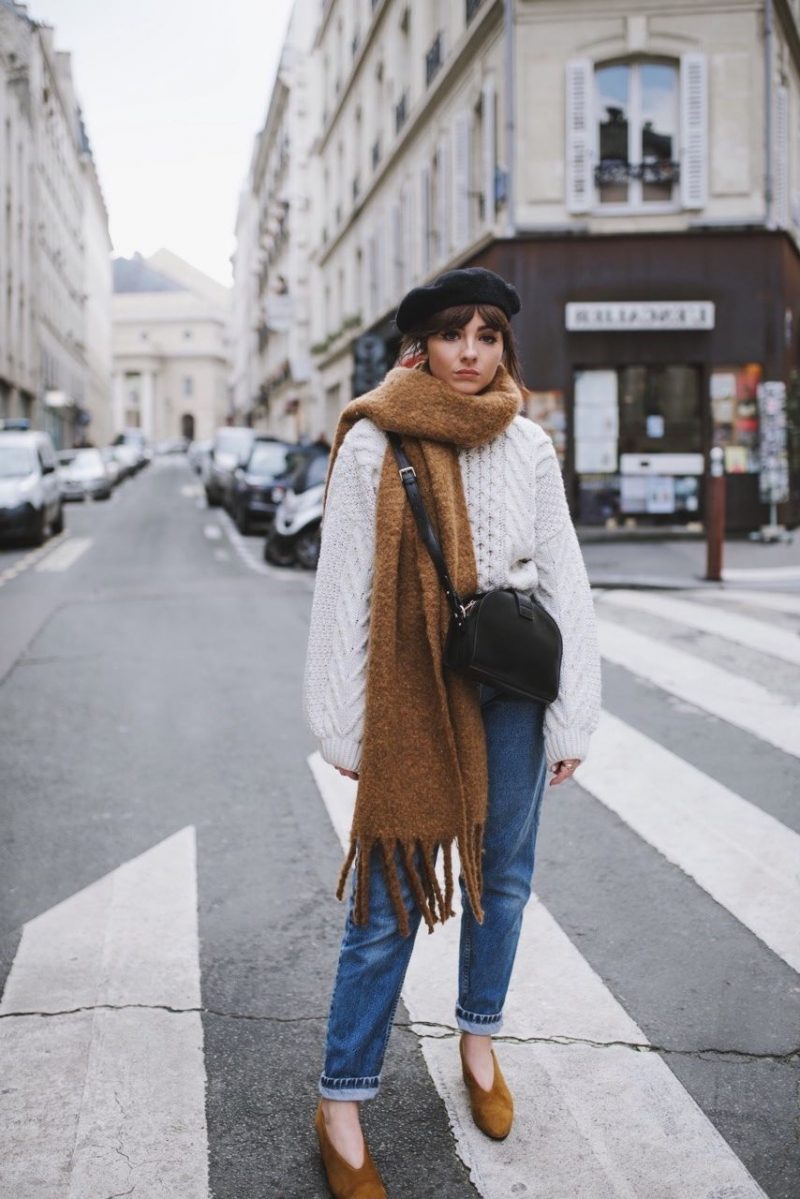 Buy Similar Here
An oversized scarf is worn as a poncho, just belt it and add maxi white skirt: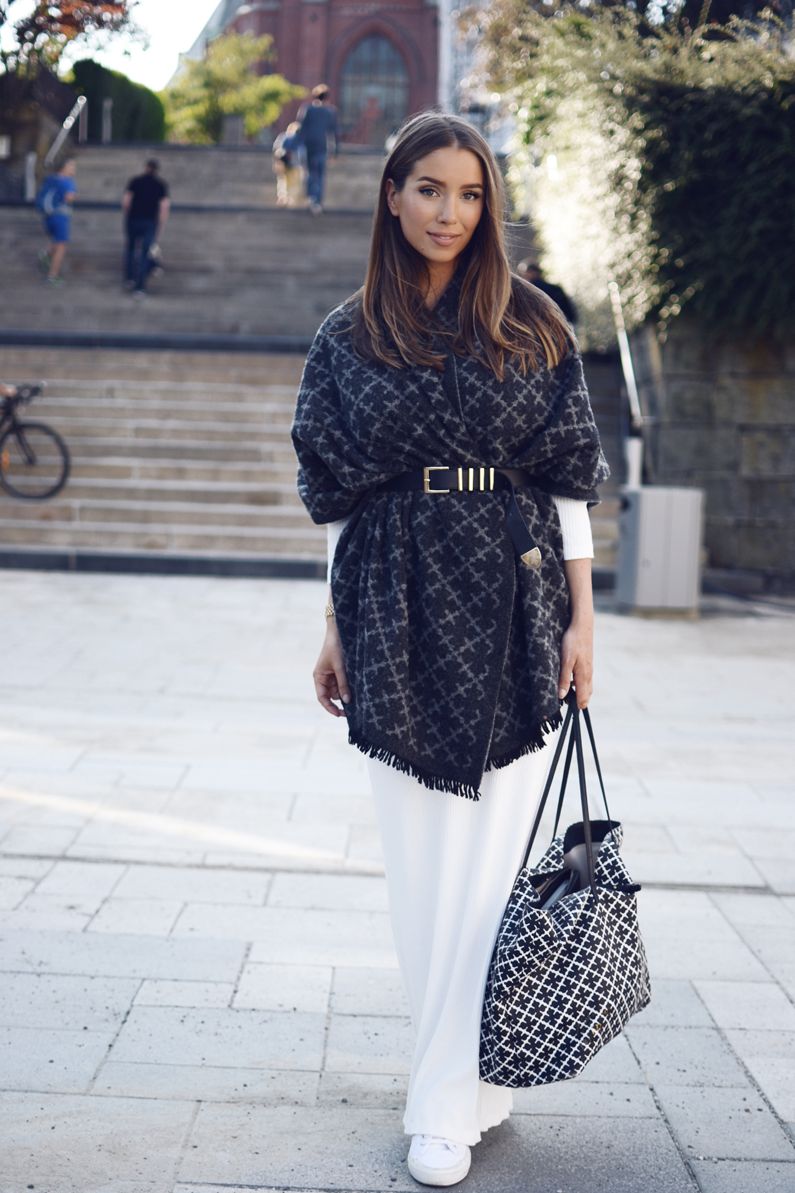 Buy Similar Here
All in black look updated with a tartan scarf looks sophisticated and inspiring: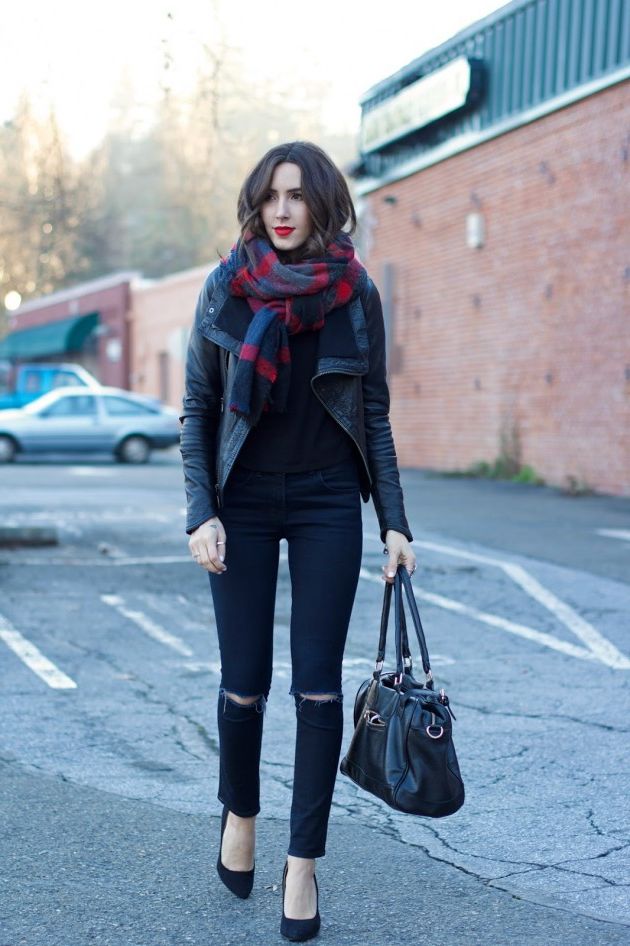 Buy Similar Here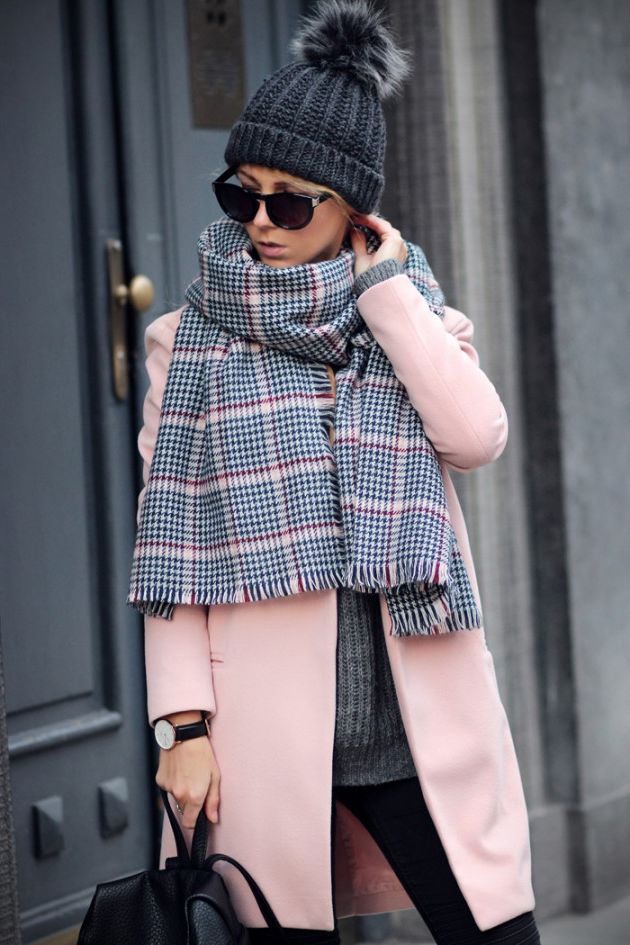 Buy Similar Here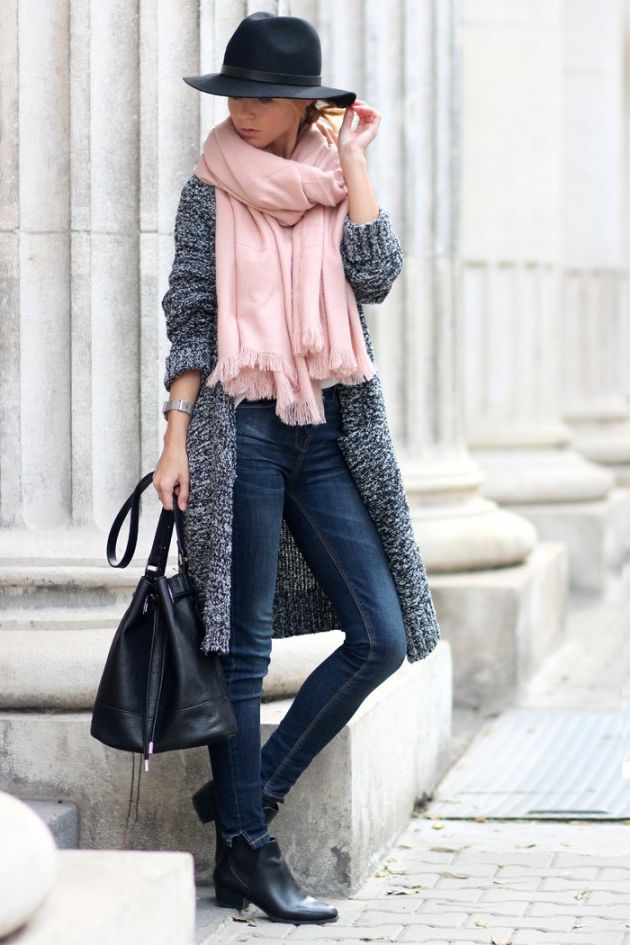 Buy Similar Here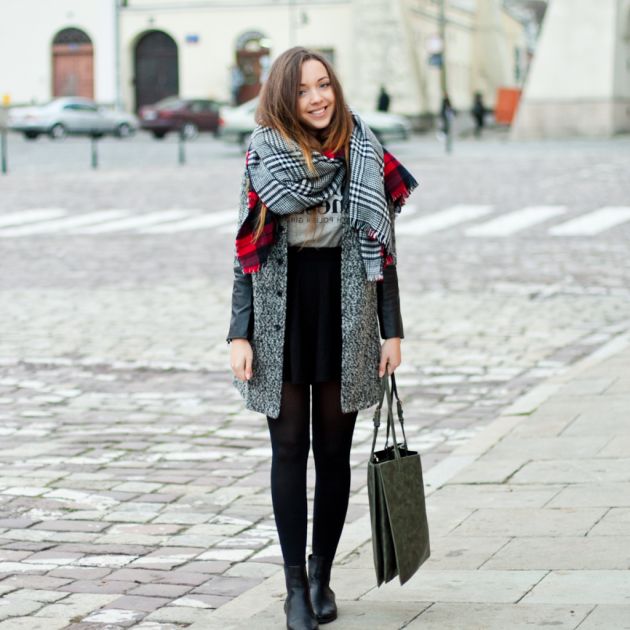 Buy Similar Here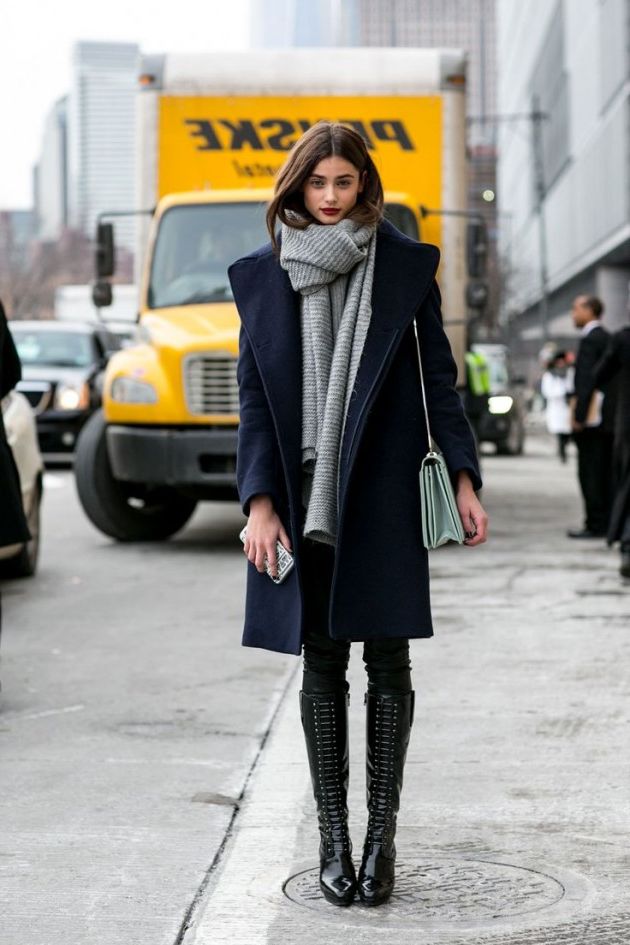 Buy Similar Here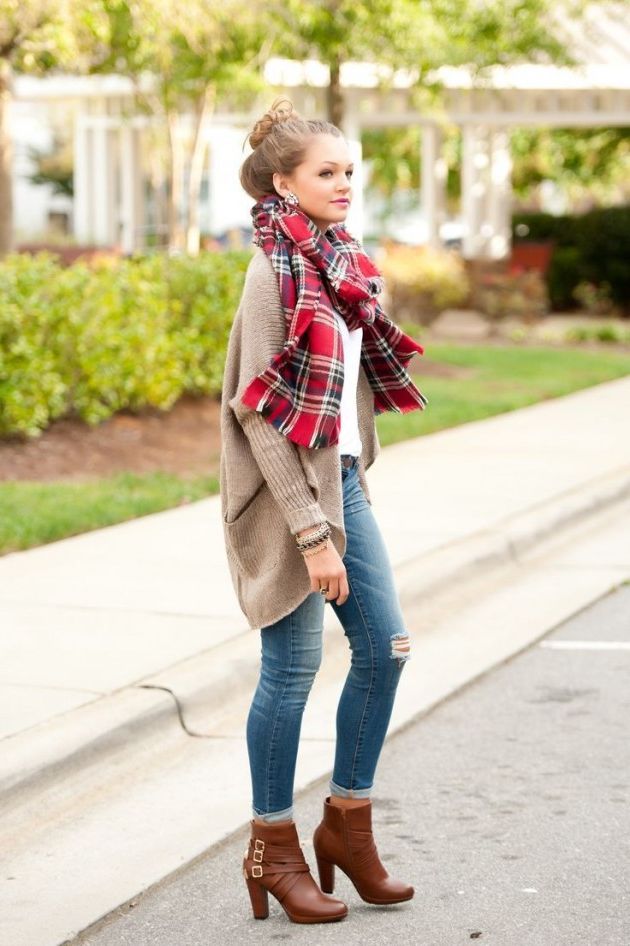 Buy Similar Here
So in love with this smart-casual city chic outfit idea that features a wide-brim hat, tartan scarf, pinstripe dark blue coat, black skinny jeans, and glossy black leather pumps: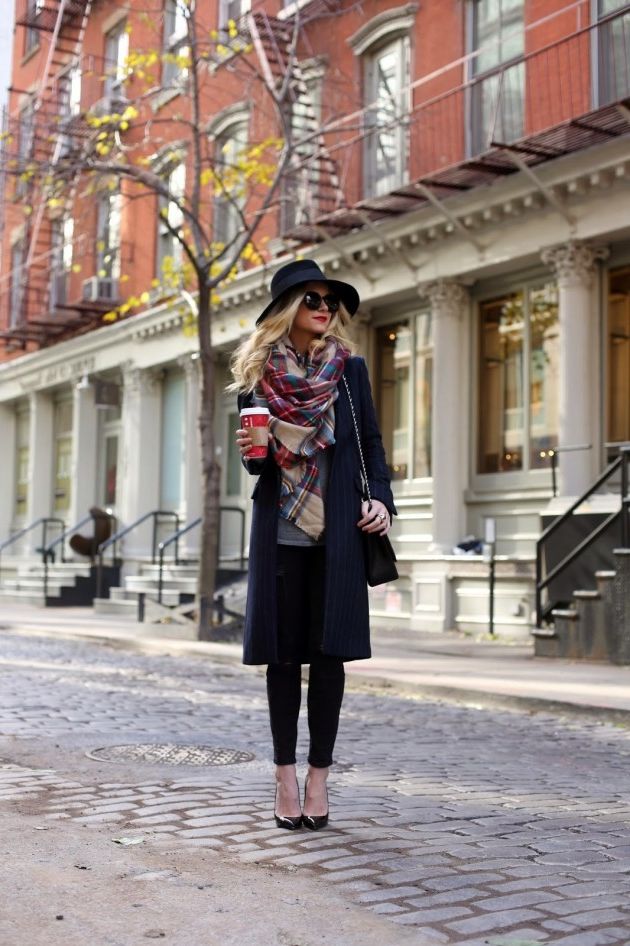 Buy Similar Here
Here we see an oversized knitted scarf teamed with navy peacoat with gold buttons. I am in love with these sunglasses :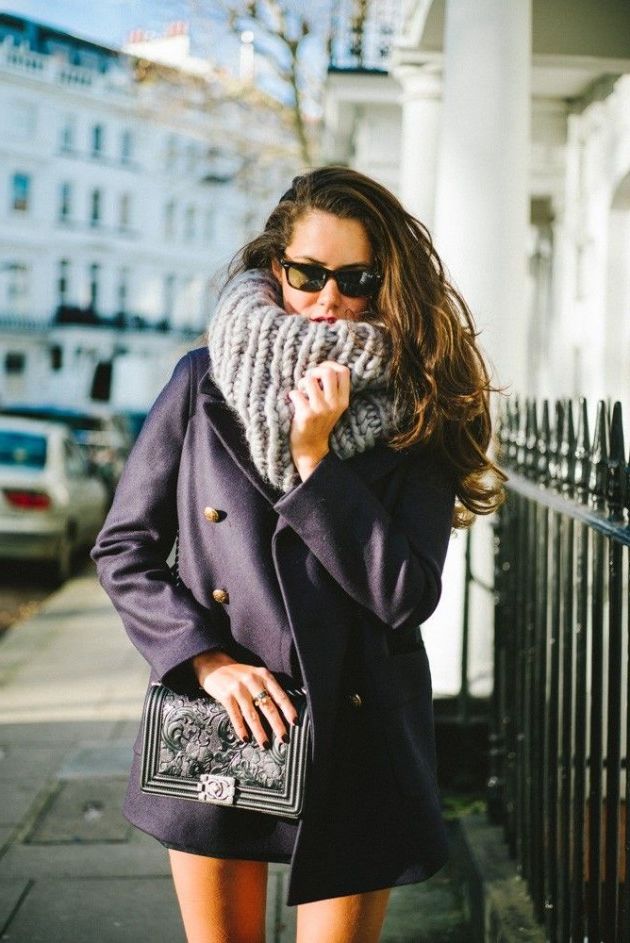 Buy Similar Here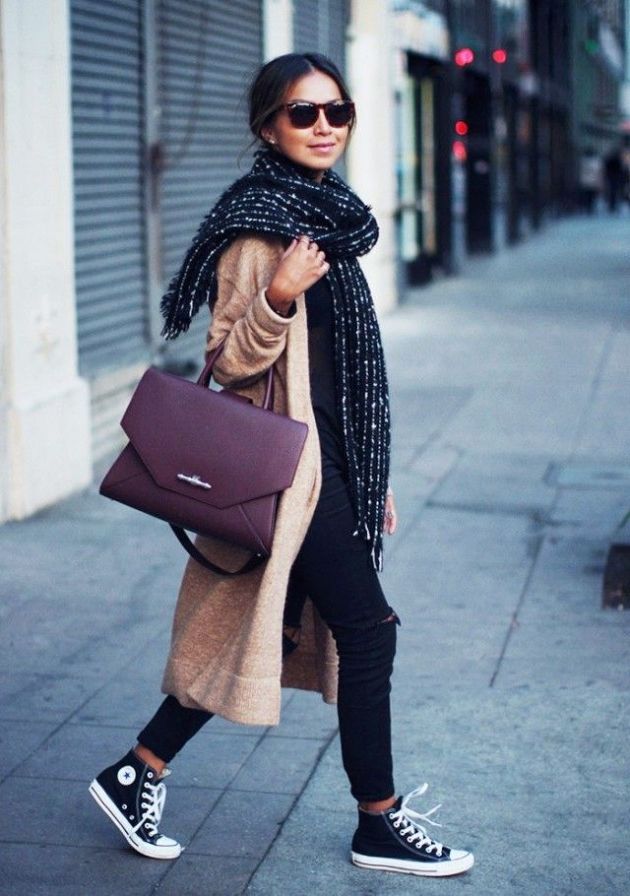 Buy Similar Here
Camel fedora hat in wool ideally matches this green bulky scarf. Complete this look by adding camouflage print jacket and ripped jeans: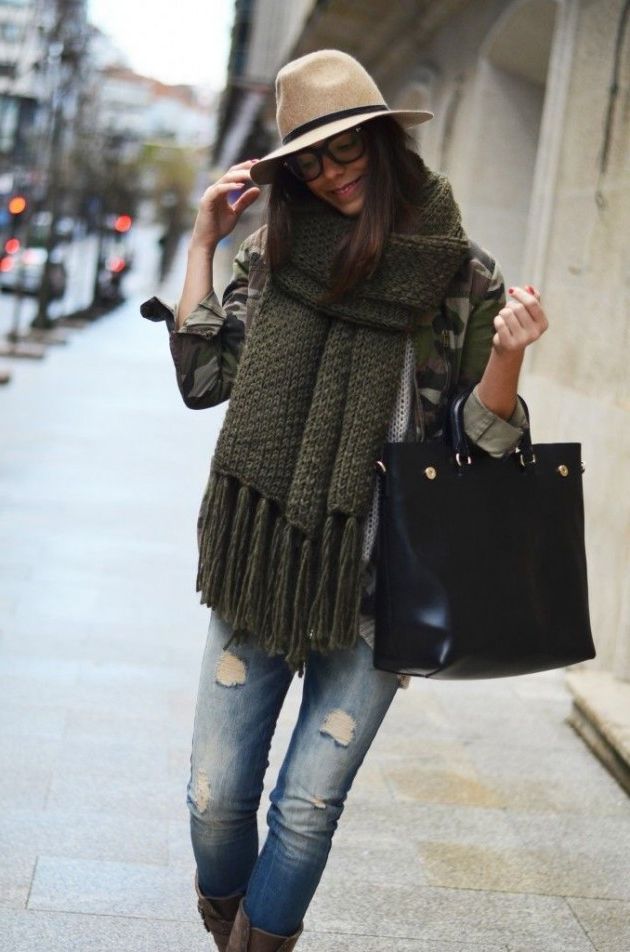 Buy Similar Here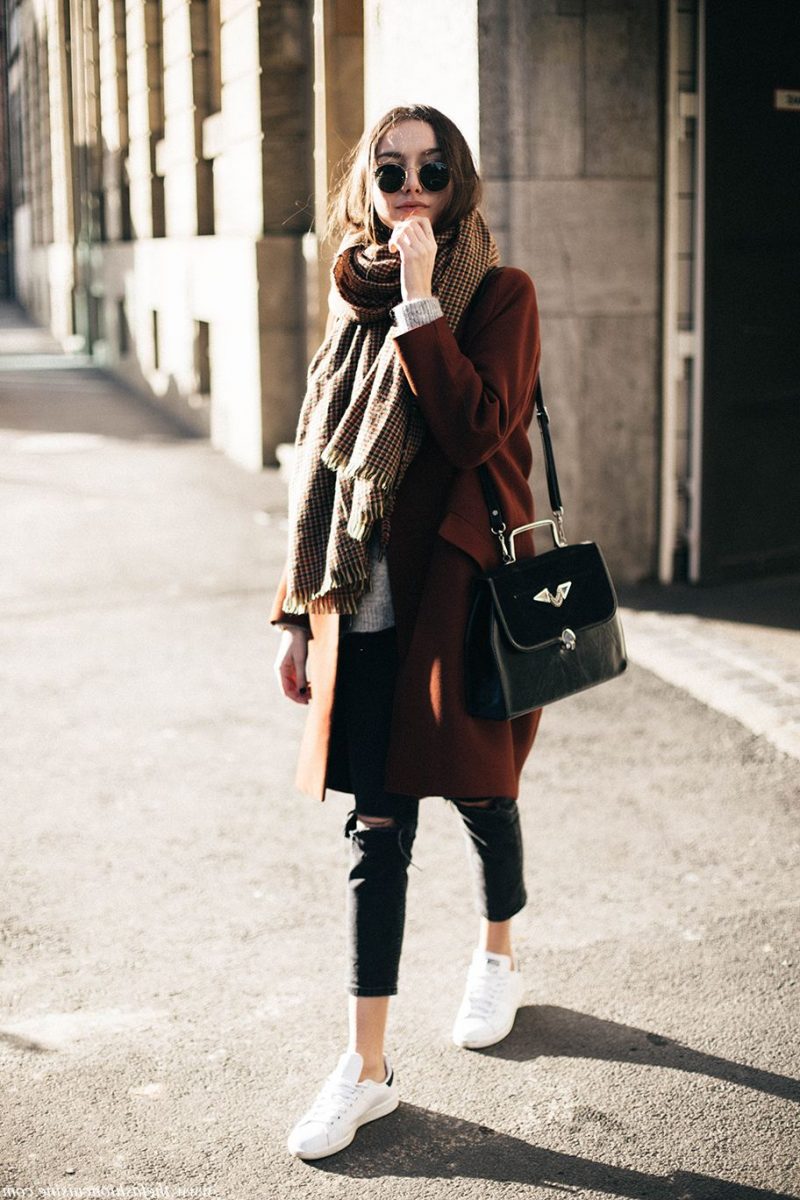 Buy Similar Here
Like it or not, but a big scarf automatically becomes a big part of your outfit, so you better style things right, so everything is placed correctly. Once you find your favorite design of the oversized scarf, it's time to work around your wardrobe and make sure everything is balanced. You can create thousands and more outfit ideas with a cool knitted scarf by teaming it with jeans, parkas, mini/midi/long skirts, combat boots, etc. In other words saying, layering is the key!