These are perfect Coachella outfits that can look awesome on girls and young women. I am pretty sure, everyone can find here something special. I am not saying you gonna love the whole outfit, but you might be interested in particular details or clothes so that you can create your own look.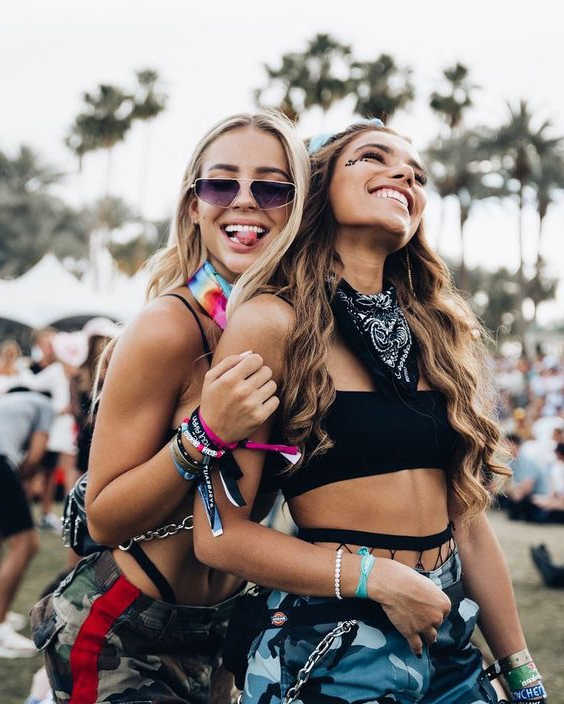 🛍️ Where To Find: Buy Related Here
A great combination of camouflage lovers. We see black crop tops styled with camouflage print joggers. Complete the looks by adding chain necklaces and printed neck scarves.
What To Wear For Coachella
Many celebrities and actresses visit this event because they all are looking for inspiration. I mean, this event is not only musical but cultural, spiritual and fashionable. It's a different space, or I would say the universe, where people all around the world gather together to enjoy positive vibes, music and desert weather.
Bikini Top With Sheer Black Pants In Floral Print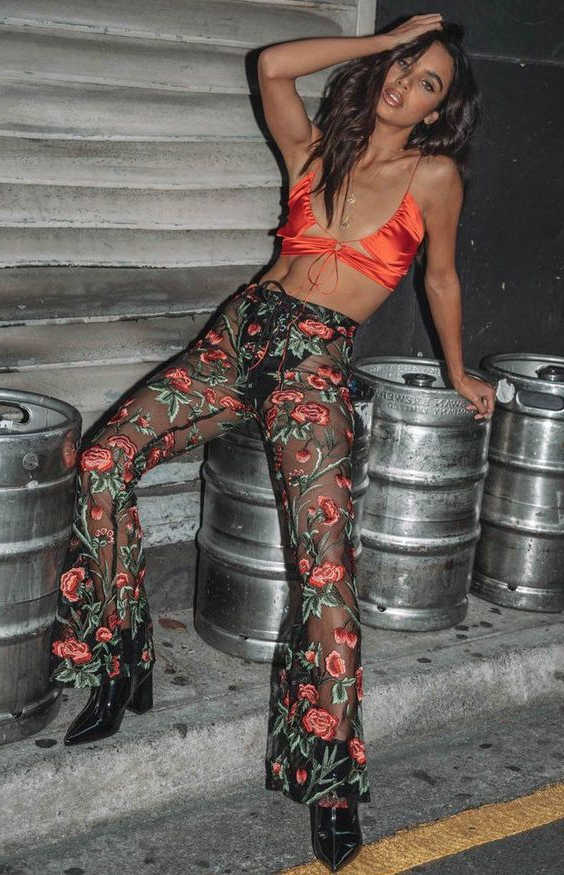 🛍️ Where To Find: Buy Related Here
Just please, don't compare it to the Burning Man festival, these two events have no similarities at all. For Coachella, the fashion attributes are pretty clear, it's sweet, flower crowns, positivity, hippie-chic vibes, relaxed style, crop tops, and comfy denim. While the Burning Man festival is all about post-apocalyptic art and your self-expression. Burning Man adds a bit of authenticity to its style and focuses its spiritual philosophy and the clothing for both festivals differs greatly.
Black Bra Top With Plaid Pants And Yellow Platform Boots
A nice combo for hot days. We see a black bra top teamed with green plaid pants completed with high platform yellow boots: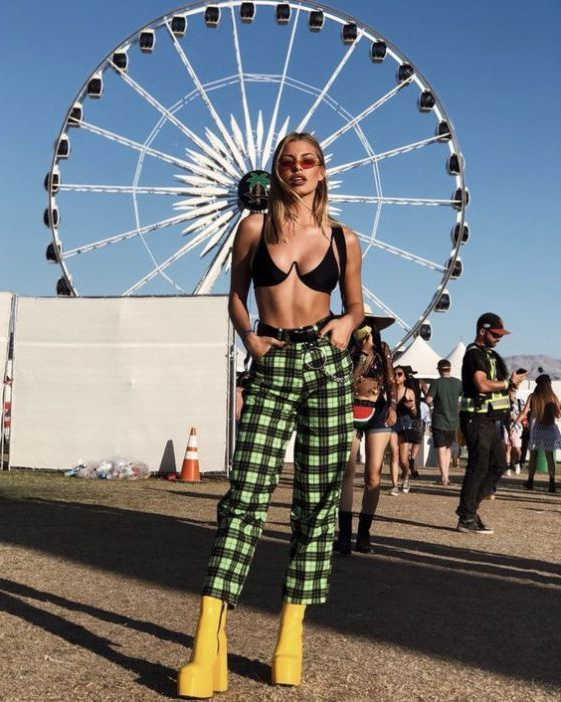 🛍️ Where To Find: Buy Related Here
Before going to the Coachella festival, you should pack your clothes and plan your looks for the upcoming days. That's why it's important to know how to dress for Coachella. Here are presented the best looks you can copy in real life.
Black Crop Top And Black Wide Pants
A perfect all in black outfit idea. It consists of a black crop top and black sheer pants encrusted with stones. Complete this combo with platform heeled booties: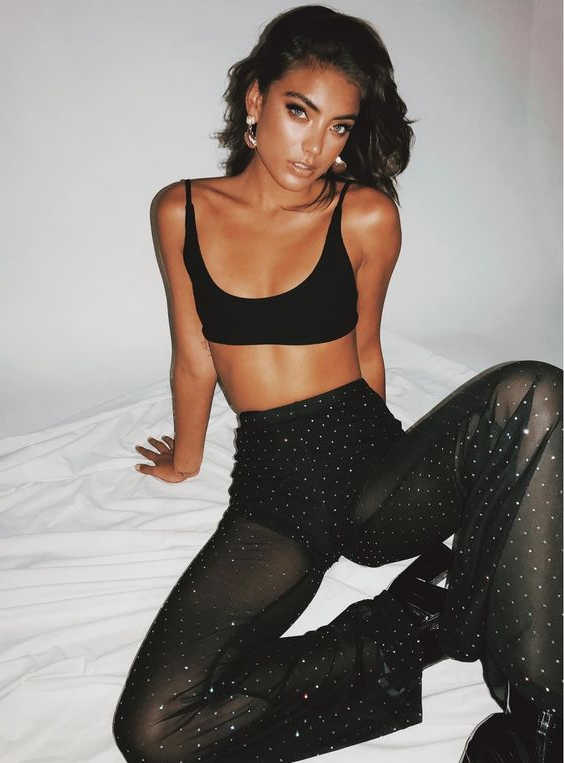 🛍️ Where To Find: Buy Related Here
Are you ready for the upcoming dates starting from April 10 to April 19? Today I am going to show you possible outfit ideas you can copy for the Coachella event. I am sure you will create a perfect look for the upcoming nine days of this magnificent music and arts festival. Hope you already have the tickets, as I heard there will be lots of people.
Black Mesh Mini Dress In Star Print
A black mesh mini dress in star-print is worn over black underwear. Complete this look with rounded sunglasses and block heel platform ankle boots in black leather: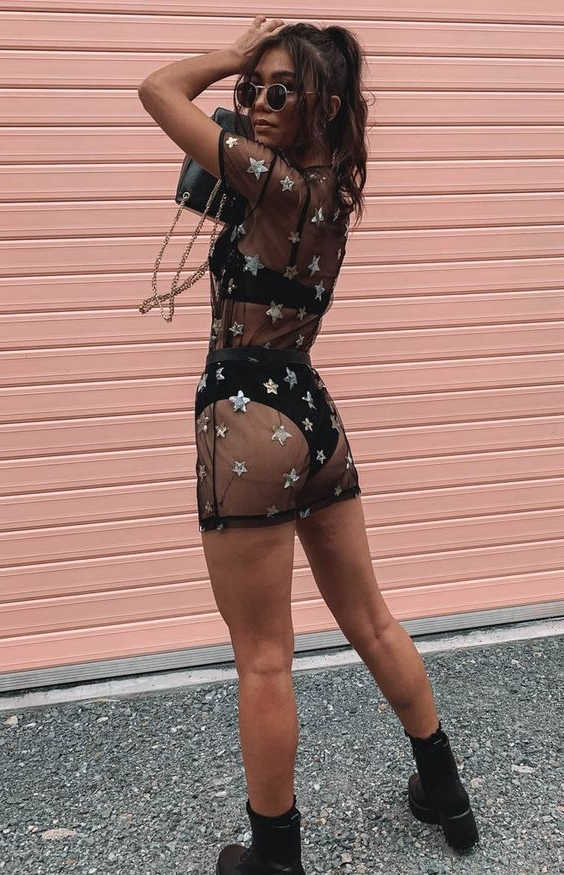 🛍️ Where To Find: Buy Related Here
This year we are having cool bands and singers, like Rage Against the Machine, Travis Scott, Lana Del Rey, Frank Ocean, and many more. This means that your style should be a mix of grunge, rock, hip-hop, and boho. I tried my best to create the one and only lookbook for your inspiration. I hope these inspiring outfit ideas will make you buy new stuff.
Blush Bra Top And Sheer Joggers With Sneakers
A blush crop top with spaghetti straps is styled with matching color high-waist panties styled with sheer white joggers and chunky white sneakers: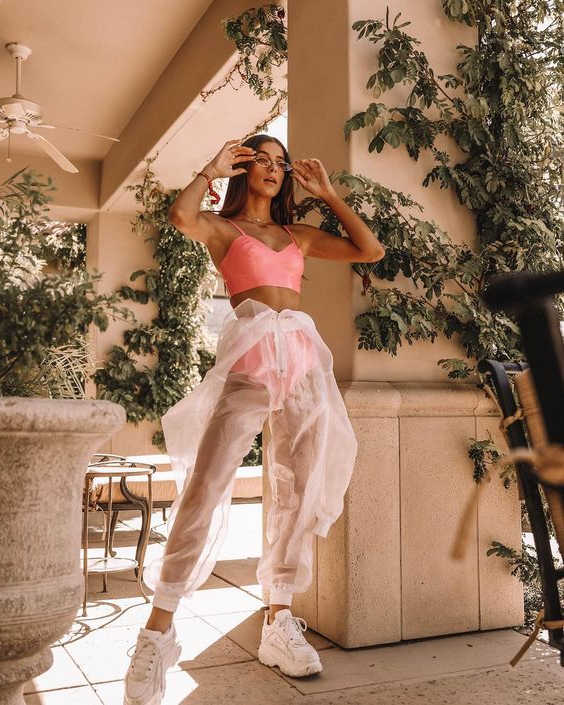 🛍️ Where To Find: Buy Related Here
Cowboy Style For Coachella
Another cool outfit idea for Coachella is to try on a cowboy-style look. Here we see two ladies, one is wearing a cowboy hat with a fringed suede jacket in black with denim shorts and black cowboy boots and the other one is clad in black leather bra top, leopard print maxi wrap skirt with a safari color mini skirt completed with cowboy boots:
🛍️ Where To Find: Buy Related Here
Crochet Blush Crop Top And Denim Shorts With Brown Boots
A cream-grey cowboy hat is worn with a blush crochet bra top, fringed pink kimono and denim shorts completed with cowboy boots. Yes, it's a kind of a mix between cowboy style and boho look: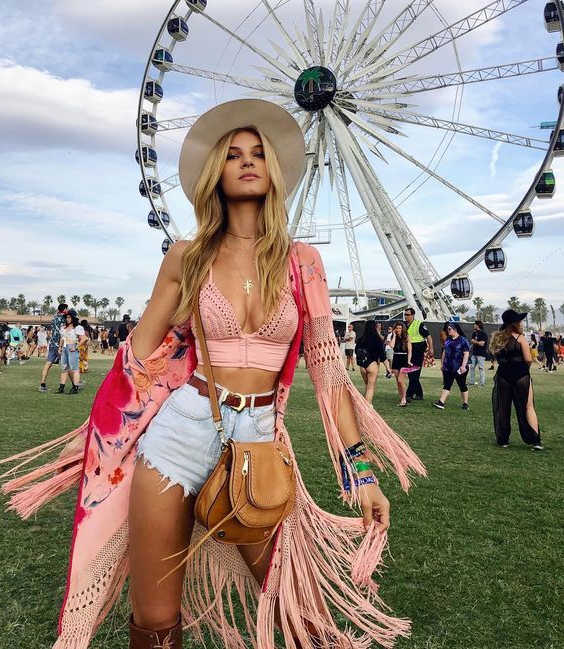 🛍️ Where To Find: Buy Related Here
Crochet Bra Top In Daisy Flower Print
In love with this crochet bra top in daisy flower print worn with a denim jacket, straw hat, and paper bag waist white pants: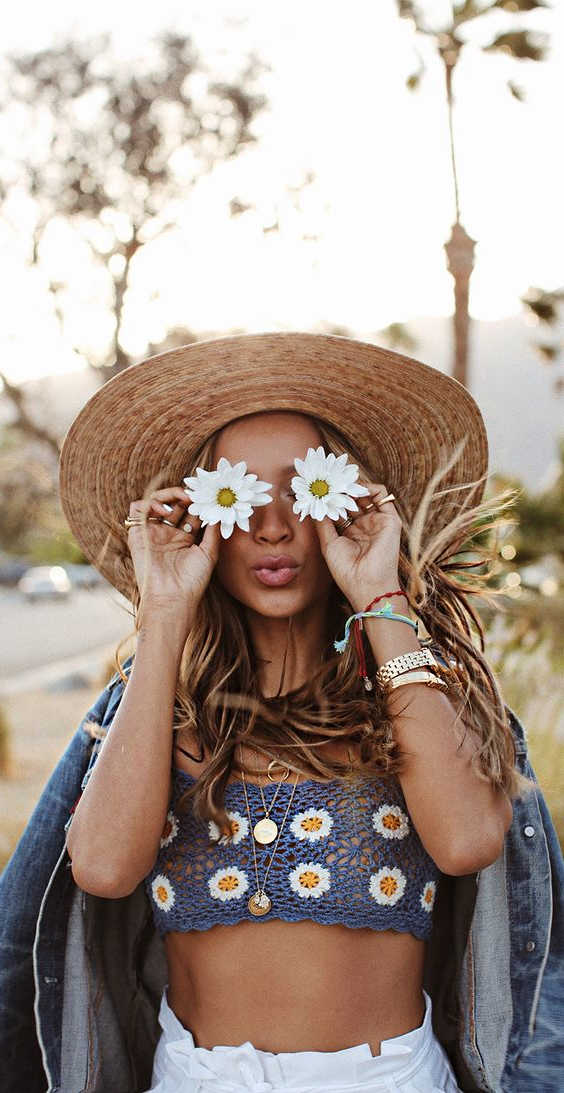 🛍️ Where To Find: Buy Related Here
Denim Jacket With Fringed Separates And Snakeskin Boots
A blue denim jacket is styled with black separates completed with fringes. Update this cool combo with rounded sunglasses, black leather backpack and ankle-boots in snakeskin print: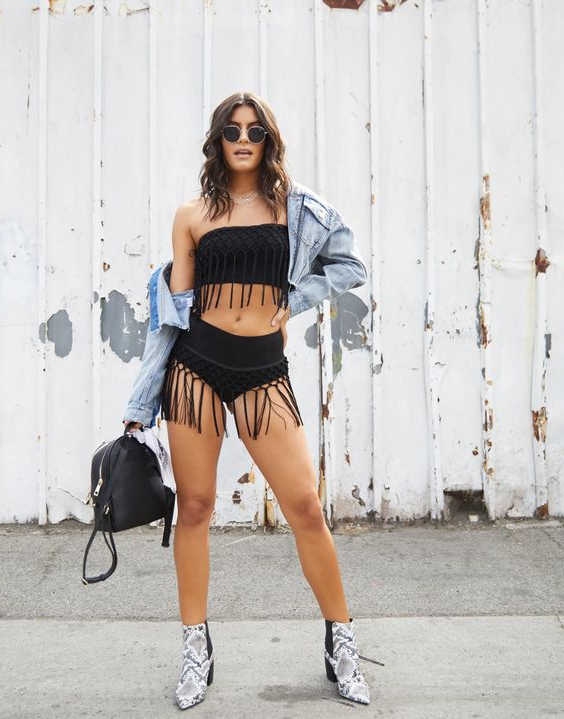 🛍️ Where To Find: Buy Related Here
Crop Top With Gingham Print Shorts And Combat Boots
Keep it grunge and edgy! Go for a crop top in black styled with high-waist gingham print white-red color. Complete this outfit with rounded sunglasses and platform combat boots in black leather: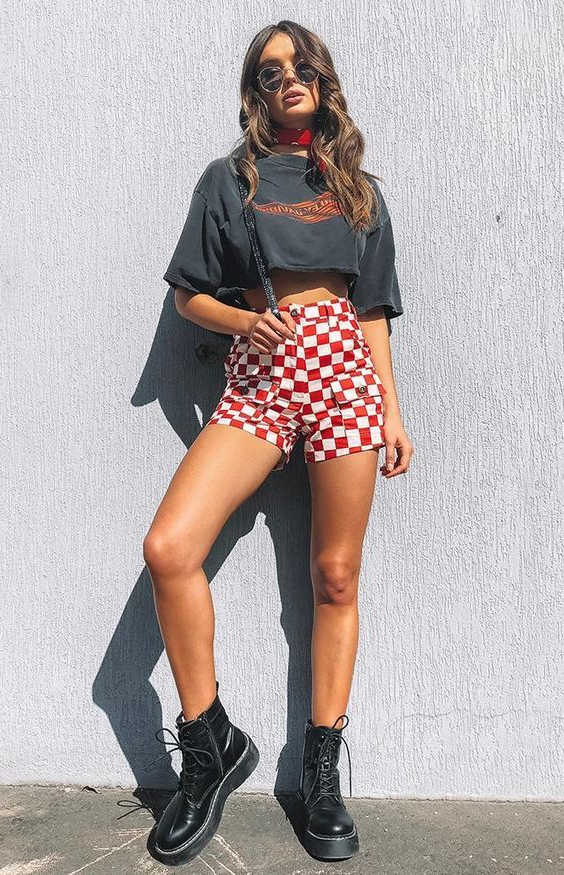 🛍️ Where To Find: Buy Related Here
Lace Bra Top With Denim Shorts And Combat Boots
Spaghetti strap black lace bra top teamed with high-waisted denim shorts completed with slouchy black leather combat boots and wide-brim hat: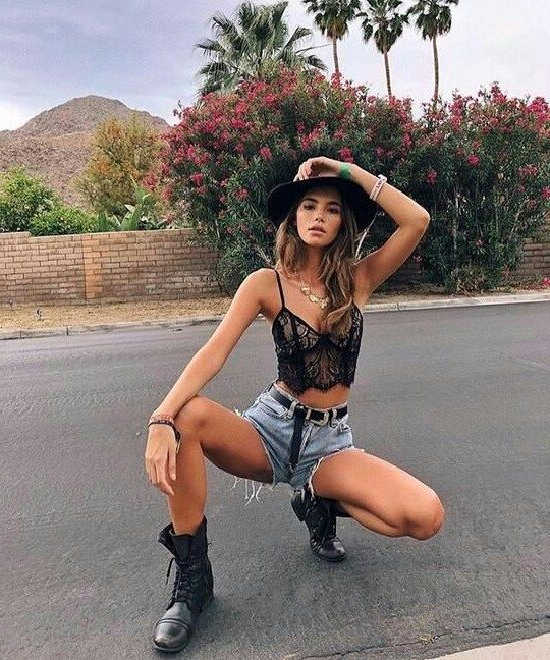 🛍️ Where To Find: Buy Related Here
Multi striped Crochet Matching Set
Keep it cool and vintage-inspired. Go for a multi-striped crochet matching set consisting of a wrap crop top and high-rise shorts. Complete it with a stylish beige hat, 90s style sunglasses, and a shiny metallic rounded clutch bag: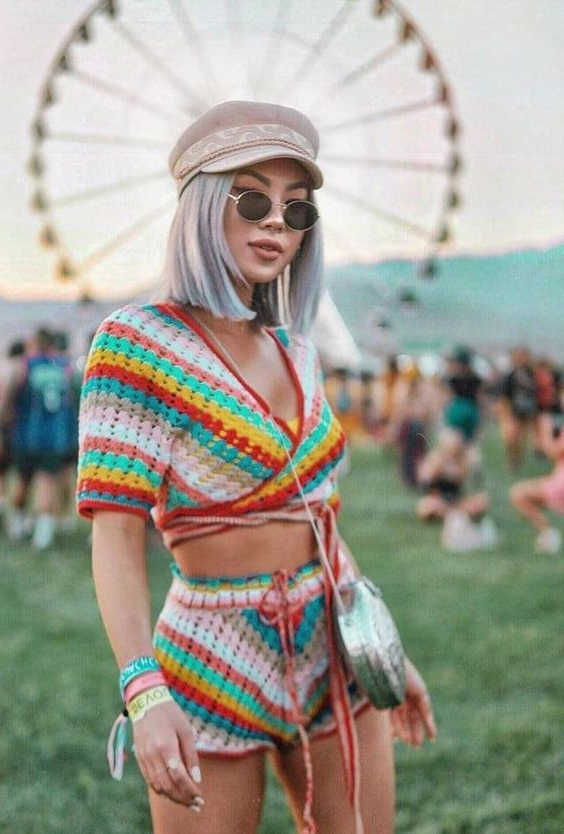 🛍️ Where To Find: Buy Related Here
Patchwork Denim Outfit
Make a move with denim! Go for a denim bra top and patchwork bootcut jeans completed with white sneakers: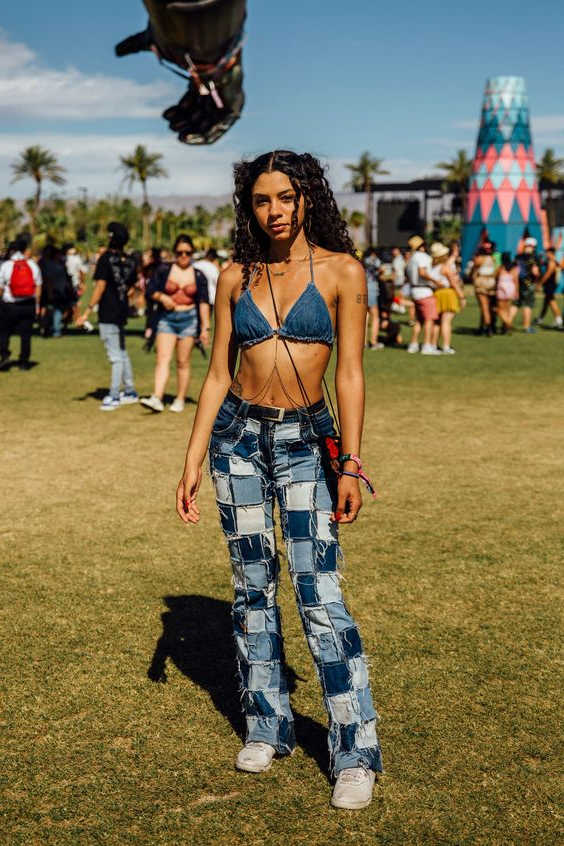 🛍️ Where To Find: Buy Related Here
Peasant Dress And Buckled Ankle Boots
A white peasant spaghetti strap dress with mesh detailing is styled with buckled black leather combat boots. Complete this look by adding wide-brim hat in black: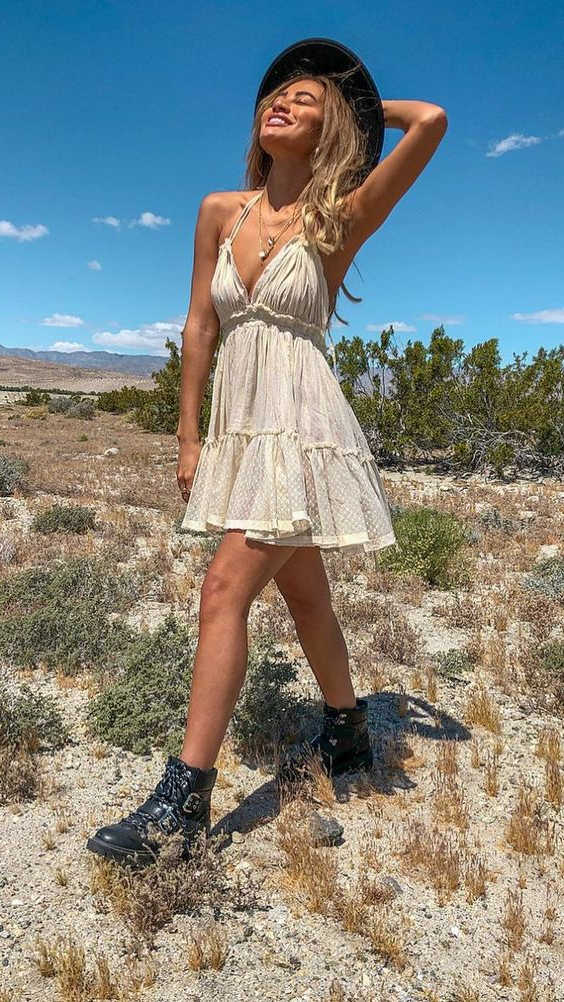 🛍️ Where To Find: Buy Related Here
Platform Combat Boots With Camouflage Pants And Camo Bra Top
In love with camouflage print? Go for camo print bra top and sexy cut-out camouflage joggers completed with platform black leather combat boots: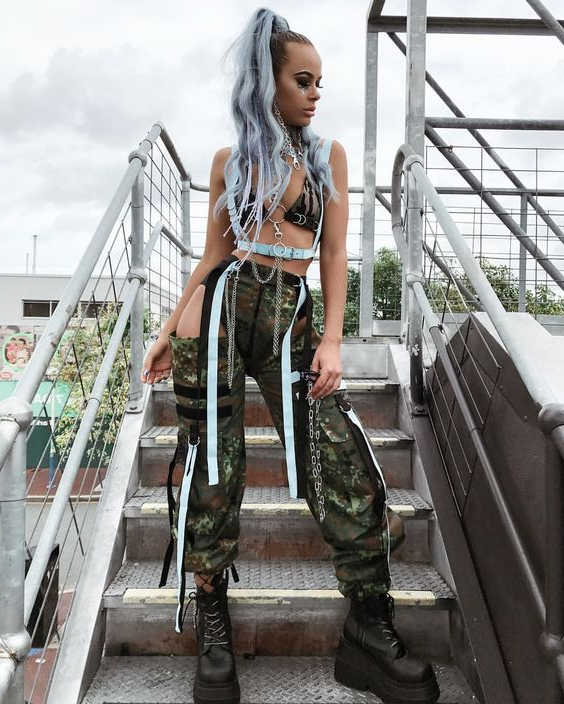 🛍️ Where To Find: Buy Related Here
Printed Crop Top And Denim Shorts
A printed bandeau crop top is styled with denim shorts, simple and easy to wear outfit idea: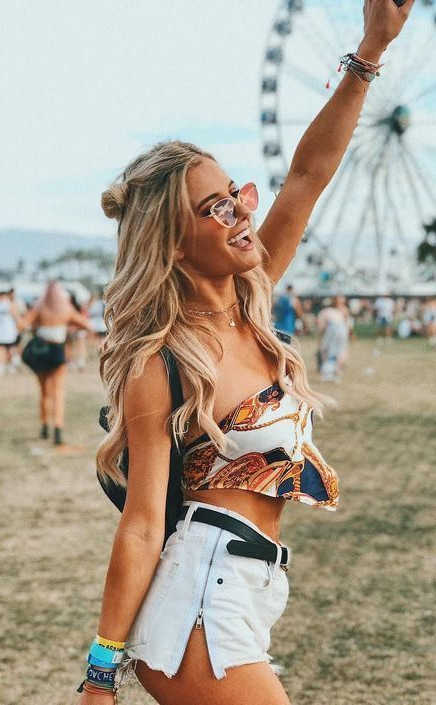 🛍️ Where To Find: Buy Related Here
Printed Crop Top With Camouflage Denim Shorts And Ankle Boots
A biker style rock look. We see a black wide-brim hat, Rolling Stones crop top in black and camouflage print shorts completed with buckled black leather boots and black leather jacket: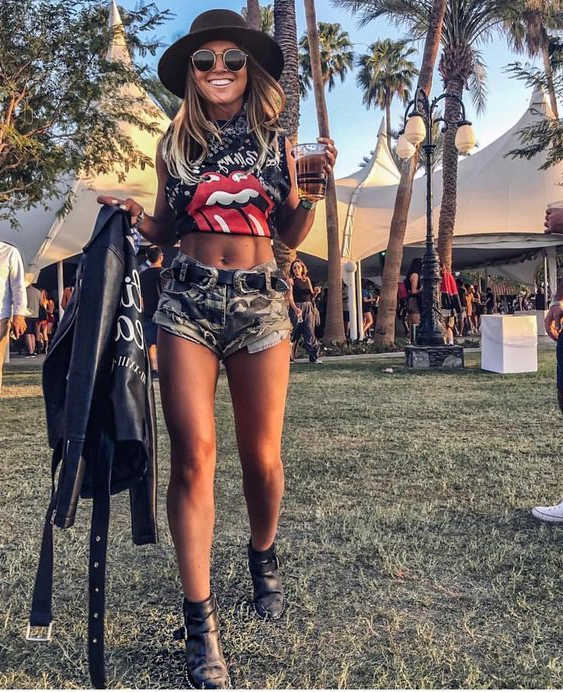 🛍️ Where To Find: Buy Related Here
Printed Deep V-neck Romper
A chic deep V-neck romper in cream white with jacquard print with long sleeves is another perfect choice for young ladies: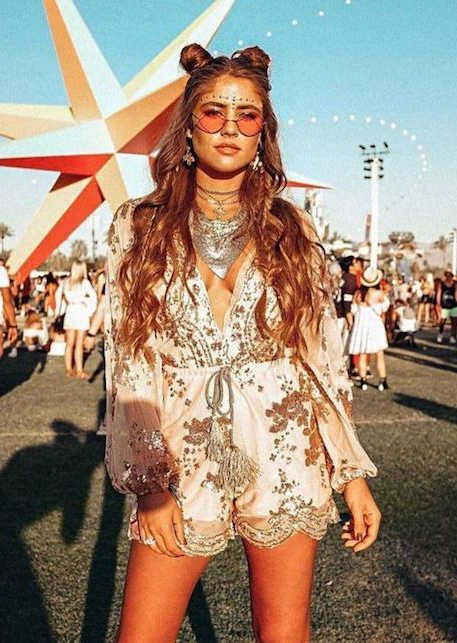 🛍️ Where To Find: Buy Related Here
Sheer Black Maxi Dress And Buckled Black Leather Boots
A sheer black maxi dress looks awesome over a black bra top teamed with high-waisted black leather shorts. Complete this combo with multi-buckled black leather boots and cat-eye sunglasses: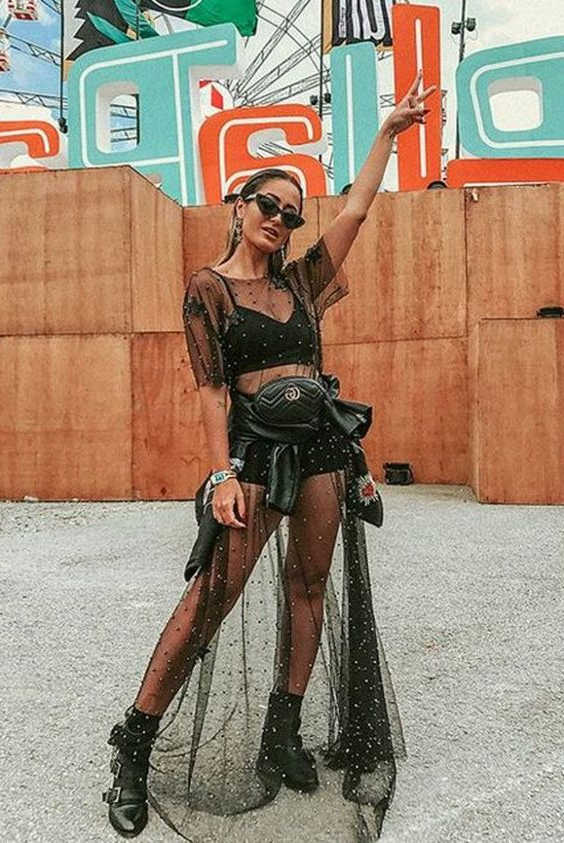 🛍️ Where To Find: Buy Related Here
Sheer Maxi Kimono In Star Print
White sheer long sleeve maxi dress in star print is styled with a black bodysuit and a black leather belt. A nice combo for making a wow-statement: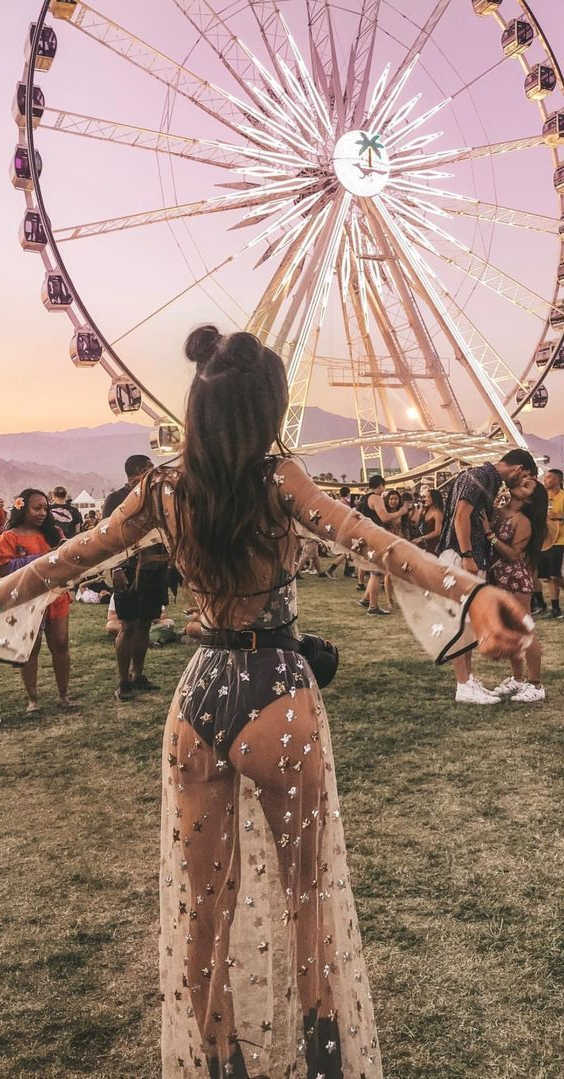 🛍️ Where To Find: Buy Related Here
Silver Metallic Bralette And Star Print Black Flared Pants
A silver bandeau bra top is styled with velour black flared pants in star print completed with platform black leather combat boots: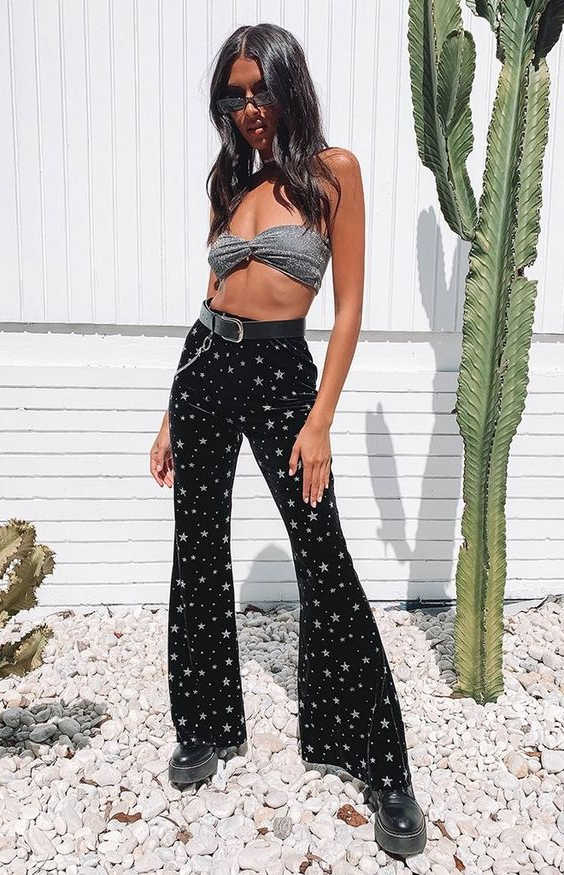 🛍️ Where To Find: Buy Related Here
Star Print Maxi Sheer Kimono With Silver Bra Top And Combat Boots
Another star print sheer black maxi kimono with fur embroidery styled with silver bandeau bra top, black high-waist panties, and black leather combat boots: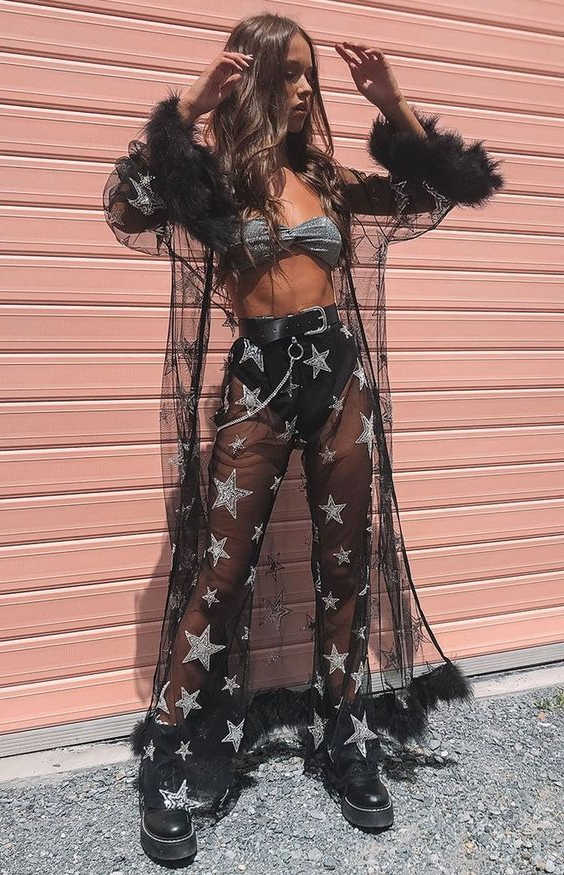 🛍️ Where To Find: Buy Related Here
Star Print White Mini Dress
A sheer white mini dress with spaghetti straps in star print. Complete this look with hoop earrings, rounded sunglasses and a cute white leather backpack: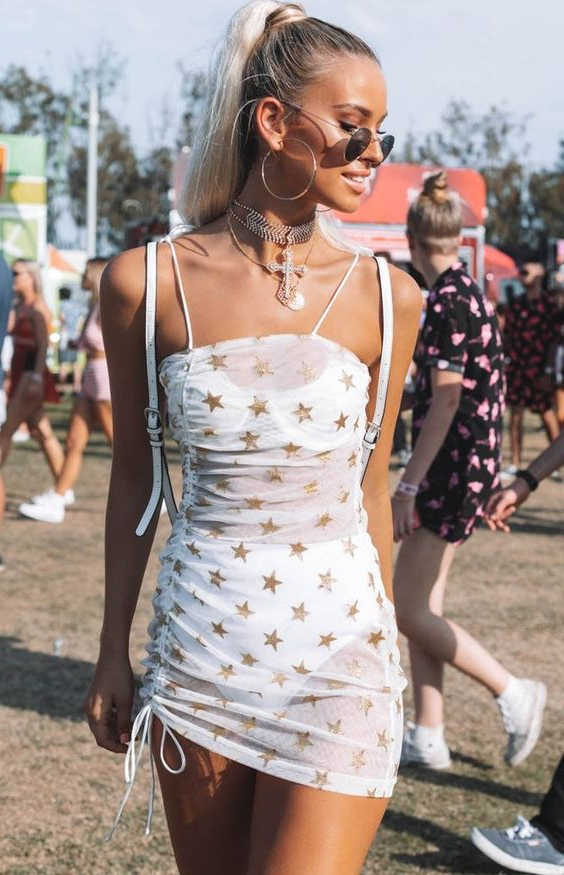 🛍️ Where To Find: Buy Related Here
White Crop Top And Yellow Shorts With Sneakers
Keep it relaxed, simple and sporty. Go for a yellow headband, white bandeau top and yellow shorts completed with white sneakers and white socks: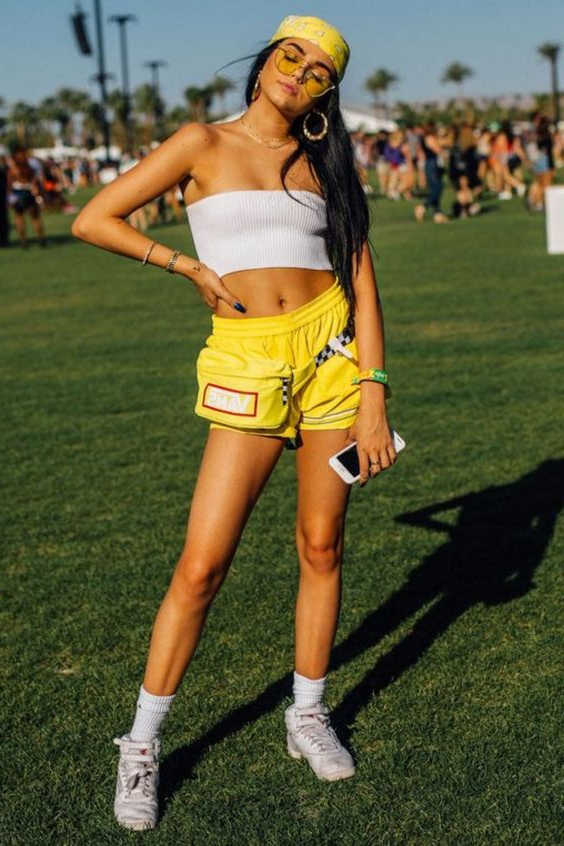 🛍️ Where To Find: Buy Related Here
White Jumpsuit And Platform Black Leather Combat Boots
A white jumpsuit with a deep neck worn with a gold bra top and black leather platform combat boots. Complete the look by adding cool sunglasses and grommet belt: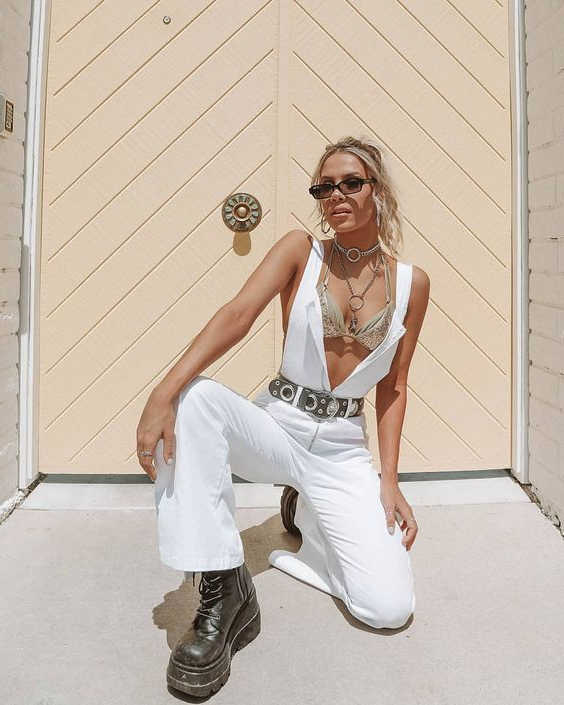 🛍️ Where To Find: Buy Related Here
White Lace Bra Top And Crochet Ruffled White Pants
Keep it all with crochet and lace. We see a white lace bra top teamed with totally ruffled flared pants in white: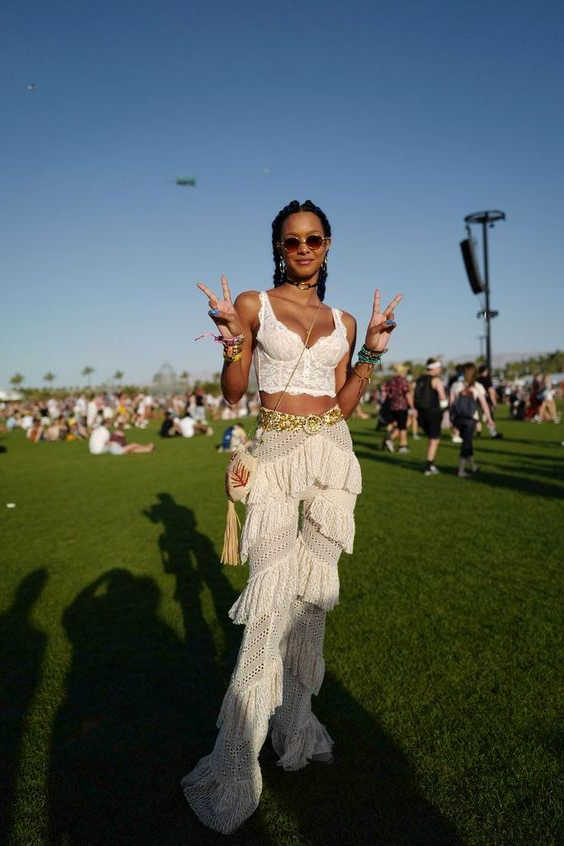 🛍️ Where To Find: Buy Related Here
White Maxi Gown And Black Combat Boots
A festive style for glamour ladies. We see a spaghetti strap maxi dress in semi-sheer white color completed with grunge style black leather combat boots with fishnet socks: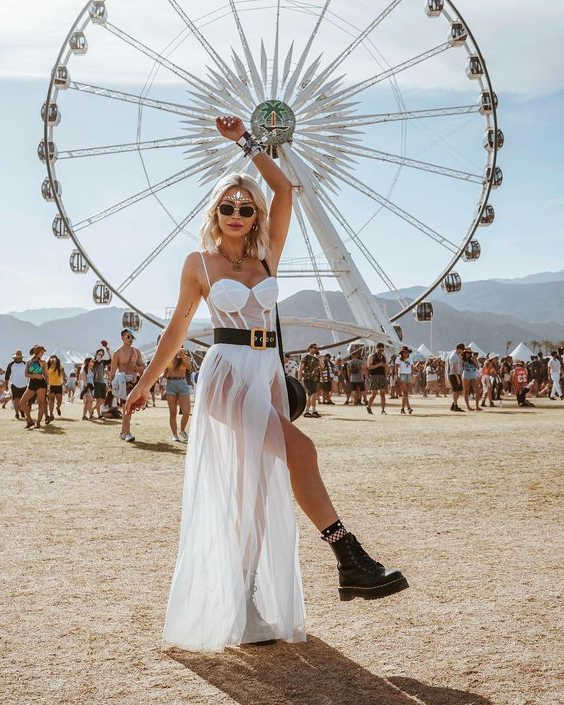 🛍️ Where To Find: Buy Related Here
Coachella Outfit Ideas For Women Over 40
Coachella festival has no age limit, that's why women over 40 can also go for fancy outfits. Here we see a good option consisting of a black floral print sheer kimono styled with a relaxed white top and bootcut jeans in blue: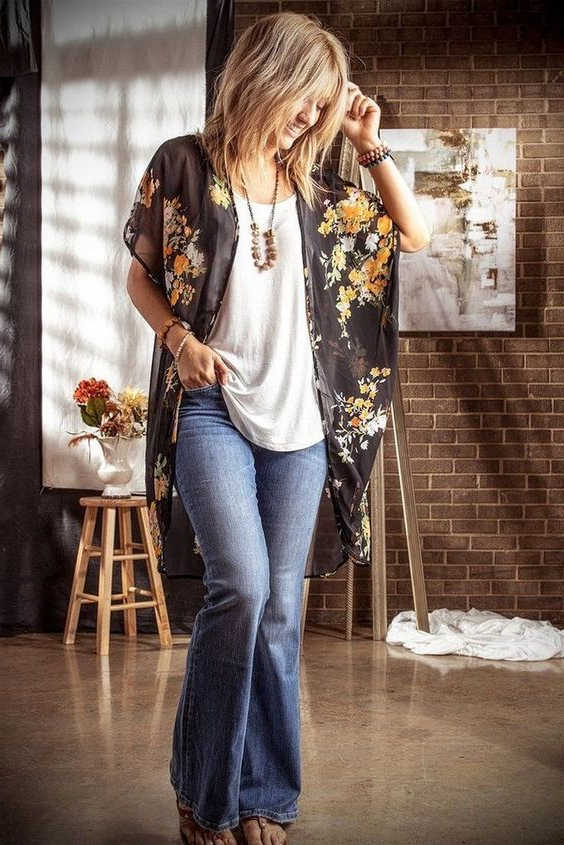 🛍️ Where To Find: Buy Related Here
How about keeping things a bit dressy. Go for a red sleeveless blouse and team it with white printed slim-fit pants and cherry red pointed-toe heeled pumps: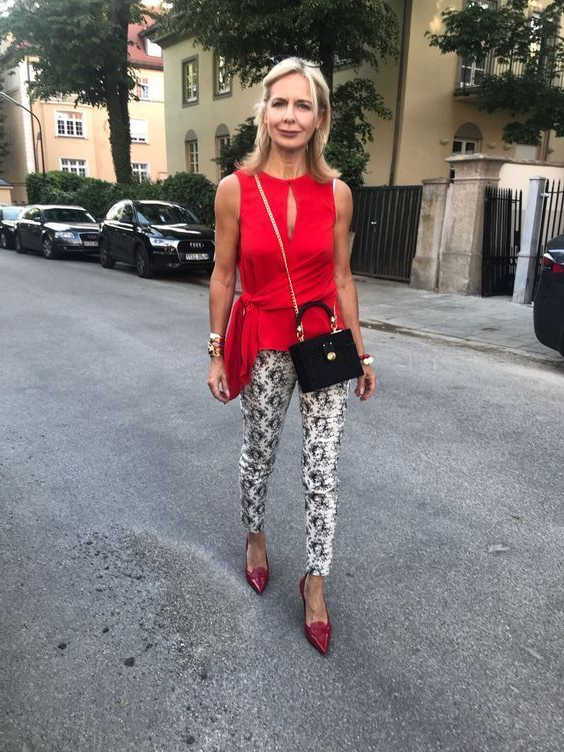 🛍️ Where To Find: Buy Related Here
Another boho chic outfit idea for women over 40. We see a light semi-sheer cream-blue kimono worn over a maroon top teamed with white bootcut jeans: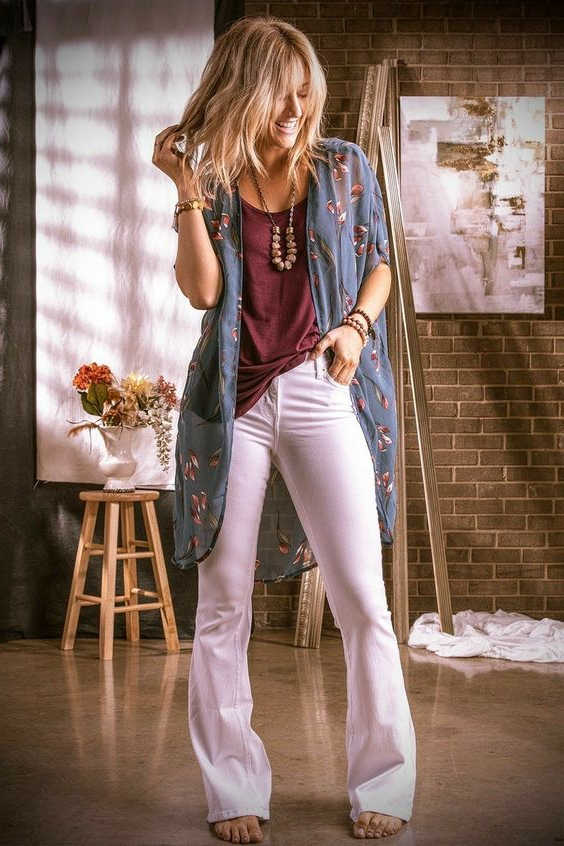 🛍️ Where To Find: Buy Related Here
Source: MarieClaire,Glamour