Today we are here to talk about bike shorts trend for women and how to wear these bottoms in real life. I want to show you inspiring looks that are easy to copy in real life. What do you know about this trend? I remember one time ago, we all spoke about leggings and how should or how you should not wear them in the streets, and still, we have debates going on.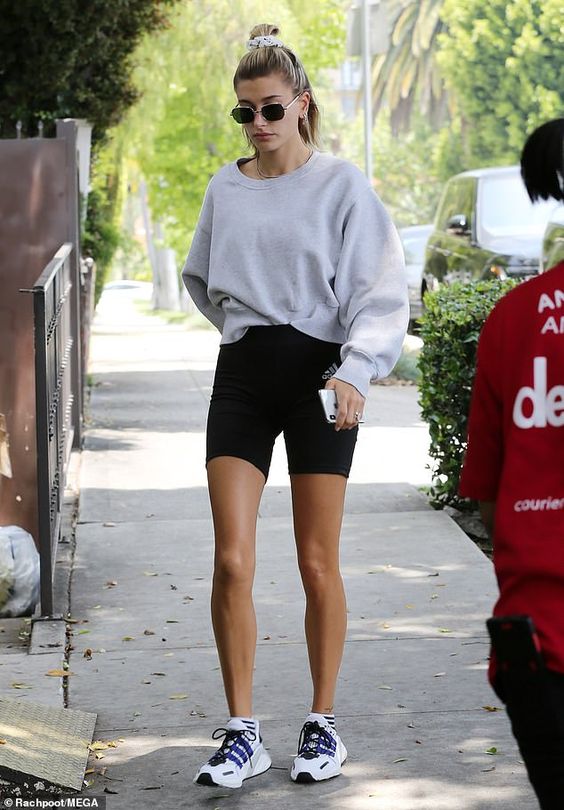 Buy Similar Here
We see an oversized cream grey pullover teamed with black cycling shorts and white sneakers. Complete this combo by adding cool 1990 style sunglasses.
But we've got another cool trend that I call cut leggings. Yes, cycling shorts are worn with your daily wear right now and manny fashionistas saying YES to this look. Indeed, looks like the body-con bottoms are a truly viable option to wear outside of the gym. All you need is the right styling technique.
A pinstripe front-tied shirt is paired with black cycling shorts. Complete it with gold hoop earrings: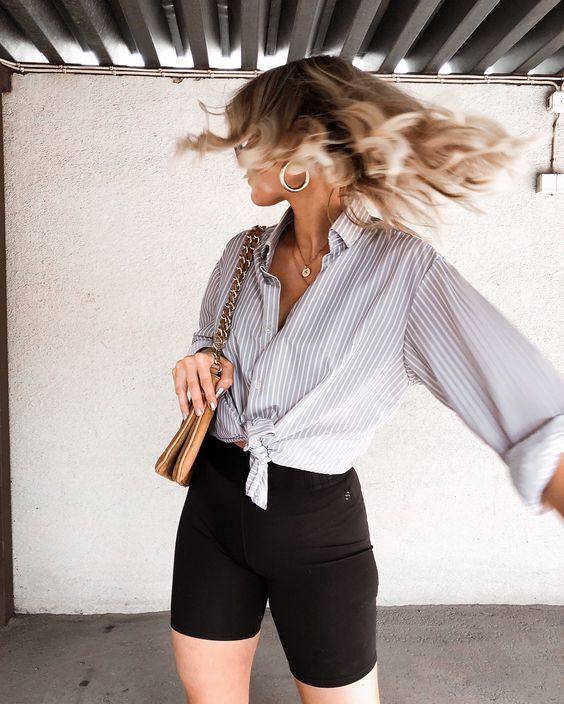 Buy Similar Here
Of course, this is not a new trend, but we have bike shorts everywhere right now. And it's clear that bike shorts aren't going anywhere anytime soon. So, what's the trick to wearing these bottoms right way? In this article, I am about to show you lots of cool ideas you can easily try on next week. They do look great with oversized jackets, coats, blazers, and shirts.
A white bralette top and white bicycle shorts co-ord look awesome with classic sunglasses and an oversized denim jacket in blue: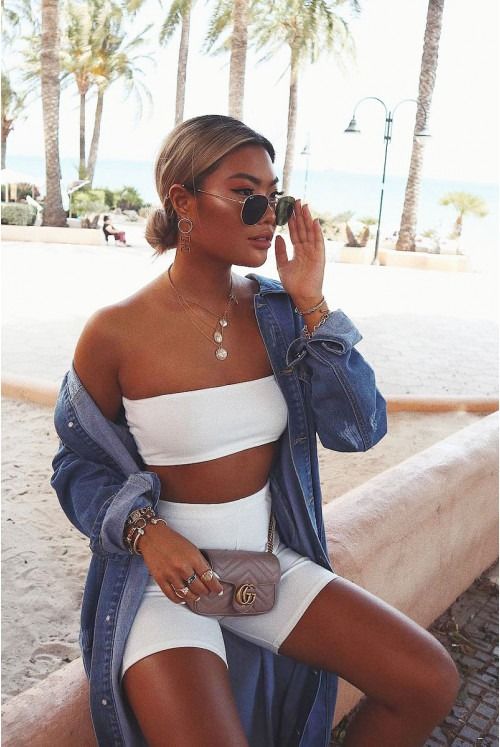 Buy Similar Here
These bottoms look so simple and sporty that you are totally free to wear them with absolutely anything you want. Plus, they are extremely versatile. You are free to find any color and print you like, range from solid black to neon hues, fun prints, and cool design details like lace-up fronts, graphic waistbands, or lace-trim hems.
Black biker shorts ideally match this white oversized shirt completed with rounded sunglasses and ugly white sneakers: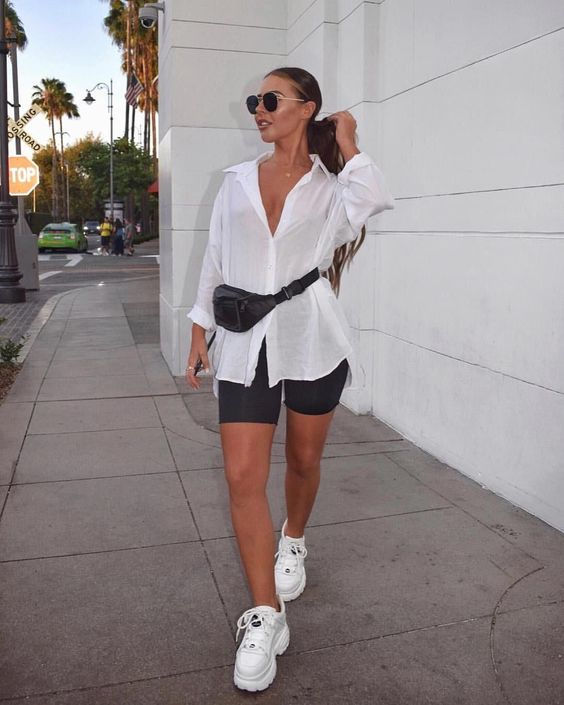 Buy Similar Here
Anyway, no worries, I've got you covered with lots of cool styling tricks, that can make you look elegant and polished as casual and cool.
Black crop top and black bike shorts look awesome with cat-eye sunglasses, belt bag, and black trainers: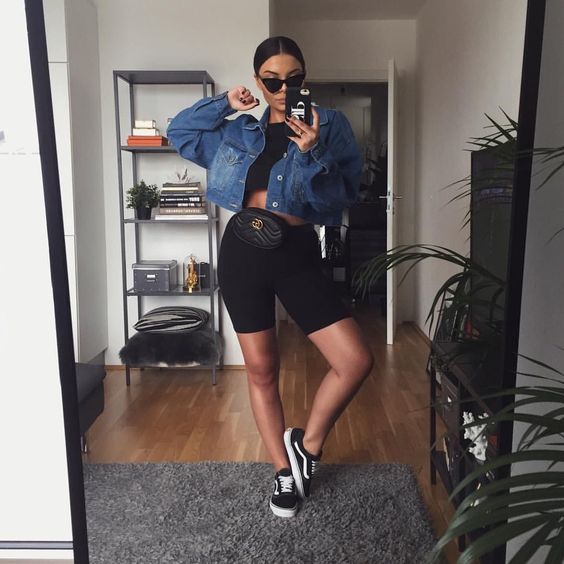 Buy Similar Here
If you're looking for the easiest way to wear the trend, an oversized blazer and bike shorts is a go-to combo for fashion girls now. Add a pair of low heels and it's practically office-appropriate. I personally love to see women who pair these bottoms with flirty, feminine tops and puff-sleeve blouses for an unexpected, avant-garde mix. Read on to find out more.
bicycle shorts with long sleeve shirt
Check out this simple day look OOTD that consists of a pink shirt tucked in black cycling shorts completed with white ugly sneakers and cool 1990 style sunglasses: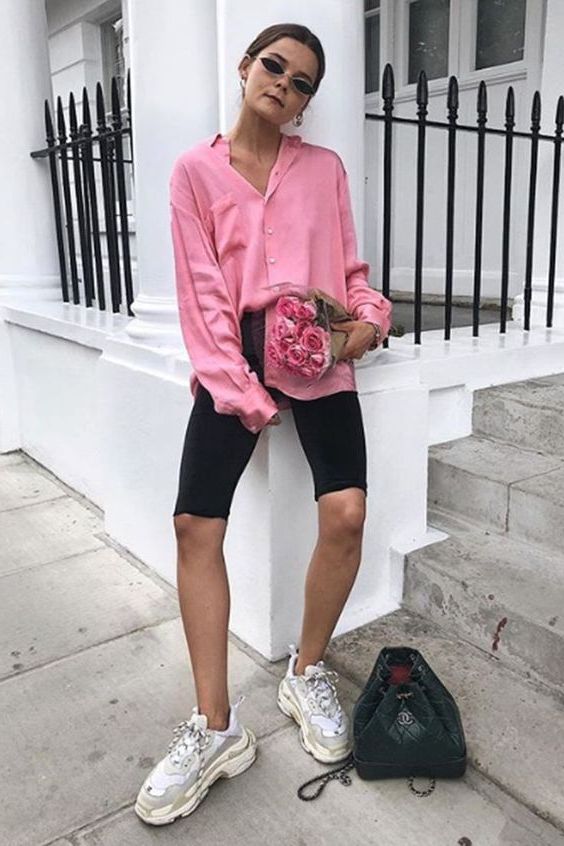 Buy Similar Here
bicycle shorts with a hoodie
Two beautiful ladies are wearing oversized hoodies in cream colors updated with black cycling shorts and white sneakers, both ladies wear impressive sunglasses: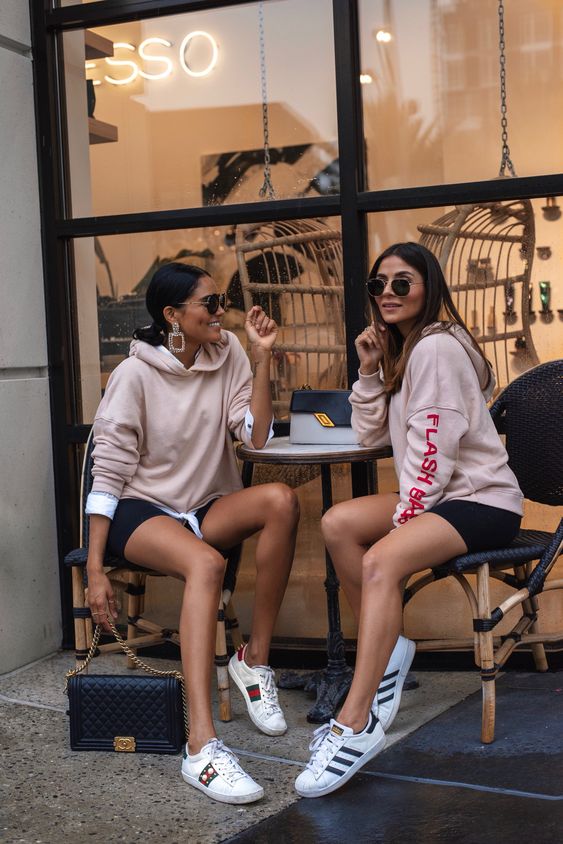 Buy Similar Here
bicycle shorts with blazer
In love with cycling shorts and blazer outfit. Here we see an oversized black blazer teamed with a long white tee paired with black biker shorts and chunky white high-platform sneakers: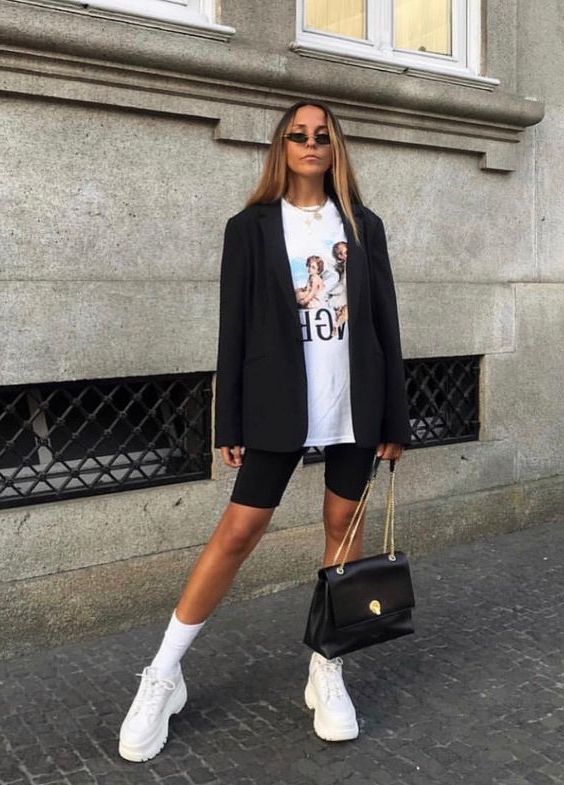 Buy Similar Here
Here we see white lace bicycle shorts teamed with a double-breasted white blazer completed with a gold chain belt. Update this look by adding cat-eye sunglasses and golden heels: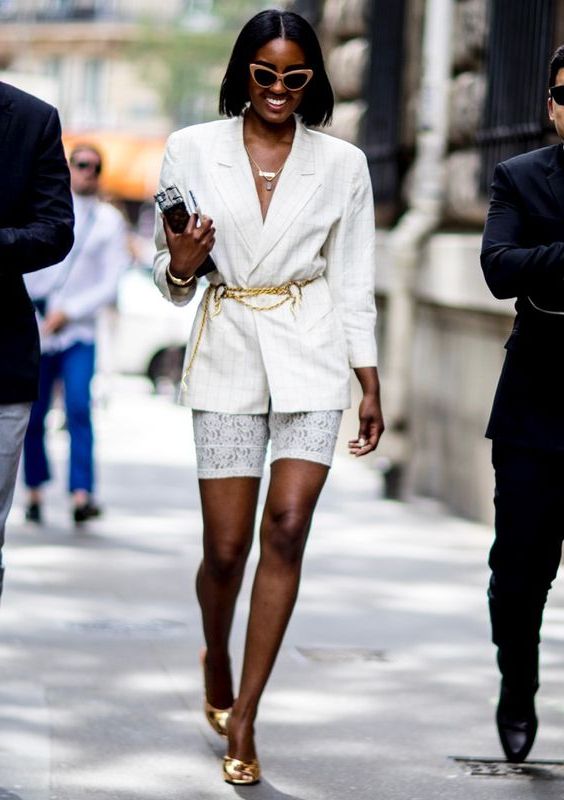 Buy Similar Here
An oversized black blazer ideally suits white tee, black biker shorts and neon green sneakers completed with white socks: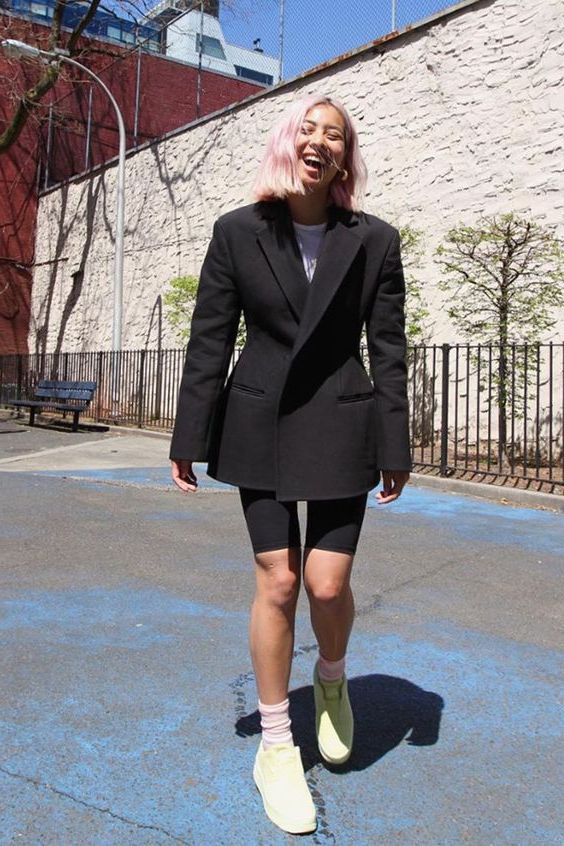 Buy Similar Here
bike shorts and oversized t-shirt
Another cool street style look for casual weekends. We see an oversized t-shirt in black combined with black cycling shorts and chunky hiking boots in white: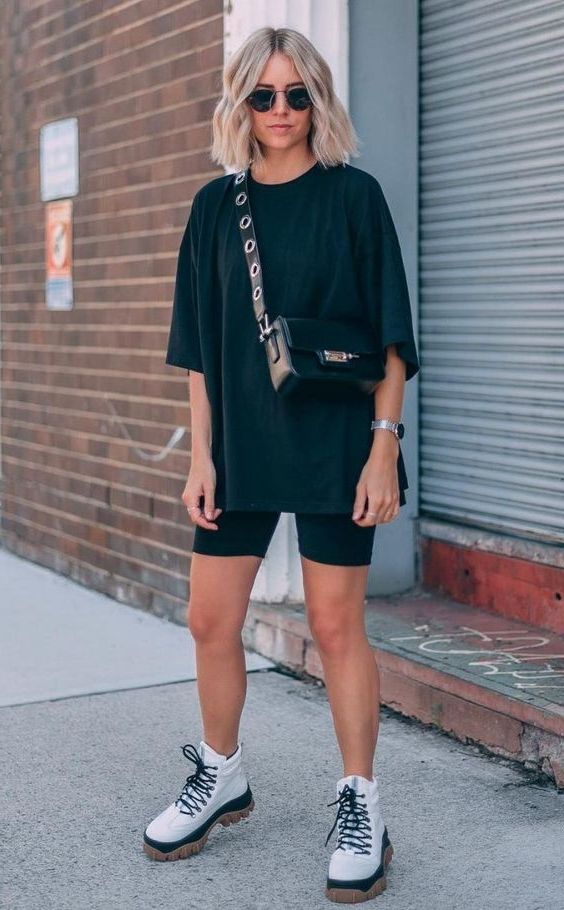 Buy Similar Here
A cool printed black t-shirt in oversized fit is combined with black biker shorts and black socks with white ugly sneakers: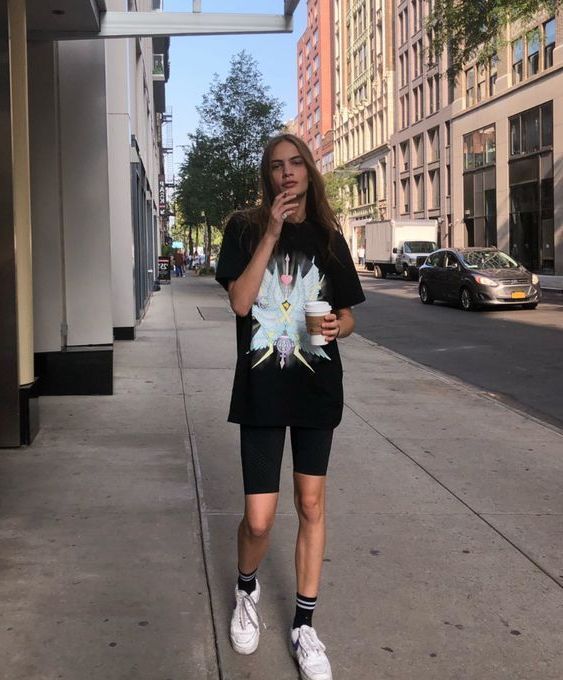 Buy Similar Here
bike shorts and crop top
Another cool co-ord look! We see a red OOTD consisting of a high-neck crop top teamed with red biker shorts completed with white kicks: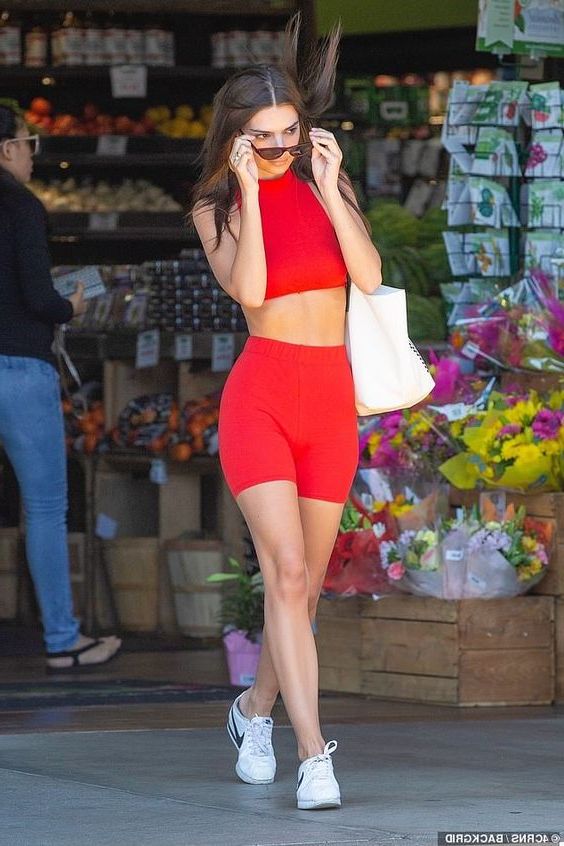 Buy Similar Here
In love with this street style look consisting of a black crop top, black bicycle shorts and an oversized denim jacket. The style looks urban chic and sporty thanks to flatbrow sunglasses, belt bag, and white ugly sneakers: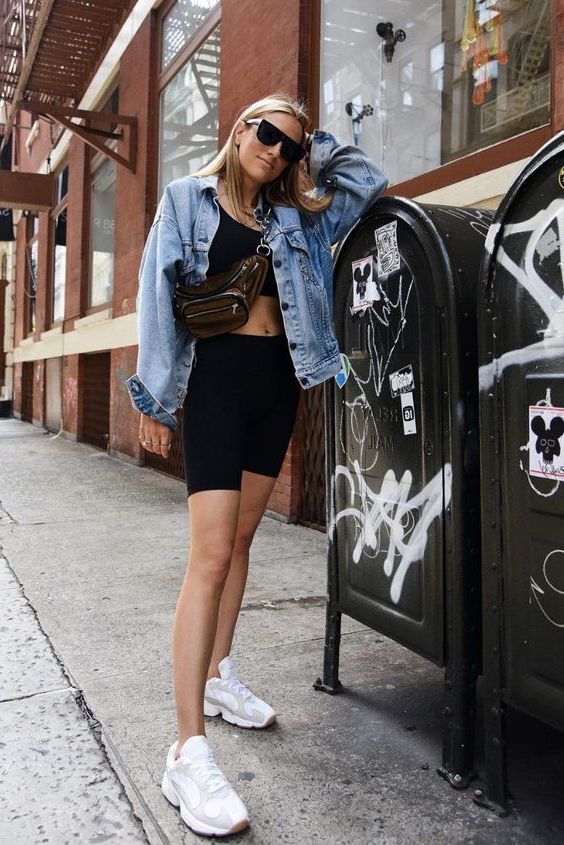 Buy Similar Here
bike shorts and heels
Black leather heeled ankle boots are worn with leopard print cycling shorts, black tee, and beige blazer. Update this combo by adding cool shades and orange clutch bag: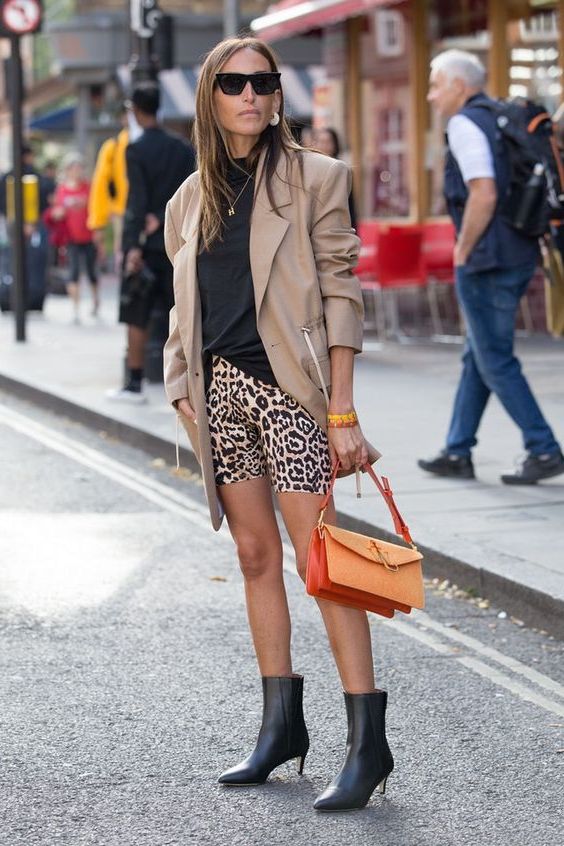 Buy Similar Here
Here we see pointed-toe black leather pumps styled with black biker shorts, white button-down, and cream grey double-breasted blazer: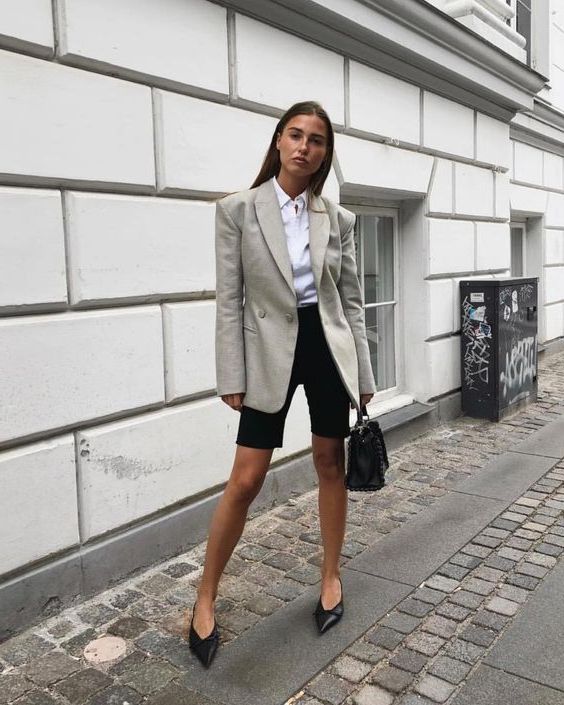 Buy Similar Here
cycling shorts and jumper
Keep it cool with this awesome coord! We see a grey jumper teamed with high-rise biker shorts in grey completed with chunky white sneakers: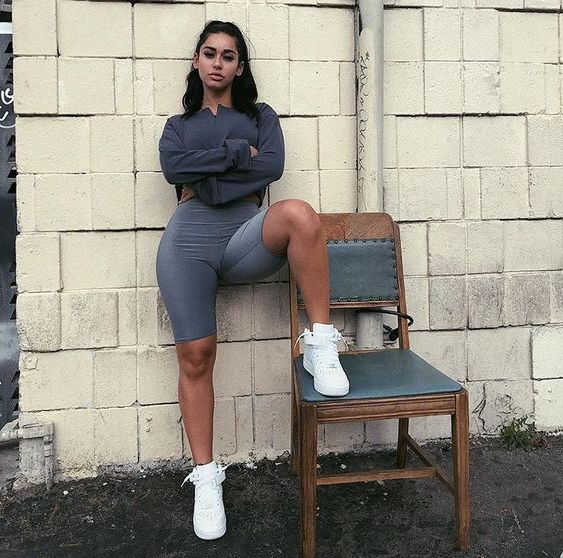 Buy Similar Here
cycling shorts and baggy t shirt
A perfect monochrome OOTD! We see an oversized pastel blue T-shirt combined with matching color cycling shorts. Complete it with 1990 style sunglasses and cream white canvas tote bag: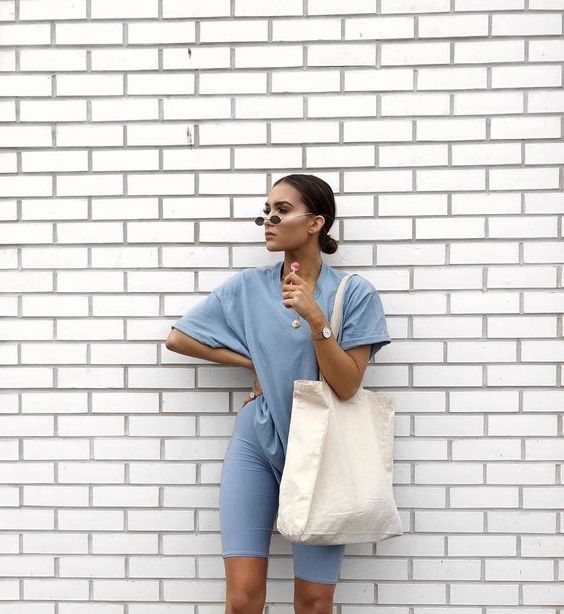 Buy Similar Here
cycling shorts and denim jacket
A long sleeve crop top in black is combined with black biker shorts and crop denim jacket. Update this combo by adding a belt bag and white kicks: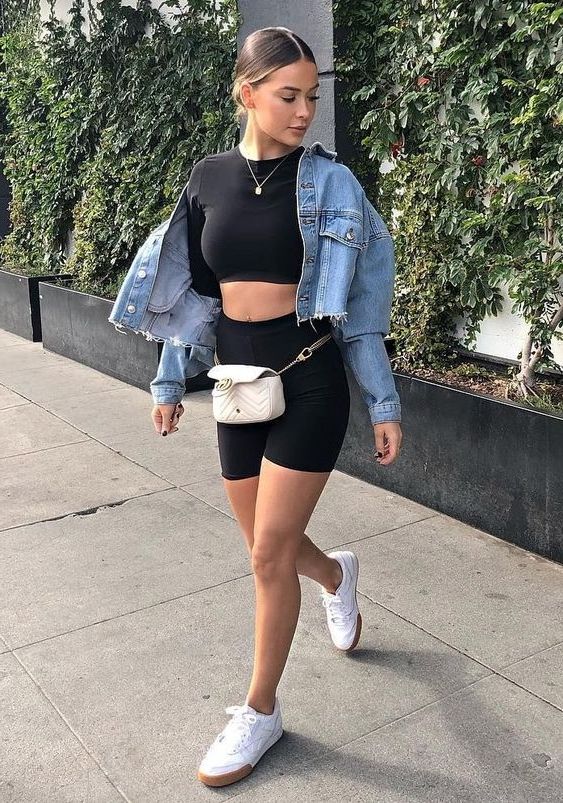 Buy Similar Here
cycling shorts and shirt dress
In love with dresses? How about teaming this white shirtdress with grey biker shorts and cream grey sneakers. Complete it with cool sunglasses and belt bag in black leather: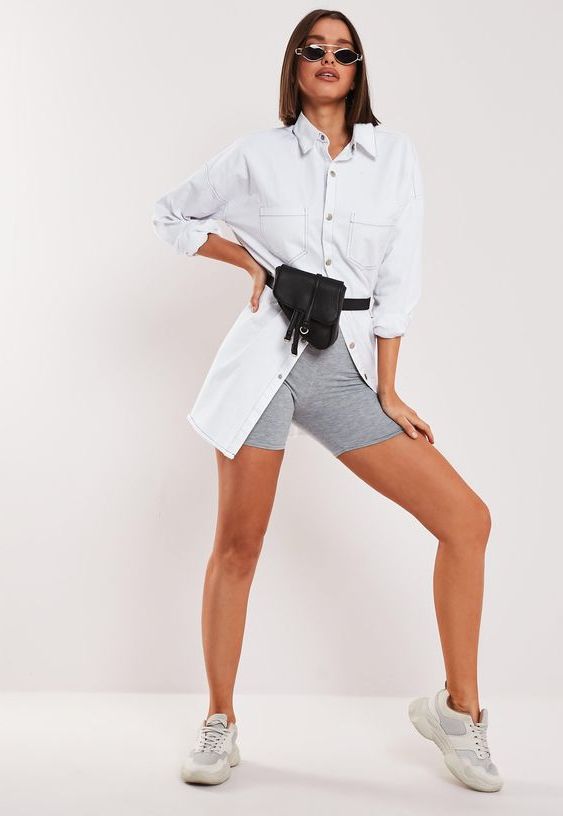 Buy Similar Here
cycling shorts and trainers
A pair of multicolored trainers are teamed with black biker shorts and oversized grey blazer: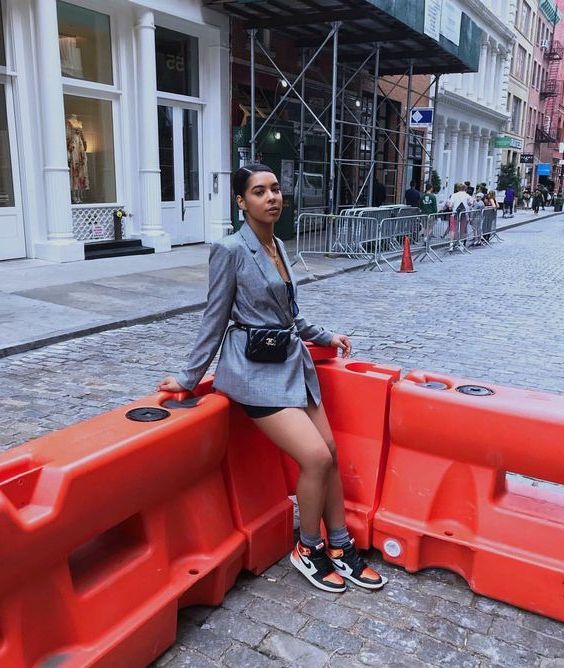 Buy Similar Here
bike shorts and ugly sneakers
You can have so much fun with a white button-down shirt, black bicycle shorts, and multicolored ugly sneakers: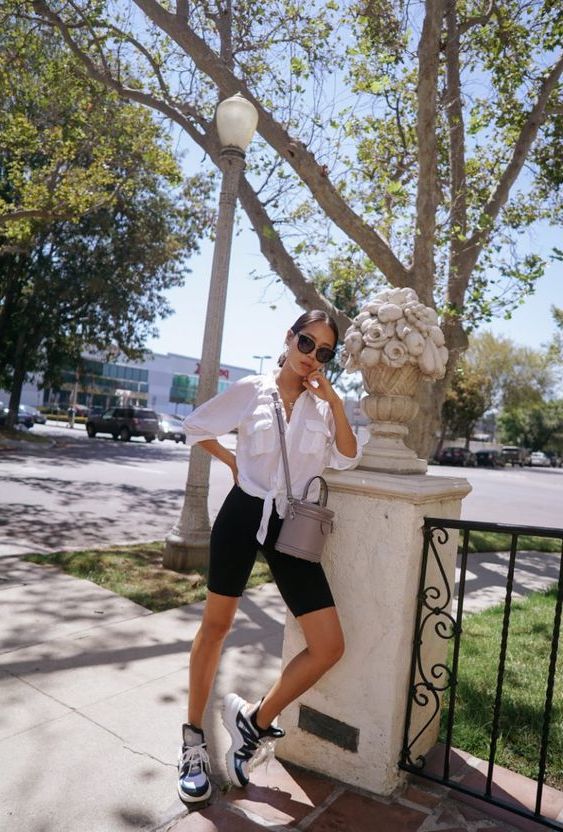 Buy Similar Here
Here we see a total black OOTD consisting of an oversized sweatshirt, black biker shorts, and whit ugly sneakers. Update this combo with cool shades and white belt bag worn over shoulder: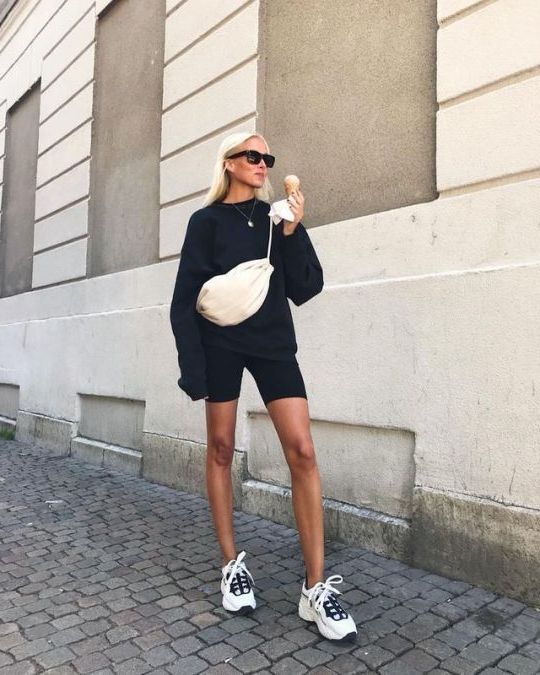 Buy Similar Here
cycling shorts and hoodie
A white hoodie in oversized fit is teamed with a cream grey beanie, cream beige cycling shorts and white high socks styled with clear heeled sandals: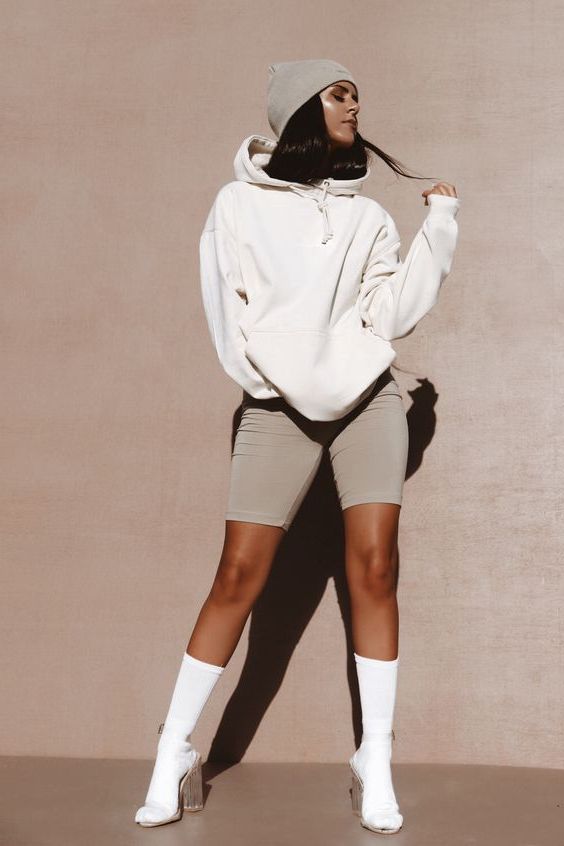 Buy Similar Here
cycling shorts and knee high boots
Here we see oversized turtlenecks styled with biker shorts and knee-high boots in white, simple and easy to wear looks: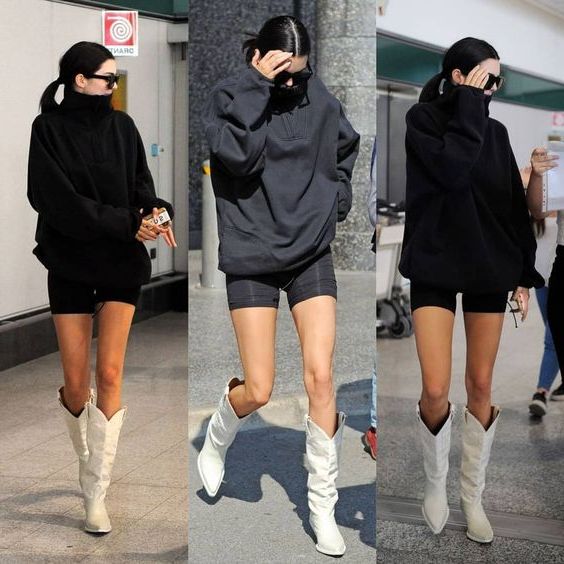 Buy Similar Here
Bike shorts and leather jacket
Here we see a monochrome OOTD that consists of a black leather jacket, white crop top, black biker shorts, and black leather combat boots: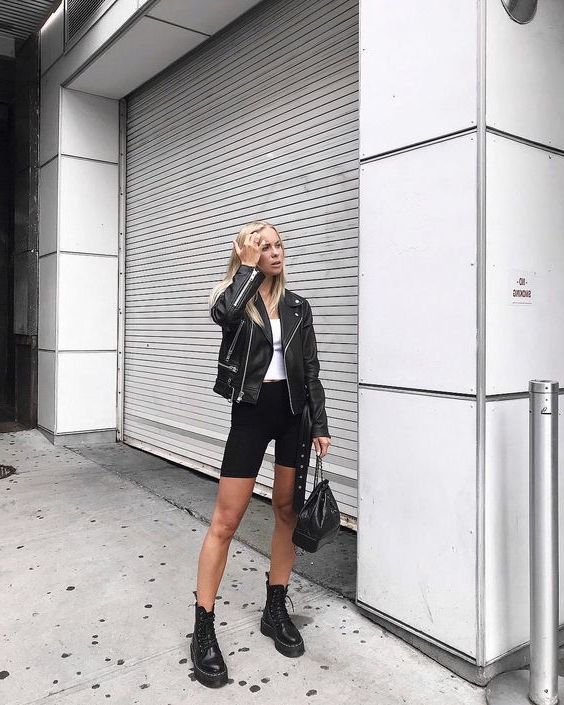 Buy Similar Here
cycling shorts and long t shirt
Yellow longline T-shirt looks pretty chic with black bicycle shorts and white chunky sneakers: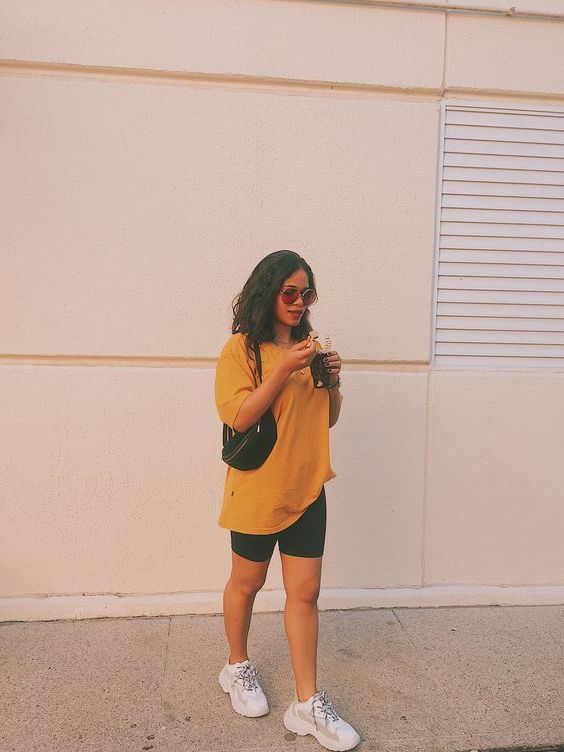 Buy Similar Here
cycling shorts and bandeau
Sexy all in black look! We see a sheer long knitted kimono-cardigan combined with a black bandeau and black biker shorts completed with chain gold belt: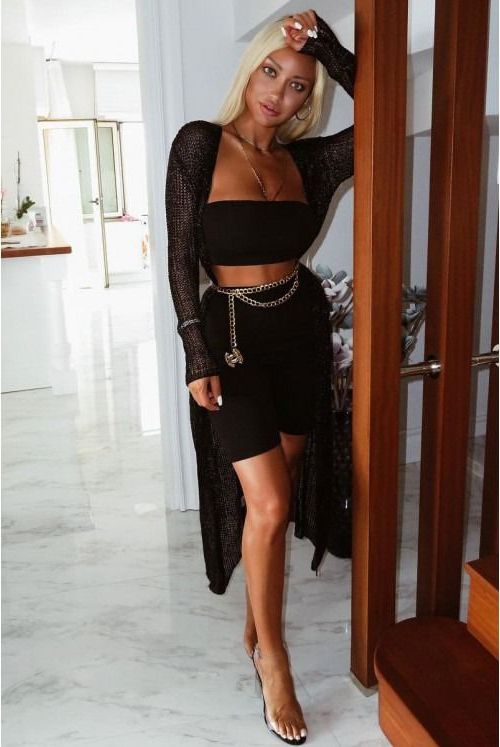 Buy Similar Here
Bike shorts and bralette
A plaid blazer in light yellow is worn with a black bralette and black biker shorts completed with white leather ankle boots: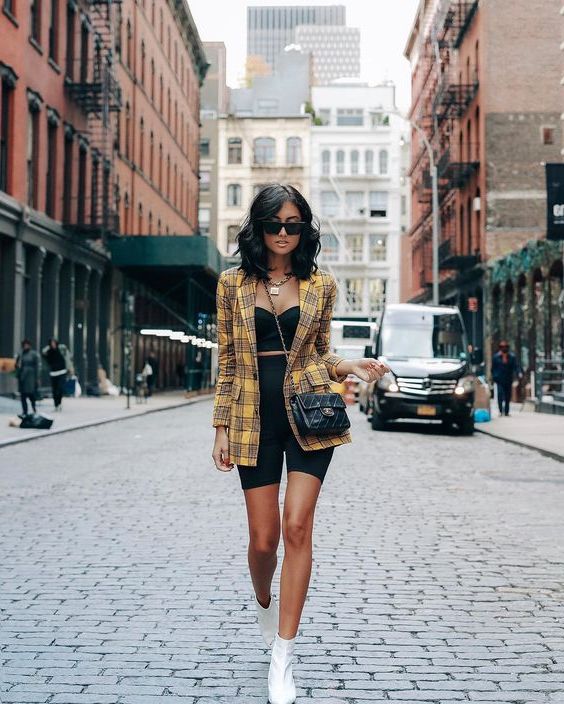 Buy Similar Here
cycling shorts and blouse
A white blouse with wide sleeves is paired with black cycling shorts and skinny strap heeled sandals in black: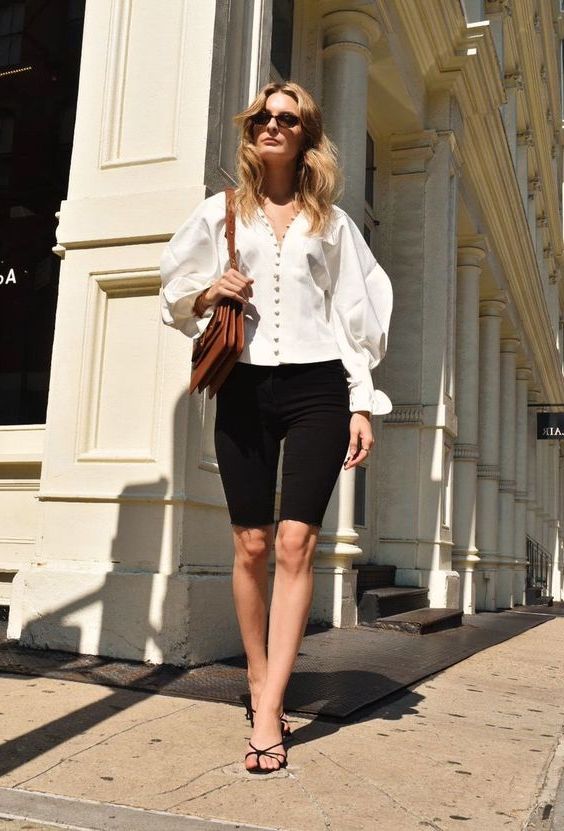 Buy Similar Here
Bonus Tips:
how to style cycling shorts for a night out
A tuxedo blazer in black looks sassy with black bicycle shorts and black heeled pumps: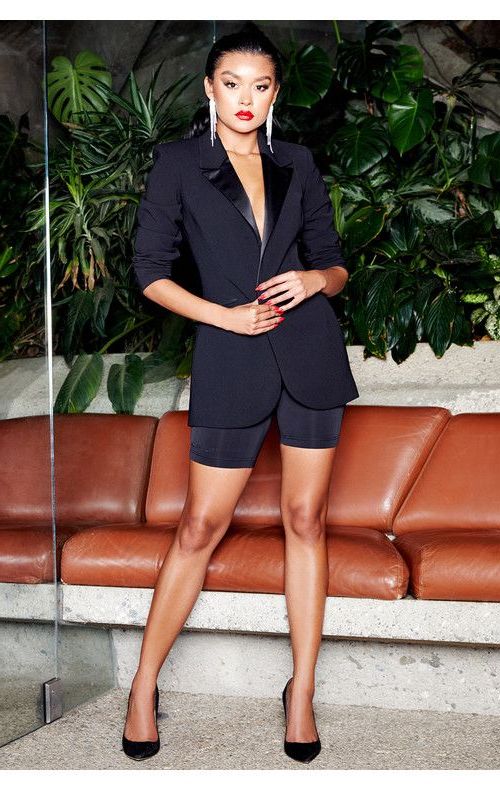 Buy Similar Here
How about going for a black long blazer with a belt and lace black top combined with black bike shorts and ankle strap heeled sandals: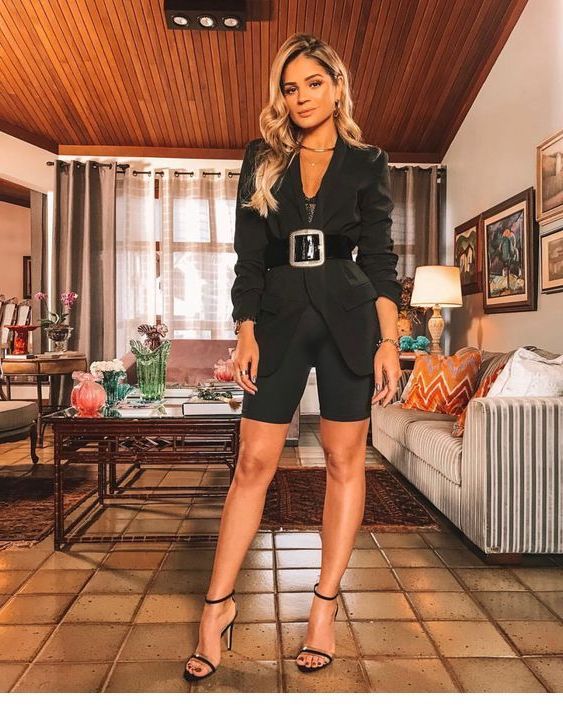 Buy Similar Here
how to style black cycling shorts
Keep it all in black! We see a long sleeve black top paired with black biker shorts and big toe heels in white: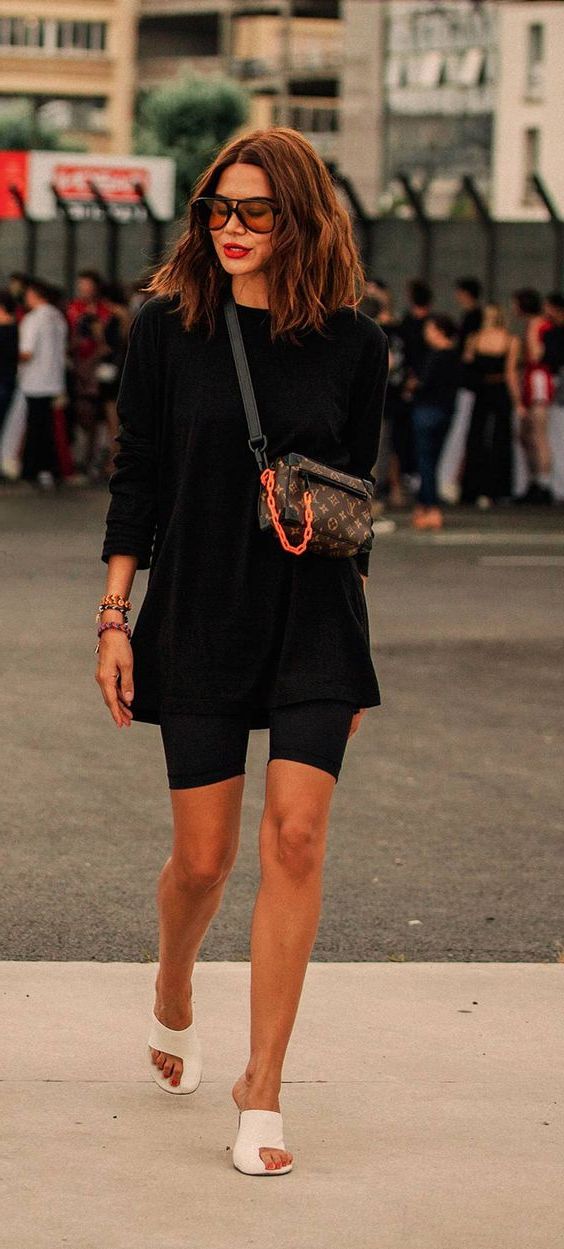 Buy Similar Here
An oversized pullover is combined with black bike shorts, cool shades, shoulder bag, layered gold necklaces, and black cycling shorts: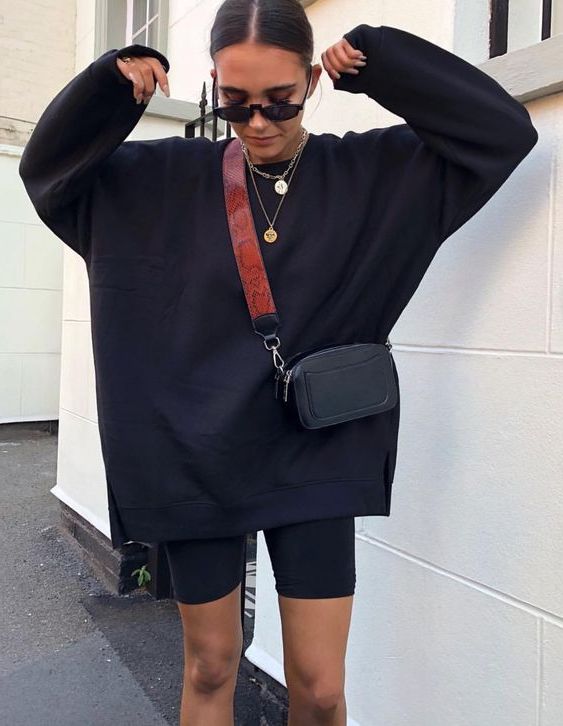 Buy Similar Here
Black biker shorts look cool with chunky platform sneakers in white combined with white socks, white tee and black blazer with gold buttons: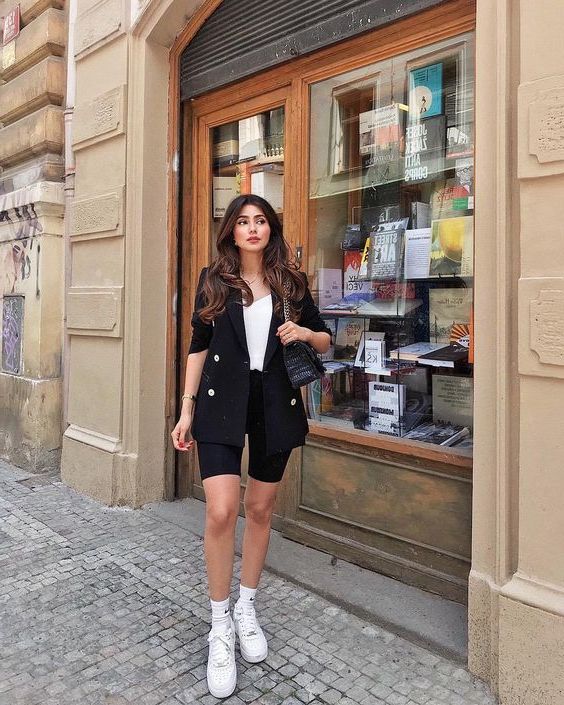 Buy Similar Here
Source: