We are about to see hot and trendy Summer women's shorts outfit combination ideas. I gathered my favorite ways and styling ideas on how to make you look awesome in these sweet and ladylike bottoms.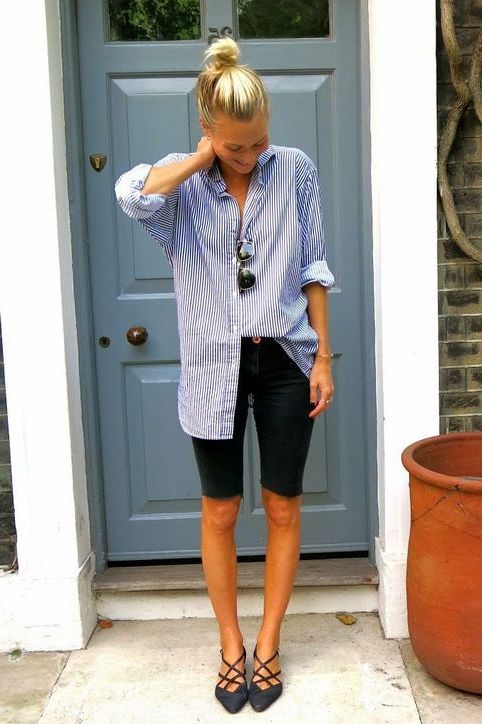 Buy Similar Here
We see a pair of black denim long shorts styled with a pinstripe shirt and caged dark grey leather flat pumps. An ideal look for casual street walks during the Summer months. In love with that elongated button-down shirt.
This is an ideal piece of clothing that can be worn to work, casual parties, at the beach and on special occasions. As we all know, the upcoming season is promised to be hot, that's why you don't have to be afraid of showing-off your pretty legs, as we've got great styles to try this year. Read on to find out more.
We see tailored long shorts in grey-brown color styled with a beige blazer, white top, and white heeled sandals: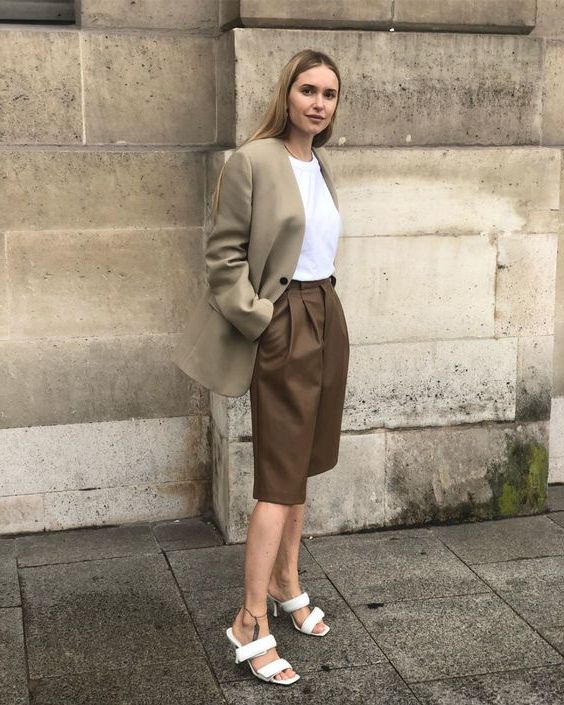 Buy Similar Here
These bottoms are made for those ladies who want to feel comfy and stylish. In this article are shown cotton shorts, as well as denim, lace and silken must-haves. They will make your legs look longer and sexier.
Go bright this summer by wearing a total white outfit. We see a tight white top tucked in high-waisted white cargo shorts in slim-fit. Update this combo with cool white sneakers: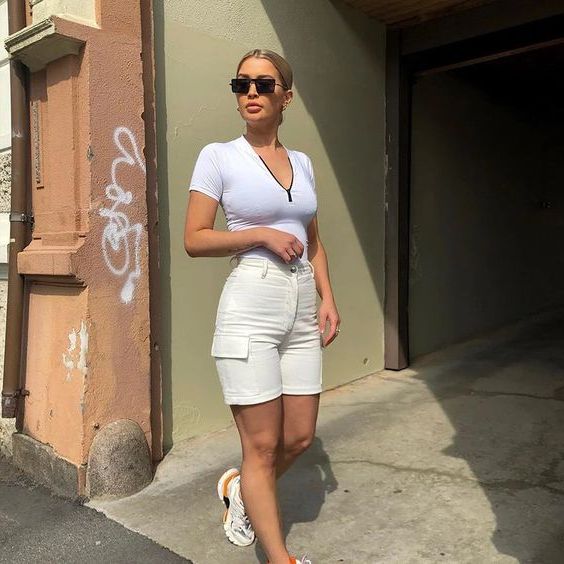 Buy Similar Here
Today's fashion world offers shorts in almost any color, print, design, and embellishments. You can wear these bottoms with anything, starting from simple tees to dressy blouses and shirts. Keep on scrolling down your mouse to choose your favorite outfit combinations that will make you feel and look special.
How To Wear Long Shorts
If you do like simplicity and classy look, then go for these tailored long shorts in dark blue color. Style them with a white sleeveless top and light brown leather peep-toe sandals: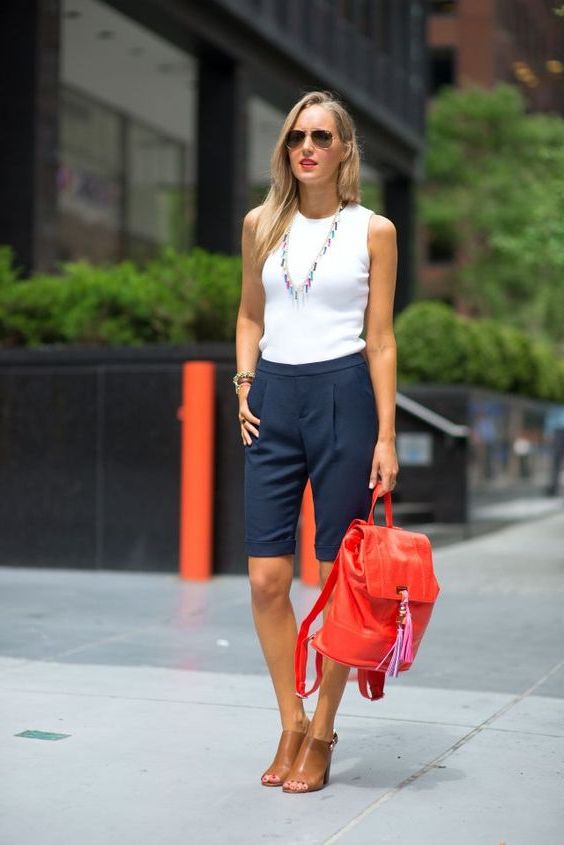 Buy Similar Here
We see light blue long denim shorts teamed with a spaghetti-strap black top, green trench coat and clear-heeled sandals: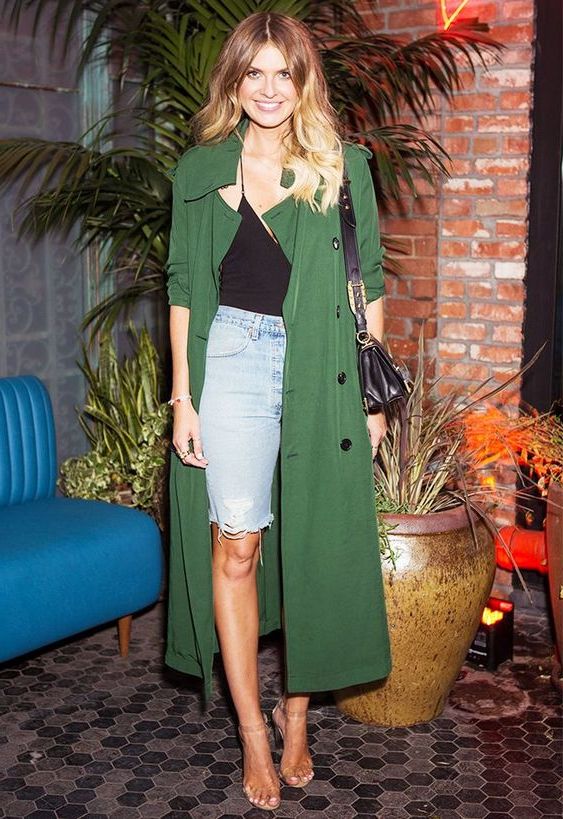 Buy Similar Here
Best Trouser Shorts
A pair of tailored shorts are a nice way to underline your professionalism. Go for these white styles and team them with a short-sleeve black mohair top and metallic heeled sandals: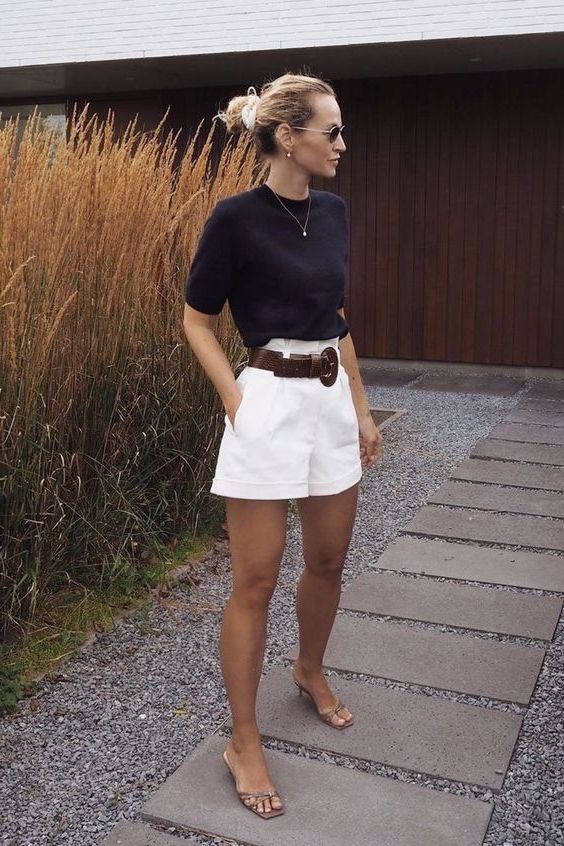 Buy Similar Here
A pair of white tailored shorts look pretty cool styled with a cream-camel sweater and flat pumps in white, love the tortoise sunglasses, if you ar into shades as me, then check out these sunglasses trends for women, I guess, every woman will find here something special: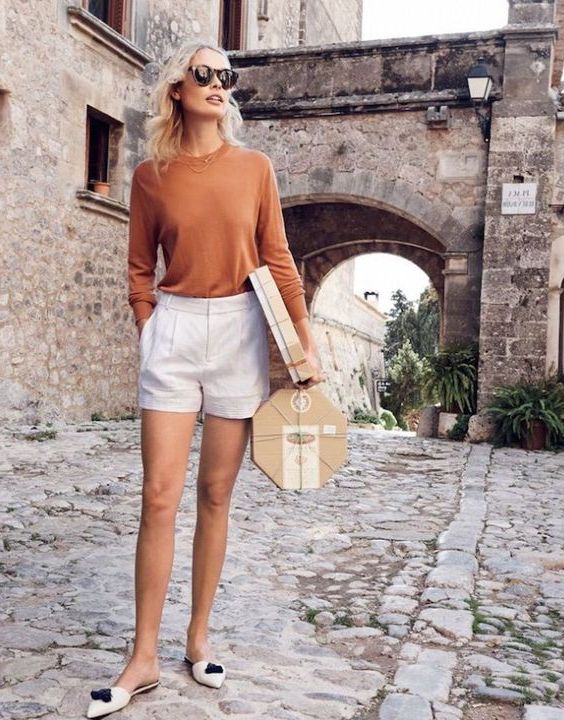 Buy Similar Here
A pair of pleated white tailored shorts look lightweight and simple, try these with a pale blue shirt: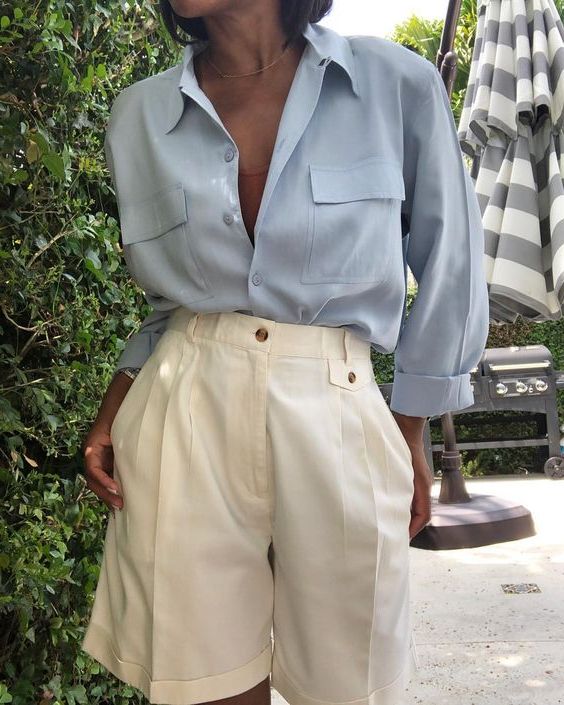 Buy Similar Here
Cargo Shorts outfit ideas
I love to wear modern clothes. Just take a look at these stunning cargo shorts in khaki beige teamed with a black slip tank top and fedora hat: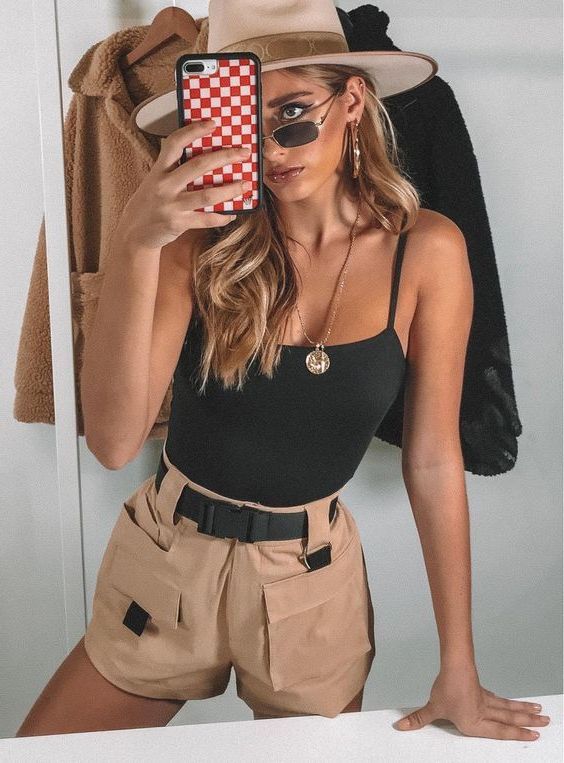 Buy Similar Here
Another cool pair of cargo shorts are paired with a leopard print crop blouse: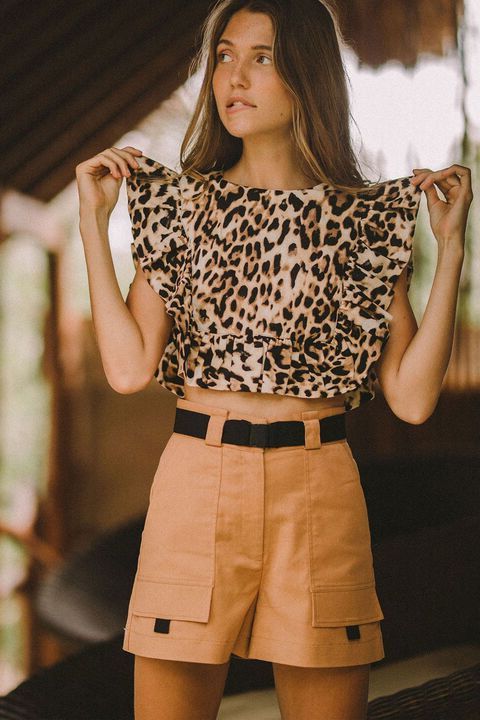 Buy Similar Here
An orange knitted crop top looks damn hot with green cargo shorts and white kicks: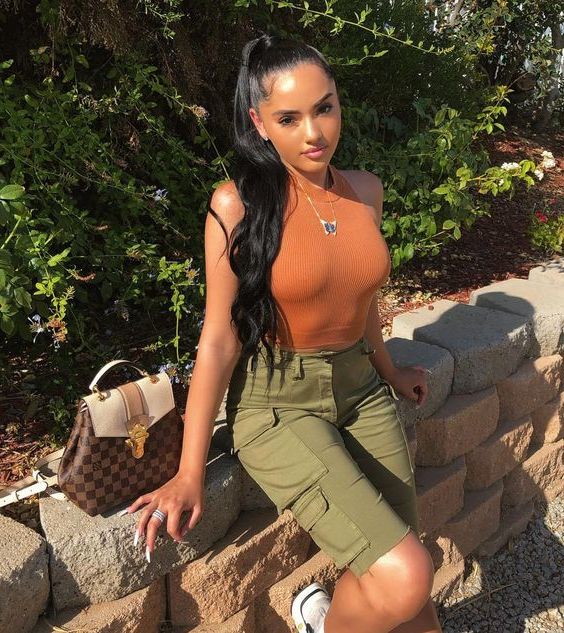 Buy Similar Here
Mini cargo shorts in beige are styled with a black long-sleeve top and clear pumps: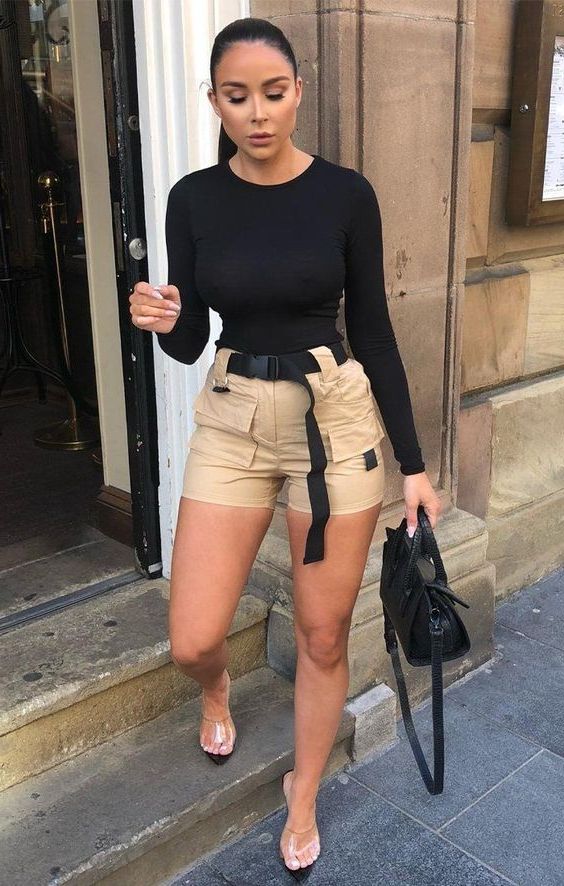 Buy Similar Here
Boyfriend Shorts
A pair of ripped boyfriend shorts look impressive styled with a denim shirt and classy ankle cuff heeled sandals: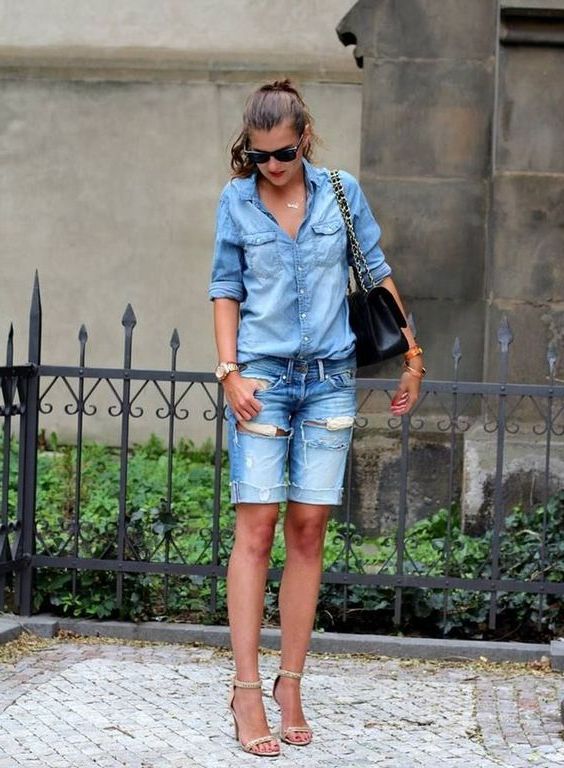 Buy Similar Here
i
Cuffed boyfriend shorts made of denim are updated with a printed grey tee and wrap khaki jacket. Complete this style by adding a pair of aviator sunglasses: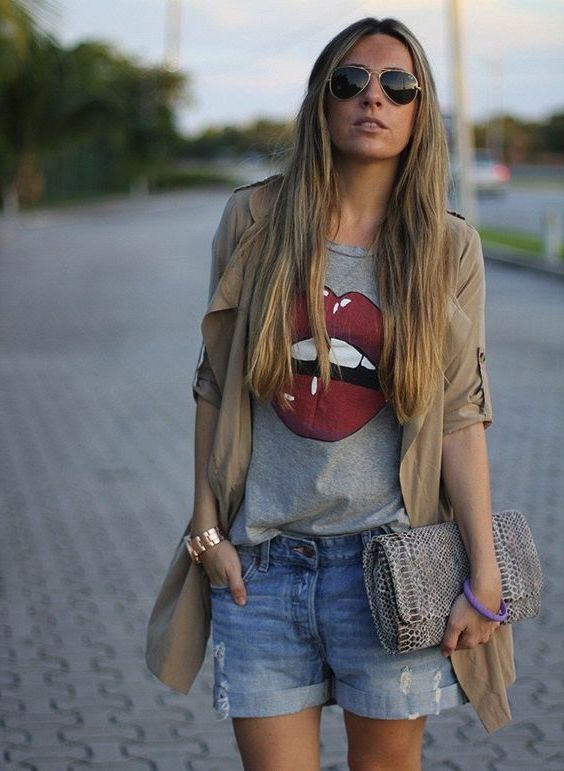 Buy Similar Here
Biker Shorts Outfit Ideas For Ladies
That's another cool trend which still going around. We all in love with bicycle shorts, as they are super comfortable and versatile. Here we see leopard print biker shorts teamed with a rock band tee and combat boots. In love with aviator sunglasses: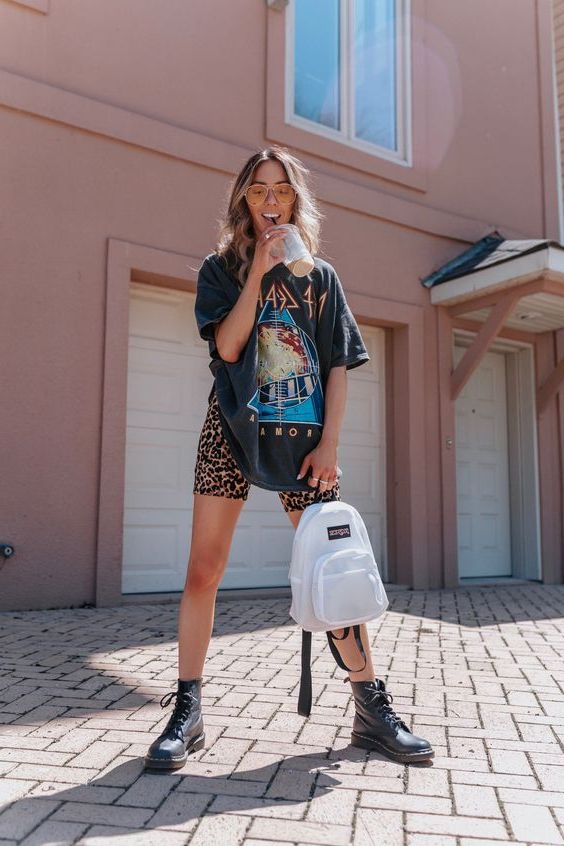 Buy Similar Here
An oversized hoodie in grey is worn with black bicycle shorts: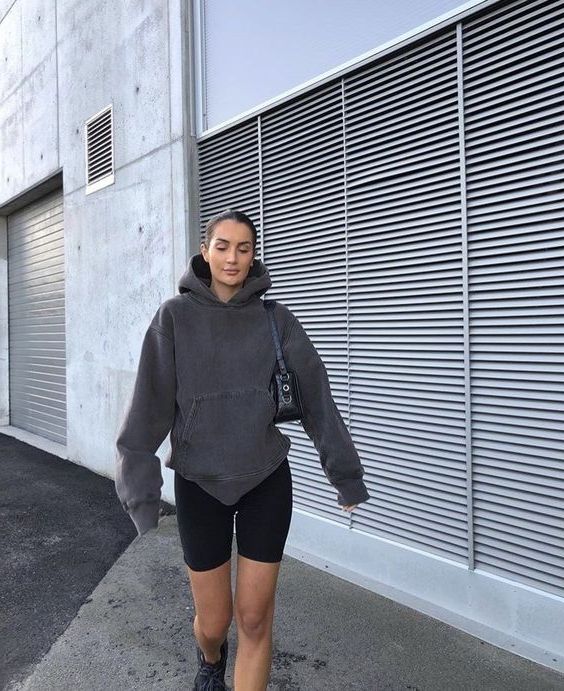 Buy Similar Here
Black cycling shorts are updated with a grey tee and white combat boots: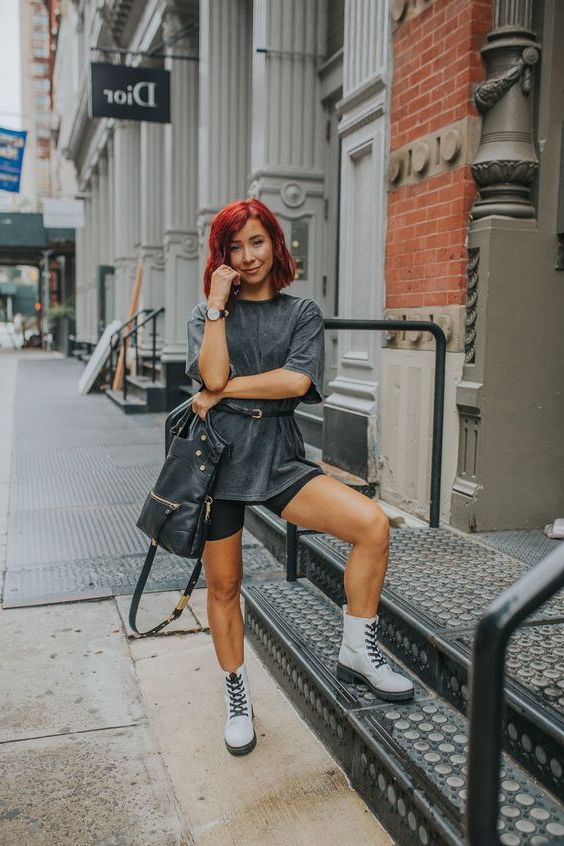 Buy Similar Here
Short cycling shorts in black are teamed with a cropped beige long sleeve top and white sneakers. If you are into white kicks, then check out my post on white sneakers and dresses, you will see many stunning outfit ideas: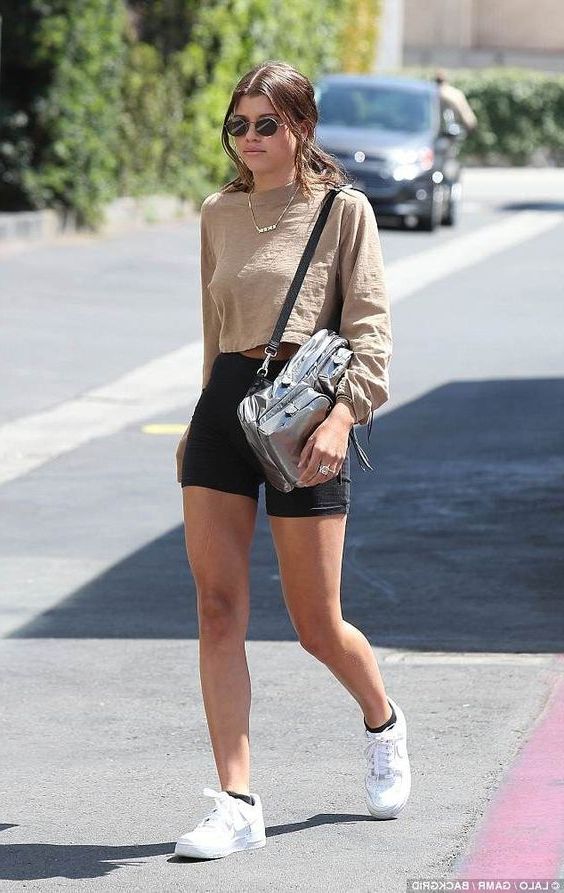 Buy Similar Here
Black crop top and black cycling shorts look damn sexy updated with a blue denim jacket, rounded sunglasses and a stylish clutch bag with a chain strap: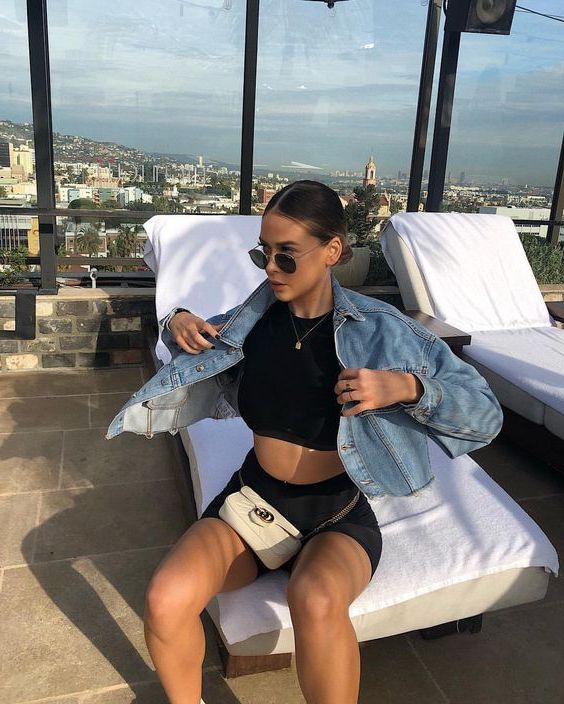 Buy Similar Here
A pastel pink sweatshirt is paired with a matching color biker shorts and white sneakers: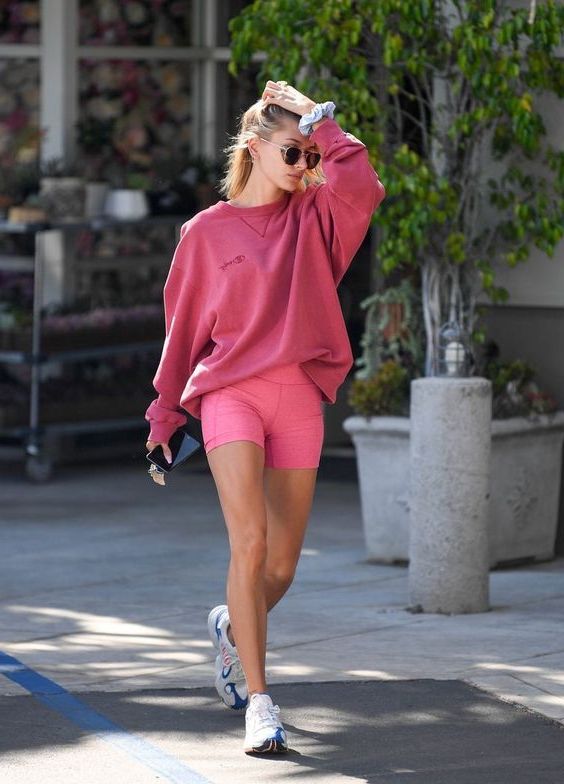 Buy Similar Here
Cycling Shorts
We see long cycling shorts in black worn with a white crop top and beige long blazer, update this look with heeled black sandals: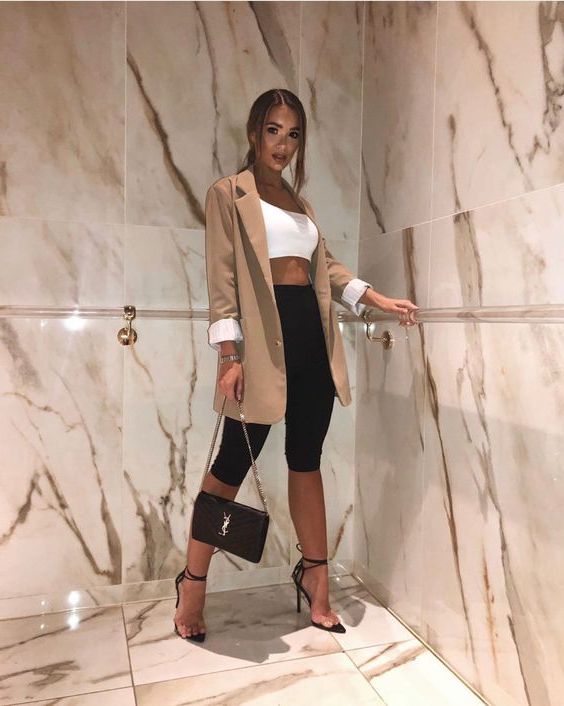 Buy Similar Here
Spandex Shorts
A pair of spandex shorts in the black color is updated with a black crop top, camouflage print jacket and black trainers, if you do like army style clothes, then be sure to check my post on how to wear military fashion for women, there are numerous of inspiring ideas: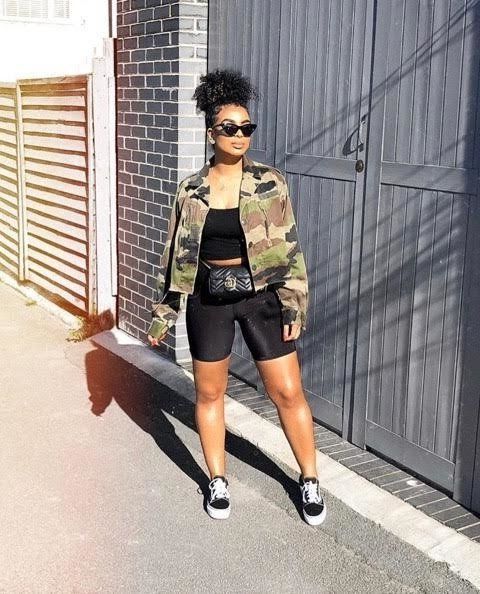 Buy Similar Here
Knitted Shorts
If you are a big fan of knitwear, then go for this pastel cable-knit co-ord consisting of an oversized cropped sweater and matching color slim knitted shorts: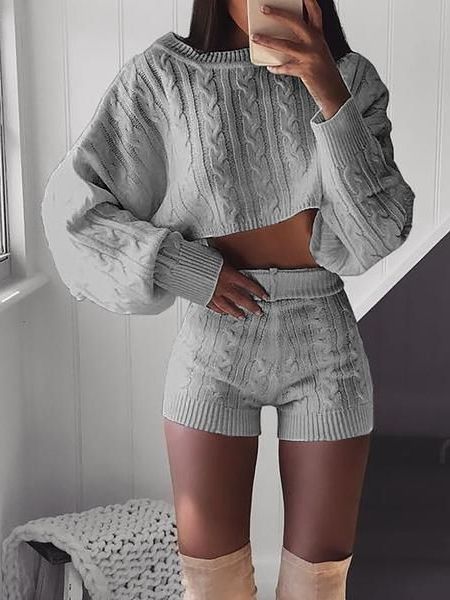 Buy Similar Here
Another great co-ord look consisting of a knitted hoodie and matching shorts in cream white: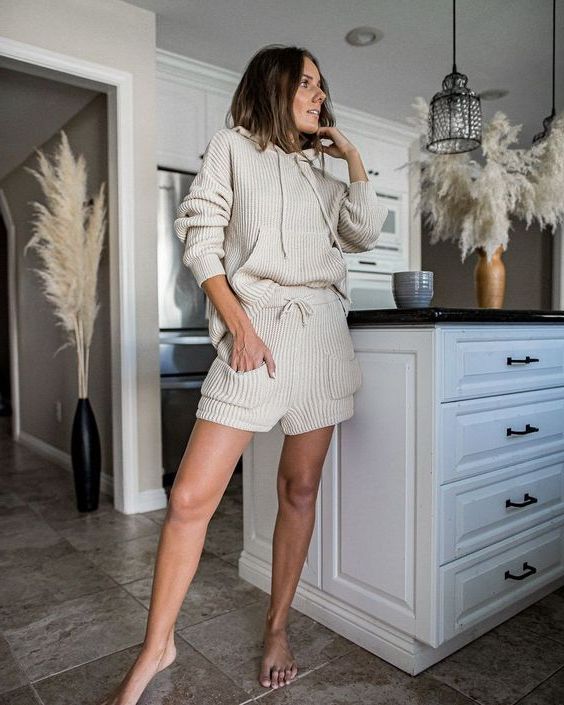 Buy Similar Here
Paper Bag Shorts
Stylish paper bag shorts with a belt are updated with a white deep V-neck t-shirt in white, complete it with white trainers: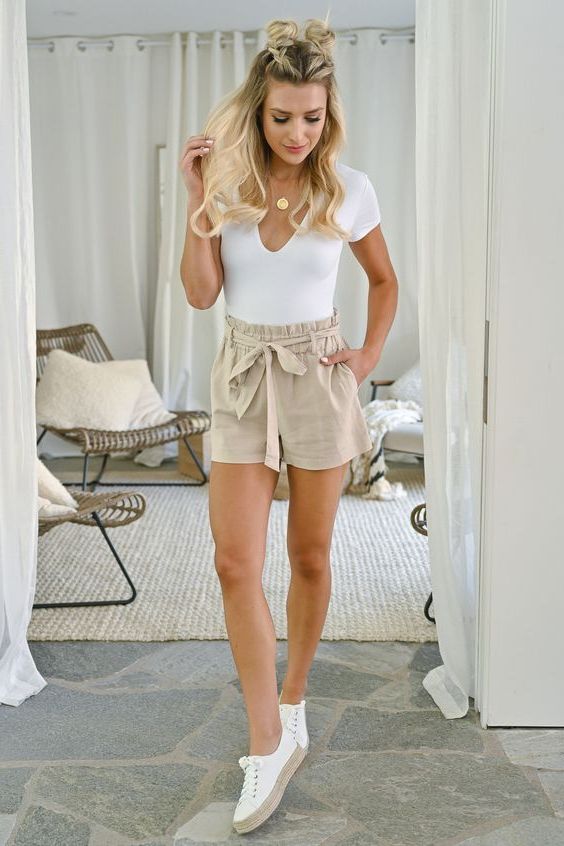 Buy Similar Here
We see a pair of paper bag waist shorts in pinstripe print styled with a white blouse and platform sandals: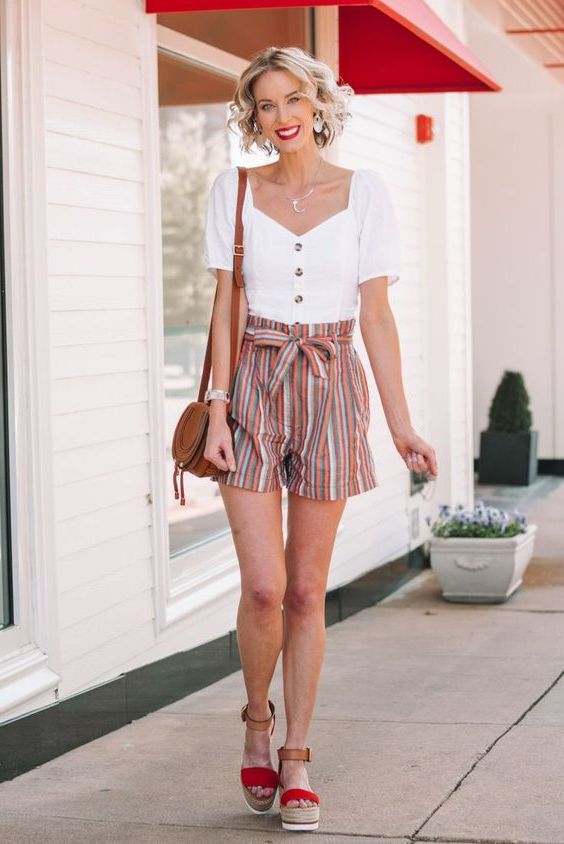 Buy Similar Here
A pair of yellow paper bag shorts are updated with a basic white top and a brown fedora hat: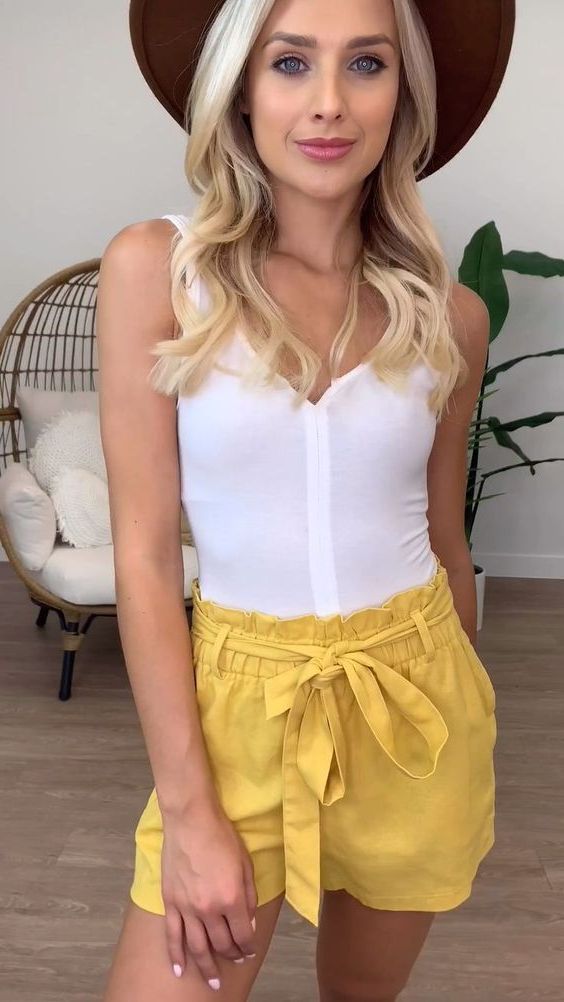 Buy Similar Here
Gym Shorts
If you want to know a cool way how to wear gym shorts on the streets, then here is a nice example. We see black gym shorts that look more like bike shorts styled with a grey oversized hoodie and stylish chunky sneakers: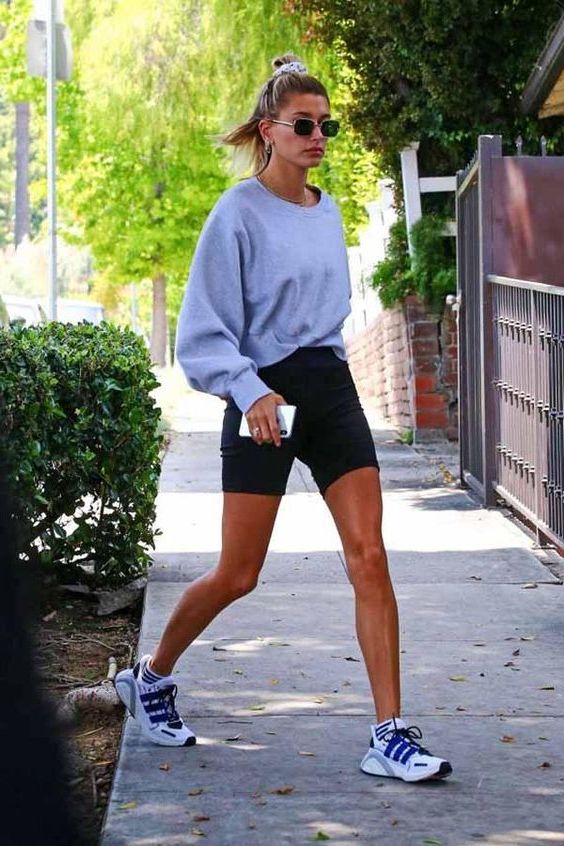 Buy Similar Here
Lace Hem Shorts
If you are like me, want to show off your femininity, then try on lace hem shorts. Here we see a totally black look consisting of a black crop top and tailored black shorts with lace hem: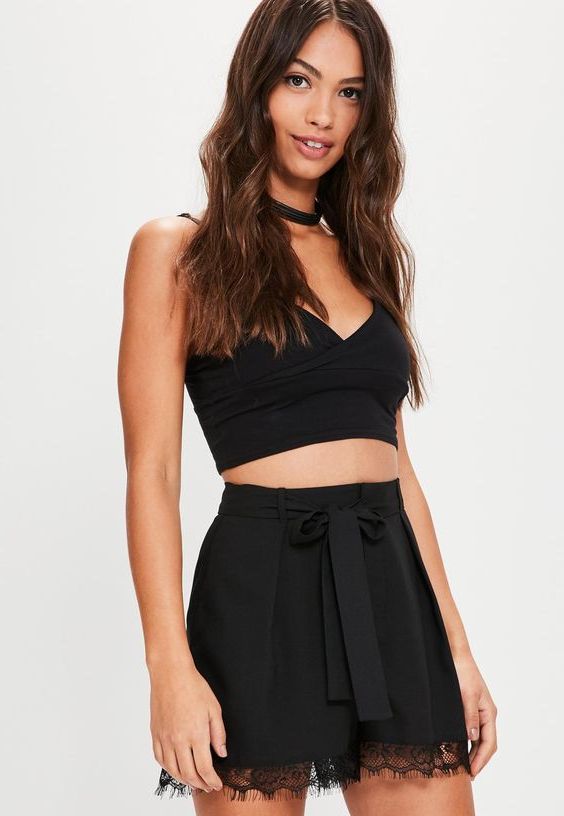 Buy Similar Here
A pair of biker shorts in cream pink with lace hem in white is updated with a white tee and a denim blue jacket: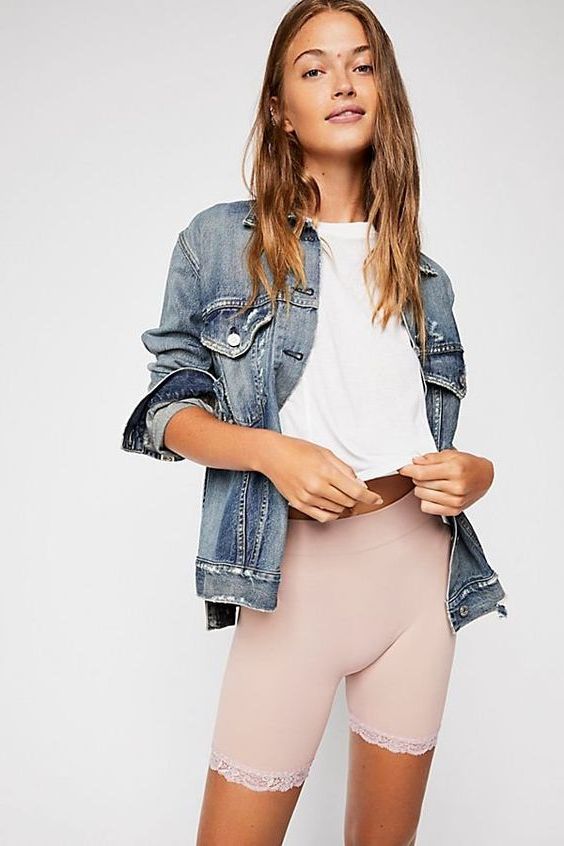 Buy Similar Here
Ruffle Hem Shorts
I am in love with these pastel pink ruffle hem shorts updated with a white silken top and heeled sandals: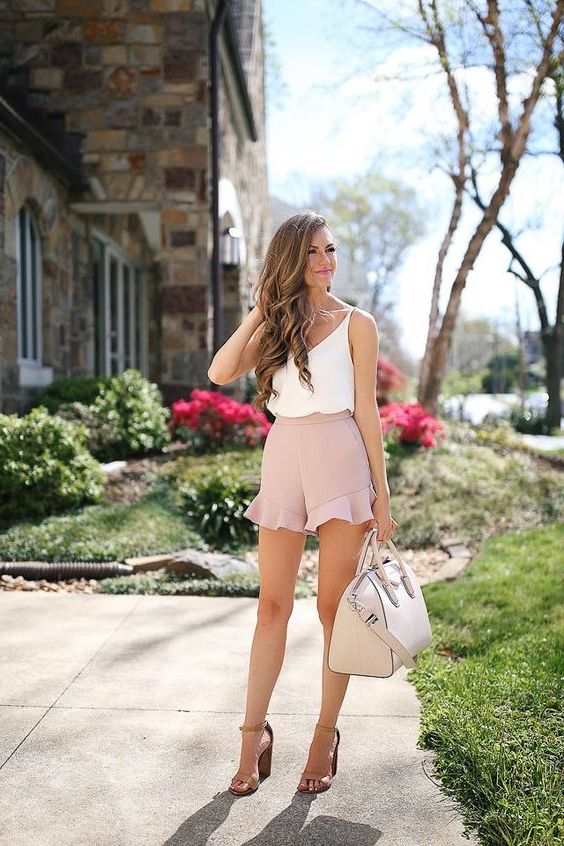 Buy Similar Here
Tropical Printed Shorts
Beautiful shorts in tropical print are styled with a black blouse and ankle-cuff heeled sandals in bronze metallic: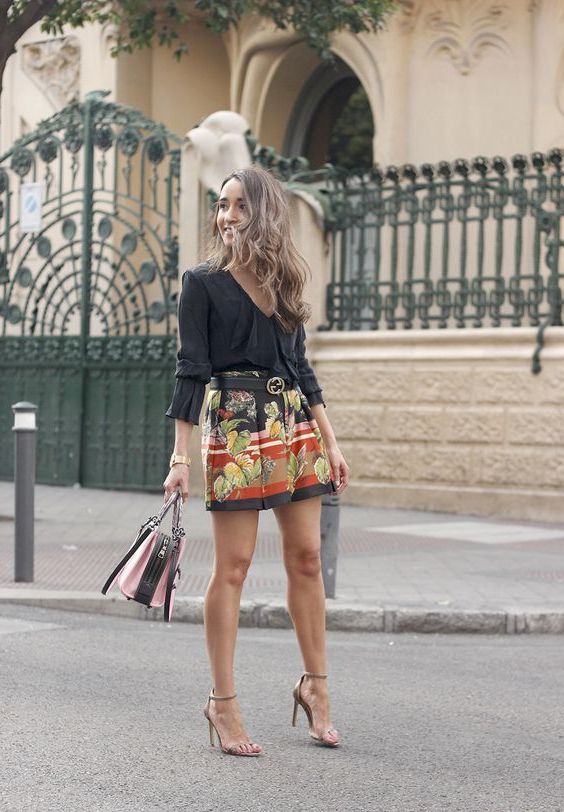 Buy Similar Here
Pom Pom Shorts
A sweet look for young ladies. We see a white crop blouse with multicolored pom poms styled with white shorts in the same multicolored pom-poms: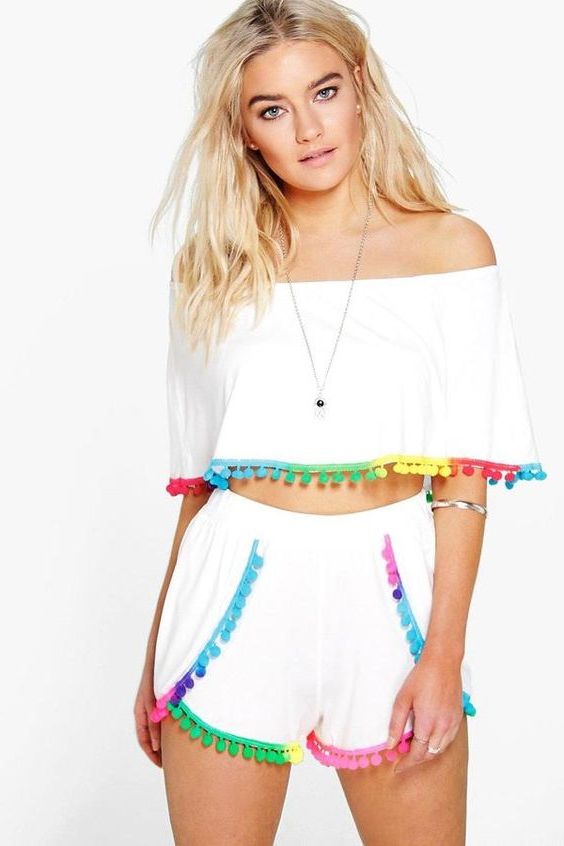 Buy Similar Here
Denim Bermuda Shorts
If you are a denim lover, then go for these stylish slim Bermuda shorts made of denim. Pair them with a black crop top and peep-toe heeled black pumps: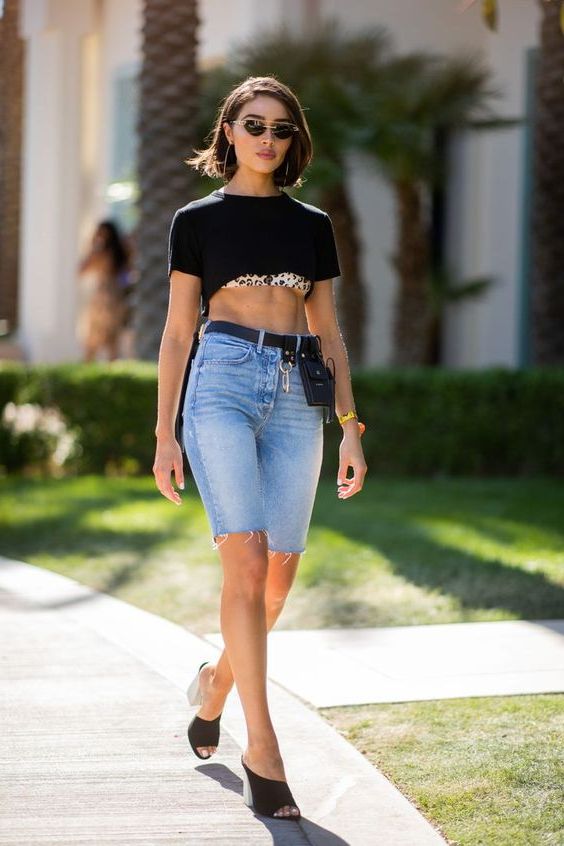 Buy Similar Here
Leather Shorts
Yes, they are still in trend! Go for black leather shorts and update them with a white sweater, camel car coat, black fedora hat and tights completed with black suede booties: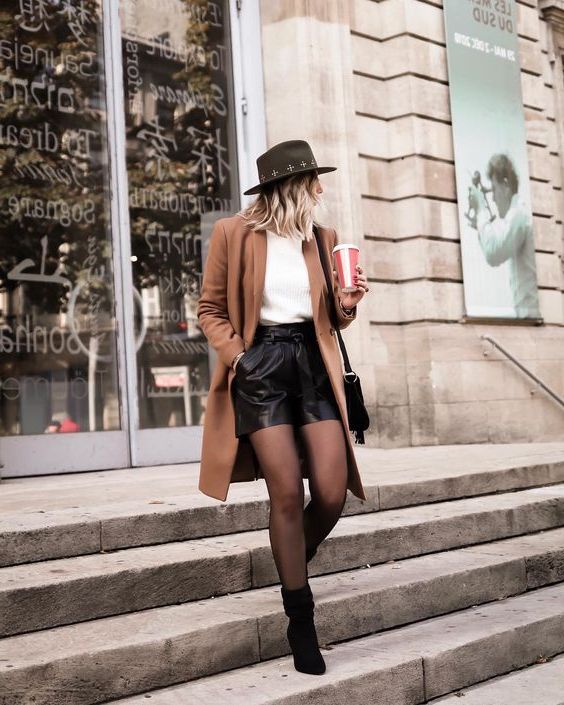 Buy Similar Here
High Waisted Shorts
Snakeskin print high-waisted shorts are styled with a white oversized tee and white sneakers: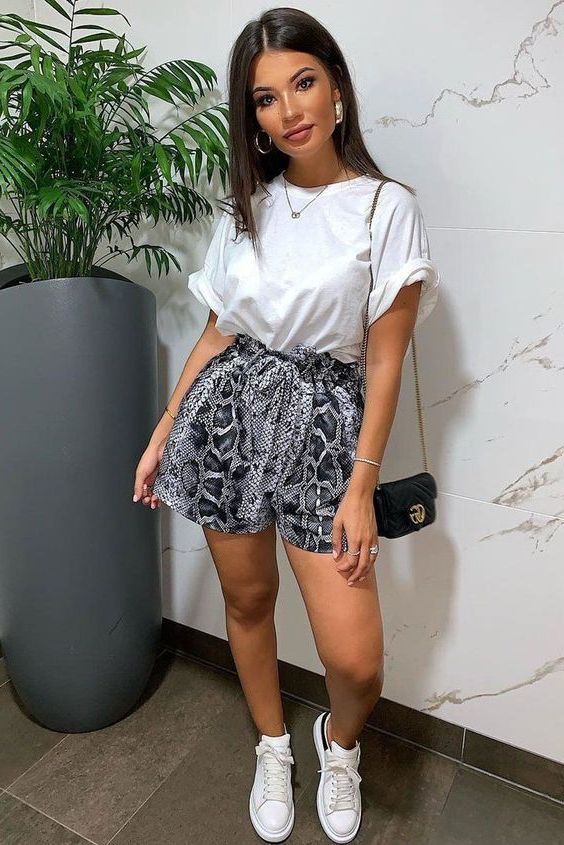 Buy Similar Here
Metallic Shorts
Pow-pow! Go for silver metallic shorts and style them with a black crop top and a denim jacket in blue, update it with a pair of cowboy suede black boots: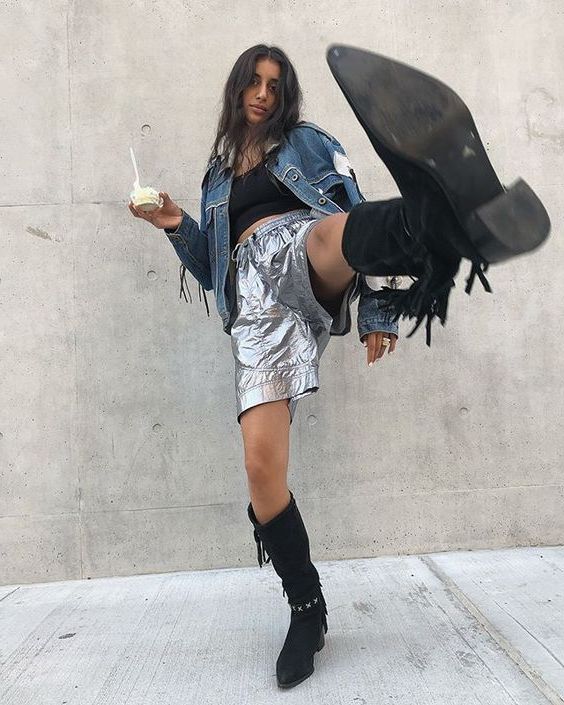 Buy Similar Here
Animal Printed Shorts
Another gorgeous pair of snakeskin print shorts are worn with a black sweater and cool shades, complete it with glossy black ankle boots: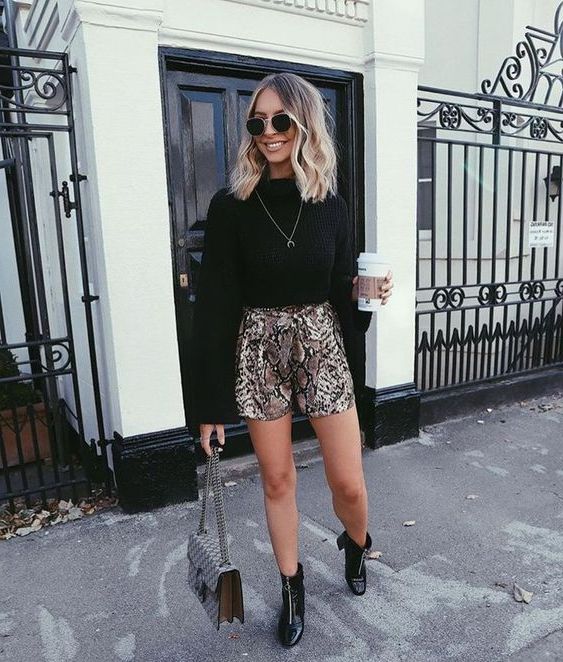 Buy Similar Here
Lace Shorts
Another ladylike style. We see white lace shorts worn with a basic grey tee and a tailored white blazer, complete it with gold metallic flat sandals: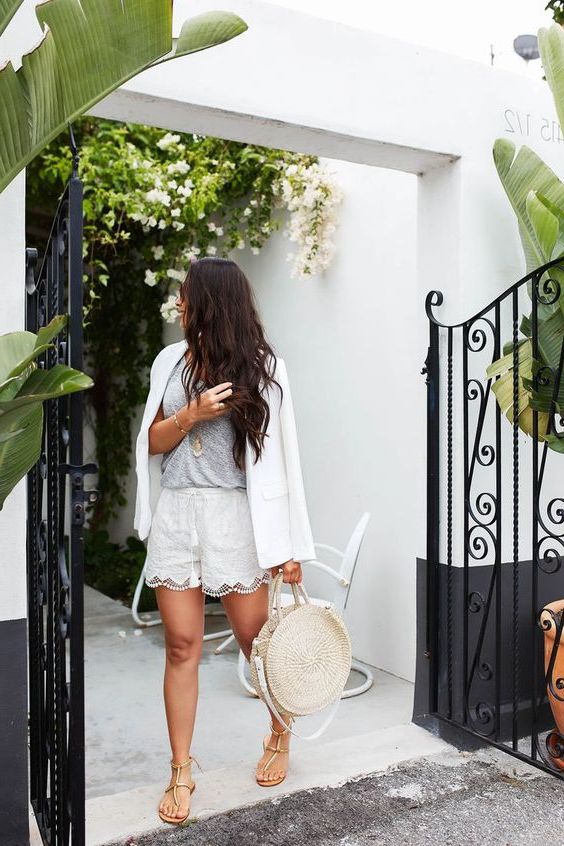 Buy Similar Here
Checked Shorts
A pair of black-white checkered shorts with a high waist is teamed with a black crop top and cool 1990 style sunglasses, love that red leather belt bag: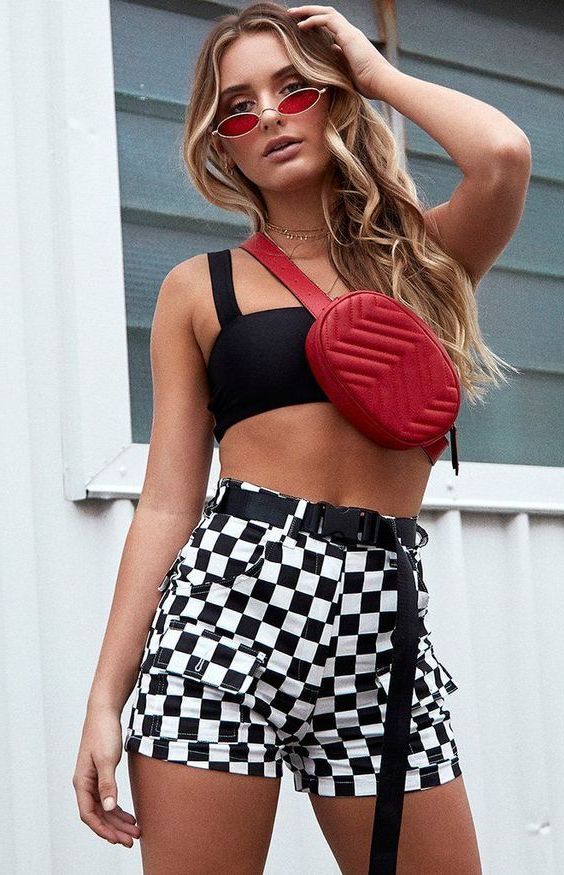 Buy Similar Here
Polka Dot Shorts
Lightweight white polka dot shorts in beige are worn with a white tee, rounded sunglasses and straw rounded shoulder bag: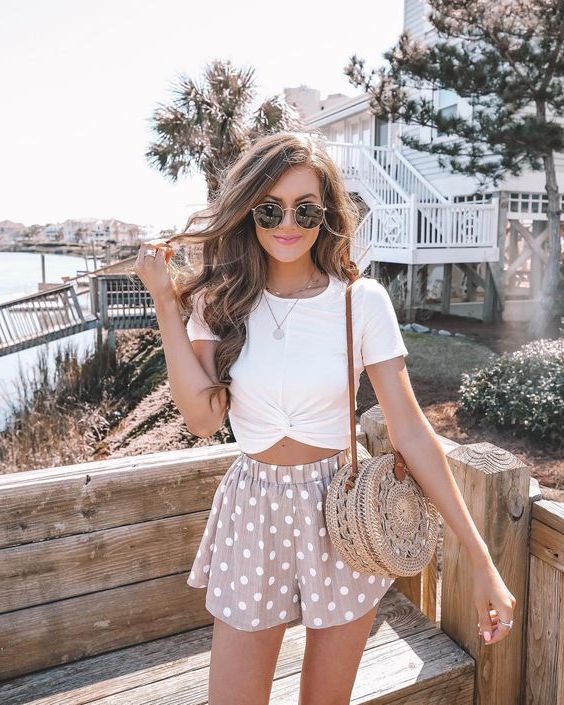 Buy Similar Here
Pale Pink Shorts
We see a sweet looking pal pink shorts suit consisting of a pale pink cropped blazer, crop top, and high-waisted pale pink shorts: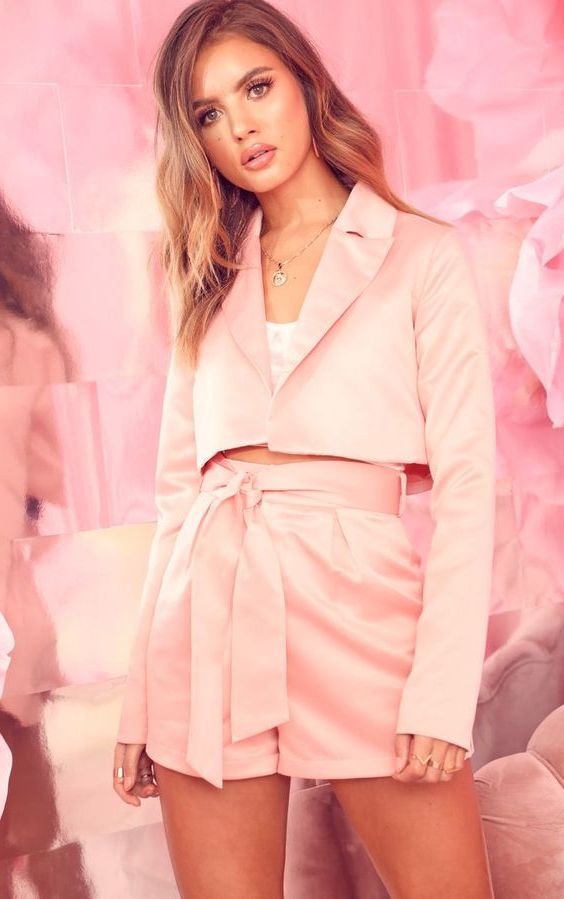 Buy Similar Here
Scalloped Shorts
A pair of dark blue scalloped shorts are styled with a white shirt and brown leather belt, a great combo for a boat trip: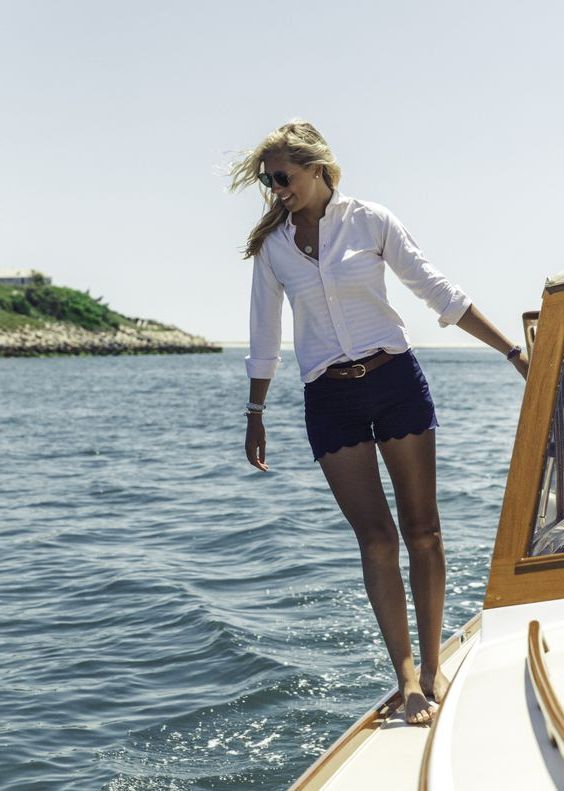 Buy Similar Here
Hot Pink Shorts
A pair of hot pink shorts look chic with a slim fit grey pullover: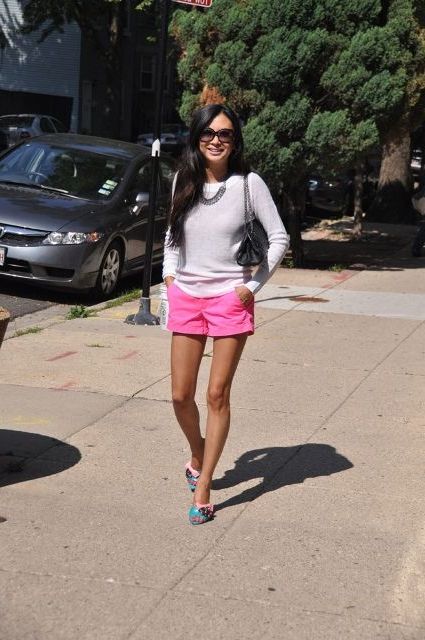 Buy Similar Here
Mint Green Shorts
A sweet mint green shorts are paired with a pinstripe pink button-down shirt and white flat sandals: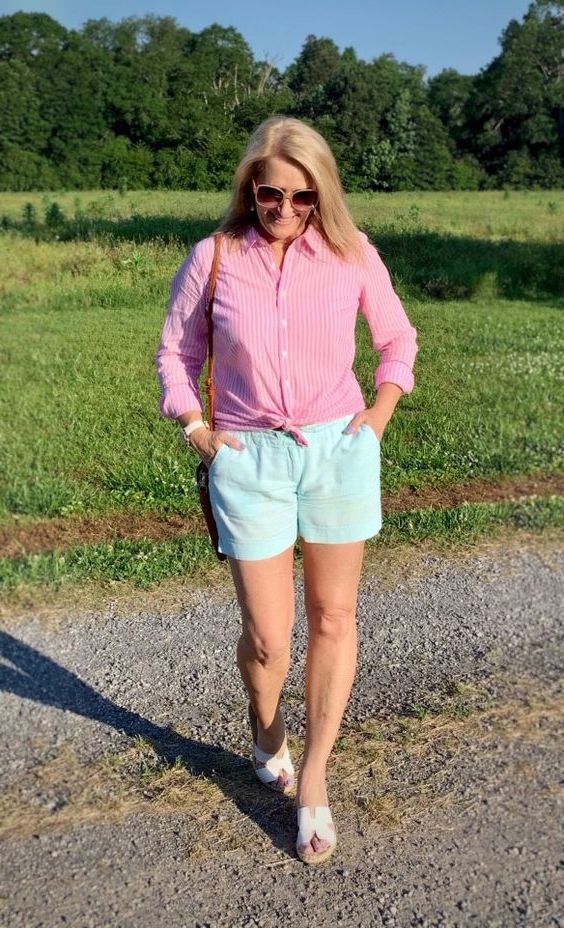 Buy Similar Here
Olive Green Shorts
Paper bag khaki green high waisted shorts look great with a black top and floppy hat, update it with oversized sunglasses and strappy flat sandals: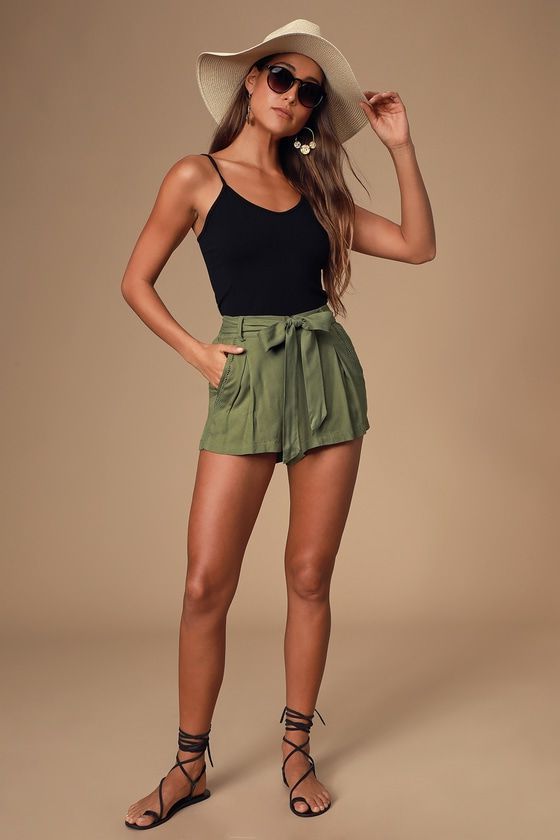 Buy Similar Here
Cobalt Blue Shorts
Bright cobalt blue shorts look pretty sweet with a white peasant blouse and brown leather flat sandals: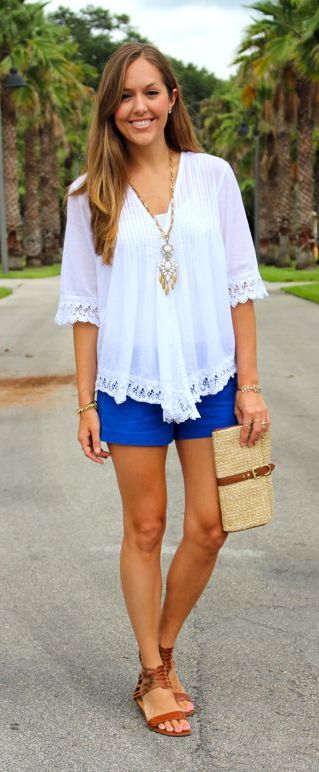 Buy Similar Here
Orange Shorts
The orange color comes back in fashion this year. We see orange shorts teamed with a white blouse and heeled white pumps: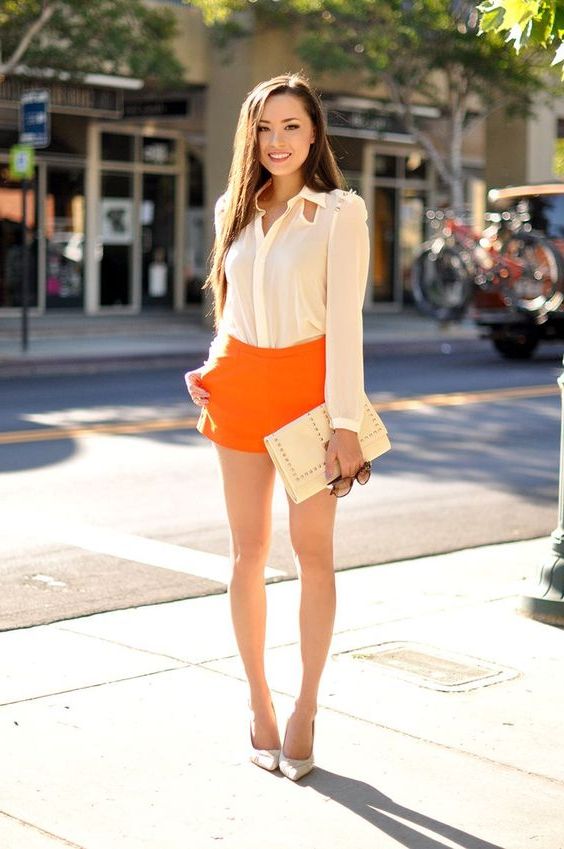 Buy Similar Here
Floral Shorts
Yes, this print is my favorite! We see floral print shorts worn with a black crop top, an ideal combo for vacation: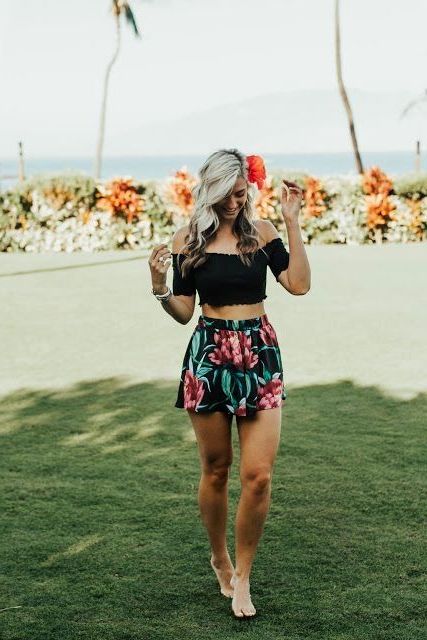 Buy Similar Here
Beige Shorts
A pair of beige shorts are great for summer office hours. Try them on with a halter-neck white bodysuit and white open back heeled sandals: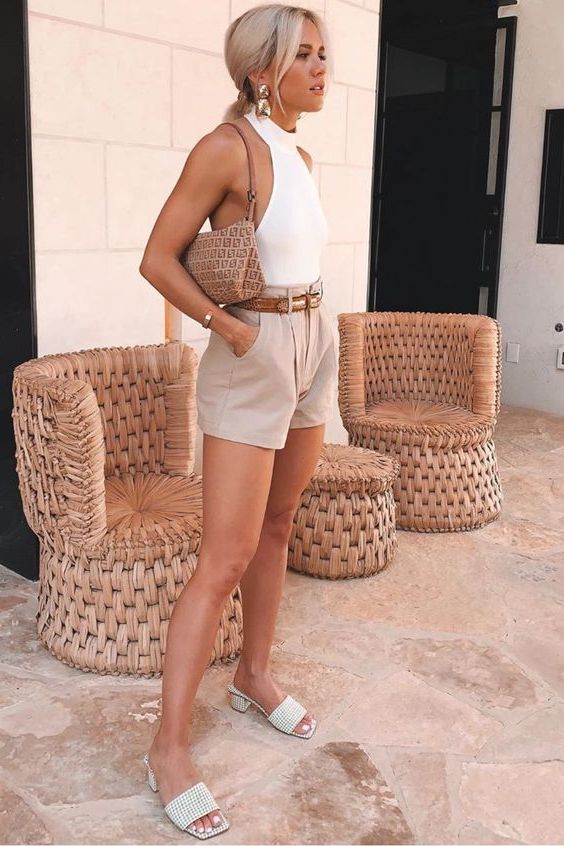 Buy Similar Here
White Shorts
A simple pair of high-waisted white shorts look great with a front-tied khaki blouse and heeled sandals: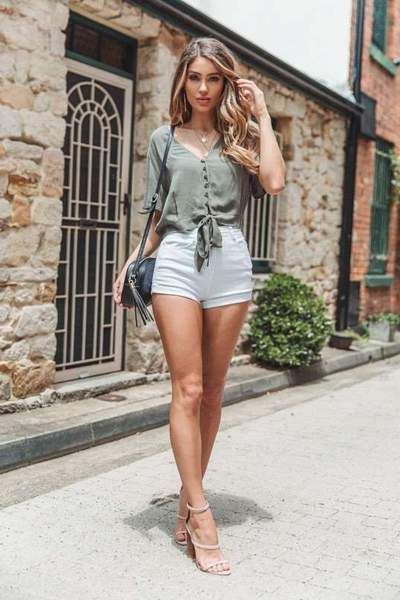 Buy Similar Here
Yellow Shorts
A pair of yellow shorts look bright, ladylike and simple styled with a white crop top with ruffled detailing: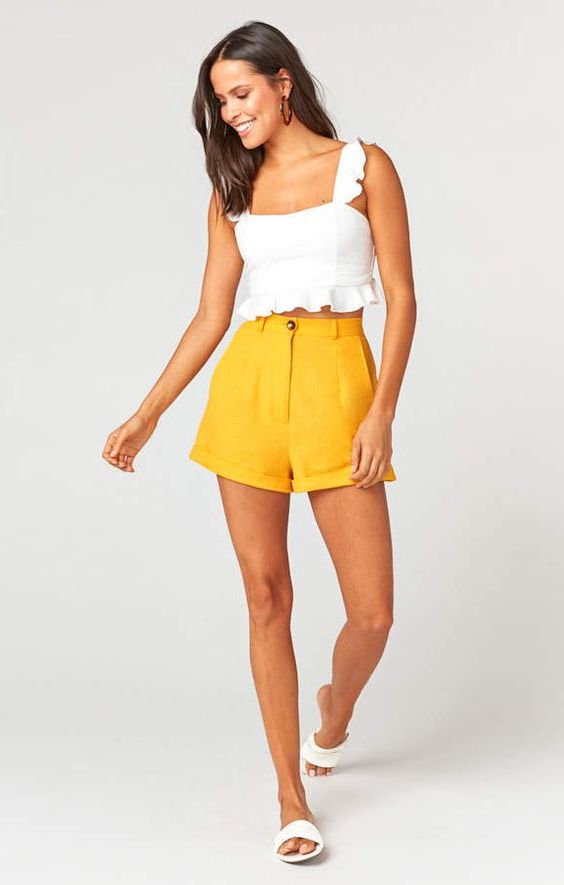 Buy Similar Here
Striped Shorts
Pinstripe shorts with a belt look pretty chic and classy styled with a white bodysuit, pink long tailored jacket, and black suede booties: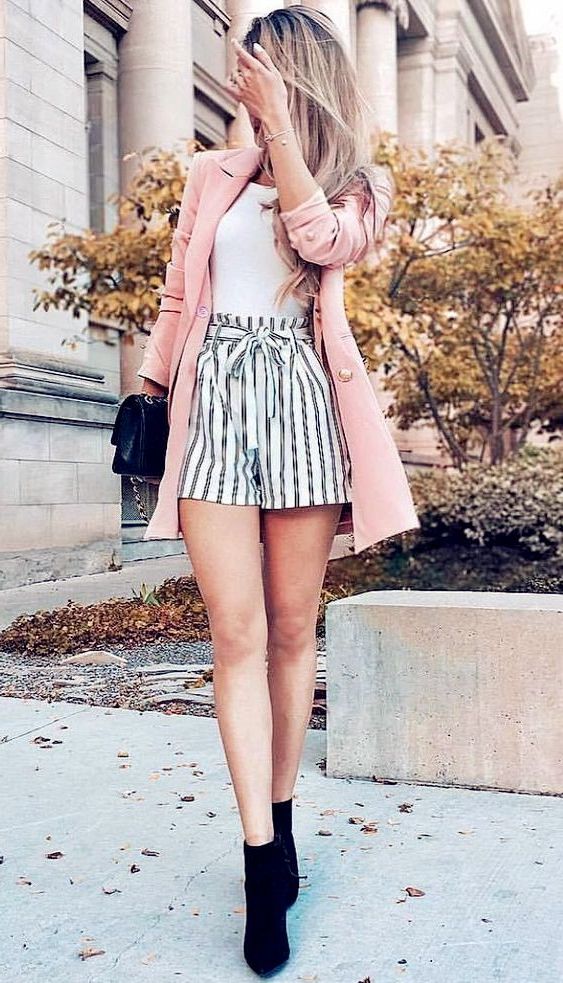 Buy Similar Here
Tweed Shorts
When it's fall outside, then the best style might be these tweed shorts worn with a black pullover with sheer detailing and black OTK suede boots: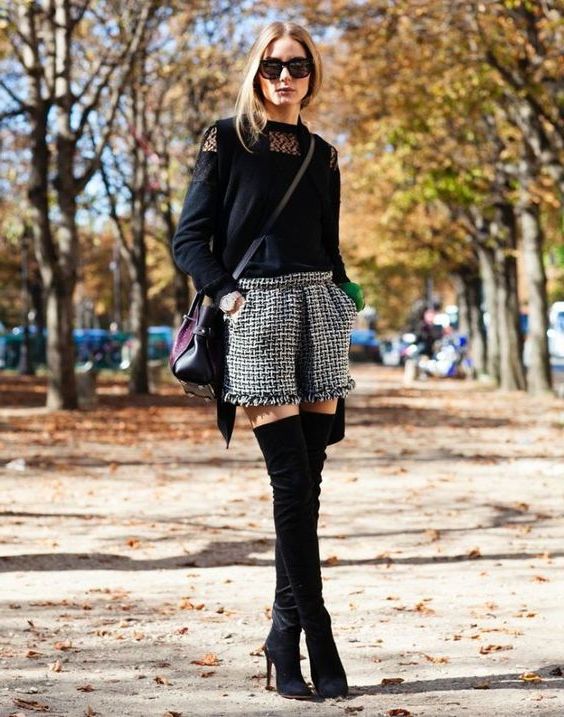 Buy Similar Here
Ombre Shorts
Ombre shorts look great with a basic white tee and white pumps, a nice combination for summer getaways: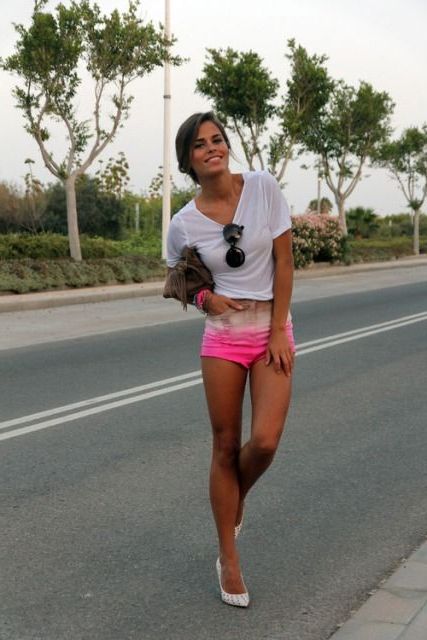 Buy Similar Here
red shorts outfit
Bright red shorts can be a nice addition to a white oversized V-neck sweatshirt, complete it with block-heeled pumps and rounded sunglasses: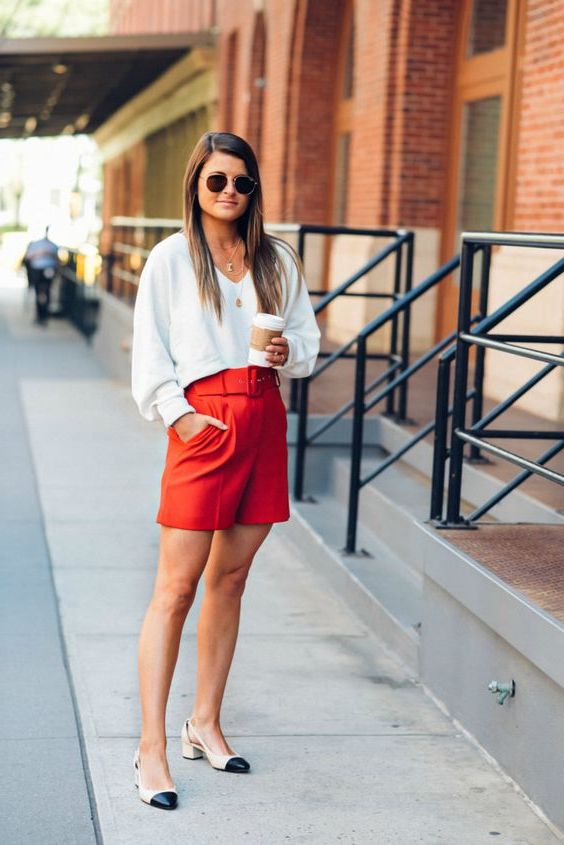 Buy Similar Here
mustard yellow shorts outfit
We see tailored mustard yellow shorts worn with black-white gingham print sleeveless shirt, a great outfit for casual weekends: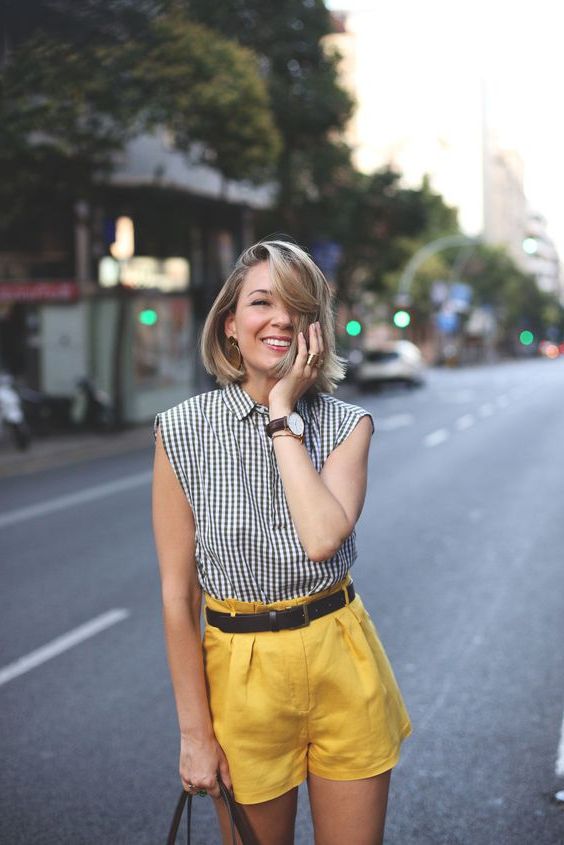 Buy Similar Here
can I wear shorts with a hoodie
Go for a purple oversized hoodie and team it with ripped denim shorts and classic trainers in black: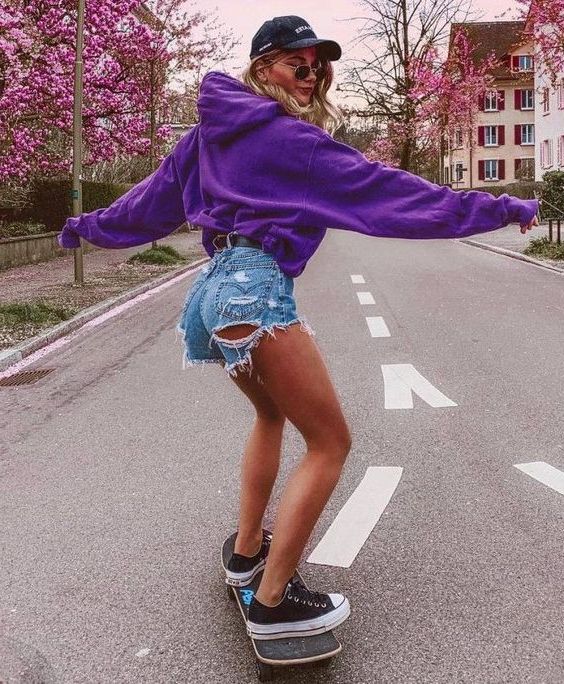 Buy Similar Here
An oversized grey hoodie ideally matches these cycling light grey shorts and white kicks updated with knitted socks: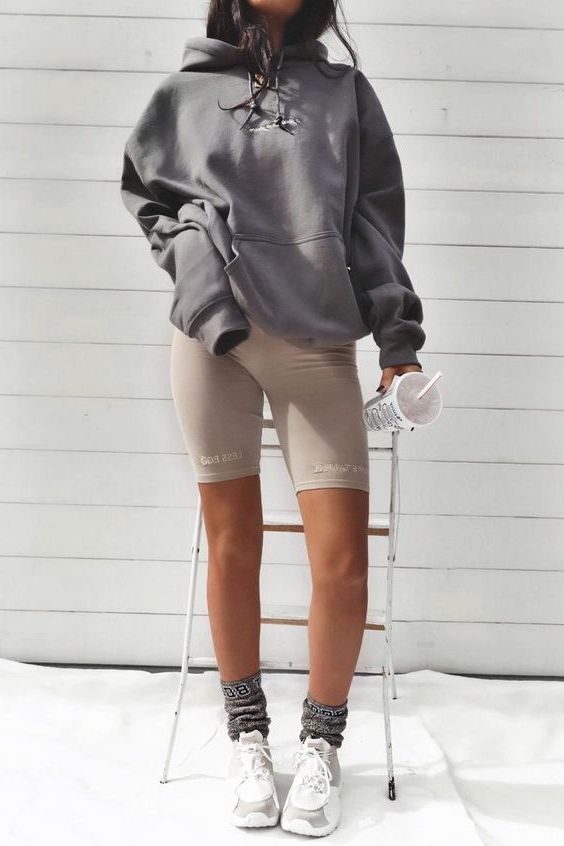 Buy Similar Here
can I wear shorts with long socks
Denim shorts look damn hot with tights and black long socks, add a black leather jacket and a simple black top: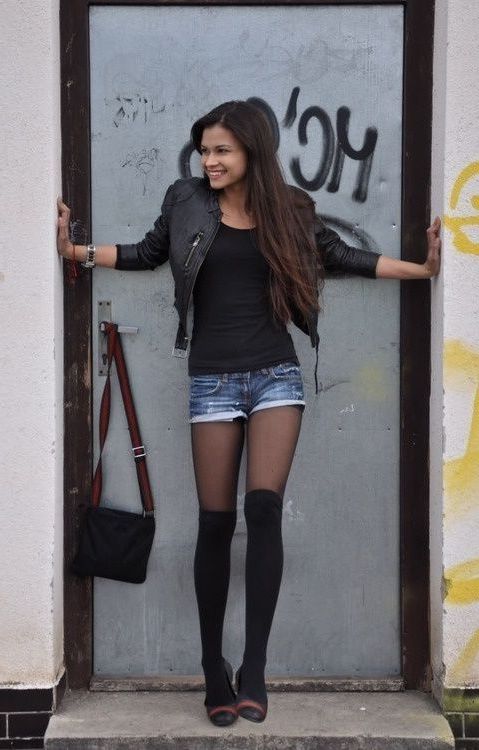 Buy Similar Here
can I wear shorts on a plane
Another great look for traveling. We see a blue blazer worn over white tee tucked in pale blue shorts completed with white trainers: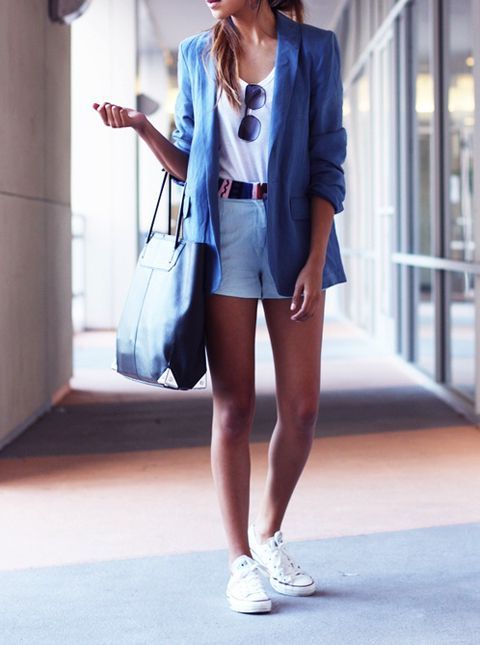 Buy Similar Here
We see pink cycling shorts that are ideal for airport travel. Style them with an oversized black pullover, cat-eye sunglasses, and white kicks: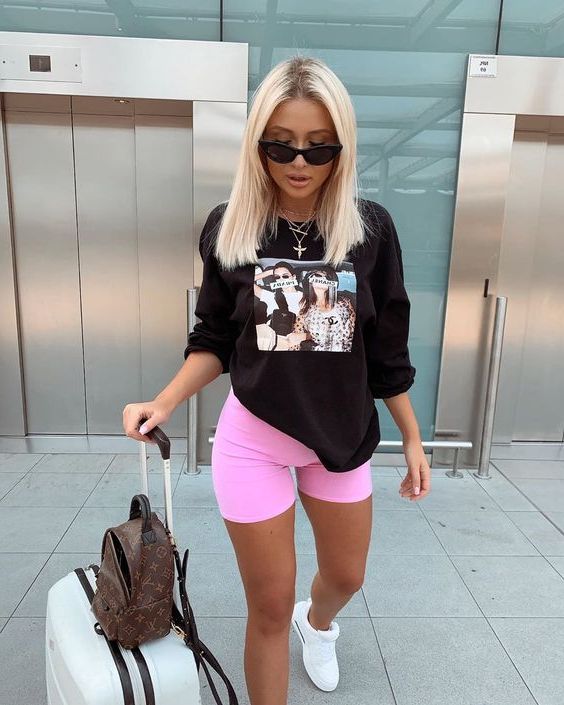 Buy Similar Here
shorts with tights
A pair of tight shorts in dark beige are worn with tights, wedge heels and black top layered under black-white striped blazer: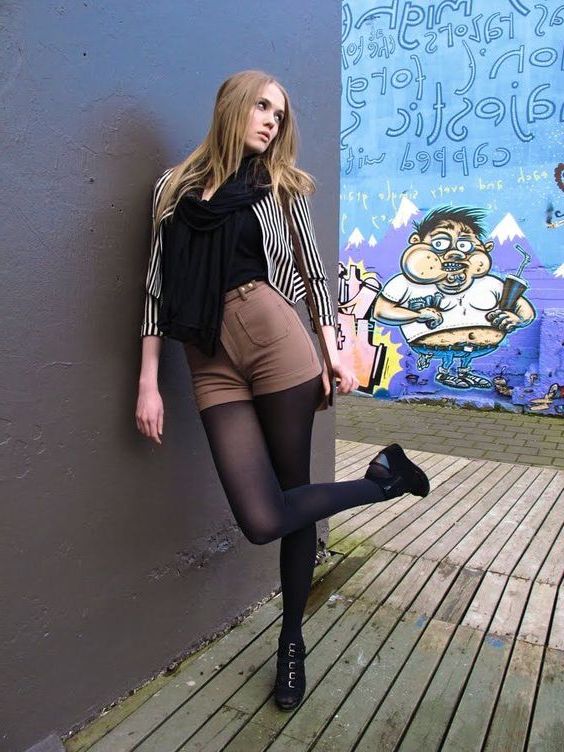 Buy Similar Here
shorts with leggings
A pair of denim shorts are worn with black leggings, platform flat shoes and white tee layered under plaid shirt: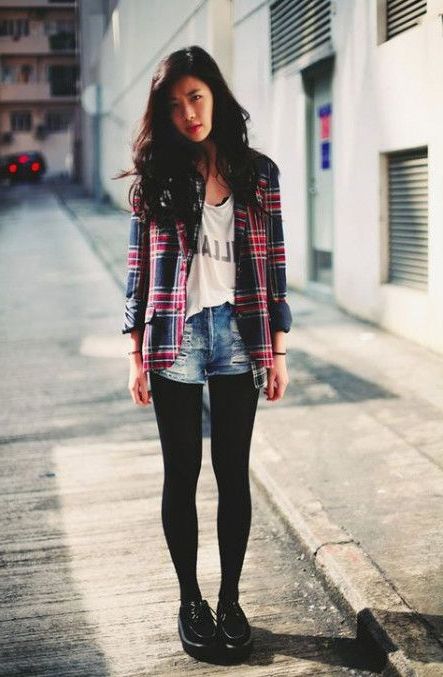 Buy Similar Here
shorts with boots
Go sassy and sexy with an oversized knitted crop sweater paired with denim shorts and beige suede OTK boots: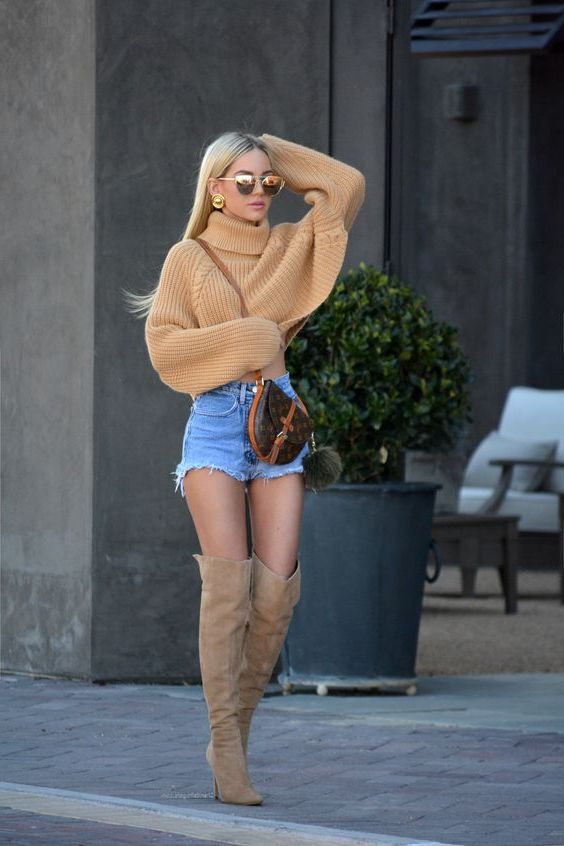 Buy Similar Here
shorts with suspenders
Some ladies need extra safety. Here we see black shorts with suspenders worn with a white crop top and black platform sandals: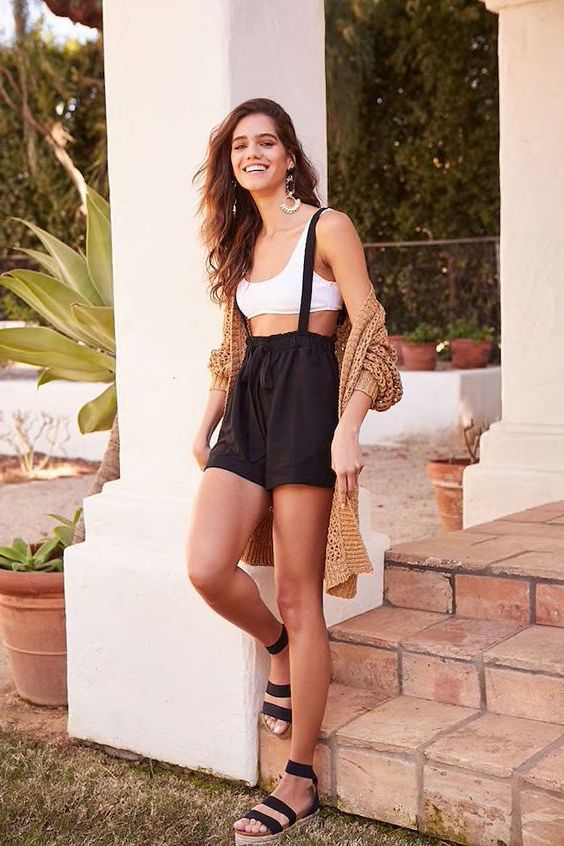 Buy Similar Here
shorts and blazer set
Here we see a sassy tailored shorts and blazer set in blue color updated with oversized mirrored sunglasses, white bodysuit, and clear heeled sandals. If you do like mirrored shades, then check out my post on must-have sunglasses with mirrored lenses, you can find many inspiring designs: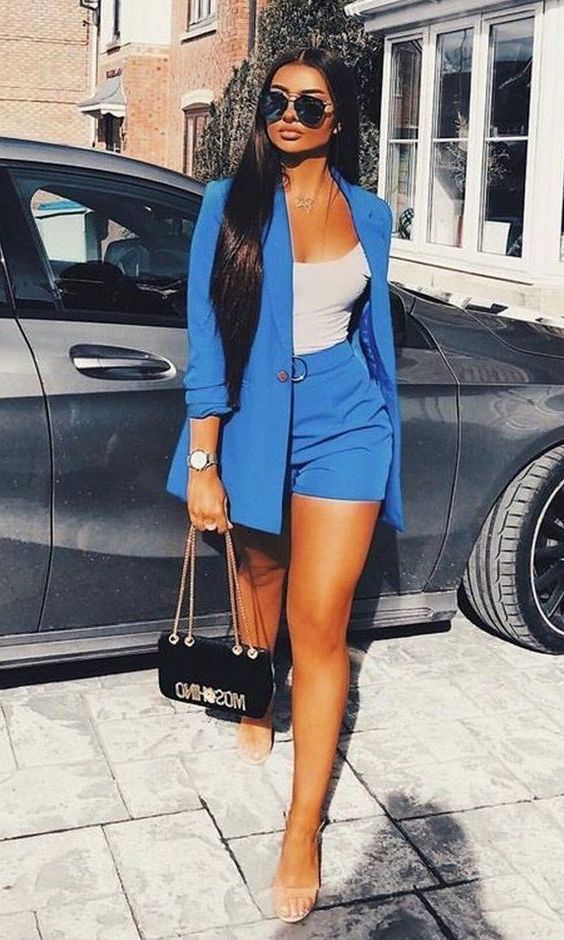 Buy Similar Here
Go bright! We see two ladies wearing the same design shorts suits, one in yellow and other in light pink, both feature white crop tops: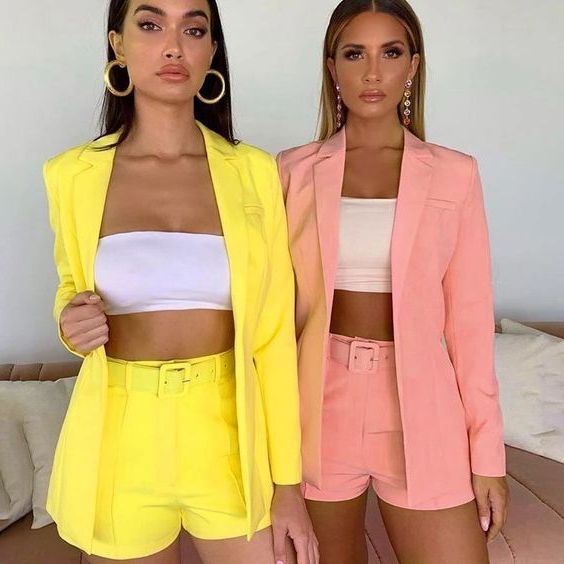 Buy Similar Here