Every lady needs a pair of wide-leg pants. This bottom piece will be an ideal complement to almost any look, starting from the one you wear to parties, and to the one you can actually wear at work. Today I decided to create this big guide and show you all the best ways how to wear wide-leg pants.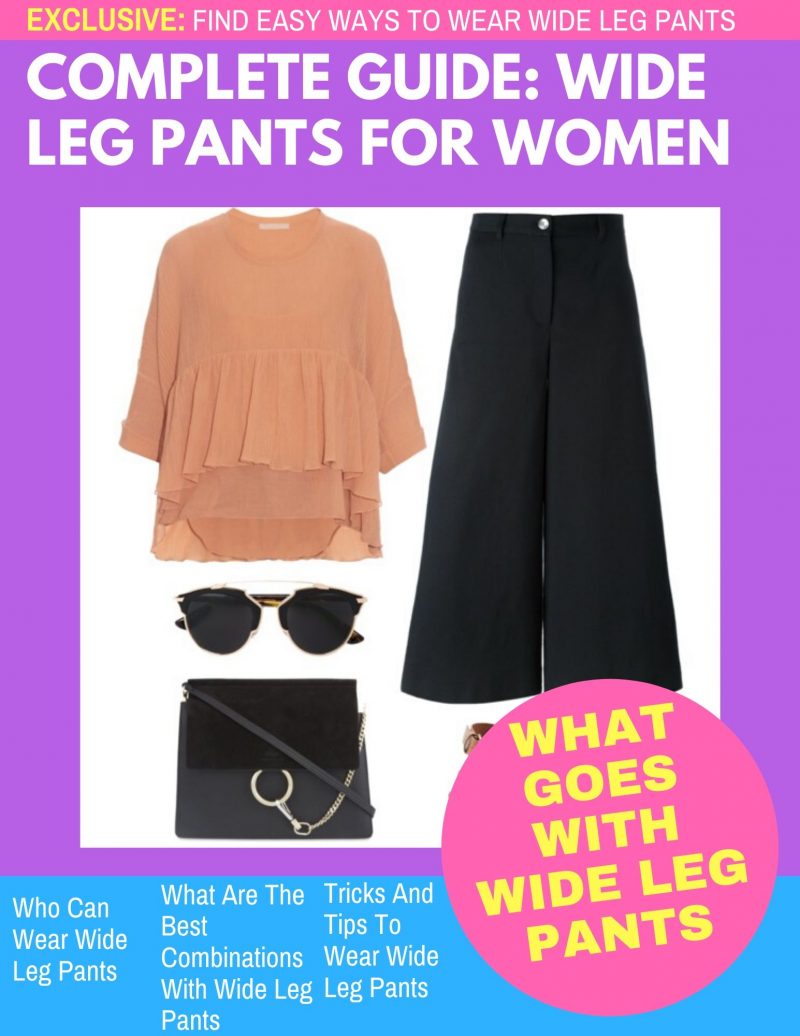 You are about to find out what types of wide-leg pants are back in style, do these bottoms make you look fat, shorter, either taller, what shoes can you wear with them, can plus size ladies wear these pants, as well as many other subtopics. I will try my best to show you simple fashion tips on how to make things look right without feeling misplaced. Trust me, once you read all tips and tricks and find the perfect style, then you gonna fall in love wide-leg pants.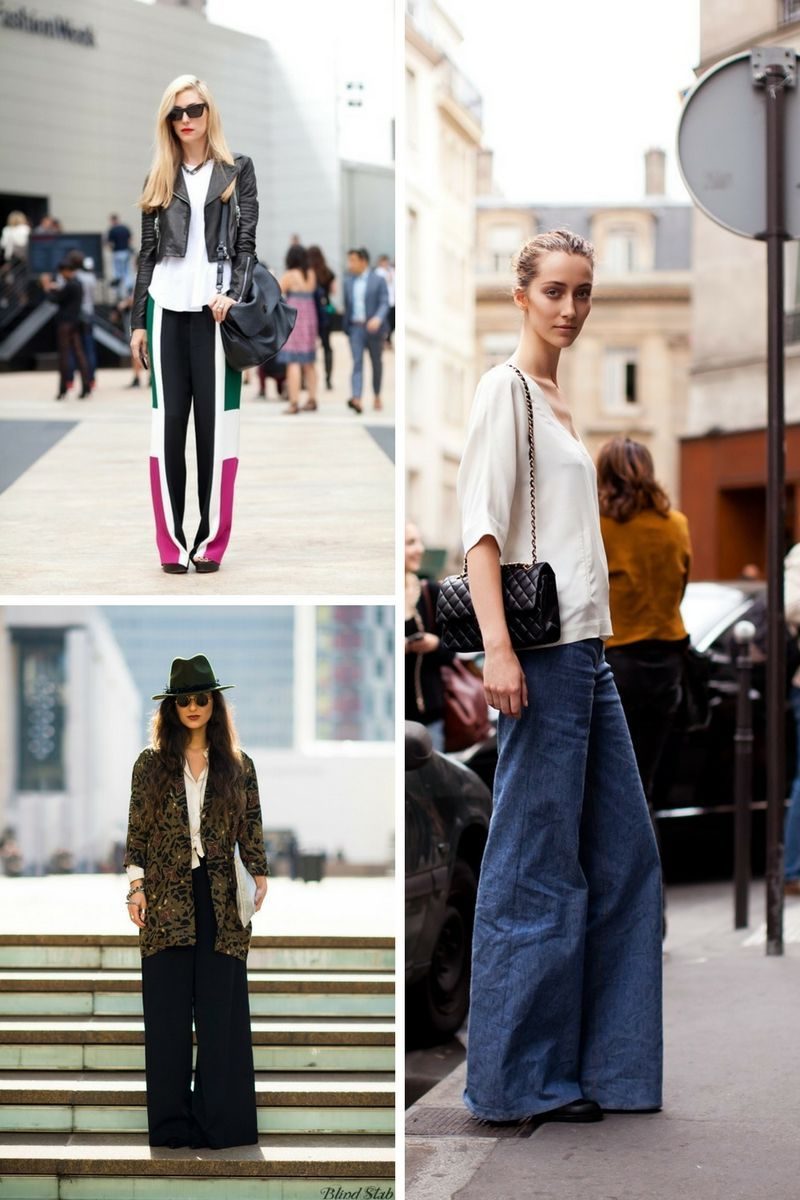 Are wide leg pants back in style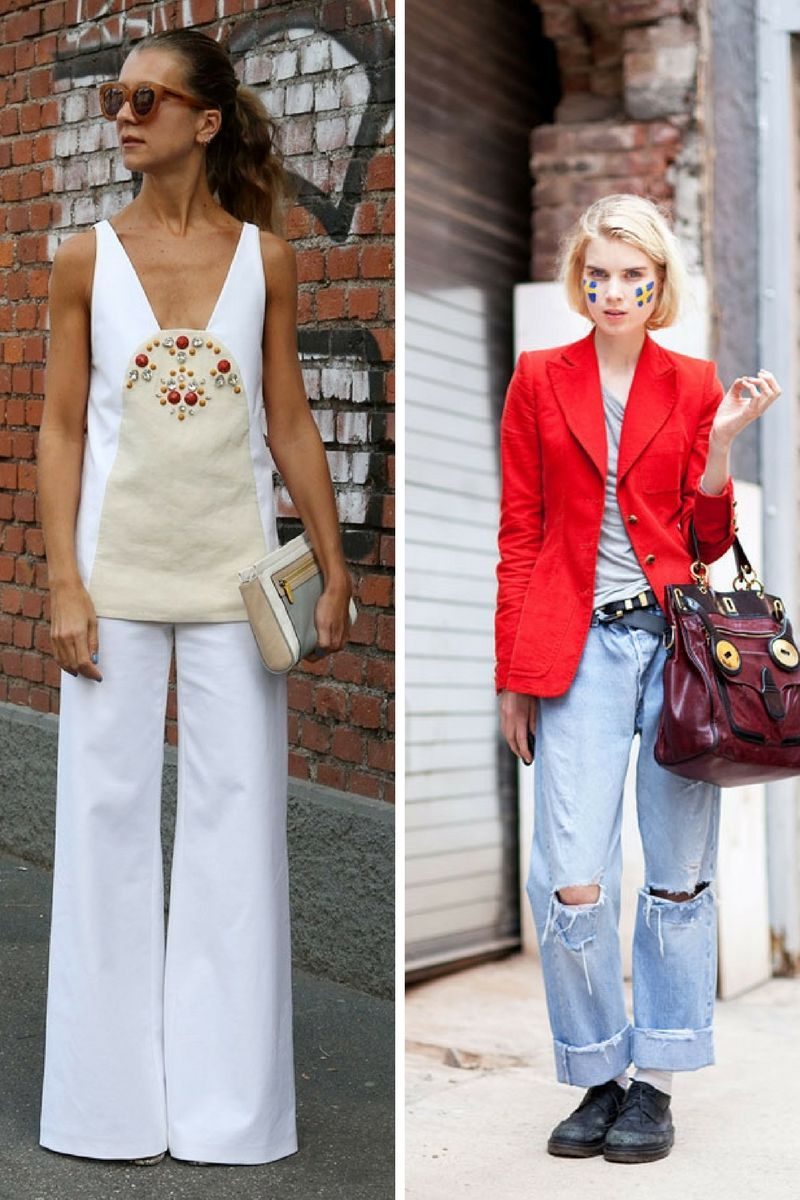 It's n secret, skinnies have dominated the catwalk for already a decade. But this year we see something has changed, ladies start to experiment with their outfits in the right way. The fashion world is crazy about wide-leg pants. The best thing I love about flares, they give you some air and let your legs get ventilated, so you automatically get comfortable.
Are Paper Bag Wide Pants In Style Right Now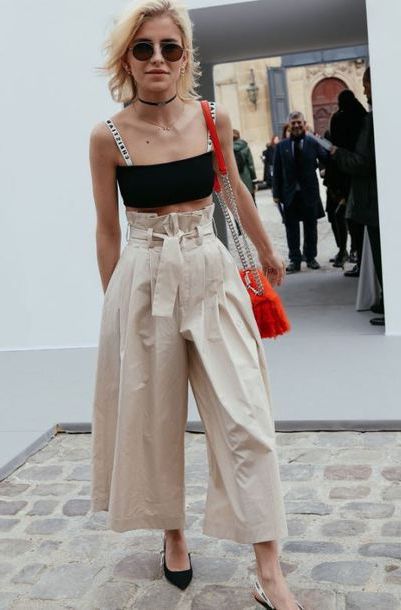 I love these pants for their versatility that makes them feel extremely comfortable. Yes, they are still in style, and you can wear them with absolutely anything, just make sure your waist is slim, so you look balanced. I love to see these pants teamed with one-shoulder blouses.
Are Palazzo Pants Still Popular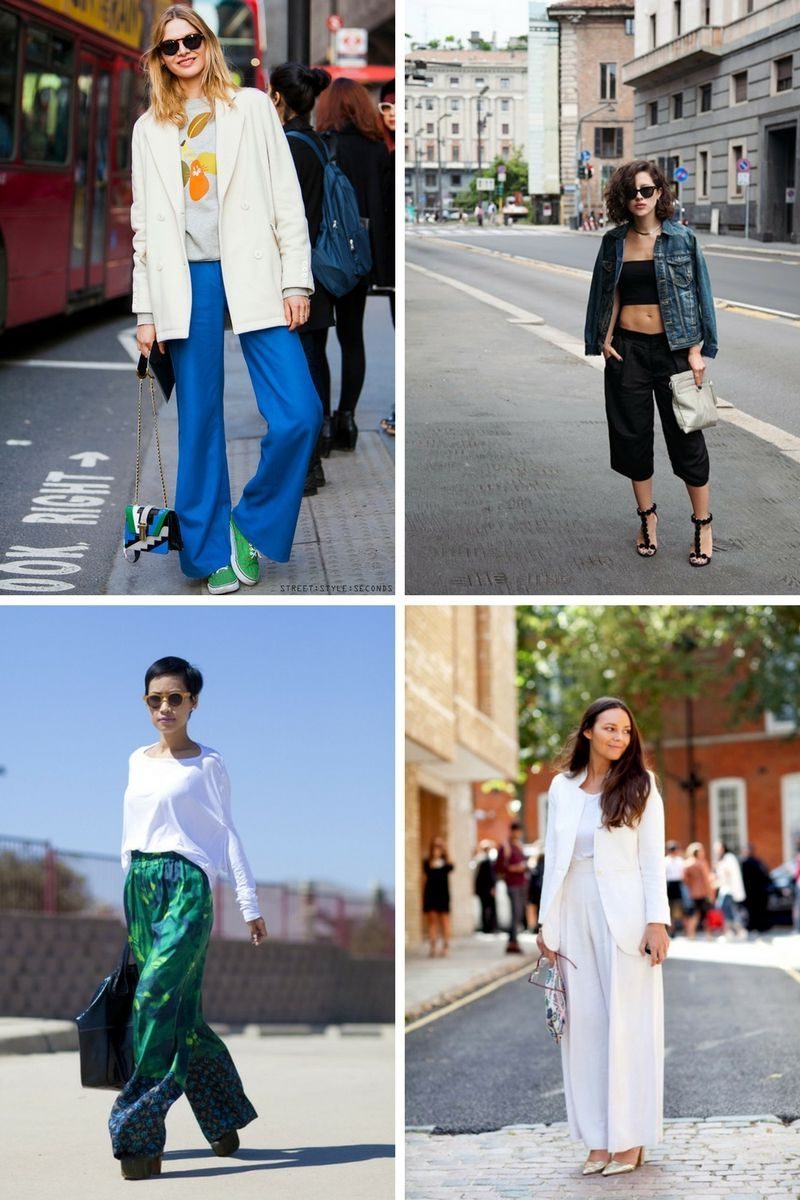 Another style of wide-leg pants that is still popular and their name is palazzo trousers. They do look awesome, just make sure your waist looks slim, yes, you got me right, focus on your torso!
Are Wide Leg Pants Slimming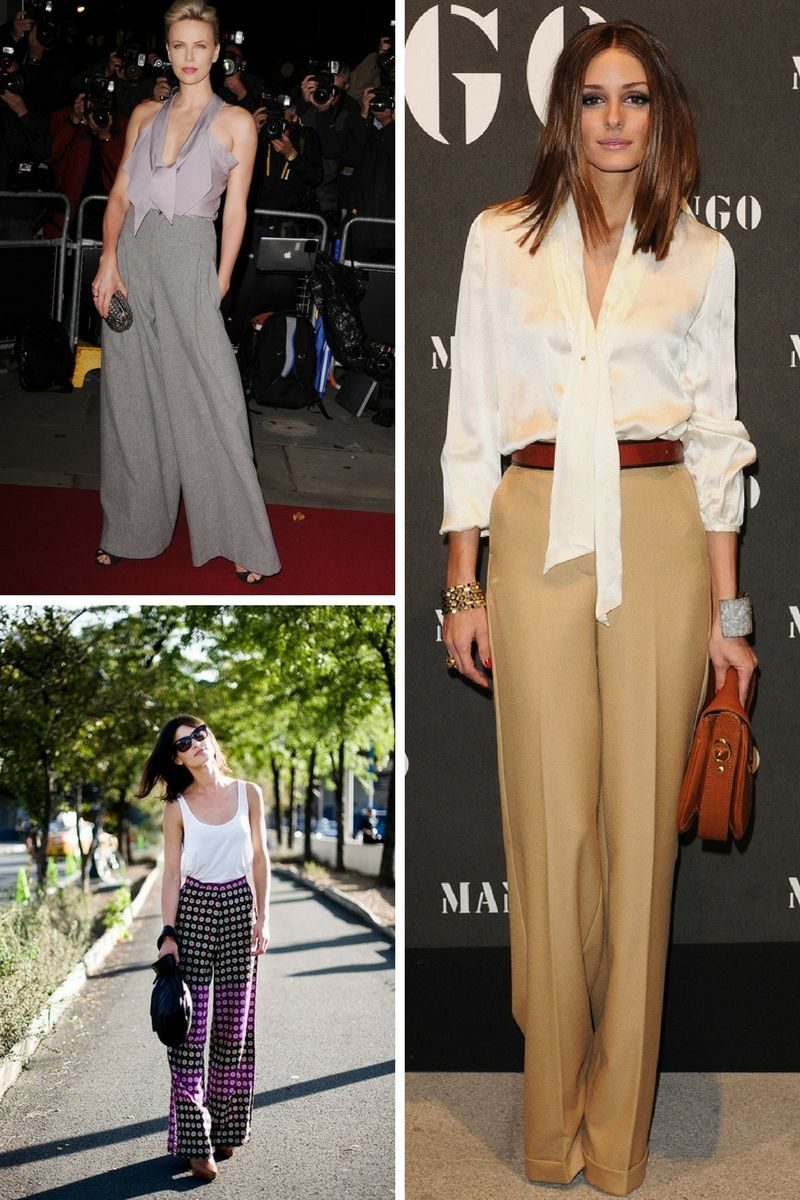 You gonna be shocked, but there is nothing more slimming than a pair of well-fitted wide black pants that hit at your waist or higher. This silhouette will make your waist look much narrower. That's why stop fearing this look and go and get ones. You can create a structured look by adding a tailored jacket. Yes, you can accentuate the waist thanks to a slim jacket that will complement the loose fluidity of wide-leg trousers.
Can Petites wear wide leg pants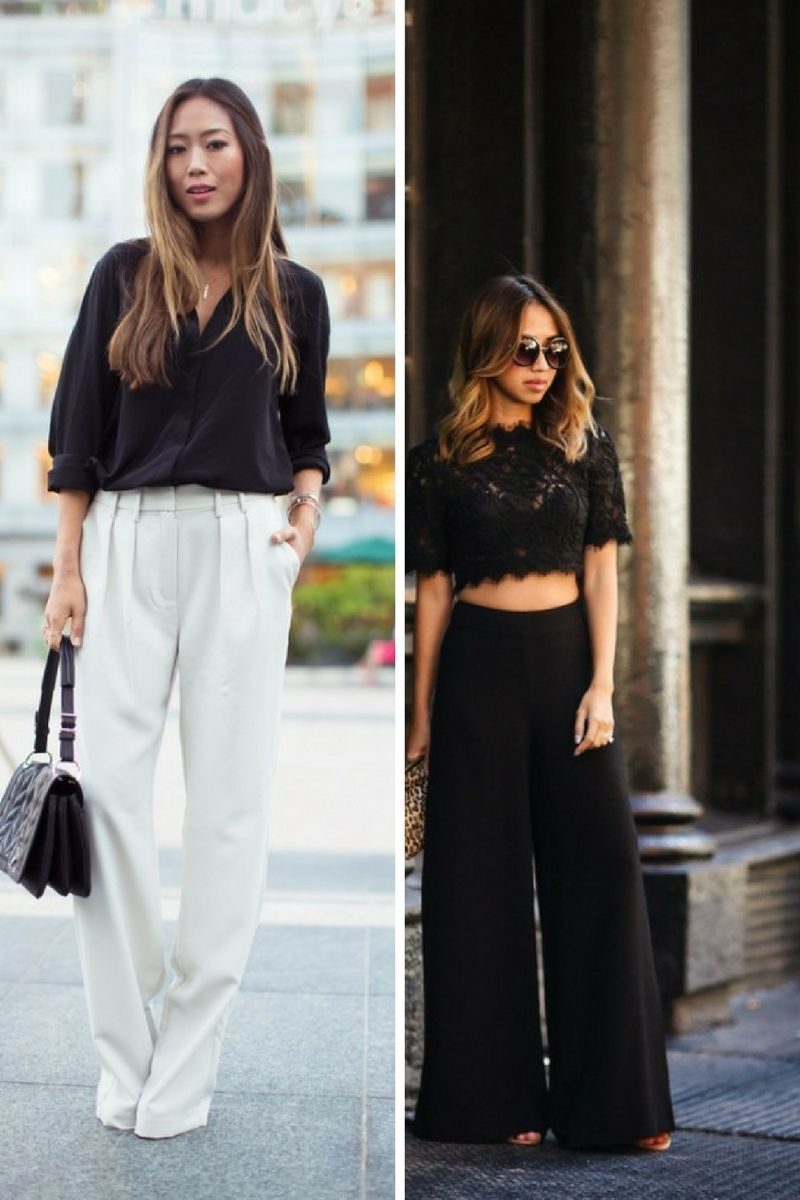 Yes, you can wear wide-leg pants even if you are short. Just keep in mind several things. If you can't find the perfect fit, then buy the ones that touch the ground and go to the tailor, so he/she can fix it. Opt for cropped or ankle length design if you are not into "full-length," or you simply tired of wearing heels all the time.
How To Wear Wide Leg Pants If You Are Plus Size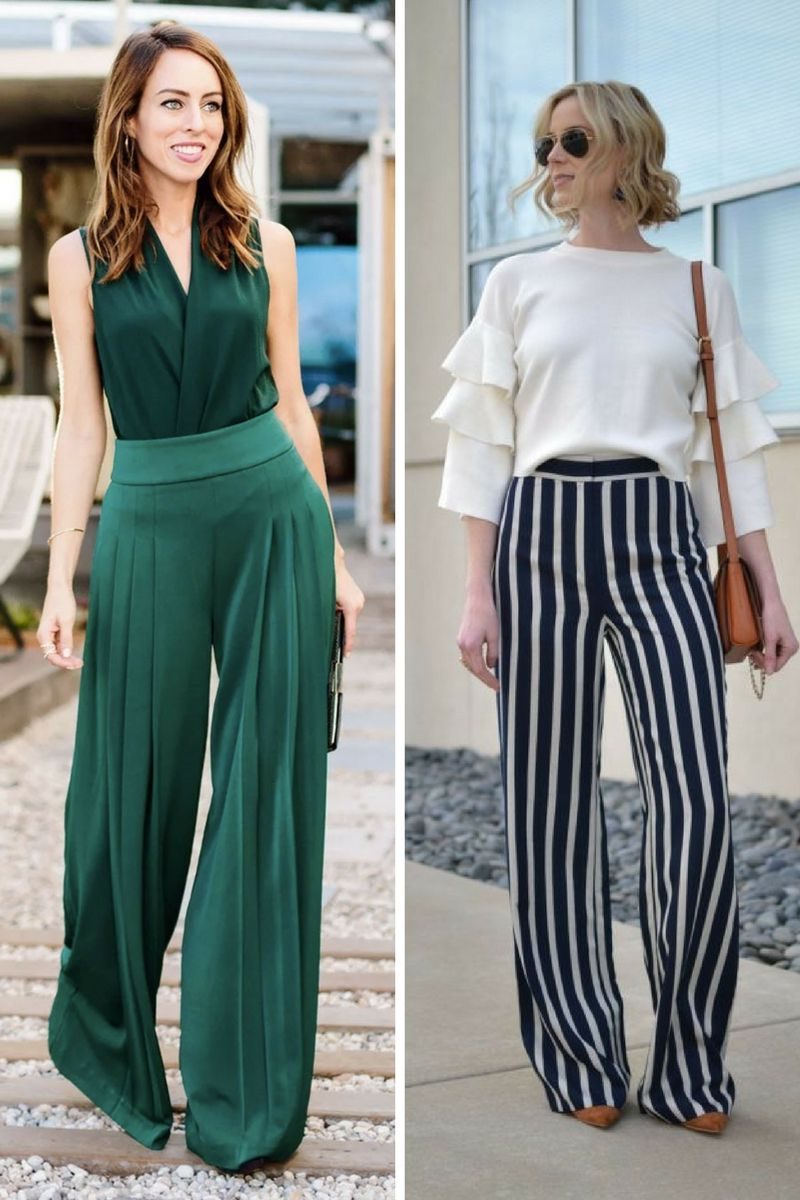 Curvy women should look for length, it's a very important factor when wearing wide legs. The trousers should hit past your ankle grazing the toe of your shoe. Find the ones that fit the largest part of your body. Go for thick fabric and try to avoid lightweight materials. But if you still want to wear the relaxed design, then combine them with a fitted top or a sleek jacket.
Do Wide Leg Pants Make You Look Fat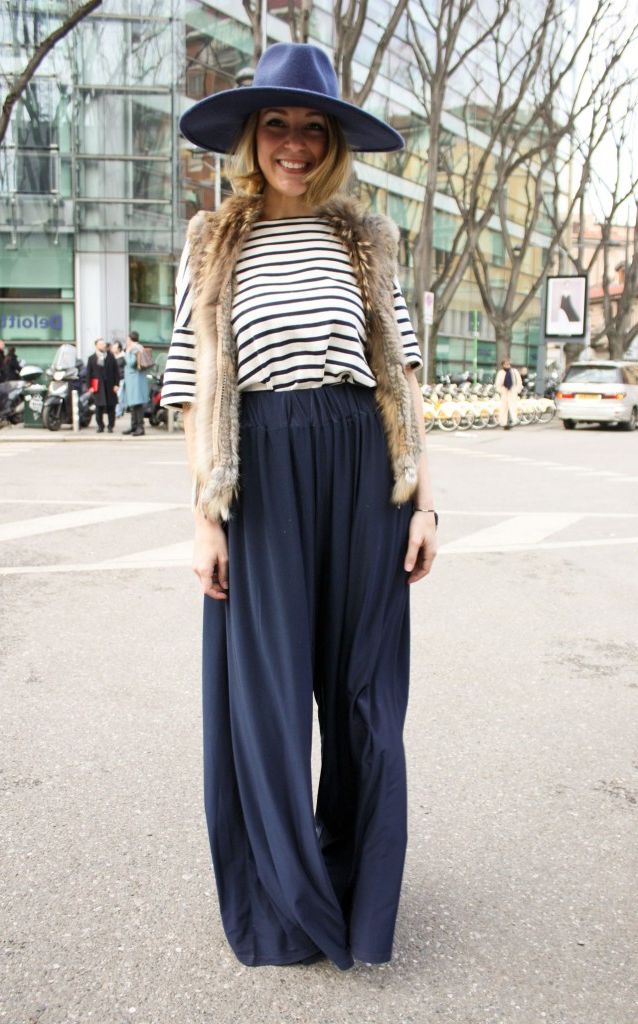 As I've mentioned before, you need to find the right fit and size of wide-leg pants. But they do not make you look fat. The only thing is to keep attention to details, as a wide belt can make you appear big.
Do Wide Leg Pants Make You Look Shorter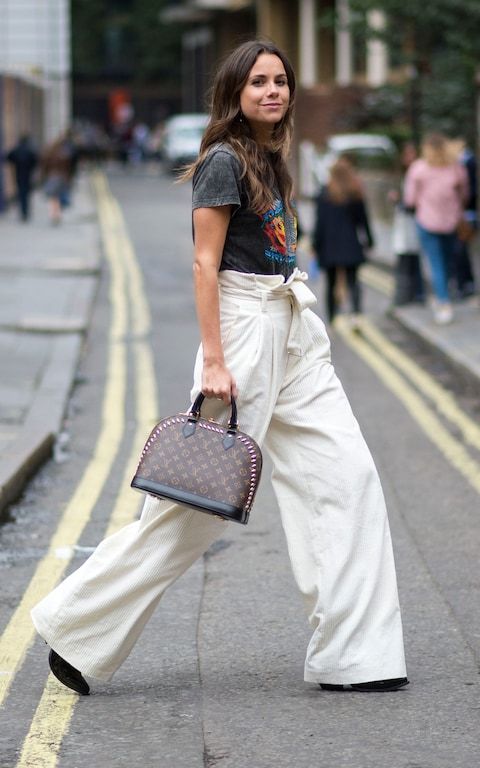 Yes and no. If these pants are too long, they can overwhelm you, and too short wide-leg pants can make your legs look shorter. Keep them as long as possible, plus try to find the ones with a high waist.
Do Wide Leg Pants Make You Look Taller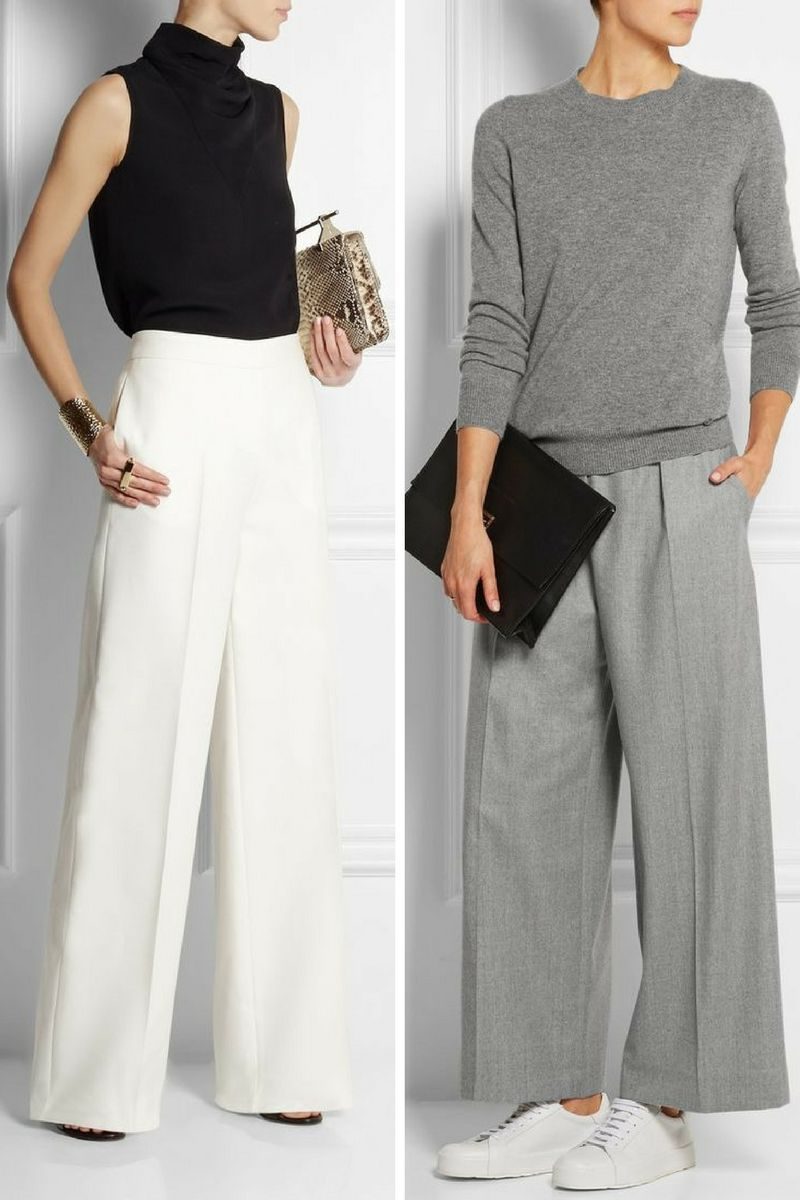 Modern wide-leg pants come with a high-waist, that's why they can easily make your legs appear longer. Just make sure you wear them with an appropriate top that is either a crop-top or a shirt, blouse tucked inside.
What Shoes To Wear With Wide Leg Pants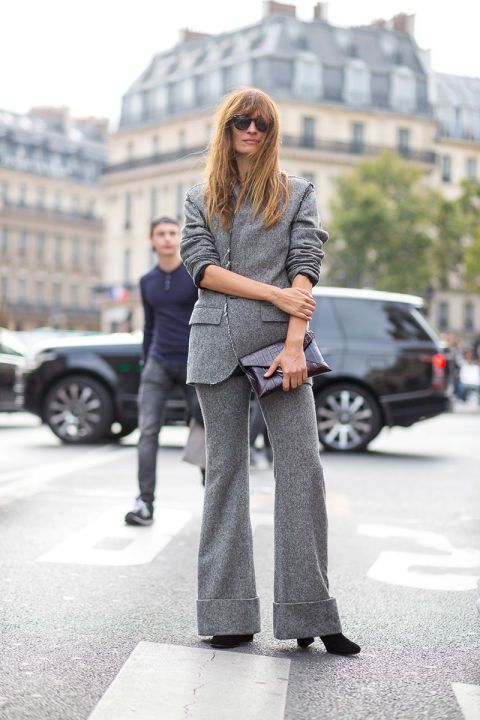 There are five best shoe styles to wear with wide-leg pants, including pointed pumps, that add great height and an eye-catching detail thanks to the pointed toe Next shoe is chunky sneakers, they will perfectly dress down the whole look, plus they are comfortable. If you are looking for fun style, then go for platform pumps, they are a great alternative to thin heeled footwear. Update your style with eye-catchy ankle boots, when I say eye-catchy I mean the ones with metallic toes, embroidery, and other embellishments. Last but not least are sandals. They will always be cool styles to wear during summertime, plus they allow billowy silhouette flow while walking. Sure, you can still find other cool footwear designs to combine with your wide-leg pants. Please let me know your favorites in the comments below.
Can You Wear Flats With Wide Leg Pants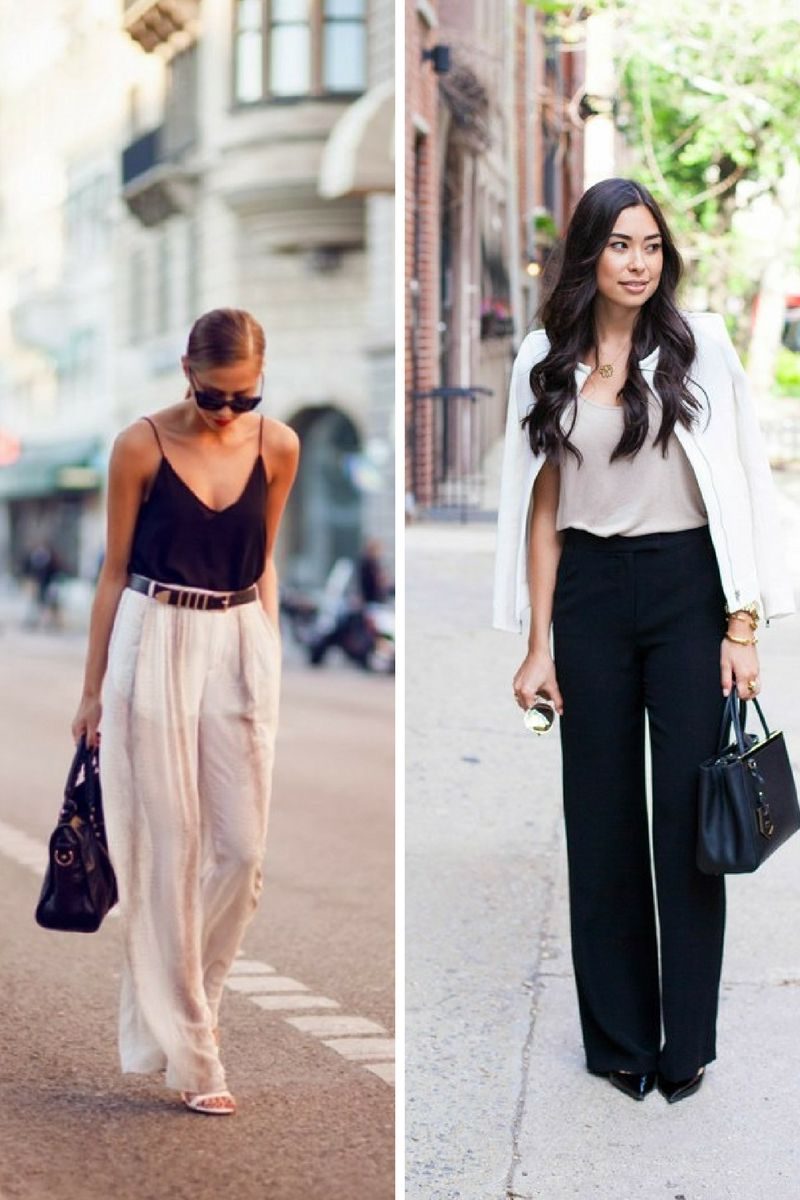 Yes, you can wear flat with these pants, just make sure your pants are tailored well, so the hem of pants barely skim the ground, so the toe of your shoe gets visible. By the way, we see super wide leg pants with flats trend right now, so you definitely should give it a try! So, you are free to try palazzo pants with flat pumps, with backless mules, flat slides, criss-cross sandals, and gladiator ankle flats.
Wide Leg Pants And Sneakers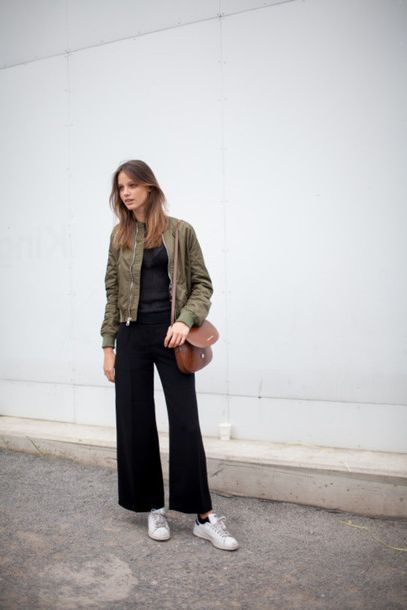 That's another super trendy style! Don't panic, these bottoms can actually work well with sneakers. Make sure the color of pants contrasts with your shoes, I prefer to go for neutral hue pants and combine them with colorful kicks.
Can You Wear Boots With Wide Leg Pants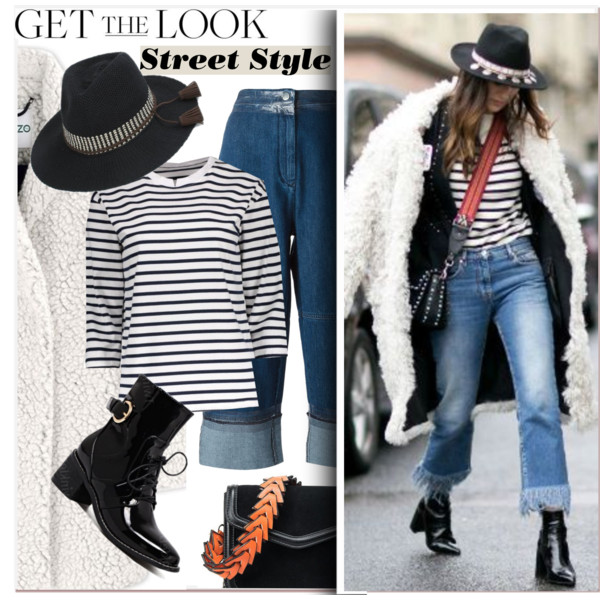 If you are wearing floor length pants, then I guess any boot style can work. If you are wearing some cut wide leg slacks with a hemline at the calf or 3/4 design then you can finish off the look with ankle boots, or even go for OTK boots.
Wide Leg Pants And Crop Tops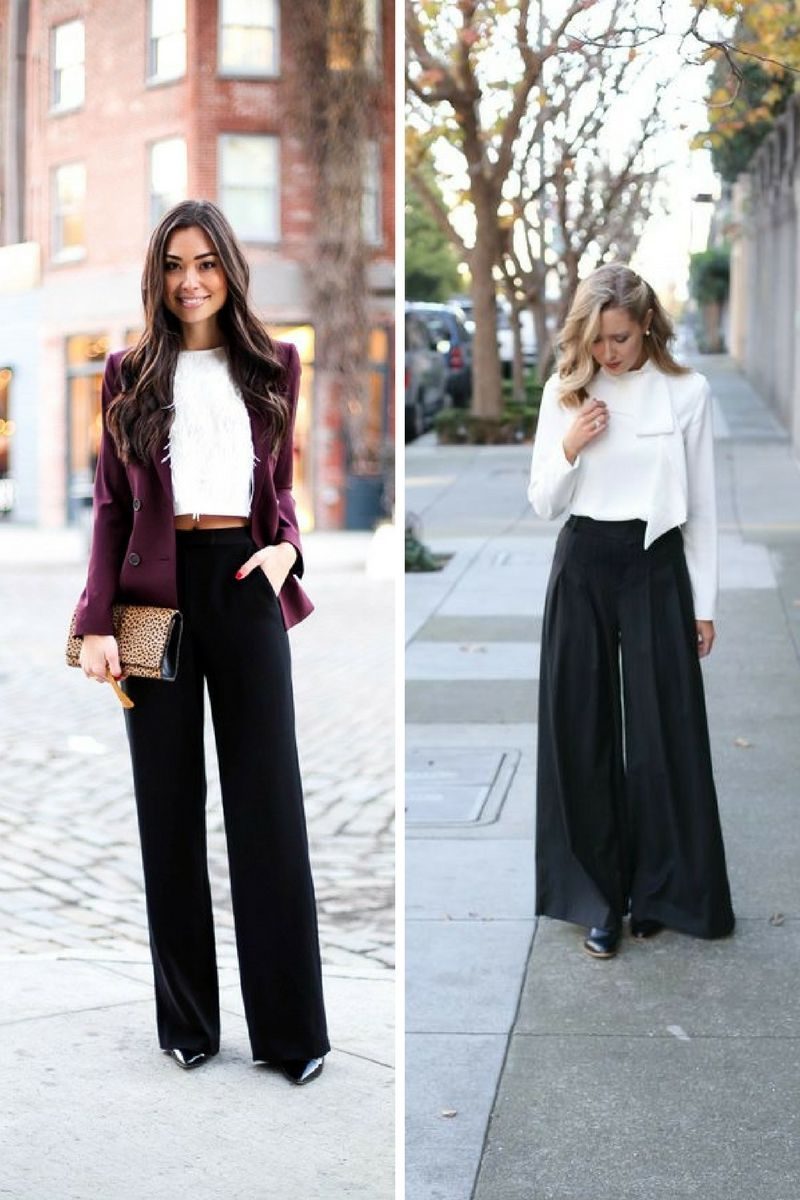 A crop top and waist wide leg pants set is another super cool look for this year. It will be a perfect match for hot summer days. Just make sure everything is balanced.
What Jacket To Wear With Wide Leg Pants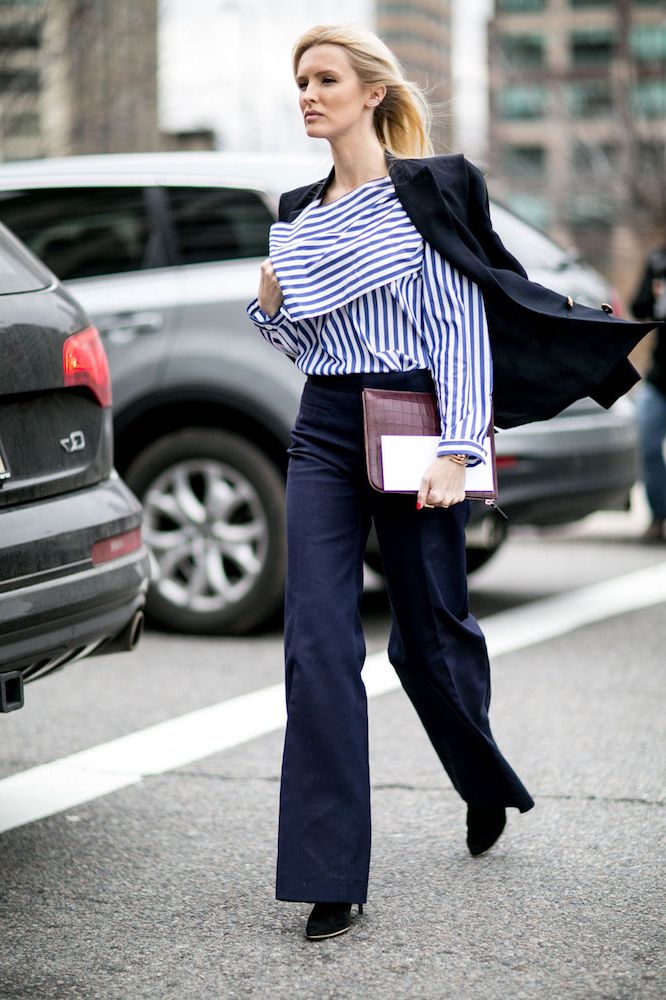 You can style these slacks with an oversized blazer, so you create a high-fashion look, either go for a slim bodysuit for a sophisticated ensemble, either complete wide-leg pants with a long slim coat, either keep things super trendy by adding an oversized coat, or keep things both polished and modern by wearing a coordinated suit that consists of a long blazer and wide-leg pants, or keep things monochrome by teaming a white leather jacket with a white palazzo pants. But classic things never change, a slim blazer and a cropped jacket always work with wide pants.
What To Wear With Cropped Wide Leg Pants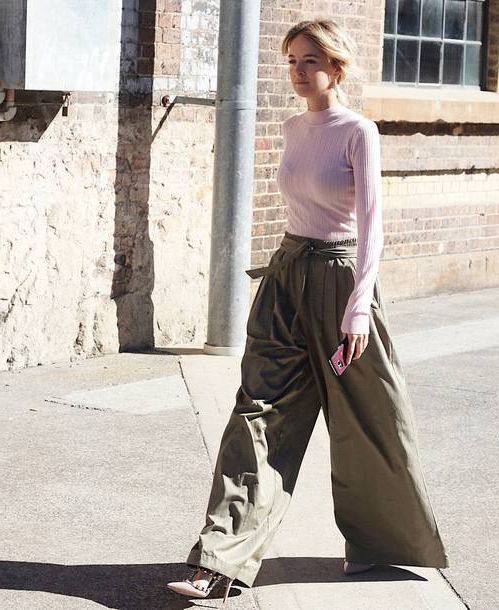 Now we see another trend which's name is culottes or cropped wide-leg pants. They might look ugly at first glance, but once you see the overall look, then you change your mind. I personally, name them as calf-length pant skirts. They do look awesome with mules, clogs during summertime and with ankle and OTK boots during fall season days. You can find absolutely gorgeous styles made of linen, silk, and velvet. Once you find your favorite style, you should put the focus on your waist (the same as with classic ones), and update the look with feminine accessories.
What shoes to wear with Wide leg pants in winter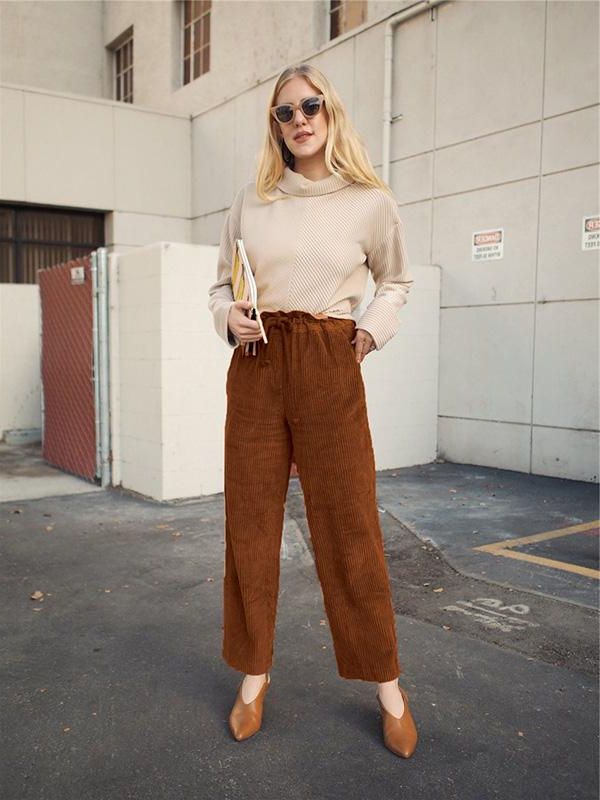 You are free to wear wide-leg pants from day to night, from summer to winter. Speaking of cold season days, you can still wear these trousers, just make sure you are fully covered. You will need to add functional and warm shoes and layer yourself with a cozy outerwear piece.
As I mentioned hundreds of time before, you should always keep attention to your waist. Go for a fitted top and keep things relaxed at the bottom. I do love to see women who complete their wide-leg look with a pair of heels. Why? First of all, they make you look taller, they prevent you from stepping on the pants and they do make a wow-effect on your persona. Speaking of colors, I recommend to try to experiment with different hues, so you find the one that makes you look creative and original. Once you find your true color, then I recommend to style them with a neutral colored top, so you accentuate the attention on your pants, but you can go contrary, by choosing a neutral colored bottom piece and keep attention to your top. For instance, a classic pair of black wide-leg pants can be styled with a blush light sweater and sexy black pumps. While white trousers can be teamed with a burgundy bodysuit or a go for a monochrome look by adding a lightweight white blouse tucked in.
More Inspiring Ideas To Follow: