This time I want to talk about outfit ideas you might try on on your next dog walking day. Yes, we are here to talk about what to wear while walking the dog. Why do I love walking with my dog? First of all, it's makes be active and lets me get some fresh air and secondly it allows you to wear anything you like, starting from casual and head-to-toe activewear clothes to glamour evening style clothes.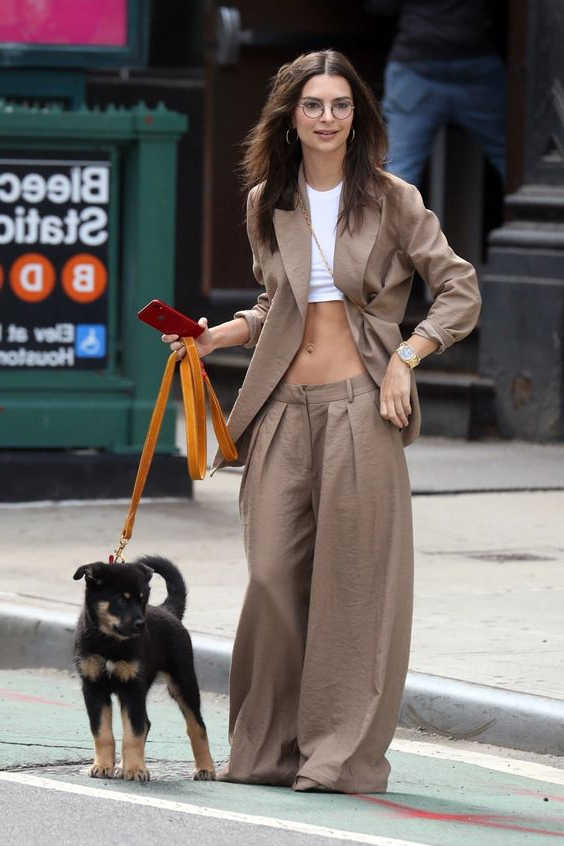 Buy Similar Here
Emily Ratajkowski is wearing an oversized pantsuit in cream beige color with a slouchy blazer and wide pants, she completed her outfit with rounded eyeglasses and a white crop top.
Yes, dog-walking outfits can be both fashionable and comfortable, so you better take a close up look through these ideas. Read on to find the best dog-walking outfits that are stylish and easy to wear in real life.
For most of us, walking the dog is an everyday routine, but if you are a creative person, then how about wearing some cool clothes during your walk? Please welcome my very special guide to walking the dog in style. You are about to see what do bloggers and celebrities are wearing on the streets while walking their dogs. You gonna be surprised about their style and how they look different from one another.
What unites Hollywood actresses Reese Witherspoon and Amanda Seyfried with a British stylist Lucy Williams? They all have dogs. Plus, they wear amazing outfits while walking with their dogs. Indeed, their clothes are no worse than the ones they wear to parties or with their friends. They prefer colorful fur coats, elegant dresses, cool sneakers, and even high heeled shoes. Dog walking is not a reason to wear stretched tees and dirty joggers.
How about boosting your confidence and make your walk more pleasant by wearing trendy clothes? But what are ideal components of a real dog-walkers nice outfit? Before we move on and see through many stylish outfits of dog-walkers, I wanted to remind you about using sunscreen before you out, otherwise, you will have wrinkles at a very young age, as the sun will bombard your skin.
Speaking about shoes, it can be whatever footwear you like, from high heels to chunky hiking boots, but if you are going to a dog park, then I recommend wearing sneakers that are not your best ones. Regarding your clothes, layering is an important part, go for a cardigan over a tank top or a tee, this is an essential combination for layering lovers.
Park Dog Walking Outfits
Down Vest With Long Sleeve Top, Joggers And Sneakers
I love walking the dog in the parks. Here we see a nice combination featuring a down vest in black combined with a turquoise long-sleeve top and black joggers completed with black sneakers and stylish sunglasses: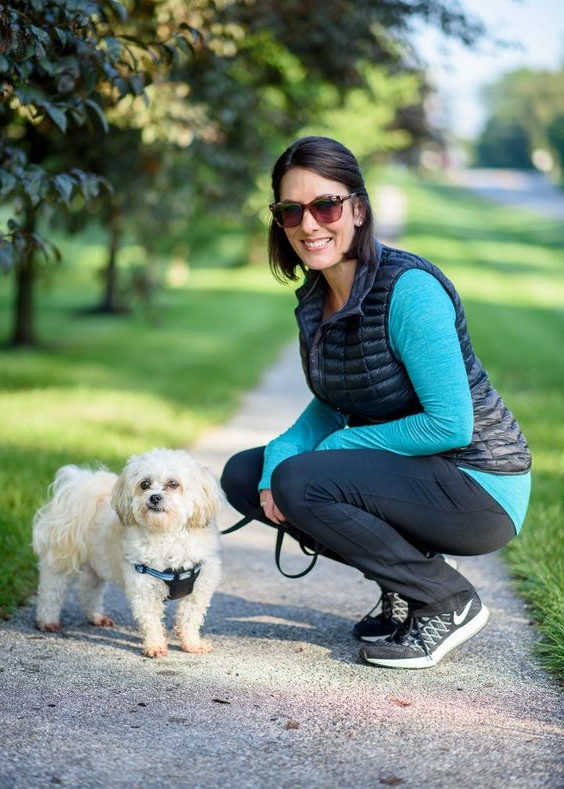 Buy Similar Here
Beanie With Sweatshirt, Leggings And Sneakers
Keep it simple and sporty. Go for a maroon beanie, black sweatshirt, black leggings and black sneakers with white soles, update this combo with Wayfarer sunglasses and shopper bag: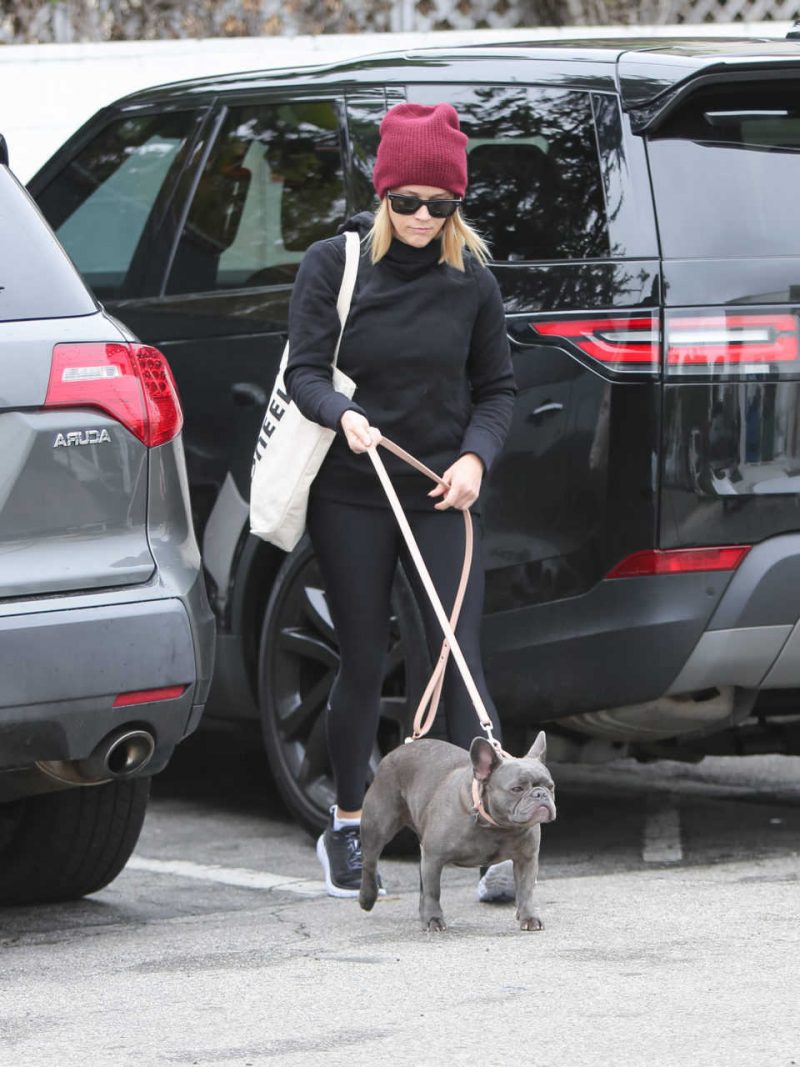 Buy Similar Here
Blazer With Sweater And Cuffed Jeans
Keep it smart-casual! Go for a black blazer, white tee tucked in cuffed blue jeans completed with a red plaid shirt tied around the waist. Update this look with black flat boots: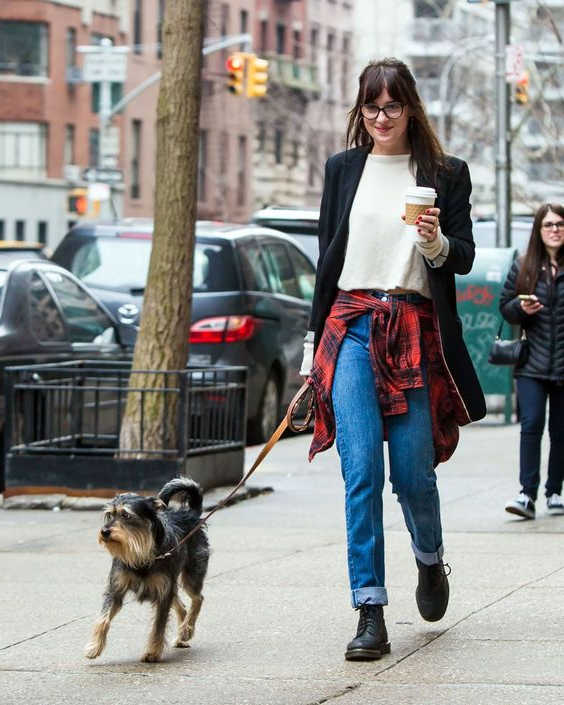 Buy Similar Here
T-shirt With Joggers And Sneakers
I also like to see women who go for simple combos, like this one that features a white tee, maroon joggers and white sneakers: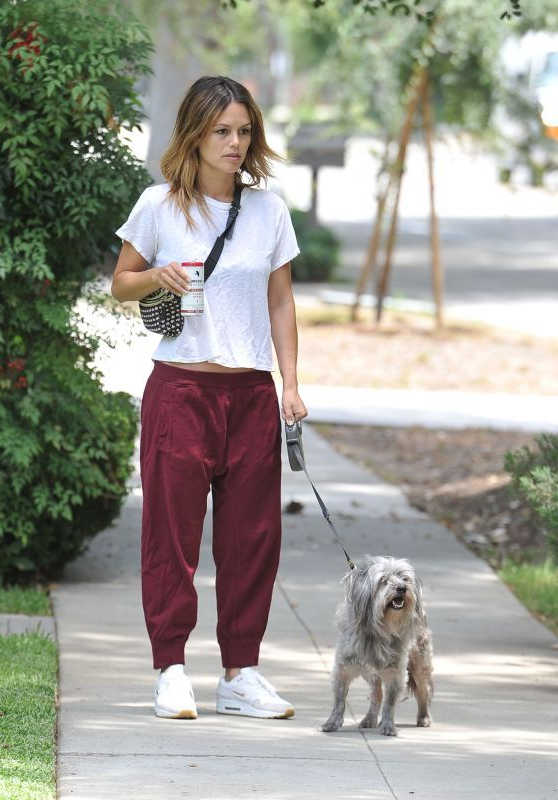 Buy Similar Here
All Black Outfit With Down Jacket
How about keeping all in black? We see a black down jacket worn with a black turtleneck and black joggers: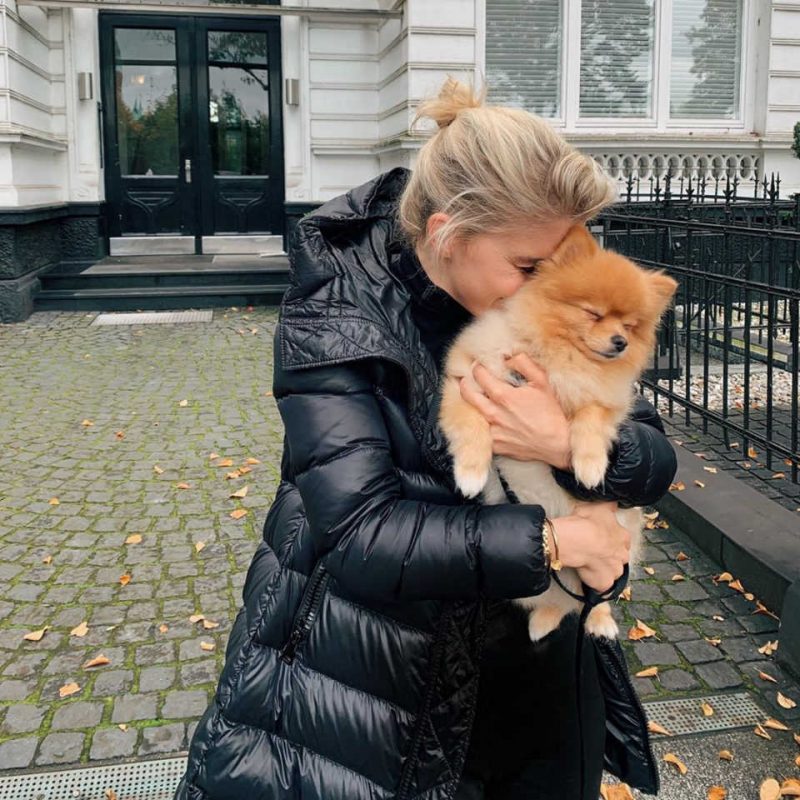 Buy Similar Here
@carodaur
Countryside Dog Walking Outfits
Beanie With Hoodie Quilted Vest And Knee Ripped Jeans And Hiking Boots
When I go out of town to my parent's countryside house, I tend to keep my style casual, simple and a bit sporty. Here are shown various outfit ideas you might like to give a try. This one is a great one for visiting the woods. We see a cream grey pom pom beanie worn with a down vest in black, khaki-brown hoodie, white T-shirt, plaid shirt and knee-ripped skinny jeans tucked in hiking boots in yellow: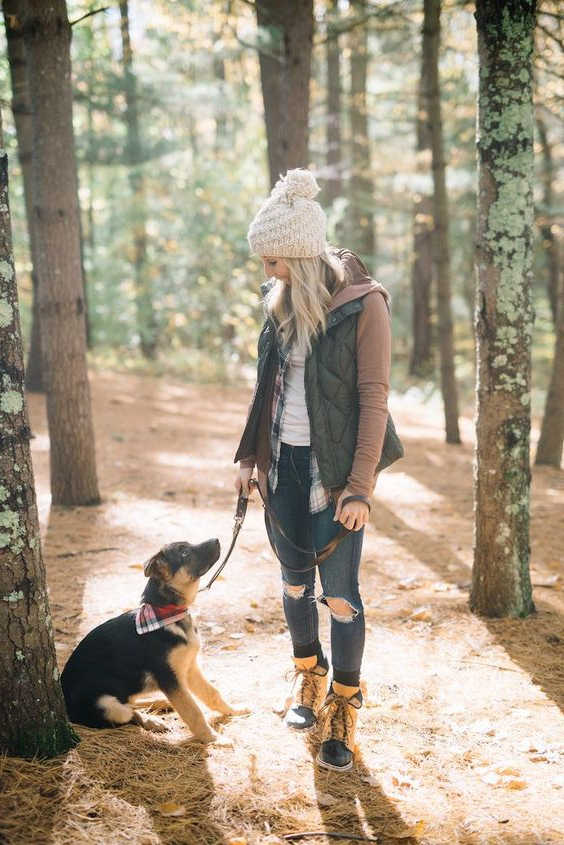 Buy Similar Here
Tank Top With Shorts And Flat Sandals
A kind of grunge style is spotted! We see rounded sunglasses, black tank top, green shorts, and black leather sandals, a nice combo for summer days: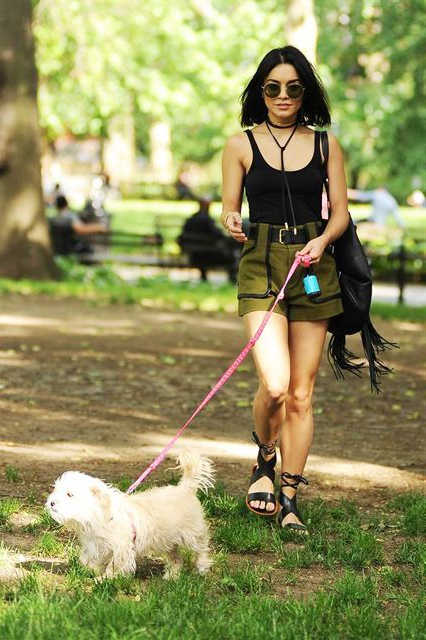 Buy Similar Here
Beanie With Printed Jacket Hoodie And Skinny Joggers
A cream-grey beanie ideally matches this printed wool jacket layered over a grey hoodie teamed with black skinny joggers tucked in slouchy brown leather boots: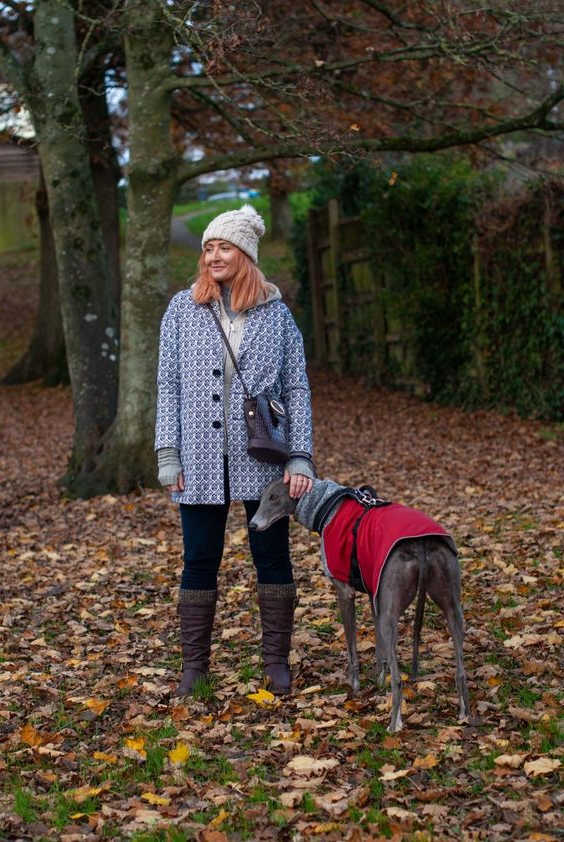 Buy Similar Here
City Dog Walking Outfit Ideas
All White Outfit Idea With Coat
If you live in a city center, then you might like to try on one of these glamour and smart-chic outfits. Here we see Lady Gaga wearing an all-white look, consisting of a belted white coat with a fur collar. Complete the look by adding creative headwear, stylish sunglasses, and white heeled sandals: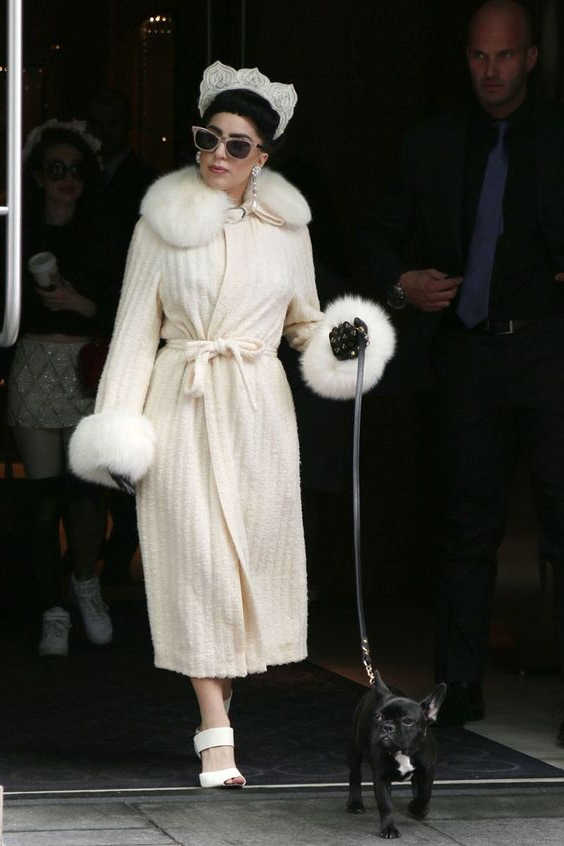 Buy Similar Here
White Pantsuit
Another glamour combo for a street walk with your dog. We see a tweed pantsuit styled with oversized sunglasses and grey heeled pumps: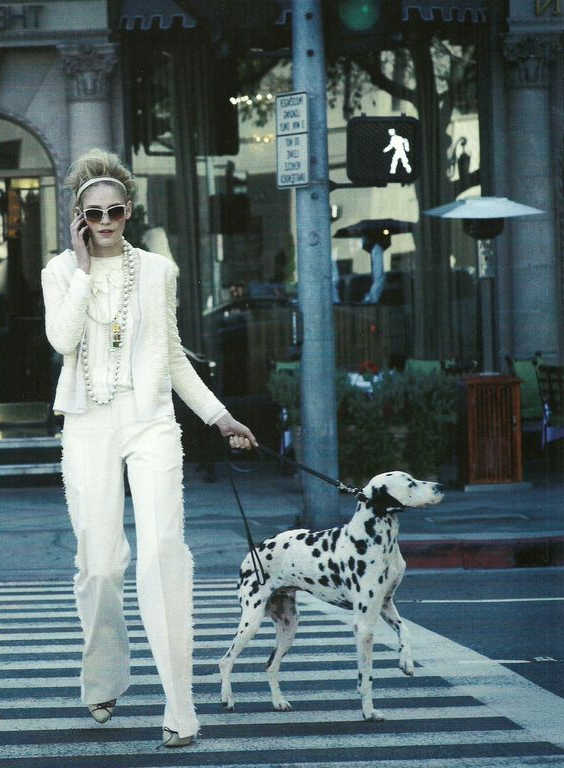 Buy Similar Here
Beanie With Oversized Down Coat And Leggings With Boots
Some ladies keep things casual and simple. Here we see a grey beanie styled with a beige-grey long down coat teamed with a grey hoodie, black leggings, and black leather combat boots: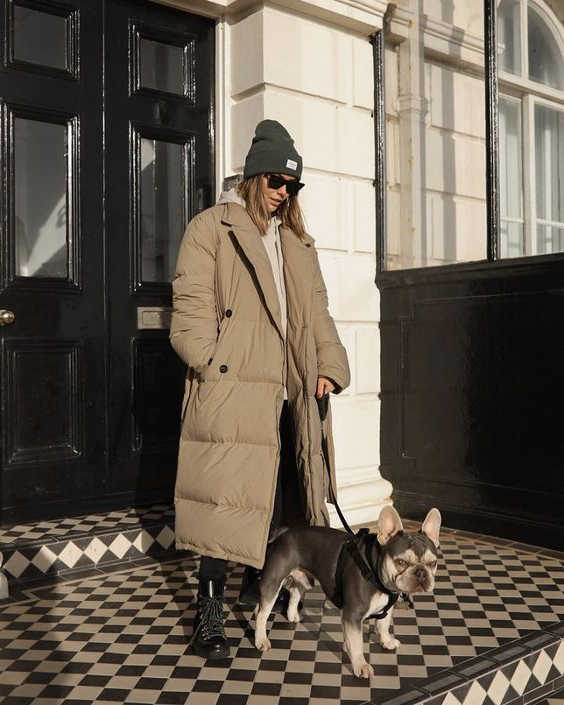 Buy Similar Here
Blazer With Turtleneck, Jeans, And Boots
Emily Ratajkowski is wearing a beige-grey oversized blazer styled with a white turtleneck tucked in high-waisted blue regular jeans updated with brown leather boots: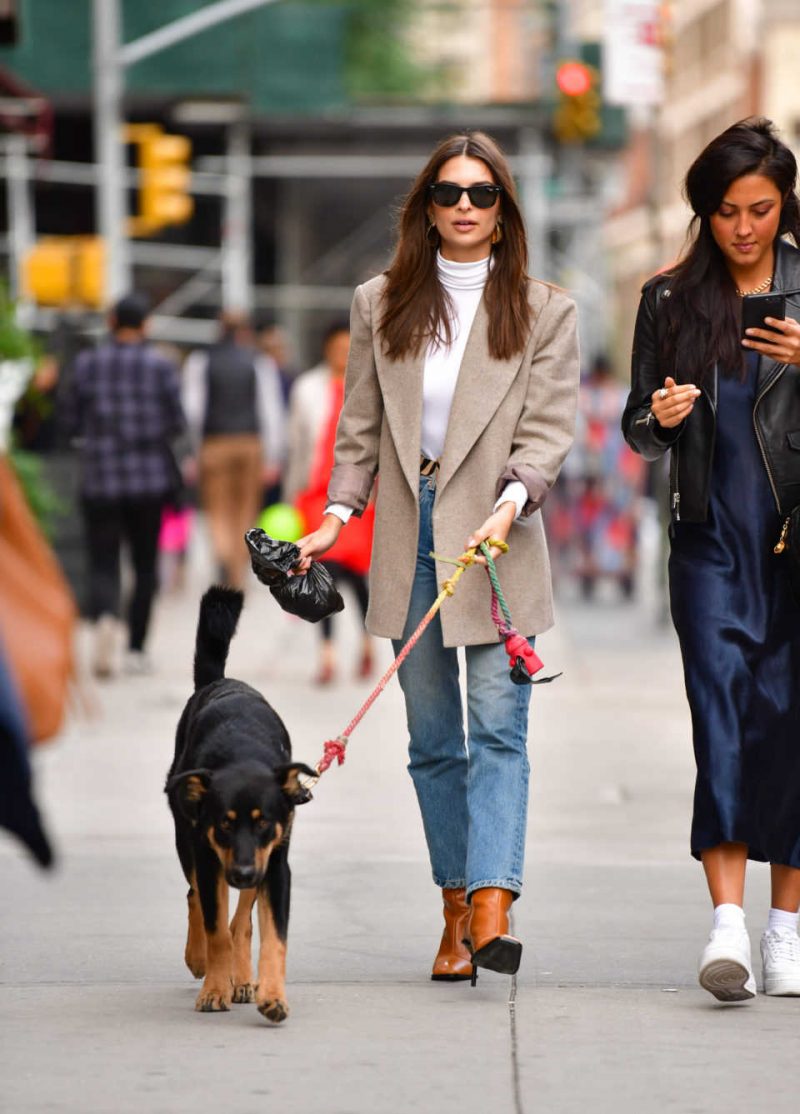 Buy Similar Here
Trench Coat With Ankle Jeans And Bright Sneakers
Another urban chic combo for walking with your dog. We see a dark beige trench coat updated with a bum bag, ankle jeans, and lime green sneakers. In love with these cool black sunglasses: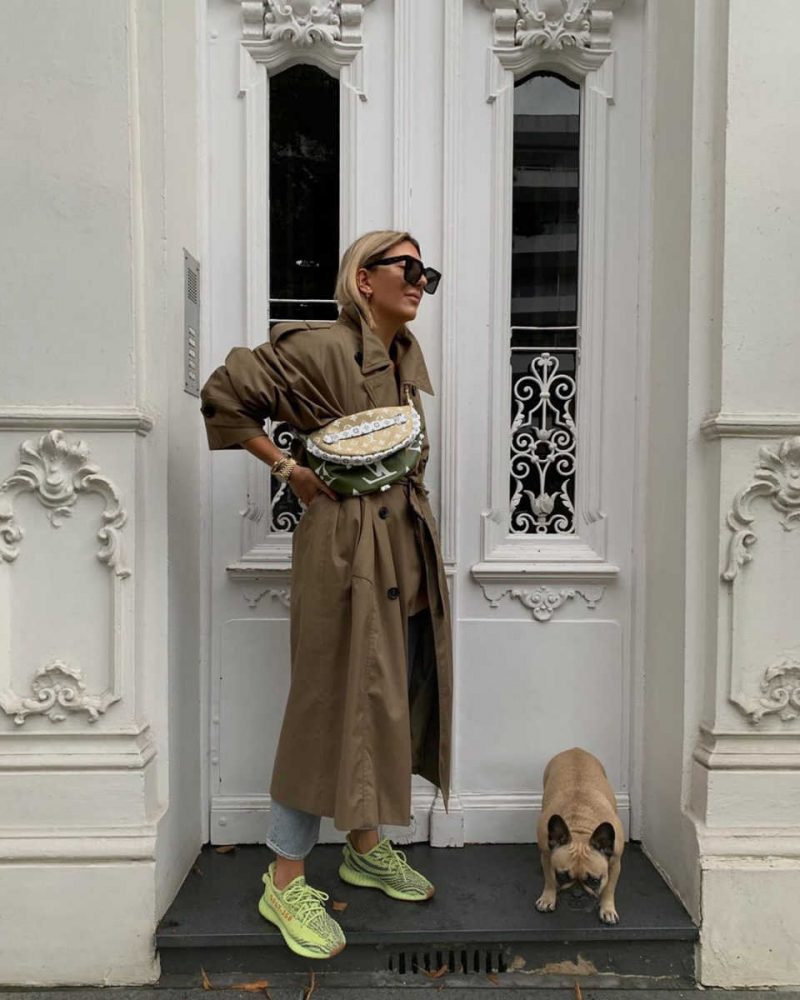 Buy Similar Here
@aylin_koenig
Leather Jacket With Sweater, Leather pants And Boots
Lucy Williams, a popular stylist from London loves wearing a black blazer with snakeskin print brown pants in leather while walking her dog. The purple sweater ideally matches the overall style and the Lulu Guinness bag ideally complements the overall style: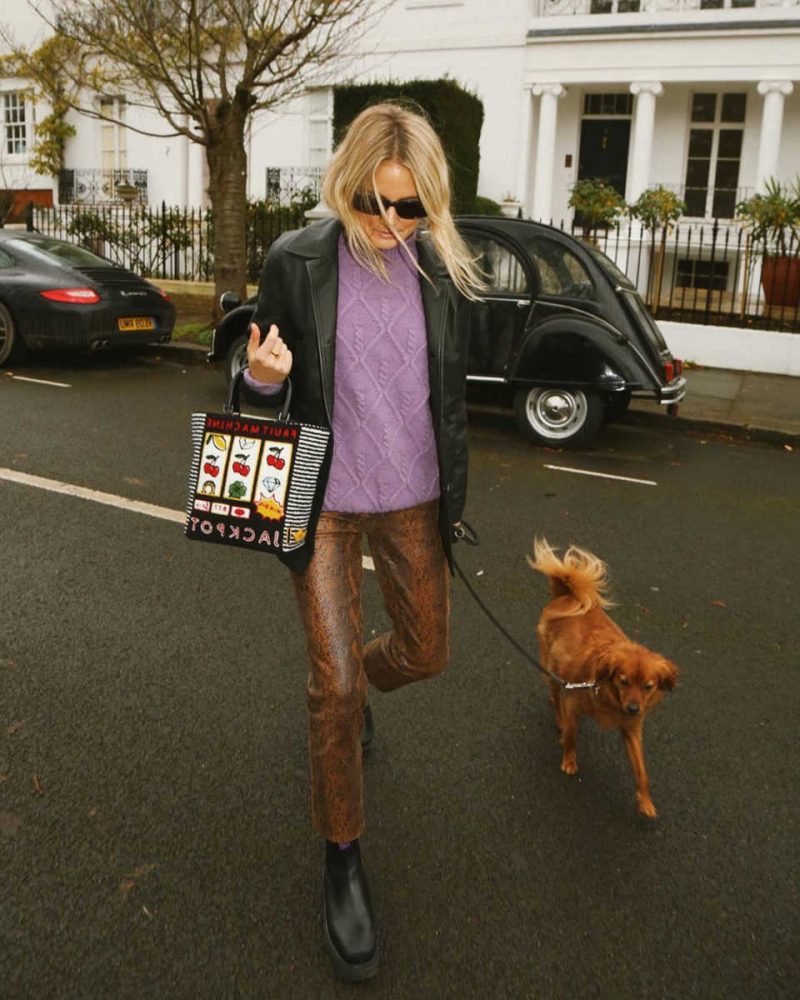 Buy Similar Here
@lucywilliams02
Faux Fur Jacket And Corduroy Pants
Here we see a glamour outfit idea consisting of a blue faux fur jacket and black corduroy pants: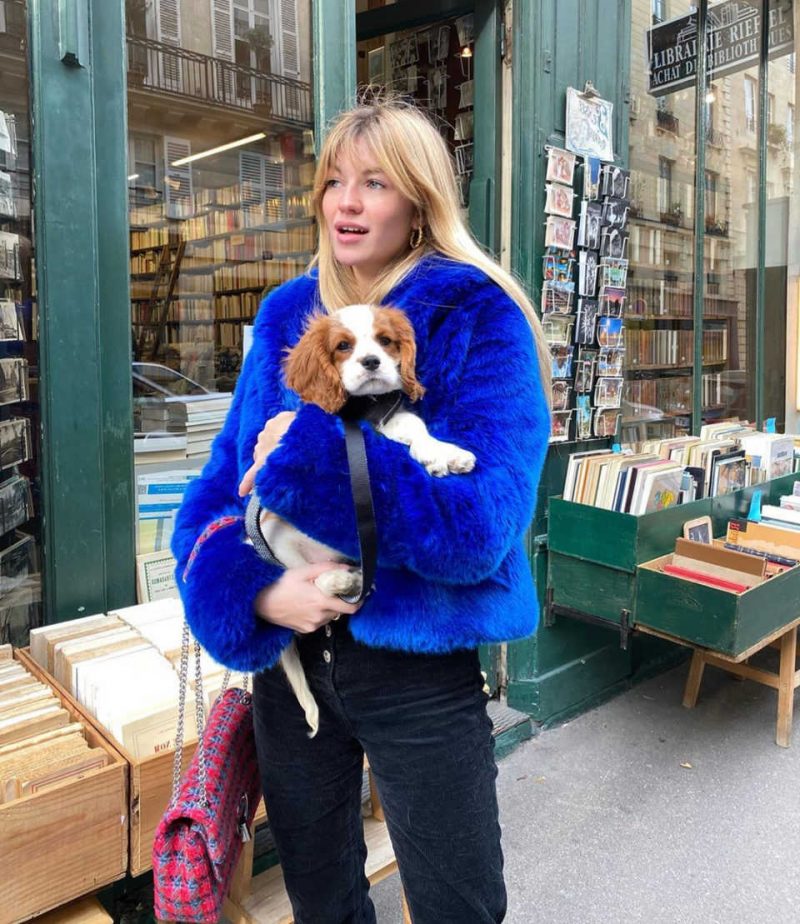 Buy Similar Here
@constancearnlt
Double Denim Look With Turtleneck
Here we see Emily Ratajkowski wearing a shearling denim jacket styled with a high neck black sweater, regular jeans in wash blue and slouchy cream-white boots: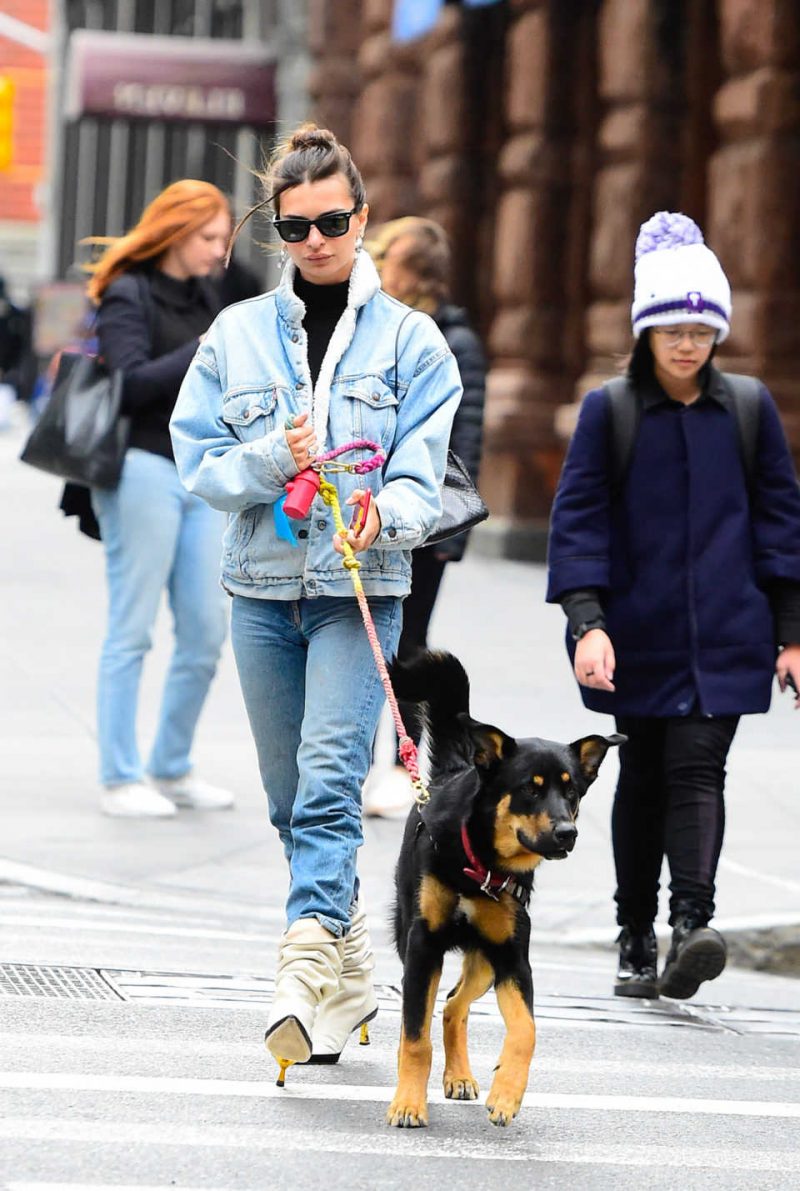 Buy Similar Here
Belted Dress And Sneakers
If you are in love with Emily Ratajkowski's style, then how about wearing a short-sleeve black dress with a side slit completed with a brown leather belt and cool white sneakers. Look at these stylish cat-eye sunglasses: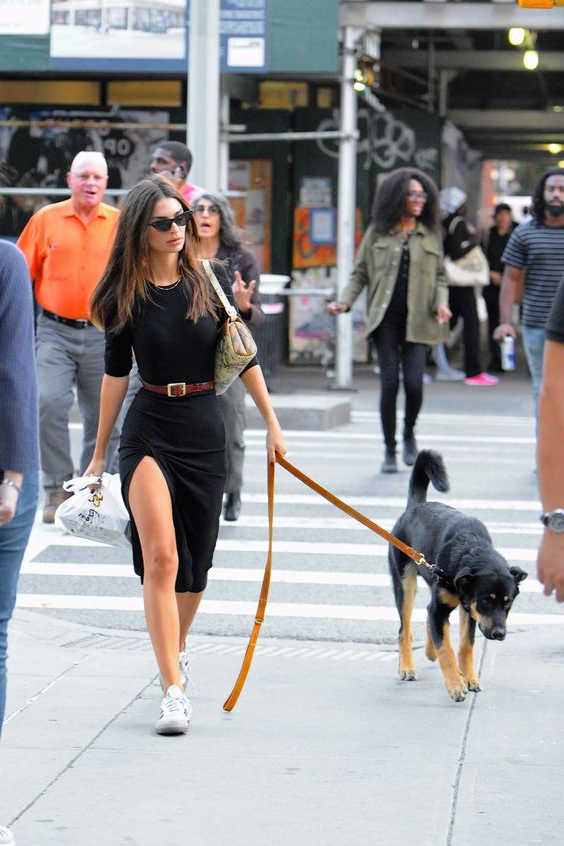 Buy Similar Here
Short Sleeveless Dress And Sneakers
A mini sleeveless dress in pale-yellow looks sassy to me! Complete it with cool tortoise cat-eye sunglasses and chunky grey sneakers: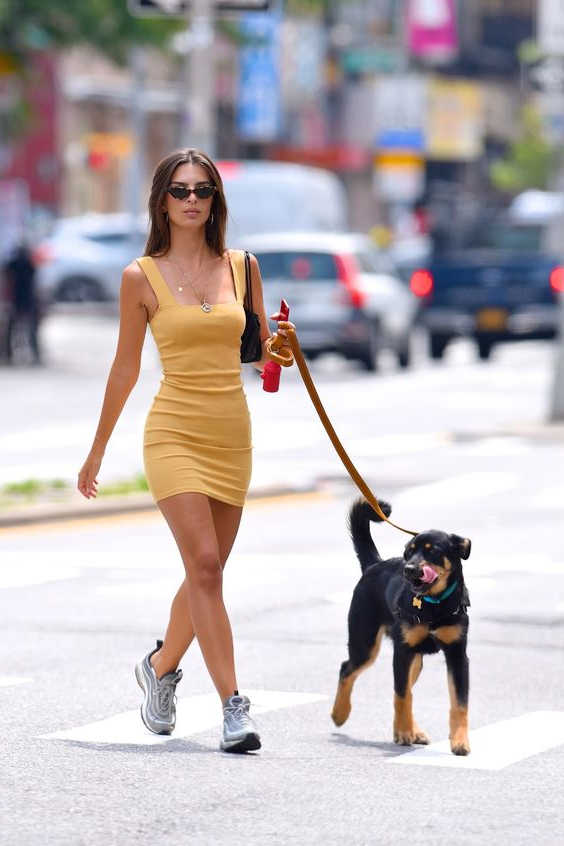 Buy Similar Here
Kimono Blazer And Loose Fit Pants
Another cool outfit idea on Emily Ratajkowski. She is wearing a belted black kimono jacket teamed with slouchy flared pants in black completed with two-color sneakers. Love these Wayfarer sunglasses: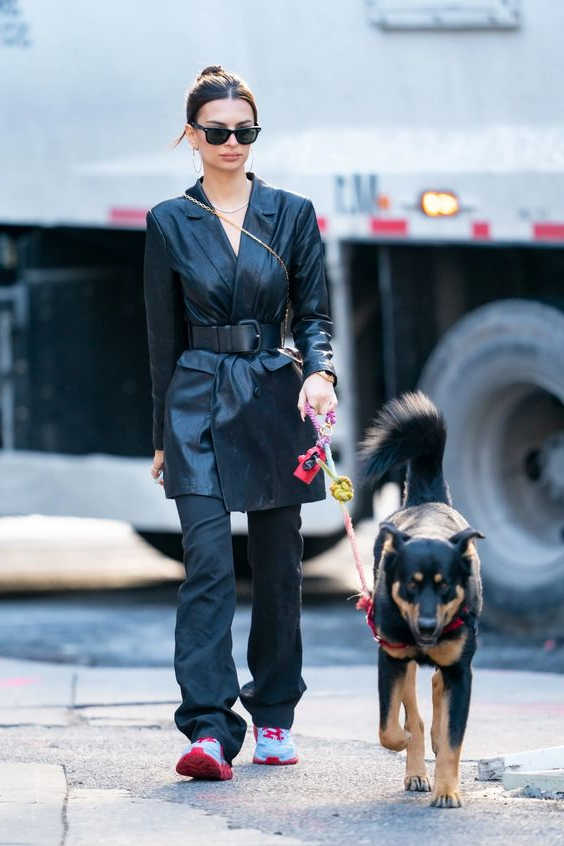 Buy Similar Here
Dress And Heeled Pumps
A kind of seventies touch. We see an embroidered green dress with long sleeves completed with brown leather heeled pumps: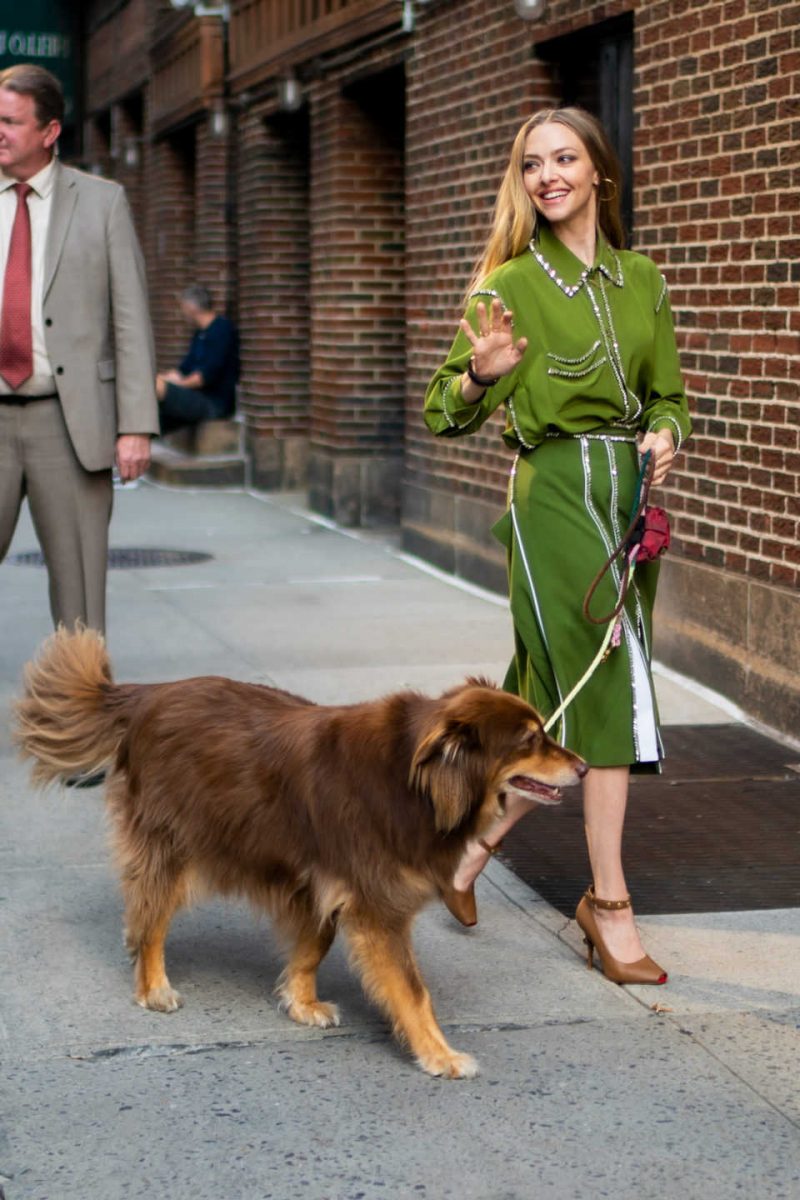 Buy Similar Here
Long Coat With Sweater And Ankle Jeans
Another casual outfit for Fall season dog walks. We see a micro plaid long oversized coat layered over a cream-camel high-neck sweater teamed with blue ankle-length jeans and chunky black leather Oxfords: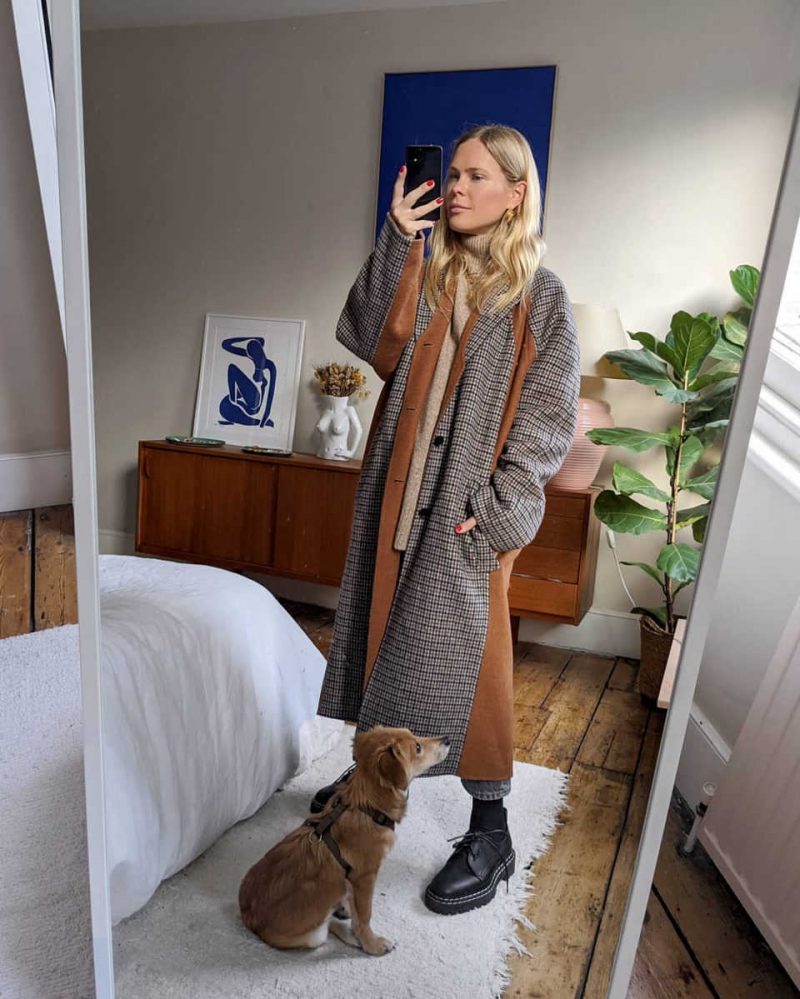 Buy Similar Here
@wethepeoplestyle
Long Dress In Floral Print And Heeled Sandals
A maxi turquoise shirtdress with long sleeves is updated with colorful ankle-strap heeled sandals: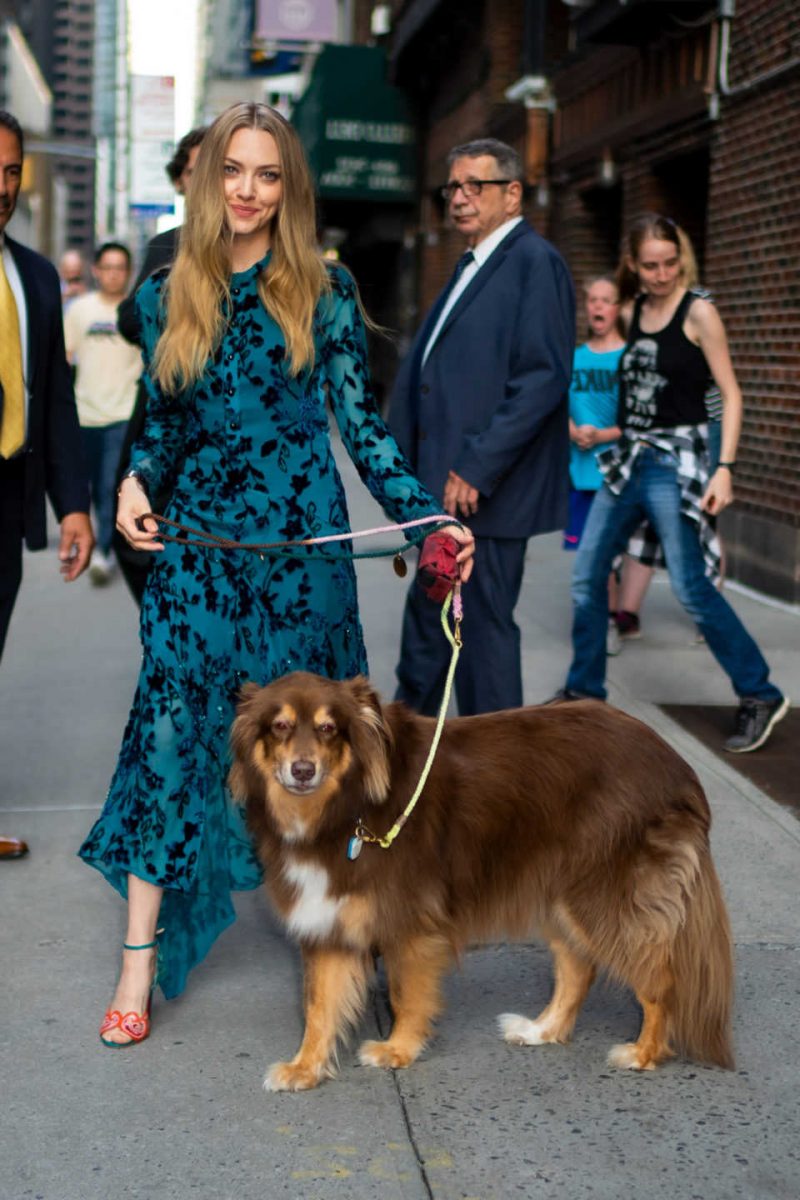 Buy Similar Here
Multi striped Jacket
A multi-striped jacket looks fresh and trendy paired with dark purple flared pants: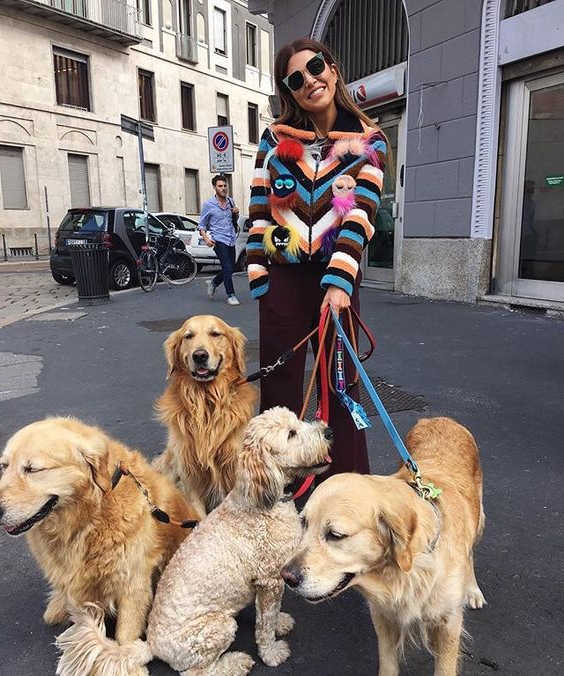 Buy Similar Here
Fur Coat With Boyfriend Jeans And Snakeskin Boots
Here we see a light brown ribbed knit beanie styled with a teddy bear fur coat in brown layered over a cream-beige hoodie teamed with boyfriend jeans tucked in snakeskin print brown leather boots: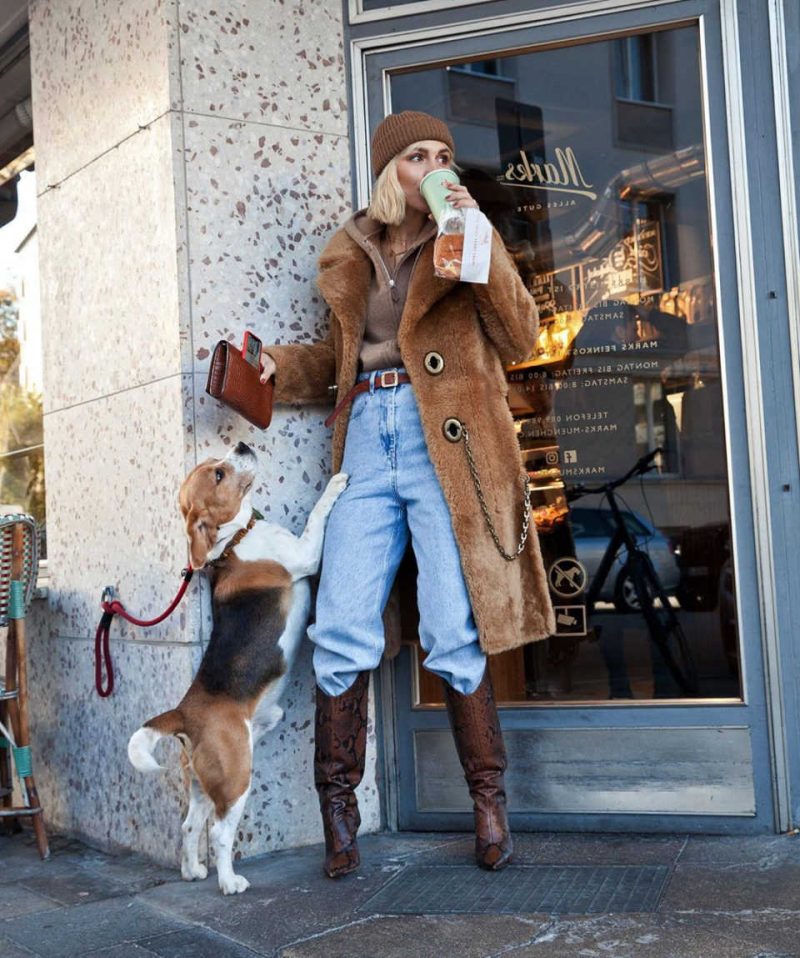 Buy Similar Here
@vikyandthekid
Source: WhoWhatWear, Bustle