All in Red! My mission for today is to show you some great red outfit ideas for women that are easy to copy and wear in real life. For some of you, I would say, for the majority of women wearing red is something scary. For me, it's the color of love and true romance.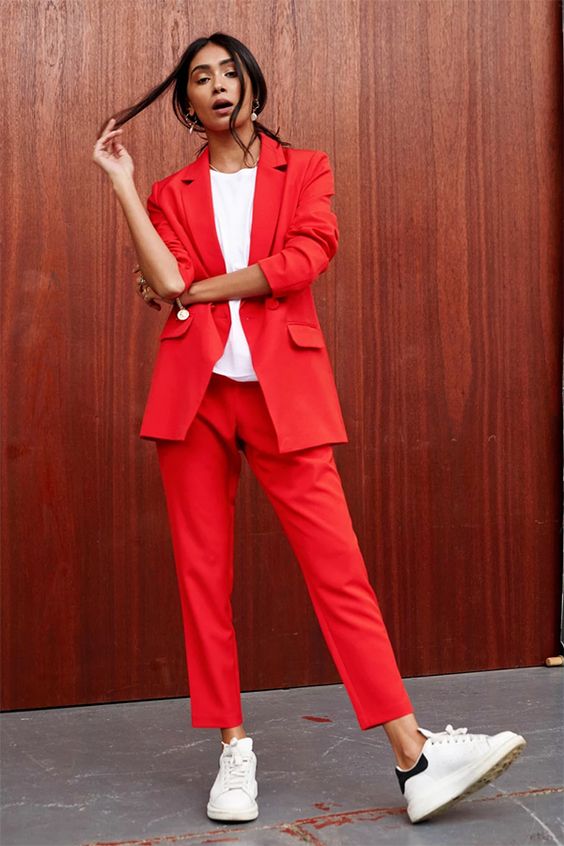 Buy Similar Here
A stunning outfit idea for ladies who want to underline their individuality with red color. We see a slim red pantsuit completed with a white t-shirt and white sneakers. An ideal look for casual street walks and casual events.
If you want to stand apart in the crowd, then red is the only color that can make it happen! This is a must for a real fashion statement and glamour touch. So, those of you who want to drive vibrancy and attention, then this color is made for you. In this collection, I gathered chic outfit ideas featuring skirts, pants, suits, coats, and tracksuits that can easily spice up your daily routine, no matter if you are at work, sports gym or walking down the streets.
We see a fiery red pantsuit in slim-fit completed with cool shoes and accessories. A blonde lady has completed her outfit with cat-eye sunglasses in red, strappy heeled pointed-toe heeled pumps in red and a fringed rounded red leather bag: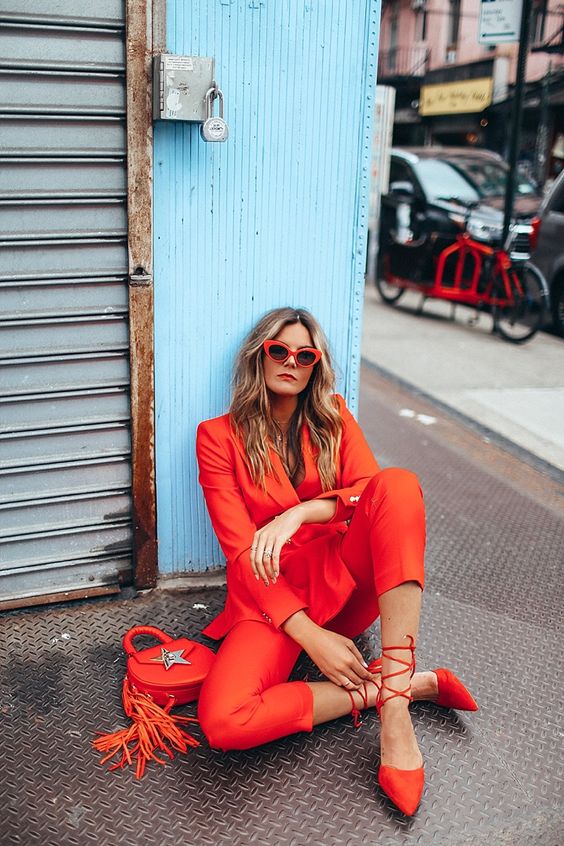 Buy Similar Here
In this particular blog post, you are about to see red outfits for women that can be used in everyday life, for casual days, as well as for young ladies to wear at school and many other inspiring ideas that are ideal for various events.
If you want to underline your uniqueness, then go for this sexy free-falling cherry-red long-sleeve dress completed with a long scarf and suede OTK boots in cherry red: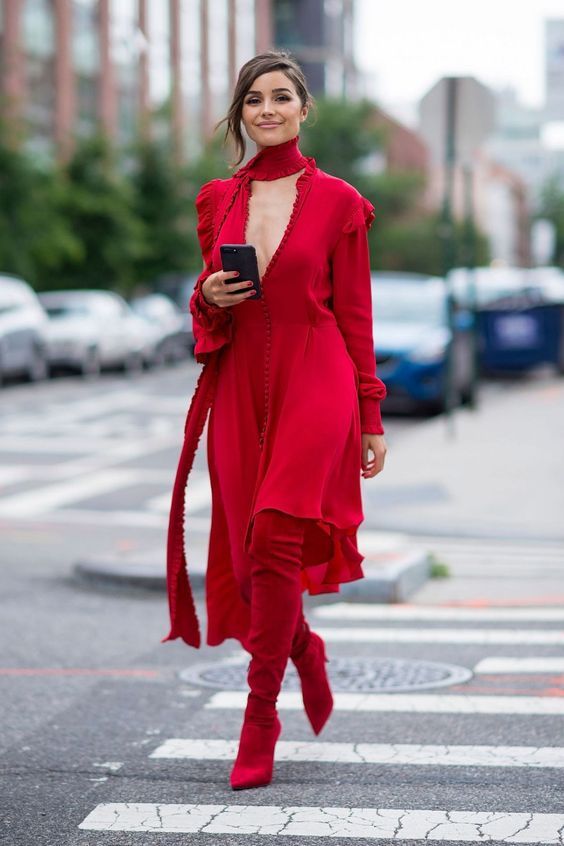 Buy Similar Here
Everyone knows that red is considered to be a strong color that emanates energy and confidence. You should be ready to wear it, otherwise, this color may eat you alive. In other words saying, you will disappear in it as a personality.
Anyway, I am here to share my ideas about this color, as I want to create an outfit for myself and can't decide which outfit looks good on me. So, you are lucky ones, as I am about to hold an investigation and realize which red shade has a perfect vibration on me.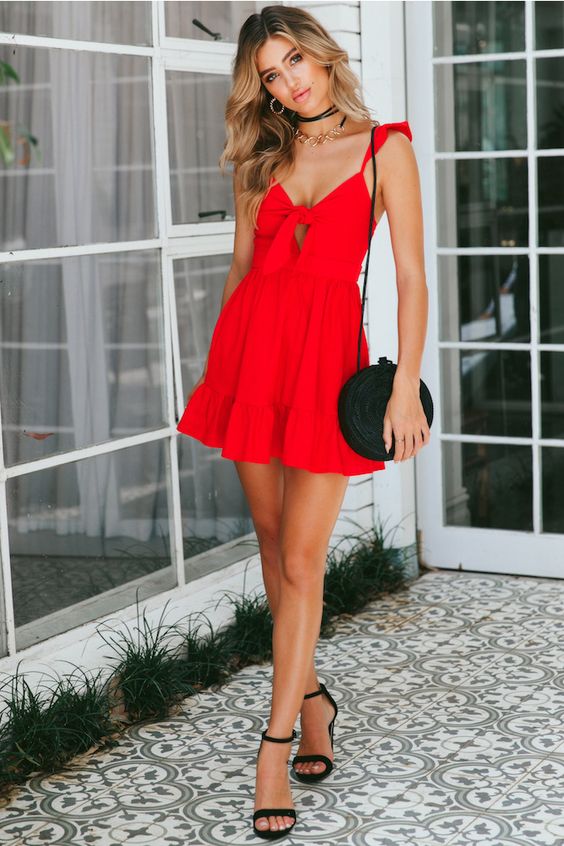 Buy Similar Here
Another sassy summer short sundress in red completed with heeled ankle-strap black sandals and a rounded straw black shoulder bag.
For me, the red color always brings positive energy. I don't know why, but red was always with me. My manicure is red, the lipstick choice is also red, shoes- red, handbag-red, and the list goes on.
My closet features lots of red color garments, and now I decided I should try to create a fully red color look. It's a risky idea, but everything is possible. But before grabbing out from the closet a red look, you should know several things.
-The red clothes should be made from different materials, so it doesn't visually disturb your eyes;
-The color can be in the same shade, but you can experiment by mixing different hues;
-Wearing a red skirt or red dress it is important to complete the look by adding red tights, no black or fishnet tights, otherwise, you gonna look cheap;
-Red clothes with a red manicure and red lipstick look amazing, red shoes and red bag is a good match, red shoes and other shade bag is a bad idea;
-Complete the look by adding a red scarf and red earrings.
Red color makes its wearer look happy and energetic, especially in dark and cold season days. What I like doing is updating the red look with some white accessories, either with black ones, like small belt bags, a hat, a scarf, sunglasses or shoes. Wearing an all-red look can be a good option to show individuality. The all-red outfit idea looks great both on blonde and black hair women. Anyway, scroll down to see more looks to copy this year.
Red Coat And Red Pants
We see a young lady wearing an oversized red scarf with a knee-length red coat, black sweater, red skinny pants, and ankle-cuff red-heeled pointed-toe pumps, complete this look by adding Wayfarer sunglasses and a red leather quilted handbag. Speaking of footwear, check my post on ways how to wear red heels, you can find lots of easy to copy ideas that can make you stand out from the crowd: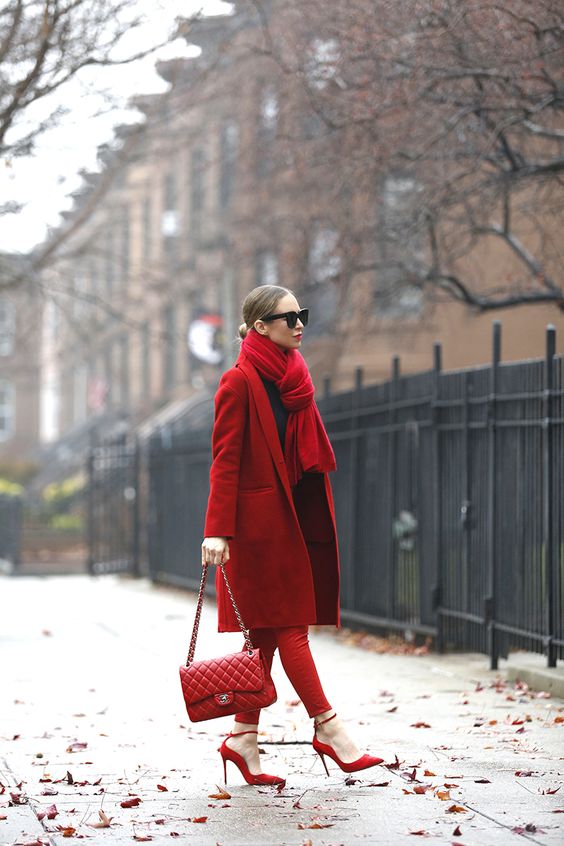 Buy Similar Here
Red Coat And Red Sweater
Another Fall season idea with a classic red coat styled with a chunky turtleneck sweater in red tucked in dark red wide-leg pants. Complete it with a black leather bucket bag: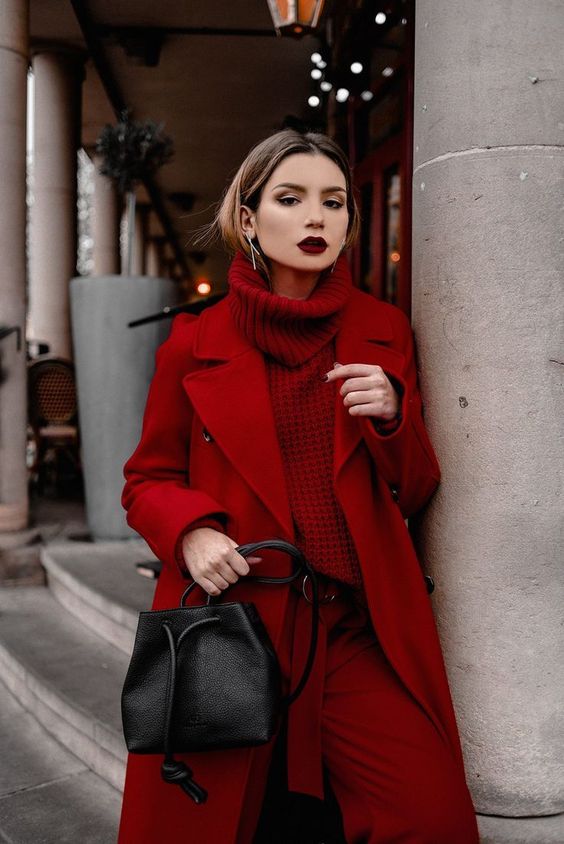 Buy Similar Here
Red Crop Top And Red Wide Pants
Amaze everyone this Summer by wearing this sexy look that features a red crop top and wide-leg pants in red, update this combo with a turquoise clutch bag: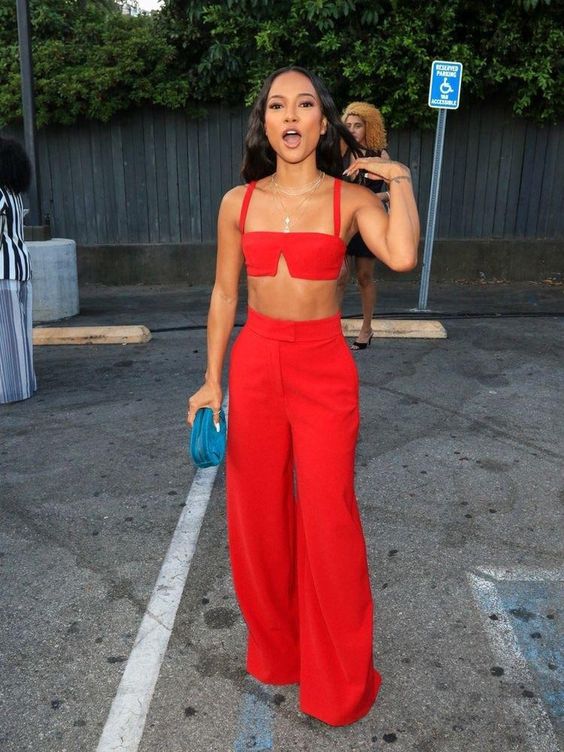 Buy Similar Here
Red Dress
Red dresses are everywhere right now, and you better give it a try. Here we see a red midi shirt-dress with a bow-tie completed with nude heeled sandals and rounded sunglasses, complete it with a black handbag: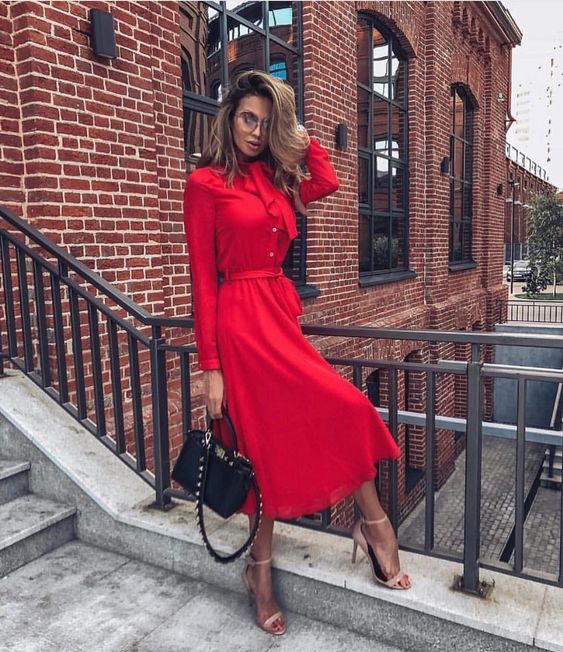 Buy Similar Here
A perfect red dress for special occasions and evening events. We see a boat-neck long-sleeve slim knee-length dress completed with nude heeled pumps: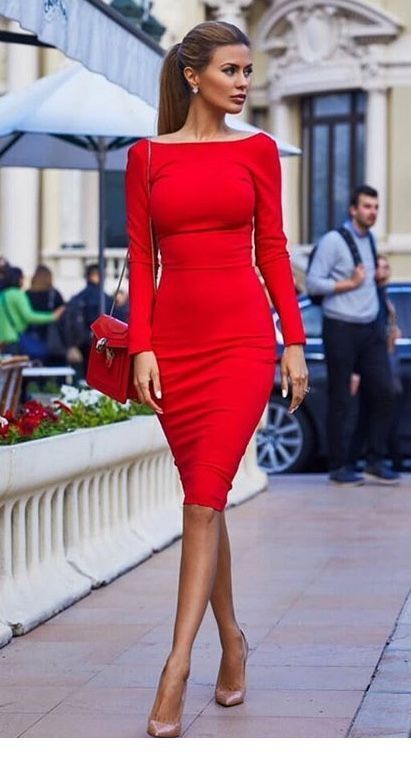 Buy Similar Here
An asymmetric red belted dress is updated with a sheer red robe-kimono, complete it with pink heeled pumps embroidered with rhinestones: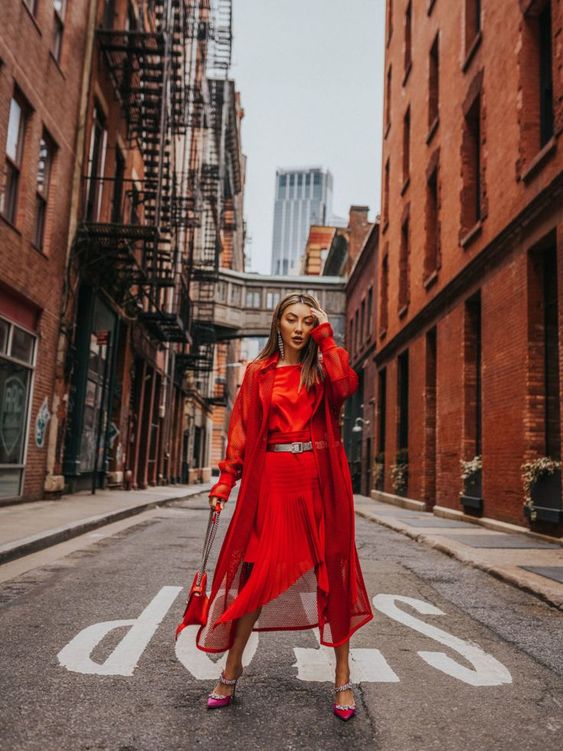 Buy Similar Here
Red Jumpsuit
If you do like onesies, then how about wearing a red jumpsuit. Here we see a cargo style short-sleeve cardo jumpsuit in red color completed with rounded sunglasses and white boots: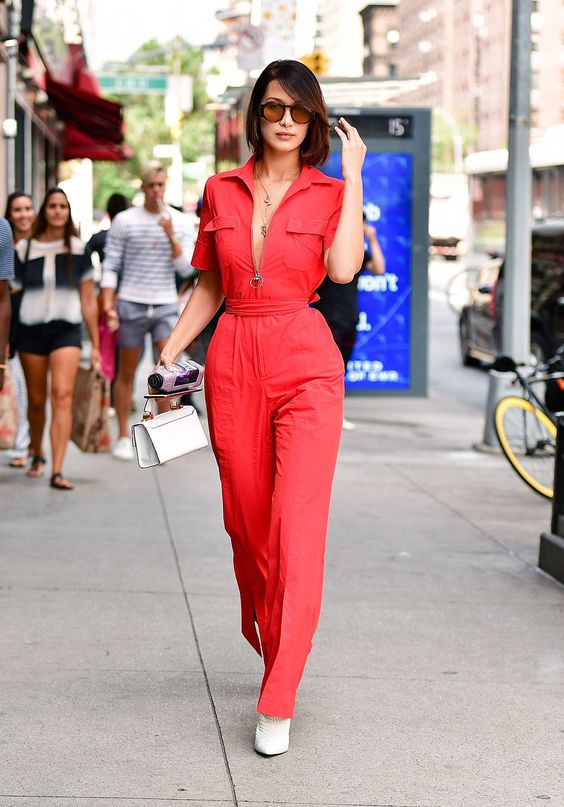 Buy Similar Here
If you are more into dressy style, then here we see a strapless peplum jumpsuit with wide ankle-length pants completed with red slides: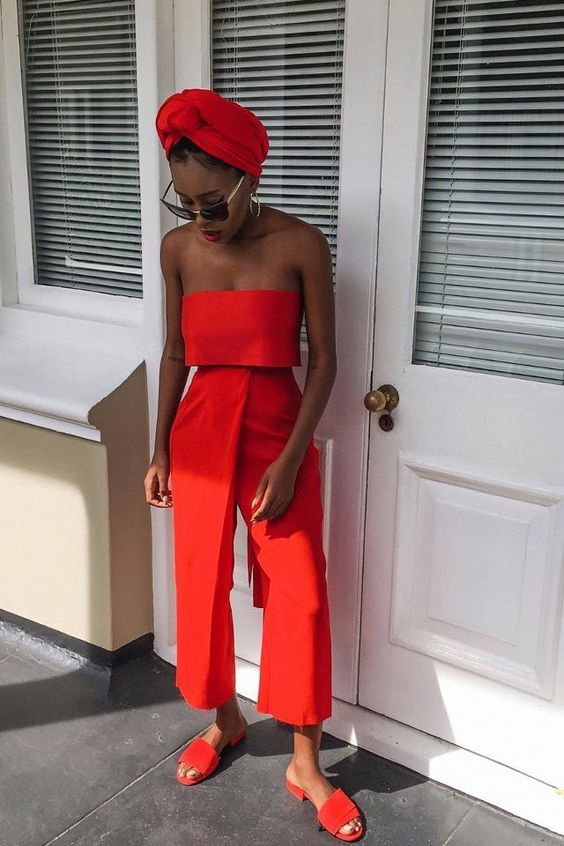 Buy Similar Here
If you are more into sexy style, then go for this long-sleeve red slim-fit jumpsuit with a deep neckline, complete it with clear heeled sandals: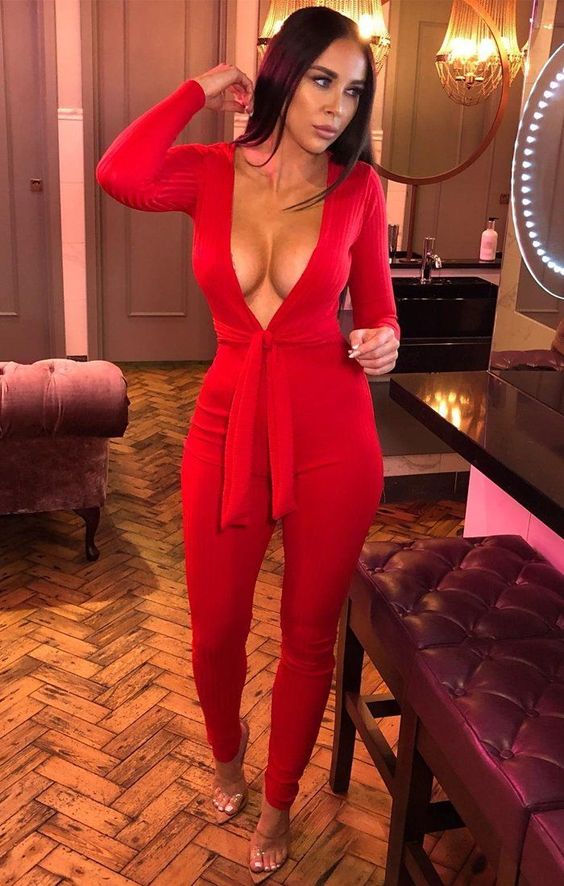 Buy Similar Here
Red Pantsuit
If you do like formal dressing, then go for this slim-fit red pantsuit and complete it with a black lingerie bodysuit and black heeled caged sandals: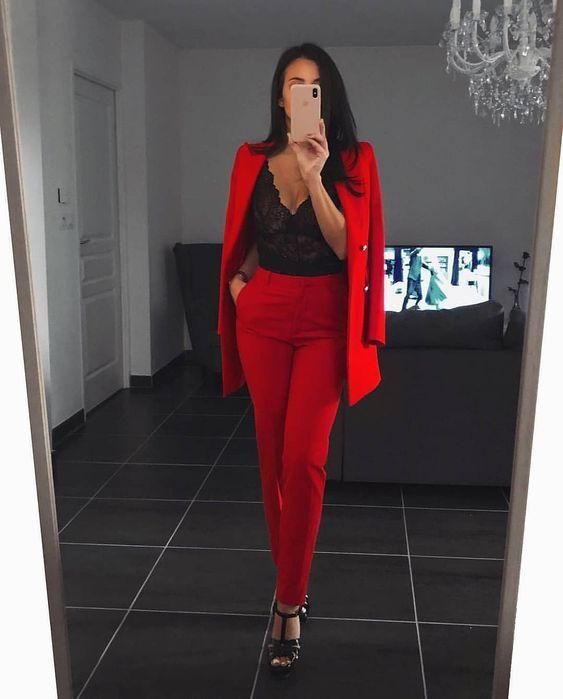 Buy Similar Here
If you are more into a daring style, then go for this sassy hot red suit with a fit-and-flare deep-neckline blazer and high-waisted flared pants: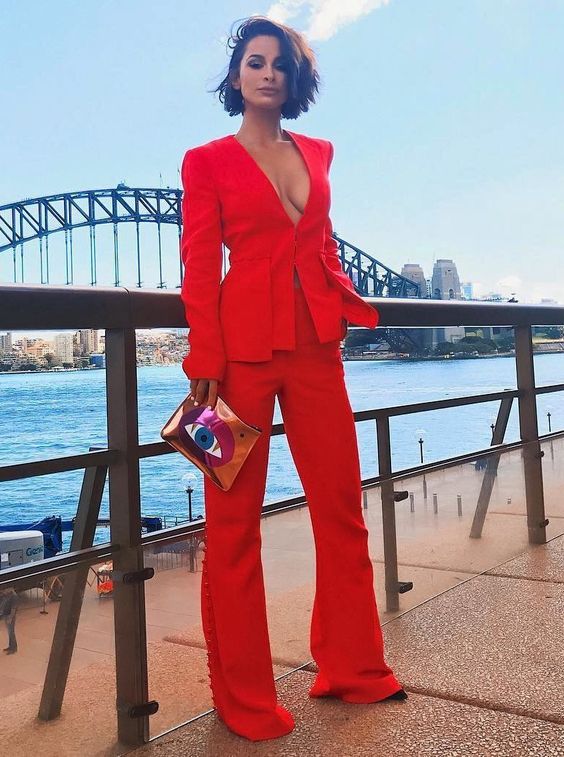 Buy Similar Here
Red Skirtsuit
If you don't want to look like a businessman, or simply want to create a more ladylike look, then go for a red skirt-suit. Here we see a velour red skirt suit (a red blazer and a mini skirt combo) outfit idea completed with a black T-shirt: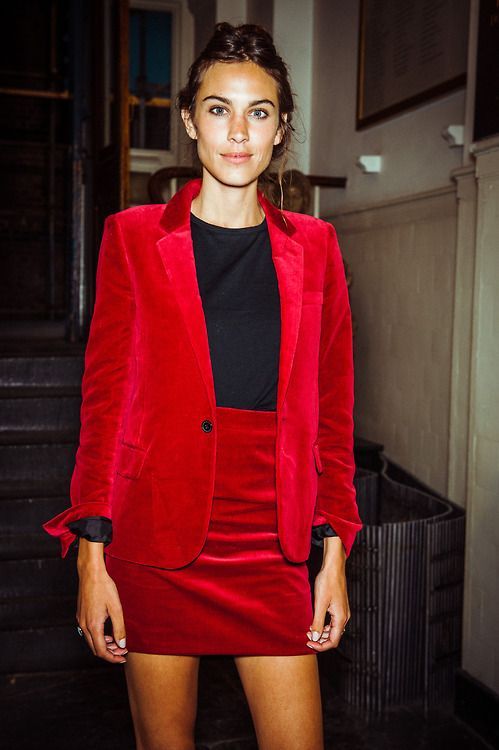 Buy Similar Here
Red Sporty Look
I do like to see ladies who go for a sporty look. Here we see a nice combo for gym lovers. A red sports bra is teamed with red joggers and multicolored chunky sneakers. Update this look by adding a golden arm party. As I have already mentioned, I love athleisure trend and that's why I recommend checking out my blogpost on how to wear gym clothes on the streets. You are about to see lots of cool ideas that are easy to wear in real life: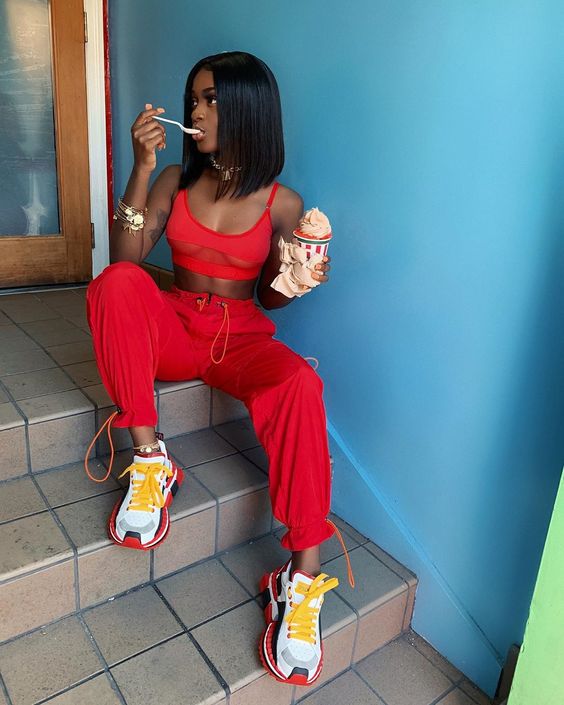 Buy Similar Here
Red Sweater And Red Leather Pants
Keep it fresh and warm. We see a red turtleneck sweater with bell sleeves tucked in belted paper bag waist leather red pants completed with nude heeled sandals. If you would like to know more about paper bag waist leather pants, then check my post about these bottoms, as I covered almost everything about this topic: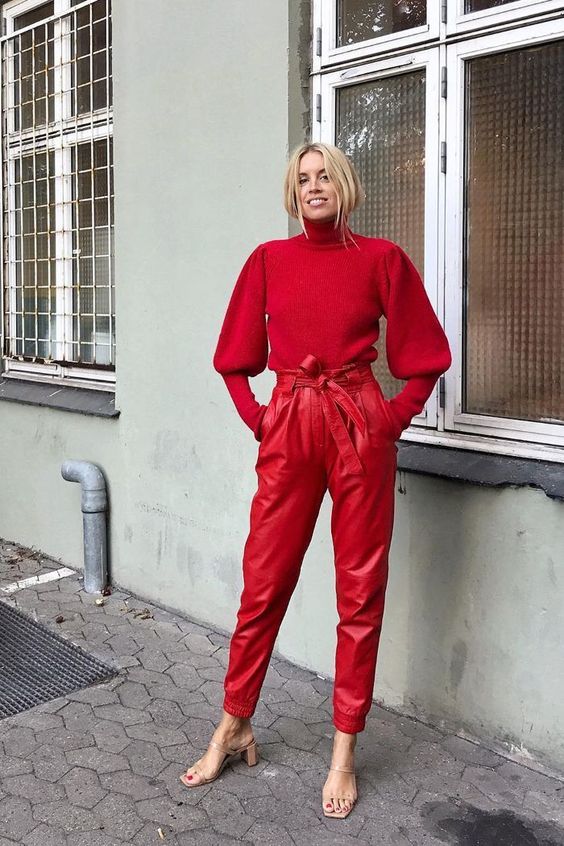 Buy Similar Here
How about mixing different shades of red. Go for a relaxed sweater and team it with red leather skinny pants completed with nude heels: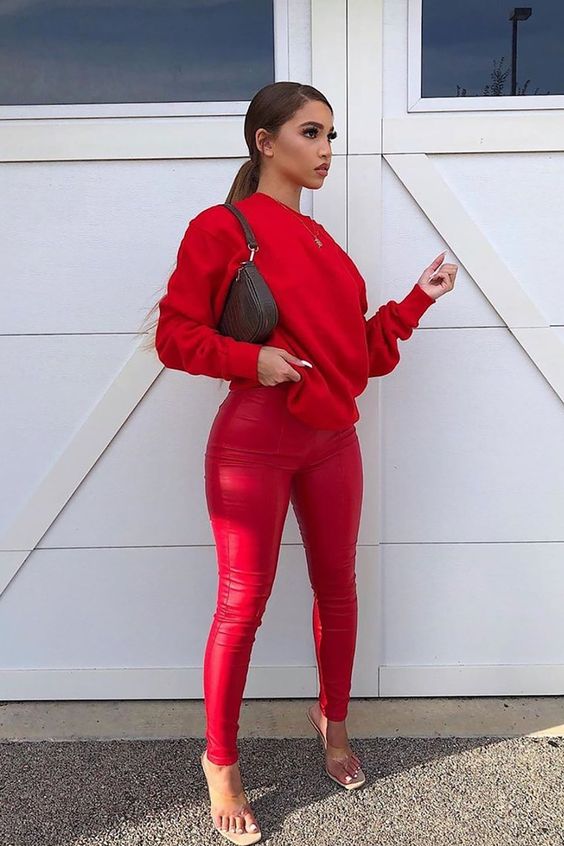 Buy Similar Here
An oversized cable-knit sweater in red looks awesome with slim red pants and suede heeled pumps: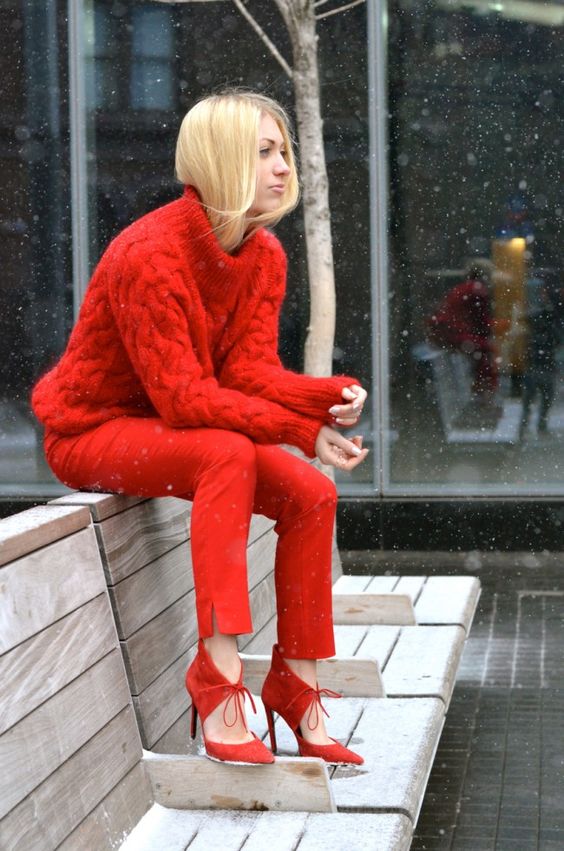 Buy Similar Here
Red Sweater Dress And OTK Boots
Another great alternative is a red sweater dress and red over-the-knee boots. This combo looks marvelous on every body shape. I recommend giving it a try during the spring and fall season months: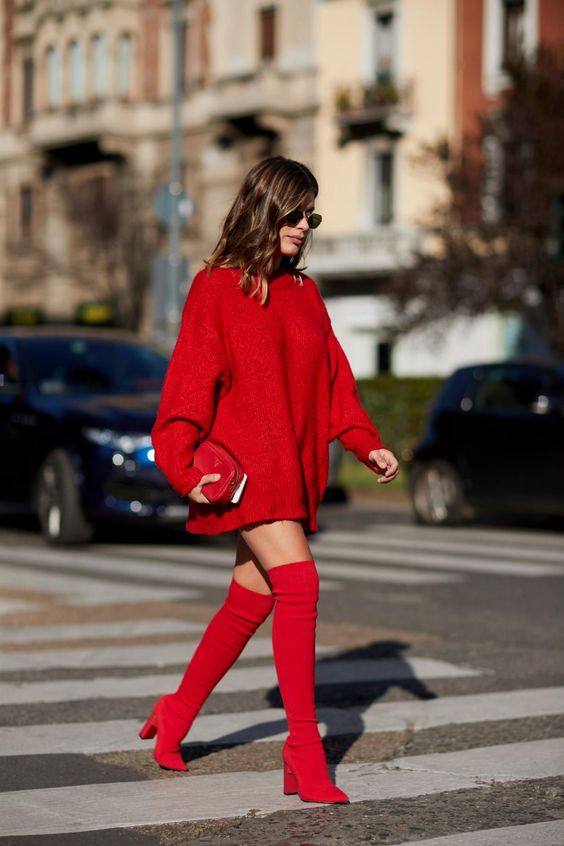 Buy Similar Here
Red Sweater With Red Pants And White Sneakers
If you are into simplicity and casual combo, then go for a ribbed knit turtleneck sweater and pair it with slouchy wide pants and white sneakers. If you do like this footwear, then I highly recommend to check my post on ways how to wear white sneakers with dresses, you are about to see lots of inspiring ideas that are easy to copy in real life: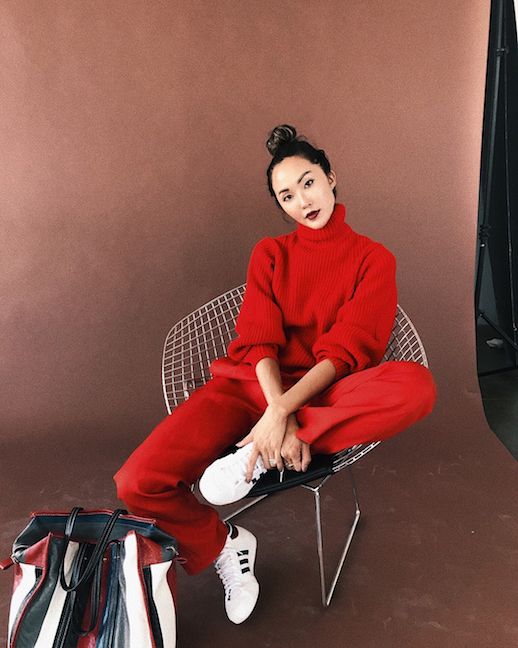 Buy Similar Here
Red Top And Red Skirt
A long sleeve top in red looks amazing tucked in high-waisted red midi skirt completed with peep-toe heeled boots in red. Update this smart-casual look by adding flat-brow sunglasses: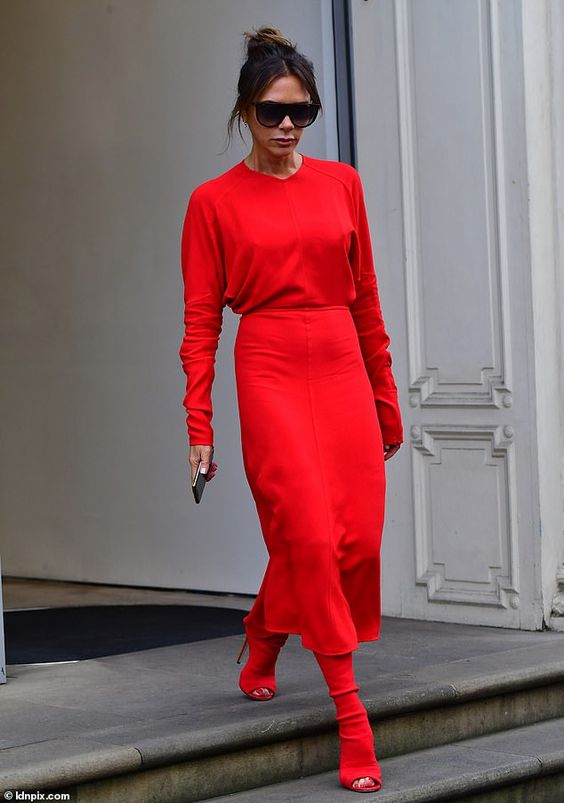 Buy Similar Here
Red Outfits For Plus Size
The red looks for plus-sized ladies are my favorites, as they underline the beauty and individuality of a lady. Yes, an all-red outfit can be easily styled for curvy women.
Red Pantsuit For Plus Size
As you can see, a total red pantsuit with a long blazer, high-rise pants with a belt looks chic and sassy. Complete it with a black lingerie bodysuit and heeled black sandals: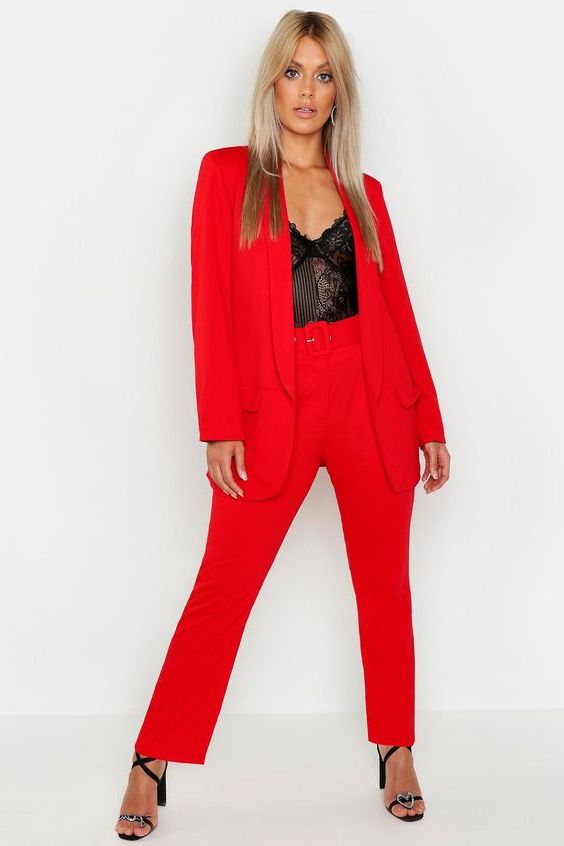 Buy Similar Here
Red Jumpsuit For Plus Size
Even a red wrap jumpsuit can look sexy on plus-sized women, as you can see, a jumpsuit should feature voluminous sleeves and a ruched waist, so you can easily hide all bad features: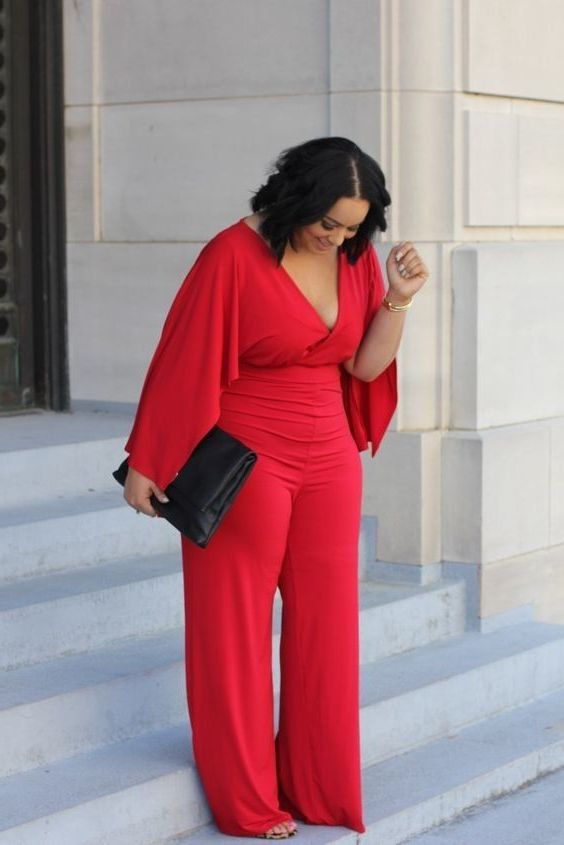 Buy Similar Here
Red Dress For Plus Size
Even red dresses look awesome on plus-size ladies. Here we see a belted long-sleeve shirtdress in black print completed with red over-the-knee suede boots: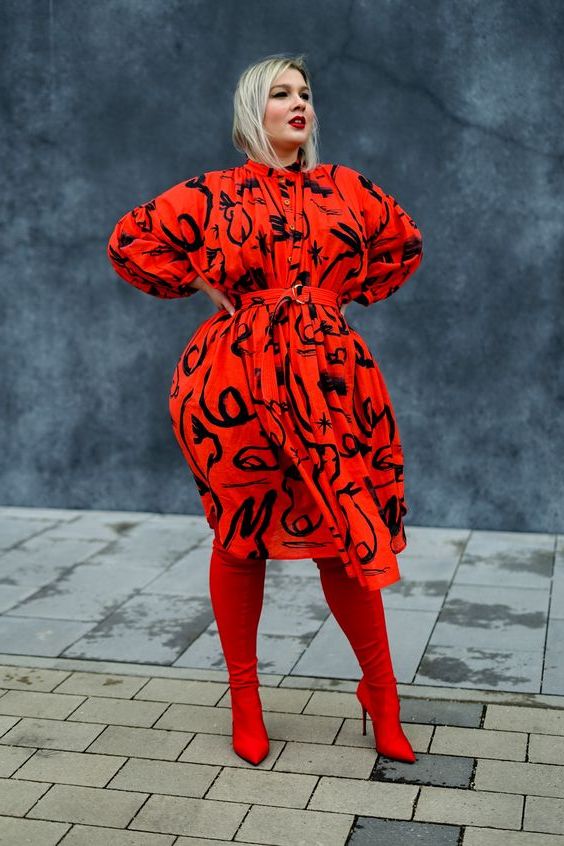 Buy Similar Here
If you are more daring persona, then go for this scoop-neck long-sleeve ruched slim midi dress in red and complete it with metallic silver heeled sandals and a black leather heart-shaped mini suede clutch bag: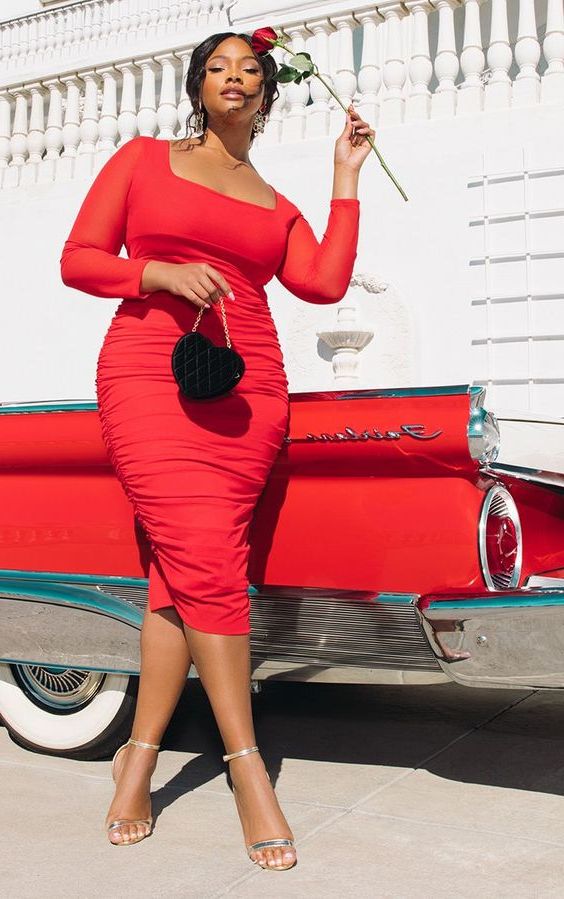 Buy Similar Here
Source: WhoWhatWear, GracefulStyle