Today's blog post is about my favorite styles of red heels. I am about to show you my favorite designs you can buy this year. You gonna find plenty of cool details finishing red heels, including see-through materials, ribbons, tassels, diamonds, rhinestones, and many other eye-catching touches.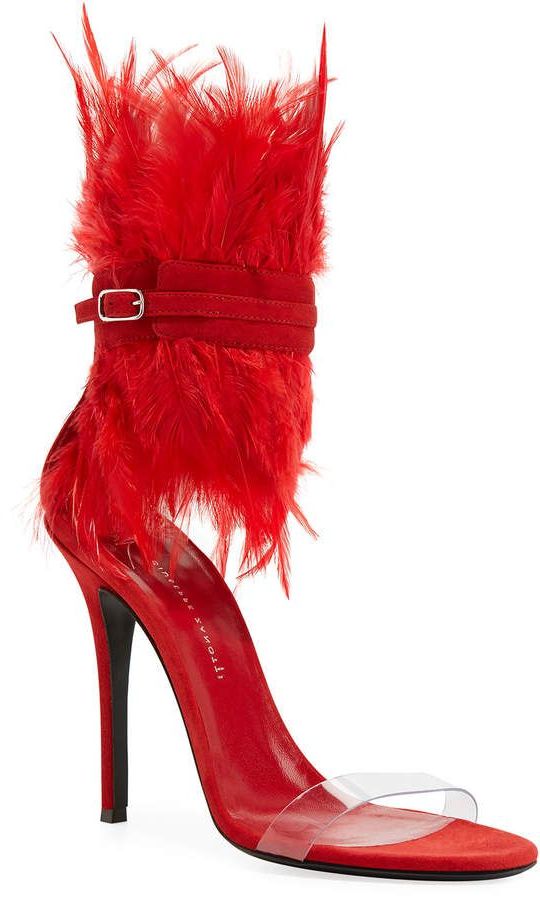 🛍️ Where To Find: Buy Related Here
I love these red heeled sandals with a clear strap and feathers at the ankle area, they are ideal for cocktail parties and special events. I would pair them with a slim black dress or a matching color cocktail frock.
For some of you, red heels might sound pretty challenging, but I am telling you, this footwear can drastically change your look and make it special. Just imagine yourself wearing a neutral outfit completed with a pair of red-heeled suede pumps. The result is perfect! I think red looks so chic paired with denim, black, camel, grey, blue, yellow and white. I'm pleased to say that red heels are here to stay and you better know what designs are worth buying this year. Trust me, each one of these styles gonna serve you for years. If you wondering how to style them with more outfits, then you better read my post on how to wear red heels. Below I've rounded up the best designs you might give a try. Read on to find out more.
Red heels with bow
If you are a romantic person, then you might like to try these cute red-heeled pumps with bows on the backside, just team them with your favorite cream-beige dress and a red leather handbag: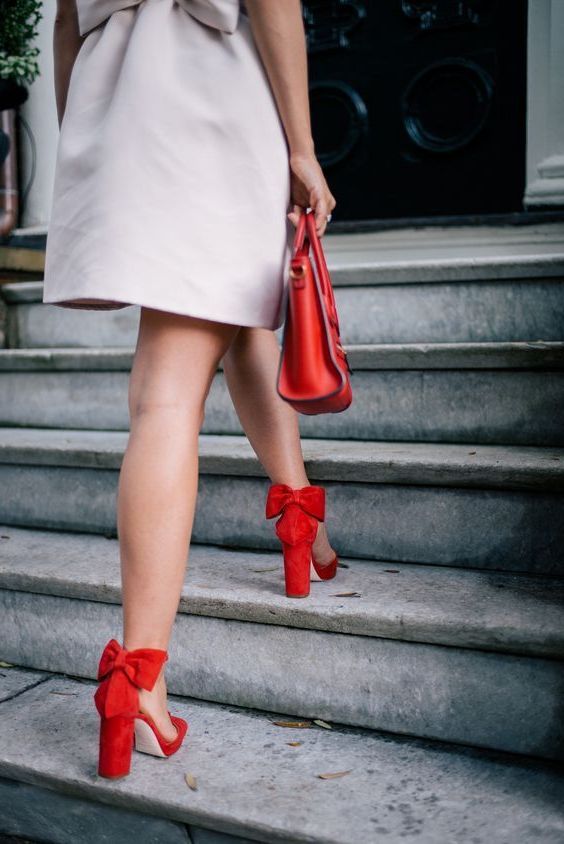 🛍️ Where To Find: Buy Related Here
Red heels with ruffles
Go for red heeled sandals with ruffles and style them with knee-ripped skinny jeans and other casual essentials, complete the look by adding a pink handbag: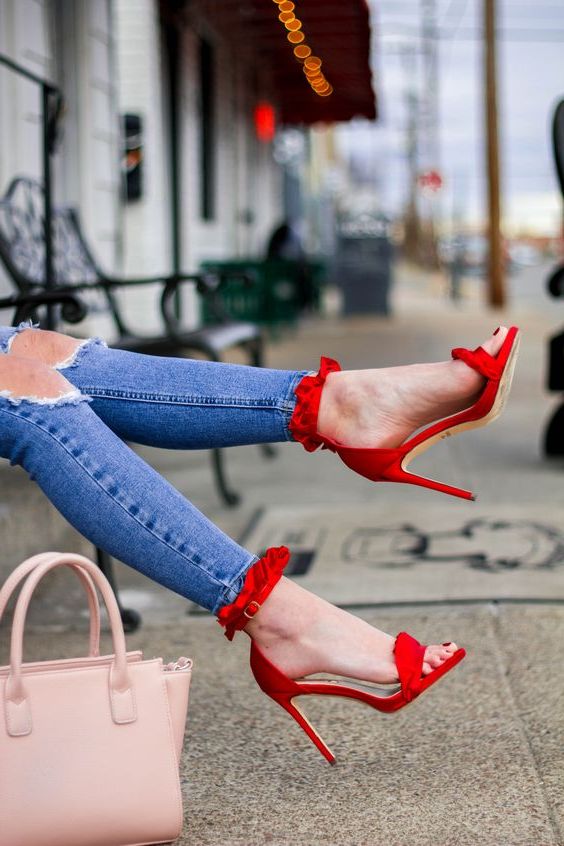 🛍️ Where To Find: Buy Related Here
Red heels with rhinestones
If you are into shiny little things, then you should try on these ankle-strap heeled red pumps with rhinestones on the toes: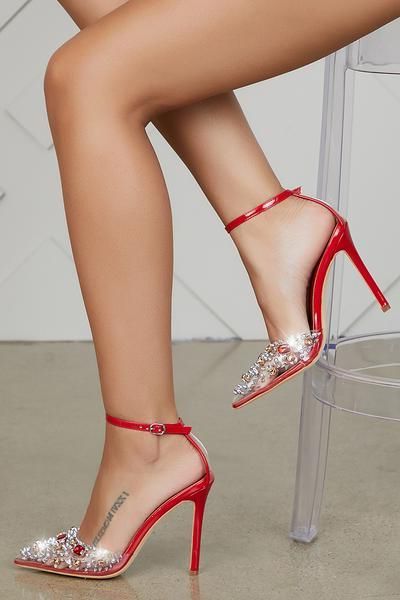 🛍️ Where To Find: Buy Related Here
red heels with ankle strap
Red heeled pumps with pointed toes and ankle straps are perfect for any day, pair them with blue skinny jeans to update your casual day: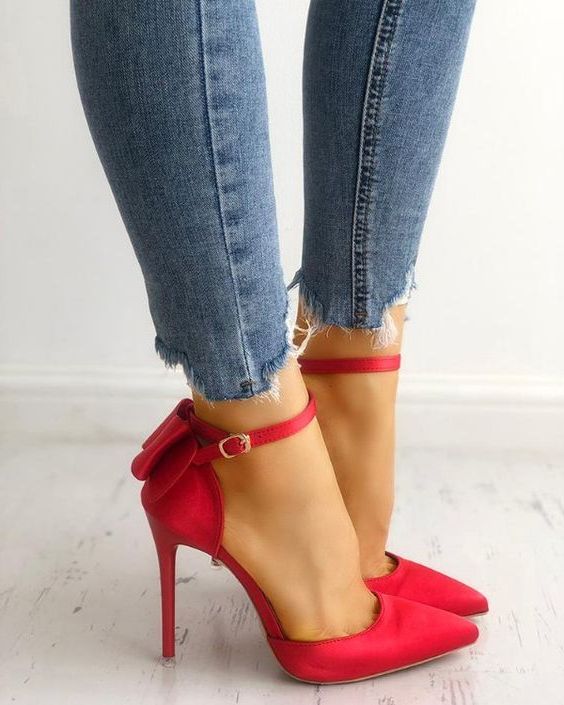 🛍️ Where To Find: Buy Related Here
red heels with straps
Multi-straps are also great, they give you a kind of flirty look. Go for red heeled sandals with straps and style them with cuffed skinny jeans: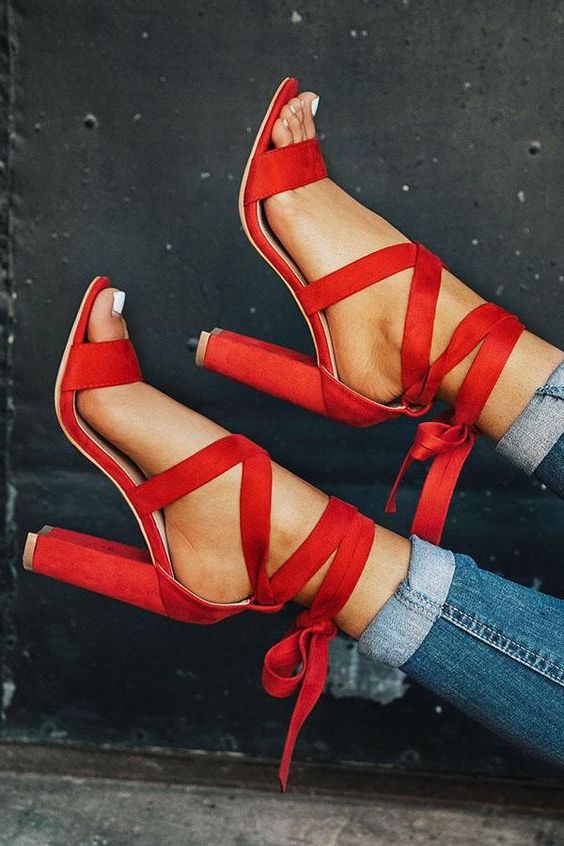 🛍️ Where To Find: Buy Related Here
red heels with feathers
Check out these dark red-heeled sandals embellished with feathers. Perfect footwear for parties and funky discos: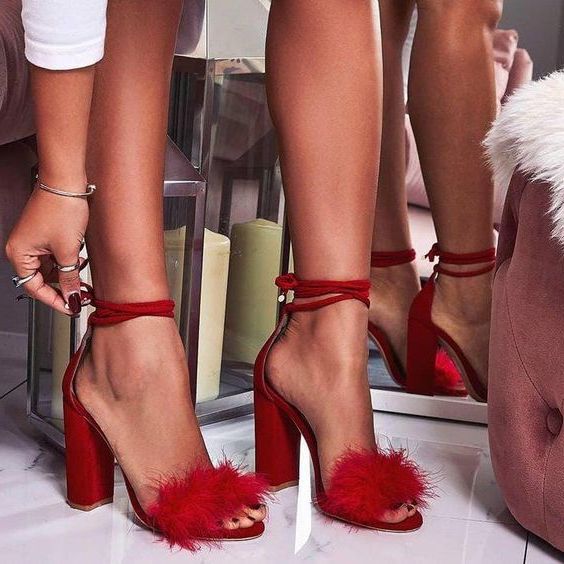 🛍️ Where To Find: Buy Related Here
red heels with clear strap
If you want to try a modern look, then how about wearing red heels with clear straps, they will make your outfit special and individual: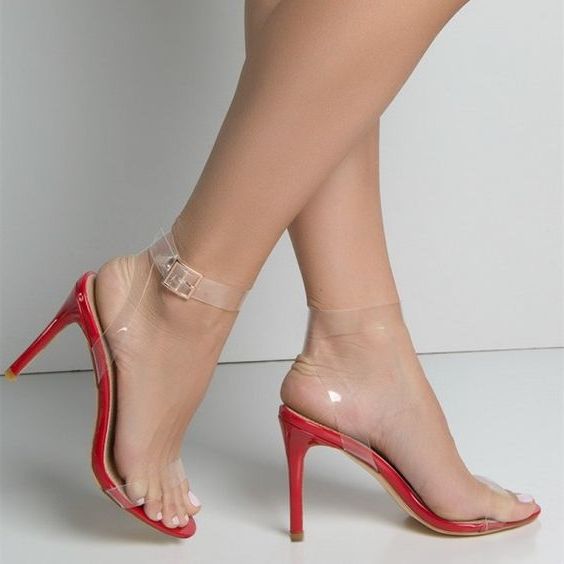 🛍️ Where To Find: Buy Related Here
red heels with ribbon
Check out these block heeled red-heeled pumps with ribbon, they do look awesome with jeans: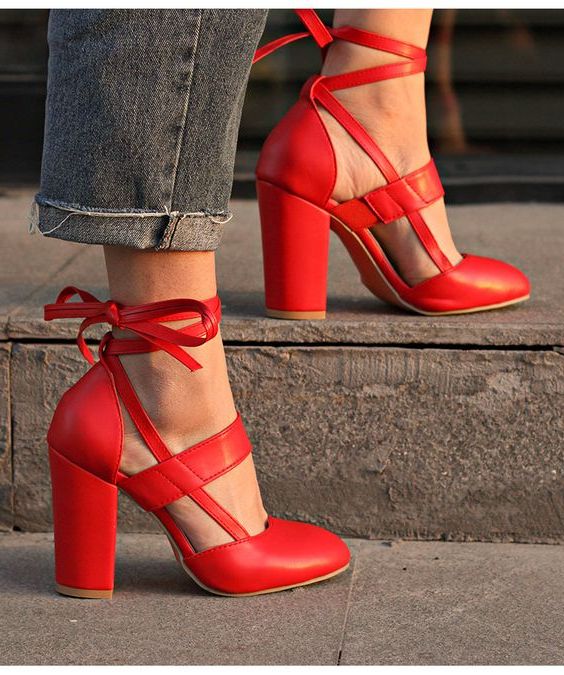 🛍️ Where To Find: Buy Related Here
red heels with diamonds
In love with these red-heeled pumps. They come with cuffs and a beautiful ornament embellished with diamonds on the back: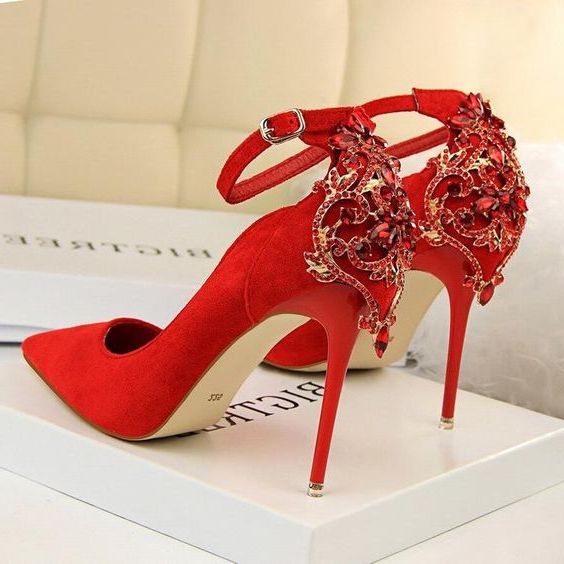 🛍️ Where To Find: Buy Related Here
red heels with laces
Laces make red-heeled sandals look sassy and very special. Try them with a classic white dress: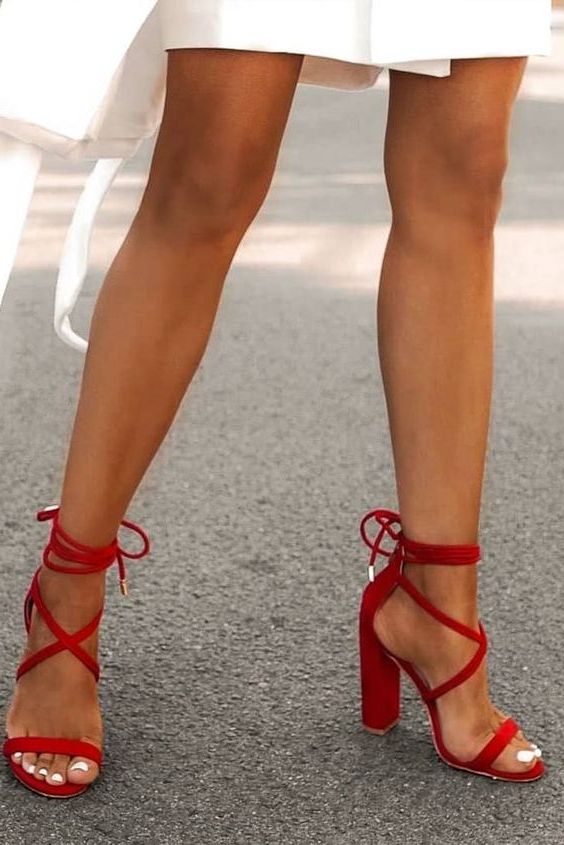 🛍️ Where To Find: Buy Related Here
red heels with tassels
Another great detailing that makes red heeled sandals look gorgeous is tassels. We see red heeled sandals with tassels styled with cuffed skinny jeans and red leather handbag: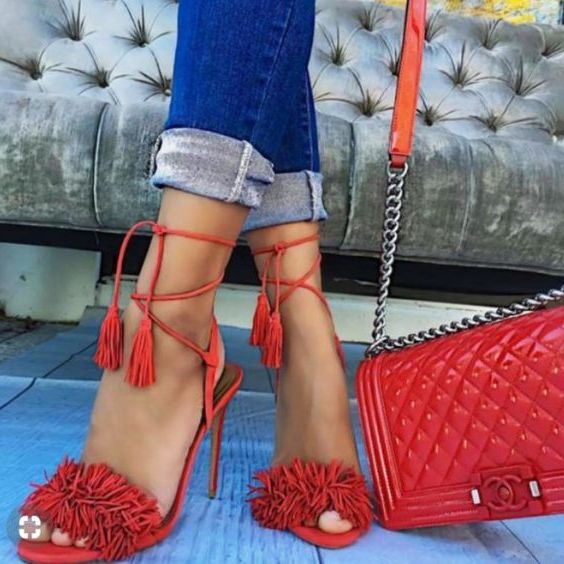 🛍️ Where To Find: Buy Related Here
red strappy heels with tassel
My favorite style is red strappy heeled sandals embellished with tassels, they look fresh, sexy and feminine: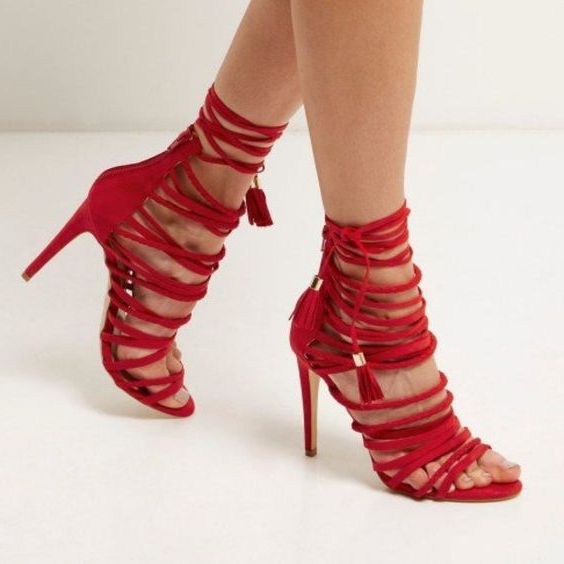 🛍️ Where To Find: Buy Related Here
red heels with pearls
A classy pair of red heeled pumps are embellished with pearls on the toes: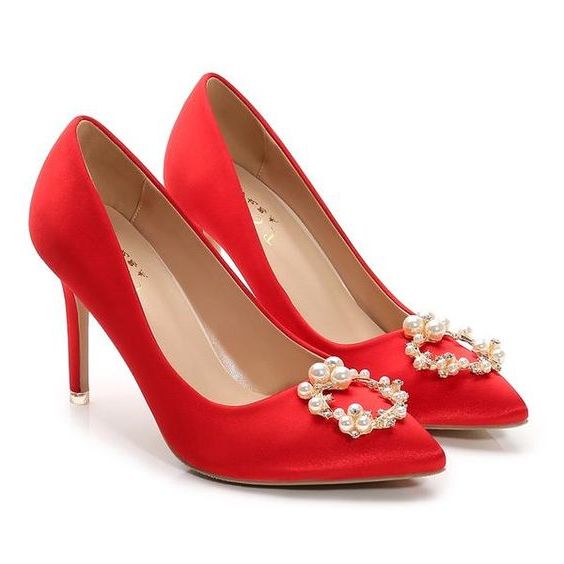 🛍️ Where To Find: Buy Related Here
red heels with pom pom
A classic pair of red heeled pumps are embellished with fur pom poms, they can be teamed with a bodycon dress or classic skinny jeans: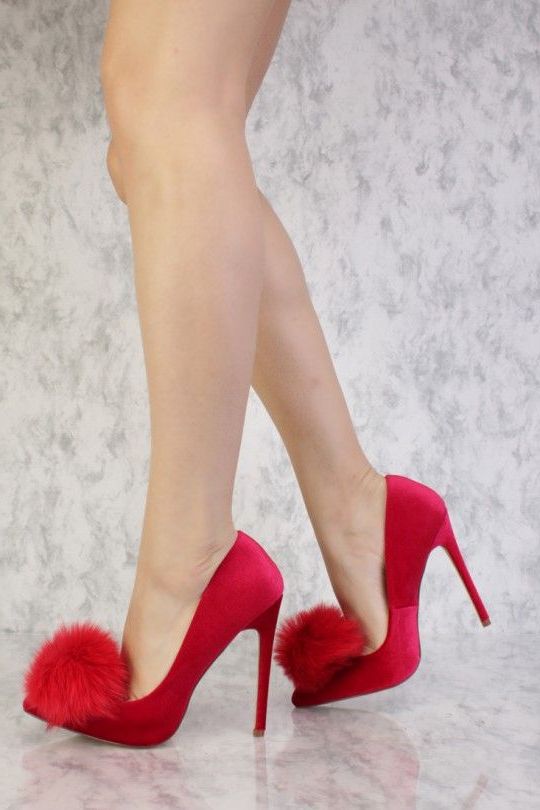 🛍️ Where To Find: Buy Related Here
red block heels with platform
Platform red block heeled sandals look terrific and easy to style. Try them on with a cute dress or flared jeans to create a kind of boho-chic flair: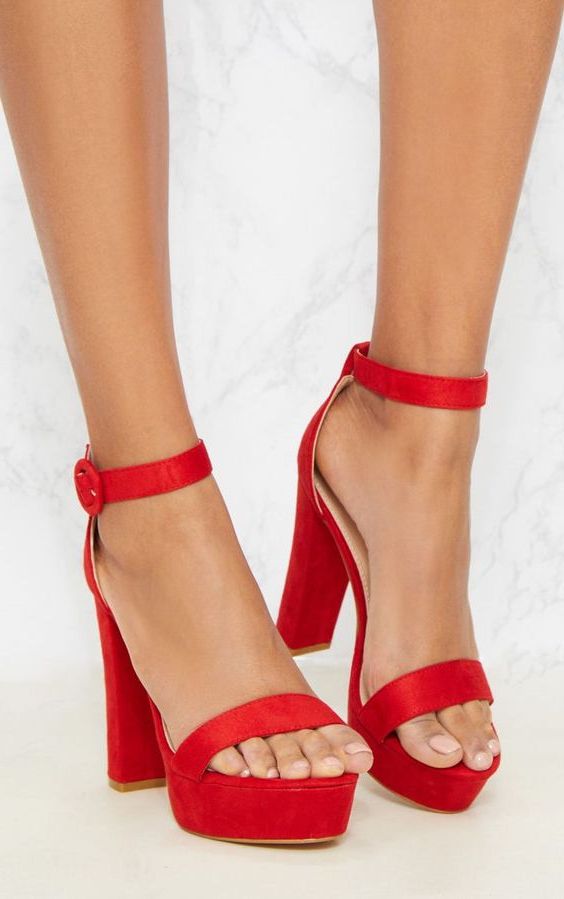 🛍️ Where To Find: Buy Related Here
red heels with ankle strap closed toe
A pair of red heels with a closed toe and ankle strap make a wow statement, style them with a flirty flared short skirt and casual tee, or go for classic suit: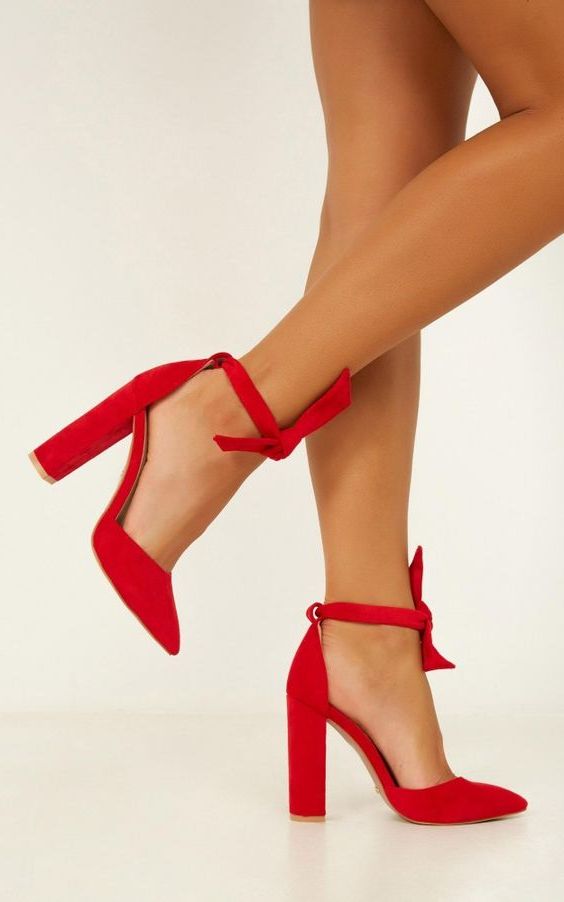 🛍️ Where To Find: Buy Related Here
red suede heels with ankle strap
Cherry red suede heeled pumps with ankle strap look classy and feminine. Try them on with a neutral color dress: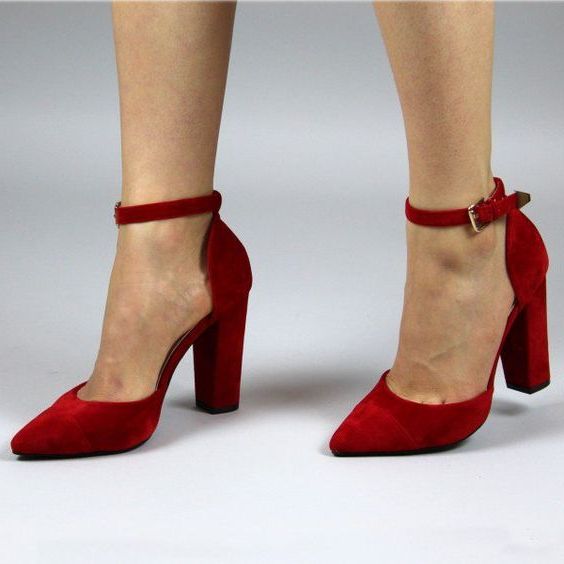 🛍️ Where To Find: Buy Related Here
red heels with gold studs
In love with these glamour and edgy red-heeled pointed-toe pumps embellished with gold studs: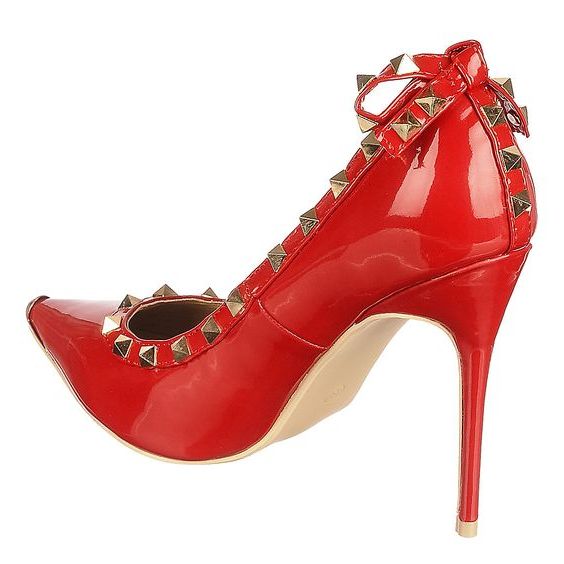 🛍️ Where To Find: Buy Related Here
red heels and matching bag
Glossy red-heeled pumps look cool paired with ripped blue jeans and a red leather handbag: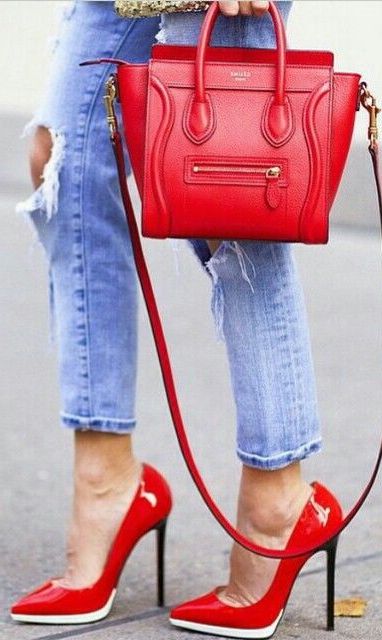 🛍️ Where To Find: Buy Related Here
red heels and purse
We see patent red leather heeled sandals with gold feather detailing and a red purse with a gold chain: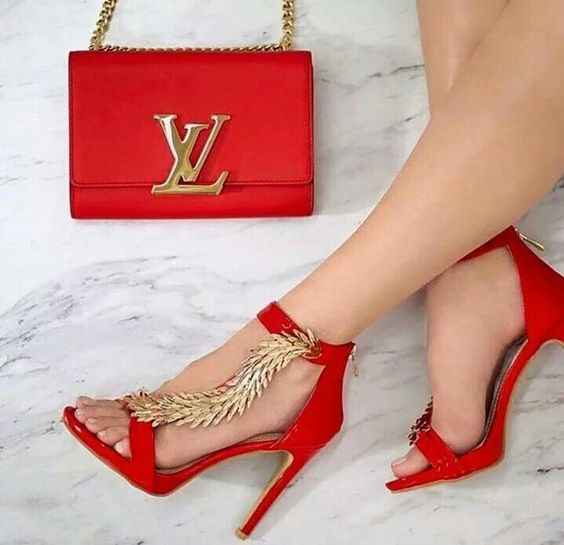 🛍️ Where To Find: Buy Related Here
red heels and clutch
Platform heeled sandals look fresh and sassy worn with a red clutch bag: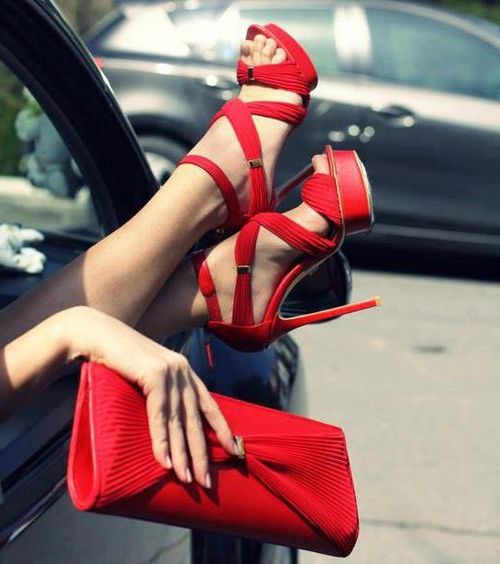 🛍️ Where To Find: Buy Related Here
red heels and jeans outfit
An ideal combo for the upcoming year is the one that features a pair of red heels teamed with classic wash blue jeans and a white shirt: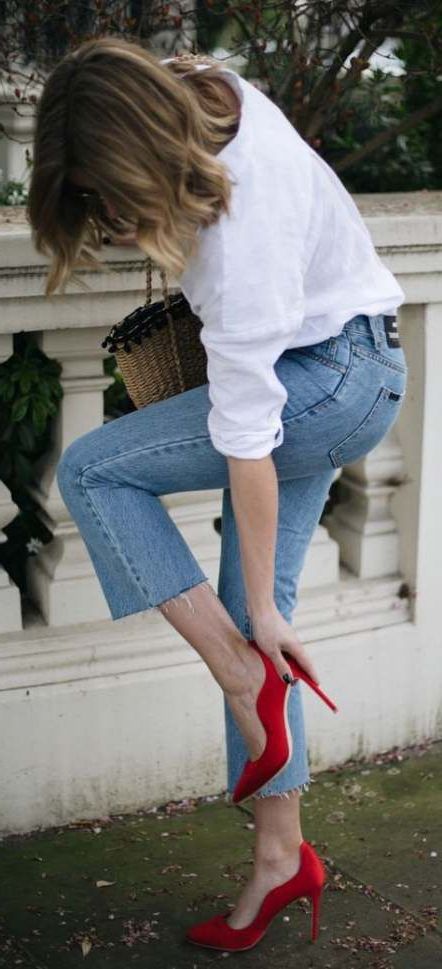 🛍️ Where To Find: Buy Related Here
red heels with gold
We see dark red-heeled pumps with the gold heel, a perfect choice for those who want to look individual and rich: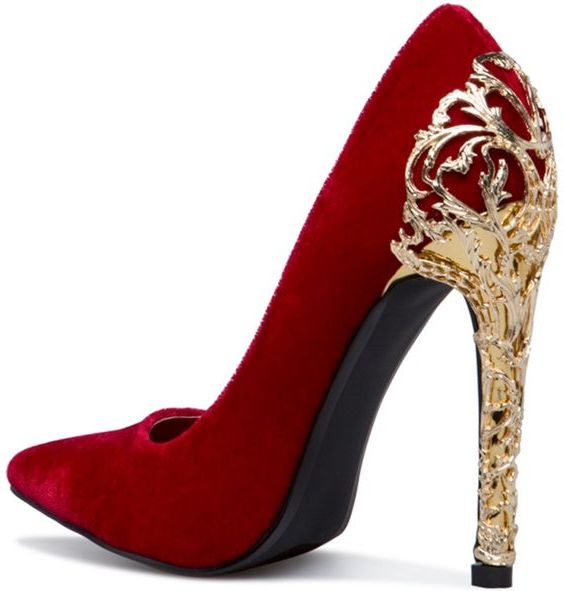 🛍️ Where To Find: Buy Related Here
red heels with glitter
A pair of glittering red heels with open toes and open back is great for ladies who want to make a glamour statement on the streets: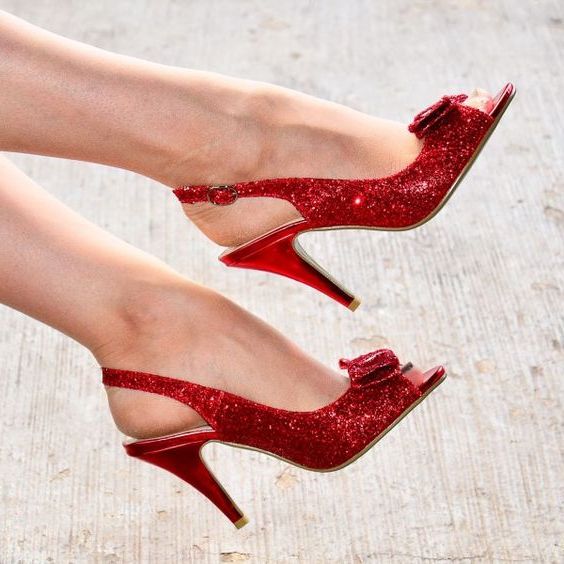 🛍️ Where To Find: Buy Related Here
red heels with leopard print
We see heeled pumps in red with leopard print heels and black laces on the front, an ideal choice for making a wild statement: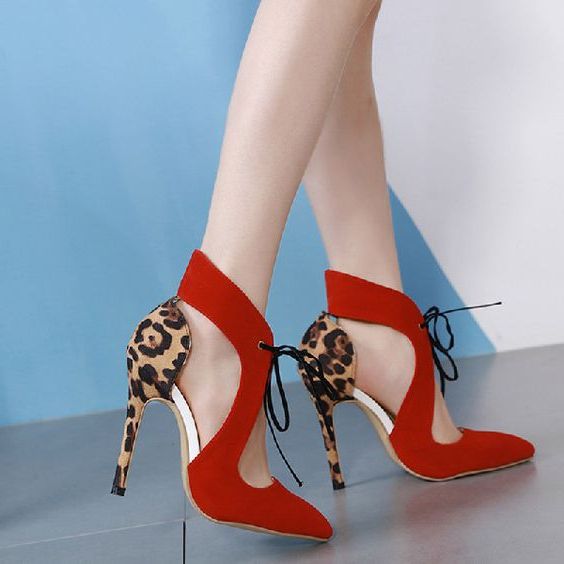 🛍️ Where To Find: Buy Related Here
red heels with chain
Improve your edgy style with these leather red heeled sandals embellished with chains: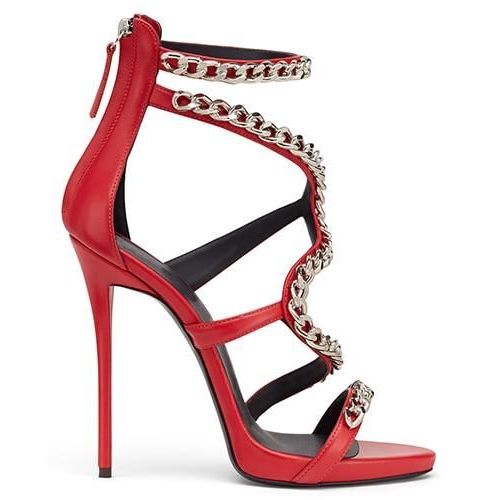 🛍️ Where To Find: Buy Related Here
red heels in velvet
Go for these red heeled sandals with braid detailing and cuff. In love with their velvet look: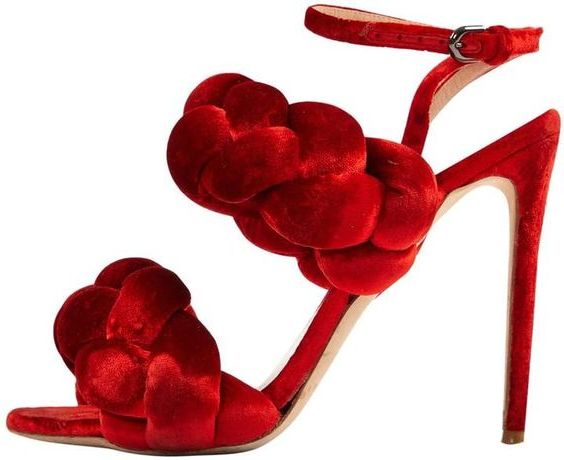 🛍️ Where To Find: Buy Related Here
red heels with flames
If you are into red footwear, then you might like to try on these red-heeled pumps with pointed-toes and flame cuts: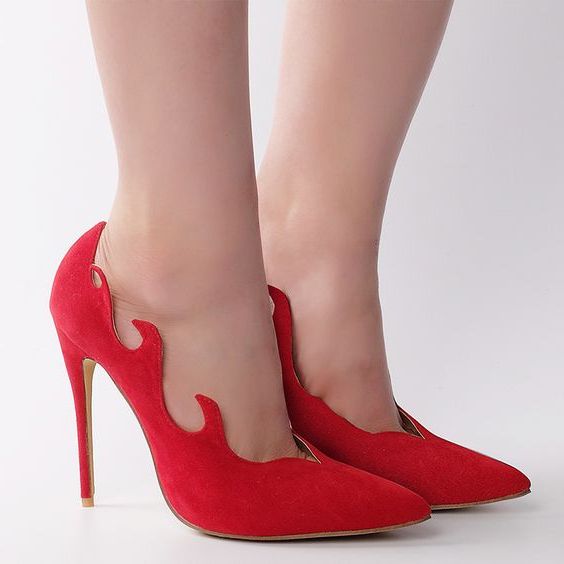 🛍️ Where To Find: Buy Related Here
red heels with frill
A pair of red sandals come with block heels and frill detailing, I would give them a try: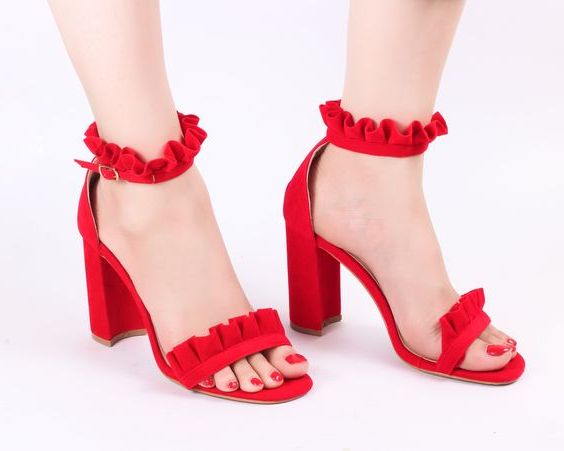 🛍️ Where To Find: Buy Related Here