Hey, there my dear reader! This time I want to share with you an awesome compilation of women's trendy coats that are going to be in style this year. I can already feel the weather is getting colder every day, that's why you need something that will warm you.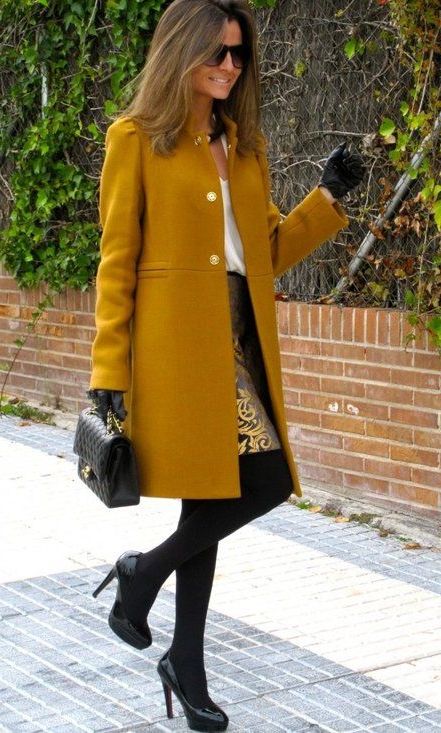 We see a mustard brown coat teamed with a white top and jacquard print skirt completed with black tights and glossy black platform heels. Update this combo by adding a quilted black leather clutch and sunglasses.
Go bold with this oversized bright blue coat layered over cable knit high neck sweater in burnt orange tucked in wrap wool skirt completed with OTK suede boots: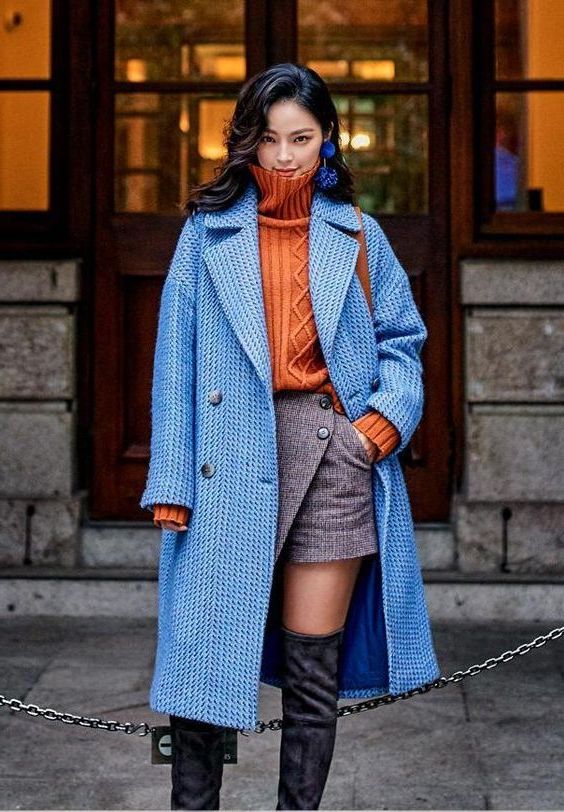 Of course, you can go for a layered look, but sometimes we have no time for creating that very special look. That's why we need something classy, elegant and stylish. Yes, I am talking about trendy coats. Read on to find out the best styles to try this year and let me know what you think of them.
Here we see a Parisian chic combo. By the way, check out my post on French chic style outfits for women, you can find many inspiring ideas to copy this year. Anyway, here we see a black beret teamed with a plaid ovrsised wool coat layered over black sweater teamed with blue jeans: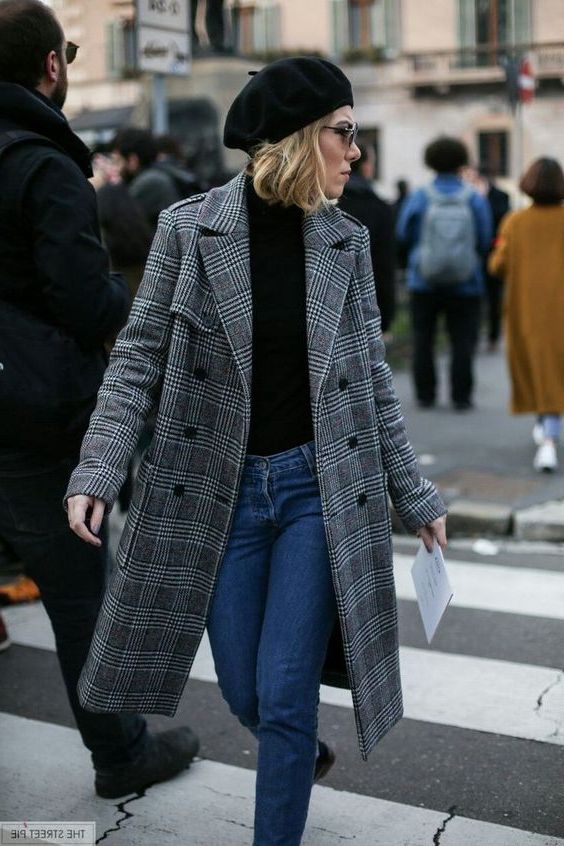 A fabulous winter coat is a great piece to have in your closet. You never know when will be cold outside. I gathered my favorite styles that will not only make you warm but also give you a stylish look.
An oversized camel coat ideally suits this all in black OOTD, try it during windy Fall season days: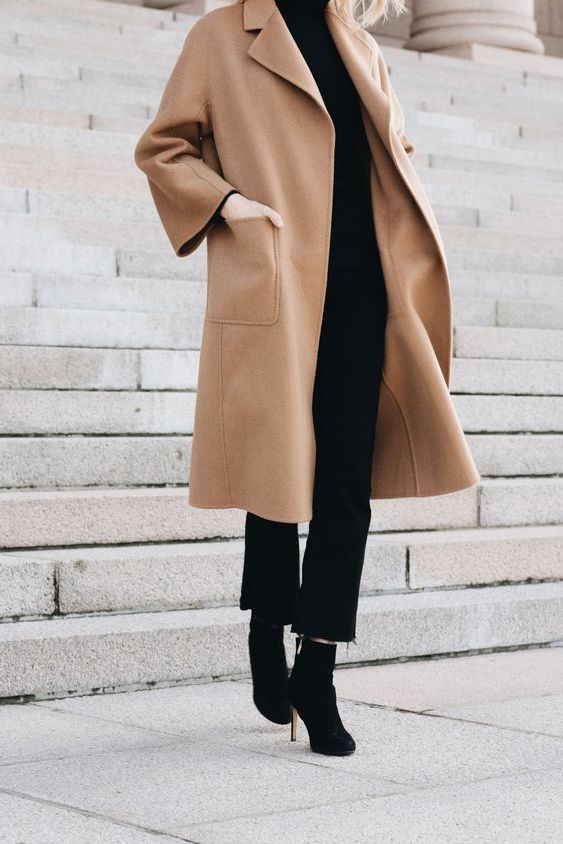 Of course, the main priority is warmth, but never, I say NEVER sacrifice with your style. The best solution is to find that coat which will make you look awesome and keep you warm. Choosing a warm outerwear garment allows you to wear lightweight combos underneath.
A light grey wool belted coat is layered over a turtleneck sweater in cream white. Complete this combo by adding blue skinny jeans and mirrored aviator sunglasses: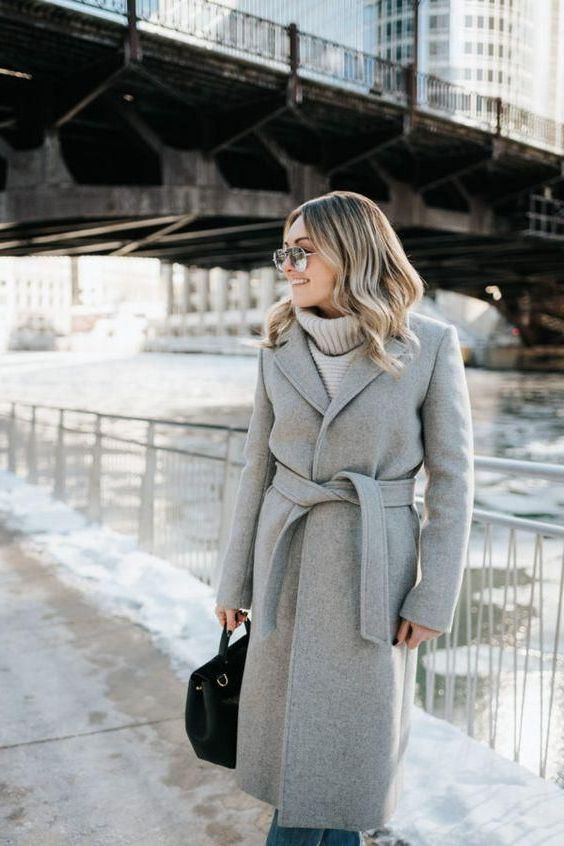 You can go for a simple T-shirt and jeans and complete it with a knitted scarf and a cool coat. My favorite one is a camel wool-blend coat. I love how it looks. You can wear it with almost anything you want, starting from work essentials to casual separates. Anyway, take a look through my other favorites and let me know what you think in the comments below.
An oversized ceam white coat looks pretty chic with a white sweater and grey slim pants completed with patent grey flat pumps: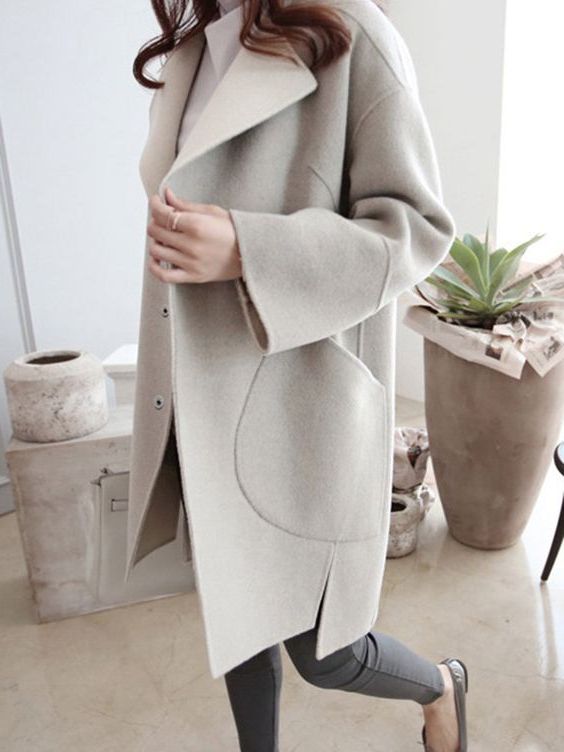 Can I wear coat to interview
Yes, it's okay to wear coats to interview, just make sure to take it off, once you are inside. Here we see a camel trench coat with plaid print details worn over grey pantsuit completed with a black top and black leather boots: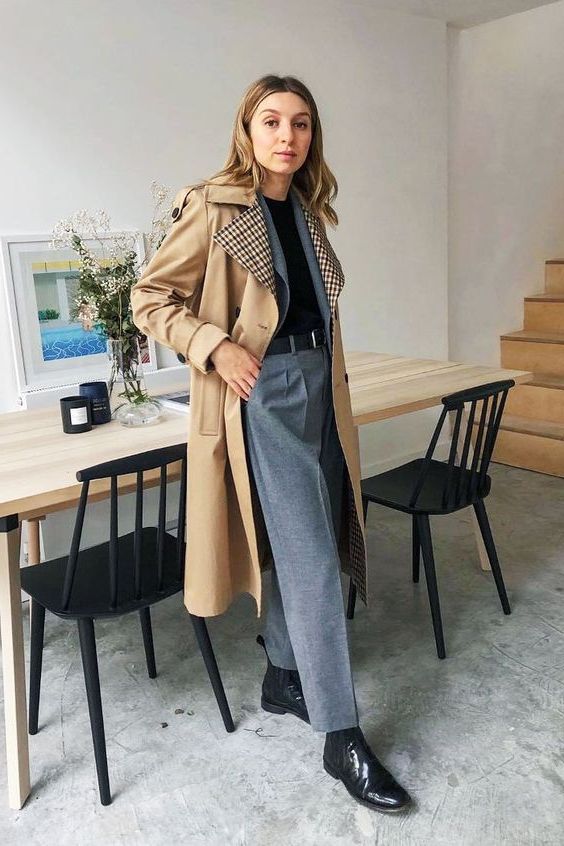 Another camel coat in wool is layered over black dress. Complete this combo with tortoise cat eye sunglasses: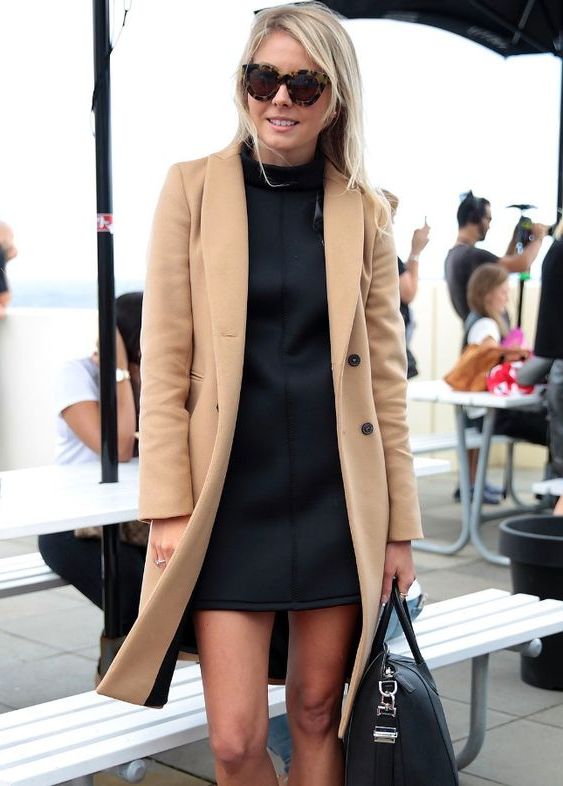 Can I wear coat to office
Coats are perfect for office environment. So you can go for a plaid print style and layer it over a black turtleneck tucked in suede cream brown slim pants completed with white sneakers: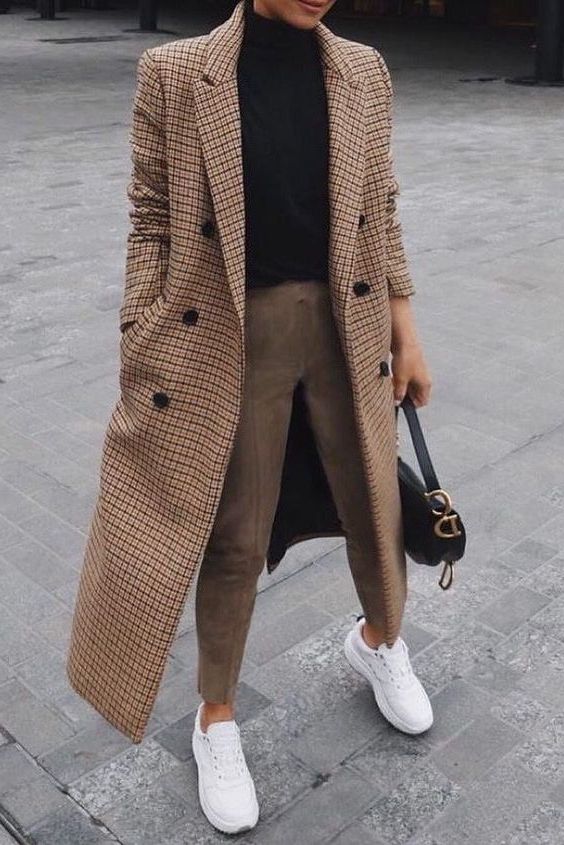 Here we see a maroon coat styled with a cute white blouse embellished with ruffles and black slim pants completed with metallic low heel pumps: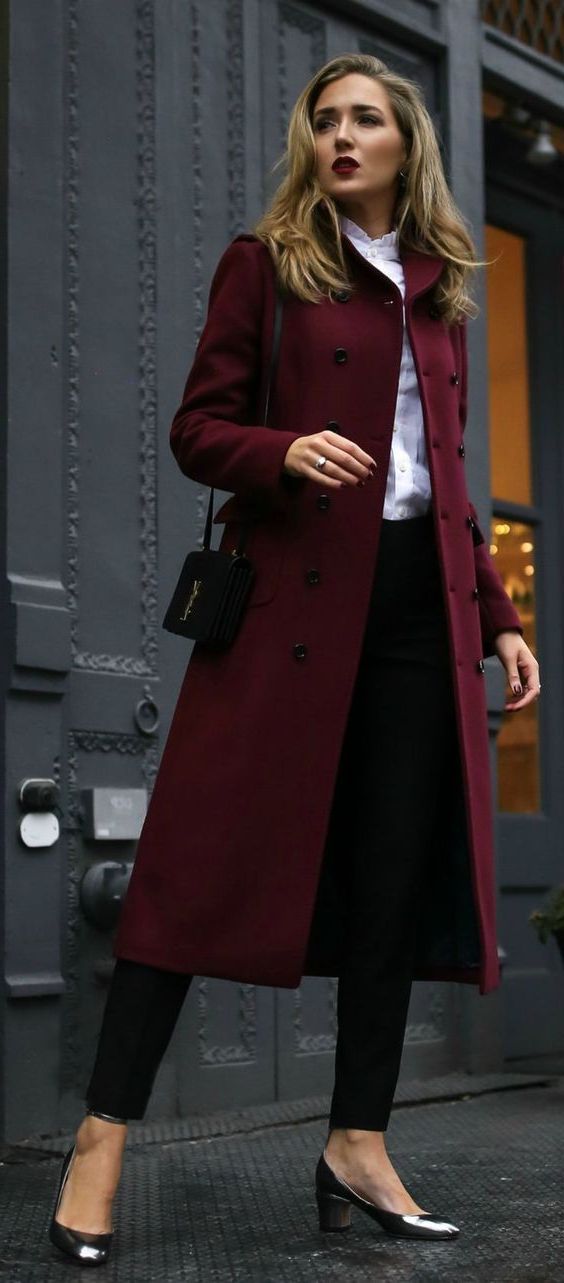 Can I wear coat with shorts
We see another cool trend for this spring called coat and shorts. Here we see a grey blue long draped coat styled with a white shirt tucked in ripped wash blue denim shorts and open back peep-toe ankle booties in black leather: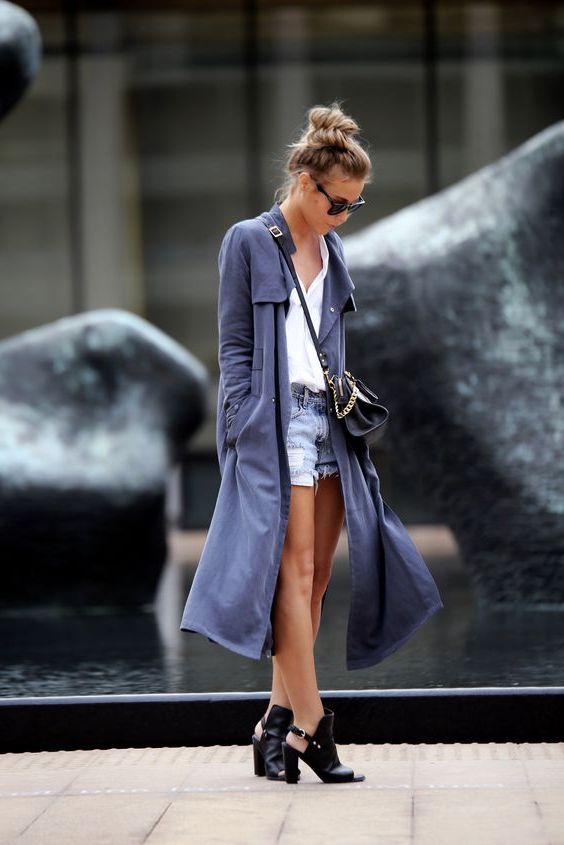 Another great combo is a maxi green coat styled with a white tank top tucked in wash blue denim shorts. Complete this style by adding mirrored aviator sunglasses and suede pointed-toe heels in beige: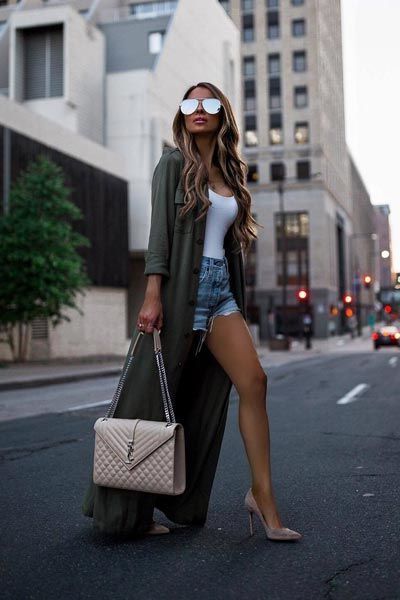 Can i wear coat with suit
If you do like layered style, then you gonna fall in love with this trend. We see a pink long coat draped over blue pantsuit completed with orange sweater, cool heart shaped sunglasses and pink pumps: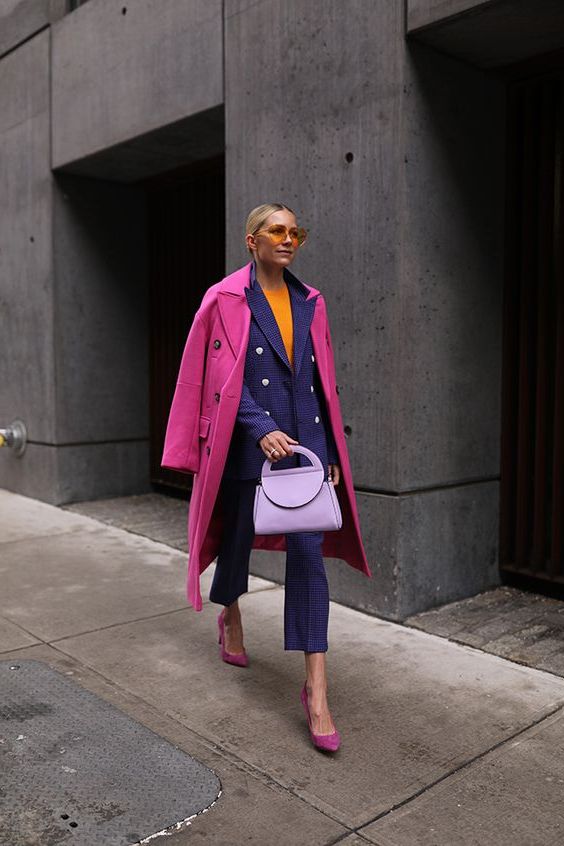 Can i wear suit coat as blazer
A suit coat can be a good alternative to a blazer. Here we see a grey colored suit coat layered over grey deep neck grey top tucked in mom jeans: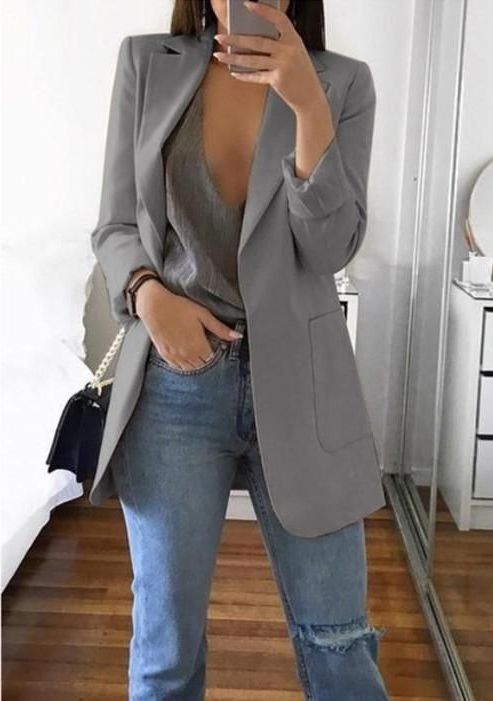 Can you wear coat over blazer
Another cool layering trend for thos who wants to make a wow statement. Go for a dark grey coat and layer it over light grey blazer teamed with a black top and black leather skinny pants completed with black booties: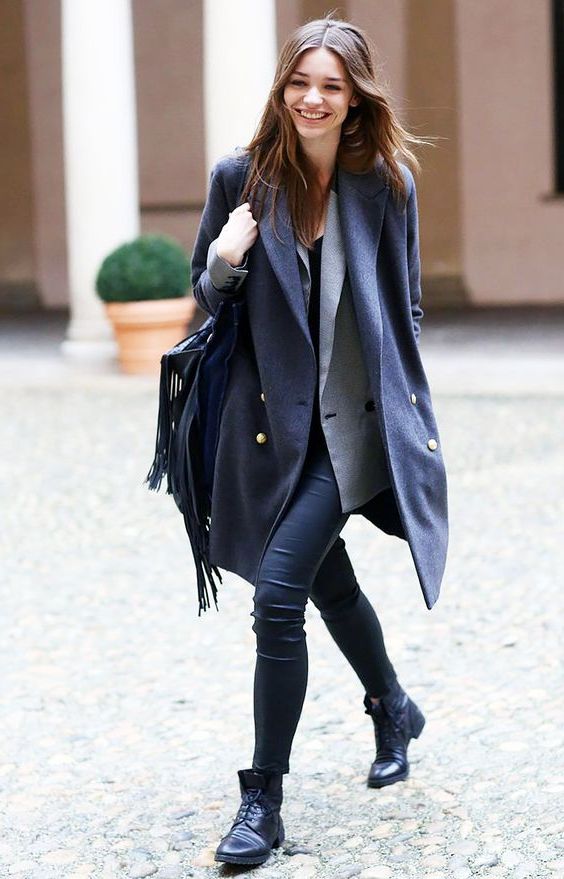 Can i wear a suit coat with jeans
If you are more into casual style, then a suit coat and jeans is what you need! Go for a collarless plaid tweed coat and style it with a black sweater, black skinnies and lace up heeled pumps in black: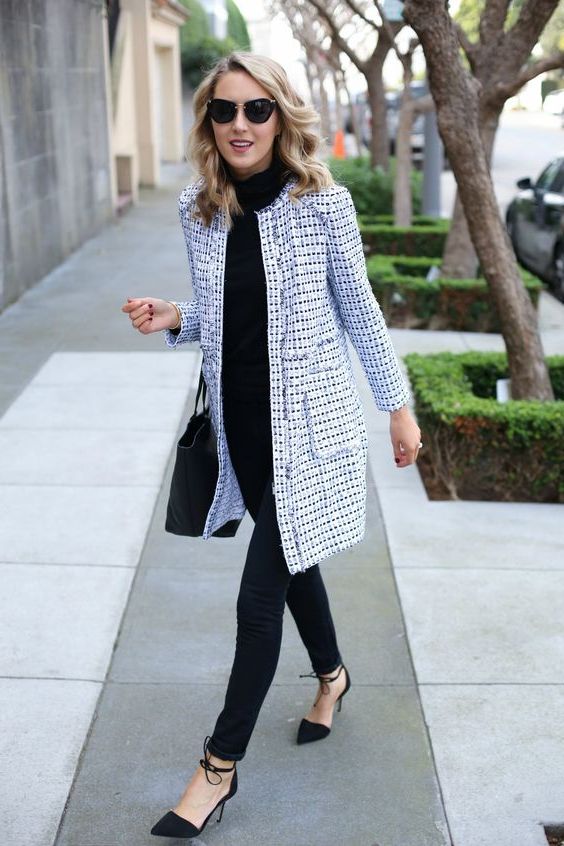 Can i wear a wool coat in the rain
A wool coat in the rain is not a good idea, as it will become wet in seconds, but in general the water wont damage coat's material, give it the proper care once you're out of the rain, though if you will wear it under an umbrella, then why not. Right? Here we see a beautiful dark red belted coat styled with a pastel beret hat and grey turtleneck, love the burgundy velvet booties: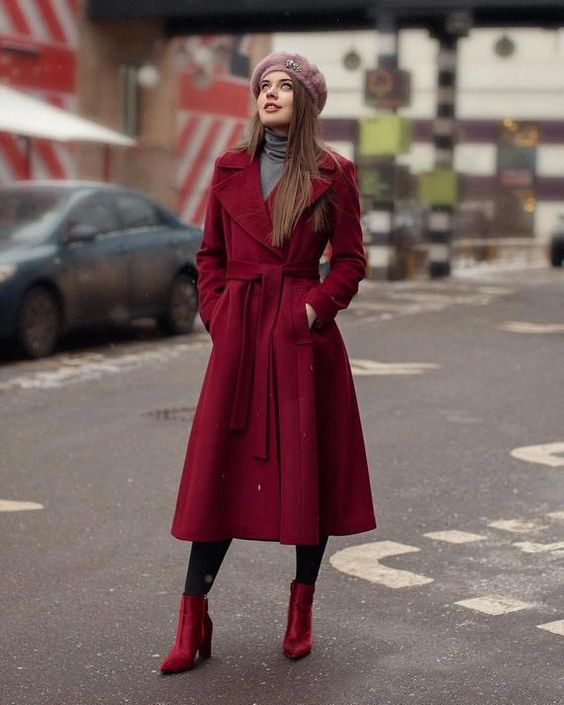 What coat to wear with long dress
I do love maxi length and you definitely should try on a long dress with a coat. Just make sure you go for a minimalistic look. Here we see a white long coat styled with a silk dark blue long dress, complete it with white sneakers: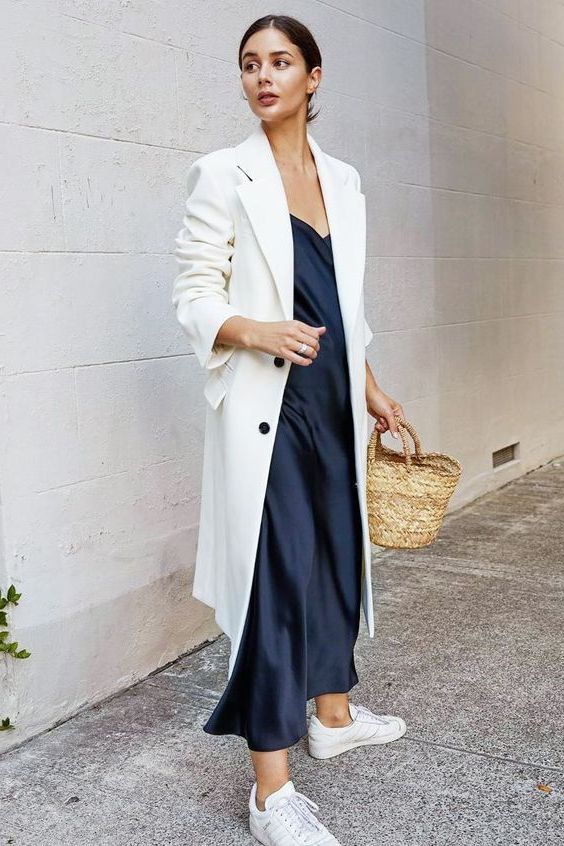 Can i wear coat in summer
Summer and coats might sound a bit weird, but there are cool coat designs that are okay to wear in the summertime. Here we see a good example. An oversized beige-white coat is draped over a white T-dress completed with white ugly sneakers: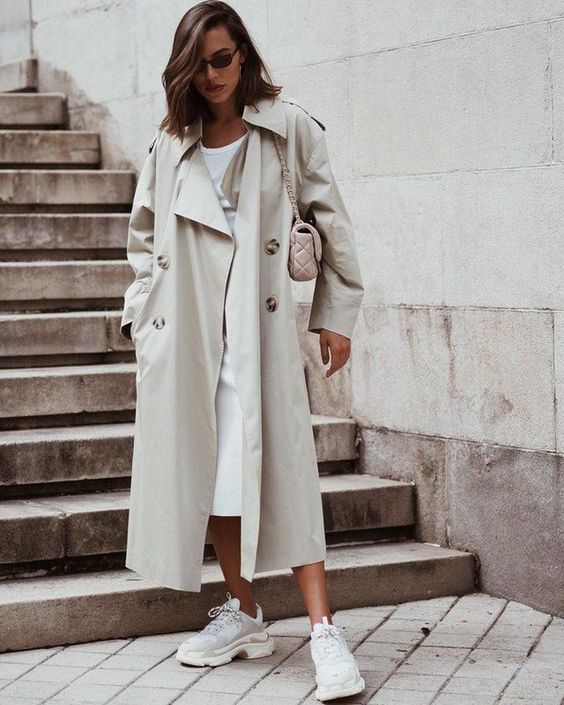 Are leopard print coats in fashion
Now let's speak about real trends. yes, leopard print coats are still in fashion and here is why: leopard print comes back in style in different variations, so why don't you give it a try. I have a post on ways how to wear leopard print coats, check it. Go for a leopard print fur coat and style it with a beige sweater tucked in denim black skirt completed with tights and patent black leather ankle boots: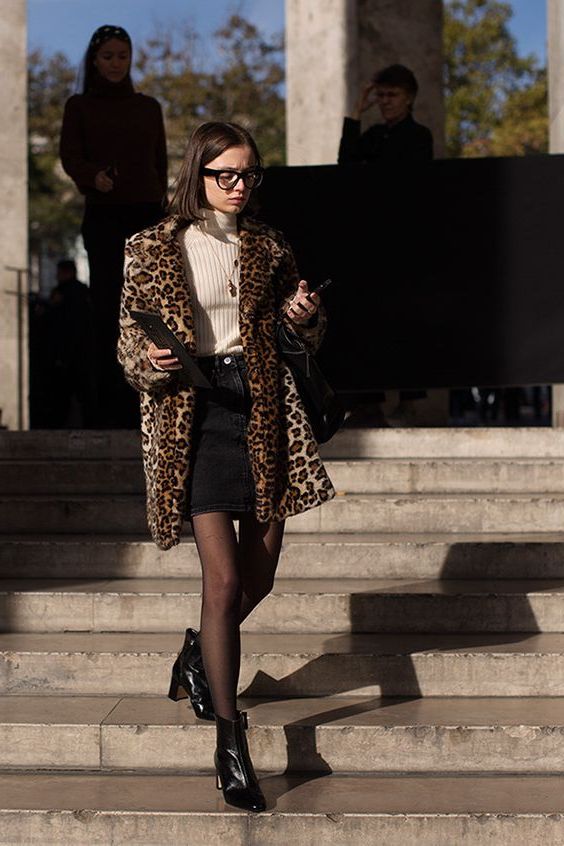 Are sleeveless jackets in style
Yes, sleeveless jackets are back in! If you are lookng for more info, then check my post on ways how to wear sleeveless coats. But here we see a nice black wool sleeveless coat styled with a grey long sleeve dress and lace-up peep-toe black booties: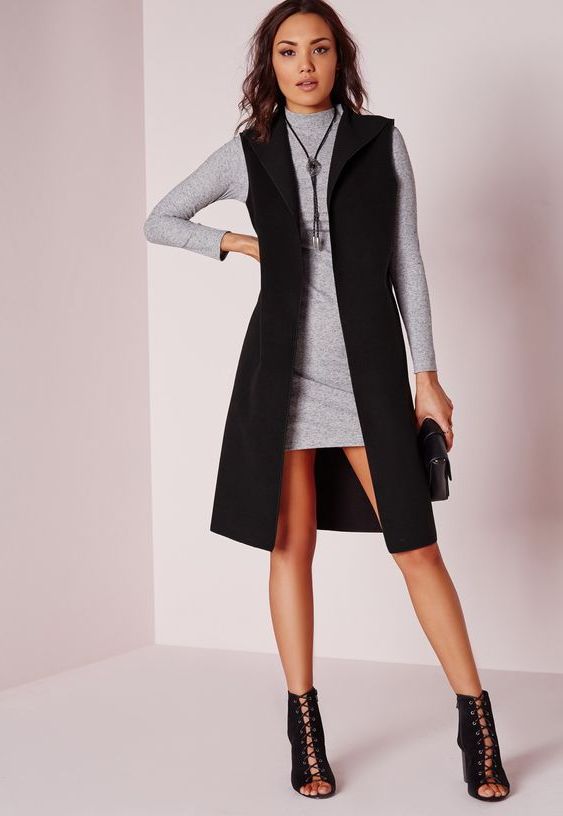 Grey coat fashion
Yes, grey coats are still in and this trend is pretty massive right now. Check my post on what grey coats are in style, here we see a gey tailored coat worn over black top tucked in cream brown leather skirt completed with black tights and suede booties: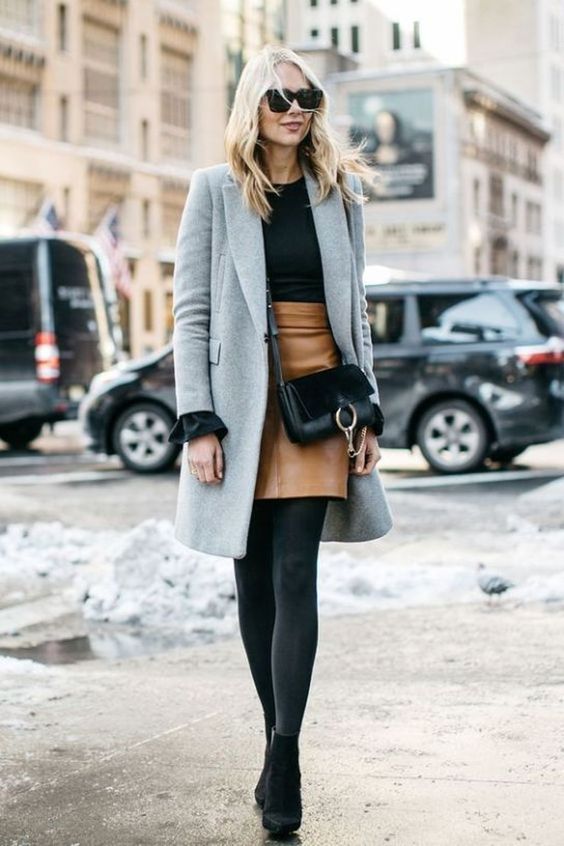 Are black coats in style
Another must have is a black coat. You can find more information on this post, where I cover top black coats for women to try now. But here we see a long black coat styled with a blue shirt tucked in blue jeans completed with patent black boots: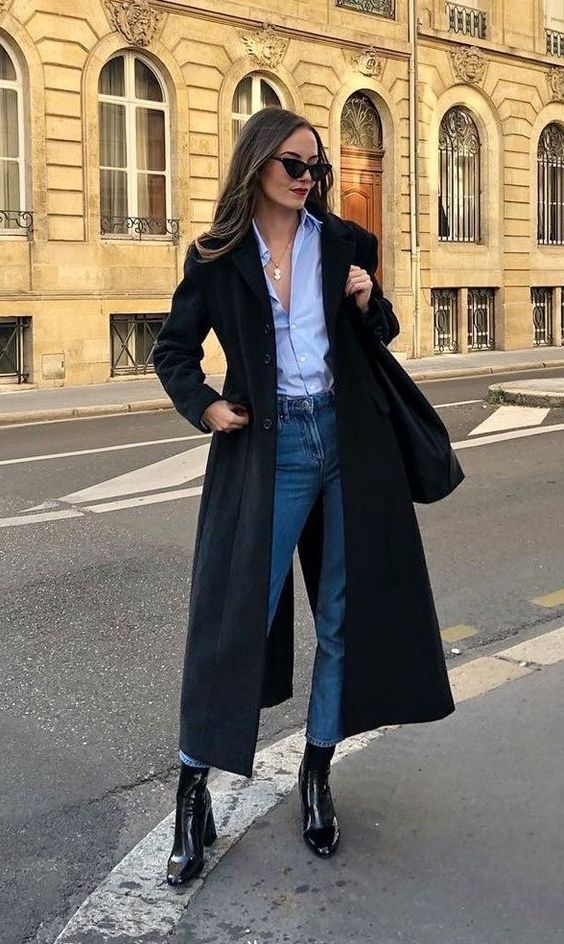 Are faux fur coats in style
Faux fur coats for women are totally in this year. You can try this outerwear piece in any color. Here we see a blue fur coat worn with light blue slim jeans and white ugly sneakers: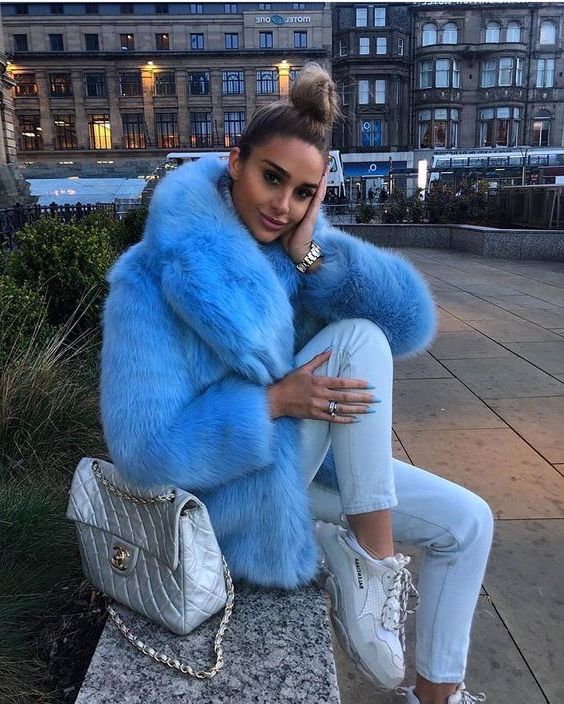 Are camel coats in style
Another great choice for women is a camel coat. I did a nice post on ways how to style camel coat and you definitely should check it. Here we see a tailored wool camel coat paired with a beige V-neck sweater tucked in matching color slim pants: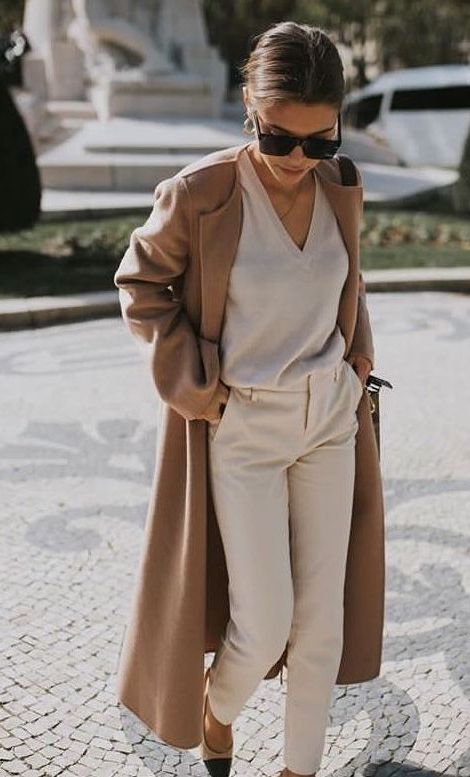 Animal print coats for women
If you do like leopard print, then you can choose another animal print coats that are so must have this year. Here we see a tiger print coat worn over black sweater teamed with black pants: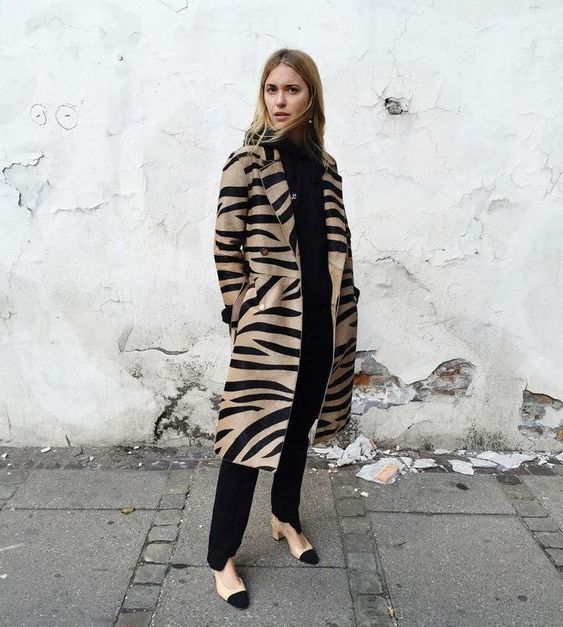 I want to update this post and share with you some of the latest trendy coats and ideas on how to wear them now. I will show you my favorite classic styles, quilted designs, maxi coats, plaid ones, and many other cool styles. If you are in search of a new coat, then it means you really want to refresh your closet. This season we see lots of experiments with colors, prints, and fabrics. Be original and try on something new.
Plaid Coat
A heavy plaid coat is another must-have for those who love following fashion trends: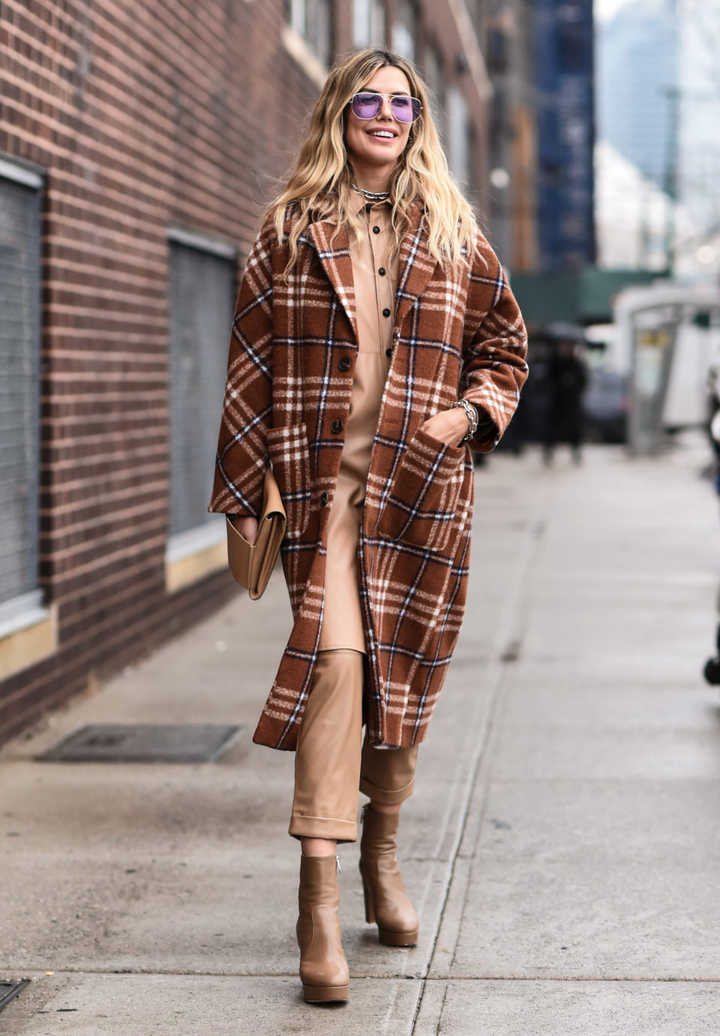 Mustard Yellow Leather Coat
A mustard yellow leather coat ideally suits this pinstripe white suit: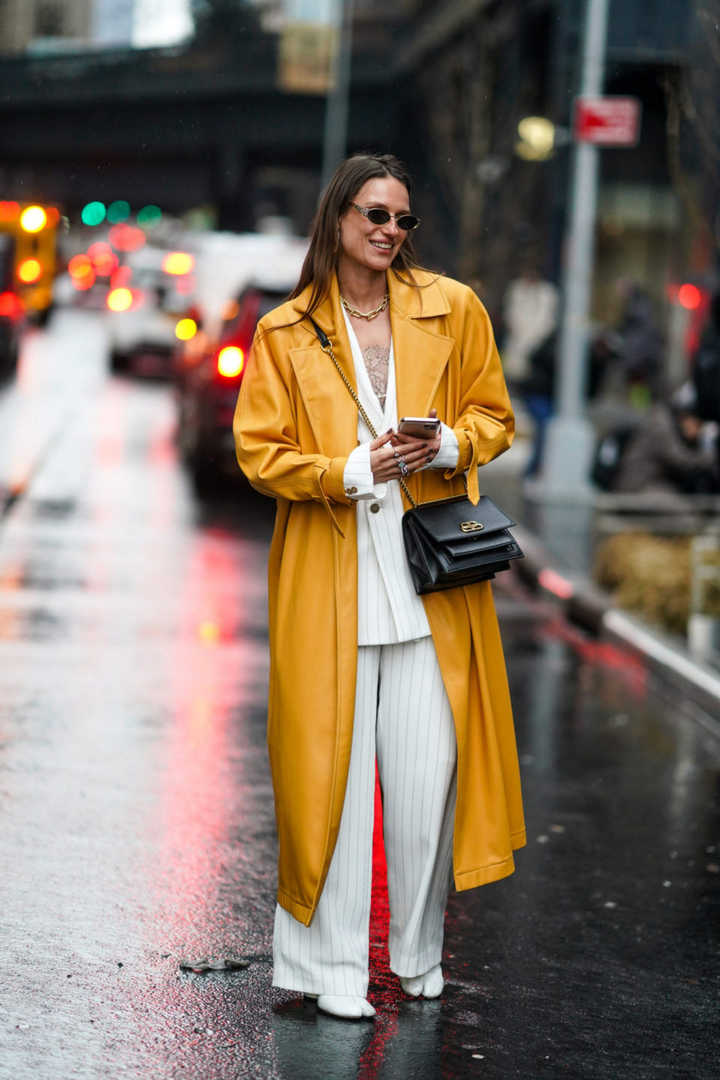 Maxi Down Coat
A maxi down coat in grey is updated with black leggings and zebra print boots: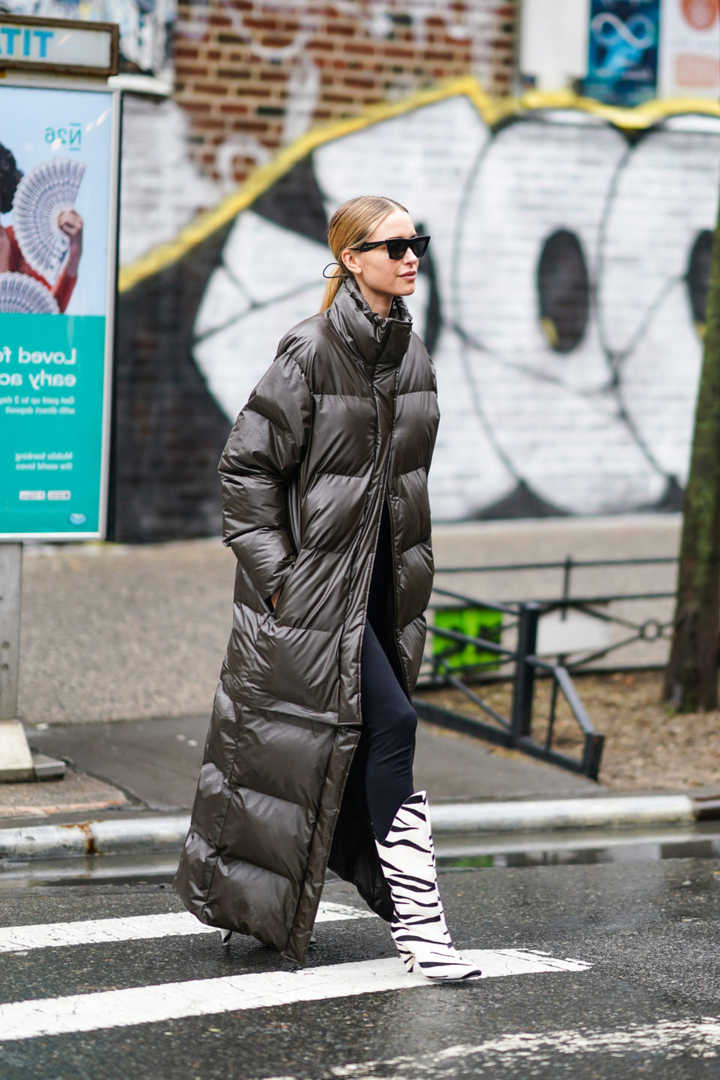 Maxi Green Coat
Another monochrome OOTD. We see a green long coat made of wool styled with a two-piece green dress and completed with printed socks and black leather loafers: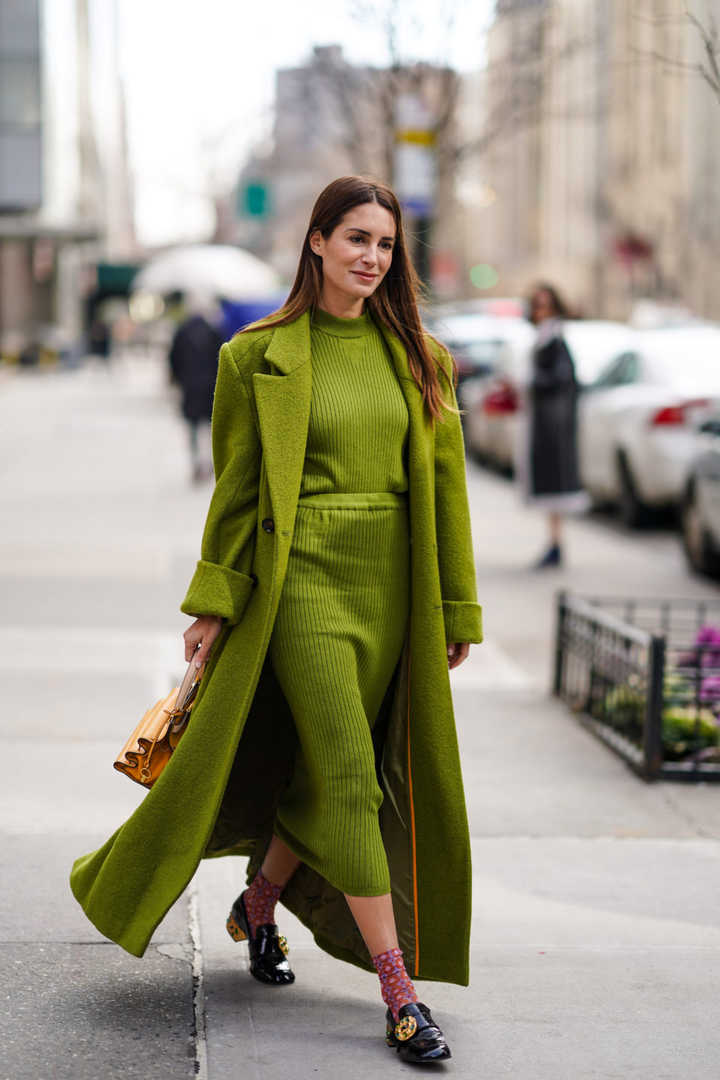 Quilted Coat
A quilted coat is a must for the spring season. It can be used for parties and casual street walks. You can choose either a classy design or the ones that end up to your ankles: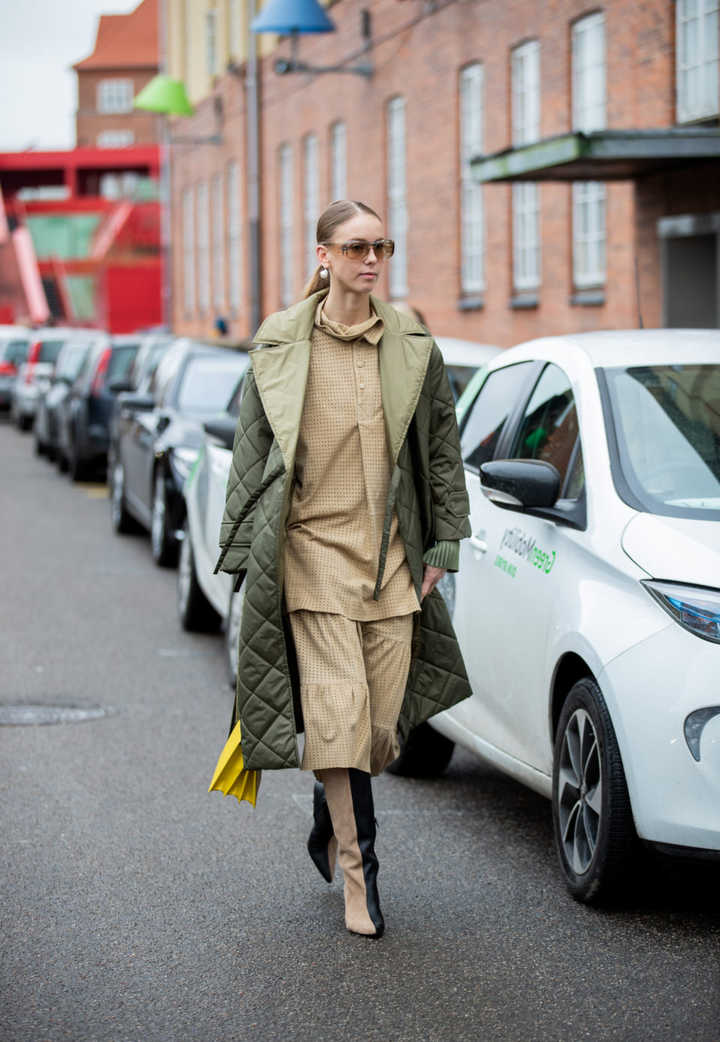 Pink Coat With Fur Collar And Cuffs
A lovely pink coat with a fur collar and fur cuffs is styled with a ribbed sweater and mustard yellow wide pants: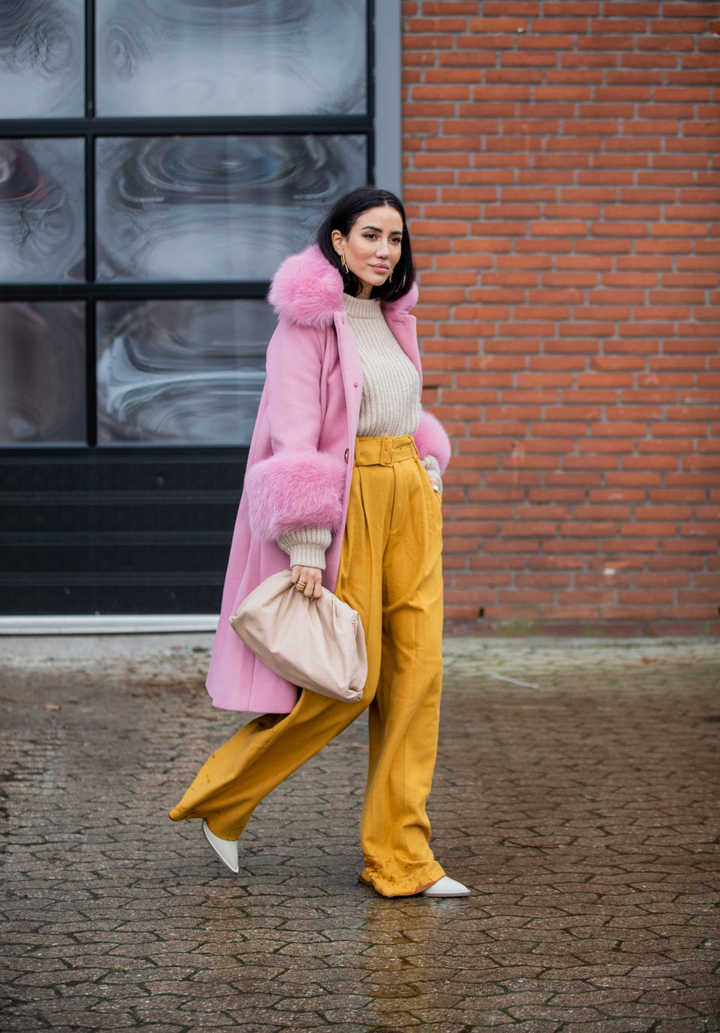 White Coat
We see a fabulous all-white look with a white fedora, white long coat, white top and white ankle boots: