Let's talk about wild outerwear garments. In today's post, I want to draw your attention to my favorite leopard coats for ladies. Here are gathered amazing outerwear garments that will capture everyone's attention.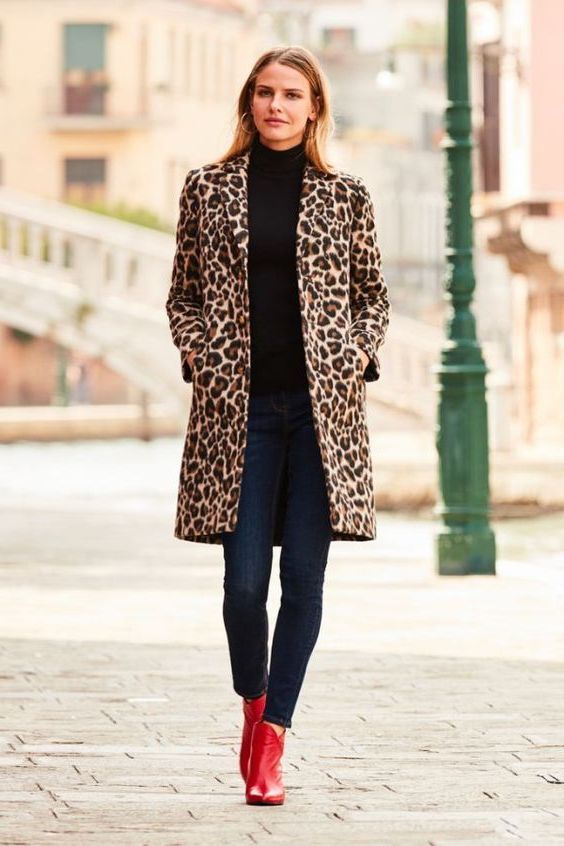 Buy Similar Here
If you want to brighten up leopard print coat, then how about teaming it with dark blue skinny jeans and red leather booties. An ideal combination to wear this Winter.
Each one of these styles will definitely make you feel and look very special. Believe me, there is no better shortcut in looking hot and very special than throwing on a leopard coat. I am sure, this beautiful outerwear piece gonna grab everyone's attention. Those of you who are in search of something wild, sexy and voguish, then I suggest you try one of these beauties. Read on to see fabulous ways on how to wear leopard coat in real life.
Here we see a hooded fur leopard coat styled with a white tank top tucked in dark blue skinny jeans, complete this look by adding Wayfarer sunglasses: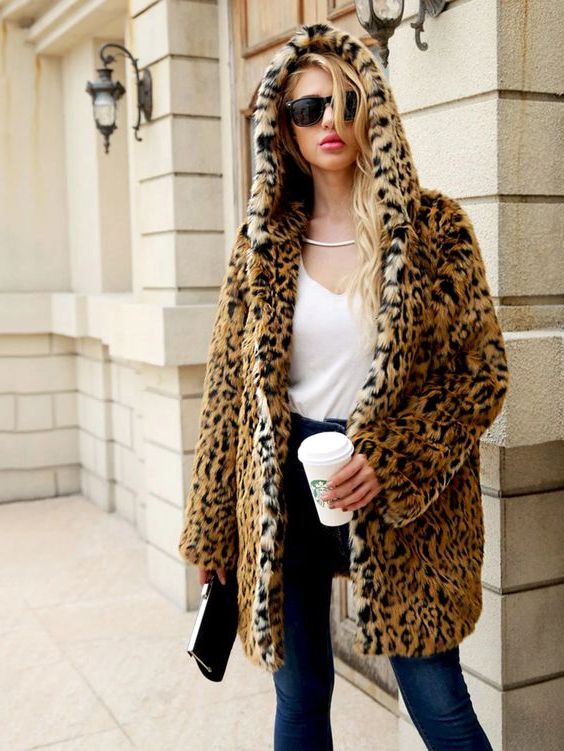 Buy Similar Here
Personally, I love to see ladies who wear leopard print coats with neutral color essentials, so that everyone's attention is set on this wild outerwear garment. If you are more into casual looks, then you should keep the vibrancy by pairing a structured animal print coat with solid neutral dark color top, ripped jeans and suede boots. All in all, you better scroll down your mouse to find the best ways on how to wear leopard print coat in your everyday life.
Leopard print coat with hood
A stylish hooded leopard print coat is styled with a black sweater and black leather pants: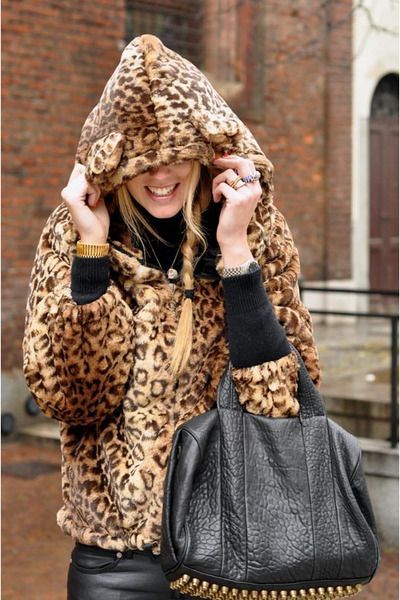 Buy Similar Here
Another chic fur leopard print coat with a hood is worn with a blue shirt teamed with black leather pants and grey-white sneakers: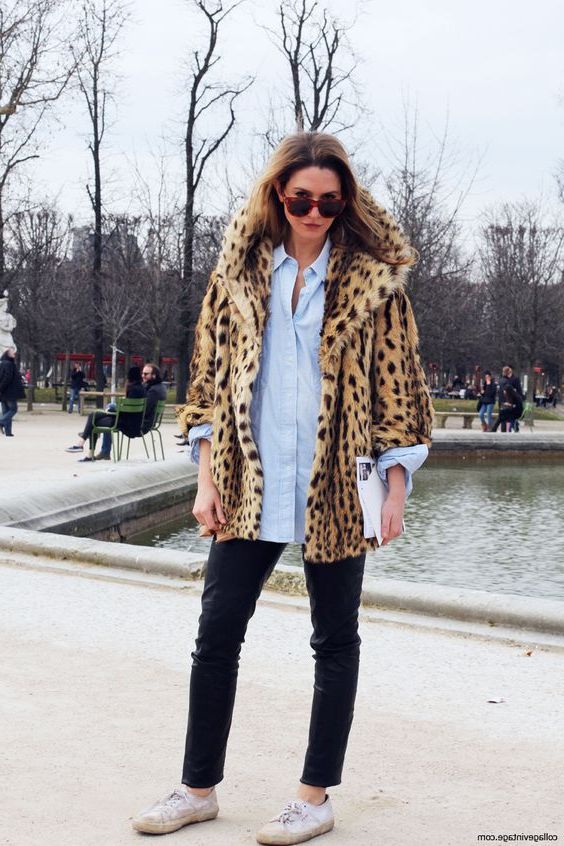 Buy Similar Here
Leopard print coat with pink collar
If you do like glamour look, then how about wearing this fur leopard print coat with a pink fur collar, layer it over a khaki green sweater teamed with grey-brown wide pants and brown leather block heel pumps: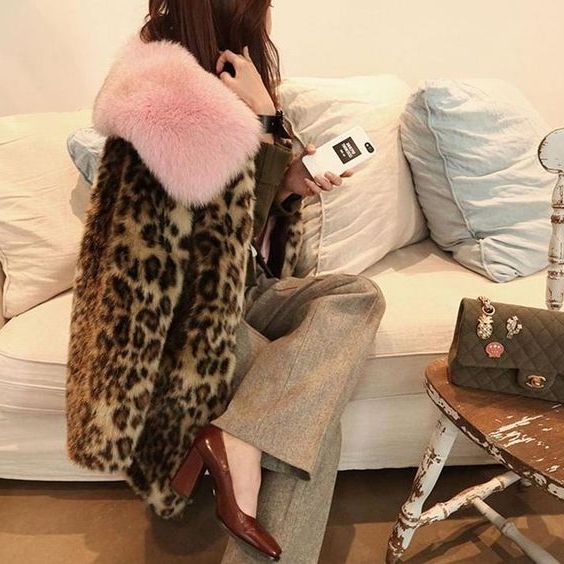 Buy Similar Here
A lovely leopard print coat with a lush pink fur collar is completed with a belt and hot pink clutch bag. Add a pink dress and black tights underneath. Love the oversized sunglasses, black leather handbag, and slouchy black leather boots: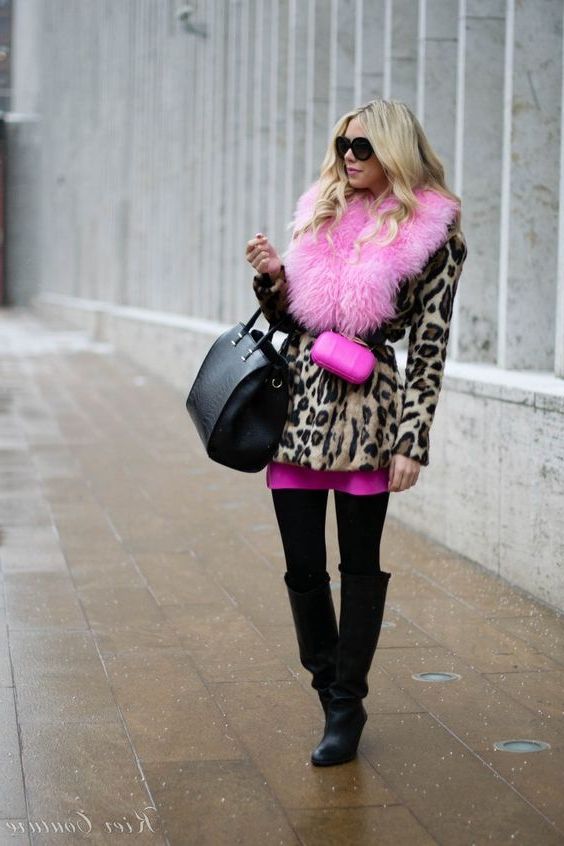 Buy Similar Here
Leopard print coat with green collar
Another way to make a wow statement on the streets is to try on a leopard print coat with a green fur collar. Try it on with a black sweater and wash blue slim jeans: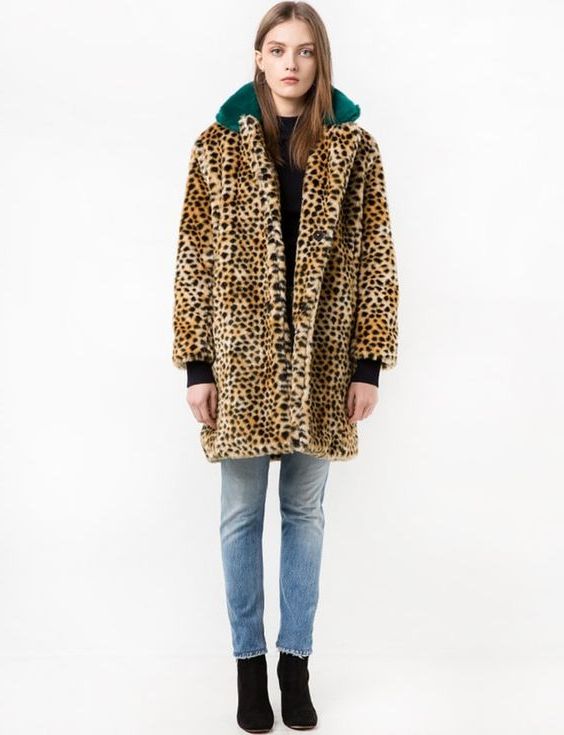 Buy Similar Here
I am so in love with this leopard print coat completed with a green fur collar: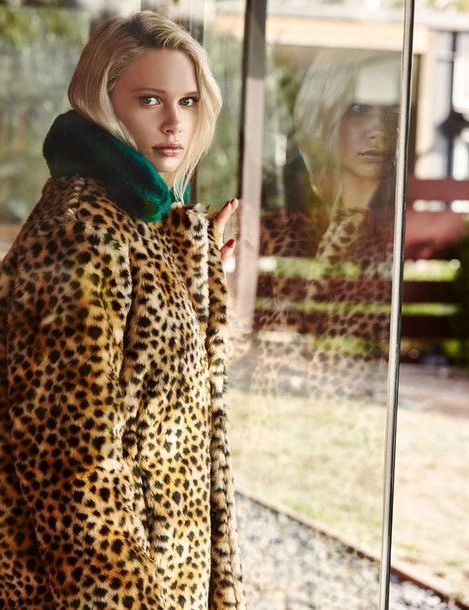 Buy Similar Here
Leopard print coat with black collar
In love with glamour style? Go wild by wearing this belted leopard-print coat completed with a black fur collar and fur cuffs and hem: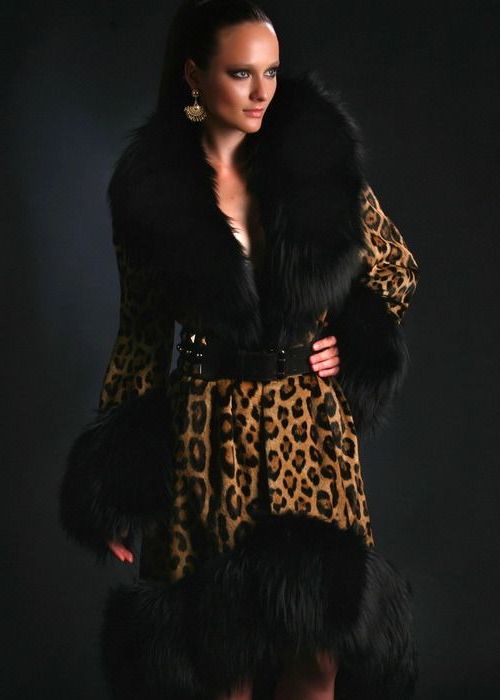 Buy Similar Here
Another printed outerwear piece with a black fur collar styled with a black silk slipdress. Update this look by adding drop earrings: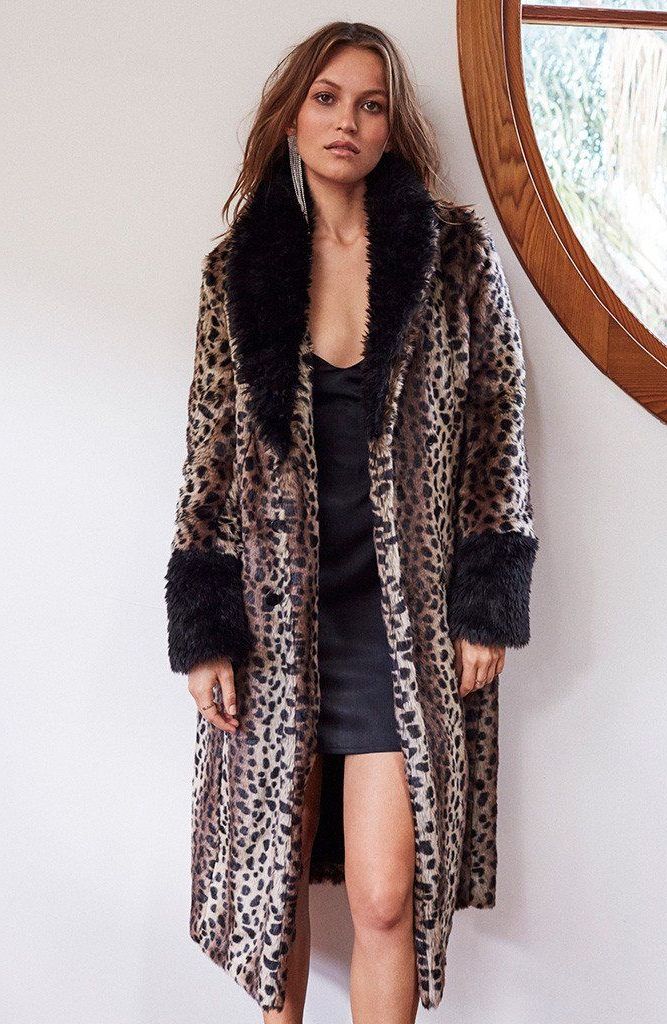 Buy Similar Here
Leopard print coat with blue fur collar
Make another cool statement on the streets by wearing a leopard print coat embellished with a blue fur collar. Add knee-ripped grey skinny jeans and pastel violet slip-on shoes to complete this outfit: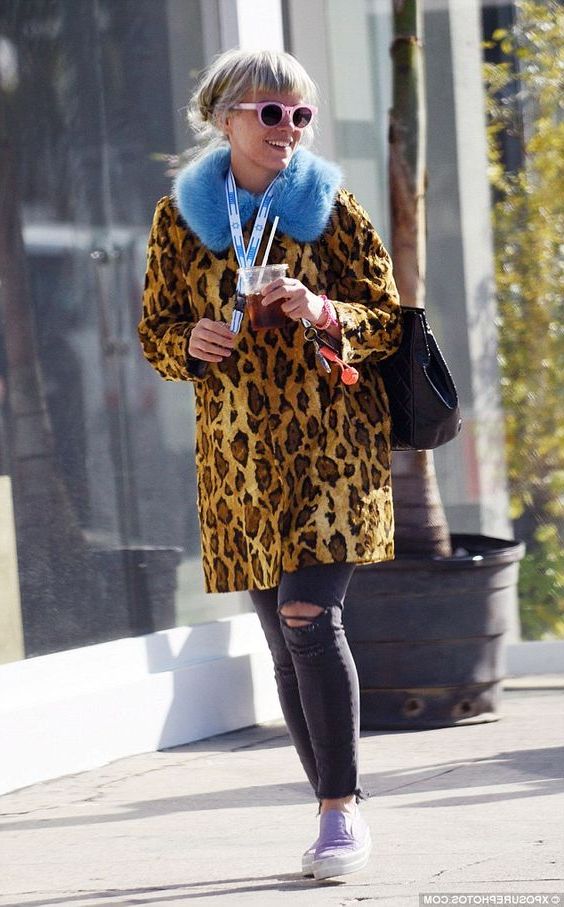 Buy Similar Here
Camo-leopard print fur coat with a dark blue collar looks so 1990 inspired to me: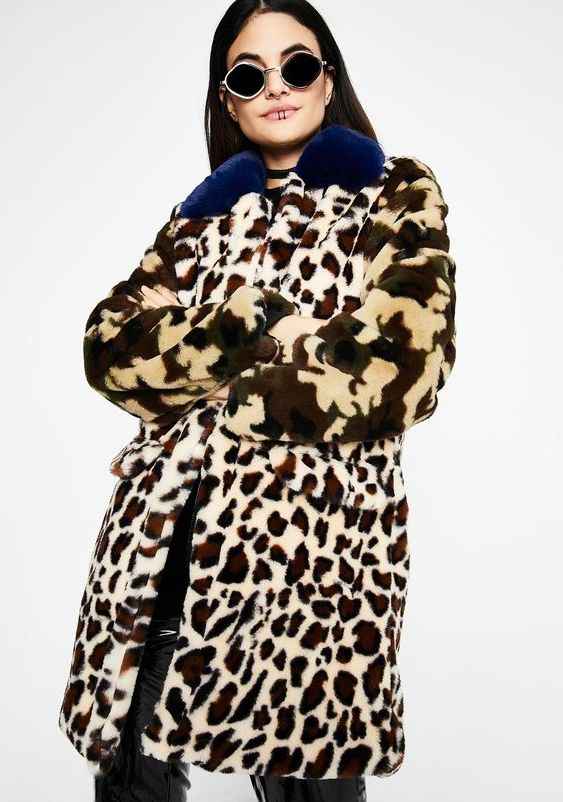 Buy Similar Here
Leopard print coat with jeans
So in love with this basic combination. We see a leopard print coat styled with a white shirt tucked in wash blue skinny jeans. Complete this look by adding aviator sunglasses and white kicks: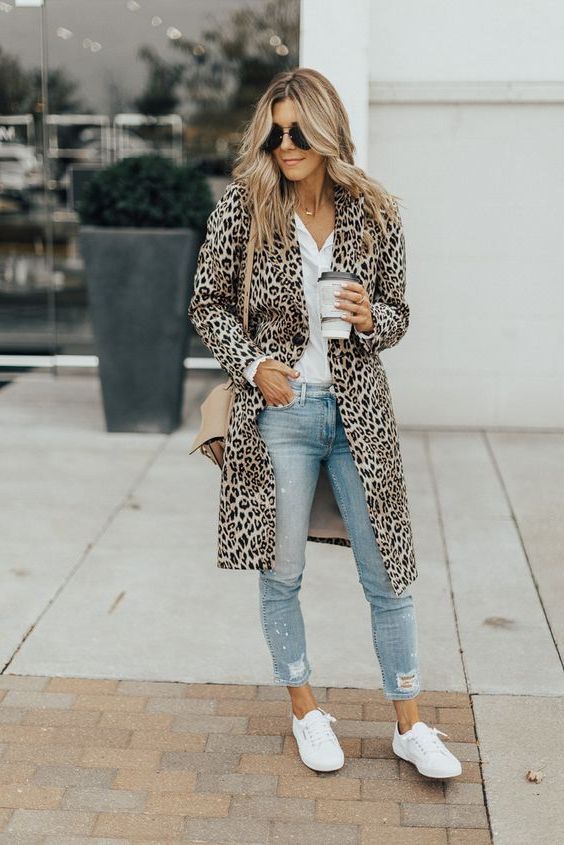 Buy Similar Here
An oversized fur leopard print coat is updated with ripped blue regular jeans and white high-top sneakers. Complete this look by adding rounded sunglasses: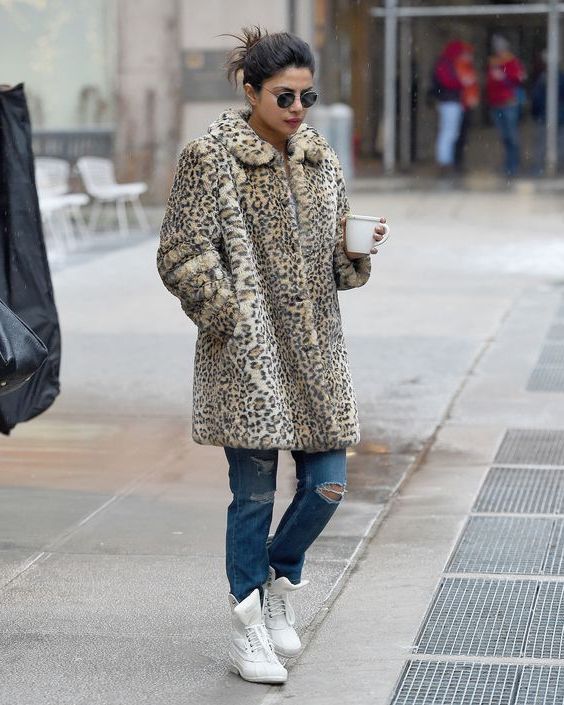 Buy Similar Here
Best leopard print coat outfit ideas
I personally love creating sophisticated looks. That's why I recommend trying on a leopard print coat styled with a black deep neck lace-up bodysuit tucked in black coated skinny jeans with ripped knees completed with black suede booties, rounded sunglasses, and pom-pom knitted beanie in black: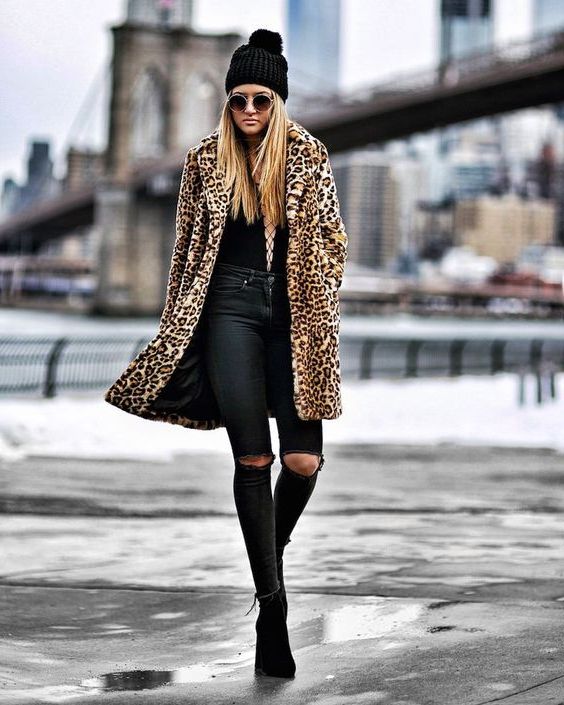 Buy Similar Here
In love with this sassy look consisting of a leopard print coat and red dress completed with black leather loafers: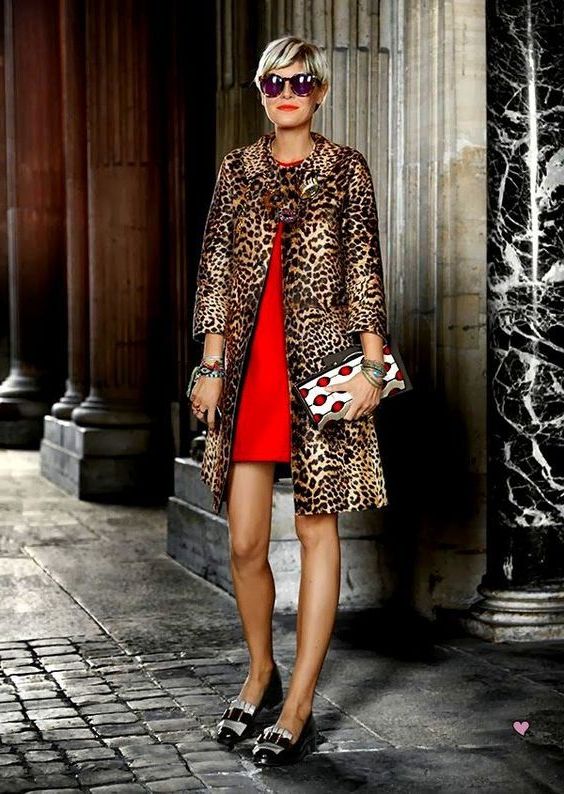 Buy Similar Here
Fur leopard print coat can be layered over tartan blazer styled with a white tee tucked in black wrap mini skirt completed with net tights. Love these red cat-eye sunglasses: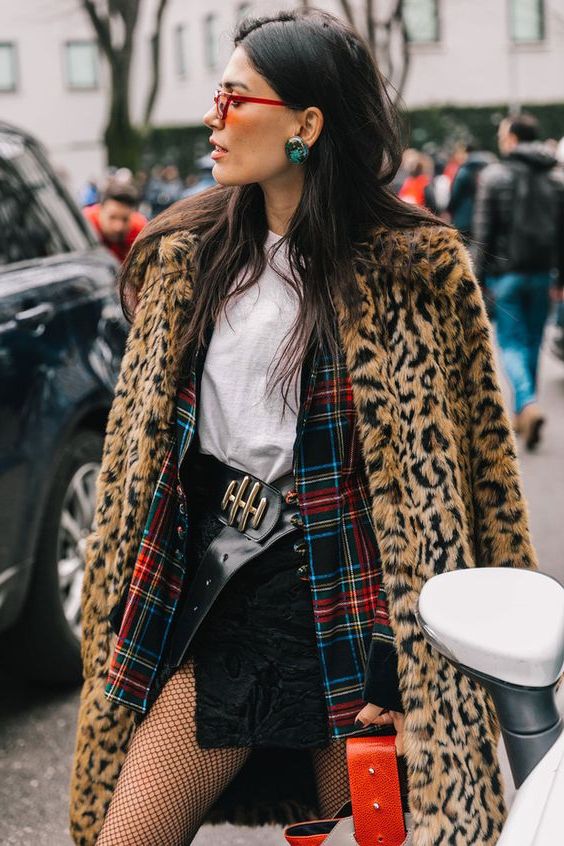 Buy Similar Here
Keep it cool and fresh! Go for a pink long scarf, leopard print fur coat, and blue denim overalls. Complete it with tortoise heart-shaped sunglasses and pink flat pumps: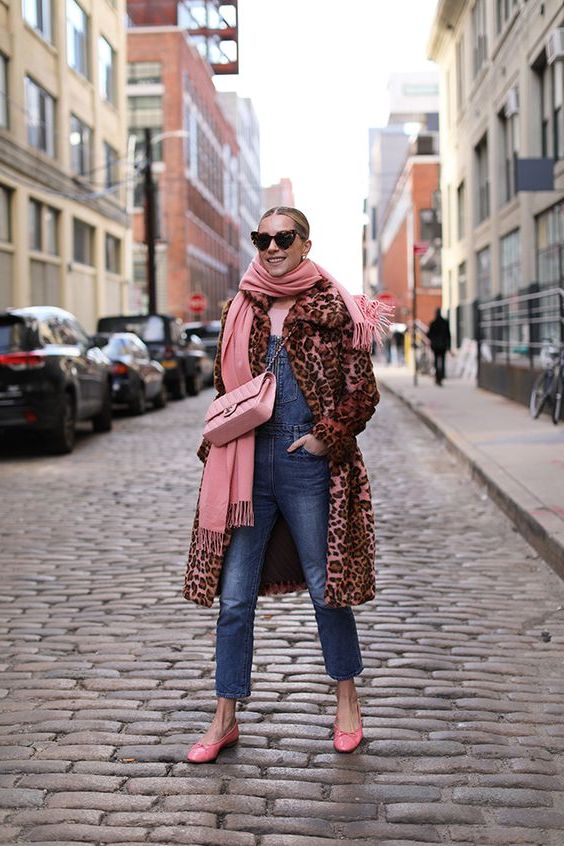 Buy Similar Here