Hello, my dear fashion addicted ladies! My next post is devoted to Autumn office combos that can make you look elegant, ladylike and sophisticated. Those of you who are career-focused should pay attention to your outfit, I mean you need a professionally polished look.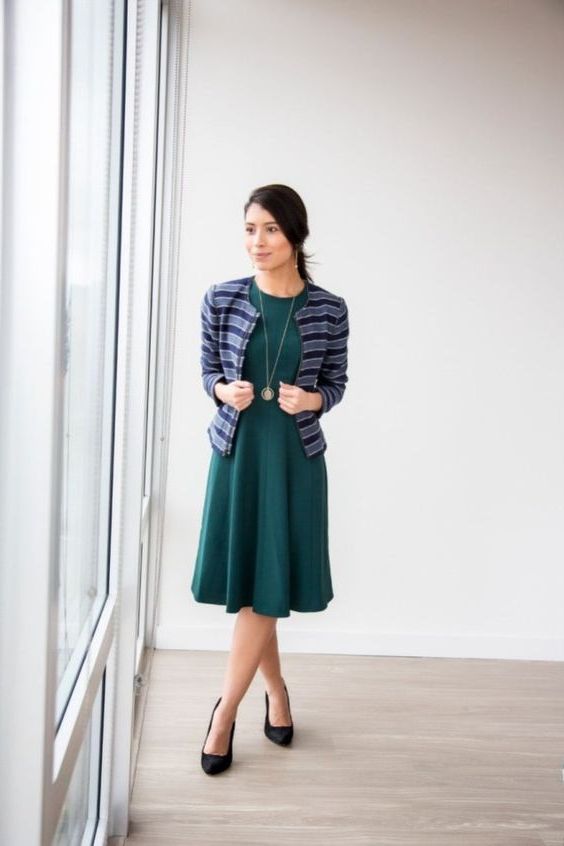 Buy Similar Here
If you dream of a ladylike office style, then you definitely should go for a dark turquoise dress that can be teamed with a striped collarless blazer and black heels.
Go for a perfect suit that will underline your femininity and professionalism. Anyway, I am here to share with you my favorite stylish and classy office combos that are here to stay.
Perfect knitwear is what you need for Autumn workdays. We see a black dotted white sweater paired with a dark blue wash skinny jeans updated with brown leather booties. Complete this combo by adding oversized sunglasses and brown leather tote bag: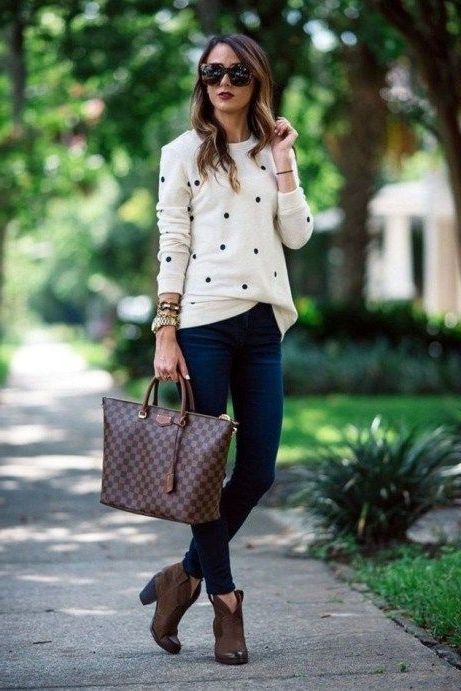 Buy Similar Here
I think every office dress code includes such basics like pants, blazers, and shirts. Believe me, there are lots of amazing designs that can underline your ladylike vibe, all you need is to keep things a bit creative and unique.
A brown knife-pleated midi skirt looks very special combined with a white top and short blue blazer. Update this professional look by adding leopard print sandals and brown leather handbag: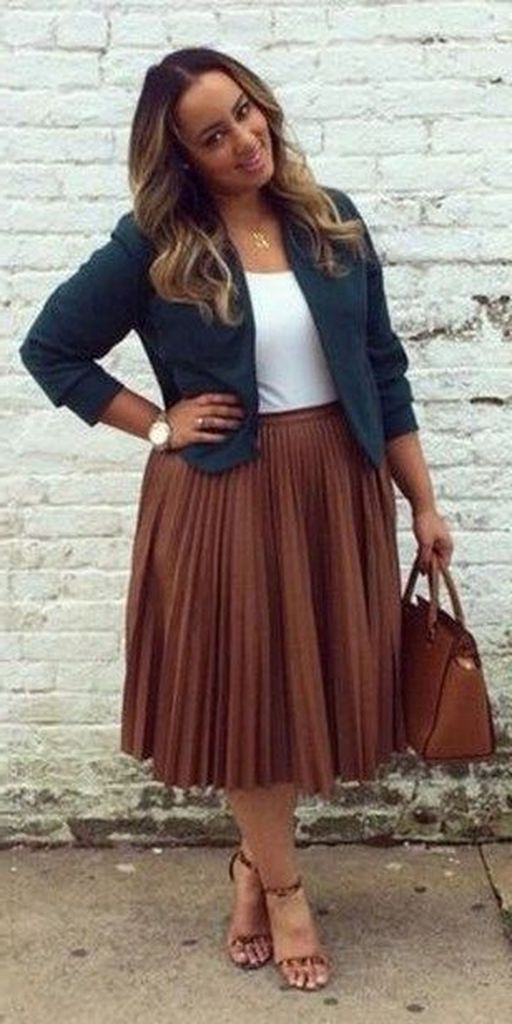 Buy Similar Here
Think of cardigans, skirts, fitted button-down shirts, sleeveless blouses, peplum tops and pretty accessories that will give an elegant and sophisticated look. Speaking of footwear, then I guess everyone has replaceable shoes, that's why I suggest you wear classy pumps, mid-heel pointed-toes, low heel lace-up heels, etc. When it comes to color palette, then you better stick to dark hues, including brown, navy, grey, purple, burgundy, white and black.
Fall Sweaters For Work
A striped cream-blue sweater looks sweet and ladylike styled with dark blue pants and skinny leopard print belt: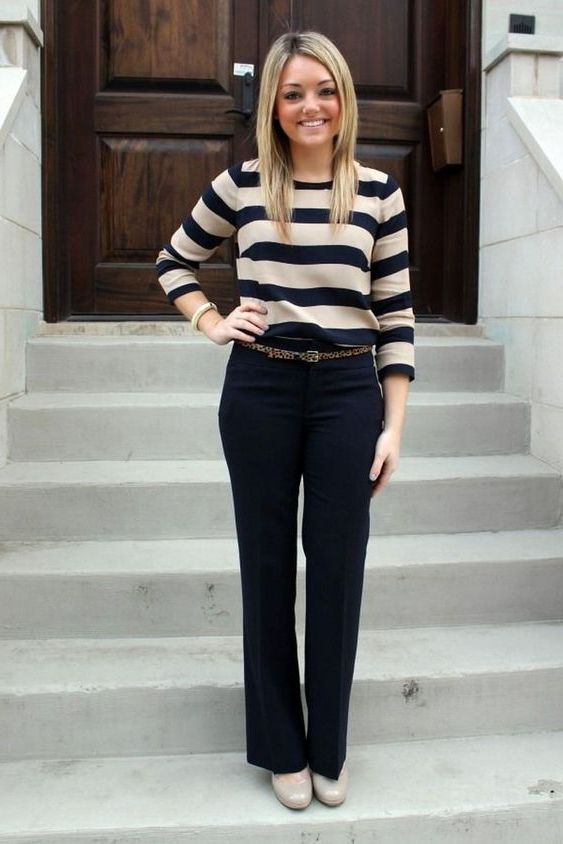 Buy Similar Here
If you are not into sweaters, then you can also go for a cool alternative called sweater dress, or knitted dress. Here we see a turtleneck design completed with a belt (an ideal piece to accentuate your waistline) and slouchy light brown suede boots: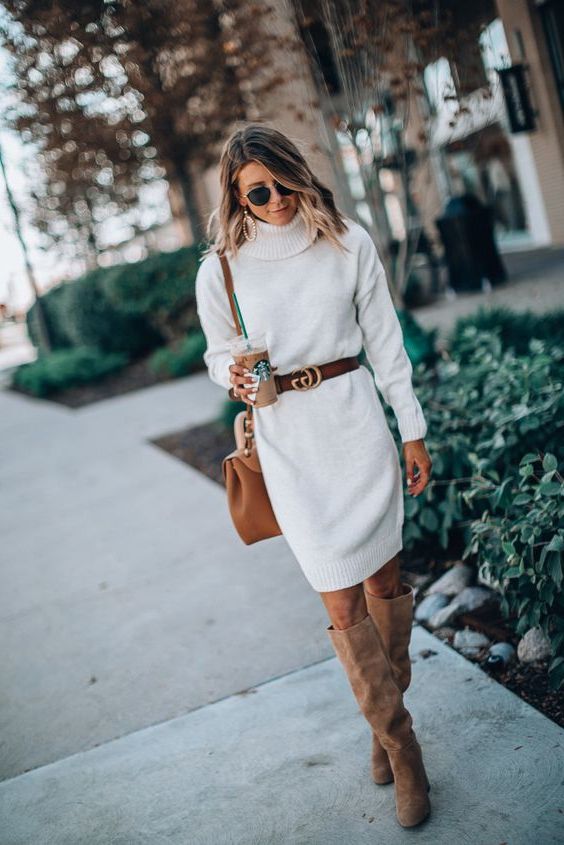 Buy Similar Here
If you want to feel free and relaxed, then I've got another special idea for you. We see a grey wrap cardigan layered over dark burgundy top tucked in plaid print pencil skirt completed with cream-grey suede heeled pumps: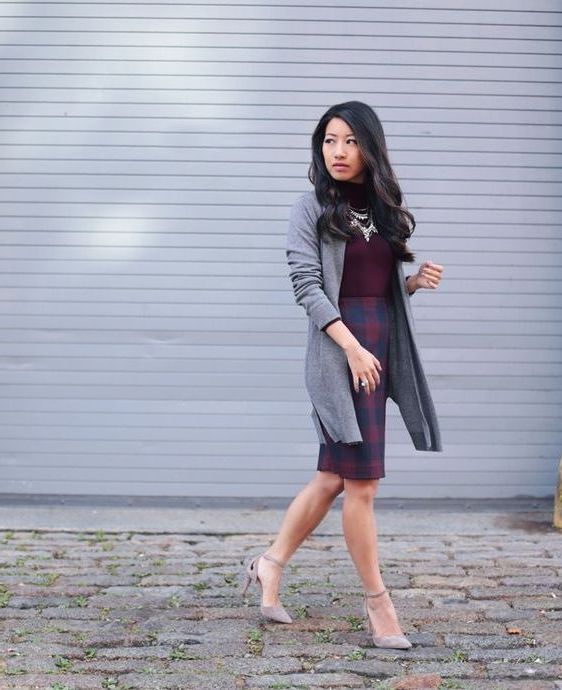 Buy Similar Here
Fall Office Blazers
Keep it simple, and go for a navy suit! We see a dark blue blazer paired with matching color pants. Update this combo with a white tee and stylish Adidas sneakers in white, the black leather backpack is my favorite:

Buy Similar Here
Camel blazer will be an ideal outerwear piece which can be layered over monochrome essentials, like a black top and white pants.Update this look by adding leopard print slides and brown leather bag: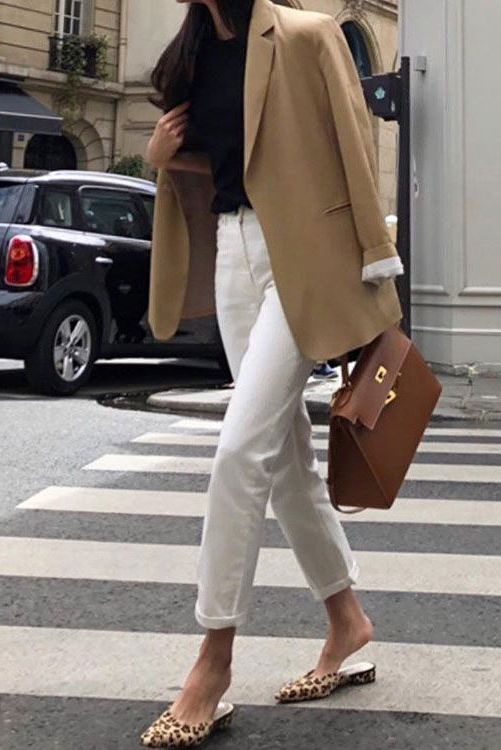 Buy Similar Here
White blazer plus black pants equal leopard print pumps and striped top: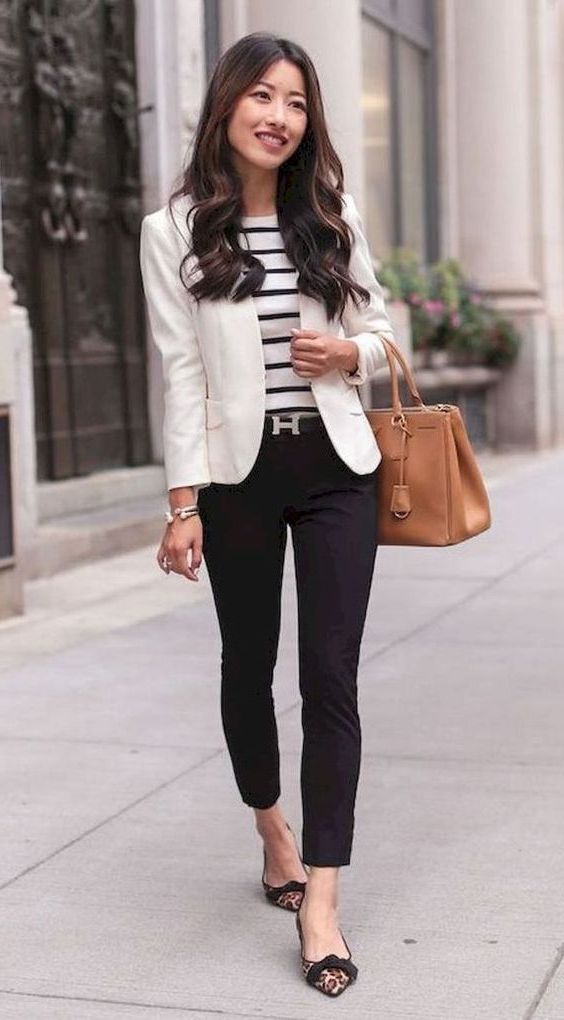 Buy Similar Here
A velour brown blazer looks sassy and special, combine it with retro sunglasses, white top, and black-white plaid mini skirt: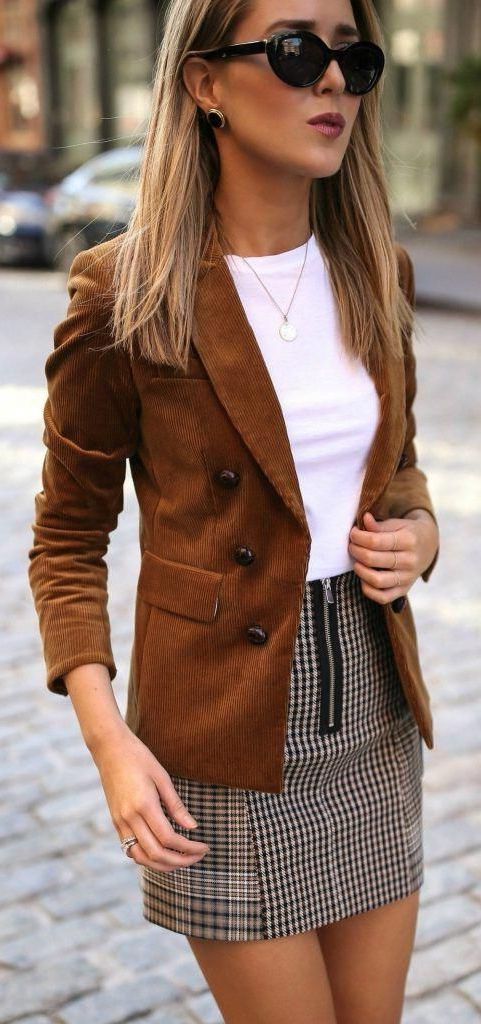 Buy Similar Here
Fall Office Skirts
A flared green skirt can easily make you stand out from the crowd, just add a vertically striped white-blue shirt and nude heeled pumps: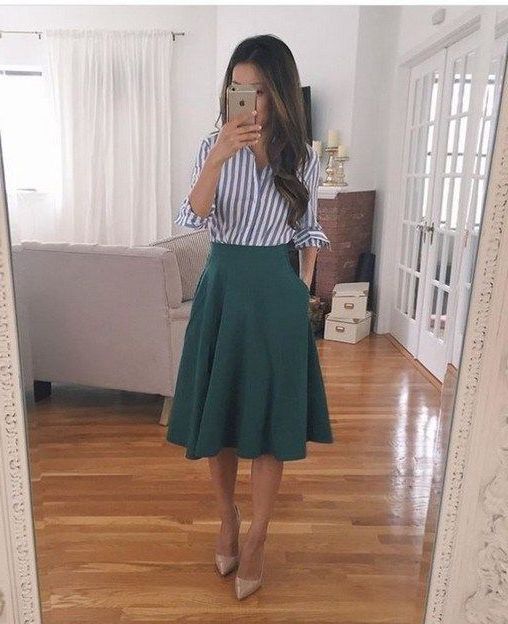 Buy Similar Here
A cream-beige coat in wrap style is layered over white turtleneck tucked in dark green knife-pleated midi skirt: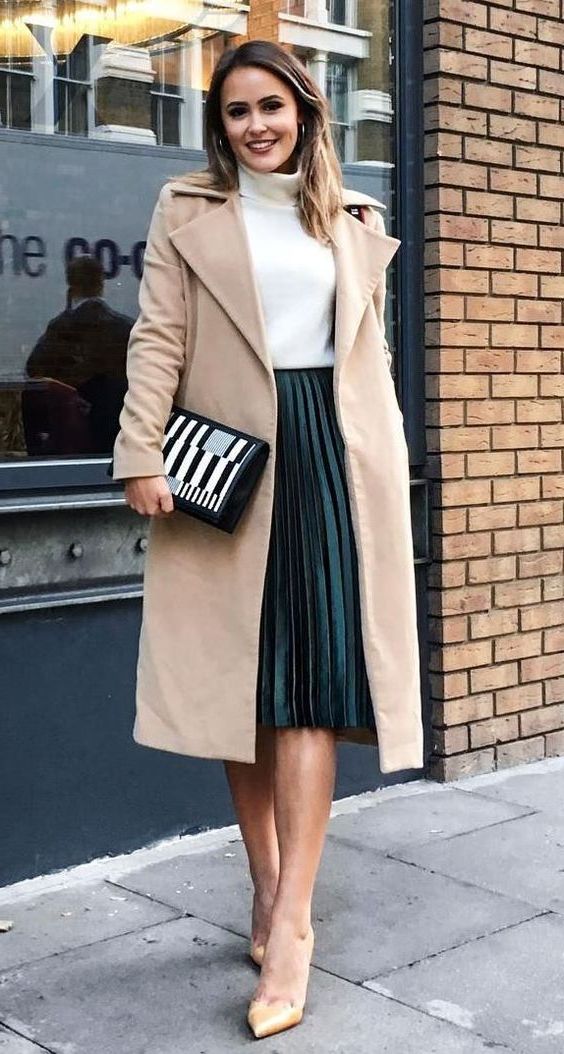 Buy Similar Here
Here we see a super flowy look. We see a beige blouse teamed with white flared midi skirt: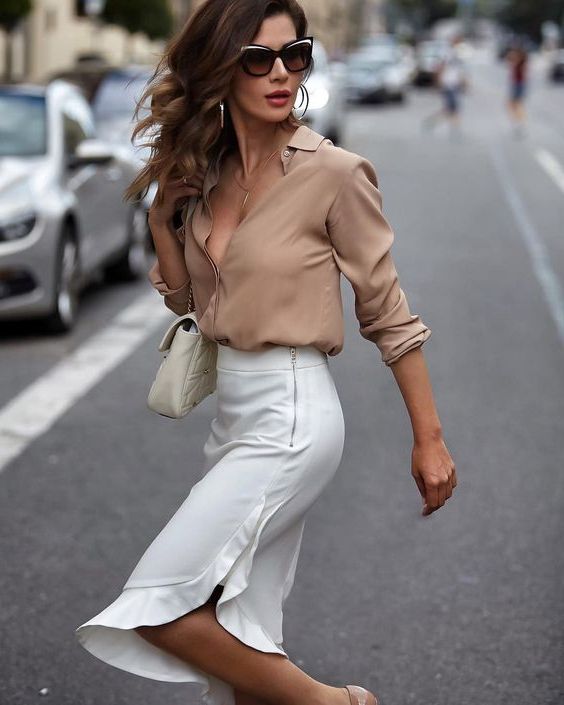 Buy Similar Here
A green sweater and grey midi pencil skirt work pretty handy together. Add a pair of dark maroon suede pumps: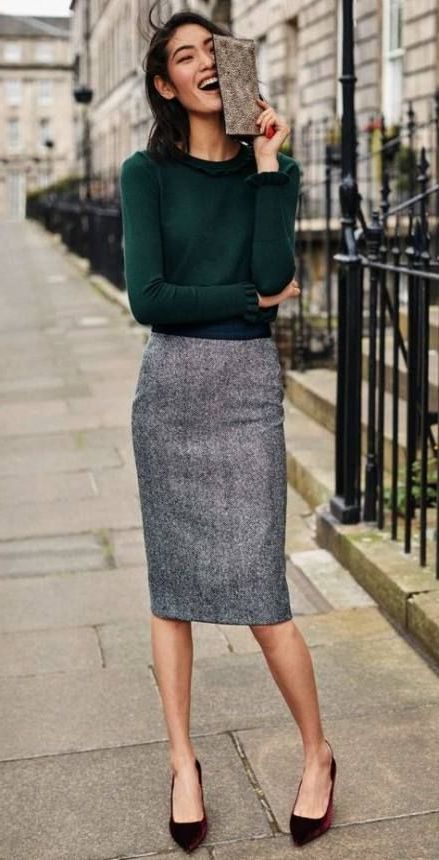 Buy Similar Here
Fall Dresses For Working Ladies
An ideal way to make a wow impression on the streets! Go for a double-breasted pencil dress with long sleeves. Update this combo by adding beige nude patent pumps: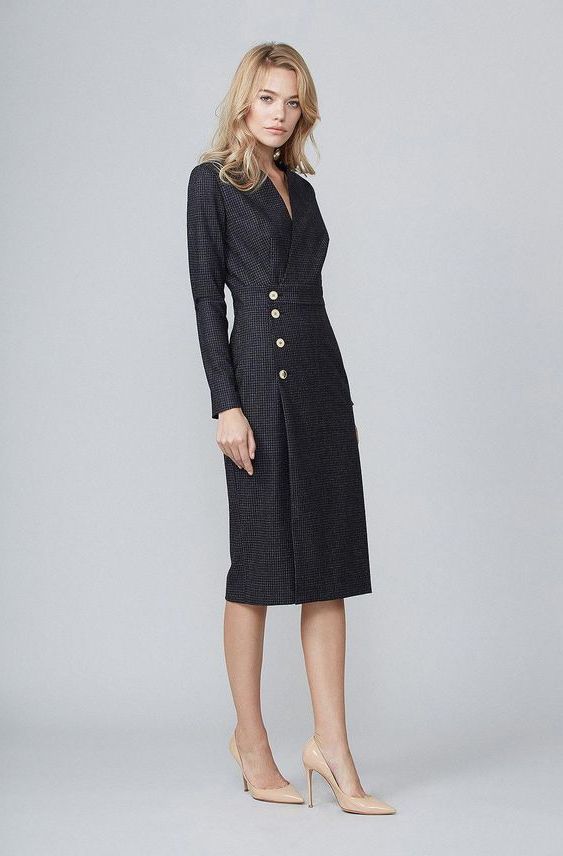 Buy Similar Here
Keep it fresh and sweet! Go for a white pencil cut dress and style it with light green pumps: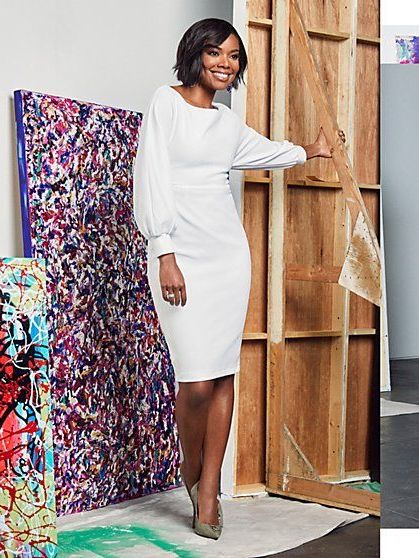 Buy Similar Here
A tank dress in grey knit is layered over the same color T-shirt looks just fine! Love the way she finished her look by adding a black leather skinny belt. Pair it with black pumps and camel coat: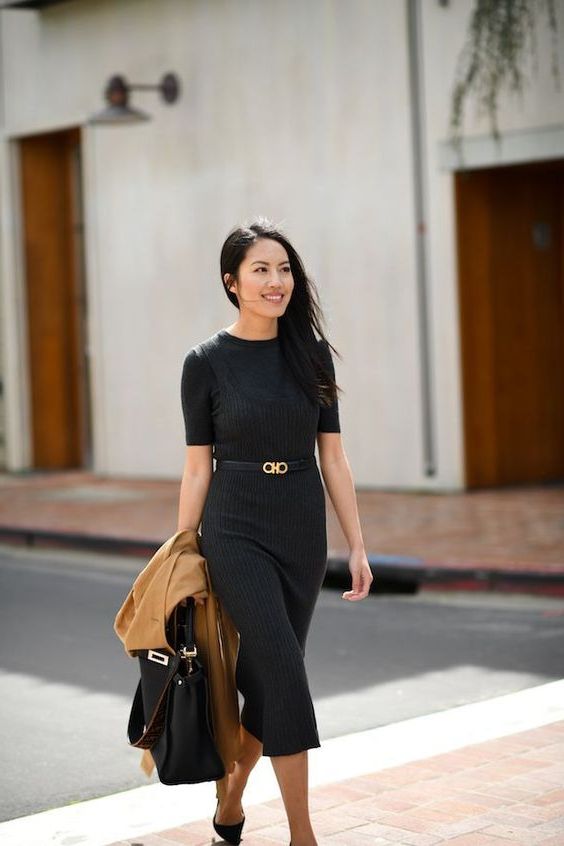 Buy Similar Here
Fall Coats For Work
If you are into outerwear, then here are pretty chic and wanted looks we decided to show you. We see a grey wool coat styled with a black top tucked in skinny jeans. Complete this combo by adding tortoise oversized sunglasses and black pumps: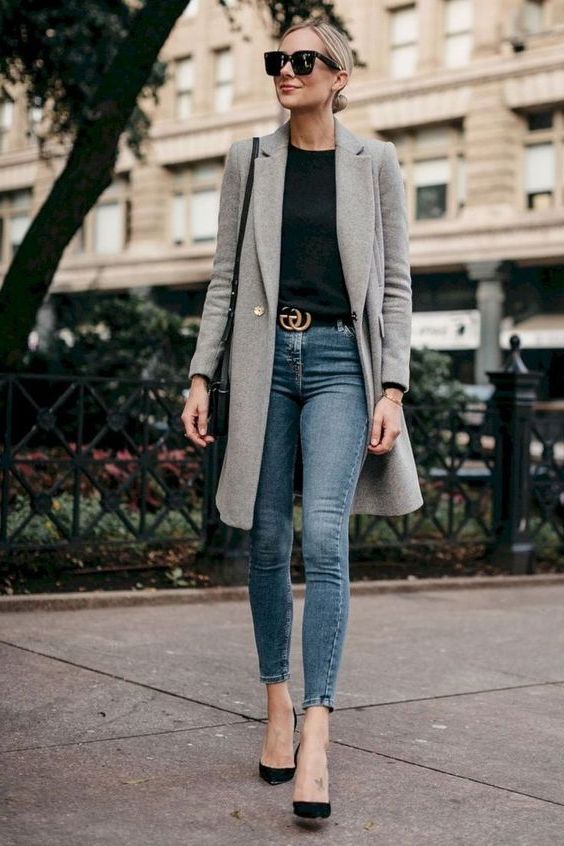 Buy Similar Here
Tailored camel coat will easily make you look chicer and sweeter. Go for a camel coat and style it with an all-black outfit. Update this look by adding a pair of heeled Chelsea boots: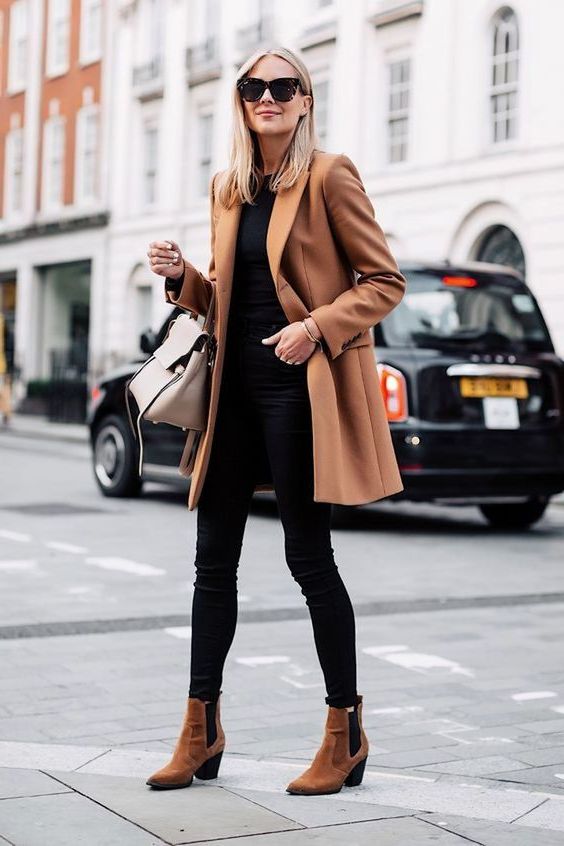 Buy Similar Here
Here we see a light grey wool coat draped over black turtleneck tucked in mid-rise skinny jeans in wash blue. Complete this look by adding rounded sunglasses and layered necklaces. Complete it with rounded sunglasses, and brown tote bag::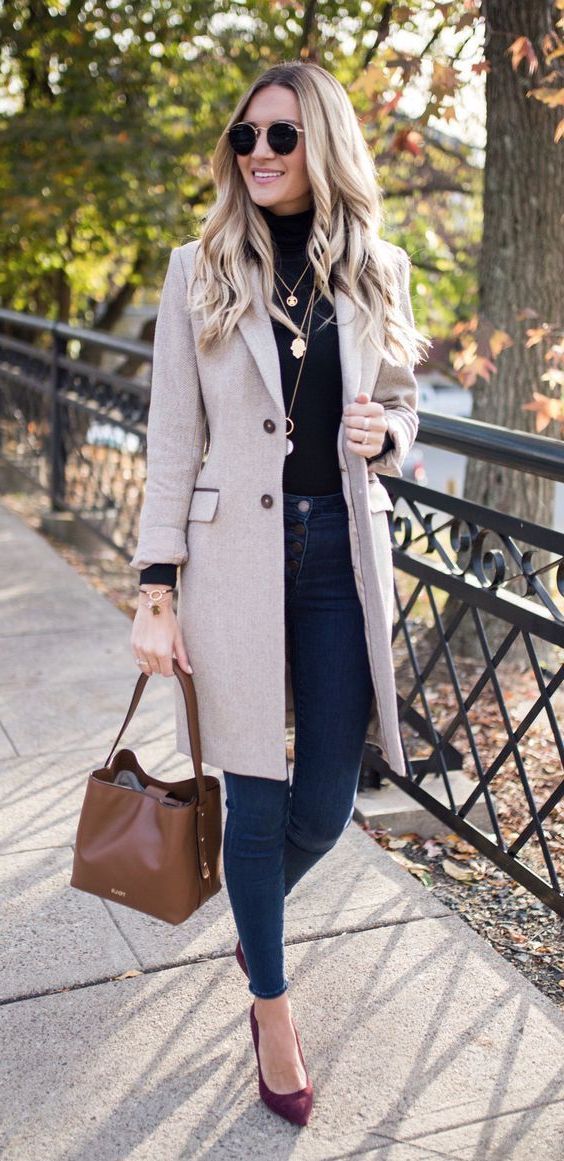 Buy Similar Here
Fall Jackets For Office Hours
A tweed blazer for women looks fresh and sweet. Try it on with a printed blazer. Some brands felt in love with the whole internet, that's why we are on our way showing off this system: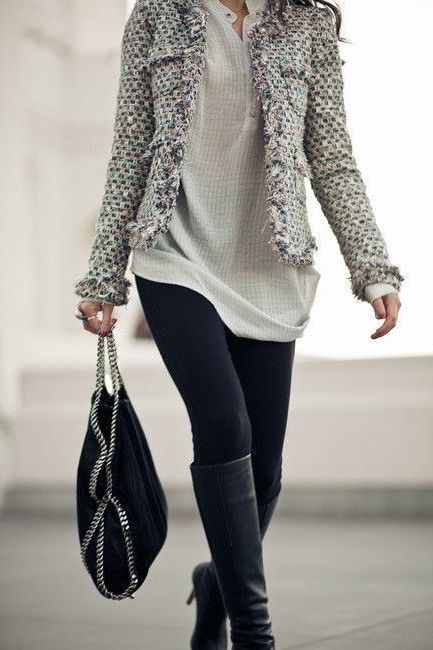 Buy Similar Here
A plaid varsity jacket can be layered over a white shirt tucked in black pencil skirt updated with cool shades and black heeled pumps: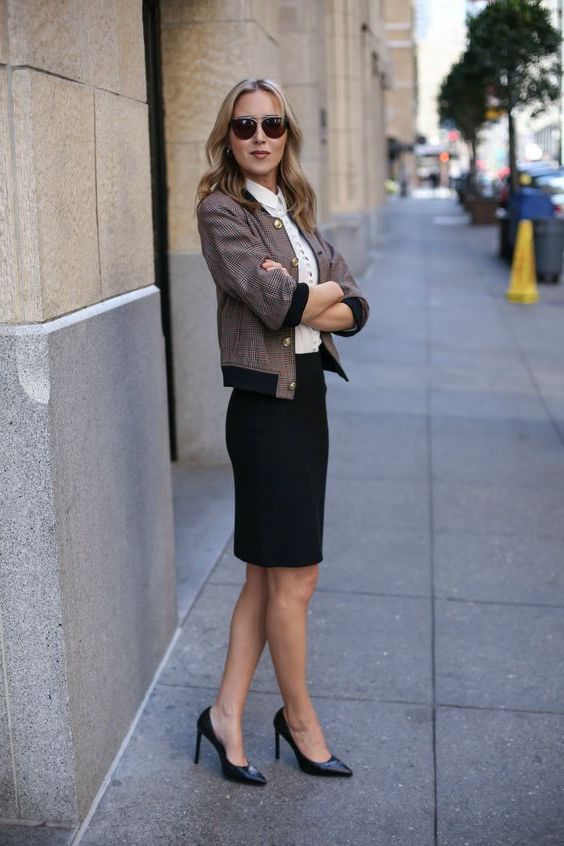 Buy Similar Here
A black jacket in classic fit looks simple and pretty universal. Complete it with leaves print turquoise top completed with eye-sunglasses and pearl neckpiece: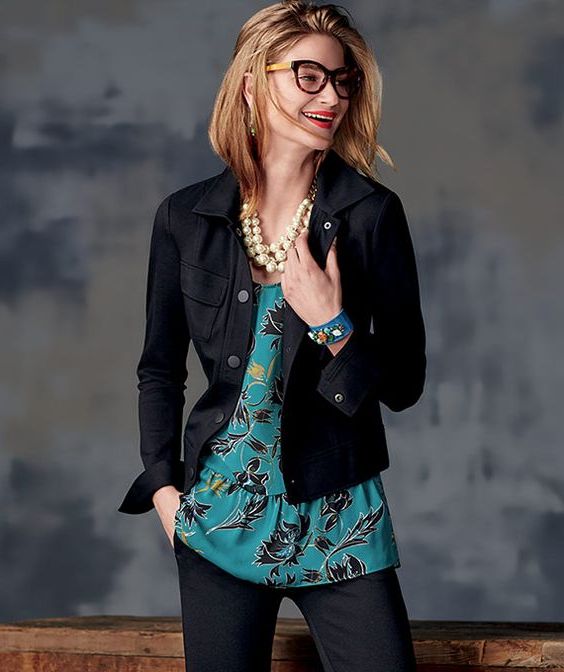 Buy Similar Here
Fall Pants For Work
Update your boring work pants with something special, go for a printed pair of pants and start adding some new features for your work. We see a black sweater teamed with black-white grid printed pants completed with black pumps: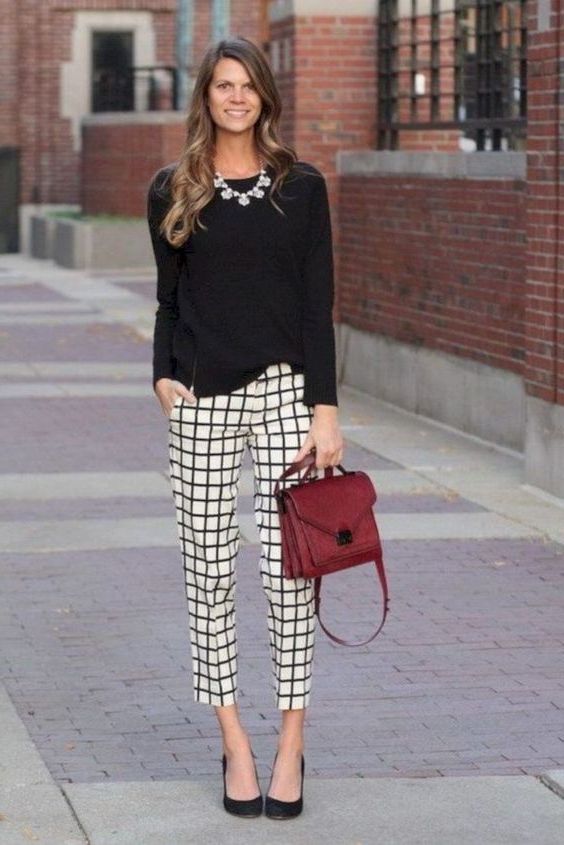 Buy Similar Here
A black suit jacket still works for office hours. Go for a black satin blazer,  and team it with a white shirt and light grey check printed pants: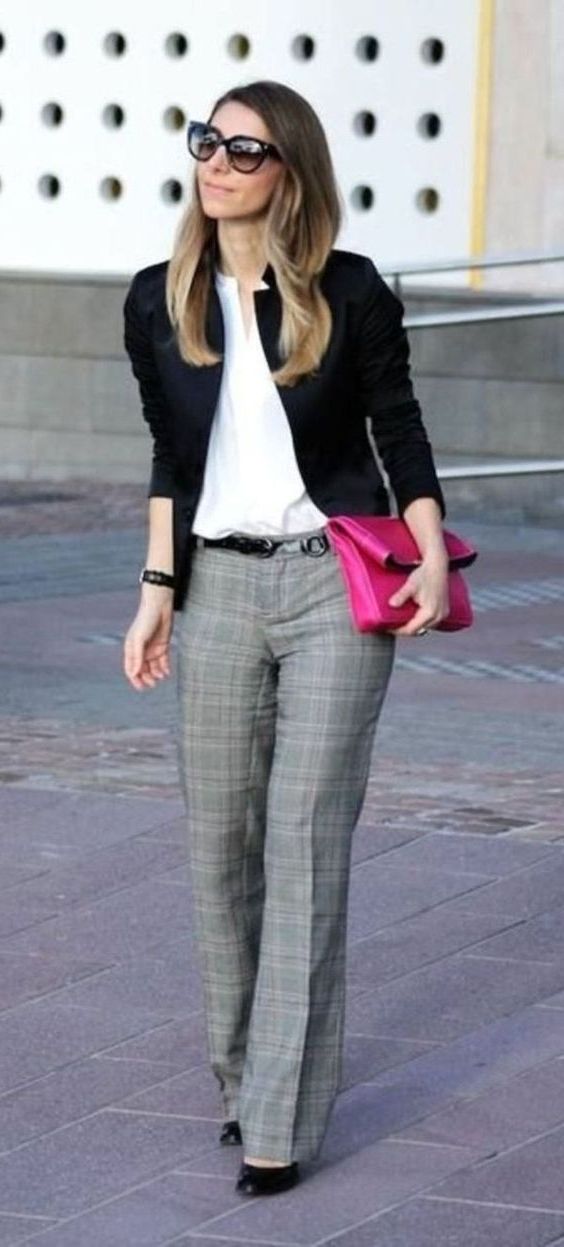 Buy Similar Here
All in the same color. We see a dark maroon sweater tucked in dark maroon pants and blush heels: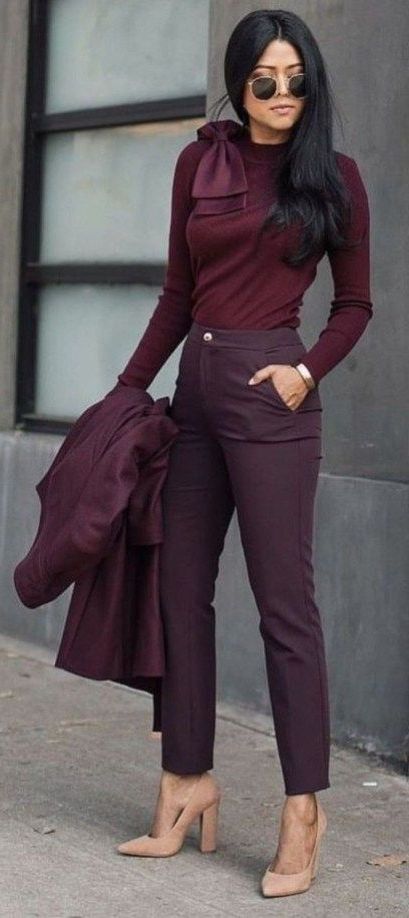 Buy Similar Here
Shoes For Work During Fall
Every woman has her own individual style, but I am here to talk about your personality. Go for leopard print heeled pumps styled with a cream-blush sweater updated with jacquard print pants: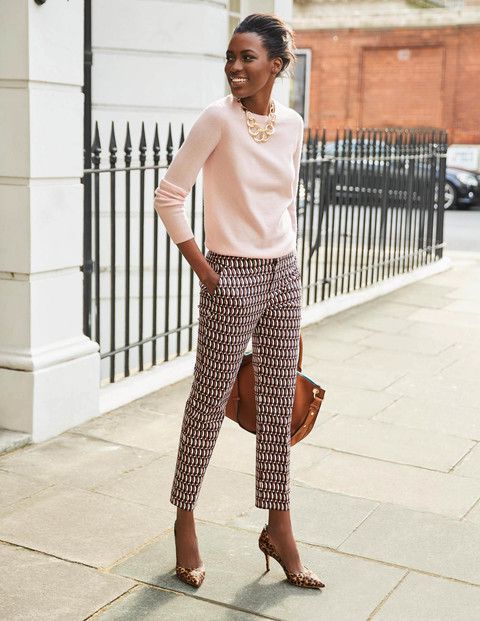 Buy Similar Here
Keep it fun! A yellow-mustard sweater ideally suits this navy blue lace pencil skirt and beige-grey pumps. Complete this combo by adding cool shades and chain neckpiece: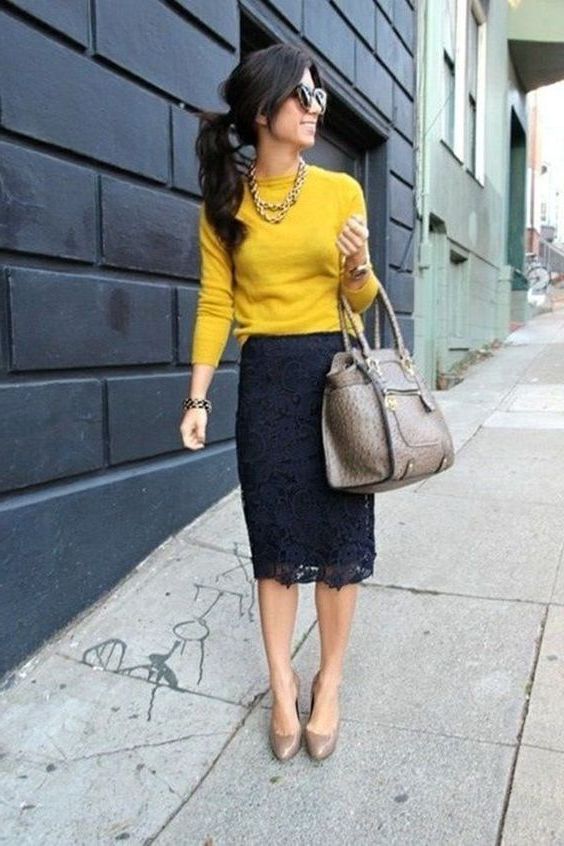 Buy Similar Here
Keep it fresh and Uber-sweet. Go for a dark blue sweater and team it with a blue midi flared skirt and black leather heeled sandals: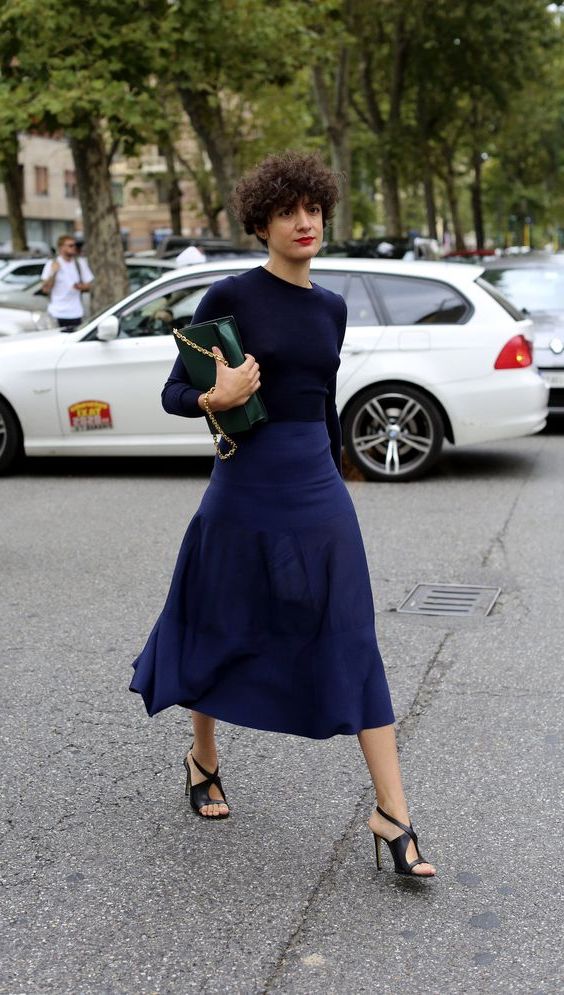 Buy Similar Here