It's time to talk about skirts. Today's article is dedicated to my favorite and elegant suede skirts. I am about to show you my favorite 24 looks completed with this garment.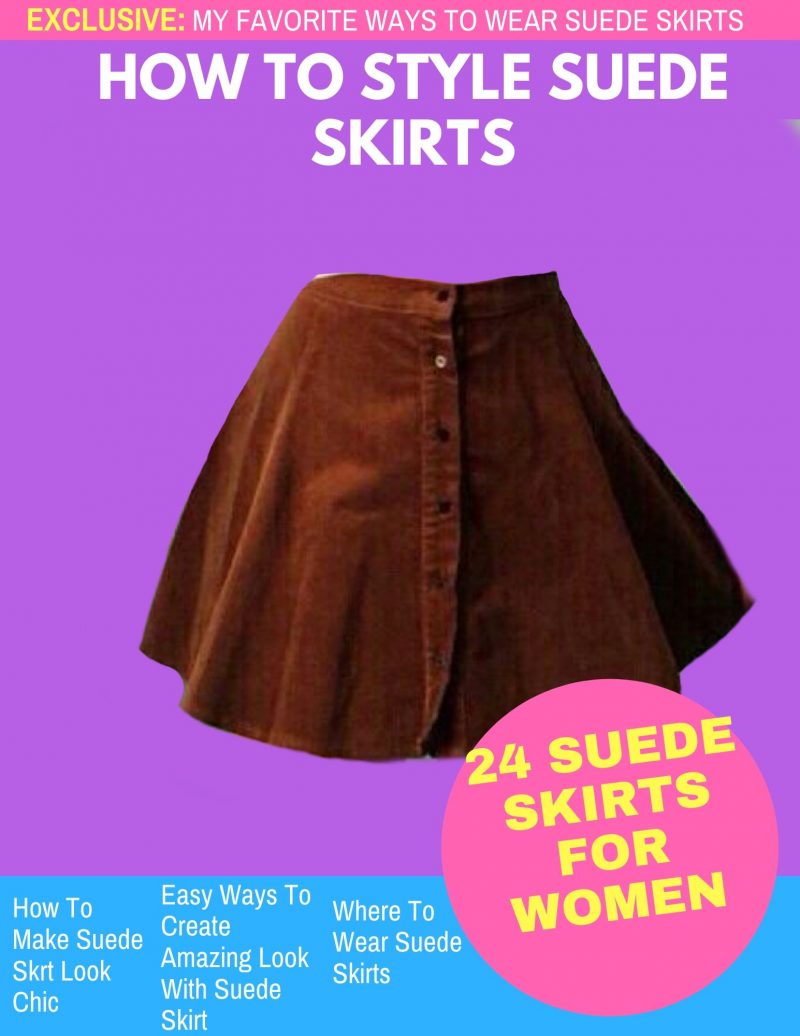 Buy Similar Here
We see a perfect look for summer office hours. A young lady is wearing a white shirt tucked in taupe pencil suede skirt completed with leopard print heeled pumps: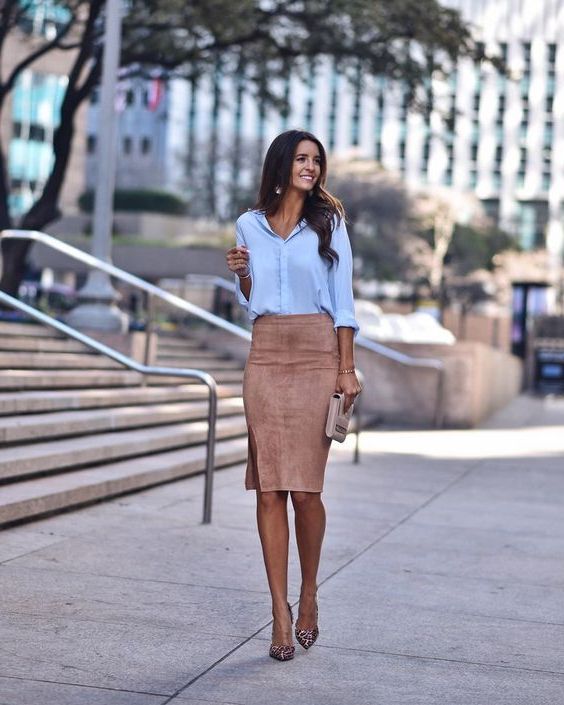 Buy Similar Here
Each one of these styles is unique, so you can easily try each one of them during February. I am 100% sure, these ideas can be easily implemented in your everyday wardrobe. Indeed, every OOTD is special.
This simple bottom piece can make you look feminine and elegant. I do think, it's one of those individual pieces that can drastically change any woman's outfit. Comfy button front skirts are easy to wear and you are free to create your own and unique looks, just make sure to choose the right color that matches your mood, style, and skin. Sure, the most common colors for suede skirts are brown and black, but you can experiment with yellow, red, blue, green, etc. Anyway, I've got some sassy and chic looks for you to try right now. Scroll down to see my favorite ideas with sweaters, coats, jackets, and tops.
Brown suede skirt
We see a classic brown suede mini skirt styled with a white sweater tucked inside. Complete this look by adding rounded sunglasses and black sock boots made of leather: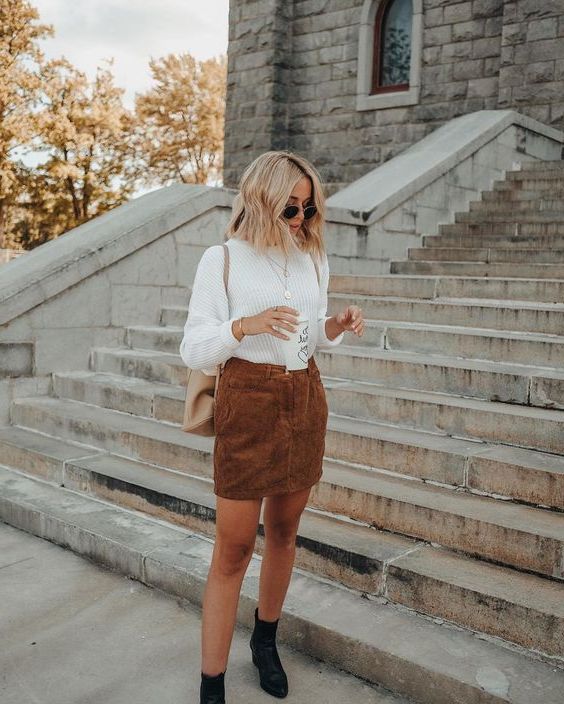 Buy Similar Here
Black suede skirt
A front buttoned black suede skirt is styled with a white shirt. Complete this day look with classic sunglasses, brown leather shoulder bag and classic watch: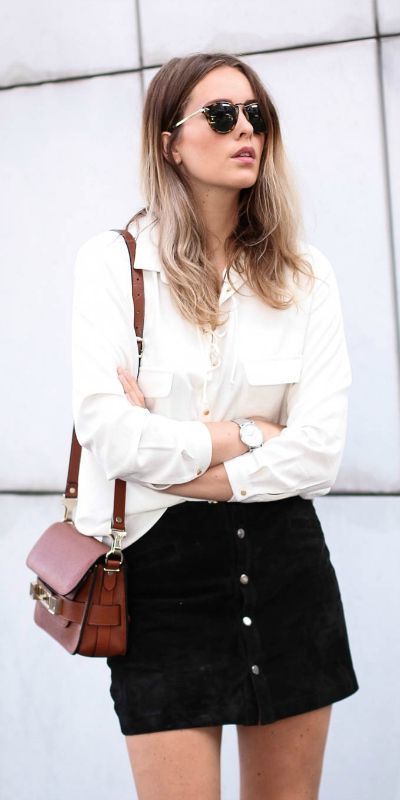 Buy Similar Here
Tan suede skirt
A black-white striped shirt can be tucked inside front-buttoned tan suede flared mini skirt. Update this style with Wayfarer sunglasses: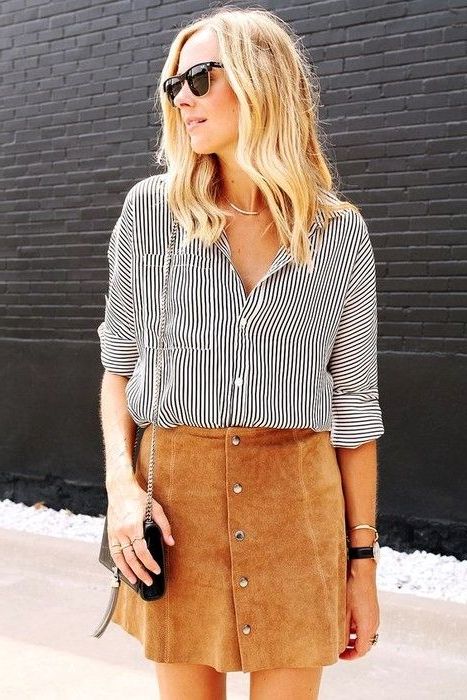 Buy Similar Here
Pink suede skirt
A front buttoned pink suede skirt looks sassy styled with off-shoulder white top. Complete this combo with chain strap black leather clutch and black suede otk boots: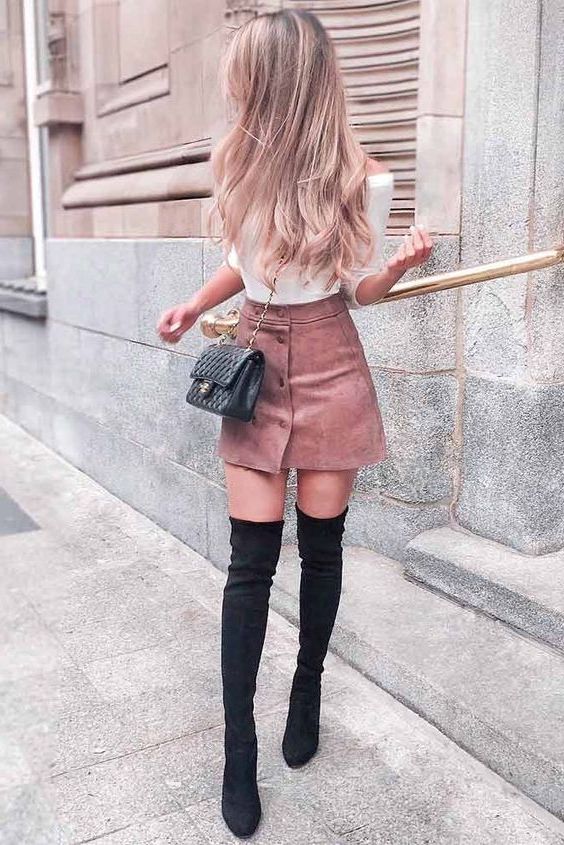 Buy Similar Here
Grey suede skirt
A pencil suede skirt in grey is teamed with a white slip tank top and heeled beige sandals: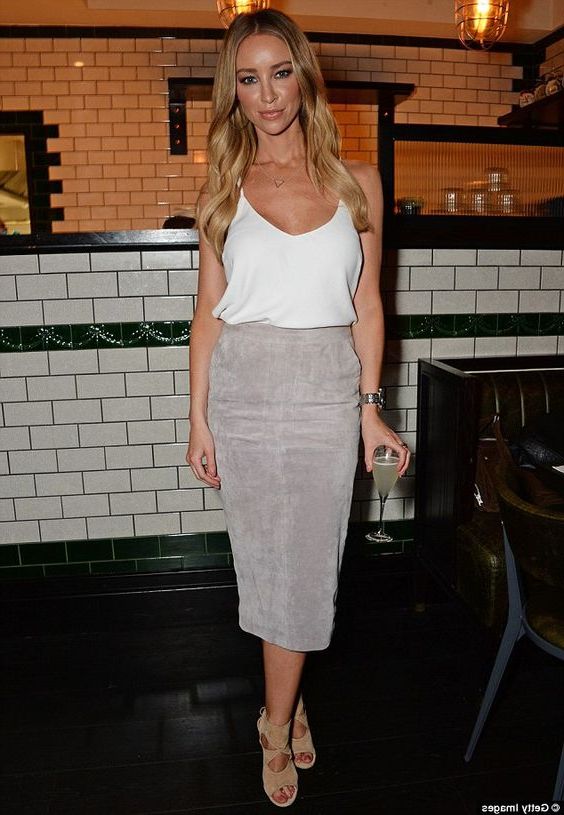 Buy Similar Here
Green suede skirt
A dark green front buttoned mini skirt in suede is styled with a cream grey oversized sweater and kitten heel pointed toe shoes:

Buy Similar Here
Red suede skirt
A dark red cherry front-buttoned suede skirt looks edgy styled with a black leather jacket and black leather booties: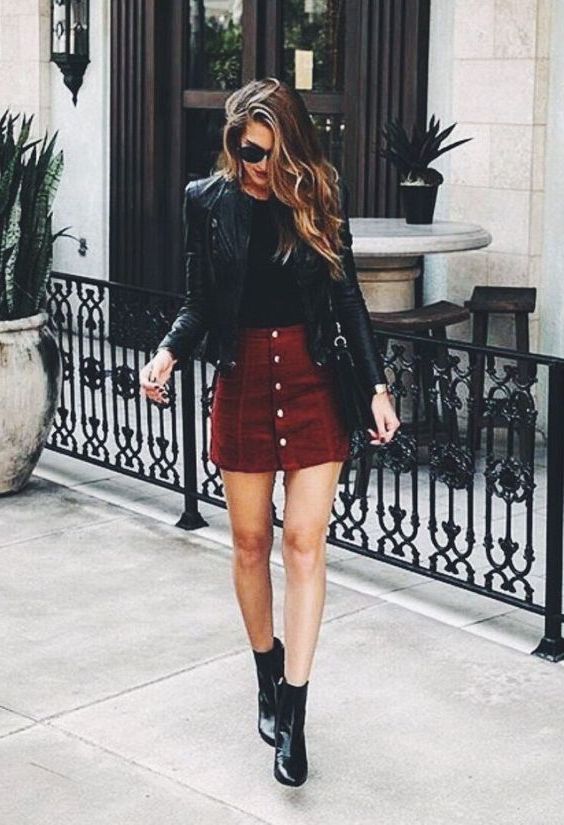 Buy Similar Here
Taupe suede skirt
A classy taupe suede skirt is paired with a black lace top and grey long cardigan, complete it with a leopard print clutch and black suede OTK boots: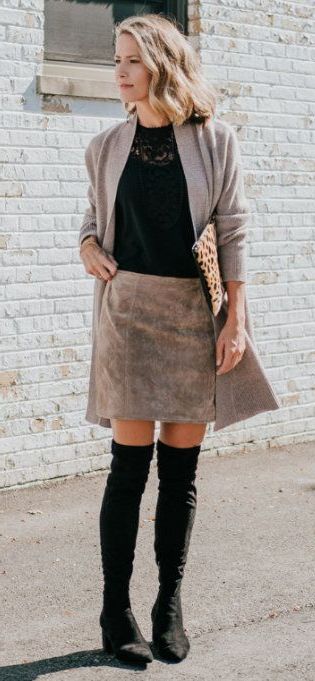 Buy Similar Here
Suede skirt with fringe
A black suede jacket with fringes is teamed with a black lace blouse tucked in a brown suede skirt with fringes: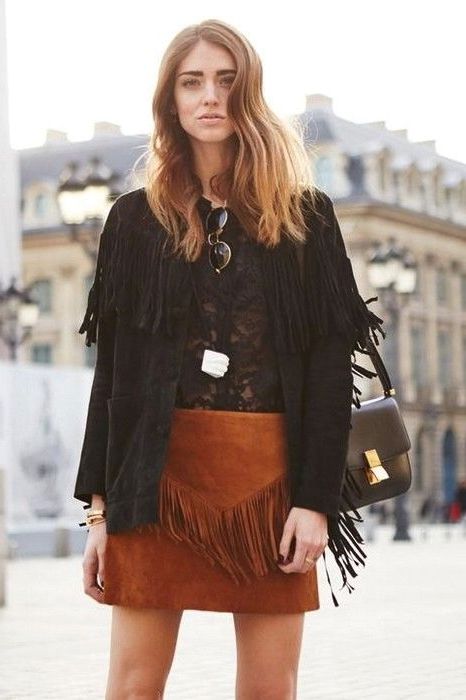 Buy Similar Here
Yellow suede skirt
A yellow suede skirt with patch pockets is worn with a cream white cable knit sweater, a perfect combo for Fall: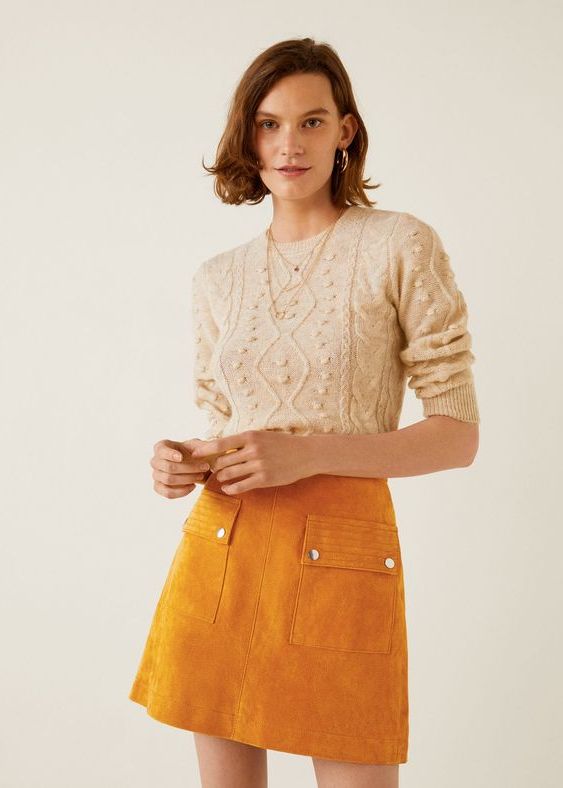 Buy Similar Here
Dark blue suede skirt
A front buttoned dark blue suede skirt looks cool teamed with a boat-neck mustard light sweater and leopard print pumps: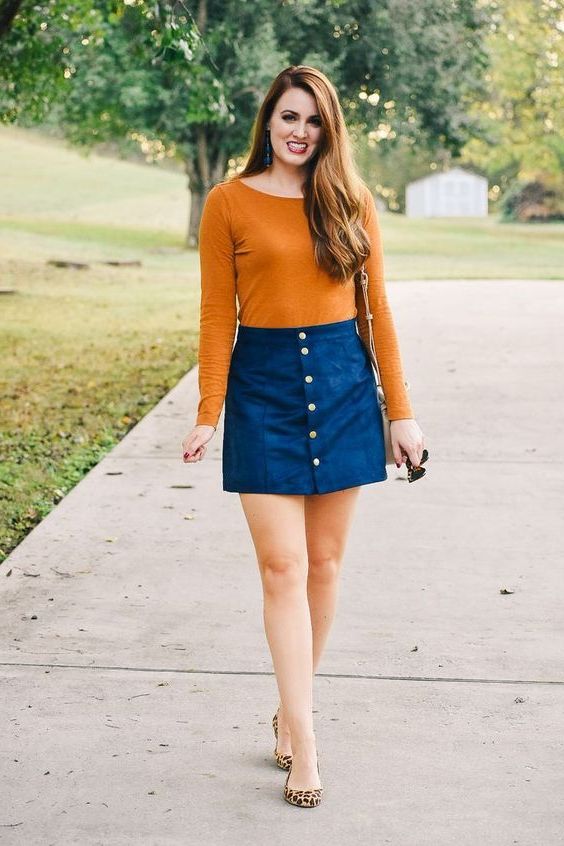 Buy Similar Here
Cognac suede skirt
A cognac suede skirt with front buttons is styled with a black off-shoulder top and studded black leather flat pumps: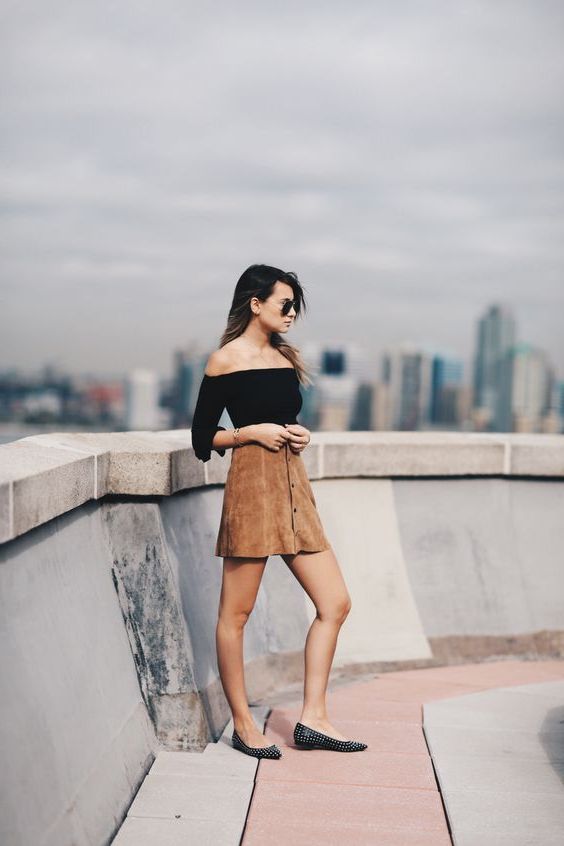 Buy Similar Here
Burgundy suede skirt
A turtleneck cream-white sweater looks pretty elegant with a burgundy suede skirt and grey OTK boots in suede: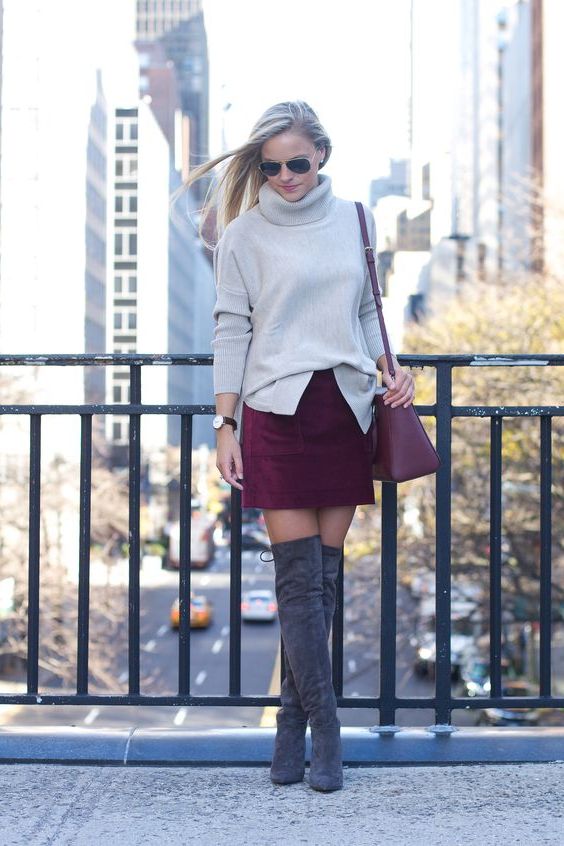 Buy Similar Here
Now it's time to see ways how to style suede skirt with trendy clothing. You are going to see simple and easy to copy ideas that can make you look individual.
Suede skirt and cardigan
A black cardigan ideally matches this black top and light brown suede skirt completed with black tights and lace-up booties: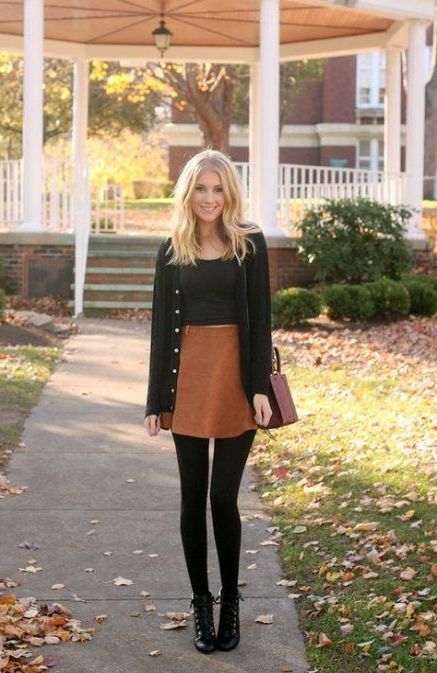 Buy Similar Here
Suede skirt and plaid shirt
A plaid print bow-tie blouse is tucked in a light brown suede skirt. Complete this combo by adding Wayfarer sunglasses and brown leather mary janes: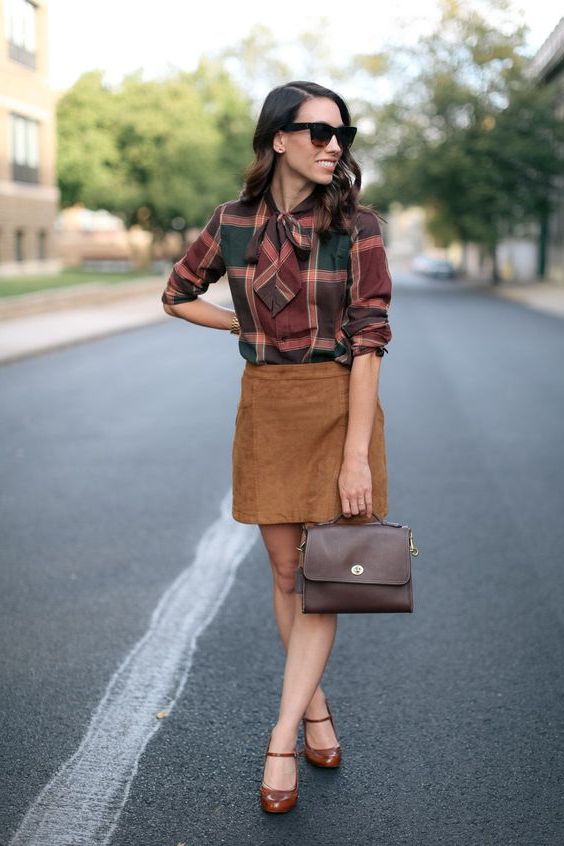 Buy Similar Here
Suede skirt and boots
The front buttoned brown suede skirt is teamed with a black turtleneck and knee-length suede boots in black: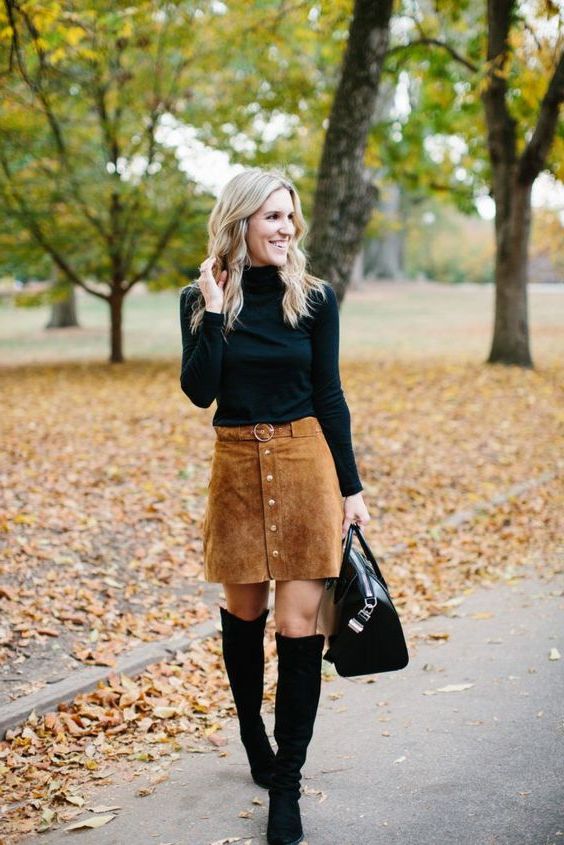 Buy Similar Here
Suede skirt and leather jacket
Here we see a brown suede zip skirt made of suede styled with a black leather jacket, white sweater and black tights completed with black patent Oxfords: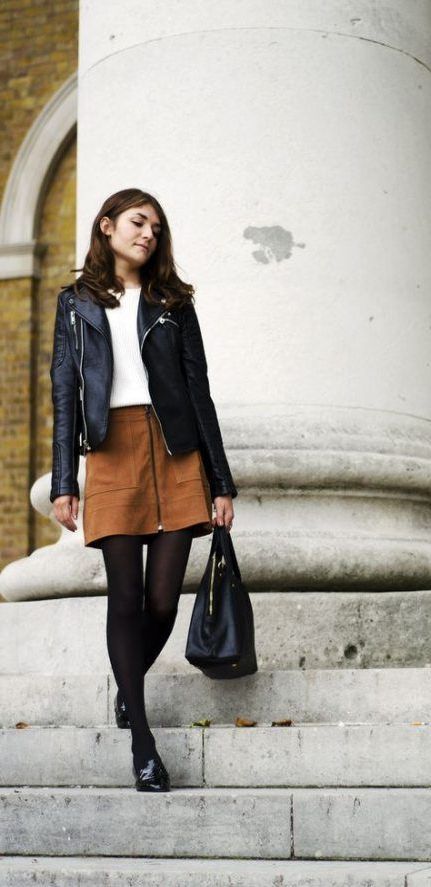 Buy Similar Here
Suede skirt and blazer
A plaid blazer ideally matches that khaki top and dark blue suede mini skirt: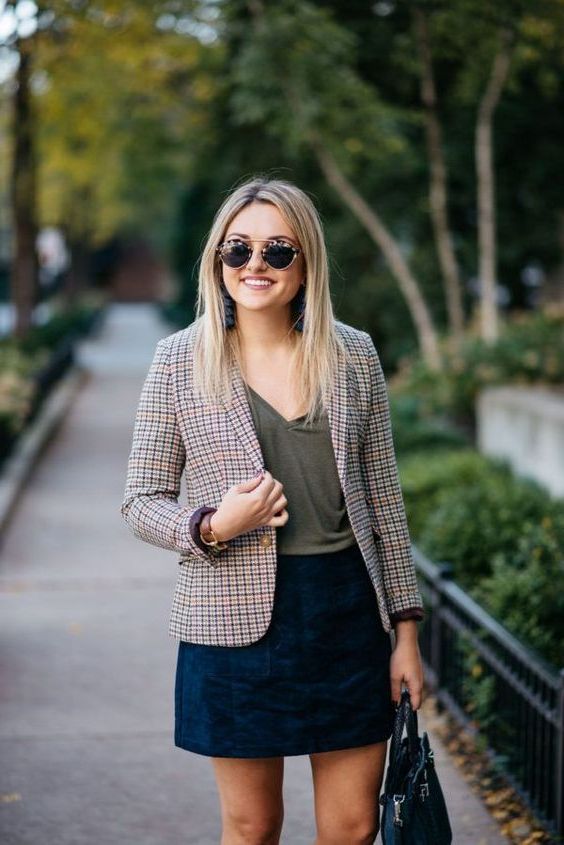 Buy Similar Here
Suede skirt and crop top
A sassy co-ord! Go for a spaghetti strap crop top in pink teamed with a high-waisted mini suede skirt in pink: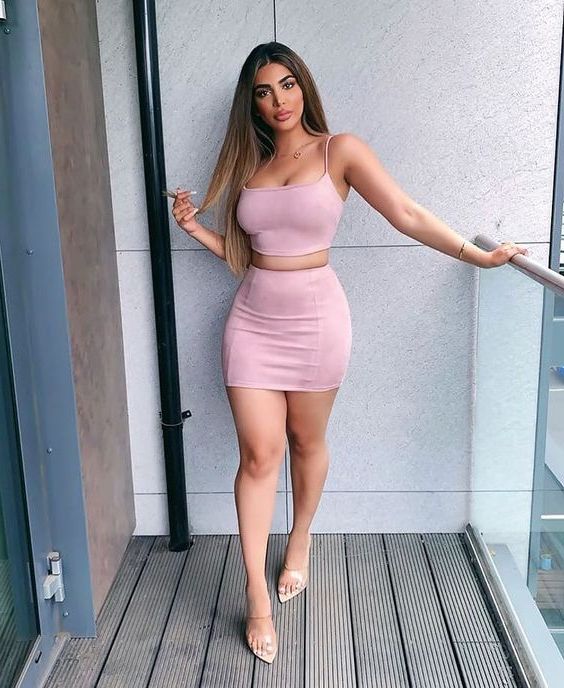 Buy Similar Here
Suede skirt and turtleneck
An ideal casual style. Go for a light brown fedora hat and style it with a black turtleneck, wrap camel skirt in suede and black otk suede boots: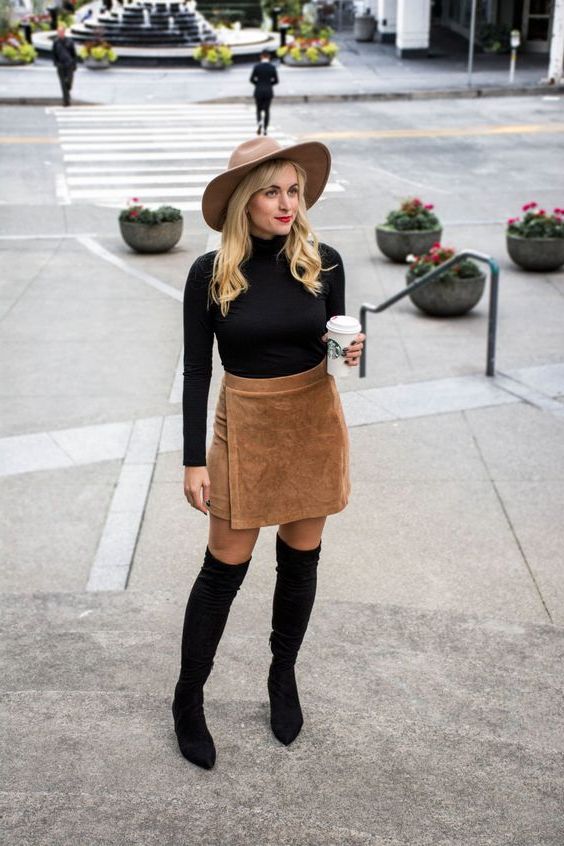 Buy Similar Here
Suede skirt with sweater
A wide sleeve sweater in white is styled with a khaki suede mini skirt and suede booties: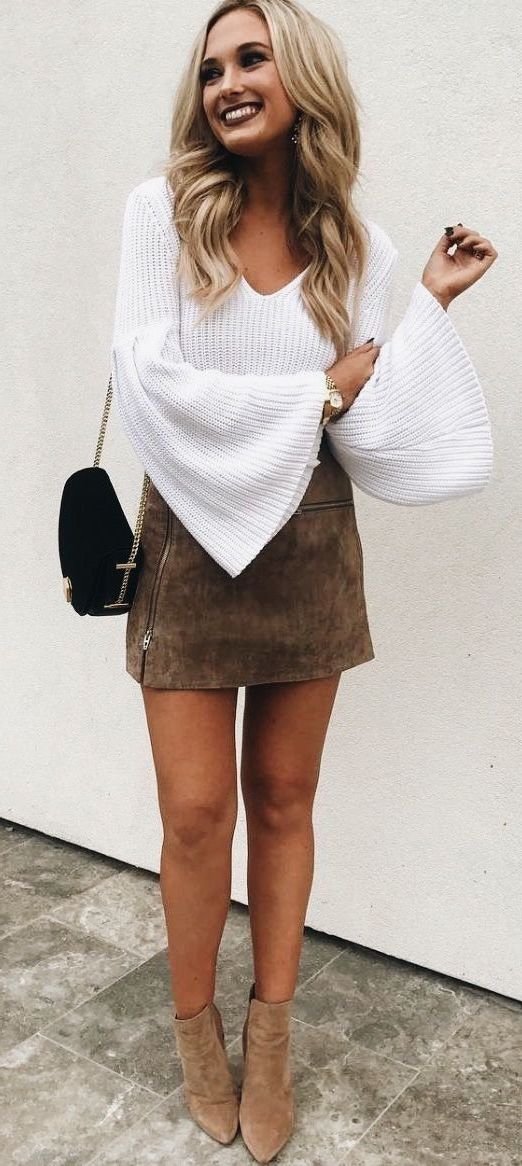 Buy Similar Here
Suede skirt with suede boots
A brown suede front buttoned skirt looks classy with a grey sweater and suede booties: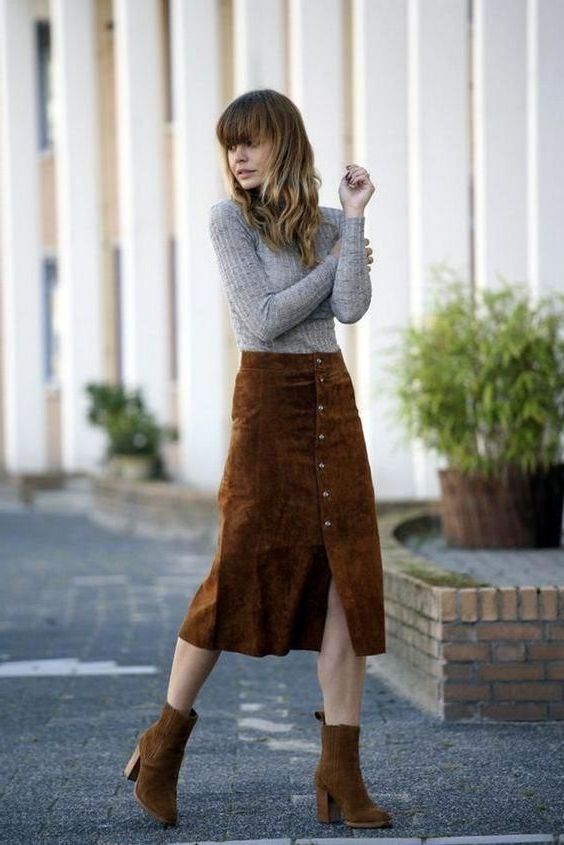 Buy Similar Here
Suede skirt with black tights
This brown suede skirt ideally matches the white sweater, tartan print wool scarf and black tights with wedge booties in black suede: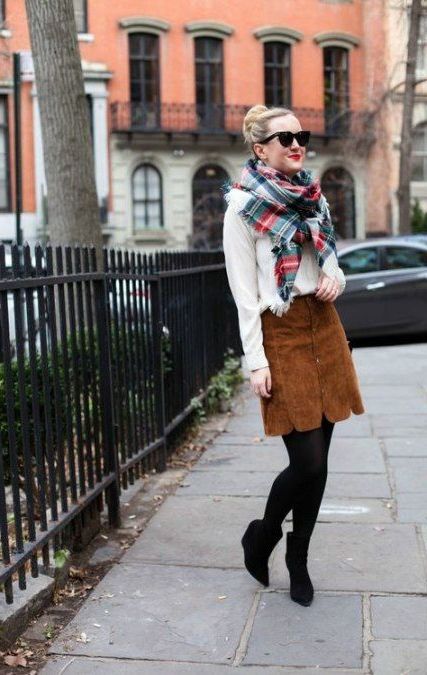 Buy Similar Here