It's a new day and I am super excited to share with you a marvelous compilation of floral blazers that are here to stay in the Summer season. I tried to gather the best street style images where ladies appear in various floral blazer designs, fits, and colors. It's time to wear blooming pieces that will undoubtedly make you look and feel very special. All you need is to scroll down your mouse and find some seriously chic and ladylike street style combinations. Read on to find out more and let me know your thoughts in the comments below.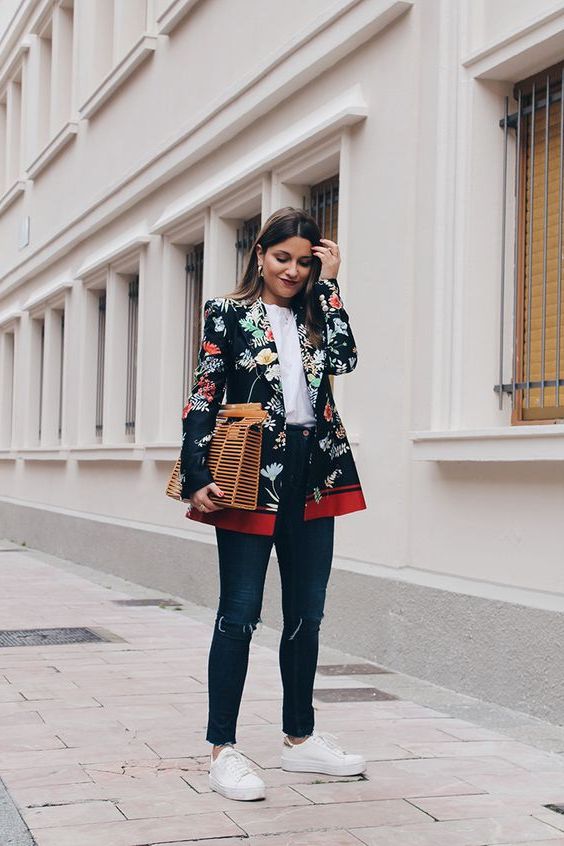 Buy Similar Here
A black floral blazer will be an ideal addition to any outfit. We see a young lady wearing that stylish suit jacket teamed with a white blouse tucked in dark blue jeans completed with white sneakers.
It's no secret to anyone that floral print will be always on-trend. It's timeless, popular and extremely feminine print. I know ladies who tend to wear only this print anywhere they go. All you need is to know how to make all these fresh and bright colors look awesome on you.
In this post, I gathered glamour and outstanding combos that will easily turn heads. As you can see, there are cool ways to wear floral blazers with jeans and simple tees, as well as with classy button-downs tucked in tailored pants. Personally, I love to keep things sexy by teaming my favorite floral blazers with mini skirts and cut-off shorts. Believe me, there are numerous ways how to spice up your look, all you need is to know the perfect balance and combos. If you want to see floral blazer and matching pants, then I highly recommend checking my post, as I've got numerous inspiring ideas to copy.
Floral Blazer And Pants Set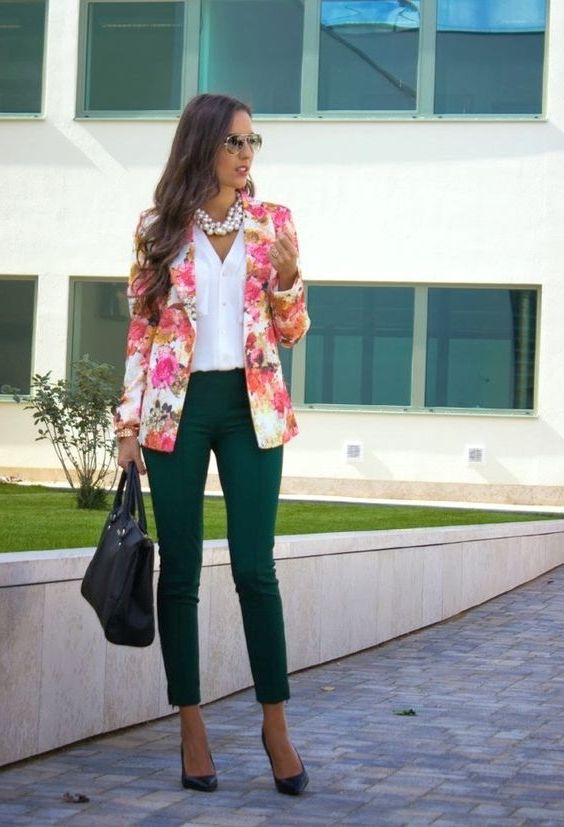 Buy Similar Here
An ideal combo for any lady would be a floral blazer and pants set. Here we see a young woman dressed in a pink floral white blazer teamed with a white shirt tucked in dark green slim pants completed with black pumps.
Floral Blazer and Leather Skinny Pants
Go wild and try on a black floral blazer styled with a black slip top teamed with black leather skinny pants and two-color pumps, by the way, I've got a nice post on ways how to wear leather pants for women this fall, better check it out: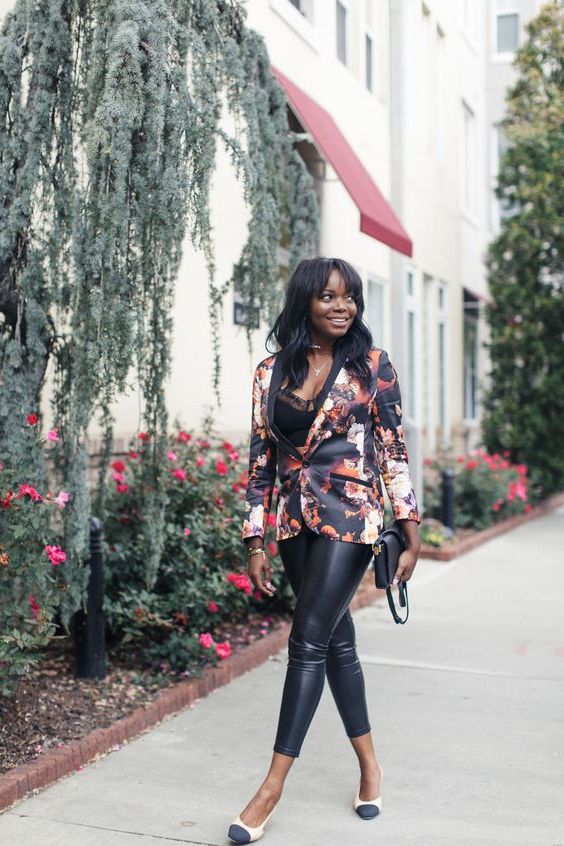 Buy Similar Here
Cropped Floral Blazer
A black crop blazer in floral print looks amazing styled with a blush bodysuit tucked in black tailored pants: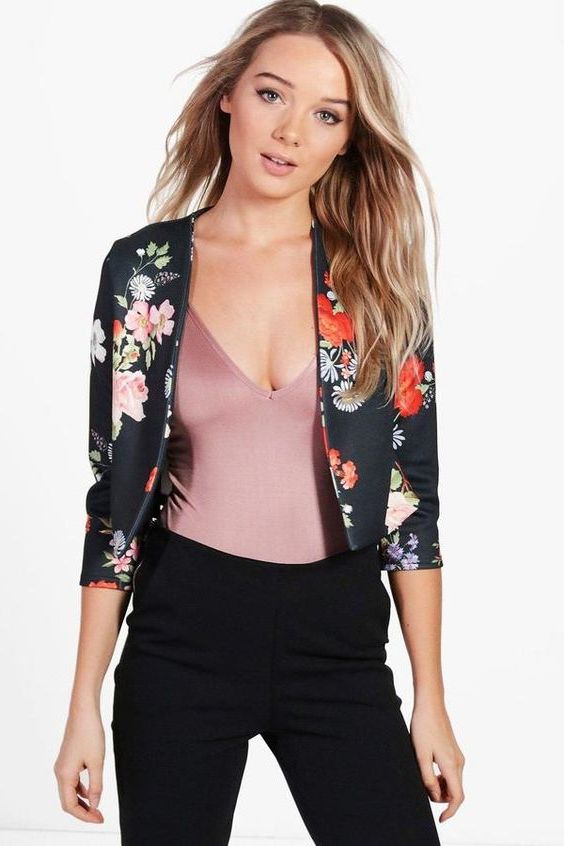 Buy Similar Here
Floral Blazer And Dress
A white floral blazer looks pretty chic with a white dress. Complete this combo by adding oversized sunglasses and cute white clutch bag: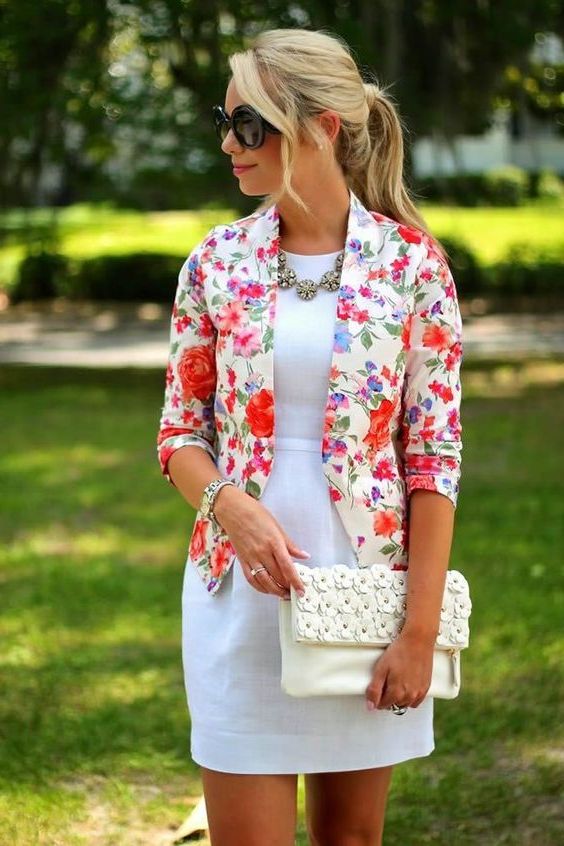 Buy Similar Here
Floral Blazer And Shirtdress
Another cool way to underline your individuality! Go for a floral pink blazer and style it with a striped black-white shirtdress completed with golden heeled sandals, if you are into shirtdresses for ladies, then I've got an inspiring article to share with you: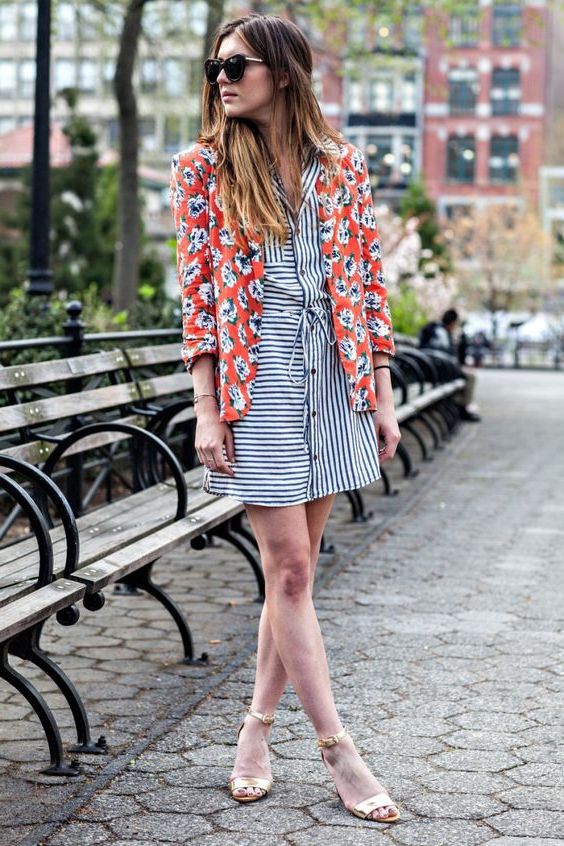 Buy Similar Here
Floral Blazer And Shorts Set
Keep it cool and sassy! Go for a floral set consisting of a floral blazer and gathered floral shorts, both in navy color. Update it with a white top: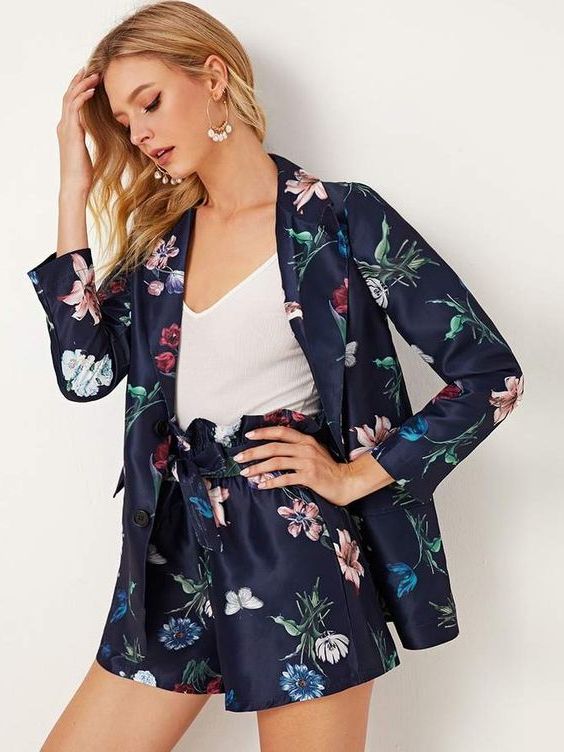 Buy Similar Here
Floral Blazer And Boyfriend Jeans
Make a move by wearing a black floral blazer with light blue boyfriend jeans and white tee: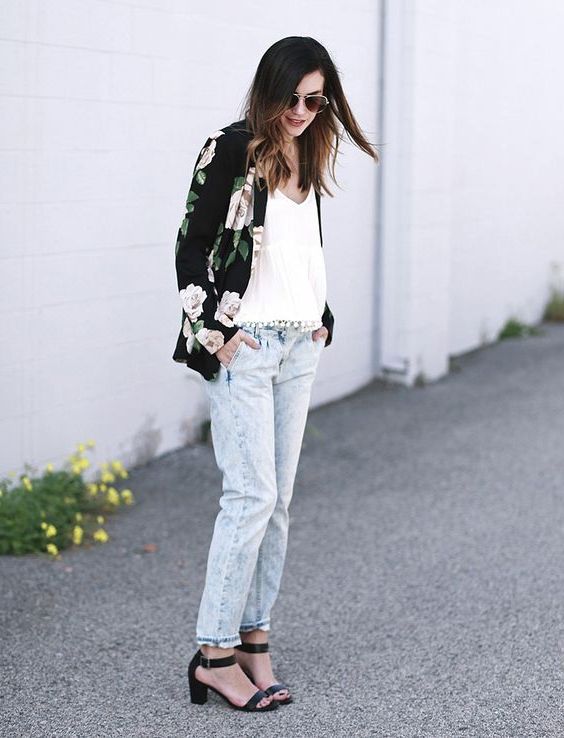 Buy Similar Here
Grey Floral Blazer
A grey floral blazer will be a nice addition to this loose-fit white slip top teamed with dark blue skinny jeans and classic mid-heel black pumps: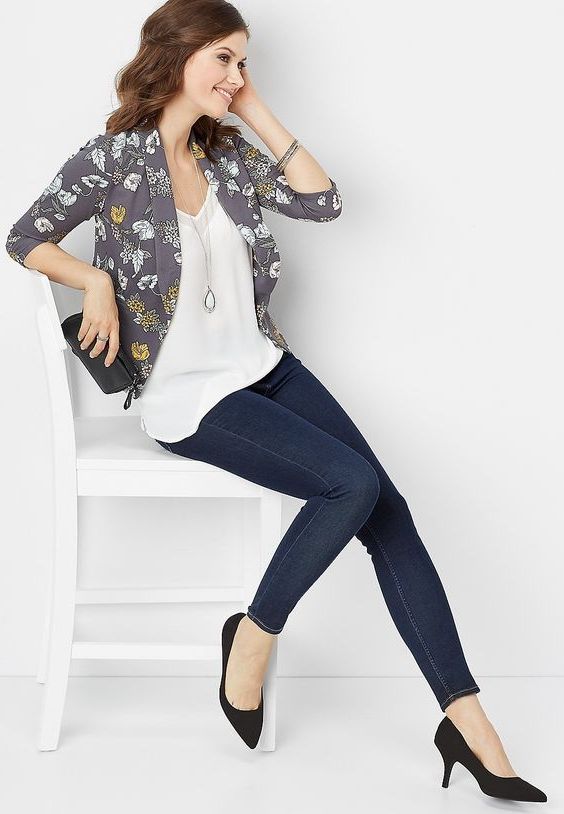 Buy Similar Here
White Floral Blazer And White Shorts
A white floral blazer looks pretty chic and sophisticated teamed with a white tank top and white shorts. Complete this combo by adding navy heeled sandals and navy leather clutch bag: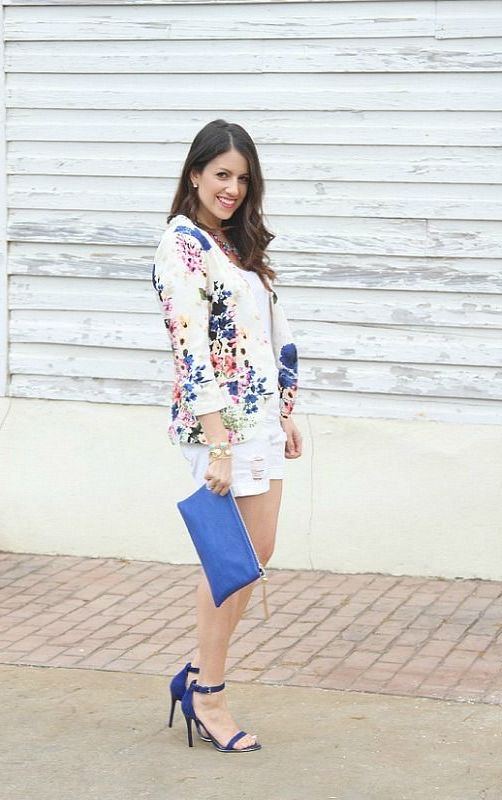 Buy Similar Here
Floral Print Blazer In Yellow
I do love brightness, that's why this yellow floral print blazer is my favorite, try it on with matching print and color shorts: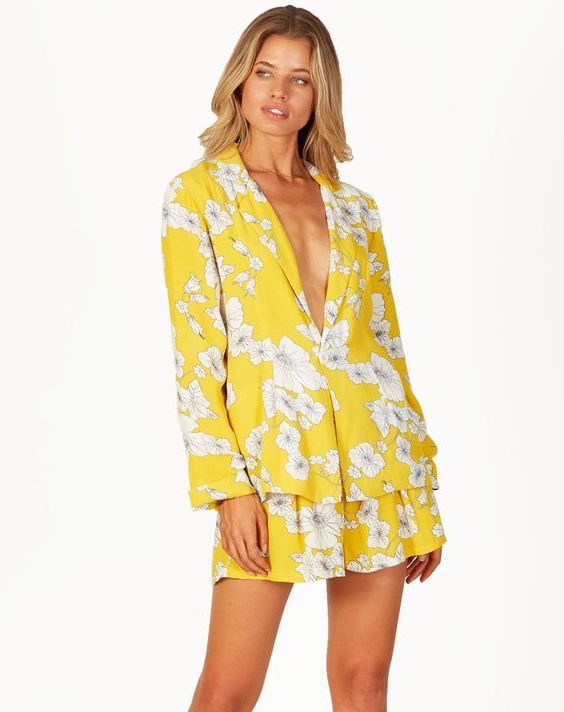 Buy Similar Here
Floral Blazer Playsuit
Here we see yellow-mustard floral print blazer tied playsuit, a nice choice for those who want to make a real impression on the streets: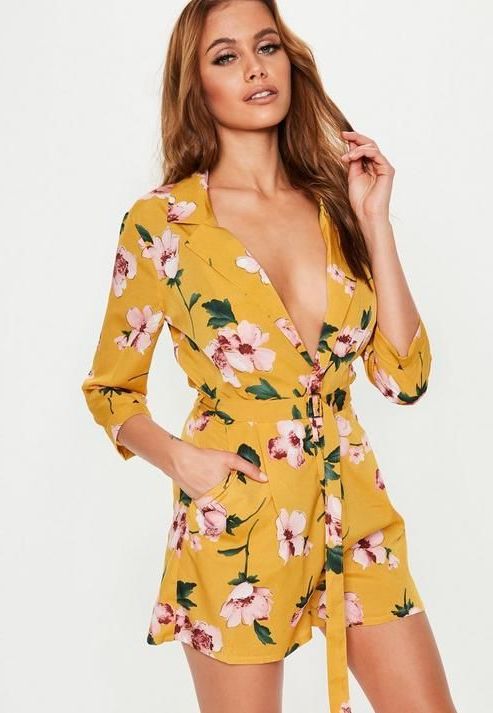 Buy Similar Here
Floral Longline Blazer
A checkered grey blazer in cute floral print is worn with a white shirt and skinny pants in black: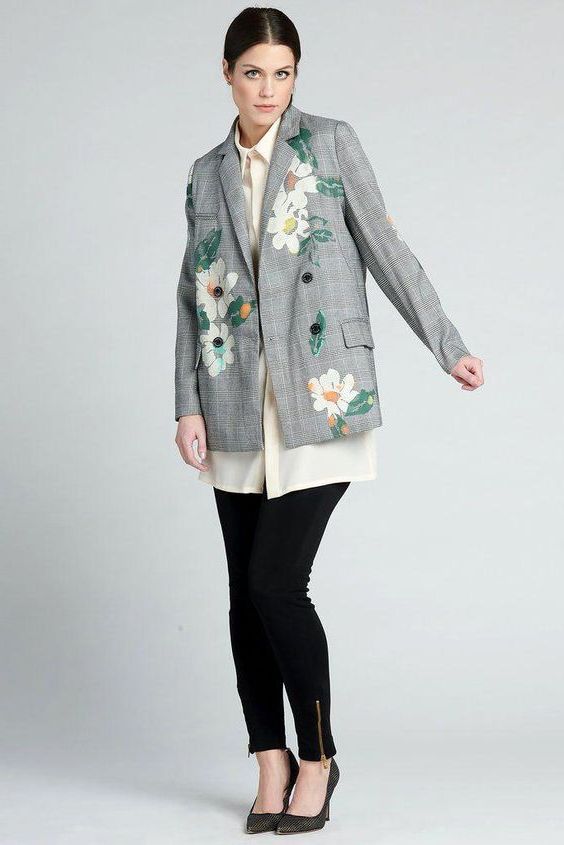 Buy Similar Here
Floral Jacquard Blazer
A floral jacquard blazer in blue color is worn with a black crop top and black leather skinny pants, a stylish update to try at some kind of cool home party: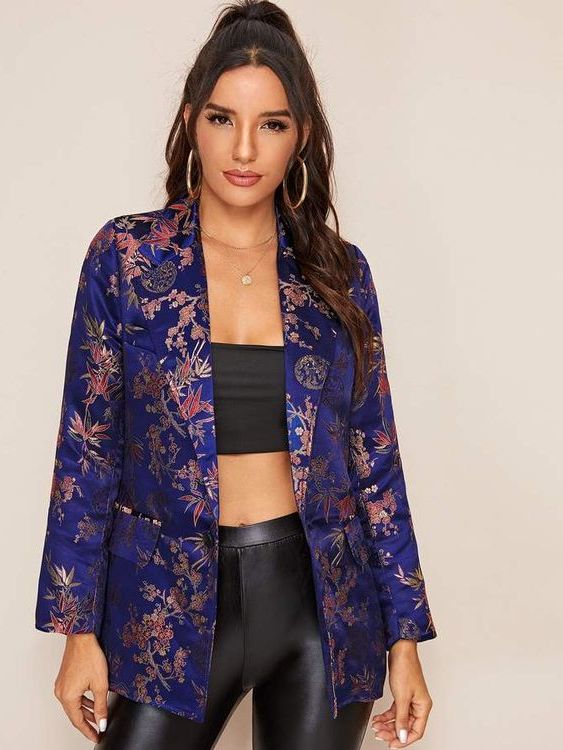 Buy Similar Here
Navy Floral Blazer
A navy floral blazer comes in a short fit, but it is styled with a stylish khaki-green top and high-rise dark blue skinny jeans: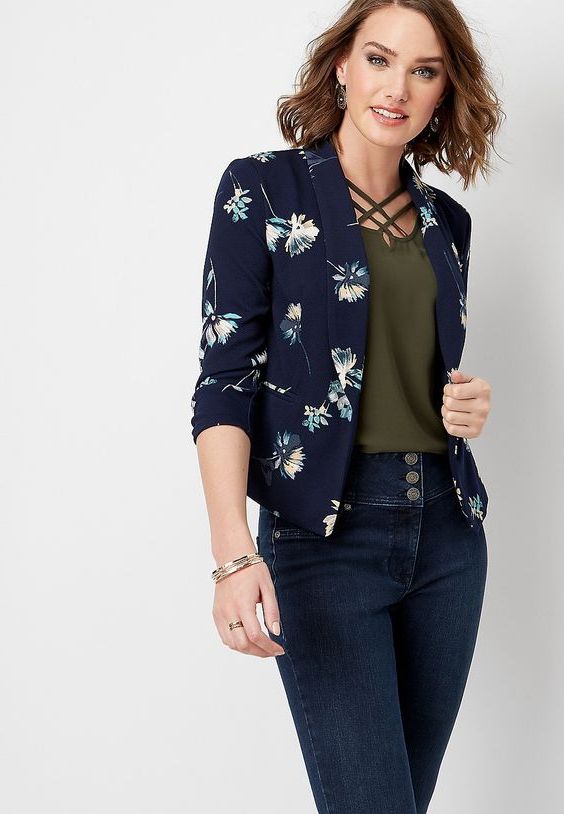 Buy Similar Here
Floral Hawaiian Blazer
We see a black Hawaiian floral print blazer styled with a basic white tee combined with ripped slim jeans and hot pink pointed-toe pumps: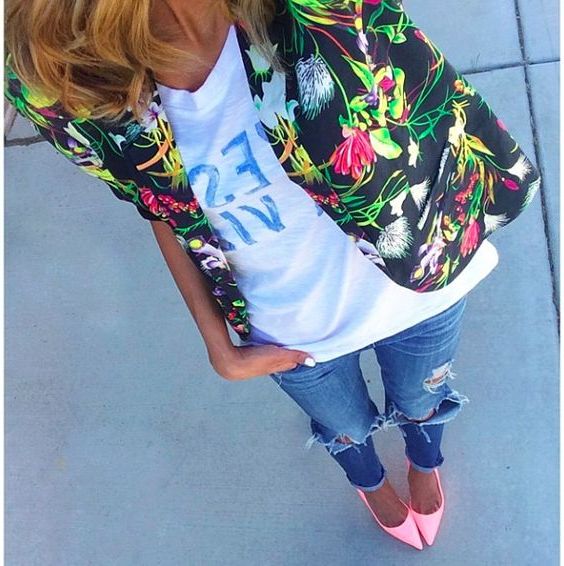 Buy Similar Here
Floral Blazer For Plus Size Ladies
A pastel floral print blazer will be an ideal addition to this plus-size outfit. Just style it with a silver metallic wrap top and wash blue skinny jeans completed with silver slides: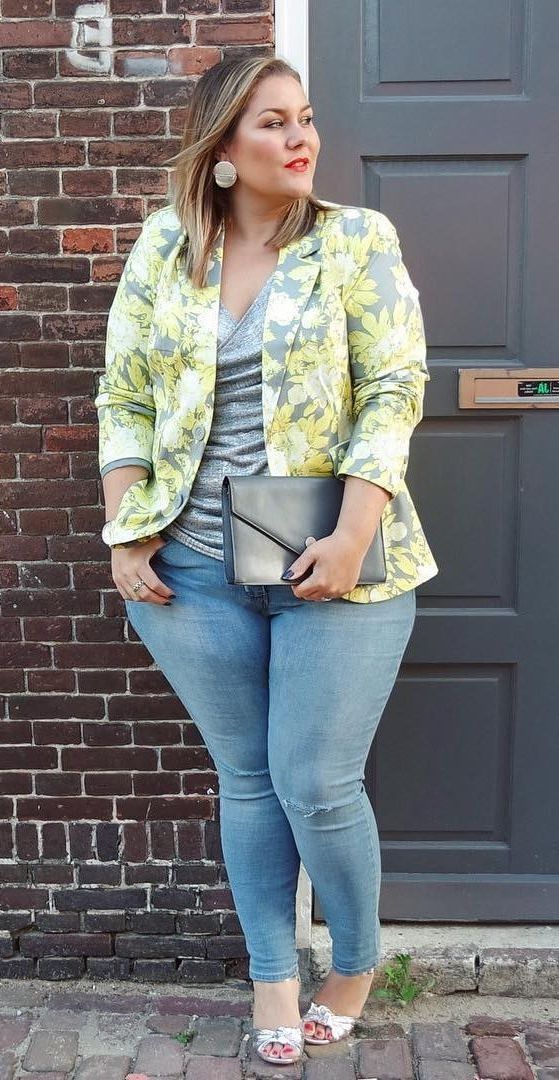 Buy Similar Here
Floral Blazer And Jeans
A pastel floral print blazer ideally suits that basic light grey top teamed with ripped and cuffed slim jeans completed with pink pumps. Update this look by adding aviator sunglasses, if you are into denim, then I highly recommend to check my post on ways how to wear ripped jeans, you are about to find extremely cool ideas to copy right now: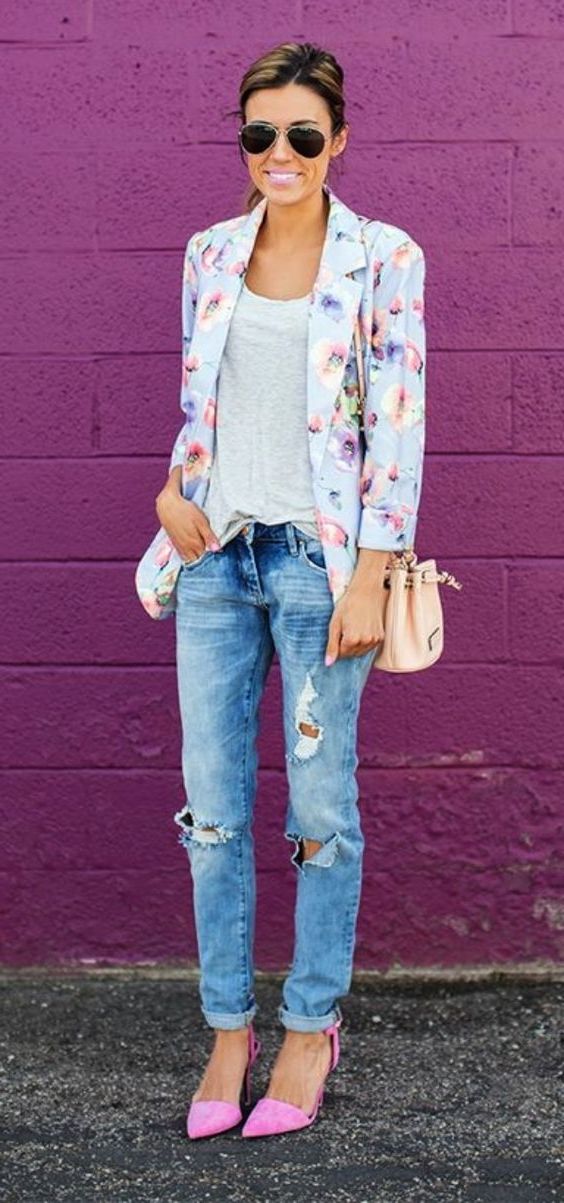 Buy Similar Here
Red Floral Blazer
Dark red floral print blazer is paired with a white blouse teamed with dark grey skinny jeans and cool brogues: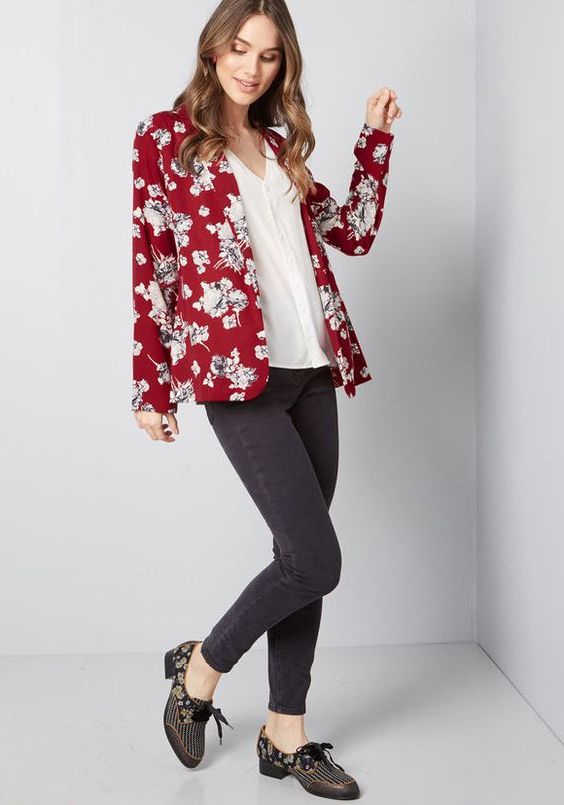 Buy Similar Here
Floral Tie Blazer
A tied white floral print blazer is worn with a pair of white pants, an ideal look for summer gatherings: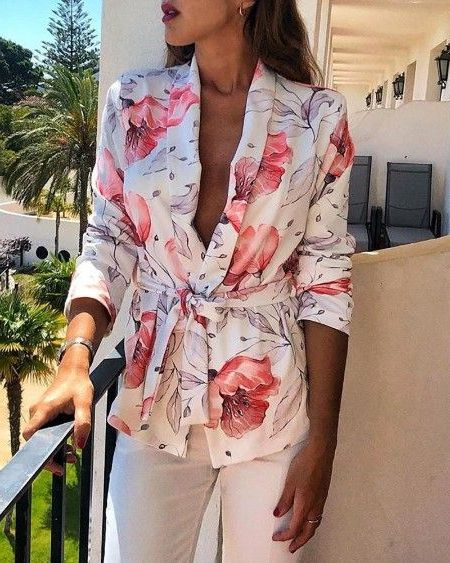 Buy Similar Here
Floral Velvet Blazer
We see a gorgeous black floral velvet blazer in blue color teamed with ankle-length black pants, a stylish update for evening occasions: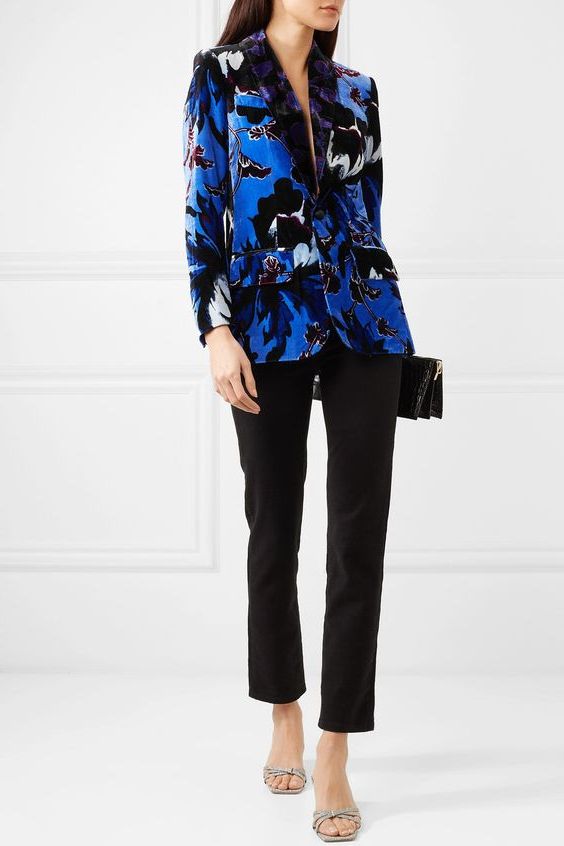 Buy Similar Here
Floral Tropical Blazer
A tied blazer in tropical floral print is combined with a white crop top teamed with blue denim shorts: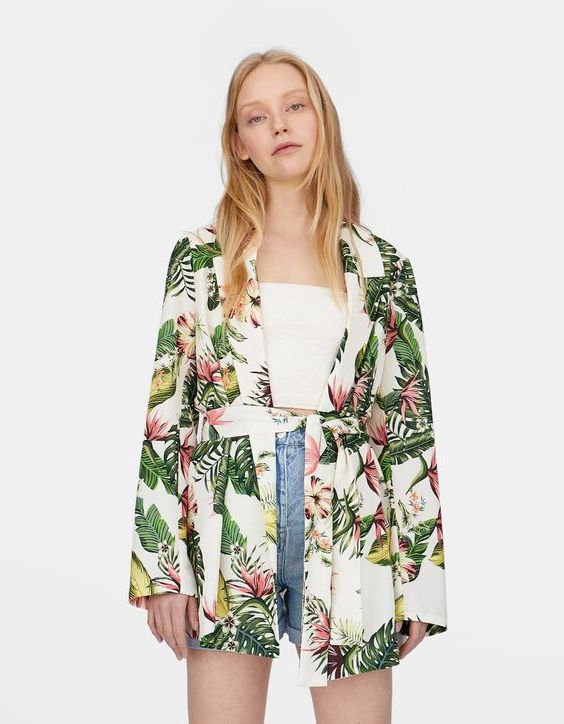 Buy Similar Here
Floral Green Blazer
A green floral print blazer is draped over gold-mustard top tucked in a pink short skirt, a perfect combination for cocktail parties and special events: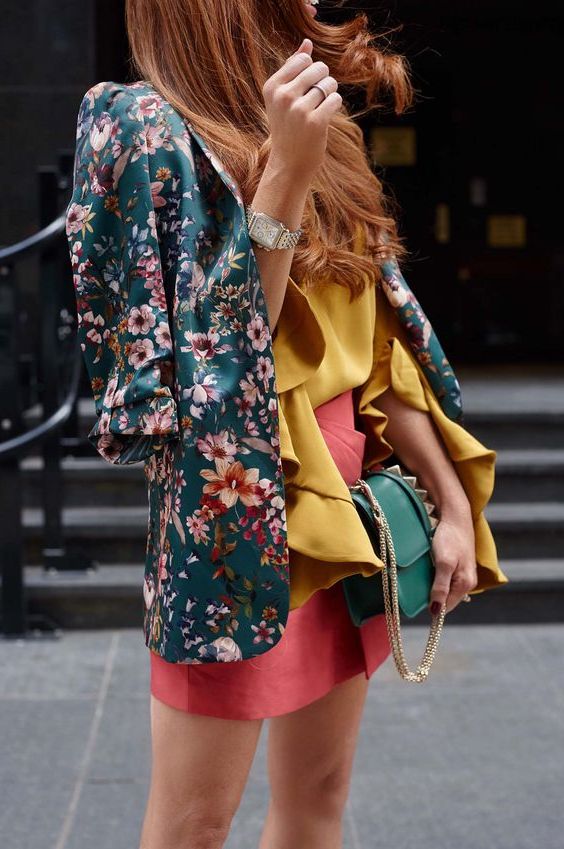 Buy Similar Here
Floral Blazer And Striped Pants
An abstract floral print blazer is combined with a black top tucked in black-white striped wide-leg pants, complete this look by adding white sunglasses and a straw bag: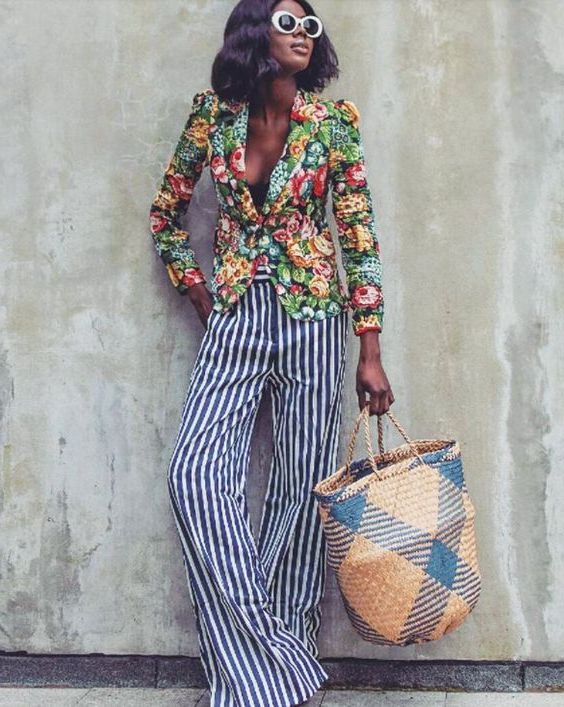 Buy Similar Here
Floral Blazer And Pink Jeans
A floral print blazer in a pastel color is teamed with a white top tucked in blush skinny jeans completed with gold strappy heeled sandals: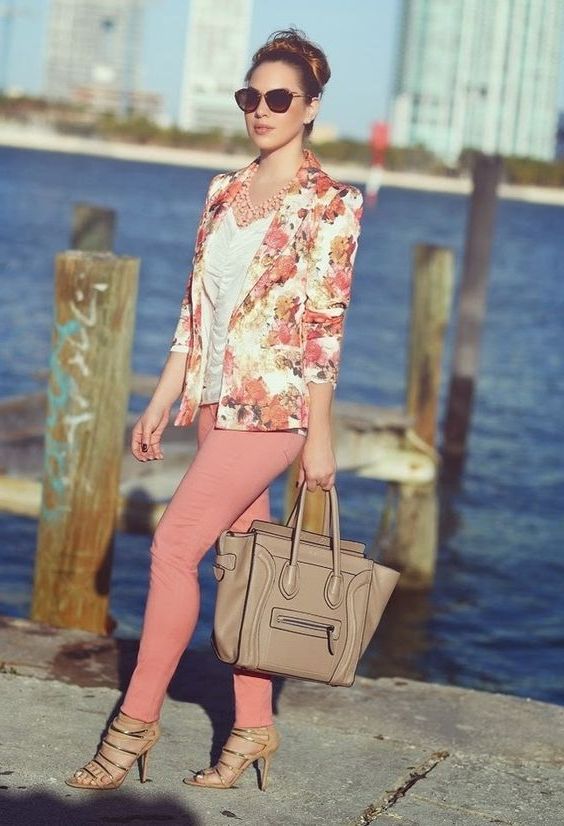 Buy Similar Here
Floral Blazer And Skirt
A white blazer in floral print ideally suits that white blouse tucked in wash blue denim pencil skirt completed with t-strap white studded pumps and rounded sunglasses: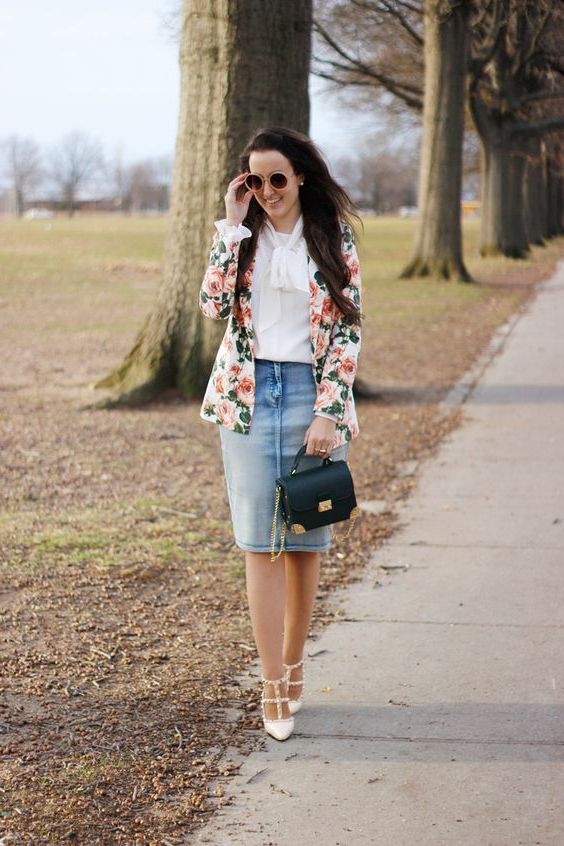 Buy Similar Here