Sweaters and Skirts is a beautiful combination and the Winter season is an ideal season to wear it. In today's article, we are about to see gorgeous outfit ideas with knitwear and various skirts. I hope you will never need a reason again to pull out your favorite skirt and sweater when it's cold outside.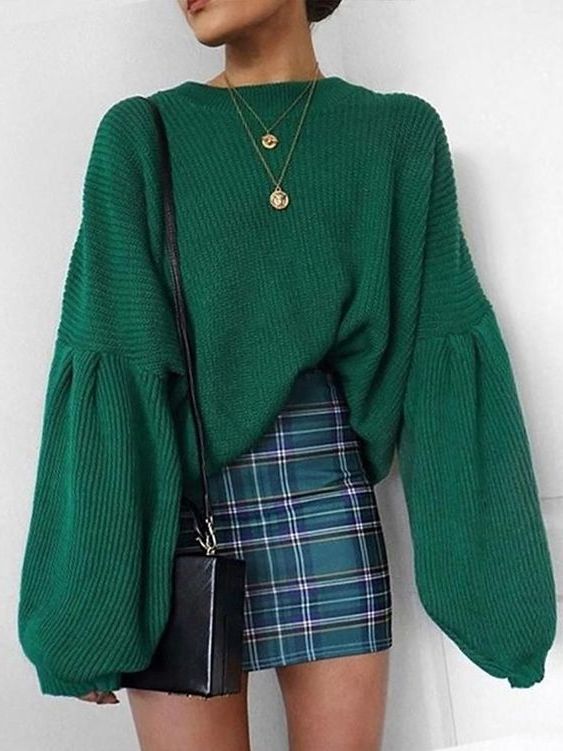 Buy Similar Here
How to tuck a sweater into a skirt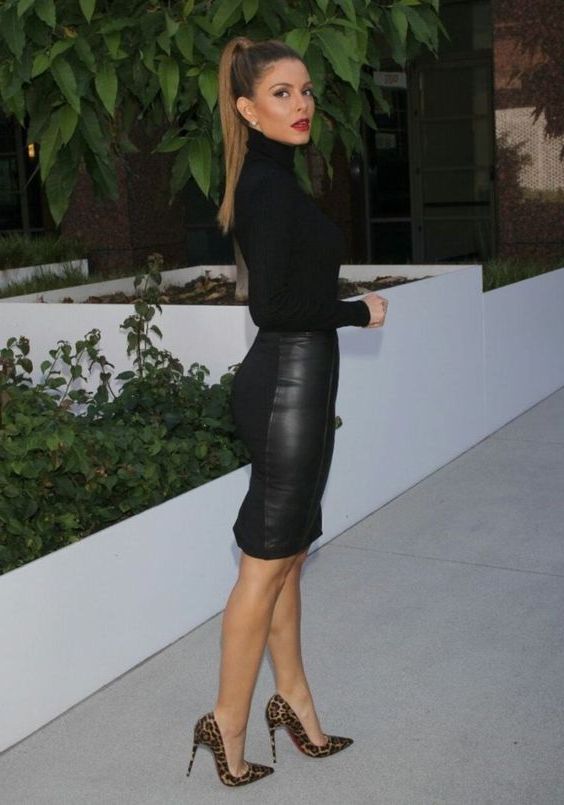 Buy Similar Here
An all black look comes with a turtleneck which is tucked in black leather pencil skirt completed with leopard print heels.
Pleated skirt with sweater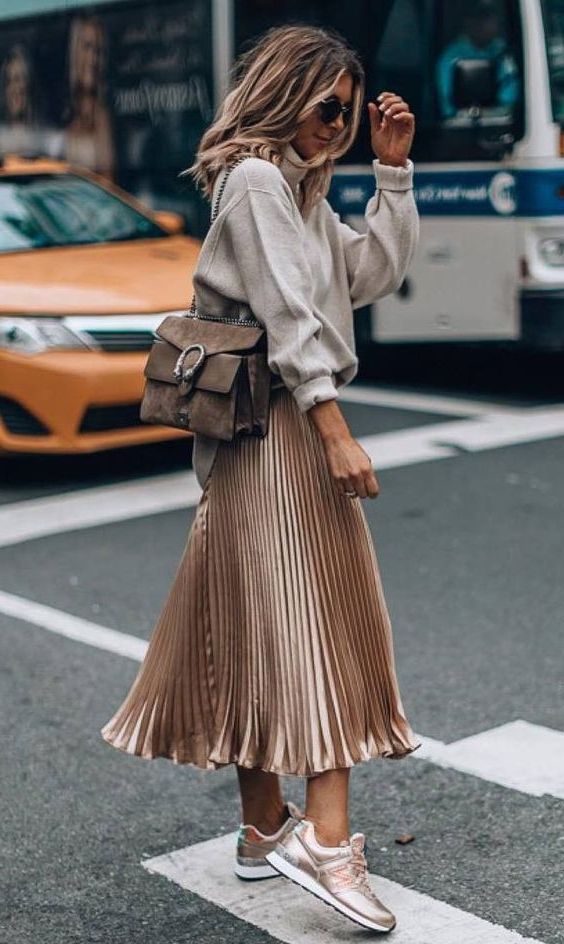 Buy Similar Here
Check out this simple combo that comes with a cream beige sweater tucked in metallic bronze knife-pleated long skirt completed with metallic sneakers.
Monochrome Look With Sweater And Skirt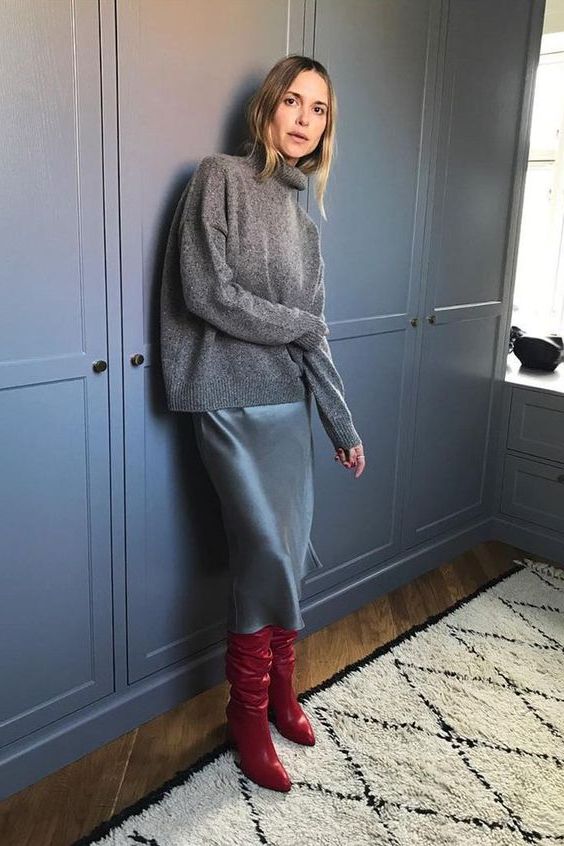 Buy Similar Here
If you do want to keep things classy and chic, go for a monochrome combo. We see a turtleneck sweater in grey teamed with silk grey-navy midi skirt and slouchy cherry red leather boots.
Oversized Sweater and Mini Pleated Skirt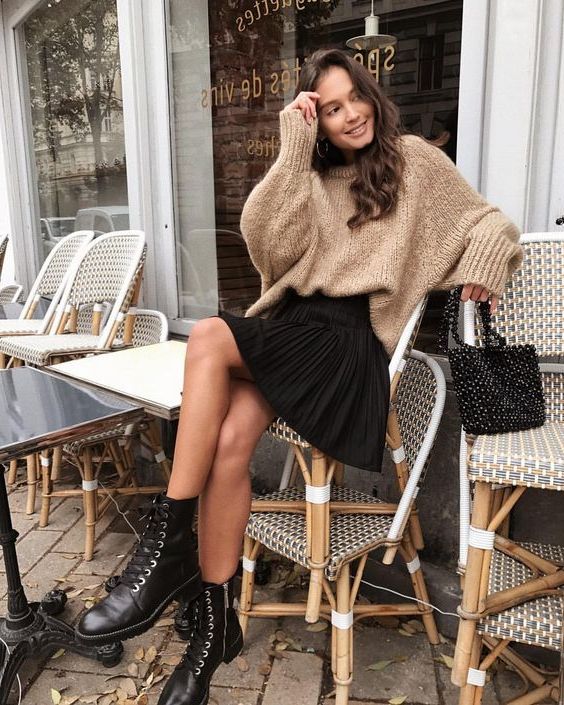 Buy Similar Here
Underline your simplicity. Go for this casual combo. We see an oversized cream sweater with a black knife-pleated mini skirt and cool combat black leather boots.
Sweater with skirt and tights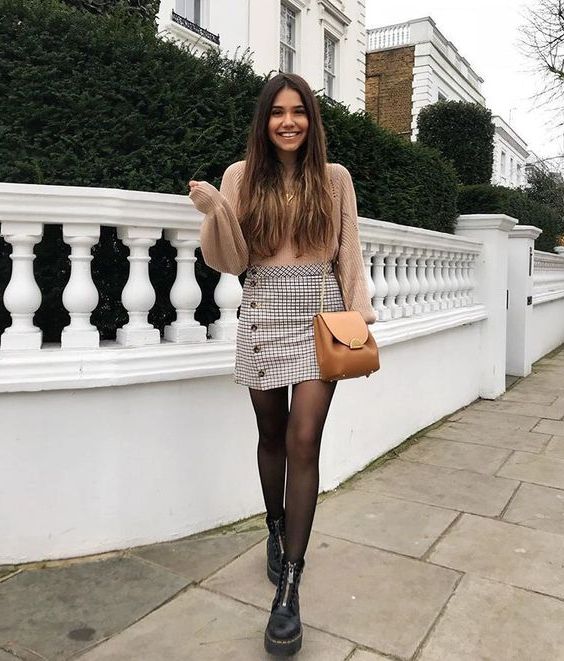 Buy Similar Here
A cream beige sweater is tucked in micro plaid mini skirt completed with black tights and platform black leather combat boots.
Mini leather skirt and sweater outfit monochrome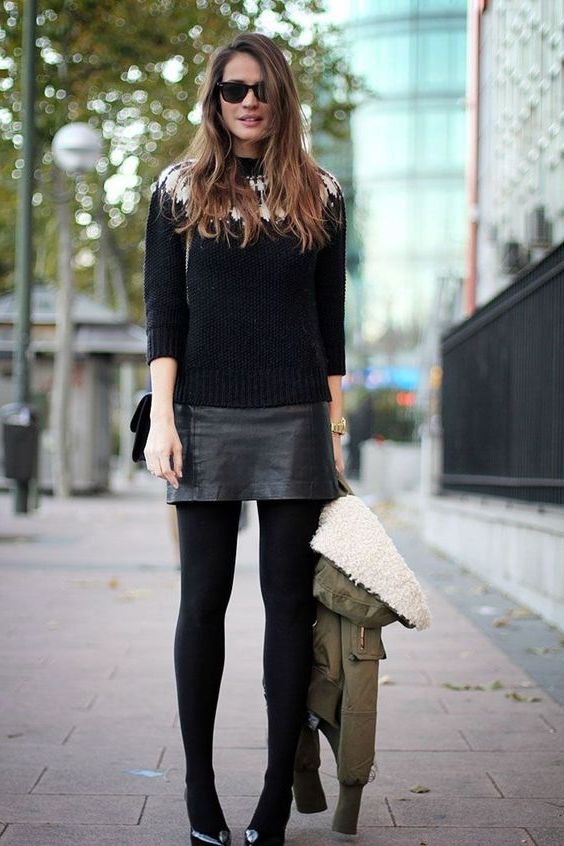 Buy Similar Here
If you do like monochrome style, go for this all in black look. It consists of a black sweater, black leather mini skirt, black tights, and pumps.
Jean skirt with sweater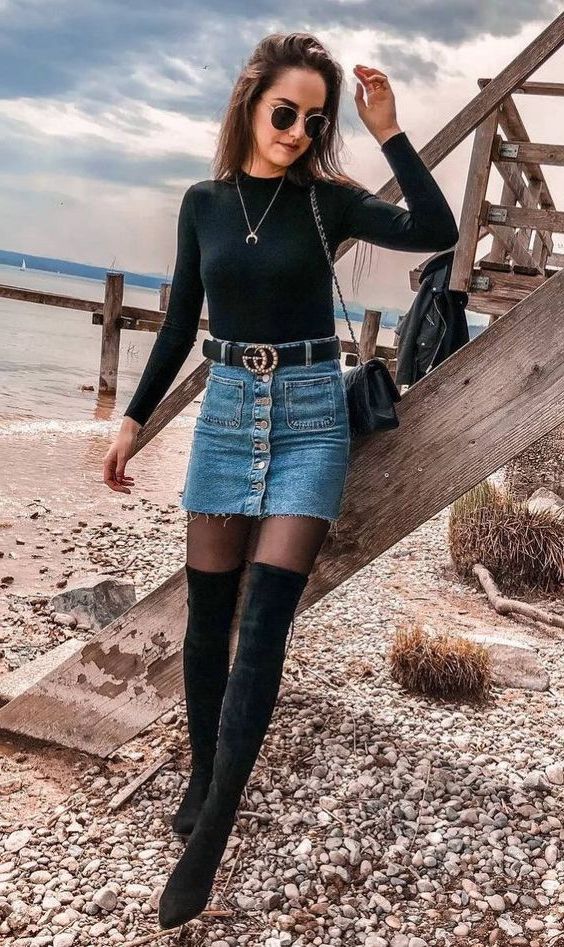 Buy Similar Here
In love with this simple combo. We see a black long sleeve slim top tucked in front buttoned denim mini skirt completed with tights and suede black OTK boots. Oh, I am a big fan of buttons fashion, that's why I made a post on ways how to wear button-front skirts. You can find many interesting ideas that can make you look amazing.
Tulle skirt with sweater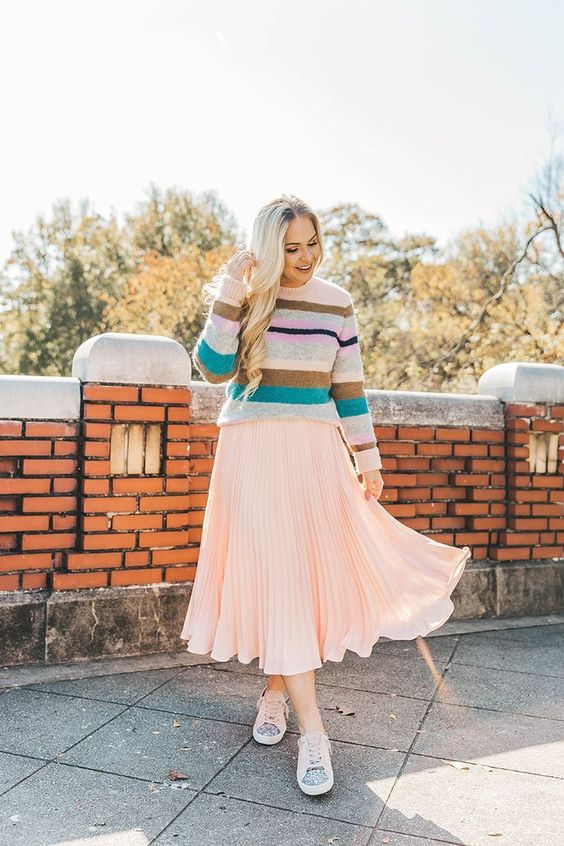 Buy Similar Here
A lovely sweet pastel look. We see a multistriped sweater teamed with a light pink knife-pleated midi skirt updated with blush sneakers. If you want to find out more about this color, then be sure to check my post on how to wear pastel colors this Fall.
Maxi skirt with sweater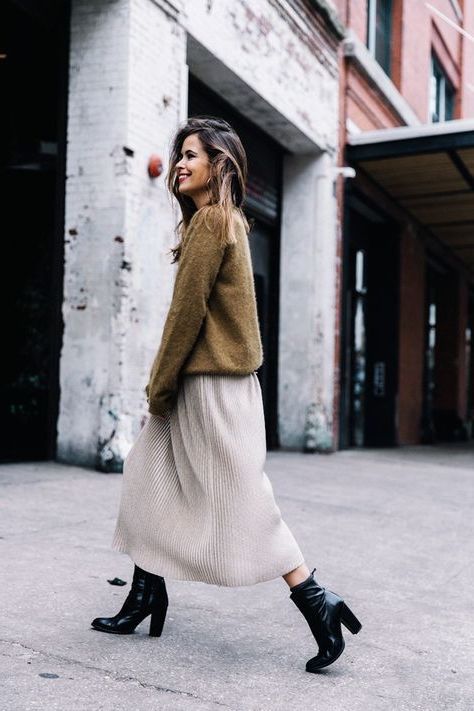 Buy Similar Here
A cool way to wear maxi skrt. We see a khaki green sweater worn with a ribbed knit maxi skirt in cream grey color completed with heeled ankle boots in black leather.
Black skirt and sweater outfit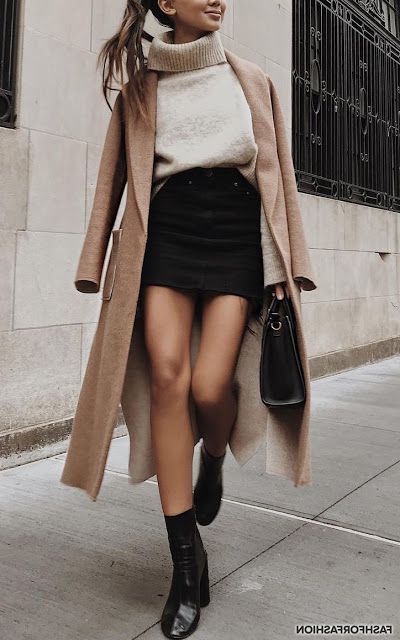 Buy Similar Here
Camel coat ideally draped over turtleneck sweater tucked in black denim mini skirt.
Sequin skirt and sweater outfit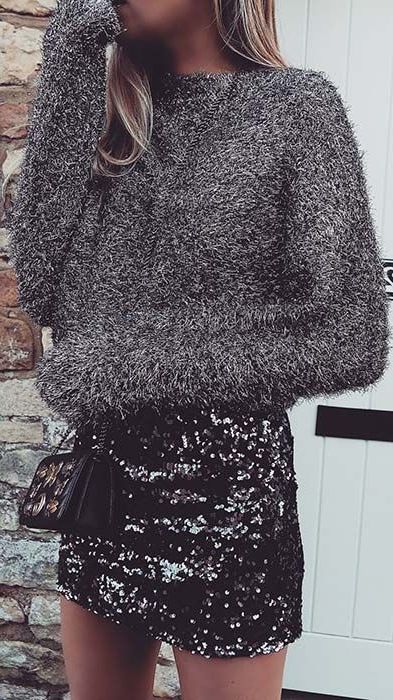 Buy Similar Here
In love with this disco look. We see a mohair sweater paired with a sequined mini skirt.
Long skirt and sweater outfit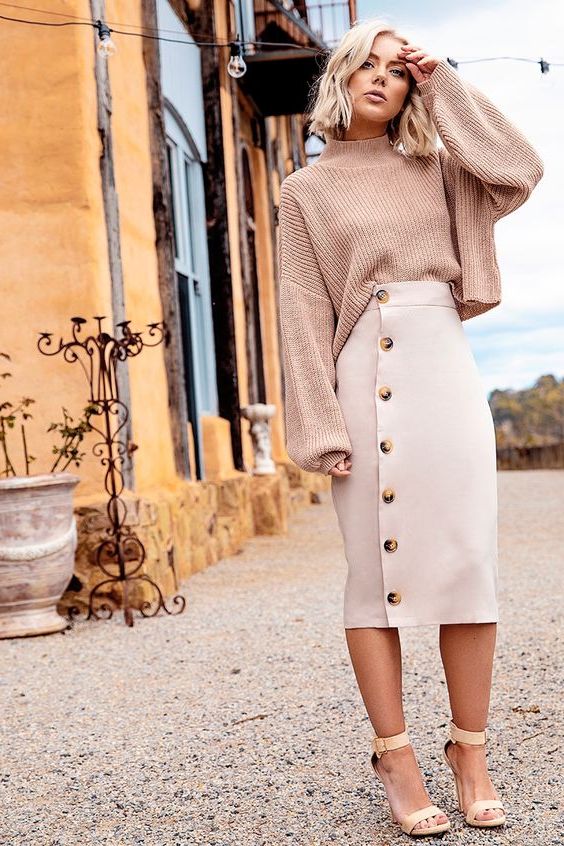 Buy Similar Here
Go for a bold look! We see a front buttoned midi skirt in cream white paired with a slouchy crop sweater.
Oversized sweater and skirt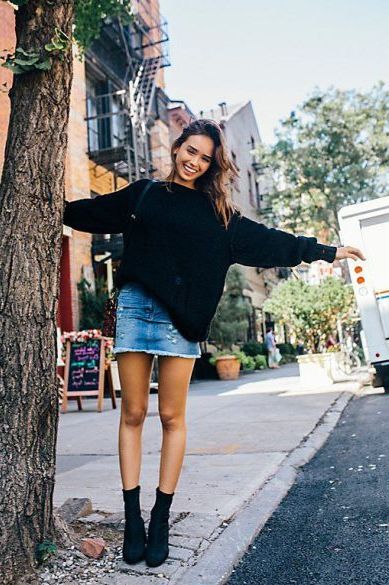 Buy Similar Here
Keep it freshm edgy and casual. Go for an oversized black sweater and style it with a wash denim mini skirt and suede ankle boots.
Leather skirt and sweater outfit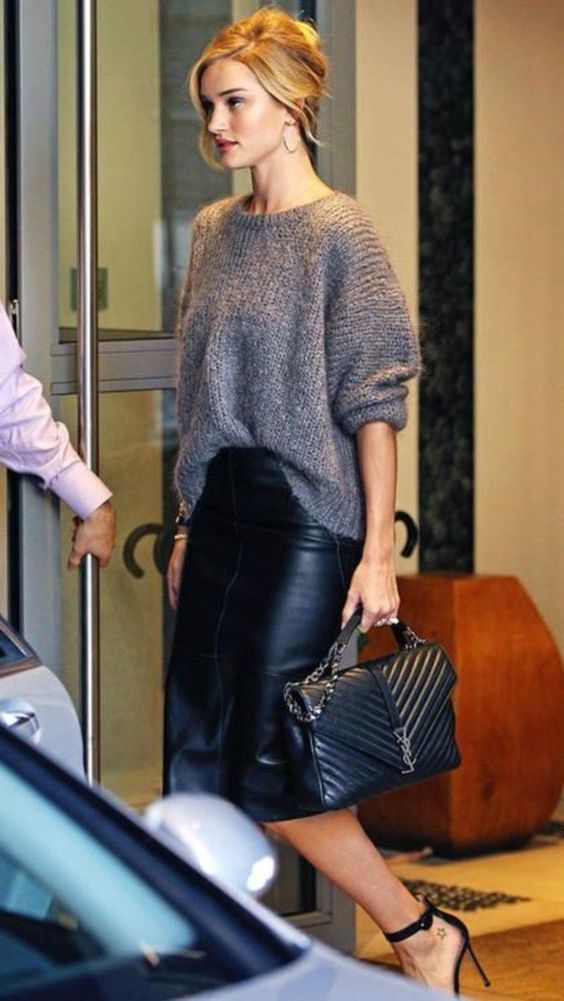 Buy Similar Here
Another cool way to wear black leather skirt is simply team it with a slouchy grey sweater.
Mini skirt and sweater outfit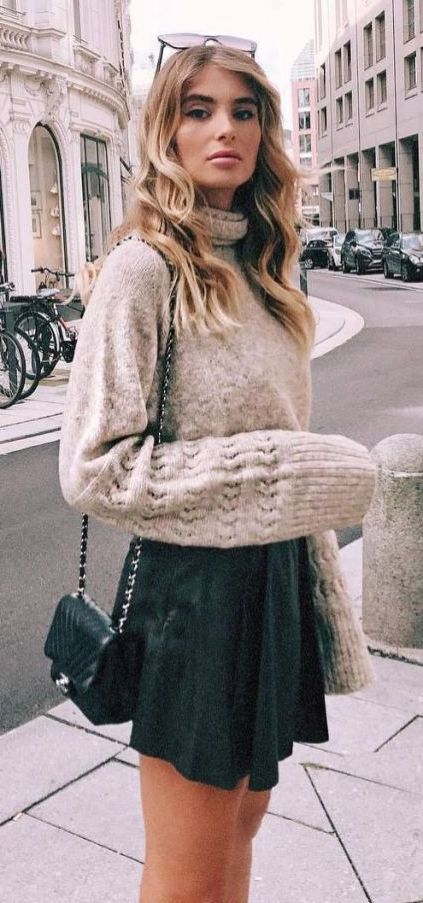 Buy Similar Here
An oversized cream grey sweater looks sweet with a mini emerald green skirt.
Midi skirt and sweater outfit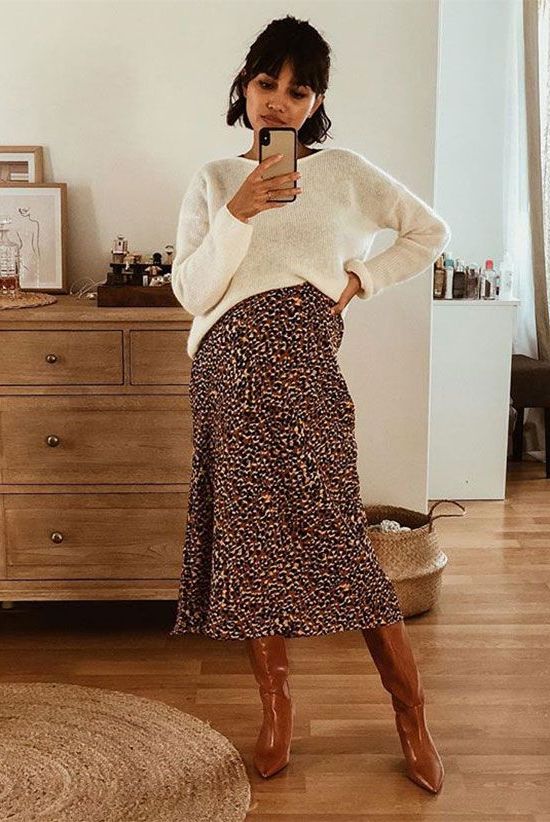 Buy Similar Here
A patterned midi skirt ideally matches this slouchy white sweater combined with light brown leather boots.
Why do I like this combination so much? It's like mixing two factors in one look, where, from one side is a feminine skirt and from another side is a thick sweater that makes you look sophisticated and somewhat flirty, plus, the overall look is not too over-the-top. What are you waiting for? Sweater and skirt set outfit ideas to copy now are waiting for you.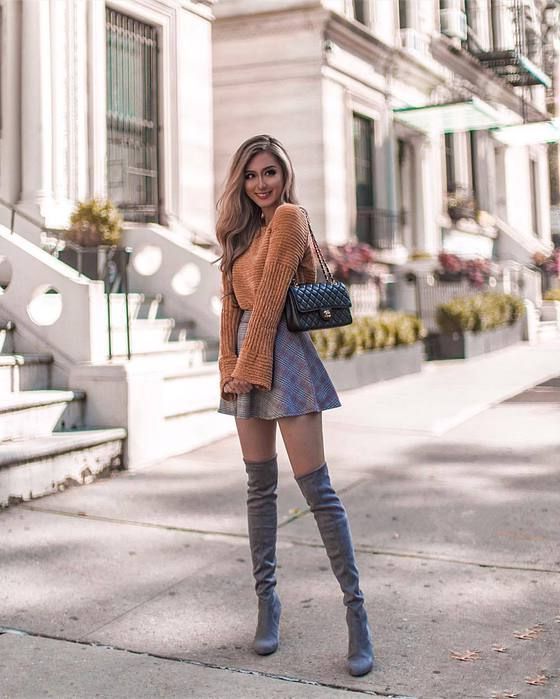 Buy Similar Here
A two-piece look that's so easy to put together and incorporates two of our all-time favorite closet staples: a skirt and a cozy, comfy sweater. And we're not the only ones who are fans of this pairing: Fashion girls can't stop wearing sweater-and-skirt outfits, which means we have bountiful looks to pull inspiration from. Read on to see some of our favorites, and then shop versatile sweaters to pair with your mini, midi, or maxi skirt this season.
Yes, this outfit might be nothing new for you, but it is totally worth trying on during Fall and Winter. Plus, you are free to customize this look in any way you like, yes, you can now officially feel warm. So, what are you waiting for, grab one of these cozy sweaters and team it with your favorite skirt? Plus, there are no special tricks, just make sure everything is balanced and you look chic.
I've got some great street style images, here you can find interesting options and choose the most convenient outfit ideas you can copy in real life. I know many women who stay away from copying the same street style looks, but I say, you can always add your own details and touches to complete one of these looks.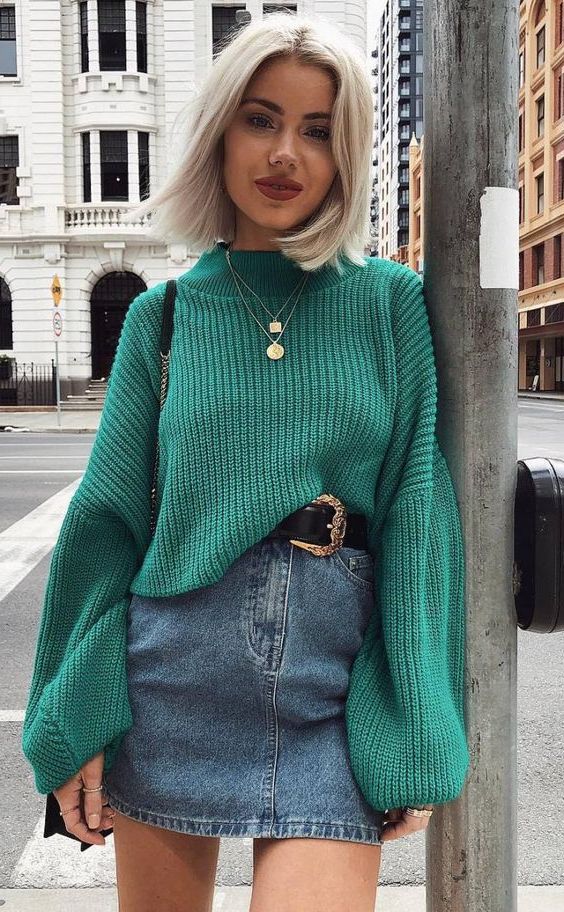 Buy Similar Here
Before you go out on the streets, you should choose the right skirt. Sure, most things depend on your geolocation, as you can wear the same summer flowy materials when it's mid of December, but in another place, it can be quite impossible, otherwise, you risk to freeze your legs and butt. So, it all depends on your location, once you feel it's warm enough to wear light materials, then you are free to go for tulle and silken skirts.
You are free to create whatever style you like, starting from combining oversized sweaters with lightweight long skirts made of chiffon, or silk. Or you can create those seventies inspired combos consisting of striped knitwear and denim bottoms, or corduroy styles. Mini skirts also look great during winter months, you can team them with short knitwear and sassy OTK footwear. Cable knit is another cool sweater style that looks great with maxi skirts, as well as with midi bottoms.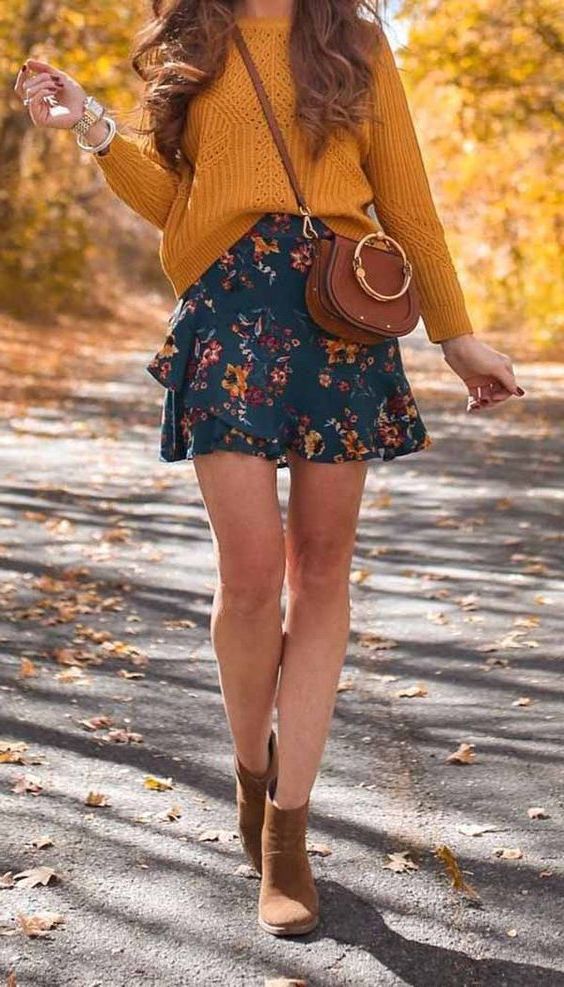 Buy Similar Here
As I have already mentioned, you can go for OTK boots, or keep things more relaxed by choosing the right socks. If you opt for a mini skirt, then you should pick the thigh-high socks or at least knee-high socks, they gonna look good with mini skirts and long boots. If you are not into socks, then go for black tights, they are everywhere right now, even French-style ladies love to wear them. By the way, I do recommend to check out my post on Parisian style outfits, I am 100 percent sure you gonna find lots of inspiring looks. This outfit combination is ideal for afternoons spent in a cozy cafe, restaurant or on your armchair.
The short black skirt is always a fall favorite, and this season topping it off with a camel-colored cropped knit sweater is a great look. Decorate your feet and calves with some suede over-the-knee black boots, or maybe some great leather riding boots. Don't forget your big camel-colored tote, and you'll be an instant fashion icon!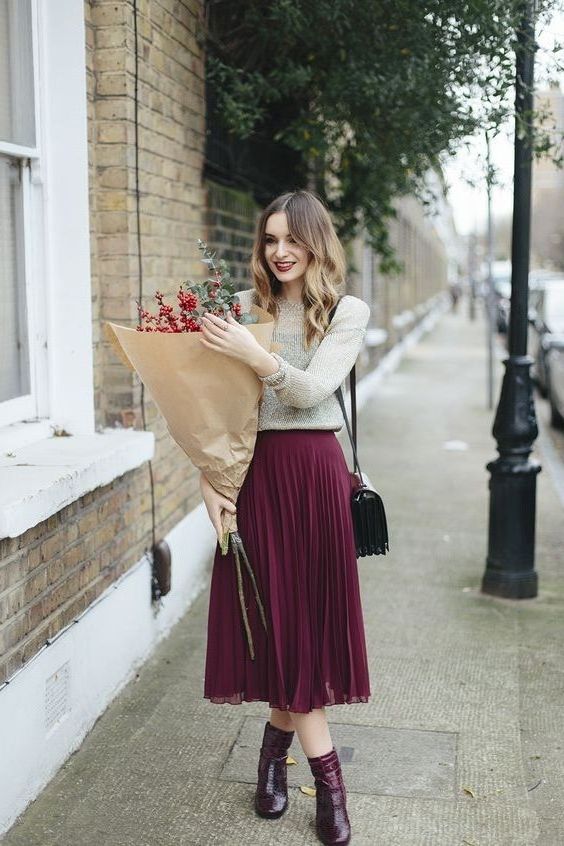 Buy Similar Here
A black leather knee-length pencil skirt with a chunky, slightly oversized cream-colored fisherman-like sweater and a great pair of black leather ankle boots is a sharp look and feel. Be sure to wear your dark sunglasses, even though you're the only thing that will be shining as bright as the sun! Black leather or pleather skirts aren't just pencil style anymore!
Pencil skirt with sweater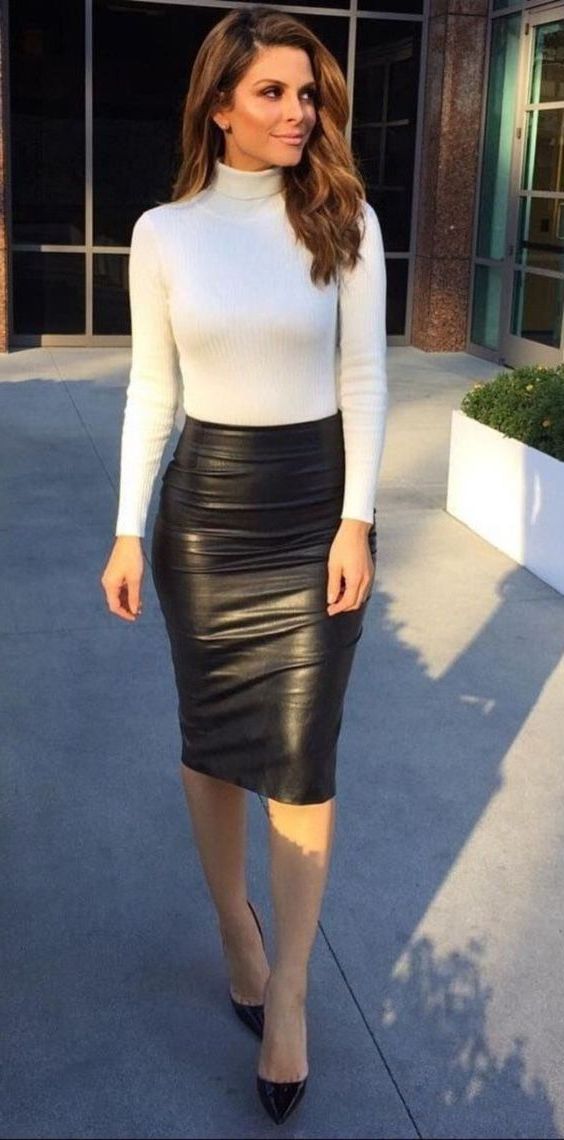 Buy Similar Here
You can find black quilted leather, flared leather, and other different leather/faux leather styles. Keep above-the-knee black leather boots in mind and have fun with oxfords and knits- and never be afraid to accessorize with a stylish fedora! Hats off to everyone else, hats ON to you! Short boyfriend denim is a great street style, with long knits and jackets and your favorite pair of ankle boots. Boots are always great with short denim and leggings, and a beautiful cream-colored cardigan. The look for the ladies is layers, and skirt and sweater combos are no exception!
Why do I love this delicate piece of clothing? It's an ideal choice for making a real statement on the streets. Just imagine yourself wearing a sexy skirt with an oversized sweater, yes, it looks gorgeous and sophisticated. You can complete this look by adding over-the-knee boots or sexy pumps. There are numerous cool street style ways how to wear this beautiful bottom garment, by pairing it with cardigans, fitted sweaters, turtlenecks, knitted pullovers, etc.
Sources: whowhatwear, bmodish