I am here to share with you the best ideas on how to wear pastel clothing on the streets. It's no secret that pastel apparel is associated with something warm, but it doesn't mean we should wear these sweet shades only in the summertime, you definitely can use them during Autumn months.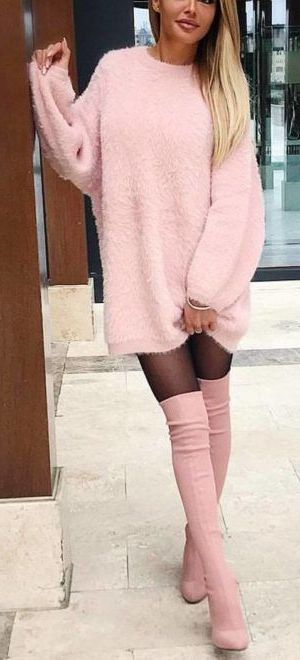 Buy Similar Here
Check out this totally blush OOTD, it consists of an oversized mohair sweater-dress paired with black tights and OTK boots in blush.
I am about to show you the best tricks and ideas on how to break the monotony and look fresh and chic. Anyway, you are welcome to take a look through these ideas on how to make pastel hues look great on you.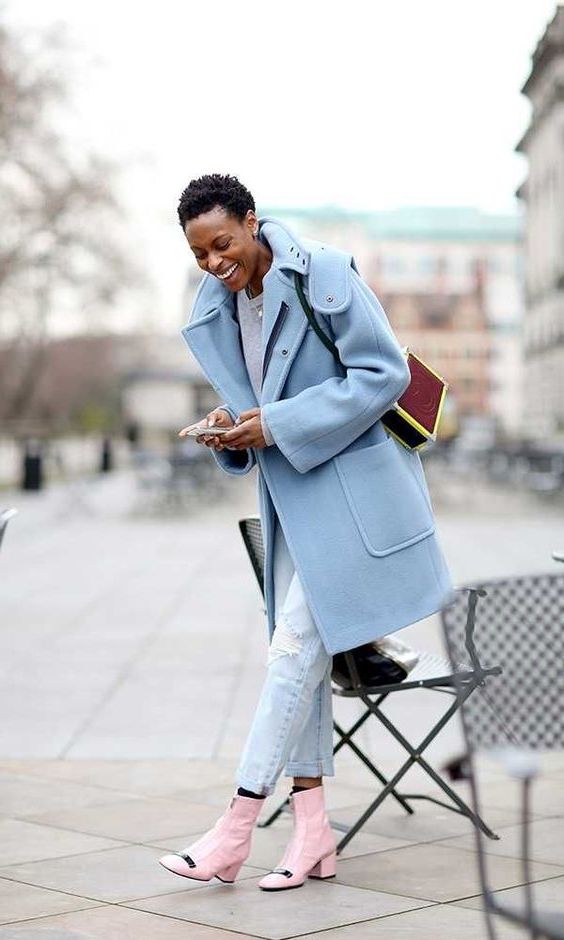 Buy Similar Here
Another great look for pastel clothes lovers. We see a bulky coat in pastel blue teamed with ripped wash blue cuffed jeans and blush block heel ankle boots.
The key to making pastels work for the cold season is to wear them with neutral hues, like white, khaki, ivory, tan, black, grey, etc. Believe me, result gonna look sexy and ladylike. You can go for a pastel blue coat and style it with cream blush dress and cream grey thigh-high boots, or make a real statement with a cream pastel blue coat styled with black and white striped top teamed with knee-ripped skinny black jeans and white pointed-toe pumps.
You can always mix and match your outfit. Go for a white long coat and team it with a turtleneck sweater in blush and track pants in the same blush color. Complete this look with neutral color sneakers: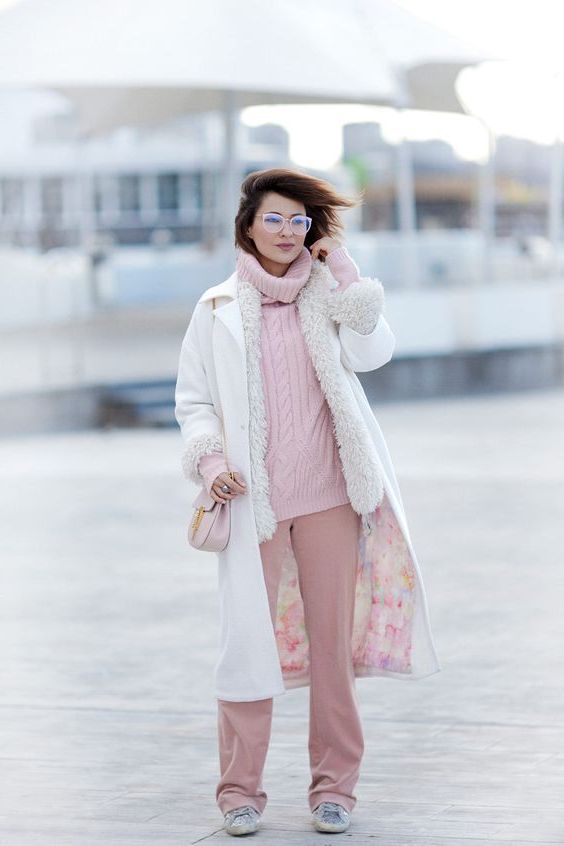 Buy Similar Here
Yes, pastels look great with other pastels. If you are thinking about how to incorporate pastels with dark neutrals, then the best and easiest way to it is to wear a pastel coat. This will make you look chic and fashion-forward.
Blush biker jacket ideally suits a grey turtleneck sweater combined with grey skinny jeans and gold sequined heeled pumps. In love with these rounded mirrored sunglasses: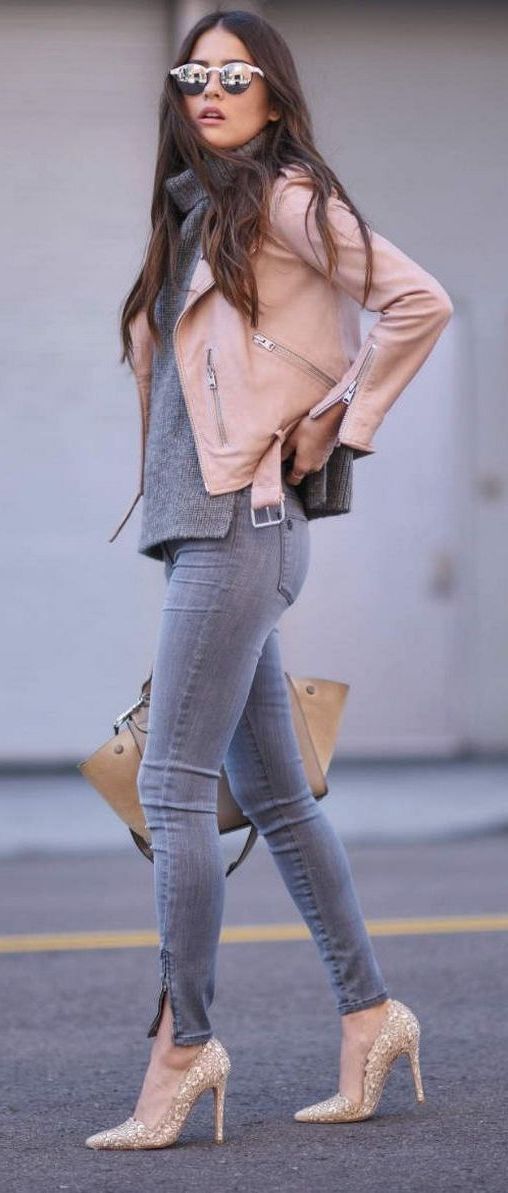 Buy Similar Here
Well, coats are not the only pastel garments that can be worn by you. Think of sweaters, dresses, trousers, as well as accessories. Hope these street style images will inspire you to think of something bright, chic and feminine. Scroll down to find your favorite looks to copy this Fall.
Blush sleeveless coat is an ideal layering piece to wear with a cream blush sweater and classic blue skinny jeans. Complete this look by adding Wayfarer sunglasses: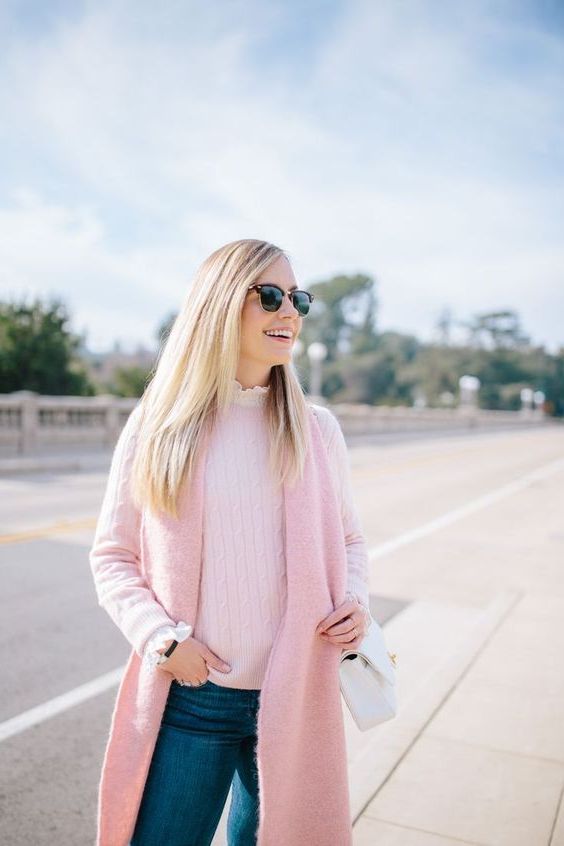 Buy Similar Here
Blush coat looks pretty chic teamed with a pastel turquoise knitted beanie, shawl scarf and white sweater. Complete this combo by adding ripped skinny jeans and white kicks:

Buy Similar Here
Another blush coat is styled with a matching color pullover paired with crop jeans and white sneakers. In love with these rounded sunglasses: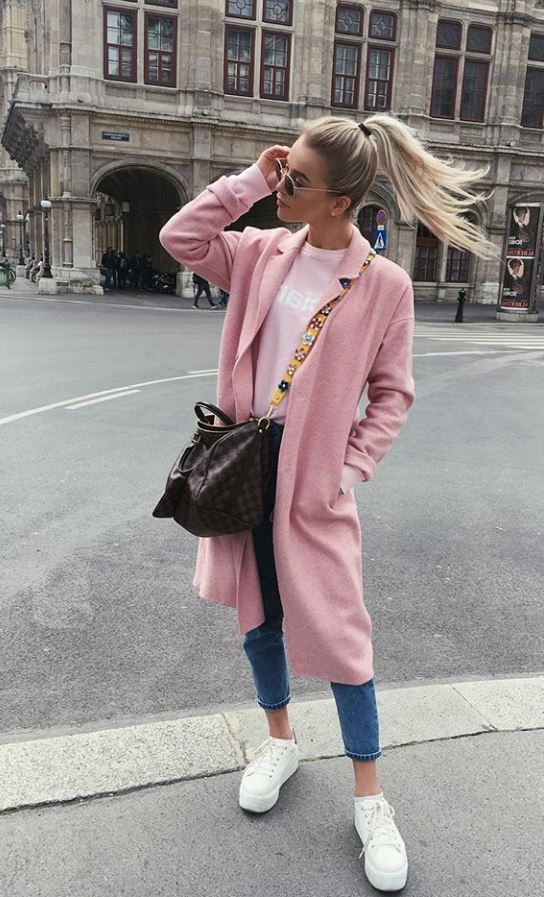 Buy Similar Here
We see a fabulous dust blush coat teamed with a white turtleneck and tailored blush pants completed with blush heels. Complete this combo by adding aviator shades: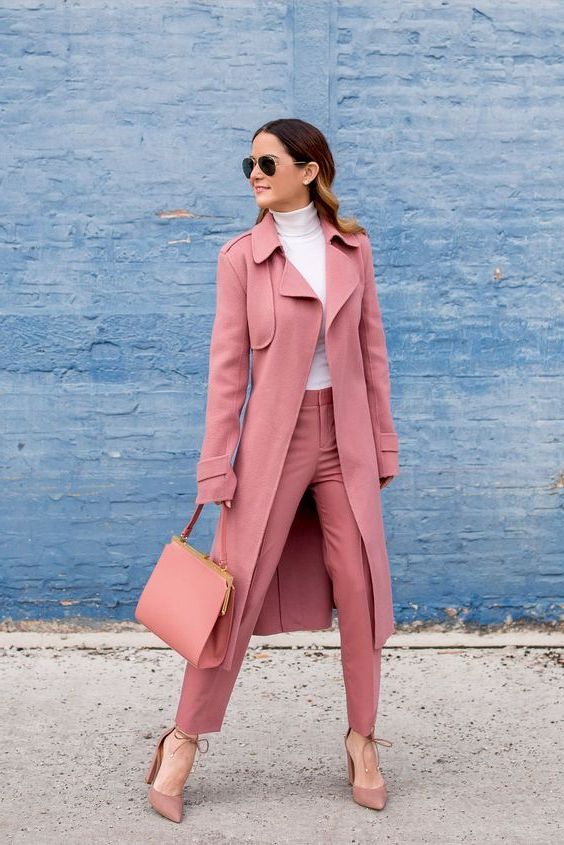 Buy Similar Here
Blush peacoat with gold buttons ideally suits white long shirt and skinny blue ankle jeans completed with blush sneakers. In love with these statement tortoise sunglasses: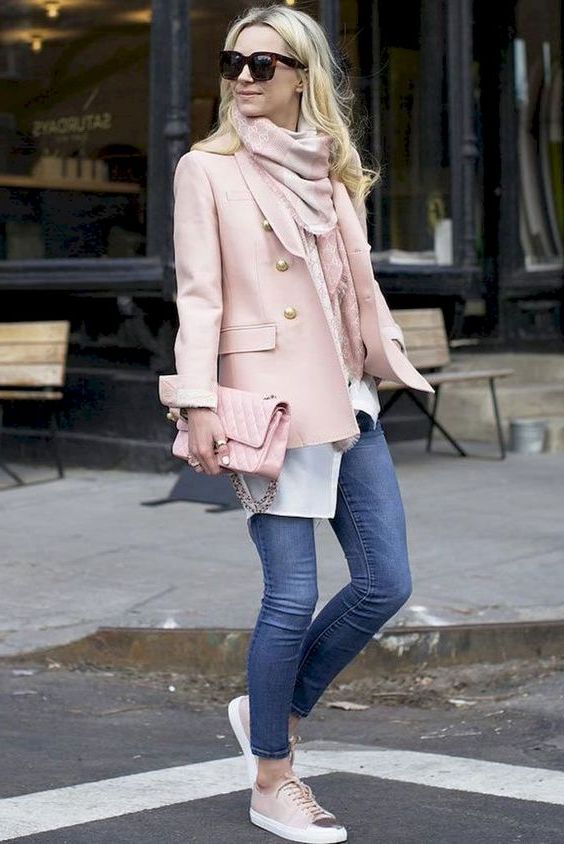 Buy Similar Here
This one looks Parisian chic inspired. Go for a blush beret, tailored blush coat and white skinny jeans. A perfect look for those who want to create a sweet and eye-catching look. By the way, I highly recommend to check out my post on French chic style tips, I am sure you can find plenty of inspiring outfit ideas to copy: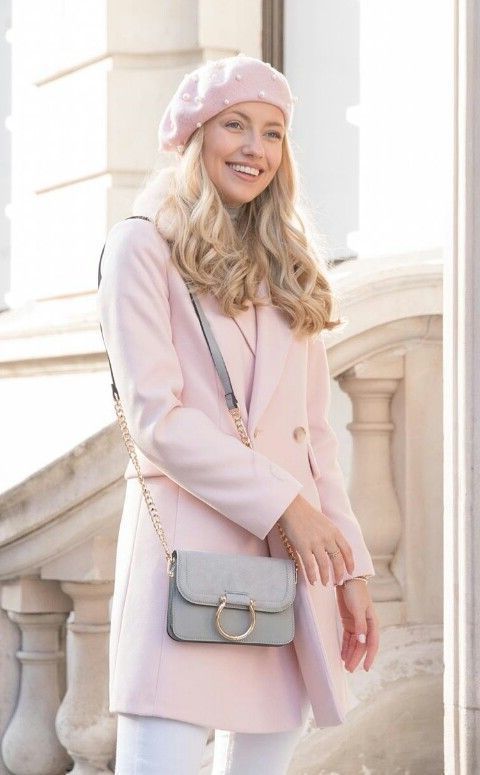 Buy Similar Here
Another cool way how to wear pastel blush sleeveless coat. All you need is to cover it over a white shirt tucked in black leather pants. Complete this style by adding oversized sunglasses and ankle cuff heeled sandals: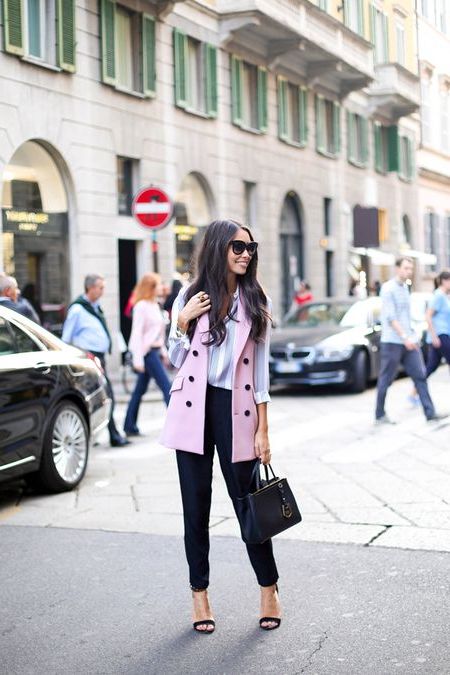 Buy Similar Here
Blush Coat plus White Separates, an ideal combo for fall season days: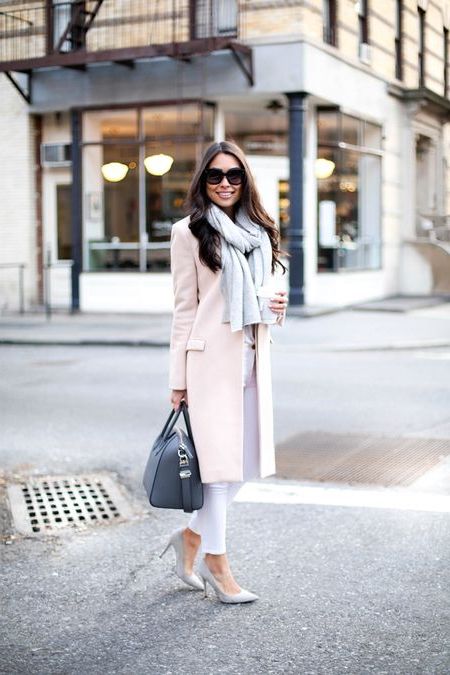 Buy Similar Here
Pastel sky blue coat will be a good layering piece to layer over black-white striped top completed with black knee-ripped skinny jeans. Update this combo with white heels: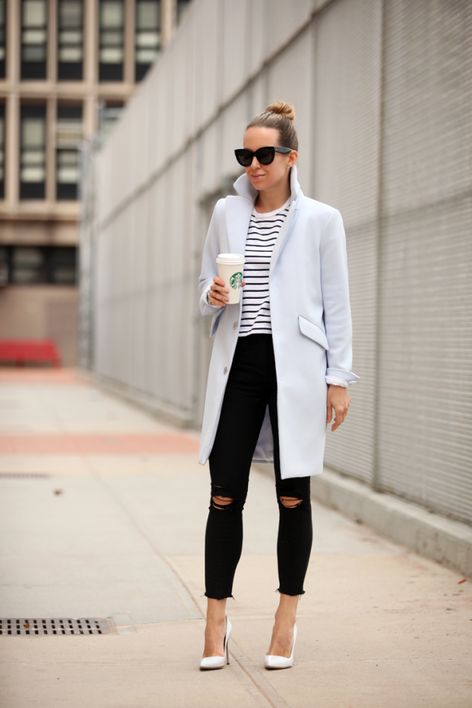 Buy Similar Here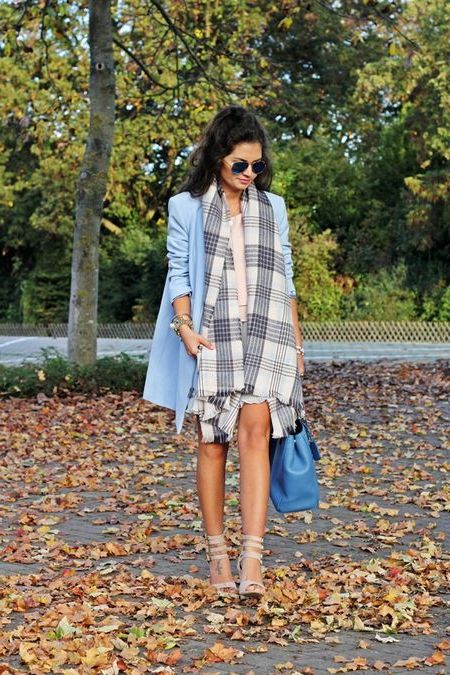 Buy Similar Here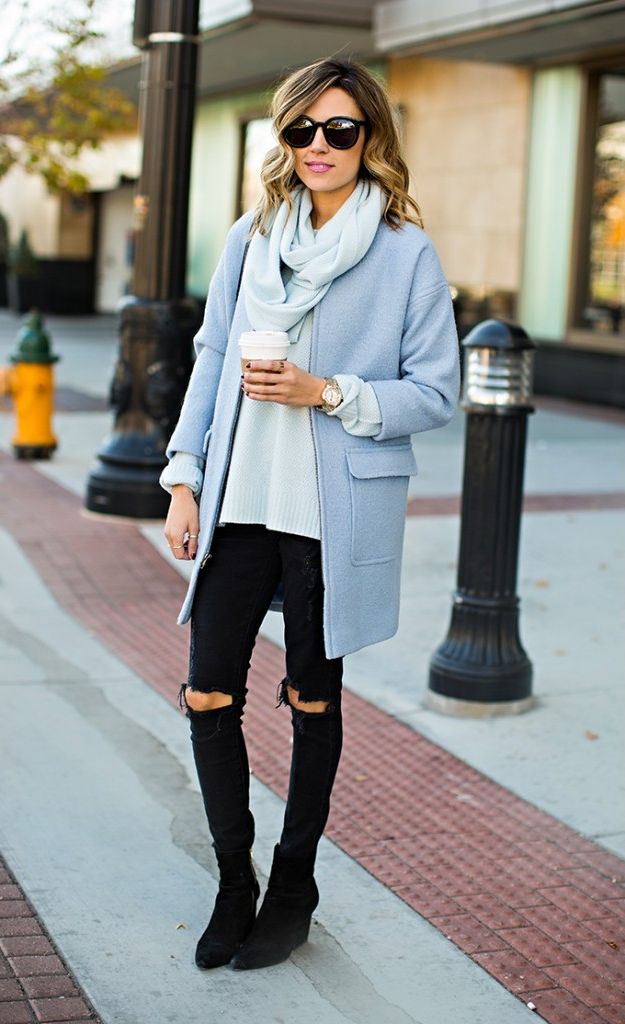 Buy Similar Here
Wool coat in cream blue looks incredibly chic with the same color sweater, white jeans, and white sneakers: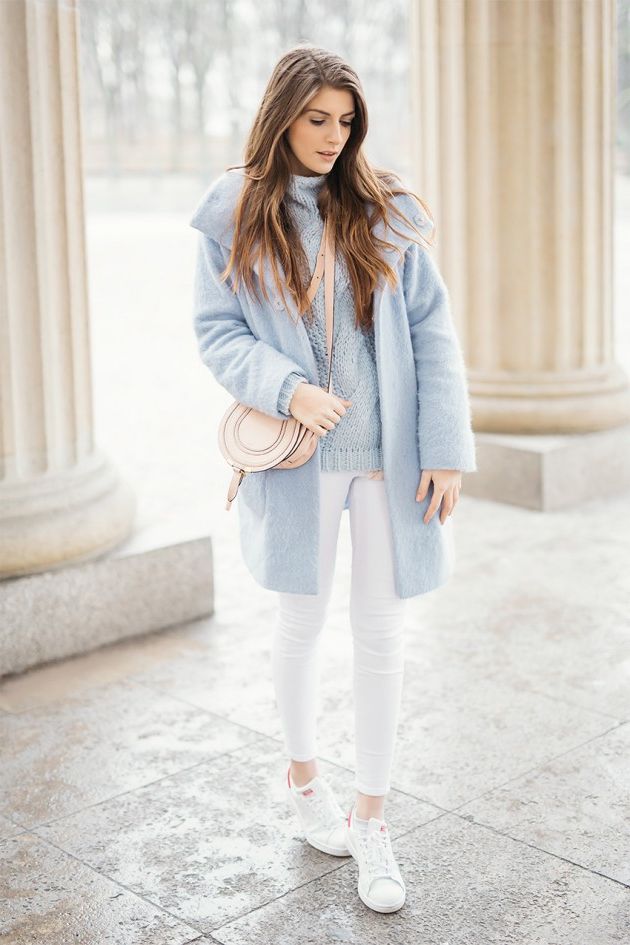 Buy Similar Here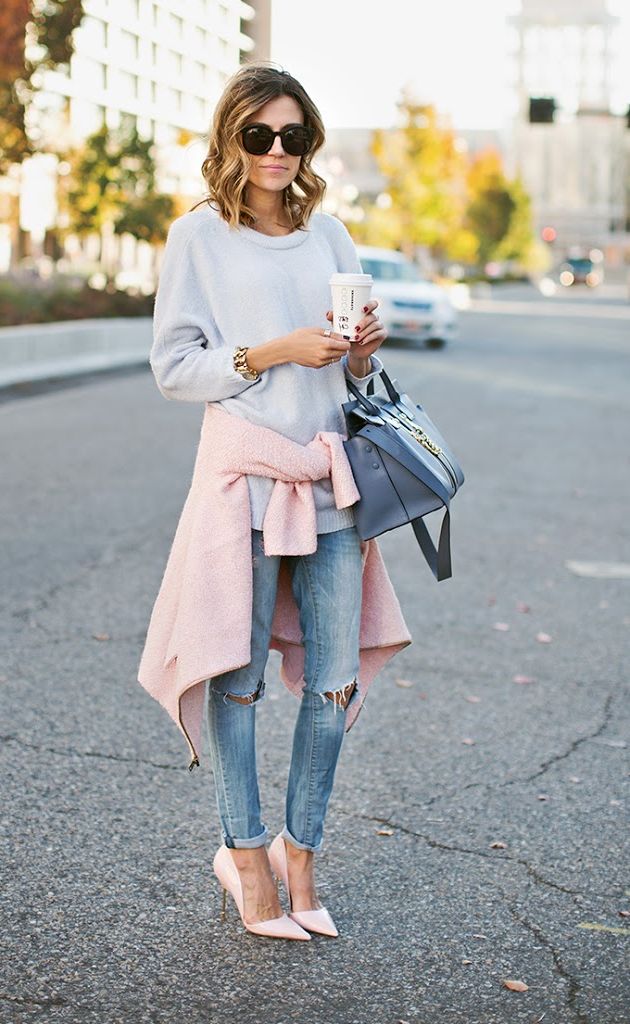 Buy Similar Here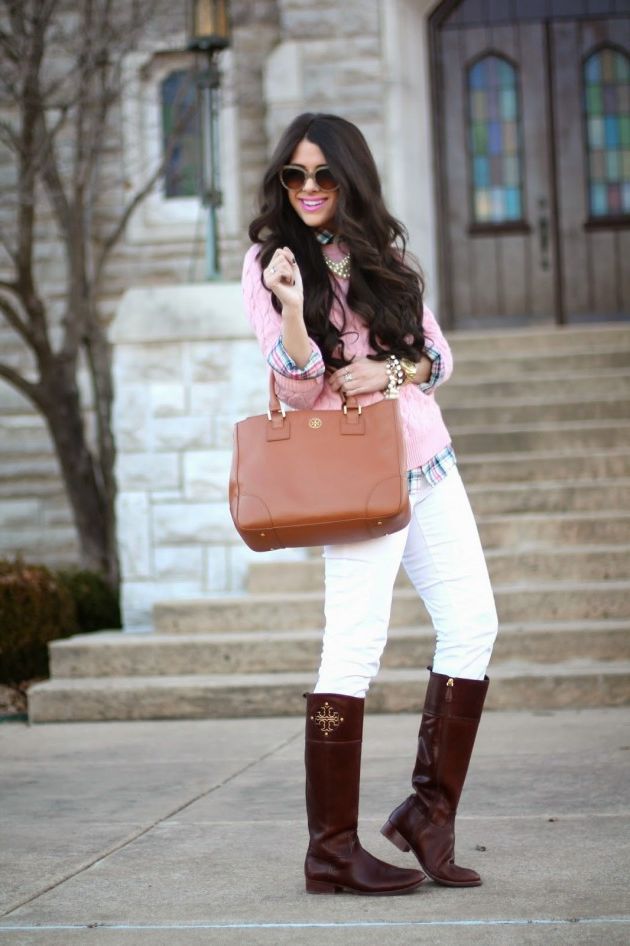 Buy Similar Here
A blush knitted cardigan can be a good layering piece to wear with a white shirt and knife-pleated black skirt with a white stripe. Complete this outfit with a brown leather belt and cream-brown heeled pumps: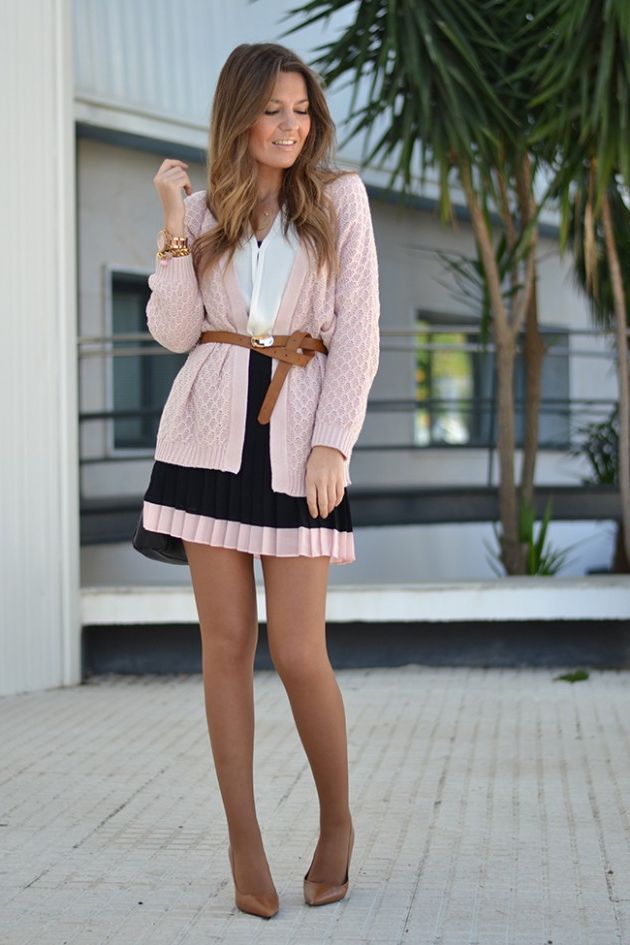 Buy Similar Here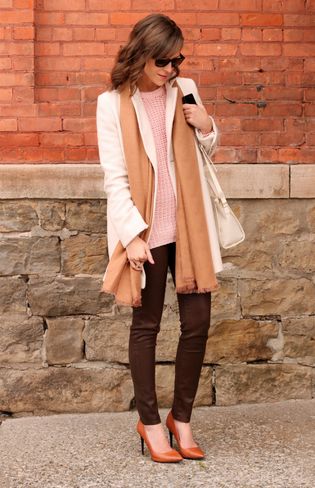 Buy Similar Here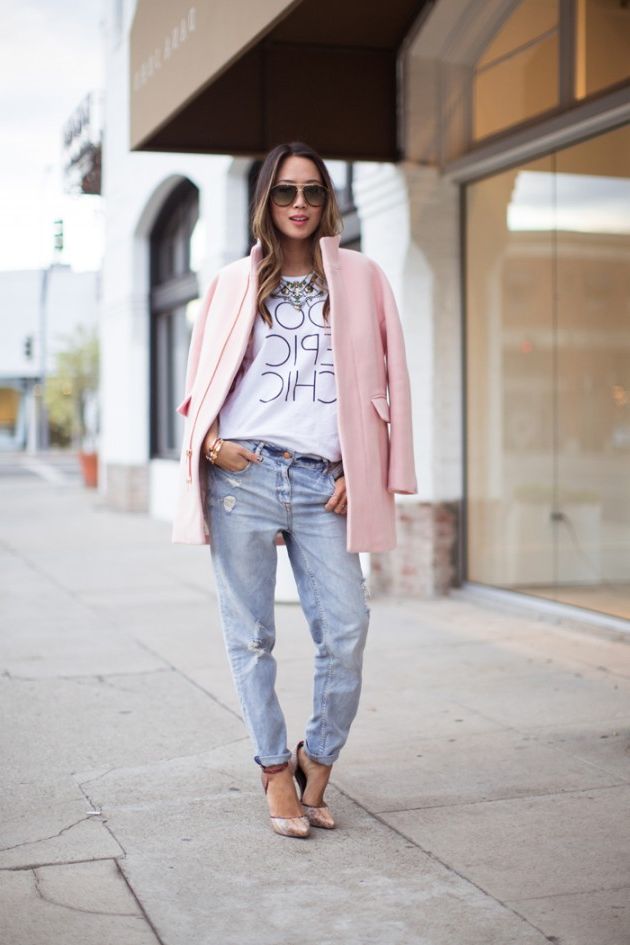 Buy Similar Here
A pastel blue coat can be a good match to wear with a blush dress and light grey OTK boots: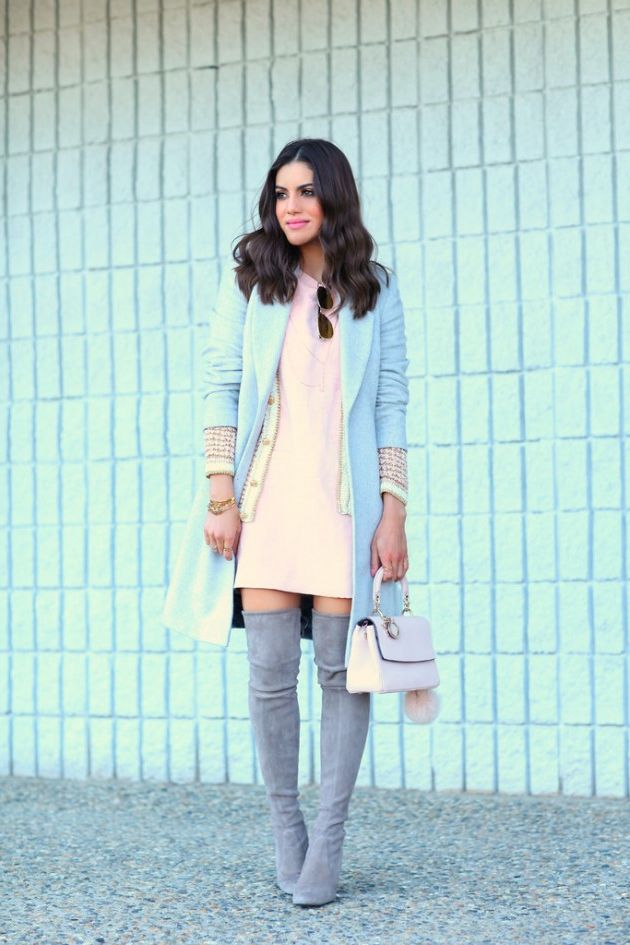 Buy Similar Here
Pastel brown wool coat looks warm and versatile. Layer it over pastel green sweater teamed with white slim jeans and brown suede ankle boots: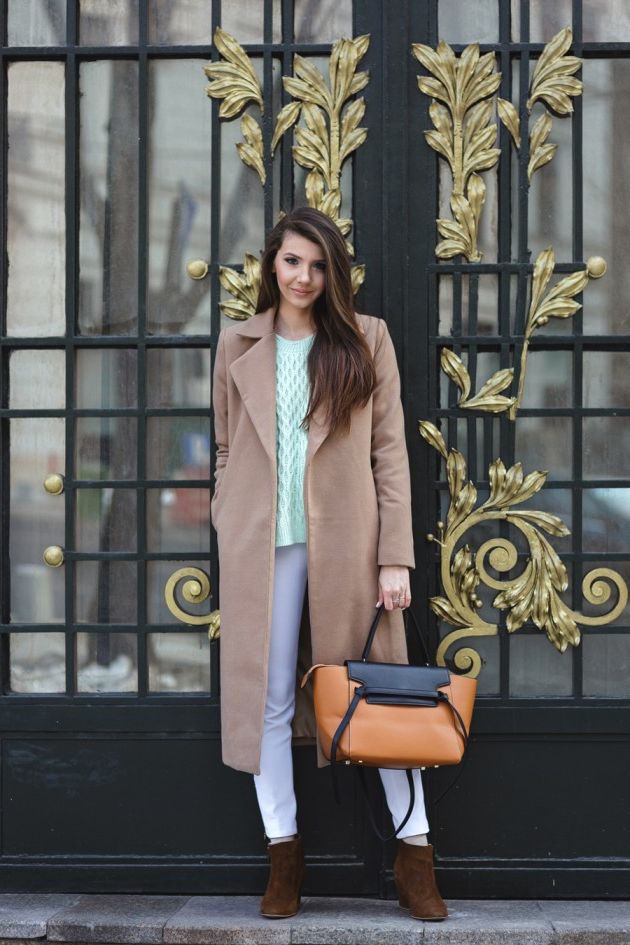 Buy Similar Here
Printed pastel collarless jacket ideally suits blush cable knit sweater tucked in light green leather mini skirt. Complete this combo by adding grey ankle boots: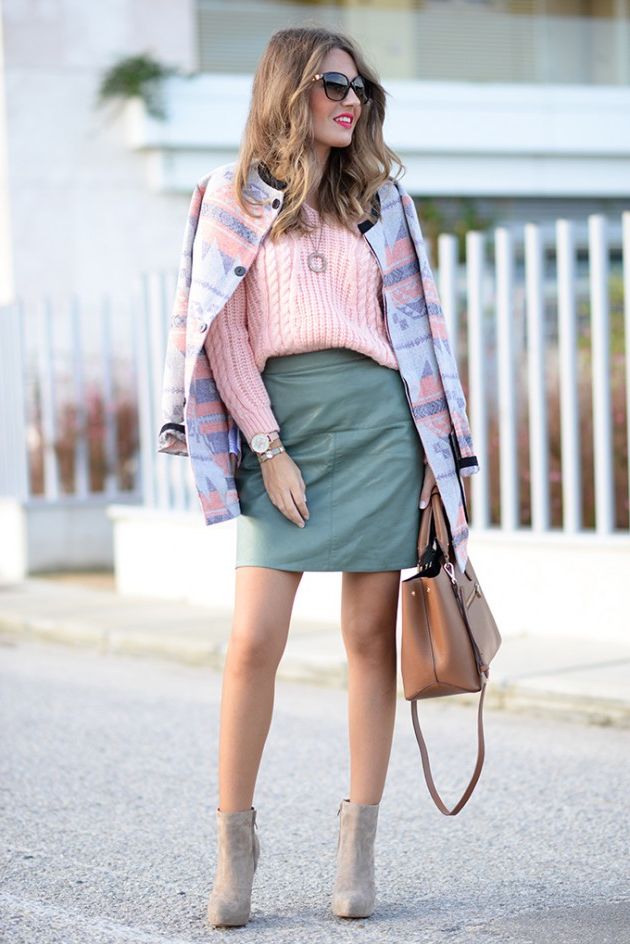 Buy Similar Here