It's been a while since my last post and today I want to share with you something special. An easy guide on how to dress like a real Italian woman. How about a chic la dolce vita this year? No matter if you are about to visit Italy, or stay at your home, you can still dress like an Italian lady, thanks to this collection of street style ideas.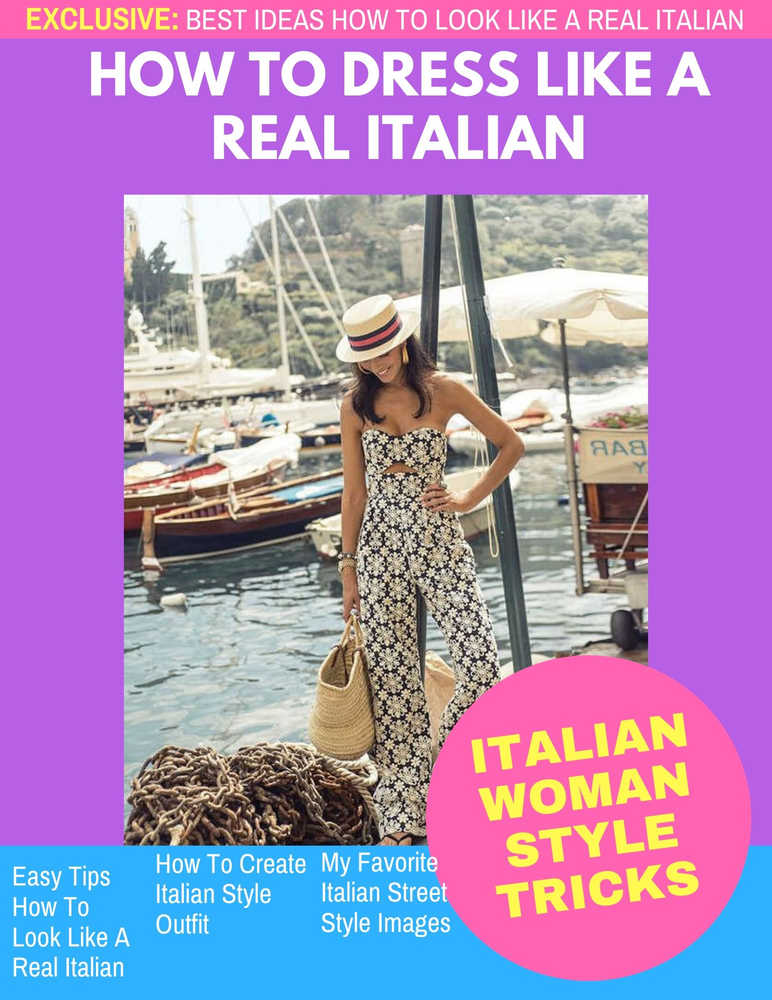 Buy Similar Here
If you decided to dress like Italian, then you need to look and feel like an Italian. First of all, embrace your femininity. Start to love your figure, your hairstyle and every centimeter of your body. You should always emphasize your figure in a way that makes you comfortable.
We see a beautiful outfit idea on how to dress like a real italian woman in the summertime. She is clad in off-shoulder burgundy lace midi dress completed with a wide brim straw hat and cute block-heeled sandals: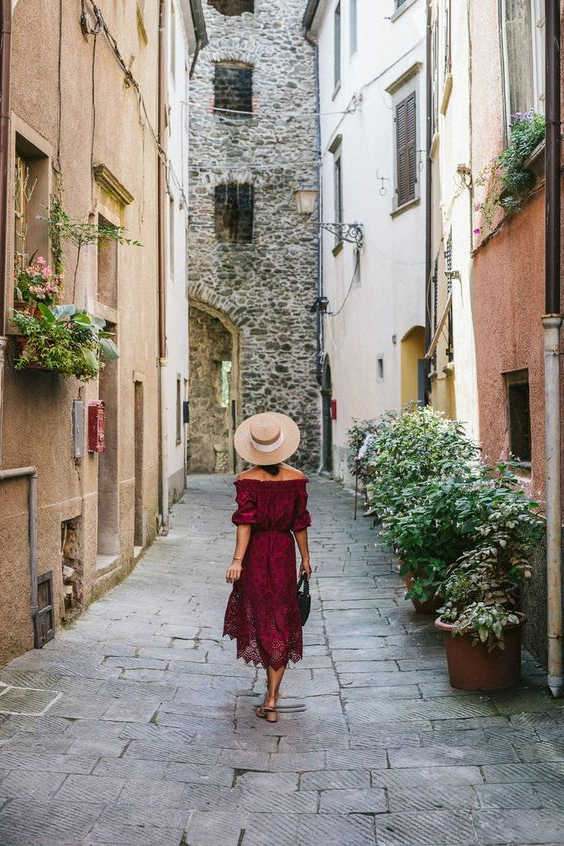 Buy Similar Here
If you do like your legs, then wear skirts and dress to show off your pretty legs, if you love your neck, then go for strapless, off-shoulder tops and dresses, so everybody sees the beauty of your neck, if you are into your waist, then cinch it with a gorgeous leather belt to show it off, and so on.
We see a fancy look for those who like to wear oversized fashion. A young lady is wearing an oversized cream-blush blazer over a silk white midi slipdress completed with chunky sneakers in white. Update this combo by adding brown leather bucket bag and cat-eye sunglasses: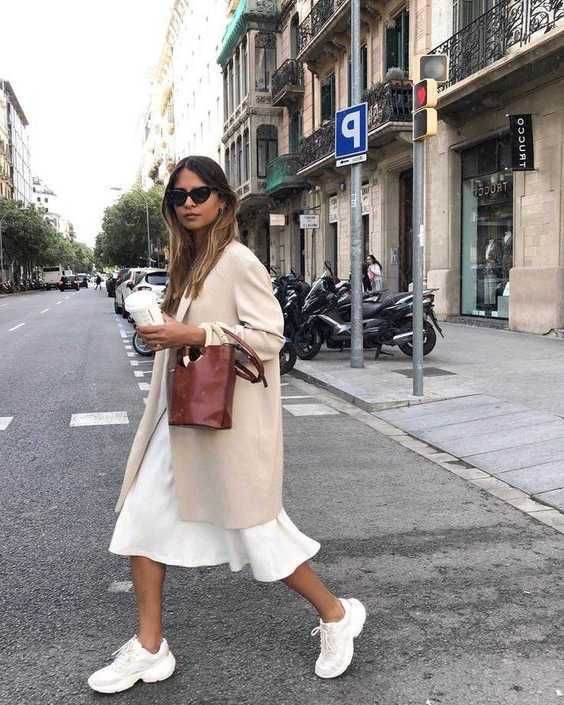 Buy Similar Here
That's why you should not google on how do Italian women dress, but start from discovering yourself from other angles. Then you should make a revision of your closet and get rid of all things that don't make you happy. Once it's done, you can invest in the so-called basic garments that can be worn over and over again. Yes, they might be expensive, but they will serve you for ages.
Make sure you pay attention to the details of your look. Italian women's style is all about high-quality accessories and detailing. Like wearing a belt, it should be made of the finest leather so you can show off the beauty of your hourglass figure. The same concerns fashion prints, Italians love animal and snakeskin prints.
We see a black-white gingham print scoop-neck midi dress with a belt that can be used for garden parties and tea parties: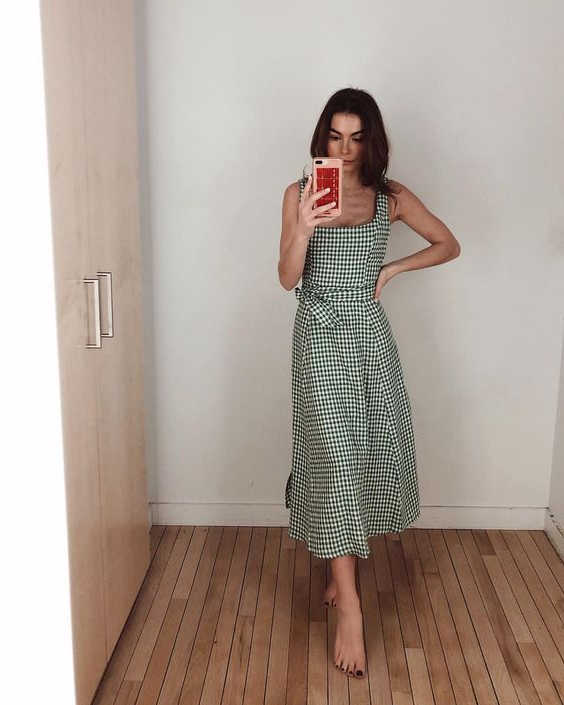 Buy Similar Here
Italian women street style has always kept a glamour touch, no matter if you go out for a cup of coffee or you are up to a cocktail event, you have to look at your best.
Every Italian style-setters know the secret to any great outfit is to start with a statement piece, and then building an outfit around it. Think quality over quantity. Look for clothes that are well-made and don't fall apart after a few years.
What I love about their look is the paradox of being both relaxed and elegant. I always wonder, how do they make such a look happened? The thing is that they build their looks from scratch, literally. I mean, they wear the most expensive lingerie, they invest in belts, jewelry, earrings, bracelets, and rings, not speaking of such essentials, like shirts, pants, shorts, and outerwear. They have an instinct and passion for fashion. They wear what they like and that's all. They have a personal choice, either go for a more elegant outfit or keep things wild and edgy.
We see a gorgeous mini pink dress with spaghetti straps completed with strappy heeled sandals in white, mini handbag in red with white polka dots, blush headscarf and white cat-eye sunglasses: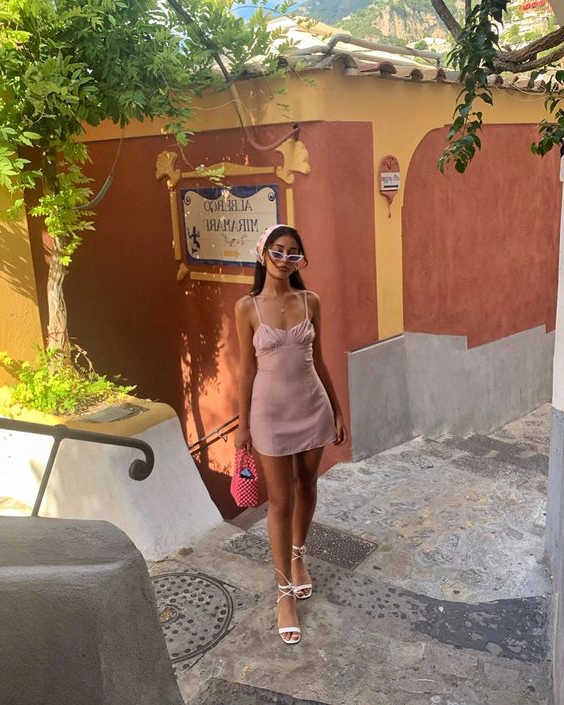 Buy Similar Here
Looking glamorous doesn't mean always buy expensive garments. I have already made a post on how to look expensive, if you didn't read it, then give it a shot, as you will find tips and tricks on how to make an outfit look more expensive. What I love about Italian outfits is that they use expensive clothes in their everyday lives, they don't wait for special occasions, they just wear what they love and when they want.
Why Italian women always look so stylish, do they have a secret? I might say, yes, they do have a secret which is hidden in their veins and blood. They have a passion for dressing chic and elegant.
We see a grunge-inspired outfit for Italian ladies. It is a nice combination for cold Fall season days. We see a black leather jacket styled with a black top, pastel-grey wool scarf and skinny grey jeans completed with black suede ankle boots: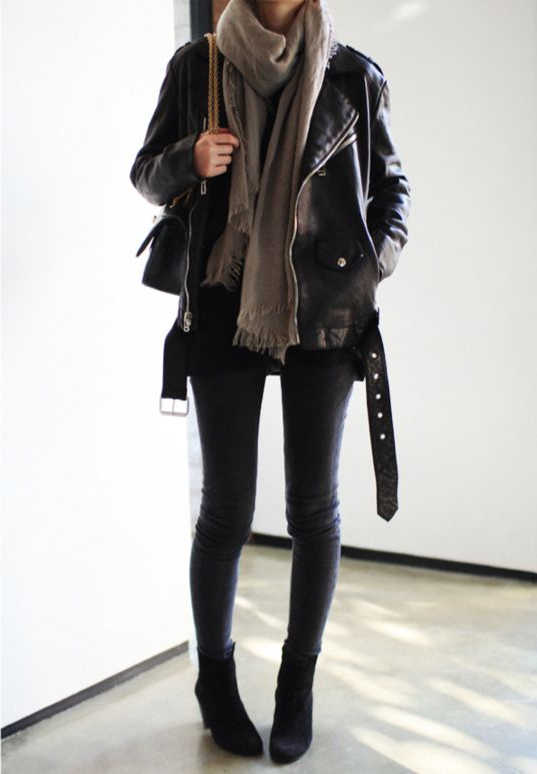 Buy Similar Here
No offense, Italian women are the best at dressing like bombshells, while French ladies have mastered in effortless elegance, and New York women are great in wearing power dressing. By the way, if you want to know some great ways how to look like a real Parisian chic, then check out my post, as I have many ideas that are so must-try this year.
Go glamour with this cream-grey double-breasted pantsuit. In love with gathered pants and that pastel-peach top underneath the jacket: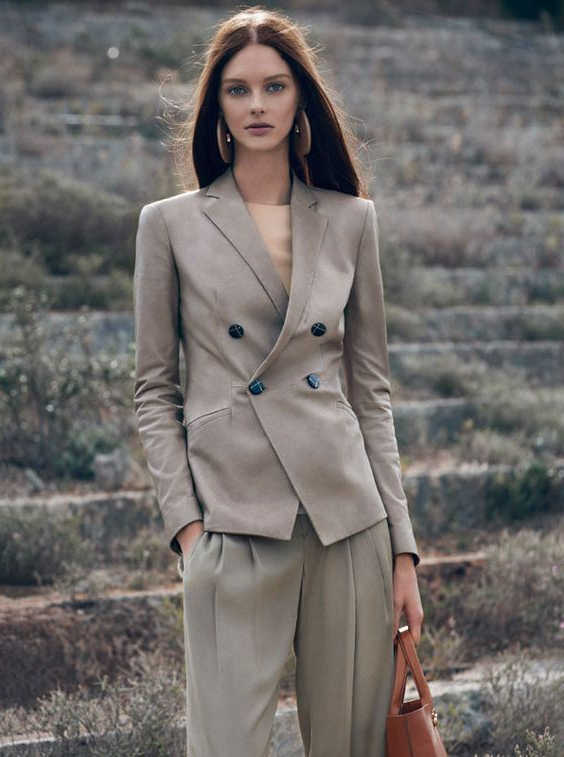 Buy Similar Here
Another great tip is to use sequins, glitter, and gemstones in your outfit. These details should emphasize your individuality and show off your true personal style. But NEVER, I say never go overboard, otherwise, you risk to look trashy and cheap. All those glitters should be balanced with neutral basics. One last thing before we go for street style inspiration, don't forget about sunglasses. Italy is a sunny country, so you better save your precious eyes by wearing a pair of sassy, chic shades.
What Beachwear Do Italian Women Wear
A pinstripe black shirtdress with long sleeves is styled with a khaki-green fedora hat and a black bikini set. An ideal style for your next beach day: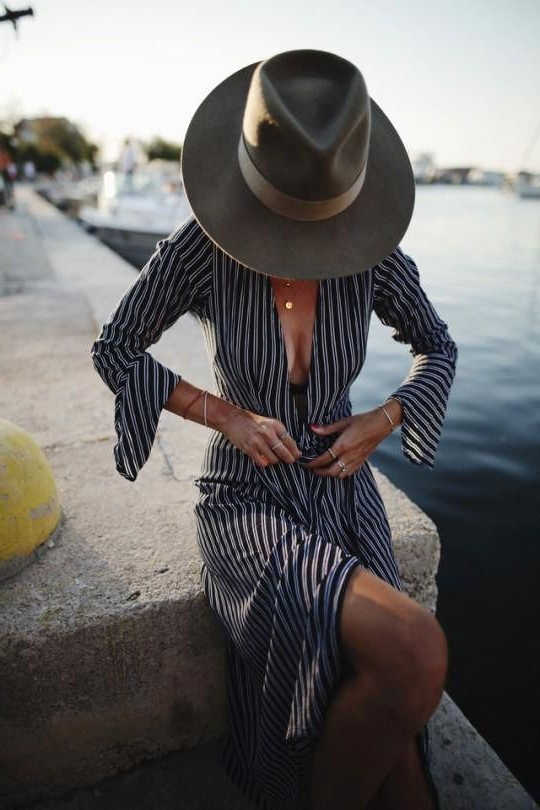 Buy Similar Here
What Coats Do Italian Women Wear
This outerwear piece can transform your entire look and no matter how cold it is, you can still be chic and ladylike. As you all know, the devil is in the details. Invest in a qualitative coat made of thick wool, wool-blend, faux fur, wrap coat or for a heavy blazer. Here we see a beautiful Italian woman wearing a pastel pink coat styled with a layered outfit consisting of a cream-grey scarf, white turtleneck, and tailored grey wide pants, complete the look by adding oversized sunglasses: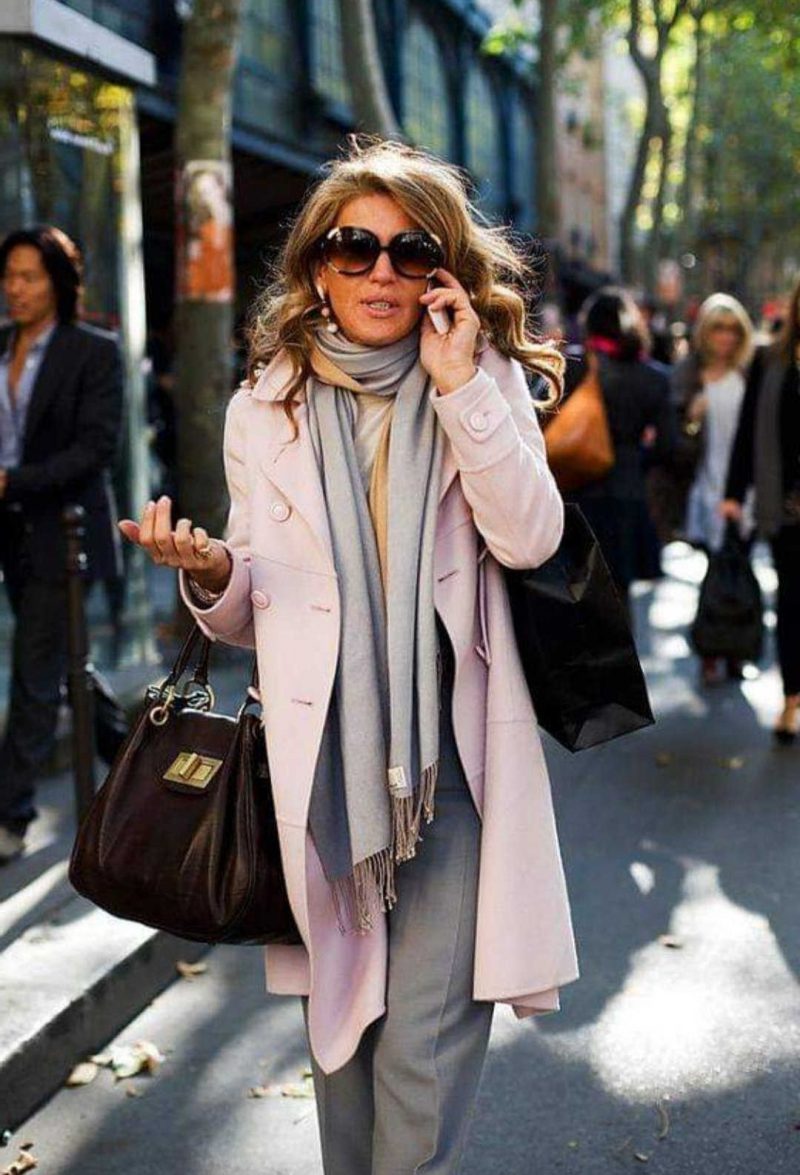 Buy Similar Here
A pastel blue collarless coat ideally matches the multi-striped sweater and blue slim jeans: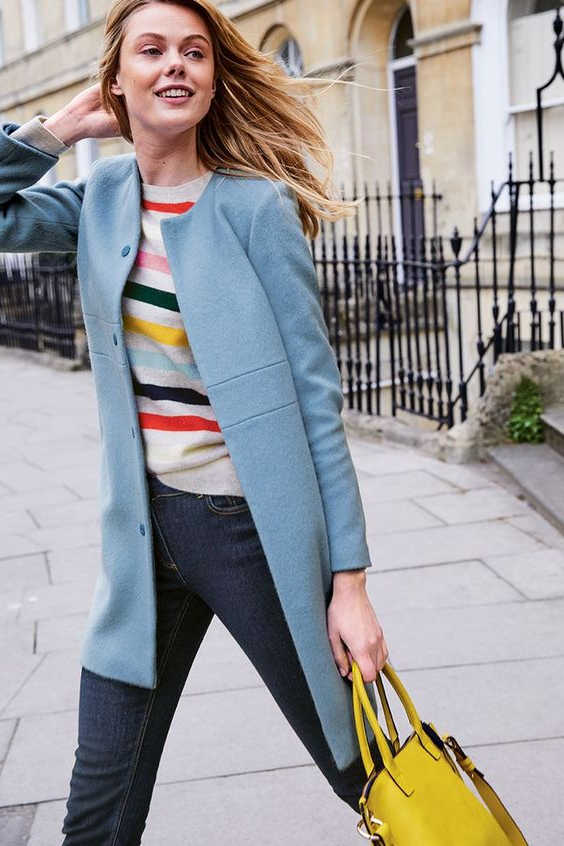 Buy Similar Here
What Blazers Do Italian Women Wear
Here we see a good example on what blazers Italian ladies wear, a plaid grey suit jacket is combined with ripped slim ankle jeans completed with pointed-toe black heeled pumps: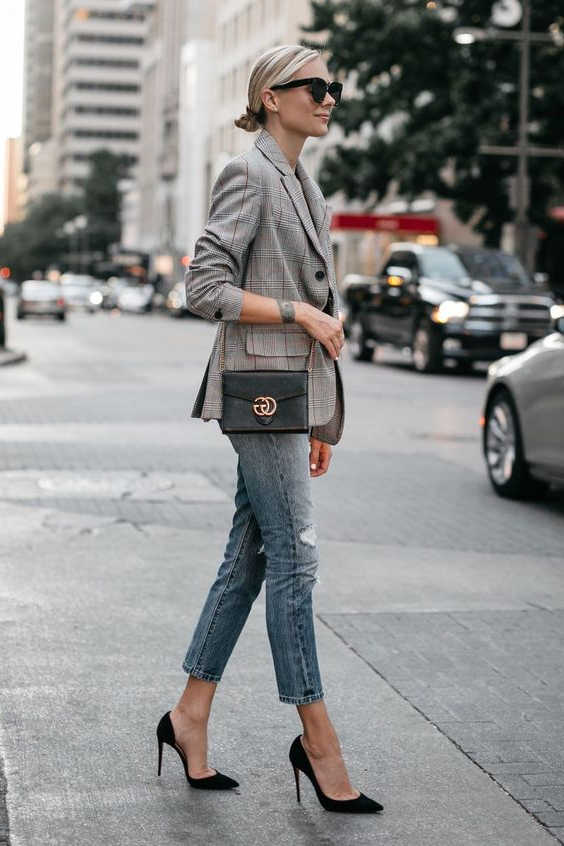 Buy Similar Here
What Blouses Do Italian Women Wear
As I have already mentioned, it's always a good idea to invest your money in classics and essentials. Here we see a white blouse tucked in high-waisted dark navy midi skirt completed with cut-out black heeled pumps: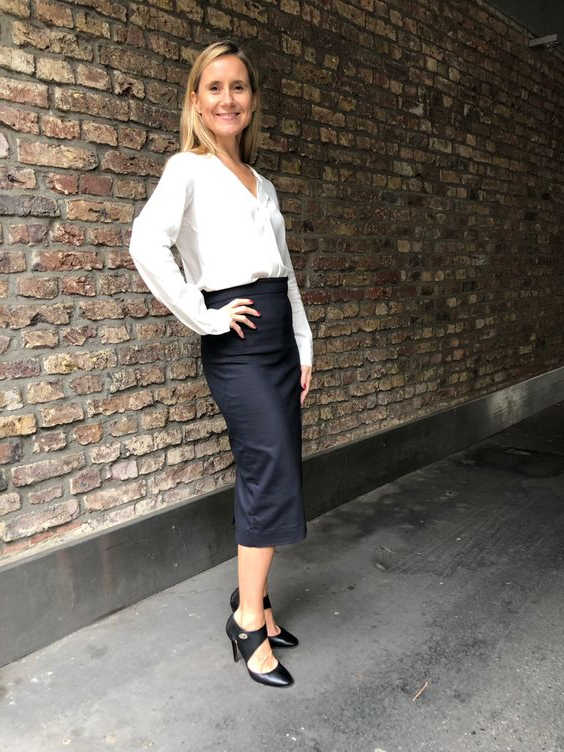 Buy Similar Here
By the way, if you are on your vacation to Italy, then you can always go for a relaxed-fit black-white striped T-dress, complete it with a brimmed straw hat and white sneakers: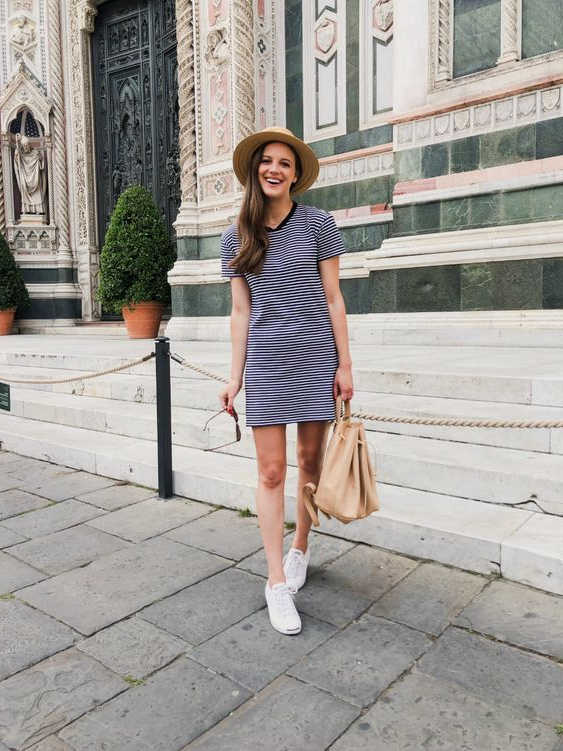 Buy Similar Here
As I have already said, Italians love prints and especially animal print. Here we see a leopard print long coat with a belt styled with a black top, oversized sunglasses and slim black ankle pants completed with cream-white pumps: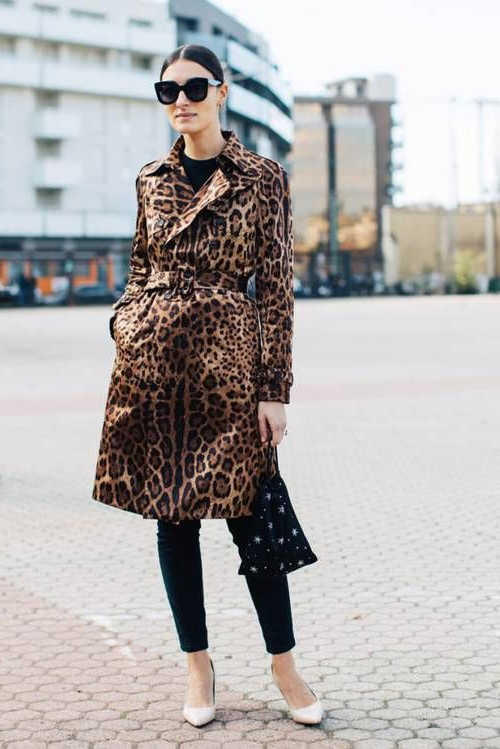 Buy Similar Here
What Dresses Italian Women Wear
Oh, dresses. Italians admire dresses, they love to wear them from Monday to Sunday, from 10 to midnight, from casual walks to very special occasions. Here we see a beautiful woman with a wavy bob haircut wearing an off-shoulder navy printed midi dress completed with buckled ankle-cuff heeled pumps in black and oversized sunglasses: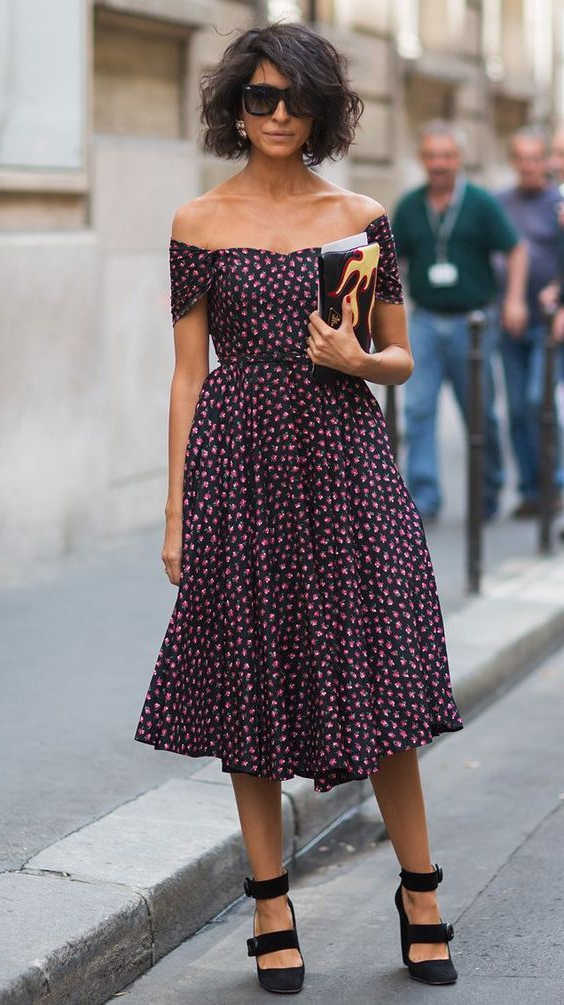 Buy Similar Here
A white bolero jacket is draped over a yellow-white gingham print fit-and-flare short dress completed with peep-toe heeled white pumps and bright yellow-white mini bag: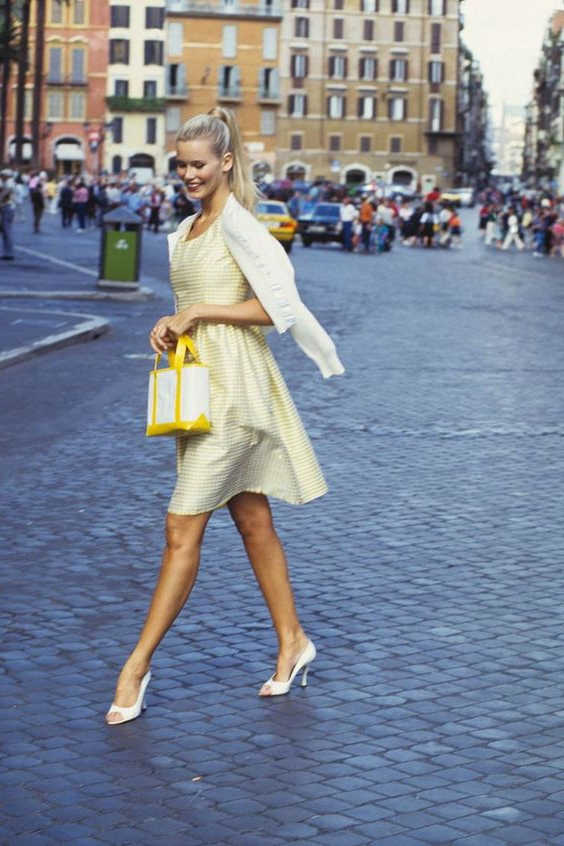 Buy Similar Here
What Jackets Italian Ladies Wear
Italians like to keep the layering simple. Here we see a good example, a blonde lady is sporting a wash blue denim jacket with a white sweater, black leggings, and white kicks, she completed her look with a black leather backpack: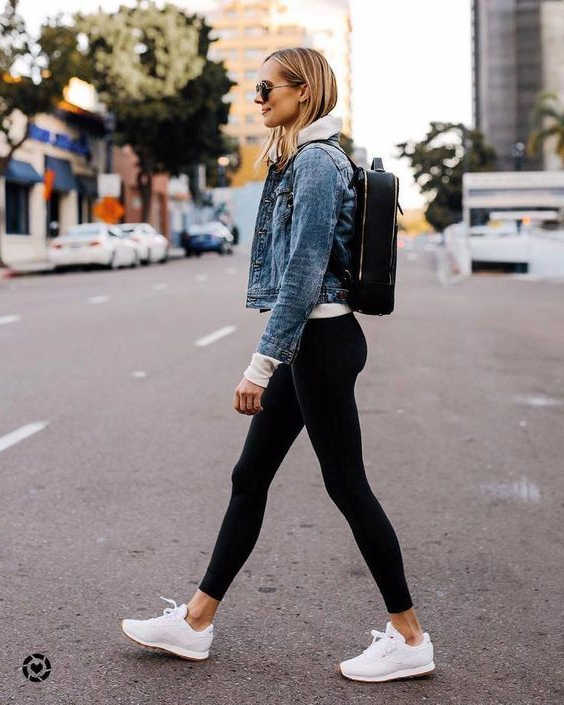 Buy Similar Here
What Jumpsuits Do Italian Women Wear
An ideal jumpsuit for your next Italian boat trip. We see a straw boat hat and strapless front cut-out jumpsuit in brocade print with wide-leg pants and a straw tote bag: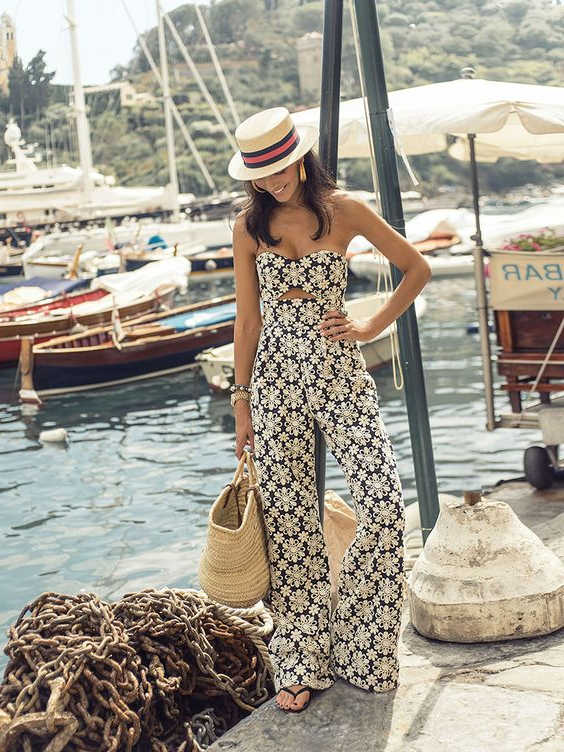 Buy Similar Here
I love the summer Italian style, here we see a young lady wearing off-shoulder peplum white top teamed with pinstripe flared midi skirt completed with strappy block heeled sandals. Look at these cool mirrored rounded sunglasses, they are precious: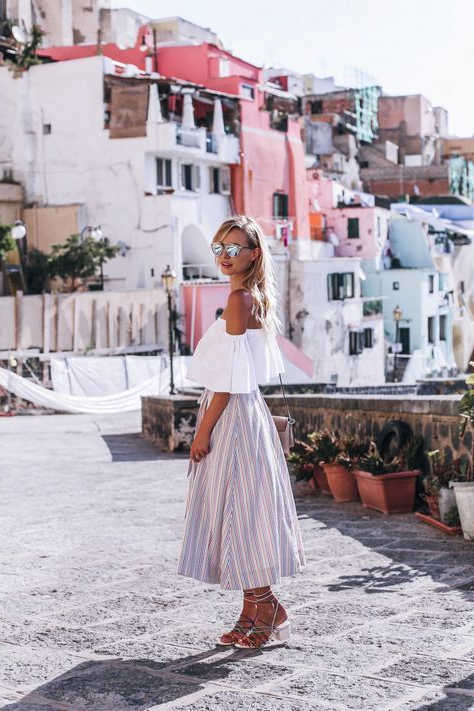 Buy Similar Here
Do Italian Ladies Wear Pants
You might say it's a stupid question, but most Italian ladies I know, they better go for a skirt or a dress, rather than walking down the streets wearing pants. But still, those who live in central and northern Italy, they got used to wearing pants. Here we see a good example, a lady over 30 is clad in a wrap black blouse tucked in high-waisted khaki wide pants completed with flip-flops and a spacious folder clutch in black leather: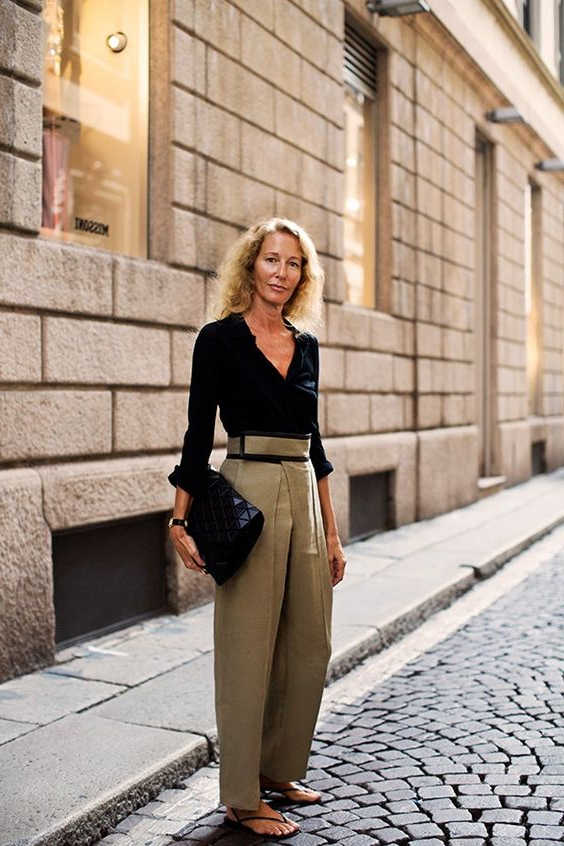 Buy Similar Here
Another cool example of an Italian lady wearing pants. We see a black leather biker jacket teamed with a basic white top tucked in light-brown gathered ankle-pants completed with pointed-toe black leather ankle-boots: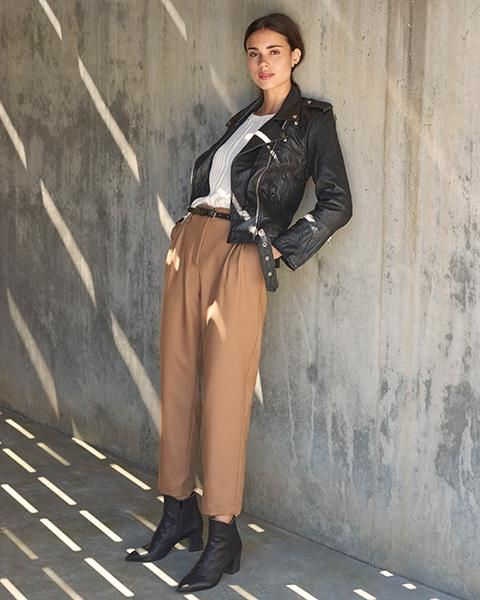 Buy Similar Here
In love with this simple day look consisting of a light brown turtleneck tucked in dark green slim ankle pants completed with pointed-toe leopard print pumps: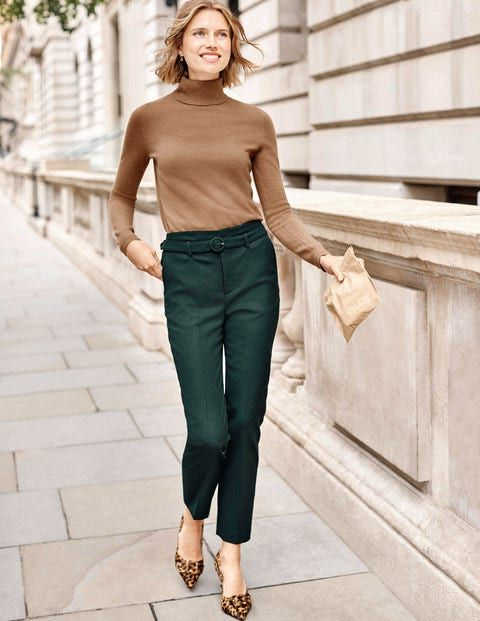 Buy Similar Here
We see extra wide-leg grey pants teamed with a blush cami top: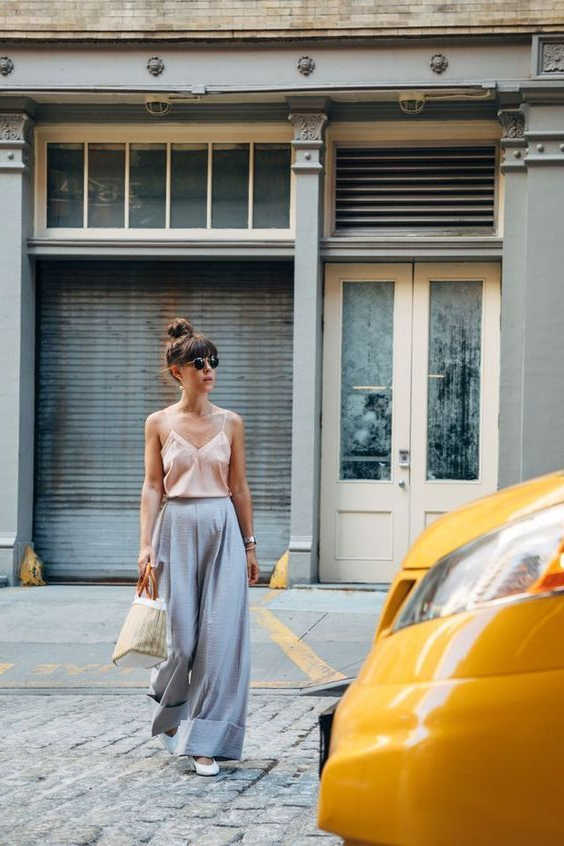 Buy Similar Here
Two ladies wear white cuffed pants styled with tank tops and sandals: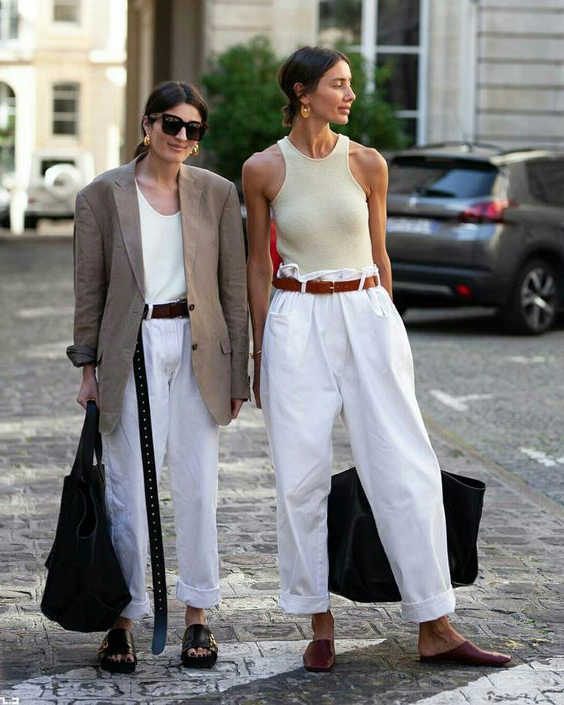 Buy Similar Here
What Suits Do Italian Ladies Wear
Italian ladies love keeping things simple, here we see a great example, a young woman is wearing a pastel blue pantsuit consisting of a pajama-style blazer and cropped slim pants. The suit is completed with matching color flat ballet pumps: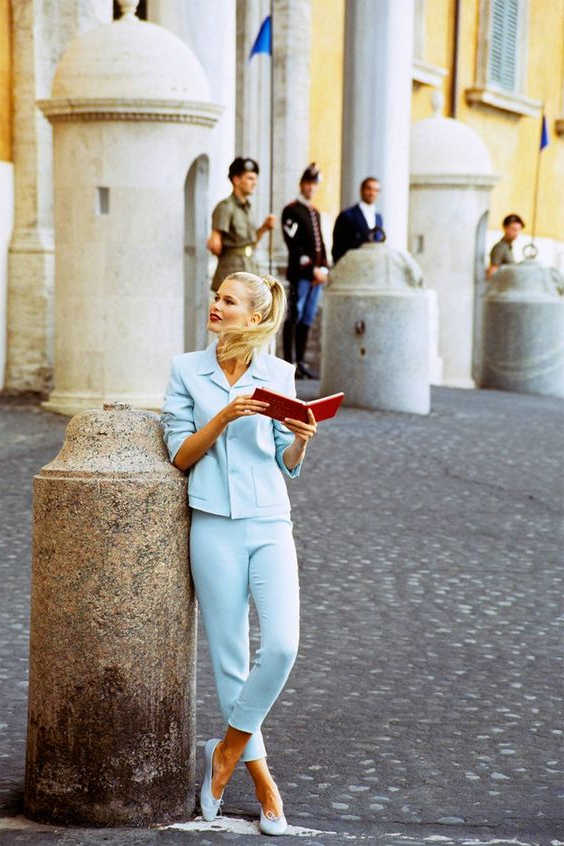 Buy Similar Here
We see a white pantsuit with a graphic print tee and red heels. A perfect combination of young business ladies. Find out other ways how to wear red heels for women, I have a nice article showing you the best looks you can easily copy in real life: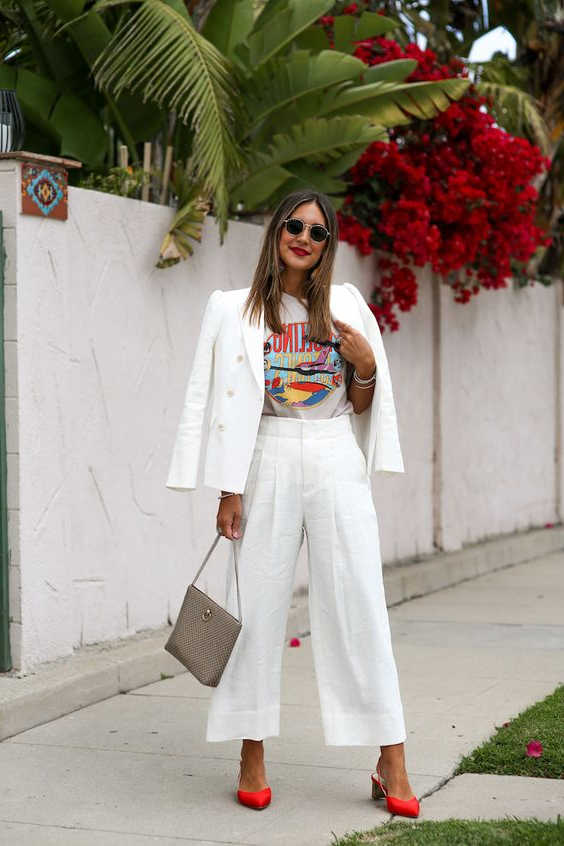 Buy Similar Here
Do Italian Women Wear White Jeans
Yes, Italian ladies love white, no matter if it's a jacket or pants. Here we see a red-white pinstripe wrap blouse paired with white skinny jeans completed with white heeled pumps: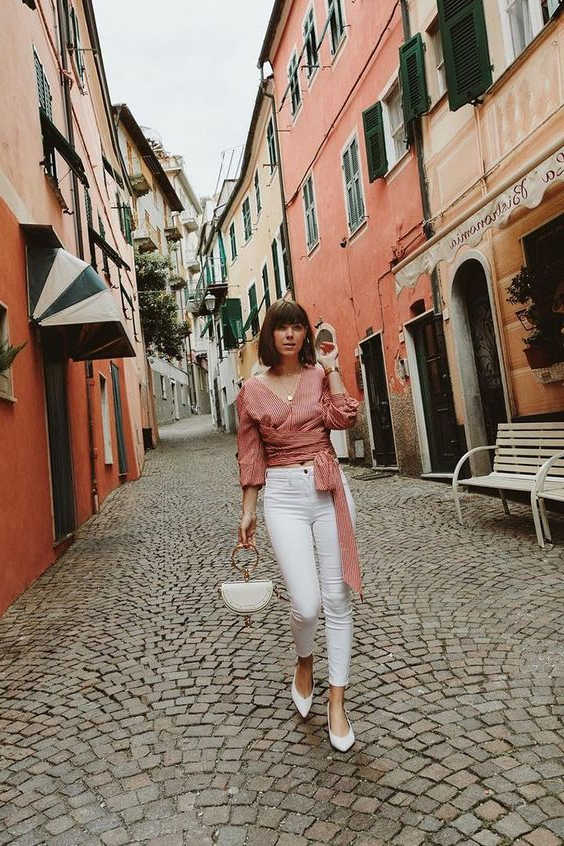 Buy Similar Here
What Skirts do Italian Ladies Wear
Most Italians choose midi or knee-length skirts, they avoid minis. Here we see a knife-pleated navy midi skirt combined with a white T-shirt, blue heeled sandals and modern oversized cat-eye sunglasses: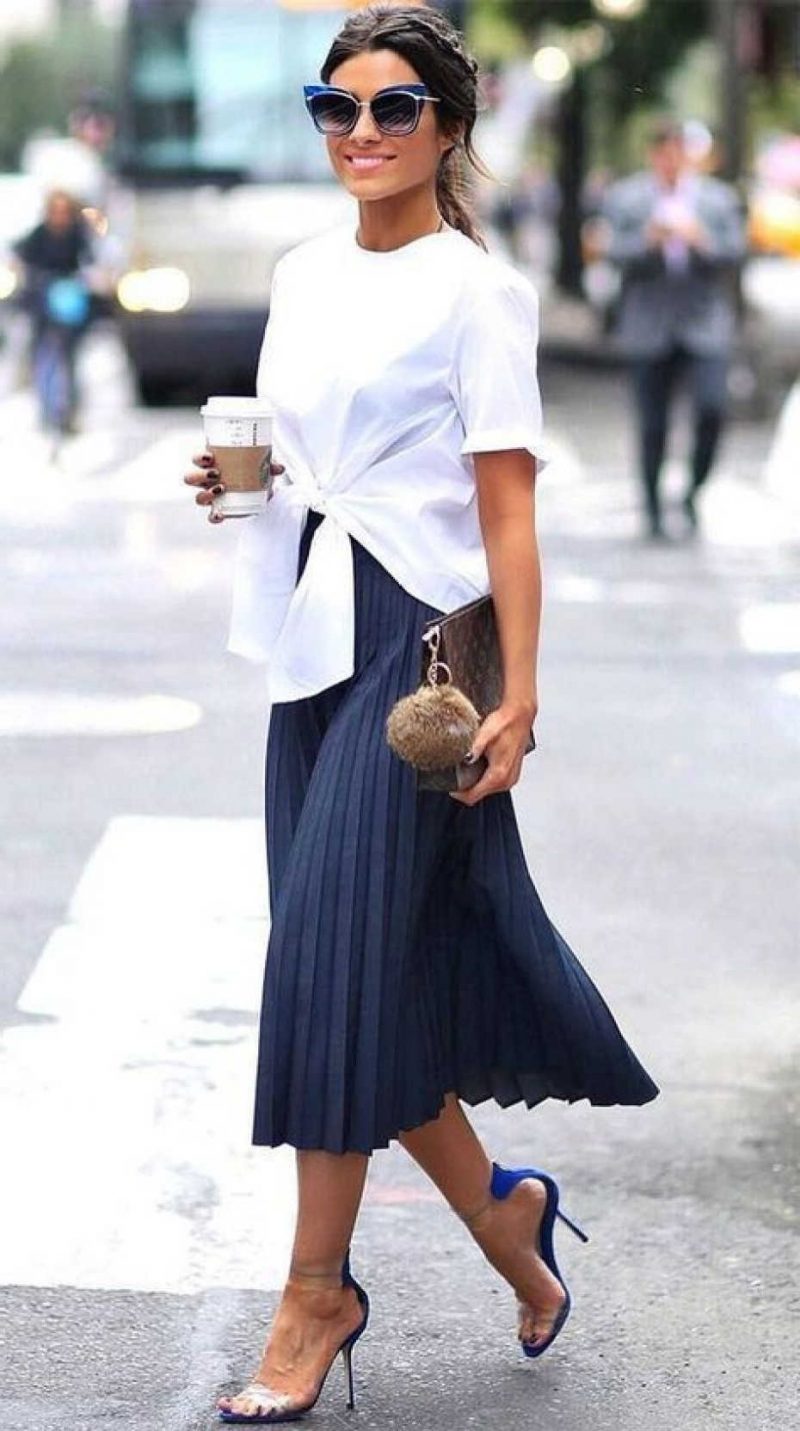 Buy Similar Here
The ankle-length burgundy silken skirt is teamed with a cream-pink sweater. Update this look with grey pumps and modern cat-eye shades: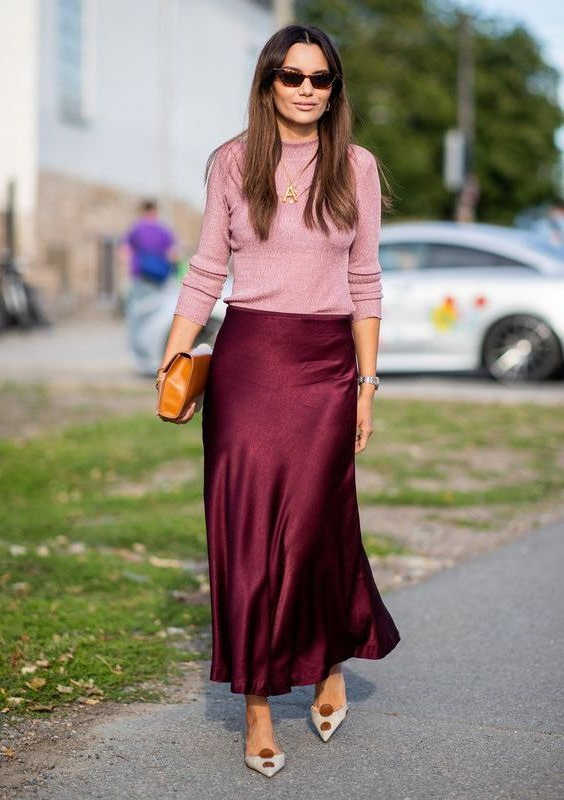 Buy Similar Here
What Sunglasses Italian Women Wear
Italian ladies love to experiment with their accessories but speaking of shades, then they tend to choose classic sunglasses, like Aviators, Cat-Eyes, Clubmaster, Wayfarer, and other frames. Here we see a young woman wearing cat-eye sunglasses with a black headband, white crop blouse, and black skinny jeans: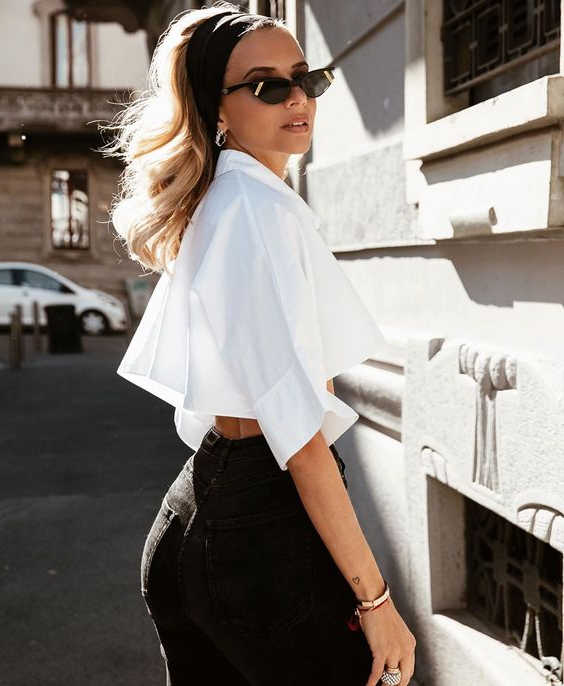 Buy Similar Here
What Sweaters Do Italian Women Wear
Italians love knitwear, sweaters, but they choose organic fabrics. Here we see a navy turtleneck teamed with beige chinos: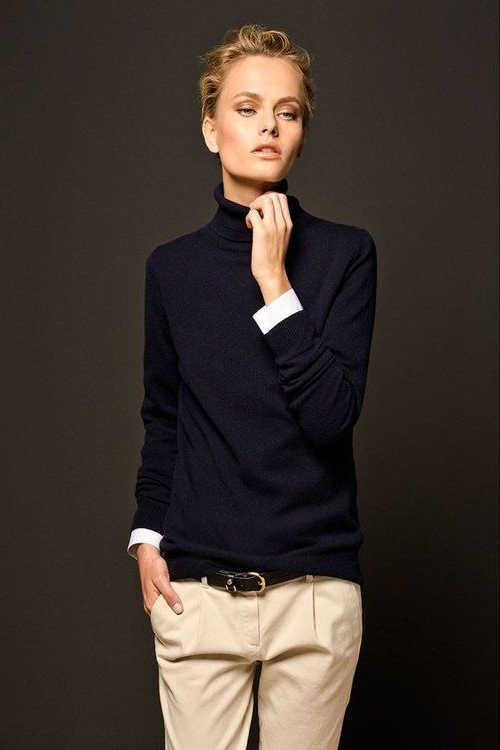 Buy Similar Here
A blush sweater ideally suits skinny capri jeans and hot pink glossy heeled pumps: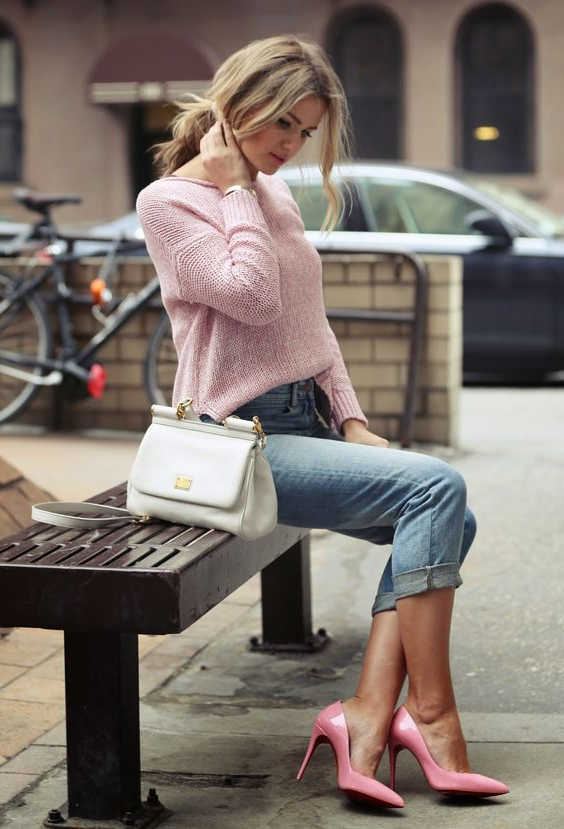 Buy Similar Here
A multi-striped bulky sweater looks great with a silk pink midi skirt and pearl-white slouchy boots: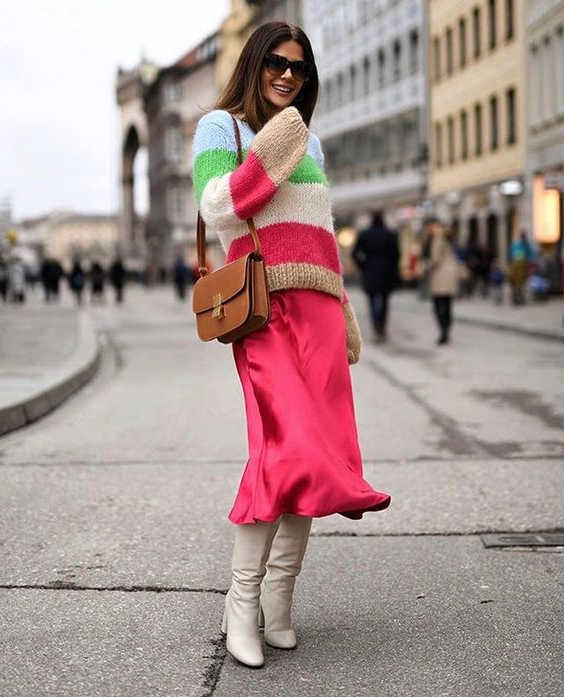 Buy Similar Here
A cream fedora is styled with a cream-blush sweater completed with a pearl-white silken midi skirt and black leather slip-on loafers: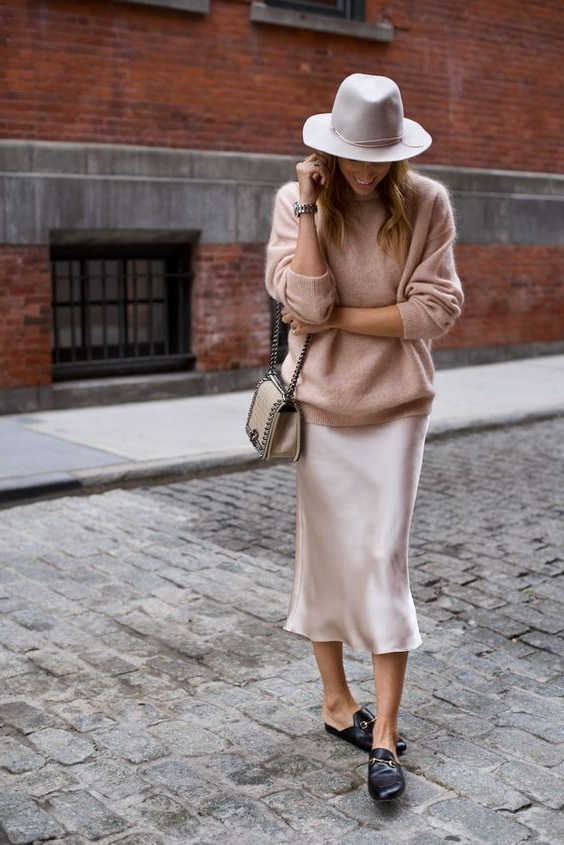 Buy Similar Here
Italian ladies love white color, here we see a belted shirtdress in white completed with rounded sunglasses in clear frames and cream-brown heeled sandals: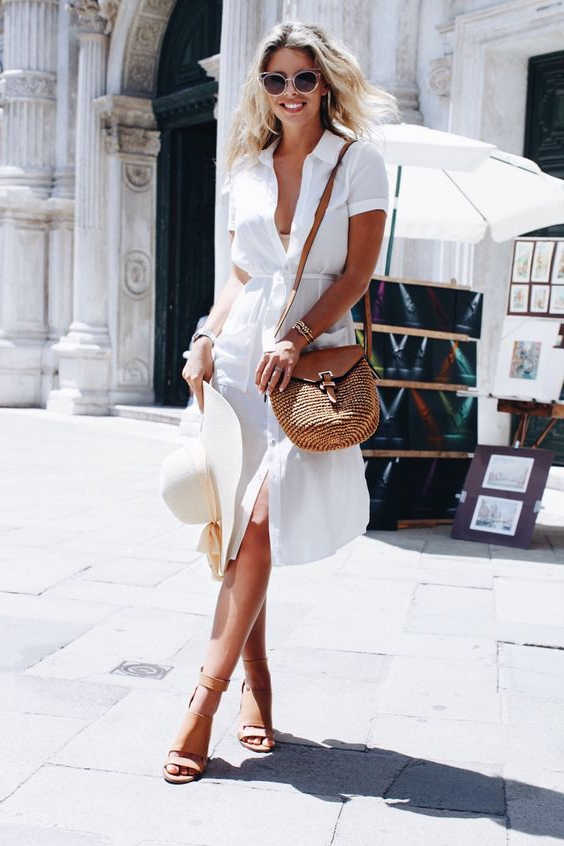 Buy Similar Here
A white jumpsuit with spaghetti straps looks gorgeous thanks to wide-leg pants. Complete this look with a blush handbag: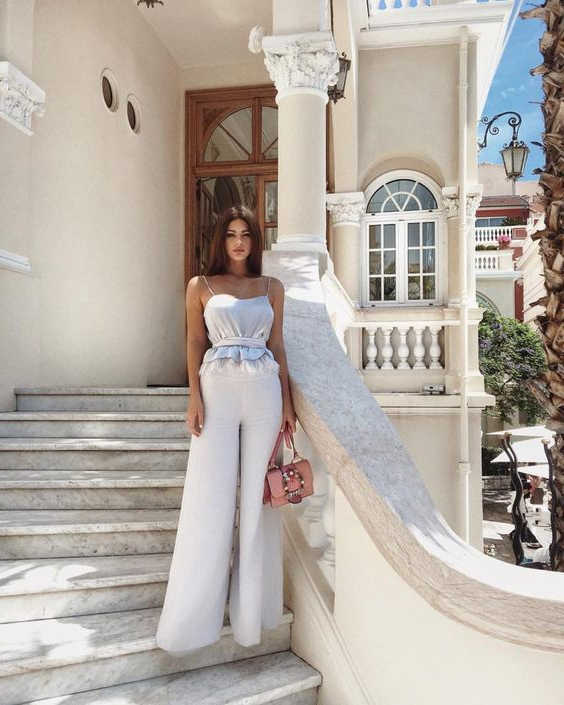 Buy Similar Here
What Italian Women Over 50 Wear
Women over 50 who live in Italy tend to wear glamour clothes, they still search for a way to underline their elegance and individuality by sporting the latest fashion trends. Here we see a woman wearing a tweed blazer paired with white top and black slim pants. Complete this combo by adding oversized sunglasses, layered chain gold belt and a printed silken scarf: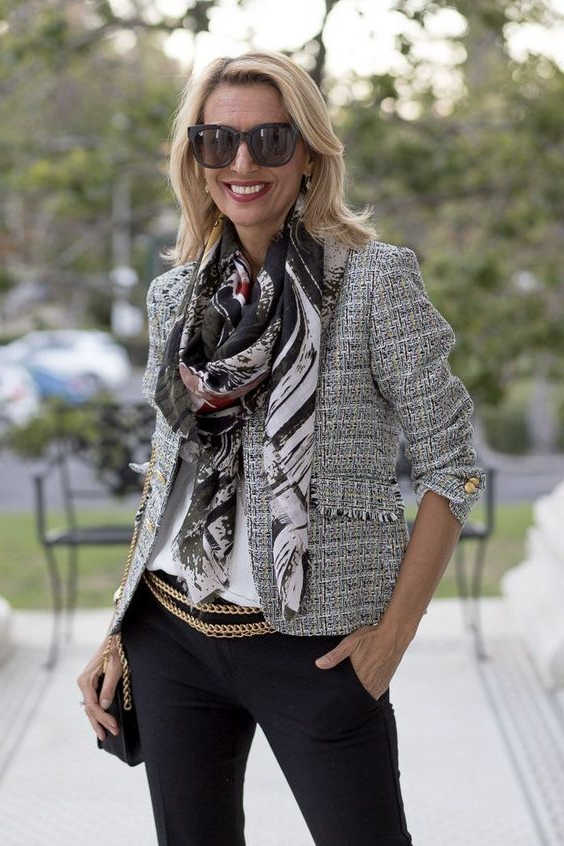 Buy Similar Here
Another great combo for older Italian women is the combination of a basic light blue shirt and a snakeskin print skirt completed with metallic silver heeled pumps: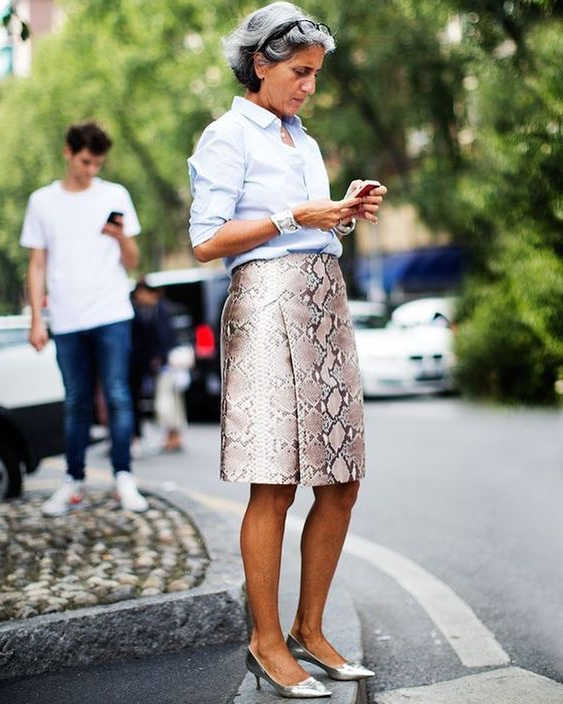 Buy Similar Here
Pastel everywhere! We see two ladies wearing pastel coats, one in pink and the other one is blue. Both completed with fancy heels: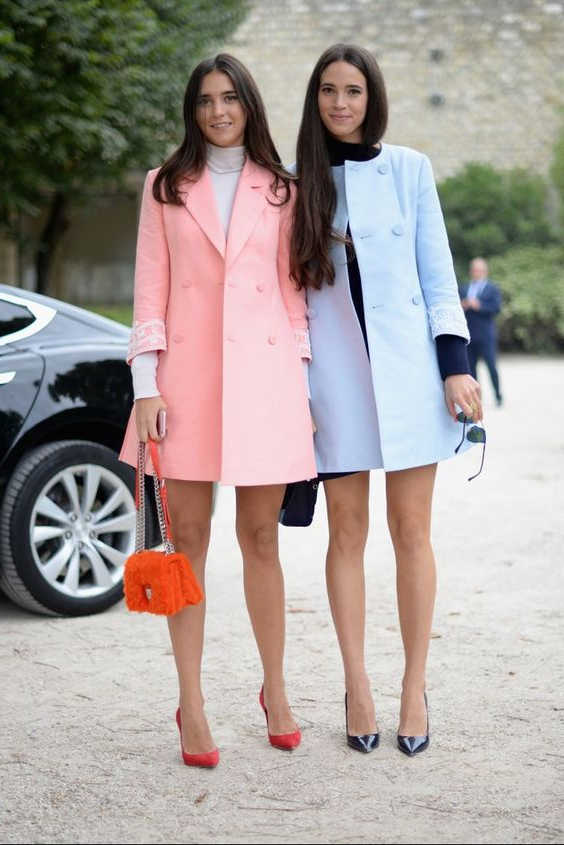 Buy Similar Here
What Jeans Do Italian Women Wear
Italian ladies keep their style simple and easy to wear. That's why most choose comfy jeans, instead of skinnies. Here we see a young lady wearing a white teddy bear coat layered over a black lingerie bodysuit teamed with high-waisted slim ankle jeans completed with white sneakers. In love with modern cat-eye sunglasses: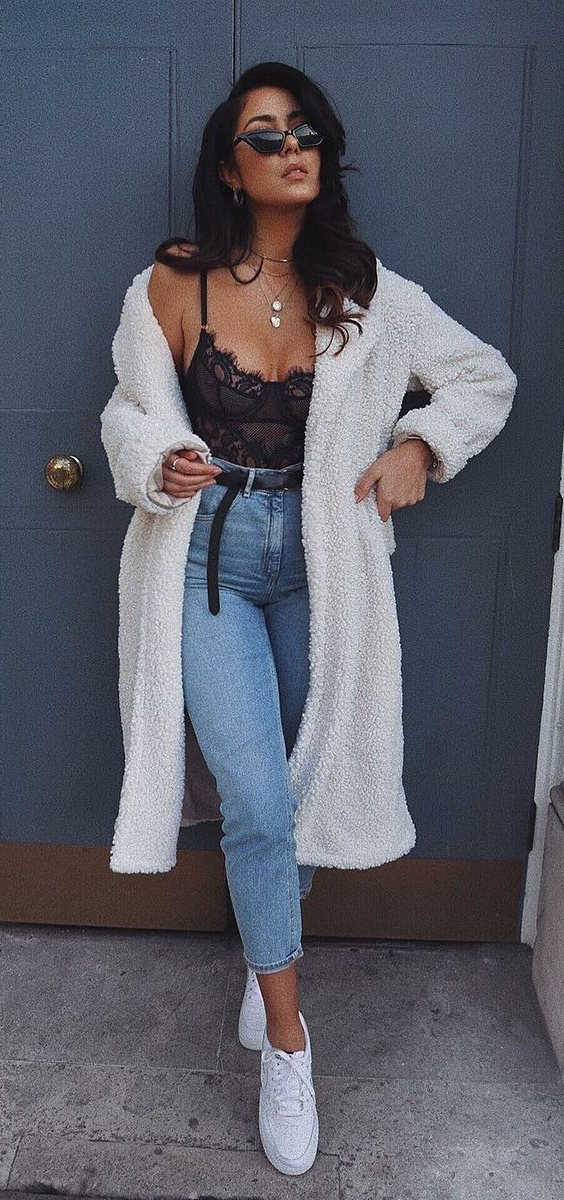 Buy Similar Here
We see another cool way of wearing jeans. A black top with long sleeves is tucked in high-waisted cuffed mom jeans completed with black heeled pumps: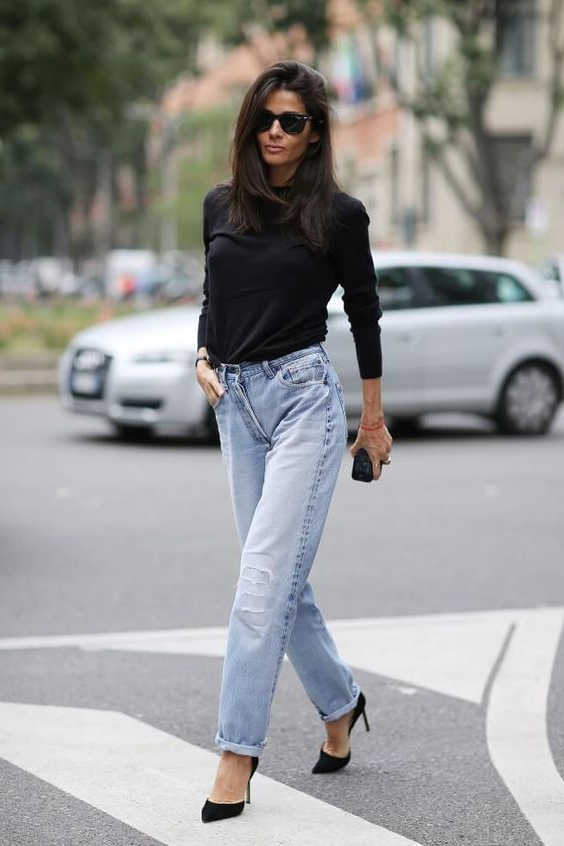 Buy Similar Here
What Playsuits Do Italian Women Wear
A nice choice for the beach would be a playsuit, here we see a cream-blue front-tie playsuit with a wide-brim straw hat and strappy espadrille sandals with closed-toes. Complete the look by adding aviator shades and straw rounded shoulder bag: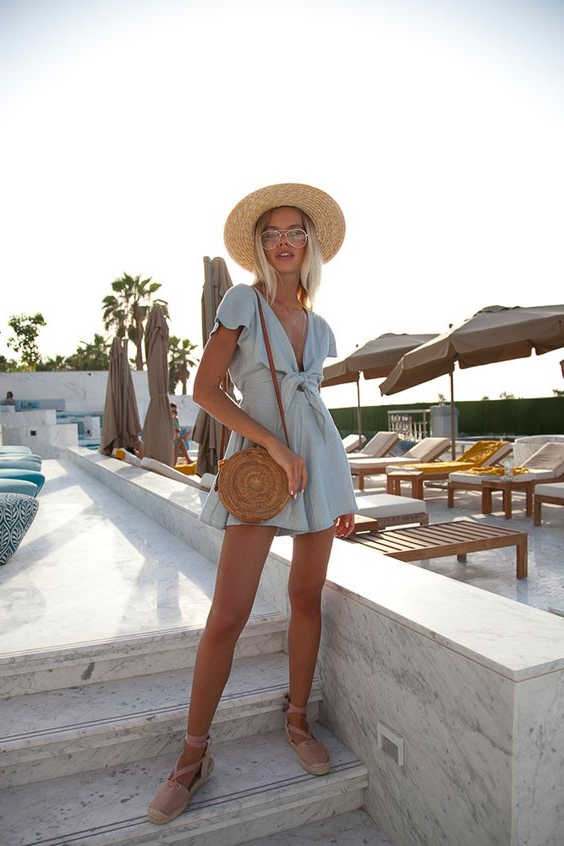 Buy Similar Here
What Shorts Do Italian Women Wear
Don't Wear Shorts. I hear it from all the women who have been to Italy. They say no Italian woman is wearing shorts, only skirts, and dresses. That's not true, it is not considered to be trashy by the locals to wear shorts. Just be sure to wear the ones that not reveal too much skin, that's why forget about denim cut-offs, they are a no-no! Here we see a cool idea on how to wear a khaki look, go for a khaki short-sleeve shirt and the same color shorts. Complete this combo by adding navy suede loafers: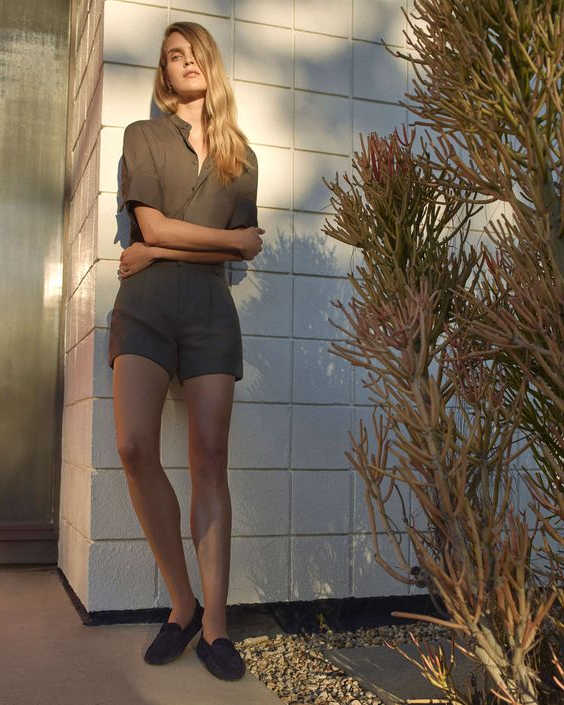 Buy Similar Here
All in white! Go for a white blazer, cream-blush crop top and white slim knee shorts completed with strappy heeled sandals in white: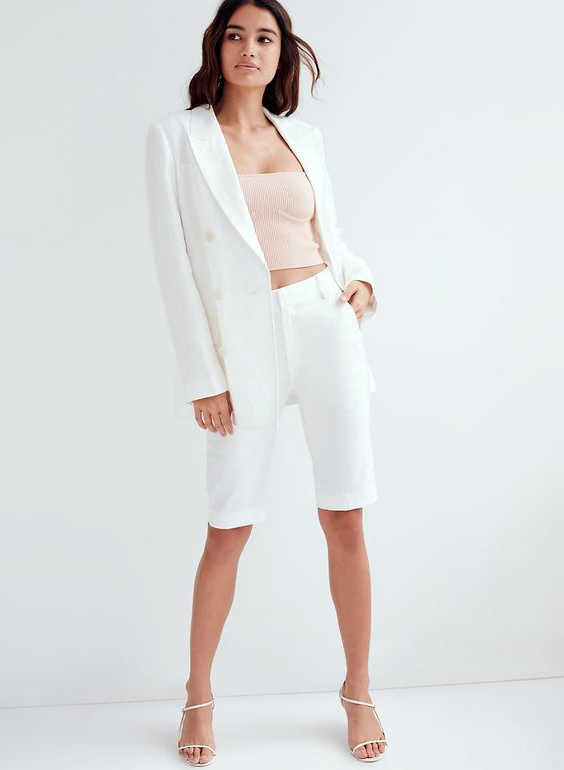 Buy Similar Here
Another great example on how to wear shorts for Italians, we see an oversized grey coat, long V-neck grey T-shirt and knee-length denim shorts completed with black leather ankle boots: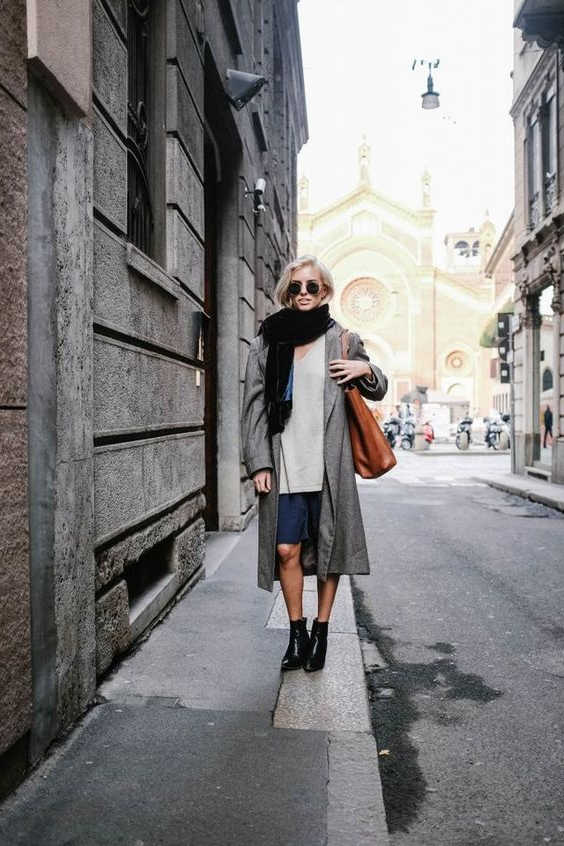 Buy Similar Here
Source: StyleCaster, GetInTheGroove