Everyone keeps on asking me about capri pants, are they in style, should I wear capris now? How to wear them so I look tall, chic and trendy. Well, here you've got it! In today's article, I will show you my favorite ways how to wear Capri pants, so you look at your best.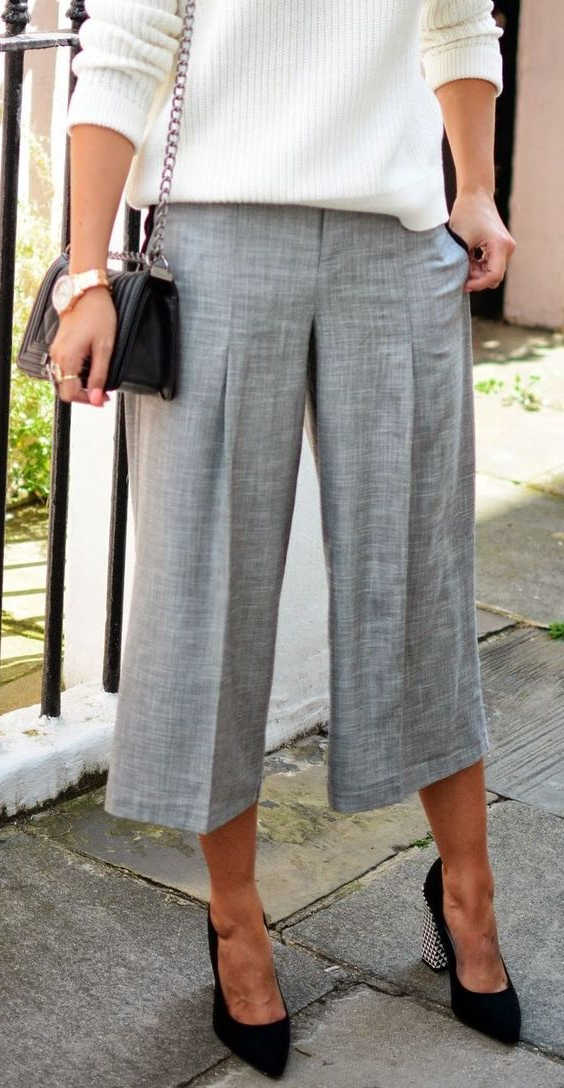 🛍️ Where To Find: Buy Related Here
A pair of grey capri pants with a wide-leg design look elegant styled with a ribbed knit white sweater. Complete this office style friendly look with black block-heeled pumps in black color. In love with that chain strap black leather shoulder bag.
Best Outfits With Capri Pants For Ladies
Hope you heard me loud and clear. Yes, capri pants still exist in the world of fashion, stylists use them in their photosets, women all over the world still use them for the casual, dress and working hour events. The only thing is that nowadays capris design has become vaguish. Now you can easily call them cropped pants, culottes (yes, the ones with a wide leg and cropped design that look like a skirt).
Wide-Leg Capri Pants And White Top
How about wearing gathered belted wide-leg capri pants in blush color? Pair them with V-neck white top with spaghetti straps and T-strap flat sandals: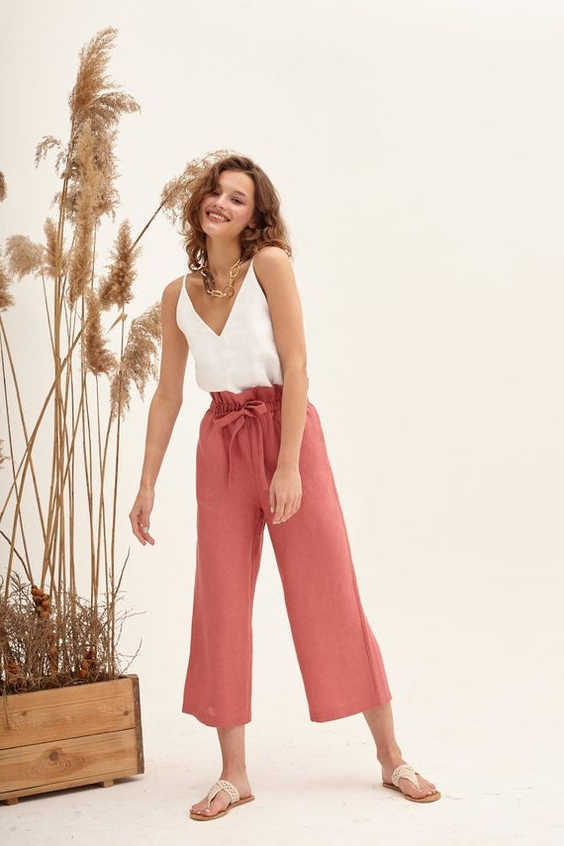 🛍️ Where To Find: Buy Related Here
Nowadays, you can choose whatever length of capri pants, starting from the ones that end at the knee to the ones that are almost ankle-length. I would recommend choosing designs that end where your lower leg begins to narrow.
White Denim Capri Pants And Pinstripe White Top
We see lovely white denim capri pants in slim fit worn with spaghetti strap pinstripe white top. A perfect combination for those who are into Summer boat trips. Complete the look by adding oversized sunglasses: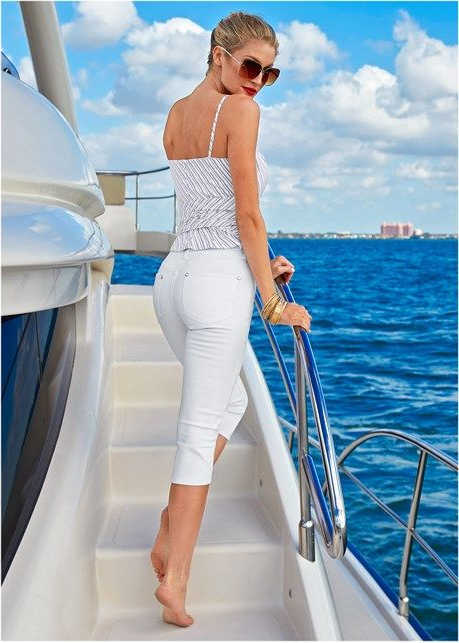 🛍️ Where To Find: Buy Related Here
The original look of these pants seems a bit retro-inspired, but thanks to the recent collections you can easily make them look modern and chic.
High Waist Khaki Green Capri Pants And White Shirt
We see a stylish office outfit idea consisting of a white blouse tucked in high-rise belted khaki-green slim tailored capri pants completed with black pumps and velvet black shoulder clutch bag. If you are into dressy combos, then check out my blog post on what to wear to the office this Fall, you will plenty of inspiring outfit ideas to copy this year: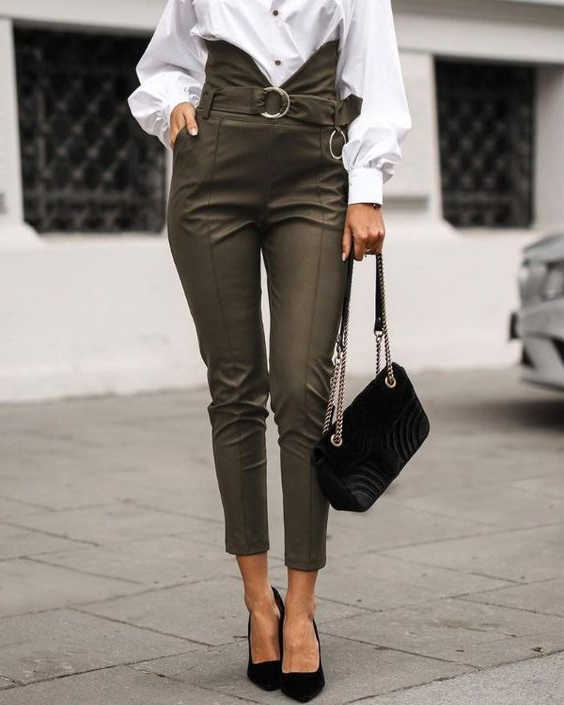 🛍️ Where To Find: Buy Related Here
You will find in this street style guide my favorite leather capris, they do look awesome with pretty much anything, starting from sneakers to heels and flats.
Chinos Capri Pants And Pullover
Blue colored chinos capri pants in skinny fit ideally match that salmon top. Complete this casual look by adding nerd glasses, black belt, and platform sandals: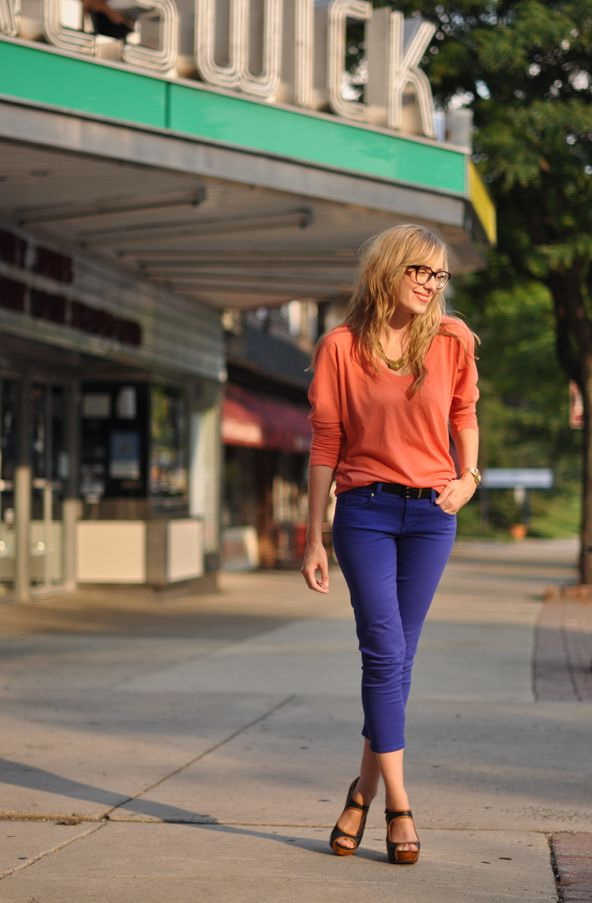 🛍️ Where To Find: Buy Related Here
By the way, speaking of capri pants design, I forgot to mention their width. They do can visually shorten your leg and make you look fuller, that's why for taller ladies I recommend to choose wider options and for petite women, I recommend to keep the width of capris to be slim.
Plaid Grey Capri Pants And Chunky Sweater
Plaid grey colored capri pants look awesome teamed with a cream-grey roll-neck sweater in a relaxed fit. A nice combo for smart-casual events: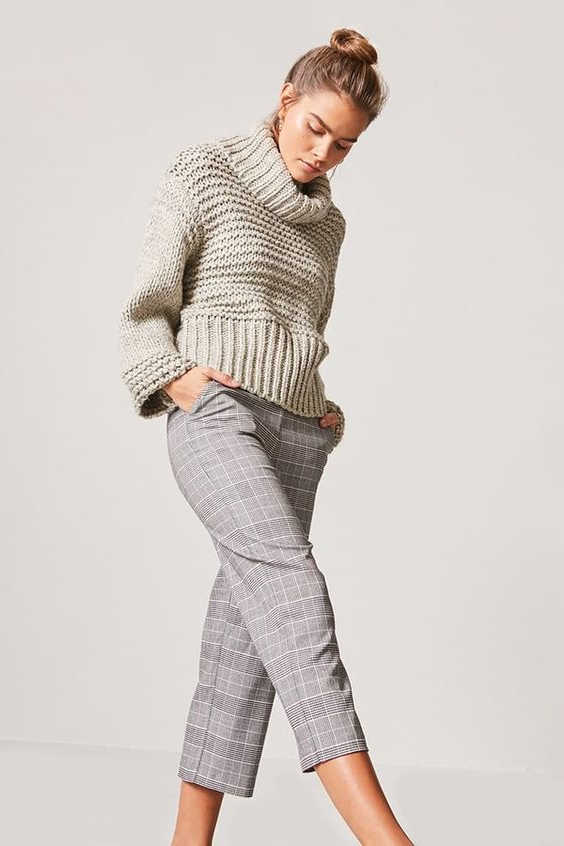 🛍️ Where To Find: Buy Related Here
Once you find a good fit, it's time to create a fabulous outfit. You will be amazed by the variety of looks you can create with these bottoms.
White Linen Capri Pants And Navy Top
Wide linen capri pants in white ideally match that relaxed sleeveless top in navy blue color. Complete this summer casual outfit by adding criss-cross black flat sandals: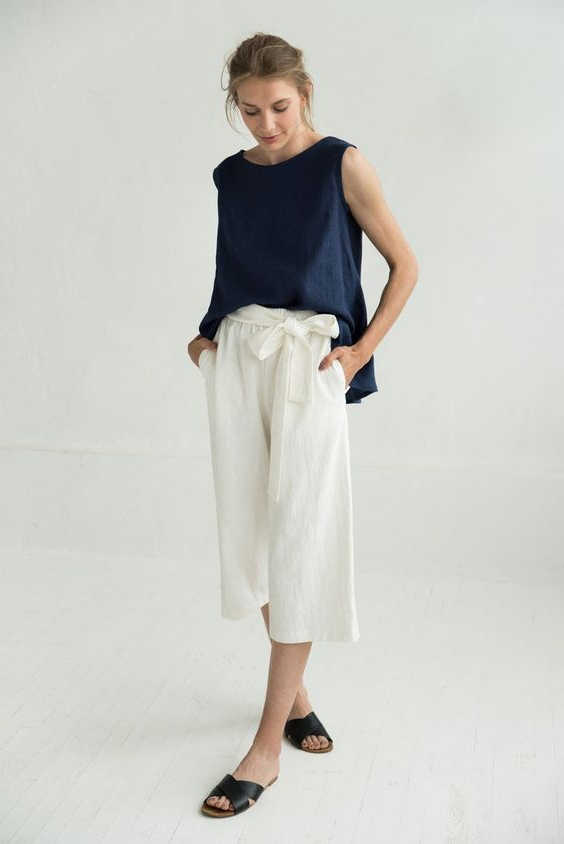 🛍️ Where To Find: Buy Related Here
Don't be afraid of wearing bold color capris, they can easily make you look individual and feminine. I prefer wearing pink and green colored styles during the spring and summer months. Anyway, let's have a more detailed look through my favorite street style outfits.
White Suit With Side Buttoned Capri Pants
How about wearing a total white look? We see a young lady wearing a white pantsuit consisting of a blazer with gold buttons and side buttoned capri pants with front slits. Complete this look by adding oversized white sunglasses and gold metallic shoulder clutch bag. Find out another party all-white outfit ideas for women by reading my post, I promise you will find various chic combinations that are so easy to copy in real life: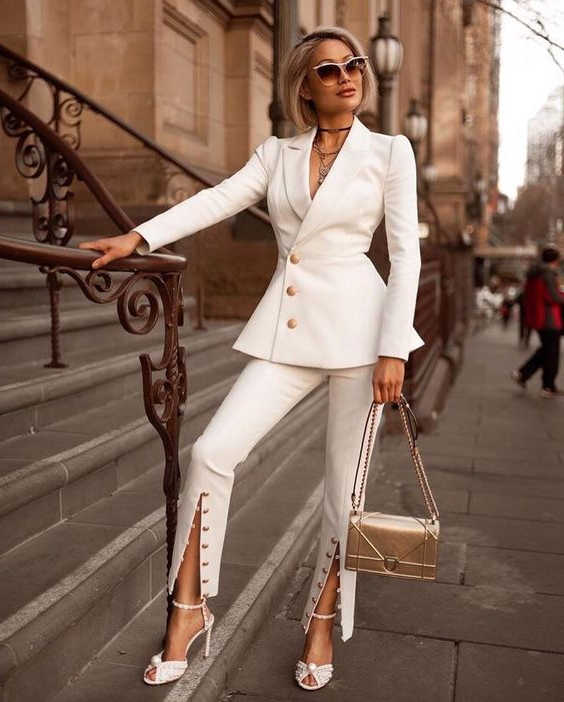 🛍️ Where To Find: Buy Related Here
As I have already mentioned. today's stylists choose word capris both for culottes, cropped and legging style pants that are above the knee. Well, I prefer to divide all these types of trousers. For me, culottes are pants that ideally mimic a skirt, while cropped pants are the ones above the ankle with a straight or wide-leg pant, legging capris are cropped skin-tight pants and capris are the tapered styles with a hemline that sits closet to the leg.
Red Capri Pants And Striped Top With Cardigan
A pair of red capri pants look retro-inspired. Style them with a black-white striped top and a black buttoned cardigan. Complete this combo by adding red flat pumps: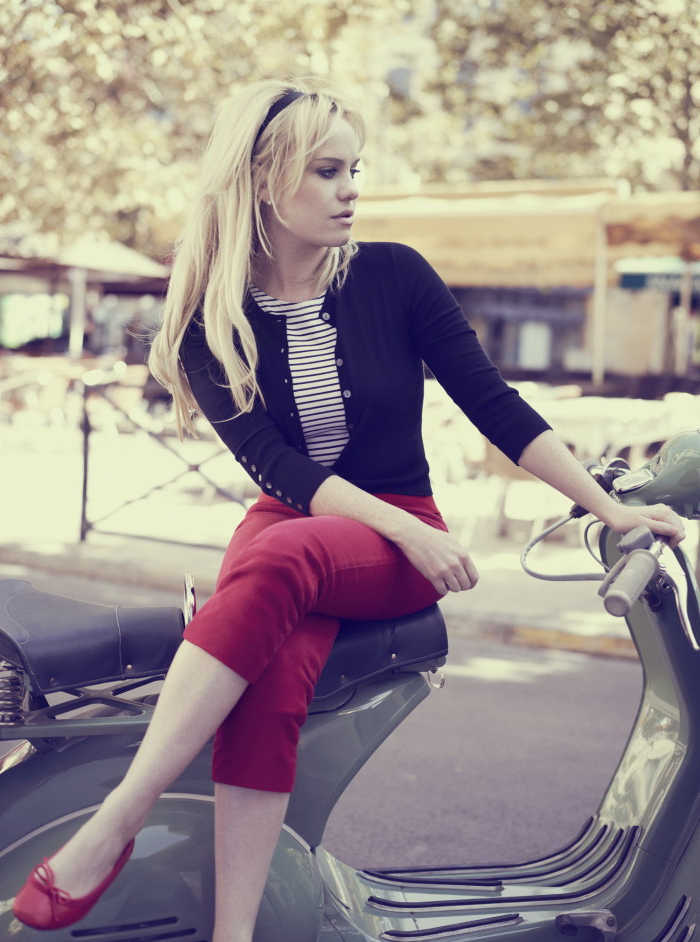 🛍️ Where To Find: Buy Related Here
Plaid Capri Pants And White Sweater
Plaid print capri pants look fresh and grunge-inspired. Style them with a cable-knit sweater in white, grey beanie and white heeled pumps. Love the aviator sunglasses. By the way, find out other ways how to style plaid print pants for ladies, you will see everyday combinations that are easy to copy in real life: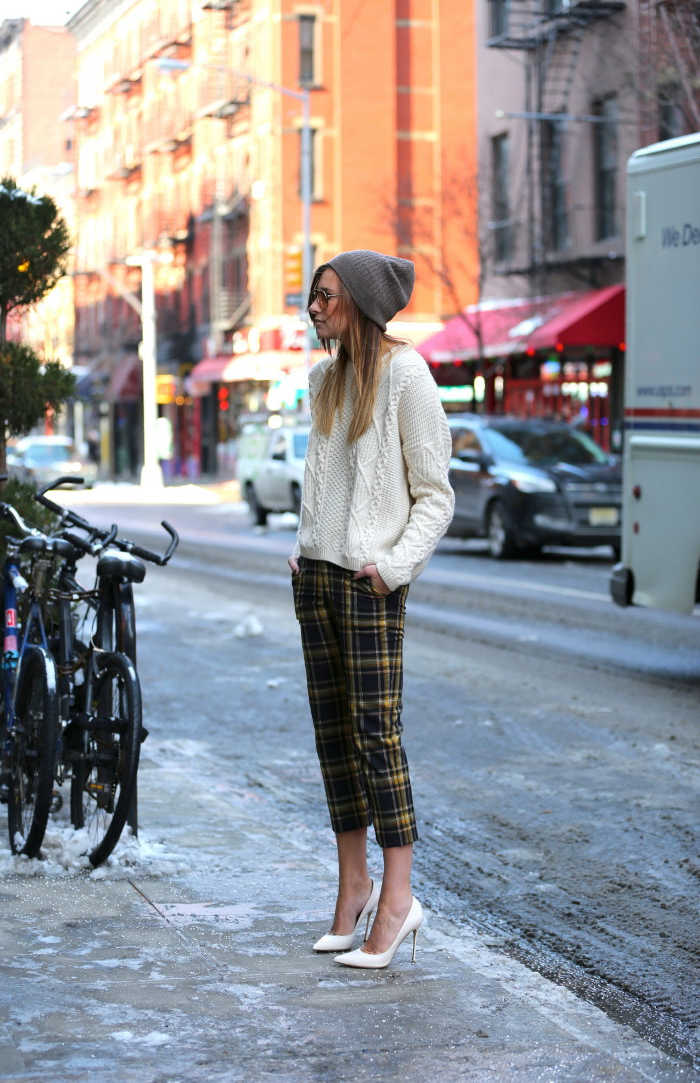 🛍️ Where To Find: Buy Related Here
Leggings Capri Pants And Black Top
Black-white micro gingham leggings capri pants look sassy styled with a sleeveless black top and black leather flat loafers. A lovely pin-up retro style: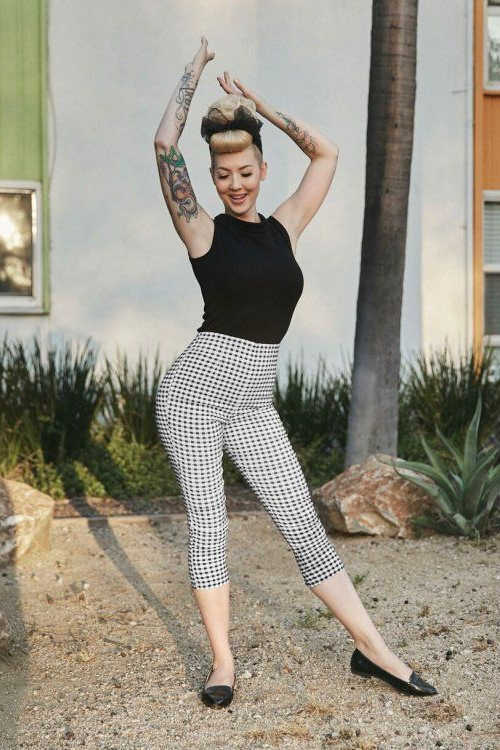 🛍️ Where To Find: Buy Related Here
Leather Capri Pants And Printed Top
We see black leather capri pants updated with a sleeveless floral print top, yellow heeled ankle-cuff pumps and flat brow sunglasses: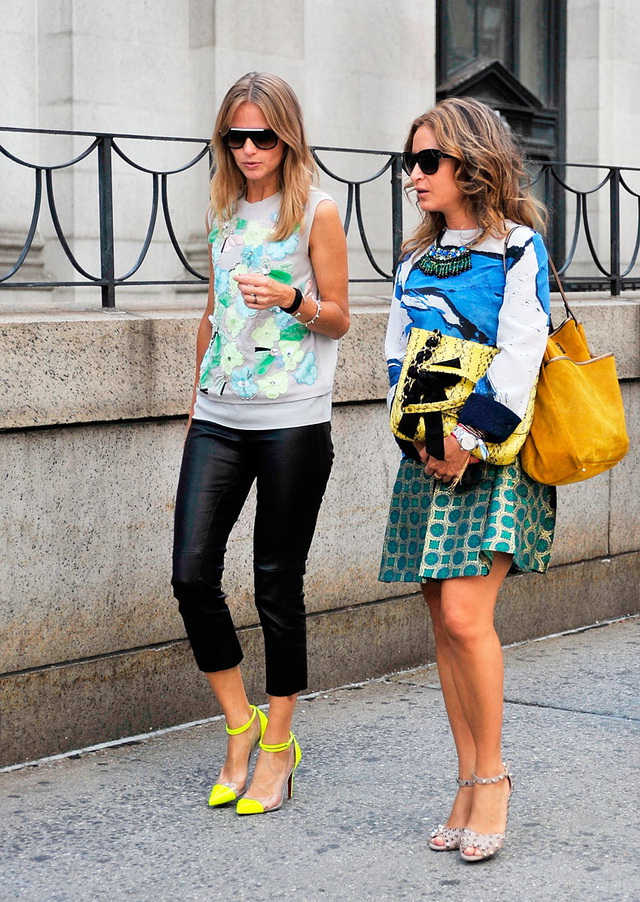 🛍️ Where To Find: Buy Related Here
Gingham Capri Pants And Green Sweater
A cute choice for pastel and feminine color lovers. We see a boat-neck turquoise sweater paired with blue-white gingham print capri pants. Complete this combo by adding classic sunglasses and pastel blue heeled pumps: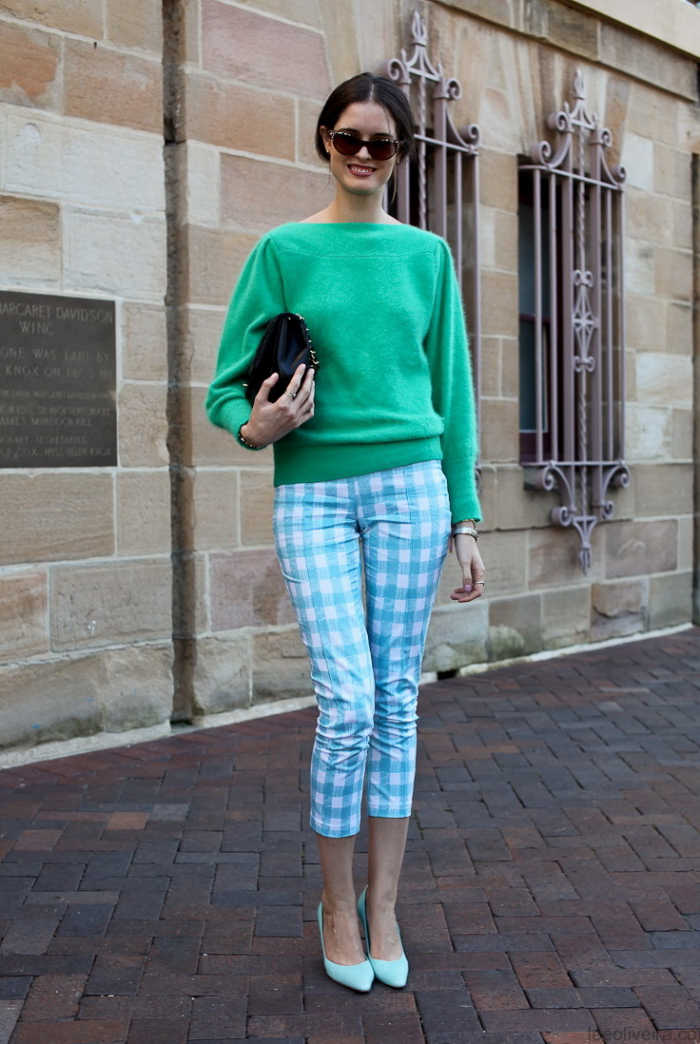 🛍️ Where To Find: Buy Related Here
Denim Capri Pants And Racerback Top
A pair of denim capri pants embroidered with white crochet are updated with a blush racerback top and wedge espadrille flip-flop sandals: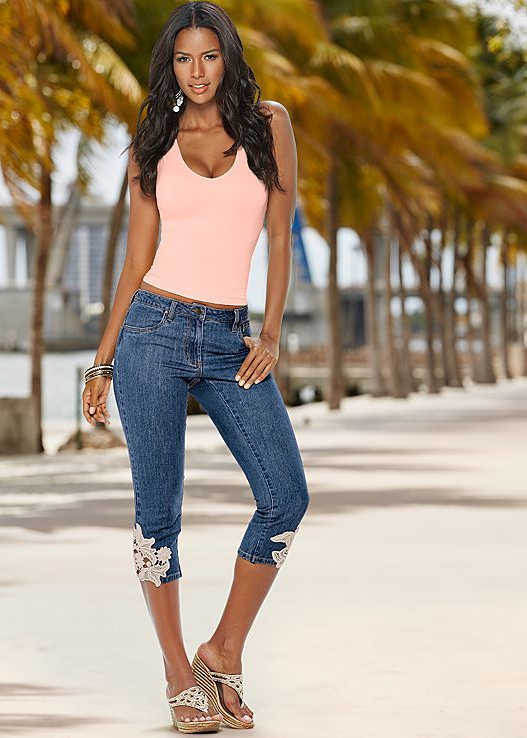 🛍️ Where To Find: Buy Related Here
Corduroy Elastic Waist Wide-Leg Capris And Beige Sweater
A pair of light brown corduroy wide-leg capri pants look the seventies inspired styled with a turtleneck cream-beige top and black suede sock ankle-boots: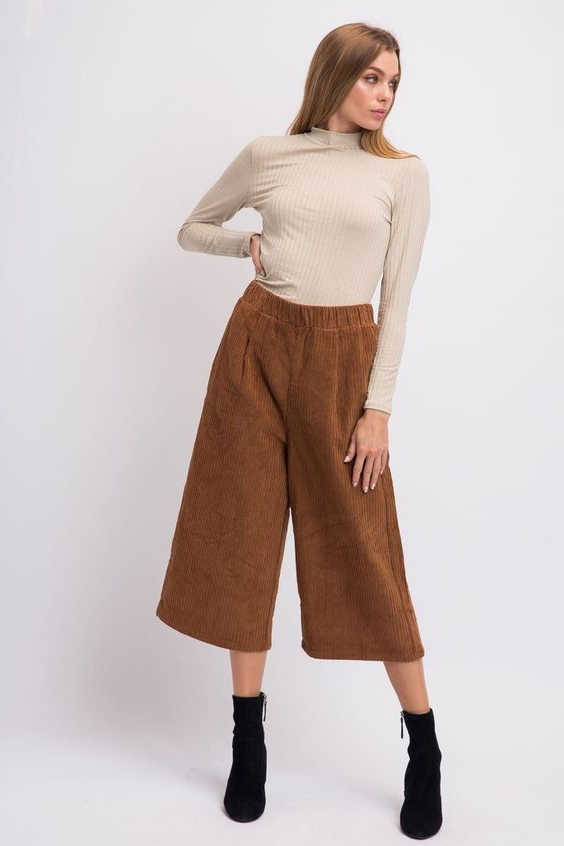 🛍️ Where To Find: Buy Related Here
Capri Pants With Slits
We see perfect black tailored capri pants with front slits styled with classic black pumps and dark green top. A nice choice for office hours: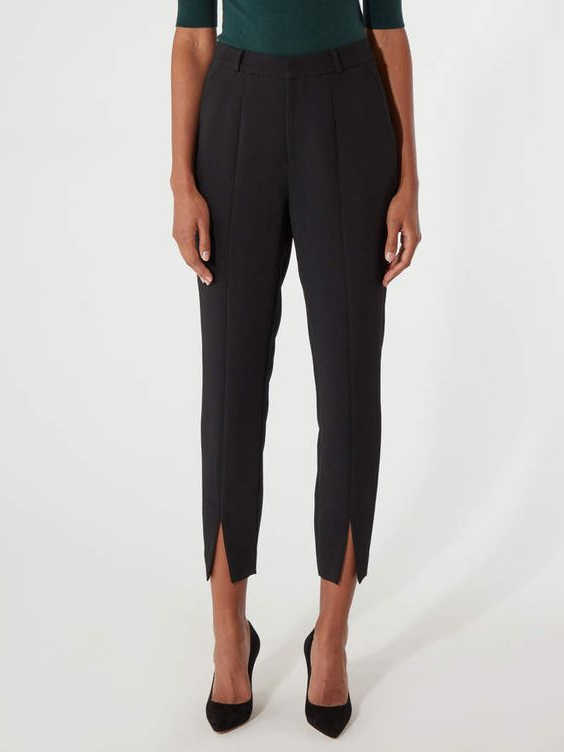 🛍️ Where To Find: Buy Related Here
Gingham Capri Pants With Flare And Blue Sweater
Blue-white gingham printed capri pants with flare are teamed with a dark blue top with 1/2 flared sleeves. Update this combination by adding flip-flops. I personally recommend to skip these flats and change them with white heeled sandals: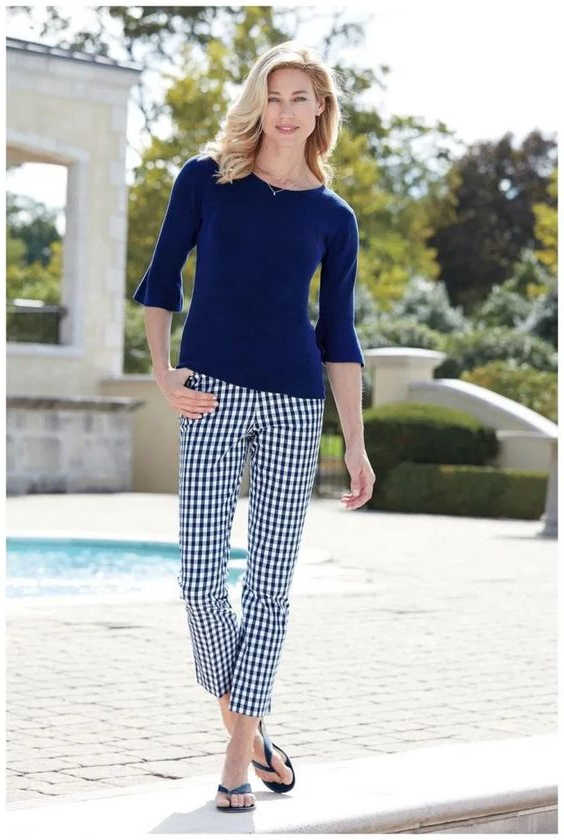 🛍️ Where To Find: Buy Related Here
Capri Pants With Boots
A kind of edgy biker style look. We see a black biker style jacket with fur collar worn with a white tee, black tailored wide capri pants, and black suede ankle boots. Update this monochrome outfit with a pair of flat-brow sunglasses: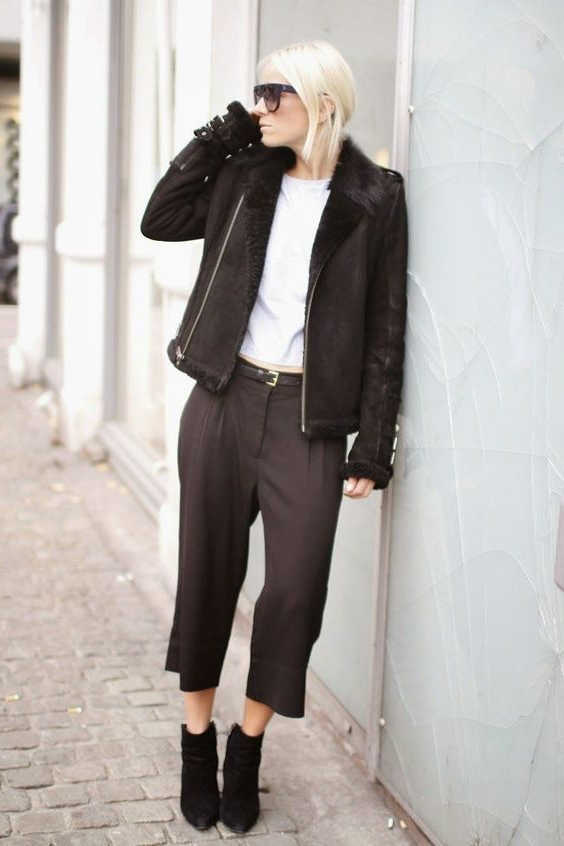 🛍️ Where To Find: Buy Related Here