Let's talk about functional outerwear garments. In today's post, I want to draw your attention to my favorite puffer jackets to try on this Winter.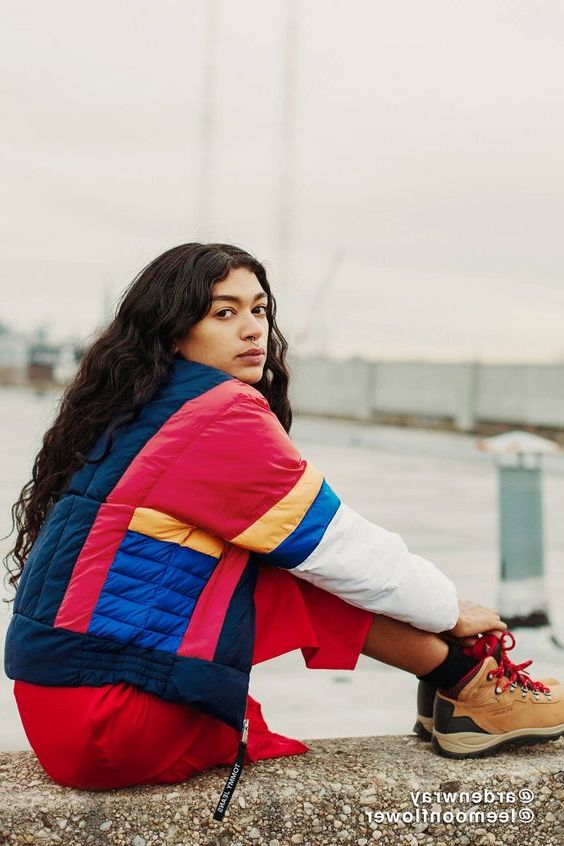 Buy Similar Here
We see a fantastic puffer jacket in white-red-blue color styled with a red dress completed with camel hiking boots. Would you dare to try this combo?
If you are bored with your traditional, classic-fit coat and you want to wear something chic and modern, then you are more than welcome to try on down-jacket. In this compilation are gathered my favorite down coats and jackets that will undoubtedly make you look and feel very special. Read on to see great ideas and tips on how to wear this outerwear piece in your everyday life.
If you want to make a wow statement, then you definitely should go for this red hooded down puffer jacket and complete it with black leather skinny pants and ugly sneakers in white. Update this combo by adding oversized sunglasses: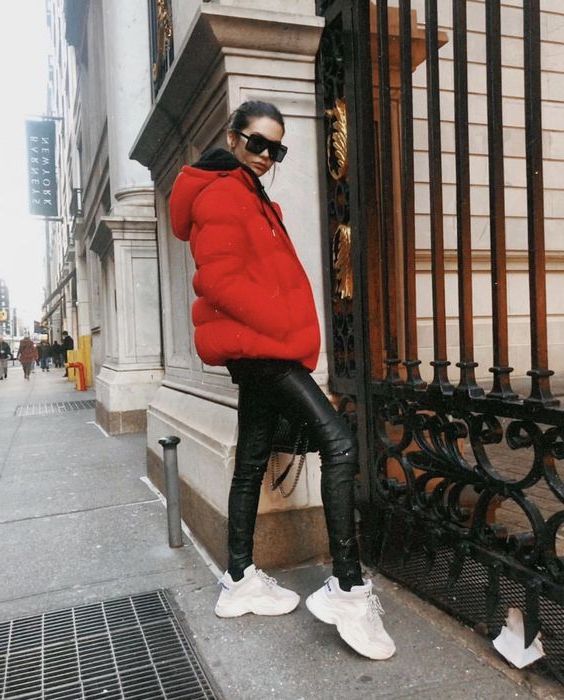 Buy Similar Here
I know many ladies who avoid wearing down-jackets, as they think these jackets make them look bulky and exaggerated. Believe me, there are lots of ways how to make this outerwear piece look sexy and ladylike on you.
A black puffer jacket looks just fine teamed with a white bodysuit and knee-ripped skinny jeans in wash blue color. Complete this combo by adding clear heels: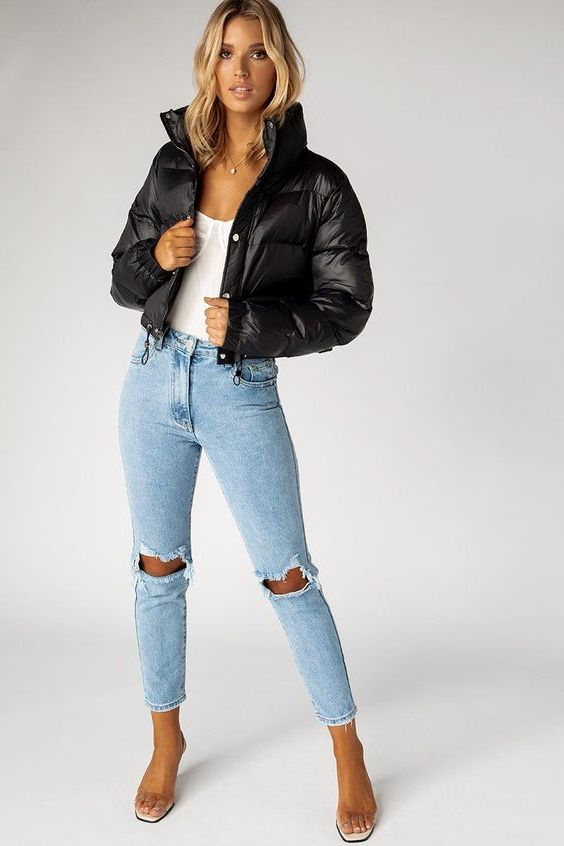 Buy Similar Here
Traditionally, this piece was considered to be a part of ski uniform, but thanks to various trendsetters and fashionistas we see this beautiful jacket everywhere around. This year I see lots of stunning styles, designs, colors and cuts to choose from, including long and short versions, brightly colored, printed, fitted and oversized designs.
Do you love pastel colors? Here we see a beautiful pastel blue puffer jacket combined with a cool white hoodie and grey skinny jeans. If you are into hoodies, then I highly recommend to check my post on ways how to wear hoodies this Fall, I am 100% sure, you will find many inspiring outfit ideas to copy: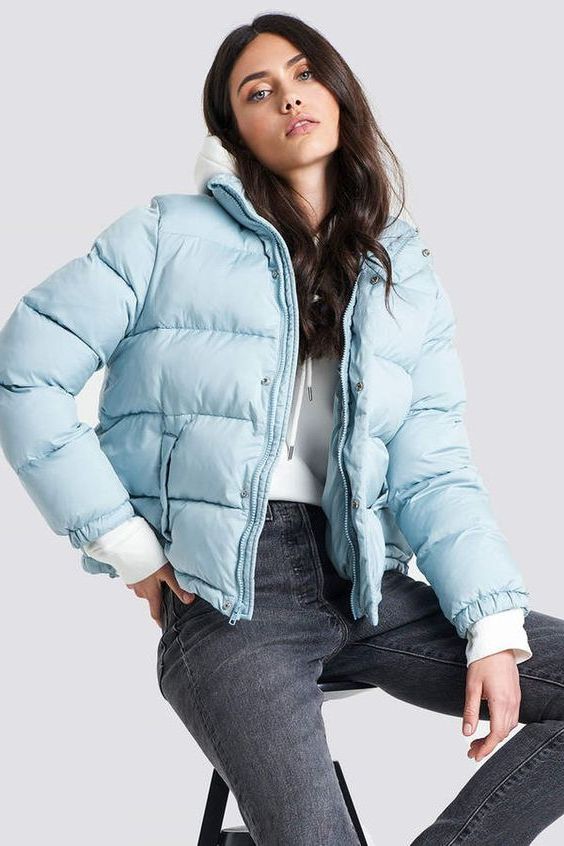 Buy Similar Here
You can wear it with absolutely anything you want, starting with leggings, sweaters, jeans to skirts. All in all, keep on scrolling down your mouse to see best ways how to make this jacket look great on you.
Puffer jacket and dress
Check out this combo for fall days. We see a blue oversized bomber puffer jacket teamed with a printed maxi dress in blue-white completed with chunky black leather boots: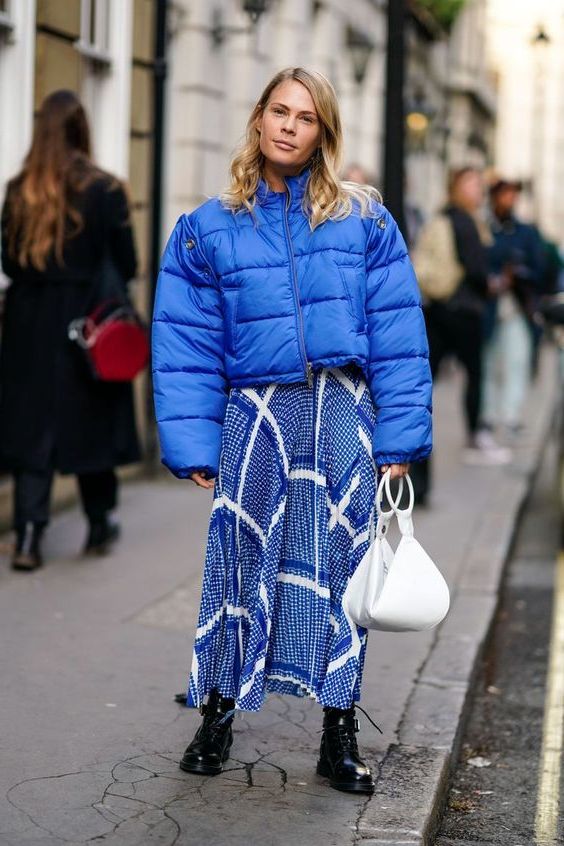 Buy Similar Here
All in black is always a fancy look! Go for a puffer jacket in black teamed with a hoodie-dress and over the knee boots. A sassy combo for Winter: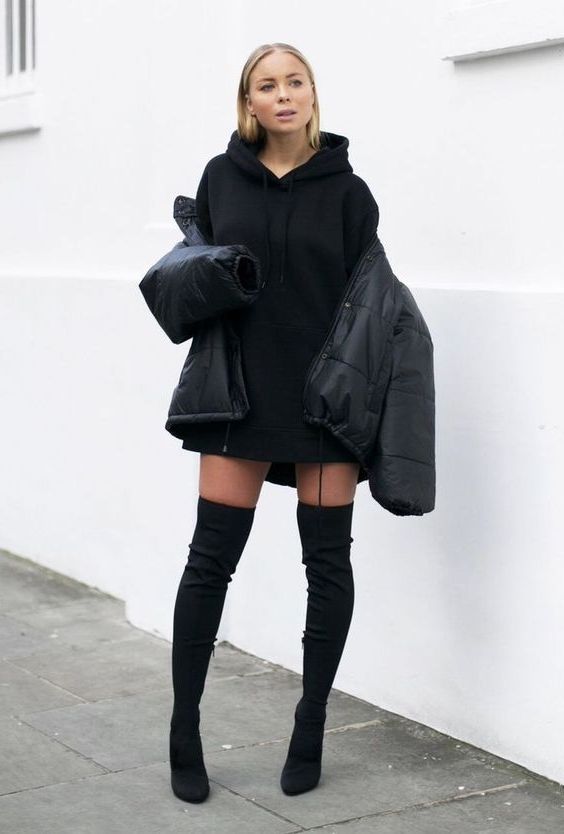 Buy Similar Here
Puffer jacket and fur hood
A quilted black down jacket with a fur hood is teamed with black skinny jeans. Update this black combo by adding red sneakers or white kicks: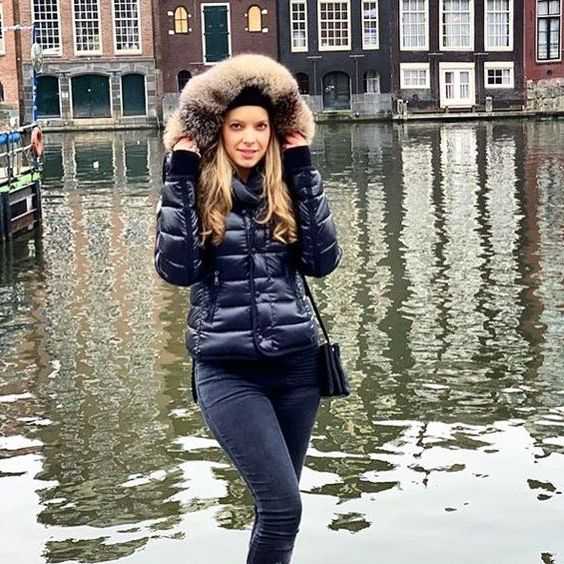 Buy Similar Here
A blue puffer jacket with a fur hood is updated with a knitted beanie with a fur pom-pom, knee-ripped skinny jeans in blue and beige suede booties: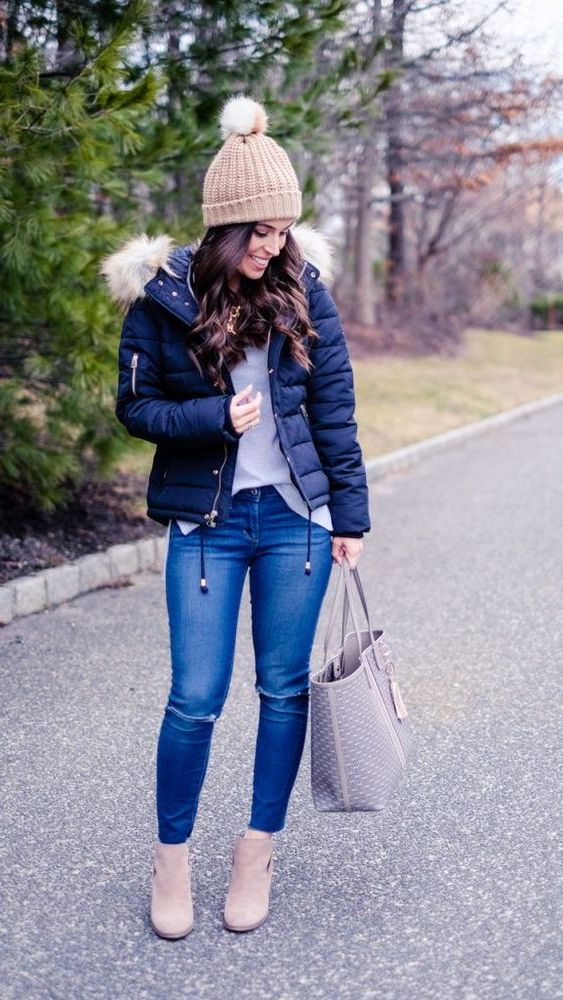 Buy Similar Here
Puffer jacket with belt
This black puffer long jacket looks pretty chic and classy. Love the fur collar and a belt: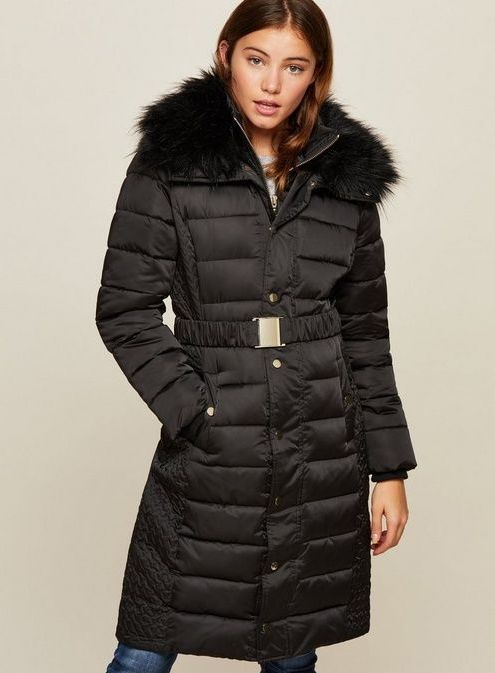 Buy Similar Here
A cream beige hooded puffer jacket with a belt looks modern and casual, style it with beige sock booties: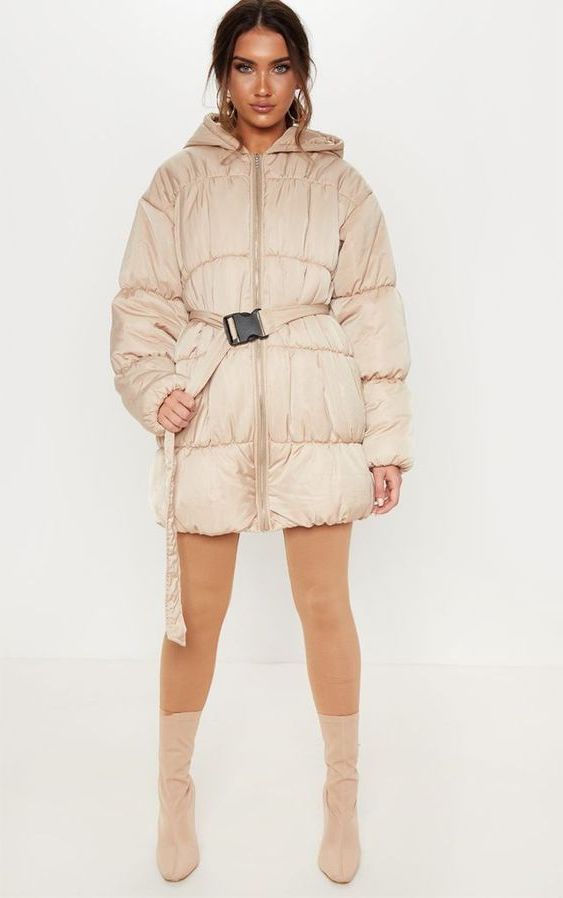 Buy Similar Here
Another stylish outerwear piece for ladies. We see a maroon belted puffer jacket teamed with black tailored pants and black leather ankle boots: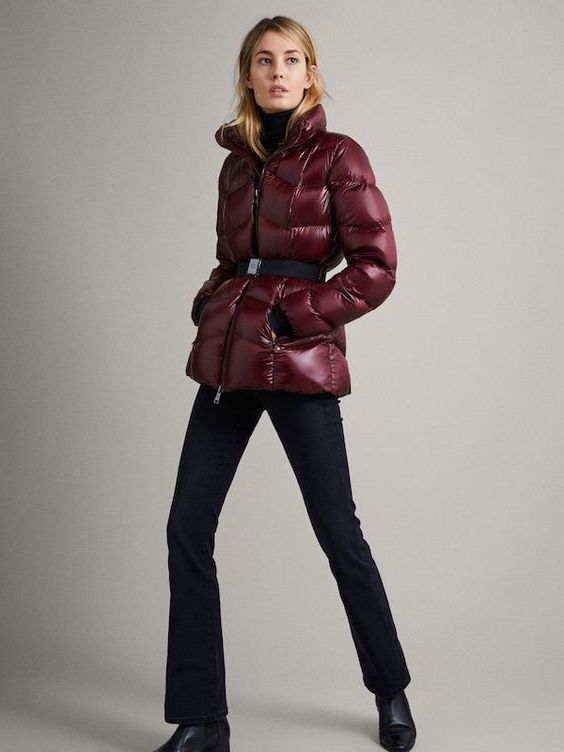 Buy Similar Here
Cropped puffer jacket
Make a wow impact on the streets by wearing this yellow crop puffer jacket with a white crop top and wash blue high-rise mom jeans: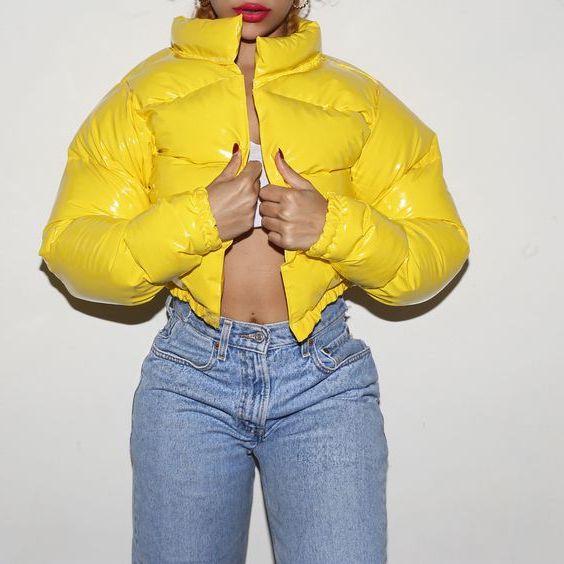 Buy Similar Here
We see a white crop puffer jacket teamed with a white turtleneck tucked in high-rise black jeans. Update this combo by adding a belt bag: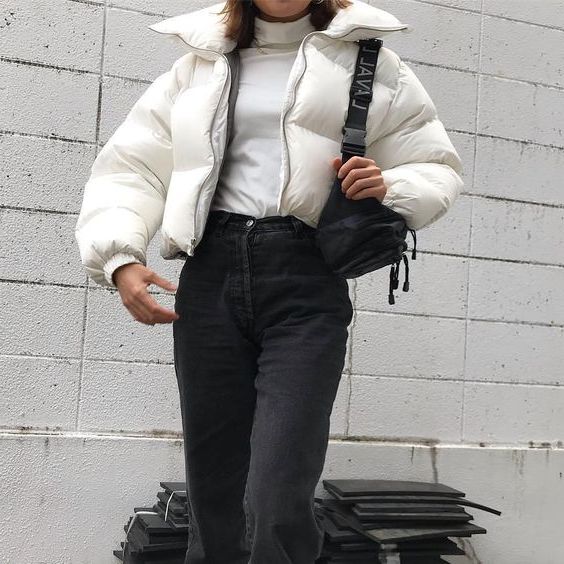 Buy Similar Here
A grey-blue crop down jacket looks damn hot with a black sweater and black jogger pants tucked in black leather combat boots: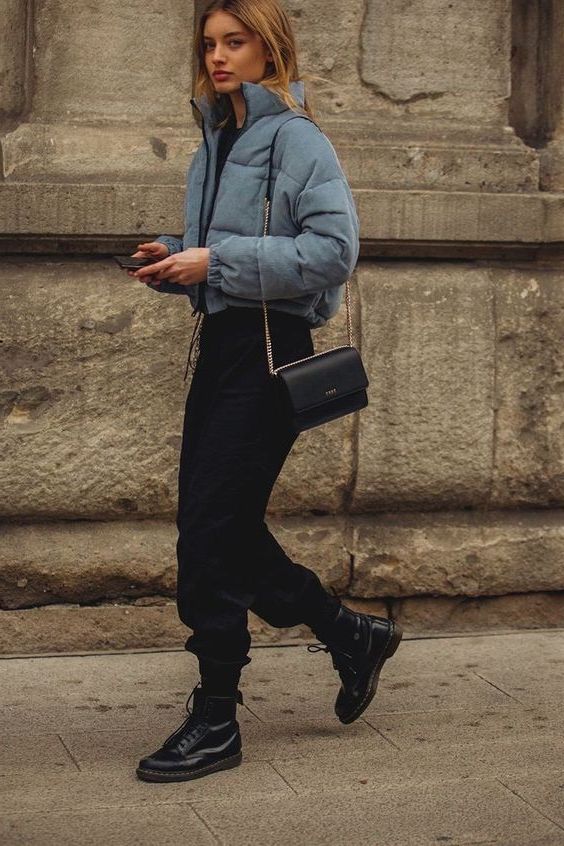 Buy Similar Here
Puffer jacket with fur hood and belt
Make a statement on the streets wearing a black fur hood puffer jacket completed with a belt that defines the waistline: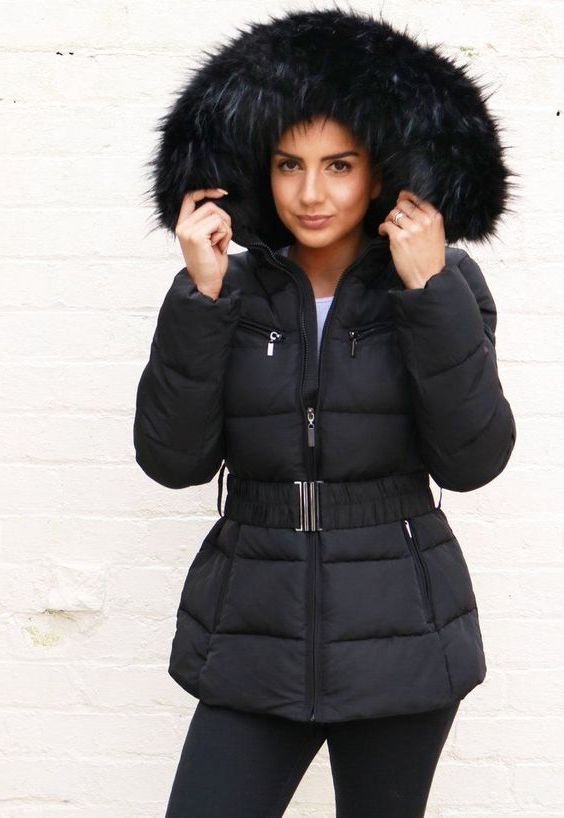 Buy Similar Here
A belted down jacket in dark blue color is completed with a fur hood, style it with a grey turtleneck: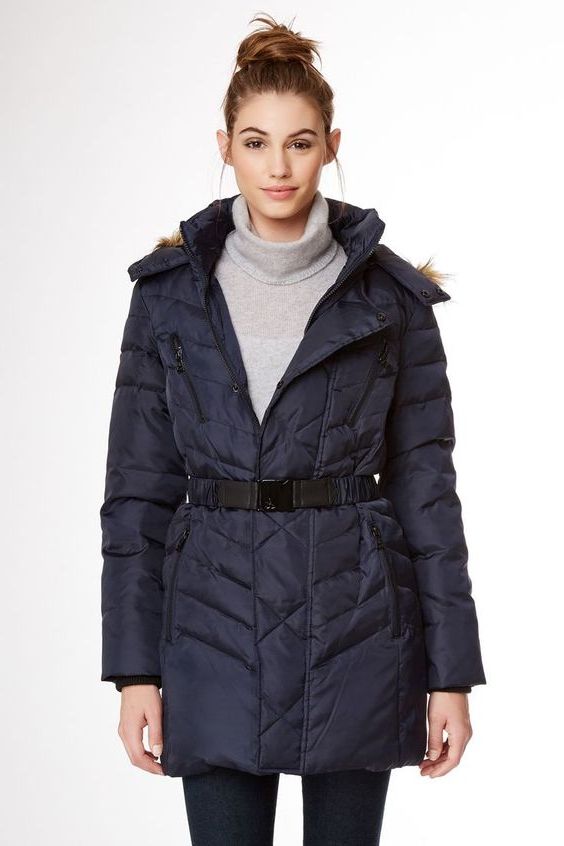 Buy Similar Here
By the way, here are shown the best colors for puffer jackets that are going to be popular during Winter season:
Red white and blue puffer jacket
Make a statement during your bike ride! Go for white-red-blue down jacket and style it with cool mirrored aviator sunglasses, dark blue slim jeans, and white kicks: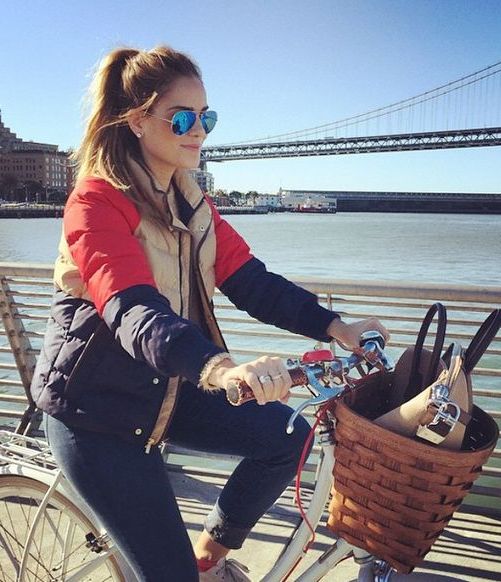 Buy Similar Here
Here we see a bulky blue-white-red puffer jacket teamed with a white top tucked in high-rise wash blue skinny jeans: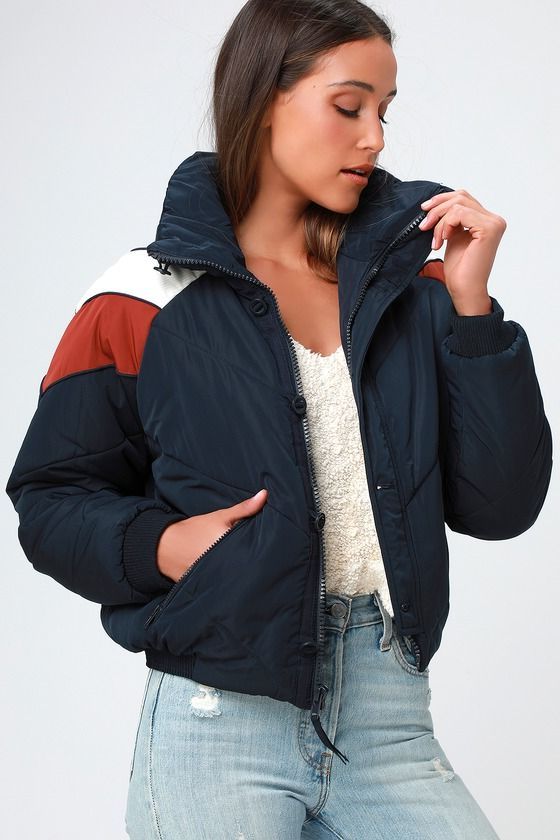 Buy Similar Here
Another cool red-white-blue striped hooded puffer jacket styled with a white top and blue skinny jeans: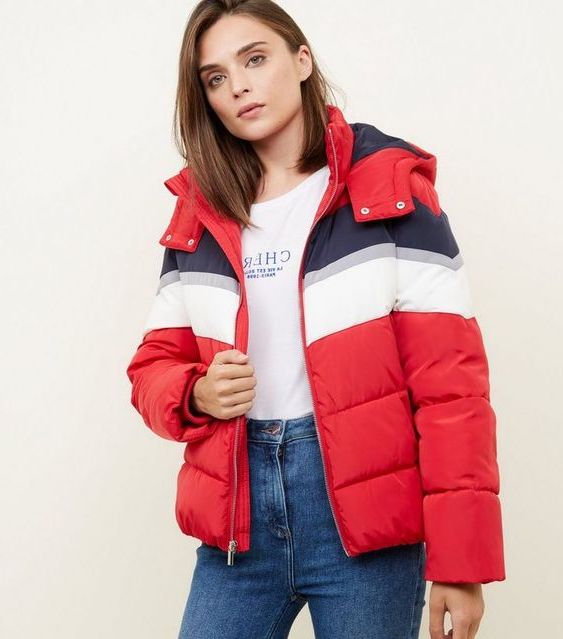 Buy Similar Here
Yellow puffer jacket
An oversized yellow puffer jacket looks extremely bright! Try it on with a white high-neck sweater tucked in wash blue regular jeans: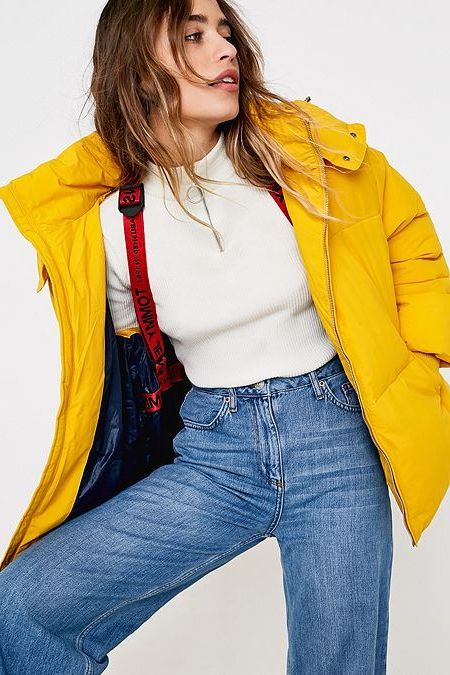 Buy Similar Here
A mustard-yellow puffer jacket will be a nice addition to your favorite grey blazer teamed with grey yoga leggings and black sneakers: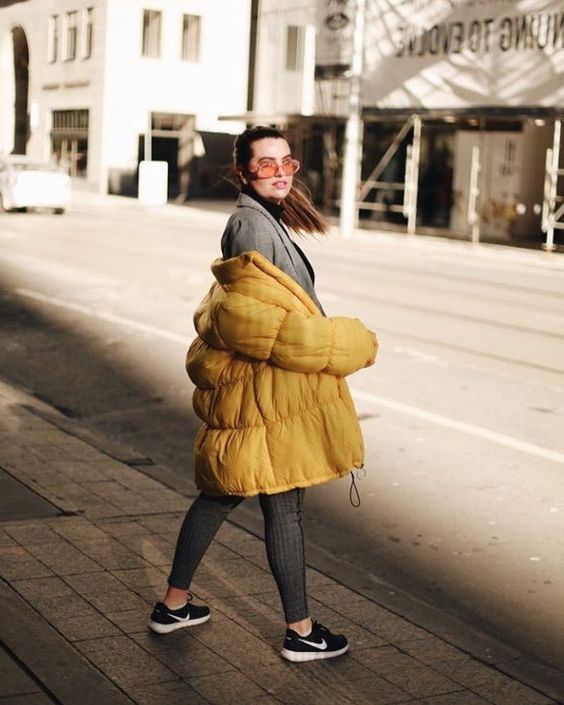 Buy Similar Here
Another stylish yellow jacket looks classy and chic with black aviator shades, slim jeans, and black leather ankle-boots: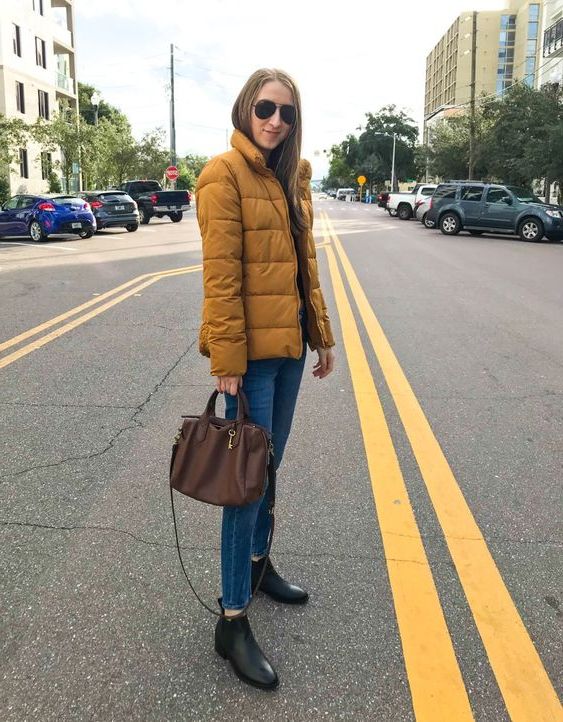 Buy Similar Here
Puffer jacket in red
A patent red puffer jacket ideally suits white top and red joggers completed with multi-colored sneakers and cat-eye sunglasses: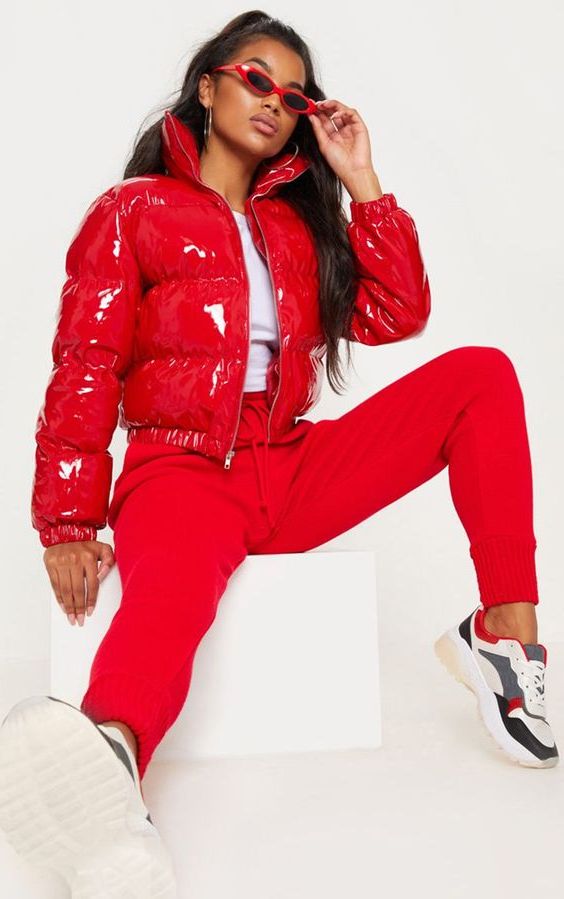 Buy Similar Here
A hooded puffer jacket in red is worn with a white top and mom jeans in blue. complete this combo by adding net heels: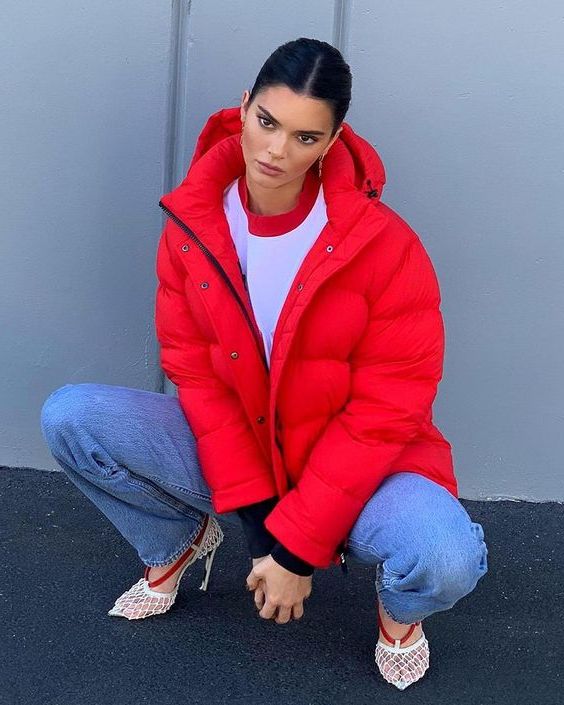 Buy Similar Here
Red puffer looks pretty chic with a black turtleneck and black leather skinny pants completed with black booties. You can also add modern cat-eye sunglasses and a chain strap shoulder bag in black leather: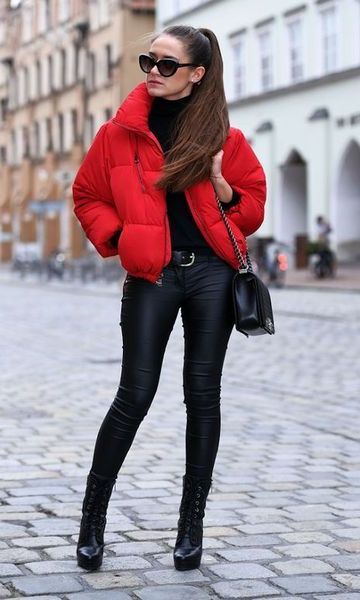 Buy Similar Here
Puffer jacket in silver
Silver metallic oversized puffer jacket can be styled with a black sweater and black skinny pants. Complete this look by adding white sunglasses and white sneakers: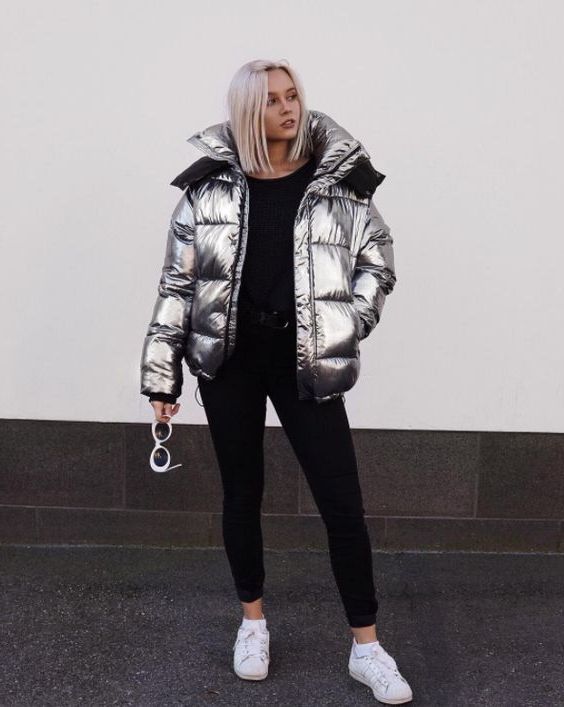 Buy Similar Here
Another hooded silver puffer jacket looks futuristic! Style it with slim jeans in wash blue and black leather combat boots: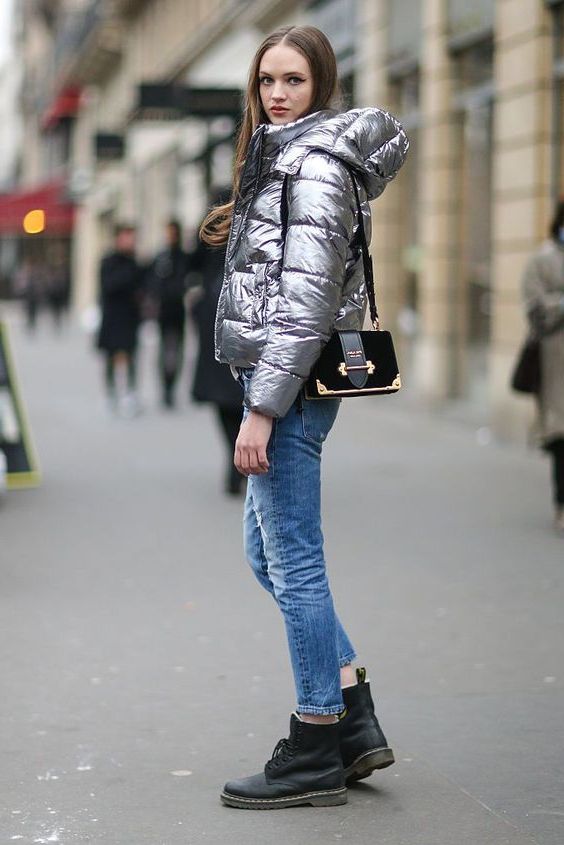 Buy Similar Here
Which one is your favorite? We see a silver metallic bomber teamed with a white chunky knit sweater, blue jeans, and glossy grey leather ankle boots. I personally like the second look that features a shiny silver jacket worn over black bralette teamed with black pants and black sneakers:
Buy Similar Here
Puffer jacket in green
A dark green puffer jacket ideally suits this black combo consisting of a black tee and knee-ripped skinny jeans. Update it with rounded sunglasses: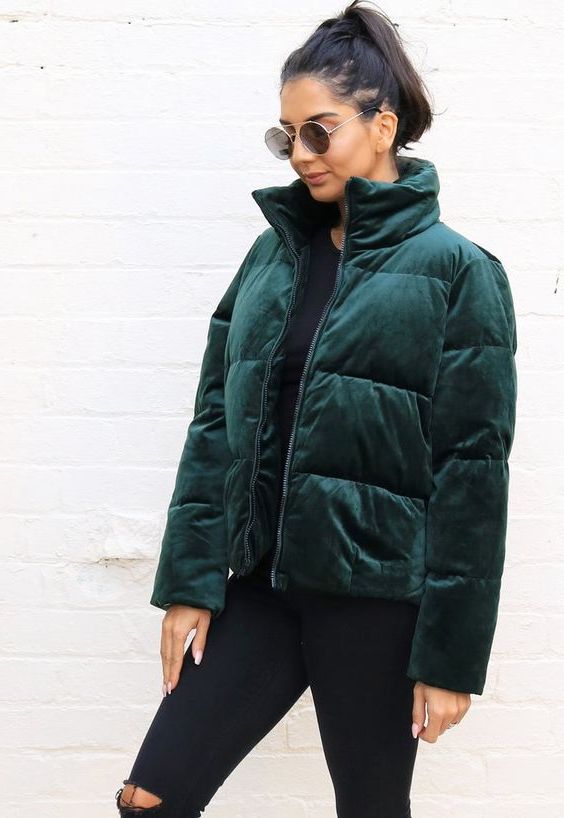 Buy Similar Here
A velour dark green jacket can be teamed with a white high-neck crop top teamed with wash blue skinny jeans: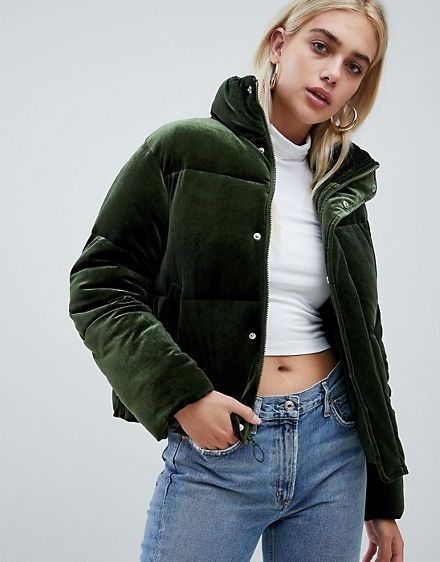 Buy Similar Here
A light green puffer jacket ideally matches this casual combo, layer it over black top tucked in white front-buttoned denim mini skirt completed with block heel ankle boots in black leather: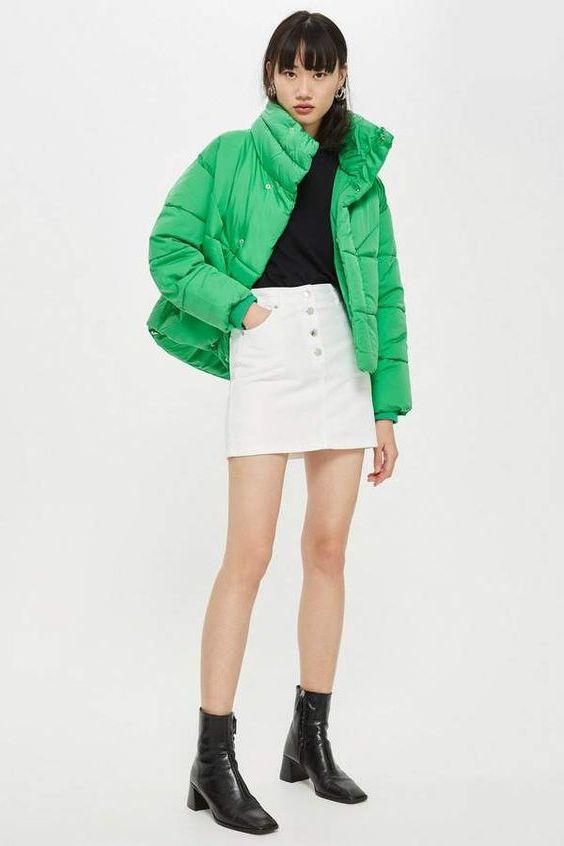 Buy Similar Here
Puffer jacket in black
Here we see a black leather oversized puffer jacket styled with a front-buttoned cardigan and wash blue jeans: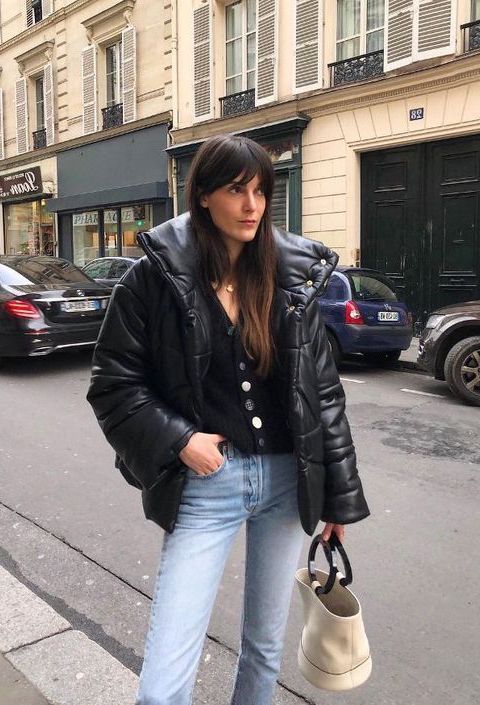 Buy Similar Here
Another all in black outfit idea, consisting of an oversized puffer jacket, black sweater, leggings, and high-heeled pointed-toe pumps: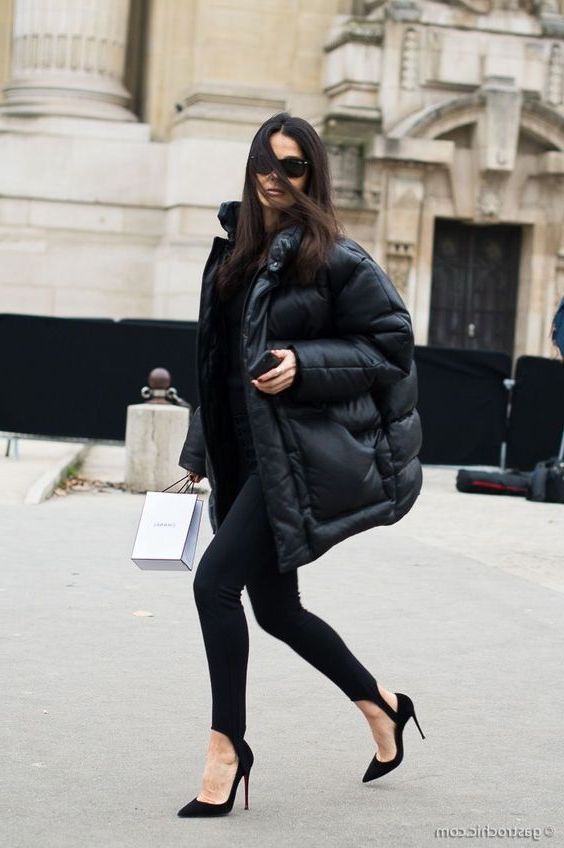 Buy Similar Here
Puffer jacket in blue
A pastel blue short puffer jacket can be a nice addition to your casual weekend's outfit. Layer it over white top tucked in wash blue skinny jeans. In love with these 1990 style sunglasses: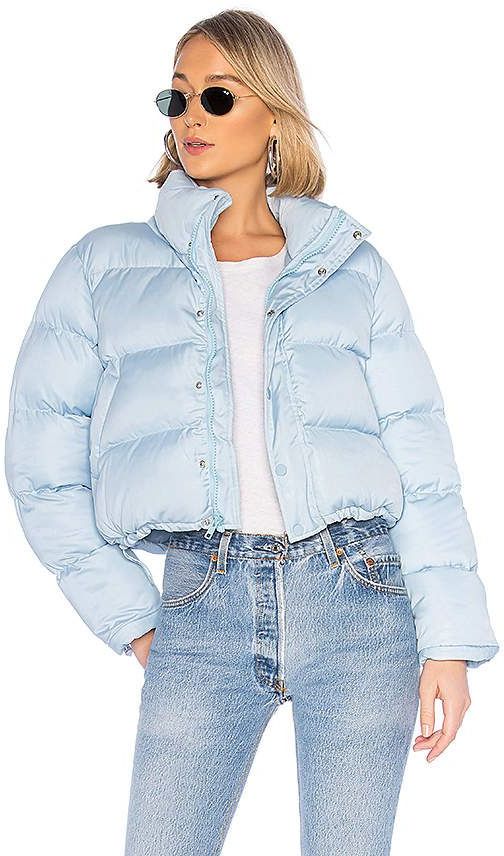 Buy Similar Here
Rich blue puffer jacket is paired with a white tee tucked in grey jogger pants with mustard side stripes: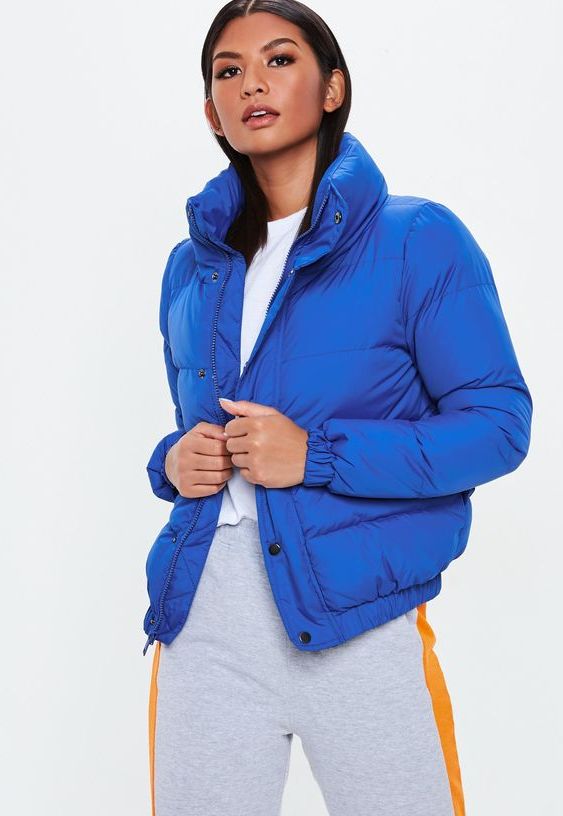 Buy Similar Here
Puffer jacket in white
We see a bright white puffer jacket styled with a burgundy tank top tucked in white pants with burgundy side stripes. Complete this combo by adding glossy burgundy ankle boots: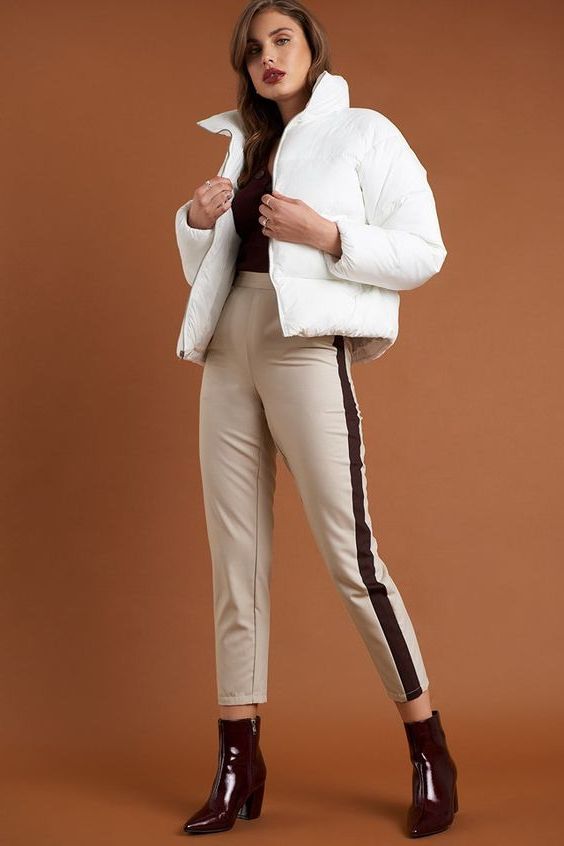 Buy Similar Here
An oversized crop white bomber puffer jacket looks damn hot with black tailored pants: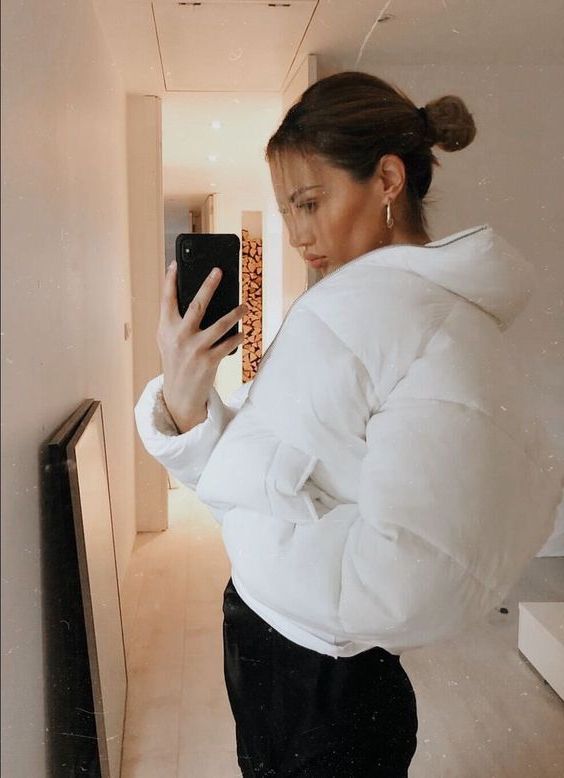 Buy Similar Here
Puffer jacket in purple
The rich violet bomber puffer jacket is combined with a black crop top and bike shorts, in love with these violet cat-eye sunglasses: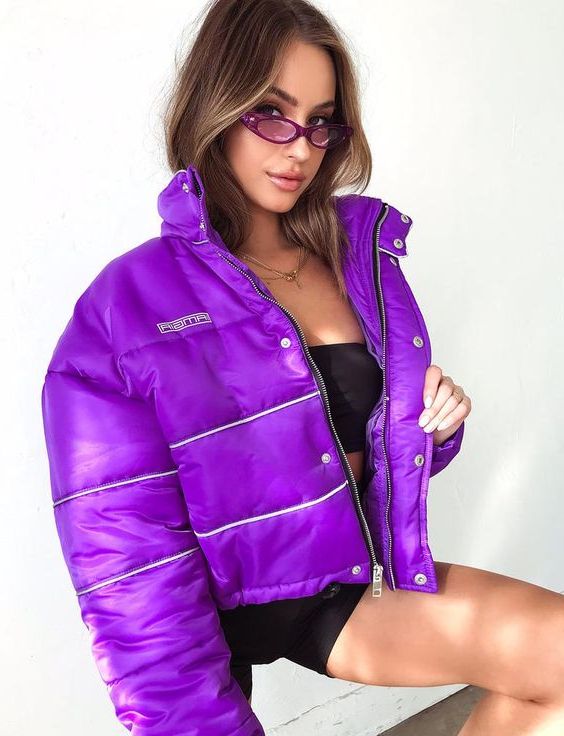 Buy Similar Here
No matter what is your age, there is no limit for wearing a puffer outerwear. Here we see a pastel violet oversized belted puffer jacket teamed with a multi-striped turtleneck and long skirt, complete it with statement boots: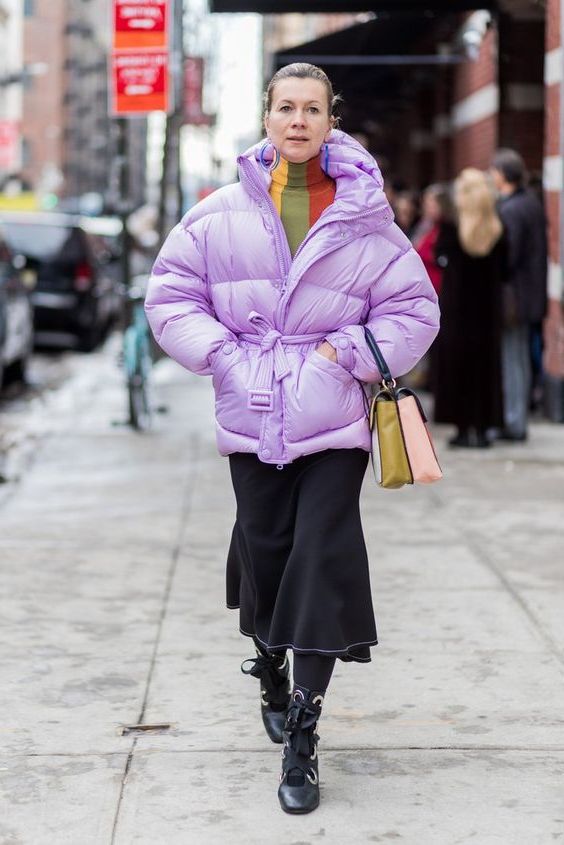 Buy Similar Here