In most times, we see ladies wearing sandals with shorts, dresses, and skirts, but there are women who prefer to wear jeans when it's hot. Yes, you can spot them wearing mom jeans, boyfriend denim, jumpsuits, etc. that are completed with sandals.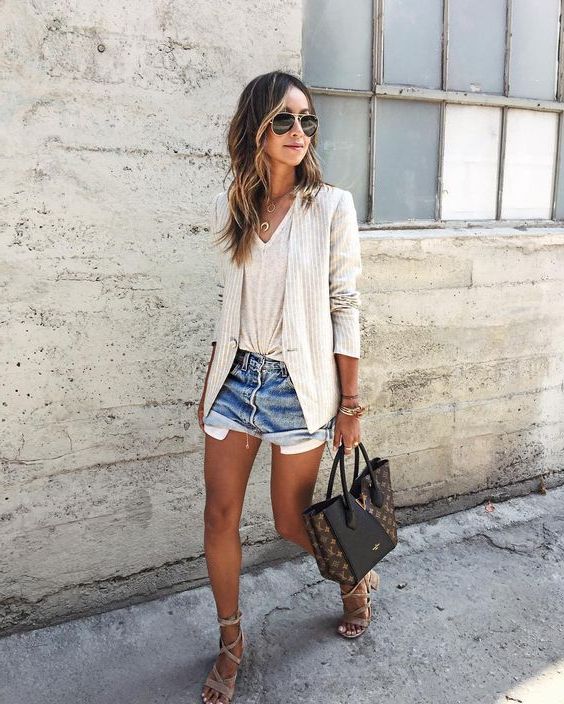 Buy Similar Here
Before I go to the details, I wanted to clarify: most sandals do look well with jeans. The only sandals that might look weird are the dressy evening sandals and those ultra-athletic sandals, but even they can work with jeans, just make sure the overall look is harmonized and they do complement the rest of your outfit.
How To Wear Sandals With Denim Shorts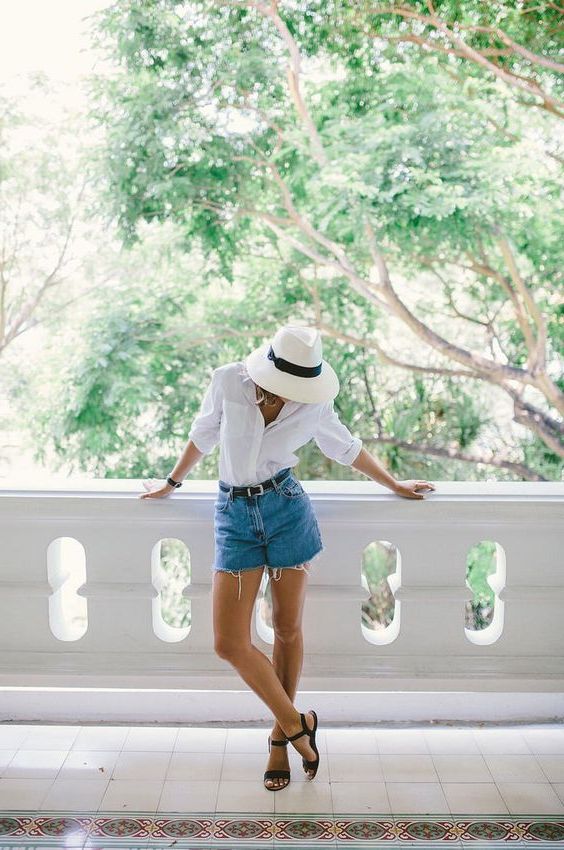 Buy Similar Here
Create a casual Summer outfit with a cool and smart styling appearance. Your basic summer shorts can look cute and special, just try them on with a plunging V-neck top, tucked inside. Add a pendant necklace, a trendy fringed bag, and match it with a pair of colorful slide sandals.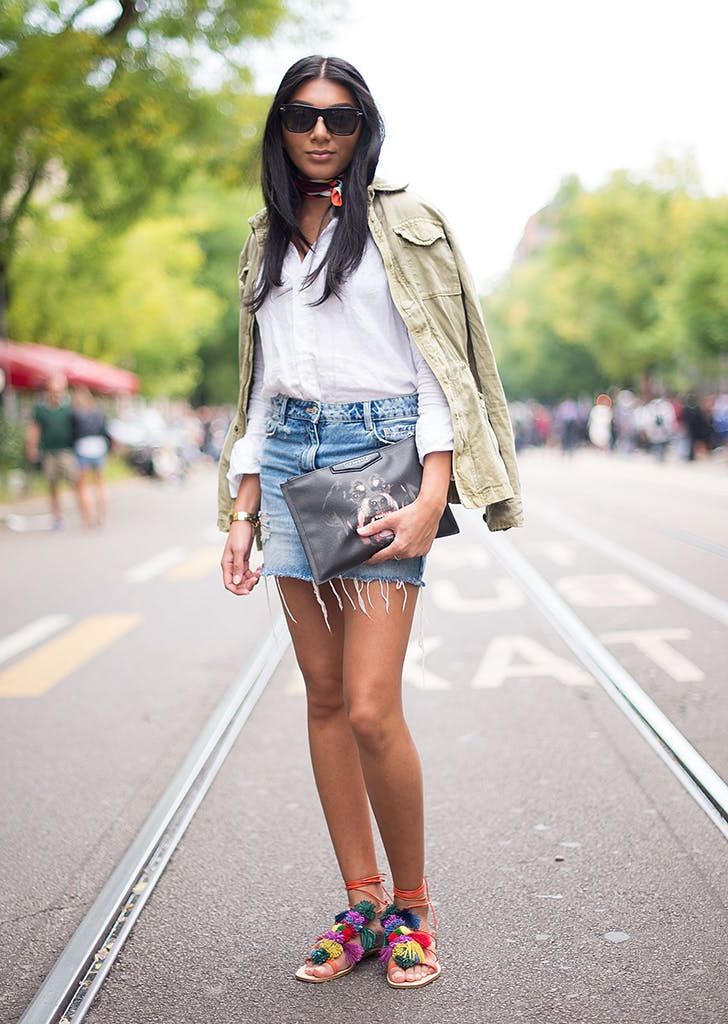 Buy Similar Here
If you are more into a vintage-inspired look, then you can easily try on a boho top bought in a thrift shop and team it with ripped denim cut-offs. Complete this combo with high heeled sandals and you are ready to go. Don't forget to add a floppy hat and cool necklaces.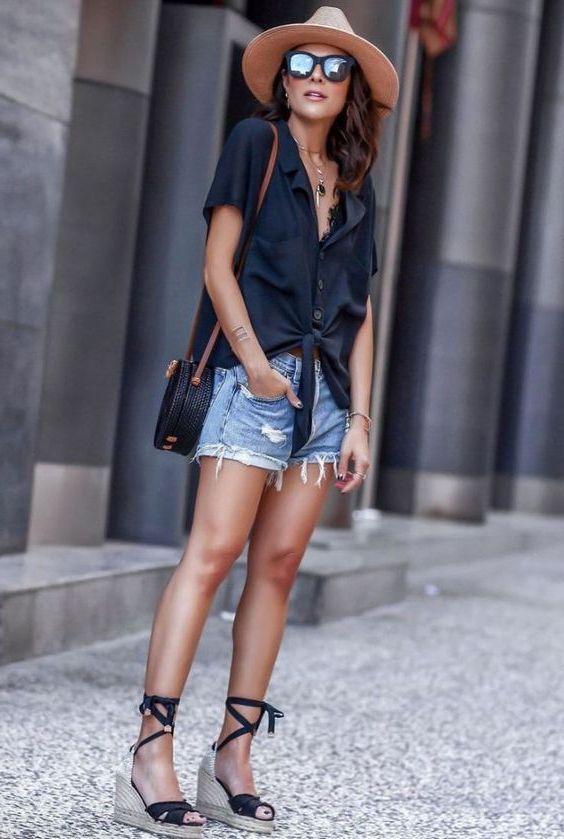 Buy Similar Here
Those of you who are into a simple weekend look, then I recommend trying on a casual tee with ripped jean shorts and ankle wrap sandals. Add a ladylike touch by wearing a cute wide-brim hat, and a ladylike black purse.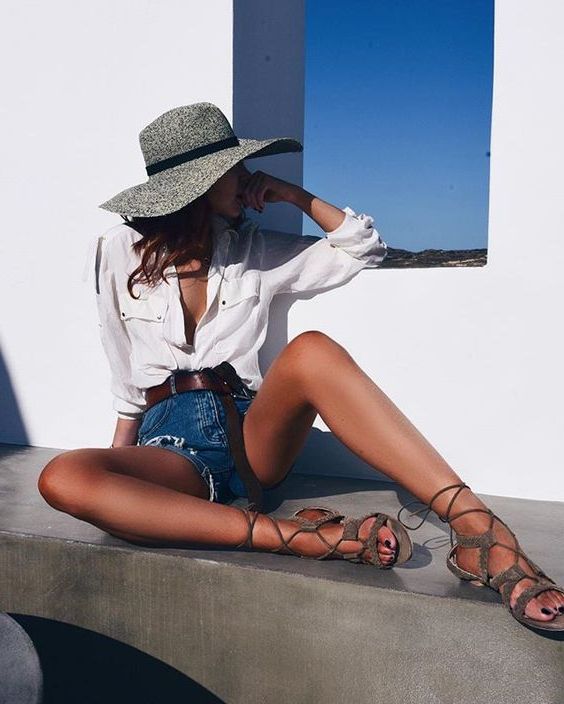 Buy Similar Here
With a Blazer for fancy gatherings. Yes, you can easily go for a classy blazer by pairing it with a regular pair of jean shorts. That's a super-easy way to add a classy style to the overall look and impress everyone around.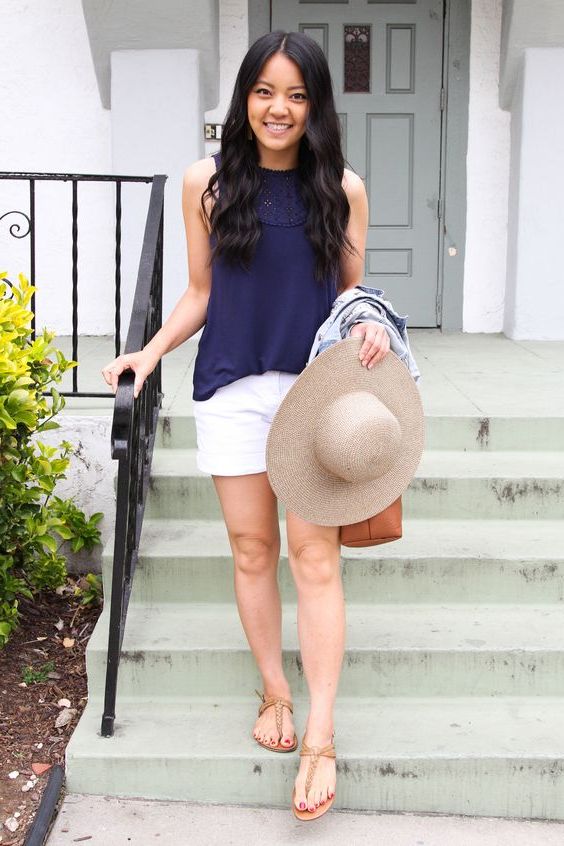 Buy Similar Here
It can be a classic fit blazer or a boyfriend suit jacket, but I am telling you, it will instantly make you look grown-up and special. Complete it with a pair of high heeled sandals embellished with sequins.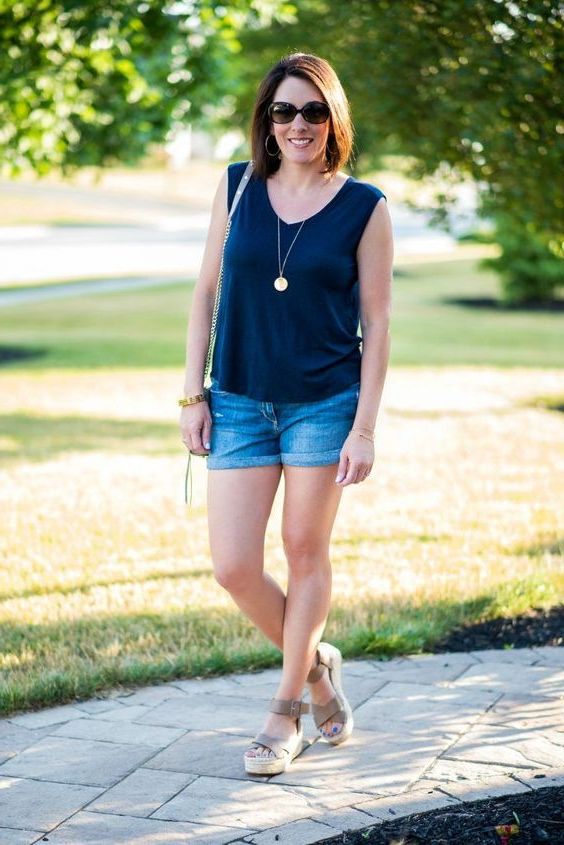 Buy Similar Here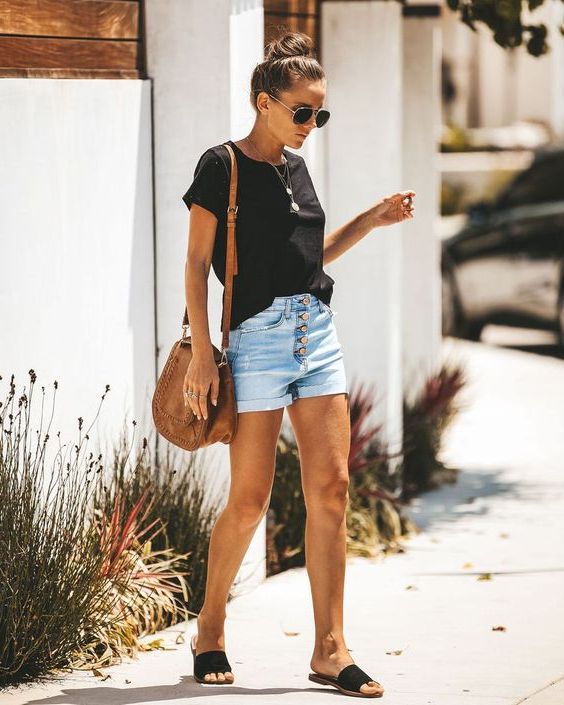 Buy Similar Here
You can try on white sandals with arch support and style them with your favorite jean shorts in dark blue color. Complete the look by adding a fancy white tee with a cool slogan and oversized sunglasses.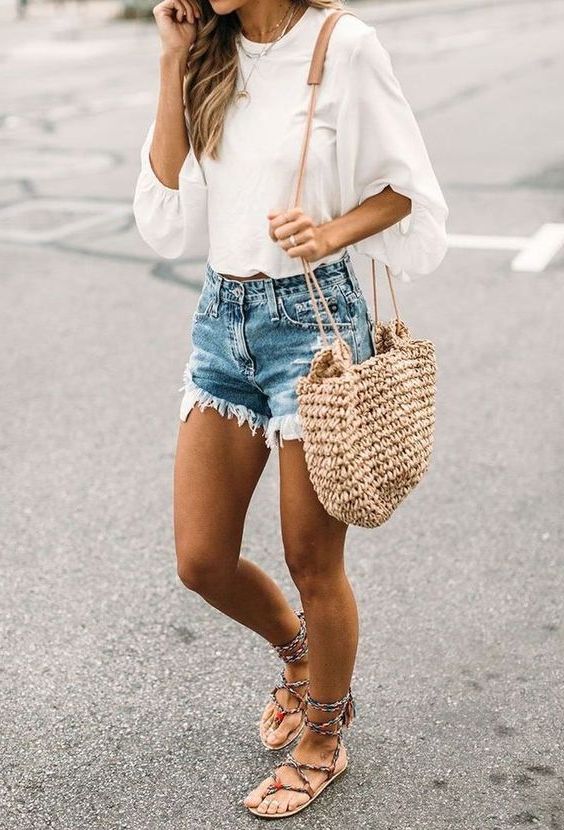 Buy Similar Here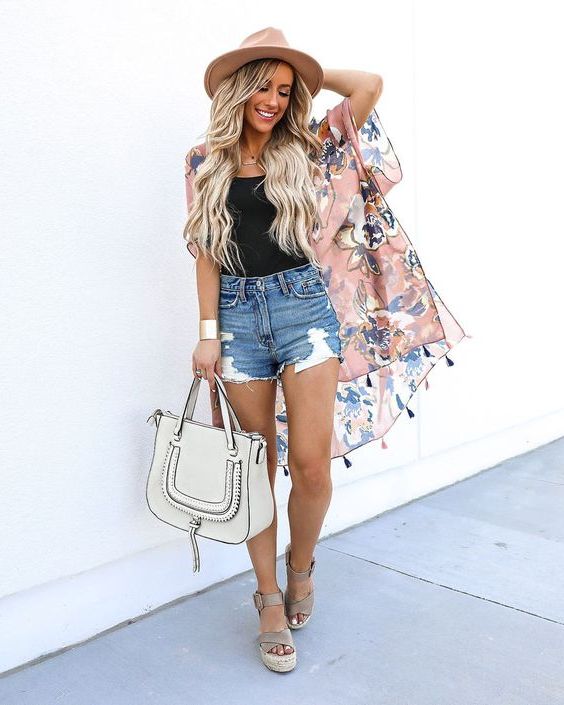 Buy Similar Here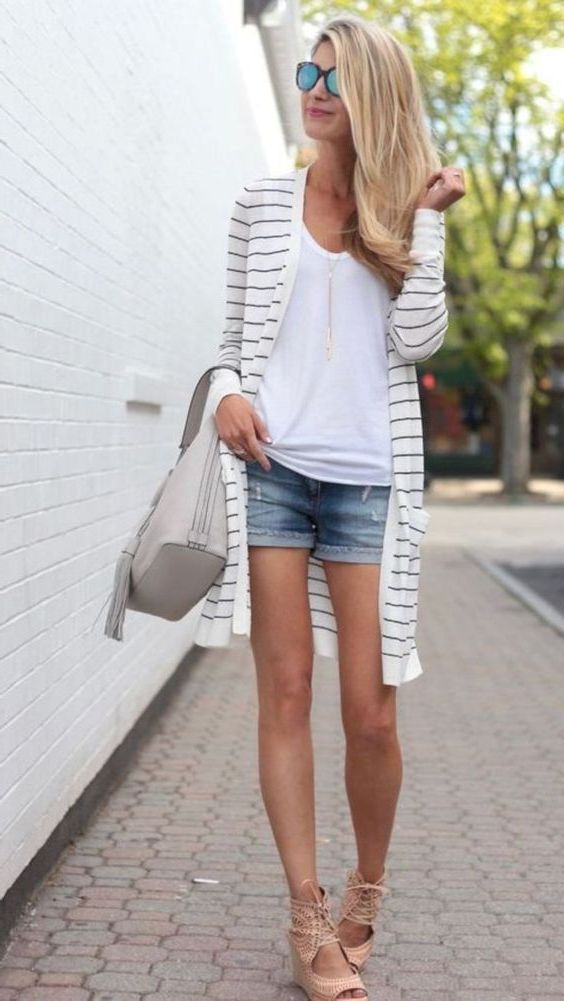 Buy Similar Here
My favorite black sandals with straps can look pretty chic with white frayed denim shorts and black blouse, complete this combo by adding hoop earrings and fancy bag.
What Sandals To Wear With Jeans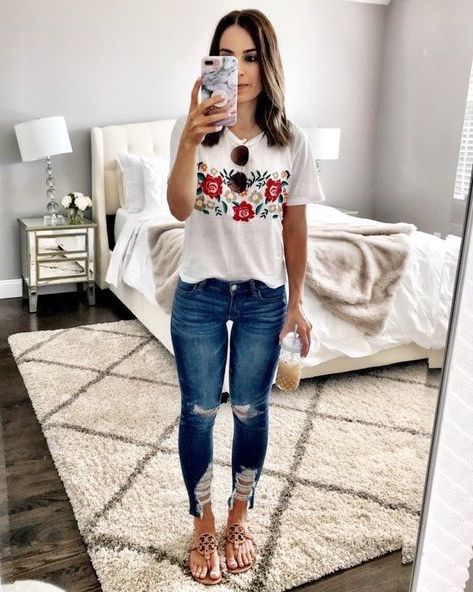 Buy Similar Here
One of my favorite and denim-friendly sandals are flats and simple thong sandals, they can be paired with almost every style of jeans. If you are more into classics, then sandals with skinny straps and wide straps can also work with any type of denim.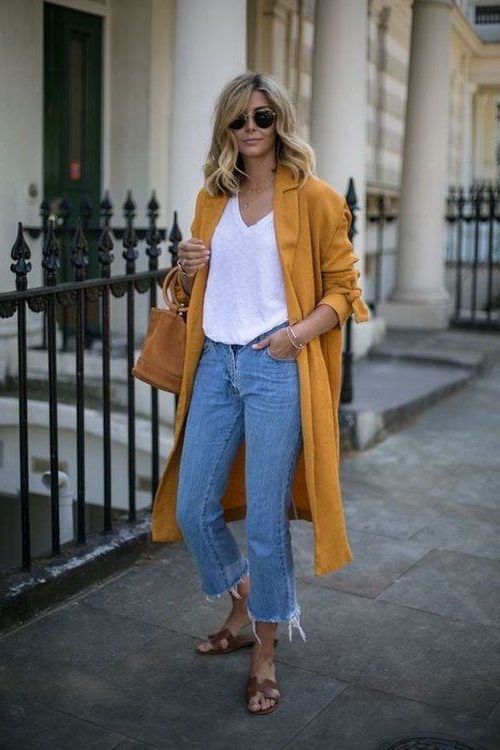 Buy Similar Here
Wedge sandals also work well with jeans, they create a balanced appearance that makes any woman stand out. I personally wear wedge sandals with flared and bootcut jeans. But you can try them on with rolled jeans, boyfriend jeans, and skinnies.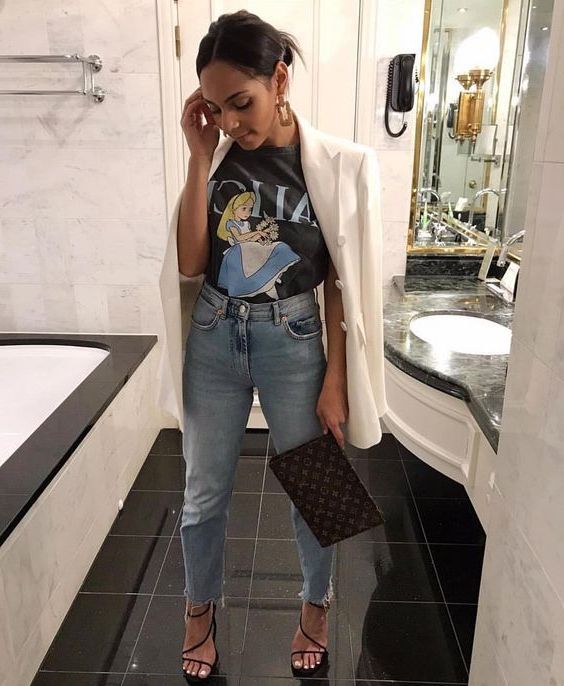 Buy Similar Here
Coming back to dressy sandals, I definitely recommend trying on fancy sandals with denim, they can be completed with tiny rhinestones on their straps either with metallic uppers, or some other shimmering accents. Heeled sandals look cool with almost any jeans. You can go for strappy heels, open-toed booties, chunky heels, stilettos. In other words, the sky is the limit.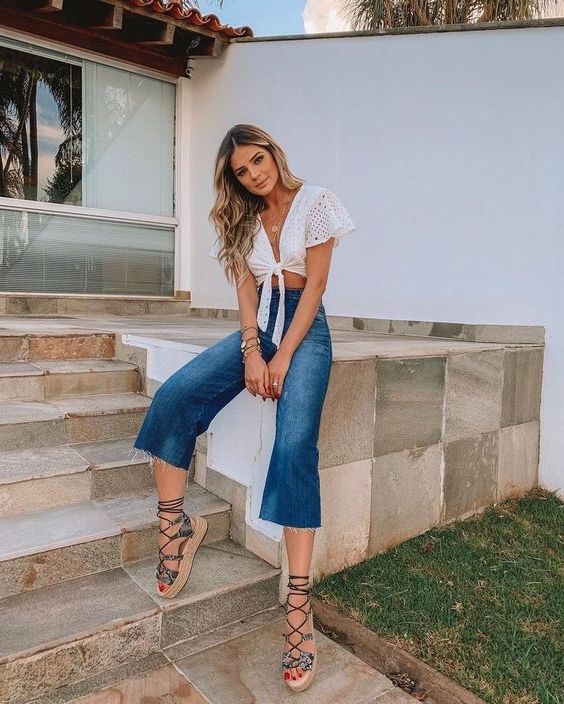 Buy Similar Here
Boyfriend jeans look cool with flat or stacked heel sandals, they will undoubtedly add a feminine spin to the whole outfit.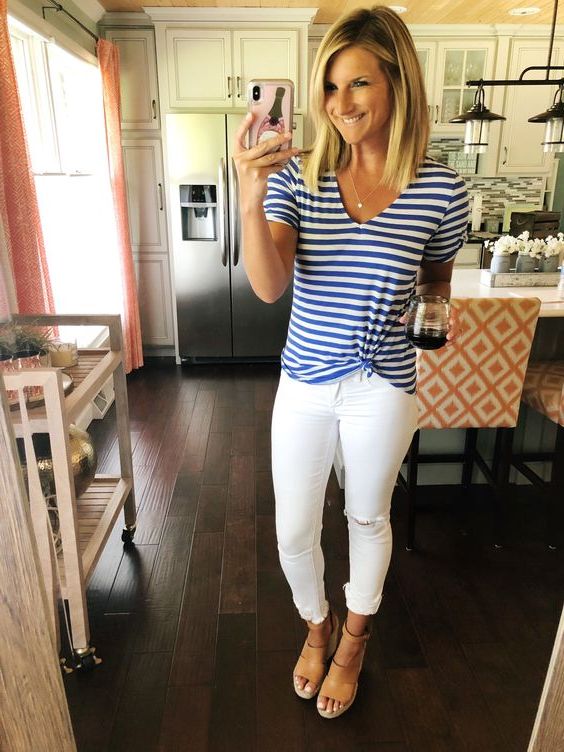 Buy Similar Here
Skinny jeans can be updated with cuffed sandals, so you can easily show off your fancy style. Wide leg jeans are perfect to pair with peep-toe sandals. But I recommend to try bright colored mules, this will add subtle and brightly colored detail to your style.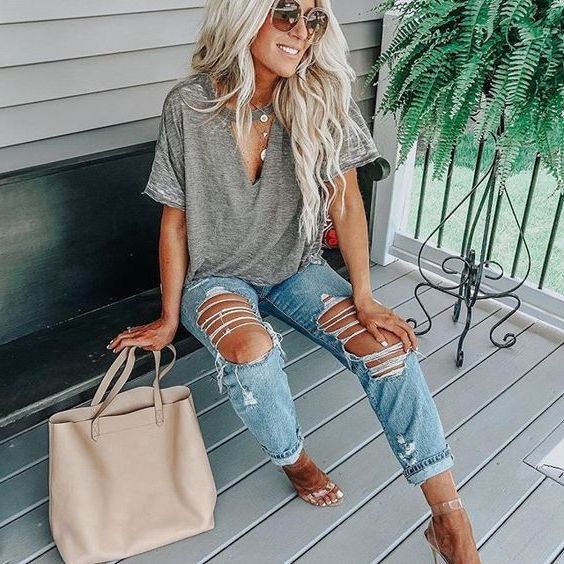 Buy Similar Here
Cropped jeans work great with lace-up sandals or ankle strap heels. Want to know what sandals to wear with skinny jeans? Well, it's pretty easy to answer: the best sandals that look great with skinnies are strappy heels. The more minimalistic strappy sandals look, the more dressy appearance you get. An ideal way to show some skin during warm sunny days.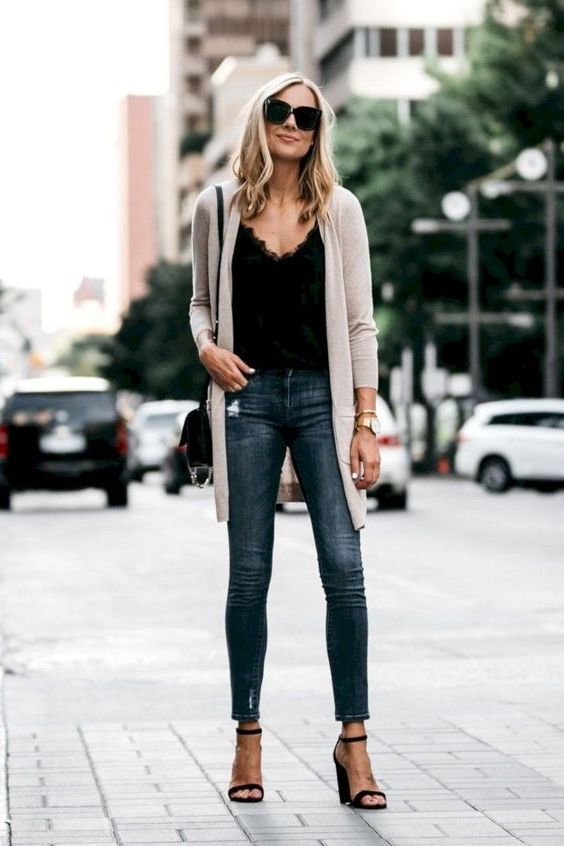 Buy Similar Here
How To Wear Sandals With Denim Skirts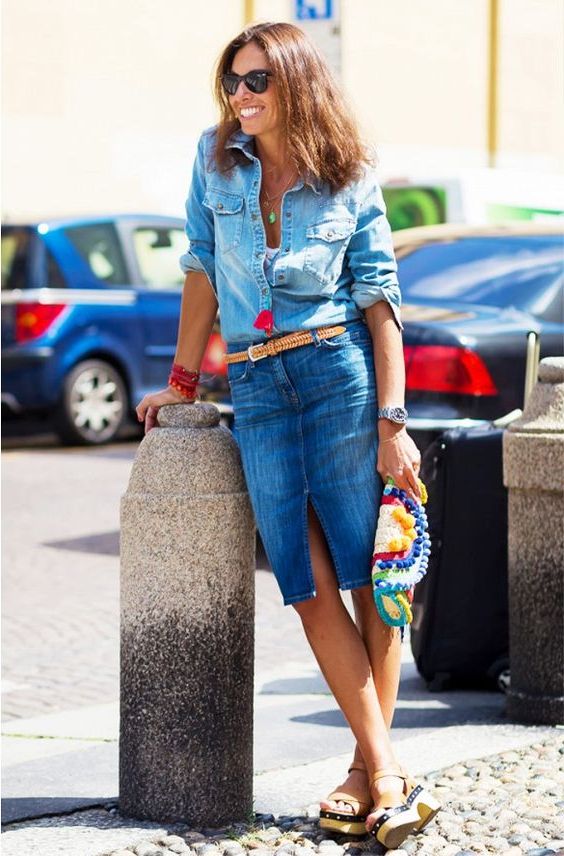 Buy Similar Here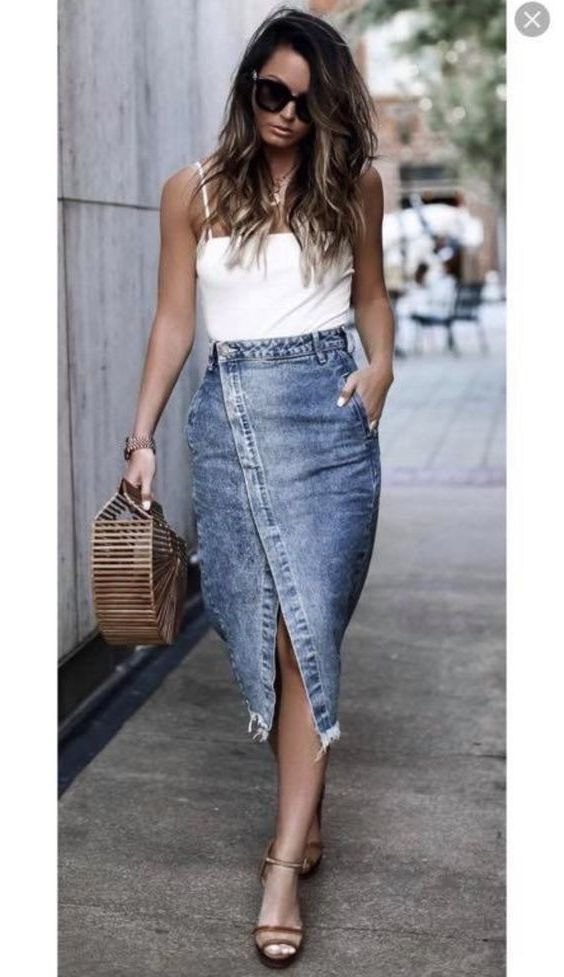 Buy Similar Here
Denim skirt looks a bit casual to me, that's why it's important to dress it up, so you look fresh and trendy. The easiest way to dress it up is to pick the right shoes. We are here talking about sandals, that's why I highly recommend to start from flats and then go for heeled or sky-high sandals.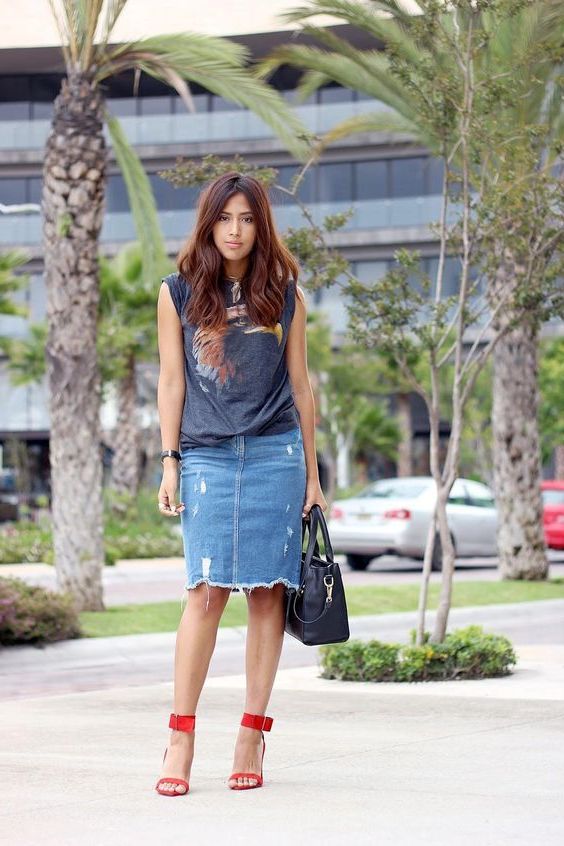 Buy Similar Here
The best thing about sandals and denim skirt, no matter what style you want to create, you will still look special. I personally wear my short denim skirt with shiny heeled style, they do work great with my outfit.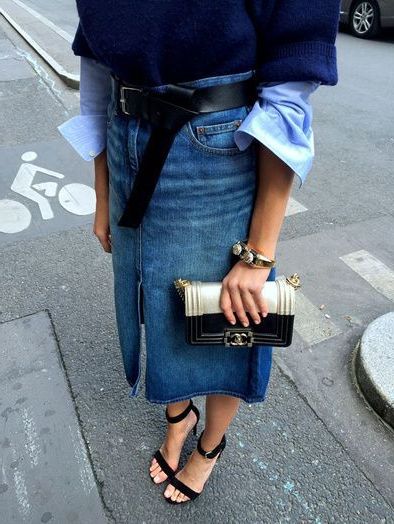 Buy Similar Here
A pair of shiny cuffed sandals with a mid-heel is a great choice to team with a denim skirt. Such a look makes me wanna say: "I'm still on vacation, but I can look dressy enough to meet my friends." If you are not into heels, then you can create a totally different look, all you need is to opt for flat knee-high gladiator sandals, ripped denim skirt, and slogan print tee.
If you want to try on a midi denim skirt, then I do recommend to try it on with a silken blouse (solid colored or printed) and squared heeled sandals, they will surely finish off the whole look perfectly.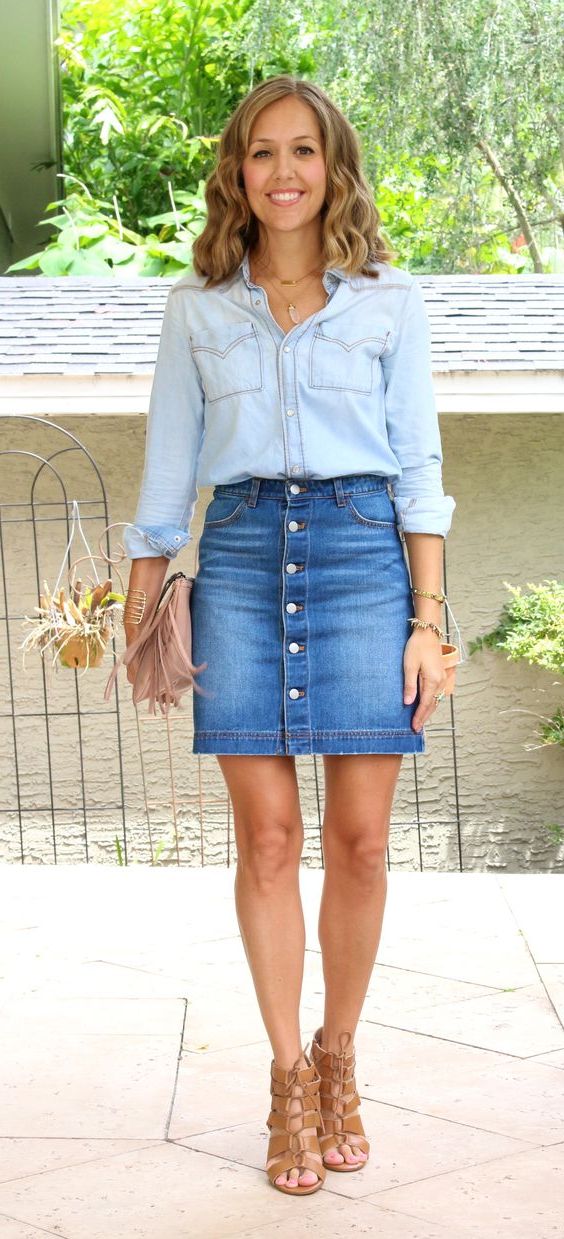 Buy Similar Here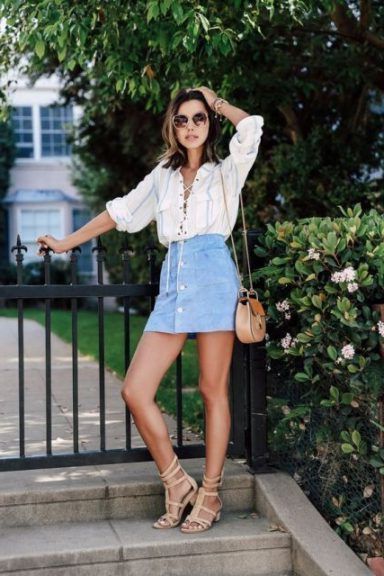 Buy Similar Here
Almost any pair of sandals with heels look sassy with a classic denim skirt in short or midi length design. Complete such combo with some classy shirt or a blouse.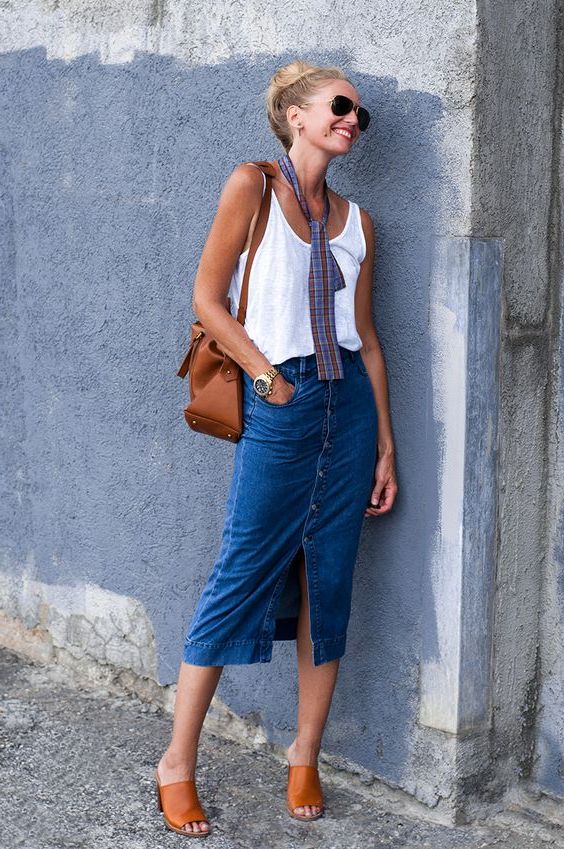 Buy Similar Here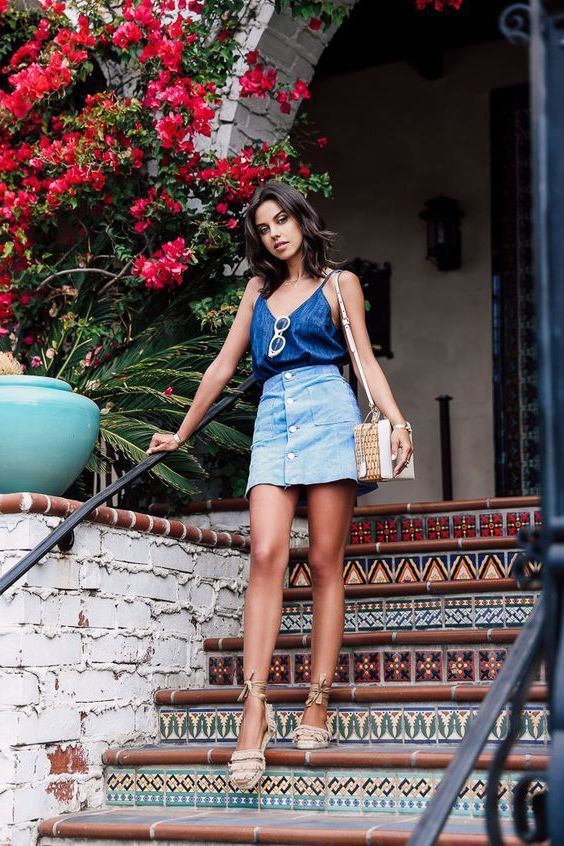 Buy Similar Here
If you are more into something fresh and dressy, then I recommend going for sandals with bows, they gonna look sweet enough to be paired with a dressy black or white blouse. Complete this combo with a blazer and classy handbag.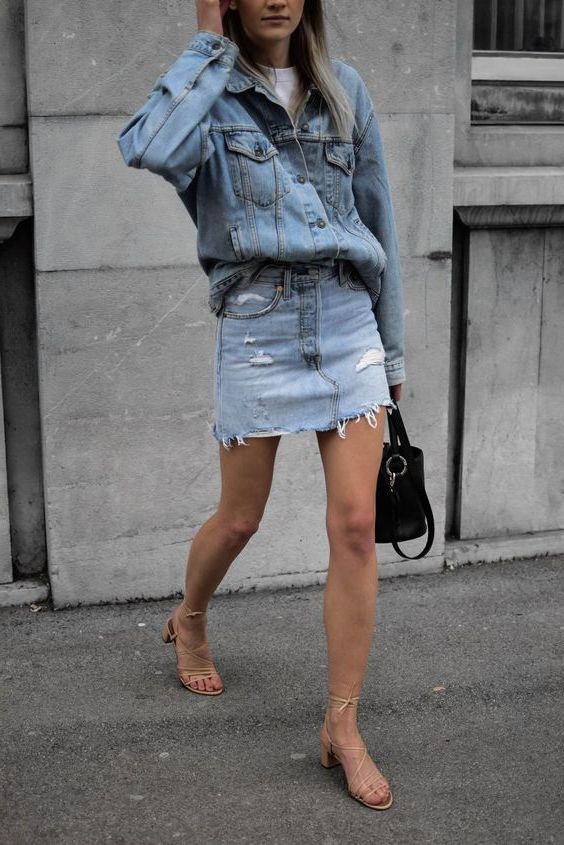 Buy Similar Here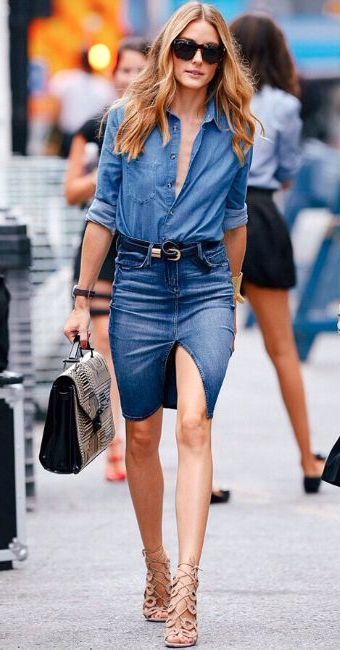 Buy Similar Here
A pair of sandals with good arch support look cool enough to be paired with a mini denim skirt and a basic tee.
What Sandals To Wear With A Denim Dress
What I love about denim dress, it's versatile and easy wear. You are free to wear it with almost any footwear design. I love to add ankle-strap heeled sandals, they are pretty versatile and can go from casual street walk to cocktail party.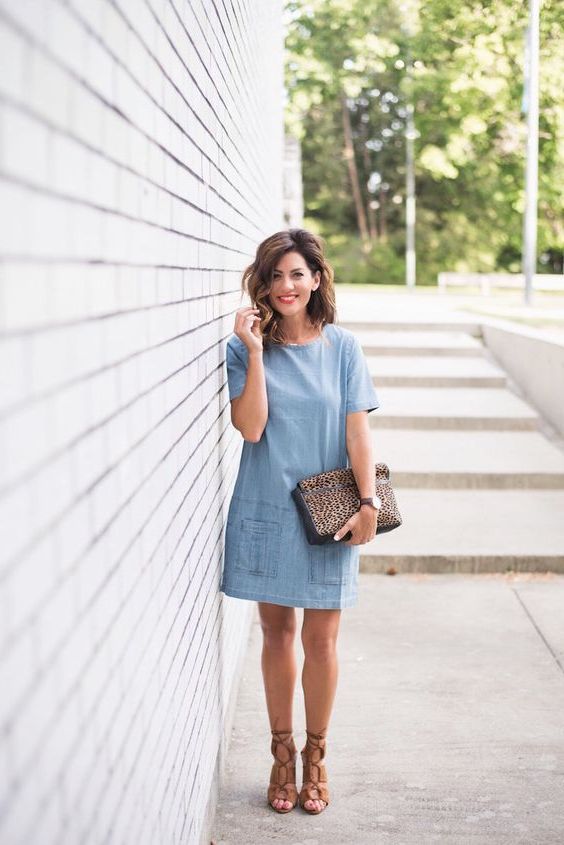 Buy Similar Here
Love to see ladies in denim maxi dresses which are styled with classic low block heel sandals in yellow color, this combo makes any woman look trendy and special.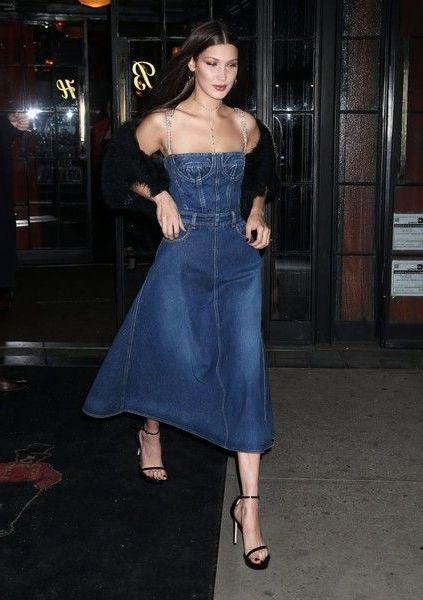 Buy Similar Here
The best thing about denim dresses? You can add a pair of bright sneaker-sandals and you still gonna look fresh and ladylike. Lace-up flats sandals and a cute choker can easily take a denim dress from boring to adorable it-girl inspired.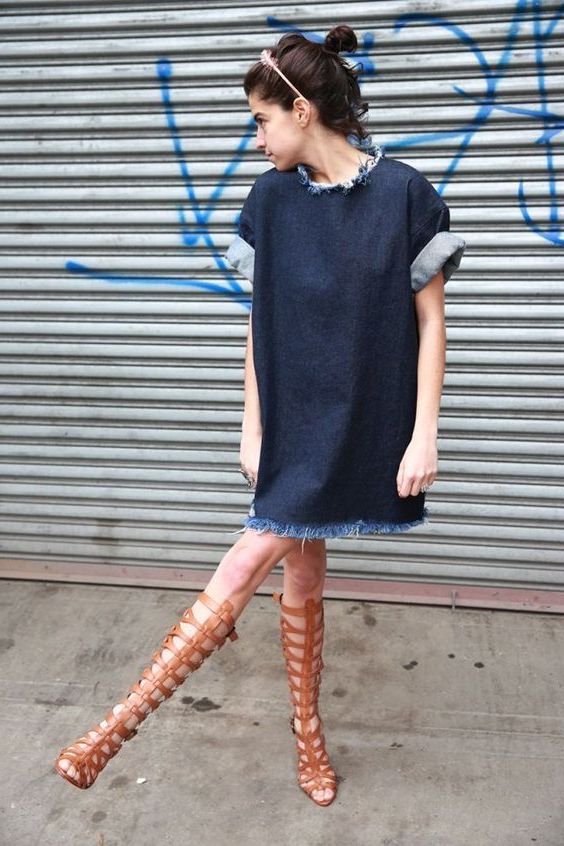 Buy Similar Here
Your summery denim dress can look awesome styled with a long-sleeved shirt during chilly evenings, complete it by adding a pair of sandals with toe loop.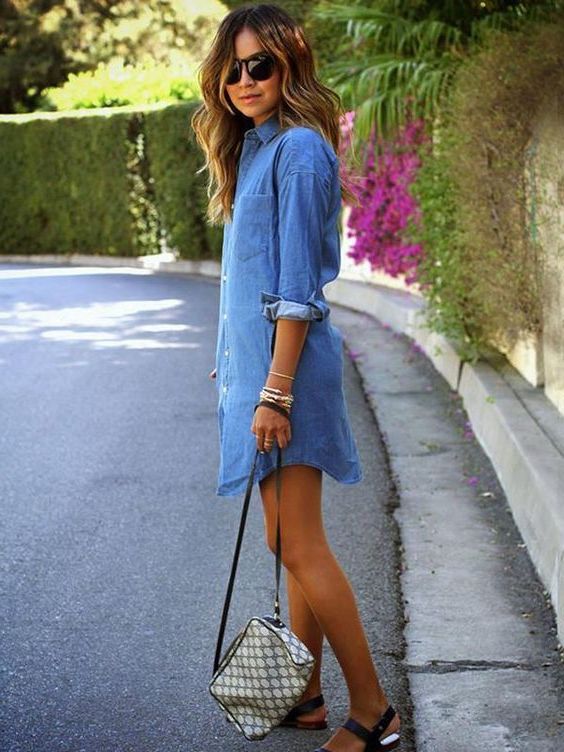 Buy Similar Here
A loose denim shirtdress is a classic, but if you want to add more glamour, go for sandals with rhinestones.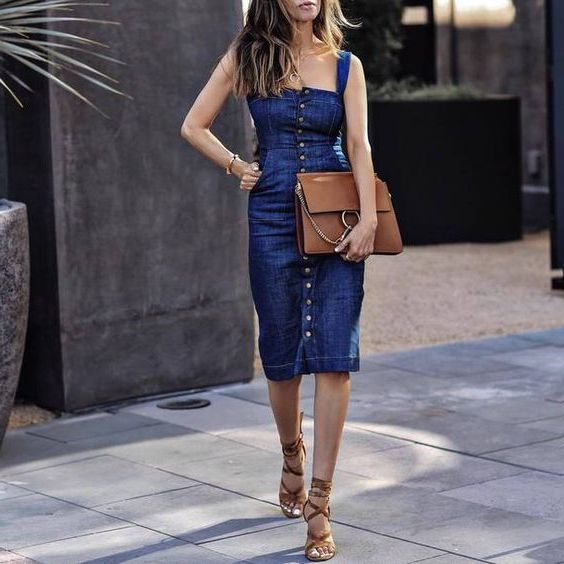 Buy Similar Here
A tank denim dress with mirrored sunglasses and a pair of mule sandals will easily work together. Gladiator sandals and a floppy hat will add a bit of an edge to any denim dress.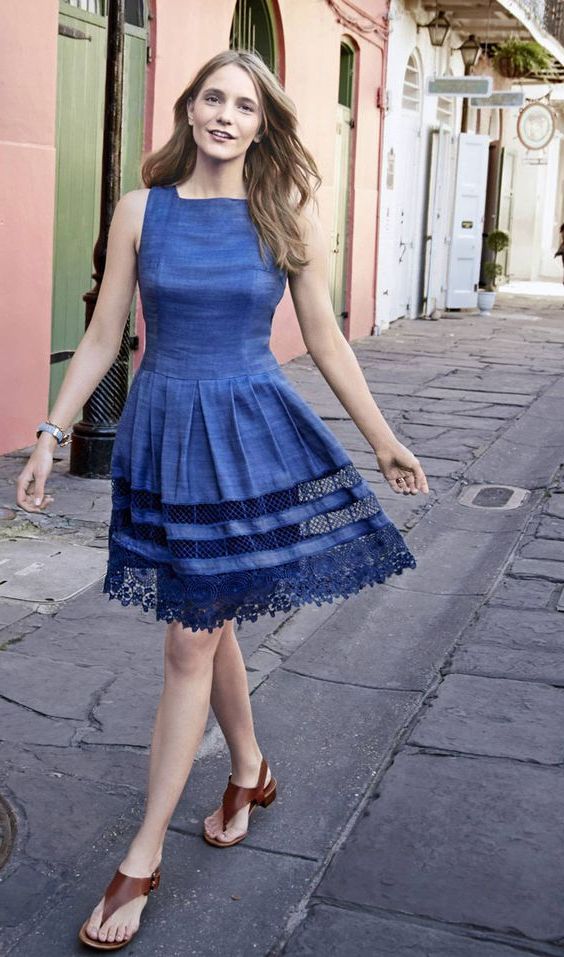 Buy Similar Here
Add espadrille sandals or classy wedges for a quick party look, just make sure the color coordinates with the rest of your look.