You are about to find out amazing ideas on what shoes you can wear with a lace dress and still look amazing. A lace dress is a beautiful way to underline your individuality and fresh up your daily outfits. Why do we love them so much? This is a dress that looks both conservative, sexy, some-what bohemian inspired and feminine.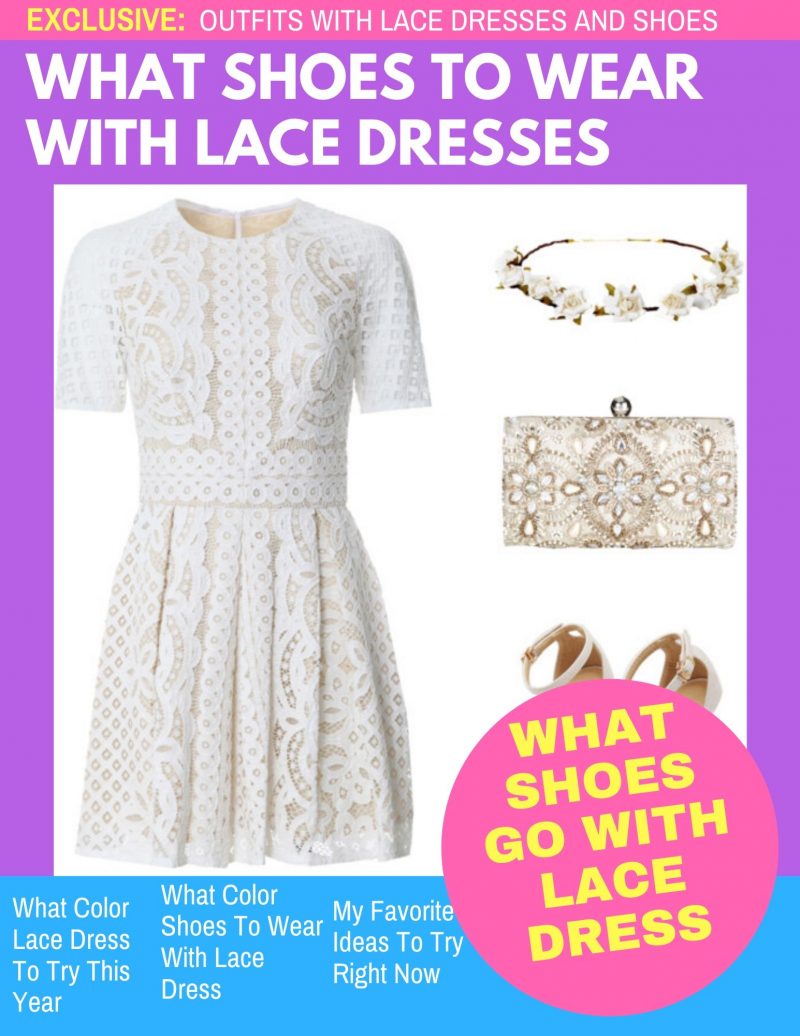 Buy Similar Here
We see a pastel blue lace frock styled with beige cuffed heeled sandals, a perfect idea for cocktail parties: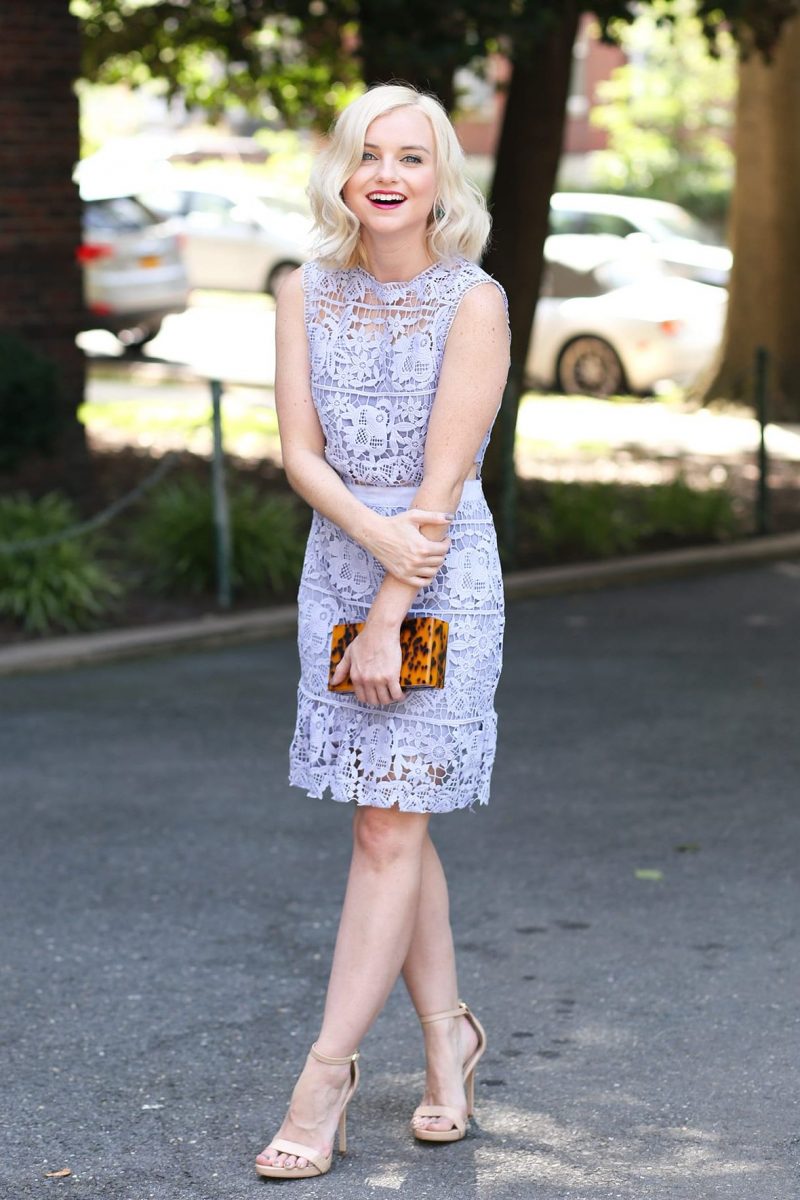 Buy Similar Here
How To Wear Lace Dresses
I personally, like lace dress for its universality, I can easily dress it up and down whenever I want it. So, in this blog post, I want to show you simple ways how to modernize, individualize and make max from a lace dress.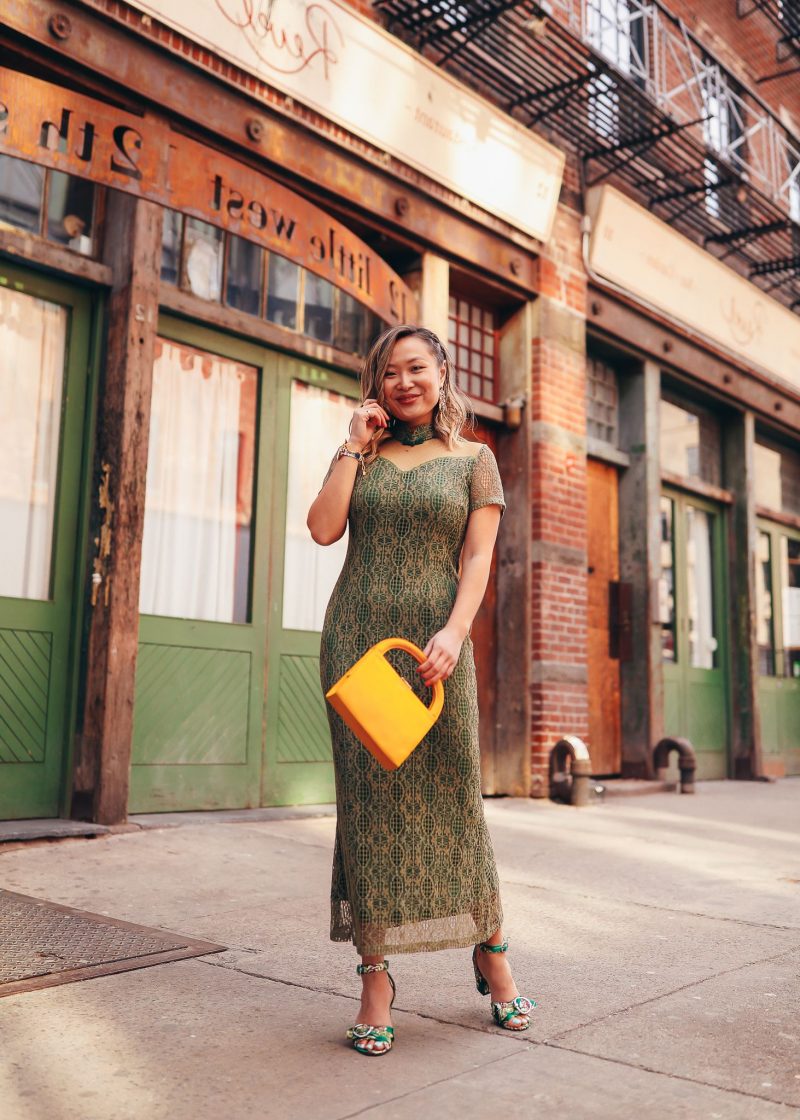 Buy Similar Here
You have two ways how to combine lace dress with cool shoes: a) try on a neutral lace dress with bright/neon footwear and b) go for bright lace frock and complete it with a pair of neutral color shoes. I personally love to keep things simple as much as I can. Plus, I always try to keep things simple and find only those color shoes that ideally complements the whole look, including my dress and accessories. Do you need some more ideas to get inspired by? Go on and see the best street style looks you can copy this year.
Where To Wear Lace Dresses
Before you go for street style inspiration, I wanted to mention the type of events where you should combine lace dress with a different type of footwear. For instance, if you are about to visit a dressy, cocktail or formal event, then I recommend sticking with heels, stilettos, ankle boots, pumps or classy mannish Oxfords. If you are about to visit a casual party or meeting, then you can try on wedges, gladiator sandals, simple classy sandals, or even sneakers. Anyway, onwards, we are about to learn more ideas and color mixture you can combine with different color footwear.

Buy Similar Here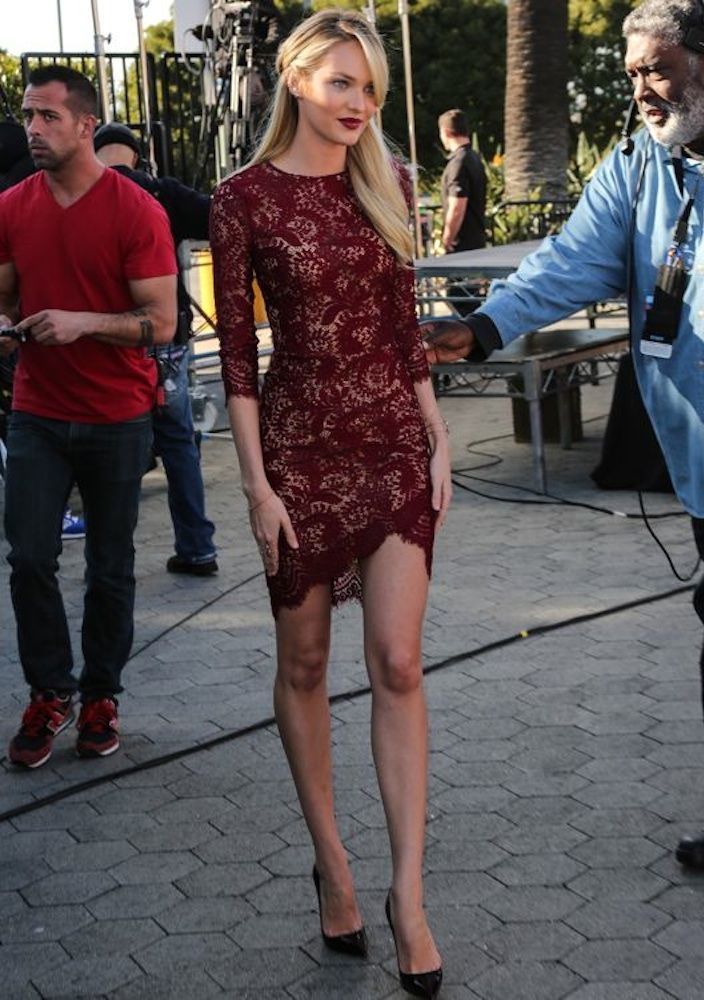 Buy Similar Here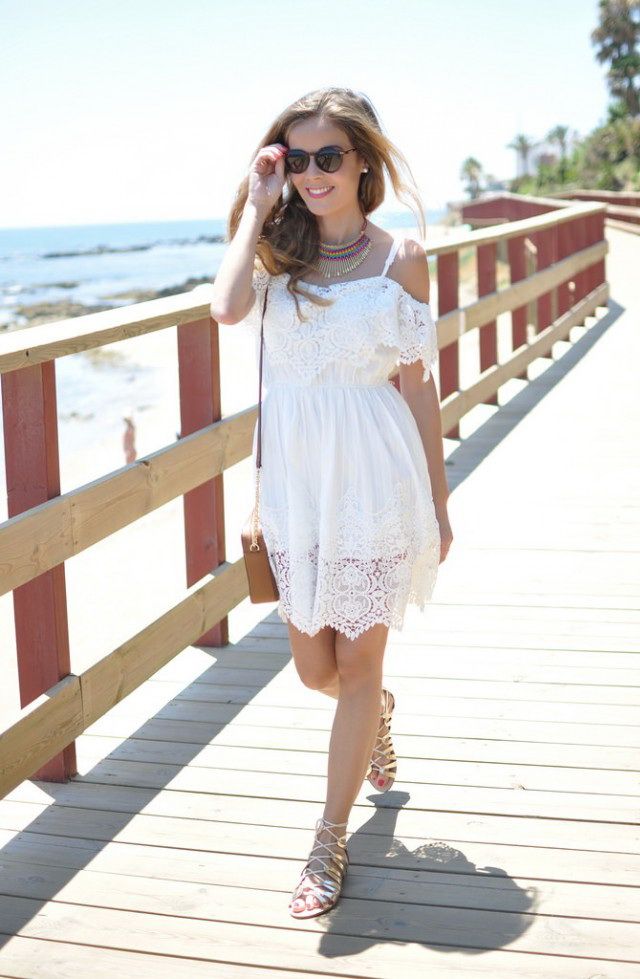 Buy Similar Here
Black Lace Dresses
First things first, a BLACK LACE DRESS looks great with any type of shoes. Of course, you need footwear that can match the upcoming event, these shoes can be dark or bright ones, make sure they ideally match your accessories, like a handbag, or any other accessory. Avoid monotony of your look, go for bright colored footwear and complete your style with some fancy jewelry. Even if you are going to a casual party, you can still go for a black lace dress and complete it with black boots. I also love to see women wearing black lace dresses with edgy black leather jackets, the result looks gorgeous.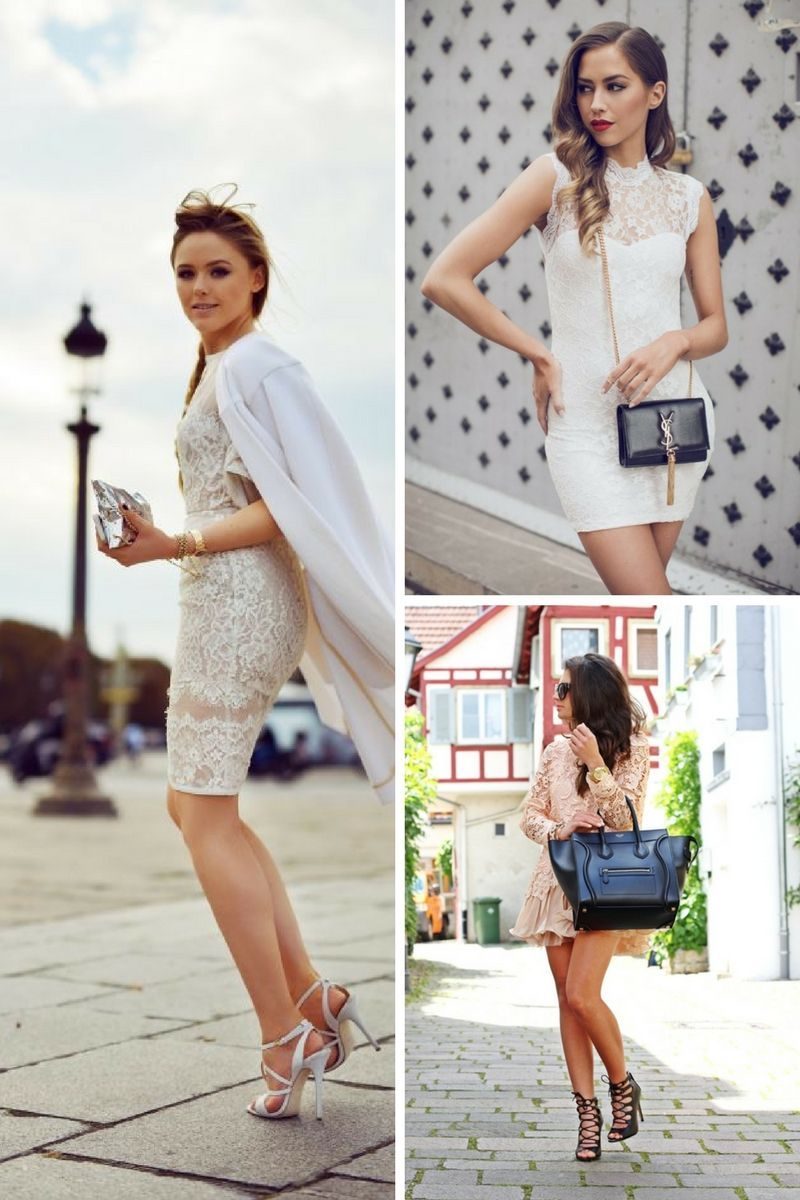 Buy Similar Here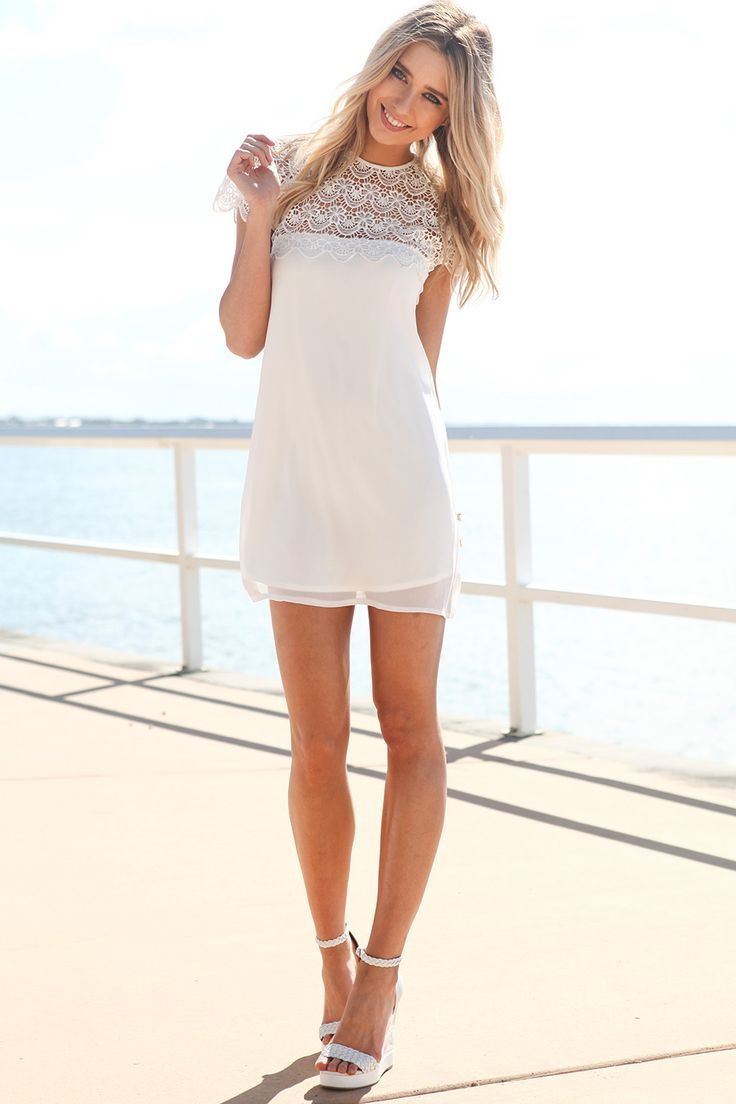 Buy Similar Here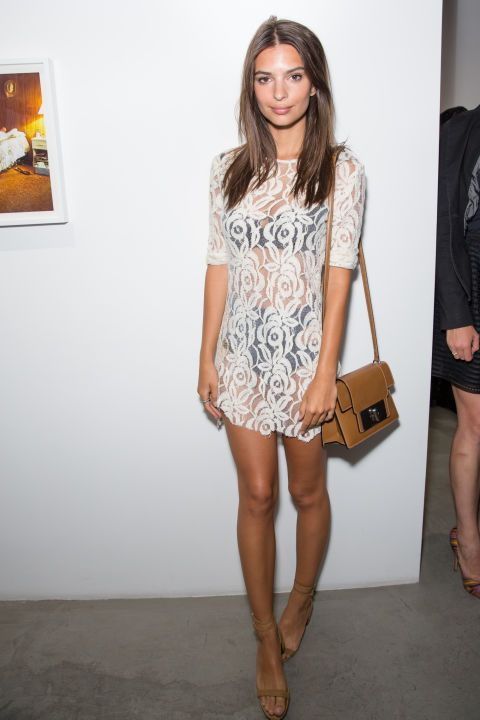 Buy Similar Here
White Lace Dresses
If you are into white dresses, then still, everything depends on the upcoming event. I love to see monochrome looks, when a lace WLD is paired with white flat shoes, like Oxfords, gladiators or simple flip-flops. You can still wear a white lace dress with brown Oxfords, black shoes or even with hot red heels.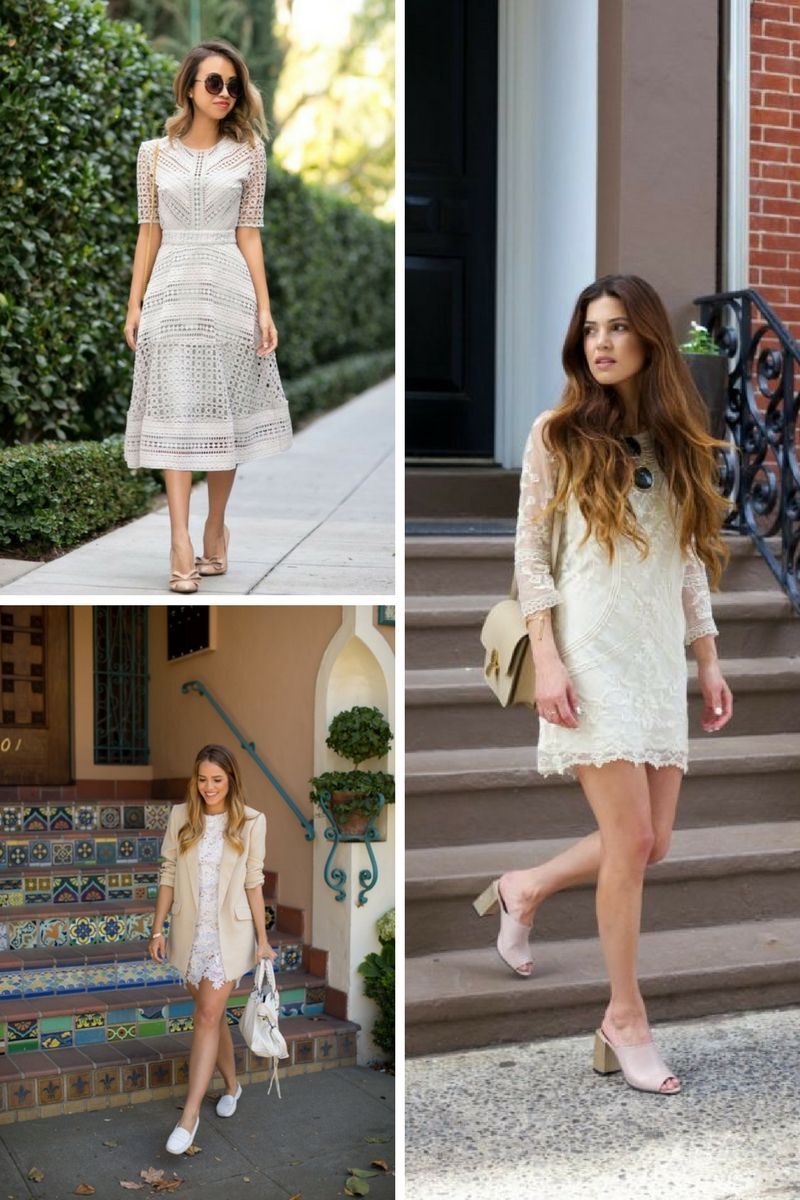 Buy Similar Here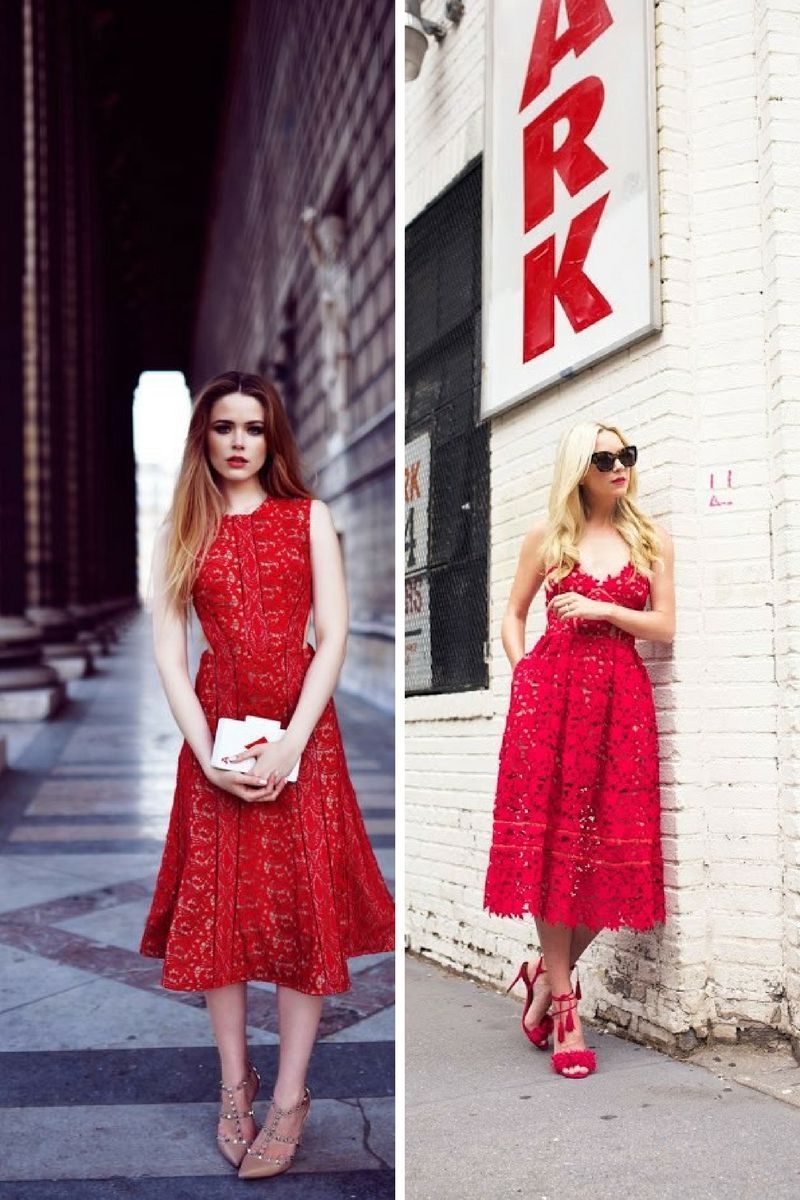 Buy Similar Here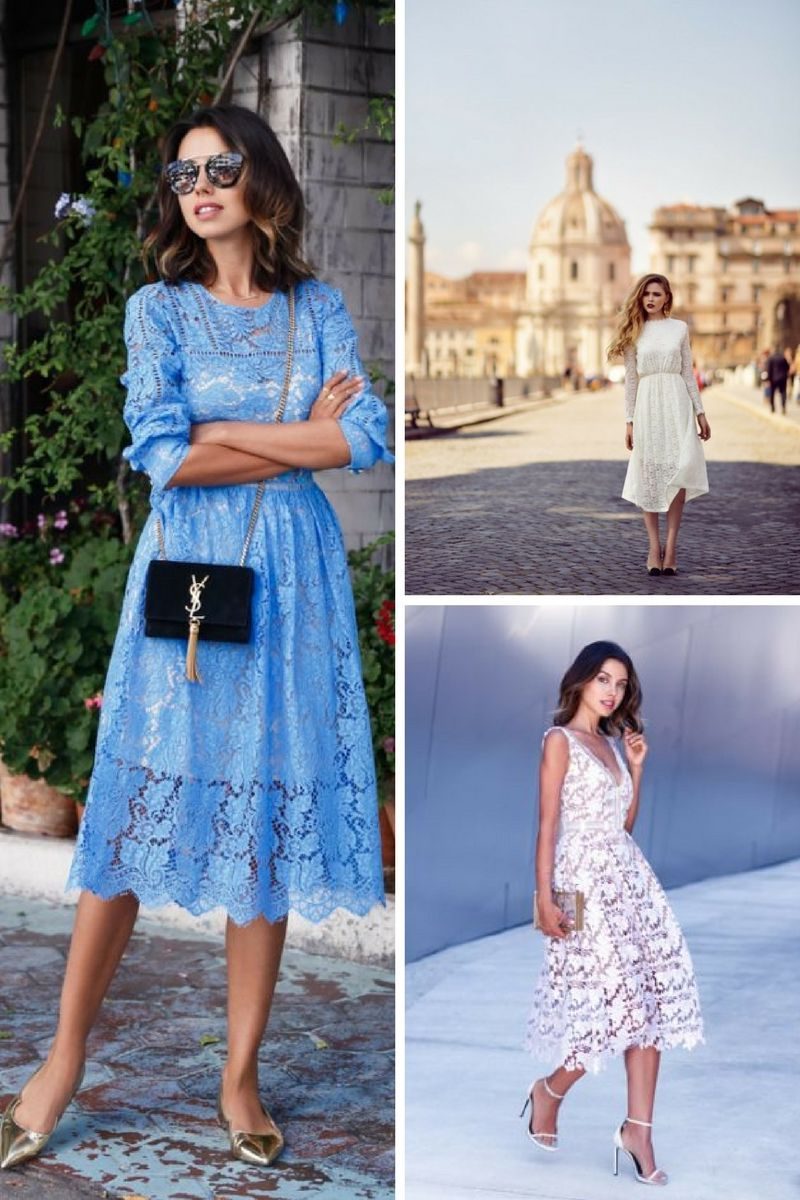 Buy Similar Here
Navy Lace Dresses
How about wearing a navy-blue color dress? You can never go wrong by pairing navy frock with white, grey, brown, cream, tan or yellow. I do love to see women on the streets wearing lace navy dresses completed with yellow, green, pink or lavender color shoes.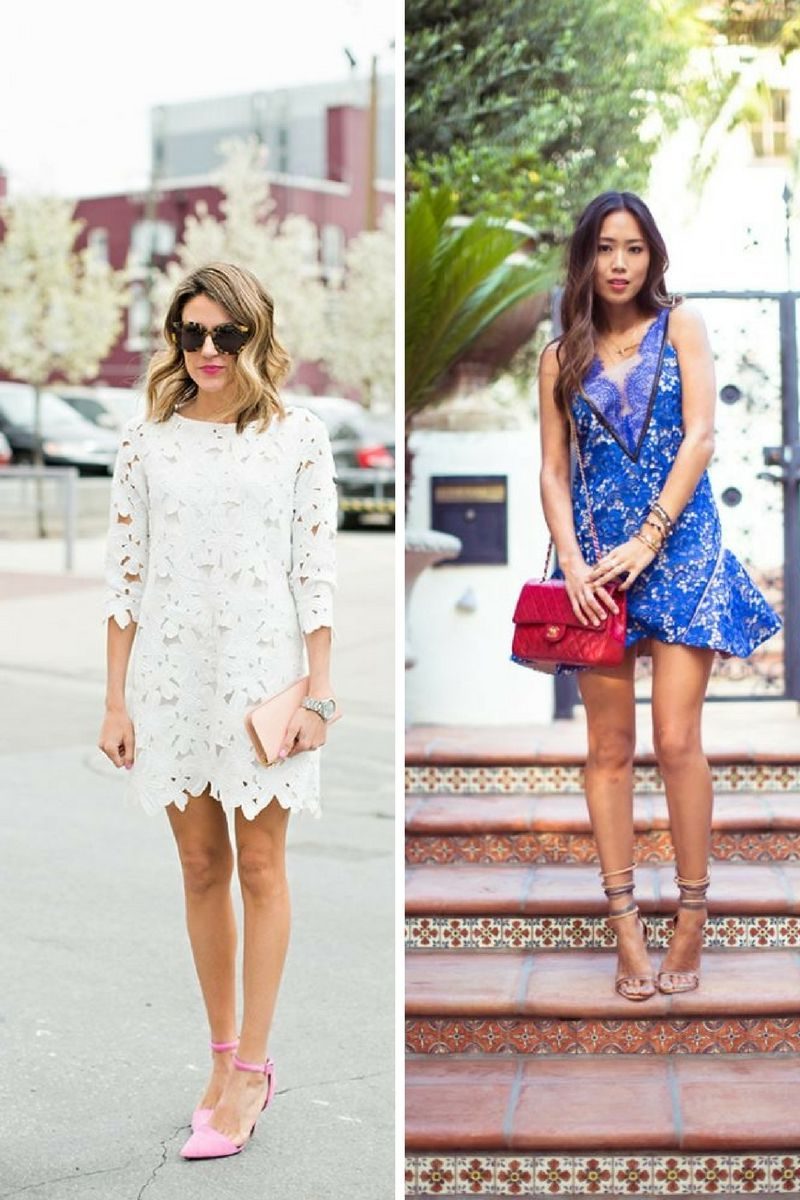 Buy Similar Here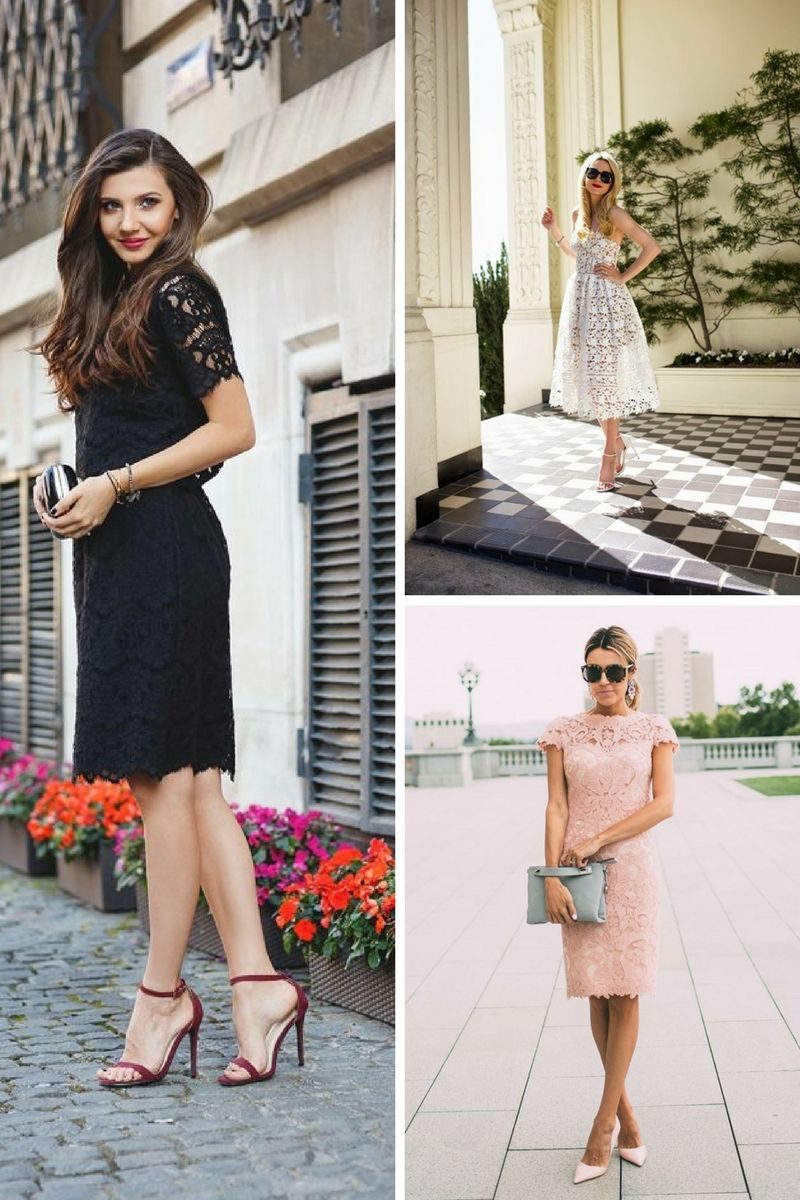 Buy Similar Here
Pink Lace Dresses
If you decided to choose a pink lace dress, then my advice is to try it on with matching color shoes. Try pink with pastels and nude. This year we see that dark colors don't play with pink anymore. If you are looking for shoes to wear with pink dresses, then I highly recommend to check my post, as there are many ideas how to create fabulous looks.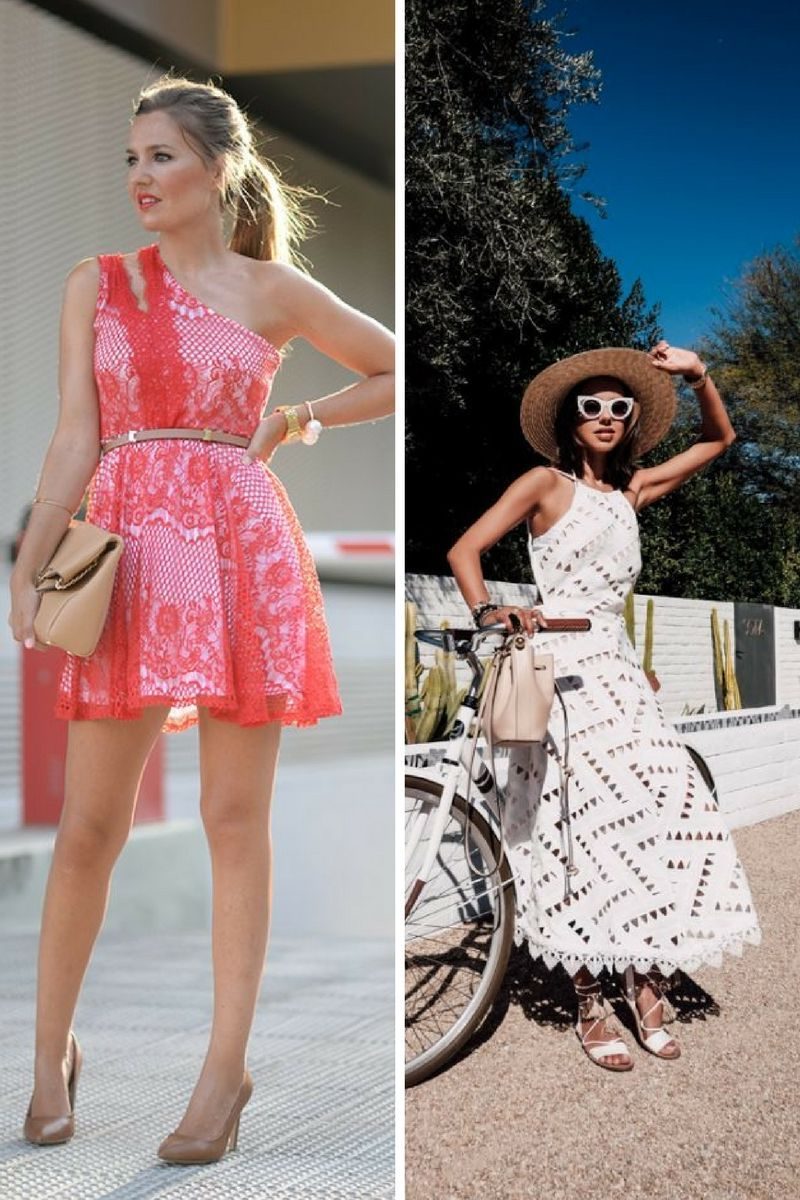 Buy Similar Here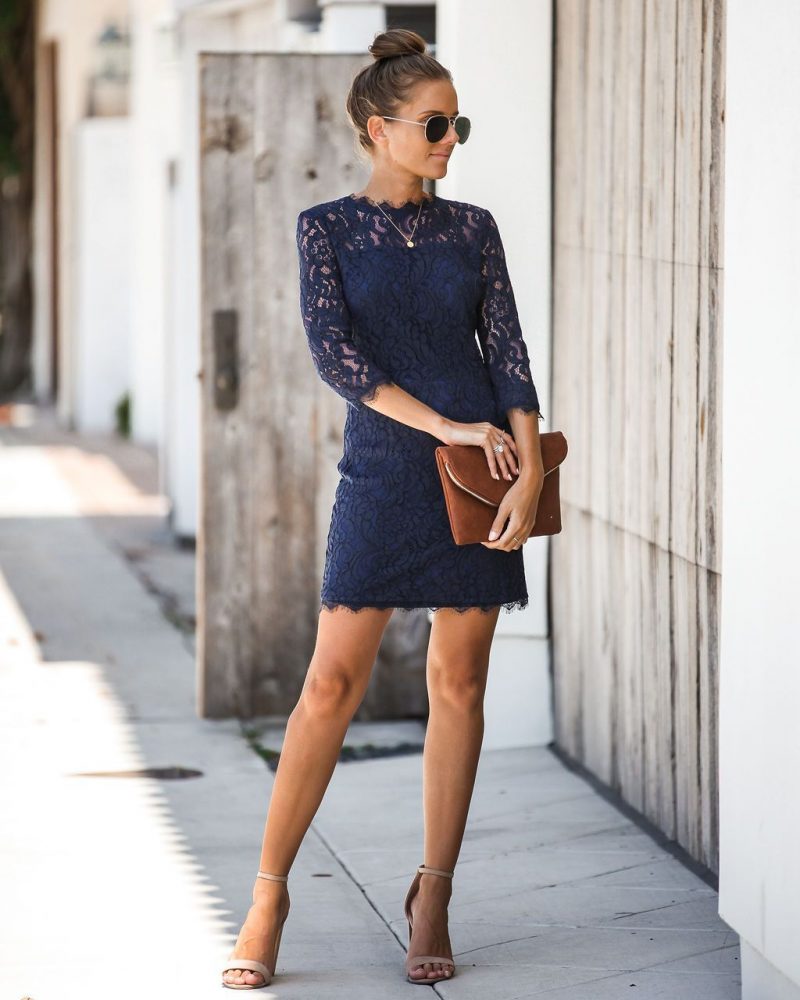 Buy Similar Here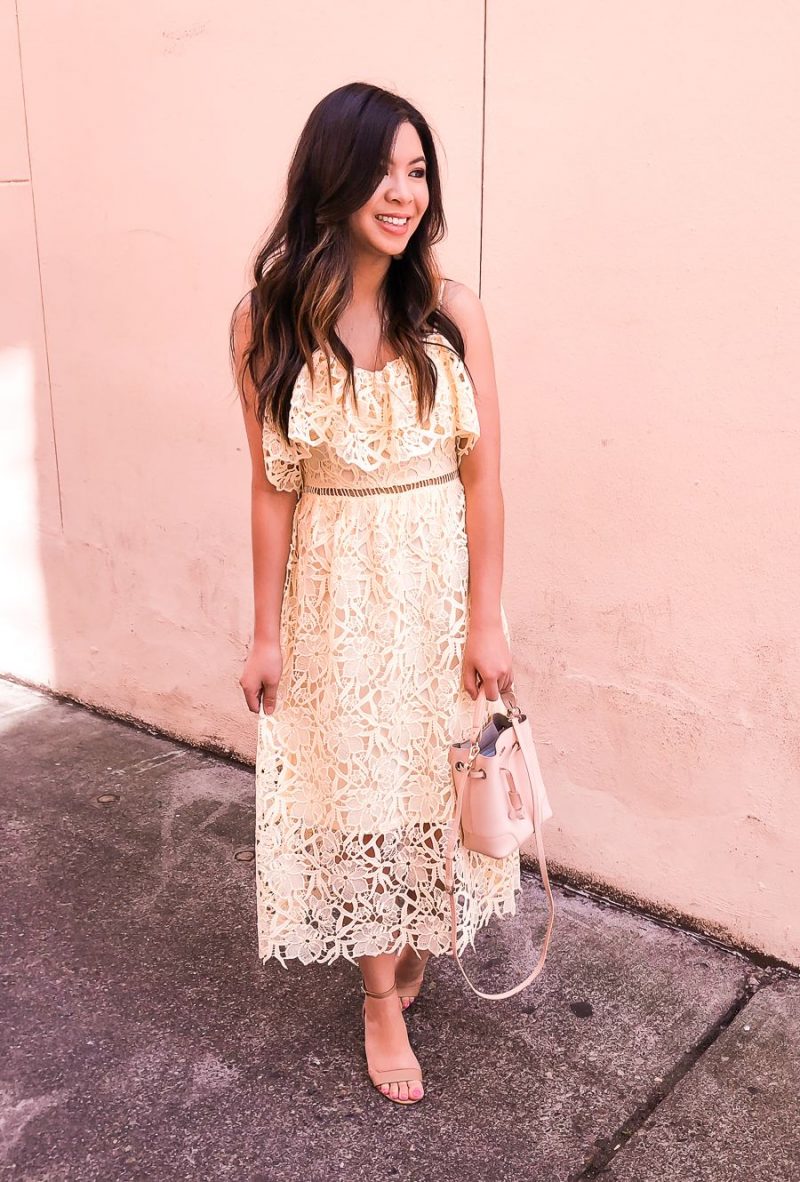 Buy Similar Here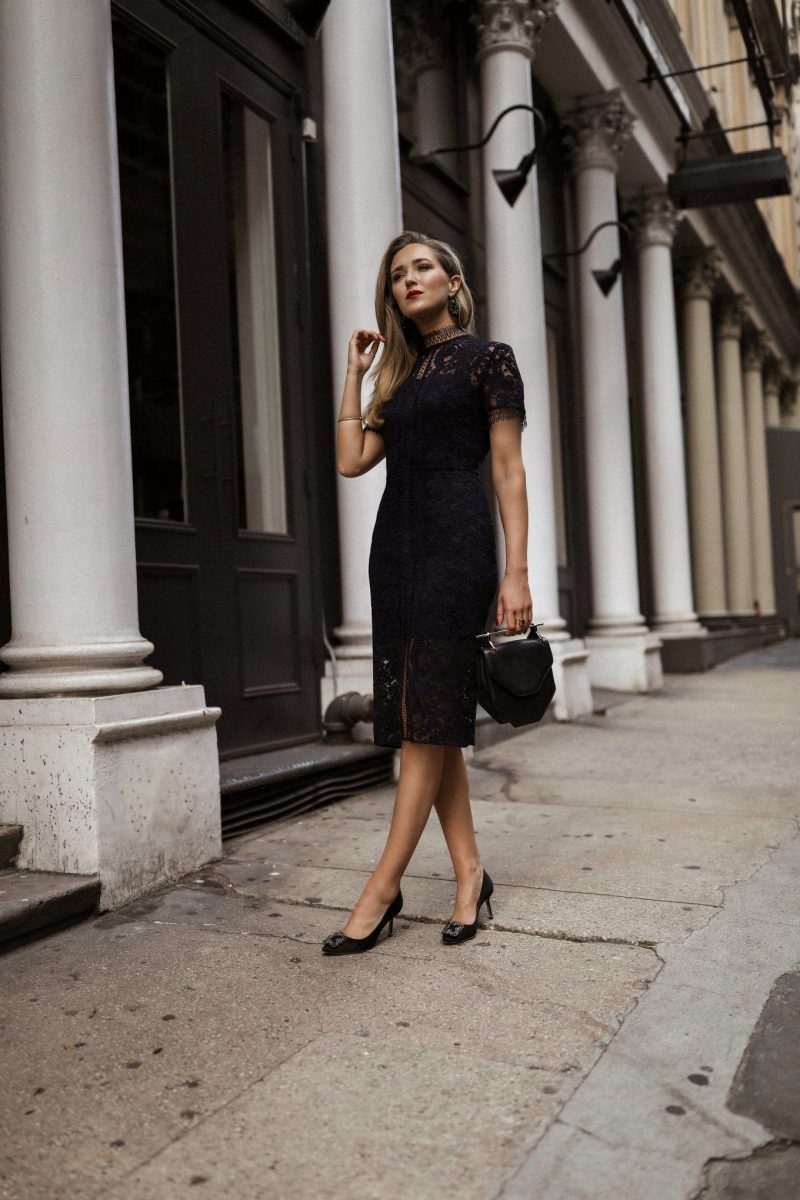 Buy Similar Here
Peach Lace Dress
A peach lace dress is the same as wearing a pink dress, just make sure you update it with strong colors. Think of gold, white, red, black, silver. Be sure to experiment with different acid colors, including yellow, orange and acid green.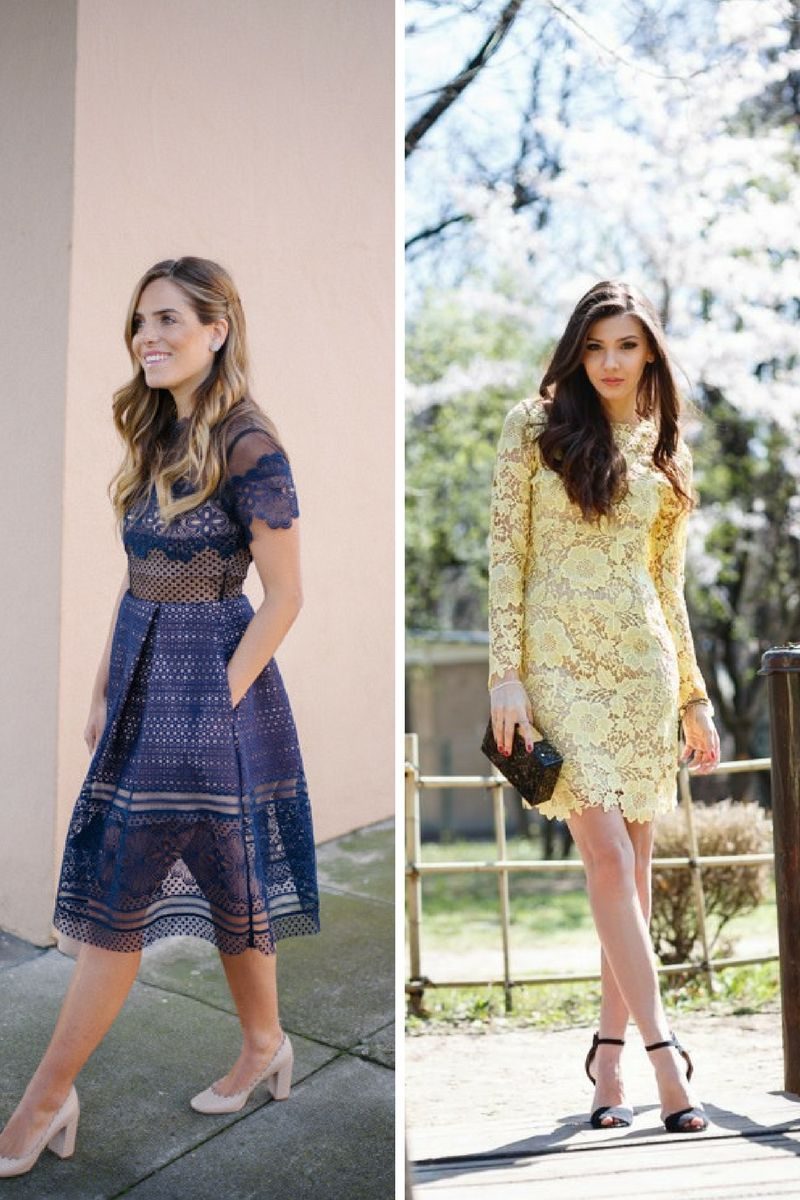 Buy Similar Here
Okay, so what shoes look great with lace dresses in 2023?
Heels: A classic choice for dressing up a lace dress is to pair it with a pair of heels. This could be anything from strappy sandals to pointed-toe pumps. Choose a heel height that is comfortable for you to wear, and consider a neutral color like black, nude, or silver to complement the lace.
Flats: For a more casual or relaxed look, you can pair a lace dress with a pair of flats. Options could include ballet flats, loafers, or espadrilles. Again, choose a neutral color to match with the lace.
Ankle boots: Ankle boots can be a stylish choice for pairing with a lace dress, especially during the cooler months. Choose a pair in a neutral color like black, brown, or grey to complement the dress.
Sneakers: For a sporty, casual look, you can pair a lace dress with a pair of sneakers. Choose a pair in a neutral color like white or grey, or go for a pop of color with a bright pair of sneakers.
Ultimately, the best shoes to wear with a lace dress will depend on the specific style of the dress and the occasion you'll be wearing it to.
That's why I decided to show you some of my favorite ideas to try out this year:
White Lace Dress And Black Birkenstock Sandals
A perfect summer combo, we see a stylish white lace frock teamed with black leather Birkenstocks: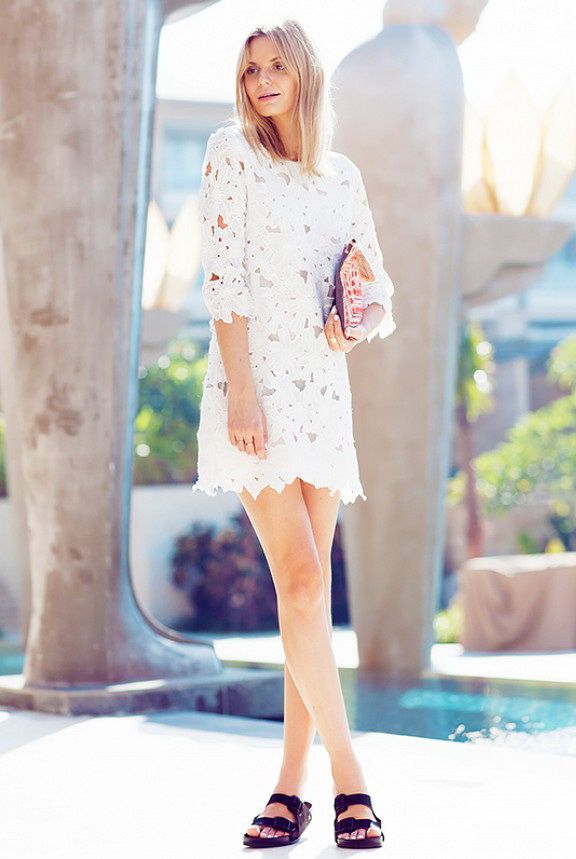 Buy Similar Here
Red Lace Dress And Gold Sequined Pumps
We see a cute light red lace dress completed with a pair of gold sequin heeled pumps: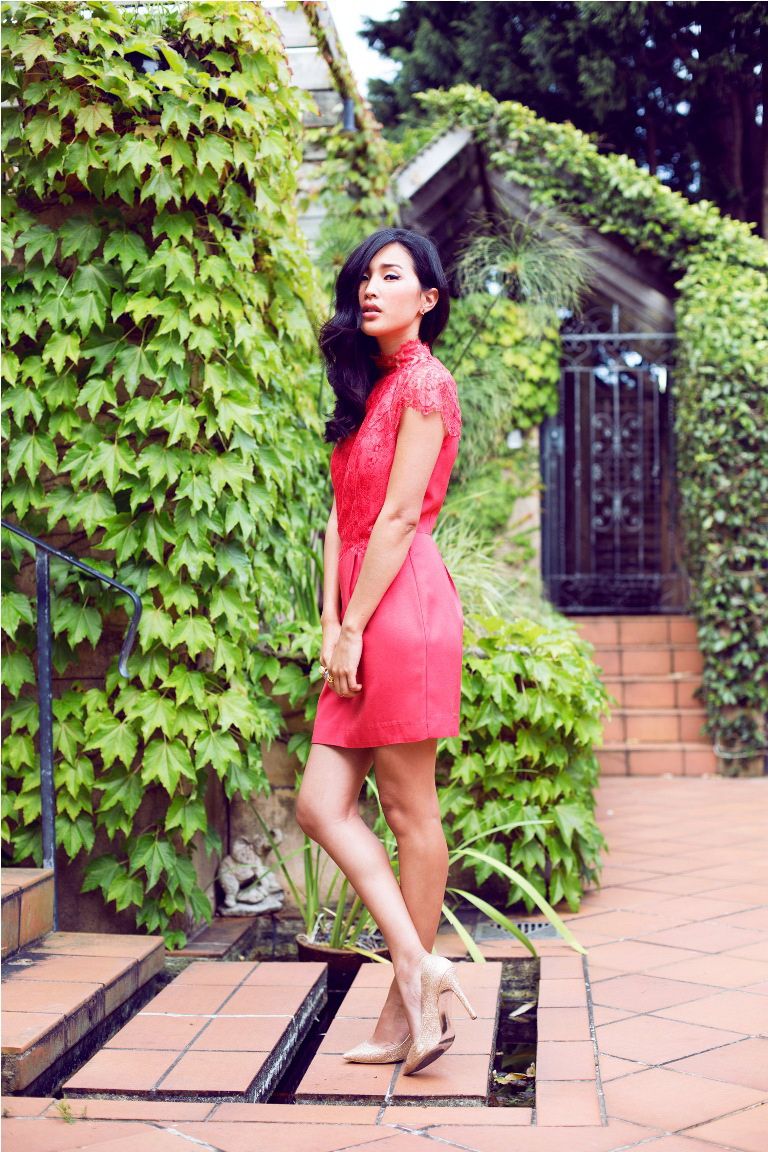 Buy Similar Here
White Lace Dress And Black Ankle Cuff Heeled Sandals
A classy white lace dress is updated with a black leather biker vest and black heeled ankle-cuff sandals: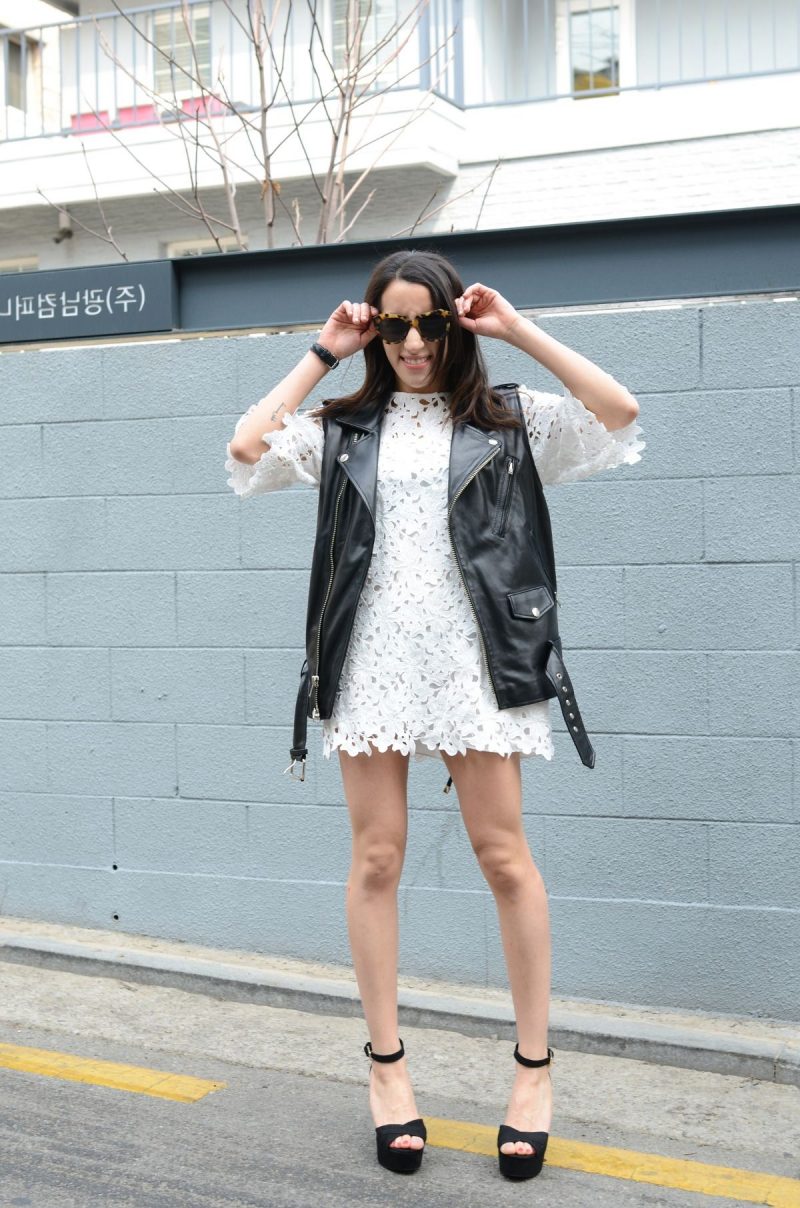 Buy Similar Here
White Lace Dress And Blush Flat Pumps
A black leather biker jacket is draped over a white lace dress completed with pastel blush flat pumps: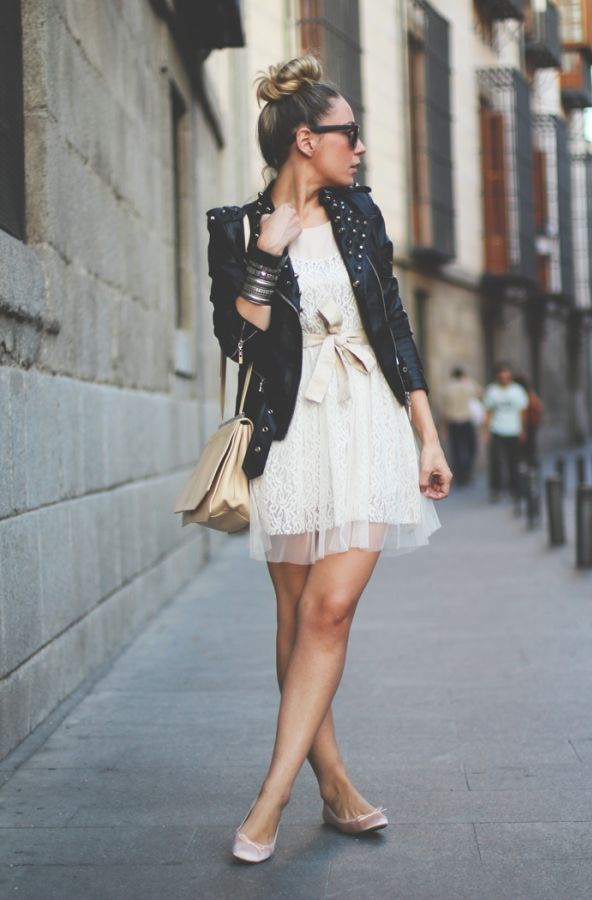 Buy Similar Here
Lace Dress And Black Platform Heels
We see a black Lace Dress With Blush Sheer Overlay And Black Platform Heels, a perfect combo for an evening date: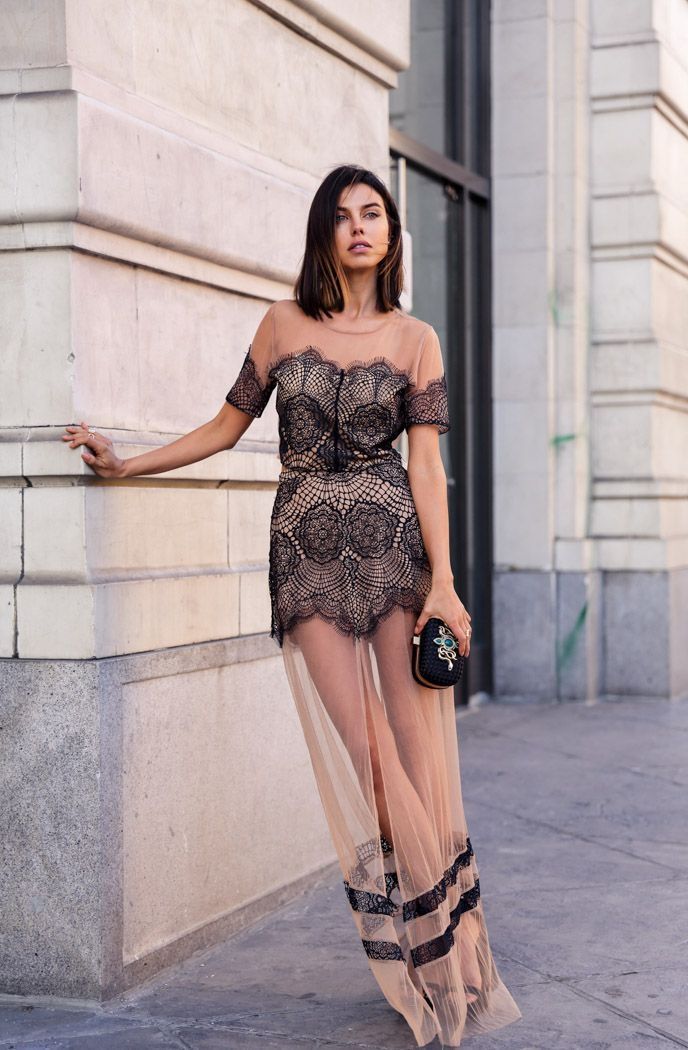 Buy Similar Here
Black Lace Dress And Black Patent Pumps
We see a total black look. A black lace dress is worn with opaque tights and glossy black heeled pumps: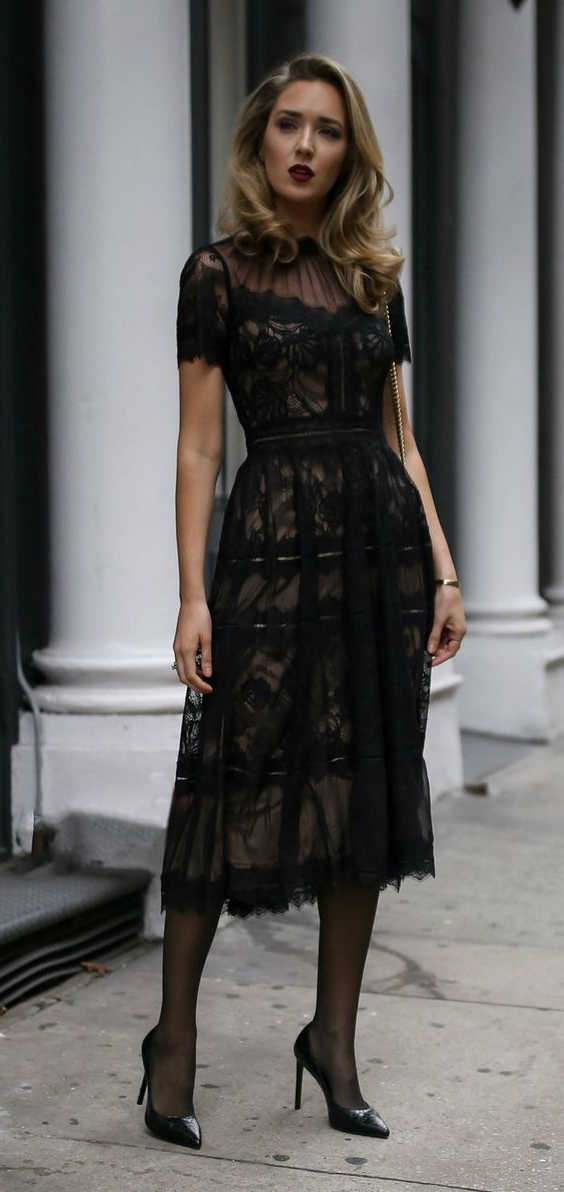 Buy Similar Here
Black Lace Dress And Cuffed Heeled Pumps In Red
A classic fit black lace dress is worn with cuffed platform heeled pumps, a sexy combo for summer night outs: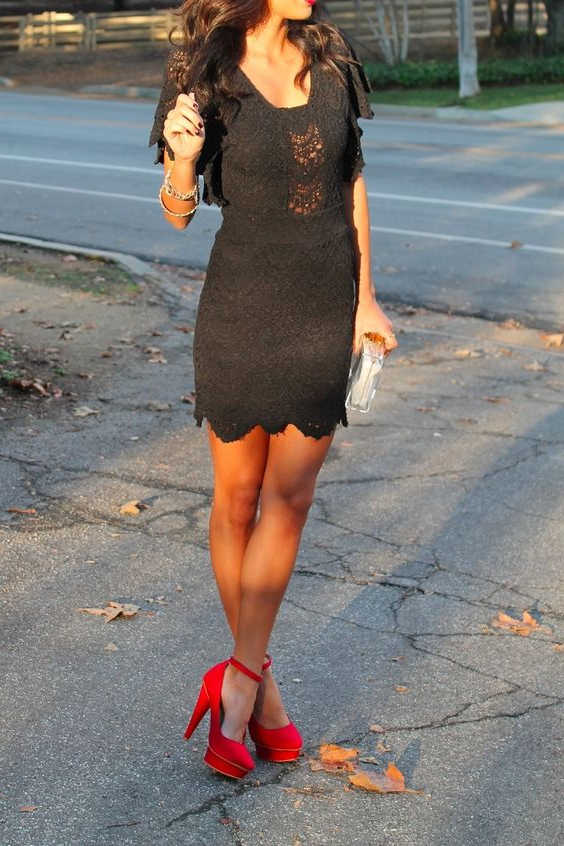 Buy Similar Here
White Lace Dress And Cowboy Boots
A denim jacket ideally suits this classy white lace dress completed with vintage cowboy boots: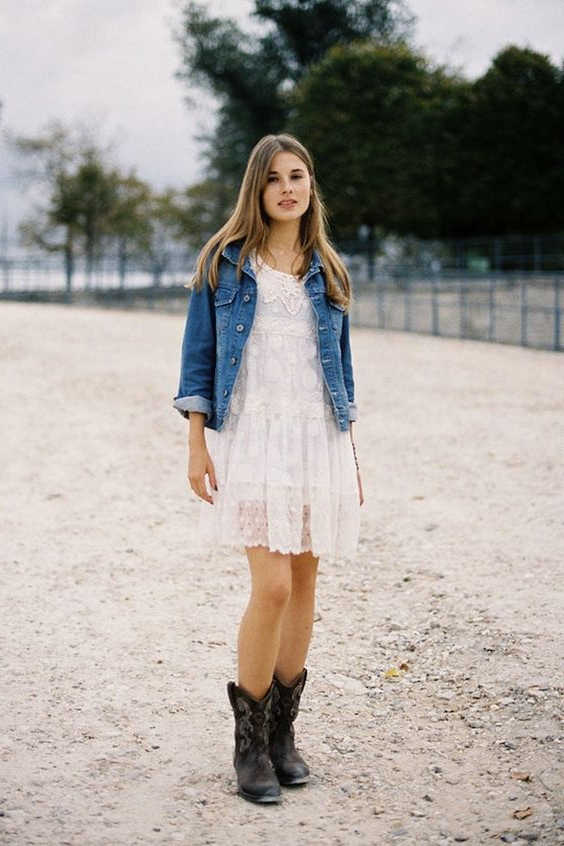 Buy Similar Here
Green Lace Dress And Beige Pumps
A spaghetti-strap dark green lace dress looks marvelous with these heeled beige pumps: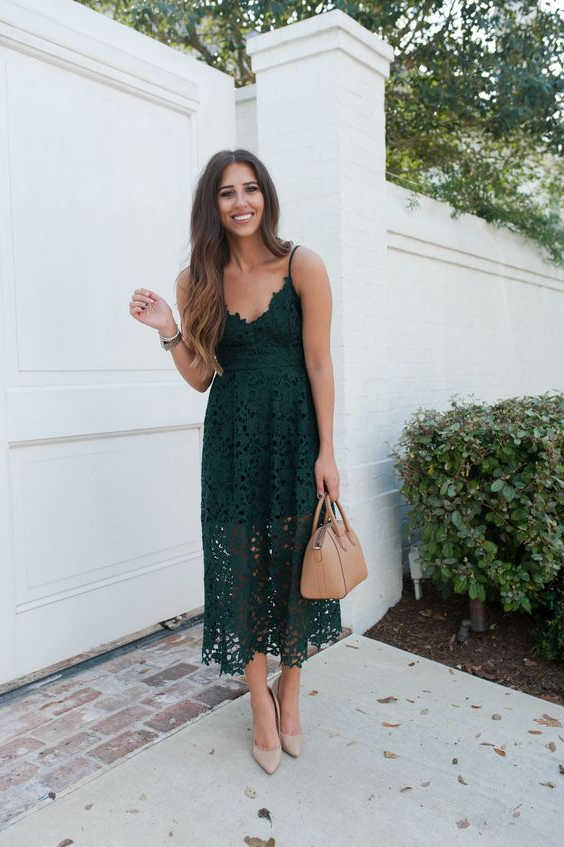 Buy Similar Here
Black Lace Dress And Black Combat Leather Boots
A touch of a grunge style. We see an ideal fall season look consisting of a black beanie, a grey coat draped over a black lace dress completed with black combat boots: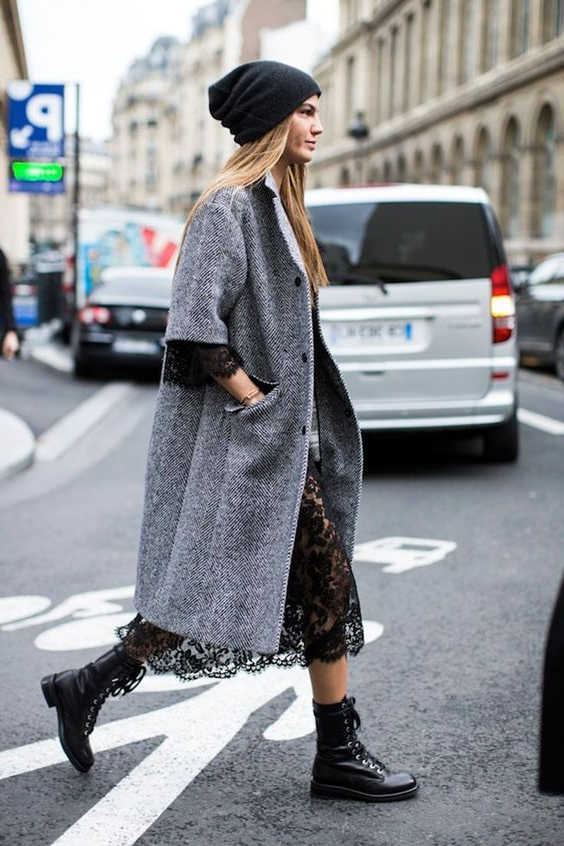 Buy Similar Here
Navy Lace Dress And Clear Heels
A V-neck navy lace dress looks feminine with clear heels: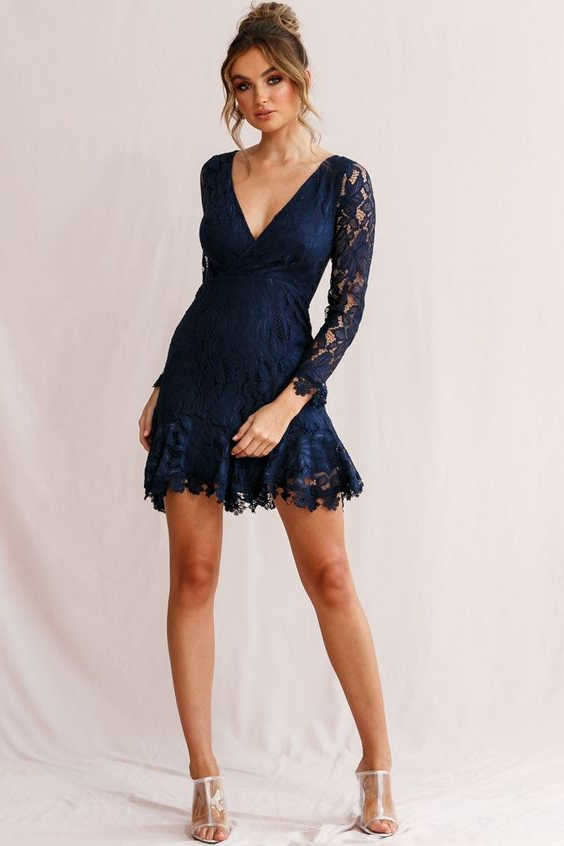 Buy Similar Here
Pink Lace Dress And White Heeled Sandals
A perfect choice for plus size ladies. We see a peplum blush lace frock styled with white heeled sandals: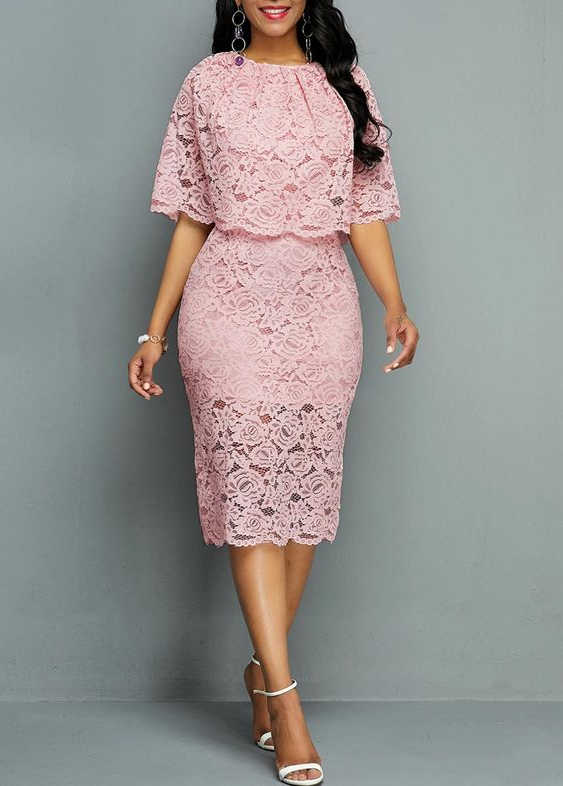 Buy Similar Here
Red Lace Dress And White Trainers
A red cardigan is worn over a red lace dress completed with white trainers. A nice combo for glamour day-offs: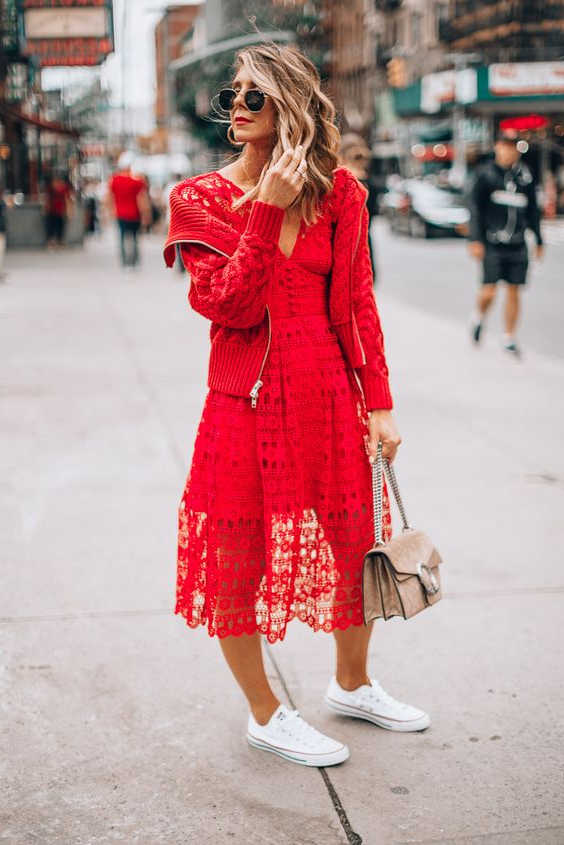 Buy Similar Here
White Lace Sleeveless Dress And Clear Heels
A V-neck sleeveless white lace frock looks chic styled with clear heeled sandals: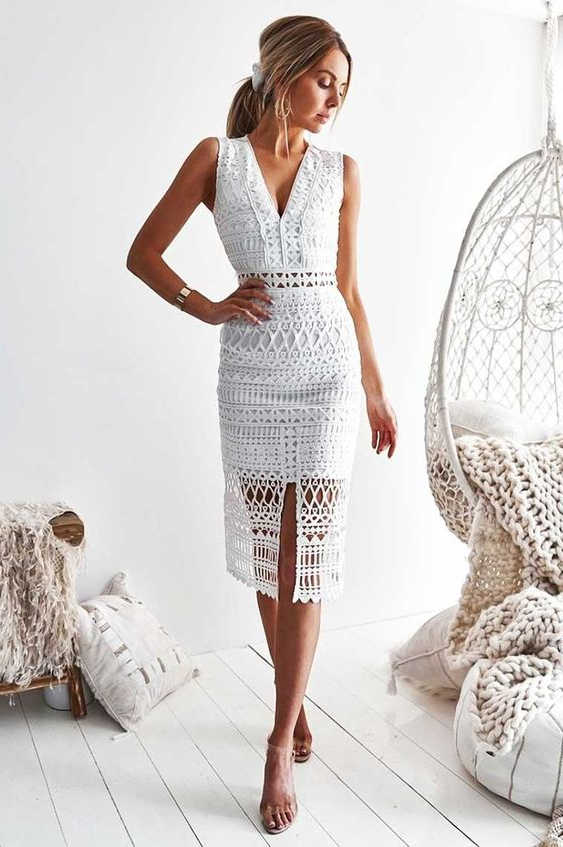 Buy Similar Here
White V-neck Lace Dress And Nude Pumps
We see a deep V-neck white lace dress with flared sleeves styled with nude heels: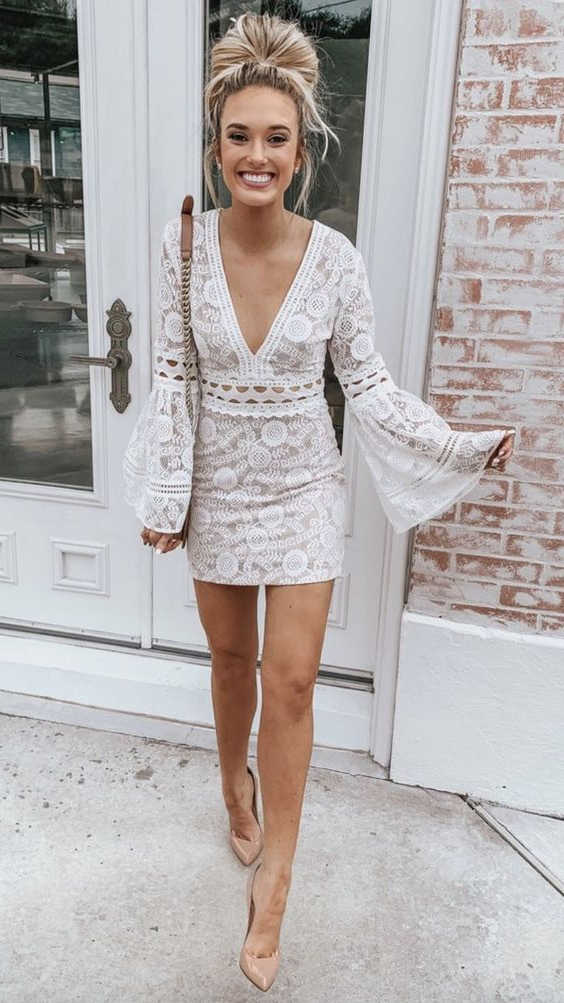 Buy Similar Here
White Lace Dress And White Sneakers
We see a V-neck Lace Dress styled with platform white sneakers, a cool combo for casual street walks: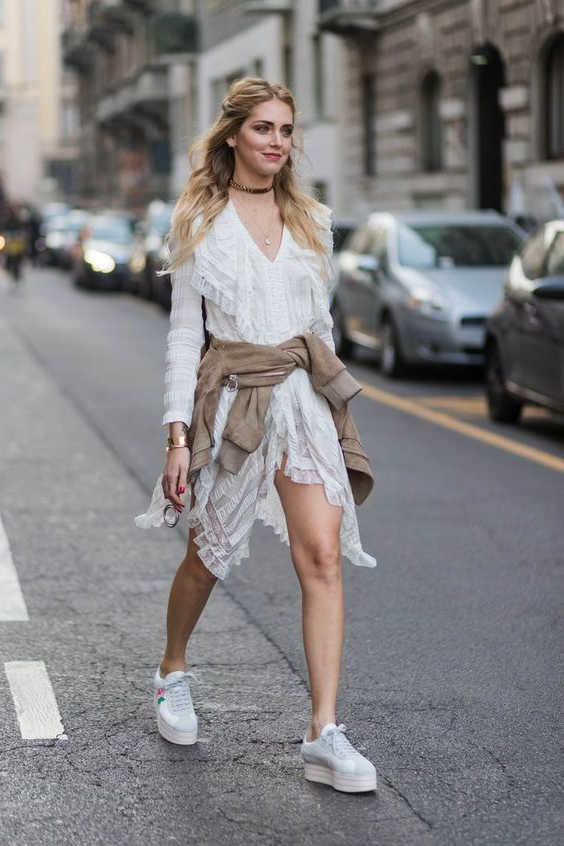 Buy Similar Here