If it feels like you want to try on something edgy, then why don't you go for a leather jacket? Today's topic is how to wear leather jackets on the streets in your everyday life. This is a perfect investment as you can wear it in warm and cold season days.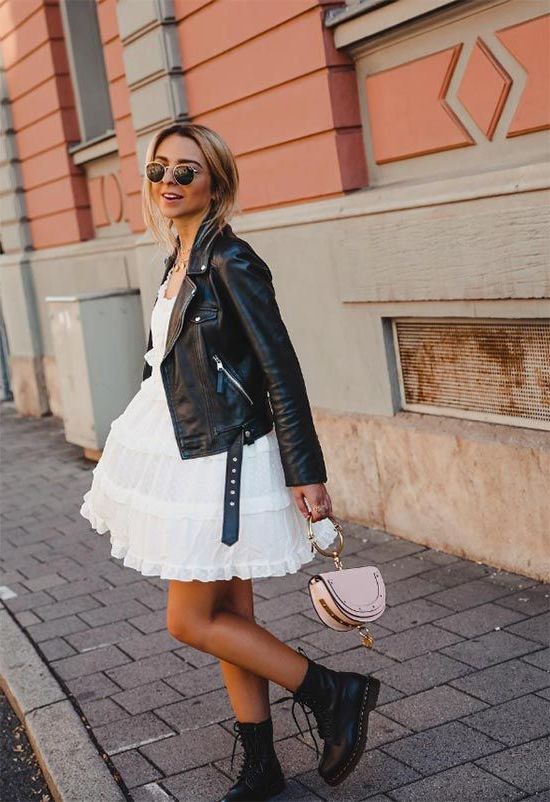 Check out this precious black leather jacket styled with a white short tulle dress and black leather combat boots. The look is updated with a half-moon blush clutch bag and rounded sunglasses.
In this street style inspiring collection I will try my best and show you great ways how to wear leather jackets if you are over 35 and 40, how to style this leather outerwear piece for plus size ladies, what clothes to add if you want to wear it during Spring and Fall season months, and many other cool tips and tricks on ways how this jacket looks with all kinds of clothes, starting from dresses to hoodies and turtlenecks. So, you better stay tuned to find out more.
There are so many styles to choose from: tough biker designs, tailored versions, shortened, long, bright colored, embellished, etc. If you do want to know some tips and tricks on how to make this garment work for you, then you are more than welcome to read on to find out more.
That's a good example of how to wear a leather jacket if you are over 35. We see a blonde lady wearing a light brown leather jacket teamed with a white tee, dark blue slim jeans, and fancy sunglasses: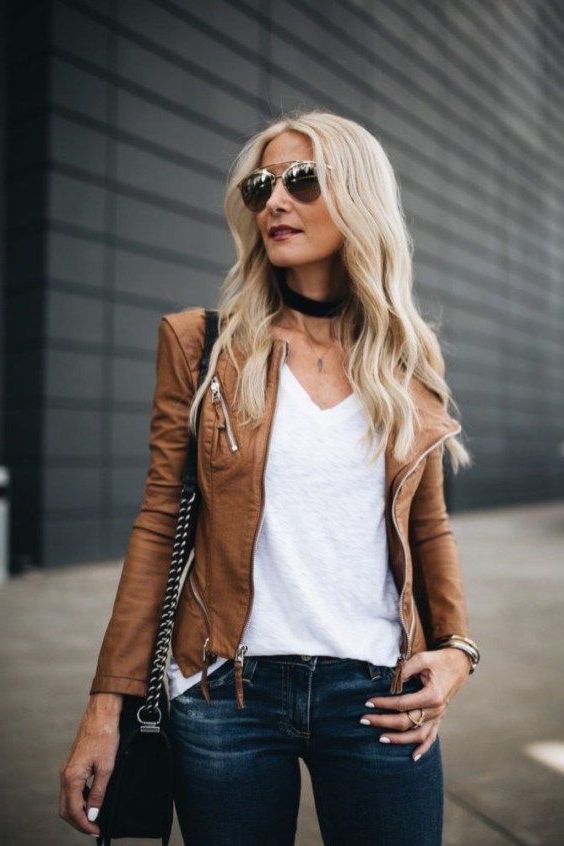 There are fresh ways to keep things cool and awesome, all you need is to choose color and fit. I think all combinations that include leather jacket are very cool and trendy. This outerwear might be one of those pieces that never go out of style.
Black and white looks pretty cool teamed together, check out this black biker jacket combined with a white sweater half-tucked in black skinny jeans with ripped knees. The outfit is updated with oversized sunglasses and white sneakers: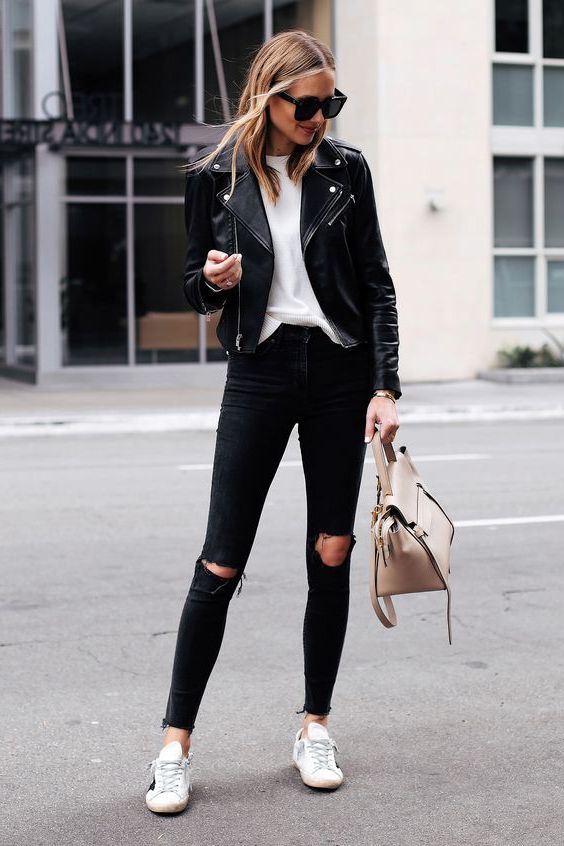 No matter if it's real or faux leather, you can make it work with everything. I love to see ladies who wear it as a final layering piece on top of their chunky sweaters. Be sure to play with proportions. If you want to try a bulky style, then you should pair it with skinny jeans, so you can make a slim look.
If you want to make a kind of sexy update to your casual outfit, then you can try on alack outerwear over a black sheer top styled with a black bra and ripped boyfriend jeans in wash blue: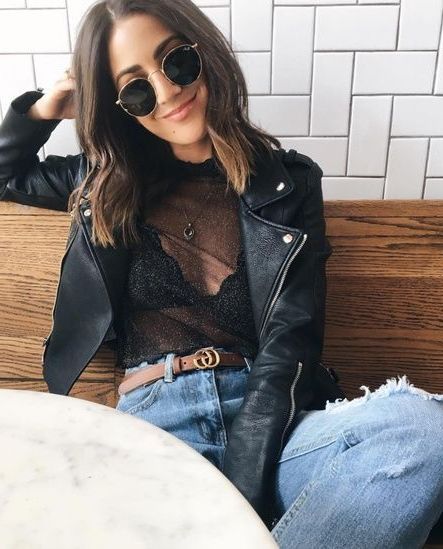 Don't be afraid to try on different combinations. How about making a ladylike look? The leather jacket looks rough and edgy, but you can add a flirty dress that will create a kind of sultry look. This is an unexpected look that is both sweet and edgy.
By the way, leather jacket can also be used during Summer time. Go for a black leather topper and layer it over white tank top tucked in wash blue denim shorts. The look is fnished with modern cat-eye sunglasses, and white trainers: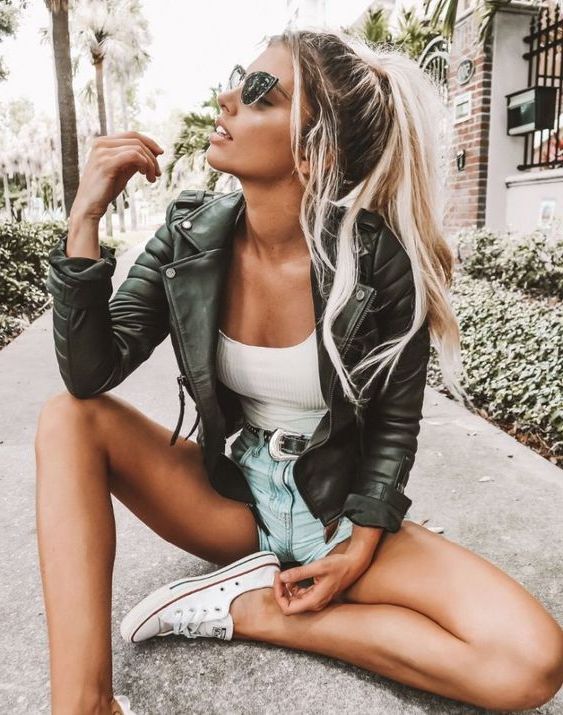 Just a couple of days ago, I saw a woman in a beautiful black leather jacket and printed dark color maxi dress. She looked awesome!
A kind of post-apocalyptic touch is felt in the following combo. We see a worn-out effect brown leather jacket teamed with a grey hoodie and grey wool pants: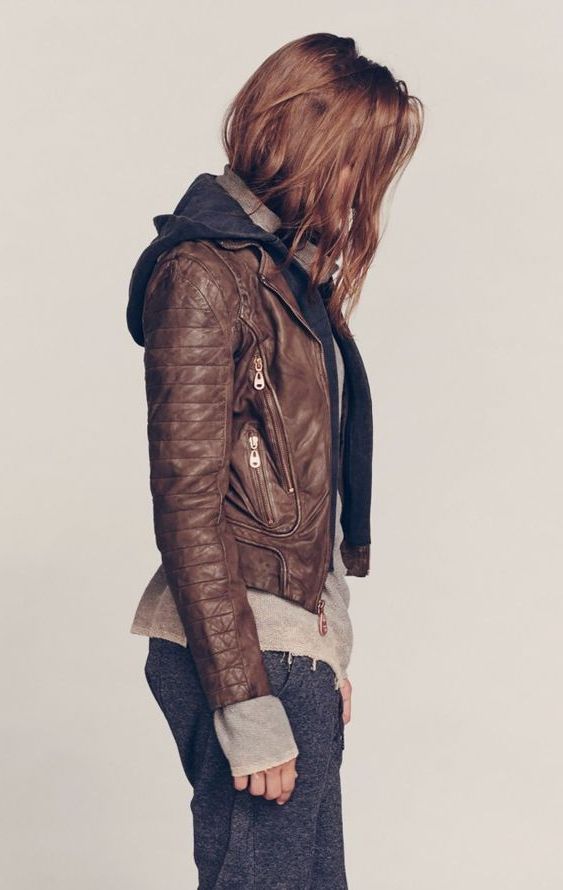 You can keep things hot by wearing leather on leather. Try on a jacket with leather pants, skirt or shorts. This will definitely make a strong statement to your style. Anyway, I would love to know your favorite ways of wearing this cool outerwear garment.
A white leather jacket ideally matches this black top teamed with black skinny jeans, update it with aviator sunglasses: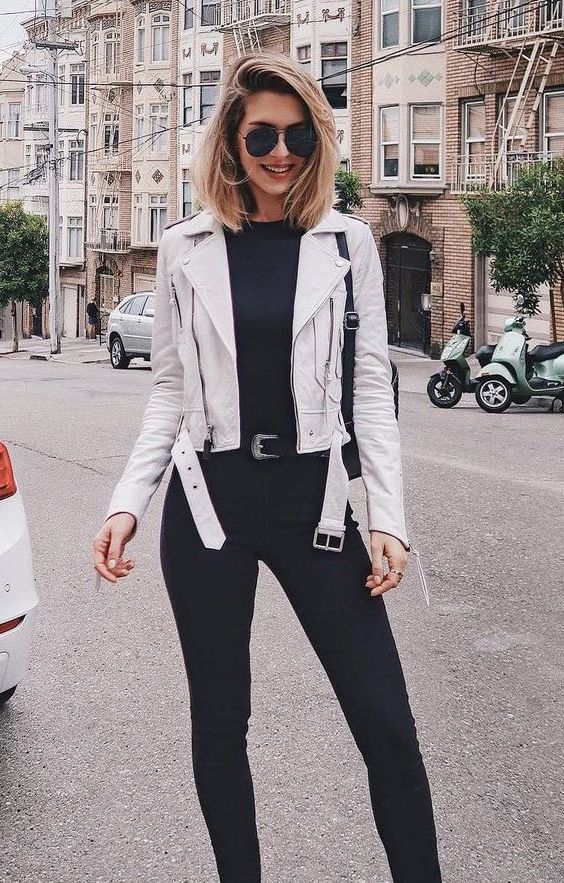 Leather Jacket Outfits For Women Over 40
Women over 40 can also wear leather jackets. Here we see a perfect example. A black leather jacket in a classic fit is teamed with a black-white striped top and grey maxi skirt. The combo is completed with mirrored sunglasses and platform black leather boots: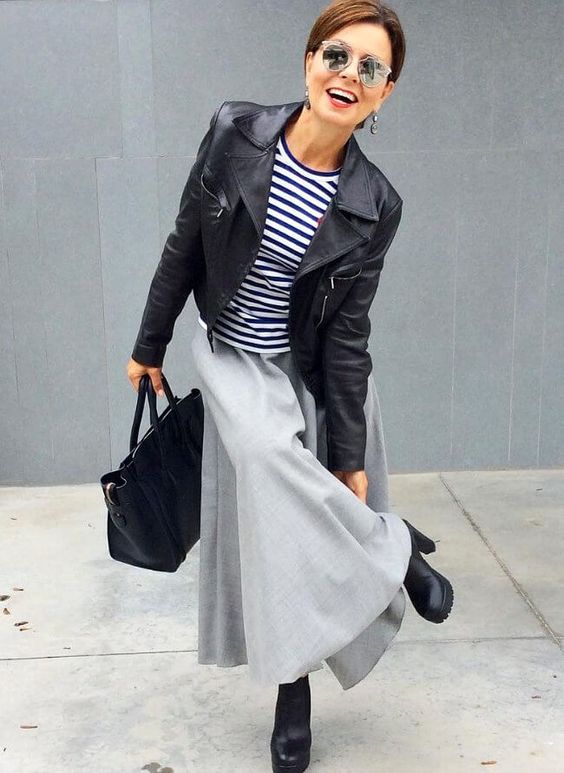 Can I Wear Leather Jacket If I am Over 35
Absolutely yes! Women over 35 do look amazing with this outerwear piece. By the way, I have more fashion ideas for women over 35, you definitely gonna find lots of inspiring looks to copy. Here we see a blonde wearing black leather design draped over blue sweater combined with wash blue slim jeans and snakeskin print pointed-toe heels. Update this look with fancy Wayfarer sunglasses and beige leather handbag: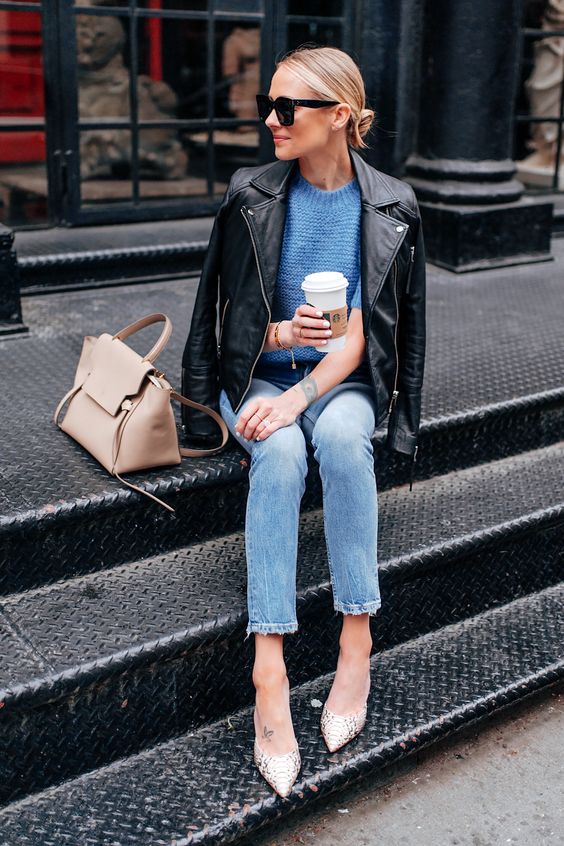 How To Wear Leather Jacket If You Are Plus Size
A plus sized lady can easily make herself look trendy with a leather jacket. How it can be done? Check out my favorite street style examples below:
Glossy leather topper ideally matches white top tucked in khaki green flared mini skirt, net tights and black OTK boots, an ideal style for fancy parties: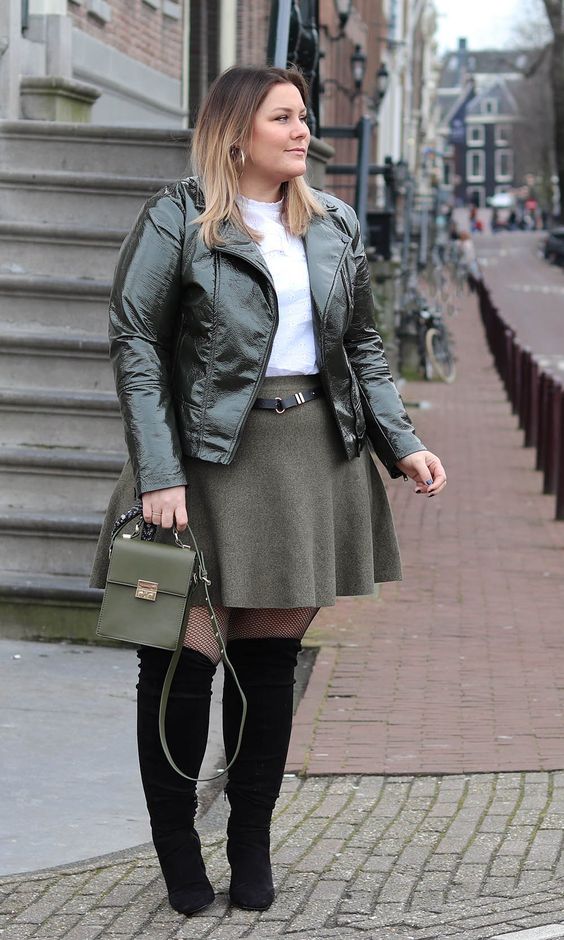 All in black with red booties! Go for a black leather topper, graphic print tee, black skinnies and hot red ankle boots to refresh this casual all black look: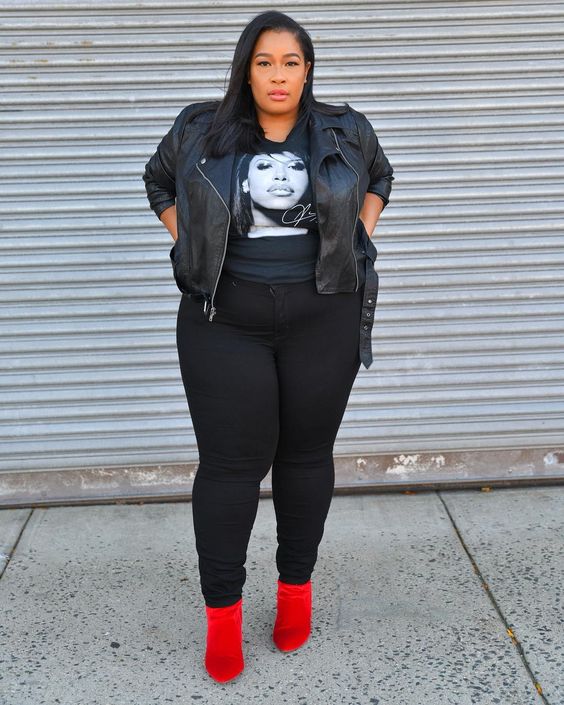 Another all in black look for curvy and overweight ladies. We see a big plaid scarf teamed with a black jacket, black tee, black skinny jeans and peep-toe brown leather booties: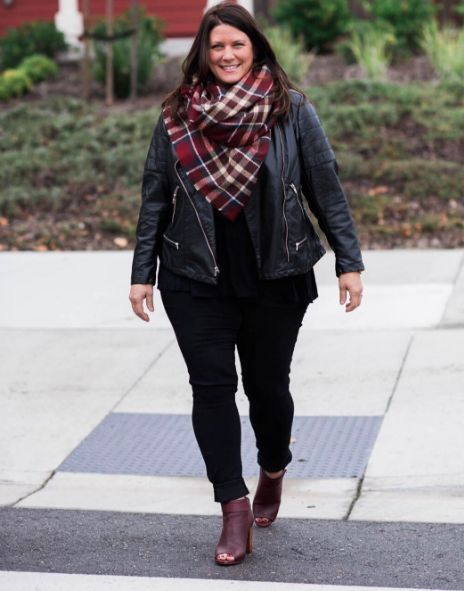 Another all in black for corvy women. A stylish black leather jacket is paired with a black sheer top tucked in black skinny pants completed with OTK boots: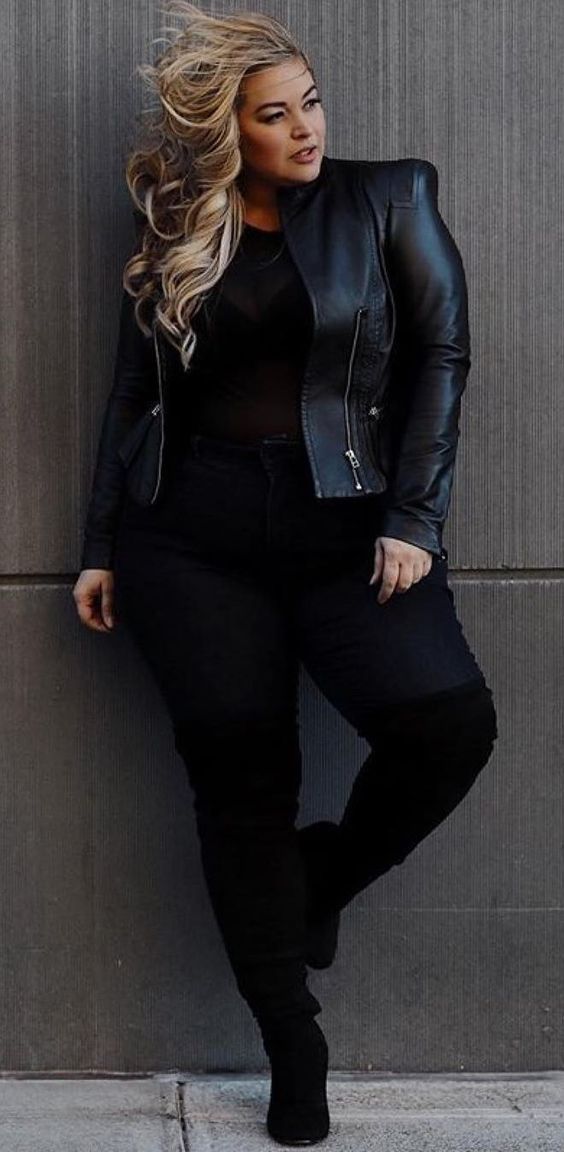 Leather Jacket Outfit Ideas
Below are showcased ideas featuring leather jacket and all kind of clothing pieces. You are about to see ways how to wear this jacket with dresses, sweaters, shirts and other apparel.
Can I wear leather jacket with a dress
Yes, a leather jacket can be a good match to your favorite dress. Here we see a black topper combined with a polka dot white midi dress and white ugly sneakers: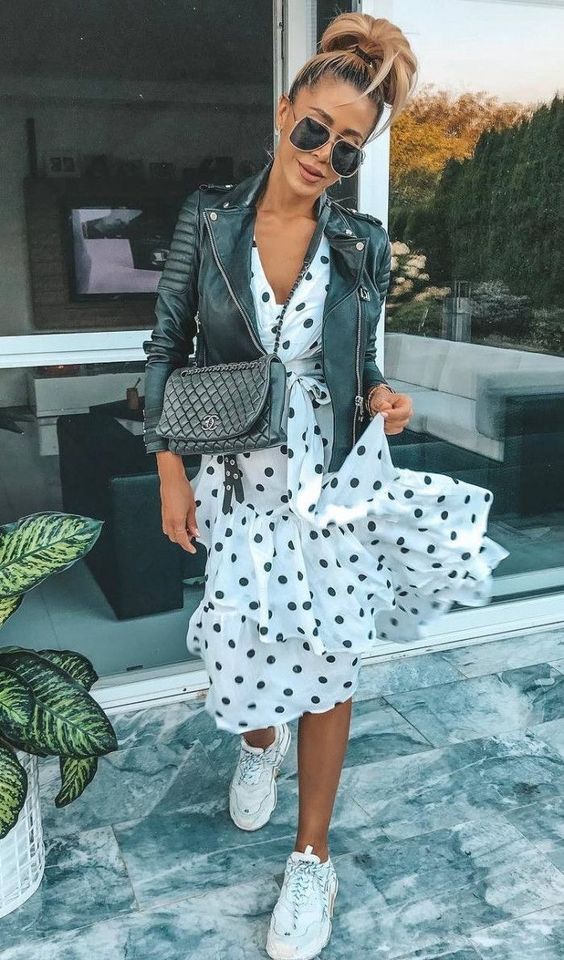 Leather jacket and jeans
Another classic combo for women. We see a black leather jacket with a black tee tucked in knee-ripped wash blue regular jeans and white ugly sneakers: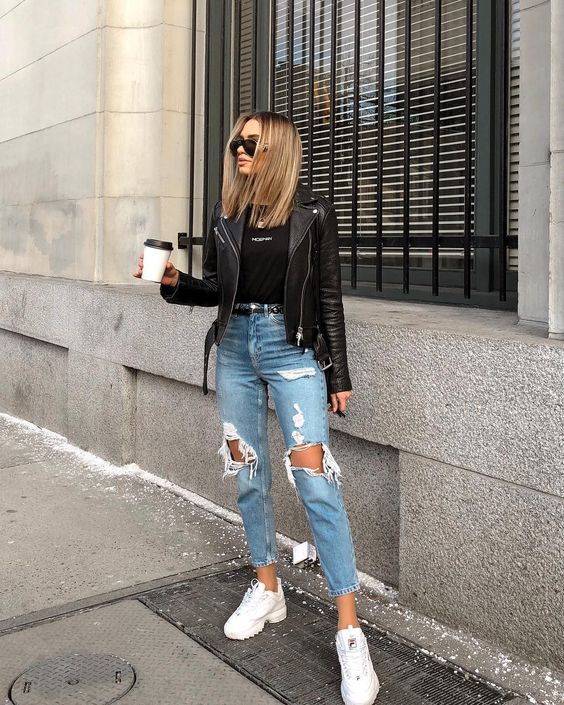 Leather Jacket And Leather Pants
All in black look made of leather. We see a cool combination that consists of a black leather jacket, casual black tee and black leather skinny pants: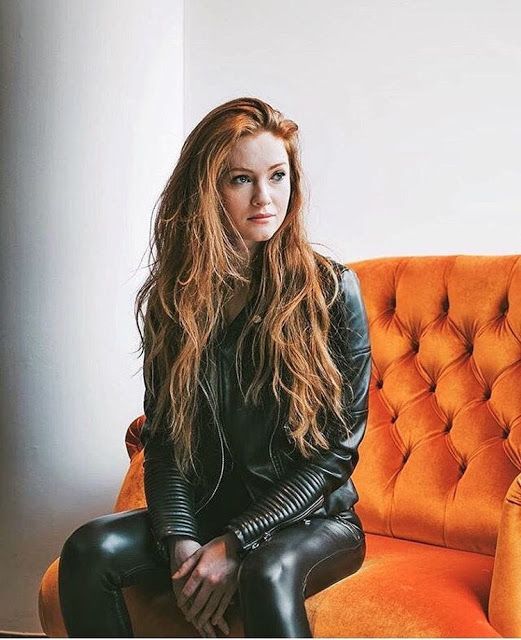 Leather jacket and hoodie
If you do want to create an ultra casual look, then go for a leather jacket and hoodie combination. I also made a post on ways how to wear hoodies for women, check out this post. Here we see a totally black outfit that works for young ladies: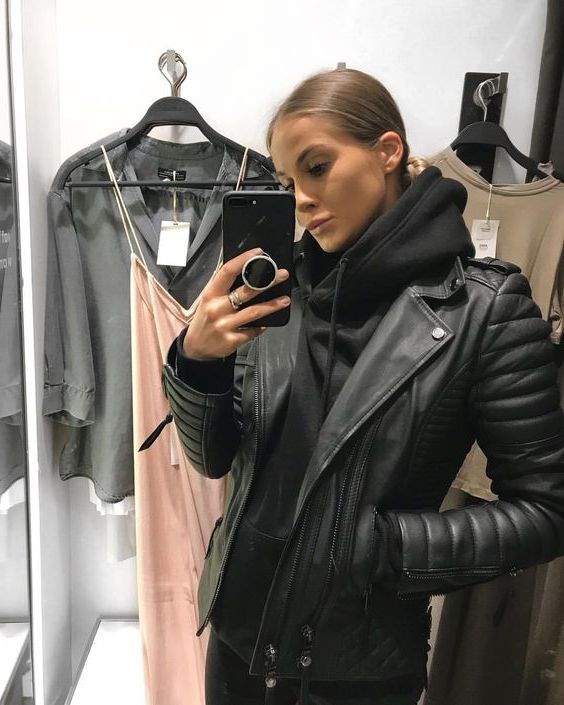 A white hoodie looks damn chic with a black leather jacket and black leggings. Update it with a black baseball cap and runners: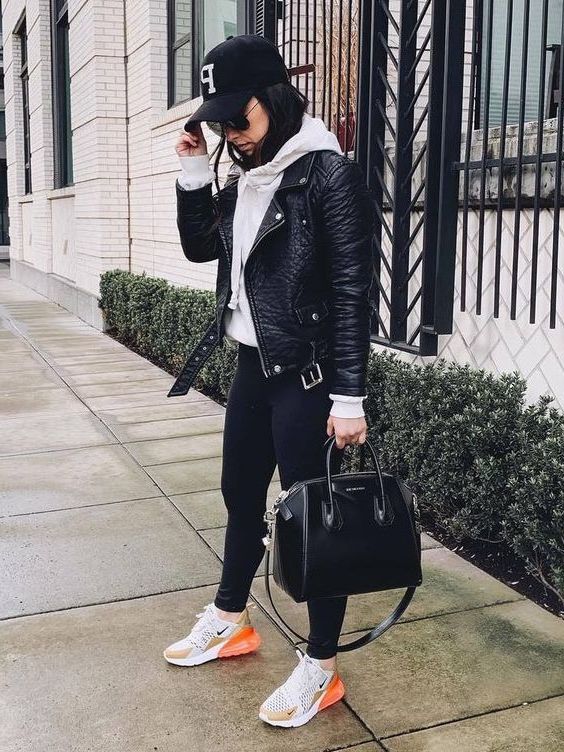 A lovely look for Winter. A white hoodie is worn with a beige beanie, black leather jacket and skinny jeans in black: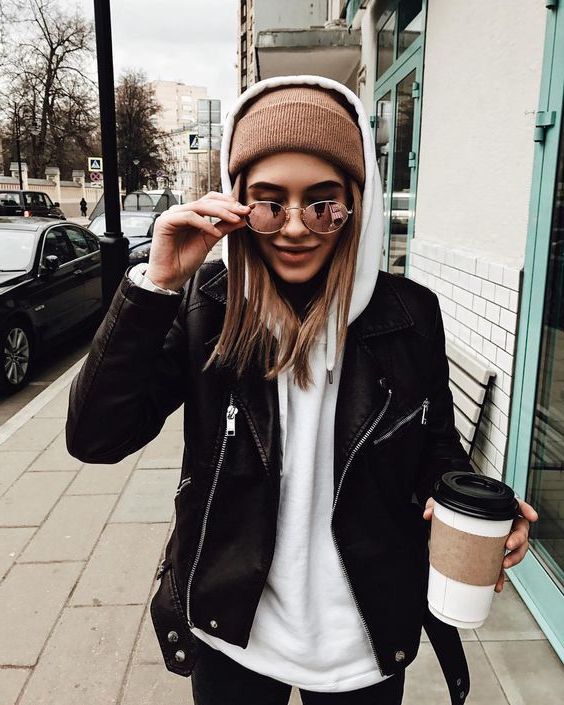 Leather jacket and shorts
Another sassy look for those who want to make a wow effect appearance on the streets. We see a black leather jacket over graphic print black tee tucked in wash blue denim shorts completed with white socks and black leather combat boots, a kind  of modern grunge combination: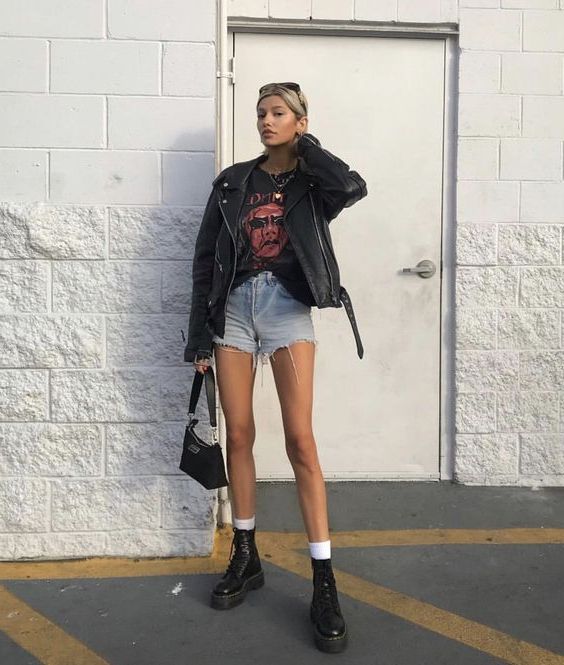 A classic brown leather jacket is teamed with a white front-tied tee and wash blue denim shorts updated with flat platform slides: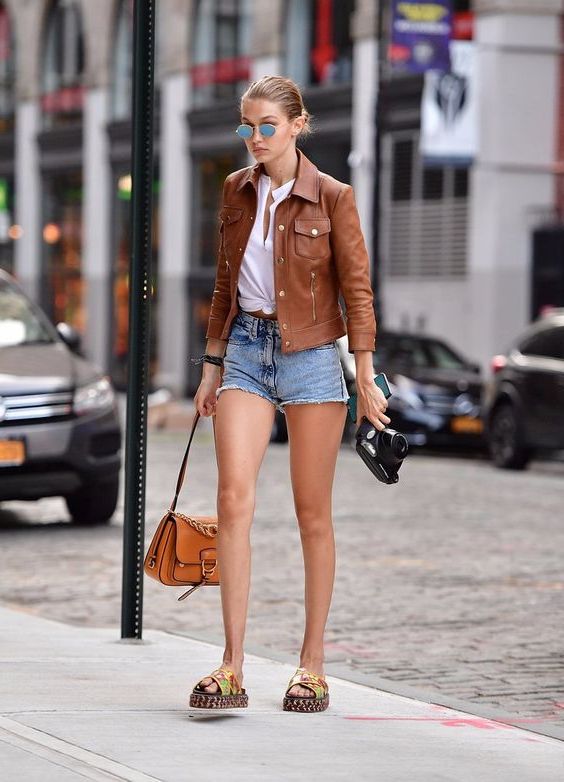 White crop top, black denim shorts and leather jacket is always a sexy look: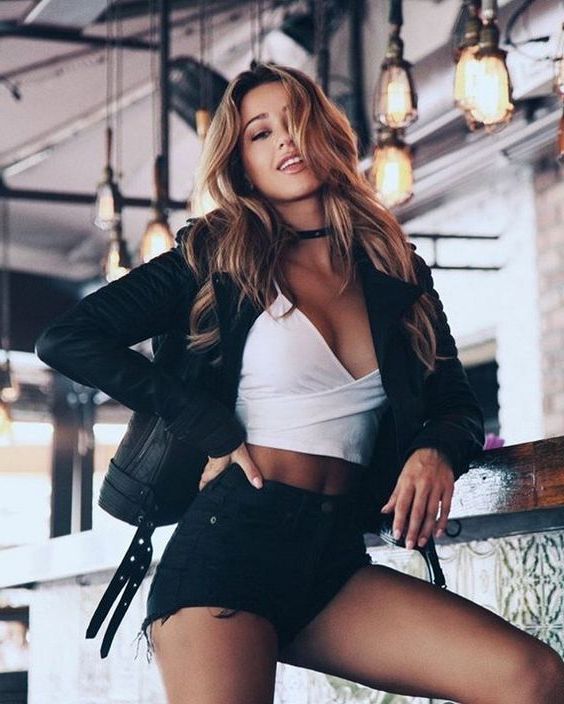 Leather jacket and skirt
Yes, you can also try a leather jacket with a skirt, just make sure you team it with a right one. You can combine a black leather topper with a front buttoned suede brown mini skirt and black leather ankle boots: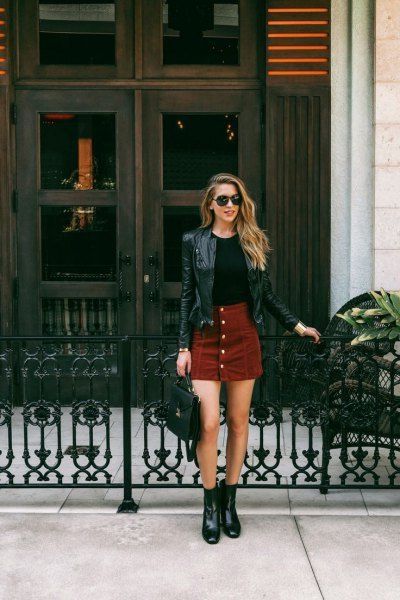 You can also play with proportions by teaming leather topper with knife-pleated maxi skirt: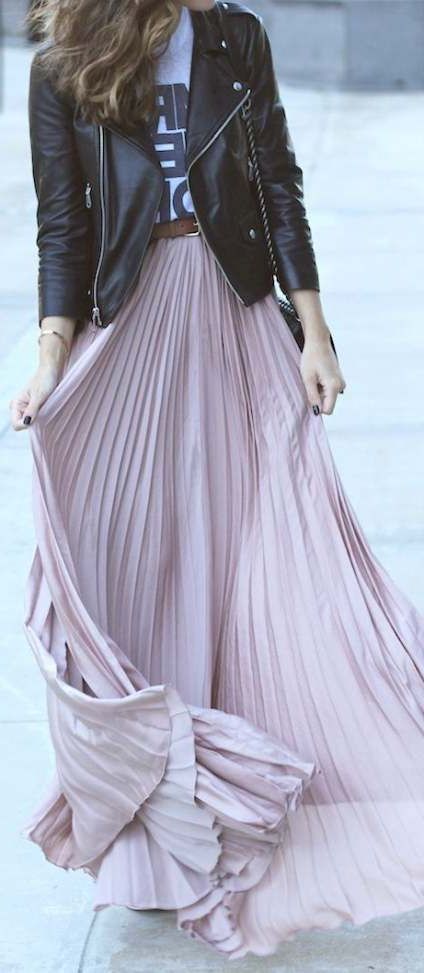 Or keep it cool by teaming denim and leather. I do love the following combination with a black leather topper and wash blue denim mini skirt: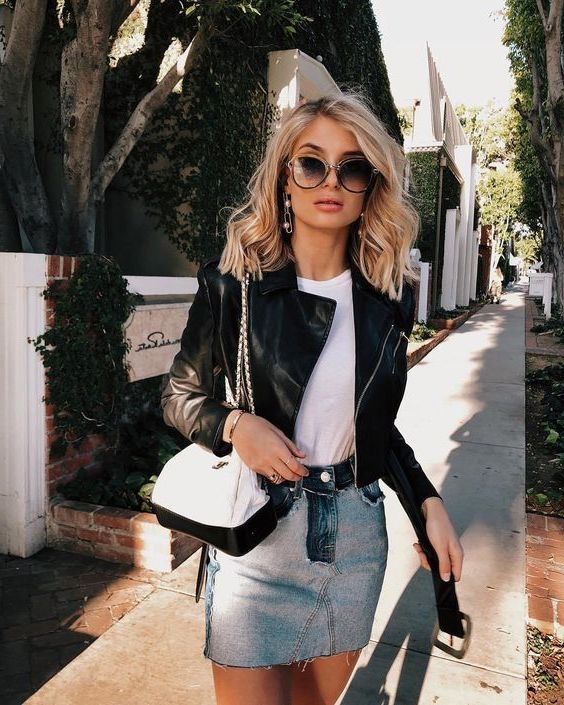 Leather jacket and boots
How about creating a fancy combo that includes eye-catching boots? Here we see a black leather peplum jacket styled with a fringed skirt and high boots in black leather: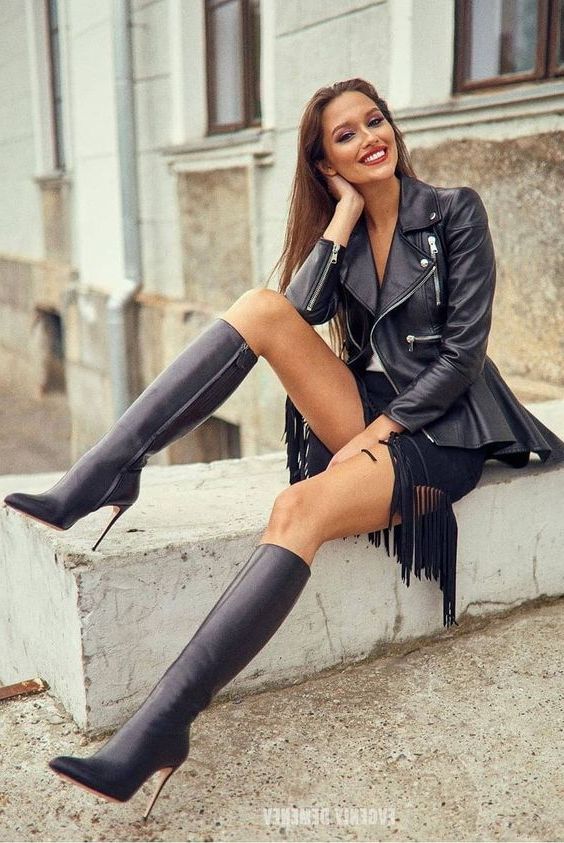 Another all in black look completed with lace-up boots, a kind of biker inspired outfit idea: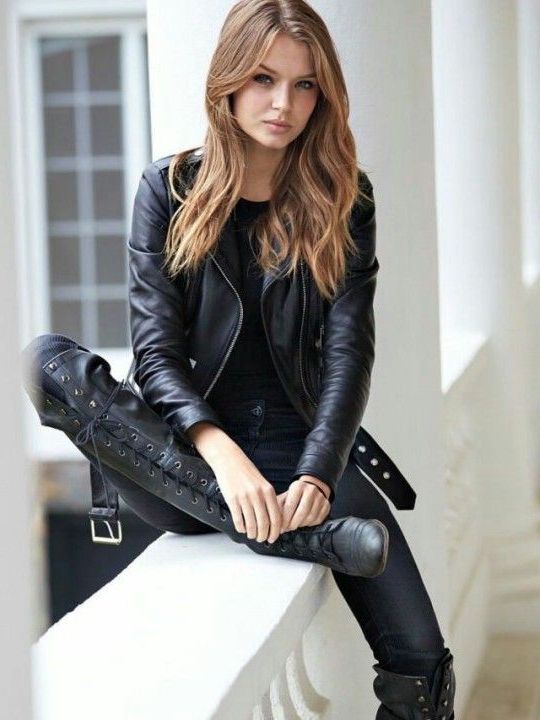 Go sassy by teaming black leather topper with a black turtleneck and blue skinnies tucked in OTK boots: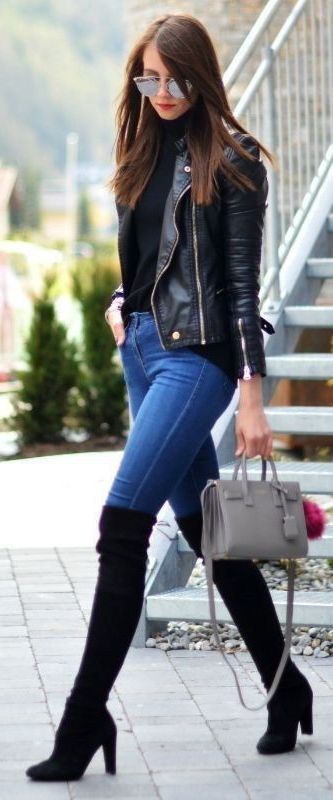 Leather jacket and shirt
You can create a cool smart-casual combo by pairing a black leather jacket with a blue chambray shirt and black skinnies: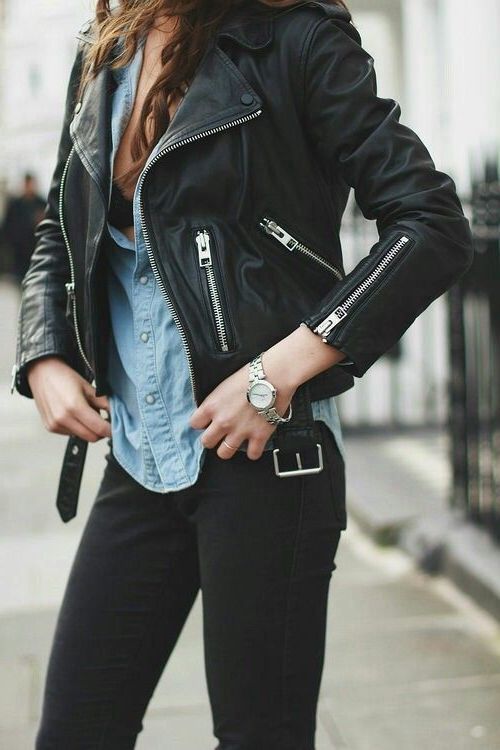 A khaki shirt looks pretty chic with a black leather topper and black skinnies, a kind of modern grunge outfit idea: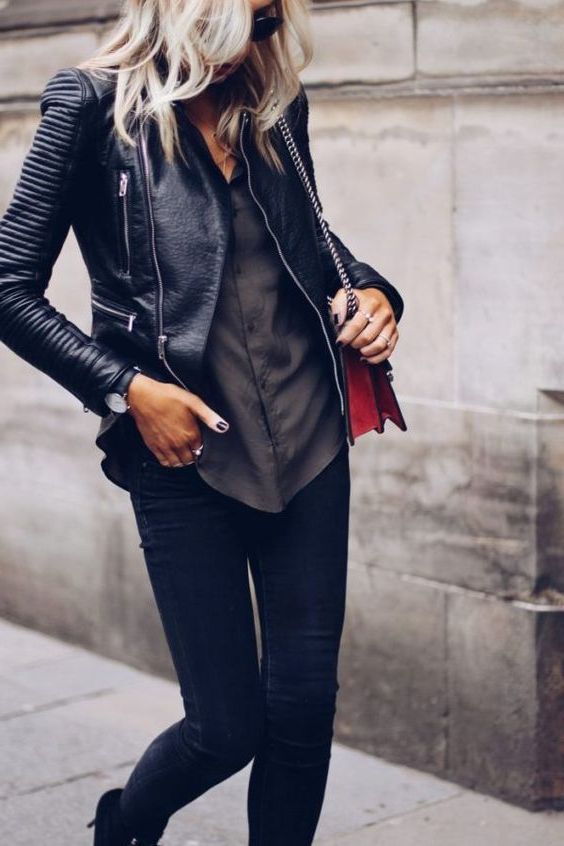 Leather jacket and turtleneck
A turtleneck is always a good idea no matter if you wear it with a blazer or anything else. Here we see a black outerwear worn over black turtleneck tucked in cuffed regular jeans completed with black leather combat boots. Say yes to grunge style: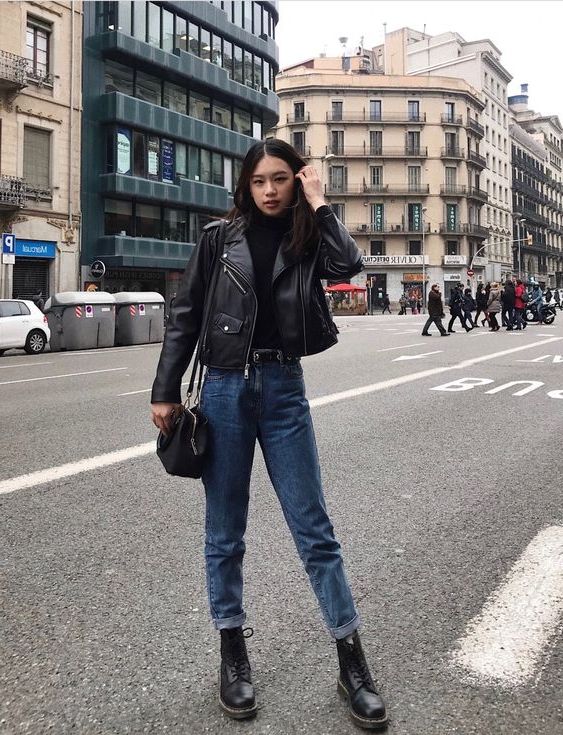 How to wear a scarf with a leather jacket
An oversized wool scarf will be a perfect match to this black leather biker jacket styled with a white sweater and knee-ripped skinny jeans in black: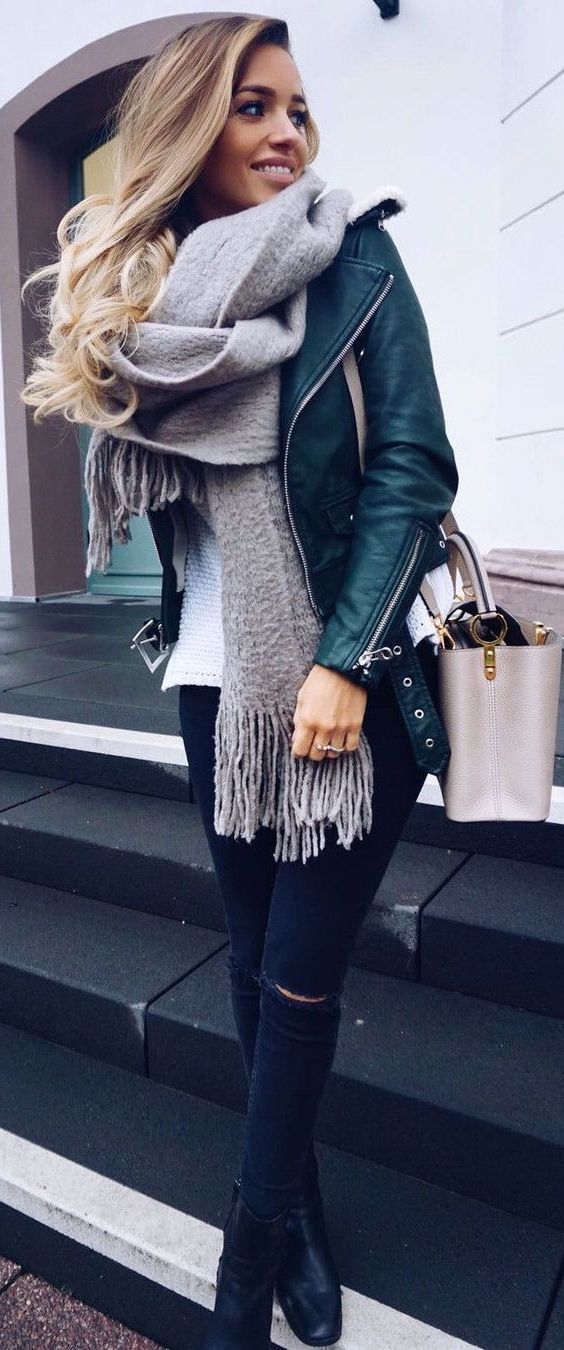 How to wear a leather jacket in Spring
I have mentioned this topic befor, but you can definitely try on a leather jacket this spring. Just make sure you style it with appropriate clothing, so you don't feel cold in your body or legs. Here we see a good sample of wearing this outerwear piece during spring season months. A black colored design is draped over a white turtleneck sweater tucked in a grey plaid mini skirt: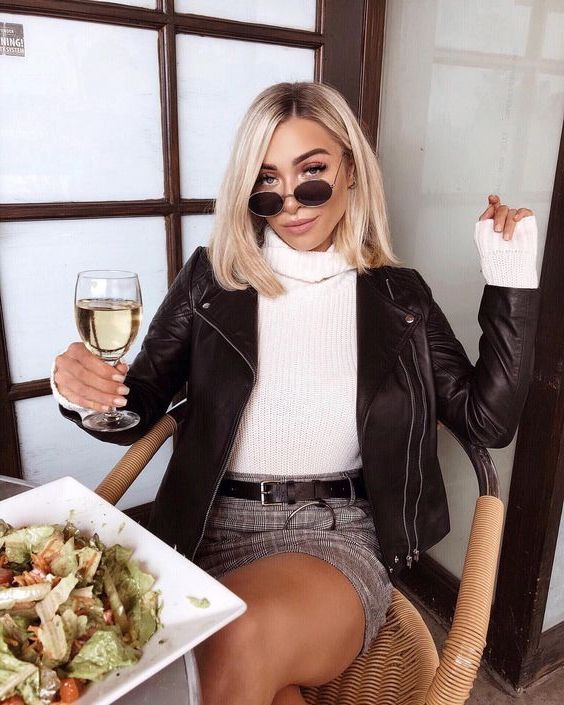 How about keeping thins casual this Spring? Go for a black leather jacket and pair it with a black-white striped top and black knife-pleated mini skirt: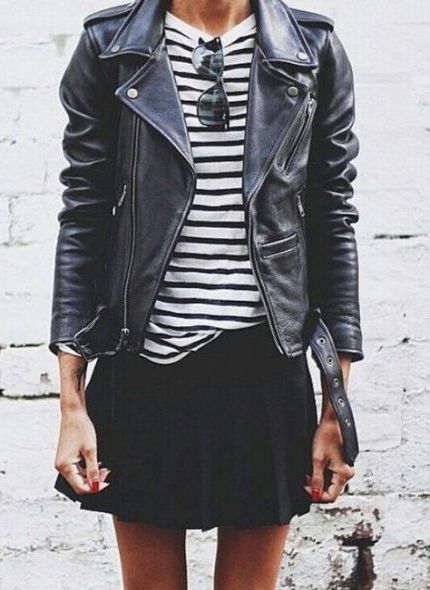 A kind of boho touch in this look. We see a black leather topper draped over beige peasant midi dress completed with multi buckled black leather booties: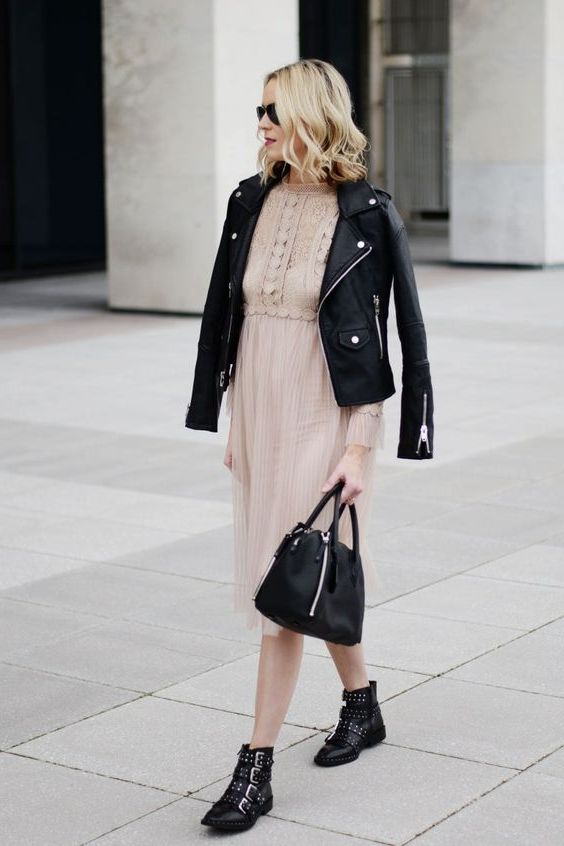 How To Wear Leather Jacket in Fall
Yes, an ideal season for leather jacket is Fall. During this time you can easily team this black topper with almost anything you have in your wardrobe. Try it with a grey sweater layered over white shirt completed ith ripped skinny jeans: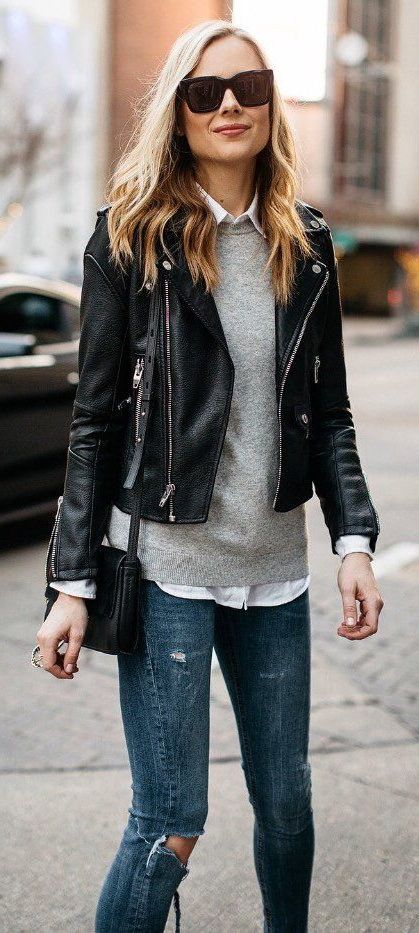 Go for a cool layered Fall look. We see a black leather jacket styled with a grey cardigan , lace black top and ripped black skinny jeans completed with buckled black leather ankle boots: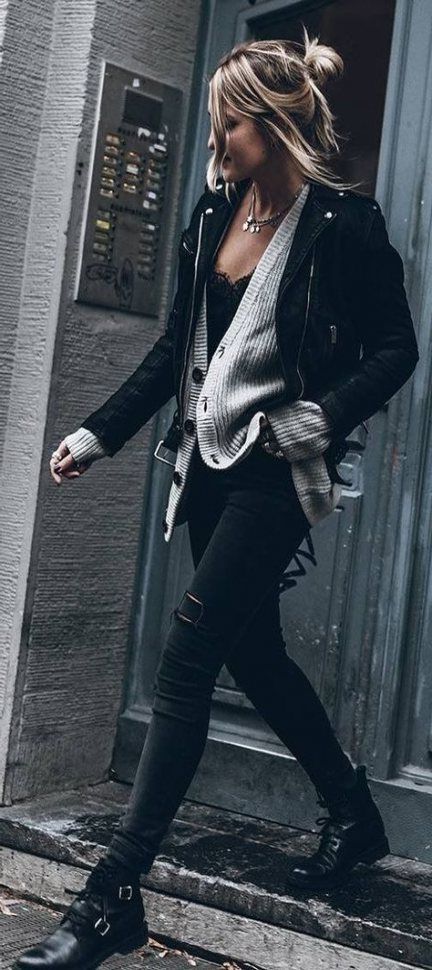 Can I wear a leather jacket to a wedding
If you want to create an edgy look during your wedding, then you can try on a black leather jacket over a white wedding gown! Here we see a good example: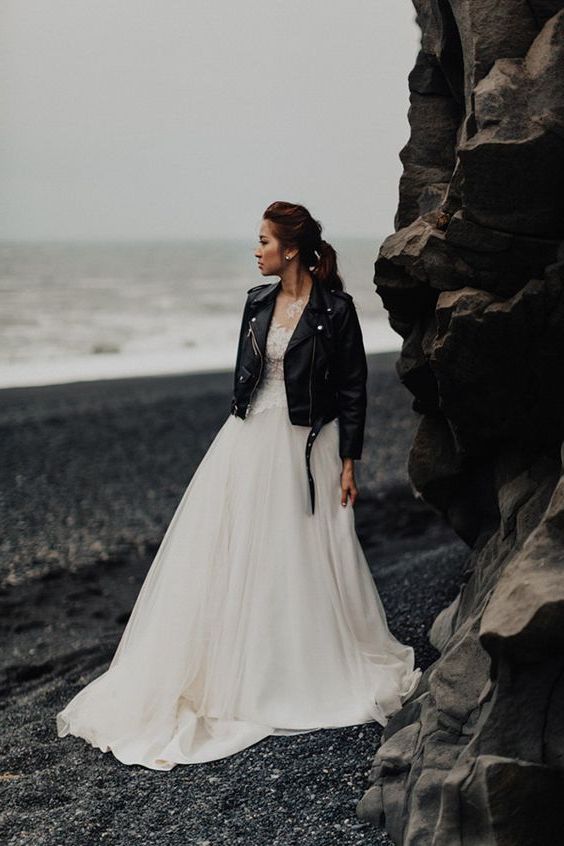 Yes, a floor-sweeping white dress will be a good match to this black leather topper: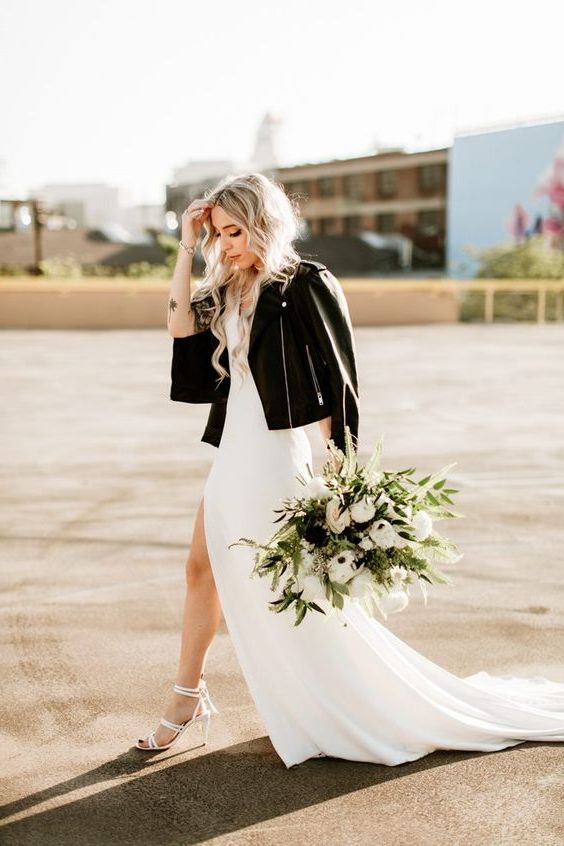 Can I wear a leather jacket to a cocktail party
Another cool place to wear a leather jacket is a party. Go for a black topper and style it with a mini dress and fringed suede black booties: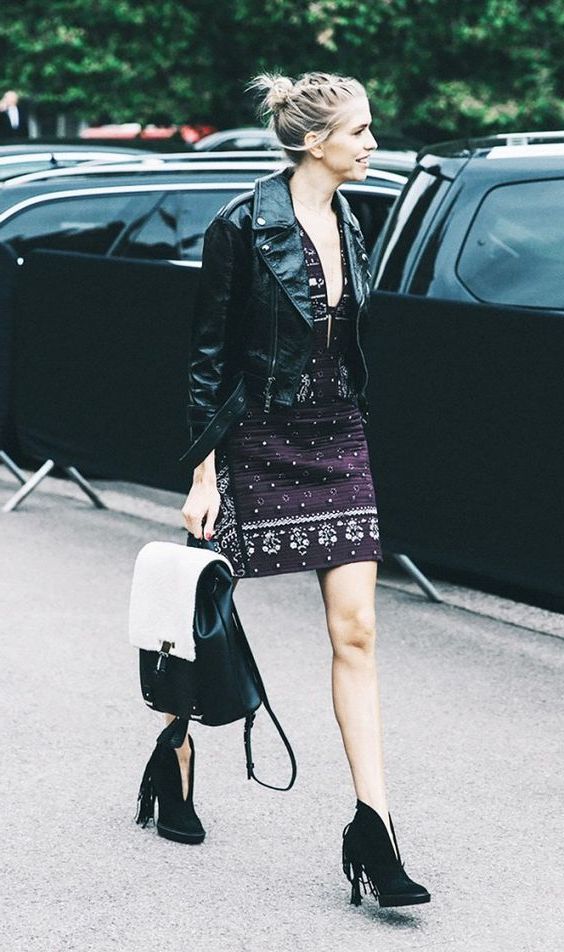 You can glamourize your look by mixing black leather jacket with a maxi blue dress: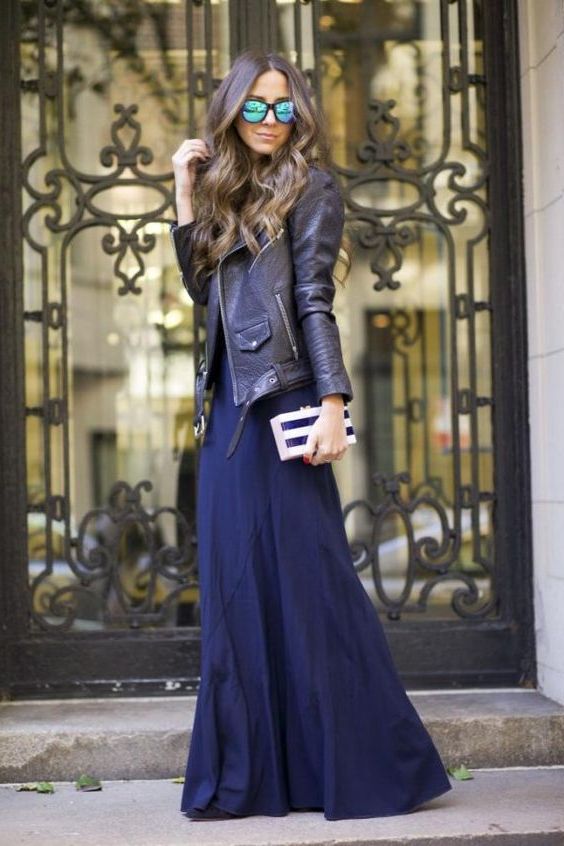 Can I wear a leather jacket to work
The last, but not least question, can you wear a leather jacket to work. Well, this is not a professional outerwear piece, but you definitely can wear a leather jacket during your way to work. Still have questions, what to wear at work, I have a full guide for office ladies. Anyway, here we see a good example, featuring a black topper styled with a turtleneck sweater and skinny black jeans completed with heeled pumps: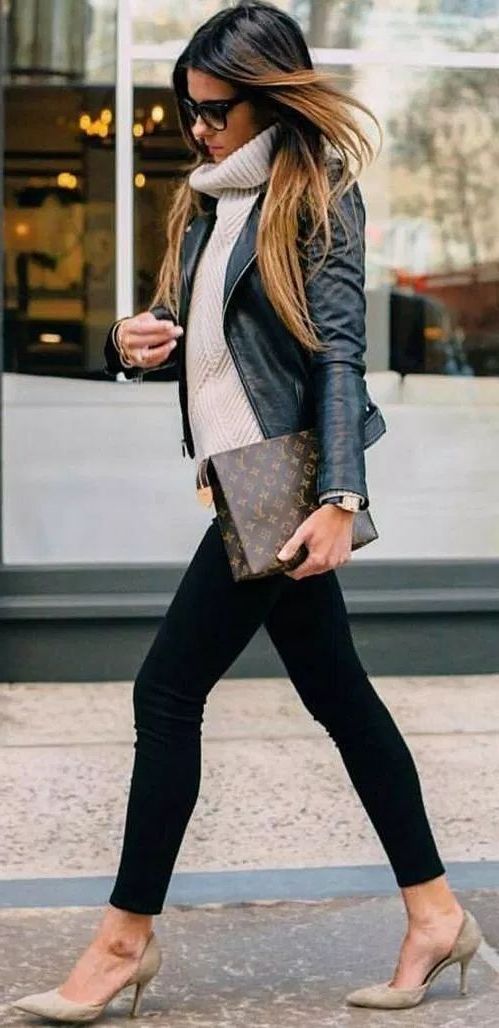 You can also pair black topper with a white blouse and black skinny pants: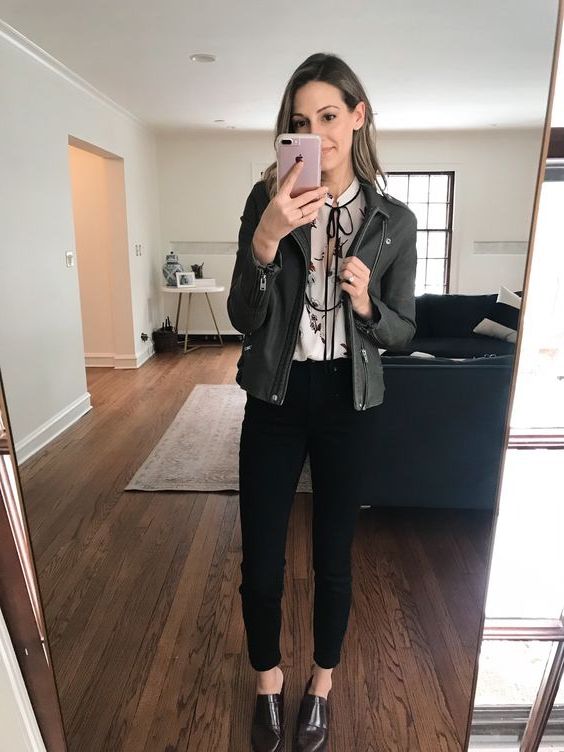 Another cool combo for professional ladies, a black leather jacket is styled with a big grey scarf and light maroon culottes: