If you are in search of a way to wear your favorite black leather skirt, then you are on the right page, darling. I am here today to show you 17 ways and ideas on how to wear this edgy bottom piece on the streets and to special events that are going to make you look and feel unique. A black leather skirt is a beautiful piece of clothing that can be styled in many different ways. Plus, you can find it many styles, starting from minis to midi and flared designs. It not only feminizes your outfit but also makes you streamlined. So, what are we waiting for, let's get inspired and choose our favorites.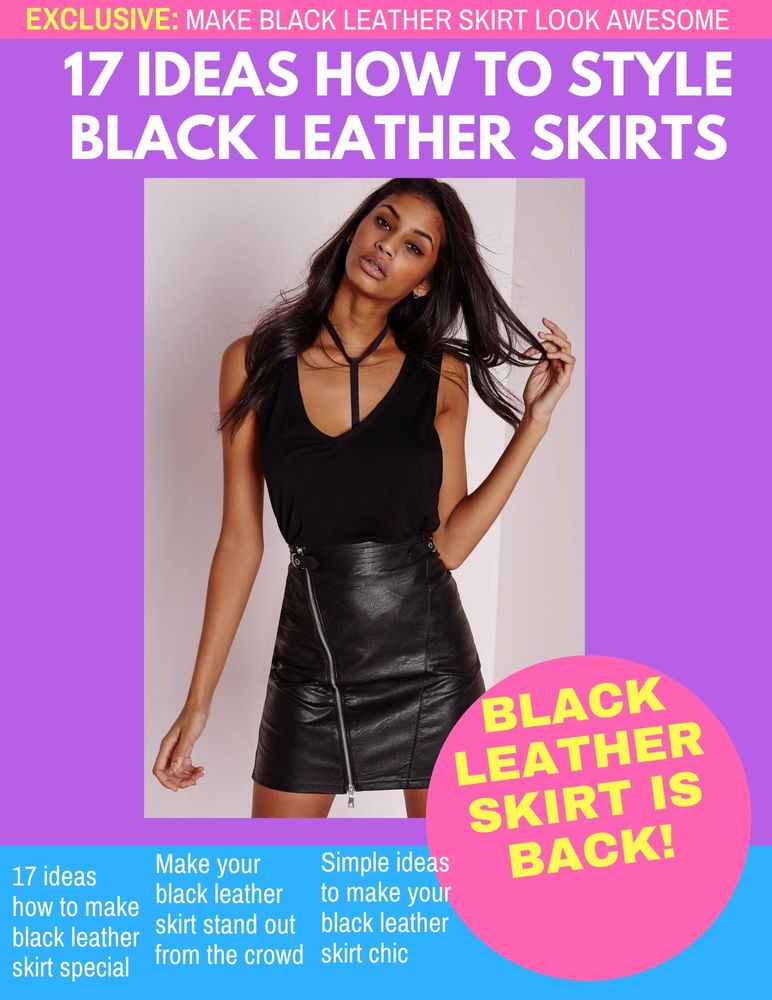 🛍️ Where To Find: Buy Related Here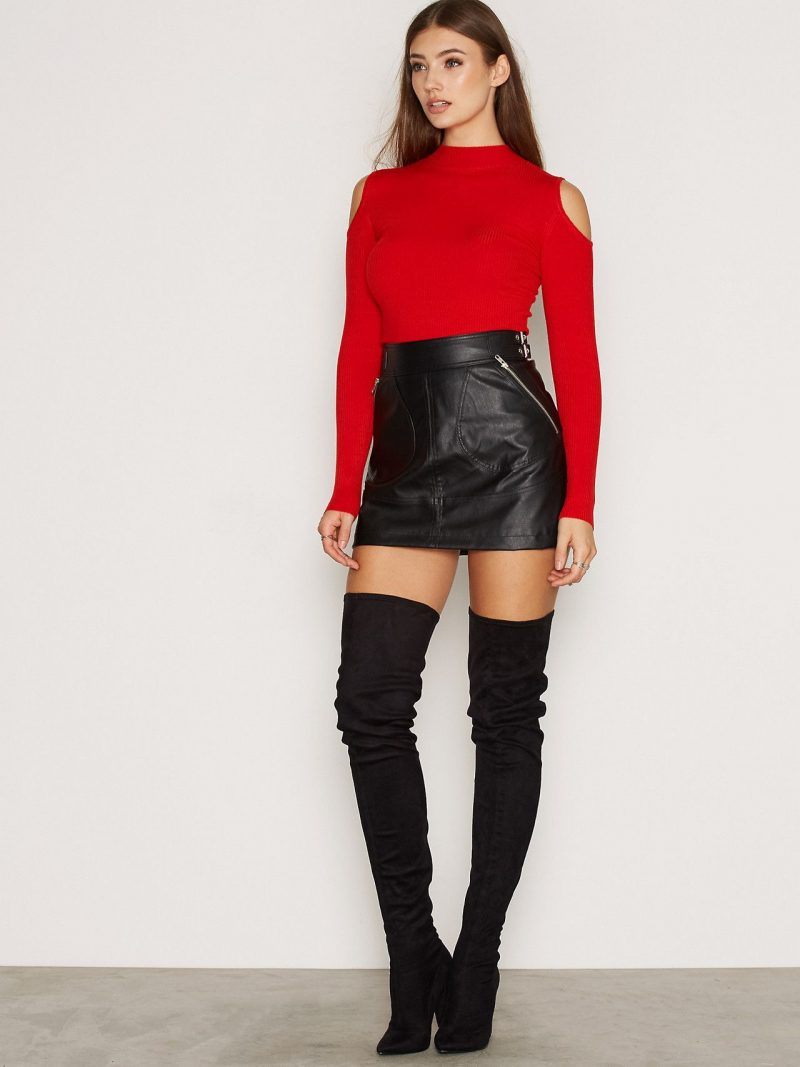 🛍️ Where To Find: Buy Related Here
We see a cold shoulder red top tucked in black leather mini skirt with side zip pockets. Complete this look by adding black suede OTK boots.
It feels like anything will go with a black leather skirt, starting from red blouses to leather jackets and sweaters. Personally, I am so into this clothing staple, it ideally matches casual as well as semi-formal clothes, just make sure to find your favorite style and you are ready to go! Don't forget to tell me, which one of these looks is your favorite in the comments below.
Black leather skirt and denim jacket
An ideal look for modern grunge ladies. We see a grey denim jacket layered over grey sweater half-tucked in black leather mini skirt updated with stockings and lace-up black leather ankle boots with buckles. Complete this style by adding rounded sunglasses and necklace: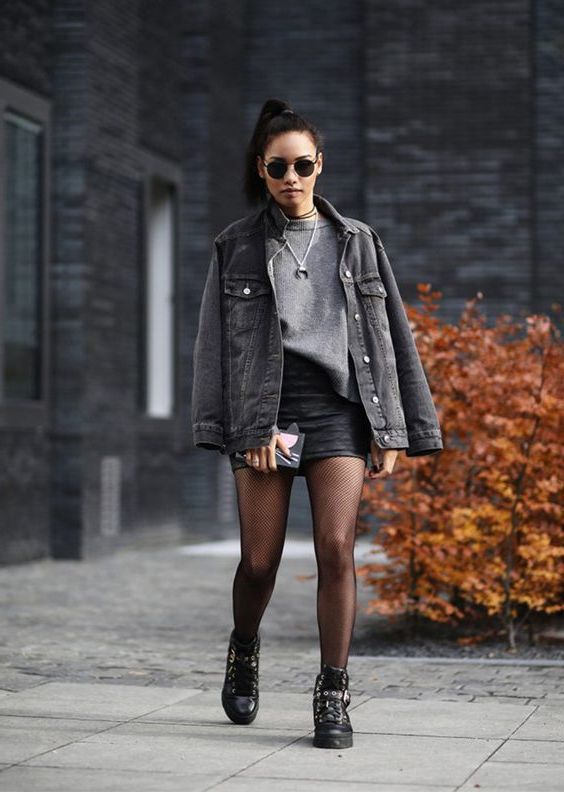 🛍️ Where To Find: Buy Related Here
Black leather skirt with brown jacket
Here we see a beautiful combo for fall season days, a light brown biker jacket is worn with a white tee tucked in black leather mini skirt completed with suede OTK boots in black:

🛍️ Where To Find: Buy Related Here
Red leather jacket and black leather skirt
Make a wow statement on the streets by wearing a total leather look! Go for a red leather peplum biker jacket and style it with a black top and black leather pencil skirt: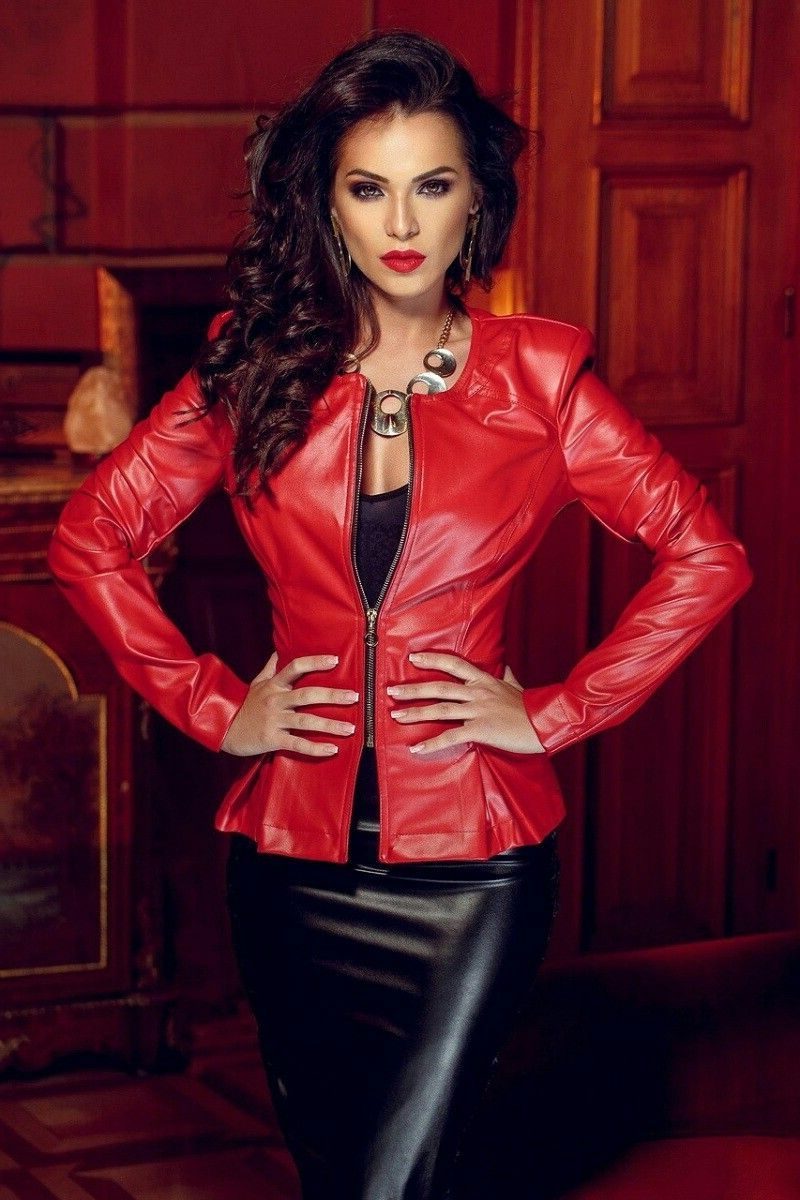 🛍️ Where To Find: Buy Related Here
Black leather skirt and jumper
A high neck oversized sweater in khaki green color looks amazing with black leather mini skirt and oversized black shades: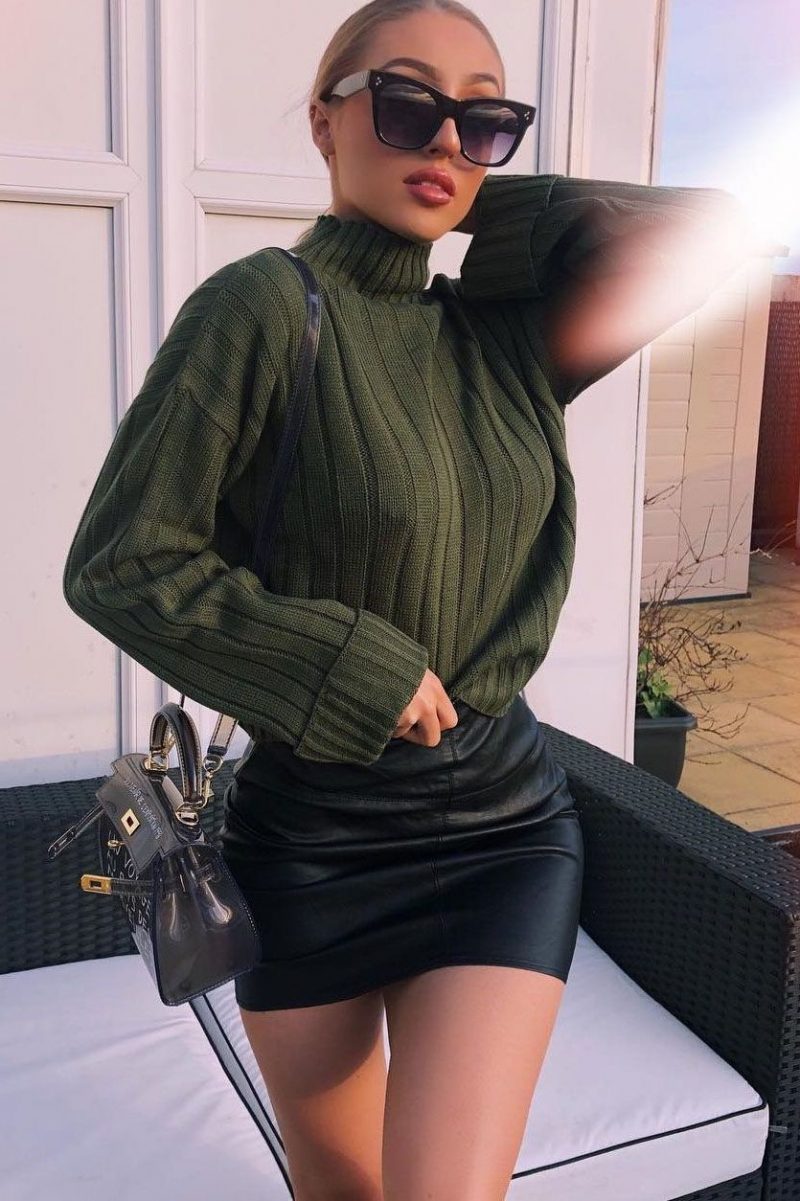 🛍️ Where To Find: Buy Related Here
Black leather skirt and sneakers
Keep it fresh and sporty! Go for a drop shoulder grey sweater and tuck it inside the front zip asymmetric mini black leather skirt. Complete this combo with white sunglasses and white sneakers: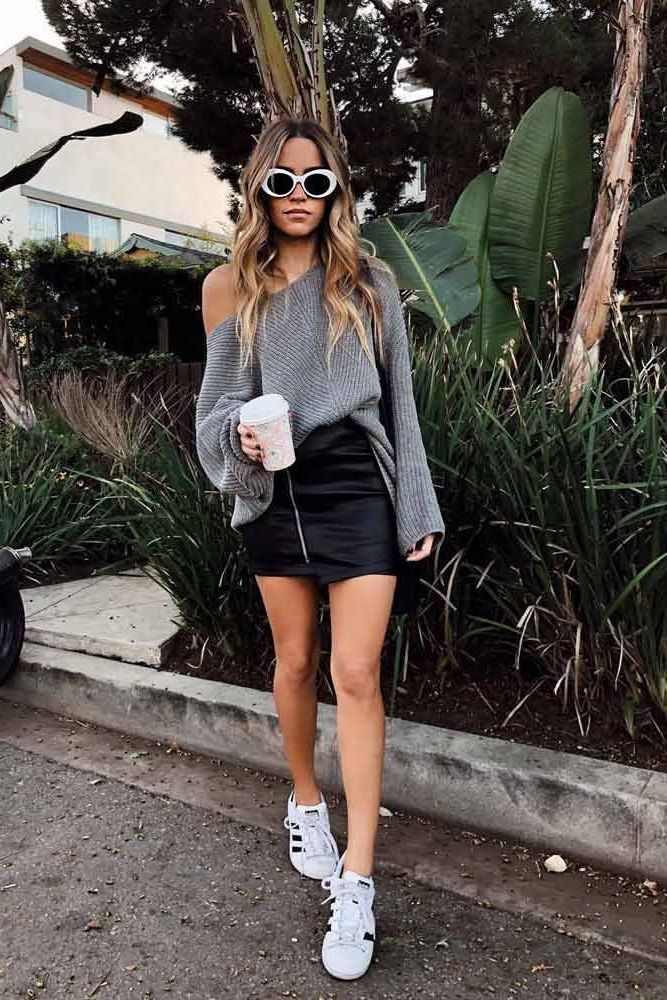 🛍️ Where To Find: Buy Related Here
Black leather skirt and t-shirt
We see an oversized white T-shirt tucked in asymmetric black leather mini skirt, complete this combo by adding a mini shoulder bag in black: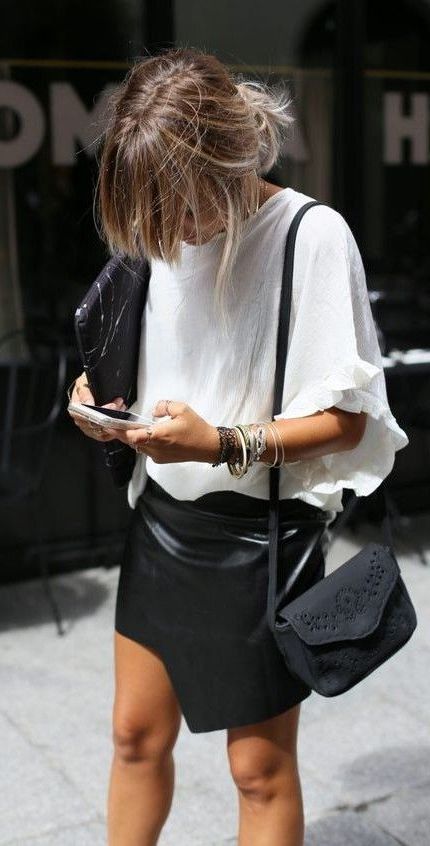 🛍️ Where To Find: Buy Related Here
Black leather skirt and a yellow top
A bright yellow top is tucked in knife-pleated mini skirt in black leather, complete this combo with black tights, platform black leather ankle boots, and black, sunglasses, I am so in love with that neckpiece: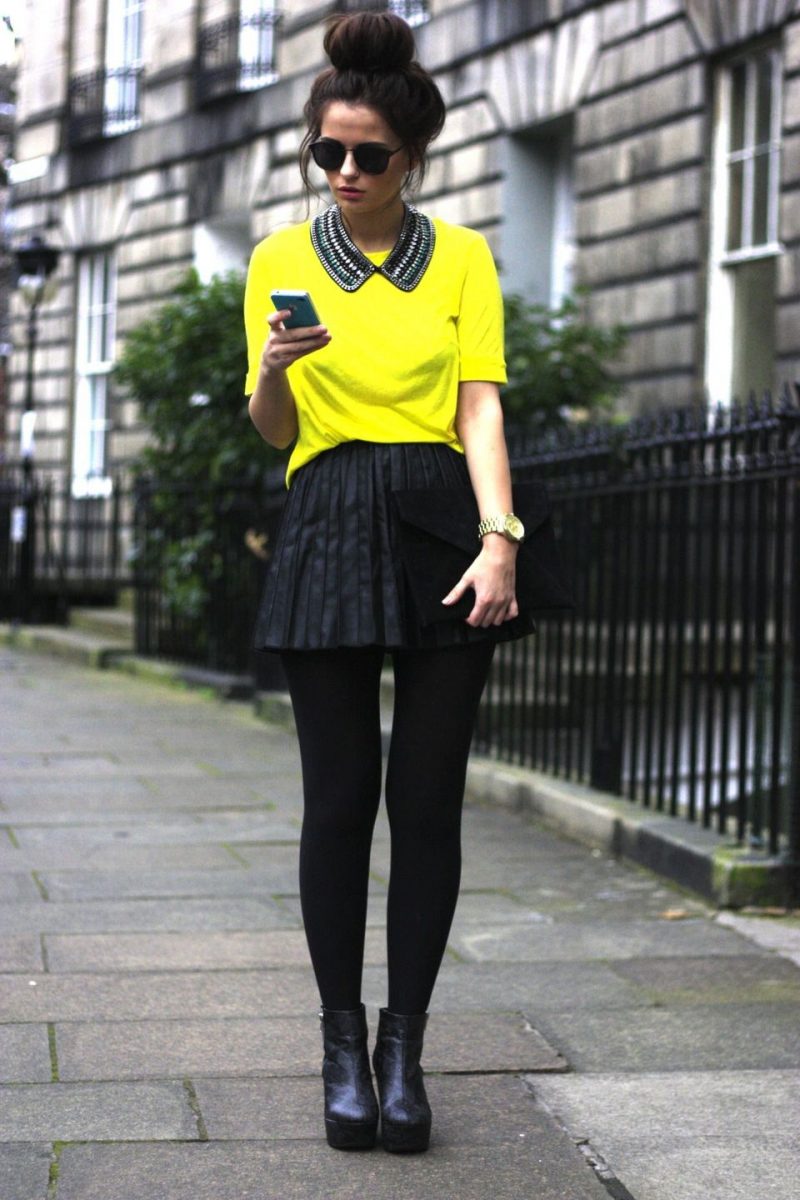 🛍️ Where To Find: Buy Related Here
Black leather skirt and white shirt
A white shirt is tucked in a midi black leather skirt, a perfect combo for office hours, complete it with snakeskin print heels and mini black clutch bag: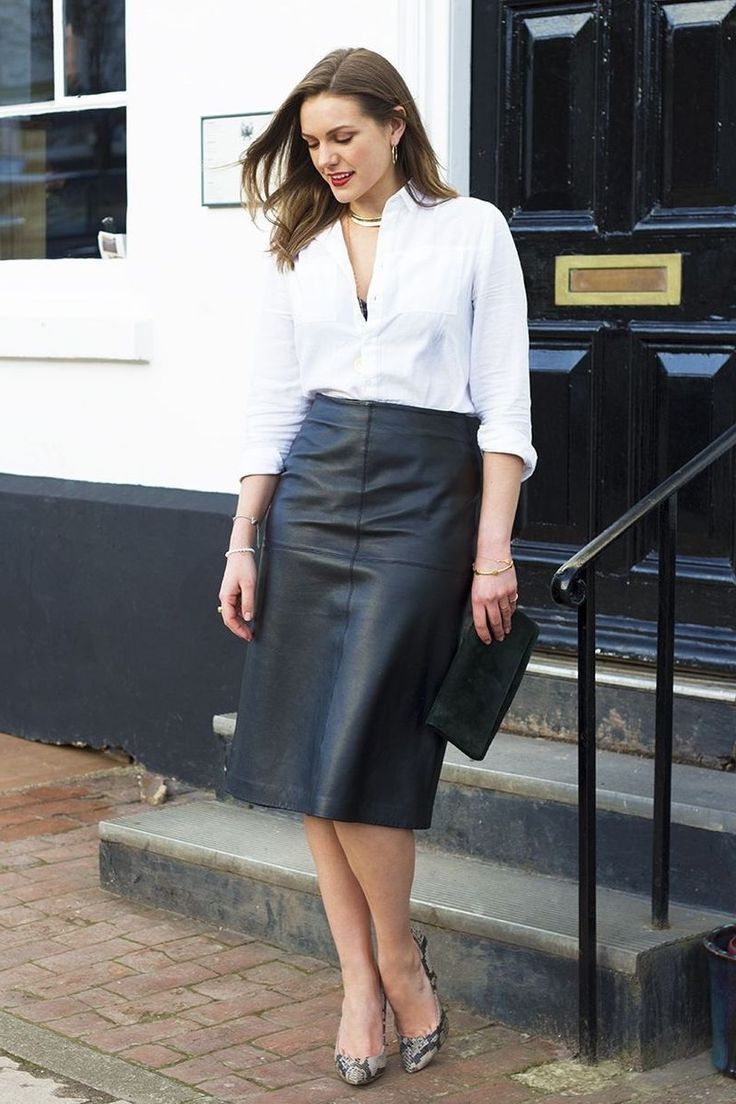 🛍️ Where To Find: Buy Related Here
Black leather skirt and denim shirt
You can never go wrong with denim and leather. Here we see a camel jacket draped over wash blue denim shirt tucked in a high-waisted black leather pencil skirt, complete it with a quilted black leather clutch and leopard print pumps: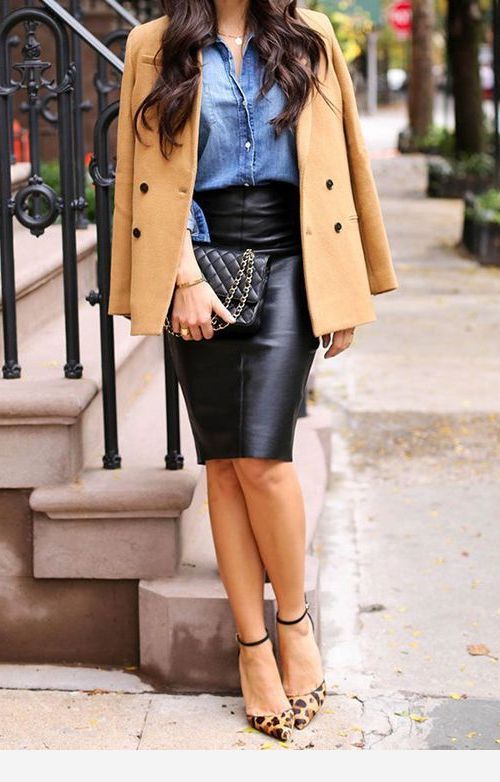 🛍️ Where To Find: Buy Related Here
Black leather skirt and a leopard print shirt
Go wild this spring, team a leopard print blouse with black lace lingerie and black leather mini-skirt: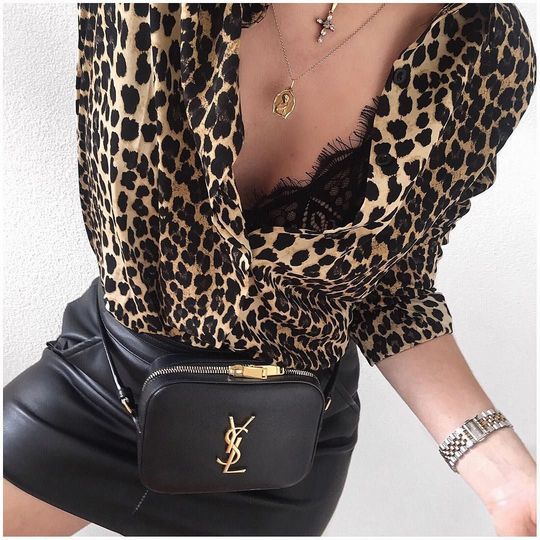 🛍️ Where To Find: Buy Related Here
Black leather skirt and tights outfit
All in black look! Go for a black turtleneck and tuck it inside black leather skirt in a tight fit, complete this combo with black tights and platform heeled booties: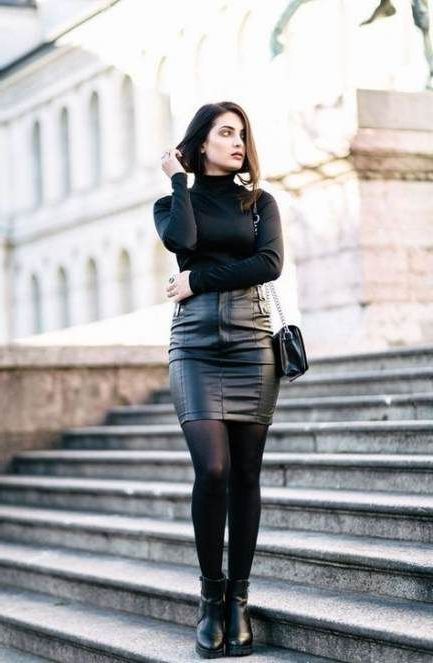 🛍️ Where To Find: Buy Related Here
Black leather skirt and bodysuit
I know we all in love with bodysuits, that's why I fell in love with this combo, we see a deep neck burgundy lace bodysuit with a high waisted black leather skirt: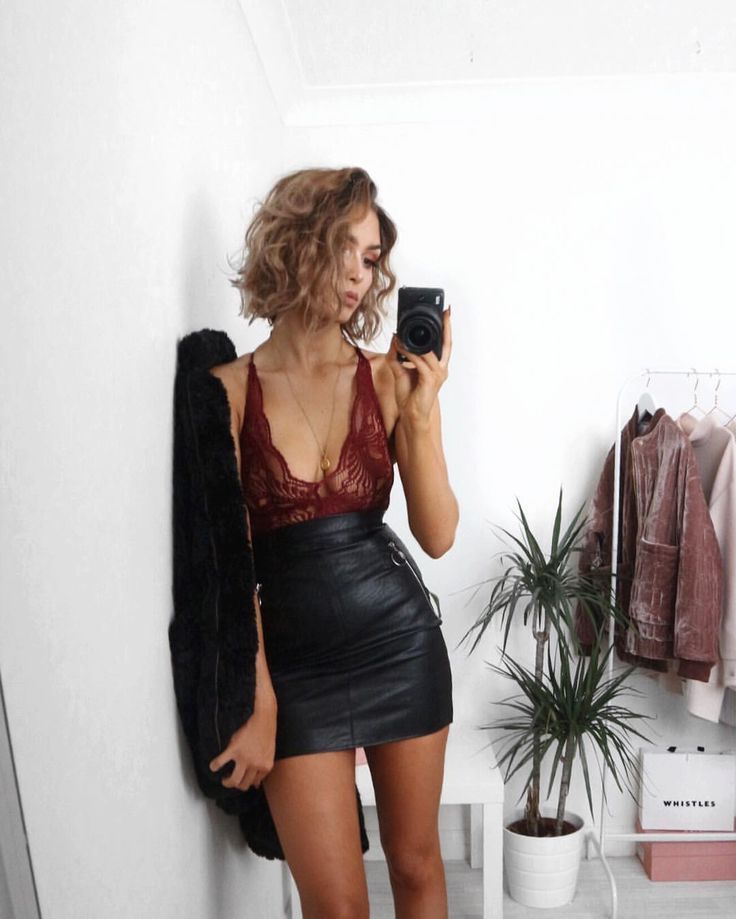 🛍️ Where To Find: Buy Related Here
Black leather skirt and a red top
A red top with sheer sleeves is tucked in high-waisted black leather mini skirt, complete it with hoop earrings to create a glam rock outfit: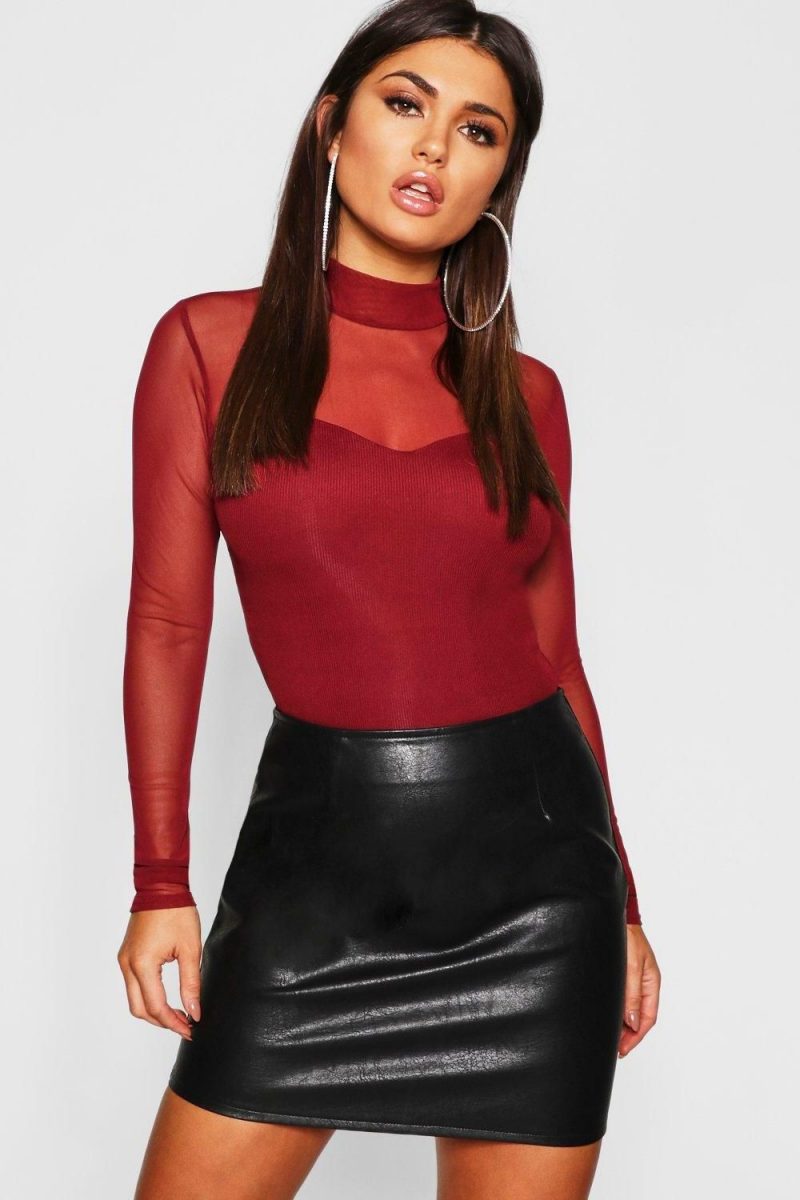 🛍️ Where To Find: Buy Related Here
Black leather skirt and brown boots
Another cool combination for Spring days, we see a high neck sweater in grey color tucked in black leather mini skirt completed with slouchy boots in brown leather: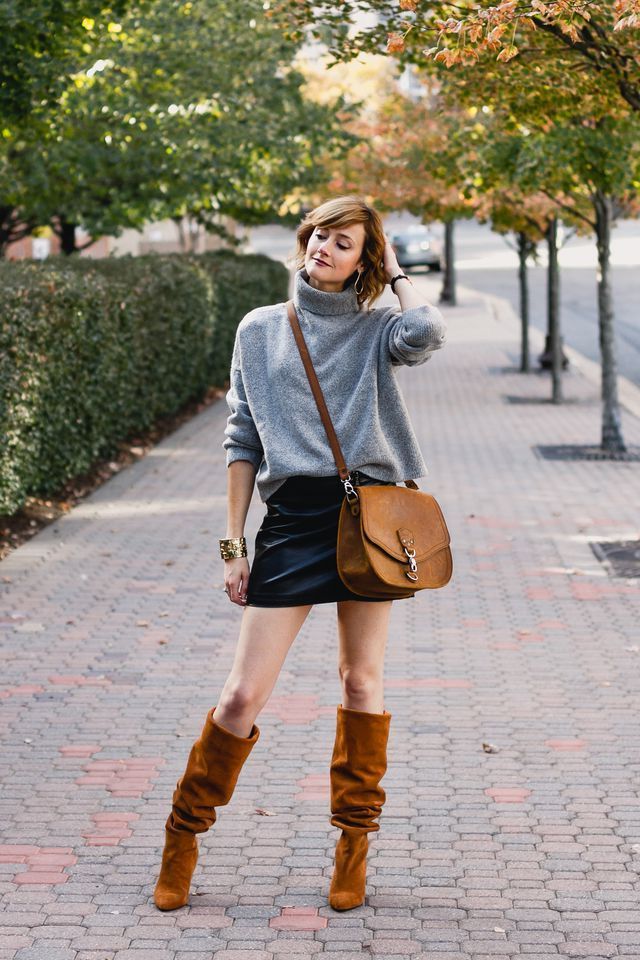 🛍️ Where To Find: Buy Related Here
Black leather skirt with knee-high boots
A pair of knee-high boots in black suede are worn with tights, black leather skirt, white shirt, and black blazer: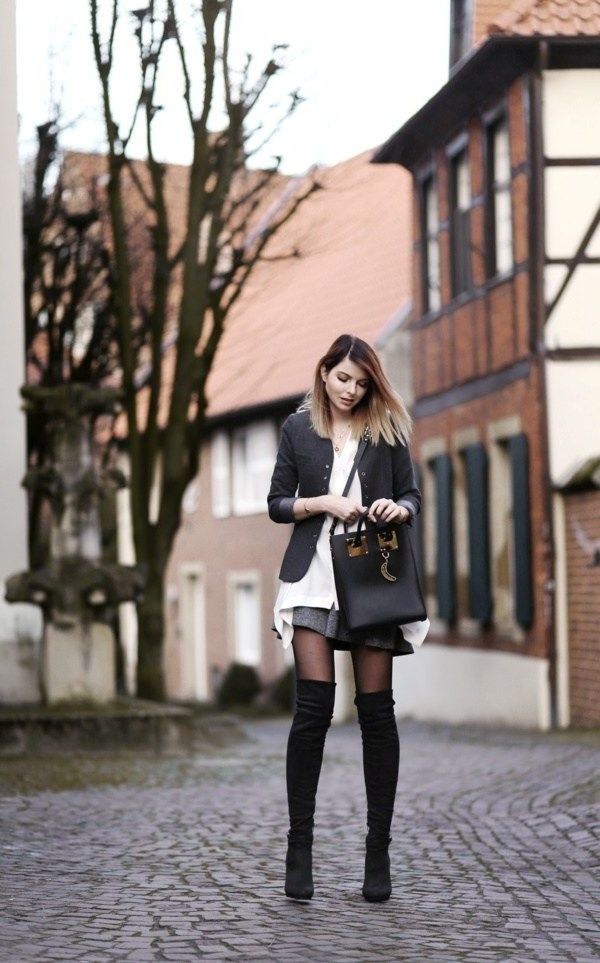 🛍️ Where To Find: Buy Related Here
Black leather skirt with over the knee boots
Check out this amazing combination that consists of a beige high neck sweater tucked in black leather mini skirt completed with OTK boots in black suede, update this style with mirrored sunglasses: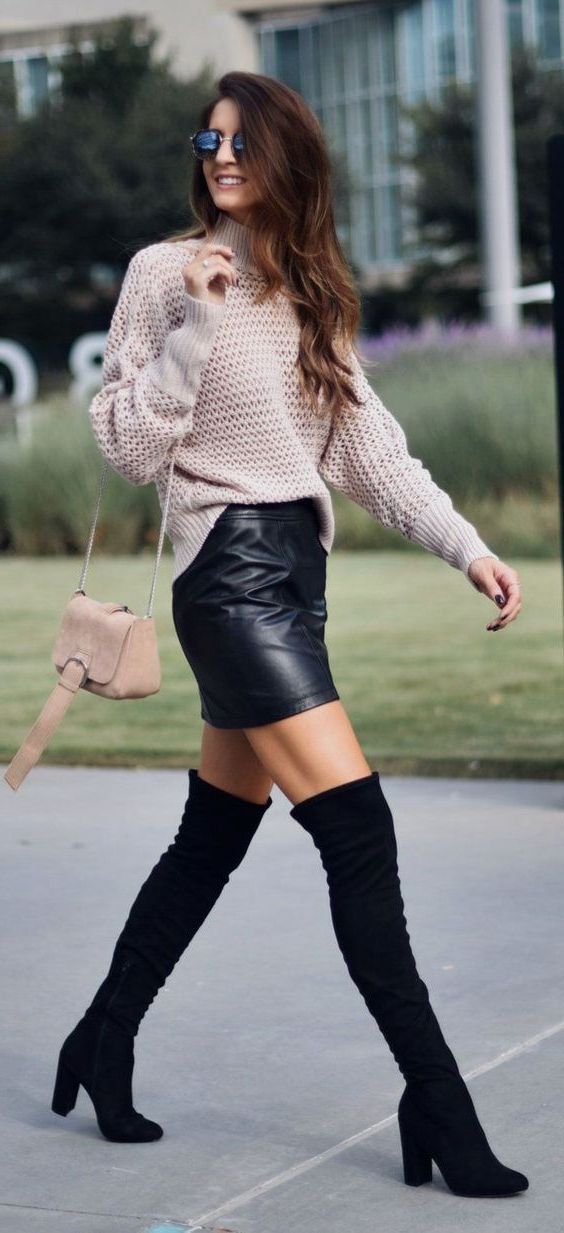 🛍️ Where To Find: Buy Related Here