Hello, my dear fashion ladies. In today's post, we are going to see the best ways how to wear tulle skirts without looking like a ballerina girl. Believe me, tulle skirt will amaze everyone around this Spring. Of course, you should know several tricks, tips, and ideas that will make you look ladylike, elegant and adult.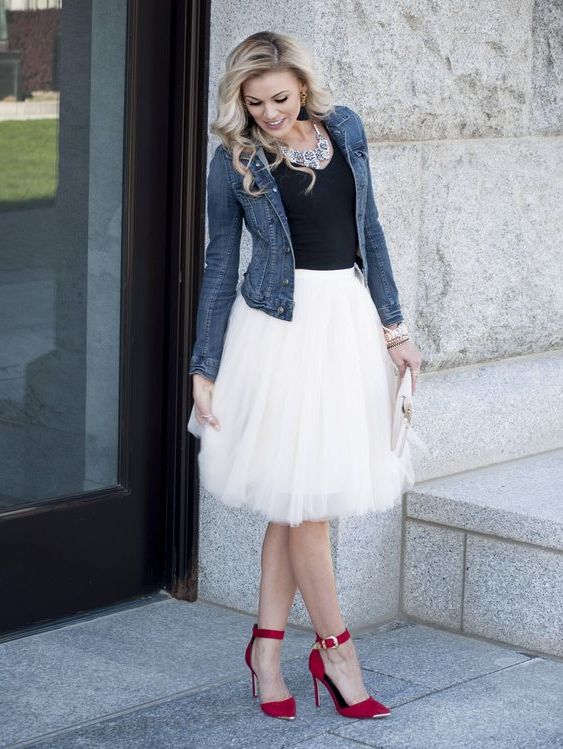 🛍️ Where To Find: Buy Related Here
A denim jacket will be a perfect match for this black top and white tulle skirt. Complete it with a silver neckpiece and ankle-cuff cherry red heels.
Like it or not, but tulle skirts have already invaded the streets of big cities. Yes, these bottoms can be spotted everywhere around. If you want to know more about this beautiful skirt, then you are more than welcome to look through these awesome ideas after the break.
An ideal look for bicycle ride. We see a blush sweater, cream-white tulle skirt and white kicks. Love that leopard print clutch bag with chain strap: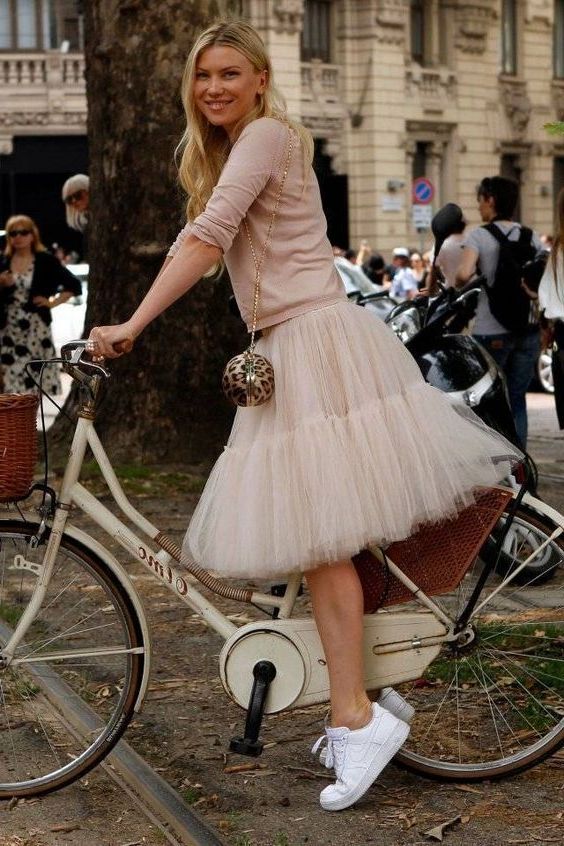 🛍️ Where To Find: Buy Related Here
If you keep on wondering how can this skirt be worn outside the ballet, then you better look through these ideas that will surely inspire you to create your own tulle skirt outfit. First of all, I recommend finding a flattering fit that will make your moves easier and more confident.
Keep it cool with black-white colors. We see a black-white striped long-sleeve top teamed with a blush tulle skirt and white sneakers with black stripes: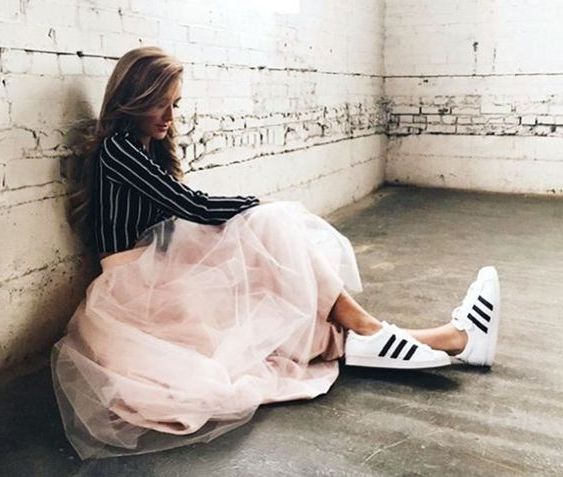 🛍️ Where To Find: Buy Related Here
Keep in mind that this bottom piece is not for work, so you should wear it on weekends and special occasions. You can dress it up with chic and sophisticated pieces, or keep it athleisure-inspired by completing your outfit with cool sneakers and a graphic tee.
A coordinated look is always a good idea. Here we see a tailored pastel blue belted blazer and the same color midi tulle skirt. Complete it with rounded shades and simple flat pumps: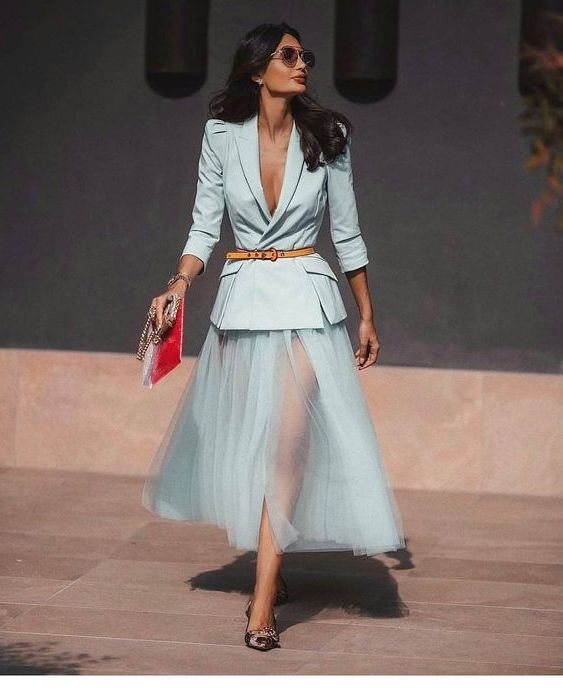 🛍️ Where To Find: Buy Related Here
If you want to achieve a retro look, then I suggest you try on a lovely solid color shirt or blouse and complete this look by adding jewelry accessories and cat-eye sunglasses. Another great idea is to add crop tops that will make you look sweet and sexy. Anyway, hope you gonna enjoy this compilation as much as I did.
Tulle skirt and sneakers
A perfect day look for weekends. We see a white biker jacket teamed with a white tee tucked in light pink midi tulle skirt completed with white sneakers. In love with these aviator sunglasses with mirrored lenses: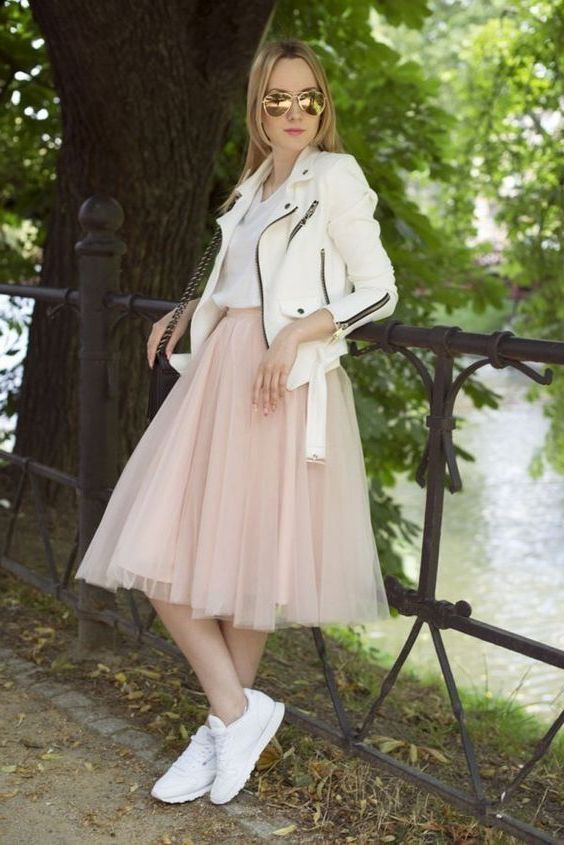 🛍️ Where To Find: Buy Related Here
All in black! Go for a spaghetti strap tank top, tulle skirt and black trainers: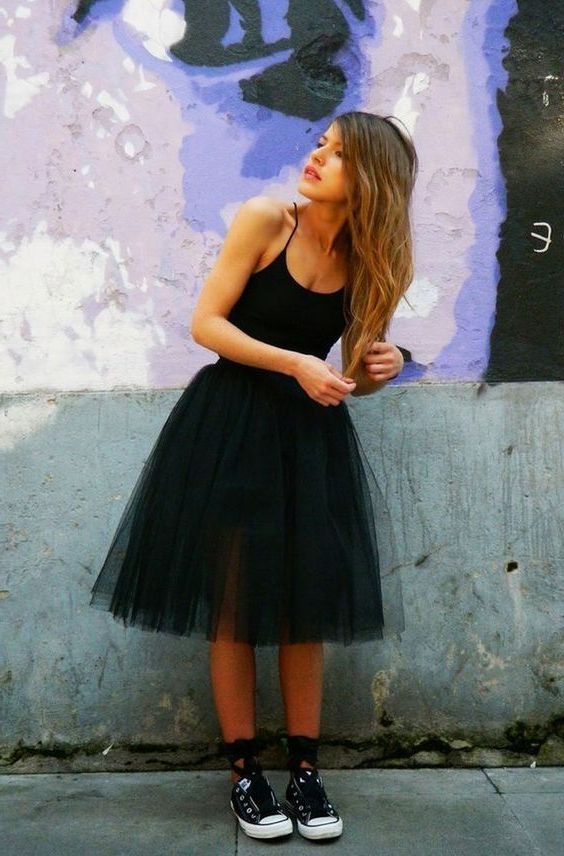 🛍️ Where To Find: Buy Related Here
Tulle skirt and t-shirt
Front-tied white T-shirt with graphic print is teamed with a black tulle skirt and black runners: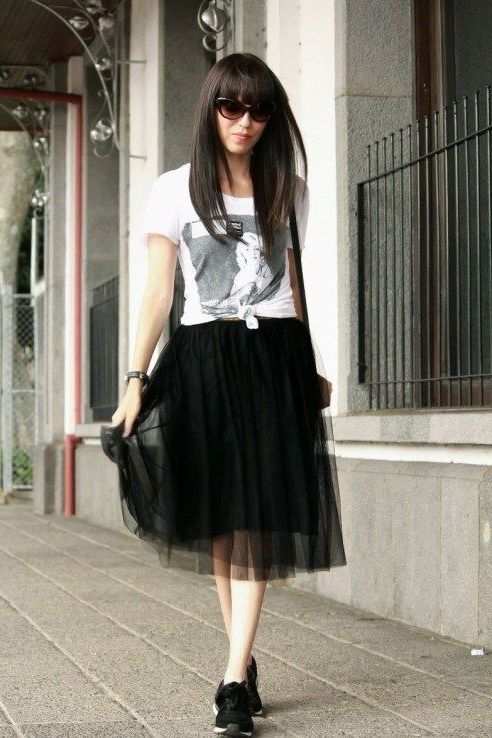 🛍️ Where To Find: Buy Related Here
A basic white tee is teamed with a bush midi skirt and black high-tp trainers: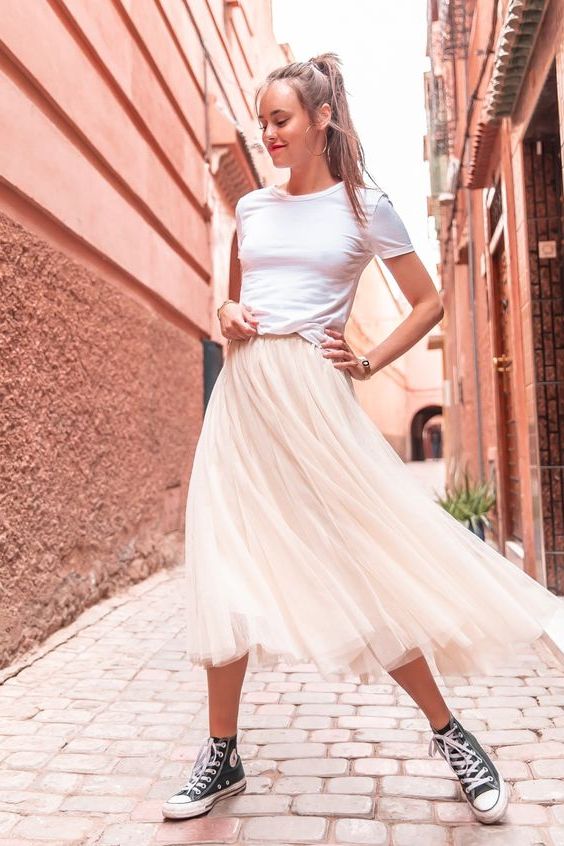 🛍️ Where To Find: Buy Related Here
Front-tied white T-shirt looks sassy with a high-rise maxi tulle skirt in white: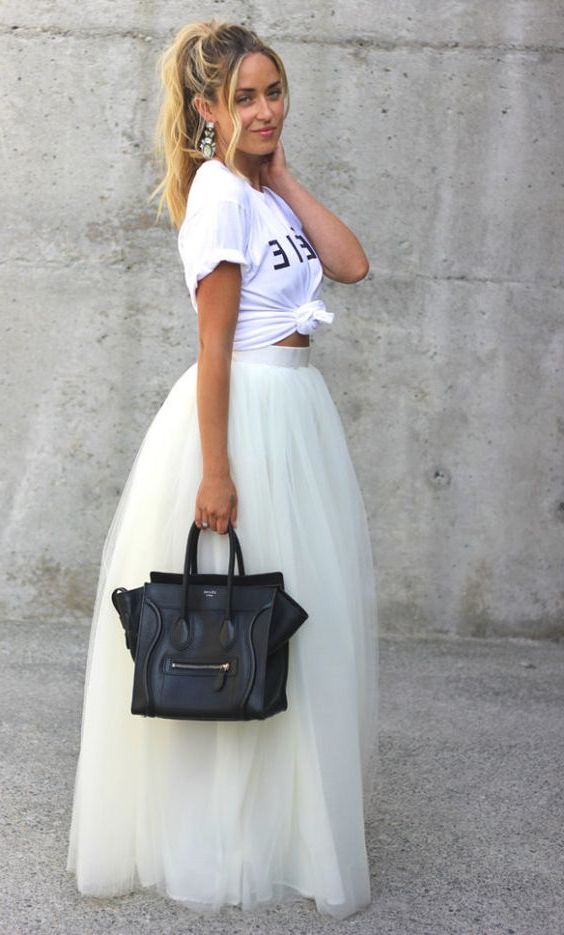 🛍️ Where To Find: Buy Related Here
Tulle skirt and sequin top
A dark blue sequined top with long sleeves is teamed with a white tulle skirt and nude heels: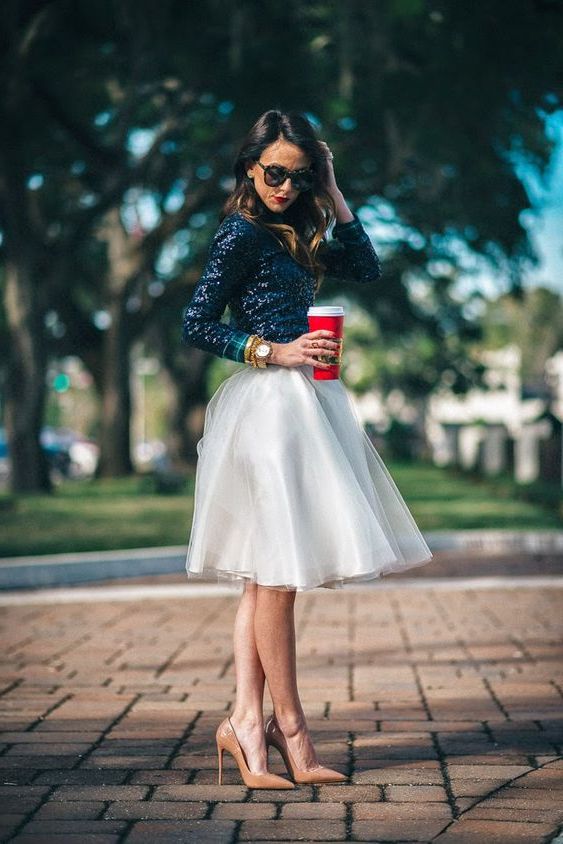 🛍️ Where To Find: Buy Related Here
A gold sequin T-shirt ideally suits this pastel-purple midi tulle skirt and grey heels: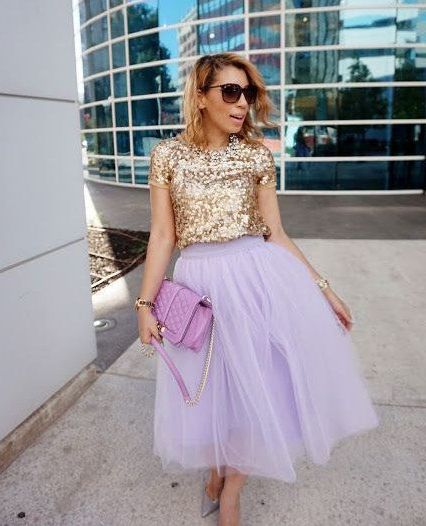 🛍️ Where To Find: Buy Related Here
Tulle skirt and lace top
If you are looking for a perfect bridesmaid look, then try on this sleeveless white lace top with a blush skirt and nude pumps: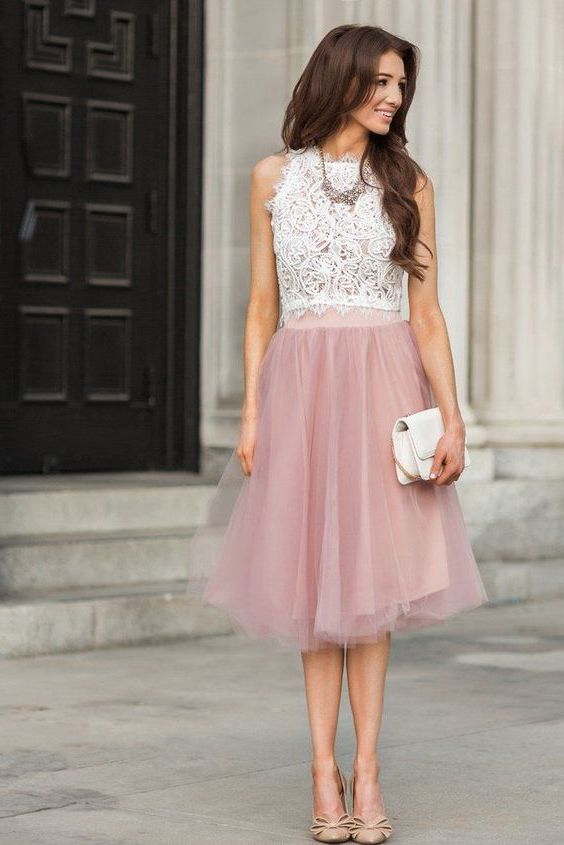 🛍️ Where To Find: Buy Related Here
Another eye-catching combination with a white lace blouse and pastel blue tulle skirt: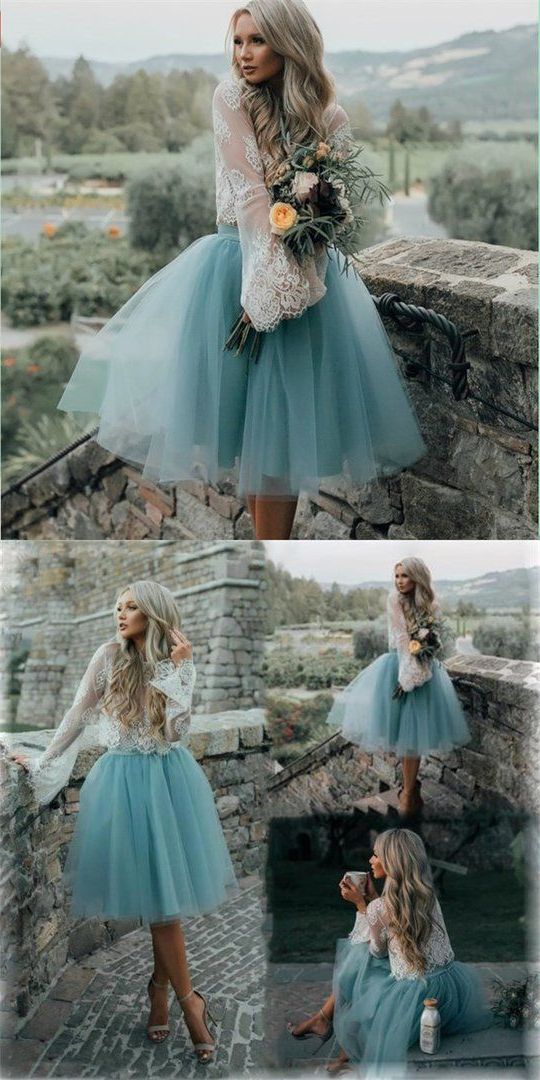 🛍️ Where To Find: Buy Related Here
Keep it sophisticated and ladylike, go for a long-sleeve black lace top and pair it with grey-white tulle maxi skirt: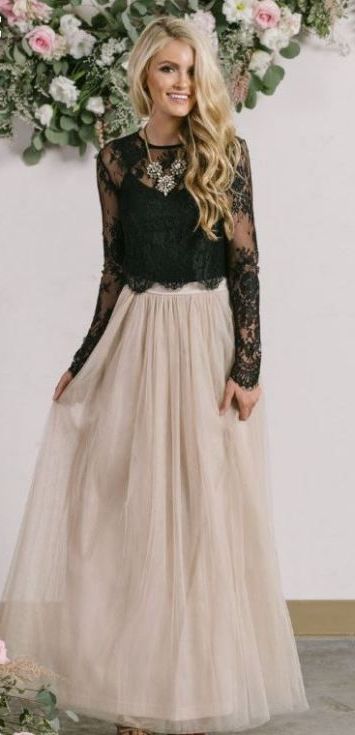 🛍️ Where To Find: Buy Related Here
Tulle skirt and blazer
Looking for a business-casual style? Go for a tulle skirt and blazer combination. We see a pink tailored suit jacket with gold buttons teamed with a ruffled pink blouse and layered blush maxi skirt. Complete this combo by adding a pair of heart-shaped black sunglasses and sequined flat pumps: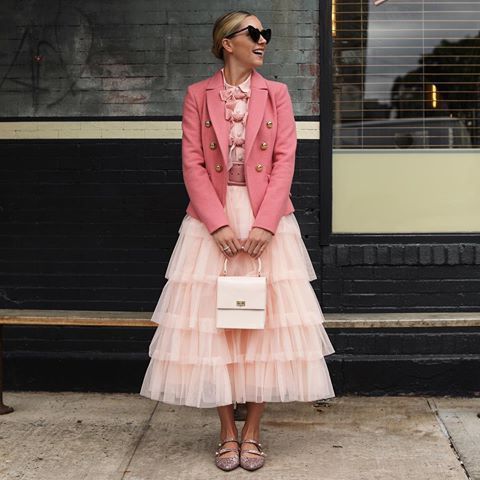 🛍️ Where To Find: Buy Related Here
Cream-white shades. Go chic and classy. We see a cream-white double-breasted blazer teamed with lace tulle white skirt and white pointed-toe heeled pumps: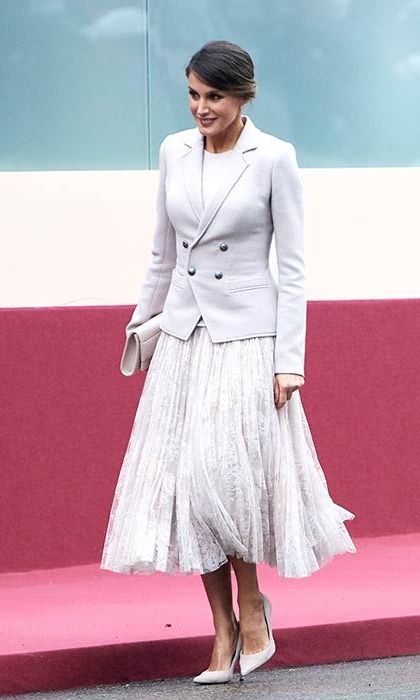 🛍️ Where To Find: Buy Related Here
Tulle skirt and denim shirt
Get inspired by this cool combo. We see a blue chambray shirt paired with white-grey midi tulle skirt and gold neckpiece: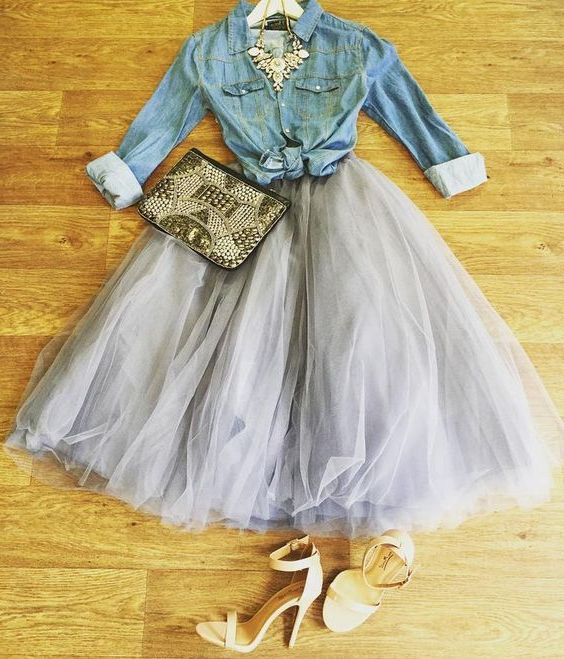 🛍️ Where To Find: Buy Related Here
A light blue chambray shirt will be a perfect match for this white tulle skirt. Complete it with a floral necklace and cream white heeled pumps: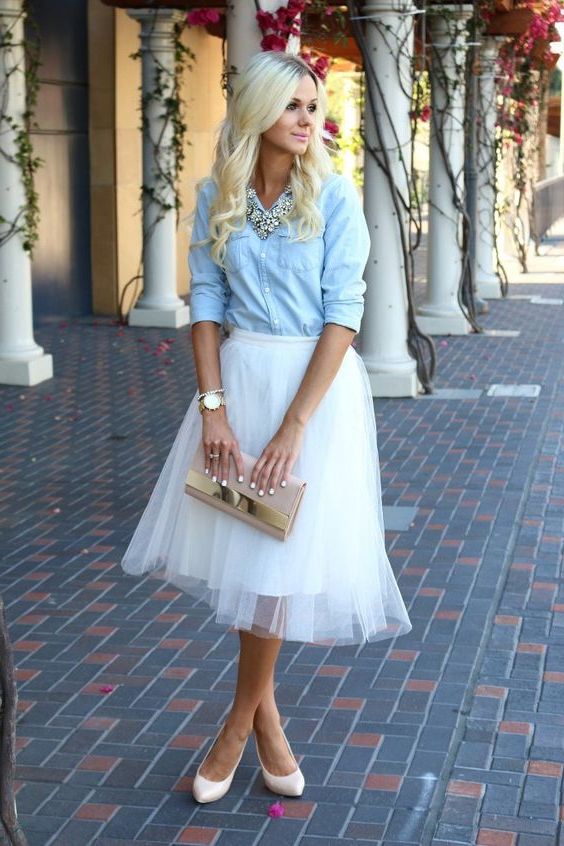 🛍️ Where To Find: Buy Related Here
Tulle skirt and shirt
All in white! Go classy with a white shirt tucked in a maxi tulle skirt. Update this combo with drop earrings and nude ankle-cuff sandals: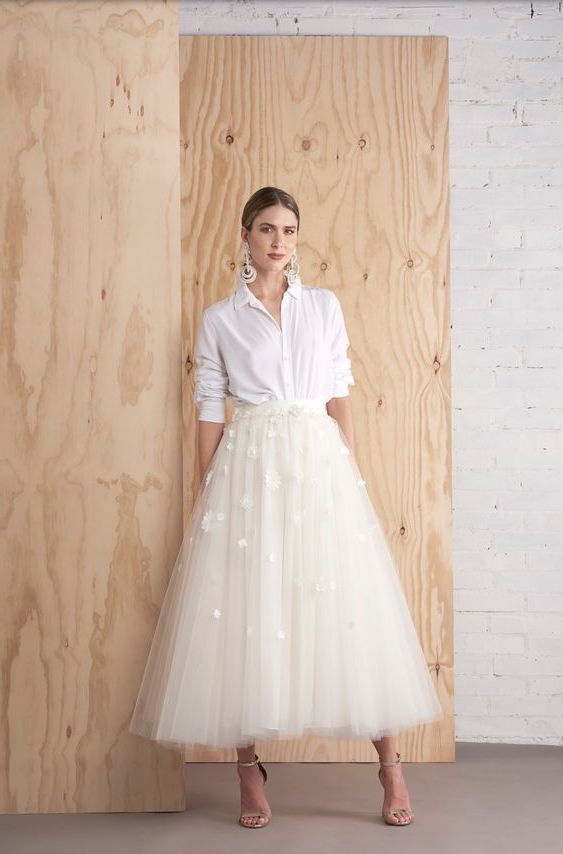 🛍️ Where To Find: Buy Related Here
Cream white blouse in silk looks pretty sweet tucked in ruffled tulle midi skirt in black. Complete this combo with T-strap heeled sandals: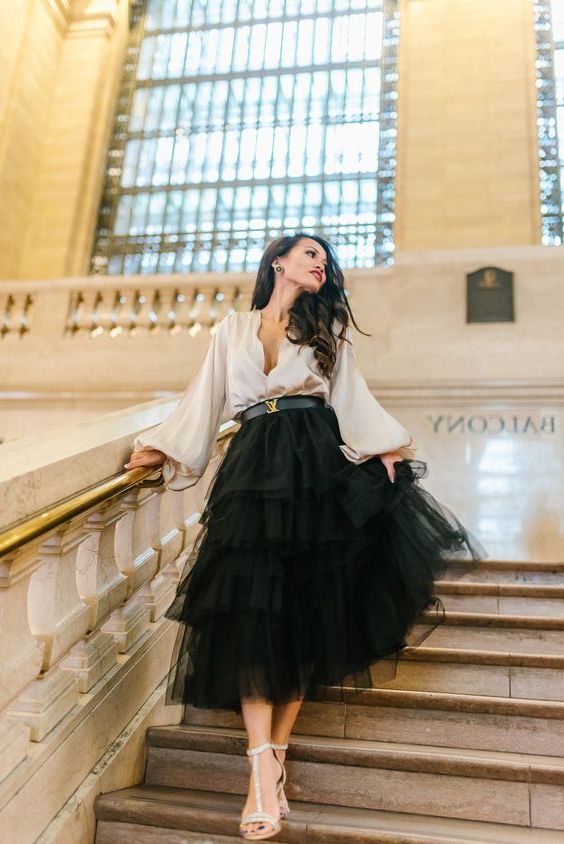 🛍️ Where To Find: Buy Related Here
The plaid shirt is an ideal choice to team with a white flared tulle skirt and pointed-toe red heels: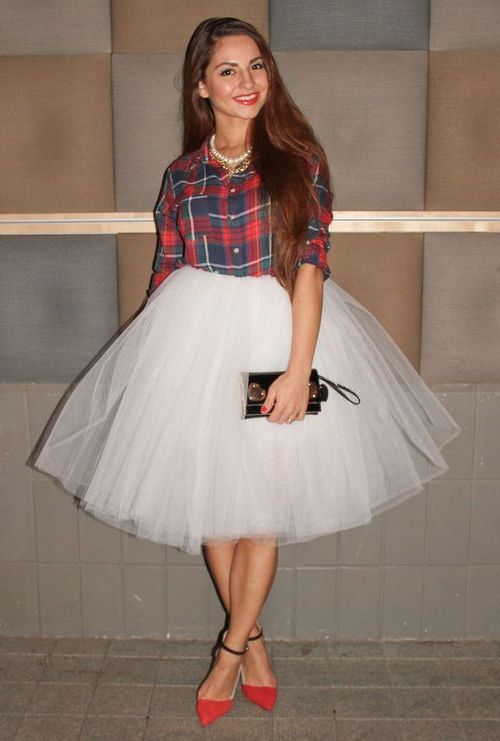 🛍️ Where To Find: Buy Related Here
Tulle skirt with a crop top
Long sleeve crop top in black looks awesome with the same color midi tulle skirt: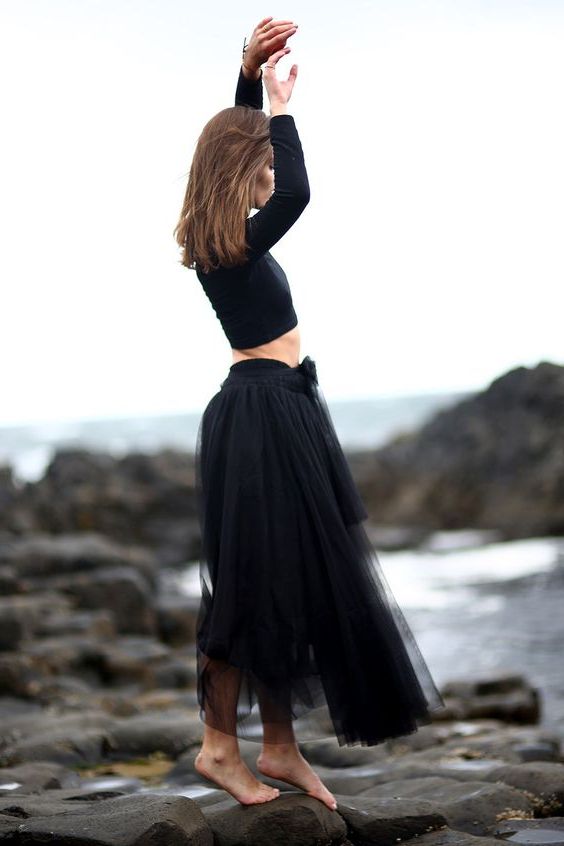 🛍️ Where To Find: Buy Related Here
We see a white long-sleeve crop top teamed with a grey-white flared tulle skirt and nude heels: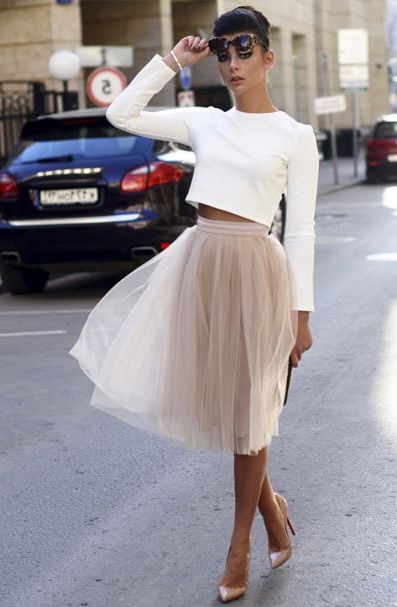 🛍️ Where To Find: Buy Related Here
Tulle skirt with pearls
Looking for a way to update your tulle look? Go for this black high-rise tulle skirt embellished with white pearls, complete this bottom piece with a pair of nude heeled sandals: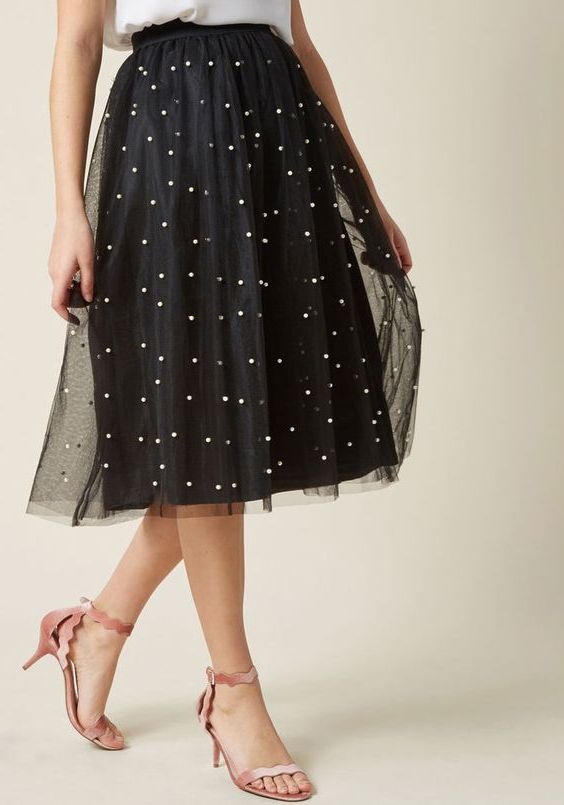 🛍️ Where To Find: Buy Related Here
A pastel turquoise midi tulle skirt looks perfect with white pearls and beige heels: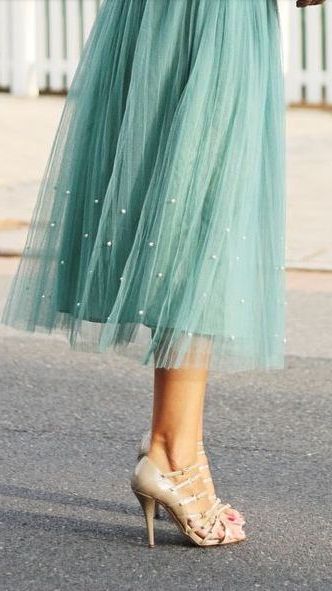 🛍️ Where To Find: Buy Related Here
Tulle skirt with boots
If you want to make an edgy touch to your look, then I recommend to try on a simple white slip tank top and pair it with layered blush tulle skirt and chunky black leather ankle boots: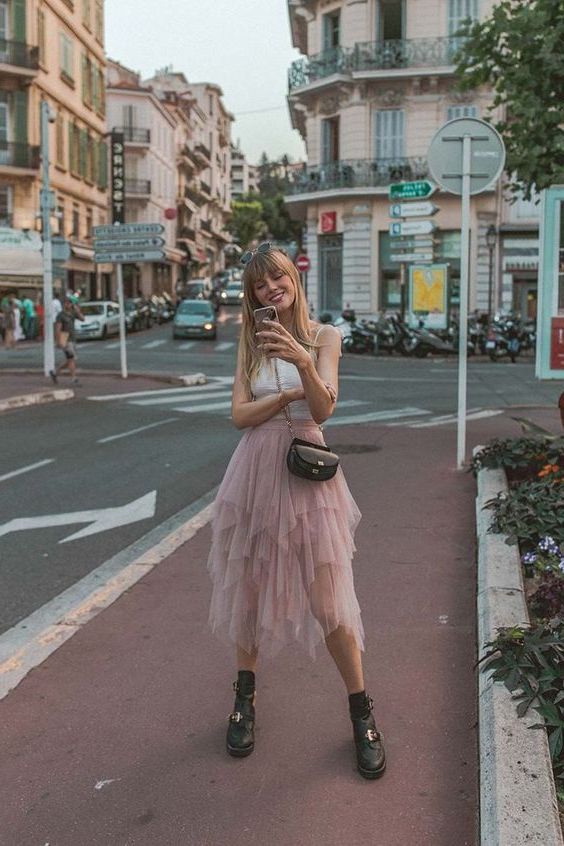 🛍️ Where To Find: Buy Related Here
Go for brown leather cowboy boots and style them with a white maxi tulle skirt and chambray shirt: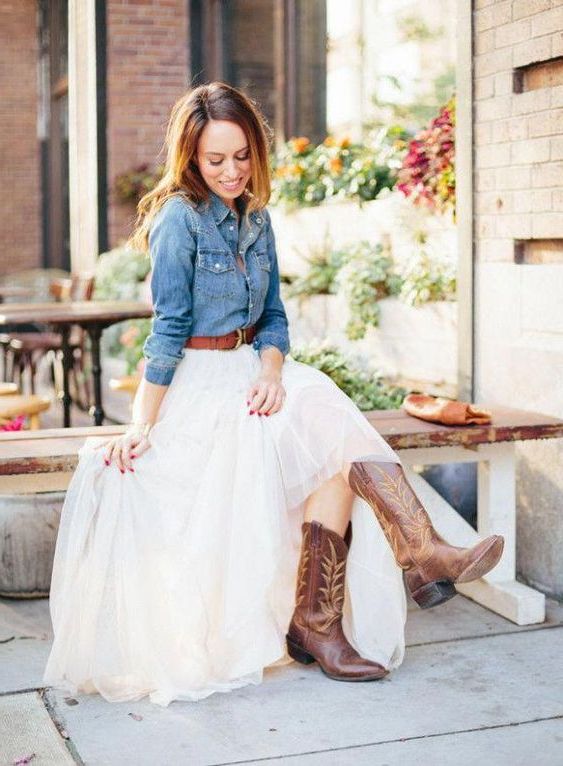 🛍️ Where To Find: Buy Related Here