Show off your edgy and rock style! Today I want to share with my dear readers some of the best rocker outfit ideas for women. Fashion never sleeps and it feels like we always face new trends no matter if it's bohemian glamour or punk style. If you want to know new ways how to enhance your rocker girl style this year, then this is a great blog post for your only inspiration. Read on to see my favorite clothes and styles to invest right now.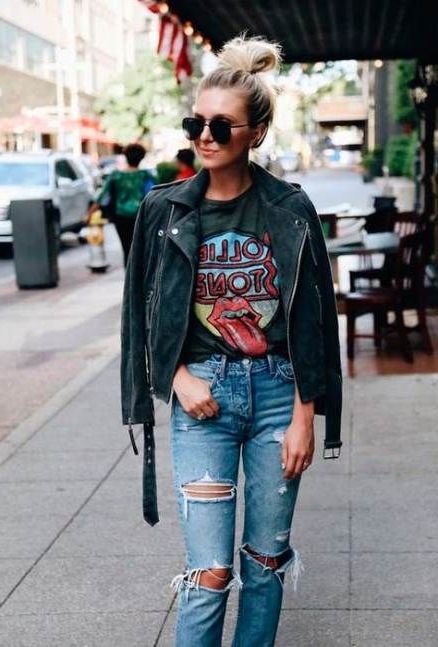 🛍️ Where To Find: Buy Related Here
We see a black leather jacket in biker style draped over rock band tee tucked in ripped regular fit jeans. The look is completed with stylish aviator sunglasses.
It's a perfect time of the year to fancy yourself in new clothes. Feels like a rock chic look is getting popular and I've got stunning ideas to share with you. Today's rocker girl style is cool, re-invented, sexy and original. Yes, you've got me right. This is a perfect style for those women who want to create an individual look that is both fresh and very special. In other words, today's rock chic is not only about music, but it's more about style. New rocker-chic is born.
rocker edgy look
If you do like edgy style, then this all-black outfit is a good choice. Go for a black leather jacket, black crop top, black skinnies and update it with rounded sunglasses, chain necklaces, and studded choker: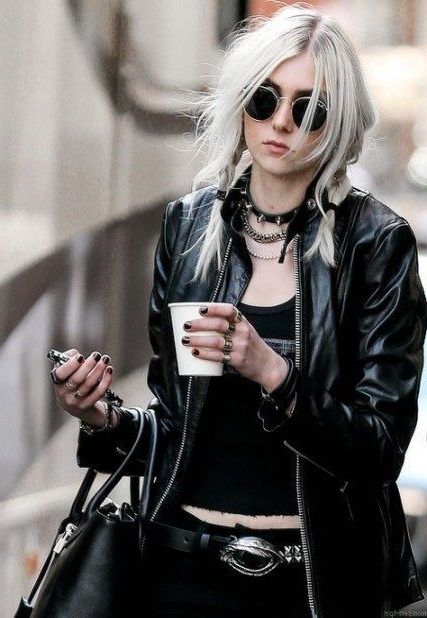 🛍️ Where To Find: Buy Related Here
punk rocker outfit idea
If you do like punk style, then a punk rocker outfit is what you need. Go for a  black leather jacket, black-white striped top, chambray shirt, grey slim slouchy style joggers and studded black leather boots: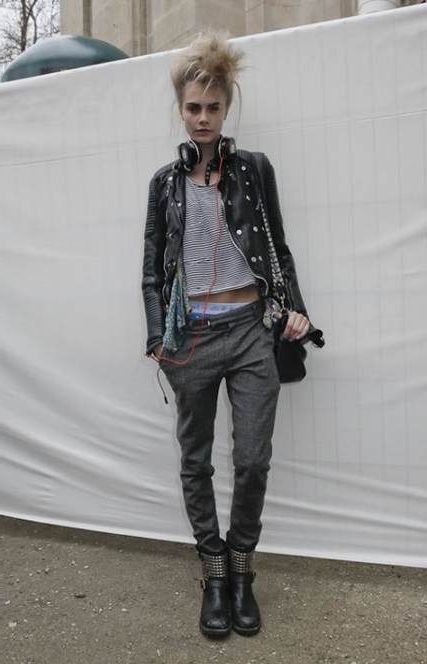 🛍️ Where To Find: Buy Related Here
1980s fashion rocker
Looking for a way to underline your vintage style with some 80s rocker touches? Go for this cool fashion rocker outfit consisting of a skull printed headscarf, black leather jacket with high studs and elongated tee in black color, in love with these leather bracelets: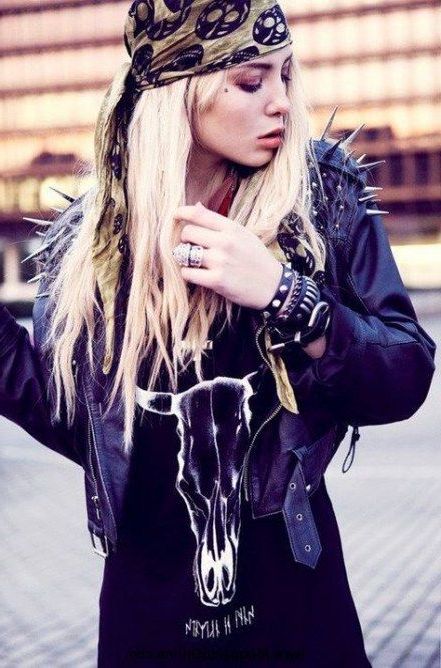 🛍️ Where To Find: Buy Related Here
rocker outfit: skirt
Another way to underline your rock style is to go for a different look, how about wearing a rock band tee tucked in a black leather pencil skirt, update this style by adding a pair of black heeled pumps and a black leather clutch bag:
🛍️ Where To Find: Buy Related Here
rocker shirts outfit
Every lady likes to wear shirts, and even rock women go for this apparel. We see a black-red plaid shirt layered over a white tee tucked in slim wash blue jeans completed with red leather booties, update this combo with tortoise sunglasses and black leather bag: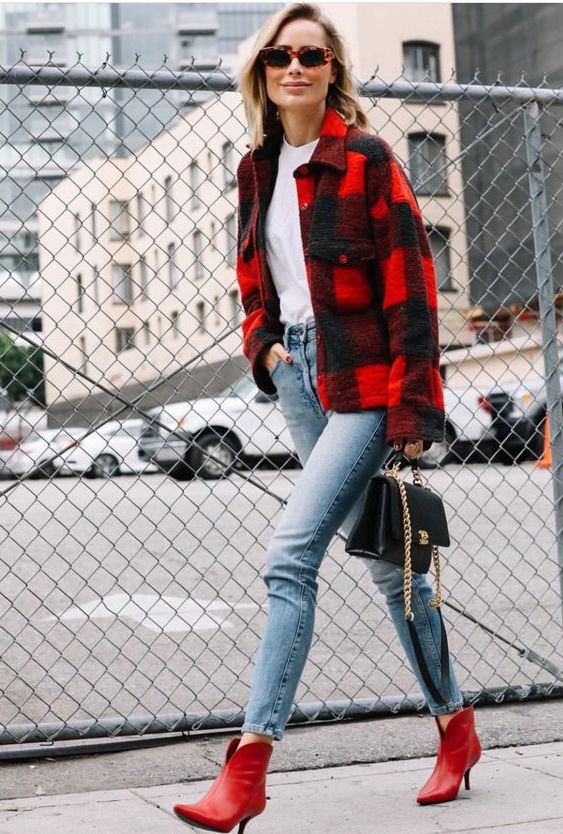 🛍️ Where To Find: Buy Related Here
All you need is to grab yourself a statement piece, like a leather jacket with studs, cropped jacket with fringes, or ripped skinnies finished with platforms, and you already look like a rocker girl. Studs, fringes, ripped detailing, net tights, patches, and plaids also give a kind of rock appearance. I also recommend to stick with denim pieces, they have a cool rock twist. Just imagine yourself wearing a graphic t-shirt with ripped denim shorts or boyfriend jeans. A perfect combination, right?
rocker grunge outfit
Grunge and rock look well balanced if you mix them up. Go for a burgundy long cardigan and style it with a black crop top, rounded shades, and black leather pants completed with black combat boots: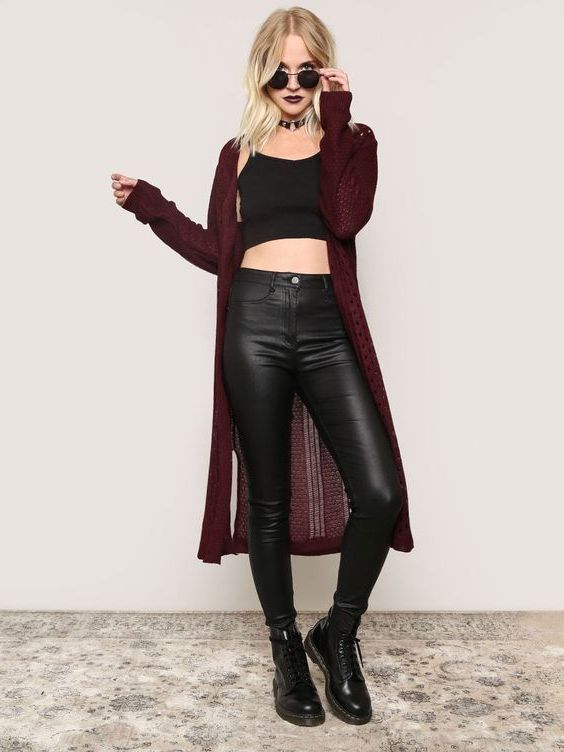 🛍️ Where To Find: Buy Related Here
rocker glam clothing
There is some kind of vampire touch in rocker glam outfits. We see a blonde lady wearing a black velour blazer over a white silken blouse teamed with black leather skinnies. The look is updated with a velour black choker: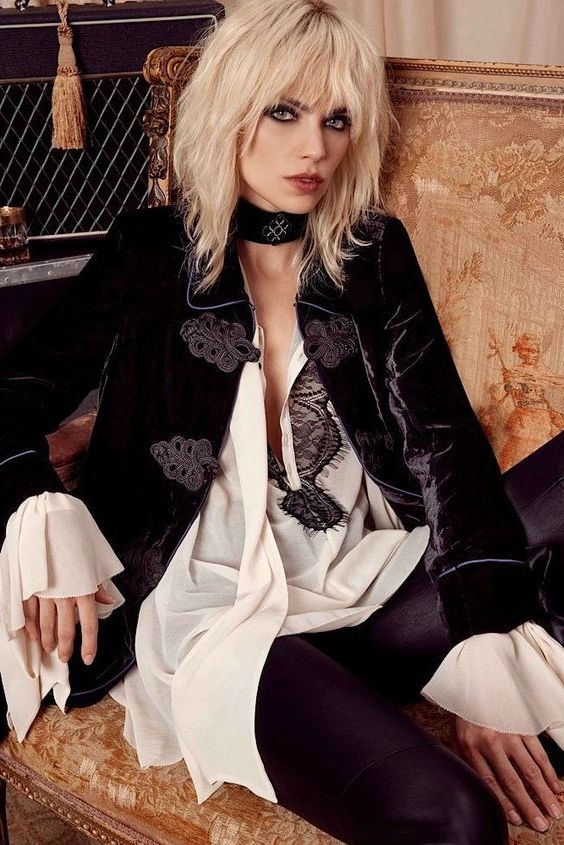 🛍️ Where To Find: Buy Related Here
rocker outfit jeans
Jeans are important for women who want to keep things rock style inspired. We see a cropped black leather jacket styled with a grey tee tucked in blue colored ripped slim jeans with a hight waist completed with black trainers: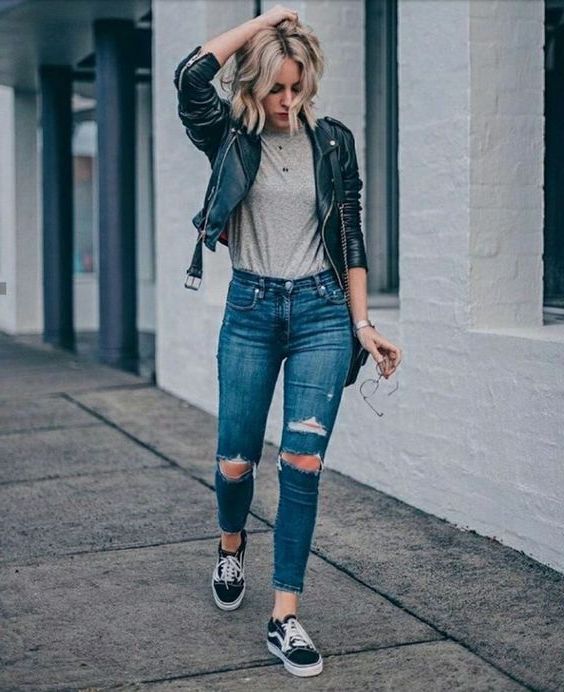 🛍️ Where To Find: Buy Related Here
rocker chic boots
Another important element of every rock-chic girl is footwear. Here we see a young lady dressed in all black look. She is wearing a black leather jacket with a leopard blouse tucked in a flared mini black skirt completed with tights and black leather biker boots: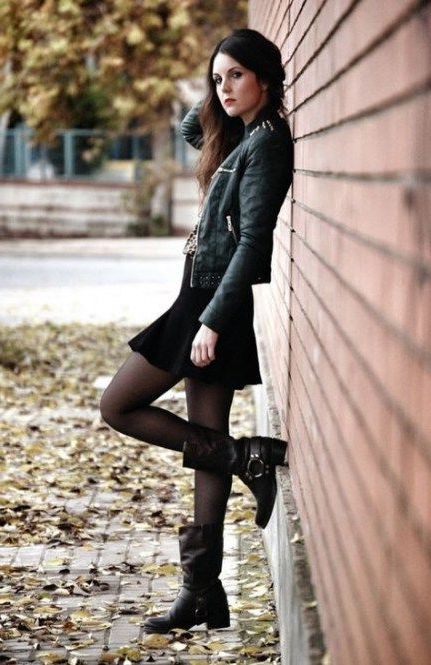 🛍️ Where To Find: Buy Related Here
Plaid Pants for Rock Style Ladies
Yes, plaid pants are also important for rock style. Here we see a redhead lady wearing a cropped leather jacket teamed with a black lingerie bodysuit completed with high-waisted tartan pants and platform heeled pumps in black: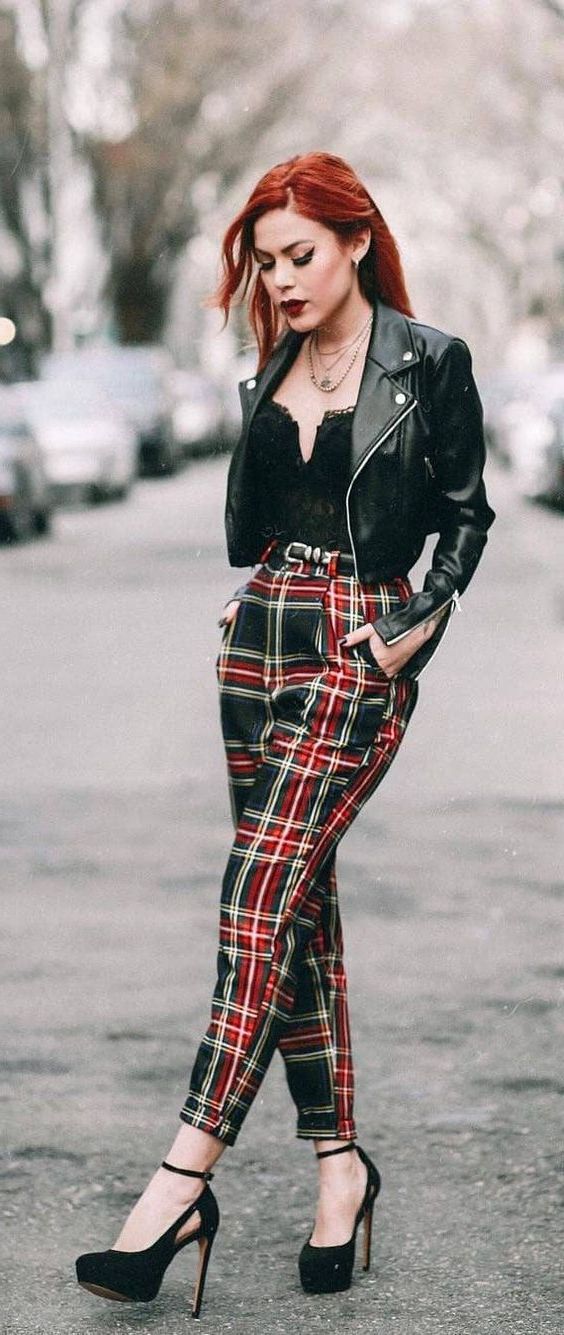 🛍️ Where To Find: Buy Related Here
Keep your rock clothes relevant for the season, if it's summer, then go for light apparel, for instance, a rock band tee and ripped denim shorts with kicks will be a cool choice, if it's spring, then you can go for boyfriend jeans, the same graphic tee and a cardigan or a leather jacket, if it's autumn, then you can also add tights or leggings and a cozy outerwear piece. I am telling you, rocker girl style is easy to achieve with these tips so give it a go and rock on. Go on, and see the best ideas to follow this year.
Ripped Denim
Ripped denim is not only for hipsters. We see a cool double denim style that features a wash blue oversized denim jacket, rock band tee, and black ripped jeans: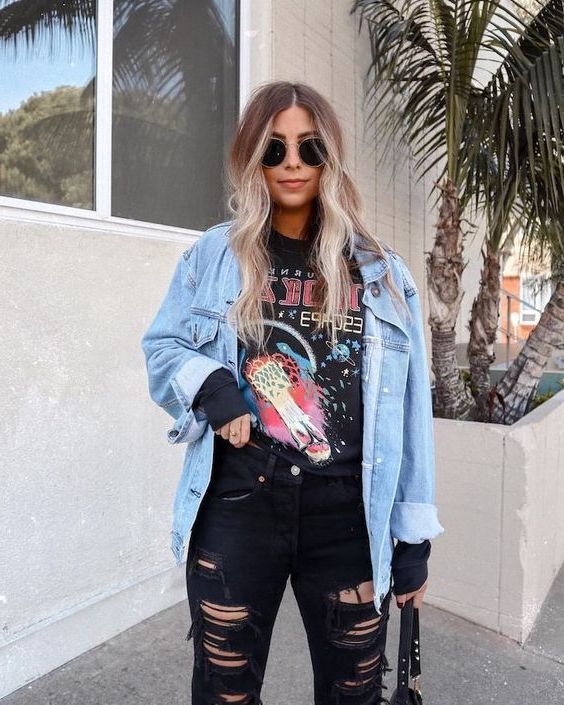 🛍️ Where To Find: Buy Related Here
Dark Denim
If you want to wear real rock style clothes, then you should try dark denim. Here we see a young lady wearing a black leather jacket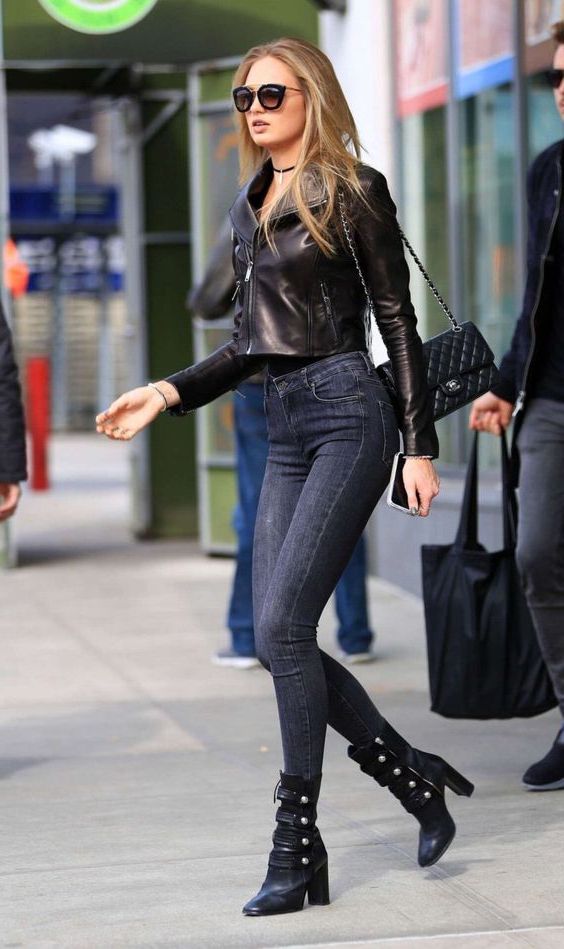 🛍️ Where To Find: Buy Related Here
All Black Rocker Outfit
Yes, all-black looks are still popular among rock-chic ladies. Here we see a black leather jacket styled with a black top, skinny jeans and booties: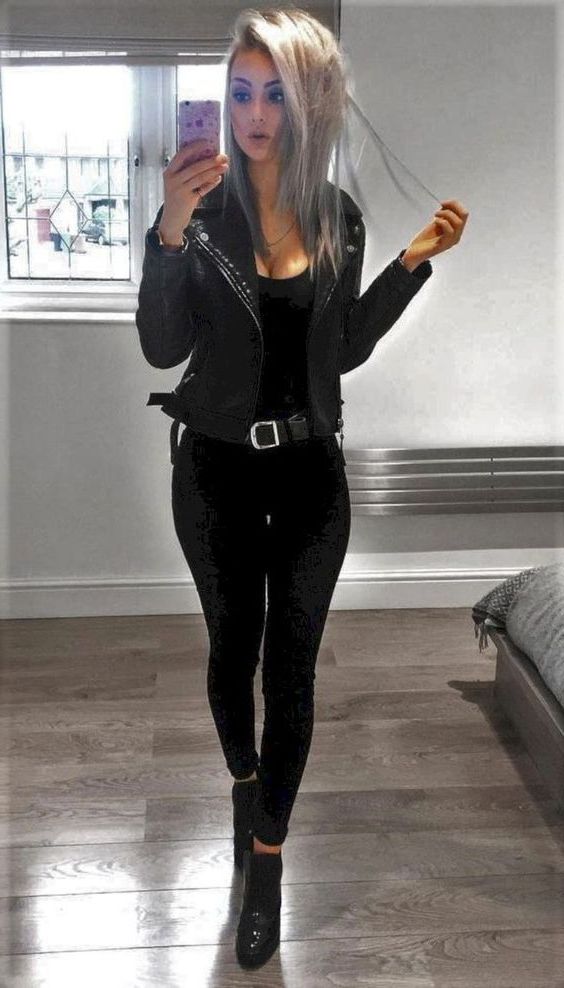 🛍️ Where To Find: Buy Related Here
Leather Jacket
Speaking of rock ladies essentials, I am in love with leather jackets, they are must-have attributes of any rock girl. We see a black leather style worn with a dark long cardigan, rock band tee and charcoal skinny jeans completed with black suede booties: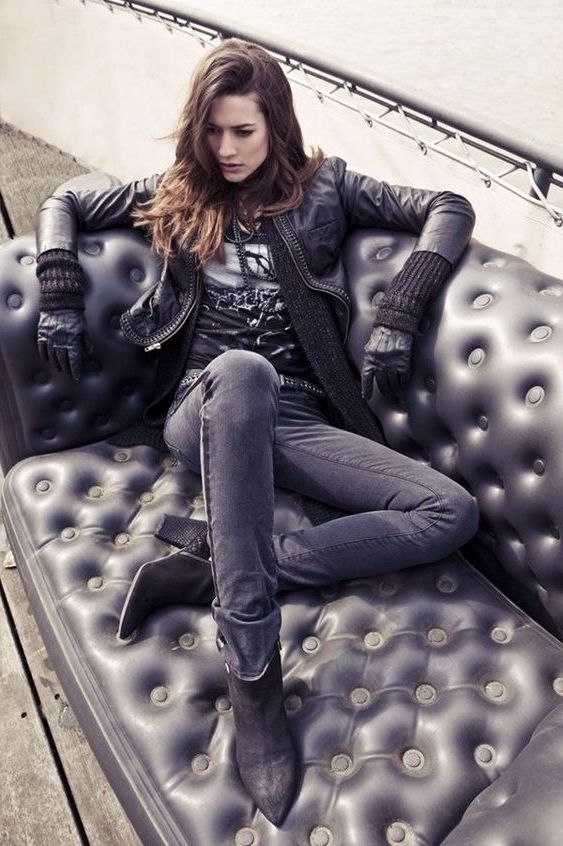 🛍️ Where To Find: Buy Related Here
Leather Pants
Another essential piece for rock ladies is a pair of leather pants. It looks edgy and sassy. Here we see a lady wearing white rock band tee styled with black leather skinny pants completed with a chunky neckpiece and white fur coat: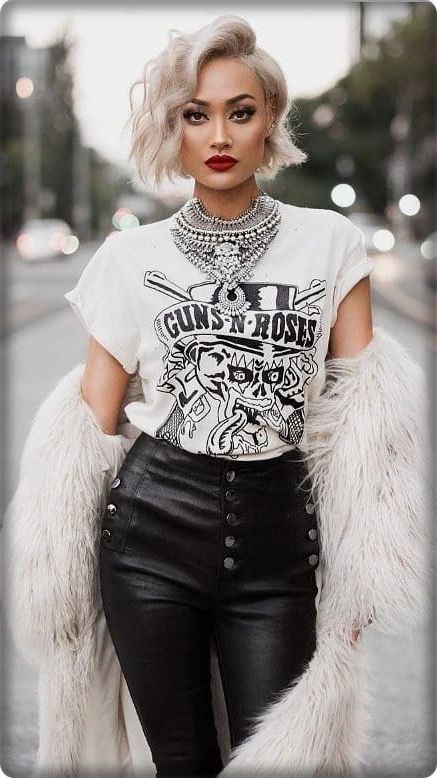 🛍️ Where To Find: Buy Related Here
Net Tights And Buckled Boots
Another great way to update your rock outfit is to add sassy net tights and buckled boots. We see an all-black look with a slouchy sweater dress updated with tights and boots. Complete it with chunky bracelets: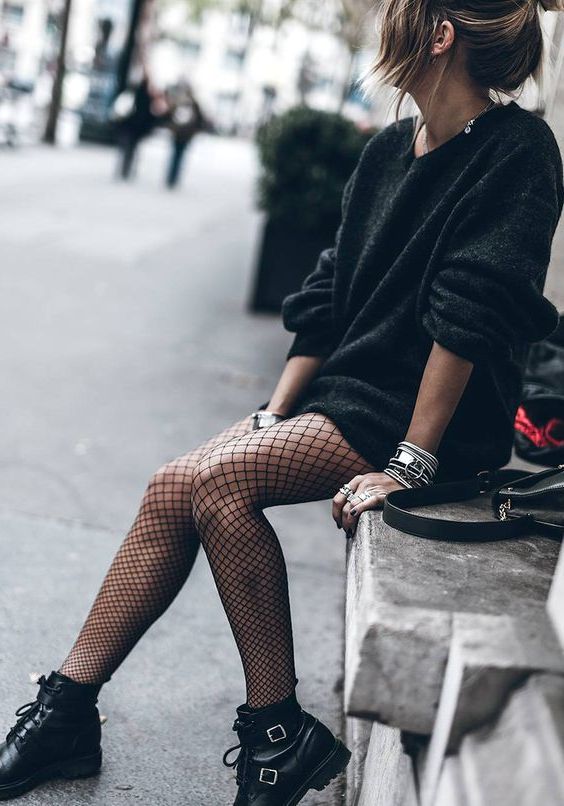 🛍️ Where To Find: Buy Related Here
Oversized Sweaters
As I already mentioned, oversized items are in trend for rock chic ladies. Here we see an oversized sweater in dark green teamed with ripped black jeans worn over net tights and completed with combat boots and layered necklaces: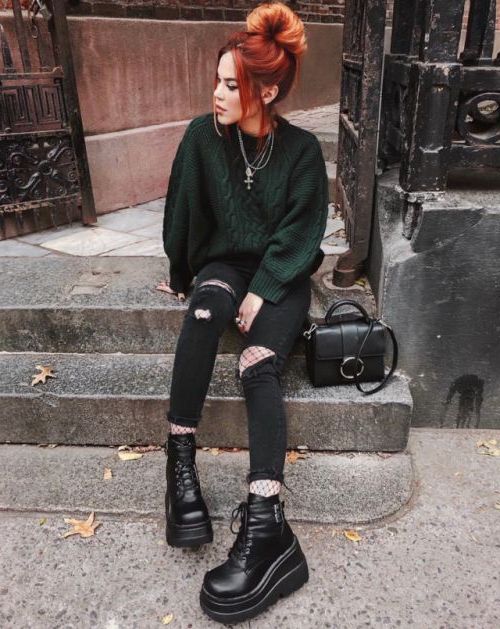 🛍️ Where To Find: Buy Related Here
Platform Boots
Platform boots with military touch are very popular lately, here we see them styled with a mini high-waisted micro plaid skirt and black top completed with Clubmaster sunglasses and layered necklaces: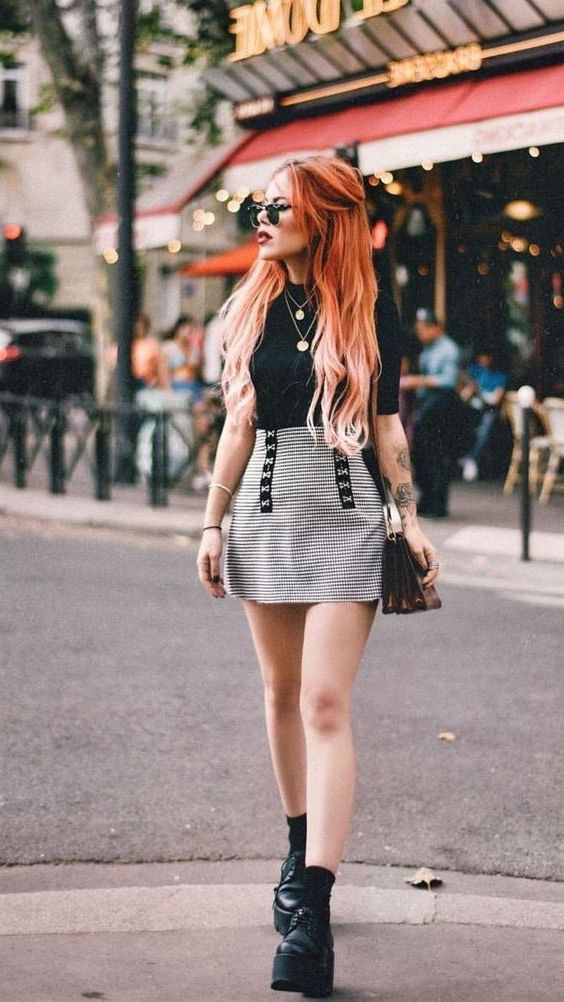 🛍️ Where To Find: Buy Related Here
Rock Band Tee
Yes, rock band tees are still popular, go for a cool black rock band tee and team it with a khaki green parka, black skinny jeans and brown leather military boots: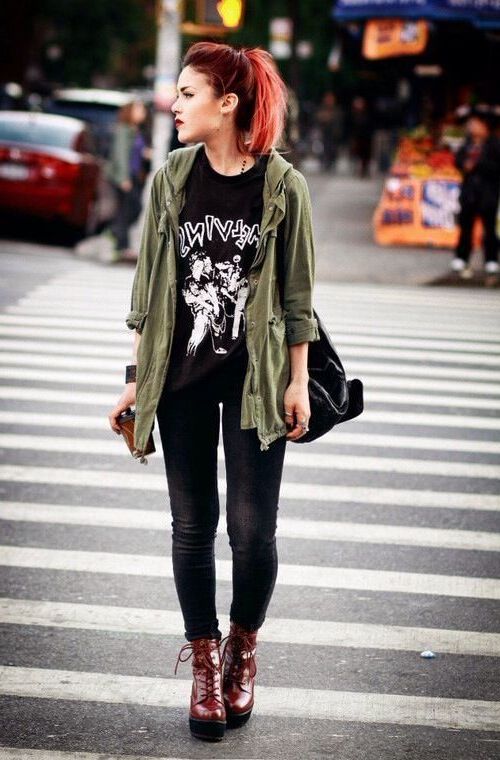 🛍️ Where To Find: Buy Related Here
Sexy Tights
How about mixing rock with hipster and boho touches? We see an outfit that features a dark green scarf, a printed sweater dress, and sexy tights: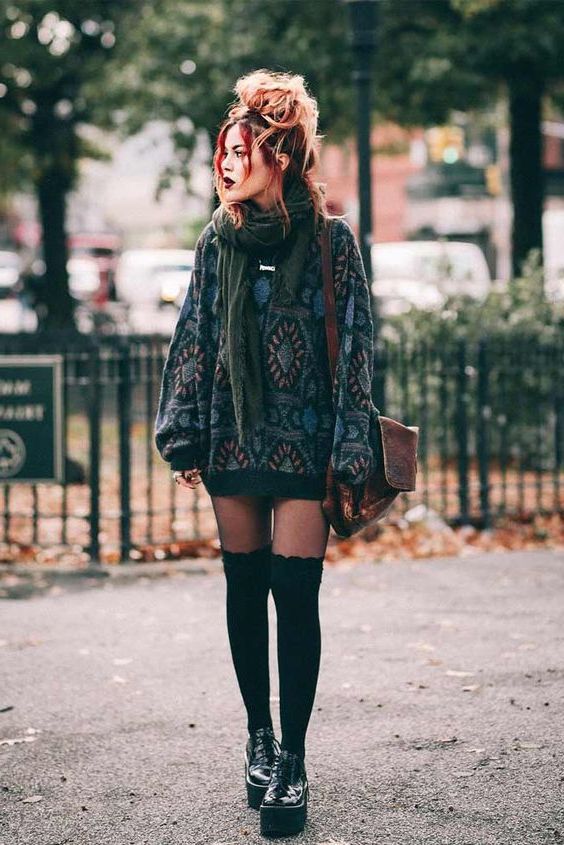 🛍️ Where To Find: Buy Related Here
Biker Style
Every rock style features biker details, then how about adding these details into your everyday looks? Go for a blush biker jacket and layer it over black mohair crop sweater teamed with biker style mini leather skirt completed with tights and black suede OTK boots: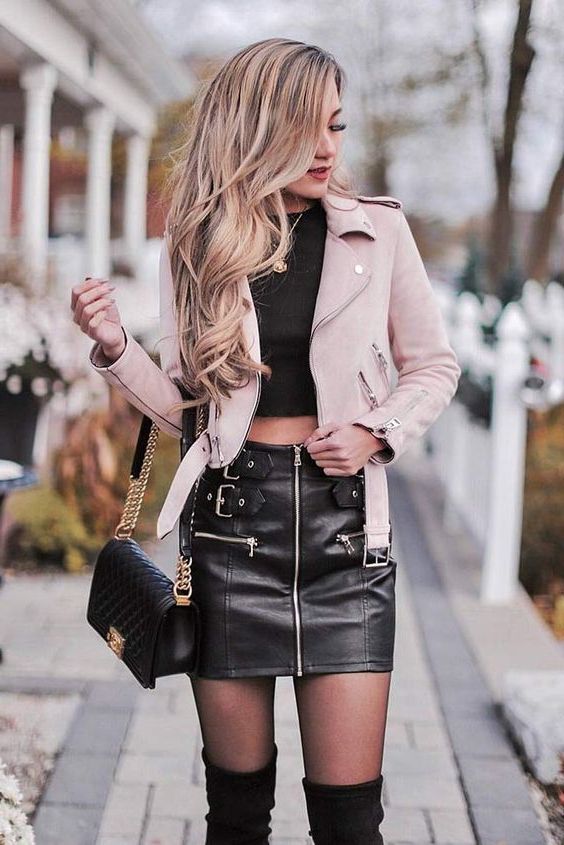 🛍️ Where To Find: Buy Related Here
Rocker Fashion Jacket
A fringed black leather jacket looks pretty cool with a black rock band tee tucked in gold sequined mini shorts, complete it with a sexy choker: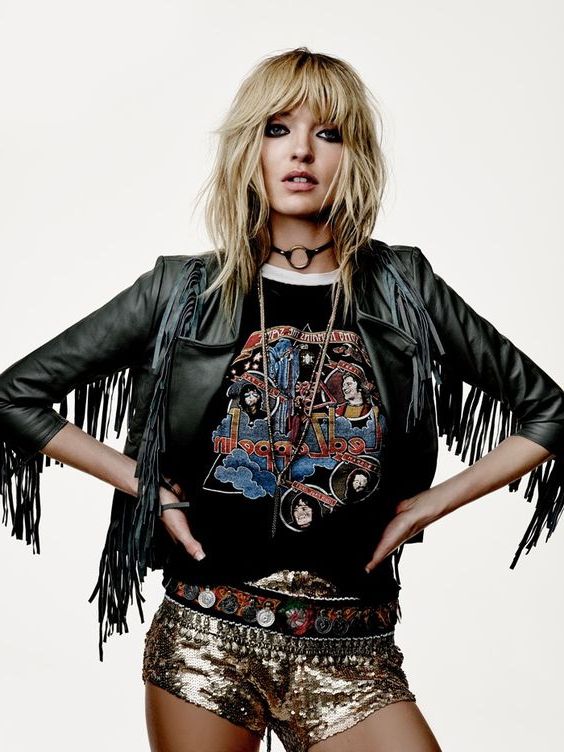 🛍️ Where To Find: Buy Related Here